Florence & Pisa are two of Italy's much loved tourist hubs – and as they are only separated by a 1 hour train journey, they are easily combined in a two city break. Read on to find out all about the what to do in Pisa and top things to do in Florence on a weekend break!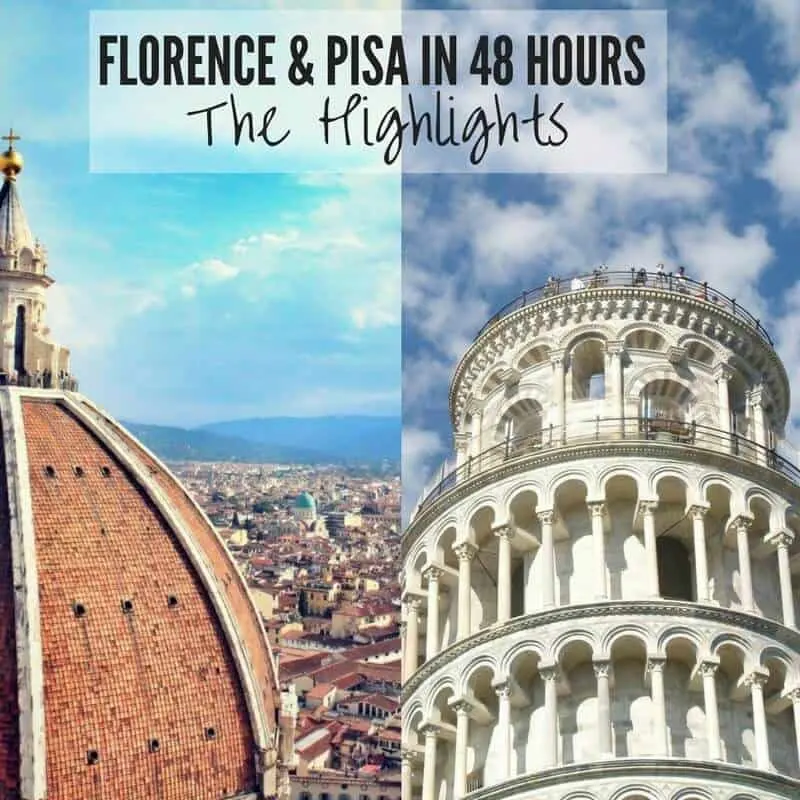 Disclaimer: Almost all posts on this site contain Affiliate links, and this one about Planning a Great Weekend Break to Florence and Pisa is no different. This means that if you click on any of the links in this post (and make a purchase) I may receive a small commission at absolutely no cost to you. Each post is carefully crafted to (hopefully!) answer all your questions and recommendations are made where we believe they will improve your trip and help with your planning. As such we thank you in advance should you decide to click & buy. Read my full Disclosure here.
RELATED: These are the eighth & ninth stops on my 'Europe By Rail in 25 Days' Tour. Click the link to find out all about it!
Two city Weekend break in Florence & Pisa:
Things To Do
Florence – the capital of the Tuscan region of Italy – was once a major trade center in Medieval Europe and is credited with being the birthplace of the Renaissance. With multiple museums and breathtaking architecture, it has been voted as one of the most beautiful cities in the world by both Forbes and Conde Nast Traveler.
Pisa on the other hand is famous for its leaning tower and impressive Piazza Del Duomo. The three main buildings can be explored in a couple of hours, and so make it the perfect city to combine with a visit to Florence.
RELATED: Want to read about other cities you can hit in a weekend – and the other stops on this Eurotrip? Read my posts on Amsterdam, Berlin, Prague, Krakow, Budapest, Vienna & Venice to get you started!
Florence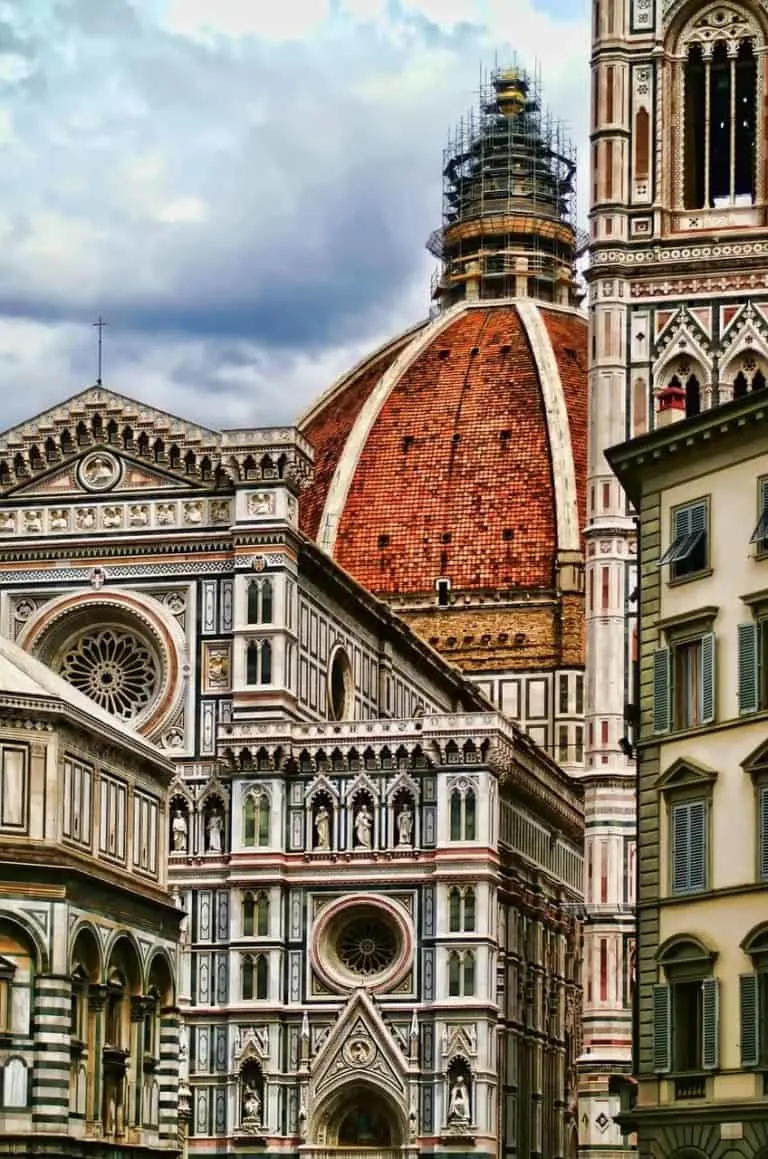 The Cathedral di Santa Maria del Fiore – translated as: Saint Mary of the Flowers – is the main church in Florence. The cathedral was begun at the end of the 13th century by Arnolfo di Cambio. The dome, which dominates the exterior, was added in the 15th century on a design of Filippo Brunelleschi. It is the 4th Largest Cathedral in the world (after St Peter's in Rome, St Paul's in London & the Doumo in Milan).
RELATED: If you are short on time, this guide to 1 Day in Florence is just what you need along with these Top Florence Travel Tips! And don't forget to learn some basic Italian words and phrases before you go!
Ponte Vecchio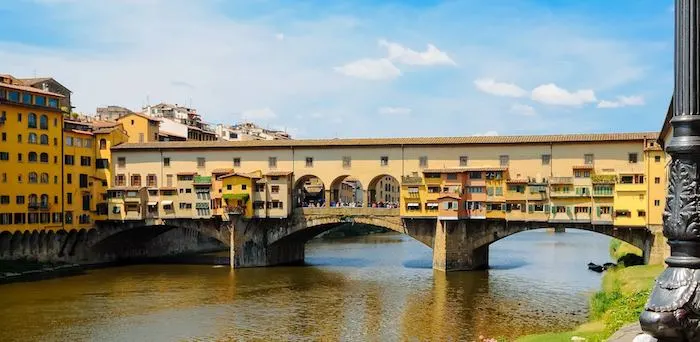 The Ponte Vecchio – or Old Bridge – its original construction can be dated back to 995, and was rebuilt in 1345. It was the only bridge that the Nazi's didn't destroy in World War II. The bridge is famous for the numerous jewellery shops which are contained inside.
Santa Croce

The Basilica di Santa Croce – or The Basilica of the Holy Cross – is the principal Franciscan church in Florence, and a minor basilica of the Roman Catholic Church. It is the burial place of some of the most illustrious Italians, such as Michelangelo, Galileo and Machiavelli. And because of this it is also known as the Temple of the Italian Glories.
Piazza della Signoria & Loggia dei Lanzi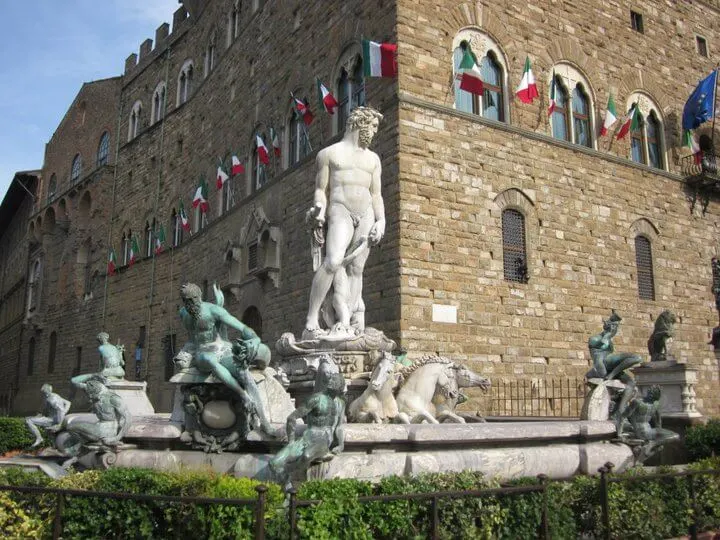 The Piazza is conveniently located next to the Ponte Vecchio and is home to two museums. First, the Piazza Vecchio Museum (with the tower you can climb) and second: the open air sculpture museum know as Loggia dei Lanzi. It is in this areas you can find a copy of Michelangelo's Statue of David, Cellini's 1554 Perseo holding Medusa's head and Bandinelli's Hercules and Cacus Sculpture (above).
RELATED –
Two Italian cities in one trip not enough? Why not add
1 day in Milan
to your Itinerary?!
.
Galleria dell'Academia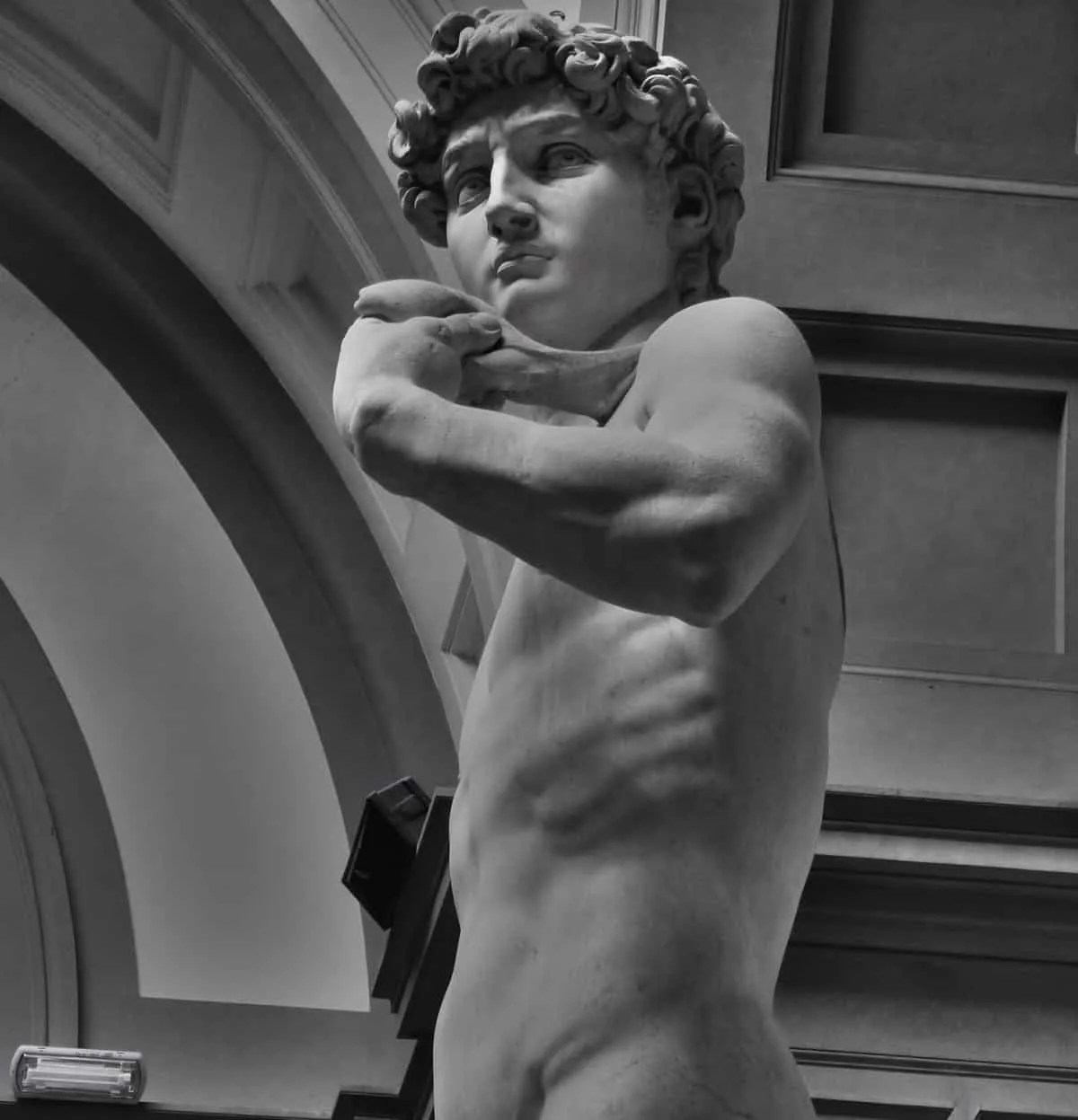 No visit to Florence is complete without gazing upon Michelangelo's magnificent Statue of David. Located in the Galleria dell'Academica, it is important to pre-book your ticket so you don't waste any of your valuable time waiting in line!
**For those who love Museums, there is also the equally popular Uffizi Gallery located near the Piazza della Signora**
Piazza Michelangelo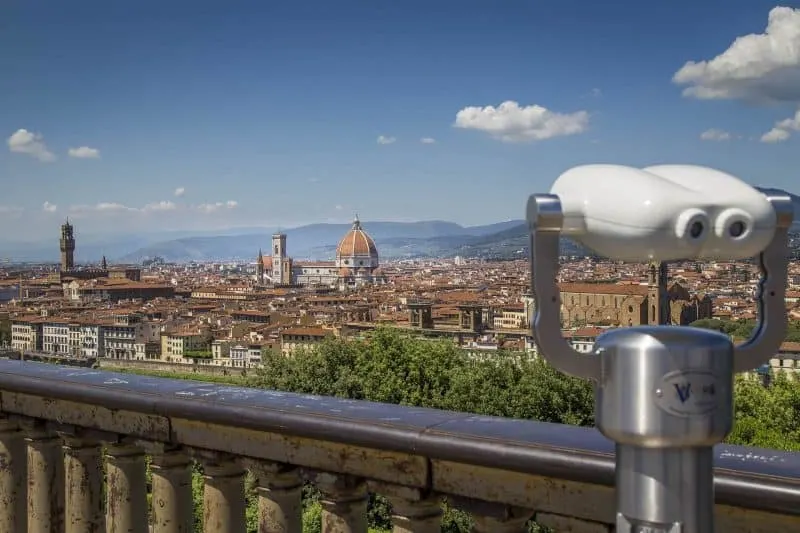 Piazza Michelangelo – the perfect place if If you're wanting a panoramic view of Florence's iconic skyline (and don't want to climb any of the towers!). Located approximately 4km away from the main sights I recommend grabbing a cab/uber to get you there. (If time is not an option for you it is around a 1.5-2 hour walk.) Open daily and free – it's a stop on your Florence tour that you can't afford to miss!
**TIP** Plan your visit to coincide with sunset and you will not be disappointed!
RELATED –
If you are planning more train journeys, consider getting an
EU Rail Pass
.
.
Pisa
Pisa is best known for it's Iconic Leaning Tower and to be honest on our visit we didn't find much more of interest. (Apart from yummy Italian food, loads of Gelato and lots of churches!) This is why it is the perfect city to tag on to your weekend in Florence. The main sights are located in Piazza Del Duomo – also known as Piazza Dei Miracoli – and comprises The Cathedral, The Baptistry, the Camposanto Monumentale and the Bell Tower. Read on to find out what to do in Pisa on your weekend break!
The Cathedral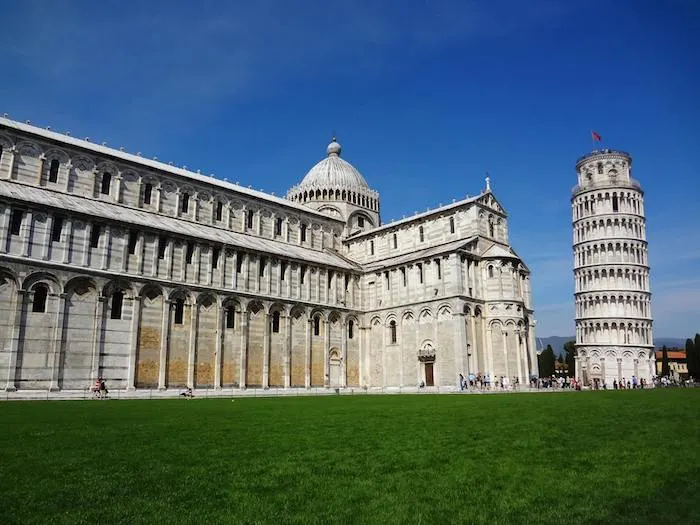 The Piazza is considered to be central to religious life with the Baptistry representing Birth; The Cathedral (and Leaning Tower) – Life and the Cemetery, death. Surrounded by lush green grass, it is the perfect place to sit and relax as you gaze upon these stunning buildings.
It is also a great place to people watch.. I'm sure you won't be surprised at the number of people trying to "hold up the tower" in their holiday snaps. It can be really quite entertaining!
The Baptistry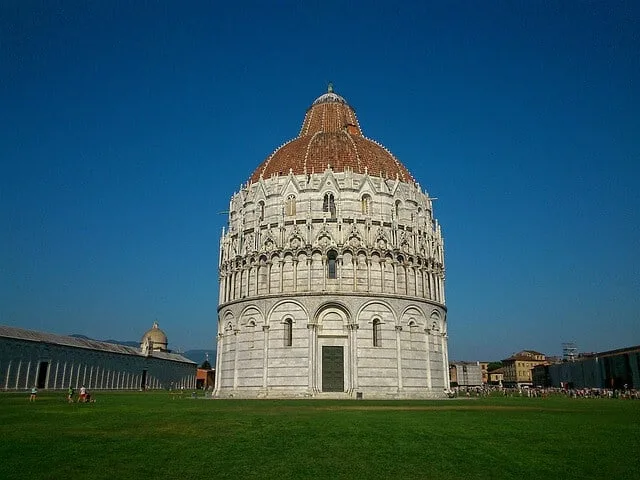 Take a wander inside and look for the small cut out in the wall facing the Cathedral. It's the perfect spot for photographs and lets you come home with a snap no-one else will have! (unless they have read this article ;-) – but shh, its a secret! and definitely one of the top things to see in Pisa!)
The Campanile/Bell Tower – a.k.a The Leaning Tower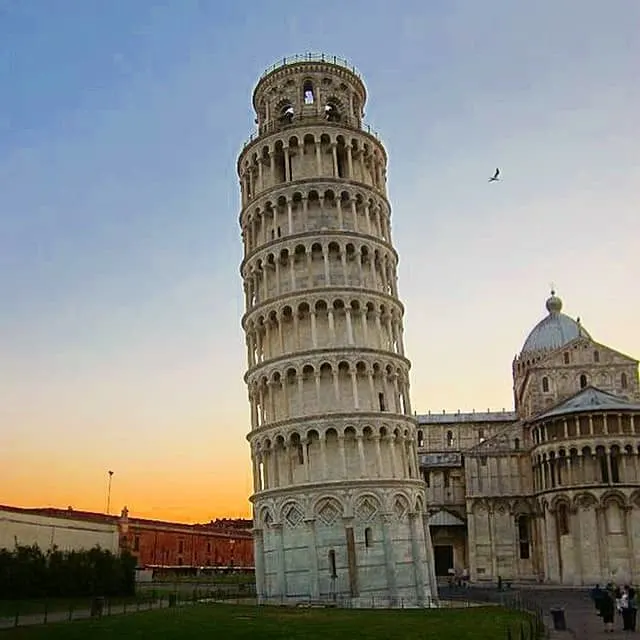 Made famous for it's unintended tilt it has now become one of the most visited sites in Europe. Built in the 11th Century and at 55m high it was a miracle of medieval engineering.
If you want to climb to the top it will be via at 297 step spiral staircase! There are limited tickets and time slots available each day and as such, if you want to climb it is better to prebook your tickets!
Camposanto Monumentale – The Monumental Cemetery
Often overlooked by visitors, The graveyard is an ancient monumental cemetery set on the north side of the Piazza dei Miracoli. It is a place of quiet tranquility with beautiful fresco's – a far cry from the people trying to hold up the tower in the main part of the square.
So there you have it – the perfect way to see two Italian cities in one weekend!
Have I inspired you to take a two city weekend break? I hope so!
And if you like it – don't forget to pin it for later!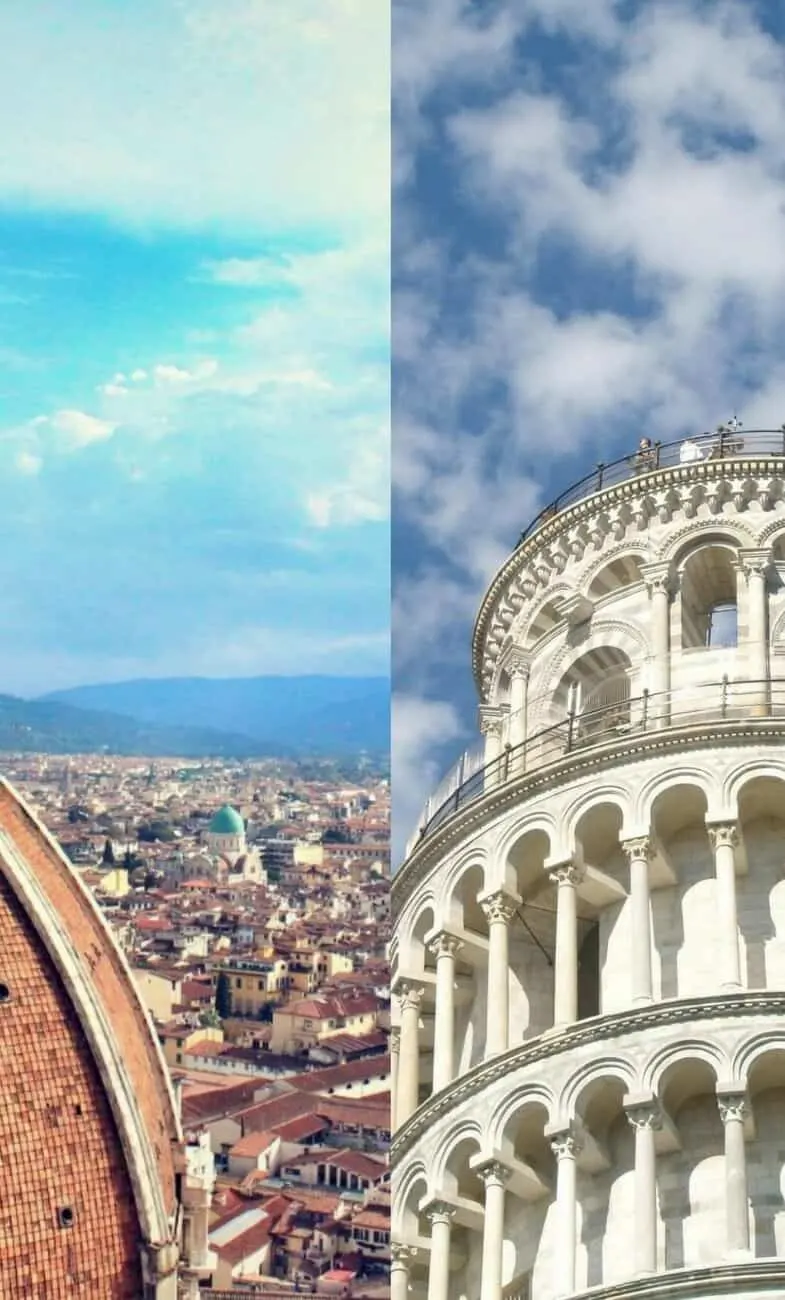 READY MORE EUROPE TRAVEL INSPIRATION? YOU MIGHT BE INTERESTED IN THESE TRAVEL TIPS, TRAVEL HACKS, TRAVEL ARTICLES, TRAVEL DESTINATIONS GUIDES, TRAVELER RESOURCES AND RELATED POSTS ABOUT OTHER BEAUTIFUL CITIES IN EUROPE TO HELP YOU TRAVEL THE WORLD:

Hi There! Thanks for reading our guide to the A Perfect Weekend Break in Florence and Pisa. I just wanted to let you know that this post contains affiliate links, which means if you purchase something after clicking a link, I may get a small commission – which is at absolutely no cost to you. If you enjoyed this article and are going to be searching for some of the things I mention anyway, I would love it if you could click through from the links above & thank you in advance! Read my full Disclosure here.
And a huge Thank You for reading the MakeTimeToSeeTheWorld travel blog.
Save
Save
Save
Save
Save
Save
Save