Thinking about a weekend break in Vienna? You won't be disappointed! My city guides cover what to do in 48 hours – but don't include travel time. So make sure you you book and extra night to make sure you have the best 48 Hours in Vienna that you can!
Vienna has got to be one of the most cultured capital cities in Europe. It's sophisticated in simplicity and boasts two castles, classical music masters, and some of the most beautiful architecture you're ever likely to see, all without leaving the town center. But this is one place you will be rewarded for going further afield, because only a short drive away is the wine region of Wachau – and a wine tour is always a great way to spend a day!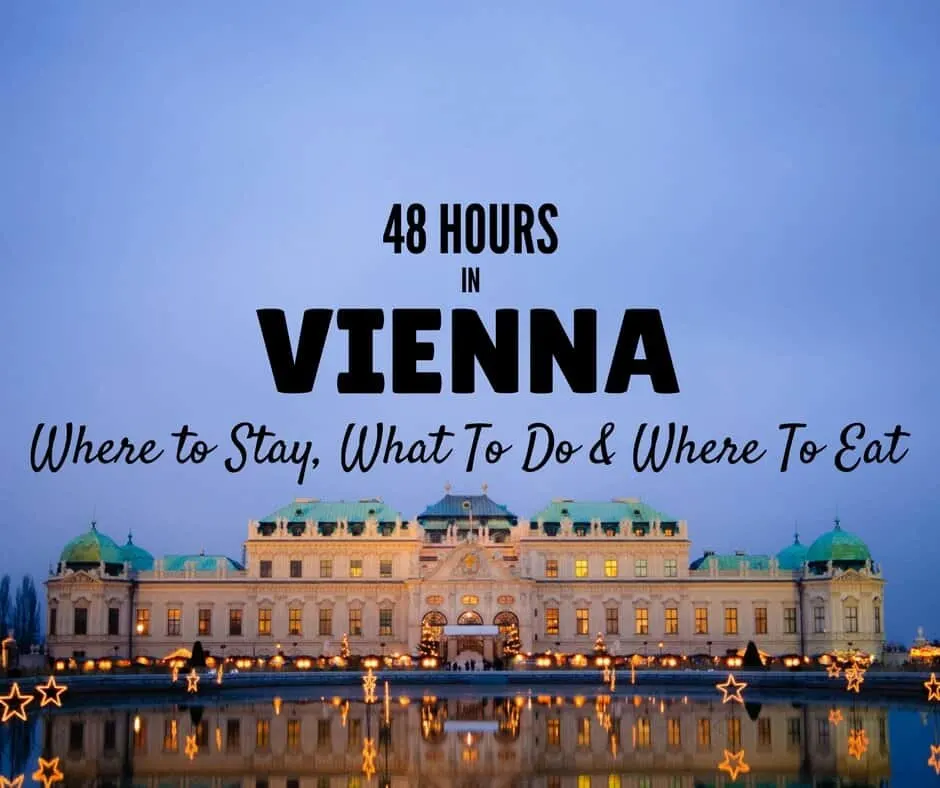 RELATED: This is the sixth stop on my 'Europe By Rail in 25 Days' Tour. Click the link to find out all about it!
So you have a booked a weekend in Vienna and don't have a clue where to start. Well I'm here to help you pack as much as possible into 48 hours. (Or a long weekend!) Obviously more time would be better – but I know longer trips are not possible for all – so lets work with what we have!
RELATED: Want to read about other cities you can hit in 48 hours – and the other stops on this Eurotrip? Read my posts on Amsterdam, Berlin, Prague, Krakow and Budapest to get you started!
And if you are feeling spoilt for choice, use this post to decide between Budapest & Vienna.


Top things to do in Vienna in 48 Hours

Schönbrunn Palace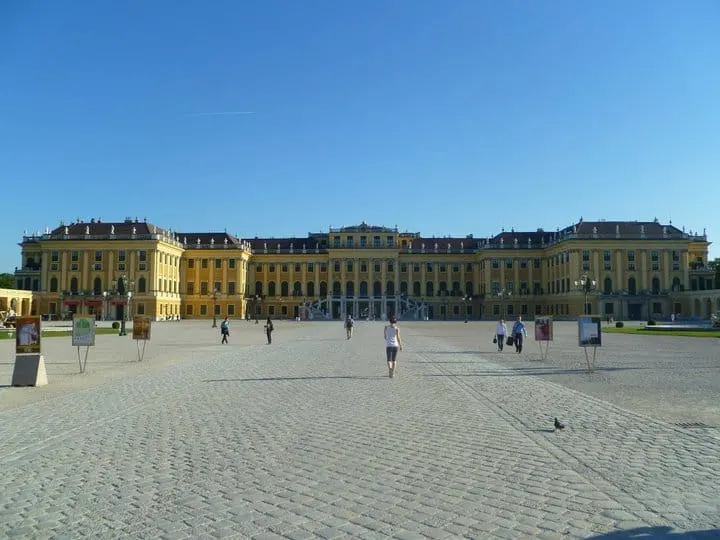 Oh to have a summer home! This 1441 room Baroque beauty used to be the Imperial Summer Residence for the Habsburg emperors and is one of the most important architectural, cultural and historical sites in Austria. Open daily, the are various types of tours available and if you want to spend a night like royalty you can spend a night in one of the palace suites!
Click to find out more about this UNESCO World Heritage Site
.
St Stephens Cathedral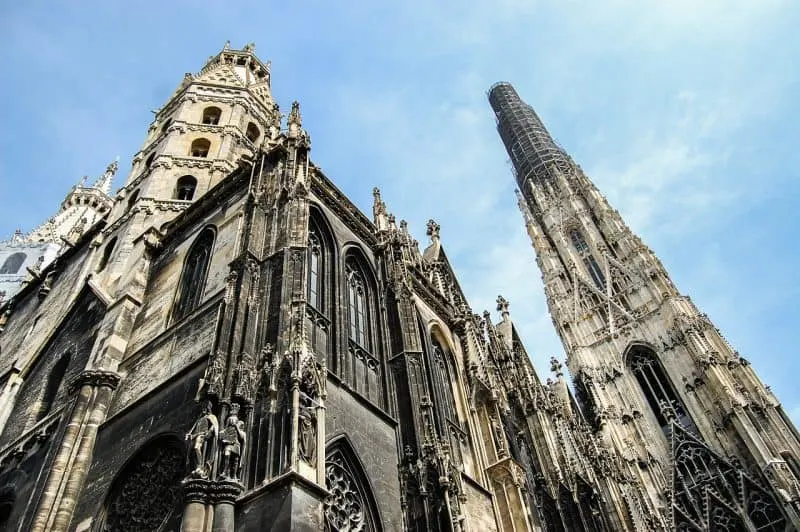 St Stephen's Cathedral is a stunning Gothic structure that stands tall (136.44m tall!) above the rest of the city. If you're feeling energetic, the 343 step climb to the top rewards you with spectacular views, or for the less active, guided tours of the cathedral and the catacombs are available for a small fee.
.
Vienna Ring View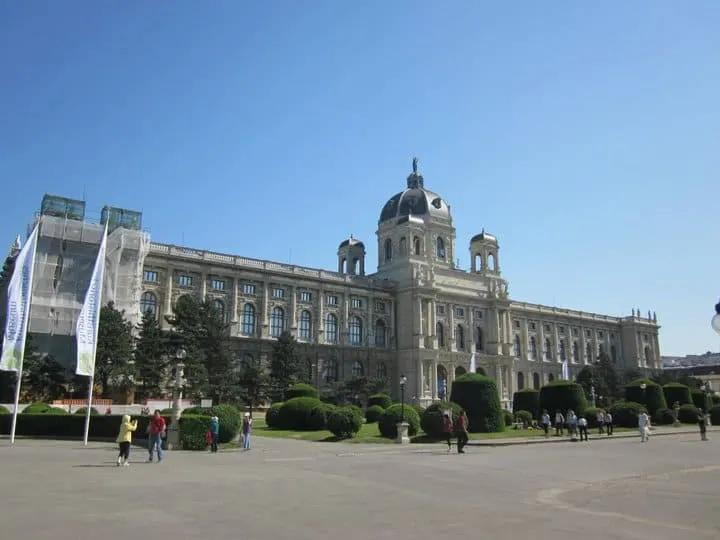 A lot of Vienna's main attractions, such as the Vienna State Opera, Rathaus and Imperial Palace are conveniently located on the Ringstrasse – a 5.3km road circling through the city and makes for the perfect walking route for those that like to wander around – and for those less active, the ringstrasse tram is a great alternative.
RELATED: Up your photography game with our Top Travel Photography Tips and use this Vienna photography guide to put them into practice!
Wiener Rathaus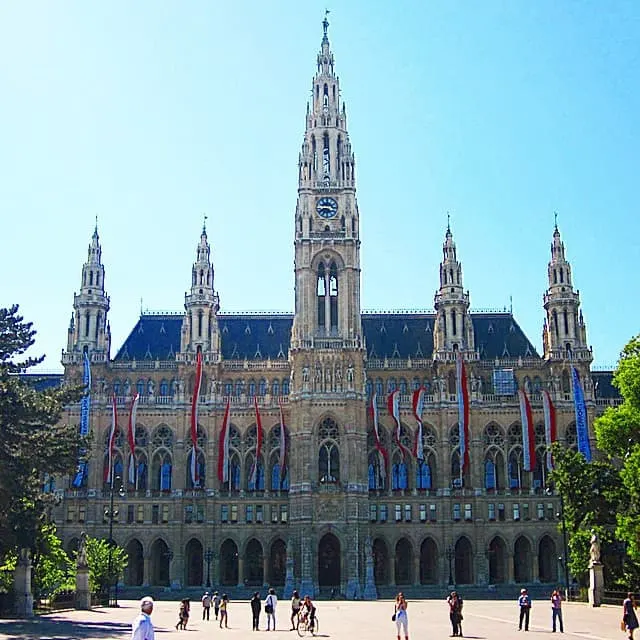 The Rathaus is absolutely my favorite building in Vienna. The Wiener Rathaus (City Hall) is just stunning – like a fairy-tale castle in the middle of a city! Guided tours are available, and in winter, the forecourt is turned into an ice-rink.
**Tip – If you are planning on taking several guided tours – such as the ones referred to in this guide, the Vienna Card offers great savings**
,
Church of Assisi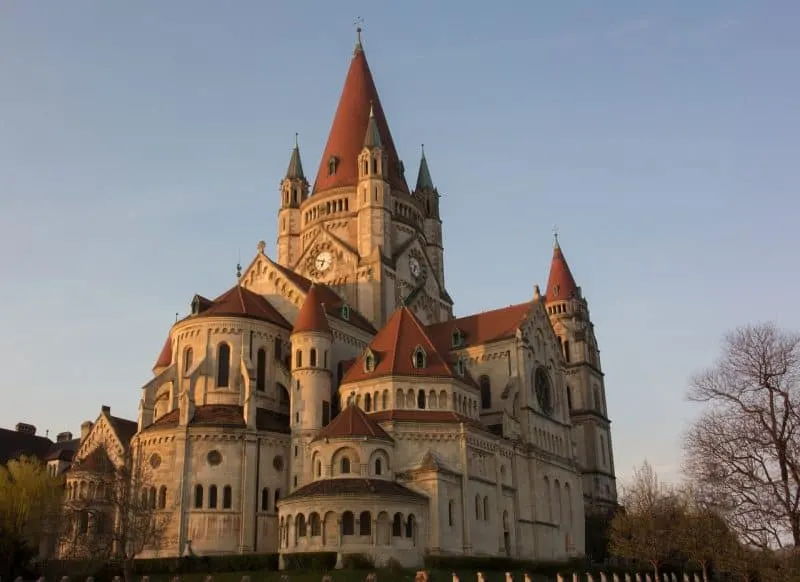 Now this is like something out of a fairy-tale! And worth the walk for a quick pic if beautiful buildings peak your interest! If you're struggling to find it, locals also refer to it as Kaiser Jubilee Church or the Mexico Church.
The Church of Assisi isn't the only beautiful Religious building in Vienna, if you have any extra time, why not visit Melk Abbey? It's a photographers dream!
.
Belvedere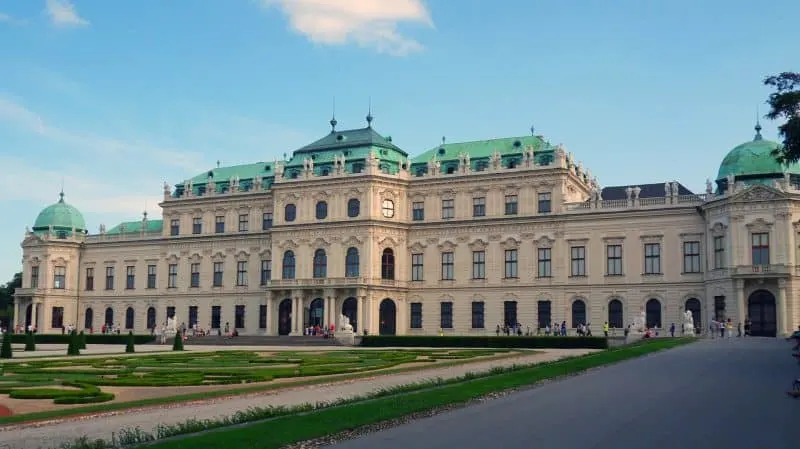 Two palaces in one – the Belvedere complex is made up of The Orangery and the Palace Stables, which are home to Vienna largest medieval art collection, along with the worlds largest collection of works by Klimt.
IF YOU'RE ENJOYING EXPLORING VIENNA, WHY NOT CONSIDER SALZBURG CITY FOR YOUR NEXT AUSTRIAN ADVENTURE?

.
Prater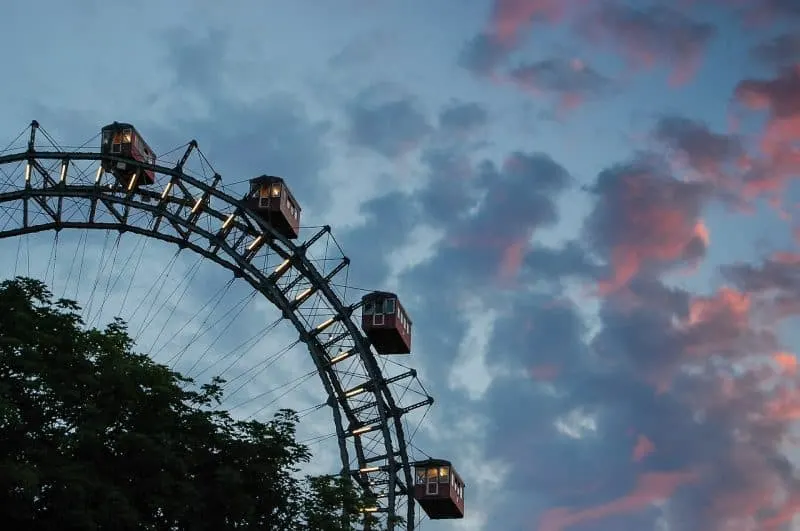 Prater is the largest – and most famous – public park in Vienna, and which in one corner is home to 'Wurstelprater' – the oldest amusement park in the world. Boasting the famous Ferris wheel, the Weiner Riesenrad, built in 1897, it is one of Vienna's most famous landmarks. Open between 10:00am – 01:00am each day, there is a nominal fee to ride this great attraction. It's also a great alternative for that panoramic city shot if you didn't feel like climbing the 343 steps to the top of St Stephen's Cathedral!
.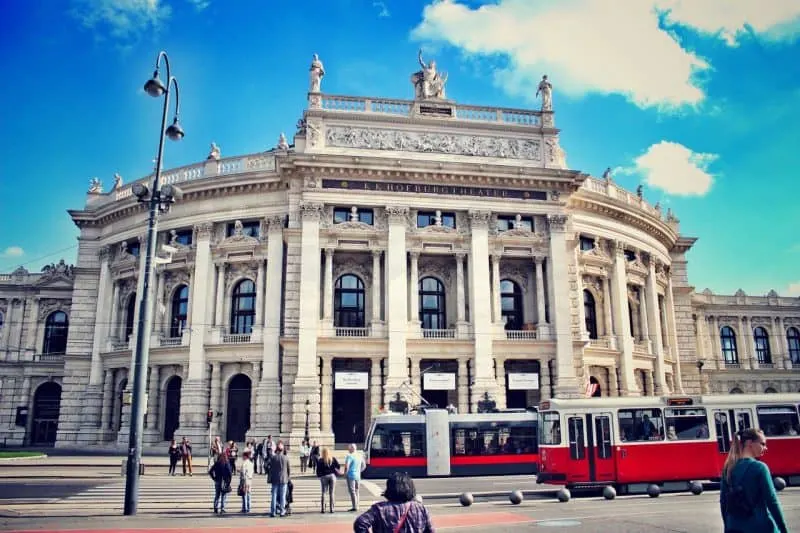 Spread over an area of 60,000m2, there are over 70 cultural institutions and together they make up the 8th largest cultural area of the world. (Didn't I say Vienna was all about the culture?!) Take your pick from art throughout the ages and in summer don't forget to take a seat on the 'Enzis' – the epitome of modern outdoor furniture – the latest incarnations now offer wifi and power points! – and are a 'must-have experience' when visiting the MuseumsQuartier.
Related: Traveling as a couple? Check out this post for tips on having a Romantic weekend in Vienna for Couples
Take in some Music History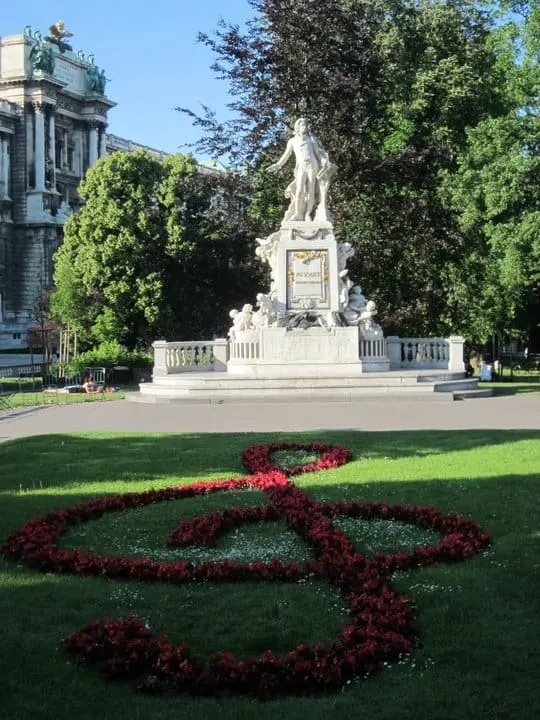 Between Beethoven, Mozart, Haydn and Schubert, Austria has got your classical music needs covered! With museums dedicated to all, you could easily spend a few hours brushing up on your knowledge, or just wander through the perfectly manicured gardens that are dedicated to these masters.
Go on a Winery Tour!
With only 48 hours, I would ordinarily not suggest taking a 6-8 hour tour, but as Vienna is quite compact, it is easy to fit all of the above in (with planning and effort!) leaving you free to enjoy a taste of some great wines in the nearby Wachau Region. Tours can be taken either by bus – or if you are feeling energetic – by bicycle – and make for a great day out.
Related: Like wine? Check out my wine routes of Melbourne's Yarra Valley – Did somebody say free wine and my Ultimate Tour of The Yarra Valley!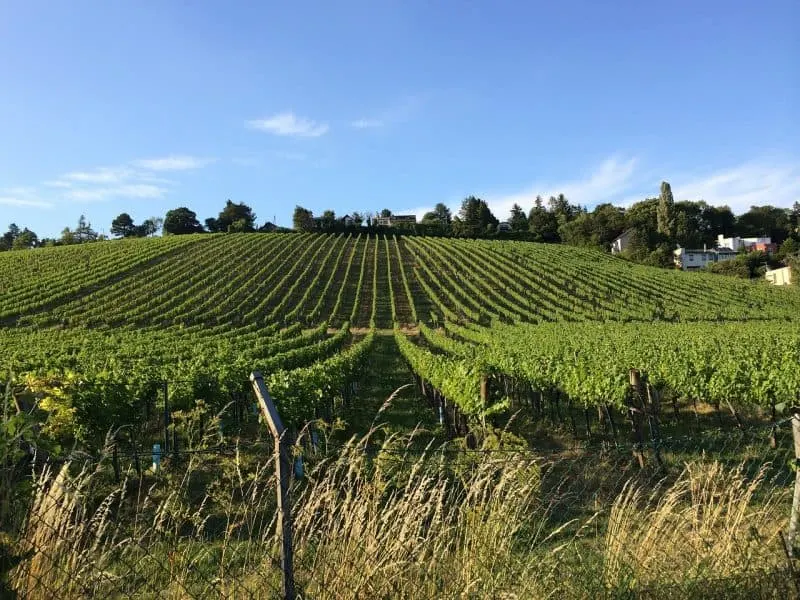 .
Where to Stay in Vienna

These are my top 3 options in each price bracket, to read the full post head on over to my ULTIMATE GUIDE TO WHERE TO STAY IN VIENNA – THE BEST HOTELS AND HOSTELS TO SUIT EVERY BUDGET. We'll have the perfect hotel for you picked out in no time!

If you are looking for contemporary luxury, this design hotel oozes the simple elegance that only clean lines, beautiful interiors and state of the art in-room appliances can offer. Each room comes complete with a Bang & Olufsen TV and audio system, an espresso machine and wine fridge. And beer, wine and soft drinks are complimentary throughout your stay.
Like more info? Click to Read Trip Advisor Reviews

The modern rooms are air-conditioned and come with a tablet computer, a flat-screen satellite TV, a modern sound system with Marshall amplifiers, a safe, and a bathroom with a rain shower. The Ruby Marie Hotel´s laid back bar and rooftop terrace is open 24/7 and also functions as the property's reception.
Like more info? Click to Read Trip Advisor Reviews

Opened in May 2015, Motel One Wien-Hauptbahnhof is located right next to Vienna's Main Train Station. The modern rooms are air-conditioned and equipped with a flat-screen TV and a bathroom and guests can enjoy the on-site bar and benefit from free WiFi. The public areas are spacious, well decorated and offer opportunities for guests to relax in the bar, lounge and terrace areas without every feeling crowded.
Like more info? Click to Read Trip Advisor Reviews
.
Where to Eat in Vienna

Day-to-Day Eats
Tunnel – Young and laid back, this restaurant-live music hybrid offers a large menu with reasonable prices.
Pizzeria Mafiosi – Looking for an Italian bite to eat, Piazza Mafiosi offers pizza and pasta dishes for as low as 6 Euro! (the website is only available in German, luckily pizza can be easily translated)
Esterházykeller – Another menu to translate – but with Austrian meals at under 8 Euro, it is definitely worth the effort!
Schachtelwirt – Traditional Austria fare with a contemporary twist, their dishes are a work of art, and they offer a new creative menu each week.
Zur Eisernen Zeit – A Small menu filled with local specialties, many say this place serves the best beef goulash in all of Vienna.
Luxury Eats
Loca –

Michelin Star dining in the heart of Vienna – reservations in advance are a must!

Steirereck –

2 Michelin Stars and a varied menu showcasing diverse Austrian Fare.

Restaurant Rote Bar – With sumptuous red decor and some of the most attentive service in Austria, Restaurant Rote Bar is perfect for special occasion dining – or whenever you want to feel like royalty!
So there you have it – my top picks and highlights for 48 hours in Vienna! Let me know if I have included your favorite spots – and let me know if there are any that I've missed!
Oh, and don't forget, if you liked this post please click the Pinterest Icon in the sidebar and pin & share – I would really appreciate it ?