Motorbikes in South East Asia

If you have traveled in South East Asia you may have noticed that the motorbike can be used for such much more than from just getting from A to B. They are people movers, delivery trucks and livestock transportation. The use of motorbikes in South East Asia is the perfect example of how people make do with whatever they have – and it makes for some weird and wonderful sights to the uninitiated! Motorbikes South East Asia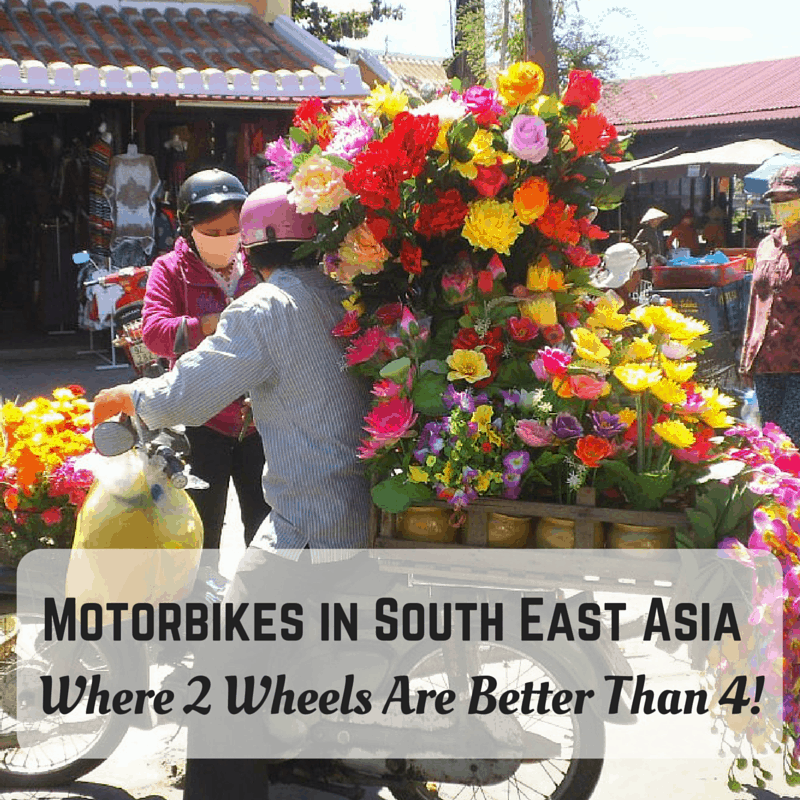 Motorbikes South East Asia
Whilst traveling through Asia we used to love just watching the traffic – desperately hoping to spot something ridiculous on a bike and feeling a sense of childlike joy at what seem to be the various feats of acrobatic genius! It was often an easy conversation starter and meeting people along the way it was great to swap stories – which often became the stuff of legends. I was once told the most ridiculous thing a couple had seen on the back of a motorbike was a coffin. A coffin! The mind boggles, but I admit that the weirder and wackier the story the better – I just wish I had seen them all myself! And that is how we got here today – I asked a few fellow bloggers to share their best shots of motorbikes being used in the most ingenious way, in the hope that you get the same sense of wonder as I do, and you'll scroll through this post with a silly grin on your face! Here's hoping anyway! Motorbikes South East Asia
*Just a quick heads up – this is not a post that will warrant praise for the photography – but when you are trying to capture these amazing sights whilst in or on a moving vehicle yourself, I think we can afford people a little leeway!*
Herein follows some of my favorite shots with my own witty (or I like to think so anyway..) commentary about what is going on. Feel free to insert your own captions as you scroll through.. and share them in the comments with me for a bit of a giggle!
Who knew that flower shops were mobile?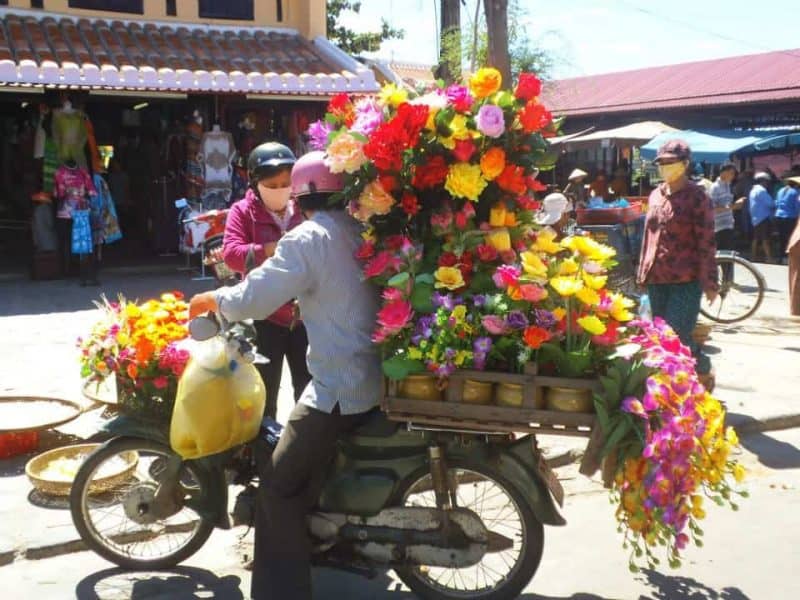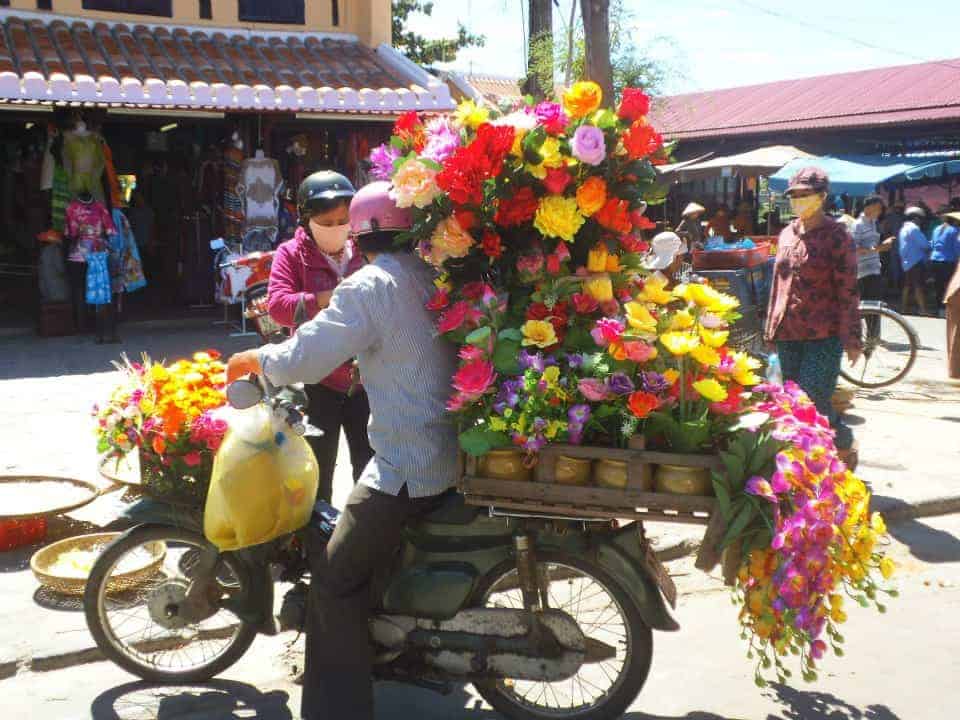 .
Or that a motorbike was the perfect way to transport the latest harvest..
.
Are you ready for the latest beer delivery?! It's a good job kegs are left to stand a while after delivery.. I anticipate these three had a very bumpy ride!
.
Did anyone need a basket? The bloke on this bike has a few to spare…
.. I know you can barely see the bike, but I promise you it is there!
.
I think this one is the "Swiss Army Knife" of bikes..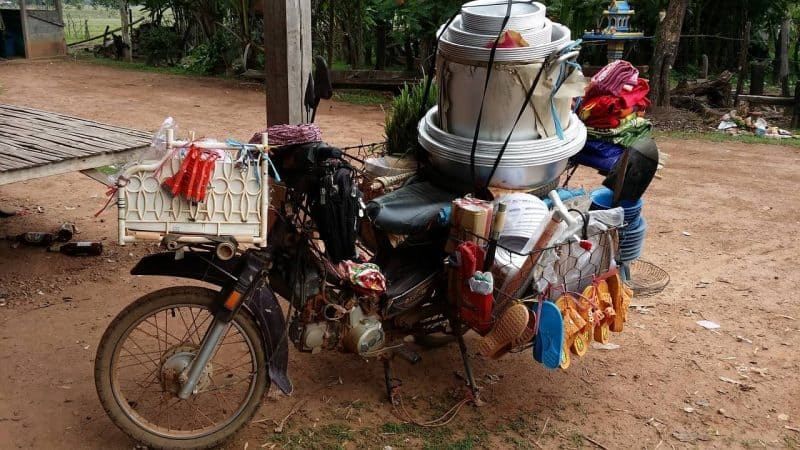 .
Although not a motorbike – the ability to balance carrying what must be a few kilo's of Oranges is whilst riding around is a skill to be recognized!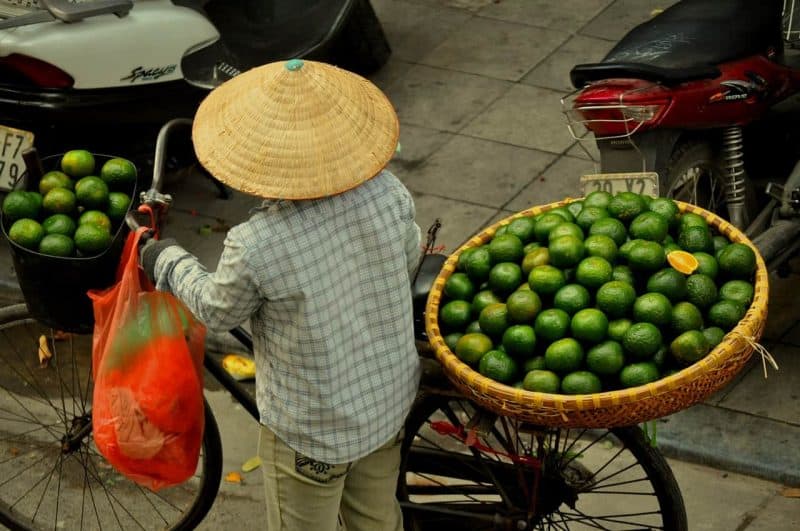 .
I am entirely unsure what he is transporting.. but whatever it is, he has a lot of it!
motorbike south east Asia
.
There must be a lot of people in need of blankets – and the look of concentration on this drivers face says he either takes his job very seriously… or something is about to fall!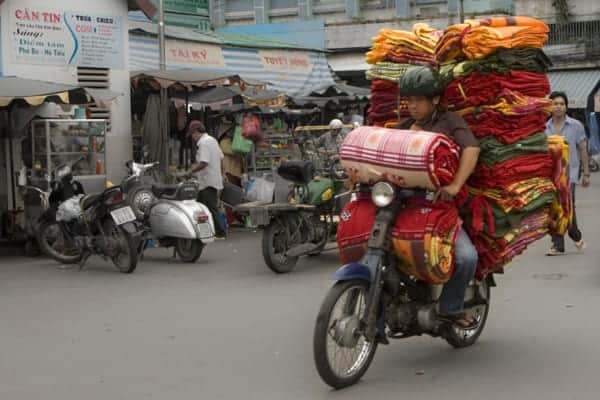 .
Water spinach anyone? The is a restaurant somewhere that is in desperate need of supplies! at least that is what I think it is..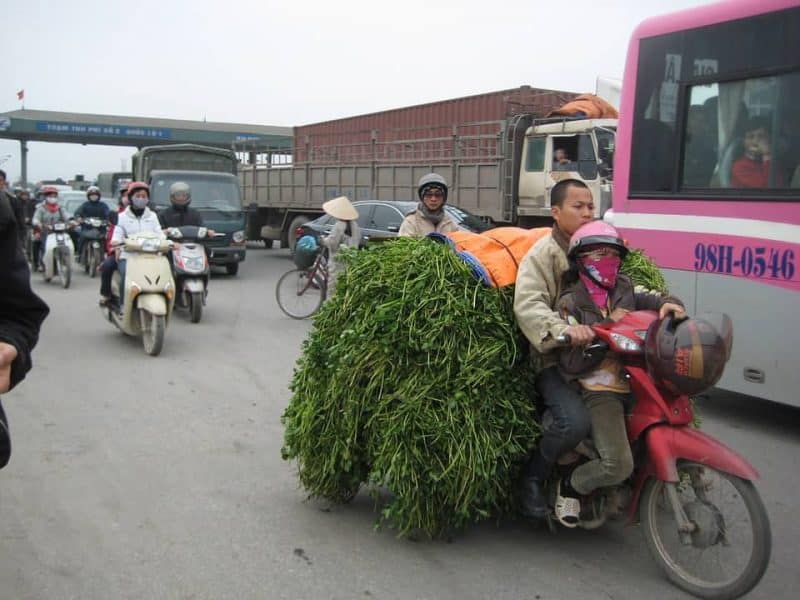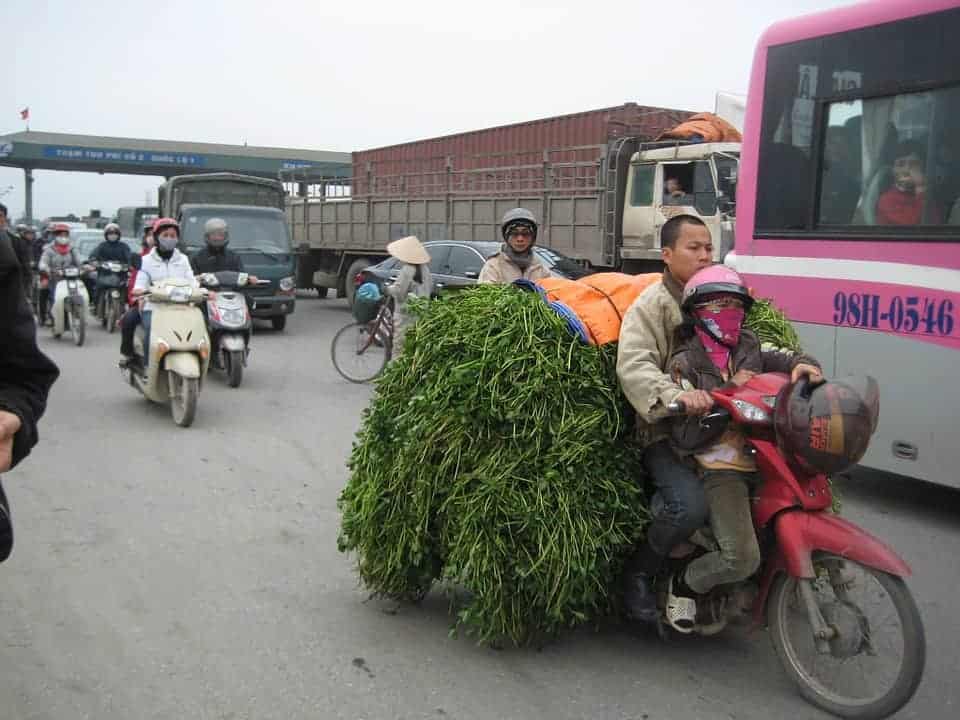 .
♫ ♬

You'll look sweet, upon the seat, of a bicycle made for 2

♫ ♬

or was that 3…

motorbikes south east Asia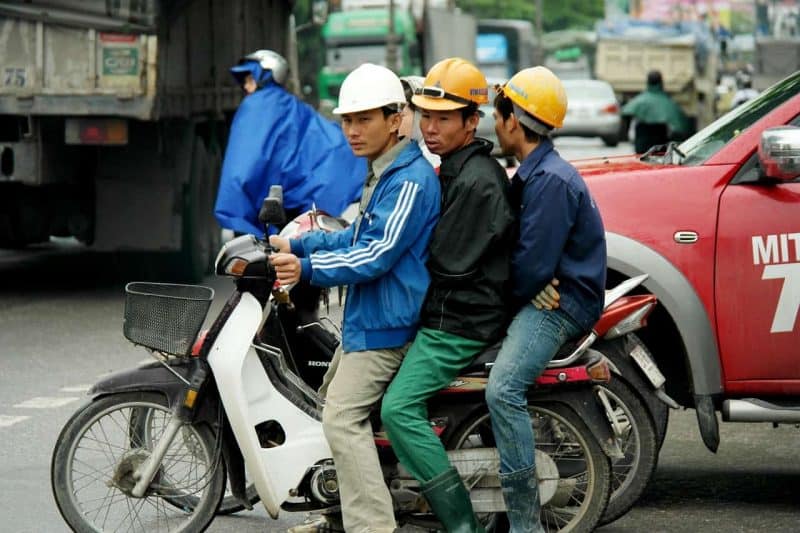 .
… or 4?!
motorbikes south east asia
.
In Asia you don't need to go to the grocery store.. the store comes to you!
motorbikes south east Asia
.
and finally, Now I mentioned livestock right? Well these were chickens.. and there was not a happy end to their journey..
motorbikes south east asia
.. just around the corner from this shot was a woman who had recently cut the head off a chook and was washing the blood down the drain before starting to pluck it… vegetarians, I am sorry for sharing..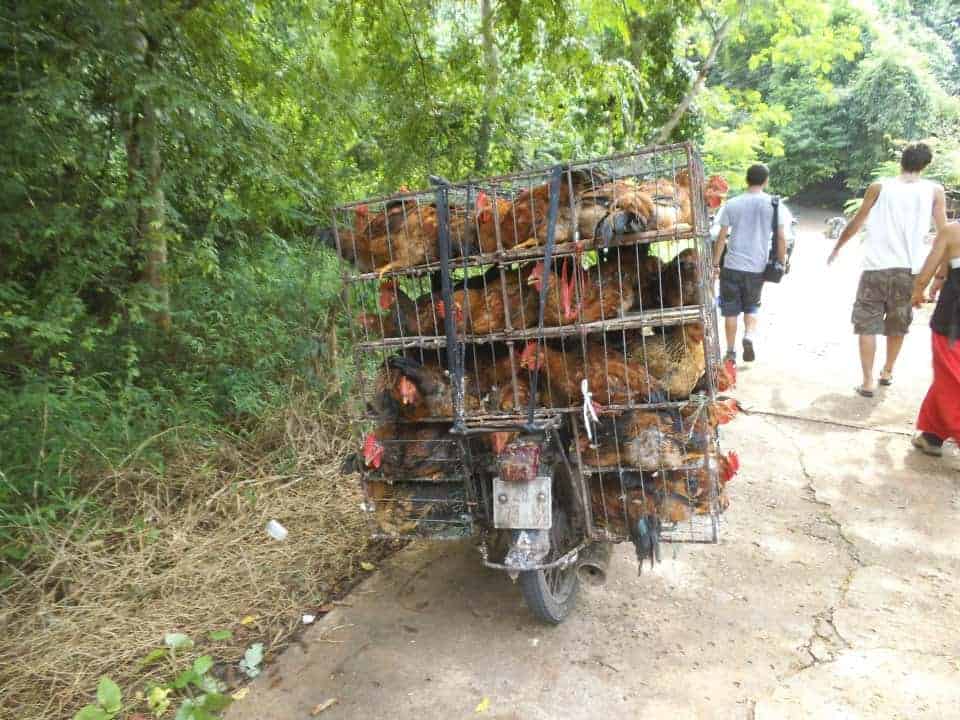 ..and this one I did not see myself, but with the absence of large animal transporter trucks, the bike is really the only option in South East Asia.. and cleaner when you look at it practically!
So there you have it – I hope I have shown you have 2 wheels are certainly better than 4 in South East Asia and maybe even piqued your interest to visit South East Asia to see these marvels for yourself!
And if you liked this post – or just think it would brighten someone's day, please pin & share – I would really appreciate it :-)
motorbikes south east asia
____________________________________________________________________________
[efb_likebox fanpage_url="maketimetoseetheworld" box_width="350″ box_height="320″ locale="en_GB" responsive="0″ show_faces="1″ show_stream="0″ hide_cover="0″ small_header="0″ hide_cta="0″ ]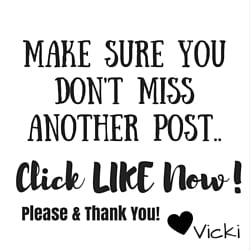 _____________________________________________________________________________
Motorbikes in South East Asia – Where 2 wheels are better than 4!
was last modified:
July 20th, 2020
by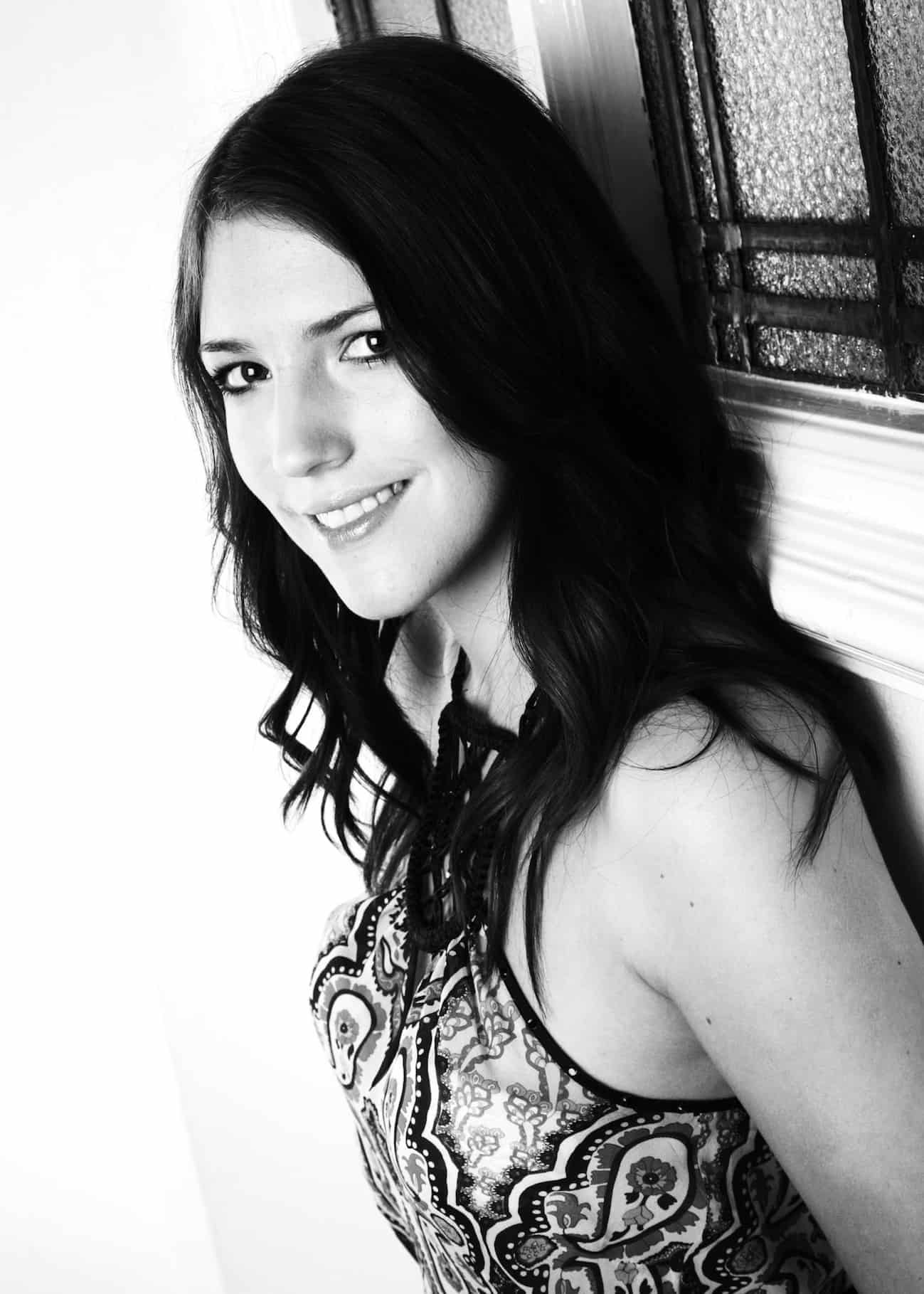 Vicki is the Lawyer turned Content Creator, Editor-in-Chief and all round Boss Lady at MakeTimeToSeeTheWorld.
She has lived and worked in 7 different countries and started the site to show everyone that it is possible to travel whilst holding down a full time job (because not everyone can – or wants to – quit and walk away from it all).
Her style of travel has always been to get the best out of a destination as a time poor traveler making the most of limited vacation days and all without breaking the bank; BUT she does know where to save and where to splurge to have the most incredible travel experiences – such as luxury hotels and over-water bungalows, safaris, spas and more(!) – where the situation calls for it.
To see where Vicki's work has been featured online, visit our Featured Elsewhere page.
– and if you are a travel brand who would like to find out how to work with Vicki, contact her here.