20+ Incredible Israel Travel Tips packed full of essential info & practical advice to help you get the most out of your visit to the Holy Land.
If you're planning a trip to the Holy Land, you may have a few questions running around your head. Things like: is Israel safe to travel? What should you wear? What should you expect? Is Israel expensive to visit? – at least these are the things I wanted to know! And so now that I'm back from my epic trip to Israel I thought I'd put together a post to answer these and a whole heap of other questions you might have for traveling in the region and give you some essential Israel Travel Tips and a bit of a complete Israel Travel Guide to make sure you have the perfect trip!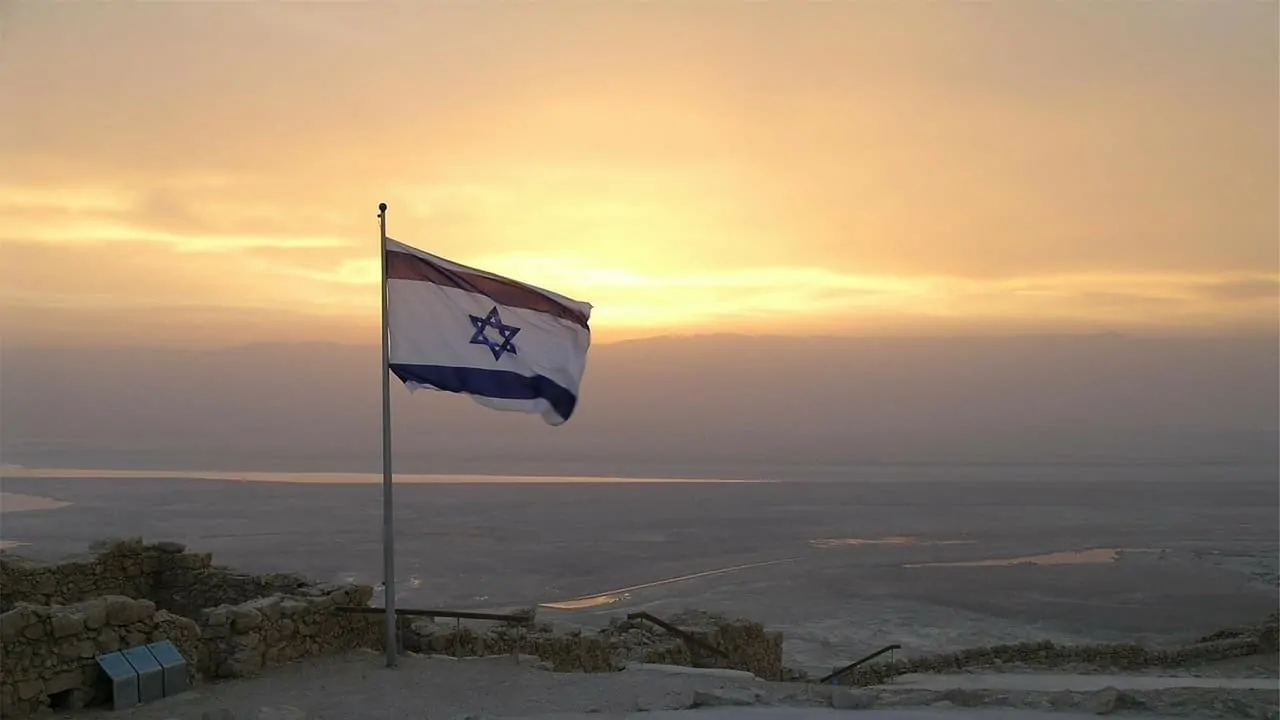 Essential Israel Travel Tips
Be aware of Israels History + Israeli Culture
Quick (simplified) history lesson: Eretz Yisroel – the Promised Land of Israel – has been a crucial, sacred concept to the Jewish peoples for over 3000 years; with the Torah stating it was promised to the nomadic Jewish people during the Iron Age. The first Kingdom of Israel came into being in the 11th century BC and existed for over 400 years until the Assyrian and Babylonian conquests. After this things get a little crazy, with empire after empire taking control.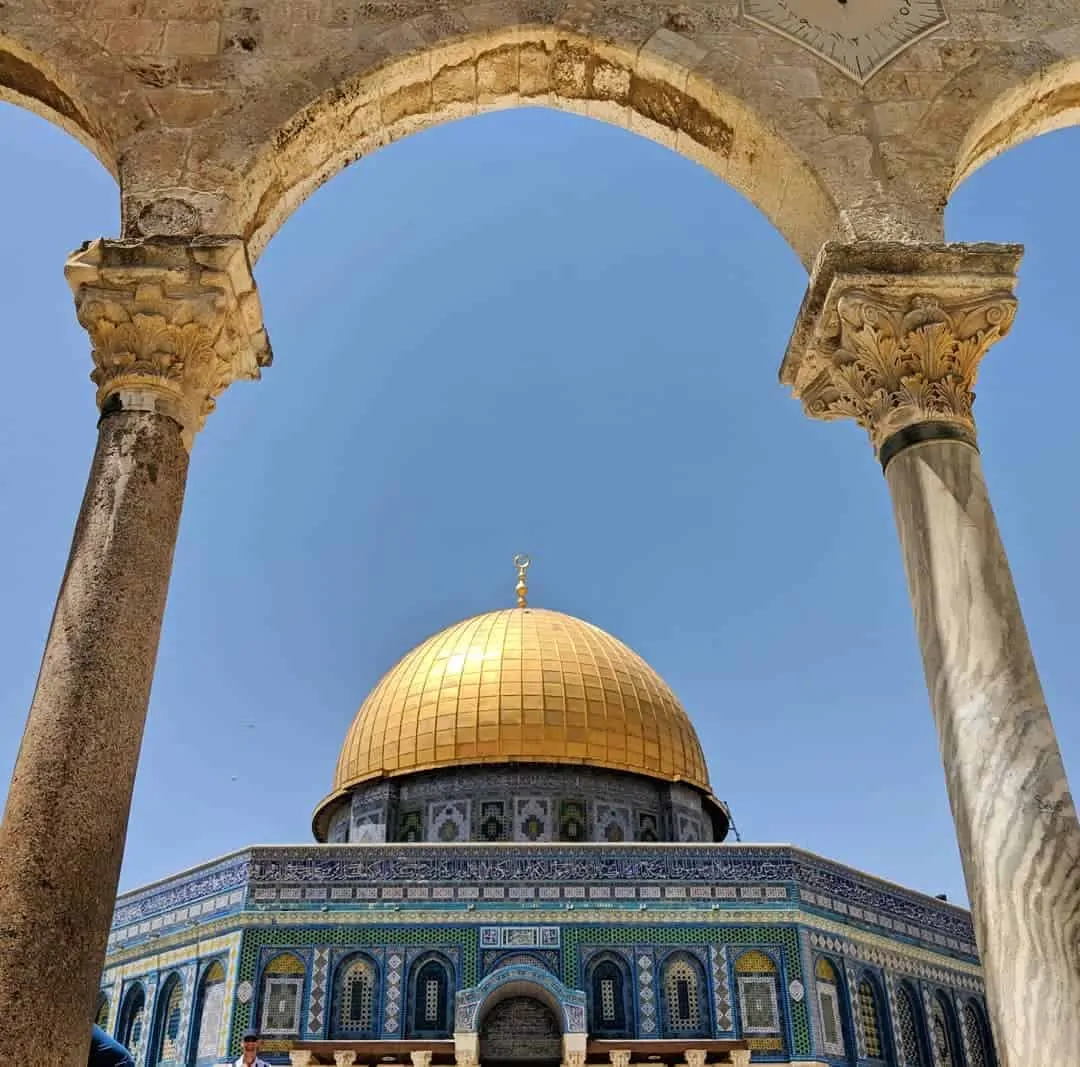 Fast forward to the 20th Century: Jewish people were scattered across Europe and the wider world, where they lived in relative peace although orthodox Jews began to focus on migrating to Eretz Yisroel. During World War 1, the British agreed to form a home of the Jewish people, although did not follow through with it's creation.
World War 2 and Hitler's Holocaust saw the murder of 5-6 million Jews and the rise in Jewish displacement camps which became home to Holocaust Survivors and Jewish people who feared returning to their homes for risk of violence.
A lot of countries restricted immigration to these people, most notably, the leaders of Arab identifying Palestine – which existed on land formerly owned by Jordan and Syria, and had been under the control of British Mandate (decreed by the League of Nations) between 1918-1948. Palestine contained the land which Jewish people referred to as Eretz Yisroel.
These events promoted the 1947 UN partition plan, which divided Palestine into separate Jewish and Arab states, with Jerusalem under UN administration; however this plan never came to fruition as in 1948, the Jewish Community in Israel under David Ben-Gurion, reestablished sovereignty over their homeland and Declaration of independence of the State of Israel was announced on May 14, 1948.
Understandably, Israel's Arab neighbors were less than impressed and they mounted an attack, although in their defeat they lost more land than had been outlined by the UN. Many Palestinian Arabs fled, which is a continued source of controversy to this day and is mostly localized to the West Bank and Gaza Strip.
Wars, conflict and various peace treaties followed, and without an international resolution, continue to this day – although several media outlets have called for the terminology of Arab-Israeli conflict to cease to be used, as 70 years after Israel's creation, the issues causing tension between Jews and Arabs have evolved and now represent something completely different.
The weight of the issues are difficult to unpack, but during your visit I would encourage you to visit the West Bank (you'll need an organized tour with a licensed guide and destination expert) and the Yad Vashem Holocaust Remembrance Center. These two sites alone won't be enough to fully examine the gravity of the situation, but they will provide insights into both sides of the conflict and the underlying issues you should be aware of when traveling in Israel.

Shabbat
Shabbat (also known as the Sabbath) is the Jewish day of rest which officially starts a few minutes before sundown on Friday and lasts until the first three stars appear in the sky on Saturday. During this time Jewish people traditionally stay at home all day and put aside weekday stressors to commit themselves to higher pursuits.
There are a number of activities prohibited and for the orthodox of the community, a ban on electricity (although in speaking to Jews the way around this is to ask a non-Jewish neighbor to flick the switch on an electric appliance you might want to use – like air-con!).
What this means for visitors is that Israel's weekend falls on Friday-Saturday. Practically everything closes on Friday afternoons including shops, (most) restaurants and markets and public transport ceases to run.
As such, options for things to do over the Israeli weekend can be limited, however if visiting Jerusalem Israel during Shabbat be sure to wander the much quieter Holy city where it is particularly interesting to see the religious Jews mark the start of Shabbat at the Western Wall on Friday evening; and if you are staying at Abraham Hostel, sign up to the huge Shabbat Dinner with your other Hostel guests.
.
Tel Aviv & Jerusalem are polar opposites
One of the things to know before traveling to Israel are that Jerusaelm and Tel Aviv are completely different. From Jerusalem, a city which ooozes the weight of religious significance to the liberal, hit and free-spirited Tel Aviv, two cities could not be any more different – and to be honest you may experience a little bit of culture shock when traveling between them!
Modesty and restraint prevail in one, with nightlife, drinking and dancing the order of the day in the other. Each has their own benefits and one is not better than the other. They serve different purposes and expect different things of their visitors. Just be mindful of which one you are in when you are out and about!
Watch out for Jerusalem Syndrome
Jerusalem is important to so many people, that the prospect – and manifestation – of visiting can push some people over the edge. Jerusalem Syndrome is a well documented (albeit very rare) phenomenon where foreign visitors to the Holy City experience religious inspired delusions.
Recognised cases have included a Canadian woman presenting to Jerusalem hospital convinced she is about to give birth to the baby Jesus (she wasn't even pregnant) or the American who thought he was the harbinger of Armageddon and decided to tear down the Western Wall (the most Holy of Jewish sites). It has even been the subject of a study in the British Journal of Psychiatry, but is reported with skepticism by most media outlets. But don't say I didn't warn you!
RELATED: Plan your trip to with our guide to 30+ Things to do in Jerusalem or of you're traveling with little ones take a peek at this guide to Jerusalem with Kids.
.
Pack appropriate clothing & be Mindful of What You Wear (What to Pack for Israel)
One of the most important tips for travel to Israel is to be mindful of what to wear. Whilst Israel is a mostly liberal country, there are varying dress codes and requirements throughout the different cities and regions.
I have put together a complete guide to what to wear in Israel as broken down by city but in essence, in Tel Aviv you can literally wear what you want; in Jerusalem it will entirely depend on where you are in the city – holy city/mount of olives/markets etc – but modesty is expected; and Nazareth, as an Arab city, appreciates shoulder to knee coverage.
My Top Israel Travel Tip is to check the modesty requirements of the places you plan to visit each day before setting out and dress appropriately – and always have a scarf/shawl handy for emergency coverage.
.
Israel is an expensive country to travel in + What things cost in Israel
Israel is not a cheap destination, with prices for things and food in Israel on a par with – and in some instances – even more expensive than in Australia(!). I've listed a few prices below in local currency and am working on the loose exchange of 5 Shekels (NIS) = £1 GBP; $2 AUD or $1.35 USD. Check current exchange rates here.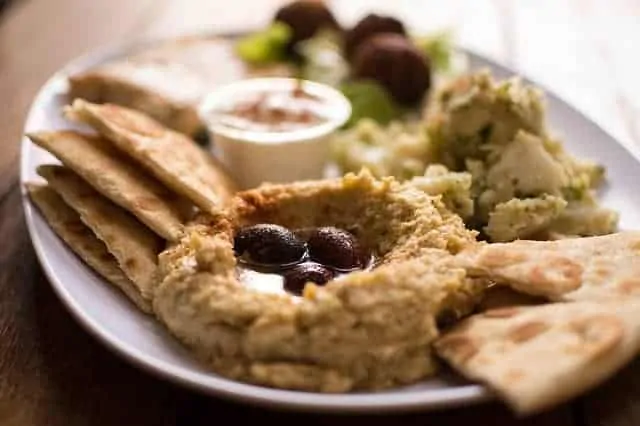 3NIS – Small Bottle of Water from Supermarket/Shop
5 NIS – Large Bottle of water from Supermarket/Shop
6-7 NIS – Can of Coke
4-5 NIS – Cup of Coffee
15-20 NIS – Street Food / Market Food (Pitta + Falafel)
12-20 NIS – Hummus & Pita (Cafe)
30-50 NIS – meal in cafe
50-90 NIS – meal in restaurant
4-6 NIS – one way ticket on public transport
25-30 NIS – pint of beer in a bar
30-40 NIS – glass of wine in a bar
.
Don't Worry About the Passport Stamp…
Whilst there are a few quirky Israel travel requirements, For some time now tourist visitors to the country no longer have to be concerned with receiving the troublesome Israeli passport stamp. (FYI – Due to tensions in the region, there are several Arab nations who do not allow visitors into their country if they have previously visited Israel).
Instead, on arrival you will have your photograph taken and a barcode issued which is given to you, along with your personal information, on a small blue identity card. This tourist card is to be presented to all hotels or car rental agencies to prove you are on a tourist visa and is important for business to record for tax purposes (as tourists are exempt).
It is important not to lose this card (which is just smaller than the size of a credit card) but it is not the end of the world if you do – you'll just have pay tax.
On your departure from the country you'll be provided with another version of the card, except this one will be pink. You can keep them both as souvenirs, but I would recommend not carrying them inside your passport in case you inadvertently hand them over at a subsequent border crossing.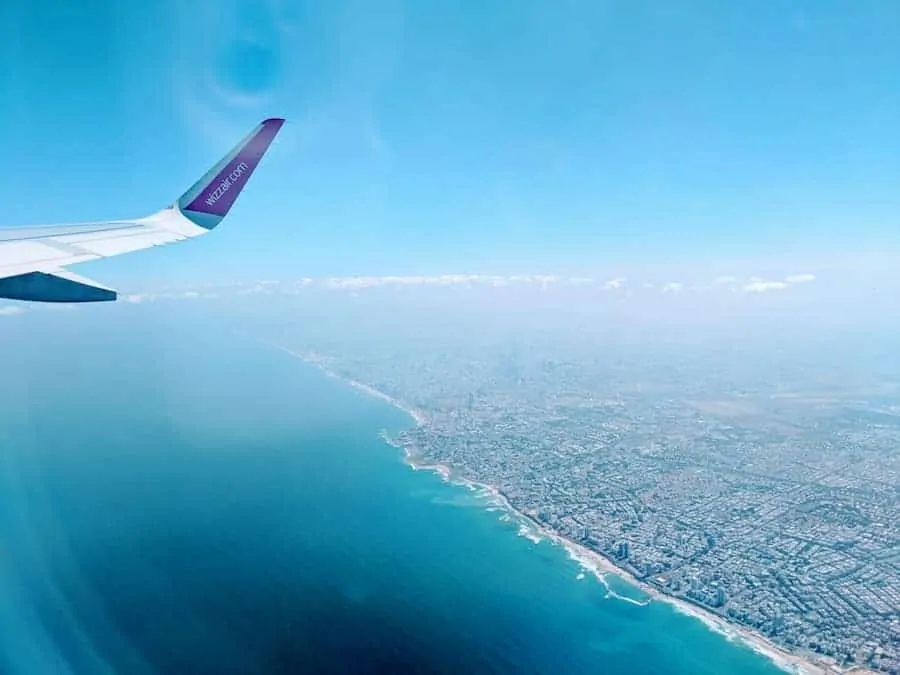 …But remember that you will be questioned entering and exiting the country
It's not personal, it's just what airport security do. On arrival you will be asked why you're here, where you're staying, if you know anyone etc; and on departure they'll go through your passport and question you about stamps from countries they are wary of.
Don't panic, just allow yourself plenty of time in the airport and answer their questions truthfully. 99% of the time, you don't have anything to worry about.
Occasionally they may decide to hold you for what appears to be no apparent reason, or search you and your entire possessions (at the airport I had my bag emptied into 6 trays, every piece of electronic equipment checked, a full body search behind a curtain – as in between my toes and in my hair and a thorough pat-down kinda body search!) but there was no malice in it, it's just something they do.
If it happens you just have to be patient and stay calm – and in my case, apologize profusely for the God-awful smell emanating from my shoes after walking around all day!
.
Keep Safety in Mind – But Don't Let it Control You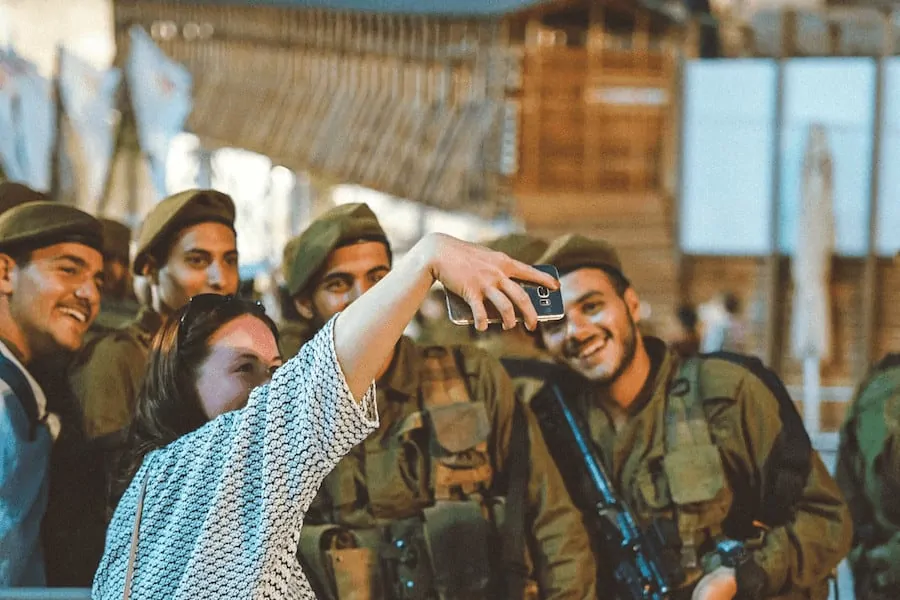 If you read my simplified history lesson above – and followed the links – you may be feeling a little on edge about your Safety in Israel. However, life on the ground in Israel is on the whole safe and peaceful.
I've listed it below but all Israeli citizens are subject to conscription and national service meaning that is is normal to see members of the armed forces as young as 18 patrolling the streets with machine guns, but this is comforting rather than confronting.
As with any destination in the world, and one of our top Israel travel tips is that visitors should excise natural and normal levels of caution and awareness; and it is always a good idea to check with your local government travel advisory (UK/AUS/USA) prior to hopping on a plane.
All Israel Citizens have to Serve in the Armed Forces
Military Service acts as a right of passage for Israeli citizens and everyone over the age of 18 is required to serve in the IDF (Israeli Defense Force). Women, once restricted to administrative positions, have held combat positions since 1995 and today make up 51% of Israel's army.
The strength of the IDF is often thought of as a contributing factor to Israel's economic success and security. Just don't be shocked to see military personnel on the streets. It's perfectly normal.
.
Public Transport is Great – and for everything else there is Gett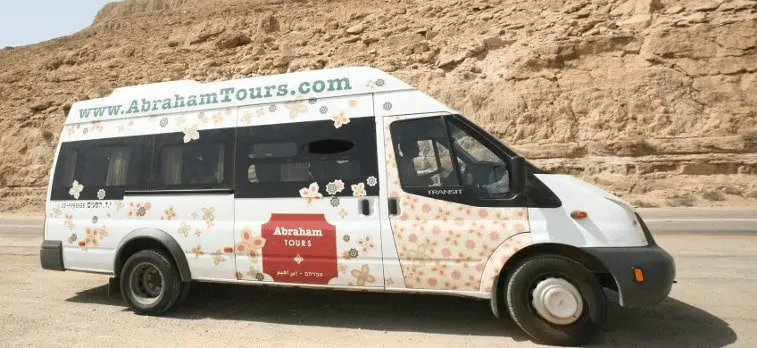 In Jerusalem – albeit a very walkable city – public transport is great and the metro (tram) runs from one end of the city to the other.
Aside from that, there are a multitude of public buses and Sherut's (shared taxis) that operate throughout the country with prices from 6-10 NIS per journey (depending on the destination.)
For those not comfortable with flagging down a communal van (I wasn't), Abraham Tours offer mini bus shuttle transfers between key destinations for reasonable prices. For everything else – and one of our essential travel to Israel tips – is to download Gett (search GetTaxi App) – which is the equivalent of Uber. Most visitors will not require a car in Israel.
.
Smoking Inside is Still OK (in some places) – and it's not just cigarettes..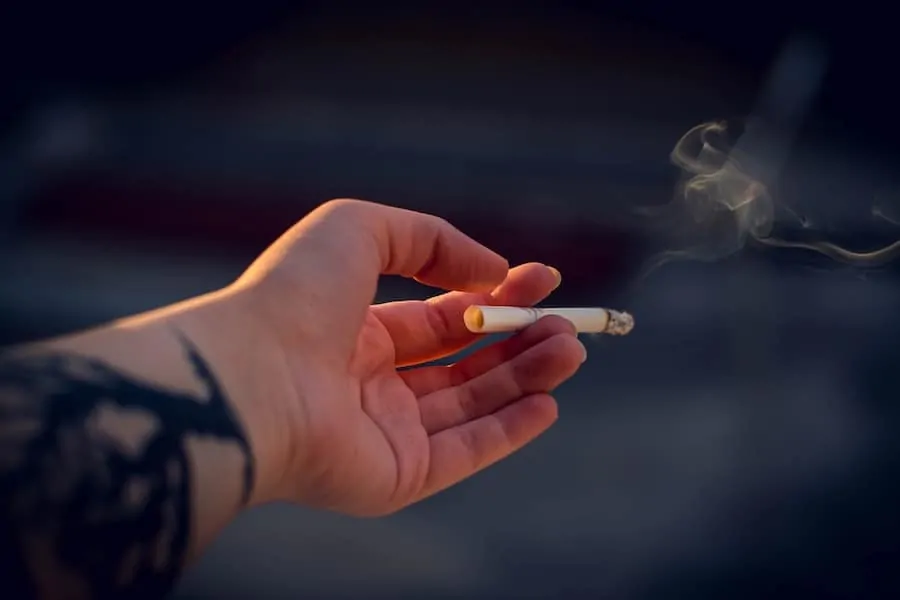 Walking into an establishment where people are smoking is like stepping back in time. Living between Australia and the UK, I've practically forgotten what it's like to be in a bar where people smoke, but those rules do not apply in Tel Aviv. (Although, Israel did pass a law in 2004 against smoking in public places, and ramped up it's restrictions in 2019 legislation. It remains only losely enforced).
And it's not just cigarettes. Weed (Marijuana) is legal (it was decriminalised in March 2017, and sanctions were further reduced in April 2019 meaning that adults will not get a criminal record for recreational use, but can still be fined if found to be smoking it in public places.)
Although there isn't a recreational industry as such (yet), 27% of the population aged 18-65 have used the drug.
.
Israel is Very LGBTQI Friendly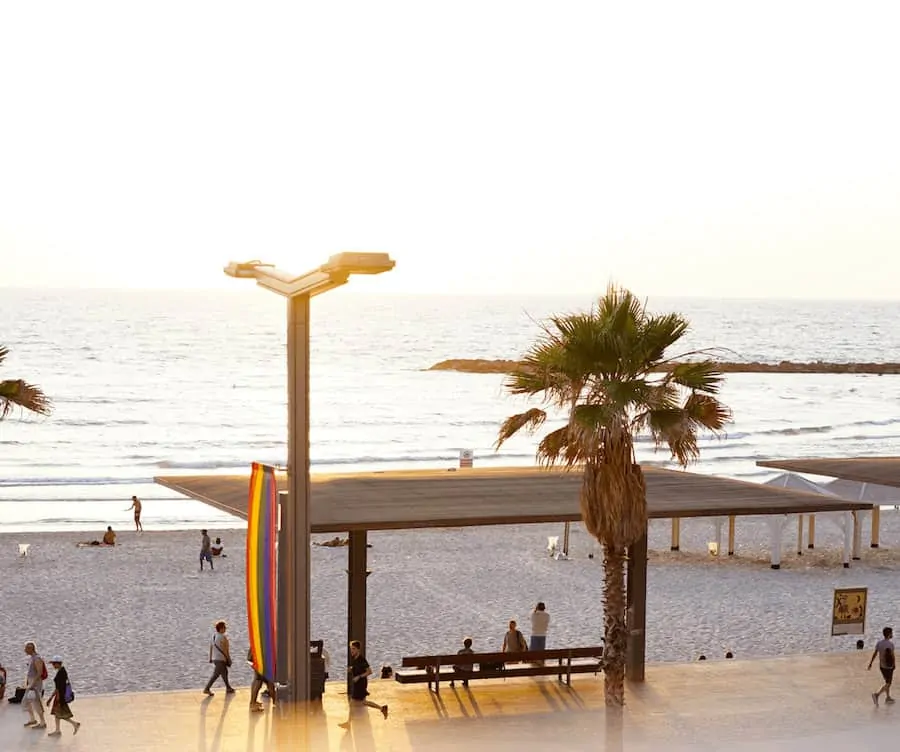 Israel has been supporting gay rights for decades, with Tel Aviv becoming a mecca for LGBTQI travel in recent years and who welcomed 250,000 revelers to it's Gay Pride festivities in in June 2018 – the 20th year of celebrations. It is known a premier travel destination for gay travelers, and one where LGBTQI identifying persons feel very safe and welcomed.
.
Tel Aviv has a selection of Themed Beaches
Along Tel Aviv's 14km of coastline, there are 13 'themed' beaches including a beach for dogs, beaches split by gender for those that want to take a dip without the opposite sex, a yuppie beach (attracting the young and beautiful and is the only beach which charges an entrance fee!), several family-friendly beaches, an accessible beach and an (unofficial) gay beach – designated by the rainbow parasols.
Read about all the different beaches here – and keep in mind that the Tel Aviv Municipality has rules on what the beach-side snack bars can charge (when purchased from the bar and not at your chair). Have a quick read of current prices to avoid getting ripped off before you beach day! (And you can thank this travel guide Israel when you don't!)
.
Israel is home to the lowest point on earth: The Dead Sea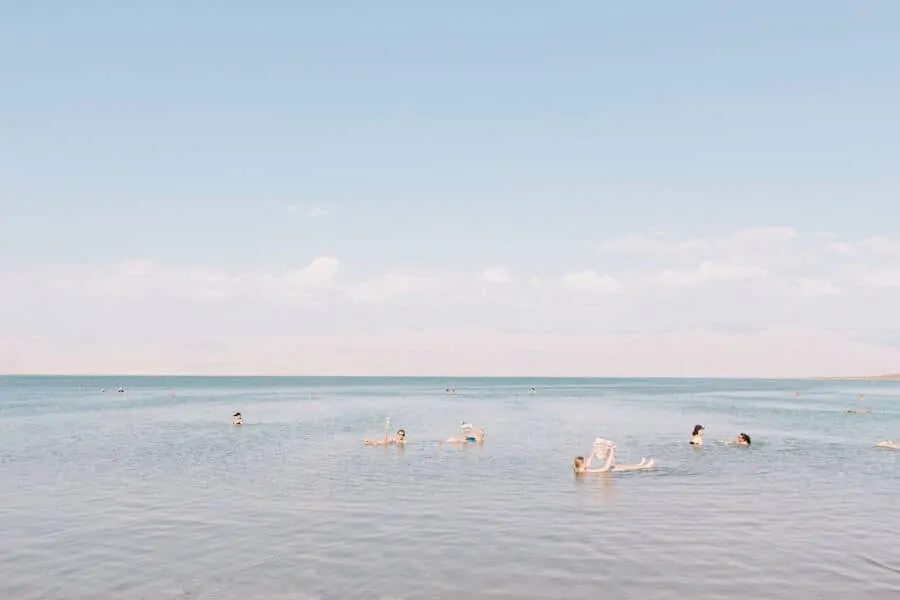 You can't visit Israel and not take a dip in the Dead Sea. Known throughout the world because of it's high salt content which allows visitors to float effortlessly, and for the therapeutic mud which forms at the edges of the water.
However – note for the ladies – DO NOT SHAVE for a few days before visiting – open pores (or any broken skin) don't half sting when submerged in salty water. You have been warned.
Other Top Sights to See & Day Trips in Israel:
ALL the Holy Sites in the Holy City: Dome of the Rock, Temple Mount, Church of the Holy Sepulcher, Hill of Golgotha, Via Dolorosa etc- departing from the Jaffa Gate this 4 hour walking tour is packed with religious sites a plenty. Modest clothing is essential for this one.
The Mount of Olives – see the Holy City and it's old walls from a different viewpoint from the Top of the Mount of Olives whilst taking in all the religious sites and stories with an experienced guide on this afternoon tour.
Ceasarea, Haifa & Acre – ancient ruins and ancient cities collide in this amazing day trip to the North of the country.
.
Practical Travel Tips for Israel
The Best Time To Visit Israel
If you were wondering when is the best time to go to Israel, the answer is unfortunately not totally clear! While there is no time of the year when visiting Israel that is impossible or unpleasant, different seasons bring different weather conditions and Jewish and/or Christian festivals can change the character of a visit.
Summer (June-September) is Best for Beach lovers, Spring (April – May) & Autumn/Fall (October-November) are best for touring the country and Winter (Dec – Mar) can be perfect if you plan on skiing in the highlands, but may not be ideal for sightseeing throughout the rest of the country.
Hopefully, these tips will help you narrow down the best time to travel Israel.
Is it Safe for a Solo Female Traveler to Visit Israel?
I am happy to say that after 2 weeks of exploring the country and basing myself in Jerusalem, Tel Aviv and Nazareth, that I found that Israel is very safe for solo travel, and overall a safe country to travel in and around.
People are respectful, but not pushy (for the most part – I was hounded a little bit in the Holy City by stall owners but a firm, "no, thank you' put them back in their place.); and although I had read a few negative experiences from other solo female travelers who walked the Ramparts (old city walls) alone, I had a positive experience with no problems.
So whilst there are underlying tensions in the country, they are not really on show to tourists – but rather something to be aware of.
RELATED: Read our full list of Solo Female Travel Tips
.
Can you Drink Tap Water in Israel?
Whilst tap water is safe and drinkable in Israel (except at the Dead Sea) its mineral composition is likely different to what you are used to and may make you feel queasy. As an alternative, bottled water is readily available, and the majority of hotels and hostels have a drinking fountain where you can refill your own re-usable bottle. (Check out our full list of the best water bottles for travel here)
.
Is Tipping Part of the Culture in Israel?
Tipping in Israel is discretionary but expected, similar to most of the Western world. The Going rate is between 10-15% with 10% being the lowest, 12% average and 15% for great service (although if you wish to tip more, nobody will complain!) Waiters and bartenders are generally paid a low salary with the majority of their earnings coming from tips.
However, tipping taxi drivers, on the other hand, is not usually expected.
.
Learn some useful phrases before you go
When in Israel you'll see and hear English, Hebrew and Arabic, but learning a few words of Hebrew will certainly put you in good stead with the Jewish locals.
Shalom – Universal for hello, goodbye and a few things in between. It's direct translation is "peace"
Bevakasha – Please
Toda/Toda Raba – Thank you/Thank you very much
Chen/Ken & Lo – Yes & no.
Sababa – Cool / Great / Alright / Sure
Beseder – a simple OK (but one that isn't too over-enthusiastic!)
Chen/Ken & Lo – Yes & no.
L'chaim – is what you say for 'Cheers' & the literal translation is "to life"
Slicha – Excuse Me / Pardon me / Sorry
Tov is Hebrew for "good": ie. Mazel Tov (Good Fortune) or Boker Tov (Good Morning)
Lehitra'ot – See You Later

Disclaimer: I traveled to Israel as a guest of Abraham Tours and Abraham Hostels, however all opinions – and all these Israel Travel Tips – remain my own.
So there you have it – hopefully we've given you enough travel inspiration & Israel travel tips to help you plan your trip to Israel. It really is a fascinating country to visit. Don't forget to let me know if there are any questions I haven't answered or alternatively let me your own highlights once you're back!

Oh, and if you enjoyed reading these tips in Israel and Israel travel guide please share on Facebook, Flipboard, Tweet or Pin – I'd really appreciate it! Click the P in the share bar for a full size image!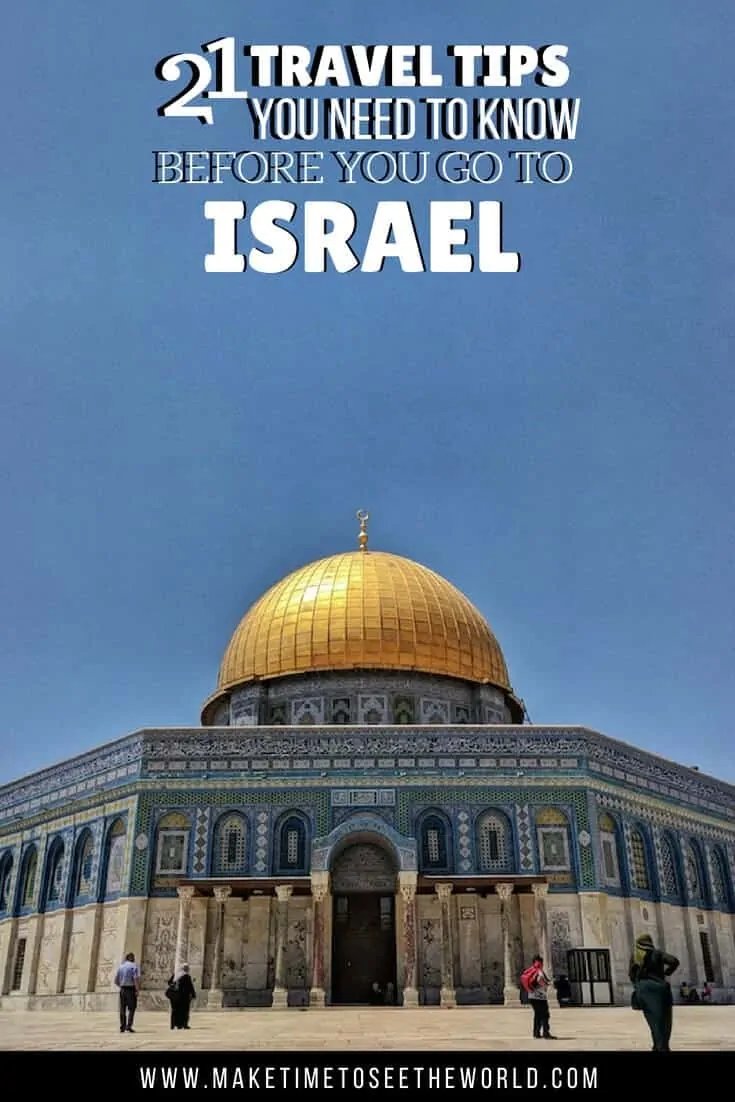 READY FOR MORE TRAVEL TIPS & INSPIRATION? YOU MIGHT BE INTERESTED IN THESE ARTICLES, TRAVEL RESOURCES AND MORE:
Hi There! Thanks for reading our Israel travel guide to the Best Israel Travel Tips: What to Know before you go! I just wanted to let you know that this post may contain affiliate links, which means if you purchase something after clicking a link, I may get a small commission – which is at absolutely no cost to you. If you enjoyed this article and are going to be searching for some of the things I mention anyway, I would love it if you could click through from the links above & thank you in advance! Read my full Disclosure here.
And Thank you for reading the MakeTimeToSeeTheWorld Israel Travel Blog.