[ABRAHAM TOURS REVIEW] Israel is such a fascinating place. A focal point for several religions, it's 'establishment' as a country in 1948 was a celebration for Jews around the world, and a source of contention for neighboring Arab states – which is something that still persist to this day. It is this underlying unease that is often the focus of media coverage in the Western World. And whilst this isn't something to be swept under the rug, it is also not a reason to avoid visiting this magnificent country. Whether you are a person of faith or not, Israel is full of amazing sights, incredible culture, packed to the brim with history – and visiting as part of a tour with Abraham Hostels & Tours is the perfect way to get to the heart of it. Plus it's super easy to add on a visit to Jordan too. Two bucket list destinations in one trip – what more could you want?!
Tour Israel & Jordan with Abraham Tours & Hostels
Disclaimer: I was a guest of Abraham Tours and Abraham Hostels throughout my time in Israel and Jordan, however, as always, all opinions, hummus eaten and hikes completed are my own.

.
Who Are Abraham Hostels & Abraham Tours?
In 2010, 3 backpacker friends and 2 long-term nomads put their heads together and dreamed of a hostel and tour company that would be the go-to in Israel for independent travelers. They hoped it would stimulate the local economy and show the reality of this region to the world. Aiming to create and international hub of travelers eager to discover the country, they planned to provide not only an affordable bed (in what is not a cheap country to travel in) but also trustworthy travel information, tours and transportation along with immersive cultural experiences. And my word have they exceeded their goals! Consistently rated as some of the best hostels in the world – and a shining example to others of how's it's done – Abraham Hostel's 3 locations in Nazareth, Jerusalem and Tel Aviv are warm, welcoming and perfect for anyone wanting a base to explore the country.
How does it Work & Where Can You Visit with Abraham Tours?
Abraham Tours offer a selection of different tours, ranging from 2 week set itineraries, to full day and overnight trips down to some walking tours that only take a couple of hours. You can pick and choose which tours or excursions interest you and build your own itinerary, or select a pre-set route package like the Best of Israel and Jordan (which is the one I did with a slight amendment to turn my 2 day/ 1night in Jordan to a 3 day/2night to include Wadi Rum).
Because of the pick and mix nature of building your perfect itinerary, even if you select a full package tour you may not find you are constantly with the same group of people. Different people may join the tour for different sections, some only taking day trip excursions or an overnight here and there. There is also plenty of free time built into the tours to allow you explore cities at your leisure. All this makes for a really relaxed tour atmosphere that's a little more transient and fluid.
HOT TIP –
Download the
FREE Abraham Tours App
during your stay and you'll have everything you need to know at your finger tips. From free self-guiding tour materials, to background on the sites you're going to see, it's a mine of information!
.
Tours/Excursions included in the Best of Israel & Jordan Itinerary
If booking the tour as a package, it includes all accommodation, with a bed in a dorm as standard although it is possible to upgrade to a private room should you wish. (Please note, the tours in brackets I added on to my itinerary as extras)
Also, the tour is not all inclusive, and you will need to take cash for meals, souvenirs and entrance fees to some of the National Parks. Refer to your itinerary and the app for extra things you should budget for.
Holy City Walking Tour (+ Mount of Olives Walking Tour)
I thought it was only fitting for me to start my Tour of Israel at the holiest of holy cities – even though I don't identify with any religion and hover between atheist and agnostic. The fact that several religions believe that key events happened in and around the ancient walls indicate that something was going on here. Even if we can't be 100% sure what it was. I was thrilled to take a 4 hour guided walking tour through the city on my first day as I tried to get my head around the history, with our guide being knowledgeable, engaging and ever patient to the groups barrage of questions. On the tour you'll start at the Jaffa Gate and visit the Church of the Holy Sepulcher, Hill of Golgotha, the Ethiopian Monastery above the Church of the Holy Sepulcher, Walk the Via Dolorosa, Visit the Western (Wailing) Wall (along with hidden sections) and on every day apart from Friday and Saturday, Explore Temple Mount including the Dome of the Rock and Al-Asqa Mosque (although entry to the Dome or Mosque buildings themselves is prohibited). Having a knowledgeable guide really helps to bring to life these incredible sites and I believe gives you a much better insight than the free tour that is available.
RELATED: Read our full guide to the 30+ Best Things to do in Jerusalem
After attending the Holy City Tour, which I had enjoyed so much, I decided to add a Walking Tour of the Mount of Olives to my itinerary. This tour takes you via mini-bus to the top of the Mount of Olives and a guide escorts you back down into the valley via the Chapel Of the Ascension, Church of Pater Noster (where the Lords prayer is displayed in hundreds of languages), the viewpoint across to Temple Mount above the Jewish Cemetery, Gardens of Gethsemane, Dominus Flevit Church – from which there is a viewpoint to the Russian Orthodox Church of Mary Magdalene (which is not open to the public), Church of all Nations and Mary's Tomb.
.
Masada Sunrise, Ein Gedi & The Dead Sea
Masada National Park is around 90 minutes East of Jerusalem and one of the most incredible spots to watch the sunrise – if you can drag your butt out of bed in the early hours (it was a 3am pick up for me!) and hike your way to the top of the iconic Snake Path. The path is so called because it snakes up the mountain in a criss-cross pattern; in summer it is best hike in the early hours as the oppressive heat of the mountain in full sun would be a challenge for even the most experienced hiker. Once at the top you can watch the sun rise from behind the dead sea, before exploring some of Israels most impressive ruins which lie at the summit. From there you walk back down the mountain and head across to Ein Gedi National Park to go waterfall hunting and finish morning with a relaxing dip in the Dead Sea – the lowest point on earth. p.s. don't forget to take a book or newspaper to get the classic 'floating and reading in the water' shot!
.
Tel Aviv Bike Tour
A great way to introduce yourself to the sprawling city of Tel Aviv is by taking a guided bike tour. Ride to the outskirts of the city through parks and boardwalks, admiring the distinctive Bauhaus Architecture and other sites of political importance before cycling back along the beautiful beachfront towards the Old City of Jaffa. Tel Aviv is completely different to Jerusalem – and it's obvious from the moment you step out of the hostel. It's funky, hip, modern and effortlessly cool (and to be honest – could be any beach-side town on the Mediterranean) – but it's refreshing after the weight of Jerusalem.
.
Kibbutz Tour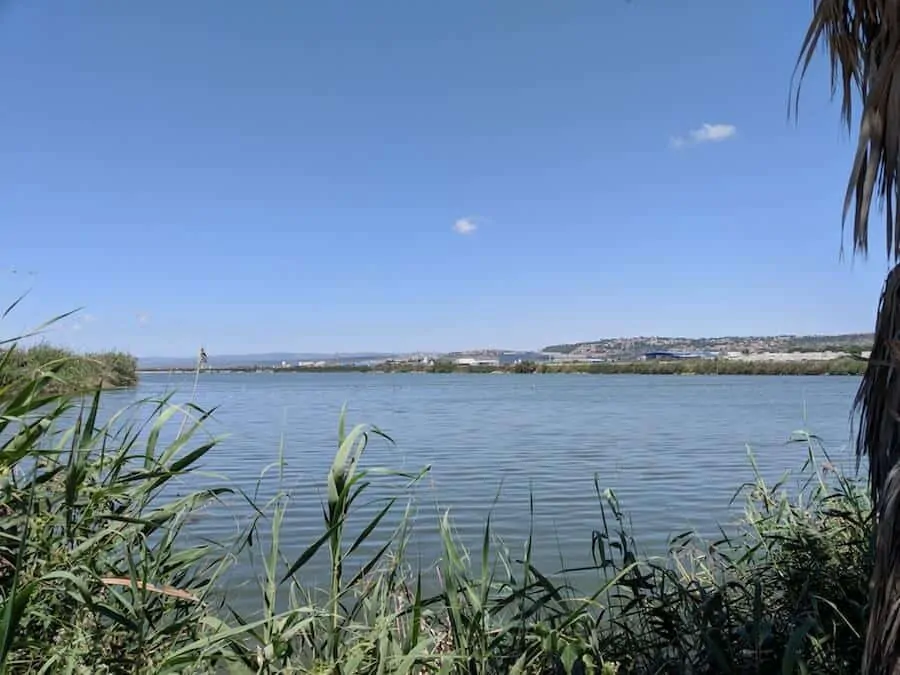 A Kibbutz is a collective community which is unique to Israel and was traditionally based on agriculture. The first Kibbutz was founded in 1910, and 100 years later in 2010 there were over 270, although they have both diversified and (mostly) been privatized since their inception.
As a collective community there is a huge emphasis on shared responsibility and equailty: all your salary is paid to the Kibbutz and everyone gets the same monthly 'allowance,' whether you are a CEO or cleaner. Nobody pays rent, housing is allocated on a seniority basis, breakfast and dinner is served in the dining hall each day, there is a communal laundry, communal car fleet and until the late 1980's communal parenting(!) This was where children lived together in 'children's houses and schools', visited their parents between 4pm-8pm daily and the parents took turns in the role of overnight caregiver.
The motto of the Kibbutz is "to give all you can and take only what you need" (which I think is something the world at large could learn from!) – and they support all members to pursue their passions – be it education, travel or starting their own business (like Zoe Apothecary who make natural skincare products from local ingredients and ship all over the world).
To walk through, listening to the residents stories and seeing how they live is super interesting and the inner workings of the community, absolutely fascinating. Don't miss this tour on your trip to Israel – you'll walk out with your mind blown!
Israeli Cooking Workshop
After a hard day of exploring, roll up your sleeves and get involved at the Israeli Cooking Workshop in the main kitchen of Abraham Hostel Tel Aviv. Learn how to make Shakshouka – a dish of eggs poached in a sauce of tomatoes, chili peppers, and onions, commonly spiced with cumin, paprika and cayenne pepper; and how to make Tahini from scratch. After which you'll sit down with your fellow cooks and eat the lot. Delicious.
.
Ceasarea & Nazareth

Start the day with a couple of hours among the ruins at Ceasarea – the ancient port city built by King Herod in 25-13BC(!). Over the millennia it has been attacked by armies, destroyed and rebuilt and was hit be several earthquakes, all whilst living by the sea and it's destructive power.
As you can imagine after all the years, the ruins are particularly ruinious and you need a fair bit of imagination to try and get a picture of what it used to be like. But they have restored the ancient ampitheater which now hosts concerts throughout the summer months – and believe me: sitting in a Roman Colloseum-style structure whilst watching one of your favorite artists perform has got to be the experience of a lifetime!
After Cesarea, you drive a couple hours north to Nazareth, which is often considered to be Israel's forgotten son when it comes to tourism. Despite it's deep religious ties, it receives far fewer tourists each year than the more popular Tel Aviv or Jerusalem.
RELATED – If you are on the Best of Israel & Jordan Tour, you may not be in Nazareth to take advantage of the free Hostel-Run walking tour, so I've out together a self-guided Walking Tour of Nazareth that you could do on afternoon when you arrive. (Coming soon)
Speaking to the locals about the city's history, the effects of the conflict and how as the largest Arab City in Israel exists to this day was both profound and saddening. Not enough people come here, and the city has suffered. Even when the Pope visited in 2000, he flew via helicopter to Mass at the Church of the Annunciation and straight back to Jerusalem at it's conclusion. The once thriving old city is filled with streets of empty shops, and the once bustling daily market is reduced to only a few stalls open for a few hours. The look of hope on the traders faces as you browse the shops is clear, not only that you will buy something (and in no way are they pushy to try and force you to do so) but they hope you will tell your friends and more people will come.
The old city is home to the oldest coffee shop in the world, where locals come daily to drink coffee and play cards in the back room; there is a religious building (church/mosque) on practically every other street yet both religions live in peace; and it is the perfect place to base yourself to visit the Golan Heights, Haifa, Acre, Sea of Galilee and local wineries. It really is a beautiful place.
.
Galilee & the Golan Heights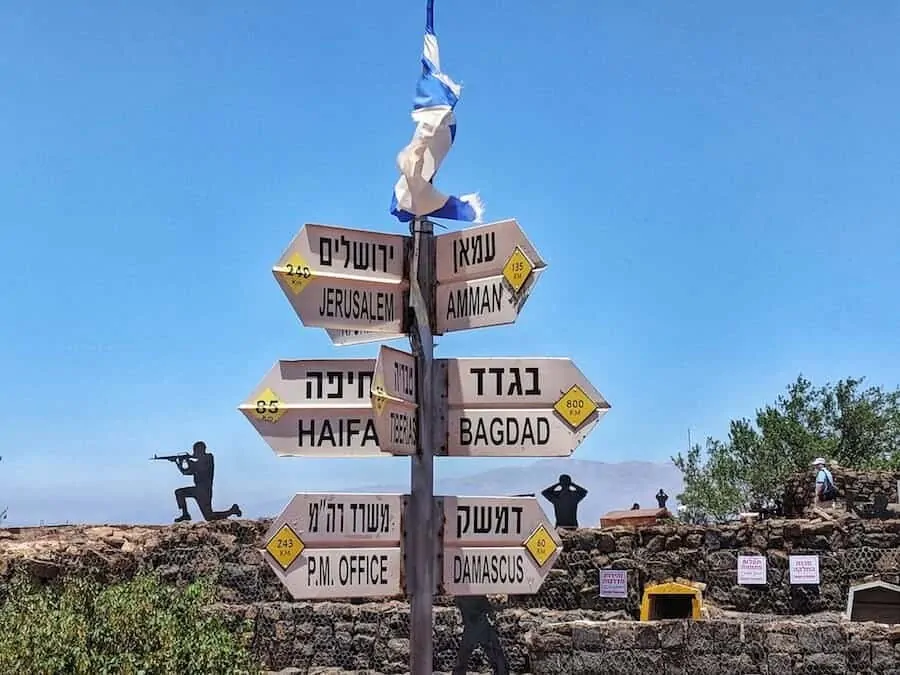 Unless you have been living under a rock, you will have heard the Golan Heights mentioned in part of any conflict related coverage of Israel in the western media. The region was once a part of Syria which was seized at the end of the 6 day war and visiting the elevated rocky outcrop which was once and to some extent still is, a strategic lookout for Israeli forces, brings it home how close to the continued Syrian unrest the area is. During this day trip from Nazareth you'll also visit Capernaum, Banyas Nature Reserve, visit a winery (which includes free tastings!) and end the day with a swim in the Sea of Galilee.
.
3 days in Jordan: Jerash & Petra (+ Wadi Rum)
As part of the Best of Israel & Jordan itinerary, you get to cross the border and head into Jordan for a couple of days to explore Jerash and Petra – and it's Visa Free. Crossing the border is straightforward – you pay the exit fee from Israel, hop back on the bus to cross into Jordan, hand over your passport to get stamped in, have your picture taken by immigration, then your driver/guide will then return with all your passports and you'll get onto a different bus and drive into Jordan.
You can ask NOT to have a stamp if you plan to travel into nearby Arab states in the future. This is what I did as to not risk having the Jordan 'entry by land' stamp indicating I had arrived from Israel, and was given a card to fill in. The border guards were understanding and I even got to keep the card as a souvenir when I exited. Winning.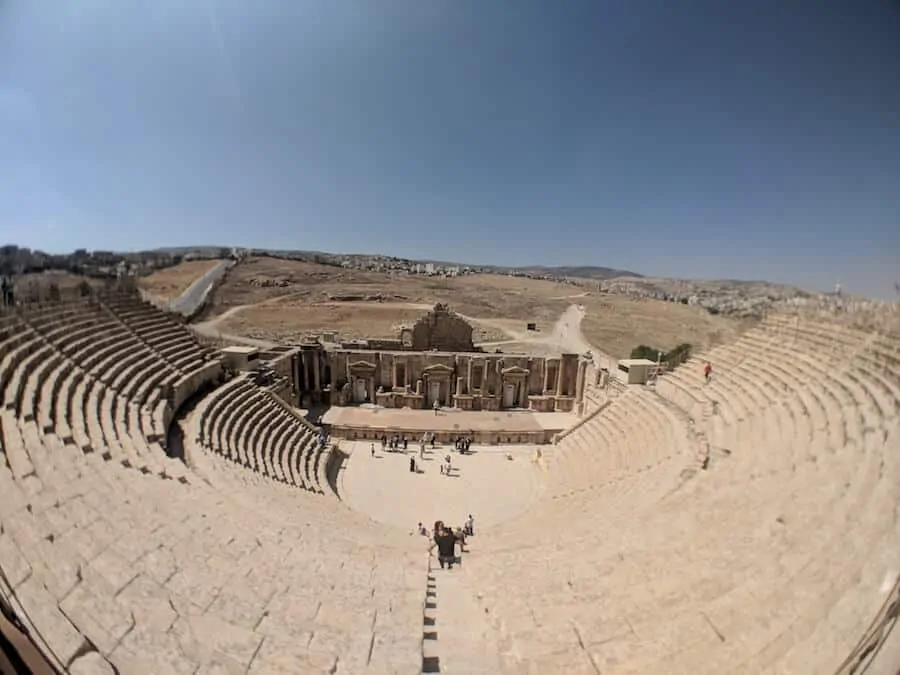 Jerash, a city in north of the capital of Amman, is home to Gerasa – one of the most impressive sets of Greco-Roman ruins outside of Italy. These include the 2nd-century Hadrian's Arch, the Corinthian columns of the Temple of Artemis, the huge Forum's oval colonnade and the well preserved ruins of the Theater (above). The walk around here in the heat can be draining as their is very little shade – but the views are worth it. Walking down the main road, lined with columns, you can imagine what life was life all those years ago. Just be sure to have plenty of water before you set off as there are no shops inside – and if you are wanting to be a souvenir Jordanian scarf, they are cheapest at the gift shop area at the start of the park.
Petra has been at the top of my Bucket List for years, and I was like a kid at Christmas when I finally got to visit. Skipping through the Siq in 40 degree heat must have made me seem like a crazy person to the other people in the Park, but I simply could not contain my joy. I captured this shot in a brief moment between the tour groups passing through and it is one of my favorite shots from this year and is a reminder to me that the best experiences are worth the wait!
RELATED – Want to see more? Take a peek at my Virtual Tour of Petra – see beyond the stereotypical images on a virtual tour of the park (coming soon)
.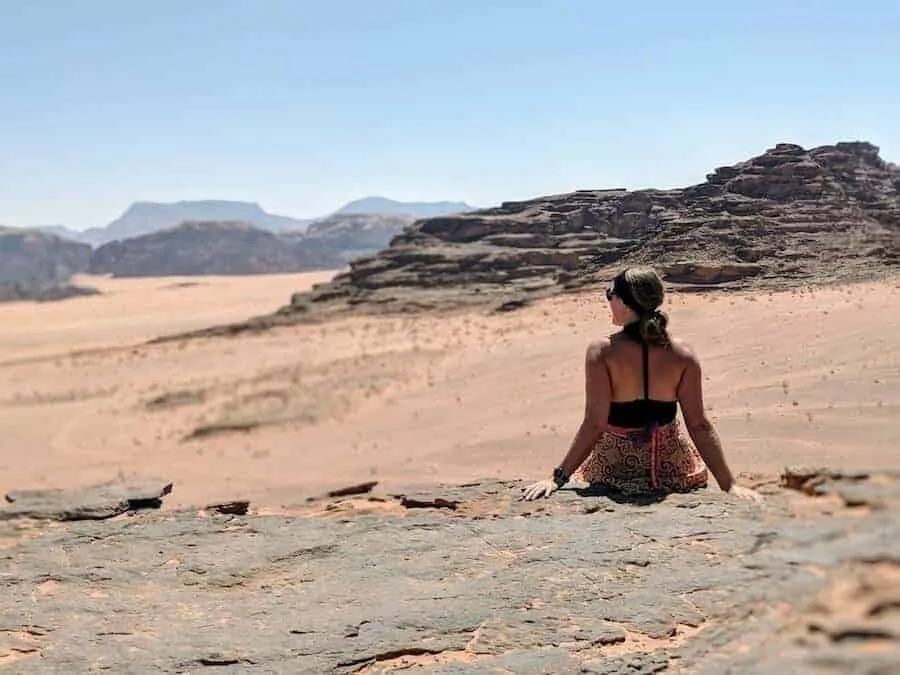 I changed my Best of Israel and Jordan package itinerary a little bit so that I could wrangle an extra day in Jordan and get to see the incredible desert at Wadi Rum. It does involve a long driving day to get down there from Petra and back up to the border crossing gate on the same day, but it was totally worth it: the jeep tour was so much fun and we had lunch among the pods camp that is made to look like the set of Matt Damon's The Martian movie.
.
Abraham Hostel Locations
Abraham have three dedicated hostels in 3 major cities – Jerusalem, Tel Aviv and Nazareth. Each are centrally located in their city and make for the perfect base for exploring their respective cities.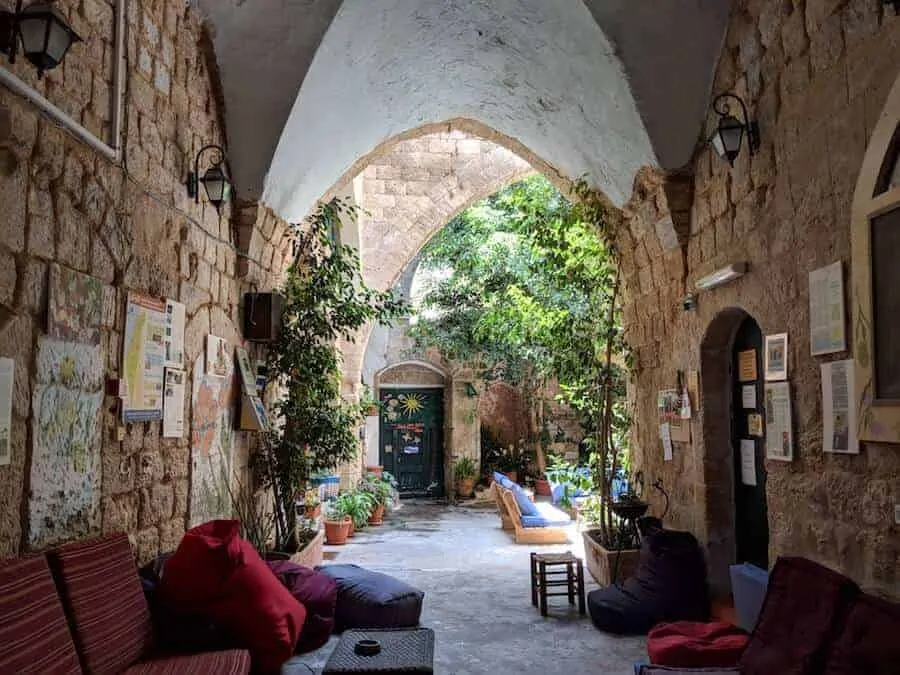 In Nazareth, the Fauzi Azar Inn is a 200 year old Arab 14 room mansion which was left to fall into disrepair following the conflict and death of the owner. With permission from the surviving Arab children whom own the building and who named it after their father, it was restored to it's former beauty – complete with original 6m high hand painted ceilings and ottoman archways – and turned into the cities first Hostel in 2005. Your stay at the hostel also includes free breakfast each morning, but due to it's small size there is no kitchen access for guests to cook their own meals. But there is a sweet old man that runs a hole-in-the-wall cafe just around the corner that serves amazing Falafel and gives a discount to hostel guests! Also, if you have a spare morning here be sure to join the hostel-run free walking tour of the old city and visit the world's first coffee shop! And in taking this tour you'll also have the opportunity to hear about the story of Fauzi Azar first hand – and possibly from one of Mr Azar's daughters if you are lucky!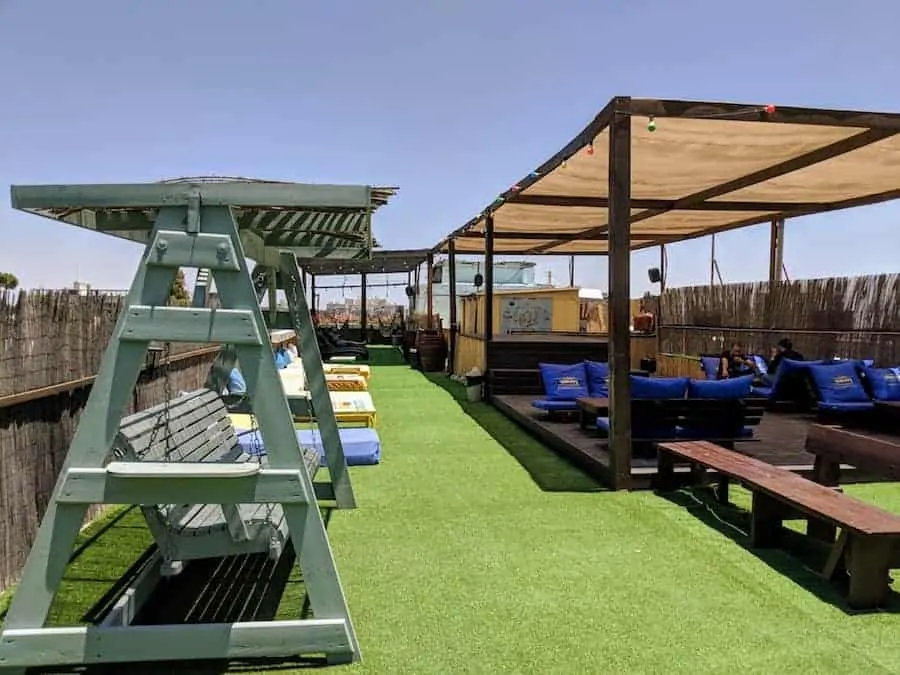 In Jerusalem and Tel Aviv, the hostels are much larger with large communal spaces, kitchen access, bars, chill out spaces and rooftop terraces. Breakfast is included each morning and there are events each night ranging from bar crawls to quizzes and open mike nights. The rooms are clean, facilities are good and the atmosphere is friendly. In Tel Aviv, it is a 20-30 minute walk from the beach, or 45 mins to the old city of Jaffa; and in Jerusalem the hostel is right by the market and 20-25 minutes walk from the Holy City. There are shops and supermarkets around each for you to pick up snacks/food/supplies – although I high recommend you don't go in the shop right next to the hostel in Jerusalem (at the bottom of the access ramp) as the staff there try to rip you off (as I learned from one unpleasant experience).
Quick Tips for your Israel & Jordan Tour
Take appropriate clothing – whilst Israel is a mostly liberal country, there are varying dress codes and requirements throughout the different cities. I have put together a complete guide to what to wear in Israel as broken down by city (coming soon) but in essence, Tel Aviv you can literally wear what you want; in Jerusalem it will entirely depend on where you are in the city – holy city/mount of olives/markets/outside the holy city – but modesty is appreciated; and Nazareth, as an Arab city, appreciates shoulder to knee coverage.
Israel is an expensive country to travel in on all fronts, hotels, transport, food and drink. Take a peek at my Israel Travel Tips Post for a full run down of what things cost, and go prepared.
You will be questioned entering and exiting the country – it's not personal, it's just what they do. On arrival you will be asked why you're here, where you're staying, if you know anyone etc; and on departure they'll go through your passport and question you about stamps from countries they are wary of. Don't panic, just allow yourself plenty of time in the airport and answer their questions truthfully. 99% of the time, you don't have anything to worry about.
How Do You Book Your Adventure with Abraham Tours?
Whilst the hostels are listed on various comparison sites, and the tours can also be found online, booking direct is best. If you are wanting to plan a trip – and I hope you are after reading this post(!) – be sure to contact the team and let them know what you're looking for – be it a fully organized tour, a few day trips and accommodation or a selection of multi-day tours back to back to completely build your own dream trip to Israel and Jordan. The Team are super helpful and will help you with everything you need!
And that's a wrap folks. I hope I've equipped you with all you need to know to Tour Israel & Jordan with Abraham Tours & Hostels and that you're excited to book your trip.
And don't forget to tweet, pin and share of Facebook if you liked this post – or know someone that has always wanted to go to Israel!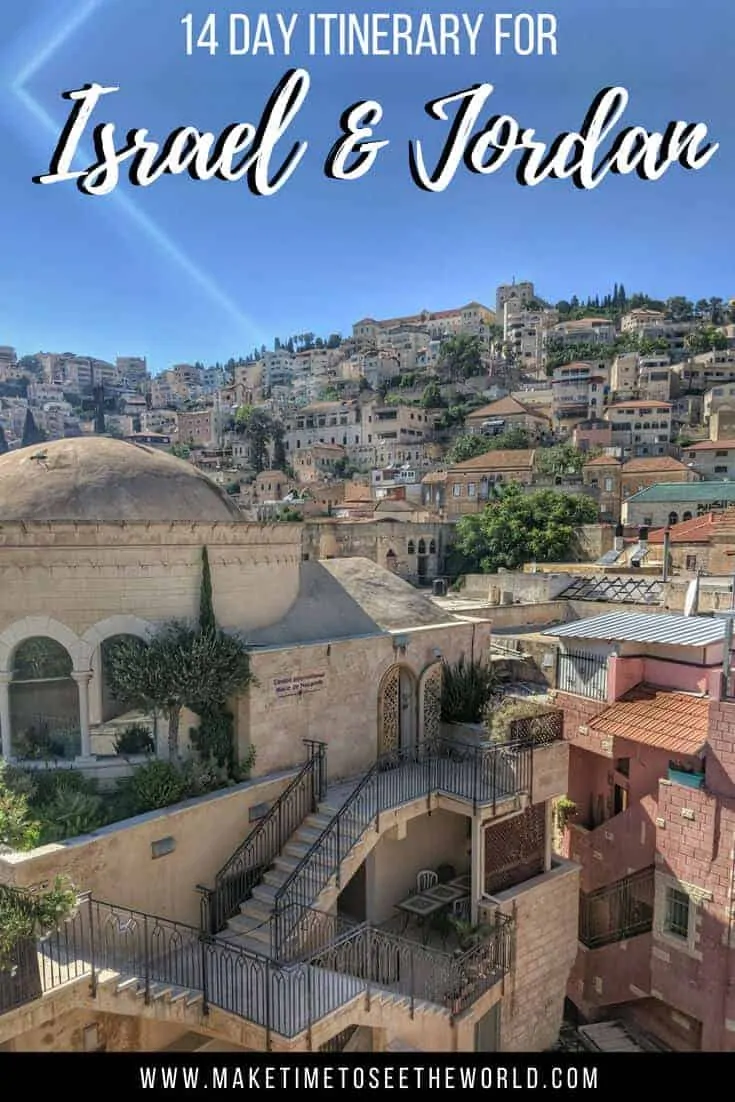 READY MORE TRAVEL TIPS & INSPIRATION? YOU MIGHT BE INTERESTED IN THESE ARTICLES:
Hi There! Thanks for reading our guide to Tour Israel & Jordan with Abraham Tours: An Absolutely Epic Experience! I just wanted to let you know that this post may contain affiliate links, which means if you purchase something after clicking a link, I may get a small commission – which is at absolutely no cost to you. If you enjoyed this article and are going to be searching for some of the things I mention anyway, I would love it if you could click through from the links above & thank you in advance! Read my full Disclosure here. Thank you for reading the MakeTimeToSeeTheWorld Travel Blog.