The Masada Snake Path is one of the most iconic hikes in Israel and one that is steeped in history.
Located in Masada National Park it is around 90 minutes South-East of Jerusalem, overlooking at the Dead Sea and on the other side of which is the border with Jordan.
The desert fortress that once stood at the top of the peak was built by King Herod, conquered by Jewish zealots and was the location of their last stand against the Roman rule between 70-73 AD which ended in a bloody final siege.
The ruins of the former fortress sprawl across the flat top of Mount Masada and are one of the most important archeological sites in Israel.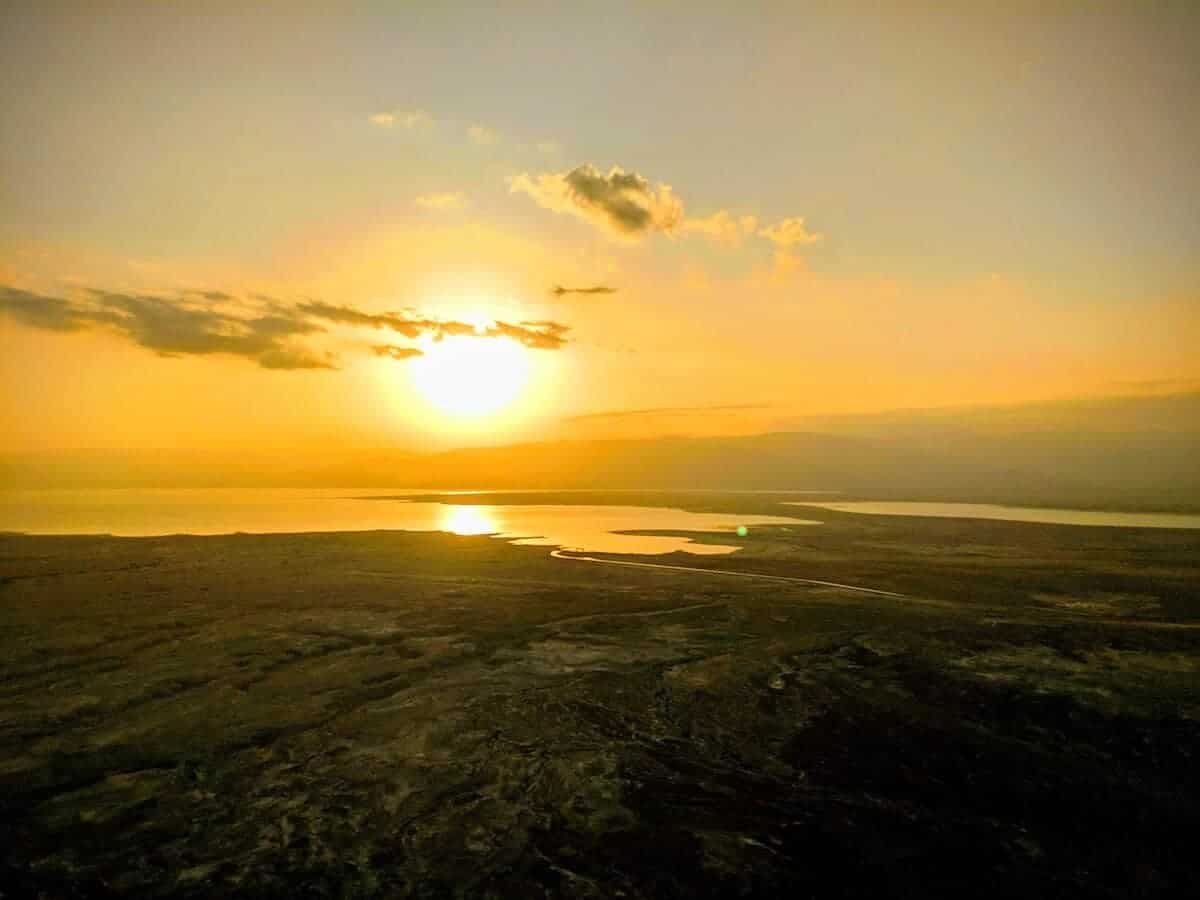 Disclaimer: I hiked the Masada Snake Path at Sunrise when I was hosted by Abraham Hostels on one of their fabulous Abraham Tours, (and as part of my Tour of Israel and Jordan) however all opinions, sweat lost, profanities uttered, undignified steps are taken and images captured remain my own.
.
The Complete Guide to Hiking Masada Snake Path
3 Ways to the Top of Mount Masada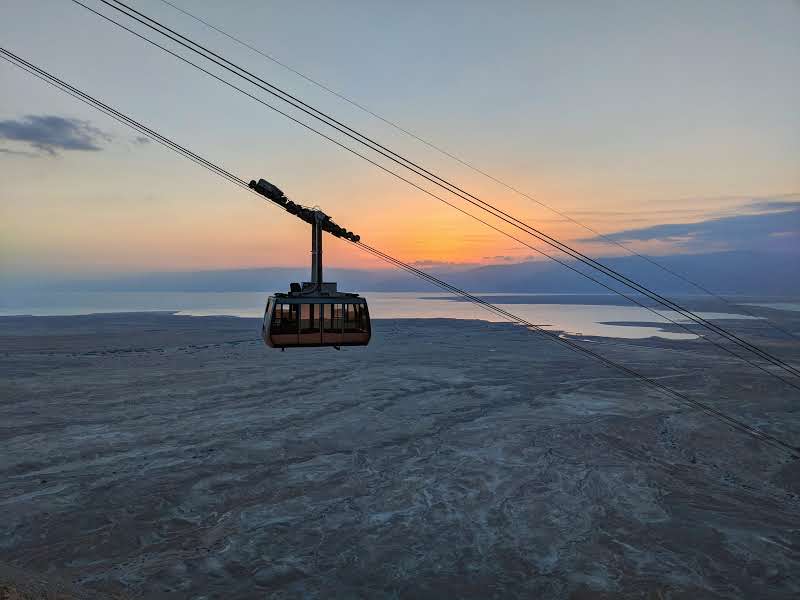 The first – and easiest – are the custom-built cable cars which became operational in the year 1971. Unfortunately for those that want to be at the top in time to see the sunrise, these cable cars (located on the East side of the mountain and run above the Masada Snake Path), will not be operational in the early hours of the morning when it is time to start you climb (aka. before 5 am);
The second way is to hike the much shorter Roman Ramp – so-called because the Romans built a direct path up from halfway up the mountain which takes approximately 20-25 minutes to climb. This second path is located on the far (west) side of the mountain, which remains in shade until after the sunrise and requires you to be dropped off near to the campsite inside the National Park – which takes an hour to get to from the main gate;
The third – and most rewarding (if I do say so myself) is to hike Snake Path on the East side of the mountain; and as you have to descend the same side you came up (either walking or cable car), is great to combine with a trip to Ein Gedi National Park and the Dead Sea.
Starting at 300m below sea level, the path snakes up the side of the mountain to 400m above sea level. Most websites state it takes between 45-75 minutes depending on your level of fitness, and for me – with many many breaks, it took me exactly 1 hour.
.
The Truth About Hiking Masada Snake Path for Sunrise (by a non-hiker)
Pick-up Times
In all likelihood, you'll be heading to Masada for sunrise either from Tel Aviv or Jerusalem. In the summer months pick up will be at 3am from Jerusalem or 2am from Tel Aviv (I know it's really early), and in winter it will be 1 hour later (4 am – Jerusalem/3 am Tel Aviv).
You'll then be driven the 90 minutes (inc. a 15-minute coffee/rest/pee stop) southeast into the Dead Sea region and to the Western gate of Masada National Park and the base of Mount Masada.
The roads along the way are relatively smooth, so it may be worth trying to nap along the way if you are the kind of person that can sleep anywhere. (I, unfortunately, am not one of those people)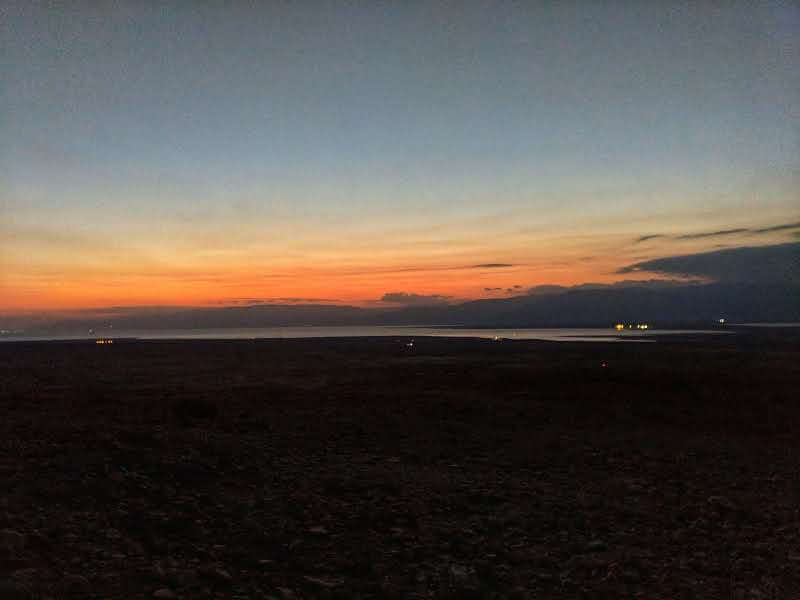 What You Need for The Climb
Workout gear (Masada is one spot in Israel where what you wear and how modestly dressed you do not matter in the slightest. Wear what's comfy – breathable and moisture-wicking fabrics are a good call – and away you go.)
Good walking shoes (and not the flip flops/toms I have a tendency to hike in – these ones would be a much better option!)
Water (a good recommendation is 1-1.5l on the way up and down, but you can refill your water bottle at the top so no need to carry too much)
Entry Fee: 28 NIS (adult) and one-way cable car rides (starting at 8 am) cost 29 NIS if you don't fancy walking back down.
Sunscreen – particularly for the climb down and after the sun has risen, it gets hot(ter) very quickly.
Breakfast/Snacks – Whilst you can get coffee on the way at the 15-minute rest stop, there will be nowhere open to buy any form of food. So grab a breakfast worthy snack to put in your bag the night before; think a muesli bar or piece of fruit but it can totally be cookies if you like – there's no judgment here – and snack your way to the top of Snake Path.
Camera – because if you're hiking to the top of Masada you're gonna want evidence of your feat at the top, not to mention pictures of the incredible view. My current camera squeeze(s) are my amazing Pixel2 (if you're on the fence about phone photography see this post) and this little beauty – but I have a whole heap of recommendations for a lightweight and powerful camera from other travelers here.
.
The Actual Sunrise Hike: Start, Temperature, Time to Climb & Conditions
You'll arrive at the entry gate of Masada National Park between 4.45 and 5 am, with the park officially opening 1 hour before sunrise for those who want to climb – although we were there slightly before and were able to gain entry (I started climbing at 5.50am).
The gate – and the start of the Snake Path – is located approximately 400m below sea level, and the Masada Mountain stands at 450m high. T
his makes the climb about 850m straight up, but the elevation at the top is only 58m above sea level.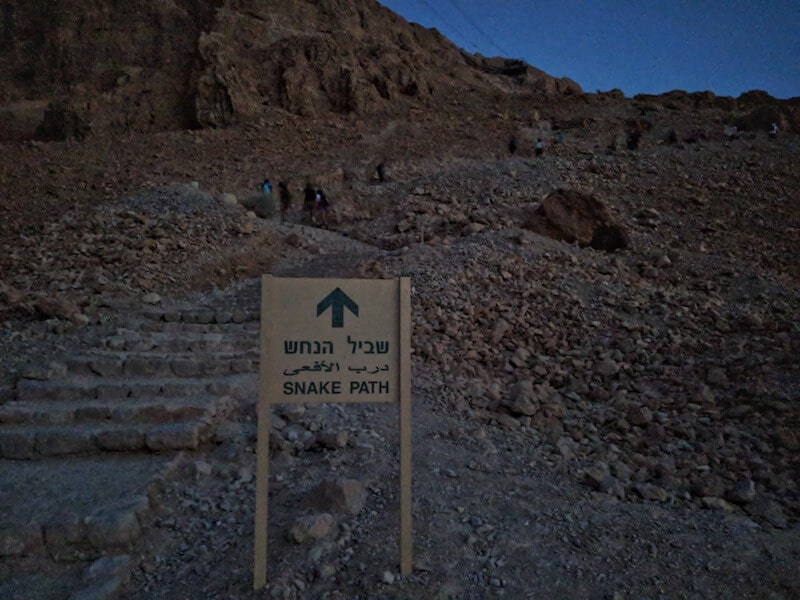 It will still be dark, but not so dark that you cannot see or require a headtorch, and that darkness quickly dissipates as you start to climb as the sun's rays start to reflect off the sky.
If climbing in summer, the temperature will likely be above 20°C/68°F when you start the climb and be closer to 25-28°C when you reach the top, rising to 30°C on the walk back down.
Winter temperatures are around 10°C lower, and we recommend having a jumper handy for watching the sunrise at the top as the wind can be quite chilly.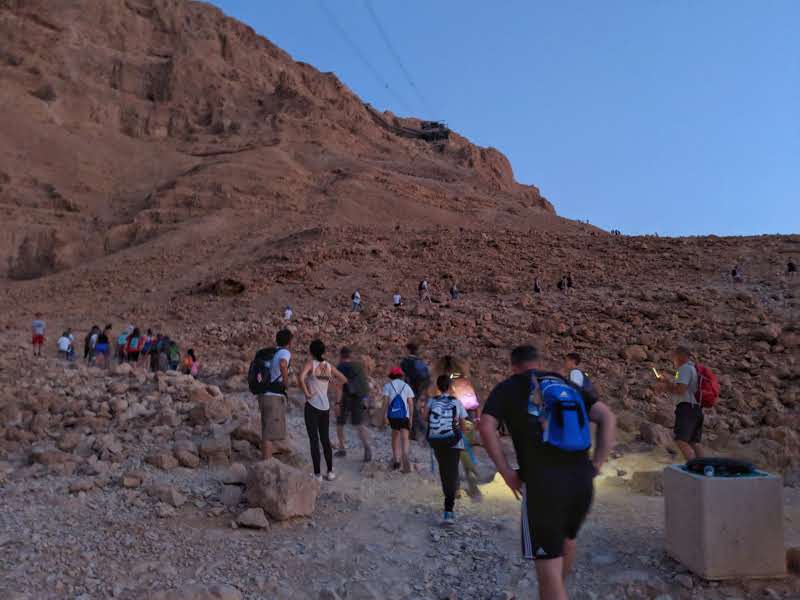 The path itself is a combination of hard dirt, some loose rocks and 700 stone steps of varying sizes; it covers a distance of around 2km with its multitude of switchbacks along the winding path that cut across the side of the mountain, and are the characteristics that give Snake Path its name.
Whilst the path is on an incline (otherwise how would you get to the top?!) it is not particularly severe (and nothing like the hikes in and around Indonesia's Komodo National Park) with the majority of the height gained at the steps on the corners of each switchback.
These steps provide a great spot for breaks and have handrails that you can prop yourself upon if you don't want to sit on the dusty rocks.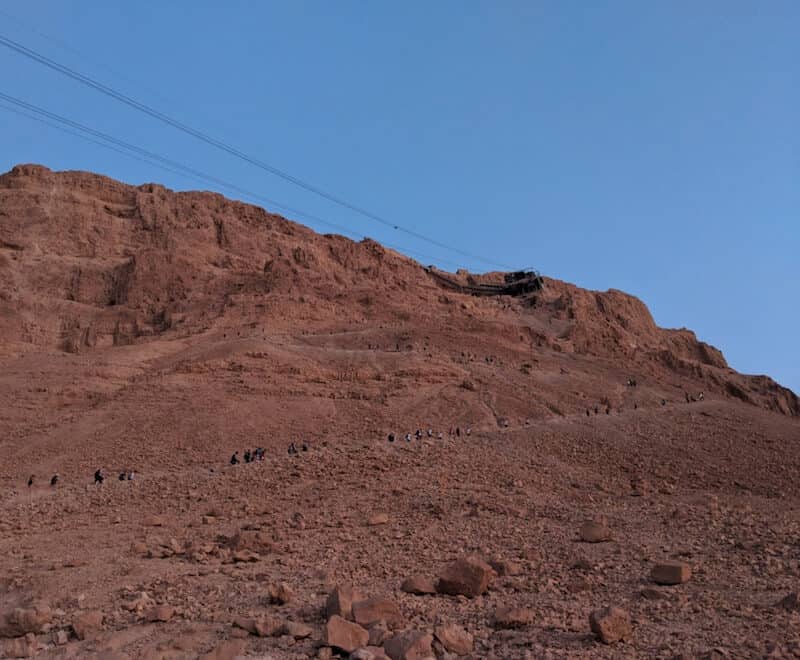 There will be lots of people hiking Snake Path at the same time, and you may find yourself in and out of different groups, but the only pressure will be on yourself to get to the top for sunrise.
I am very much a non-hiker. (Remember that time in Africa, I was literally dragged the practically vertical 100m+ out of Batoka Gorge after white-water rafting the Zambezi River?!) It's not my jam, I need regular breaks, I am a little unfit and have a very slow and steady mentality.
It took me exactly 1 hour to get to the top. If you are even less of a hiker than me, give yourself 90 minutes and reduce the stress of thinking you might not make it to the top for sunrise.
At The Top of Masada's Snake Path: What Was the Masada Fortress?
Congrats! You've made it to the top of the Masada Snake Path for Sunrise! Grab a spot facing the Dead Sea and watch that yellow ball of light rise high into the sky. It's a pretty epic sight.
Once you've got your fill of the Sunrise, take a walk around the ruins of this magnificent ancient fortress.
There are (apparently) maps available for self-guided tours (I wasn't offered one at the entrance gate nor did I see anyone at the top handing them out) but there are plaques next to most of the ruins which indicate what used to stand there, and Abraham Tours have a handy app which contains a guide to the site which you can download and use offline as you wander around.
The Masada Fortress: A Brief History & Timeline
Declared a UNESCO World Heritage Site in 2001, the Fortress at Masada was built by King Herod between 37-4 BC at which time the complex featured the Western Palace, Northern Palace, Storerooms, Synagogue, Church, Bathhouses, Cisterns and lots of other structures.
It is evocative of life in 1st Century Roman Judea and is a site of religious and cultural importance for modern-day Jews who view it as a symbol of the struggle they have faced in trying to secure their own land.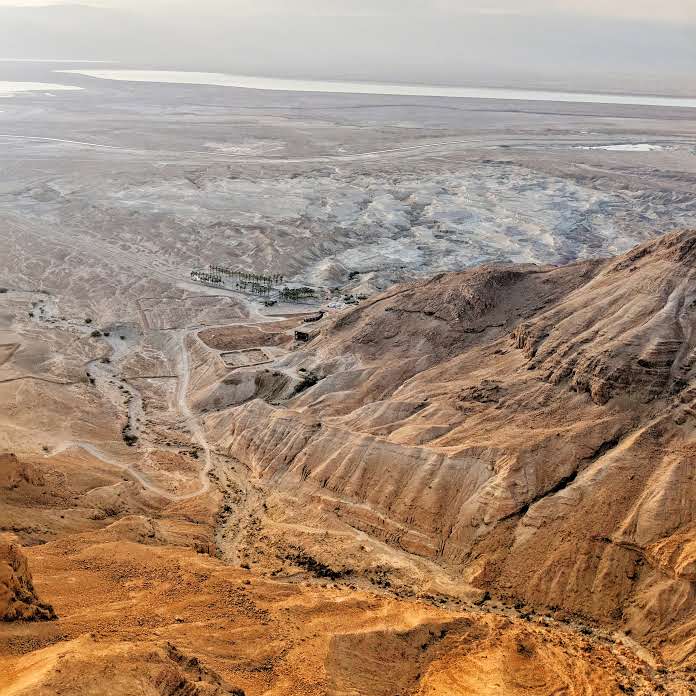 Masada Fortress Timeline
37 – 4 BC: Complex on top of the mountain was fortified and expanded by King Herod
66 AD: The great revolt of the Jews against the Romans saw them make Masada their HQ
70 AD: The Siege of Jerusalem by the Romans combined with the fall of the Second Temple, saw hundreds of Jewish rebels flee the city and take up residence on Masada bring the population to nearly 1000 people.
70 -73 AD: The Jews continued to attack the Romans, using Masada as their base.
73 AD: 8,000 troops of the Roman 10th Legion were sent by the Roman empire to lay siege to Masada. After a few months of siege, the Romans successfully breached the walls of the fortress and conquered the mountain, where troops remained for a few decades. The Jewish rebels who called Masada their home, in their last act of defiance and refusal to become enslaved by the Romans, committed mass suicide.
It is a story that is told to Jewish children as an essential part of their cultural history, and is what makes Masada a symbol which commemorates the Jewish ancestors who fell heroically against oppression; other historians have regarded it as a testament to extremism and a refusal to compromise. Regardless of your outlook, it is a beautiful site.
5th Century: Byzantine Monks made Masada their home and remained on the mountain for about 100 years.
1920 – 1955: In the face of growing Antisemitism in Europe and in search of a symbol of inspiration and strength, Masada became the destination for pilgrimages and for groups traveling on foot.
1955 – 1966: Archeological excavations begin and reveal Herods Fortress and Masada's interesting history.
1966: Masada National Park opened to the public
1971: Cable car opened. The bottom station is 257m below sea level and its summit station is 33m above sea level, making it the lowest aerial tramway in the world.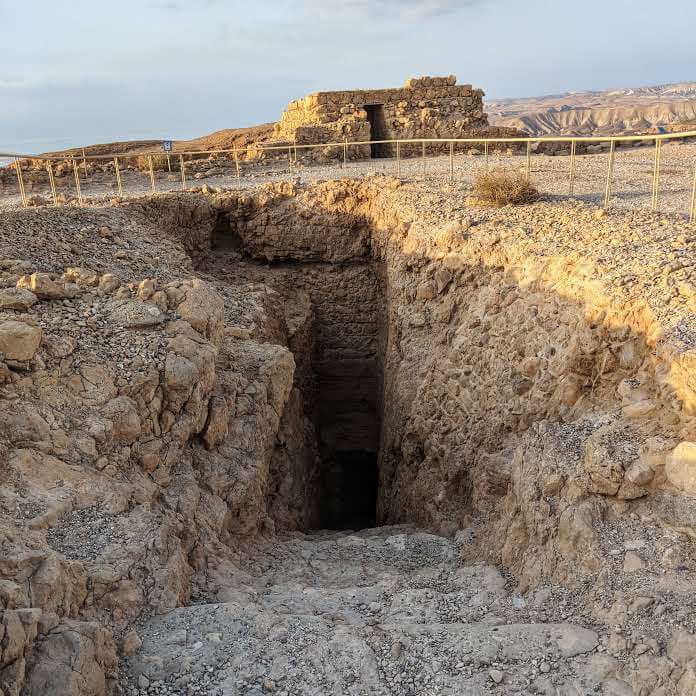 .
Climbing Back Down Snake Path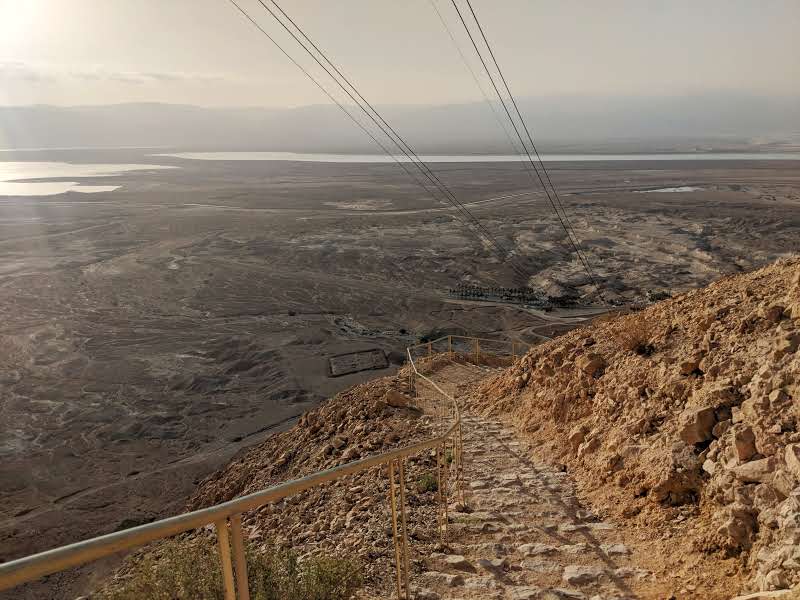 Most tours allow around 3 hours total at the site, and I would suggest setting off back down with an hour to spare. The sun will be high in the sky and the temperature will be significantly higher.
Make sure you top up your water prior to the descent and don't feel bad if you need as many breaks on the way down as you did on the way up! (I didn't and it took me 50 minutes to get back down to the waiting and air-conditioned mini-van)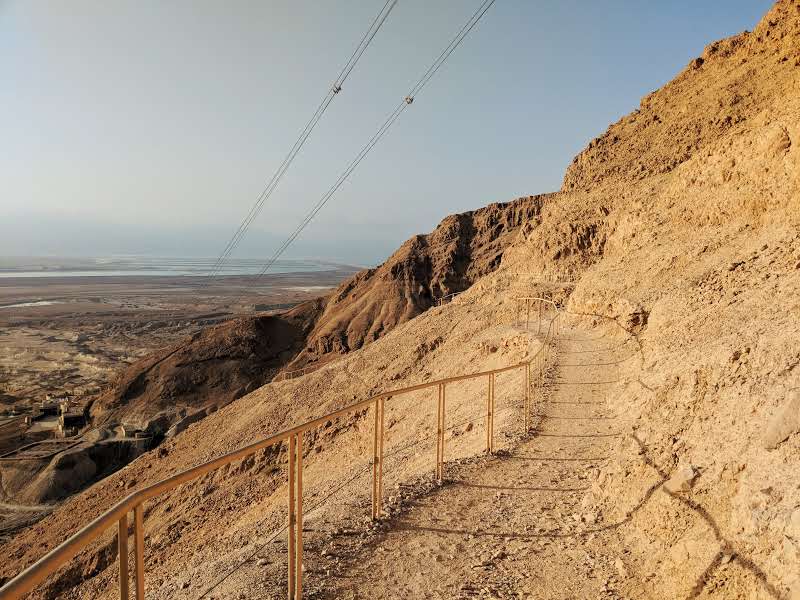 For the non-hikers among you, you may encounter a feeling of 'jelly legs' as you are traversing the stairs and switchbacks down the path – and which in my case progressed to full-on shakes when I eventually sat down! – and this is where those cookies I mentioned earlier would really come in handy for a sugar hit – particularly if you are moving onto Ein Gedi and the Dead Sea on your day tour.
.
Is Hiking the Masada Snake Path at Sunrise Worth It?
Absolutely. Even as a non-hiker. Just look at that Sunrise at Masada – it's the perfect reward for your early morning hike up Snake Path.
.
So there you have it – hopefully, we have inspired you to hike Masada Snake Path at sunrise via the Snake Path (or simply show you the best ways for visiting Masada if you don't want to hike) & given you a brief history of Masada along with general hiking/travel tips to help make the climb as straight-forward and simple as possible.

Oh, and if you enjoyed reading this post please share on Facebook, Flipboard, Tweet or Pin – I'd really appreciate it! Click the P in the share bar for a full-size image!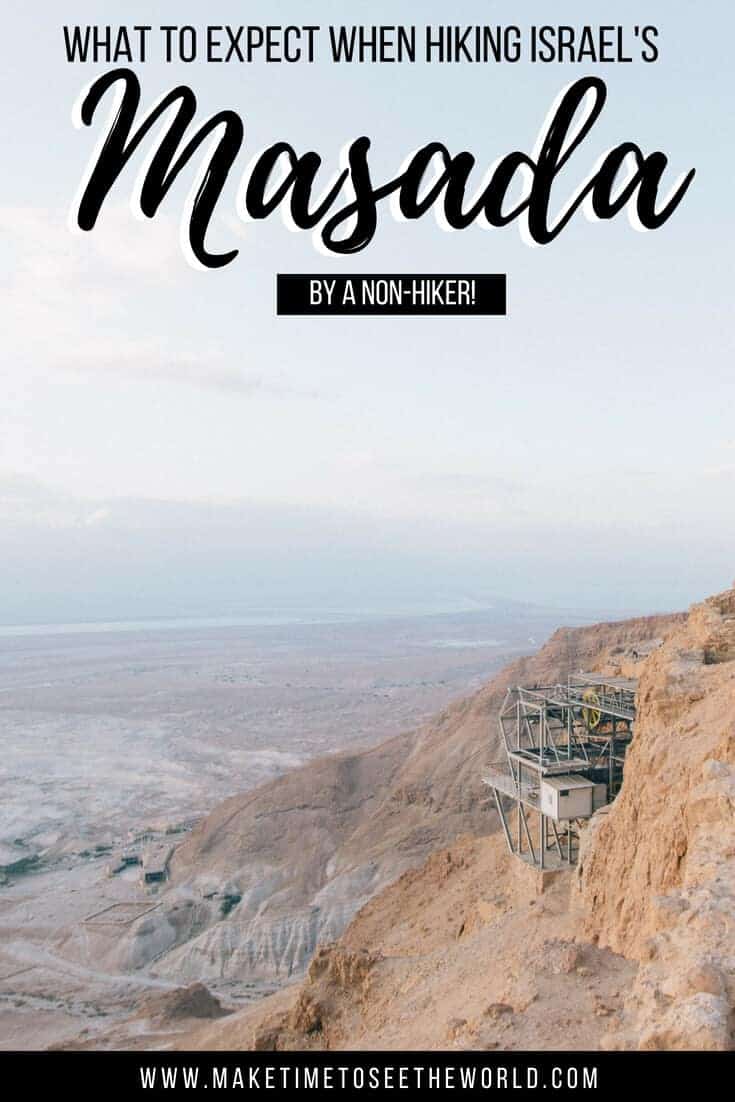 READY MORE TRAVEL INSPIRATION? YOU MIGHT BE INTERESTED IN THESE ARTICLES
Hi There! Thanks for reading our travel guide to Hiking Masada Snake Path for Sunrise (by a Non-Hiker)! I just wanted to let you know that this post may contain affiliate links, which means if you purchase something after clicking a link, I may get a small commission – which is at absolutely no cost to you. If you enjoyed this article and are going to be searching for some of the things I mention anyway, I would love it if you could click through from the links above & thank you in advance! Read my full Disclosure here. Thank you for reading the MakeTimeToSeeTheWorld Travel Blog.
Hiking Masada: Snake Path for Sunrise (by a Non-Hiker!)
was last modified:
April 10th, 2020
by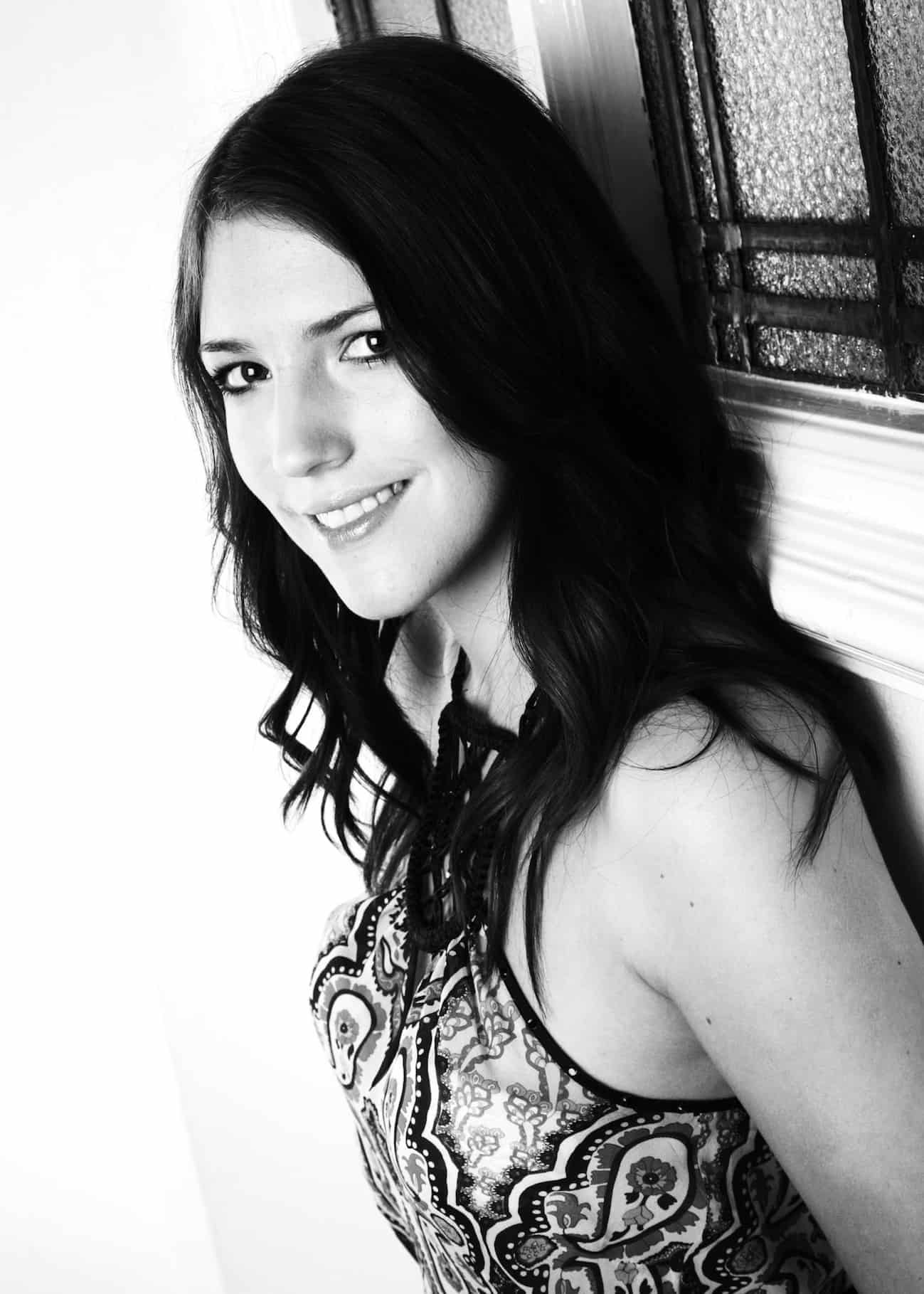 Vicki is the Lawyer turned Content Creator, Editor-in-Chief and all round Boss Lady at MakeTimeToSeeTheWorld.
She has lived and worked in 7 different countries and started the site to show everyone that it is possible to travel whilst holding down a full time job (because not everyone can – or wants to – quit and walk away from it all).
Her style of travel has always been to get the best out of a destination as a time poor traveler making the most of limited vacation days and all without breaking the bank; BUT she does know where to save and where to splurge to have the most incredible travel experiences – such as luxury hotels and over-water bungalows, safaris, spas and more(!) – where the situation calls for it.
To see where Vicki's work has been featured online, visit our Featured Elsewhere page.
– and if you are a travel brand who would like to find out how to work with Vicki, contact her here.