Chiang Mai is one of my favorite cities in Thailand. Boasting ancient temples, amazing street food, some of the best night markets in Asia and the opportunity to help with the conservation of elephants, there are so many great Things To Do in Chiang Mai – and those are just the highlights! We've put together this handy Chiang Mai Travel Guide to help you get the most from your trip including recommendations for where to eat, where to stay and what to do in Chiang Mai to help you make the most of your time in Northern Thailand.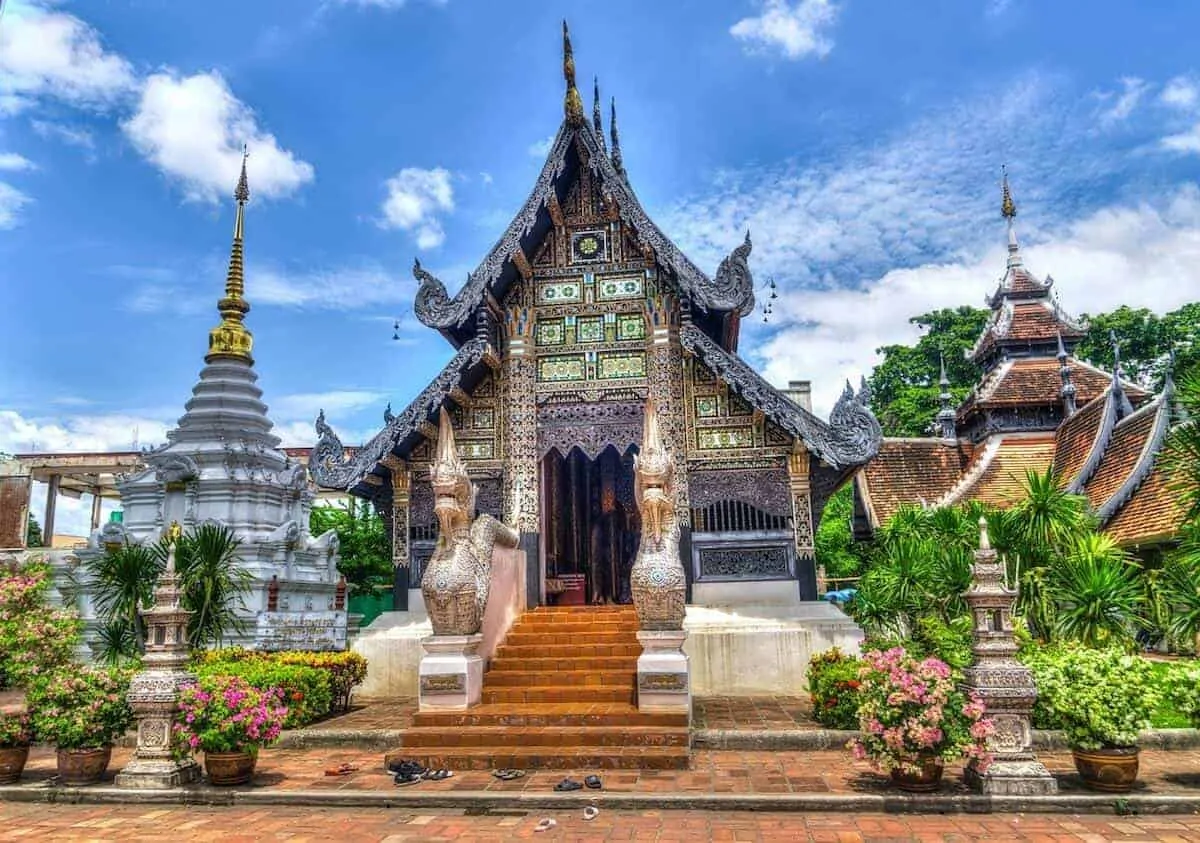 Top Chiang Mai Travel Tips Before You Go
Where To Stay in Chiang Mai

You'll never be short of accommodation options in Chiang Mai with a range of luxury hotels, guest houses and hostels, you're sure to be able to find something to fit your budget. But if you're not keen on any of our picks below or have specific needs, we recommend using HotelsCombined to compare prices, and Expedia to book with a guaranteed best price.
.
How To Get to Chiang Mai
While there are overnight trains available from major cities in Thailand, it has become much easier – and often cheaper, not to mention quicker – to fly into Chiang Mai airport. If arriving internationally, you will need to fly into Bangkok, from which you can hop on an Air Asia flight up to Chiang Mai. Use SkyScanner to compare prices and get the best deal.
The airport is located just a short 15 minute drive from the city and a taxi costs no more than 150-160 Baht (book your taxi from the counter in the arrivals hall). A lot of guest houses and hotels often provide a pick up/drop off service so it may be worth checking if their service is comparable. The return journey to the airport can often be negotiated for as little as 100 Baht.
TukTuks are sometimes available outside the airport, who will ask for 150-200 Baht with the intent of negotiating with you. If you are feeling confident, the lowest you could probably get without being insulting is 120 Baht. There is also a mini van service (airport shuttle) which costs 60 Baht per person, but this is infrequent and often does not depart until full.
How To Get Around Chiang Mai
Chiang Mai is a very walkable city (and why it is one of best places to visit is Thailand) and most people will enjoy exploring on foot. And as with all Thai cities TukTuks are everywhere – however remember to decide a price before getting in and remember that no journey within the Old City itself should come to more than 40 Baht. Taxis are a little less prevalent, but if you do come across one, always insist that the driver use the meter.
.
The Best Time To Visit Chiang Mai
Chiang Mai – along with other cities in the North of Thailand – have 3 distinct seasons. The cool season (December – February), the hot season (March – May/June) and the rainy season (May – November).
The busiest time of year to visit is in December, when the cooler weather draws Thai holidaymakers up to the North; with international tourist numbers rising in July and August who take advantage of the lower/off season rates. The weather remains warm-hot and humid with plenty of sunshine between the occasional shower.
.
Top 10 Things To Do in Chiang Mai
Go on a Temple Hopping walking tour in the Old City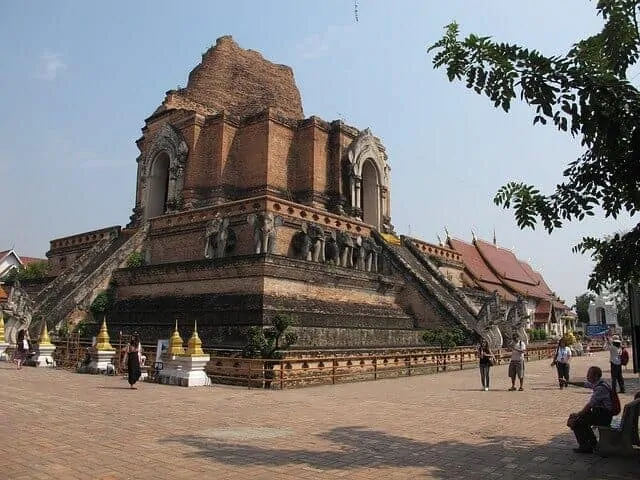 Chiang Mai used to be the center of the Lanna Kingdom and within the Old City walls are multiple temples, lovely laneways and countless monuments to attest to that fact. A compact city that is very walkable, and with the cheap (yet delicious) food on every corner, it is a travelers paradise – and with souvenirs that are a 1/3 of the price than what traders charge for in Bangkok (it's the same stuff BTW!) there are plenty of bargains to be had. Grab a map and wander aimlessley and you're bound to stroll across Wat Chedi Luang, the Three Kings Monument -and the centuries old Tha Phae Gate.
.
Wander The Night Markets

Chiang Mai has several different night markets on different days of the week, so you are in no danger of missing out on this shopping and foodie experience regardless of when your stay in Chiang Mai is. The every-night Night Market is just outside the old city and (IMO) is slightly over priced compared to the Wednesday Night Market that runs along the streets through the heart of the main city, starting at Tha Phae Gate. At both you'll find goods, clothes, food, little massage and reflexology stalls. The atmosphere is great and there are bargains to be had, just make sure you are prepared to haggle!
.
Head to one of the highest temples in Thailand at (Wat Phra) Doi Suthep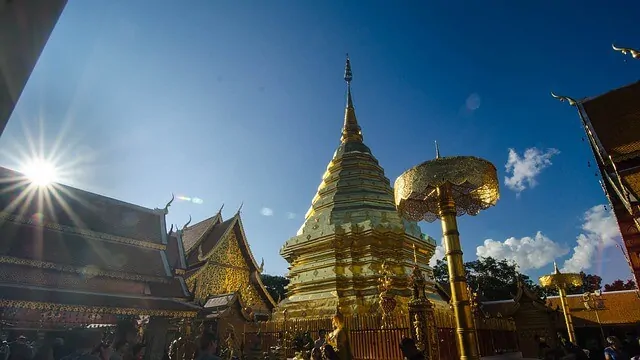 Located over 3000 ft above sea level, the road to the top through the national park is picturesque in itself and brings you to the base of temple. From here you can get your daily workout by climbing the 306 steps to the entrance – or there is a cable car/funicular (around $1) for the less physically able.
If arranging to get there via tuk-tuk, make sure you agree a price that gets you both there and back – and try and negotiate down to 350-400 Baht. Once you get there the temple complex costs 50 Baht to enter and modest dress is required.
.
Hang Dong (The Chiang Mai Grand Canyon)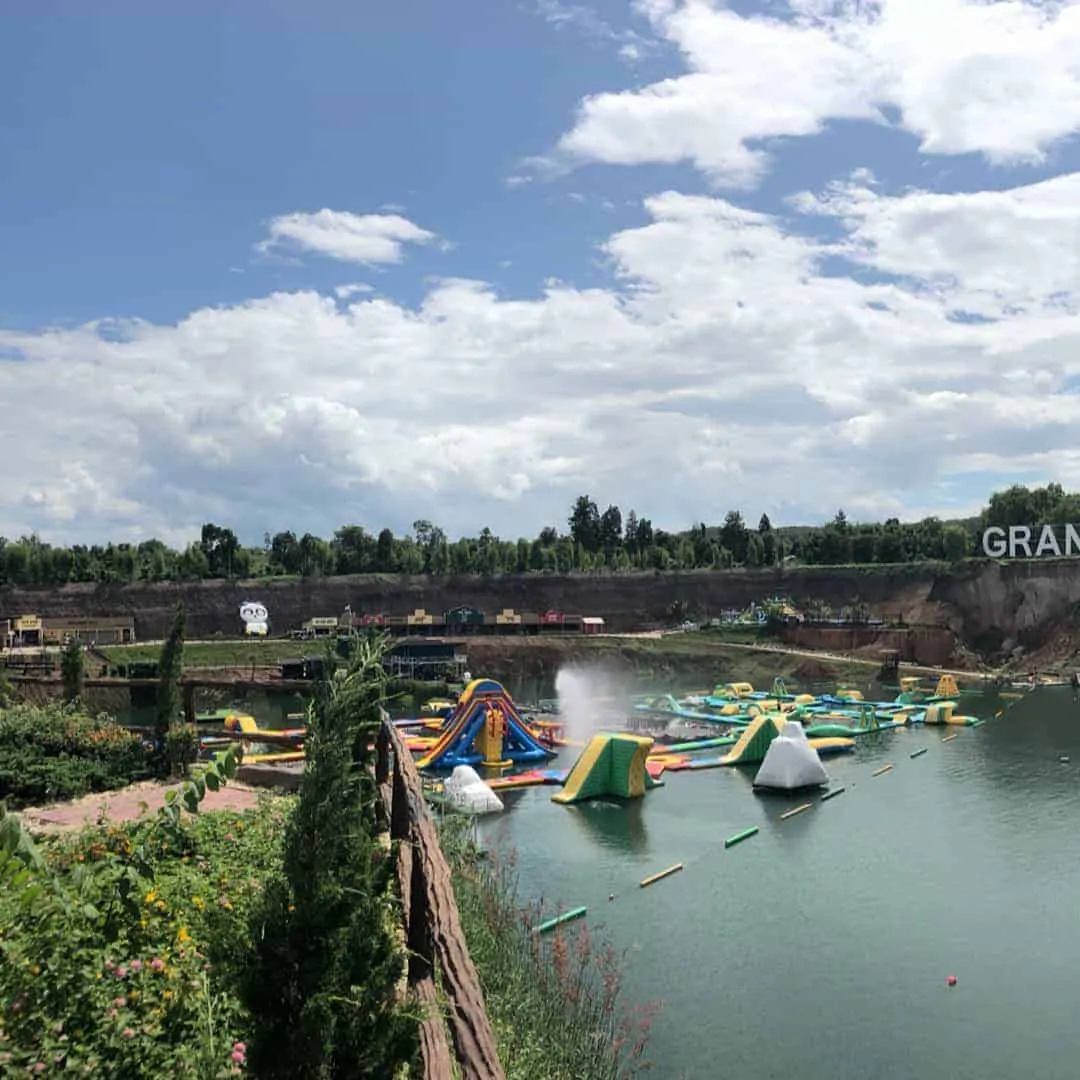 Hang Dong is Chaing Mai's version of the Grand Canyon and is so called because the colour of the rock matches that of great crater in the USA. But that's about where the immediate similarities end. Hang Dong is a crater filled with water and is home to an inflatable obstacle course which makes for hours of fun. Think of the TV show 'Wipeout' in the Thai jungle and you're on the right track!
RELATED: Curious about Thai Culture? Here are 25+ Eye Opening Facts about Thailand you probably never heard before!
.
look after the elephants for the day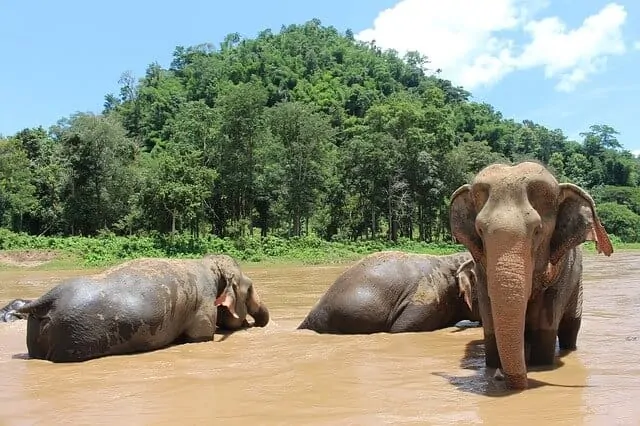 With a lot of South East Asia still being guilty of unethical animal tourism, there are Elephant Parks in Chiang Mai that – thankfully – are bucking the trend. Spend a day with these magnificent creatures includes learning about them, feeding them, washing them and (at some parks) riding them bareback – without a cage seat in sight.
Bua Tong Sticky Waterfall

Have you ever been to a waterfall that you can climb up?! The Bao Thong waterfall is a multi-tiered waterfall made of limestone and mineral deposits – and it is the limestone that makes the surface sticky enough to walk up. It makes for hours of fun, is a really unique experience and one of the top things to do in Chiang Mai.
.
Go To Cooking School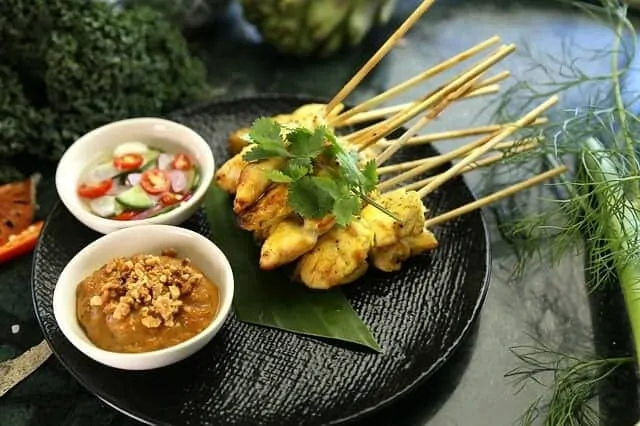 Sharpen up your kitchen skills at one of my many cooking schools in Chiang Mai. You'll learn about local ingredients and the different ways the Thai people maximize flavor in several traditional dishes. Hopefully you'll learn enough to try and recreate these delicious creations when you get back home!
.
Go on A Treetop Rainforest Adventure

The Flight of the Gibbon has been one of Chaing Mai's top attractions for adventure lovers for a number of years now. Spend a couple of hours (literally) flying through the trees on a canopy tour and release your inner child.
.
Tribal Museum

Set in a beautiful building with large outdoor gardens, this museum pays homage to Northern Thailand's minority hill tribes. It displays clothing, jewellery and artifacts as well as showing a video presentation. The Tribal Museum also hosts a monthly tribal market, selling handmade clothes, craft goods and food, from a different hill tribe each month. The museum is free to visit, but all donations are welcome.
.
have a massage everyday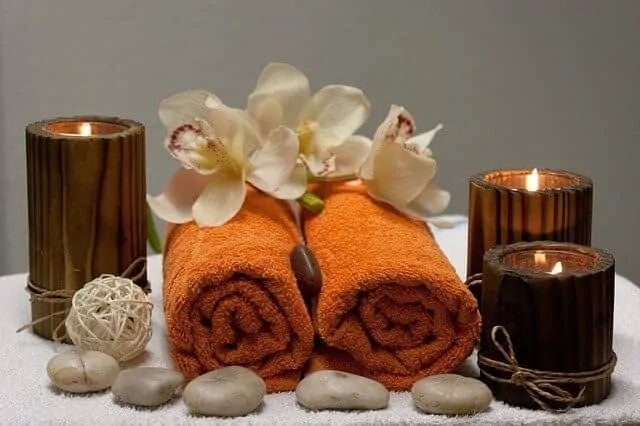 OK, so this one might just be me feeling a little indulgent. But when a hour long full body massage in Australia can cost upwards of $80, when the opportunity arises to have the same (if not better!) massage for less than $10, I can't be the only one that see's the benefit in exploiting this little godsend!
.
What to Eat in Chiang Mai
Get your taste-buds at the ready, because the food in Chiang Mai is amazing – and there is something to suit everyone's taste – and psst. it has some of the best street food in Thailand!
Khao Soi – a spicy soup flavored with yellow curry and coconut milk, loaded with boiled noodles and topped with fried noodles.
Thai Green Curry – a classic, but one that shouldn't be overlooked. And one of the best versions and one I ate again and again was served by Chit Chai, a small family run restaurant on the borders of the old city about 5 mins from Tha Phae Gate. My protein of choice in Thai curry is always chicken, but you can order it with beef, tofu or seafood.
Khao Ko Moo – Pig leg, cooked for 15 – 20 hours in soy sauce, served with rice in a rich gravy (and no stalls are more famous the the cowgirl lady in the Chiang Mai night market – you can't miss her, she's the one in the cowboy hat!)
Nam Tok Moo – Spicy pork made with sliced grilled pork, crushed toasted rice, onions and chillies which is then covered in fish sauce and a squeeze of lime juice.
Pad pak bung (aka. morning glory) – get your daily intake of greens with this Asian version of spinach. Available throughout Asia, fried in a mixture of garlic, butter, chilli and oyster sauce.
Pad Thai – for when you're not feeling creative and just want that comfortable bowl of noodles, meat, veggies and bean shoots.
.
Extra Chiang Mai Adventures & Day Trip ideas

IF YOU HAVE THE LUXURY OF TIME AND CAN'T GET ENOUGH OF CHIANG MAI, TAKE A LOOK AT THESE GREAT TOURS TO EXPLORE THE SURROUNDING AREA:
Chiang Mai is just a hop skip and a jump from Chiang Rai (you know, where that famous white temple is) pre-book your Chiang Rai Group Tour here or if you like a little more control over the itinerary, a private tour of Chiang Rai might be just what the doctor ordered.
Like Tea? You'll Love this! Get out into the countryside on this 2 Hour Tea Plantation & Tasting Tour.
See a different side of Chiang Mai on this bike and kayak tour through the countryside. Although the pace is easy, this activity is the perfect justification for those daily massages I was talking about above!
So there you have it – hopefully we've given you enough information to plan the perfect trip to Chiang Mai – and given you a great list of Things To Do in Chiang Mai to make sure you get the most from your visit. Don't forget to let me know you're own highlights once you're back!

Oh, and if you liked this post please tweet, pin and share – I'd really appreciate it! Click the P in the share bar for full size images!
Hi There! Thanks for reading our Where To Play, Stay & Eat: A Travel Guide to Things To Do in Chiang Mai. I just wanted to let you know that this post contains affiliate links, which help support this site at absolutely no cost to you. If you enjoyed this article and are going to be searching for some of the things I mention anyway, I would love it if you could click through from the links above. These links help me keep this site online and updated – so thank you in advance! Read my full Disclosure here.