Chiang Rai, in Thailand's northernmost province, sits firmly on the South East Asia Backpacker trail, and is often a travelers last stop in Thailand before crossing in Laos. However, a quick search of things to do in the area leaves many feeling underwhelmed. Most travelers have heard about the White Temple, but with google throwing up only a few more temples as options for Things To Do in Chiang Rai, it doesn't inspire many people to stick around longer than the included 2 hour stop on the way to the border. This guide is dedicated to showing you that there is so much more to Chiang Rai than just the 'White Temple' and to convince you to give it a little more time on your tour of Thailand. Keep reading to find out all about the Things To Do in Chiang Rai – and as you'll be staying a little longer – where to eat and where to stay!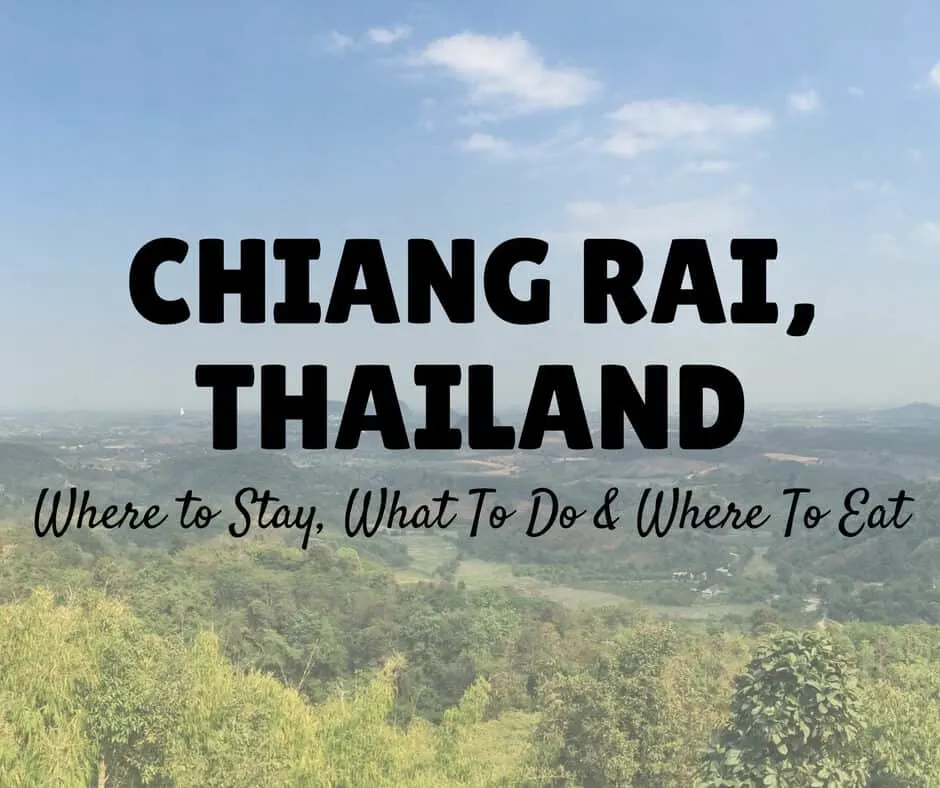 Chiang Rai Things To Do, Where To Stay & Where to Eat!
A Guest Post by Jub Bryant from TikiTouringKiwi.com
Many make a day trip from Chiang Mai to Chiang Rai for the White Temple alone. Chiang Mai draws massive numbers of tourists, few of which make their way a few hours north to Chiang Rai. I was no exception, only ever driving through Chiang Rai on border runs. That changed recently and after three days I was exhausted with sightseeing. Keep reading and let me see if I can change your mind about Chiang Rai as a one stop wonder as I share with you the top 10 things to do in Chiang Rai, plus where to eat and where to stay!
.
Top Things To Do in Chiang Rai
Khun Korn Waterfall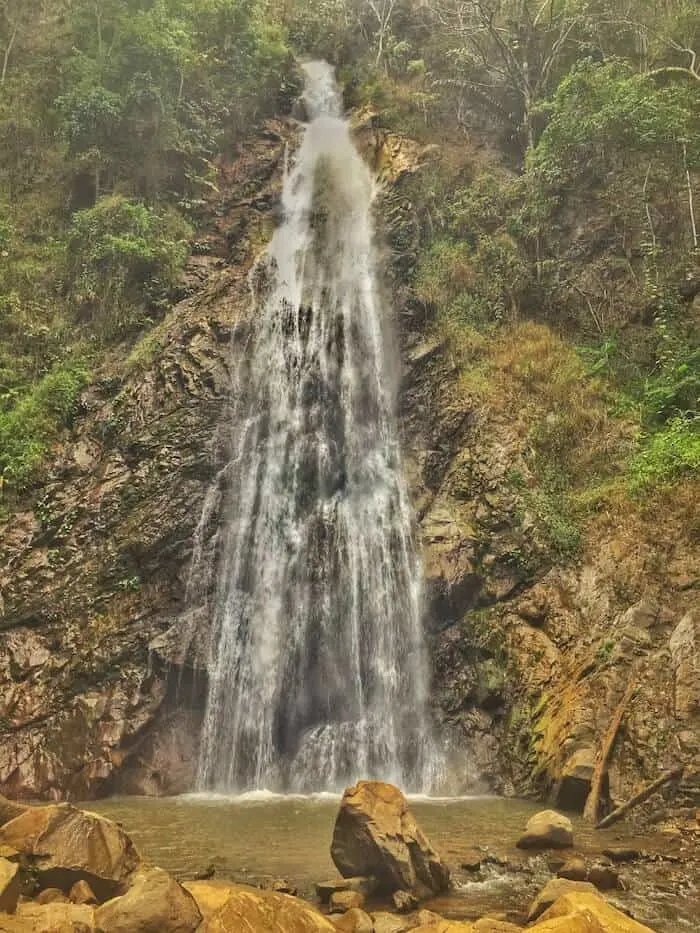 Northern Thailand is mountainous with lots of waterfalls. The consensus says Khun Korn Waterfall is the best Chiang Rai waterfall, and I agree, though I love Chiang Mai's sticky waterfall. The 1,400-metre walk from the parking area is easy for most and you can have a well deserved dip in the waterfall when you get there.
.
Wander The Night Markets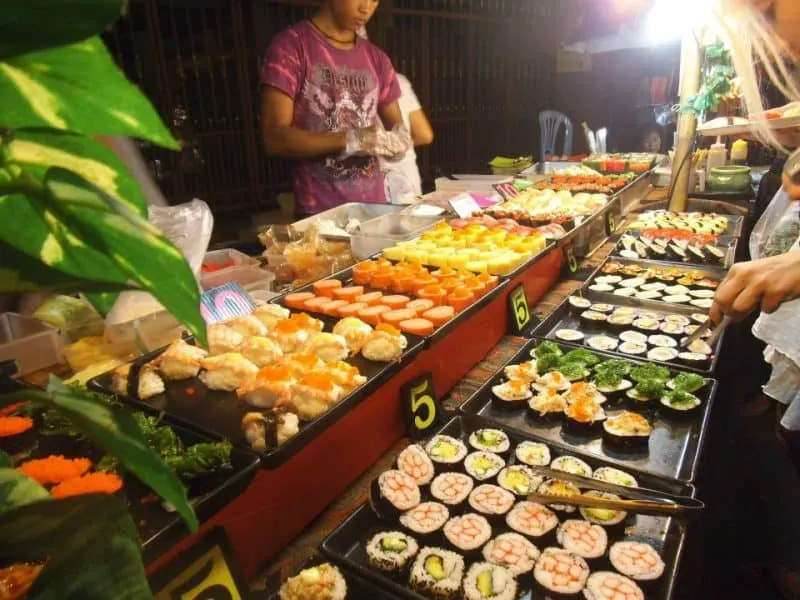 Chiang Rai mimics Chiang Mai with its markets. There is the main Chiang Rai night bizarre seven days a week with a market on both Saturday and Sunday night. The Saturday walking street market was the highlight but most of the vendors are the same on both Saturday and Sunday.
.
Clock Tower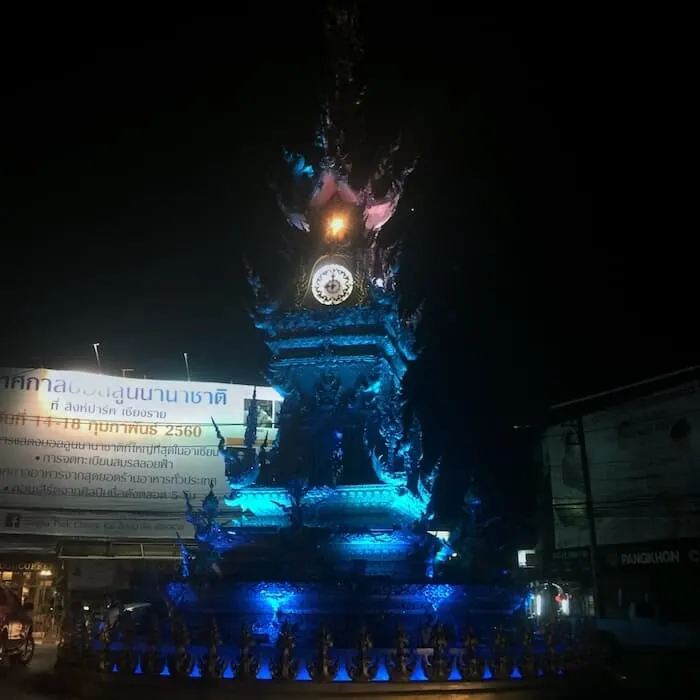 The Clock Tower acts as a centerpiece of a roundabout. The gold structure is a great landmark during the day and comes alive three times after the sunsets. At 7 pm, 8 pm and 9 pm, the tower lights up with music. It's worth timing one of your visits to the night markets to see the clock tower light up.
.
Singha Park
Singha Park, unfortunately, does not house the Singha Brewery. What you'll find is tea plantations, flowers, lion statue and a small park with two giraffes and zebras. The preferred activity is renting a couple of bicycles (100 baht/hour) and explore. The park hosts events throughout the year, like the Chiang Rai Balloon Fiesta.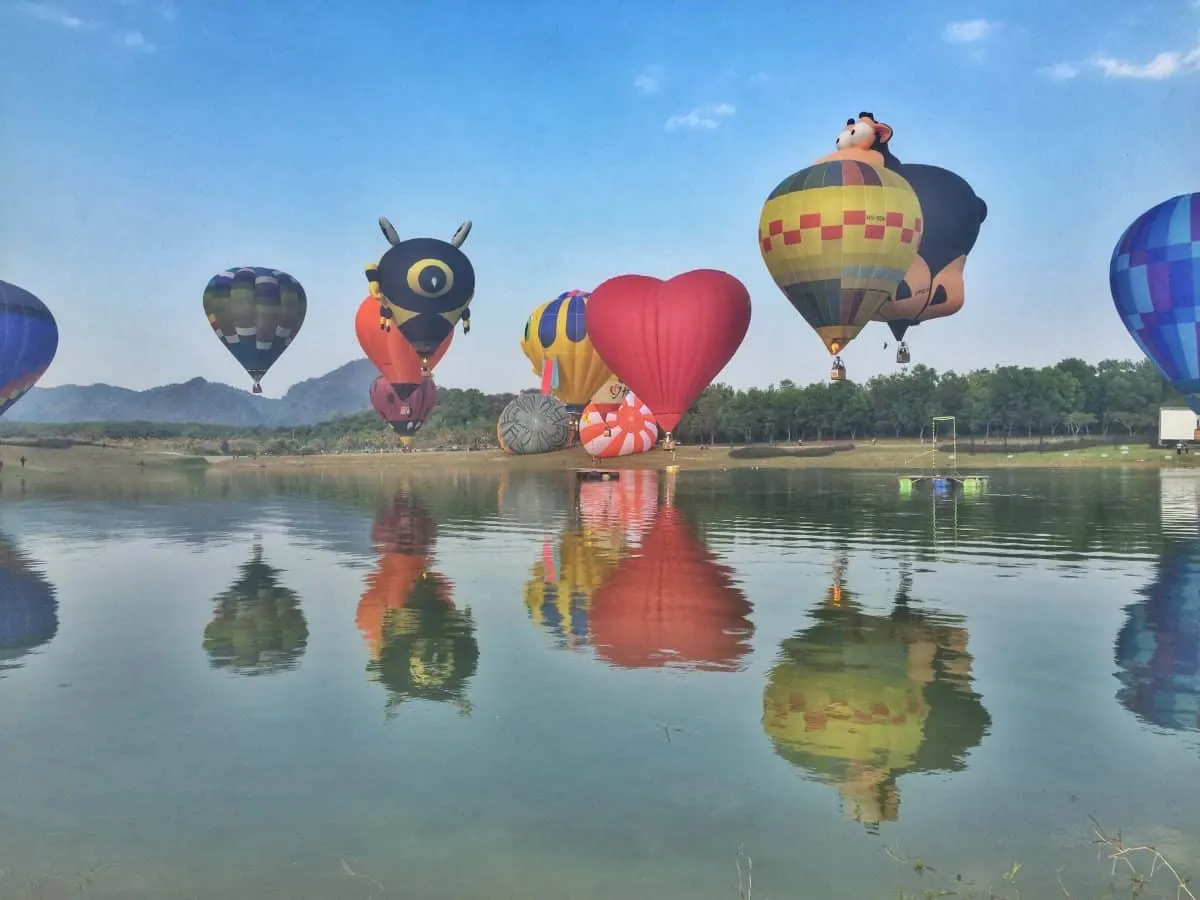 .
Doi In Cee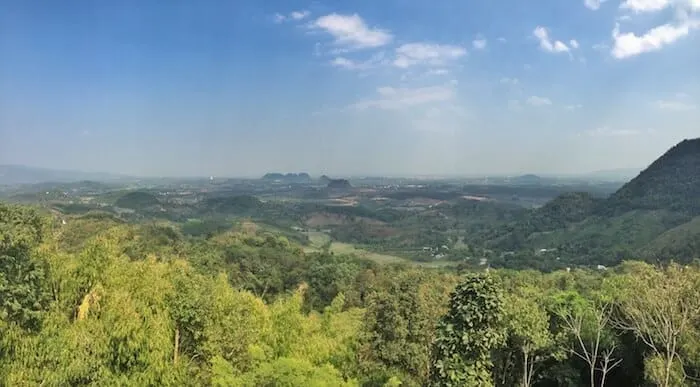 There's no better way to get the lay of a city than from above. Doi In Cee is a viewpoint on the western edge of the city few make it too. The temple grounds are worth a quick look around, but the view is enough to ponder. Can you spot the Big Buddha (No. 8 in this list).
.
The White Temple (Wat Rong Khun)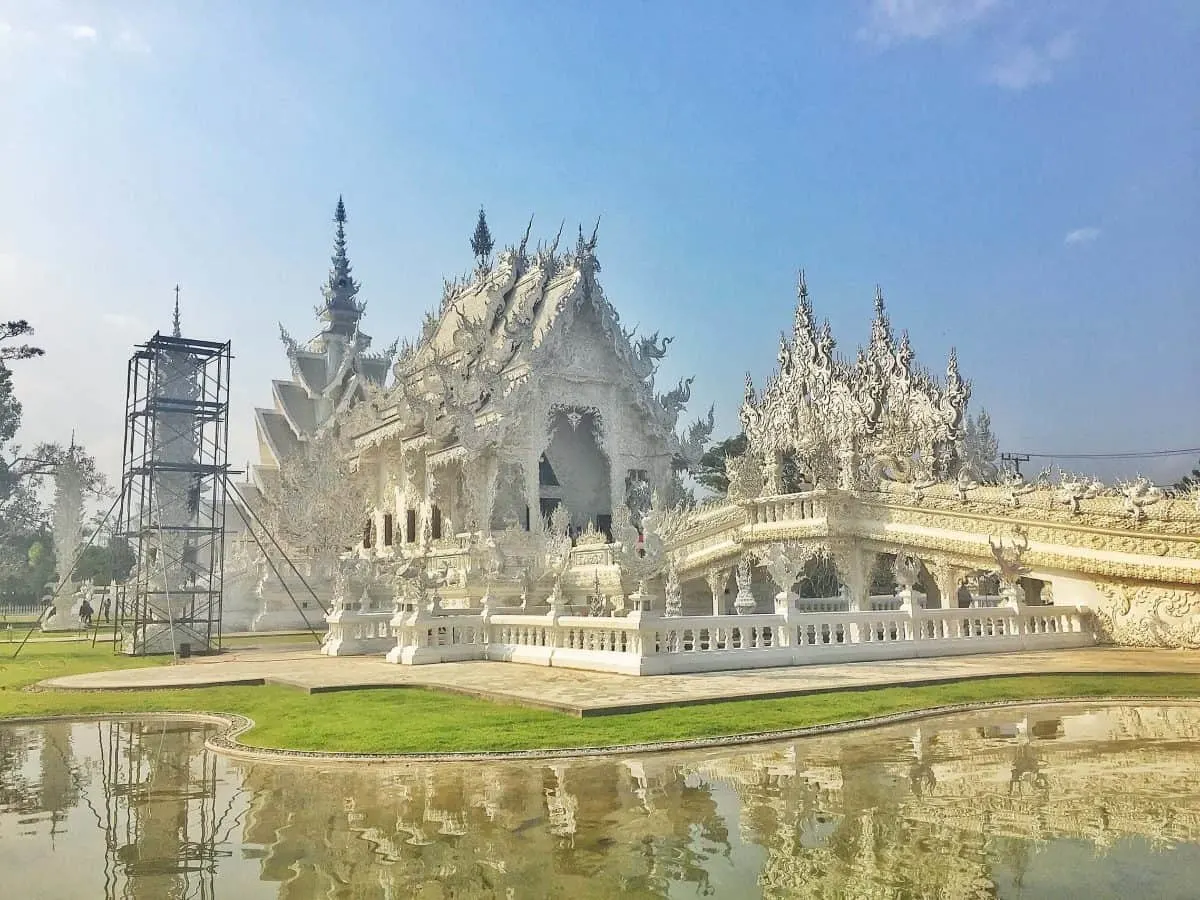 If you haven't seen photos of this temple before, you must be living under a rock. This place is packed with tourists all day, good luck getting a people free photo. The temple is quirky on the inside with cartoon pictures of all your childhood favorites such as Pikachu, Spiderman, and Harry Potter. Yup, inside the temple. You're not allowed to take photos inside so come see it for yourself.
.
Black House (Baan Dam)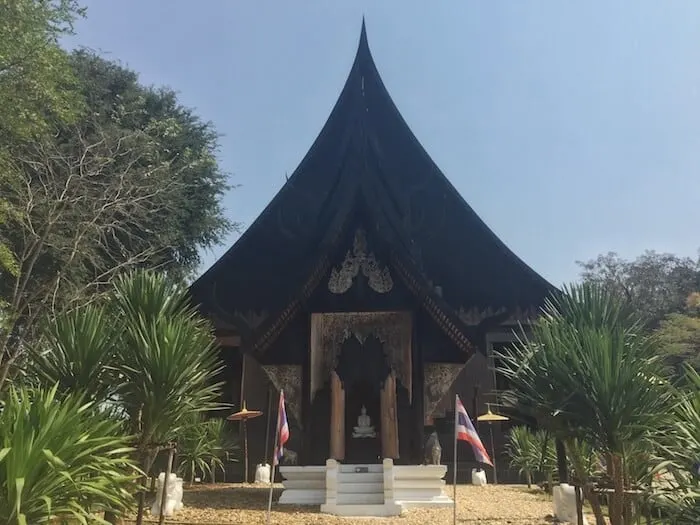 The Black House (or Black Temple) is an interesting place, not for the faint hearted. Not getting as many visitors as the White Temple, the Black House is 40 unique buildings holding various artifacts. The main building is beautiful from the outside, what you don't expect to see on the inside are dead animals (the animals died from natural causes, apparently). If you're looking for an organized tour option, a visit to the Black House can be combined with the White Temple, Blue Temple and Chinese Temple (plus lunch and a massage) on this Tour.
RELATED: Exploring more of Northern Thailand? Don't forget to check out these awesome things to do in Pai!

.
Wat Huai Pla Kung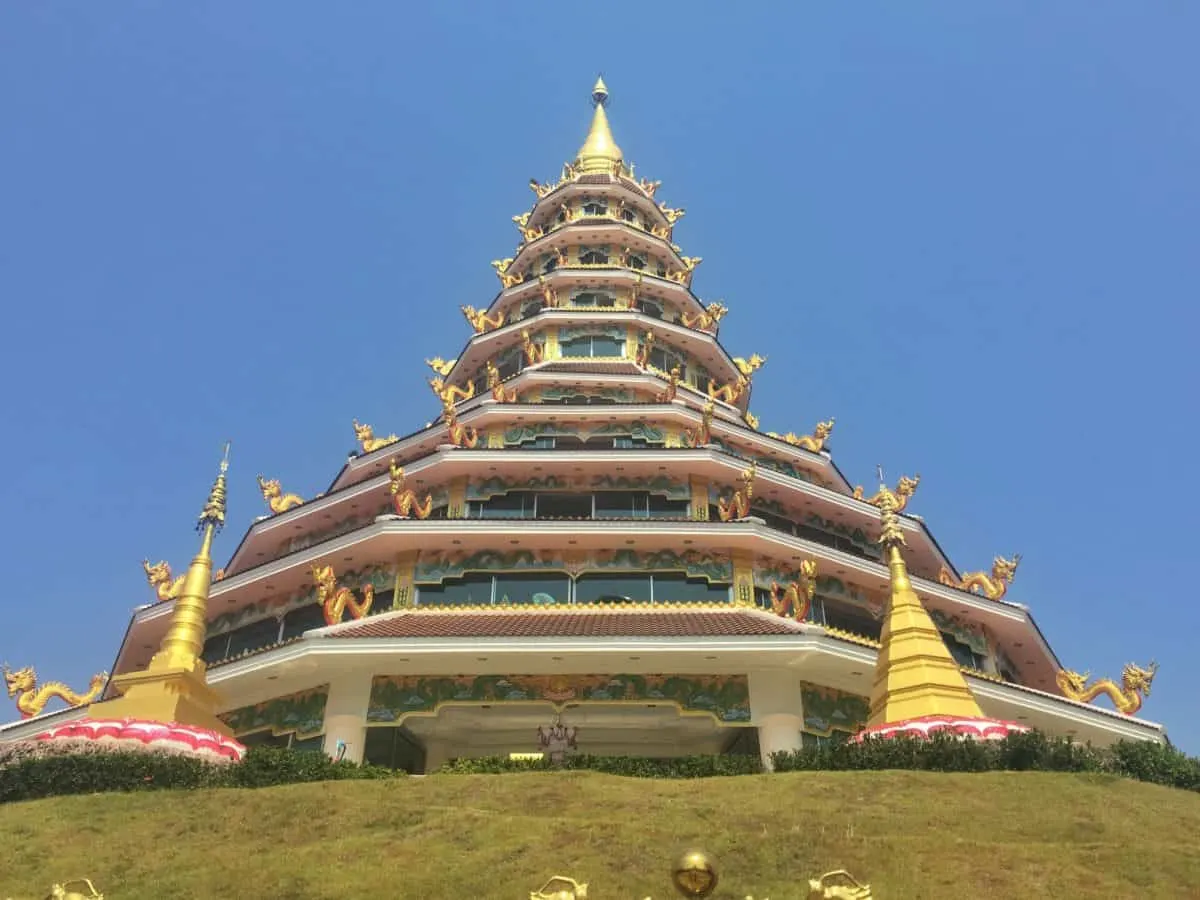 Wat Huai Pla Kung wasn't on the itinerary but we squeezed a detour in. When we spotted the large white sitting Buddha from a distance we were gobsmacked. Meanwhile, the actual temple itself is interesting with wooden Buddhas which I'd never seen before. You can climb the stairs right to the top and look out over the surrounding area.
RELATED: Other temples you can visit include Wat Phra Kaew/Wat Phra Kaeo (The Temple of the Emerald Buddha) or

.
Chiang Rai Beach
There's something quite funny about going to a 'beach' when you're 900km away from the ocean. Chiang Rai Beach is on the edge of the Kok River with the locals enjoying what they can out of it. You aren't there for the 'gorgeous beach views', more so to enjoy the huts and if you can find someone renting tubes, floating on downstream is a blast.
RELATED: Need a little more beach and ocean in your Thailand vacation? Head to the province of Trat to get well and truly off the beaten path!
.
Choui Fong Tea Plantation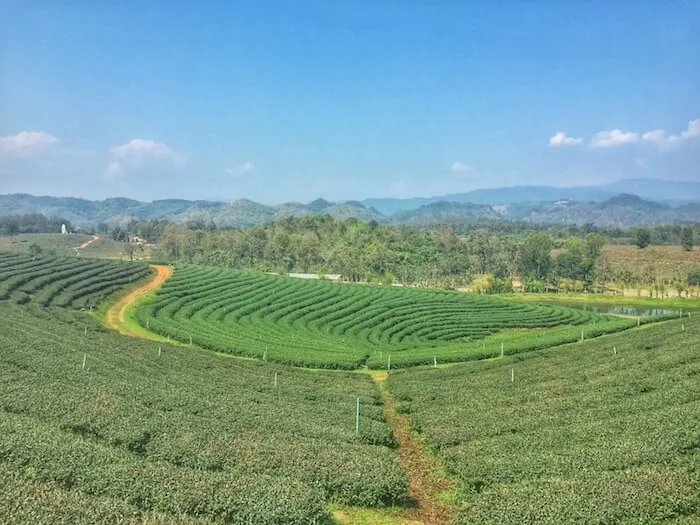 Mae Salong is the famous tea district in Northern Thailand, but you can get a good example of what to expect at Choui Fong Tea Plantation. Surrounded by pineapple farms, the rows of tea plants rise out of nowhere and make for some gorgeous photos. Take a tour, see the tea factory and of course, buy some to take home for gifts. It's a good taster for those short on time.
RELATED: Other beautiful spots for photographs include the Phu Chi Fa Forest Park which is right on the border with Laos.
.
Where To Stay in Chiang Rai

Chiang Rai Hotel is one minute from the Clock Tower, as central as it gets. Nothing fancy, solid rooms, pleasant service with a cafe downstairs. This location is hard to beat, make sure to book early otherwise you'll be out of luck.
Ben Guesthouse is a 25-minute walk from the Clock Tower. It's more of a place if you like to relax for a few hours a day with nice outdoor areas and a pool. If you've got a car or scooter, you can get anywhere with no issues. The Sunday Walking Street is a three-minute walk away.
.
Where To Eat in Chiang Rai
The markets all offer the usual snacks and meals you can expect to find at a Thai market. The night bizarre itself has two food courts, a 'touristy' one with meals from 100 – 200 baht and a more local one with meals from as little as 30 baht. The food courts are a minute walk from one another, yet offer separate live music each night.
If you're looking for menu's with a combination of Thai and Western meals, a walk along Jed Yod Road has plenty of options with a variety of prices. Nangnon has awesome smoothies, and I loved the green curry from Oak And Awe Cafe while my friend enjoyed her western style feast.
For vegans and vegetarians, you can usually request changes at the restaurants as needed. I wouldn't trust the recommendations on Happy Cow (an online restaurant guide), many of the places listed were closed. However, Tamachat has an awesome noodle soup (get there before 2 pm) and various rice dishes.
.
EXTRA Things to do in and Around CHIANG RAI



IF YOU CAN'T GET ENOUGH OF CHIANG RAI, TAKE A LOOK AT THESE GREAT TOURS TO EXPLORE THE SURROUNDING AREA:
Overnight Hmong Eco Tribe Tour – a community-based lodge nestled high on a hill in Chiang Rai Province, northern Thailand. It offers hill tribe tours that combine hill tribe village

s

experience with eco-friendly activities such as hiking, tree planting and Hmong batik class. Tou can also visit the Hilltribe Museum for deeper insight into the life.
3 Day Tour Exploring the Golden Triangle by Bicycle – Explore the Golden Triangle by bike on a 3-day tour from Chiang Rai, and discover the former heart of the ancient opium trade. Trace a 73-mile (118-kilometer) route along country roads with the support an air-conditioned van as you pedal to the Mekong river town of Chiang Saen, learn the history of the region's drug trade at the Opium Museum and experience rural life in an isolated Thai village
Golden Triangle Day Tour with Mekong River Cruise –

Your small-group guided tour includes a small boat cruise along the mighty Mekong River, a visit to Chiang Saen's incredible temple ruins and plenty of photo ops at the scenic border where Myanmar, Thailand and Laos meet.
So there you have it a full run-down of the Top Things To Do in Chiang Rai along with suggestions for where to stay and where to eat! I hope you now have loads of ideas for how best to spend your time in Chiang Rai, and don't forget to grab these everyday travel essentials before you go
Oh, if you liked this post, please pin and share – I'd really appreciate it! Click the P in the share bar for full size images!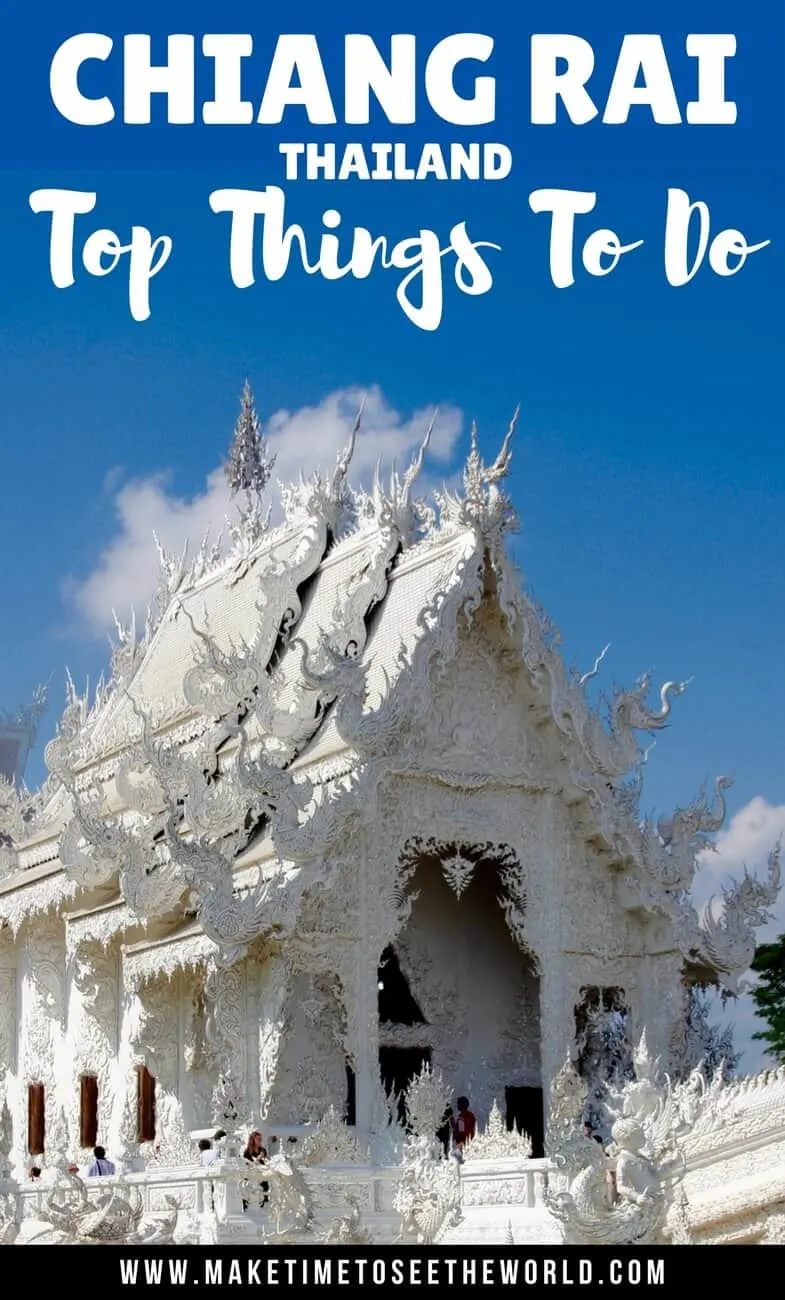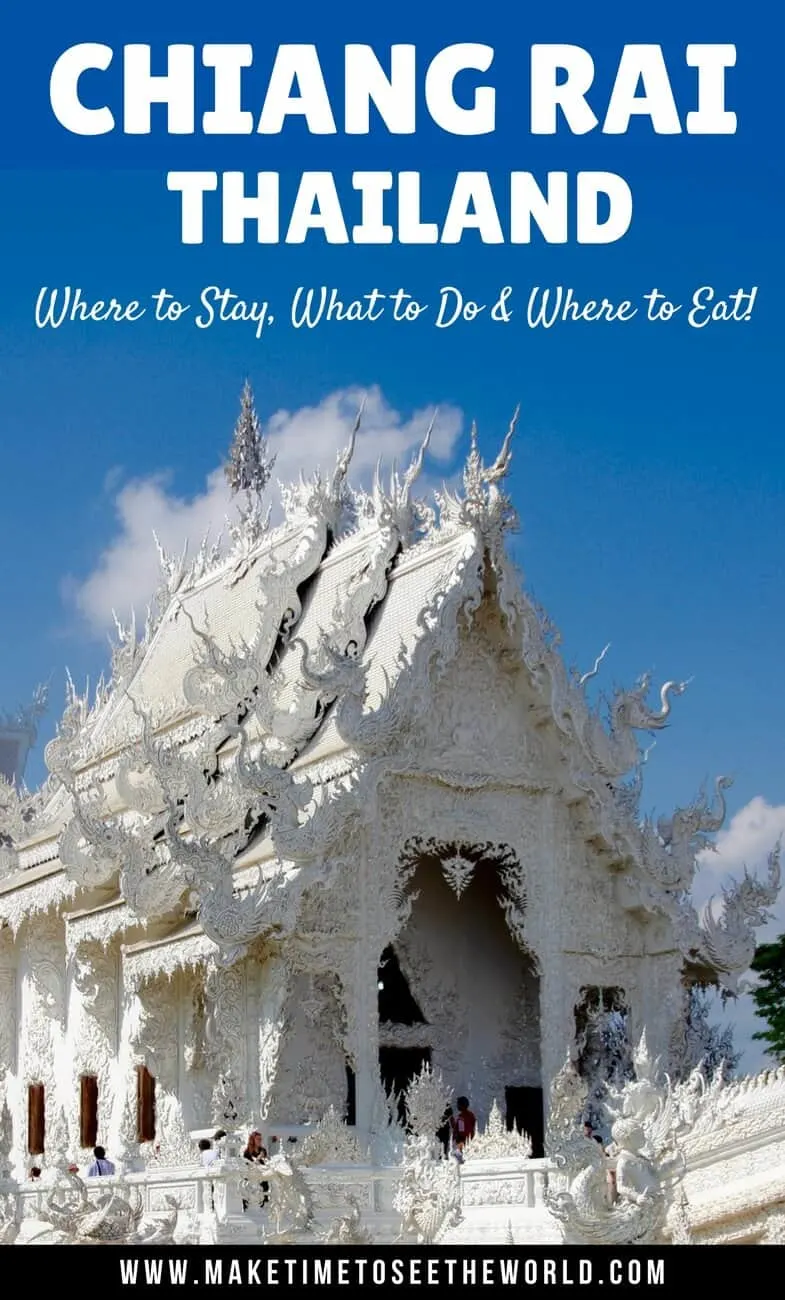 READY TO EXPLORE MORE OF ASIA? YOU MIGHT BE INTERESTED IN THESE ARTICLES
Hi There! Thanks for reading this Travel Guide for Things To Do in Chiang Rai (+ Where to Eat & Where To Stay!) I just wanted to let you know that this post contains affiliate links, which means if you purchase something after clicking a link, I may get a small commission – which is at absolutely no cost to you. If you enjoyed this article and are going to be searching for some of the things I mention anyway, I would love it if you could click through from the links above & thank you in advance! Read my full Disclosure here.