Back away from Bangkok & start planning your trip to Trat Thailand. Featuring National Parks, Tropical Islands, Old Communities & hardly any tourists!
If you have ever thought about visiting Thailand, I can pretty much guarantee it was either for the capital, Bangkok (temples, shopping, and great bars & clubs!); Chiang Mai, Chaing Rai & Pai in the North; or the Islands of Koh Samui, Koh Phangan or Phuket in the South. (And if it wasn't for any of them, then it must have been Pattaya, Krabi, Ayutthaya or Koh Phi Phi!) You see, Thailand has plenty of tourist hubs that have enjoyed a booming business for the past decade or so.
The problem now is that – whilst these places are still incredible to visit – they are becoming 'over-touristed'. It is time to start looking at the off the beaten path destinations, the provinces that have not seen a tourism boom, but are no less beautiful. Enter the province of Trat Thailand.
Bordering Cambodia in Eastern Thailand, Chanthaburi Province in the North and the Gulf of Thailand in the South, Trat is a relatively quiet coastal province that is has recently started to attract an international audience – and for good reason.
Koh Chang is the largest tropical island in Thailand after Phuket and home to the Koh Chang National Park (which also encompasses Koh Mak and Koh Kood) with each promoting sustainable and eco-travel initiatives and some of the most beautiful landscapes you are ever going to see in Asia. I'm sure you will be adding Trat to your Thai bucket list in no time!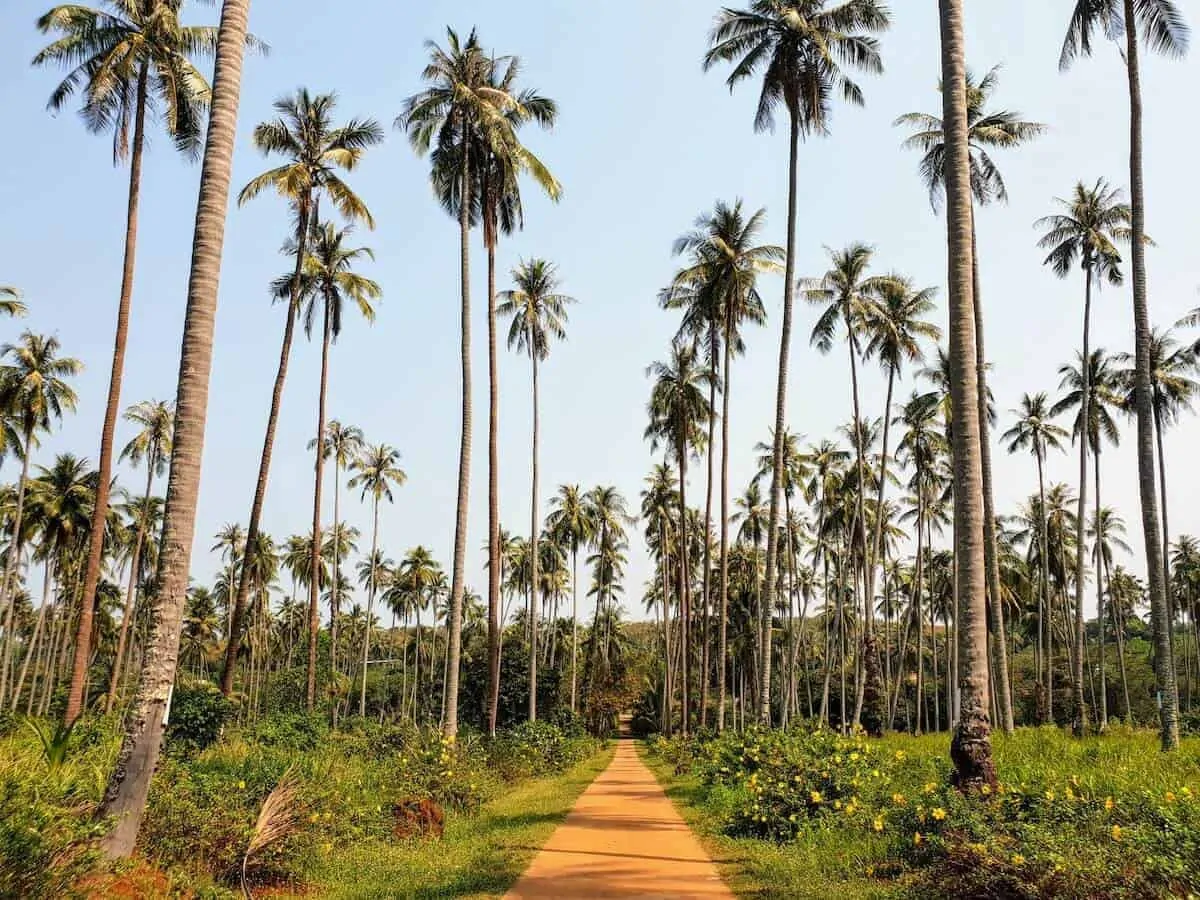 Disclaimer: My tour around Koh Chang, Koh Mak & Trat Thailand was hosted by Bangkok Airways, The Tourism Authority of Thailand + Take Me Tour, although all opinions, photos taken and incredible food eaten remain entirely my own. Read my full Disclosure Policy here.
How to Get To Trat Province & Koh Chang (A quick Trat Travel Guide)

By Car: The province of Trat is 350km from Bangkok on the Cambodian Border (the

Khao Banthat mountain range forms a natural boundary between the two countries)

, and takes around 5 hours to drive if you have your own vehicle or private transfers. (If you are looking to break up the journey consider staying overnight in Chanthaburi and take a walking tour with a local!)
By Mini-Bus: Up to 10 mini-vans depart from the Mochit New Van Terminal in Bangkok throughout the day, taking between 5.30-6 hours.
Mini-Bus + Ferry Combo: There are several mini-bus and ferry combinations which not only take you to Trat, but also transfer you across to the Island of Koh Chang. These take anywhere between 7-9 hours.
Fly: Bangkok Airways have 4 flights per day from Bangkok to Trat with just a 1hr flying time and included lounge access for all passengers.

8 Top Things to Do in Trat Thailand
Sample Village Life in Baan Nam Chiao Old Community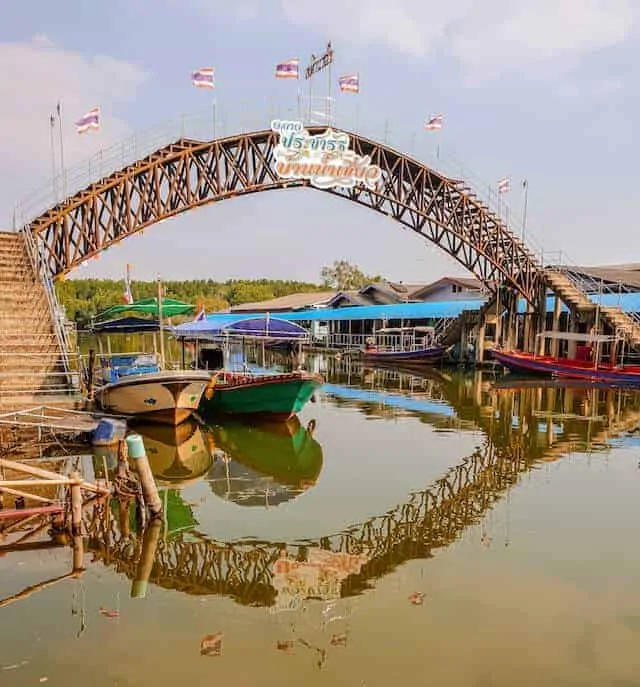 This award winning eco-village and Trat town prides itself on maintaining a traditional life, and allows tourists to experience it during their visit. Whether it is eating local food, staying in a local's home, by watching a traditional hat weaving or candy making demonstration or observing the local fishermen as they go about their daily routines.
The fishing village and multi-faith community here have been around for centuries, and is where Muslims and Buddhists continue to live together in harmony. Stay for a few hours or a couple of days and enjoy a simpler way of life.
RELATED –
Find out more about ALL the
Authentic Thai Food
& Thai Gastronomy you can consume whilst you explore the country!
.
Paddle Through The Salak Khok Mangrove Forest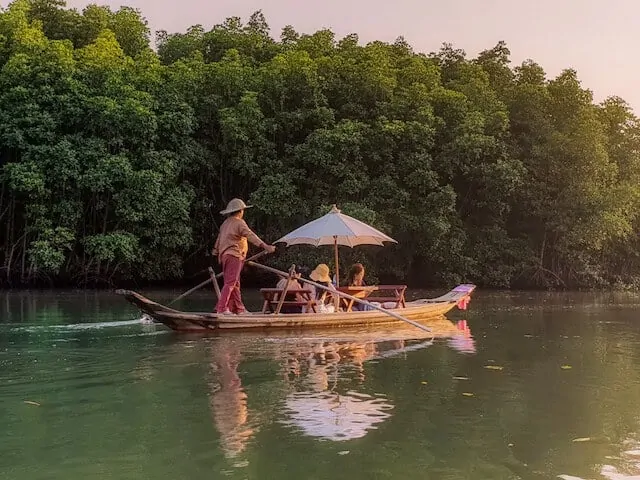 A paddle through the mangroves is one of the most spectacular things to do on Koh Chang's South East coast. The photo above is of a traditional Thai Gondola which, along with a driver, are available to hire up to 4pm each day for a hour long cruise down the river to the ocean and back again.
For the more adventurous, you can also hire kayaks and paddle around the Mangrove forest yourself where you'll see traditional stilt houses and get a small taste of river life. And once you have worked up your appetite, head back to the village and feast on delicious locally sourced and prepared food at the village restaurant.
.
Relax on Koh Chang's Beaches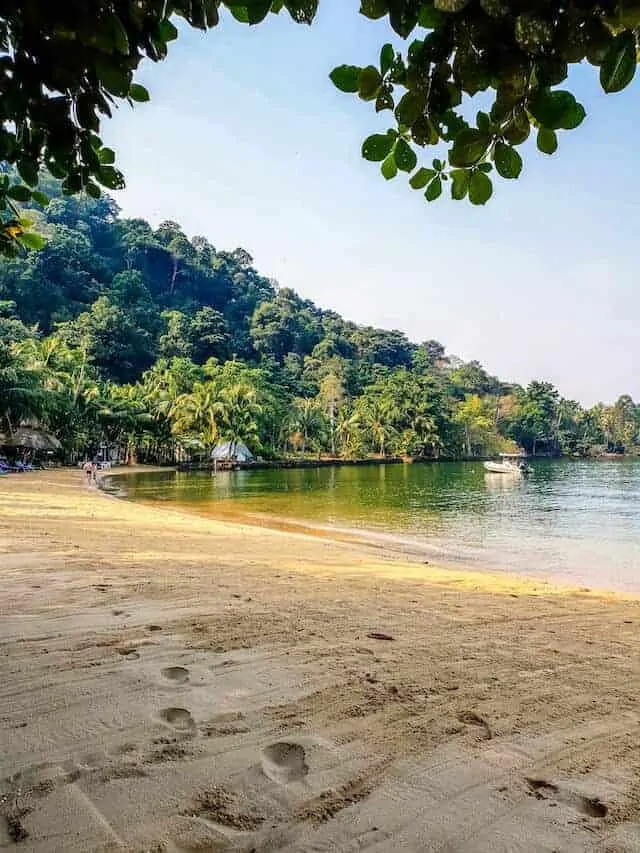 As with any Island destination, there are white sandy beaches aplenty; but in the case of Koh Chang they are almost exclusively found on the West coast of the island.
The main – and most touristy area – is White Sand Beach; Lonely Beach is a favorite among the backpackers and party crowd; and Klong Prao Beach is home to the islands longest stretch of sand and generally attracts a slightly older crowd because of its large resorts and quiet atmosphere. And if none of them sound like what you are looking for, consider Kai Bae Beach which has a little bit of everything: touristy, backpacker and family friendly.
.
Digital Detox on Koh Mak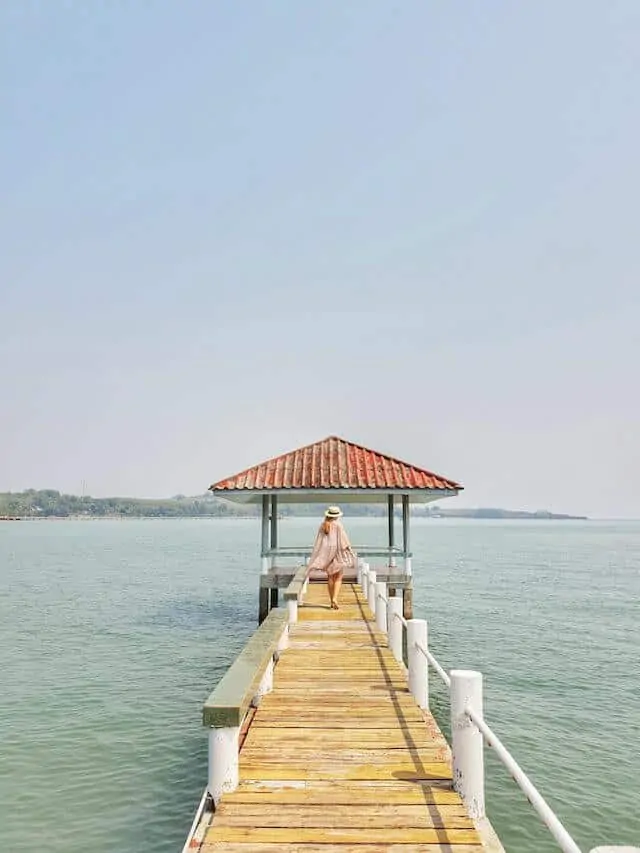 Koh Mak is easily one of my favorite islands in all of Thailand – and its just off the beaten path enough that it should stay laid-back, quiet and pristine for a few years to come. Designated a low carbon island, and with a limited number of visitors permitted on the island at any given time, it is only accessible by boat and only the locals have cars – which are pretty much only used to transfer guests from the pier to the various guesthouses and hotels.
The wifi is limited, the vibe relaxed and the seafood is incredible. It's the perfect place for a digital detox and one I would return to again and again.
.
Get Off The Beaten Path on Koh Kood (Koh Kut)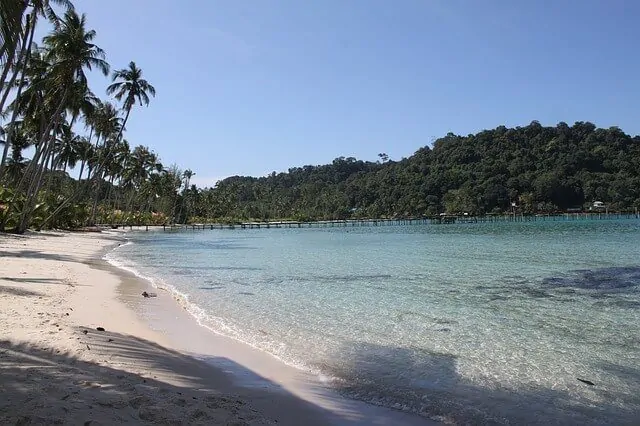 Koh Kood – also called Koh Kut – it is the 4th largest Island in Thailand, but like Koh Mak there is no car ferry to the Island which means it is usually quiet all year round. It is blessed with 15 beautiful beaches and surrounded by that tropical blue water that Instagram loves so much. If there is anywhere in the world to go to spend some time beach hopping, relaxing and getting a tan – Koh Kood / Ko Kut is it.
.
Hike Through the Rainforest on Koh Chang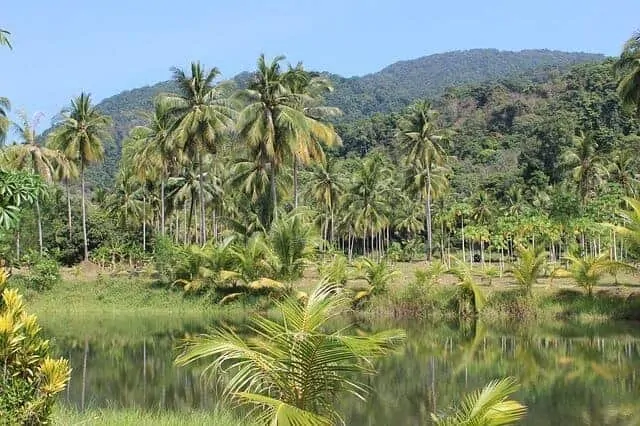 If lying around on pristine beaches and soaking up the sun whilst sipping on a king coconut is not your cup of tea (or you just fancy doing something a little different for a day) consider heading into the heart of Mu Ko Chang National Park and take a hike through the rainforest.
Wander under the shade of sprawls of palm trees, and walk to waterfalls and streams perfect for taking a dip if you get a bit sweaty. Whilst not a huge area to cover, it is one that we would not recommend tackling alone (due to the lack of marked trails) but hire the services of a local guide to help you really get the most of your day.
.
Explore the Underwater World of Mu Ko Chang Marine National Park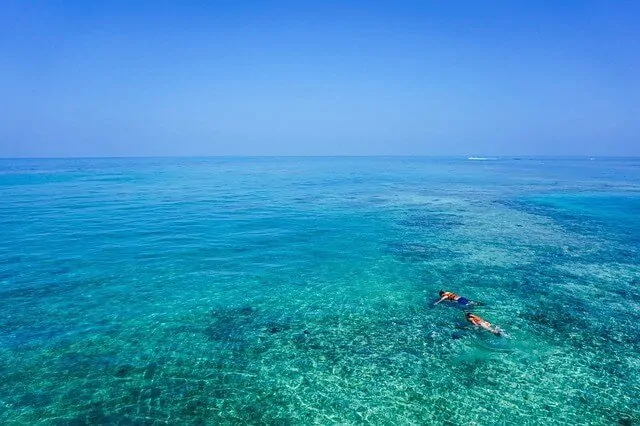 It would be criminal to tour the province of Trat and it's islands without donning a mask + snorkel and taking a peek at the incredible underwater world around it. The corals are pristine, the tropical fish plentiful and with the possibility of sighting sea turtles and rays, be sure you have your GoPro at the ready!
Wat Plai Klong /

Wat Buppharam
Back on the mainland, but out of the center of Trat, Wat Buppharam (aka Wat Plai Khlong) is the province's oldest Temple built around the reign of King Prasat Thong (1648 A.D.) in the Ayutthaya Period. It has undergone restoration and reconstruction since the reign of King Rama V of the Rattanakosin Period.
Most recently a temple museum was established and with pretty grounds, it has become a local religious center, although approximately a 20 minute walk from Trat center, it is never crowded.
Black Sand Beach at Laem Ngop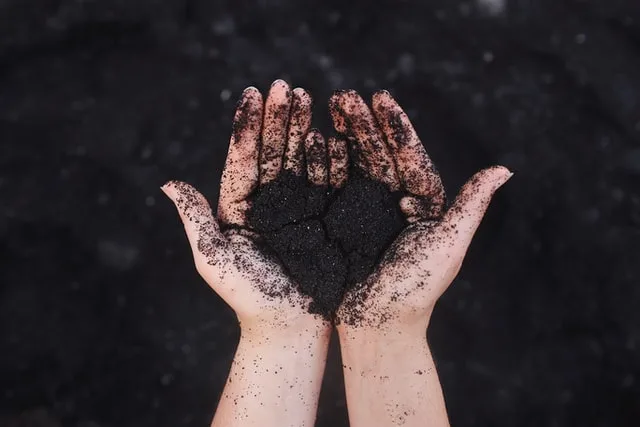 The small town of Lam Ngop is usually used as a base for day trips to the Trat Islands (Ko Chang, Ko Mak etc) but if you do find yourself here, be sure to check out one of only 5 black sand beaches in the world.
Wander the 1km boardwalk through the mangroves – which gives beautiful views of Ko Chang Island on a clear day – and see Sadium Beach (Saium means 'black sand' in Thai). The black sand is believed to have healing properties, and a spa has been established at the end of the beach.
And that's a wrap! Have I convinced you to add Trat Thailand to your bucket list? I hope so! And hope that this post is helpful for your planning when visiting Trat
If you want to share this hidden gem, pin the image below or share on Twitter, Flipboard or Facebook – sharing is caring! (But don't share too far, we don't want to ruin it!)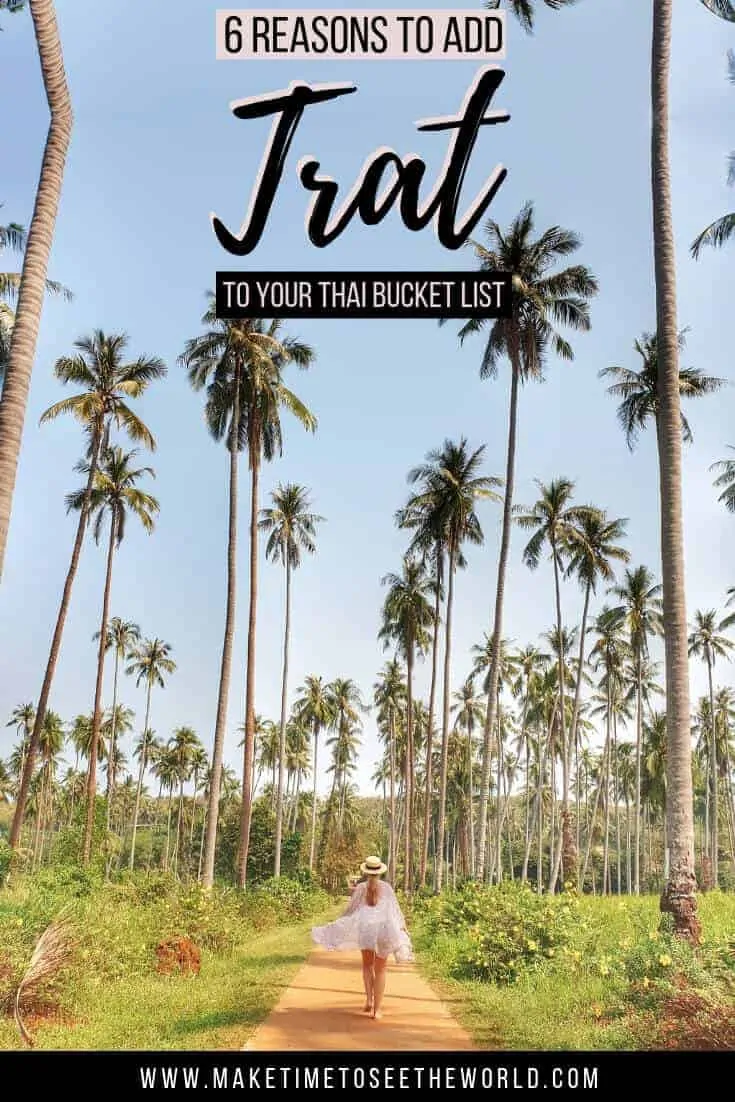 READY MORE TRAVEL TIPS & INSPIRATION? YOU MIGHT BE INTERESTED IN THESE ARTICLES:
Hi There! Thanks for reading my post about The Best Things to do in Trat Thailand – Getting off the Beaten Path in the Best Way! I just wanted to let you know that this post may contain affiliate links, which means if you purchase something after clicking a link, I might get a small commission – which is at absolutely no cost to you. If you enjoyed this article and are going to be searching for some of the things I mention anyway, I would love it if you could click through from the links above & thank you in advance! Read my full Disclosure here. Thank you for reading the MakeTimeToSeeTheWorld Travel Blog.