Can you really say you have been to Thailand if you haven't eaten your body weight in rice, noodles and chilli?! Food is a huge part of Thai Culture and can vary from region to region (which is just one of the reasons that foodies will never be bored when traveling around the country!) From the sticky rice and soups favoured in the North, to the liberal use of herbs and spices in the South, each meal is bound to get your tastebuds a-tingling.
Whilst some people think the overwhelming feature of Thai food is spice, the secret to why everything tastes so darn amazing is that each meals aims to provide a balance of five flavors: sour, sweet, salty, bitter, and spicy. And you will never have to look far for your next meal or snack which embodies each of these.
From the humble street-food vendors and the 7-11 mini marts dotted throughout every town, to the specialty seafood restaurants along the coasts and a plethora of fine dining and Michelin Starred restaurants in the capital – you can dine out on delicious, authentic Thai cuisine wherever corner of the country you find yourself in.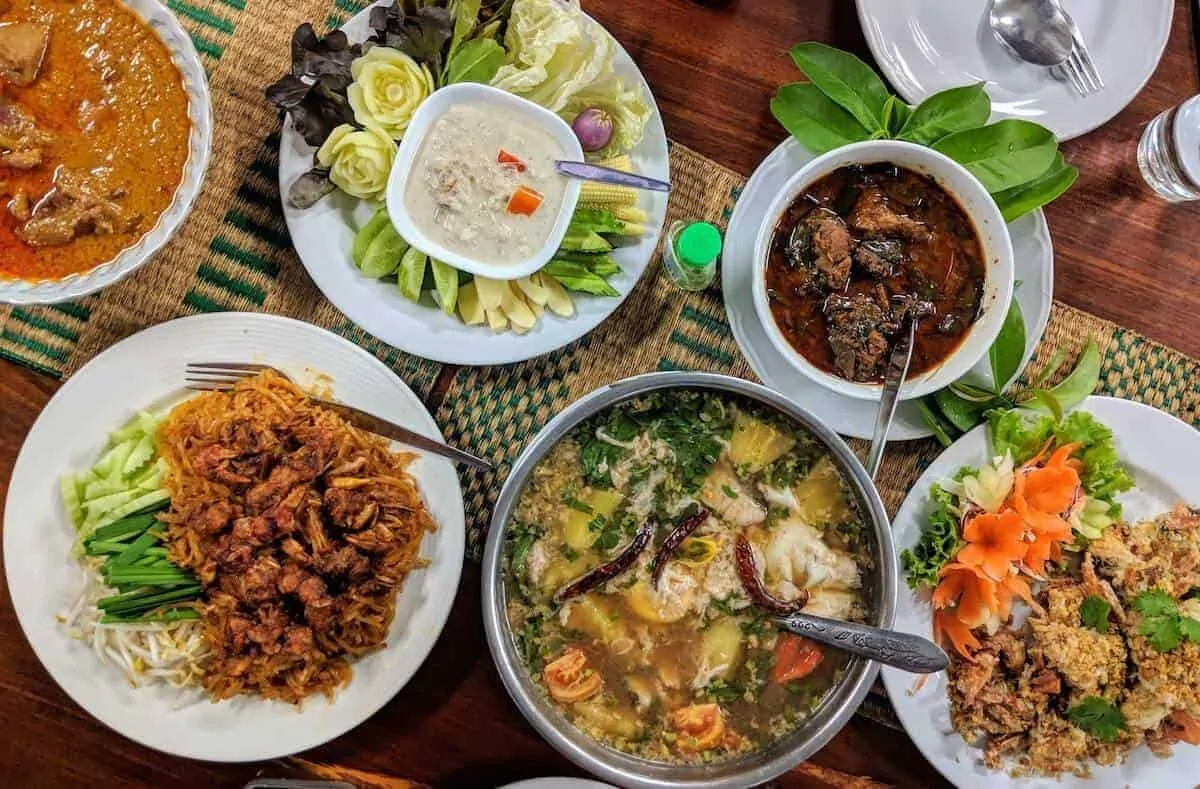 Disclaimer: My foodie tour around Bangkok, Koh Chang, Chanthaburi and Phuket was hosted by The Tourism Authority of Thailand + Take Me Tour and this post is sponsored by Travelan, although all opinions, photos taken and incredible food eaten and lack of tummy upsets remain entirely my own. Read my full Disclosure Policy here.

Michelin Star Dining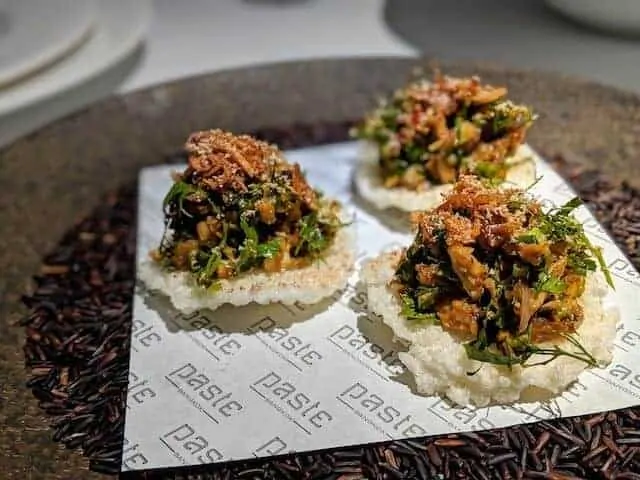 Did you know that Thailand has 27 Michelin Starred restaurants – with just over half of these serving Thai food – and all but one of them are located in Bangkok. They represent the creme-de-la-creme of Thai fine dining, and whose head chefs craft dishes that celebrate the countries culinary history. Their innovative use of the flavours, herbs, and spices that are instantly recognized as Thai are coupled with immaculate presentation in beautiful surroundings – and reservations are essential!
But when it comes to putting your money where your mouth is (literally) how do you decide which Michelin Star restaurant to choose? In Bangkok we would recommend Paste where the designed-to-share menu draws inspiration from royal Thai cuisine and uses century-old cooking techniques with ingredients often sourced directly from local growers; and in Phuket, the newly starred PRU offers a farm-to-table experience nestled in the heart of a luxury resort. PRU stands for 'Plant, Raise, Understand' and in line with this ethos many of the restaurant's ingredients are sourced from their own 96-hectare organic farm; and one of its signature dishes is carrot cooked in the soil it was grown.
Street Food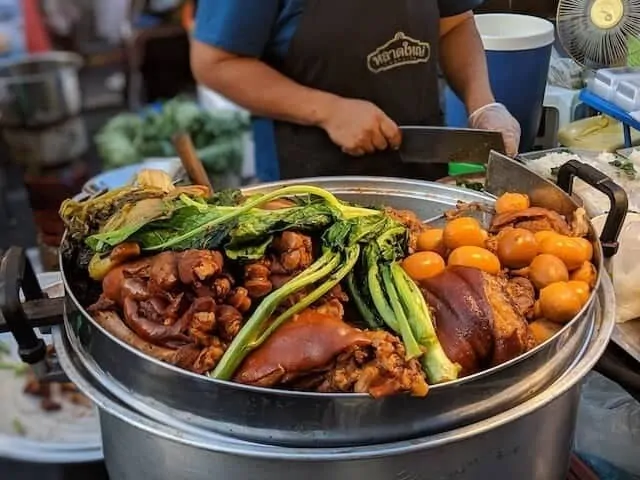 Feared by some and adored by just as many, dining on street food is practically a hard-line into Thai culture. From a humble cart on the side of the road, to a collection of vendors set up in one of the many markets – particularly in tourist heavy areas – you could eat at a different cart/venue every night of your trip and never have the same meal twice. Favorite street food dishes include Som Tam (a spicy Papaya Salad), Khao Pad (Fried Rice) and Pad Thai (Fried Noodles) – all of which can be served with veggies or your choice of protein such as Gai (chicken), Moo (pork) and Kung (Shrimp).
Some of the best street food hubs in Bangkok are Khao San Road, Chinatown, Bang Rak; and in Phuket, the perfect place to sample a variety of different of street foods in South Thailand has to be the Phuket Sunday Night Market.
HOW STRONG IS YOUR STOMACH?
Whilst it is super exciting to dive head first into feasting on all the Thai food you find, if your stomach isn't accustomed to it you may end up with the dreaded 'Delhi Belly' (or Bali Belly depending on where you come from, but more formally known as
Traveler's Diarrhea).
If you don't want to find out what that is like, consider taking Travelan, a clinically proven preventative to Traveler's Diarrhea. It confers up to 90% protection when taken before meals and doesn't require a prescription – you can even get it on Amazon & Passport Health in the US and over the counter at pharmacies in Australia.

.
Seafood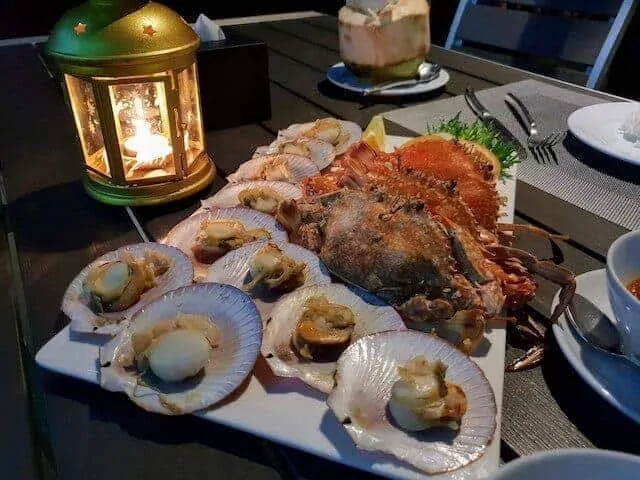 With 3,444km of coastline in Thailand, it was inevitable that some of the best Thai dishes are created from the seafood native to it's shores. Whether you are looking for an incredible seafood feast of fish, prawns, scallops, crab, lobster (and more!) or just a touch of the ocean with some shrimps in your noodles, Thailand is a pescatarians paradise!
Available everywhere Seafood dishes are the unavoidable Pad Thai featuring friend noodles, egg and prawns which can be seen being whipped up in minutes by wok-toting locals around the country; Tom Yum Goong is the hot and sour prawn and chili soup that has become one of Thailand's biggest exports (although without having Kaffir Lime leaves to hand most amateur cooks struggle to capture its essence); and even the humble Spicy Papaya Salad (Som Tum) features a little fish sauce and dried shrimp to keep it in the seafood genre.
(The liberal use of fish sauce in Thailand also serves as a warning to vegetarians visiting the country who will need to be a little more careful when ordering, as a key ingredient in Thai Cuisine it can be a little hard to avoid at times!)
Spice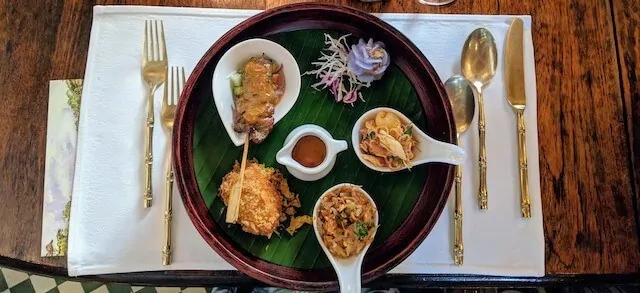 If someone mentions Thai food you wouldn't be alone if you immediately started to salivate and felt the faint touch of heat on the back of your throat (and your eyes may ever start to water!) as your brain remembers the last time you took a bite of a Thai chili-laden meal. Thai's are well known for their tolerance of spicy food, but for the uninitiated, it can take a few meals to acclimatize and a while after that to build up to local levels of tolerance. But don't be scared! If you're not a chili lover at the start of your trip to Thailand, I'm sure you will be a convert by the end – just remember to start small!
For those who want absolutely no spice, be sure to add Mai Sai Prik to your order, which means no chili please; avoid dishes with Yum in the title – as this stands for the 3 S's – spicy, salty and sour; and try and stick to Pad Se-ew (stir fried noddles with vegetables), Pad Thai (although restaurants may serve chili on the side), and Kao Mun Gai/Daeng (rice with chicken or grilled pork).
If you are wanting to up your chili game, mild versions of Som Tum (Papaya Salad), Geng Kheaw Wan Gai (Thai Green Curry), or Kao Phad (Fried Rice) are a good place to start, and for those who have a stomach of steel, don't be shy to go all out with a traditional Tom Yum (spicy soup), Gaeng Kua Kling (dry curry) or Khao Pad Nam Prik Narok (which literally translates as "fried rice with chilli paste from hell"). Go as hot as you dare!
Local Delicacies
Local delicacies, variations and specialties are one of the best part of Thai food culture. While the ingredients mostly stay the same around the country, the slight differences in uses and technique in different regions make for some of the most incredible food you could ever hope to eat. And they are not the type of dishes that you find on a menu for tourists, but are the recommendations of locals (and chefs) in the towns and cities that you visit.
And if you are wondering how you find these delectable dishes if you don't speak Thai, never fear, because LocalTable – which is a joint venture between Take Me Tour and The Thailand Tourism Authority – is the answer you have been looking for. By collecting local experts and putting them a few clicks away from tourists seeking local insight and recommendations, it has provided sustainable avenues for employment for people throughout the country and affordable expert guides for tourists. It's a win win.
And if you don't plan on venturing further than Bangkok and prefer to explore on your own, you can always head to the newly opened 'SookSiam' replica floating market on the ground floor of the Icon Siam shopping mall. This brand new towering mall set on the banks of the Chaophraya River, not far from Wat Arun, proudly serves and showcases dishes from all of the different Thai Provinces under one roof – and all at very reasonable prices. Go hungry and try everything!
And that's a wrap folks. I hope I have shown you there is so much to discover when it comes to Thai Cuisine – and given you a few handy hints and tips to keep your tummy in tip top shape when enjoying this gastronomic journey.
What is your favorite Thai Dish? Or restaurant? Let me know in the comments below.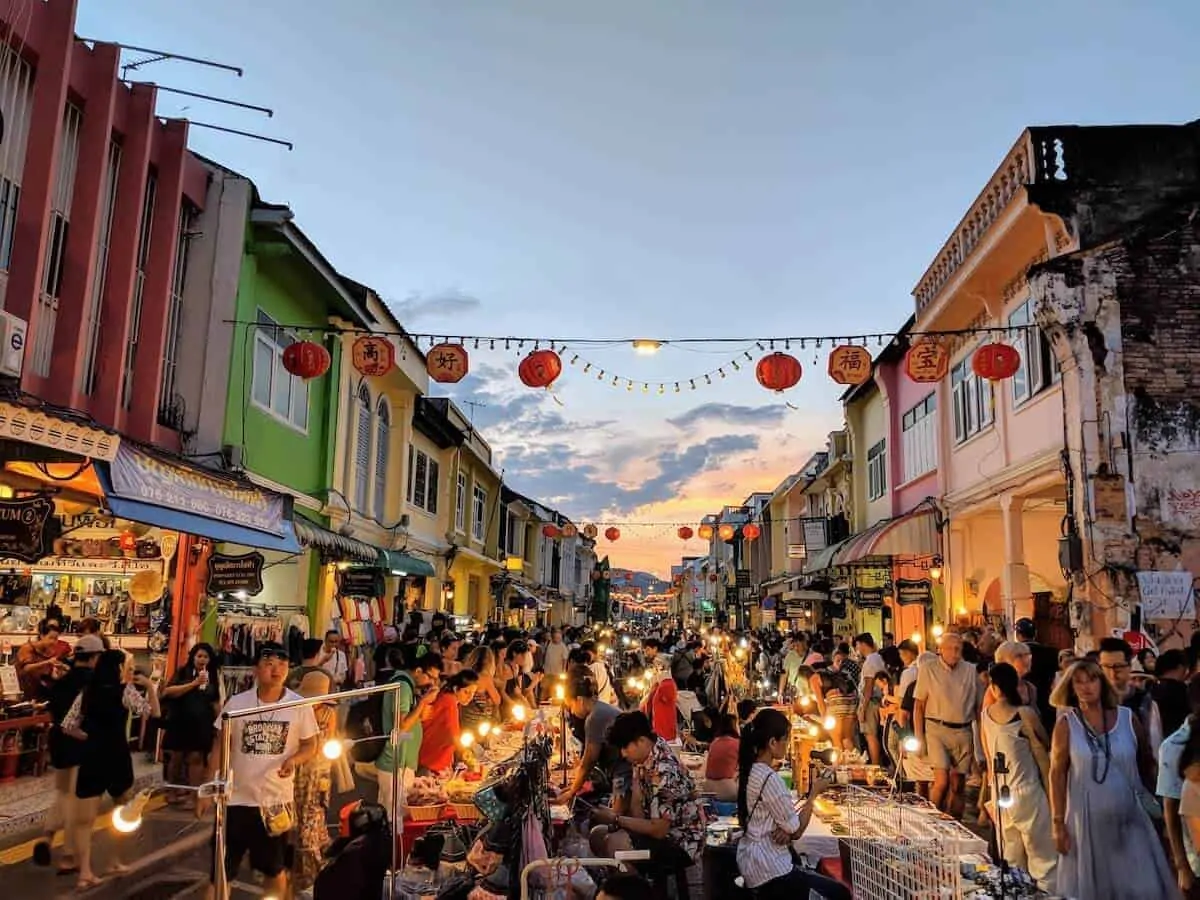 READY MORE TRAVEL TIPS & INSPIRATION? YOU MIGHT BE INTERESTED IN THESE ARTICLES:
Hi There! Thanks for reading my post about Thai Food – Finding Authenticity in Every Corner of the Country. I just wanted to let you know that this post may contain affiliate links, which means if you purchase something after clicking a link, I might get a small commission – which is at absolutely no cost to you. If you enjoyed this article and are going to be searching for some of the things I mention anyway, I would love it if you could click through from the links above & thank you in advance! Read my full Disclosure here. Thank you for reading the MakeTimeToSeeTheWorld Travel Blog.