Bali is the tropical getaway you've always dreamed of. There's something to love for every type of traveler.
For avid beachgoers, Bali is filled with picturesque coastlines perfect for swimming, surfing, and simply relaxing with a chilled coconut or cocktail in hand. For nature lovers, treks are numerous and the sceneries and waterfalls are unforgettable. Those looking for a spiritual experience will become enchanted by intricate temples, and yoga retreats and meditation studios scattered all across the island. Foodies will love the choices of Balinese cuisine and raw, plant-based delights, and night owls will enjoy the nightlife.
With a little something to suit everyone, it's no surprise Bali has become such a popular destination in Southeast Asia. Some people come for a week, some for 10 days, some for a month, and lots end up coming back again and again! But if this is your first visit to Bali and you only have a short amount of time our Ultimate 7 Day Bali Itinerary will help you see all the best sights and attractions the island has to offer.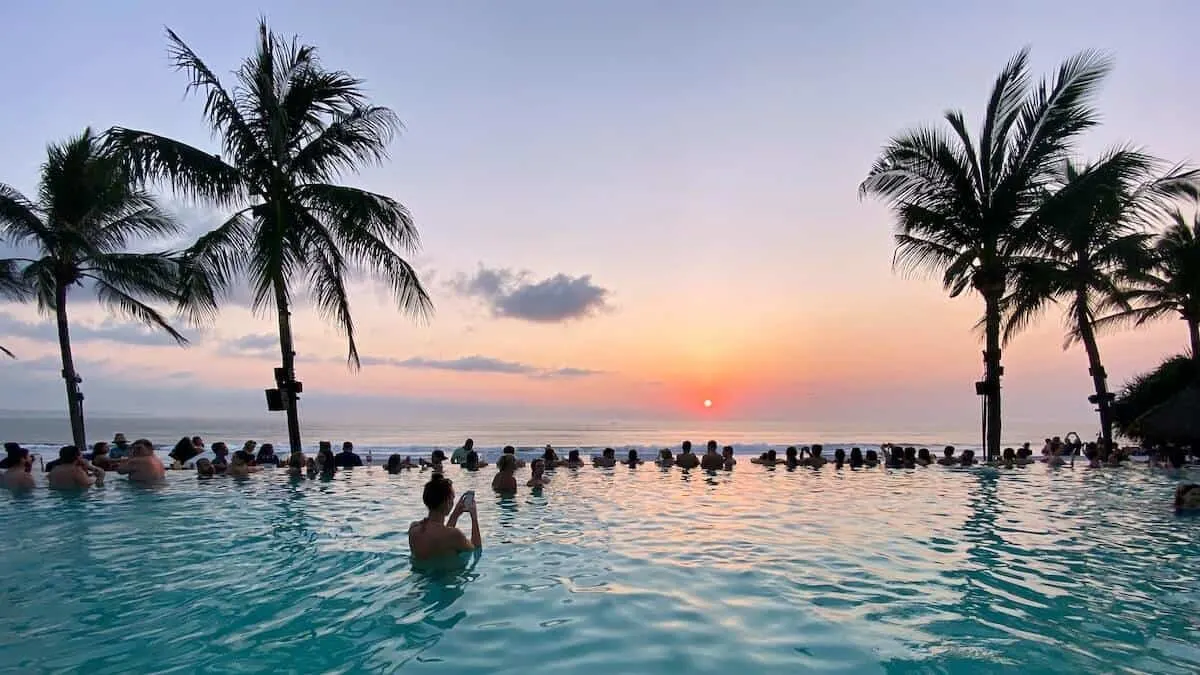 Disclaimer: Almost all posts on this site contain Affiliate links, and this one about the Ultimate 7 Day Bali Itinerary is no different. This means that if you click on any of the links in this post (and make a purchase) I may receive a small commission at absolutely no cost to you. Each post is carefully crafted to (hopefully!) answer all your questions and recommendations are made where we believe they will improve your trip and help with your planning. As such we thank you in advance should you decide to click & buy. Read my full Disclosure here.
This post was contributed by Delilah Hart of OurTravelMix.com
Bali Travel Tips: What you Need to Know Before you Go
How To Get Around Bali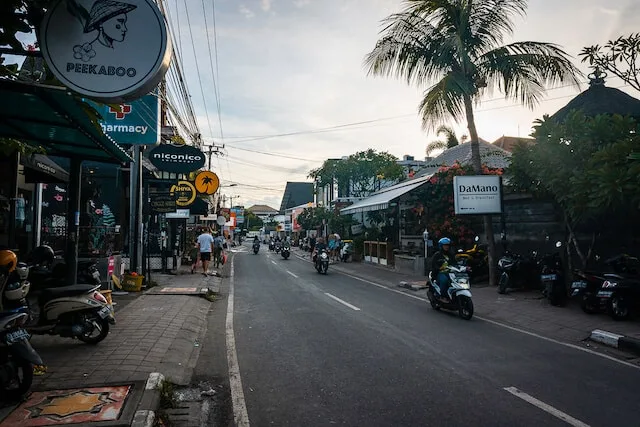 The cheapest and most convenient way to get around Bali is by scooter. You'll see many tourists riding around on scooters as their means of transportation. Scooter hire will cost around 60k IDR per day.
But Before hiring a scooter, check whether it is legal for you to ride a scooter in Bali. You can rent a scooter without showing your license (only your passport), but whether you're legal to drive is another question. For it to be legal to drive scooters in Bali, the license of your home country should cover bikes over 100cc and you should have an international driver's license.
Ride-sharing apps like Bluebird and Grab are handy, but they are actually banned in Ubud and Canggu. Motorbike and car taxis will pass by every so often, but to ensure you are not overcharged, be sure to negotiate a price before the drive or go by the meter. Because of this, hiring a private driver may be a better option. It will be more cost-effective to hire a driver for the day, which will cost around 550k IDR for 10 hours.
How to Get to Bali from the Airport
Bluebird and Grab taxis are the cheapest ways to travel from Denpasar Airport (Officially, Ngurah Rai International Airport) to your accommodation in Bali.
Fares will vary depending on the distance. A Bluebird or Grab Taxi ride to Canggu, for example, should cost around 150k IDR. Download both apps before your trip, then book a ride once you arrive. Grab has an allocated pick up zone at area C80 in the parking garage. Head there once you have booked your Grab.
Alternatively, if you do not have either apps downloaded, head to the departures terminal on level three and hail down a Bluebird Taxi who has just dropped off a passenger.
Booking airport transfers with your hotel or a private driver online are the most convenient ways to travel from Denpasar Airport to your accommodation in Bali. The convenience will come at a cost, but you may find these options more worth the cost if you arrive in Bali at night. Book a private driver online through tour companies like Klook and Get Your Guide.
The Best Time To Visit Bali
Bali is a good year-round destination, however, April to October is considered the best time to visit Bali, when there is little rain, low humidity, and lots of sun. There is a wet season in Bali (November to March) but it can still be a fine time to visit, especially if you don't mind a few tropical downpours during your stay. And if you want to save money the best months are in the shoulder seasons during May, June, and October when there are fewer tourists but still good weather.

Where to Stay in Bali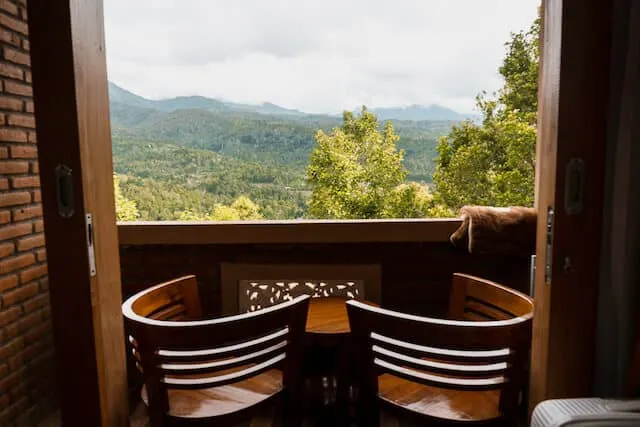 Where you choose to stay in Bali should depend on what kind of holiday you are after. For a relaxing trip filled with poolside cocktails and resorts, Nusa Dua, Sanur, and Seminyak are the places to be. For culture, stay in Ubud. For surf, stay in Canggu. For waterfalls, and peace and quiet, stay in Munduk or Amed.
Although Bali is an island, its size is deceiving. It'll take three hours to get from one end of Bali to the other when traffic is at its best. To get the most out of your trip to Bali, I would suggest staying in different areas of the island. This 7 day Bali itinerary will cover staying in multiple towns in Bali, as well as some day trips around the island.
Ultimate 7-Day Bali Itinerary
Bali Itinerary Day 1 – Uluwatu and Nusa Dua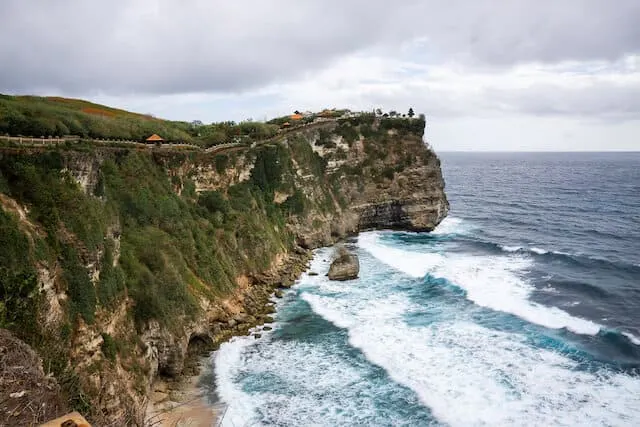 Bali's airport is located near the south of the island. Begin your Bali traveler itinerary by exploring Uluwatu and Nusa Dua in the south of Bali. The southern region is known for its beautiful beaches and deluxe resorts.
Things to do in Uluwatu
Water Blow: Water Blow is a free attraction located 20 minutes from the airport. As its name suggests, admire nature's beauty and power as waves crash upwards, against the limestone rocks. Just be sure to visit during high tide, otherwise, the attraction will be quite underwhelming.
Nusa Dua Beach: Next stop, a scenic white sand beach. Nusa Dua Beach is one of the more popular beaches in Bali, especially for resort-dwellers. For this reason, head to the beach before midday, as it will get busy.
Uluwatu Temple: Being one of the six holiest places of worship in Bali, Uluwatu Temple should be on your bucket list. The temple is situated on the edge of a cliff overlooking azure waters.
Entry is 30,000 IDR for adults. Watch out for the cheeky monkeys – literally! If you have any loose items with you like hats and sunglasses, they will be snatched!
Tegal Wangi Beach: Previously a hidden gem of the island, Tegal Wangi Beach is (slowly) becoming a more popular spot to watch the sunset. Climb down the rocks to the sand, then find a great spot to watch the sun setting.
Sundays Beach Club is one of the best beach clubs in Bali. Spend a day lounging on the top of a cliff in Uluwatu as you enjoy the views and luxury surrounds.
Once you have finished exploring Uluwatu Bali and Nusa Dua, Head to Seminyak for dinner, drinks, and to stay the night. Bars and eateries are plentiful in Seminyak, as well as luxurious resorts. For budget travelers, Kuta and Canggu are great options for cheaper accommodation such as guesthouses and hostels.
---
Where to Stay on Nights 1-2 of your Bali Itinerary
*EXTRA* Read our complete guides to Where to Stay in Seminyak & The Best Restaurants, Cafes & Bars in Seminyak
---
Bali Itinerary Day 2 – Seminyak and Kuta
Seminyak is another great resort town in Bali located right by the coastline. Kuta is aimed more at artsy or budget travelers.
Things to do in Seminyak & Kuta
Kuta Art Market: After spending the morning in Seminyak chilling at your resort or the local beach, head to Kuta. The art market in Kuta is open all day and is a great place to shop for souvenirs. There are great places to stop nearby for lunch afterwards.
Potato Head Beach Club: One of the hottest beach clubs on the planet, complete with infinity pool – come for the day, come for drinks, come for dinner – but whatever you do, make sure you visit this iconic spot at least once when you are in Bali.

Take a surf lesson: There are great beginner breaks at Kuta Legian and Canggu if you've always wanted to give surfing a go (and the expert breaks at Padang Padang in Uluwatu for the pro's out there)
Get a Traditional Balinese Massage: for less than $10(!) at the many beauty and massage places open throughout Seminyak & Kuta
Tanah Lot Temple: The beach is a great place to watch the sunset in Canggu, but it doesn't beat the sunset from Tanah Lot Temple. Like Uluwatu Temple, Tanah Lot is another impressive temple in Bali, perched atop a cliff.
During high tides, the temple itself will be inaccessible, but don't let this put you off. Simply the view of the temple at sunset is stunning. It will cost 60,000 IDR to enter the temple.
Head back to Canggu Town for dinner & drinks and head to one of the beachfront bars to enjoy the nightlife. The local food scene is amongst the best on the island. The restaurants in Canggu have many plant-based options, smoothie bowls, cheap eats, and upscale eateries.
Bali Itinerary Day 3 – Canggu
Canggu is the place where many digital nomads and surfers settle. It is an up-and-coming tourist area in Bali.
Things to do in Canggu
Canggu Town and Batu Bolong Beach: Spend the morning at Batu Bolong Beach learning how to surf and doing some of the other best things to do in Canggu. Alternatively, Berewa Beach is home to the ever-popular Finn's Beach Club, and Perenan Beach is the place to go for a less touristed beach.
Tegenungan Waterfall: The next day of the itinerary will bring you to Nusa Penida Island. Since the ferry leaves early the next morning, I'd recommend making your way to Sanur, where the port is, to stay the night. On your way there, stop at Tegenungan Waterfall.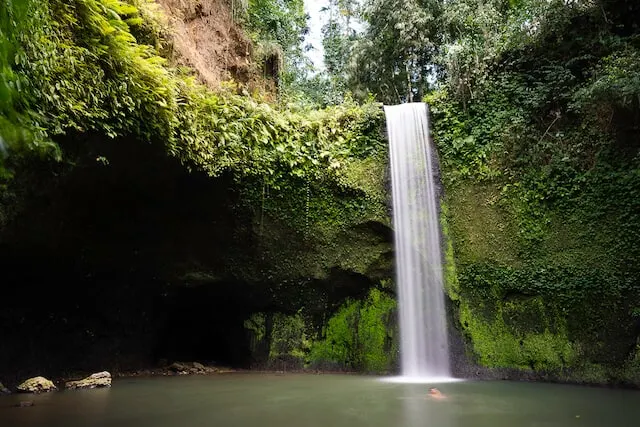 To get the cheapest tickets to Nusa Penida Island, turn up to the port before 5 pm and choose a ferry operator. Return tickets should cost 300,000 IDR. Otherwise, secure your tickets online at a premium price.
---
Where to Stay in Sanur – Night 3 of your Bali Itinerary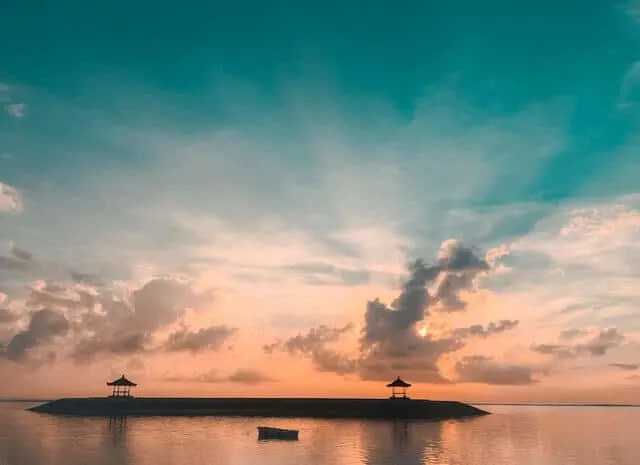 ---
Bali Itinerary Day 4 – Nusa Penida Day Trip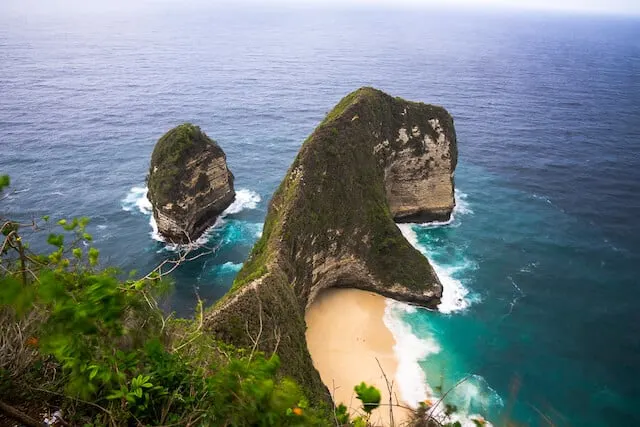 The one activity that should be on the top of your bucket list for Bali is Nusa Penida. The island features stunning landscapes as far as the eye can see.
Take a ferry to the island in the morning. Ferries leave as early as 7:45 am, and the earlier the better, to beat the mass of crowds. To get around the island, either rent a scooter if you're a confident driver or book a private driver. The drivers on the island typically have two choices for routes; the east or the west side of the island. The west side of the island is more popular, with Kelingking Beach, Angel's Billabong, Broken Beach, and Crystal Bay.
Once you've returned back to Bali Island, make your way to Ubud in central Bali.
---
Where to Stay in Ubud – Nights 4-7 of your Bali Itinerary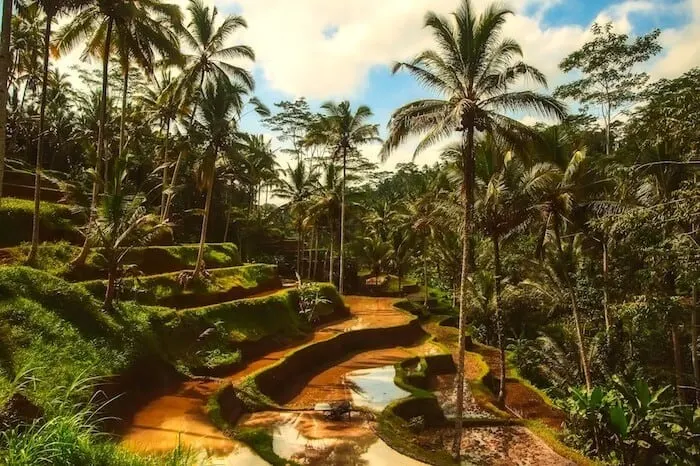 Luxury: Natya Resort Ubud – the hotel where infinity pool dreams are made, with luxurious rooms nestled in the heart of the jungle
Mid-Range: Munari Resort & Spa Ubud – Cosy Balinese style rooms with air-con and free Wi-Fi, 5 minutes from Ubud Centre
Budget: Sedana Jaya – In the heart of Ubud, this basic but clean hotel is great for those on a budget
---
Bali Itinerary Day 5 – Ubud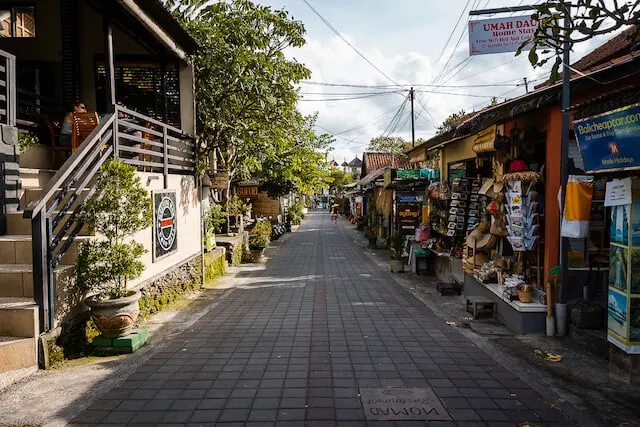 Ubud is the cultural hub of the Island and one of the most visited destinations in Bali. Spend your day exploring the town, take a yoga class and a cooking class, then visit the night market in the evening to buy some souvenirs for friends, family, and perhaps an item or two for yourself! Remember to barter for your purchases to avoid overpaying for an item.
Things to do in Ubud
Ubud Monkey Forest: The monkey forest in Ubud is a popular attraction for tourists and one of the most visited in Bali. This sanctuary is a great place to see the monkeys. Once again, don't leave any of your items loose and easy to snatch. Although the monkeys are much more docile than those at Uluwatu Temple, they may like the look of a shiny drink bottle or chip bag. Entry will cost 80,000 IDR for adults.
Bali Itinerary Day 6 – Munduk and Bedugul Day Trip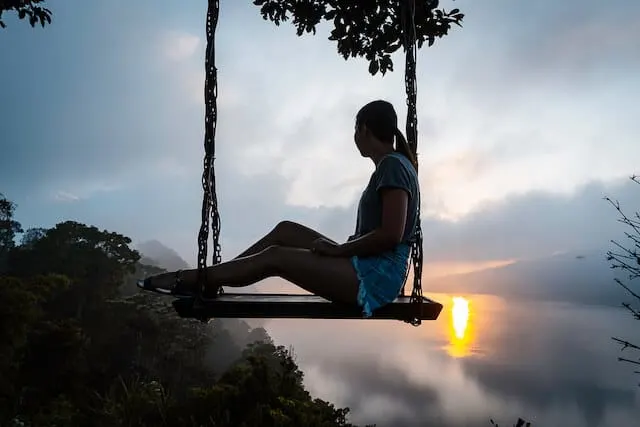 The areas of Munduk and Bedugul are located near the north of Bali. They're popular day trip destinations, with rushing waterfalls and temples.
Things to do in Munduk and Dedugal
Wanagiri Hidden Hills: Wanagiri Hidden Hills is the best place to get your Bali-inspired Instagram snaps. This park in Munduk has various swings against gorgeous backdrops, and iconic Bali bird's nests to pose in. Entry will cost you 100,000 IDR.
Banyumala Twin Waterfalls: Just a stone's throw away from Wanagiri Hidden Hills lies the best waterfalls in Bali. Banyumala Twin Waterfalls is a hidden treasure – you may be lucky enough to have the waterfalls to yourself! The spectacular twin waterfalls cascade over the mountain and the water is crystal clear, which is a lovely change from some of the famous waterfalls in Bali.
Ulu Danu Beratan Temple: The temples of Bali are magnificent, and each one is unique. Ulu Danu Beratan is a water temple in Bali, located in Bedugul, nearing the town of Munduk. The temple floats on Lake Beratan, surrounded by photographic gardens. The entrance fee is 50,000 IDR for adults.
After spending the day exploring Munduk and Bedugul, head back to Ubud for your last day in Bali.
Bali Itinerary Day 7 – Ubud
Things to do in Ubud
Campuhan Ridge Walk: Get up bright and early to make the most of your last day in Bali (and to beat the heat). The Campuhan Ridge Walk is an easy, scenic walk located in the heart of Ubud. The walk will take around two hours to complete. You'll be rewarded by views of the morning sun painting a glow across the ridge.
Tegallalang Rice Terrace: Head to one of the most Instagrammed spots in Bali. The rice fields are around 30 minutes from Ubud Town and the views and breathtaking. Entry into the rice paddies will cost 15,000 IDR. For add-ons, like the iconic Bali swing, you'll pay 500,000 IDR. It's real Eat Pray Love territory!
Tirta Empul Temple: Nearby Tegallalang, Tirta Empul is an interesting place to visit for an insight into Balinese religion and culture. Dedicated to the god, Vishnu, this water temple is where the Balinese go for purification. Enter for 15,000 IDR.
Is 1 Week in Bali Enough?
It's a loaded question really, isn't it? If you only have one week in Bali, then it will have to be enough – and we hope that our perfect Bali itinerary for a 7-day stay can help you get the most out of your time on the Island. If however, after reading this Bali travel guide, you think you may need a little more time, we would like to suggest the following extra stops and activities for your Bali tour that could stretch your trip out to 10 days in Bali or 14 days in Bali (and maybe even longer):
Spend more time in the Nusa Islands: Whilst day trips to Nusa Penida are popular, being able to visit (and stay!) on the smaller island of Nusa Lembongan, and visit the even smaller island of Nusa Ceningan are both great additions to any Bali trip.
Visit the Gili Islands: Gili Trawangan, Gili Meno and Gili Air are a favorite with backpackers, solo travelers, and with a lot of incredible dive sites – scuba divers and snorkelers too!
The Mount Batur Sunrise hike is a magical way to start the day – although you leave your hotel in Bali early in the morning to be at the summit in time, and then getting back down and back to your accommodation means you need to allow a couple of days all up to include it on your Bali itinerary.
Head to Flores to visit Komodo Island where you can come face to face with the infamous Komodo Dragon and hike Padar for one of the most beautiful views in Indonesia.
And for exploring more of Indonesia we recommend you go scuba diving at Raja Ampat, see the incredible temple at Borobudur, or visit the tribespeople of Tana Toraja in South Sulawesi.
And that's a wrap folks. We hope our Bali Travel Guide & 7 Day Bali Itinerary has helped you plan the perfect Bali vacation; and our guide to 50+ Things to do in Bali will keep you busy for the entire time you are there!
And if you liked this guide to one week in Bali Indonesia, or know of someone who is traveling to Bali who is in need of a little travel inspiration, please share this guide with them via Facebook, Twitter, Flipboard, or use the P button in the sharebar on the left to pin the image below. And remember, sharing is caring! Happy Travels!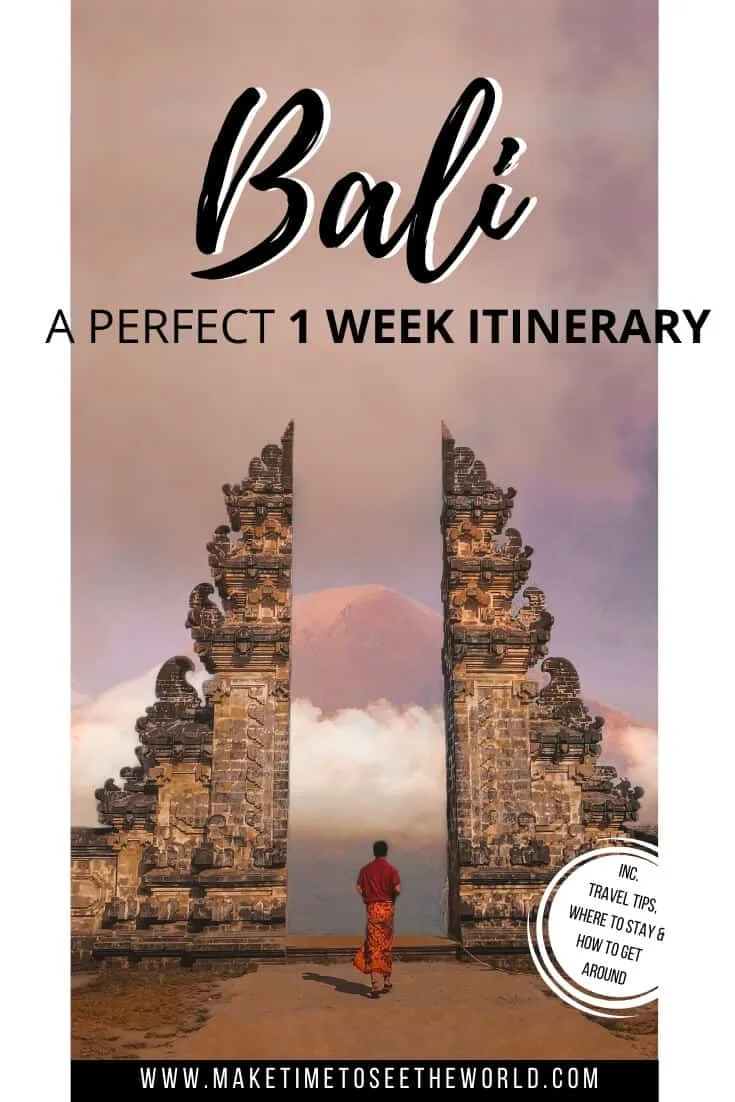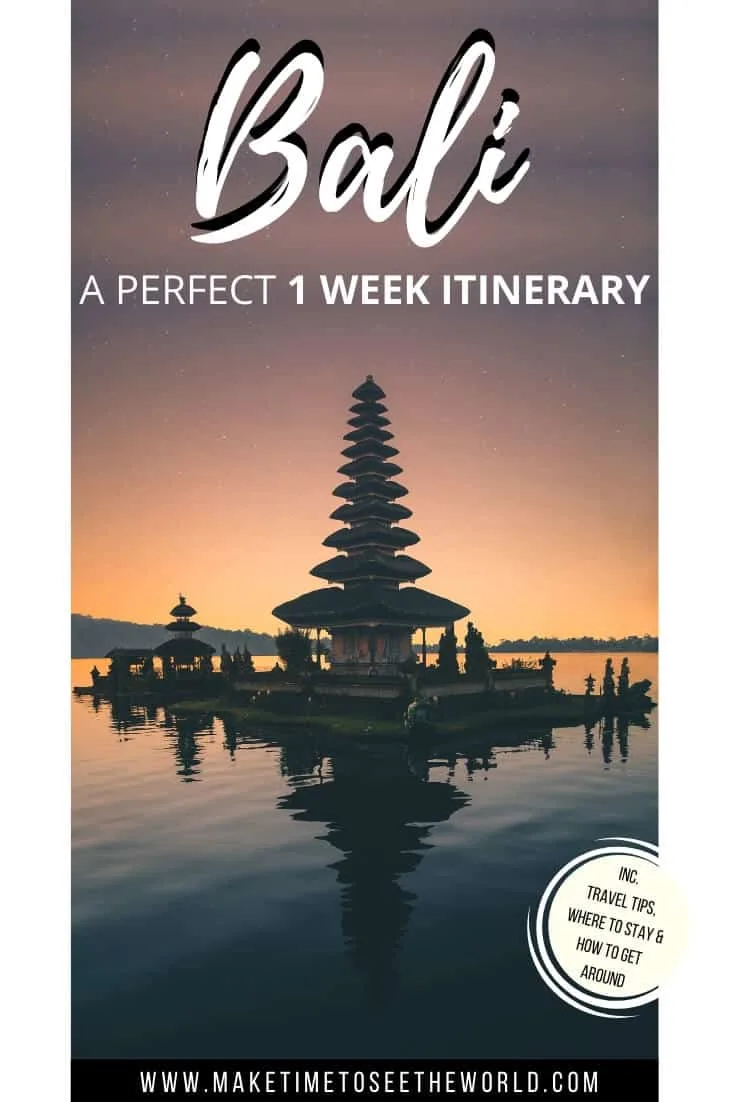 READY MORE ASIA TRAVEL INSPIRATION? YOU MIGHT BE INTERESTED IN THESE TRAVEL TIPS, TRAVEL ARTICLES, TRAVEL RESOURCES, DESTINATION GUIDES AND RELATED POSTS:
Hi There! Thanks for reading my post containing a 7 Day Bali itinerary – Perfect for First Time Visitors I just wanted to let you know that this post contains affiliate links, which means if you purchase something after clicking a link, I may get a small commission – which is at absolutely no cost to you. If you enjoyed this article and are going to be searching for some of the things I mention anyway, I would love it if you could click through from the links above & thank you in advance! Read my full Disclosure here.