[A HOTEL REVIEW] eqUILIBRIA Seminyak (formerly Amana Villas) is an award winning design hotel in Bali right in the heart of busy Seminyak. Despite being less than a minutes walk to the bustling Jalan Kayu Aya – the main street that dissects this trendy neighborhood and boasts everything a traveler needs, from incredible restaurants, shopping and some of the area's hottest nightlife – the complex at eqUILIBRIA is private, serene and peaceful.
Comprising 25 villas (standard, waterfall & signature), stepping inside feels like you've entered your own luxury oasis. Each villa is set in lush bamboo gardens, has their own private pool, unlimited free wifi and a 24 hour butler service on call to cater to your every need (but more on that later!) If you're looking for a luxury villa that's in the heart of Seminyak – but feels like a million miles away – eqUILIBRIA Seminyak should definitely be at the top of your list.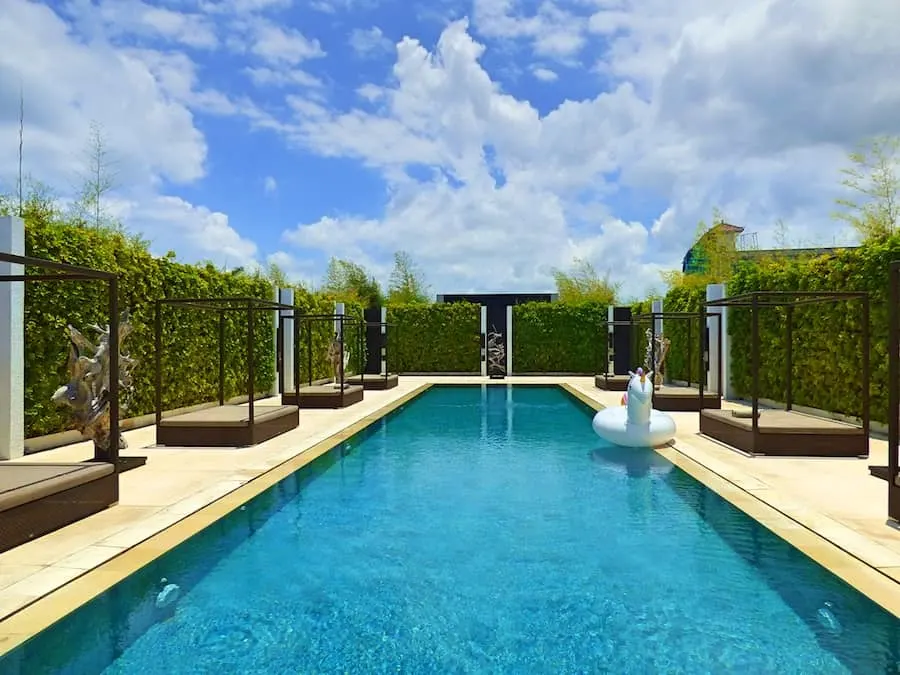 eqUILIBRIA SEMINYAK – Prefect Private Villas in the Center of Busy Seminyak
I stayed at eqUILIBRIA SEMINYAK as a guest of the hotel, however all opinions are entirely my own.
.
The Concept
eqUILIBRIA is about taking time off to rediscover the right BALANCE in life. Engineered for the modern day cosmopolitan traveler, eqUILIBRIA builds upon 6 elements which help a person to take time off and rediscover balance: Romance, Pamper, Senses, Nutrition, Wellness and Care for the Environment. Each can be seen in the different touches and features of the hotel, but there is a real focus on romance and creating unforgettable experiences for couples – from rose petals strewn beds to private meals for 2. It is possibly one of the most romantic hotels in Bali; if you want somewhere special to stay with your significant other, you'll find discrete luxury here at eqUILIBRIA.
One thing you will also immediately notice about the villa's is that it is a paper-free environment. Each villa is connected to an IPAD which acts as the resort guide containing menu's, movie lists, spa options and so much more. Absolutely all the information you need during your stay can be found on the IPAD, and for anything you are not sure of, you can call your butler!
The Location
Boasting an excellent location, right in the heart of bustling Seminyak, and a less than a minutes walk from 'eat street', restaurants, shopping, supermarkets, Seminyak square and nightlife are just a short stroll away from the eqUILIBRIA resort. It is also just 17 minutes walk from the beach – but don't worry if that seems a little bit far in Bali's heat and humidity, there are always plenty of regular taxis (or motobike-taxis if you don't mind clinging onto the back of a stranger as you dart through traffic) crawling along the street. Just be sure you insist on the driver using the meter before getting in the cab. And be prepared to drive at snails pace as some of the traffic in Seminyak can be absolutely ridiculous.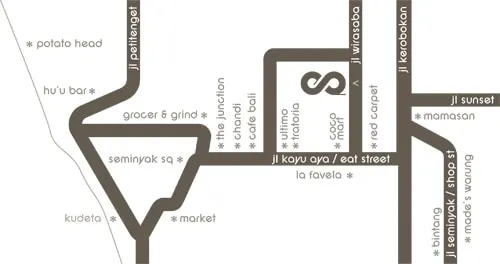 Check Availability | Contact the Hotel | Read Reviews
.
The Villas
eqUILIBRIA boast three different types of villas: Pool, Waterfall and Signature. Offering slightly different features in their structure and design, each do share the majority of of the same inclusions such as a private pool, lounge area, air conditioning, flat screen TV, satellite TV with 61 cable channels (plus 60+ movies), iPod Dock & iPod loaded with 20+ playlists for every taste, complimentary Wi-Fi, fridge & Mini-bar, rain shower, bathtub, full set of bathroom amenities, and his and her's wardrobes (just to name a few!)
One particular feature that eqUILIBRIA Seminyak prides itself on is it's 24 hour butler service. Prior to your arrival you'll receive an online welcome pack with a series of questions to help tailor you stay to you every need. From arranging spa treatments and music preferences for the IPod, to any dietary requirements or special add-ons like a rose petal bath or surprise dinner. From there you're butler can tend to any arrangements and is on call – as in you call from the mobile phone in your room – 24 hours a day. Your butler will serve meals as and when you desire, bring cocktails, make dinner reservations, arrange excursions and anything else you can think of to help make your stay as smooth and carefree as possible.
.
Pool Villa

The smallest of the 3 design villas at 50sq m, this villa design is all on one level but has three distinct areas for the lounge, bedroom and bathroom. If the plunge pool in these villas is not big enough for your morning laps, you can always head up to the main pool (above) for ta change of scenery.
.
Waterfall Villa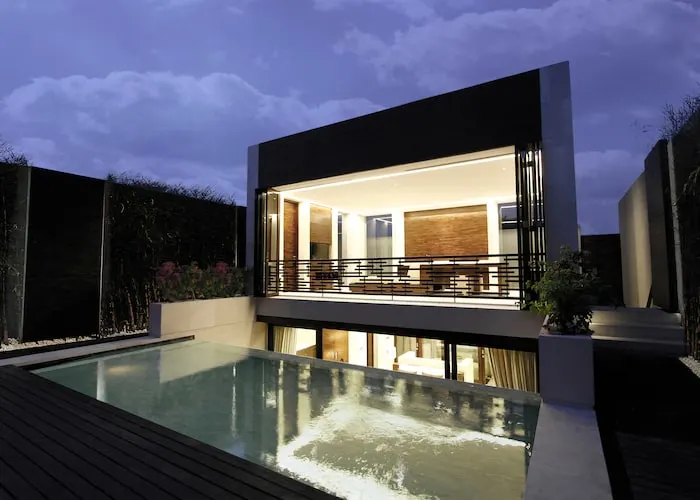 Set over two levels, the eqUILIBRIA Waterfall Villa is 140sq m where the waterfall overflowing from the infinity pool cascades to the bedroom below.
.
Signature Villa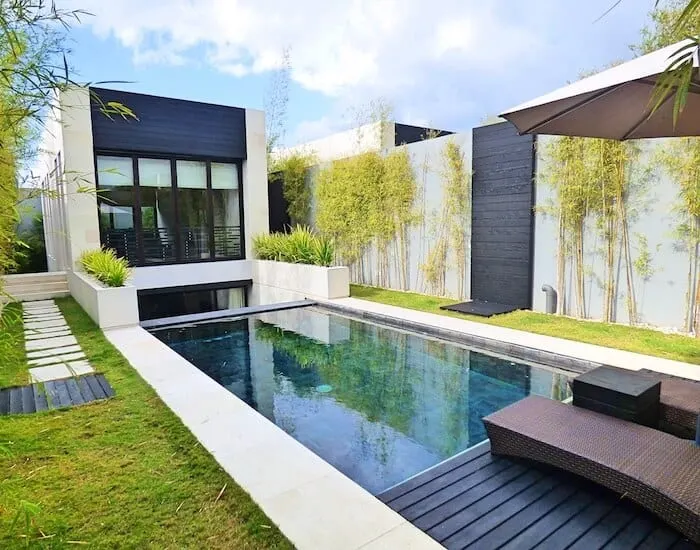 Slightly larger than the Waterfall Villas at 200sq m, the Signature villa has a large outdoor spa/garden area – with a large private swimming pool – and again, a Waterfall overflowing from the Infinity pool into the bedroom below.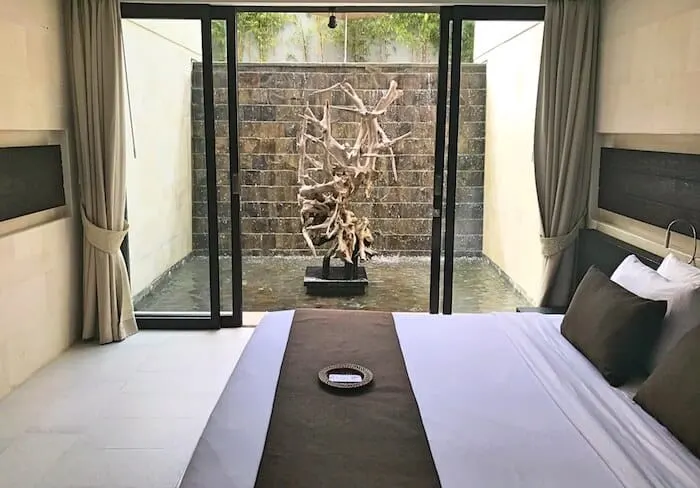 Additionally, Signature Villas have an outdoor bath, which can be filled with rose petals, exotic fruits or simply a good dose of bubbles. The perfect way to end a hard day of relaxing and being pampered
.
Dining Options
In the majority of places, room service is nothing special. But not at eqUILIBRIA. The on-site chef skillfully creates a variety of different dishes at your request throughout the day – and even has a late night snack menu to challenge the fanciest of restaurants if you're feeling peckish after a night out at some of Seminyak's favorite nightlife hotspots (La Favela is literally a 2 minute walk away!)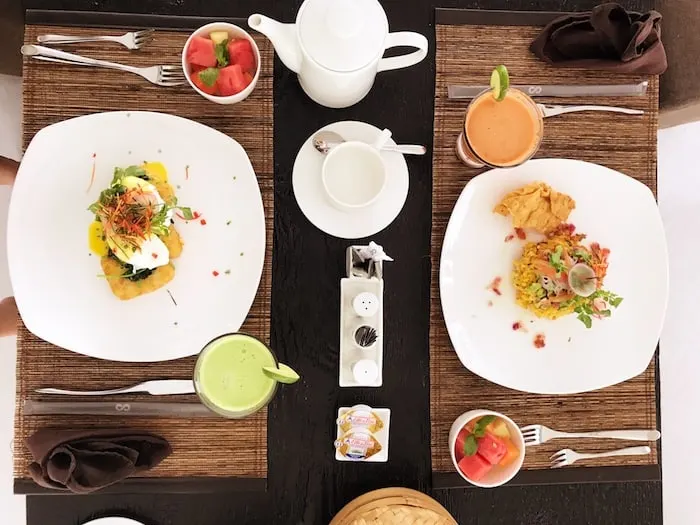 But the cream of crop – and a defining feature of eqUILIBRIA, is that breakfast is not only included in the nightly rate – but can be ordered 24 hours a day. That's right. You can choose from 20 different dishes inspired by eastern, western, vegetarian and healthy flavors, at whatever time of the day – or night – you want to eat. Each breakfast dish is served with a freshly pressed juice, pastries, fruit salad and your selection of various teas or coffees. This can also be set up and served wherever you like – from the dining room in your villa, between the sun loungers next to your private pool, or in a cabana next to the main pool (for just a few options!)
Each villa in eqUILIBRIA also has it's own mini-bar which can be stocked with anything from a range of juices which comprise a 1 day detox, to soft drinks or simply water. And for when you're feeling refreshed and rejuvenated, the fridge can then be stocked with beer and wine! They refer to the concept as detox and re-tox. And I love it.
.
On-Site Facilities at equilibria Seminyak
Swimming Pool (with inflatable Unicorn)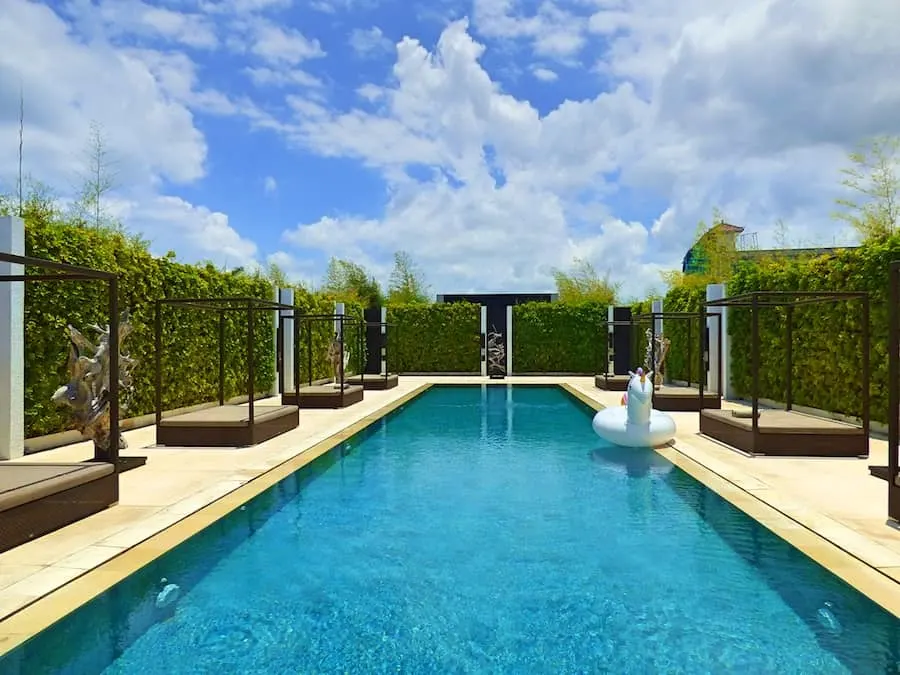 Located on the raised section of the complex and accessed via the main stairs besides reception, the cabana lined outdoor pool is bathed in sunshine for most of the day. And if you have always wanted that clichéd instagram shot in a bikini on a floatie – there is a resident unicorn just wanting for you to hop onboard!
.
Martini Bar
Just a few meters from the main pool is the Martini Bar. Cocktails served are variations of old classics and styled in a tall martini glass (apart from the Mojito which you can request is served in a traditional high ball.) Beer, wine and spirits are also available and the poolside bar is the location for both the cooking demonstration and nightly canapes and cocktails served at between 5-5.30pm.
.
Spa
The eqUALIZE Spa is a subterranean haven where you could get lost pampered for hours! Treatment options range from the various different styles of massage, facials, body scrubs and hand and foot therapies aimed to sooth your body and relax your mind. Prices are reasonable and if you want several treatments there are packages available with various discounts to help you make the most from your visit.
.
Cooking Demonstration
Three times a week the chef escapes from the kitchen and gives guests an hour long cooking class creating some incredible dishes – you'll even get to join in with a little bit of the preparation yourself! Learn about the ingredients and watch as they are combined to create some of the tastiest looking dishes you'll ever see, then take a seat in the bar to devour them! During my visit we saw 2 traditional Balinese dishes whipped up before our eyes using the most colourful ingredients and creative cooking methods. And the end result was one of the most beautiful salad and fish lollipop combos I have ever eaten. The phrase 'Compliments to the chef' simply does not do him justice!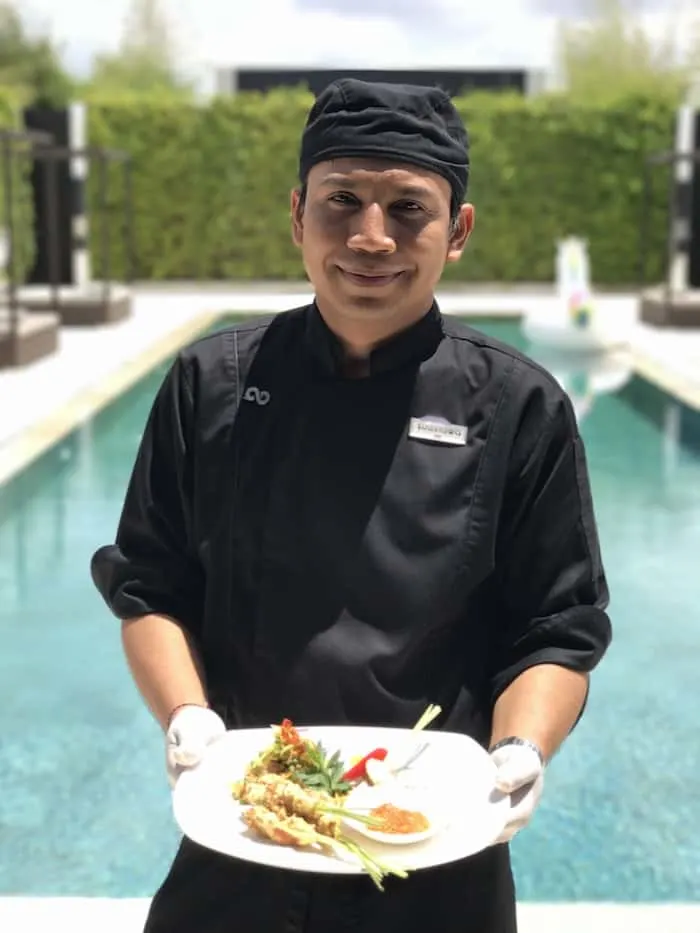 .
Gym at equilibria Seminyak
For those of you that like to keep up with your fitness regime whilst traveling, eqUILIBRIA has an onsite gym, located by the main pool and open 7am-11pm; and provides access to Finns Recreation Club (approx 10-20 minutes drive away) that offers a full range of workout equipment.
.
Off-Site Facilities
Entry to the Exclusive Finns Beach Club (and/or Recreation Center)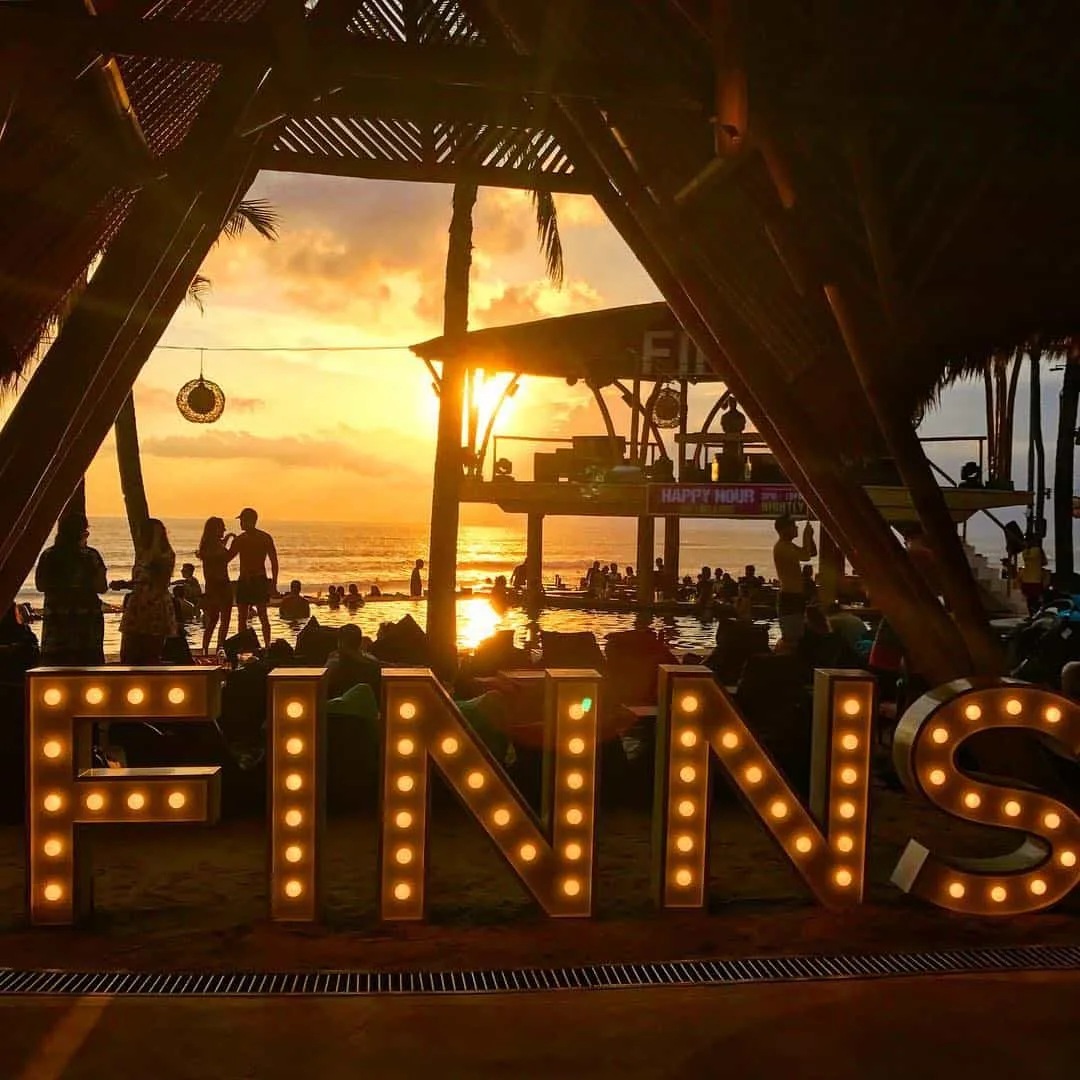 If you can bear to tear yourself away from eqUILIBRIA's incredible facilities, Finns Beach Club is the perfect place to spend the day. Formerly the Canggu Club, Finns is one of Seminyak's trendy beach clubs where relaxing poolside as the resident DJ mixes chill out tunes and where waiters serve you cocktails as the sun goes down over the ocean. A complimentary platinum pass is available to all eqUILIBRIA guests, which gives you daybed access and includes a transfer to the facility from the hotel (although you will have to make your own way back!)
For those with families, the Platinum Pass also gives you access to the recreation club which has a small water park (which you can skip if you have already visited/plan to visit Waterbom), tennis center, fitness center and Strike bowling alley.
REALTED: There are lots of other things to do in Seminyak outside the hotel – check out this Pocket Guide to Seminyak for more!
.
If I haven't convinced you by now that eqUILIBRIA Seminyak is the place to stay on your next holiday in Bali, I'm sure I never will. (Check out this guide to other incredible places to stay in Seminyak if that's the case!) But for the rest of you, follow the links below to start planning the perfect stay:
Check out the Website | Book Now | Compare Prices for Later | Read Trip Advisor Reviews
And if you liked this article, please tweet, pin and share on Facebook – sharing the love is always appreciated!
READY TO EXPLORE MORE OF SOUTH EAST ASIA? YOU MIGHT BE INTERESTED IN THESE ARTICLES:
Hi There! Thanks for reading my travel guide and hotel review of eqUILIBRIA SEMINYAK. I just wanted to let you know that this post contains affiliate links, which means if you purchase something after clicking a link, I may get a small commission – which is at absolutely no cost to you. If you enjoyed this article and are going to be searching for some of the things I mention anyway, I would love it if you could click through from the links above & thank you in advance! Read my full Disclosure here.