If you're all for enjoying the splendors of an island paradise, the island of Palawan in the Philippines has to get on your to-do list, fast. Palawan is one of the most popular destinations of the country, and we have no trouble seeing why. Visitors get to experience UNESCO world heritage sites, breath-taking rainforests, beaches and other natural scenery that will make you fall in love with the island. If you're wondering what to do in Palawan, worry not! Scroll down for our travel guide including the top things to do in Palawan Island which may convince you why it should be at the top of your South East Asia bucket list!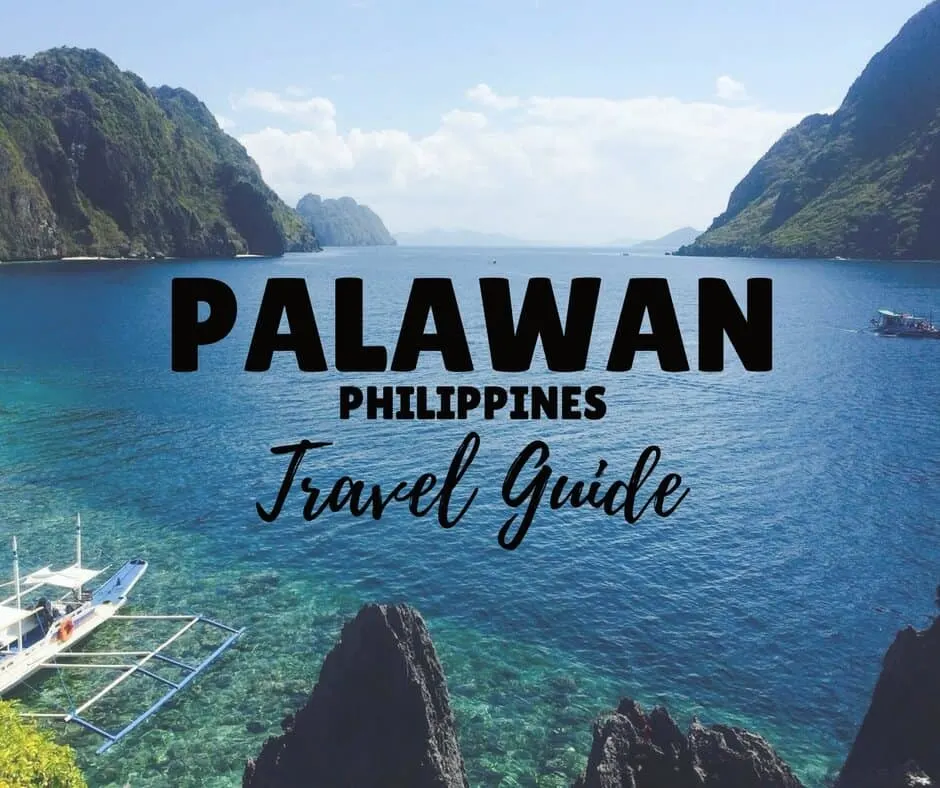 Disclaimer: Almost all posts on this site contain Affiliate links, and this guide to The Top Things to do in Palawan & Where to stay in Palawan. This means that if you click on any of the links in this post (and make a purchase) I may receive a small commission at absolutely no cost to you. Each post is carefully crafted to (hopefully!) answer all your questions and recommendations are made where we believe they will improve your trip and help with your planning. As such we thank you in advance should you decide to click & buy. Read my full Disclosure here.
A Guest Post by Sarah of Gluten Free Travellers
Essential Palawan: What To Know Before You Go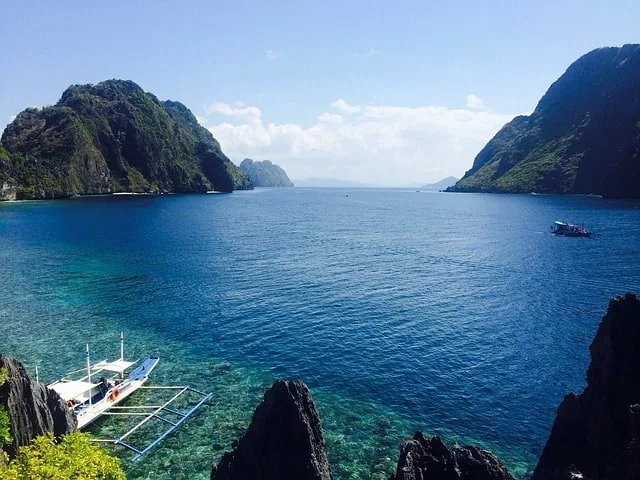 Getting to Palawan
Palawan is easily accessible by flight into Puerto Princesa from the capital Manila or from other domestic airports such as Cebu, Caticlan (Boracay) with Cebu Pacific or Philippine Airlines (check prices on SkyScanner). It is possible to fly direct to El Nido from Manila and Cebu but the flights are less often and more expensive. There are also ferries from Manila into the ports at Coron and Puerto Princesa if the length of your trip allows for longer transfers between islands – and you are not susceptible to sea sickness (which I've heard can be pretty bad on the crossing!)
TRAVEL TIP –
Download the
FREE SkyScanner App
and have cheap flights at your fingertips whenever you want to take to the skies!
Getting around Palawan
Getting around the island is fairly easy although some of the roads are a bit bumpy for those of you partial to travel sickness. Shuttles are available between El Nido and Puerto Princesa which take around 6 hours and cost around 550 PHP (approx $10USD).
From El Nido, Montenegro ferries operate a daily fast boat to Coron which takes about 3.5 hours. It costs PHP1,848.00 (approx $35USD) and can be booked online here.
The Best Time To Visit Palawan
The best time to visit Palawan is from October to May when the temperatures average around 30 degrees with very little rain. The wet season is between June and September which makes traveling around the island less accessible, try to avoid those months for the best trip!
.
Where to Stay in Palawan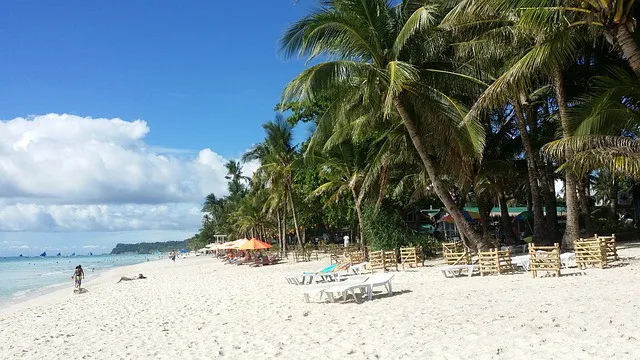 The majority of people will fly into Puerto Princesa city, which makes a great base for a few days before moving on and to El Nido and Coron, so we'll pulled together a few Palawan hotels for each spot to help plan your trip.
Where to Stay in Puerto Princesa
Luxury Stay ($50+ a night) – Paboreal Boutique Hotel – 10 mins from the airport; 5 minutes from the city and seconds from the beach, this luxury haven is known for its large clean rooms and top notch customer service.
Mid-Range Stay ($25+ a night) – Susan's Place Bed & Breakfast – Super cute bed and breakfast, walking distance to the city and 15 minutes to the airport. No frills but good value.
Budget Stay ($15+ a night) – Subil Guest Cabins – Renovated cabins complete with Wifi and a hammock. Owners are really accommodating and offer complimentary rides into town with tricycle rides costing only 50-60 PHP on the way back.
Where to Stay in El Nido
There are a variety of different styles of accommodation available in and around El Nido Town. Ranging from luxury hotels and island resorts, let us help you pick out the best hotels to suit your budget in El Nido Palawan:
Where to Stay in Coron
Coron is relatively small with less hotels than Puerto Princesa and El Nido and only have a handful of island resort hotels near to Coron Town. We recommend the following:
.
Incredible Things To Do in Palawan
Scuba diving and snorkelling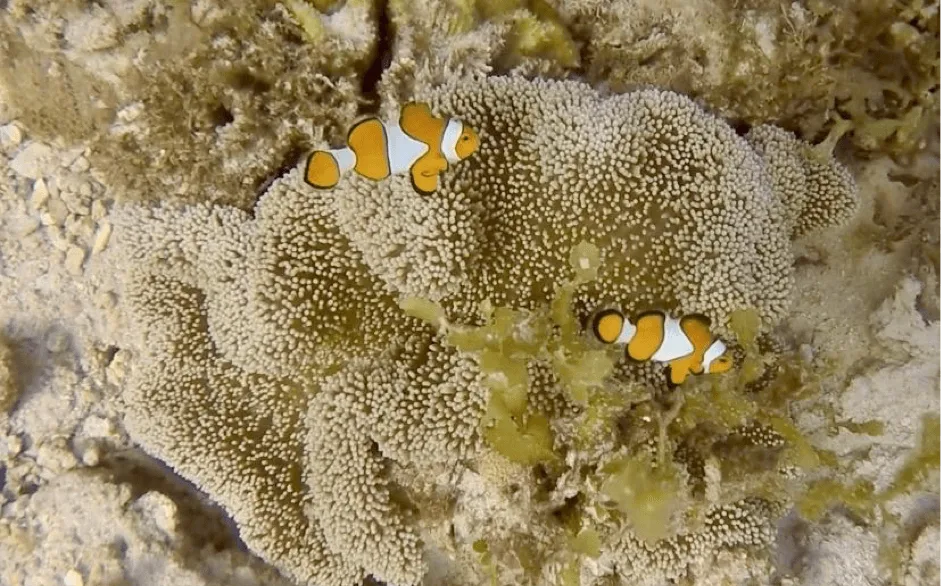 If you have a passion for crystal clear water, you'll be excited to know that Palawan boasts some of the best scuba diving and snorkelling sites around. Of particular interest to wreck and nature divers is Coron Bay, where you can have the unique experience of seeing the wrecks of sunken World War 2 ships that were taken out in the bay in 1944. Book your scuba trip here and pick from the best operators and wreck dives sites in the area or hop on a liveaboard for a few days and dive to your hearts content!
.
Experience the underground river of Puerto Princesa
This truly unique UNESCO World Heritage site of St. Paul's Subterranean River National Park is one of the must-visit places on the island and one of the best places to visit in Palawan. Named one of the new seven wonders of the world; the river features an unforgettable limestone karst landscape and the world's longest underground river, which you can explore by boat. The park is only 50km away from Puerto Princesa, which means it's the perfect Palawan day trip which can also be combined with a visit Ugong Rock through some operators to complete your Underground River day.
.
El Nido Island Hopping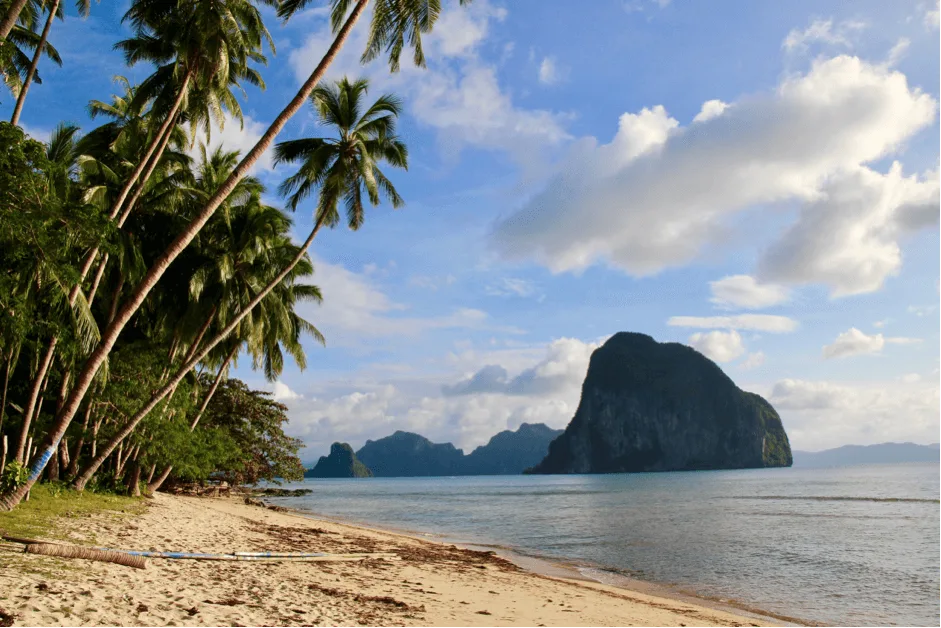 Underground rivers aren't' the only magnificent waterways you can explore on the island. You can also try your hand at El Nido island hopping in the northern part of Palawan. Various El Nido tours and day trips are available, from drop-offs, overnight camping, boat parties and private tours, which means you can design your own adventure while you're there. Check out this tour to visit the Secret Lagoon, Big Lagoon & Small Lagoon – or this one for Miniloc Island/Mantiloc Island, Commando Beach and Hidden Beach! which both come with some epic snorkeling and coral reefs viewing opportunities.
And on the days where you are not Island hopping you could also consider hiking Taraw Peak for an epic aerial shot of the islands! (Which is coincidentally one of the best activities in El Nido Palawan)
RELATED: A lot of the other lists of 'Things To Do in Palawan' will inevitably recommend the Makinit Hot Springs on El Nido, but we recommend giving them a pass. When you're surrounded by the white sand bays, turquoise water and rock formations of the different islands, hiking up a track to two small muddy pools of water is not really worth it! (in our opinion!)
.
Swim with Starfish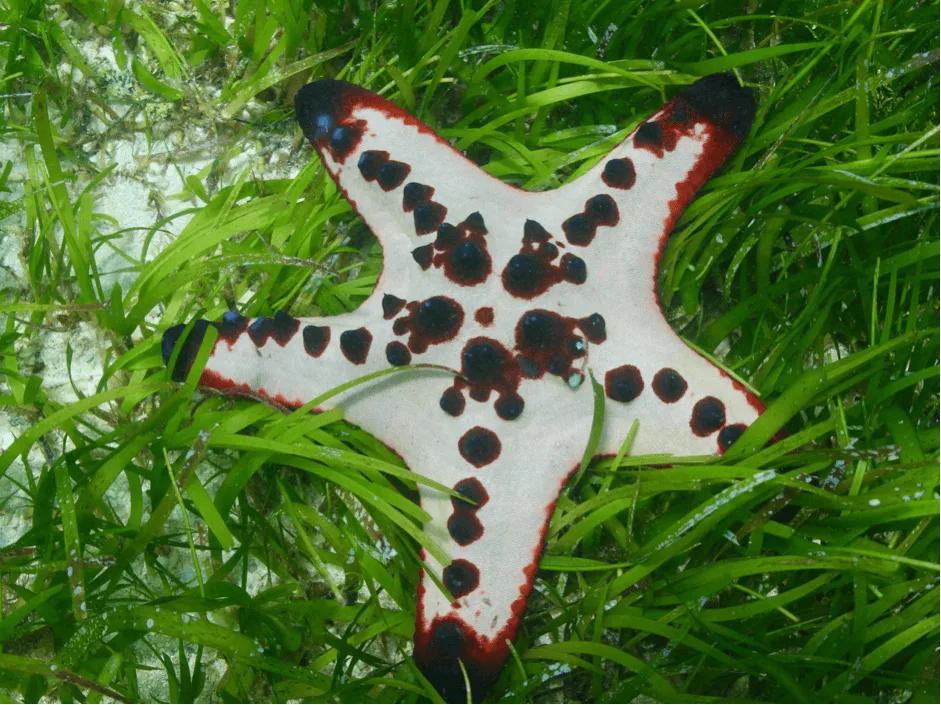 Starfish Island is named after the various types of starfish along its shoreline. Take a Honda Bay Island Hopping Tour from Puerto Princessa to experience Starfish Island, Luli Island and Cowrie Island. This tour does not include snorkel equipment so if you want to get a good look at the starfish and other marine life we recommend hiring a set – or picking up a cheap snorkel set of your own – you'll be bound to get lots of use out of it on your trip to Palawan!
RELATED: Exploring more of the Philippines, check out our Manila City Guide!
.
Take a Tour around Palawan Island
Palawan Island is home to a huge variety of incredible sights and awesome activities, the island itself has so many incredible views. One of the best things to do in Palawan is actually to take a day tour around the whole island to fully experience everything this beautiful island has to offer.
.
Paddle Down the Iwahig River and Watch Fireflies
Paddling down the Iwahig River is so peaceful, at dark you can see the starry night sky. Then you see thousands of twinkling lights along the mangroves and realise they are fireflies! Also in the river are plankton which glow due to their phosphorescence. Experience this wonder of nature with some puerto princesa firefly watching on a dinner & cruise along the mangroves.
.
Try Delicious Fresh Seafood
Buy seafood at a local market, such as San Jose Market, and have them grilled for a delicious lunch by the bay or visit one of the restaurants to choose your fish and shellfish and have it grilled right in front of you. Delicious!
.
Zipline Between Two Islands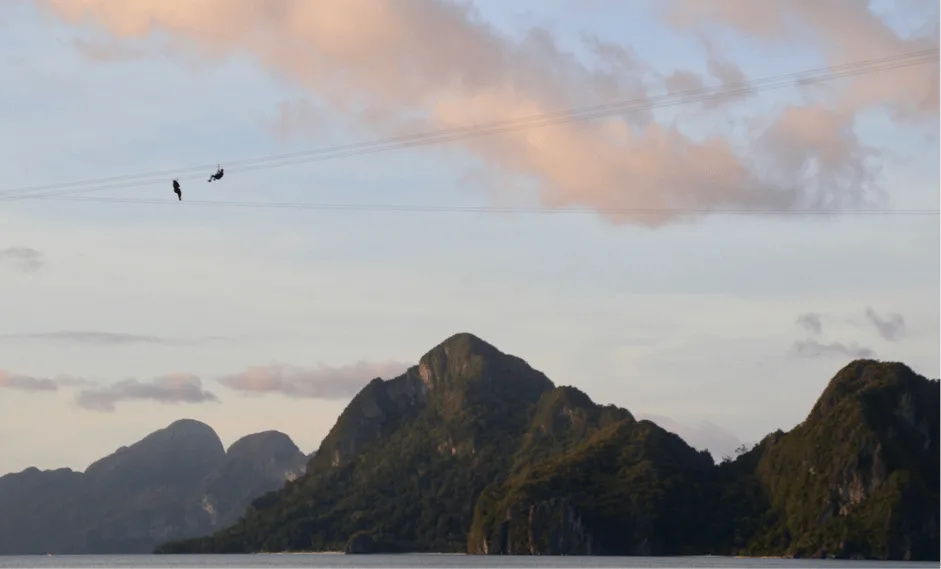 While staying in El Nido a visit to Las Cabanas beach is a must, there is a great bar on the beach to enjoy a cocktail while watching the sunsets it is famous for and people ziplining between the islands.
The 750-meter zipline across the ocean to Depeldet Island is open until just before sunset so time it right to take it in as you fly between the islands. The view is incredible! and it is definitely one of the top things to do in Palawan!
Watch a Beautiful Sunset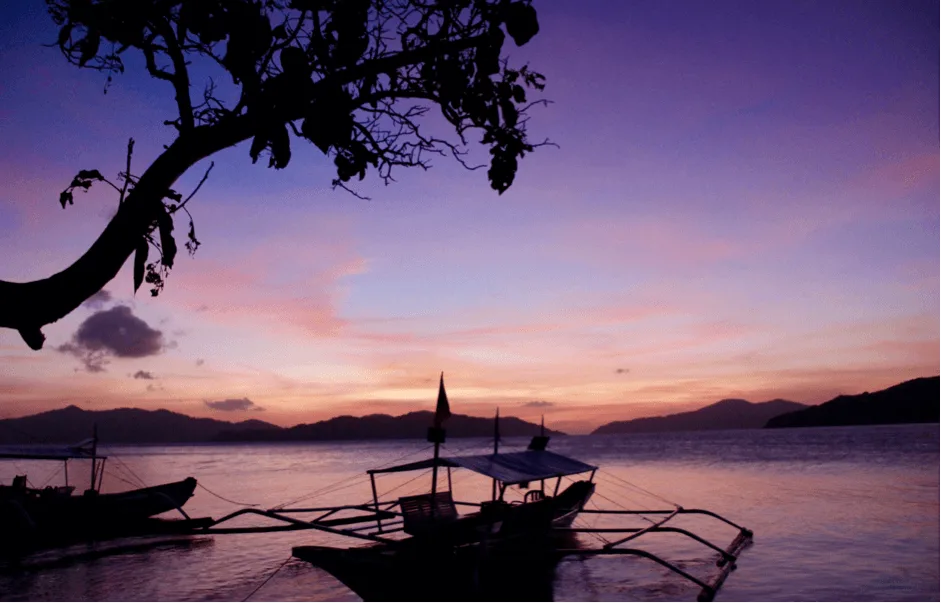 Palawan had some of the best sunsets I have ever seen! What could be better than a romantic stroll on the beach at sunset. This shot was taken from a private beach that we camped on for 1 night while island hopping from El Nido – an unforgettable experience.
.
Island Hopping in Coron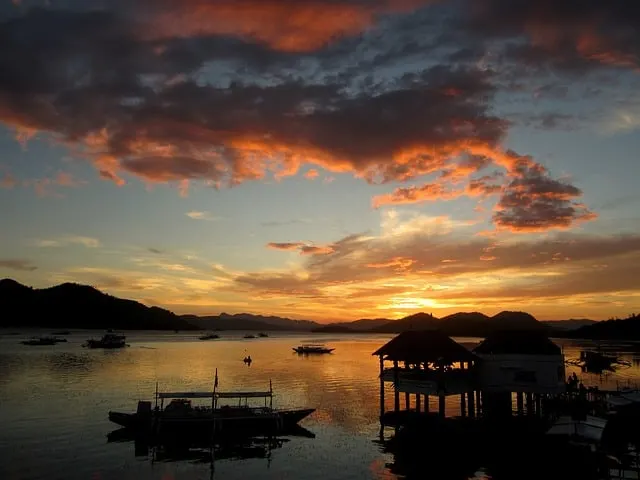 Coron Island Ecotours is a whole day activity that will take you to the famous Kayangan Lake, awarded as the Cleanest Inland Body of Water in the Philippine after which you'll spend time relaxing as you feast on freshly caught seafood for your lunch on the famous white sandy Calachuchi Beach where a secret lagoon can be viewed on the view deck of the island. This tour will also take you to the magical Twin Lagoons where you have to swim through the sinkhole into a Jurassic amphitheater of jagged limestone and gives you the perfect opportunity to chase waterfalls. Sound like fun, right?!
.
Want to experience it all + more?!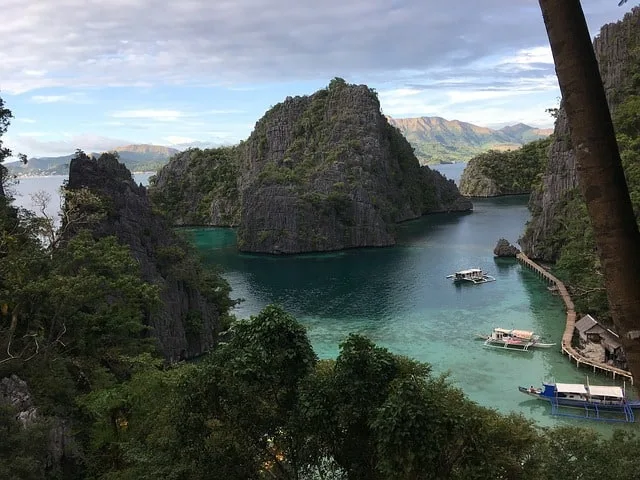 If traveling independently and negotiating for all your transport/hotels/tours is not something you enjoy – or you are short on time and you still want to see and do everything possible in Palwan and the rest of the Philippines – an organized group tour is a great option. We recommend the 10 Day Philippines Adventure Tour With One Life Adventures or the Wanderlands 12 Day Adventure Tour for those who have a few extra days.
These are by far not the only activities you can do on this unforgettable island. Palawan boasts excellent beaches, and cultural experiences that will make your stay one in a lifetime.
.
And that's a wrap folks, I hope you enjoyed our Palawan Travel Guide, packed full of travel tips to help get your Philippines adventure off to a great start!
And if you don't mind sharing the love, a tweet, stumble, pin, or Facebook share would be much appreciated! (Full sized pins + a secret pin(!) available by clicking the share bar on the left)
Happy Travels!
READY TO EXPLORE MORE OF ASIA? YOU MIGHT BE INTERESTED IN THESE ARTICLES
Hi There! Thanks for reading our post about the Top Things To Do in Palawan + Where to Stay in Palawan to Help Plan Your Trip to Paradise! I just wanted to let you know that this post contains affiliate links, which means if you purchase something after clicking a link, I may get a small commission – which is at absolutely no cost to you. If you enjoyed this article and are going to be searching for some of the things I mention anyway, I would love it if you could click through from the links above & thank you in advance! Read my full Disclosure here.