Seminyak is Bali's cool and funky tourist mecca. With bustling streets lined with top notch restaurants, designer clothing stores and some of the best nightlife on the island, it's the perfect place to base yourself there on your next trip to Bali. But if you are wondering where to stay in Seminyak – look no further. We've pulled together an amazing list of hotels in Seminyak with options for every size of wallet. Including everything from budget (but brilliant) hotels and apartments all the way through to some of the best villas in Seminyak, scroll down now to find the perfect accommodation for your next holiday.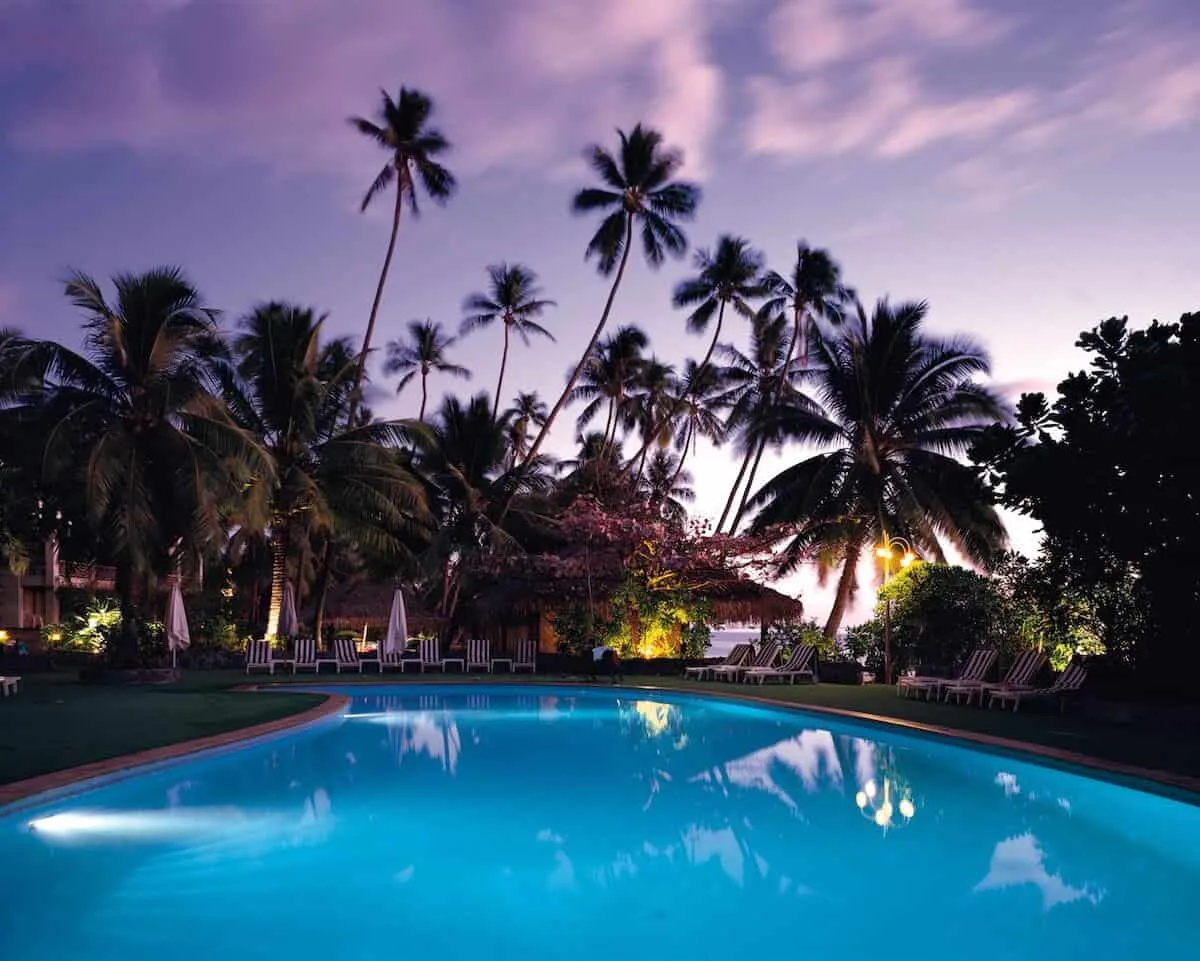 Disclaimer: Almost all posts on this site contain Affiliate links, and this one about Where to stay in Seminyak is no different. This means that if you click on any of the links in this post (and make a purchase) I may receive a small commission at absolutely no cost to you. Each post is carefully crafted to (hopefully!) answer all your questions and recommendations are made where we believe they will improve your trip and help with your planning. As such we thank you in advance should you decide to click & buy. Read my full Disclosure here.
Where to Stay in Seminyak – The Best Hotels & Villas for Every Budget
Luxury Stays ($200+ per night)
The Legian Bali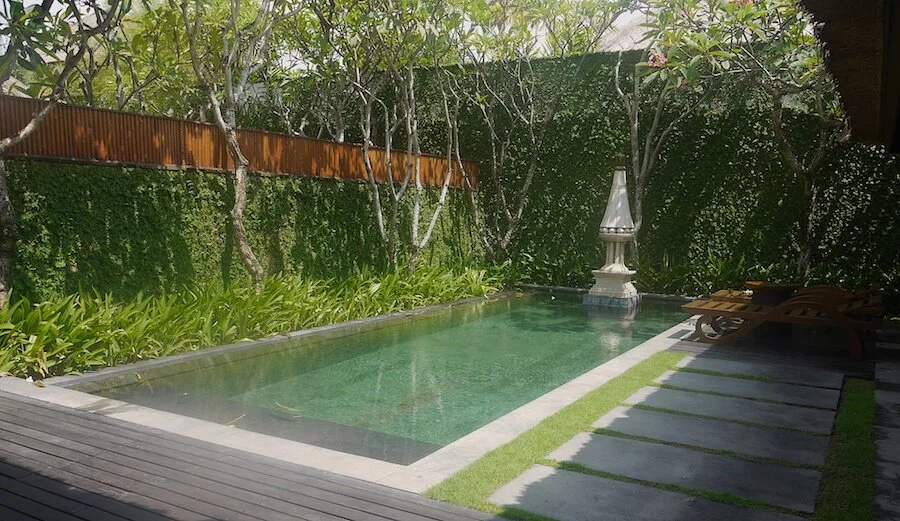 Contributed by Mar @ Once in a Lifetime Journey
The Legian Bali is a great luxury beach-front resort in the middle of Seminyak Beach. What sets it apart from the rest of the resorts in the area is that it has a resort part by the shore and a section across the road where the private pool villas are located.
This section is called The Club at the Legian and is an adults-only are and the ultimate in romantic getaways. Inside the high walls, you can skinny-dip in your villa or enjoy a BBQ on your bale prepared by your own butler.
Among the busy streets of Seminyak, The Legian is quite a respite. In the evening, stroll outside and just pick one of the many good restaurants or head over to famous Ku De Ta.
COST: One Bedroom Villa starts at about USD$650+ per night
NOTES: Luxury private beach front location, perfect for couples with an adults only section.
Book Now | Compare Prices | Read Trip Advisor Reviews
.
The Elysian Villa Resort, Seminyak
Contributed by Skye @ The Fit Traveller
The Elysian Villa Resort in Seminyak is the perfect pick for honeymooners heading to Bali. Tucked away down a cobblestone street while still within walking distance of Seminyak's busy shopping and restaurant strip, the Elysian offers the best of both worlds; privacy and proximity to all the action.
Enjoy the privacy of your own villa inclusive of private pool and wander to the main pool to sprawl out on a day bed for a poolside cocktail and a little mingling with other guests. The decor is modern and chic with warm accents and plenty of spots in your villa to spread out and unwind. Read the Full Review Here.

COST: One Bedroom Villa starts at about USD$400+ per night
TAKEAWAY: Great for couples
Book Now | Compare Prices | Read Trip Advisor Reviews

eqUILIBRIA Seminyak
Right in the heart of bustling Seminyak and just off Jalan Kayu Aya (the main shopping street) is a private sanctuary that is home to a range of incredible luxury boutique villas. Each villa is set in lush bamboo gardens, has their own private pool, unlimited free wifi and a 24 hour butler service on call to cater to your every need.
There are 3 levels of Villa: Pool, Waterfall and Signature ranging from USD$200 – USD$350 per night and each have a lounge area, air conditioning, flat screen TV, satellite TV with 61 cable channels (plus 60+ movies), iPod Dock & iPod loaded with 20+ playlists for every taste, complimentary Wi-Fi, fridge & Mini-bar, rain shower, bathtub, full set of bathroom amenities, and his and her's wardrobes (just to name a few!).
The staff are friendly and on hand to cater to your every whim, with a fantastic on-site chef available to cook up a storm 24 hours a day. Add to this a communal pool with inflatable unicorn, in-house spa and a great location, and eqUILIBRIA Seminyak is easily offers some of the best villas in Seminyak. Read the full eqUILIBRIA Review here.

COST: One Bedroom Pool Villas in Bali starts at USD$200+ per night
TAKEAWAY: Great for couples for honeymoons and romance
Book Now | Compare Prices | Read Trip Advisor Reviews
.
Hotel Katamama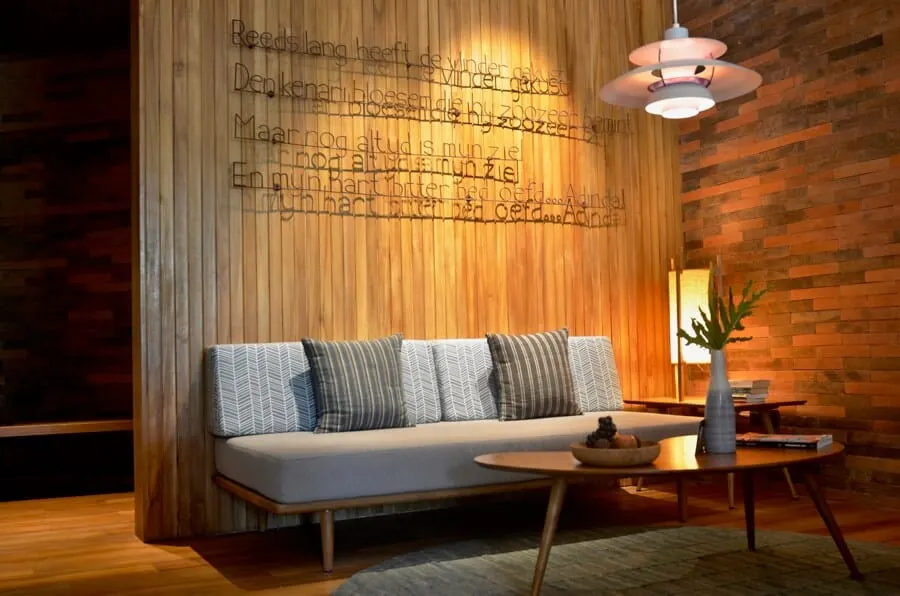 Contributed by Anne & Clemens @ Travellers Archive
The Hotel Katamama is a tiny bit off the main tourist places of Seminyak and comes with a very special charm. The slogan of the place is "Welcome home" and they really live for this idea. For the most interesting part, everything that is used in this design hotel was made somewhere in Indonesia: the bed, the couch, the TV table, the carpet, every single item in your room is either from Subawa, Flores, Bali, Java or another island of the country.
All fits to the idea of traditional manufacturing methods and all items are perfectly implemented into the hip design of the hotel. Imagine that even the 1.6 million bricks (yes, you have read that right) with which the building was built were made by hand by Indonesian artists. To make it your home, the hospitality of the hotel staff is unparalleled. The check in process for example is made in your room, just to give you an idea of the hotels uniqueness.
COST: One Bedroom Suite starts at about USD$370+ per night
TAKEAWAY: Boutique artisan hotel build on Indonesian traditions
Book Now | Check Prices | Read Trip Advisor Reviews
.
The Oberoi Bali, Seminyak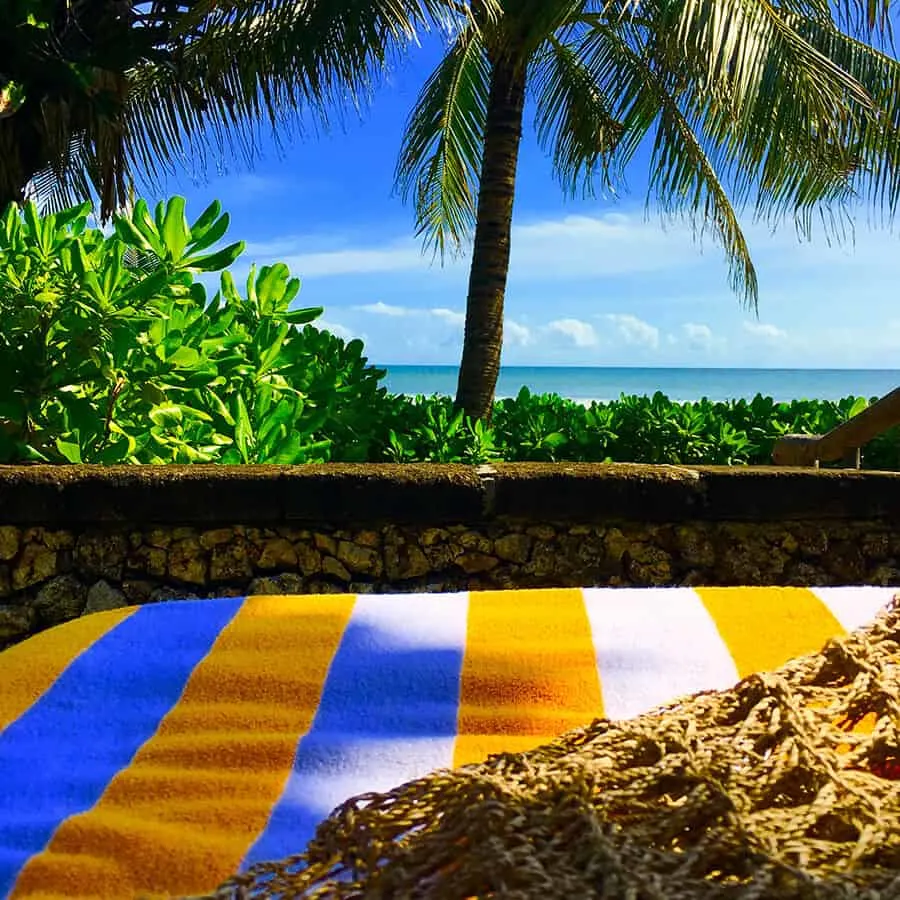 Contributed by Gordy @ Short Holidays and Getaways
With total beach frontage on one of the holiest and loveliest beaches in Bali, and set on 15 acres of landscaped lawns, one of the first things you notice at The Oberoi Bali is the striking yellow and purple umbrellas. This is because this luxury hotel in Seminyak says 'the devil is in the detail.'
It is all about service at The Oberoi Bali. Service is everything and making sure you are very well looked after, is what it is all about. They even organized our computer cables, tying them neatly, and correctly with cable ties. They folded clothes left around, bought ice creams to the poolside to us, and skewers of fruit throughout the day.
All of the public areas are immaculate, and the restaurants and bars are stunning serving excellent food. But it is the service where they shine. The Oberoi Bali is one of the best hotels in Seminyak and does suit everyone, and obviously, wealthy people go there, and spoilt travel writers who are working with them.
COST: For a Luxury Villa with Ocean View, prices start at USD$775. For a Lanai Room Double or Twin with Garden View, prices start at USD$350.
TAKEAWAY: For the perfect luxury stay where you get pampered at every turn
Book Now | Compare Prices | Read Trip Advisor Reviews
RELATED:
Heading down Eat Street and not sure where to dine first? Take a look at our guide to the
Best Restaurants in Seminyak
– from luxury 5* dining to cool cafes and a burger joint, we've got you covered!
.
Peppers Seminyak Bali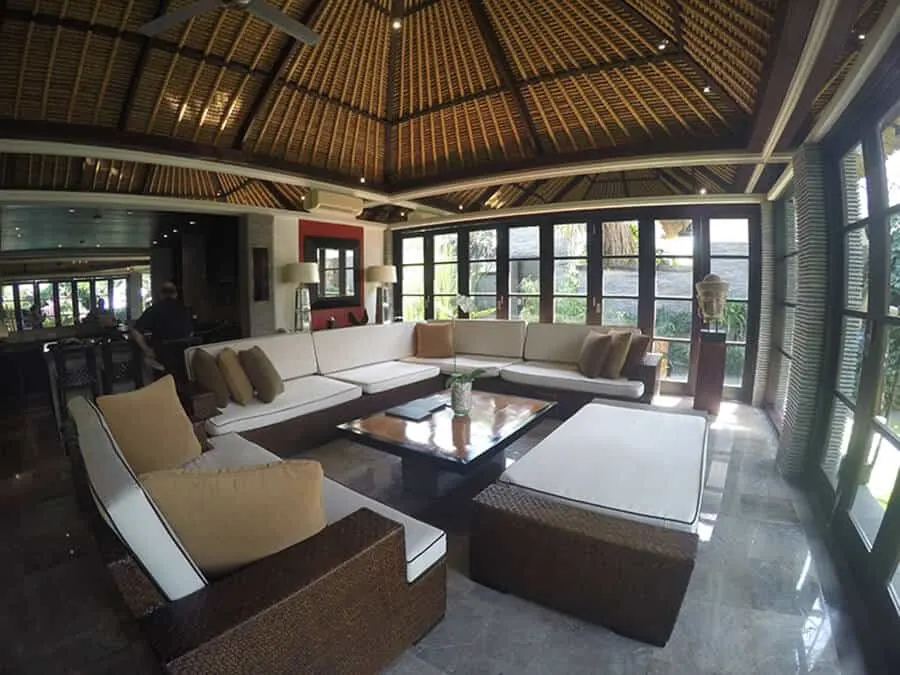 Contributed by Paula @ Contented Traveller
Peppers Seminyak Bali is a charming luxury resort, located down a quiet little lane, but within easy walking distance to the shops of Seminyak, to the beaches and Potato Head Club and Ku De Ta. It is a quiet little oasis where you can select from 1, 2 3, 4 and five bedroom luxury villas which are some of the best villas in Seminyak and are the perfect Bali accommodation. They are all private, and most have a private swimming pool and cabana.
The villa complexes are immaculately designed with a lot of attention to detail. There is distinct privacy in each of the villa complexes, but you can go to the common areas around the public pool, and to the café, restaurant, and bars if you want to see other people. Peppers Seminyak Bali is an ideal venue for a group getaway or a romantic retreat.
COST: Average price for a 1 bedroom villa USD$300+ per night. (But please note that Australian school holidays will see the prices rise dramatically)
TAKEAWAY: Private, elegant,spacious with a private pool.
Book Now | Compare Prices | Read Trip Advisor Reviews
W Hotel in Seminyak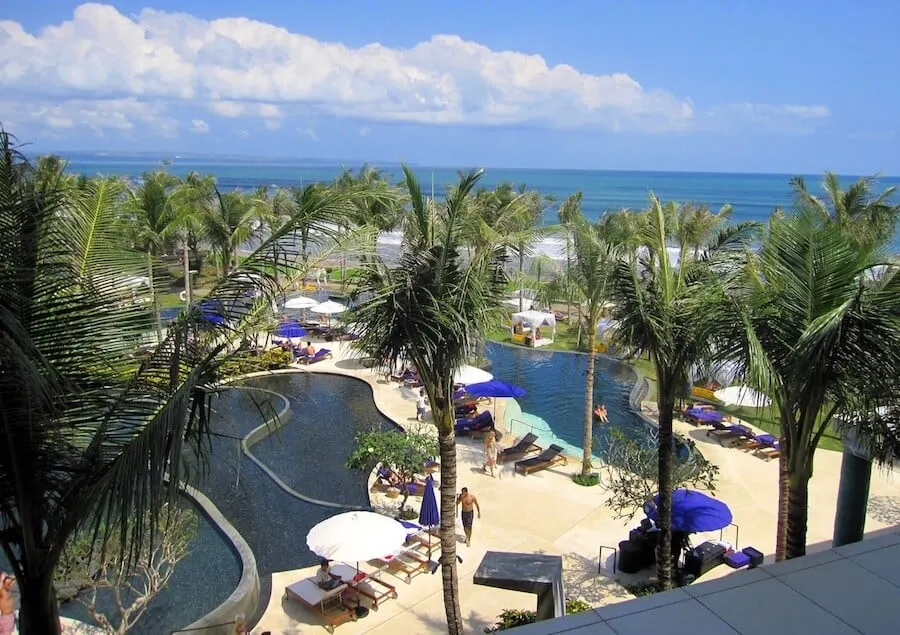 Contributed by Marianne @ Mum On The Move
The W Bali is one of Seminyak's most trendy & swanky hotels, and is the epitome of luxury accommodation. All 237 rooms, suites and villas are super-stylish, with cutting-edge features, such as the state of the art BOSE sound systems that are pre-loaded with Ibiza-esque soundtracks to get you in a holiday mood.
The highlight of the W Hotel is the beautiful tiered swimming pool, surrounded by palm trees and boasting views straight out over the Indian Ocean – perfect for a Bali sunset. The grassy lawn is dotted with four-poster double daybeds, while the poolside terraces see people lounging on chic circular sofas and squashy beanbags.
Woo Bar is where it all happens later on, with stunning sunset views and a revolving line up of international DJs spinning the decks into the small hours. Read the Full Review Here.
COST: From USD$300+ per night.
TAKEAWAY: 5*Luxury in the Heart of Seminyak
Book Now | Compare Prices | Read Trip Advisor Reviews
.
Villa Tropicana, Seminyak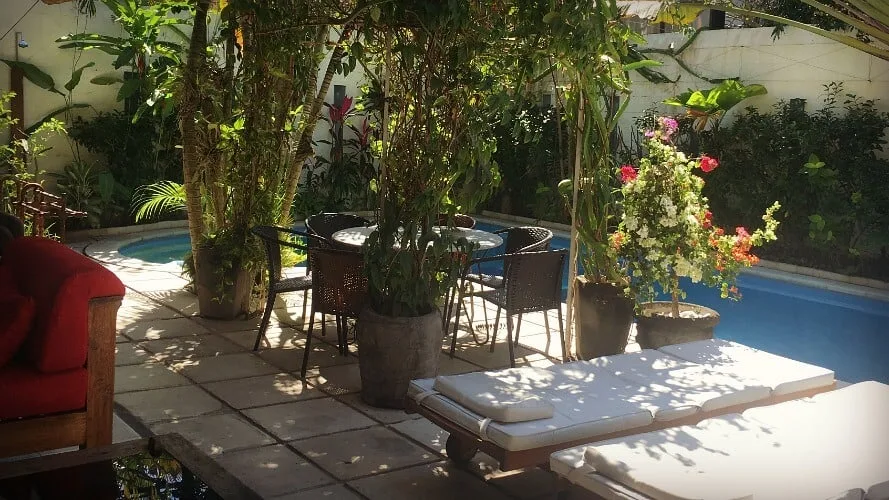 Contributed by Keri @ Our Globetrotters
Traveling with a multi-generation family group to Bali we want somewhere to stay together, yet not be in each other's space all the time (and without completely breaking the bank!). Our little paradise is Villa Tropicana, tucked down a small side alley off Jl. Kayu Aya.
You are about a 15 minute walk to the beach here and only 2 minutes to the shops and Seminyak Square, although you'd think you're hidden away in the forest! The villa has 4 large bedrooms – 2 up and 2 down – each with ensuite and extra mattresses are available (can sleep up to 10).
A communal kitchen and living area are open plan on to the garden and private pool making it social but also private if you need it to be. A wonderful housekeeping lady visits you in the morning to help cut down the house work and breakfast can be ordered, but still the convenience of a full kitchen and washing machine if you want to self-cater.
Traditional styling with a really homely feel, this is a great family group option. A free airport transfer from Ngurah Rai international airport is also offered and the villa is only a short drive from Waterbom Bali and Sanur Beach if you want to get out and explore the surrounding area. The monkey forest in Ubud is also a great day out to keep the kids entertained if they need a break from the pool.
COST: 4 Bedroom Villa cost approximately USD$300+ per night.
NOTES: Perfect for families or large groups
Compare Prices | Read TripAdvisor LLC Reviews
Alila Seminyak Bali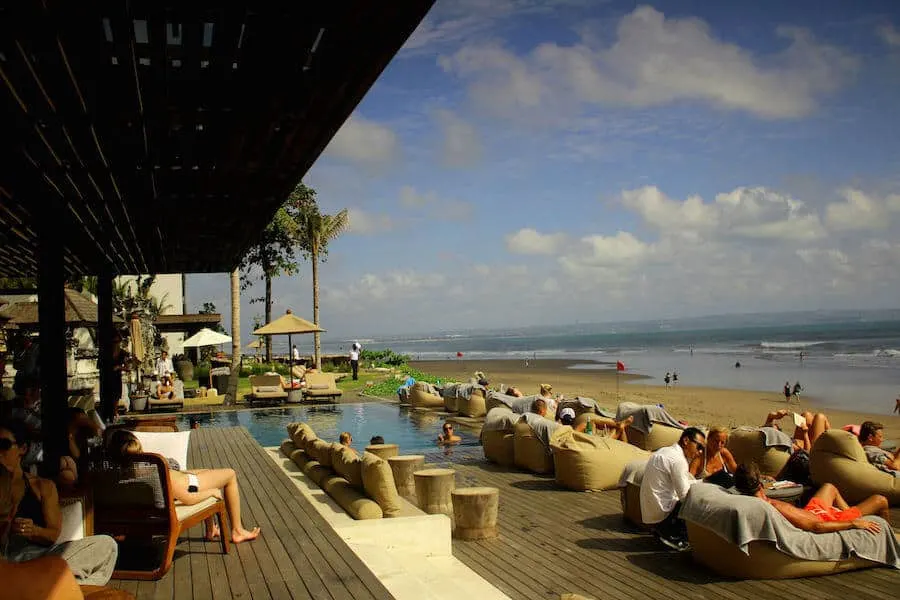 Contributed by Maria @ Travel With Maria

Seminyak is a place in Bali somehow known for noise and traffic that's why most prefer to stay in farther, peaceful locations. However, there's one luxurious award-winning five-star beachfront hotel called Alila Seminyak Bali that offers a wonderful respite for those who can afford to pay more. I suggest getting a Deluxe Suite covering 72 square meters with a stunning view of the ocean.
You can also opt one that's near the three infinity pools or with a smaller swimming pool a few steps away from your door. Breakfast deserves a mention because of its healthy choices plus vast array of flavors you may not find somewhere all together.
Don't check out yet without joining their tours especially the one offering a vintage ride on a groovy 1970's Volkswagen Kombi around Bali plus their heavenly spa services. Yes, these aren't cheap but as they say, you get what you pay for. Fruits, toiletries, a glass of cocktail, a plate of cookies, coffee & tea are served free in the room daily for room types that cost USD 200+ per night.
.
Mid Range Stays ($70-200 per night)
Royal Beach Seminyak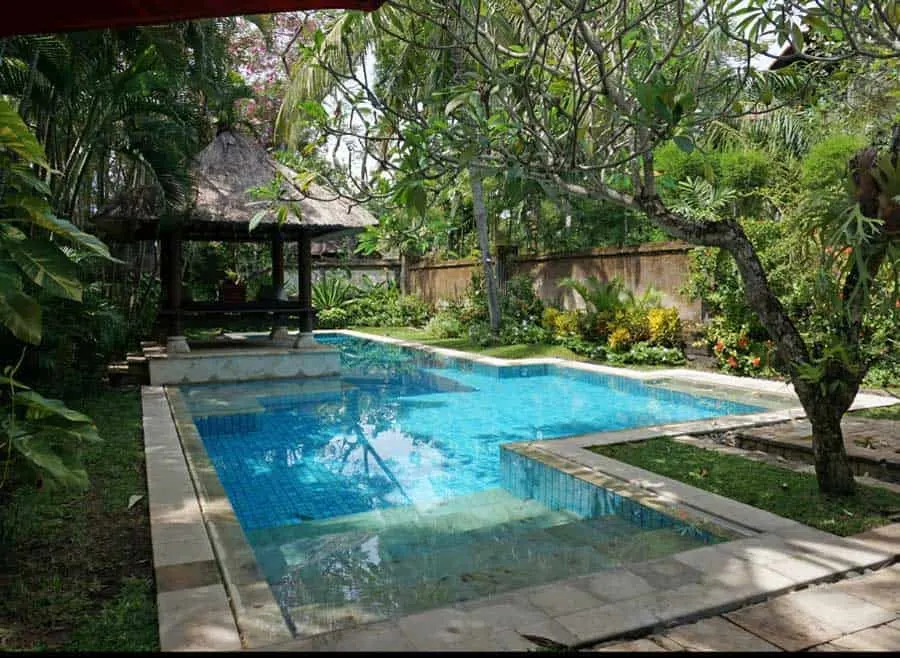 Contributed by Rene @ Together We Roam
There are plenty of shiny chic resorts that entice in Bali, however it's the Royal Beach Seminyak, Bali that gets our vote.
The Royal Beach Seminyak's winning combination of sprawling lawns, mammoth lagoon pools complete with fountains and spa, affordable roomy suites or interconnecting rooms and superb beachfront for sumptuous sunsets makes for an ideal holiday. Splurge a little and stay in a deluxe private pool villa where you get both the space and privacy as well as a personal butler, without losing the luxuries that comes with staying within a resort complex.
What we love about it is the traditional Balinese décor that gives the resort a timeless appeal. The styling does not date as glaringly as slightly older contemporary themed shiny resorts, that require constant updates to keep it on trend.
On any given week there are organised activities, scrummy meals in the main pavilion and decadent room service. Although if you tire of the resort food, there are choices all along the main street of Seminyak nearby, award winning restaurants are a cheap taxi away or enjoy a stroll along the beach for some good tunes and casual beach side Bali food, and all within a short ride of Bali airport.
COST: 1 Bedroom approximately USD$140+ per night.
TAKEAWAY: Traditional & Timeless right on Seminyak Beach
Book Now | Compare Prices | Read Trip Advisor Reviews
RELATED:
Seminyak is right in the tourist hub but if you want to explore more of Indonesia I highly recommend
Tana Toraja
and
Komodo Island
for off the beaten path destinations!
.
Courtyard Bali Seminyak Resort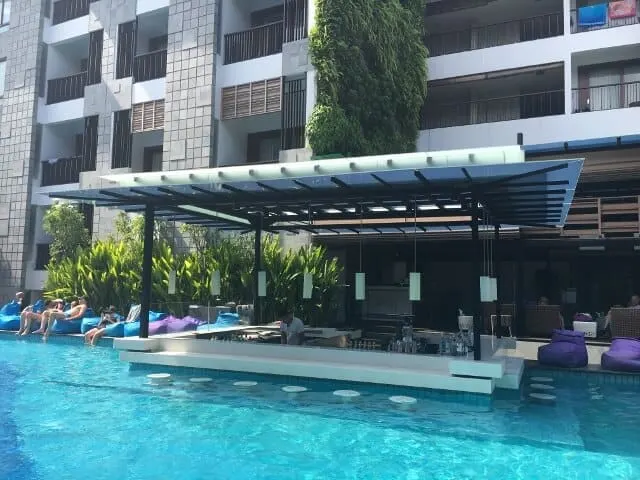 Contributed by Kate @ Rolling Along with Kids
Staying at the Courtyard in Seminyak is a great choice for a central location close to shops and restaurants. It is located 400m from Seminyak beach and if you find it too hot in the heat to walk to the beach, the hotel has a buggy that will take you to the beach area just for hotel guests.
The layout of the hotel focuses around one huge pool that has something for everyone. If you are after fun and a few drinks, the pool bar is the place to be. Families can also enjoy a splash with the kids down the other end of the pool which is conveniently located close to the kids club.
The rooms are modern in style and are perfect for holidaymakers that like the comforts of home. The pool access rooms are perfect for a stress free holiday and is only steps away from the pool. One of the highlights of the hotel is its buffet breakfast. So much choice and coffee orders taken as soon as you sit down!
The Courtyard Seminyak suits families and couples that like fun, a great central location and value for money.
COST: 1 Bedroom approximately USD$150+ per night.
TAKEAWAY: Upscale hotel in a contemporary building is a 5-minute walk from Seminyak Beach
Compare Prices for later | Read Trip Advisor Reviews
Dash Hotel Seminyak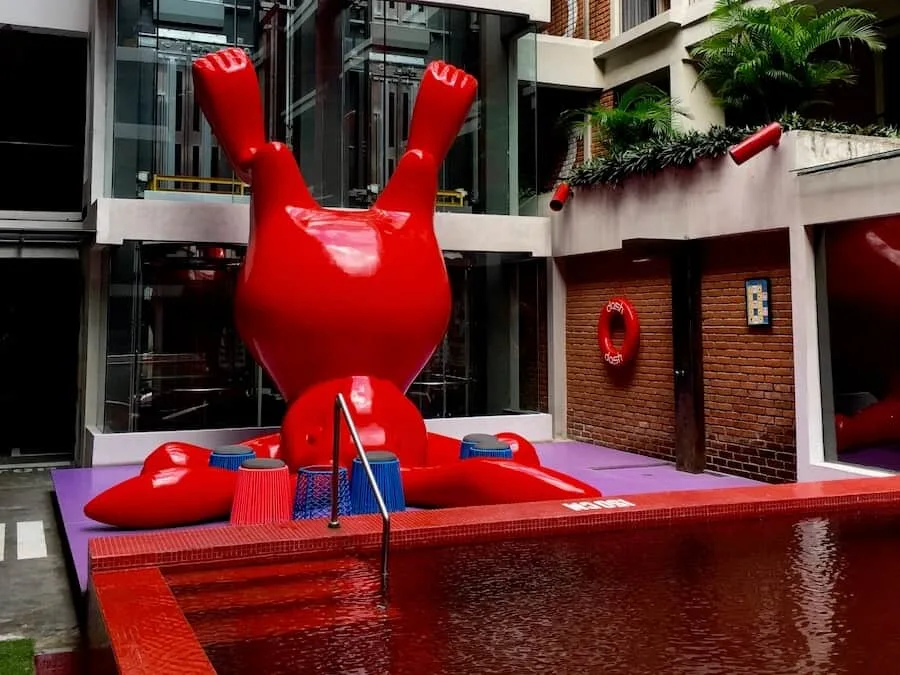 Contributed by Shandos @ Travelnuity
Top of my must-do list for my recent visit to Seminyak was hanging at the ever-cool Potato Head Beach Club. But with my budget not stretching to the price of the adjacent hotel, I looked for something affordable close by, and discovered Dash Hotel Seminyak. Not that Dash doesn't ooze plenty of hip vibes.
With its street-art touches, wacky sense of humour and red atrium swimming pool, this is a hotel with a strong personality, best suited for a younger audience. As well as being close enough to Potato Head to saunter over when the pool bar opens each morning, it's also close to the excellent dining and shopping in the rest of Seminyak.
Up top it has its own casual rooftop bar, with plenty of happy hour drink specials. And there's also a great restaurant on-site, with an excellent array of breakfast options. Rooms start from about $80 USD per night, although it's worthwhile spending an extra $10 USD extra for a deluxe room or to include breakfast (or both!). It's one of the best budget hotels in Seminyak!
COST: 1 Bedroom approximately USD$80+ per night.
TAKEAWAY: Funky & Colourful Boutique Hotel on the outskirts of Seminyak
Check Prices | Read Trip Advisor Reviews
Four Points by Sheraton Seminyak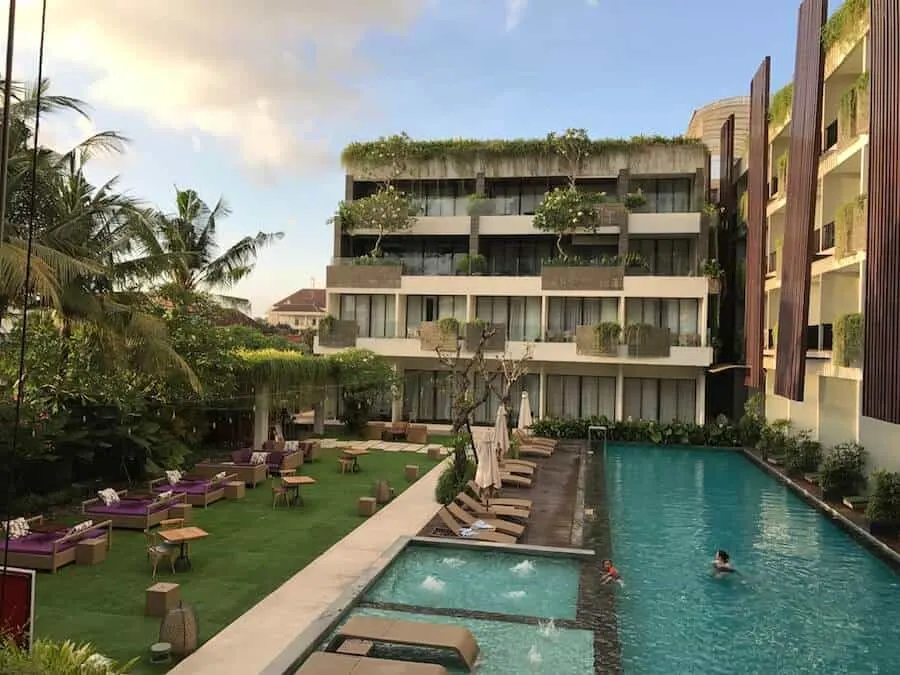 Contributed by Aneesha @ Om Nom Nirvana
Four points by Sheraton Seminyak. It has a glorious pool and is very well maintained. Great for people on the SPG loyalty program as they can get 20% off dining. They also offer shuttle service to the famous Potato Head beach club and is walking distance from some awesome cafes and boutiques.
The shuttle also has stops in the main bazaar. The staff is kind and remember you by name! I loved the breakfast there, it's gluten free and vegan friendly. It's quiet enough not to be disturbed by anyone else and hosts an in-house spa as well.
COST: 1 Bedroom approximately USD$70+ per night.
NOTES: Located among the rice paddies on the edge of Seminyak, this iconic resort oozes laid back luxury at very reasonable rates.
Compare Prices | Read Trip Advisor Reviews
.
Anantara Vacation Club
Contributed by Erin @ Explore With Erin
If you've never stayed at a vacation club, now's your chance. I mean a vacation club isn't too different from a resort, however at Anantara the villas provided loads more space than your typical hotel room. There are 18 Balinese-style villas in Anantara's vacation rentals selection consisting of one, two or three bedrooms, each with a private pool and courtyard.
It's nestled in a quiet part of Seminyak down a long driveway. It felt so secluded, like you were miles away from anything, but in fact you weren't. (Kuta Beach is just a short drive away for example!)
The complex is delightfully easy to navigate with an outdoor bar/restaurant and swimming pool. And to make your holiday more comfortable there is also a free on-site laundry and gym.
My favorite part though would have to be the various activities to choose from each day. From guided tours of Balinese temples to treasure hunts for kids to cooking classes.
Don't be fooled by the term "vacation club", this resort style Seminyak accommodation is a beautiful spot to visit when in Bali Indonesia.
COST: $300+ per night
Compare Prices | Read Trip Advisor Reviews
.
Budget Stays (Under $70 per night)
Hotel Daun Bali Seminyak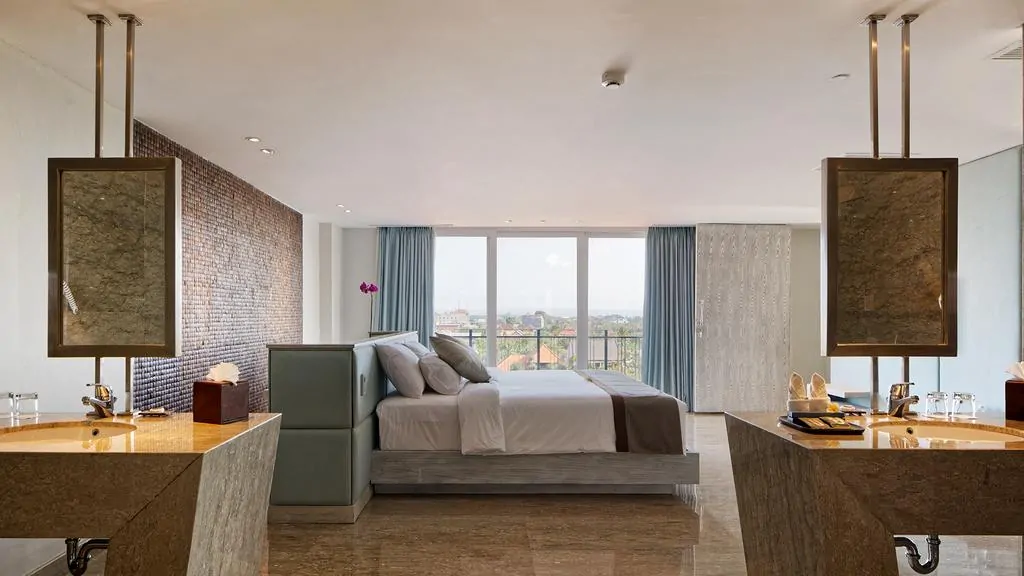 Clean, modern, comfortable and classy, Hotel Daun Bali (formerly Hotel Zia) has huge rooms which are beautifully decorated and it's a great base when exploring Bali. The rooftop terrace with hot tub is a great place to watch the sunset and the on-site restaurant serves up amazing meals. And at under $45 a night, it's an absolute bargain!
COST: $35-45 per night
Check Prices | Read Trip Advisor Reviews
.
Lotus Tirta Seminyak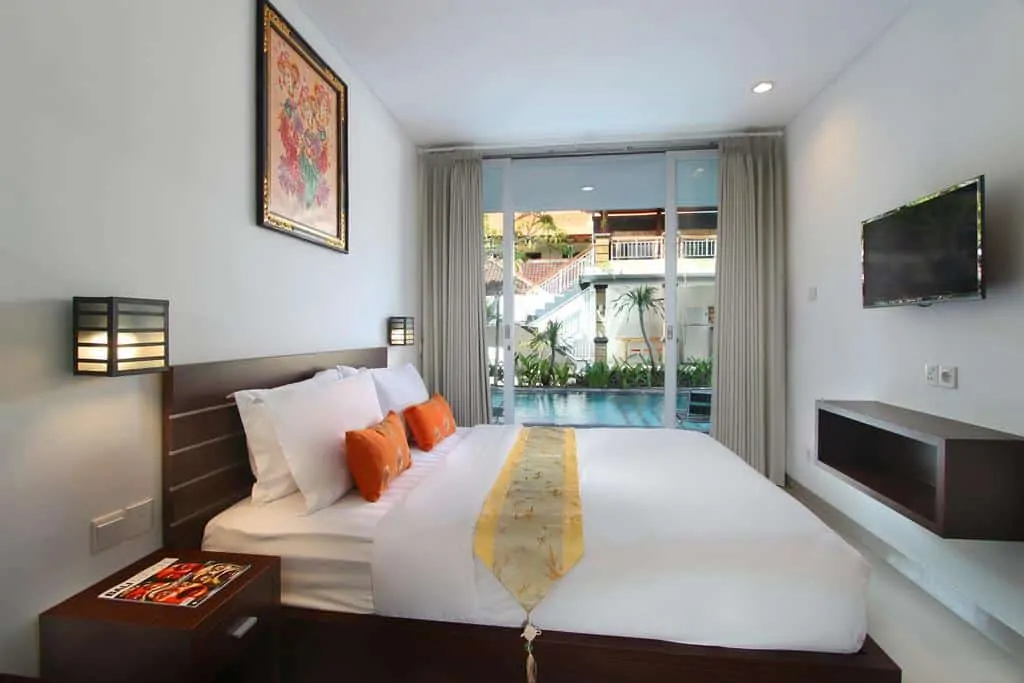 10 minutes walk from the beach and surrounded by restaurants and shops, this stunning villa and hotel combo has larger than average rooms decorated in traditional Balinese style. Villas come with their own private pools with hotel guests able to share the main pool. There is also free wifi throughout the property and a free continental breakfast each morning – which can be served in your room or on the terrace; and despite it's central location, the hotel is quiet and peaceful at night.
COST: $35-50 per night
Check Prices for your dates | Read Independent Reviews
.
Ping Hotel Seminyak
A small hotel that packs a big punch, the PING Hotel is a basic, budget hotel within 5-10 mins walk of the beach and lots of great bars and restaurants. Staff are friendly, beds are comfy, rooms are clean and the air con is great – a real plus when you want to escape the heat and humidity. There is also a pool on site with space to sunbath around, but as the building surrounds it, the sun is only on it for a small part of the day.
COST: $20-30 per night
Check Prices & Availability | Read Reviews
And that's a wrap folks! I hope you have enjoyed our travel guide to the best places to stay in Seminyak and have picked out the perfect hotel in Balis from our selection of hotel and villas, beach resorts and boutique hotels to make your stay incredible. And if you have any great recommendations of fantastic hotels in Seminyak, let us know in the comments below.
If you're interested in exploring more of Bali, we recommend visiting Tanah Lot, the beach resort of Nusa Dua, the Temple n the Clifftop at Uluwatu, the cheap shopping available in the Kuta district – and if you're going a little further afield, the Gili Islands are a great escape for a couple of days! We hope you have a great time exploring this beautiful part of Indonesia!
If you liked this article, please don't forget to share on Facebook, Tweet, Flip or Pin! Sharing is Caring and is very much appreciated!
READY TO EXPLORE MORE OF ASIA? YOU MIGHT BE INTERESTED IN THESE ARTICLES
Hi There! Thanks for reading our travel guide to Where to Stay in Seminyak – The Best Hotels & Villas for Every Budget! I just wanted to let you know that this post contains affiliate links, which means if you purchase something after clicking a link, I may get a small commission – which is at absolutely no cost to you. If you enjoyed this article and are going to be searching for some of the things I mention anyway, I would love it if you could click through from the links above & thank you in advance! Read my full Disclosure here.