Our complete guide to hiking New Zealand has everything you need – whether you're looking for a short walk, fully guided hike, or a solo multi-day trek – and everything in between(!) PLUS NZ-specific hiking tips, etiquette, info on backcountry huts & more.
Anyone that has any interest in travel will have heard of New Zealand, it's a dream destination for many world travelers. Known worldwide for its breathtaking landscapes, incredible wine, adventure activities, and indigenous Māori culture among many others.
Something you may not be aware of, however, is that New Zealand is a true hiker's paradise. There are literally thousands of hiking trails across the country ranging from short easy-going trails, all the way to a 3000km thru-hike track. As well as a myriad of trails and tracks, this country has an abundance of nature and incredible New Zealand wildlife, making it an outstanding destination for hikers.
The country itself is made up of a number of islands, two main islands known as the North Island and the South Island, as well as hundreds of smaller islands.
Something that makes hiking on the two main islands so unique is the variety of different landscapes to see. Spectacular glaciers, beautiful fiords, temperate rainforests, rugged mountain ranges, volcanic landscapes, as well as stunning coastlines, New Zealand has it all!
For this article, we have put together more than 20 hiking trails and tracks you definitely don't want to miss. We have chosen a variety of different types of trails for this list, most of which can be done alone, a couple that requires joining a group (like Heli-hiking!), and some guided hikes for solo travelers that like to hike with others. You can also expect to find a mix of hikes that are easy and family-friendly, as well as more challenging multi-day hikes.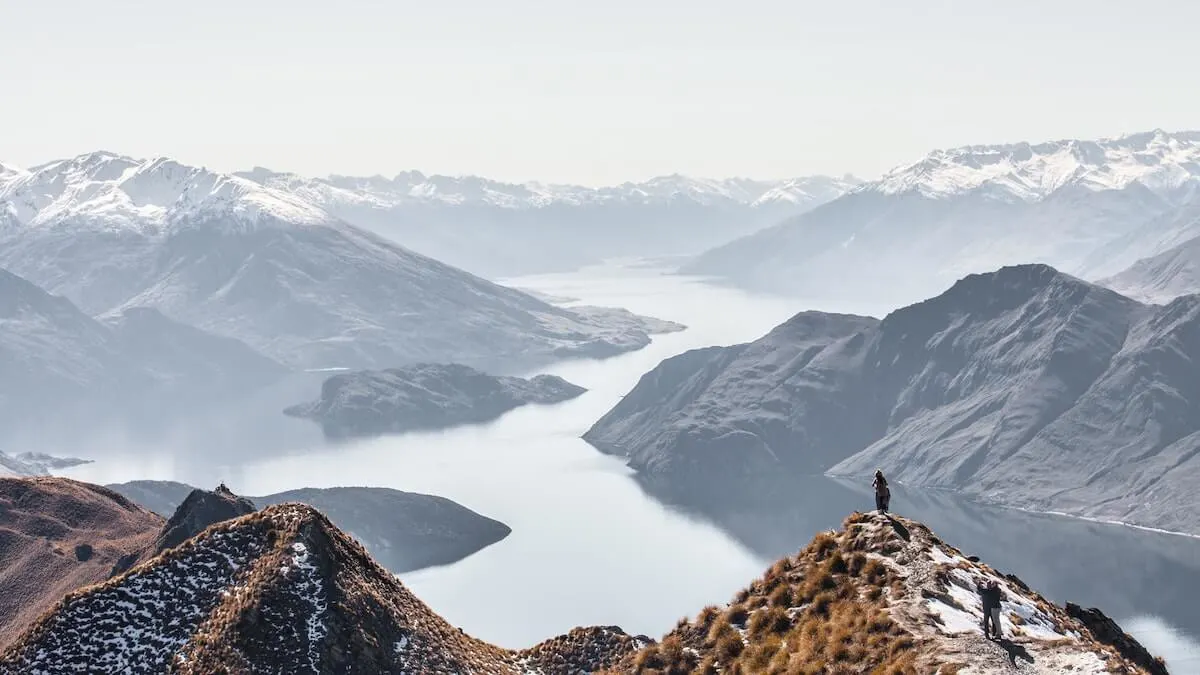 Disclaimer: Almost all posts on this site contain affiliate links, and this Complete Guide to Hiking New Zealand: Best Hikes in New Zealand (By a Local) is no different. This means that if you click on any of the links in this post (and make a purchase) I may receive a small commission at absolutely no cost to you. Each post is carefully crafted to (hopefully!) answer all your questions and recommendations are made where we believe they will improve your trip and help with your planning. As such we thank you in advance should you decide to click & buy. Read my full Disclosure here.
Co-written with Jonny Baker from The Photographers Passport
Hiking in New Zealand: Tips from a Local
Before we get started with the hikes, lets go over a few details about hiking in New Zealand that you should be aware of.
It's Called Tramping
To start off with let's talk about hiking terminology, as I am sure it may be a little confusing if you're not from New Zealand. A word you will come across a lot in this country is 'Tramping'. In New Zealand tramping is essentially another word for hiking, it is often used however when referring to multi-day hiking trips. So if you ever hear someone talking about tramping, now you know they are just talking about hiking.
The Great Walks
If you have started researching hiking in New Zealand, you will have undoubtedly come across various mentions of The Great Walks. While we could easily argue that all hikes in New Zealand are incredible, the Great Walks are considered the best tracks in the country and take visitors through diverse and spectacular scenery: from native forests, lakes and rivers to rugged mountain peaks, deep gorges and vast valleys.
The 10 Great Walks of New Zealand are:
Lake Waikaremoana Track
Whanganui Track
Tongariro Northern Circuit
Abel Tasman Coastal Track
Heaphy Track
Paparoa Track & Pike29 Memorial Track
Routeburn Track
Milford Track
Kepler Track; and
Rakiura Track
We have included further details of some of these hikes below and hope you to try and include at least one of the Great Walks in your New Zealand itinerary – but don't feel too bad if you can't! As you will see there are plenty of other beautiful hiking options throughout the country.
Backcountry Huts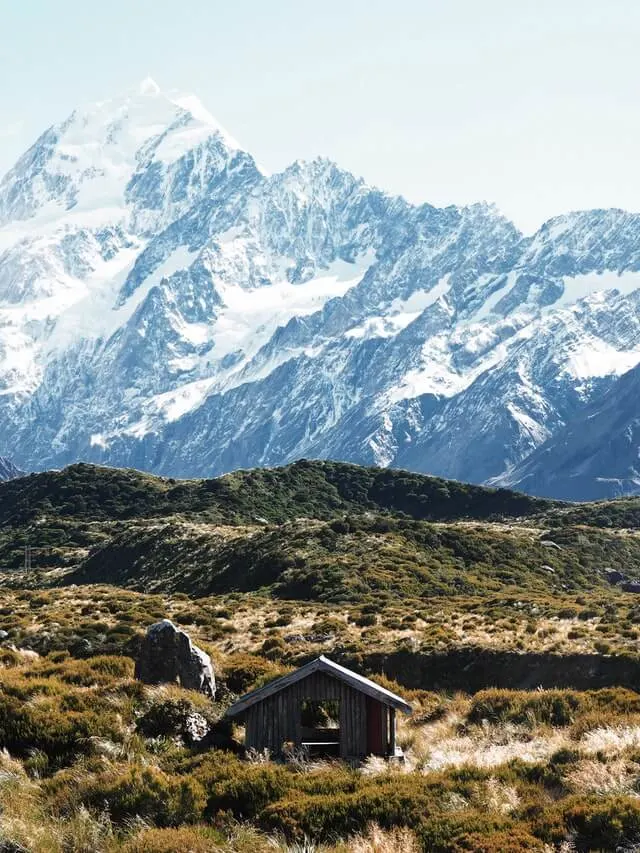 Something that is very unique about hiking in New Zealand is the extensive system of backcountry huts. There are approximately 950 huts across the country, which can be used to take shelter from bad weather or as a place to stay on overnight hiking trips.
This is great news for hikers that enjoy overnight trips as it means you don't need to carry a heavy tent or sleeping pad in your backpack.
Most backcountry huts have basic facilities such as water, toilets, heating, and bunk beds with mattresses. Some of the popular huts have a hut warden that is based at the hut to give advice and tips to trampers, this is common on the Great Walks.
All you need for an enjoyable night out in the backcountry is a small backpackers stove to cook some dinner and a sleeping bag.
I would really recommend you stay at a few huts if you get the opportunity, as it is a really fun experience!
The Weather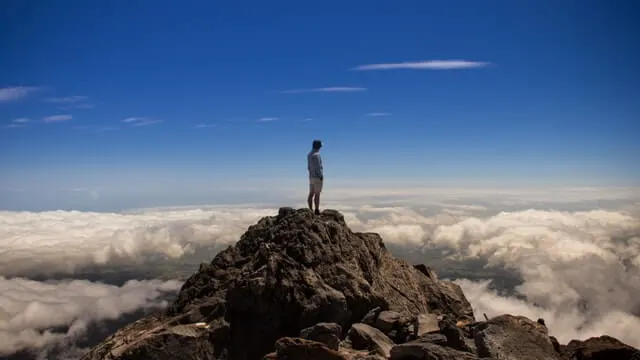 The weather in New Zealand can be really unpredictable and it's not uncommon to experience all four seasons in the space of one day. It's important you check the weather forecast before you embark on your hike, just in case any bad conditions are predicted.
Something to keep in mind, it's always worth packing a rain jacket and some warm layers, even if the weather forecast is great. The weather can change in an instant in this country so it's crucial to be well prepared.
Trail Etiquette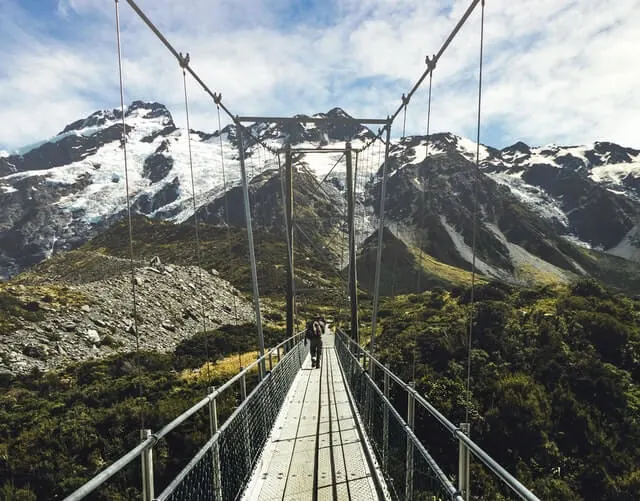 Following proper trail etiquette is important to make sure you and other hikers have a pleasant experience outdoors.
Something that is immediately obvious when hiking in NZ is how friendly everyone is. Kiwis are known for their kind nature and it really shows on the trails. Everyone says hello to each other and some even enjoy a quick chat – so make sure to say a quick 'hi!' to other hikers passing by.
Another little tip if you like to take it slow on your hikes, is to make sure you let faster hikers pass you. This should really be a common courtesy but it's worth keeping in mind.
And lastly make sure you are following the 'leave no trace' principles. New Zealand hiking trails travel through some beautiful places and we want to keep it that way.
A Quick Packing List for Hiking in NZ
Hiking Essentials for short walks and day hikes in NZ
Hiking Backpack – one that is comfortable, is big enough to fit your supplies (but not too big for the hike – ie. an easy hike will need much less gear than a longer or overnight one.) We've done the research when it comes to female-specific backpacks too!
Comfortable pair of hiking boots or hiking shoes (that you have worn on a couple of walks to check for pressure or blister points)
Hiking socks that provide adequate cushioning
Appropriate Clothing: moisture wicking base layers, quick-drying hiking pants/shorts, t shirts or long sleeve tops & fleece (weather dependant)
Extra Layers – regardless of what time of year you are hiking, the weather can turn in a heartbeat. An extra jumper or base layer you can quickly throw on may be a lifesaver.
Packable rain jacket – as above, and because getting drenched when you're hours from home is not fun.
Water – a water bottle may be sufficient for short, easy hikes; a reservoir may be better for longer hikes.
Snacks – extra food should be one of the first things in your bag. Especially small, high energy providing snacks like trail mix, granola bars/breakfast bars and chocolate.
Small First Aid Kit – including plasters / band-aids, blister packs, hand sanitizer, prescription medications etc.
Insect & Sun Protection – Sun cream, SPF lip balm, Hat and Sunglasses, Insect repellant
Smart Phone and/or Camera (although the camera on your smartphone could be more than sufficient unless your a pro photographer)
Hiking Gear for more advanced hikes & overnight hikes
Trekking poles – for more difficult terrain, trekking poles can give you that extra bit of balance and support
Navigation Tools (map, compass etc) if you are going into unknown territory or to where the trails are not clear, the potential for getting lost increases dramatically.
Trail Maps, Trail guides or hike guides can be handy to have for new and challenging routes.
Multi-tool & small gear repair kit – duct tape, zip ties etc.
Headlamp (check the batteries – or put in fresh ones – before you go!)
IMPORTANT – Regardless of the length of the hike, be sure to always let someone know your plans before you set off – especially if you will be hiking alone!
15+ Amazing New Zealand Hiking Trails
Tongariro Alpine Crossing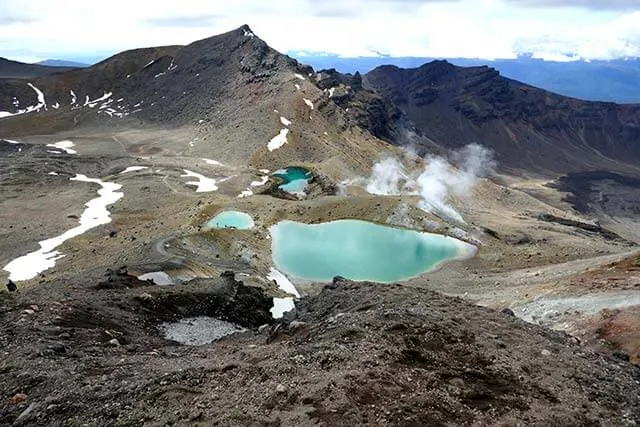 Distance: 19.4km one way track
Time to complete: 6-8 hours
Start and end points: Mangatepōpō car park and end of Ketetahi Road, Tongariro National Park
The Tongariro Alpine Crossing is widely regarded as one of the best day hikes in the world. This is no surprise considering the Tongariro National Park where the hike is located is a UNESCO Dual World Heritage Area.
This North Island hike will take you on an incredible journey through an active volcanic area with amazing alpine vistas. During the first part of the hike you will make your way between two active volcanoes, Mount Tongariro and Mount Ngauruhoe. The terrain is rugged and at times can be challenging but the area is unbelievably beautiful.
After you have made your way past the volcanoes you will reach the Emerald Lakes and Blue Lake. These are spectacular lakes, which as you may be able to gather from the name, are bright emerald and blue colours.
This is a long day hike which can be challenging, but as long as you have a reasonable level of fitness you should be able to complete it fine. The Tongariro Alpine Crossing travels through an alpine environment and as such the weather conditions can be quite changeable. Make sure you're prepared for strong winds, rain or snow, and rapid changes in temperature, even during the summer.
Roys Peak Track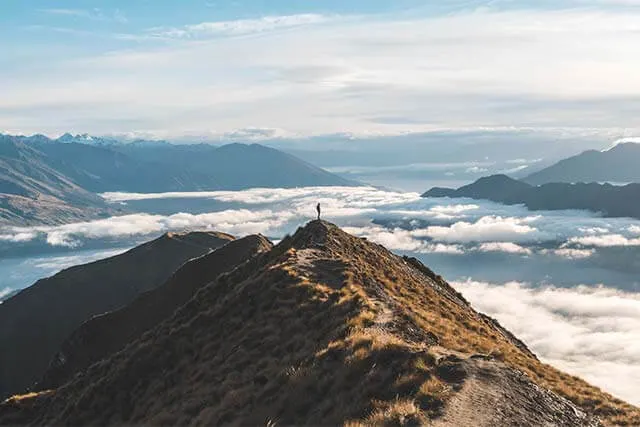 Distance: 16km return on the same track
Time to complete: 5-6 hours
Start and end points: Roys Peak Track car park, near Wanaka
If you are in the Wanaka area, the Roys Peak Track is a hike you will want to try. This is another of New Zealand's stunning day hikes located on the South Island with incredible panoramic views.
Be warned this is a steep track that is almost entirely uphill, the elevation gain for the hike is approximately 1300m. As you climb higher and higher the views get better and better which is all the encouragement you'll need to keep yourself moving. When you reach the top, all your hard work will be worth it when you take in the amazing views of Lake Wanaka and the surrounding mountain ranges.
This is a popular hike so expect to see lots of other hikers completing it with you. There is a spot on the hike about 30 minutes before the top, which has been made very popular on Instagram.
It's a part of the mountain perfectly positioned with Lake Wanaka in the background and during busy days people line up for the chance of a photo. As well as a busy track, the car park can fill up very quickly so if you want to get a space, make sure you're there early.
Hooker Valley Track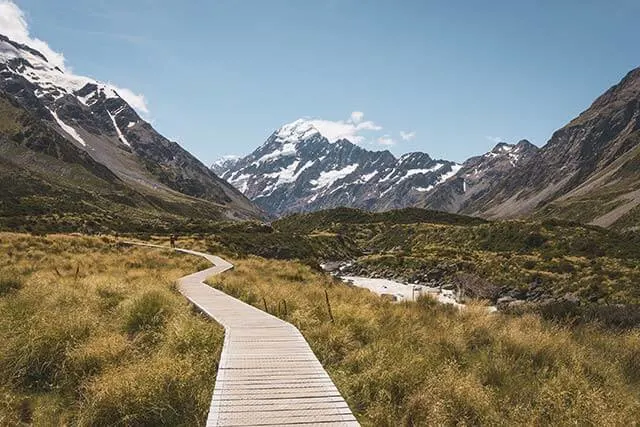 Distance: 10km return on the same track
Time to complete: 3 hours
Start and end points: White Horse Hill Campground, Aoraki/ Mount Cook National Park
The Hooker Valley Track located in Aoraki/Mount Cook National Park is an unbelievable hike that can be completed in under 3 hours. This hike is very family friendly thanks to an easy flat gradient and an outstanding and well maintained trail.
This hike will not be as physically challenging as many of the other hikes on this list, however the raw natural beauty you will get to experience is on another level. The hike will take you through the Hooker Valley where you will be able to enjoy the views of Mueller Glacier, the surrounding mountains and the Hooker River.
The highlight of the hike is when you reach the Hooker Lake at the end of the trail. This is a beautiful glacial lake, which has lots of icebergs spread across the surface. In the distance behind the lake stands Aoraki/Mount Cook, which is New Zealand's tallest mountain.
Roberts Point Track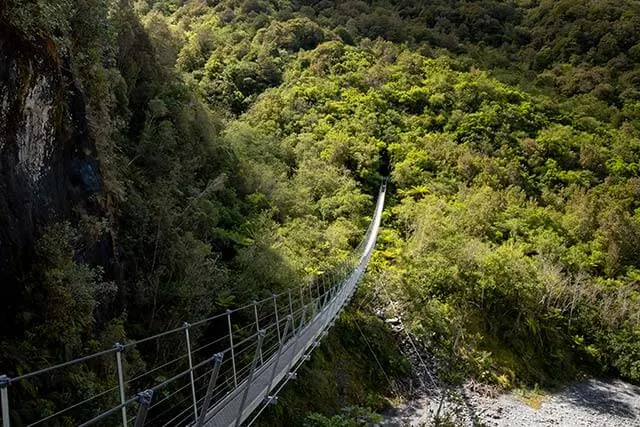 Distance: 11km or 12.3km return on same track
Time to complete: 5-6 hours
Start and end points: 11km return from Alex Knob/Lake Wombat car park or 12.3km return from Glacier car park, Franz Josef West Coast
If you want to experience a challenging day hike then I would suggest you try out Roberts Point Track on the West Coast of the South Island. The Department of Conservation has classified this hike as an advanced tramping track so you will need a good level of fitness to complete it.
For most of this hike you will be covered by the surrounding forest, there are however a couple of impressive swing bridges to cross where the cover opens up. After 2-3 hours of hiking through the forest you will be rewarded for your effort with some spectacular views. At the end of the trail there is a viewing platform where you will be able to take in the great views of Franz Josef Glacier, the surrounding peaks and cascading waterfalls.
Kepler Track
Distance: 60km loop track
Time to complete: 3-4 days
Start and end points: Kepler Track car park near the Kepler control gates
The Kepler Track is the first multi-day hike on this list and is one of the ten renowned Great Walks in New Zealand. This hike is located in the Fiordland National Park South Island, which is an area of exceptional natural beauty and perfect for walking and hiking.
If you would like to try a multi-day hike in New Zealand, definitely start with one of the Great Walks. The tracks on the Great Walks are extremely well maintained making it a perfect place to start, especially for new hikers.
The Kepler is an alpine trail, which will take you along tussock covered ridgelines where the views are astonishing, not to mention a brief section along the shores of Lake Te Anau.
The best part of the hike is during the second day between Luxmore Hut and Iris Burn Hut where the majority of the day is spent traversing the ridgelines. There are three large backcountry huts on the Kepler Track, each providing shelter for you during the night.
Do you want to learn more about this amazing multi-day hiking trip? If so check out this comprehensive guide to the Kepler Track; or if you are looking for an alternative multi-day hike, we highly recommend the Hollyford Track.
Routeburn Track
Also, if you are short on time in the Fiordland National Park but still want to experience some of the incredible hiking trails, there is also the Routeburn Falls Walk on the Routeburn Track. With overnight stays at Routeburn Falls Hut and Lake Mackenzie DOC Hut the full walk usually takes 3 days, but day trippers have the option to walk to the Routeburn Falls Hut from the Routeburn Shelter and Car Park and return on the same day. It's 2.5-3 hours each way if you of reasonable fitness.
For those on a tighter timeframe, there is also a Routeburn Nature Walk that departs from the Routeburn Shelter/Car Park. It's a short walk on a loop with takes only 1 hour.
Ben Lomond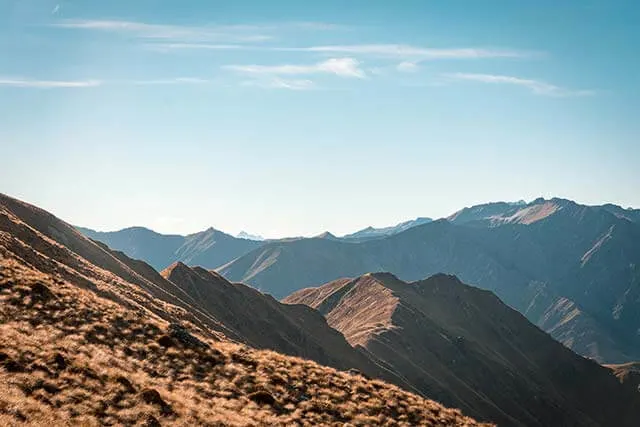 Distance: 11km return on the same track
Time to complete: 6-8 hours
Start and end points: Start and finish at either Skyline Gondola base station in Queenstown, One Mile Creek Track in Fernhill or the top of Skyline Access Road, Queenstown
Ben Lomond is another challenging day hike on New Zealand's South Island, this time located in Queenstown. This is an advanced tramping track which requires a good level of fitness to complete, in total, you will cover over 1400m of elevation gain.
This is another track that will reward you greatly for all your hard work and effort. Once you reach the summit of Ben Lomond, the views of Queenstown, Lake Wakatipu, and the neighboring mountain ranges are absolutely spectacular.
If you feel you can't make it all the way to the summit of Ben Lomond you can always just hike up to Ben Lomond Saddle. The views from here are still pretty special and it only takes 3-4 hours to complete.
Abel Tasman Coast Track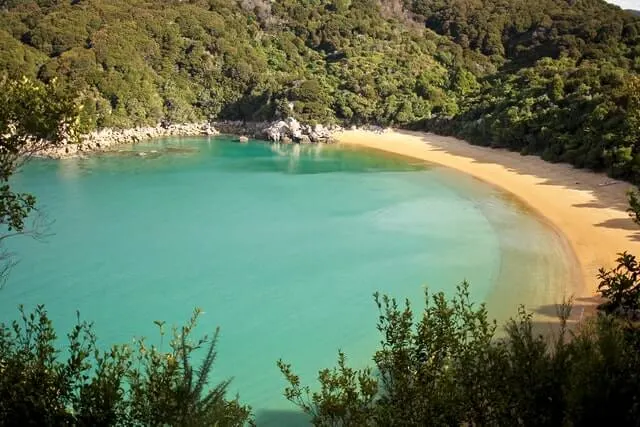 Distance: 60km one way
Time to complete: 3-5 Days
Start and end points: Marahau to Tōtaranui
This coastal track is perfect for a hiking adventure in Abel Tasman National Park. On your walk you'll discover Cleopatra's Pool, walk across a 47m suspension bridge above the inlet to Falls River, take in the crystal clear waters of Tonga Island Marine Reserve – and if you're lucky, see fur seals (kekeno) frolicking.
Be sure to book your accommodation before you set off (there are 4 huts and 18 campsites) – but they fill up quickly all year round. You also have the option to walk the whole track, kayak parts of it, or hop on the water taxi between different locations.
Sealy Tarns Track + Mueller Hut Route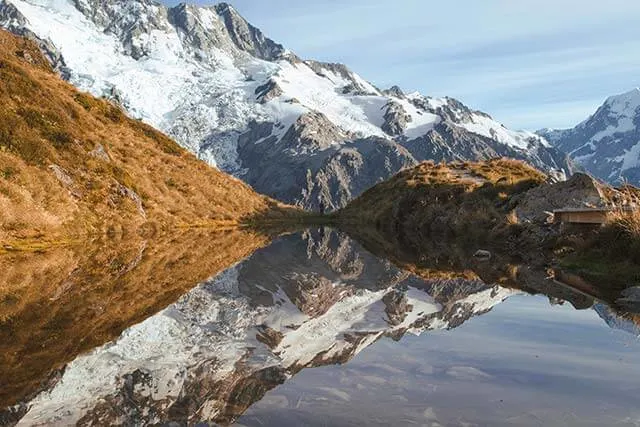 Distance: 10.4km return on the same track
Time to complete: Sealy Tarns 3-4 hours, Mueller Hut 8 hours
Start and end points: White Horse Hill Campground, Aoraki/Mount Cook National Park
The Sealy Tarns Track and Mueller Hut Route are two more fantastic hikes located in Aoraki/ Mount Cook National Park.
Sealy Tarns is a relatively easy walking track that takes you to the top of the Sealy Tarns lakes. This track is very well managed and maintained, however, there are approximately 2200 steps to conquer throughout the hike. Once you reach the top of the hike you can take a well-deserved lunch break taking in the views of the Hooker Valley, as well as magnificent Aoraki/Mount Cook.
If you want to turn this hike into an overnight trip you can continue on for 2 more hours on the Mueller Hut Hike. Unlike the Sealy Tarns section of the hike, this part of the track is an alpine route which means it is more rugged and less maintained.
This inevitably means the hike gets much harder, however, once you reach Mueller Hut you'll be happy you continued. Mueller Hut provides safe refuge for the night, giving you plenty of time to enjoy the views of the surrounding glaciers and mountain peaks. It's truly beautiful at sunset.
Heaphy Track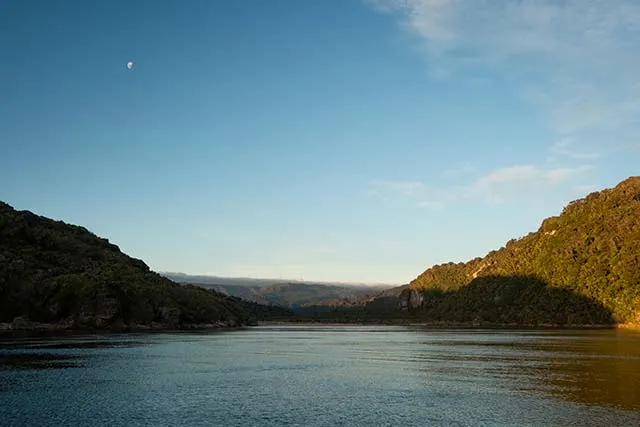 Distance: 78.4km one way track
Time to complete: 4-6 days
Start and end points: Brown Hut in the Golden Bay area and Kōhaihai on the West Coast
The Heaphy Track is one of the New Zealand Great Walks, these are some of the country's premier multi-day hikes. This is a super interesting hike with a variety of rugged landscapes to see.
The route starts among beech forests and as the hike progresses, the forest changes to large open tussock clearings. As you reach the West Coast the landscapes change again to rainforest full of Nīkau palms. The last day will see you traveling along the coastline with sandy beaches and the Tasman Sea to your right.
Despite its long distance, this is a relatively easy going hike that families regularly complete together. If you're lucky you may get the chance to see a Great Spotted Kiwi or Takahē, two of New Zealand's endemic flightless birds. There are 7 huts and 9 campsites along the trail.
Escarpment Track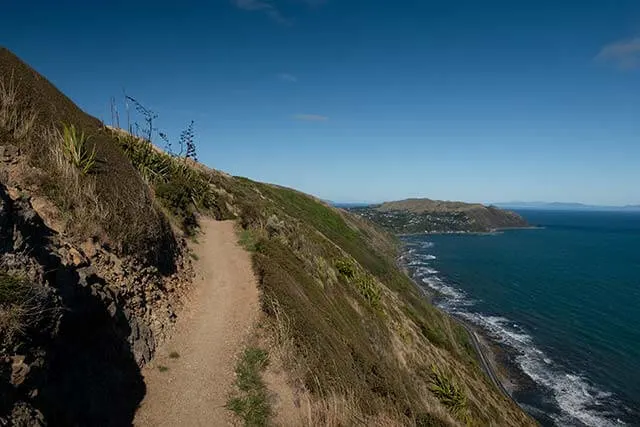 Distance: 9.1km one-way track
Time to complete: 3-4 hours
Start and end points: Paekākāriki and Pukerua Bay
If you happen to be in New Zealand's capital city Wellington, then you will want to set aside some time to experience the Escarpment Track. This trail travels along the coastline of Kāpiti where there are stunning views of both the coast and Kāpiti island.
This is a very family friendly track and although there are over 1000 steps to scale, this is a relatively easy hike. The highlights of this hike are the two swing bridges that sit high above the ground.
The Escarpment Track actually makes up part of the Te Araroa, New Zealand's very own thru-hike. This is a 3000km trail that starts at the top of the North Island and ends at the bottom of the North Island.
Lake Waikaremoana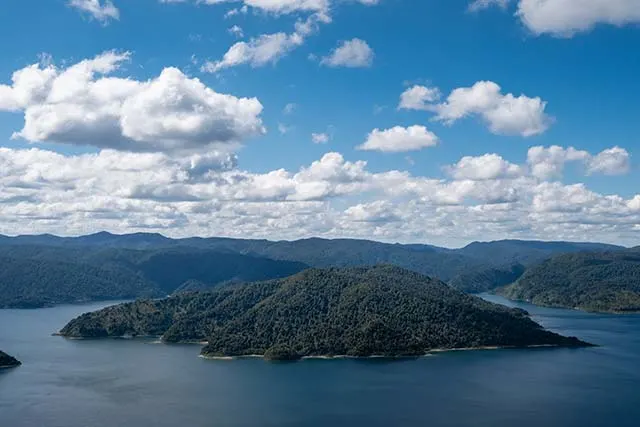 Distance: 46km one way track
Time to complete: 3-4 days
Start and end points: Onepoto Bay Shelter and Hopuruahine Landing, Lake Waikaremoana
The last hike on this list is the Lake Waikaremoana Great Walk which is a 3-4 day journey around a beautiful lake. It's located in Te Urewera which is on the East Coast of the North Island near Hawkes Bay.
This is a backcountry route that takes you around Lake Waikaremoana from the South side to the North side. Expect breathtaking views from Panekire Bluff over the lake, magnificent waterfalls and refreshing crystal clear waters to take a dip in.
Lake Waikaremoana is another member of the Great Walks, however, unlike the other tracks, this walk is less well known which means it's not as busy. This is a great option if you want to escape the crowds of hikers you may find on some of the other tracks.
Queen Charlotte Track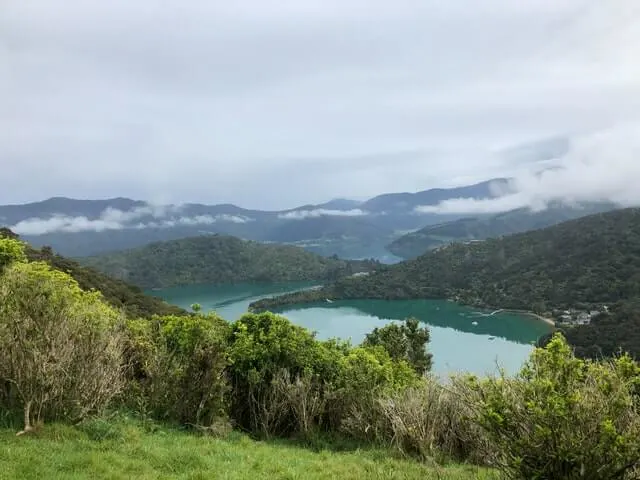 Distance: 71km one way track
Time to complete: 3-5 days
Start and end points: Meretoto/Ship Cove and Anakiwa
The Queen Charlotte track takes you on a beautiful journey through Queen Charlotte Sound and Kenepuru Sound, in the Marlborough Sounds (a region famous for producing some of the world's best Sauvignon Blanc wines – not hiking related but a fun fact none-the-less).
For decades it has been widely regarded as a classic NZ walk, but in the past few years has also emerged as one of the best single-track mountain bike rides in the country.
Not considered easy or difficult, it is recommended hikers have a moderate level of fitness and bikers have a reasonable level of skill and experience. There are some steep and challenging sections at different points that can become muddy and/or slippy in inclement weather, and the trail can be busy during the summer months.
Mount Aspiring National Park (3 Day Hikes)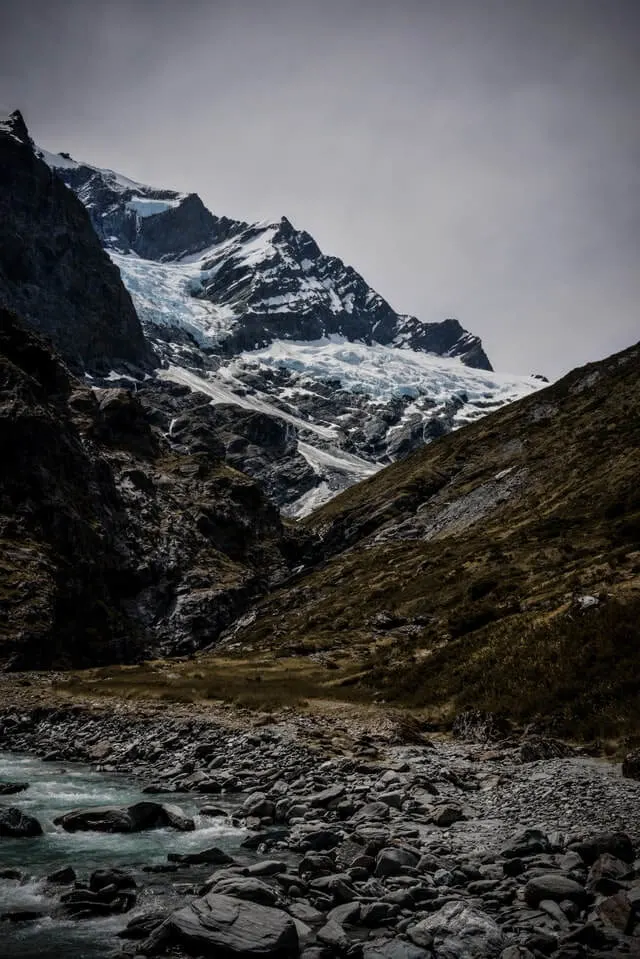 Hiking is (clearly!) a great way to explore and enjoy New Zealands National Parks and there are several fantastic day hikes in Mount Aspiring National Park to help you do just that. Our top 3 would be the Rob Roy Glacier, Mt Brewster Track and The Blue Pools.
New Zealands day hikes don't come much more impressive than the one with views of the Rob Roy Glacier. Undoubtedly the sparkling jewel in the crown of Mount Aspiring National Park, this easy-moderate half-day walk (approx 4-5 return) rewards hikers with spectacular views of the Rob Roy Glacier flanked by waterfalls 600ft high.
If you are looking for a challenging, steep but rewarding day hike, the Mt Brewster Track is the one for you. Spend the day walking up through the lush beech forest until you reach the top of the hill where, along with sore legs(!) you can take in the stunning views of surrounding snow-capped mountains and the iconic red mountain hut.
The Blue Pools Track is of the most beautiful trails in New Zealand. Requiring only a short walk through native beech forest, hikers will arrive at two swing bridges looking down upon crystal clear blue pools. It's a perfect walk for the kids and a refreshing swimming spot in summer.
New Zealand Hiking Tours & Guided Hikes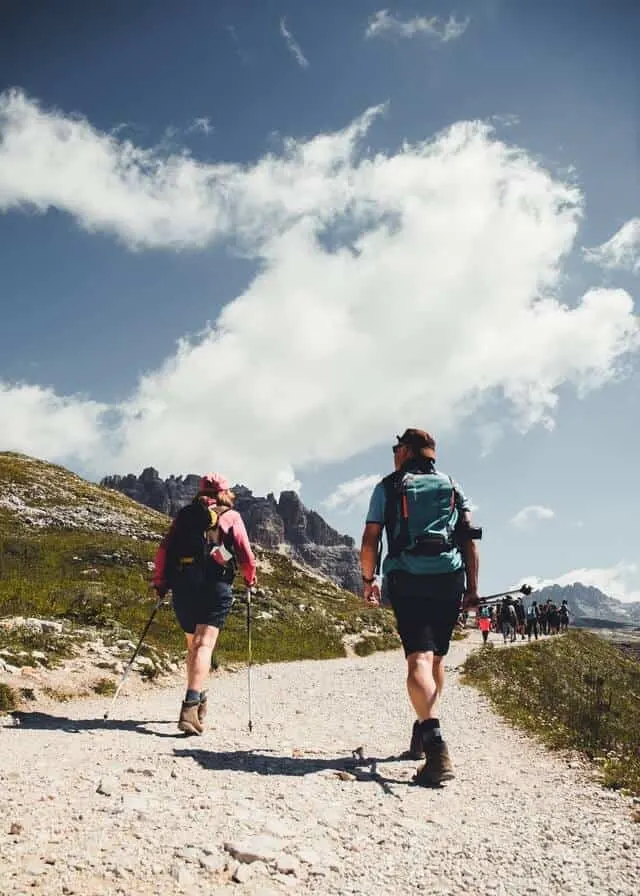 If you're not a confident hiker or simply enjoy being part of a group or on a guided hike, we've included a few options below to help you find your tribe.
Tongariro National Park
As we mentioned at the top of our post, the Tongariro Alpine Crossing, on the North Island, is widely regarded as one of the best day hikes in the world. Whether you want to complete the full Tongariro Crossing (around 9 hours) or just join in for a section (4 hours) or visit the Whakapapa Village, there is a guided hike that you can join.
Additionally, you can join a group to head up to the Mt Ruapehu crater – one of the 3 largest volcanoes in Tongariro National Park – and enjoy your lunch gazing into the geothermic waters of the Mt Ruapehu Crater Lake.
.
Heli Hike to a Glacier
A true New Zealand bucket list experience – the biggest questions will be which glacier do you want to hike?! The Franz Josef Glacier, Fox Glacier, and the Tasman Glacier (in the Southern Alps) all offer glacier hikes combined with a return helicopter flight. If you're an adventure lover and a fan of high-altitude hikes, you just have to take on a Heli hike to a Glacier on your trip to New Zealand.
.
Milford Sound
Milford Sound is easily one of the most famous spots in New Zealand and its beauty is world famous. Most people explore by plane, cruise, observation deck (or a combination of all three) but we think adding in a hike along the Milford Track is a wonderful way to explore the region.
.
Mount Tarawera Volcanic Crater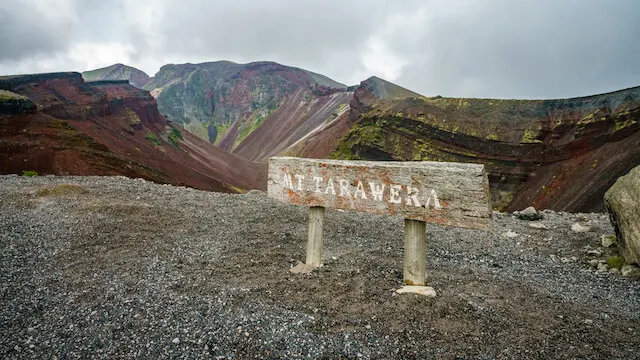 Discover the unique landscape of Mount Tarawera on a unique 4-hour half-day guided adventure from Rotorua. With the help of an experienced guide, you'll learn all about the local history and discover myths and legends of Maori culture as you ascend to the crater in a 4×4 and enjoy a guided hike around it. Book your Mt Tarawera adventure here.
Waiheke Island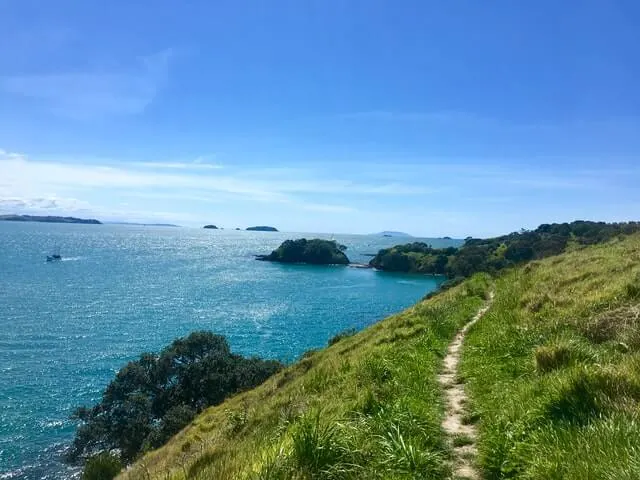 This one is a biggie. Grab a group of friends and create your own small group guided hike on the 100km loop around Waiheke Island.
Across 5 days (15-25km per day) you'll experience the bustling villages of the western end of the island and bush, beaches, and birds, at the remote eastern end of the island. And all with an experienced local guide to keep you informed and entertained, along with comfortable accommodation to recover and rest in each night. Find out more about the Waiheke Island trek here.
Guided Hikes From Christchurch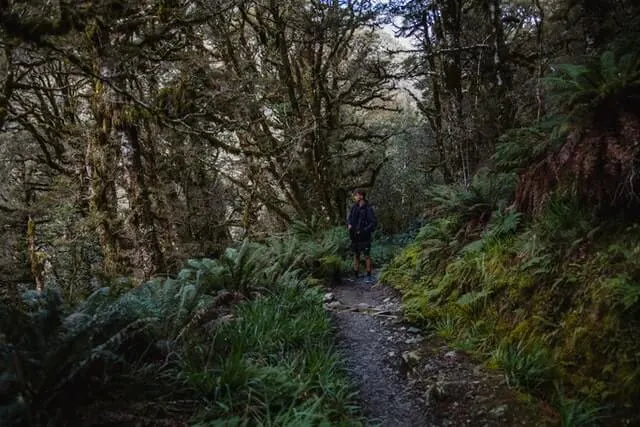 There are a number of great guided hike options that depart (and return) to Christchurch.
These include combining the stunning train journey to Arthurs Pass National Park with waterfalls, Lake Pearson, the majestic limestone boulders of Castle Hill and getting up close and personal with some of New Zealand's wildlife – the alpine parrots at Otira Viaduct lookout.
Or you can discover the remnants of New Zealand's WW2 defenses on a walking tour through Lyttelton and Godley Head. Wander along the coastal path via Taylors Mistake Beach, Timeball Station, Evens Pass, and more.
Or why not spend half a day combining a walk around the rim of a spectacular extinct volcano with incredible ocean views of the Pacific coastline on the Banks Peninsula.
.

And that's a wrap. We hope our ultimate guide to hiking New Zealand has been super helpful in planning your trip to incredible New Zealand.
And if you enjoyed this New Zealand travel guide, or know someone planning their NZ vacation that could use our travel advice and top tips for visiting the land of the long white cloud, please be sure to share this article with them on social media: Facebook, Twitter, Flipboard or grab a pin below for Pinterest.
Sharing is caring and we thank you in advance!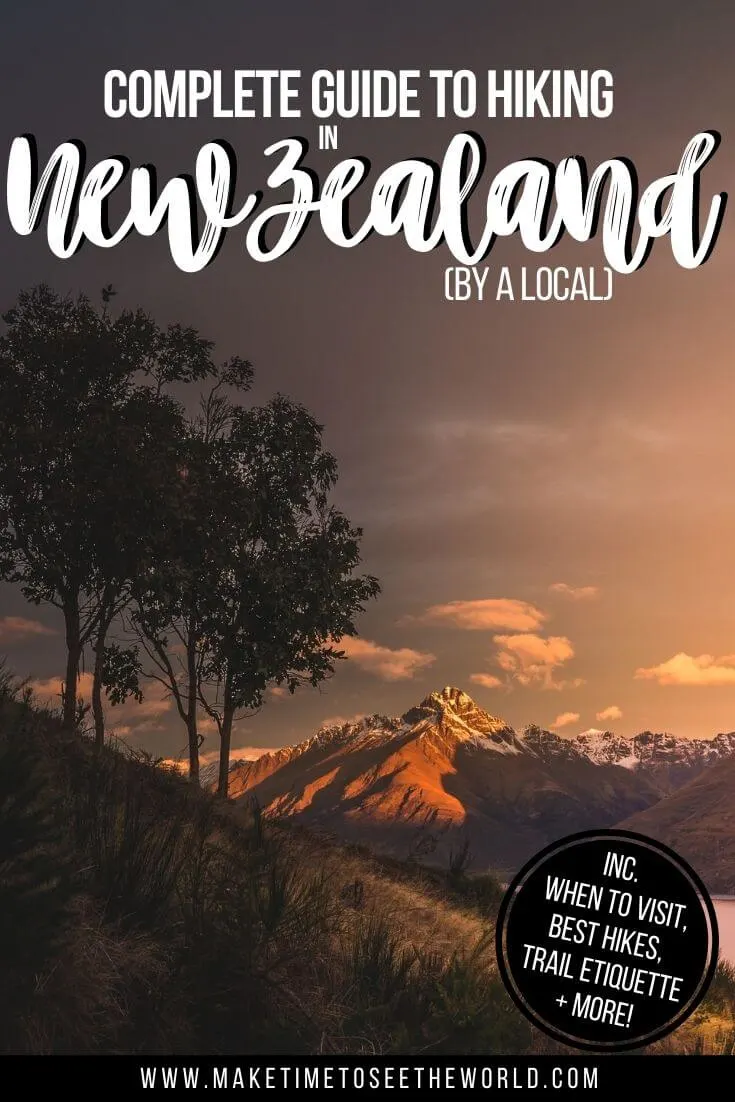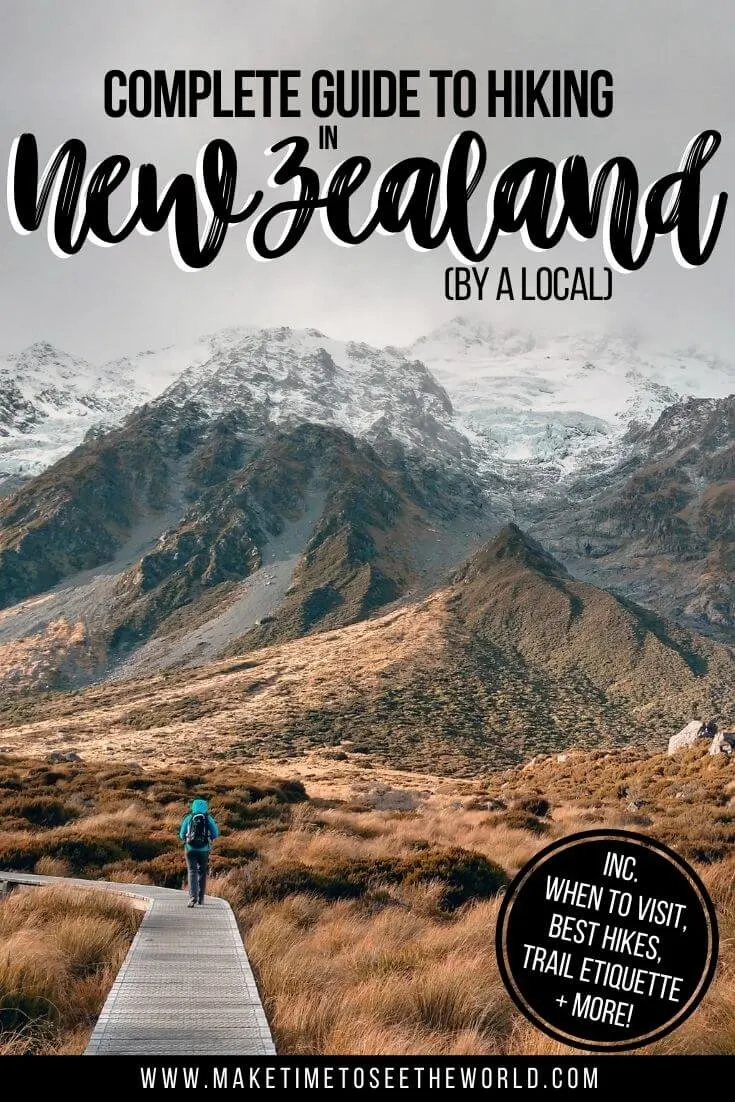 READY FOR MORE OCEANIA TRAVEL INSPIRATION? YOU MIGHT BE INTERESTED IN THESE TRAVEL TIPS, TRAVEL HACKS, TRAVEL ARTICLES, TRAVEL DESTINATIONS GUIDES, TRAVELER RESOURCES AND RELATED POSTS ABOUT OTHER BEAUTIFUL CITIES IN AUSTRALASIA TO HELP YOU EXPLORE AND TRAVEL THE WORLD:

Hi There! Thanks for reading our guide to Hiking New Zealand. I just wanted to let you know that this post contains affiliate links, which means if you purchase something after clicking a link, I may get a small commission – which is at absolutely no cost to you. If you enjoyed this article and are going to be searching for some of the things I mention anyway, I would love it if you could click through from the links above & thank you in advance! Read my full Disclosure here.
And a huge Thank You for reading the MakeTimeToSeeTheWorld travel blog.