Visiting the US Capital doesn't have to be expensive! And to prove it here are our Top 44 Free Things to do in Washington DC inc. museums, monuments, parks, politics (& more!) to help save you money while seeing the best sights.
Punctuated by its 3 icons of the federal government, The White House, The Supreme Court and The Capitol Building, the city of Washington DC is a must-visit for anyone interested in politics. However, the city has a lot more to offer than just its political undercurrent.
With open green spaces and museums and galleries galore (read all about them in our guide to 50+ Incredible Washington DC Attractions!), it's easy to see why the city of Washington DC is one of the top ten most visited cities in the USA.
As you can imagine, being a tourist in Washington DC can come with a hefty price tag. As the home of politicians and diplomats, the city is also one of the most expensive cities in the US – but we're here to give you an incredible list of over 40 Free Things to do in Washinton DC to help save you money and still see the best sights when visiting 'The District'.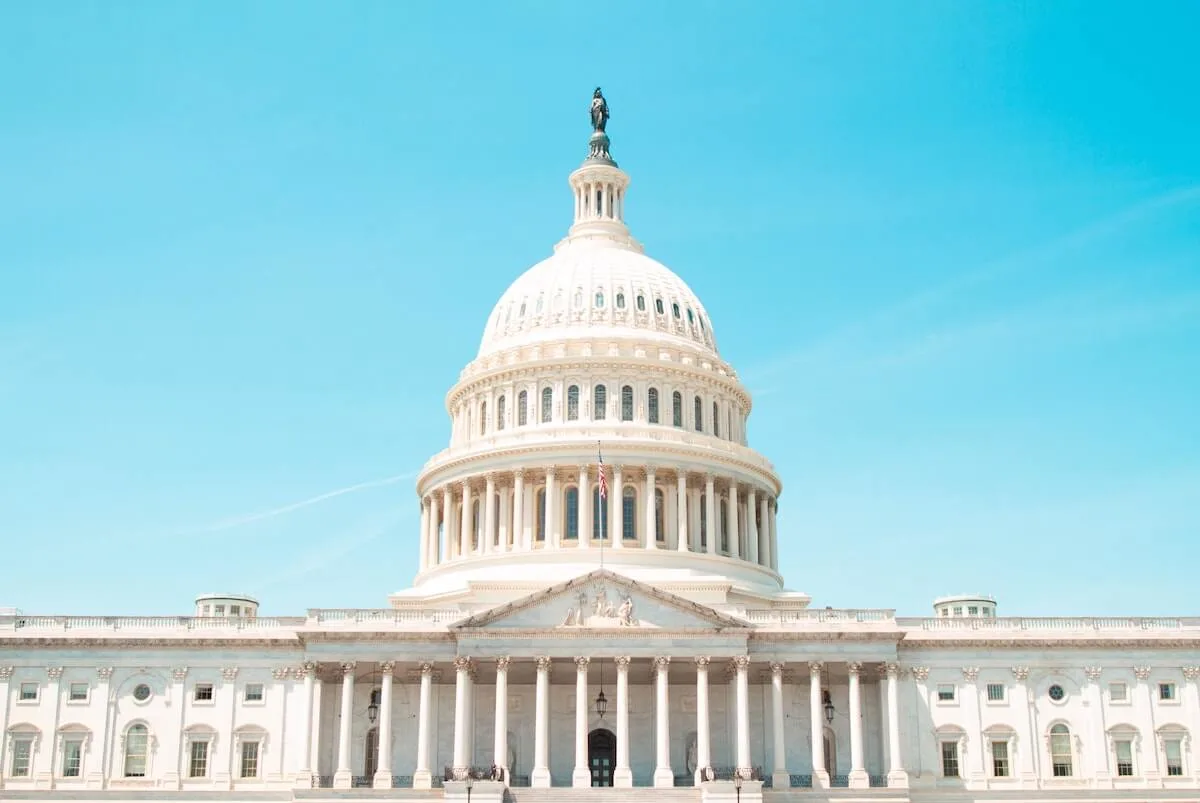 Disclaimer: Almost all posts on this site contain affiliate links, and this one about the Top Free Things to do in Washington DC is no different. This means that if you click on any of the links in this post (and make a purchase) I may receive a small commission at absolutely no cost to you. Each post is carefully crafted to (hopefully!) answer all your questions and recommendations are made where we believe they will improve your trip and help with your planning. As such we thank you in advance should you decide to click & buy. Read my full Disclosure here.

GENERAL TRAVEL INFO FOR VISITORS TO THE USA
Visa: Travelers from countries that are members of the Visa Waiver Program (ESTA) do not require a visa when visiting the USA. However, it is recommended to check up-to-date visa entry requirements before your visit regardless of what country you are coming from to avoid issues and concerns on the date of your travel.
Currency: The official currency in Washington DC is the U.S. dollar or American dollar ($, USD, US$).
You can withdraw currency from ATMs using your local bank card or a designated travel card. If you are visiting from another country, be sure to check any fees and charges from your bank prior to using it and carry a second source of payment/cash in case your primary card gets 'eaten' by an ATM.
Language: English is the primary and most widely spoken language in the USA (although not the official one at the Federal level!) There are 350 other languages spoken, the main ones being Spanish, Chinese, French, and Vietnamese.
WiFi/Internet Access: Depending on your length of stay, you can either purchase a local sim card (in advance or on arrival) – to swap out with the one in your own phone to avoid roaming charges. OR, grab a pay as you go portable Wifi Devices which means you can keep your sim active and connect wirelessly. Just remember to turn off data roaming so you don't incur any hefty charges.
Free Things to do in Washington DC: Icons and Politics
There aren't many cities as littered with iconic monuments and memorials as Washington DC. From the statues of the National Mall to the White House itself, you might be surprised at the 'Access all Areas' opportunities in the city, and if politics and architecture are your thing – you're in for a real treat.
Visit the White House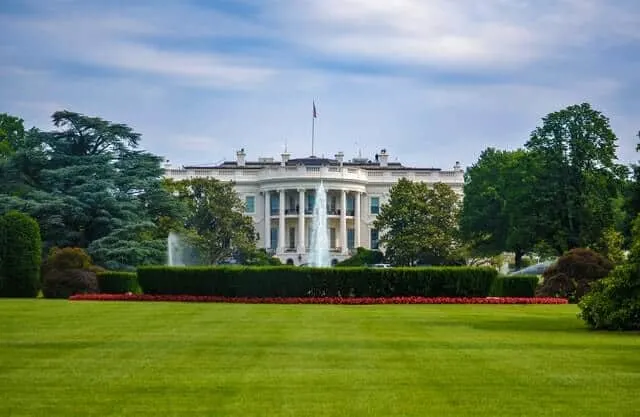 Yes, that's right, you can actually take a tour of the public rooms of the presidential residence, a once in a lifetime opportunity we'd defy you to miss. Book well in advance of your trip though as a tour around one of the world's most iconic homes is an experience that is in high demand and very exclusive.
.
Walk through the U.S. Capitol Building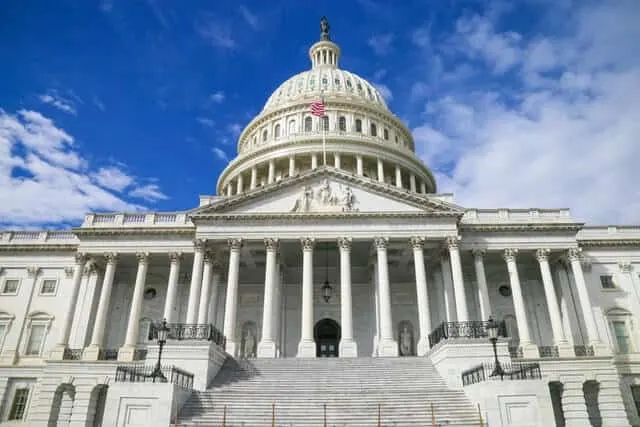 Home of the United States Congress, this is the building that truly punctuates the city as the emblem of DC. The Capitol Building allows visitors to tour the space for free but tickets are granted daily on a first-come-first-served basis, so be prepared for an early morning start.
(And don't worry if you are not a morning person, when standing on the steps of Capitol Hill preparing to enter one of the most important buildings in the USA, it will quickly become clear why this is one of the best free activities to do in Washington DC)
.
Catch a Lecture at the Supreme Court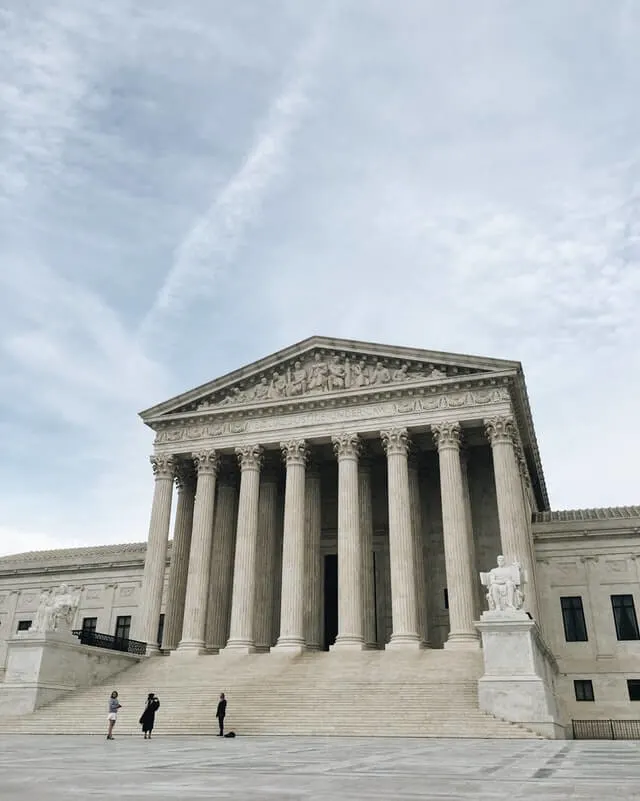 The highest court in the federal judiciary of the USA, those interested in law and politics will want to take the opportunity to pay the Supreme Court a visit. Open to the public from Monday to Friday, visits to the court are again granted on a first-come-first-served basis but be sure to catch one of the lectures to get a true insight into how the courts work.
.
Step Inside the Lincoln Memorial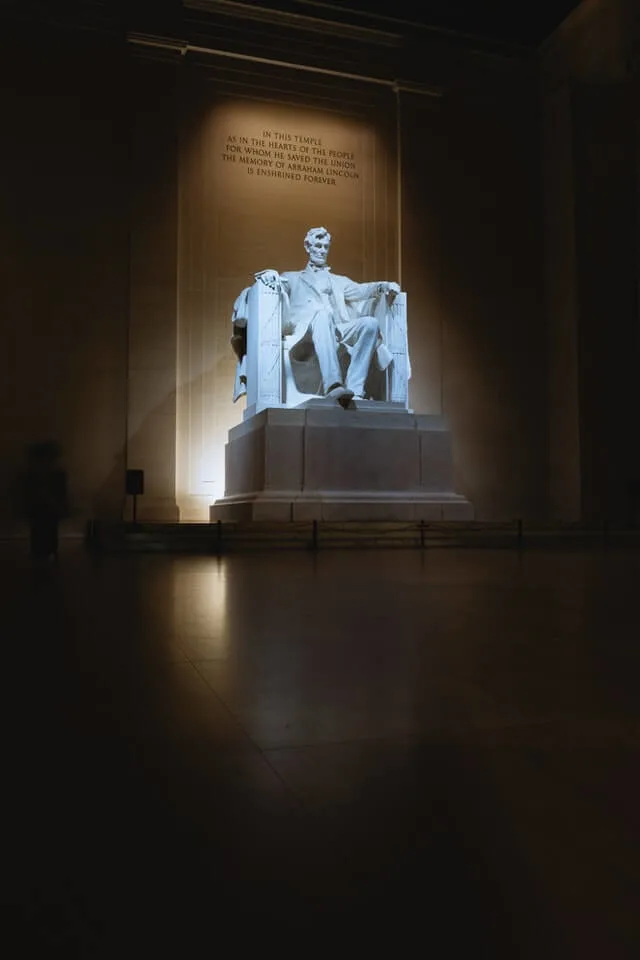 The Lincoln Memorial is a national monument that honors America's 16th president, Abraham Lincoln. It was designed by Henry Bacon and constructed between 1914-1922.
The memorial is located inside West Potomac Park, across from the Tidal Basin, at the opposite end of the National Mall to Capitol Hill. The site is accessible from either Independence Avenue or West Basin Drive.
.
Gaze up at (or out from!) the Washington Monument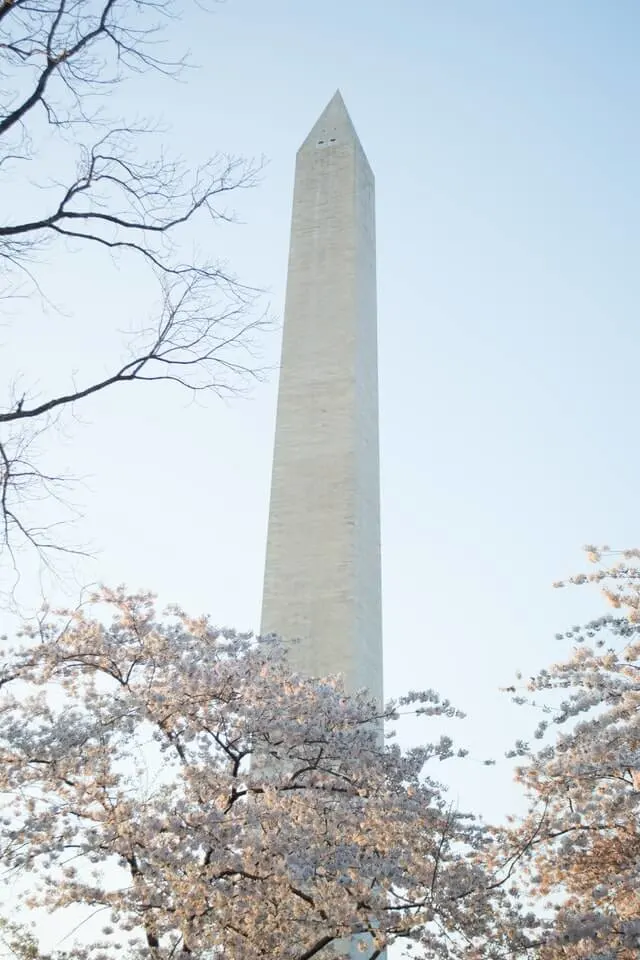 The Washington Monument is one of the most important and tallest landmarks in Washington DC. The monument was designed and constructed in 1848 and is 555 ft tall from base to the top and is surrounded by 50 American flags representing the 50 States.
If you'd like to go inside, be sure to obtain a timed ticket the day before your intended visit from here and enjoy a 70-second elevator ride that whisks you up (and back down) from the viewing platform 500 feet above the ground.
Entry is free, but tickets attract a $1 reservation fee – so while going up isn't technically a free thing to do in Washington DC – is a bargain price for one of the most incredible views of the city (and one of the most impressive elevators in the world!)
.
Visit the Jefferson Memorial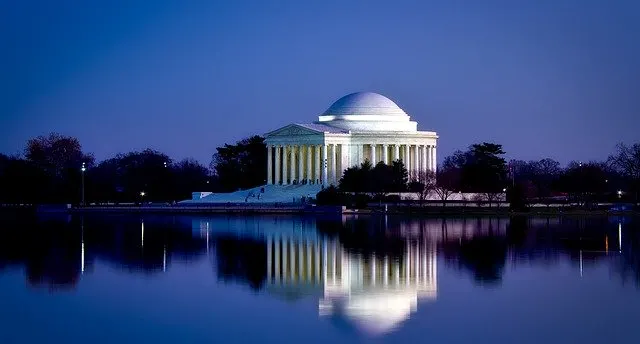 Dedicated to one of the nation's founding fathers Thomas Jefferson, this beautiful white marble monument is located on its own peninsula right on the water.
Set away from the hustle and bustle of downtown and the National Mall, many visitors will be able to enjoy a calm and serene experience while exploring the grounds. Inside the monument itself, there is a large bronze statue of the monument's namesake.
.
Visit the Martin Luther King Jr Memorial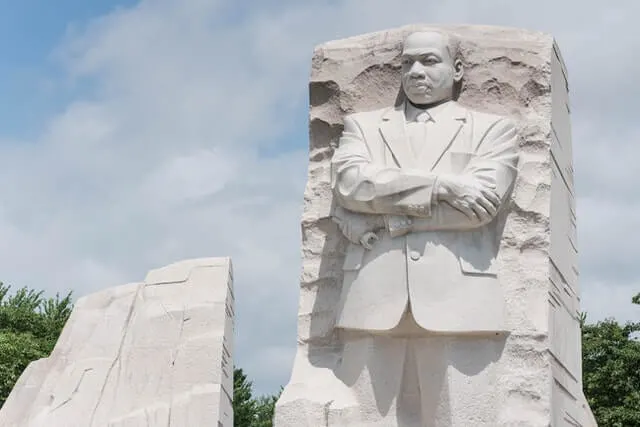 The Martin Luther King Jr. Memorial is a monument in Washington, D.C. to the American civil rights leader Martin Luther King, Jr., located just off the National Mall near the Washington Monument and west of the Reflecting Pool. Dedicated on October 16, 2011, it is America's first memorial on an active national mall to honor an African-American man who was not the president or a general of the army.
The Memorial consists of a 30-foot (9 m) statue of Dr. King, whose likeness is almost identical to his image.
.
Franklin Delano Roosevelt Memorial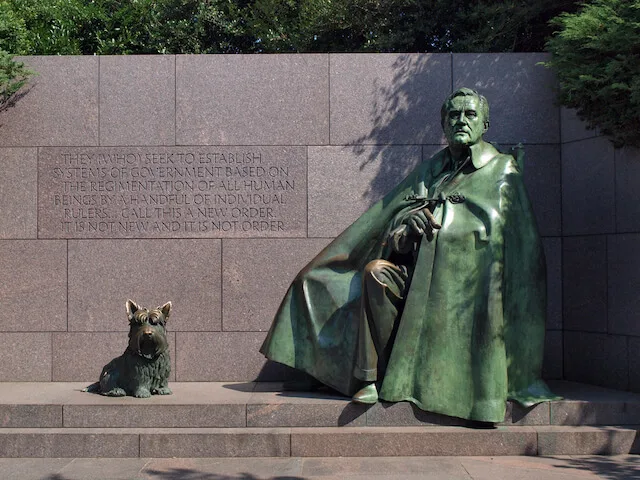 The Franklin Delano Roosevelt Memorial (FDR Memorial) was dedicated on May 2, 1997 and is one of the twenty-six presidential memorials in Washington DC. It is situated south of the Reflecting Pool and the Lincoln Memorial and north of the Tidal Basin, near 17th Street NW in West Potomac Park.
The memorial honors Franklin Delano Roosevelt, whose presidency ran from 1933 to 1945, for his dedication to democracy at home and abroad, establishing Social Security, providing relief for the American people during the Great Depression, advocating freedom from fear while leading America's efforts to defeat Adolf Hitler's Germany in World War II.
*OUR TOP TIP*
– When visiting any of the Monuments or War Memorials (listed below) we highly recommend going twice – once in daylight and once at
sunset
or just after when they are lit up at night. They are truly breathtaking.
Nighttime Guided Trolley or Bus Tours
are also available if you have done enough walking – although they are not free.
.
With iconic institutions such as the Smithsonian museums, the world's largest library and the famous Kennedy Center, Washington DC truly packs a punch in terms of cultural discovery. This is far from an exhaustive list- so be sure to iron out your to-do list of museums in Washington DC before you arrive.
Check out the Smithsonian Museums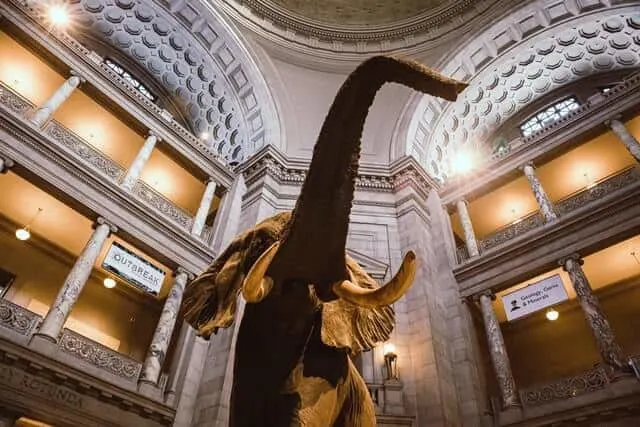 The Smithsonian Institution is an educational establishment that encompasses 17 museums and research centers throughout the city of Washington DC. Whether you're interested in art, animals, culture, or history museums – you'll be truly spoilt for choice.
We have put together a complete guide to all the Free Smithsonian Museums (in DC, NYC and Virginia) but in case you want a quick list, the 17 Smithsonian Museums in DC that offer free entry are:
Anacostia Community Museum
American Art Museum and Renwick Gallery
Arts and Industries Building
Arthur M. Slacker Gallery
Freer Gallery of Art
Hirshhorn Museum and Sculpture Garden
National Air and Space Museum
National Museum of African American History and Culture
National Museum of African Art
National Museum of American History
National Museum of the American Indian
National Museum of Natural History
National Portrait Gallery
National Postal Museum
National Zoo (more below in 'Free Open Spaces, Parks & Walking Tours in Washington DC')
Smithsonian American Art Museum
Smithsonian Institution Building ("The Castle")
.
Explore the Exhibitions in the National Gallery of Art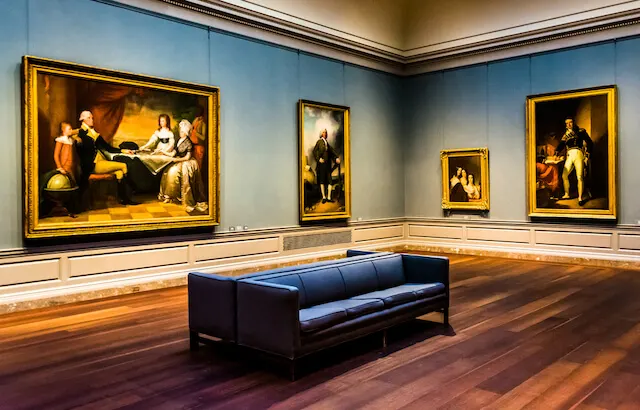 From Pop Art to Sculpture, photography to byzantine masterpieces, the National Gallery of Art boasts a truly spectacular curated collection of world-renowned works. Visitors get a timed pass to explore free of charge.
.
Visit the Largest Library in the World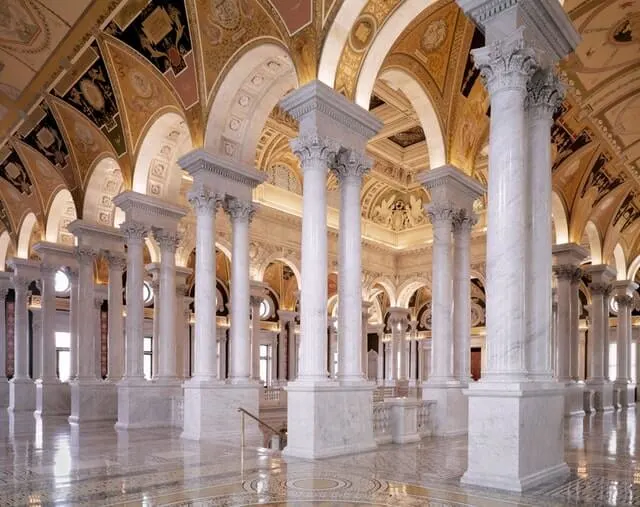 If you think of libraries as fusty old buildings full of dusty books – a visit to the Library of Congress may change your view. Its domed ceilings, frescoes, regal architecture, and marble columns make it a true sight to behold. You can pay a visit to uncover a specific exhibition or take the one-hour walking tour of the Jefferson Building and head to the 6th floor of the James Madison Memorial Building for spectacular views over the city.
.
Unveil History the National Archives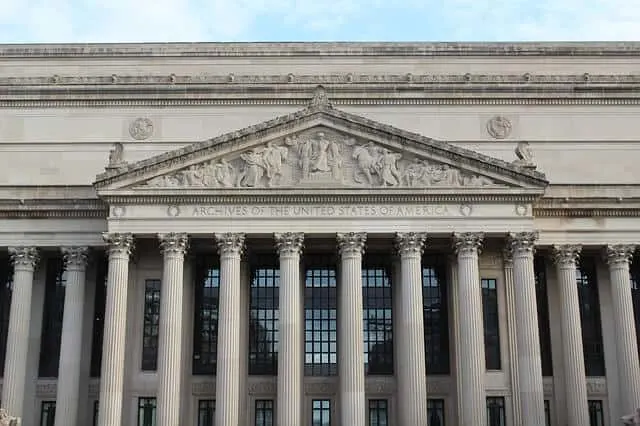 Fancy getting a proper glimpse at historic documents such as the Declaration of Independence, the U.S. Constitution, and the Bill of Rights? The National Archives building houses over three billion records and documents to uncover.
Examine them yourself or take a guided tour with an educated leader explaining the history and significance of the documents, their purpose, and how they are taken care of and maintained.
.
Bureau of Engraving and Printing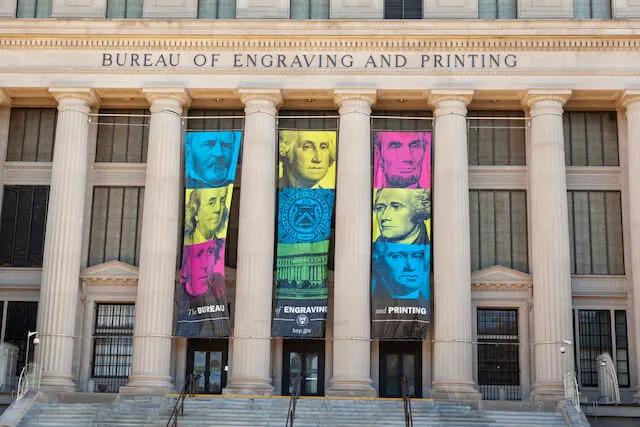 The Bureau of Engraving and Printing (BEP) is one of the law enforcement divisions of the United States Department of the Treasury, created by an Act of Congress in 1862.
The Bureau has been around for over 150 years, designing, producing, and shipping currency to Federal Reserve Banks throughout the United States, and one of its main functions was to ensure that the US's paper currency was (and is) secure and difficult to counterfeit.
Visitors are to take a guided tour to see how U.S paper currency is made on state-of-the-art printing presses – from behind a glass wall – overlooking production floor operations for both large and small notes.
*Editors note* Guided tours were suspended in 2020 due to the virus, and no date has been set for the recommencement as yet – but hopefully they will soon.
.
War Memorials in Washington DC
The Nations Capital is (clearly) home to several important monuments and memorials, but the various War Memorials in DC are especially important. They are a testament to those who sought and served for not only the freedom of American's but freedom for citizens around the world. They are free to visit and we encourage all visitors to DC to spare some time to pay their respects to the fallen (whether you agree with the wars themselves or not).
The Vietnam Veterans Memorial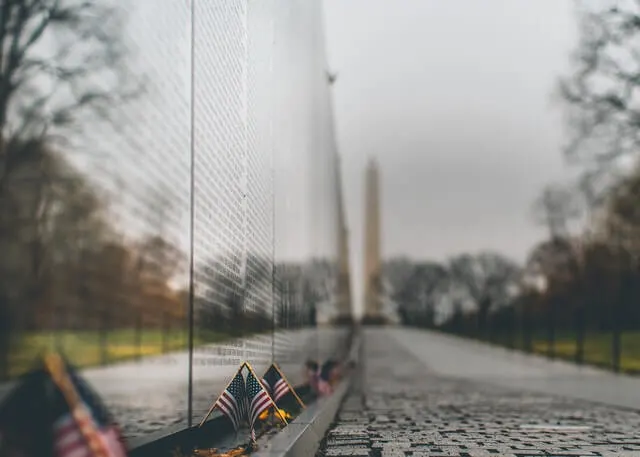 The Vietnam Veterans Memorial was completed in 1982 and is the only national memorial dedicated to veterans who served in a war that took place after World War II.
The designer, Maya Lin, used a black granite wall and had 57,939 names inscribed on its surface. As of May 2021, there are 58,281 names on The Wall, each of whom gave their lives or remain missing as a result of the conflict.
.
Arlington National Cemetery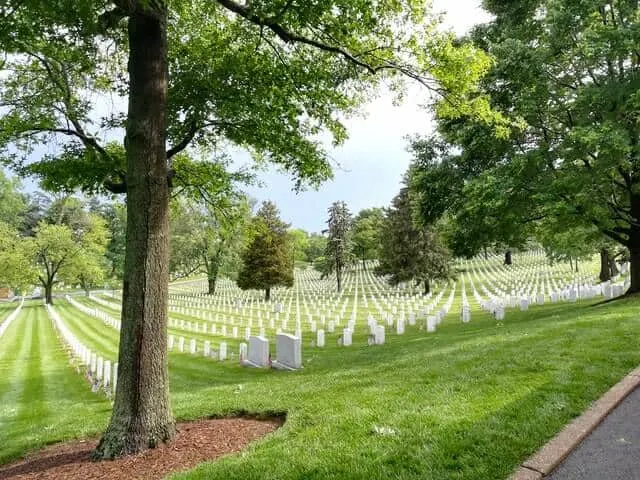 Walking the grounds of Arlington Ceremony is considered by many to be close to a religious experience. The rolling green hills of this 624-acre compound are accented with white marble gravestones that mark the final resting place of more than 400,000 veterans and active-duty military members.
Tour the grounds and pay your respects at JFK's gravesite before making your way over to the Tomb of the Unknown Soldier to watch the changing of the guards' hourly ceremony.
.
Korean War Veterans Memorial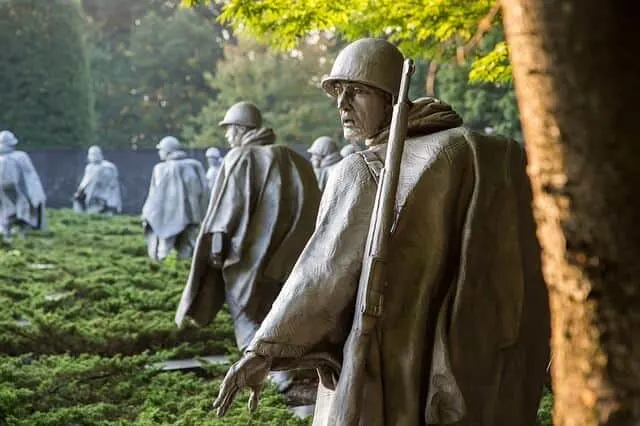 The Korean War Veterans Memorial in Washington DC is a physical reminder of the sacrifices made by those who served. It was built to serve as a tribute to the 5.7 million Americans that served in the Korean War, including those that are still alive today.
It was designed by Maya Lin, who also designed the Vietnam Veterans Memorial and consists of two walls with an area between them which is called "the valley."
The north wall displays 58,000 names of people killed or missing during the war. The south wall displays 100 photographs of various soldiers and scenes from the war, which are organized into five sections: "ordinary soldier," "soldier at war," "soldier back home," "civilian at home" and "civilian abroad."
.
World War II Memorial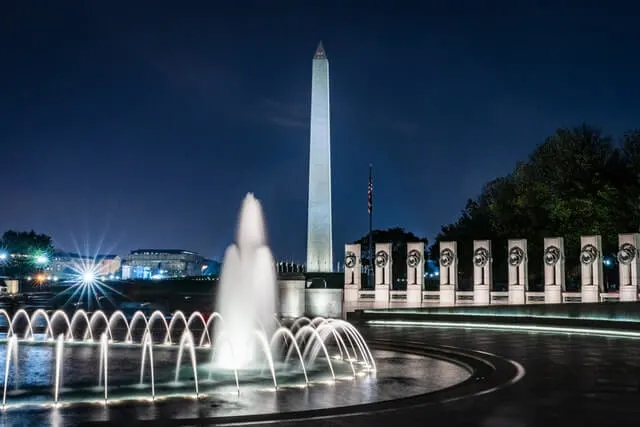 The World War II Memorial was completed in 2004 and includes a combination of 56 columns (representing US states and territories) with 2 arches at either end, curving around an oval plaza with the Rainbow Pool and Fountain at its center.
Through stone architecture, bronze sculptures, reliefs, and the Wall of Stars the World War II Memorial recognizes the ways Americans served in the military and on the home front, honors those who fell and recognizes the victory that was achieved to restore freedom and end tyranny around the globe.
Located on the National Mall adjacent to the Washington Memorial, it is open 24 hours a day.
.
United States Holocaust Memorial Museum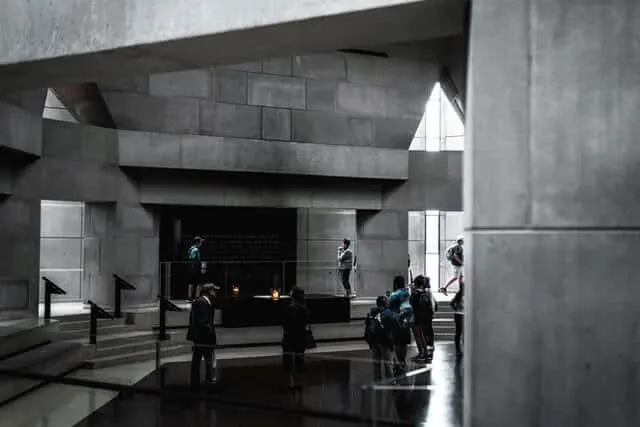 The effects of World War II stretched even to the farthest reaches of the world, and the United States Holocaust Memorial Museum does a fine job at remembering the war and those that were lost.
Discover just how World War II intertwines with American history in one of their 5 in-depth exhibits. View artifacts and films as you hear personal stories showcased in a unique way.
Visiting this internationally acclaimed museum offers an emotional and eye-opening experience that is not to be passed by. Timed tickets are required, and are free, but are subject to a $1 transaction fee when reserving them online.
.
Free Open Spaces, Parks & Walking Tours in Washington DC
Washington is full of open-air gems and beauty spots to enjoy by foot. From lesser known sections of the city, to landscaped and manicured parks and gardens such as the National Mall or the more rural ruggedness of Theodore Roosevelt Island, the city is a perfect base from which to embark on a walking tour of independently explore the beguiling diversity of its streets and nearby greener pastures.
Walk a Lap around the Reflecting Pool

While this once could easily be included in the 'Free Things to do in Washington DC: Icons & Politics' section above, I believe a peaceful walk around the Lincoln Memorial Reflecting Pool (or super-fast lap if you are Captain America) – or even a quiet sit/stand on the steps of the Lincoln Memorial (or anywhere else around the pool) is a great place to take a breath and enjoy the open space in DC.
.
Embark on a treasure hunt of Street Art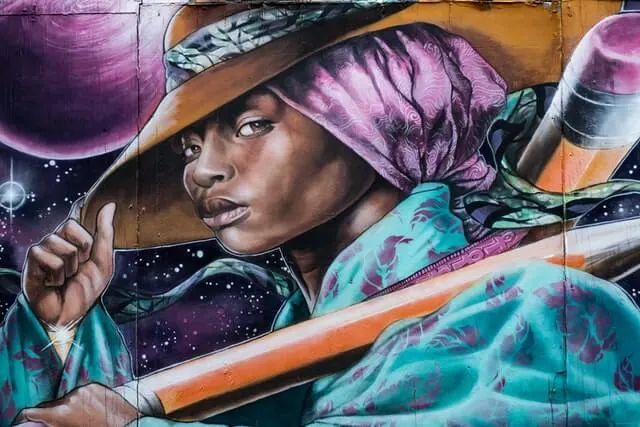 Famed for the vibrant colors of its street art, Washington DC is a great place to uncover some of the more urban artistic talents of the capital. Following the colorful murals toward the cities dedicated street art gallery and community arts center, The Fridge is a great way to while away a few hours in awe of the magnificent masterpieces which adorn the cities walls.
.
Wander through historic Georgetown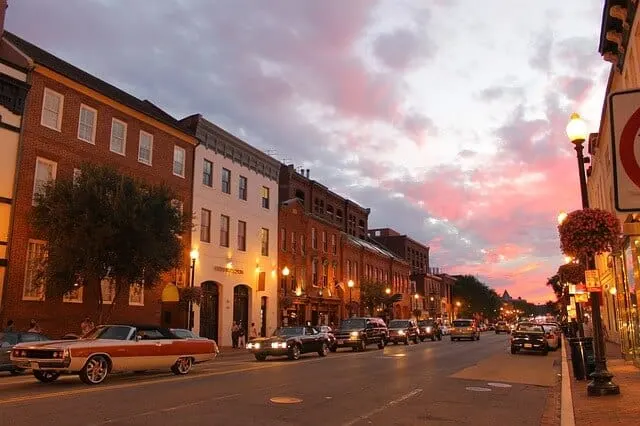 Spend some time uncovering the treasure trove of the Georgetown Historic District. It's so significant it has been inscribed on the list of National Historic Landmarks (along with 75 other national historic sites and buildings in DC).
Georgetown, which was originally a trading dock in the 1700s pre-dates the city of Washington DC. Its charming cobbled streets, boutiques, pubs and restaurants have an other-worldly vibe to the rest of the city, making it a great place to explore on foot.
.
Enjoy the US National Arboretum

The US National Arboretum is a great place for anyone who loves plants because there are more than 4,000 species of plants, shrubs, and trees. And if you are the type of person that doesn't know their petunias from their peonies (I have no green thumb in case you were wondering) you could join one of the free guided tours (but note that due to the virus-that-shall-not-be-named, are not running this time)
While you're here be sure to check out the Arboretum's popular National Bonsai & Penjing Museum (open from 10 a.m. to 4 p.m. most days), the Gotelli Conifer Collection and the Instagram-worthy National Capitol Columns.
.
See the Cherry Blossoms in Spring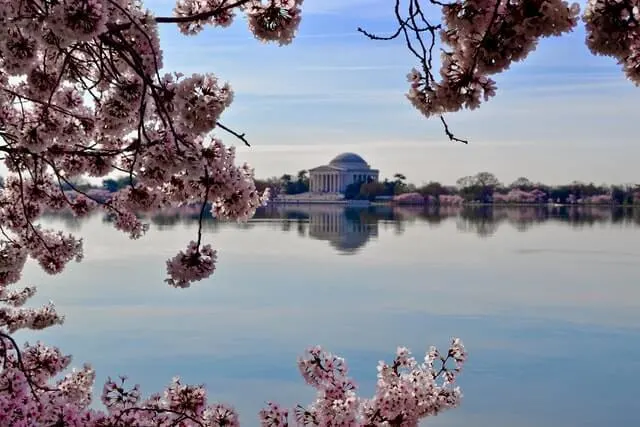 Although seasonal (you're unlikely to have much luck outside the months of March or April), Washington's pink and perfect display of blooming cherry blossoms is one of the best outside of Japan. If you happen to be there at the right time of year, head to the East Potomac Park or the Tidal Basin (above) for the best display of this stunning natural phenomenon.
.
Go hiking on Theodore Roosevelt Island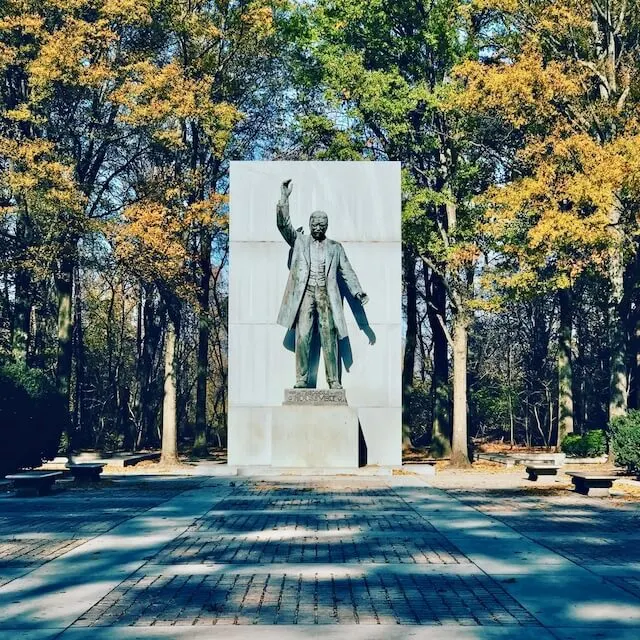 Uncover the beautiful slice of woodland that is Theodore Roosevelt Island. Situated in the middle of the Potomac River, the 89-acre island which is accessible via a pedestrian bridge houses forest trails, wooden paved pathways through lush green marshland, and if you're lucky, you'll spot a few deer along the way.
RELATED –
Heading out for your first hike (or just want a quick refresher), take a peek at our top
hiking tips for beginners
.
Embark on a Free City Walking Tour
There are a number of great walking tours on offer in the city of Washington, many of which are free or at a 'name your price' donation (Please always donate – the guides often rely on these 'tips'). Uncover the ghosts of the city on a night tour or discover the beauty and history of the city's riverside areas. Check out Strawberry Tours or Free tours by foot for some great options.
If you feel awkward paying what you feel, or would prefer not to walk, or are simply short on time and want to see as much as possible, there are plenty of organized tours on a variety of different modes of transport including bus, trolley, bike, segway, boat etc.
Picnic in Rock Creek Park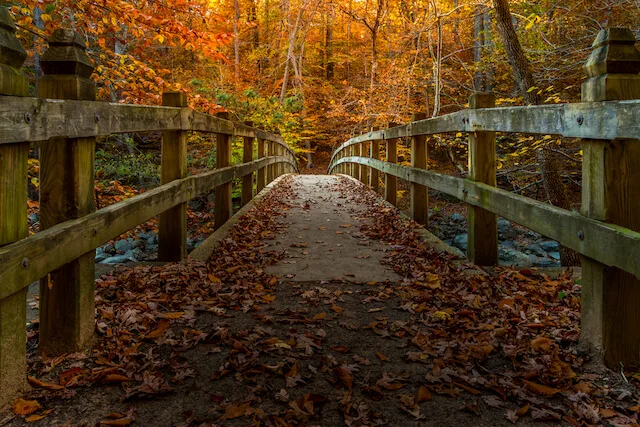 Just a little way north of the city centre is the vast and verdant wonderland of Rock Creek Park. With hiking trails, and equestrian trails, the park is a popular spot for those looking for a little slice of nature at an easy distance from the city. If you're there in Autumn, check out the beautiful colors along the Boulder Bridge trail and stop for a picnic and a flask of something warming along the way.
.
Visit the National Zoo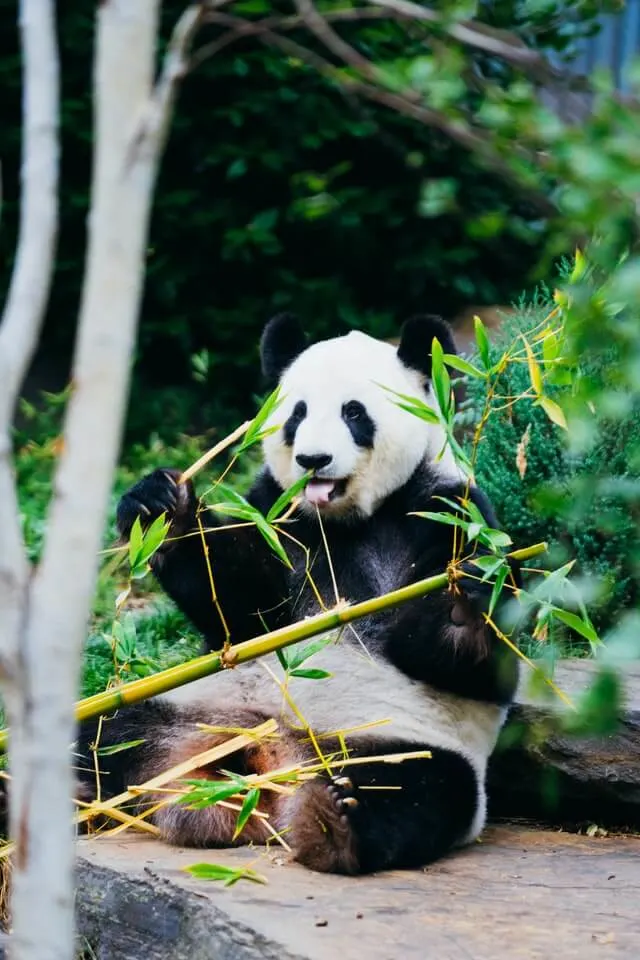 Home to over 1,800 animals, this historic zoo is over 130 years old. The sprawling parkland which makes up part of the Smithsonian houses elephants, pandas, cheetahs, tigers and even bears, among many more, so you can get up close and personal with some of the world's greatest creatures and critters for the day.
Entry is free (parking is paid) and all visitors require a ticket which can be reserved online before your visit via the main website (linked above).
.
Explore the United States Botanic Garden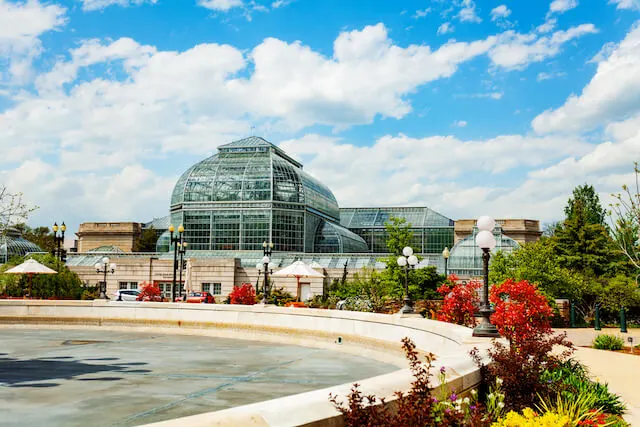 Visitors can find over 13,000 types of plants in the United States Botanic Garden. Covering a total of 230 acres it the oldest botanical garden in North America and is open daily from 8am to dusk every day of the year with the exception of Thanksgiving Day, Christmas Day, and New Years Day.
.
So whether you're going to Washington for the pomp and ceremony and the politics, or you're simply stopping by for a few days, there are plenty of ways to save the purse strings and explore the more budget-friendly nooks and crannies of the US Capital.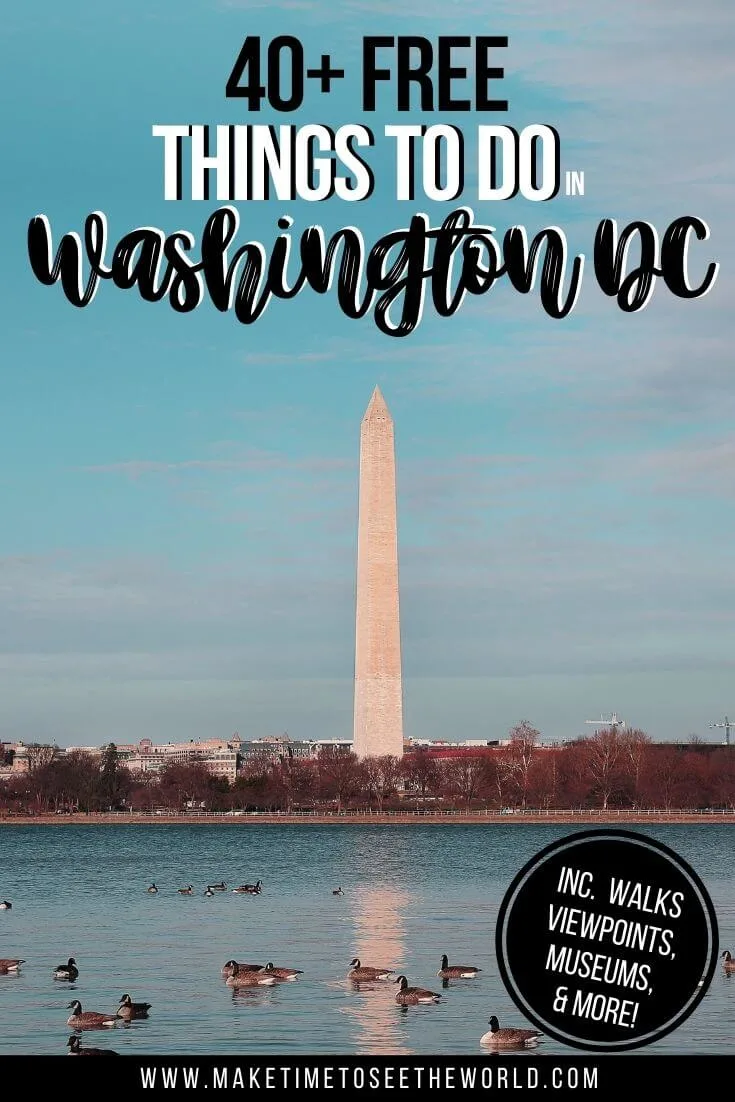 If you enjoyed this post, take a peek at our web story for a quick summary:
READY FOR MORE USA TRAVEL INSPIRATION? YOU MIGHT BE INTERESTED IN THESE TRAVEL TIPS, TRAVEL ARTICLES, DESTINATION GUIDES, TRAVELER RESOURCES AND RELATED POSTS ABOUT OTHER AMAZING CITIES IN NORTH AMERICA:
Hi There! Thanks for reading our travel guide to 40+ FREE Things to do in Washington DC (Art, Politics, Parks & More) I just wanted to let you know that this post contains affiliate links, which means if you purchase something after clicking a link, I may get a small commission – which is at absolutely no cost to you. If you enjoyed this article and are going to be searching for some of the things I mention anyway, I would love it if you could click through from the links above & thank you in advance! Read my full Disclosure here.
And a huge Thank You for reading the MakeTimeToSeeTheWorld travel blog.