Planning a city break to the capital of the USA? Grab Our guide to the Perfect Weekend in Washington DC (including local's tips & things to do)!
As the capital of the United States, Washington D.C. boasts a number of recognizable government buildings, historical monuments and heaps of American history. But history and architecture aren't all that you are going to find on a trip to D.C. as you are sure to leave with a belly full of award-winning food and a unique souvenir or two.
Pack your best walking shoes and a trusty camera to take on this vibrant city with our ultimate guide to the perfect weekend in Washington DC including travel tips, where to stay, how to get around, the top things to do in Washington D.C. and even some day trip ideas!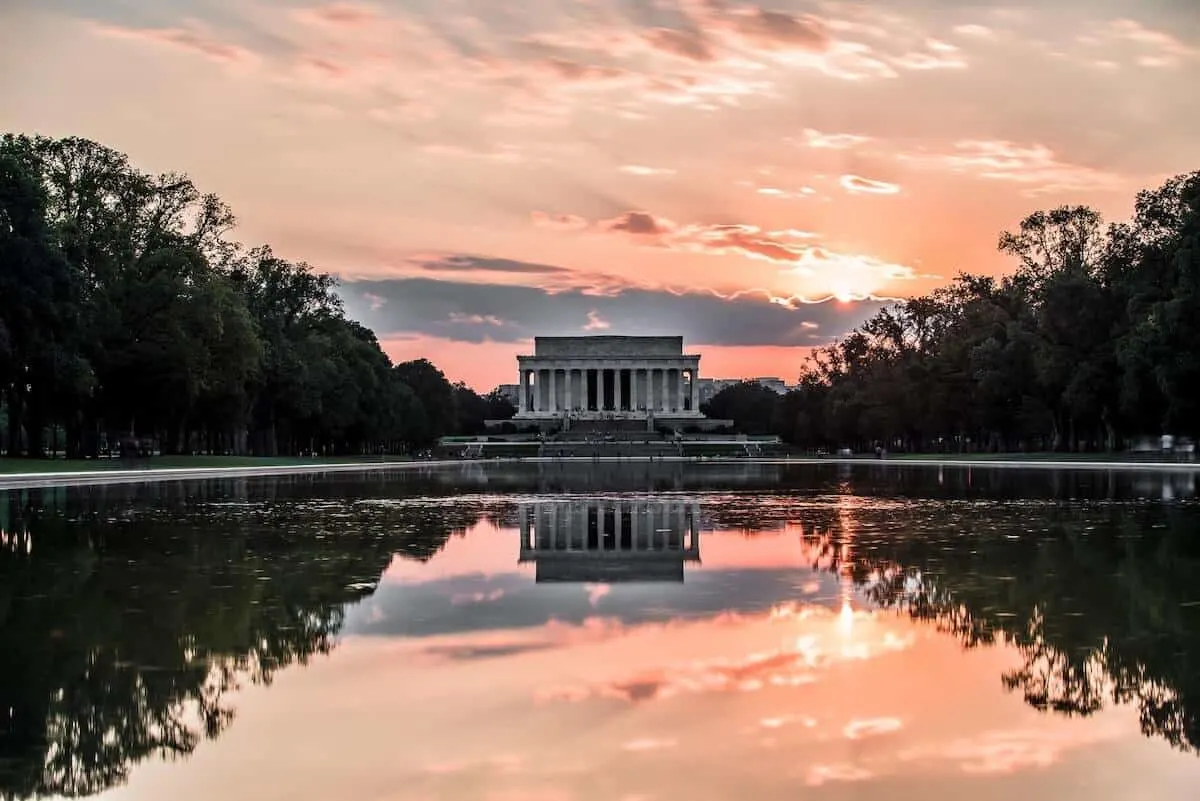 Disclaimer: This post contains sponsored links. Additionally, almost all posts on this site contain Affiliate links, and this one about A Perfect Weekend in Washington DC: Travel Guide, Things to Do & Day Trip Ideas is no different. This means that if you click on any of the links in this post (and make a purchase) I may receive a small commission at absolutely no cost to you. Each post is carefully crafted to (hopefully!) answer all your questions and recommendations are made where we believe they will improve your trip and help with your planning. As such we thank you in advance should you decide to click & buy. Read my full Disclosure here.

Essential Weekend in Washington DC Travel Tips: What to Know Before you Go
Getting Around Washington D.C.
Overall, many of the major sites that tourists want to visit in Washington D.C. are within walking distance of the National Mall, so touring the city by foot is an excellent (and cheap!) way to get around. You'll probably be able to find some hidden gems while walking to your next destination as well!
However, there are some places that are farther apart than others, so a great alternative is to hop aboard the Metro, the local subway system. It is made up of 6 separate lines that are designated by color, and encompass the whole of downtown. You can pay per ride or purchase a one-day/multi-day pass.
While walking and using the Metro are the main forms of transportation into and around the city center, catching a short taxi or rideshare like Uber is a convenient way to get exactly where you are wanting to go!
Renting a car is also an option, but is not the most convenient way to get around the city. With Washington D.C. being such a popular tourist destination, you will probably be fighting for those heralded parking spots and they could be expensive as well. But these can be easily rented from the airport if so desired!
Where to Eat in Washington DC
There are plenty of places to find delicious food and drink while visiting Washington D.C. From food carts to fine dining, you will find a little bit of every cuisine under the sun since D.C. is a cultural hub from around the world. Here are a few local favorites to check out:
Old Ebbitt Grill

– D.C.'s oldest restaurant originally founded in 1856 is decorated in traditional Victorian fashion and offers a wide selection of traditional American dishes.

Anafre DC

–

A fairly new restaurant that combines seafood and Mexican into unique dishes.

Pisco Y Nazca

– Test out some cuisine with a Peruvian flair, as well as trying a Pisco Sour, the national cocktail of Peru.

Reren

– This ramen, Asian fusion restaurant is a must while visiting D.C.

Bens Chilli Bowl –

a pillar of the community

since 1958 & now available across 3 locations in Washington DC.
Where to Stay in Washington D.C.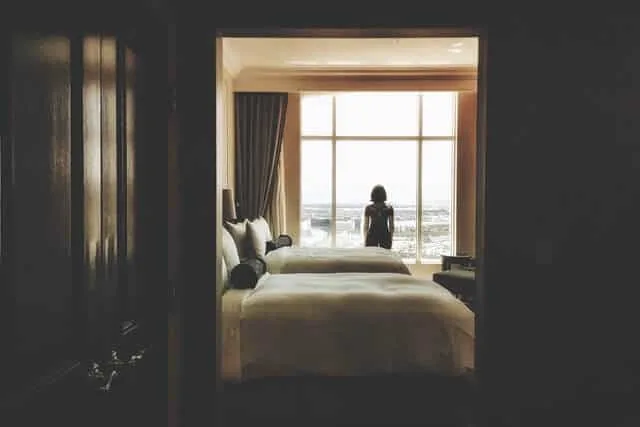 You will not struggle to find a place to stay as there is a hotel for every budget and experience type in Washington D.C. Ranging from budget to luxury accommodations, we have listed our top suggestions here in each price range:
Budget ($) – State Plaza Hotel: Approximately 20 minutes walk from the Lincoln Memorial

, the 3-star State Plaza Hotel offers sleek all-suite accommodation close to the metro and is halfway between midway between the White House and Georgetown



Mid-Range ($$) – The Fairmont Washington D.C.:

Located in Washington's fashionable West End and adjacent to historic Georgetown

, this 4 star luxury hotel includes a pool.

Luxury ($$$) – The Hay-Adams Hotel:

The Hay-Adams is as close as anyone can get to staying at the White House, short of being invited by the President, and where nothing is overlooked. (Obama even stayed here before he moved in!)



Top 12 Things to do in Washington DC during a Weekend Trip
Tour the Congress Building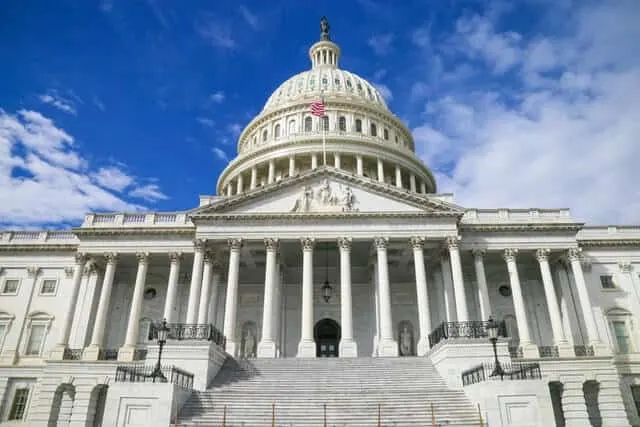 Make sure your tour of Washington D.C. includes a stop at the United States Congress Building, one of the most important spots in the entire city on Capitol Hill. Situated at the Eastern tip of the National Mall, these walls hold the library of congress alongside an array of political offices and artwork from American history. After viewing the displays, work your way through the Senate and House of Representative galleries on a free tour to see American politics in action right before your very eyes!
EXTRA –
Looking for somewhere to go in the Holiday season? Washington DC makes for a great destination for a
US Christmas Getaway
.
See the Monuments on the National Mall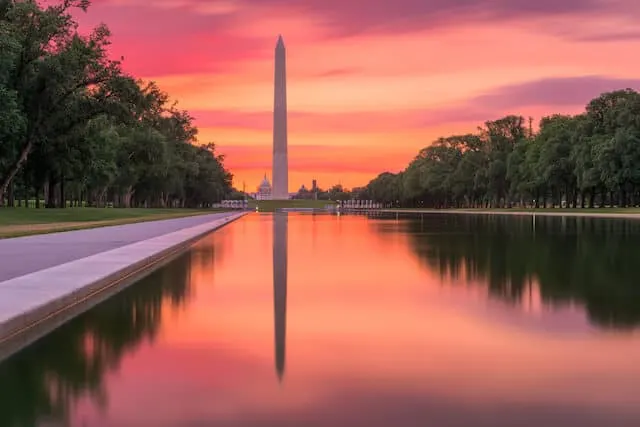 Stretching from the Capitol Building to the Lincoln Memorial, the National Mall is an almost 2-mile walkway that showcases some of the most famous monuments in the city.
Marvel at the height of the Washington Monument, meander along the reflection pool, catch a glimpse of the White House and be humbled at the World War II, Korean War, Vietnam War and Veterans Memorials.
It all leads up to the grand finale, the Lincoln Memorial, a stunning monument situated at the Western end of the Mall. Walking the Mall is an excellent introduction to the city and lets visitors see many popular destinations in one location!
If walking the length of the National Mall is not an option or you are wanting to see ALL of the historic monuments and DC attractions that call Washington D.C. home, a great option is a hop-on, hop-off bus tour. This bus will allow you to see all of the monuments within the city limits on your own time without the need to figure out transportation around town!
Visit a Smithsonian Museum…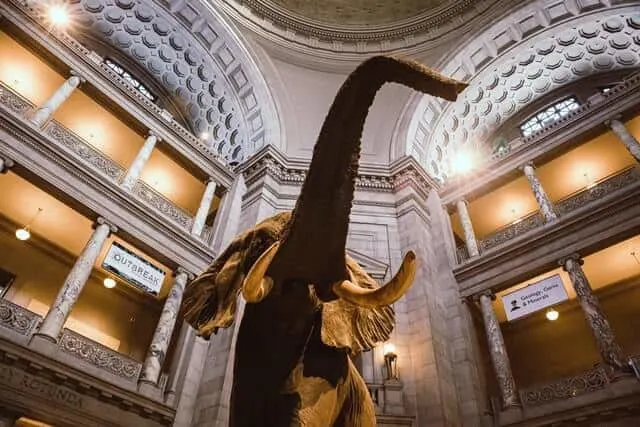 The Smithsonian Institute is an incredible organization that houses the world's largest museums and research facilities.
With more than 17 of their museums located in Washington D.C., there is no shortage of experiences to be had inside these interactive and educational exhibits. Since there are so many, it is best to choose one or two to put on your list, such as the very popular Smithsonian Natural History Museum, National Air and Space Museum or the Smithsonian National Museum of American History.
But if need a little more inspiration, check out our complete guide to all 20 FREE Smithsonian Museums.

… or Museum Hop among some other greats

No one could say there are a shortage of Museums in our nations capital of Washington DC, each perfect for a weekend in Washington (particularly if it is a rainy weekend – don't forget those packable rain jackets for those unexpected downpours!)
Regardless, museum hopping is a great way to spend 48 hours in Washington DC. You can delve into American culture with a visit to the National Museum of the American Indian or the National Museum of African American History and Culture; or appreciate it's art at the National Gallery of Art or National Portrait Gallery.
White House Tour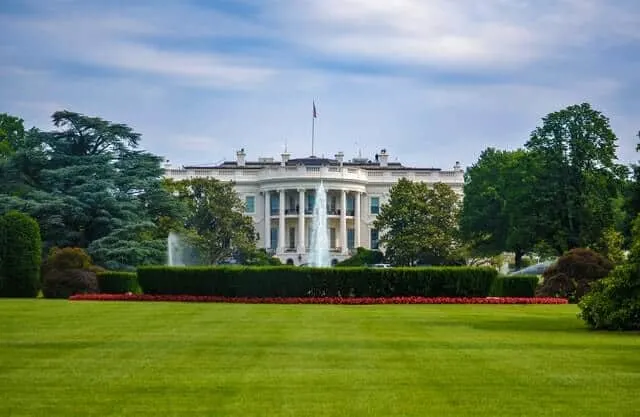 As one of the most iconic addresses in the entire world, the White House is the home of the sitting President. Your guide will take you on an approximately 1-hour tour around the complex and through famous rooms like the Oval Office and the library. No visit to Washington D.C. would be complete without adding this to your itinerary, so make a reservation as soon as possible as they are sure to get snapped up quickly!
Arlington National Cemetery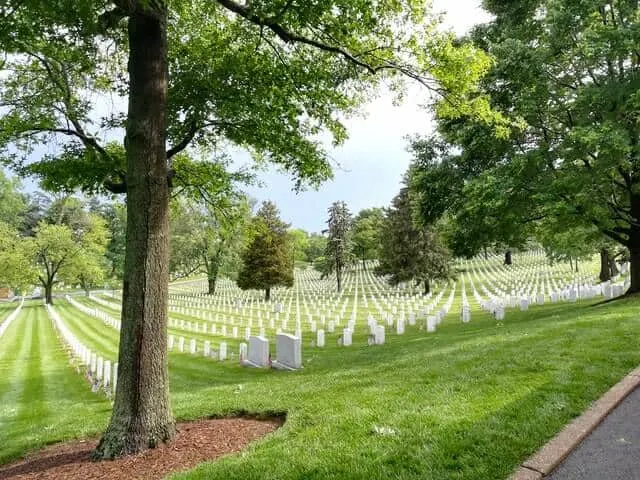 Walking the grounds of Arlington Ceremony is considered by many to be close to a religious experience. The rolling green hills of this 624-acre compound are accented with white marble gravestones that mark the final resting place of more than 400,000 veterans and active-duty military members. Tour the grounds and pay your respects at JFK's gravesite before making your way over to the Tomb of the Unknown Soldier to watch the changing of the guards' hourly ceremony.
Explore Georgetown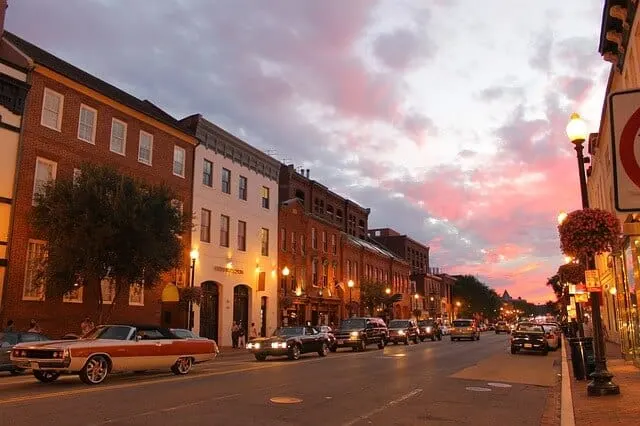 Take some time to stroll through the streets of Georgetown, a historic D.C. neighborhood that is positioned along the Potomac River. This vibrant community is brimming with upscale shopping, dining, and nightlife.
Walk along the coastline before grabbing a bite to eat at an authentic seafood restaurant with incredible views of the water at any time of day. Or if you are looking for an indoor activity, challenge yourself in one of the 5 different themed rooms at The Escape Game – if you think you have the puzzle-solving powers to get out in under 60 minutes that is!

Ford's Theater
Receive an authentic history lesson at Ford's Theater, the site of President Abraham Lincoln's assassination on April 14, 1865. Step back in time as you explore this infamous venue, the fateful events that led up to that night, and the lasting impact that his assassination had on the country as a whole. Maintained to resemble its original architecture and atmosphere, the theater offers daily tours as well as regular live performances!
International Spy Museum

These interactive, first-person spy artifacts from all over the world will excite the children in your party or even the inner child in you! This state-of-the-art facility is more than 5,500 square feet and is stocked full of high-tech international spy gear and exhibits. Watch a number of short films showing the history and elements of spycraft before testing your hand at a number of puzzles and mind games to see how good of a spy you would make! (Be sure to grab your ticket before you arrive).

INSIDER TIPS FOR SAVING MONEY:
Be sure to grab the
Washington DC Explorer Pass
which allows you access to 3, 4 or 5 sites on one (cheaper) ticket. These include the International Spy Museum, Hop-on hop-off Big Bus Washington DC: 1-Day Patriot Tour, George Washington's Mount Vernon, Washington National Cathedral, Big Bus DC Panoramic Night Tour and 15 other Top Washington DC attractions.
National Archives Building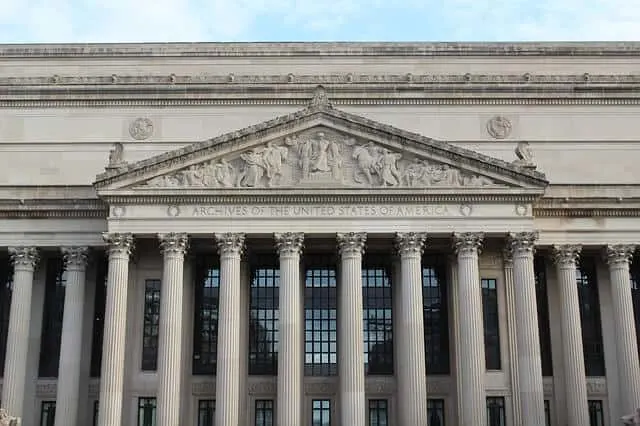 See history with your own two eyes as you examine the most famous documents known to the United States. This is the headquarters for the Declaration of Independence, the Bill of Rights, and the Constitution, as well as a number of other documents and records. Examine them yourself or take a tour as guided tours take place each day with an educated leader explaining the history and significance of the documents, their purpose and how they are taken care of and maintained.
United States Holocaust Memorial Museum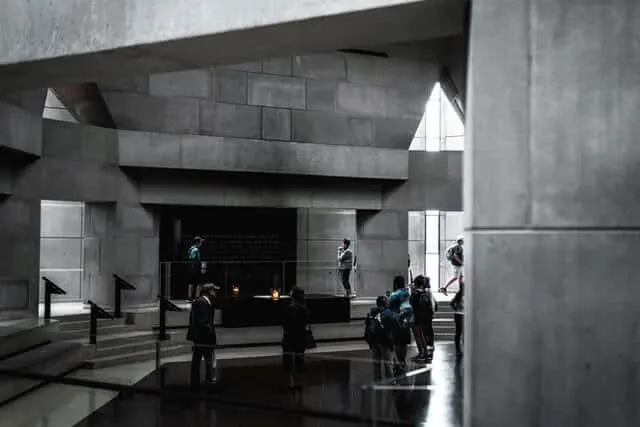 The effects of World War II stretched even to the farthest reaches of the world, and the United States Holocaust Memorial Museum does a fine job at remembering the war and those that were lost. Discover just how World War II intertwines with American history in one of their 5 in-depth exhibits. View artifacts and films as you hear personal stories showcased in a unique way. Visiting this internationally acclaimed museum offers an emotional and eye-opening experience that is not to be passed by.
Jefferson Memorial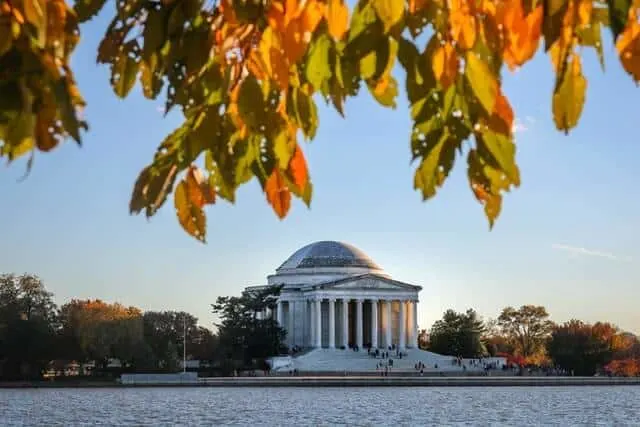 Dedicated to one of the nation's founding fathers Thomas Jefferson, this beautiful white marble monument is located on its own peninsula right on the water. Set away from the hustle and bustle of downtown and the National Mall, many visitors will be able to enjoy a calm and serene experience while exploring the grounds. Inside the monument itself, there is a large bronze statue of the monument's namesake.
Day Trips from Washington D.C.
Mount Vernon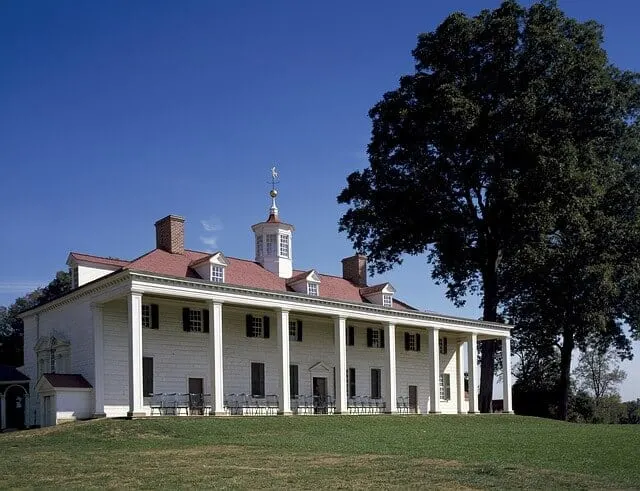 George Washingtons Mount Vernon is one of the most popular day trips from Washington D.C. as it is the original home of the United State's first President. This sprawling estate is located about 30 minutes away from D.C. by car and offers a glimpse at what life in this region would have looked like over 300 years ago. Tour the mansion and the estate before dining at the colonial-inspired restaurant on the grounds.
Shenandoah National Park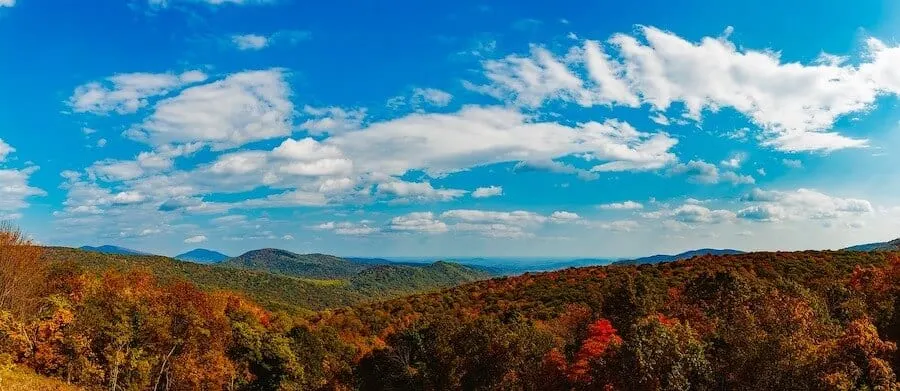 If you need to get away from the city's busy lifestyle, listen to nature's call and head to Shenandoah National Park. Cascading waterfalls, luscious evergreens, and quiet hikes are the highlight of this national park located just 75 miles from downtown D.C. Escape the noise and crowds of the big city as you connect with nature by enjoying over 500 miles of trails. This is a great way to recharge and reset before heading back into downtown.
Washington D.C. is a hot spot where American history and world culture collide. You are sure to leave with a new sense of appreciation for this great nation and just how far it has come from its beginning. You might also find yourself returning for more experiences and food that weren't on your itinerary the first time around!
We hope this guide to the perfect weekend in Washington DC had been a huge help planning your trip, and if you know of anyone else that needs a little bit of inspiration or assistance in planning a city break, please be sure to share on social media: Facebook, Flipboard, Twitter or grab one of the images from below for Pinterest. And remember – sharing is charing (and we thank you in advance!)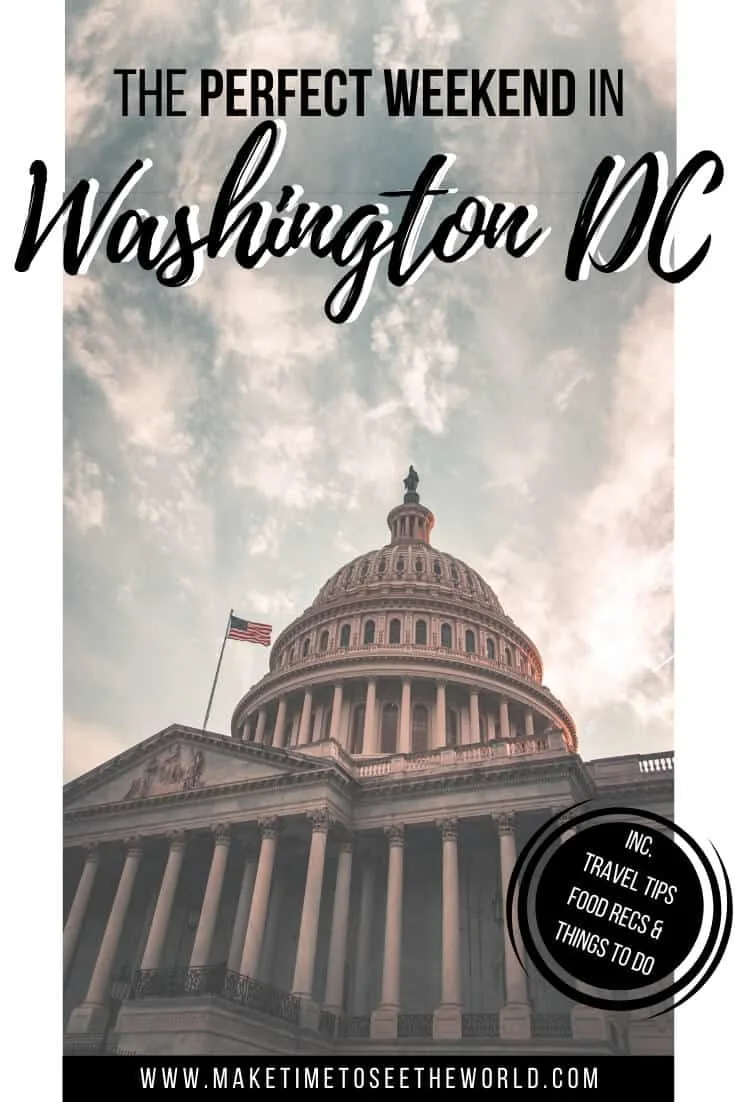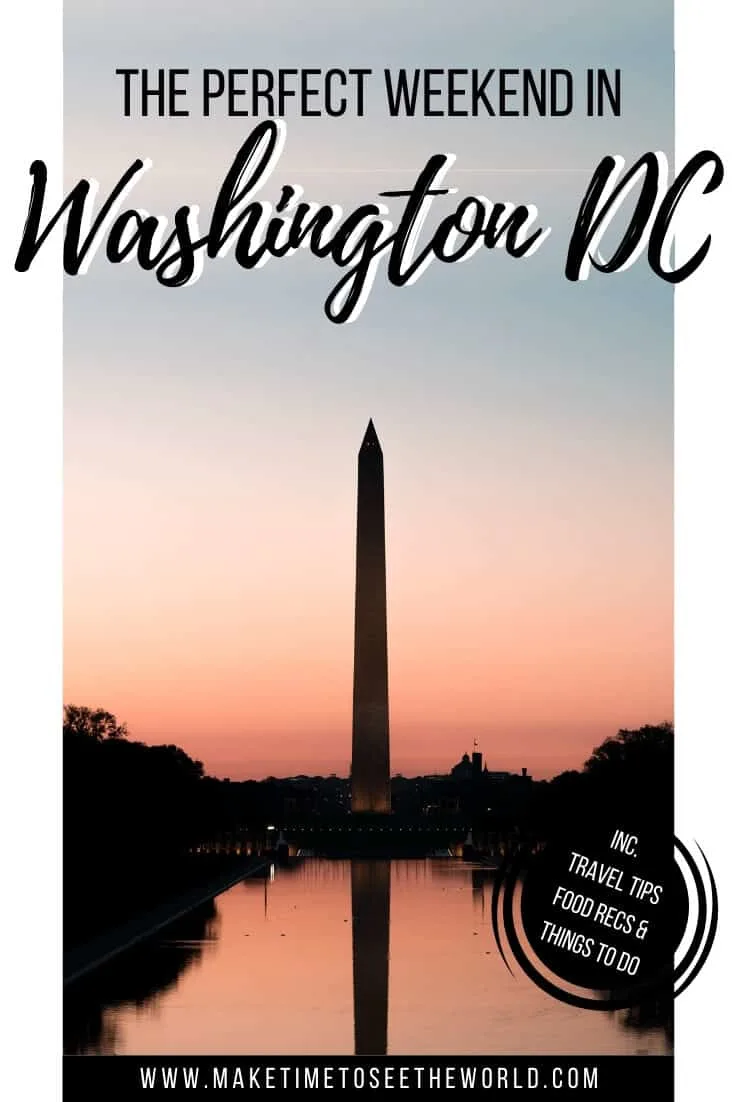 READY MORE USA TRAVEL INSPIRATION? YOU MIGHT BE INTERESTED IN THESE TRAVEL TIPS, TRAVEL ARTICLES, DESTINATION GUIDES, TRAVELER RESOURCES, TOP TIPS, TRAVEL GEAR AND RELATED POSTS ABOUT OTHER AMAZING CITIES IN NORTH AMERICA:

Hi There! Thanks for reading our guide to the most Perfect Weekend in Washington DC (inc Washington DC travel guide, Things to do in Washington DC and Day Trip Ideas) I just wanted to let you know that this post contains affiliate links, which means if you purchase something after clicking a link, I may get a small commission – which is at absolutely no cost to you. If you enjoyed this article and are going to be searching for some of the things I mention anyway, I would love it if you could click through from the links above & thank you in advance! Read my full Disclosure here.

And a huge Thank You for reading the MakeTimeToSeeTheWorld travel blog.