A coastal city situated in the heart of Georgia, Savannah is jam-packed with history, architecture, and traditional Southern vibes. This elegant town attracts tourists from all over the world and a trip to the "Hospitality City" will introduce you to the Southern way of life, as well as romance you with its weeping willows and colonial architecture. It will almost have you feeling as if you have stepped back in time!
So if you are planning a trip to Savannah GA (or even thinking about it – which you should!), you have come to the right place! Everything you need to know in order to have an absolutely wonderful time in Savannah lies in this article, from how to get around, where to stay, and the BEST things to do in Savannah once you get there! Keep reading to discover the beauty of Savannah, Georgia!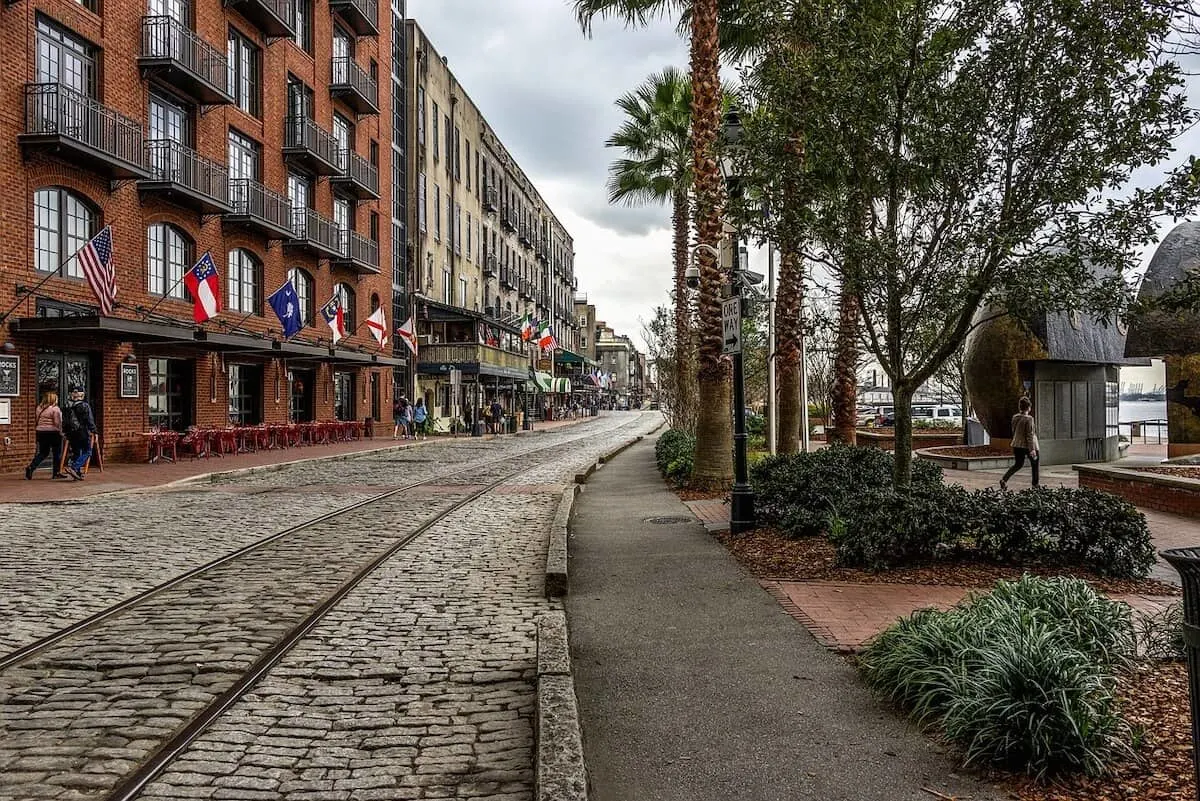 Disclaimer: Almost all posts on this site contain affiliate links, and this one about 15 BEST Things to do in Savannah GA for First Time Visitors is no different. This means that if you click on any of the links in this post (and make a purchase) I may receive a small commission at absolutely no cost to you. Each post is carefully crafted to (hopefully!) answer all your questions and recommendations are made where we believe they will improve your trip and help with your planning. As such we thank you in advance should you decide to click & buy. Read my full Disclosure here.
GENERAL TRAVEL INFO FOR VISITORS TO THE USA
Visa: Travelers from countries that are members of the Visa Waiver Program (ESTA) do not require a visa when visiting the USA. However, it is recommended to check up-to-date visa entry requirements before your visit regardless of what country you are coming from to avoid issues and concerns on the date of your travel.
Currency: The official currency in Savannah Georgia is the U.S. dollar or American dollar ($, USD, US$).
You can withdraw currency from ATMs using your local bank card or a designated travel card. If you are visiting from another country, be sure to check any fees and charges from your bank prior to using it and carry a second source of payment/cash in case your primary card gets 'eaten' by an ATM.
Language: English is the primary and most widely spoken language in the USA (although not the official one at the Federal level!) There are 350 other languages spoken, the main ones being Spanish, Chinese, French, and Vietnamese.
WiFi/Internet Access: Depending on your length of stay, you can either purchase a local sim card (in advance or on arrival) – to swap out with the one in your own phone to avoid roaming charges. OR, grab a pay as you go portable Wifi Devices which means you can keep your sim active and connect wirelessly. Just remember to turn off data roaming so you don't incur any hefty charges.
Essential Savannah Travel Tips: What to Know Before you Go
Getting Around Savannah
In comparison to many other big cities, Savannah is fairly small. It is set up on a grid system and it easy to navigate throughout the streets. This makes it the perfect city to explore on foot, as it was named one of the best walking cities in the United States. Walking through historic downtown Savannah will take you past the beautiful draping trees and give you a glimpse of the colonial architecture that makes this city so charming.
Another option of traveling within Savannah city limits is to rent a bike or hop on a local trolley! These unique modes of transportation will be a fun activity while traveling from place to place. If needed, car rentals are available both at the airport and throughout the city itself.
Where to Eat and Drink in Savannah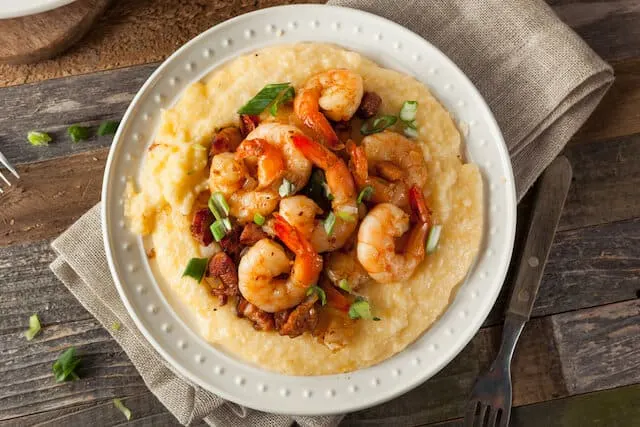 If you have ever wanted to try some of the best down-south country cooking in your life, then Savannah is going to absolutely delight your taste buds. Here, you will be able to try traditional southern cooking with dishes such as fried green tomatoes, collard green, shrimp and grits and fried chicken. However, if this cuisine doesn't excite you, Savannah is a hub of many other cultural foods as well – and is a pretty well known fact that they serve some of the best grilled cheese sandwiches in the USA! Whatever you choose, you will be sure to leave with a full belly. Here are some of our top recommendations for places to eat while in Savannah.
Where to Stay in Savannah
Since the city of Savannah is so small, pretty much any part of the city that you decide to stay in will be near the things you want to do. This way, you can choose a hotel that fits your budget and desired experience without having to sacrifice location! Here are some of our recommendations for a hotel on every budget.
$ – The River Street Inn –

Overlooking the Savannah River and located in the city's famous Historic District, this beautifully restored hotel with charming rooms is perfect for a short break in Savannah.



$$ – The Green Palm Inn – A family-owned and run charming Victorian Bed and Breakfast built in 1897 – located in the historic district within easy walking distance to all the local attractions & restaurants.

$$$ – Azalea Inn and Suites –

4.5-star luxury B&B

with

free breakfast, free WiFi, and an outdoor pool. It's one of the premier hotels in Savannah.



15 Unmissable Things to do in Savannah
Forsyth Park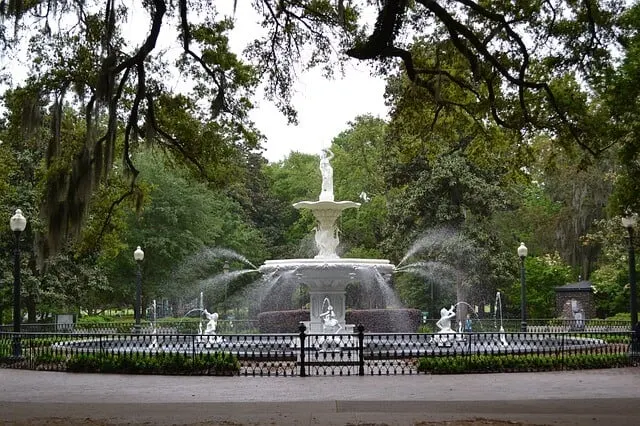 This 30-acre historical park lies in the heart of Savannah's historic downtown. Bordered by some of the major walkable streets, Forsyth Park is a great place to duck into to relax while you take a break from the bustling city. The highlight of the park is the dropping trees that add a charming yet melancholy tone to the park. Make sure you have your camera on you as this is the time for a perfect vacation photo!

This rural cemetery is located just outside of Savannah city limits, and it became famous once it was used as the backdrop for a few movies in the 1990s. It has been voted one of the topmost beautiful cemeteries in the world. The over 100-acre plot contains famous gravesites, every-day Georgians, gravestones and mesmerizing trees covered in stunning spanish moss. Touring the cemetery (here and the Colonial Park Cemetery) make for quite a unique experience while in Savannah!
Take a tour of the Cemetry during the day and learn all about the culture and history made famous in the movie, Midnight in the Garden of Good & Evil; or take a more eerie tour of the Bonaventure Cemetary at night and hear macabre tales killers, bootleggers, root doctors and doomed lovers.
Trolley Tour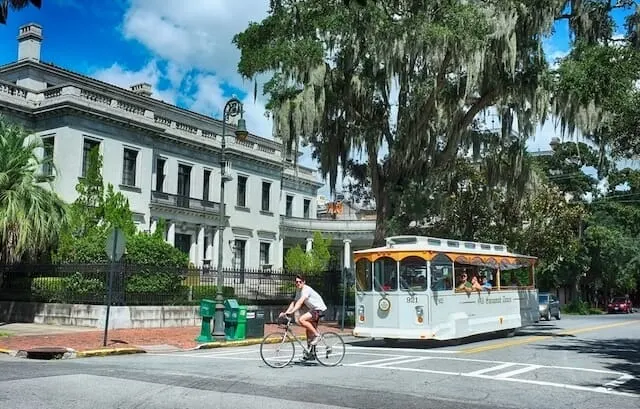 Visiting Savannah feels as if you re stepping back in time to the deep south. One of the attractions that play on this feeling is the public trolleys that run continually around the city. A live, narrated tour around the city by an educated guide will show some of the major hotspots throughout Savannah while letting you off at prime locations so that you can shop, eat, and enjoy the different areas and is one of the most popular tours in Savannah.

And if you'd like a different kind of trolley experience, they also run at night and host everything from comedy tours to ghost tours!
Wormsloe Historic Site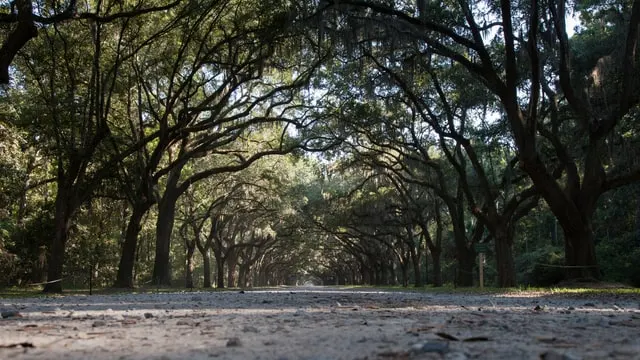 The Wormsloe Estate was the home of Noble Jones, an English colonist who arrived to the Georgia colony with James Oglethorpe in 1733. The site consists of 822 acres (3.33 km2) protecting part of what was once the Wormsloe Plantation and includes a picturesque 1.5 miles (2.4 km) oak avenue – a true symbol of the south thanks to the Movie, Forrest Gump – the ruins of Jones' fortified house built of tabby, a museum, and a demonstration area interpreting colonial daily life.
Girl Scout Museum
Savannah is the birthplace of Juliet Gordon Low, the creator and founder of the Girl Scouts. Her childhood home has been renovated and turned into a museum and family-fun center. Choose from a selection of different tours that will introduce you to the artifacts housed within the museum as well as let you participate in some fun events for all ages!
The house now famous as being the Juliette Gordon Low Birthplace is one of the most visited attractions and top museums in Savannah and should definitely be on your itinerary.
Stroll the Savannah Waterfront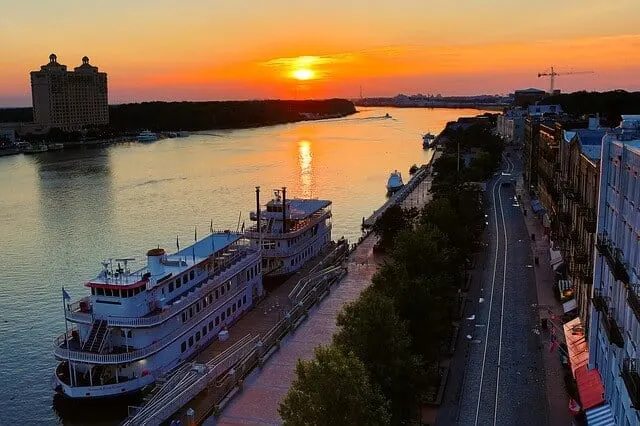 Savannah's location to the Savannah River makes for some exquisite views from the piers as you stroll along the waterfront. Whether you choose to meander at your own pace or Riverboat Cruise & City Tour Combo, this will be the place to visit after a long day touring around Savannah.
First African Baptist Church
Located just off Franklin Square near City Market stands the First African Baptist Church. Organized in 1773 by Reverend George Leile, it is the oldest black church in North America – and even predates the United States' official formation in 1776(!)
There are daily tours of the church available for a small fee ($10 for adults), where visitors will learn all about the church's history, its role on the underground railroad during the time of slavery, and how it has shaped black history in the USA.
Informative and educational, it is considered one of the best Savannah tours and a highlight of visiting Savannah.
Thomas Square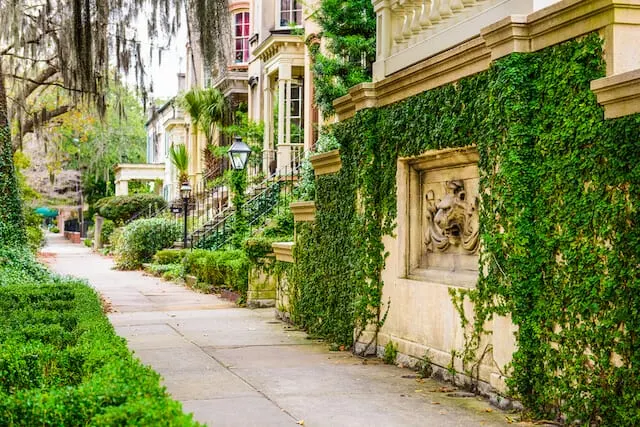 Savannah is home to more than 20 picturesque squares that are situated throughout the city. Visiting as many of them as you can is a common tourist goal, with two of the most famous ones being Thomas Square and Chippewa Square in the Savannah historic district.
The historic district has many buildings that are still intact with their traditional architecture or have been restored to their former glory. There are also quite a few landmarks scattered throughout the area to find as you stroll along these picture-perfect streets.
Downtown Design District
Savannah's Downtown Design District can easily give you something to do for an entire day. This walkable outdoor area provides a little bit of something for everyone such as shopping, art, and a large foodie scene.
City Market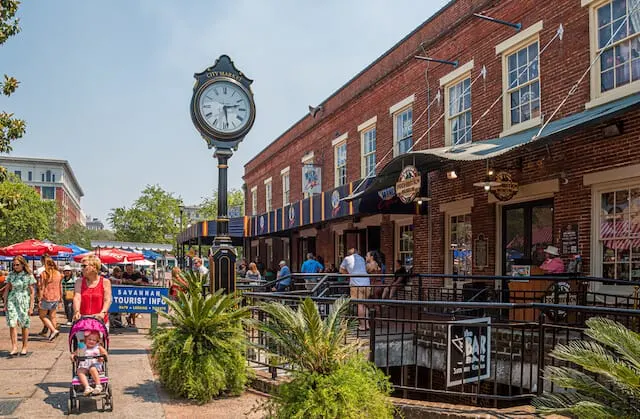 The City Market is the self-proclaimed heart and soul of Savannah. It has been open since the 1700s, offering visitors a place to find fine shopping, delicious foods, and a grand ole time. Located in the Historic District in the downtown area, the City Market is a great destination for art, food, and shopping that is not to be missed.
The Owens-Thomas House and Slave Quarters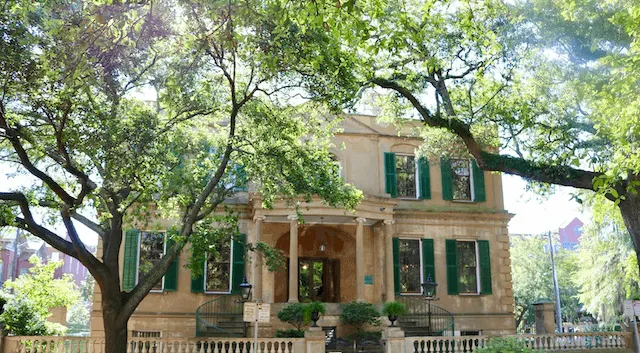 This Regency-style mansion was built in 1819 and contains multiple gardens, a carriage house, and separate slave quarters. Touring the complex will give insight into the prevalent class system of the time, as well as what houses and lives were like for both the slaves and the free throughout the 19th century.
Temple Mickve Israel Archives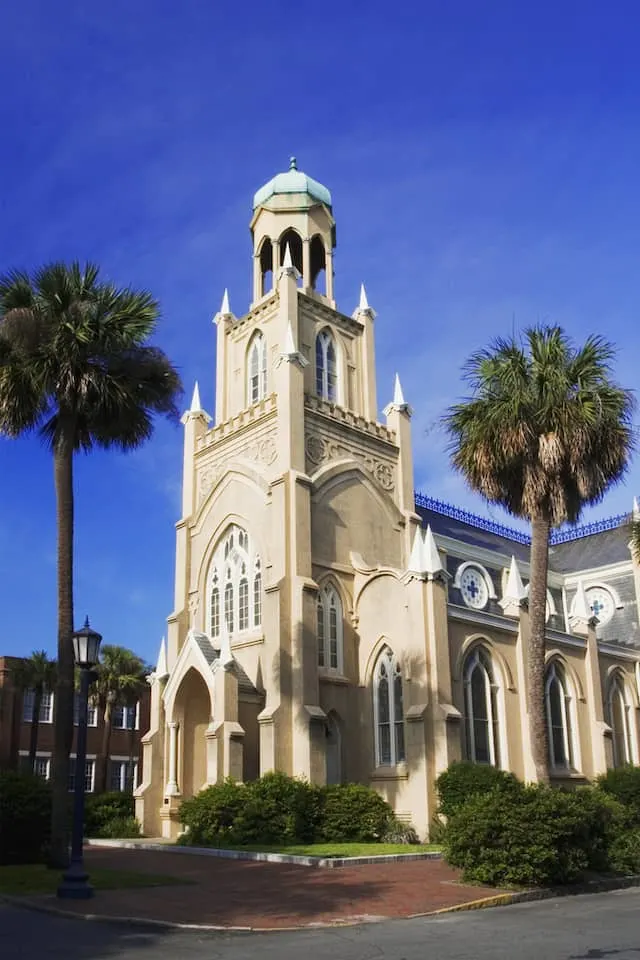 Congregation Mickve Israel was organized in 1735 by mostly Sephardic Jewish immigrants from London who arrived in 1733. They consecrated their current synagogue, located on Monterey Square in historic Savannah, in 1878 and it is the only Gothic Jewish synagogue in America.
Take a Ghost Tour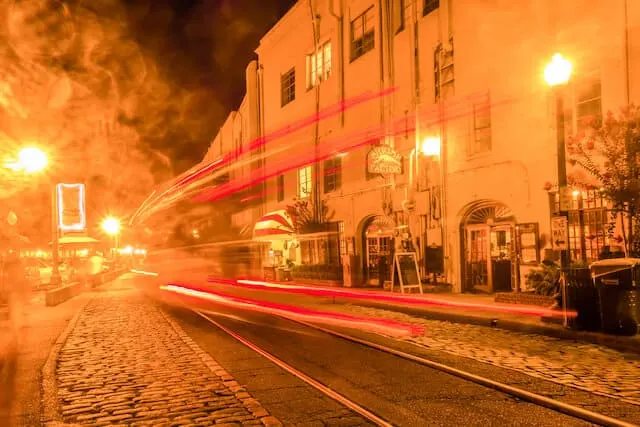 Similar to New Orleans, Savannah's history is steeped in magic and ghosts. It is said that many of the locations within the city limits, such as the Sorrel-Weed House and Madison Square, are haunted. A favorite local activity is to participate in a Ghost Tour, where you are guided through the city streets at night to some of the most haunted locations. This is a great way to get a different look at the city as you learn about its spooky past.
Visit a Museum or One of the Many Art Galleries
Beyond the Owens Thomson House, the Juliette Gordon Low Birthplace and the Andrew Low House, Savannah has a whole heap of other museums and art galleries that are worth adding to your itinerary. There's the Telfair Museums & Telfair Academy with their collections of European and American art; the reportedly haunted Mercer Williams House Museum; the Georgia State Railroad Museum, the Jepson Center for the Arts, SCAD Museum of Art and the Ships Of The Sea Maritime Museum – just to name a few!
Cathedral of St John The Baptist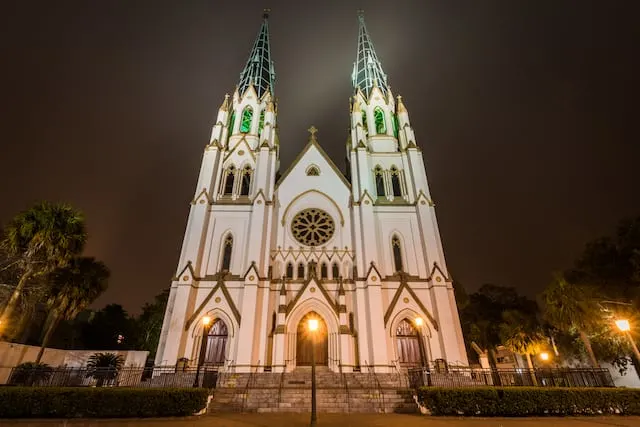 A glorious Savannah attraction to behold, the Cathedral of St. John the Baptist is an architectural masterpiece and with it's towering twin spires is a symbol of Savannah GA. It's also typically the center of the city's St Patrick Day celebrations.

Day Trips from Savannah
Tybee Island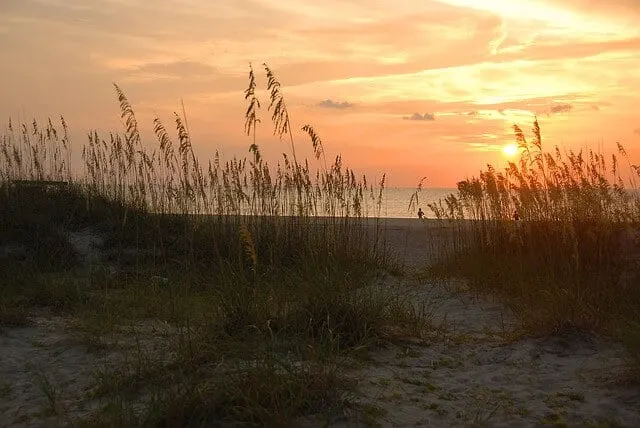 Just a hop, skip and a jump from Savannah lies Tybee Island. This charming little beach town rests about 15 minutes off the coast of Georgia and is the closest place to Savannah to hit the beach! From the moment your feet land on the sand, you will be transported to "Tybee Time", where relaxation and unique experiences are plentiful. Grab a frozen drink to go as you shop around town and enjoy the beach!
Bluffton, South Carolina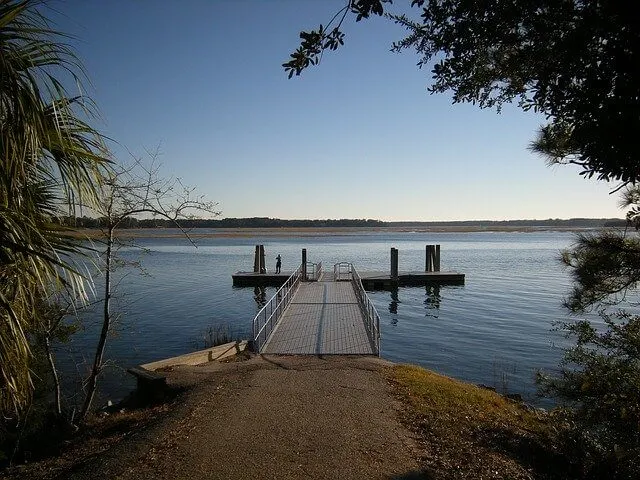 If the Southern charm found in many cities in this region is your jam, then you will surely love Bluffton, South Carolina. A short, 30-minute drive will take you from Savannah to Bluffton, where you can explore the parks, take in the architecture, and shop at many of the local boutiques. Head on over to the pier for stunning views of the water around sunset.
.
Now that you know everything that Savannah has to offer, what are you waiting for? Start planning your perfect weekend trip and pack your bags, because this city is just waiting for you to explore it! Many people even say that Savannah just keeps getting better and prettier every time you visit. This will be one city that you will want to make sure you return to in the future!
If you know of anyone else that needs a little bit of inspiration or assistance in planning their Savannah vacation, please be sure to share this post on social media: Facebook, Flipboard, Twitter or grab the image from below for Pinterest. And remember – sharing is charing (and we thank you in advance!)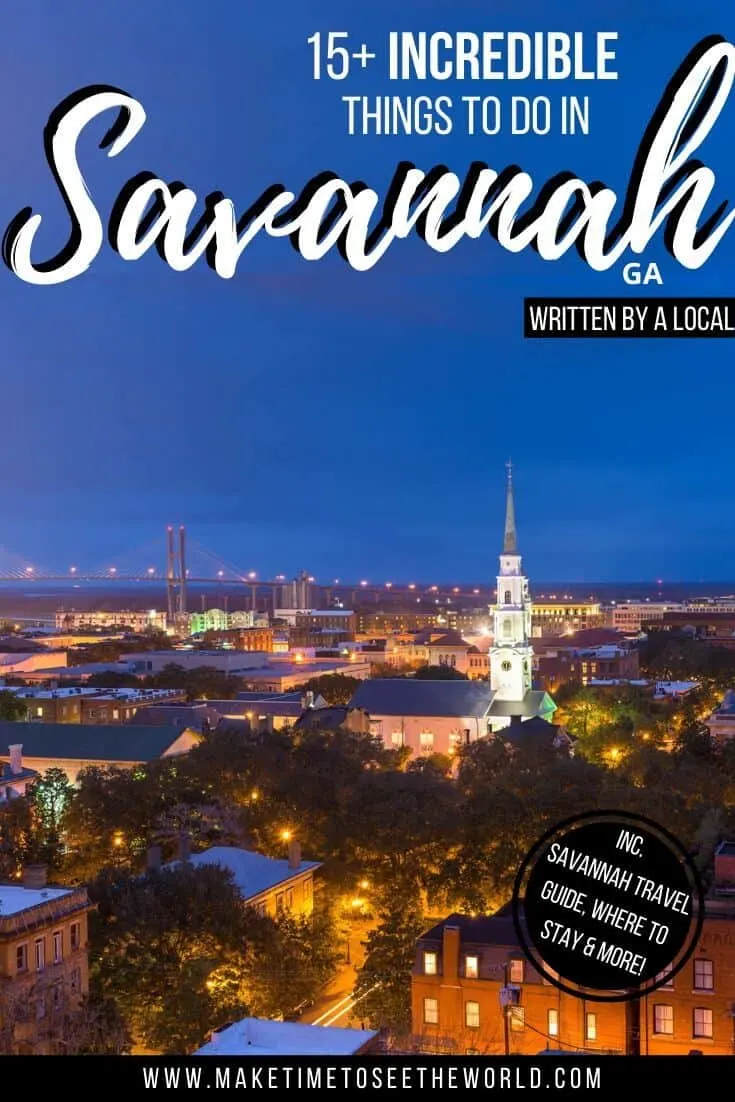 READY MORE USA TRAVEL INSPIRATION? YOU MIGHT BE INTERESTED IN THESE TRAVEL TIPS, TRAVEL ARTICLES, DESTINATION GUIDES, TRAVELER RESOURCES AND RELATED POSTS ABOUT OTHER AMAZING CITIES IN NORTH AMERICA:

Hi There! Thanks for reading our guide to the 15 Best Things to do in Savannah Georgia – Perfect for first-time visitors! I just wanted to let you know that this post contains affiliate links, which means if you purchase something after clicking a link, I may get a small commission – which is at absolutely no cost to you. If you enjoyed this article and are going to be searching for some of the things I mention anyway, I would love it if you could click through from the links above & thank you in advance! Read my full Disclosure here.
And a huge Thank You for reading the MakeTimeToSeeTheWorld travel blog.