Visiting Greece's capital doesn't have to be expensive! 25+ Free Things to do in Athens including museums, viewpoints, attractions & more!
Athens is a city that is famous for its ancient history and sites such as the Acropolis. Unfortunately for the budget traveler, many sights and museums are quite expensive (from €20 for the Acropolis, another €10 for the Acropolis Museum, €10 for the Ancient Agora of Athens, €12 for the National Archaeological Museum, and so on). Luckily though, there are some great free things to do in Athens plus some tips to see the must-see spots for free as well.
Whether you're visiting Athens as history buffs, on a family vacation, or part of your Greece honeymoon itinerary (check out the best Greek Islands for couples, if you are!) these little tricks will also help you splurge more on the more expensive islands like Santorini. Keep reading for the best free things to do in Athens.

Disclaimer: Almost all posts on this site contain affiliate links, and this one is no different. This means that if you click on any of the links in this travel guide (and make a purchase) I may receive a small commission at absolutely no cost to you. This post is carefully crafted to (hopefully!) answer all your questions about Free Things to do in Athens Greece and recommendations are made where we believe they will improve your trip and help with your planning. As such we thank you in advance should you decide to click & buy. Read my full Disclosure here.

25+ Amazing Free Things to Do in Athens
Despite the financial crisis, Athens is a surprisingly expensive city, especially if you're only visiting as a tourist. The most important sights come with a hefty price tag, and with a VAT of 24%, a lot of things can get expensive very easily. To balance out the more expensive sights in Athens check out these free things to do in Athens plus some ways to save on the pricier stuff.
Plaka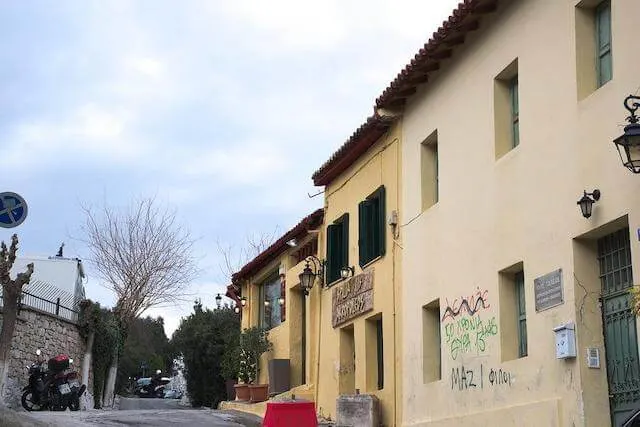 Plaka is undoubtedly the most beautiful neighborhood of Athens and deservedly very popular with tourists. Stroll through the narrow alleys and marvel at the stunning neoclassical buildings in the Old Town of Athens. Located below the Acropolis, Plaka is full of pretty photo opportunities so make your way here early to see it without the tourists.
National Garden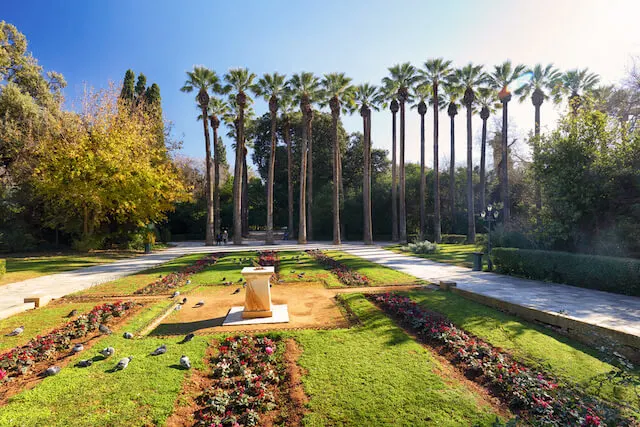 The National Garden is located behind the Greek parliament and can be a nice way to escape the heat if you're visiting Athens in the summer. Simply walking around or sitting down on one of the benches to people-watch is also a great way to digest the many ancient sites in the city.
There are some beautiful plants here with the most impressive probably being the palm trees near the entrance.
.
Free Walking Tour
Free walking tours exist in many cities, and Athens is no exception. These tours that are organized by people who live in the city are always a great way to get introduced to a new destination.
You will see some of the main sights from outside and will be given some background information on them. After the tour, you can much more easily decide which sights you feel are worth the entrance fee.
*NOTE* Free Walking Tours are 'technically' free, they are run by locals who often live off the tips they make. Please consider tipping the guide on any free tour you take.
Changing of the Guard

Many cities in Europe have interesting changing of the guard procedures, but the one in front of the Greek Parliament and the Tomb of the Unknown Soldier, is one of the most elaborate ones. It takes place every hour on the hour, and the traditional uniforms and choreography are really interesting to observe.
Taking pictures with the guards is allowed, but you may not touch them. For the best experience, go on a Sunday at 11 am when the procedure is accompanied by an orchestra, and the guards wear their special holiday uniforms.
Street Art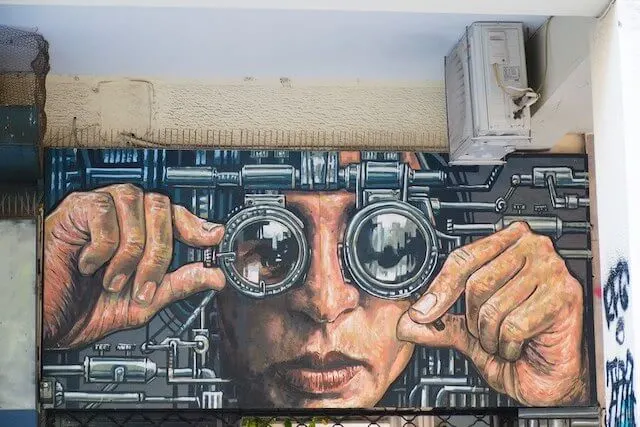 Although Athens is famous for its ancient sites, that doesn't mean the city doesn't have a modern side to it as well. Street art is thriving in Athens, and if you walk the streets of Exarcheia, Psirri, Metaxourgeio, and Gazi you will see some of the best work of street artists in Athens.
Their work touches on many themes, much of the work is political, and if you can give each piece the attention it deserves you will surely find more than one that you can deeply relate to.
Museum of the History of Greek Costume
Athens Olympic Sports Complex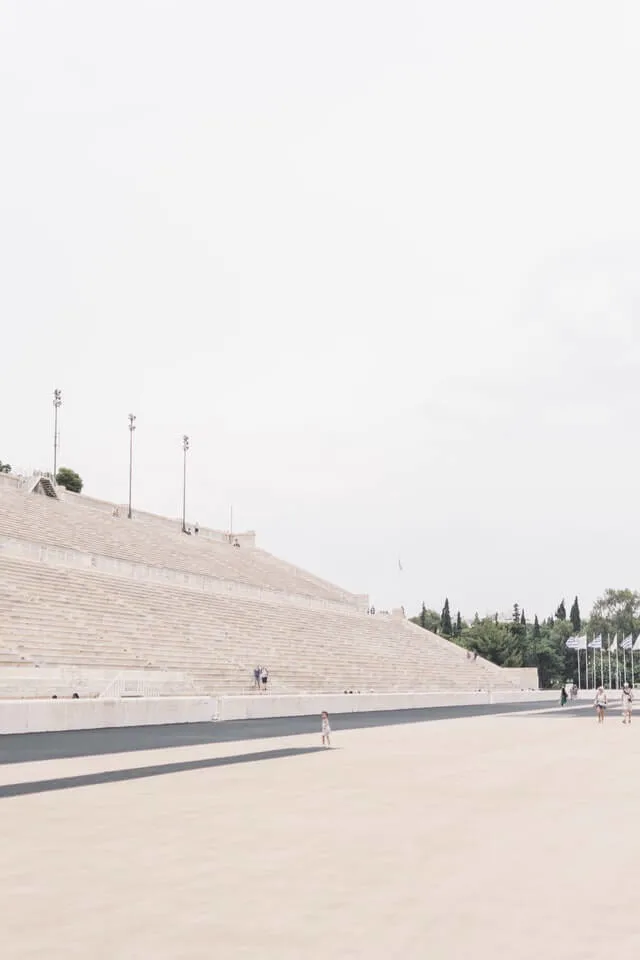 Athens hosted the modern Olympic Games twice, once at their inception in 1896, and again in 2004. Although most of the venues that hosted Athens 2004 have fallen into decay the Athens Olympic Sports Complex is still in use and is a great place for taking cool photos.
It's located in the affluent northern suburb of Marousi, and the main point of interest for tourists are its white arches. If you want to make use of this spot for great photo opportunities come early when it's empty.
Diomedes Botanical Gardens
Located in the western suburb of Chaidari, near Athens, The Diomedous Botanical Gardens are southeastern Europe's largest botanical gardens. It's a unique ecosystem housing both wild and cultivated species (organized by geography and theme) with a historical plants section that showcases species mentioned in Greek mythology and the Old Testament.
Just a short bus ride from the center of the city of Athens (the public transport system is vast with several routes to get you here), it's a great place to escape the hustle and bustle of Athens.
Hadrian's Arch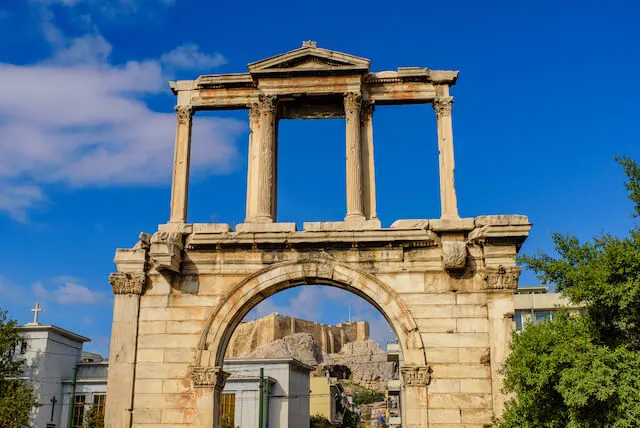 Not far from the famous Acropolis, after you leave through the Plaka neighborhood in the direction of the Temple of Olympian Zeus you will come across Hadrian's Arch, an ancient gate made entirely of marble.
It's a nice spot for photos with the Acropolis in the background, although it's located by a very busy street. This makes the arch look like a rather fascinating leftover of ancient history in a bustling modern metropolis.
Filopappou Hill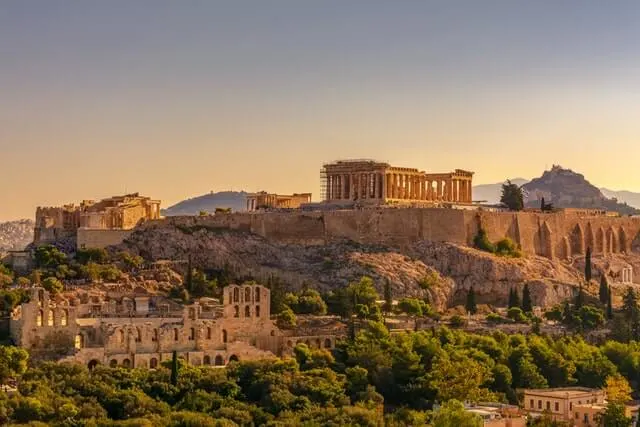 Athens is a noisy city so an escape from the hustle and bustle is always welcome. One spot where you can relax a bit is Filopappou Hill. The trees provide shelter from the strong Athenian sun, and you'll enjoy seeing a bit of green in this concrete city.
It takes just about 20 minutes to get to Filopappou Hill from Thisseio metro, and by the time you have reached the top, you'll feel like you have completely left the city behind.
Dionysiou Areopagitou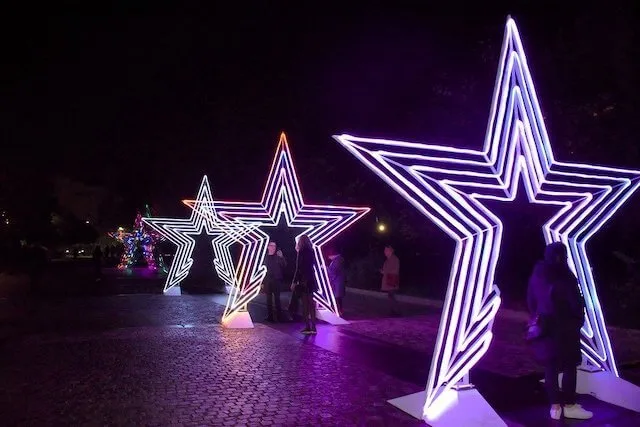 With all the loud and chaotic traffic in Athens, pedestrian areas are a real treat. Dionysiou Areopagitou makes for a very picturesque walk along some of the most important sights in Athens.
Start your walk at Thisseio metro stop, and then walk past the open-air movie theater, the western entrance of the Acropolis, the Odeon of Herodes Atticus, the Spanish Embassy, and the Acropolis Museum.
Areopagus Hill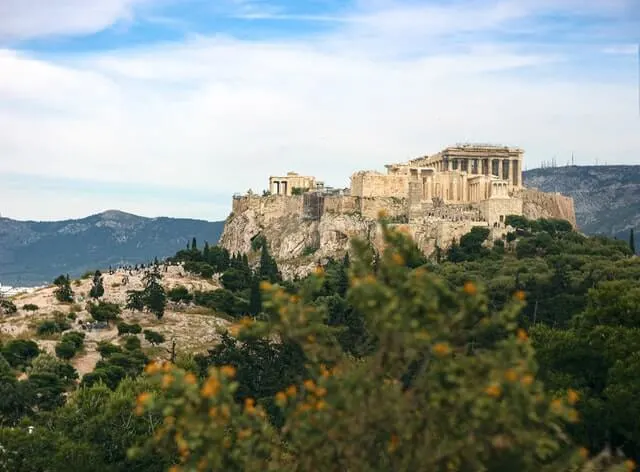 This rock gives you fantastic views of Athens and the Acropolis. You have to be a bit careful as it's quite slippery and a bit difficult to get up and especially back down, but the incredible views are definitely worth it.
Anafiotika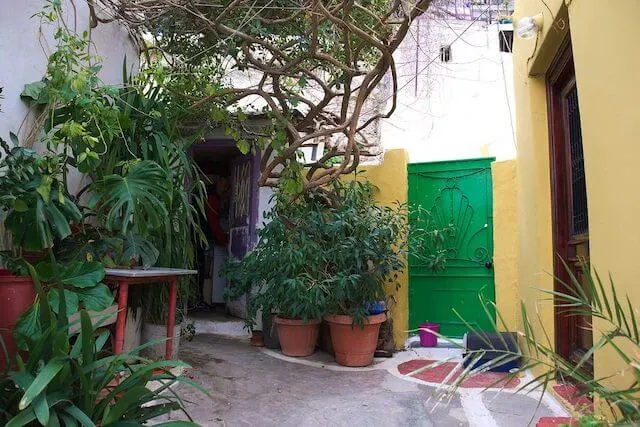 If you're in Athens but really want to be on a Cycladic island instead then an escape to the quaint neighborhood of Anafiotika has to go on your list of things to do in Athens. Anafiotika is located right below the Acropolis, and the whole vibe here will make you feel like you're on a Greek island.
The old-fashioned, colorful homes make for fantastic photo opportunities, and nobody will believe you when you tell them that they were taken in a huge city like Athens.
RELATED:
Trips to Greece almost always include visiting the islands – take a peek at our
Greek Island Hopping Guide
to start planning your own 'Mamma Mia' moment!
Monastiraki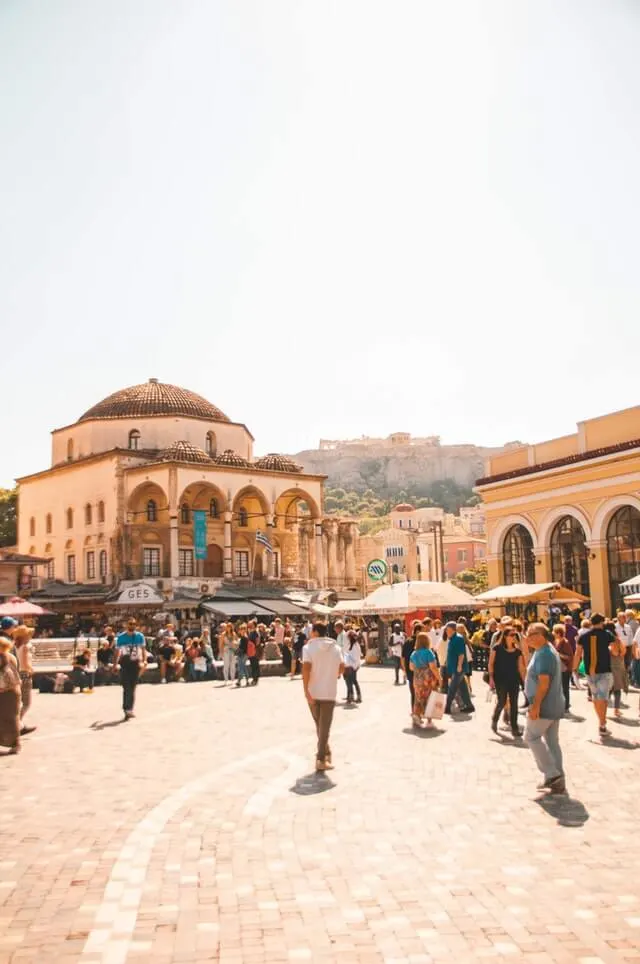 Monastiraki is the favorite meeting place of Athenians in the heart of the city. When meeting anyone at all you'll probably meet at Monastiraki Square first.
The buzzing atmosphere around the square is really representative of Athens, and the best time to come here is in the evening. The old mosque that now houses a museum gives the area a special character reminding visitors of the city's Ottoman past.
Dig for knick nacks in the Monastiraki flea market before venturing into the side streets where you will find souvenir shops on the Plaka side or affordable clothing if you head in the direction of Thisseio.
Museum of Greek Popular Musical Instruments
Yes, the major museums in Athens can be quite expensive, but there are some free museums here as well. One of the most interesting ones is the Museum of Greek Folk Musical Instruments located in Plaka. You can find about 600 musical instruments from the 18th to 21st centuries here, and there are even more that are not on display.
Aside from the world-famous bouzouki, you will also see instruments such as bagpipes, bells, drums, flutes, harps, lutes, lyres, and tambourines here. There are descriptions in Greek and English, and you can even listen to the sounds some of the instruments make.
Zappeion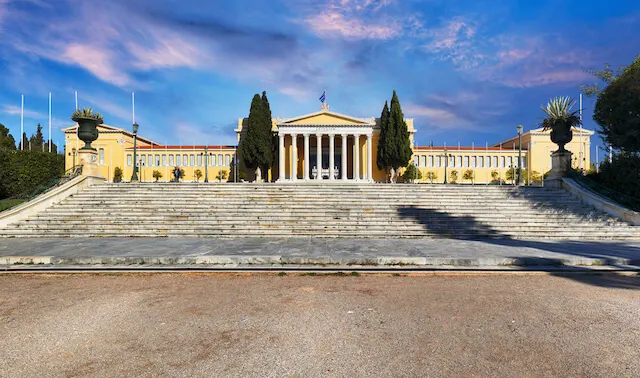 The Zappeion building is often overlooked by foreign visitors although it's conveniently located next to the National Gardens. The atrium is well worth a look and gives you great photo opportunities without the tons of crowds that you will encounter at the more popular Athenian sightseeing spots.
The area surrounding the Zappeion is less busy than the main section of the National Gardens and perfect for a relaxed stroll.
Visit Kapnikarea Church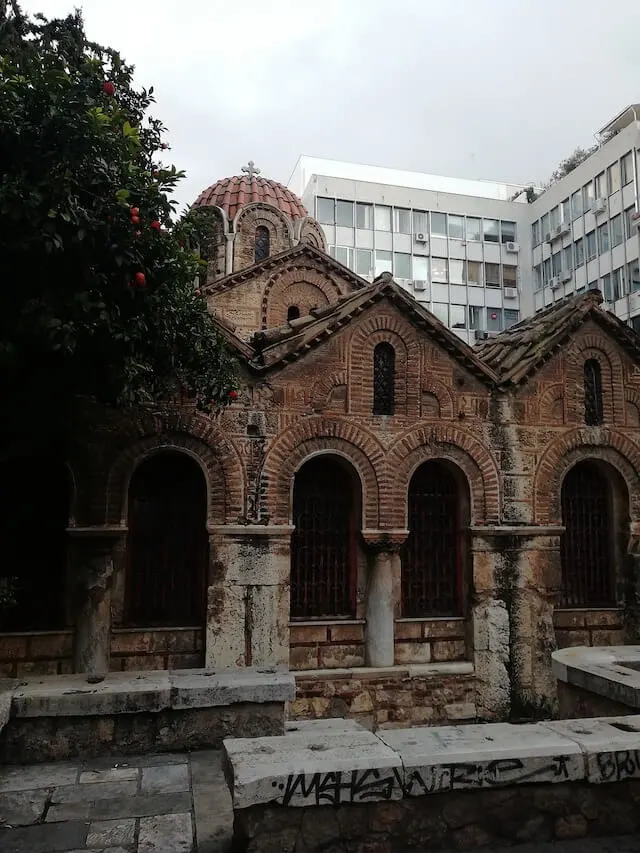 The Kapnikarea Church one of the oldest churches in Greece, built around the 11th Century (approximately 1050AD), and can be found in Athens center, right in the middle of the high-traffic shopping area of Ermou street.
Step inside to see beautiful mosaics and ancient murals.
Strefi Hill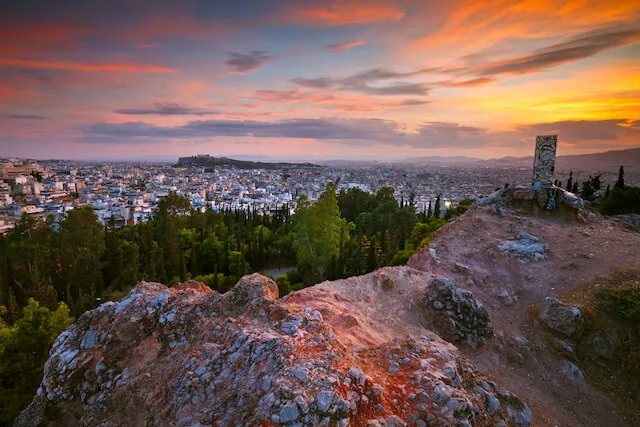 Strefi Hill is a hill in the anarchist Exarcheia neighborhood in the center of Athens and functions as a park. As opposed to the other hills that see a fair share of tourists, Strefi Hill is very much a local spot. Here you can see how the young Athenians from residential neighborhoods live.
If you want views other than the typical tourist ones and to have a more local experience you'll love a hike up Strefi Hill.
Metro Stations
Four metro stations have been built around archaeological sites, allowing visitors to marvel at ancient structures on their way in or out of the station. These stations are Acropolis, Syntagma, Monastiraki, Evaggelismos, and Panepistimio. You don't need a ticket to enter the areas that display the excavations. As excavations continue and the metro system is expanded who knows what else will be uncovered in this ancient city!
Metropolitan Cathedral of Athens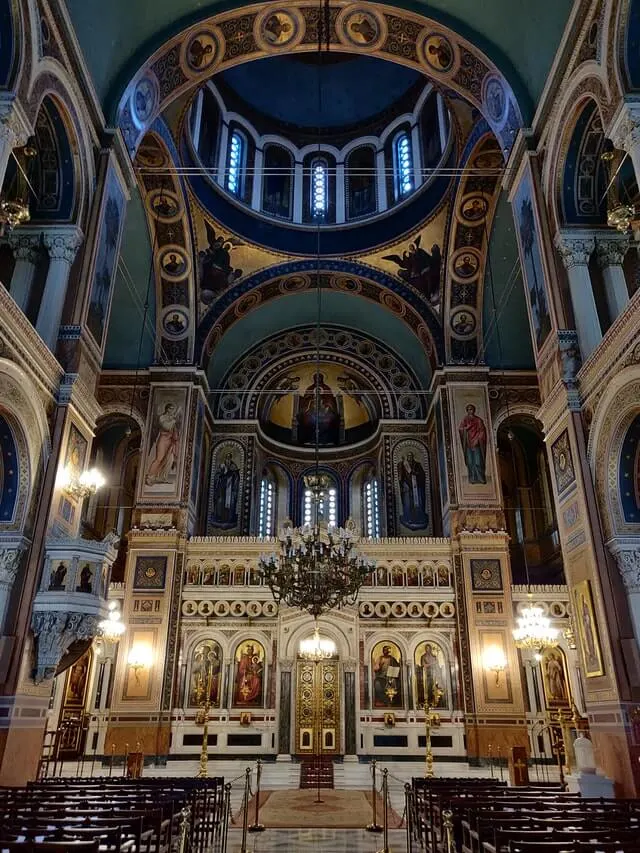 The Metropolis as it's called in Greek is the seat of the archbishop and is the most important cathedral in all of Greece. Contrary to many churches in Catholic countries tourists don't have to pay a fee to enter. The icons and other decorations of the church are very fascinating to see if you're not familiar with Orthodox Christianity.
Note that although in theory there is a dress code for women to cover their hair in an Orthodox church this isn't usually enforced in Greece.
University Cinema Club
If it's a rainy day, you'll probably want to head indoors, and the National and Kapodistrian University of Athens has a Cinema Club for everyone (not just students) called "IRIDA". Here you can take a free cinema class each week and watch an old movie for free (or a small fee dependant on the film).
Thisseio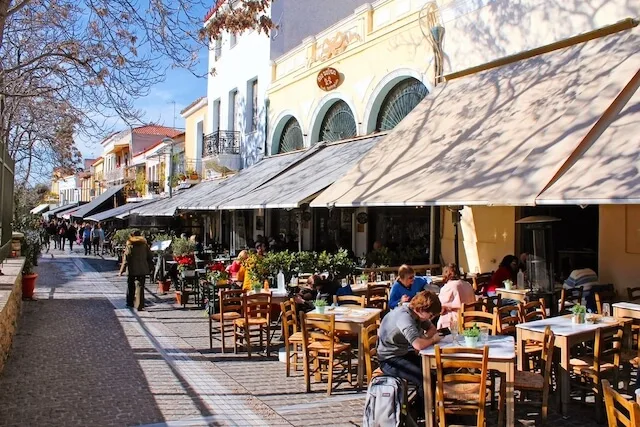 The Thisseio neighborhood is one of the few Athenian neighborhoods that has maintained a more traditional look in terms of architecture. While most buildings in Athens are ugly six-story concrete buildings, Thisseio is still home to beautiful neoclassical buildings that are kept in great condition.
The area has several cafés that are popular among locals and have a more authentic vibe than some of the places closer to the main sights. Take a stroll around the area and stop wherever your heart desires to observe modern city life and enjoy some Greek cuisine.
Syntagma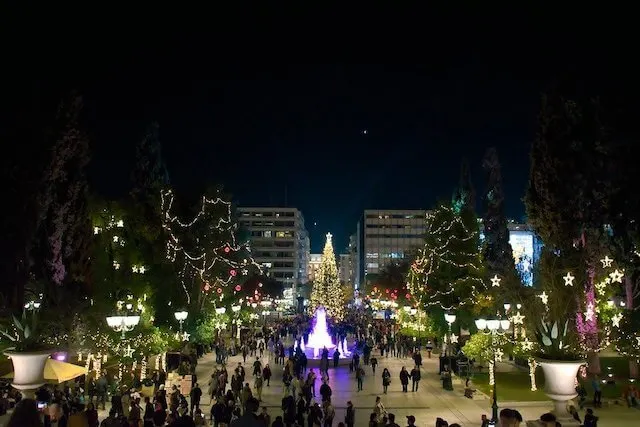 Syntagma square is located right below the Greek Parliament. It's another popular meeting point for people, and sometimes events take place here. This is one of the few areas of Athens with more elaborate Christmas decorations if you're coming in December or January.
Mount Lycabettus

Mount Lycabettus (in the distance in the photo above) is the highest point in Athens making it also the best place for an amazing view of the city. You can hike up Lycabettus hill for free until you reach the tiny church at the top which is also worth a peek. From Lycabettus, you have fantastic views that include not only the Acropolis but also the Mediterranean Sea.
Pnyx
Pnyx is another hill worth visiting on a trip to Athens. It is of historical importance because this is where ancient Athenians started to meet for assemblies. Marvel at the steps that lead up the speaker's platform and imagine what life must have been like back in ancient times.
Stavros Niarchos Foundation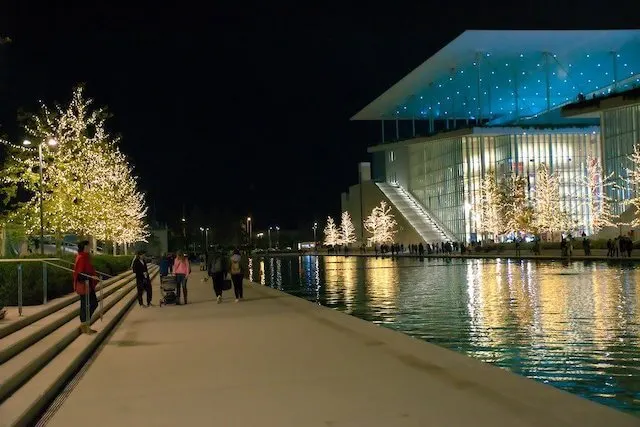 If you have time to head to one of the suburbs, unassuming Kallithea might be most worthy of your attention. That's because it is home to the city's newest impressive architectural structure, the Stavros Niarchos Foundation Cultural Center. Housing the national library and the national opera, it is one of only three buildings in Greece which are earthquake-proof.
The large park displays various Mediterranean plants and is perfect for a leisurely evening stroll. In the summer, there are open-air movie screenings. Whether you want to join a free yoga class or see an exhibition, there are free events for just about anyone here.
Ermou Street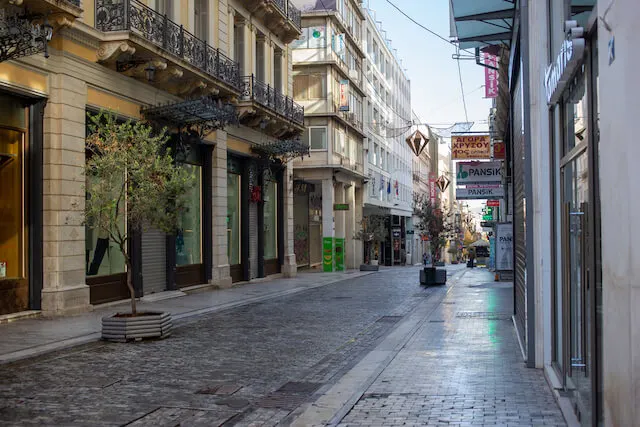 Ermou Street is the Greek capital's main shopping street in downtown Athens, and while shopping is obviously not free, you can simply stroll down Ermou towards Monastiraki and onward. If you go during sunset you'll be able to take in a spectacular view as you walk downhill. The color of the sky is reason enough to make a stop at Ermou.
Gazi
Gazi is one of the top nightlife areas in Athens. Entrance to some of the venues is free so if you don't want to miss out on the Athenian nightlife Gazi should be your first stop. But Gazi actually has a lot more to offer! The old gas house (hence the name Gazi) is now an industrial museum called Technopolis. You will often see events take place here though not all of them are free.
Once a month, you can visit the Meet Market where local designers and artists sell their art and products as well as food and second-hand items.
How to See the Ancient Sites for Free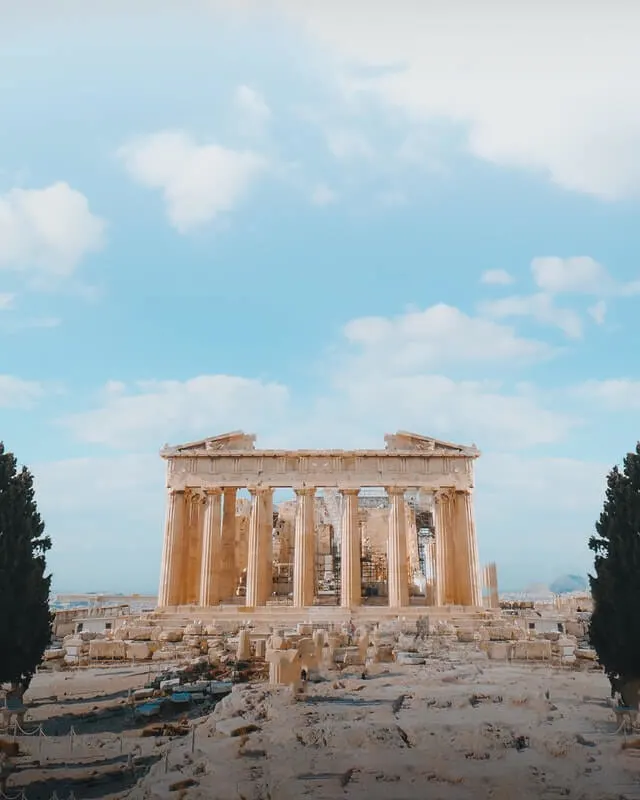 As you can see there are a ton of free things to do in Athens, but you probably don't want to travel all the way to the Greek capital and not see the ancient sites such as the Acropolis. If only they weren't so expensive! But there's a way to visit them for free. All you need is the right timing.
These are the days that all ancient sites, including the Acropolis, are free to visit: the first Sunday of each month from November to March, March 6th, April 18th, May 18th, October 28th. There's also the weekend of the European Heritage Days which falls on different dates each year.
How to See the Top Museums for Free
Aside from the ancient sites the major museums in Athens also have free admission days. For many of them, including the National Archaeological Museum, they're the same days as the ones for the ancient sites. For the Acropolis Museum, the dates are May 18th, March 25th, and October 28th.
There you go, 25 free things to do in Athens, including the dates for seeing even the more expensive sites for free.
Are you surprised!? We bet you are! There are so many wonderful places to explore in Athens Greece and we hope you have been delighted to discover just how many of them are free to enjoy whenever you like on your trip to Athens.
Have you visited any of the locations featured in our guide to the Greek capital? Or do you know of any more great places to enjoy in Athens for free? If so, we want to hear from you in our comments below.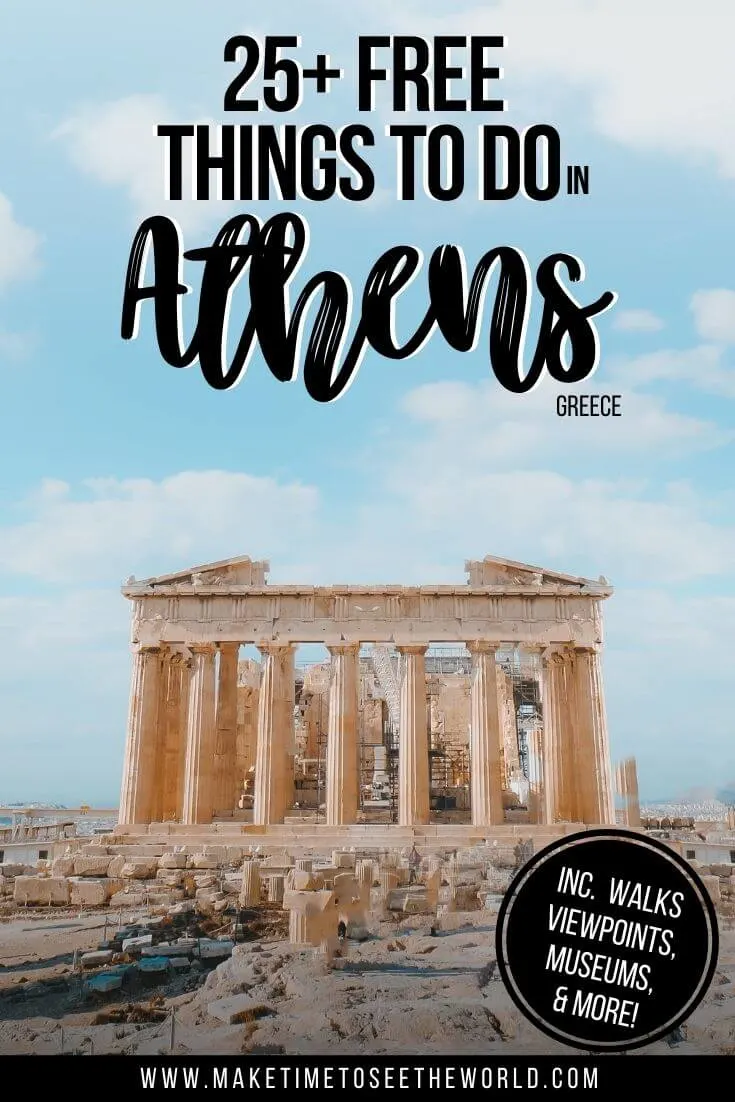 READY FOR MORE EUROPE TRAVEL INSPIRATION? YOU MIGHT BE INTERESTED IN THESE TRAVEL TIPS, TRAVEL HACKS, TRAVEL ARTICLES, TRAVEL DESTINATIONS GUIDES, SOLO TRAVEL GUIDES, TRAVELER RESOURCES AND RELATED POSTS ABOUT OTHER BEAUTIFUL CITIES IN EUROPE TO HELP YOU EXPLORE EUROPE AND TRAVEL THE WORLD:
Hi There! Thanks for reading our travel guide to the best 25 Free Things to do in Athens Greece. I just wanted to let you know that this post contains affiliate links, which means if you purchase something after clicking a link, I may get a small commission – which is at absolutely no cost to you. If you enjoyed this article and are going to be searching for some of the things I mention anyway, I would love it if you could click through from the links above & thank you in advance! Read my full Disclosure here.
And a huge Thank You for reading the MakeTimeToSeeTheWorld travel blog.