Paris can be expensive – but it doesn't have to be! Click to find out the Top 20 Free Things To Do in Paris and give your wallet a break on your next visit!
Paris is one of the cities that sits firmly at the top of many a bucket list. Sights such as the Eiffel Tower, Notre Dame and the Sacre Couer made it famous, and the bohemian romanticism as told in the movies made it into an icon. Visitors accept that visiting Paris is usually on the expensive side – but I'm here to show you that it doesn't have to be!
Keep reading for my guide to the Top 20 FREE Things to do in Paris – because, well, who doesn't want a little FREE in the French capital and one of the most expensive cities in the world?!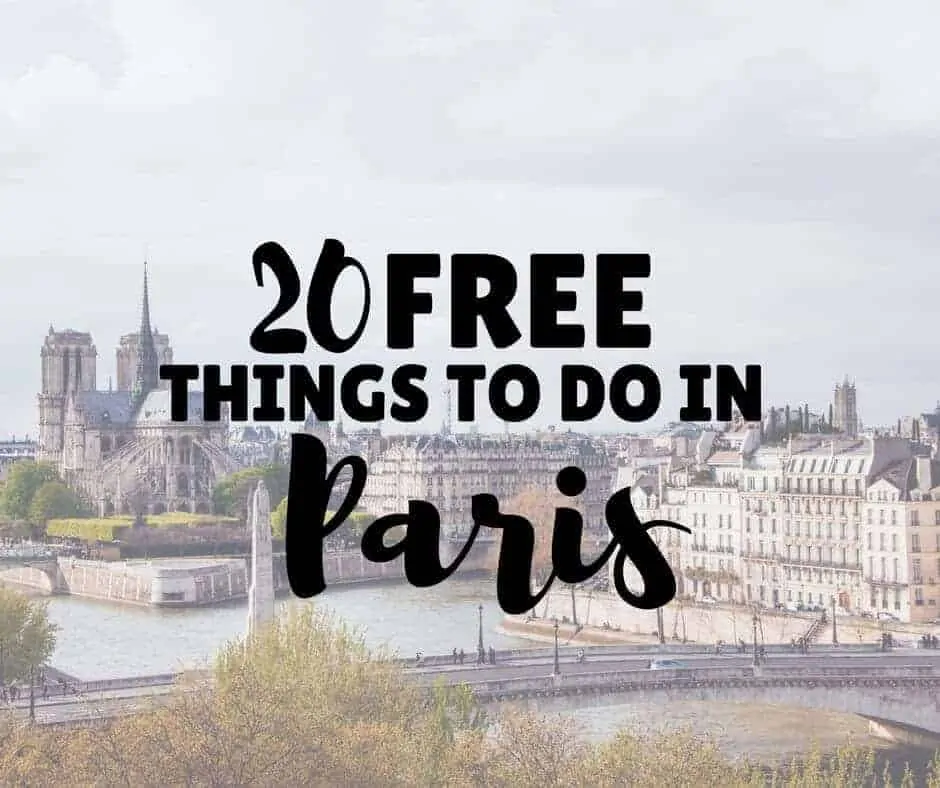 Disclaimer: Almost all posts on this site contain affiliate links, and this one about The Best Free Things to do in Paris is no different. This means that if you click on any of the links in this post (and make a purchase) I may receive a small commission at absolutely no cost to you. Each post is carefully crafted to (hopefully!) answer all your questions and recommendations are made where we believe they will improve your trip and help with your planning. As such we thank you in advance should you decide to click & buy. Read my full Disclosure here.
Paris may be one of the most expensive cities in the world – and if you only want to do the highlights like going up the Eiffel Tower, Cruise the Seine, or taking in a show at the Moulin Rouge (to name a few of the top things to do in Paris!), activities can easily add up. Why not add a few of these 22 Free Things To Do in Paris into your itinerary and give your wallet a break on your next visit to the City of Light!
RELATED: Traveling with only Hand Luggage? Check out our Carry On Packing Guide to make sure you have everything you need for your trip! Learn some basic French before you go with our guide to Common French Words and Phrases for Travel, or Be inspired to visit with over 30 Movies Set in Paris.
.
Cathedral de Notre Dame de Paris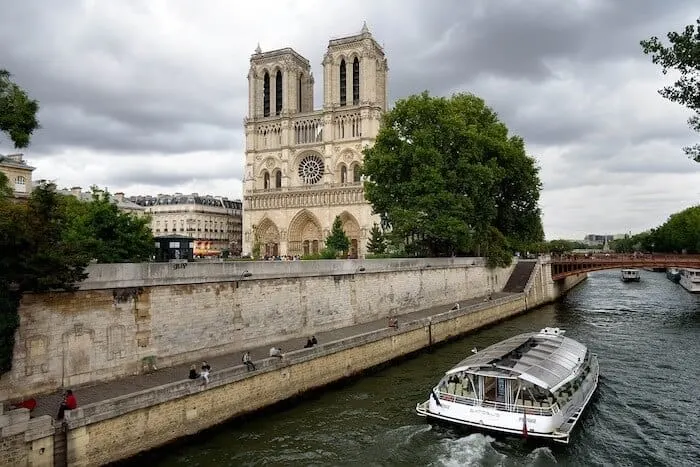 *Please note that due to the terrible fire of 15-16th April 2019 Notre Dame is closed, although its $865 million dollar restoration is scheduled to be concluded in 2024.**
The Cathedral of Notre Dame is one of Paris' most iconic sights, and one of the most famous Gothic churches in Paris (if not the whole of Europe!). A simply beautiful building, both inside and out, it's sculptures and stained glass are a sight to behold.
The main areas of the Notre Dame Cathedral are free to enter between 7.30am-7.30pm in winter, and 7am-9pm in summer, although there is a small fee if you would like to climb the belfry towers or enter the crypt.
.
Trocadéro Square
Head to Trocadéro Square for one of the most photographed views of the Eiffel Tower. Located on the opposite side of the Seine to the Tower in Paris' 16th Arrondissement, the raised platform at the end of the gardens makes for the perfect foreground for your Eiffel Tower shot. It's easily one of the top free things to do in Paris.
RELATED: If this is your 1st time in the City of Light check out this Paris Travel Planner to help your trip go smoothly – or take a look at our Incredible Itinerary for 3 days in Paris – that was written by a local!
.
Parc du Champ de Mar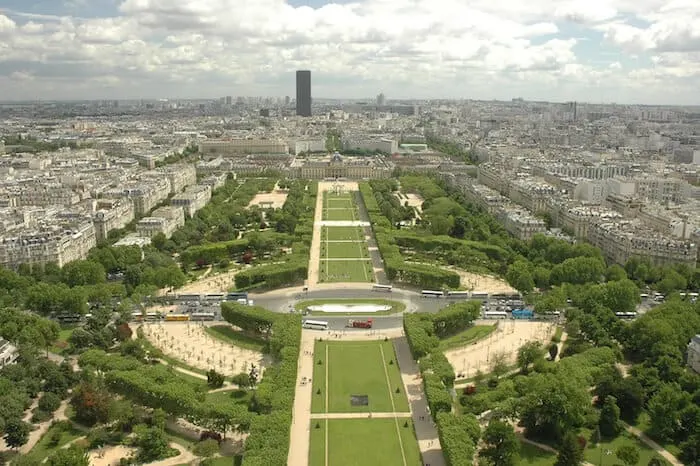 If you are still looking for the perfect Eiffel Tower shot, Head to the other side of the tower into the Parc du Champ de Mar. Providing a different angle, you'll find scores of people lined up at 'the perfect spot' to capture the ultimate Eiffel Tower Selfie. This is one of Paris' beautiful parks and is a great place to base yourself for a picnic, with sunrise or sunset adding a little something extra.
However, don't plan on pouring a glass of wine here. Public drinking is not permitted, and the police will ask you to put it away (or worse, pour it out!) But still one of the great Free Things To Do in Paris none the less!
RELATED: WANT TO EXPLORE MORE OF EUROPE? READ ABOUT MY 25 DAY TOUR OF EUROPE BY TRAIN FOR INSPIRATION!
.
Basilica du Sacré Coeur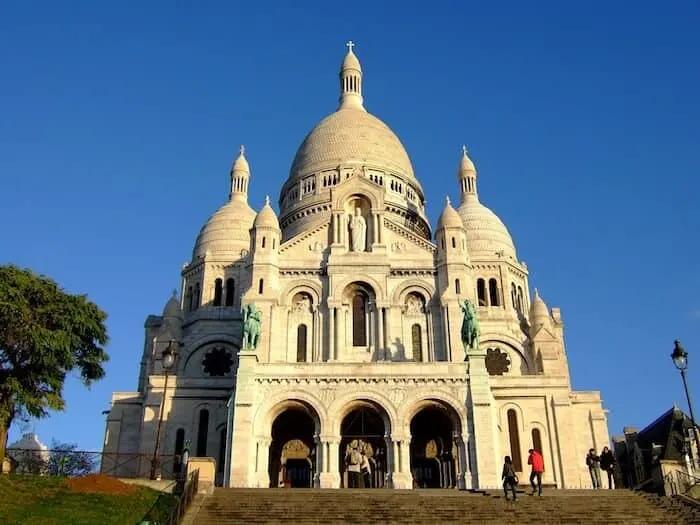 The Basilica du Sacre Coeur is another of Paris' top sights, located at the top of the 180m high hill in Monmarte. Entry to the ground floor is free from 6am to 10pm every day, however, a small fee will need to be paid if you want to climb the 300 steps to the top of the dome.
The views from outside the Sacrecoeur basilica spread across Paris, and as dusk descends, the street performers entertain the crowds who are waiting to watch the sunset over Paris. This is my favorite spot in Paris and the very first place I saw the lights of the Eiffel Tower Sparkle ↓
.
Watch the lights of the Eiffel Tower Sparkle
One of the prettiest things – and one of my favorite free things to do in Paris – was watching the lights of the Eiffel Tower Sparkle. This is one thing that is totally free – and happens every night, on the hour, every hour.
As the Eiffel Tower can be seen from all over Paris – you're not likely to miss this event, but I'd recommend grabbing a seat on the steps at the Sacré Coeur, or in the Parc du Champ de Mar for the best views of the city!
.
Wander Montmartre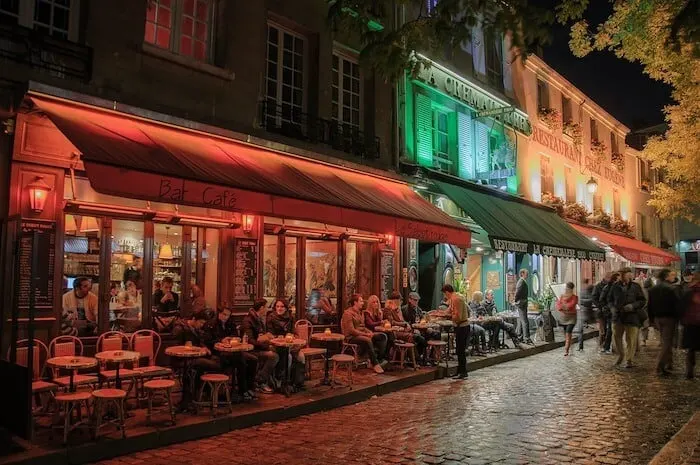 Before or after a visit to the Sacré-Coeur, wander the bohemian streets of Montmartre. Once the home of the creatives and artists, this area of Paris has retained its unique village feel – although this can sometimes get lost under the 'touristy' side of overpriced creperies and gift shops.
Although bargains are to be had – keep an eye out for the Plat du Jour menus that most restaurants offer which offer a set meal at a discount price.
One of the most expensive attractions can be found at the base of the hill: The Moulin Rouge. A truly Parisian experience – if your budget isn't too strict, watching the show here is extremely enjoyable and will be something you never forget!
RELATED: Find out 14 Paris Do's and Don'ts to make sure your trip goes smoothly!
.
Printemps Rooftop Cafe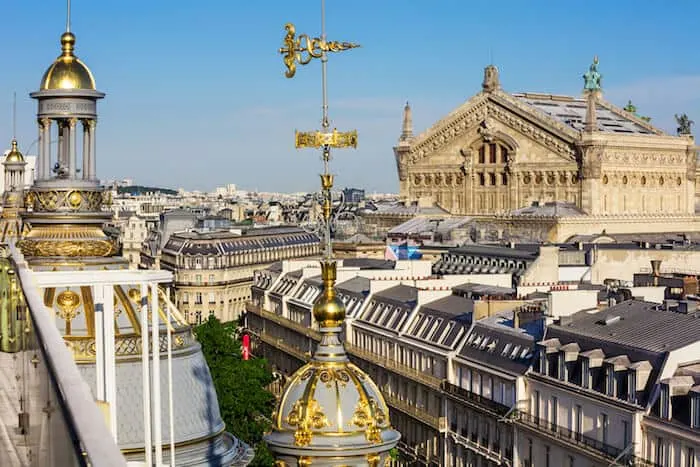 Known as one of Paris' best-kept secrets (ssh, don't tell anyone!), the Printemps Rooftop Cafe and Terrace provides you with incredible 360 degree views of Paris.
Take the elevator – and then the escalator – to the top floor of the Printemps Department Store the Deli-Cieux serves cafe food and stunning views. Be prepared to feel like you a right in the heart of the city.
Explore The Covered Passageways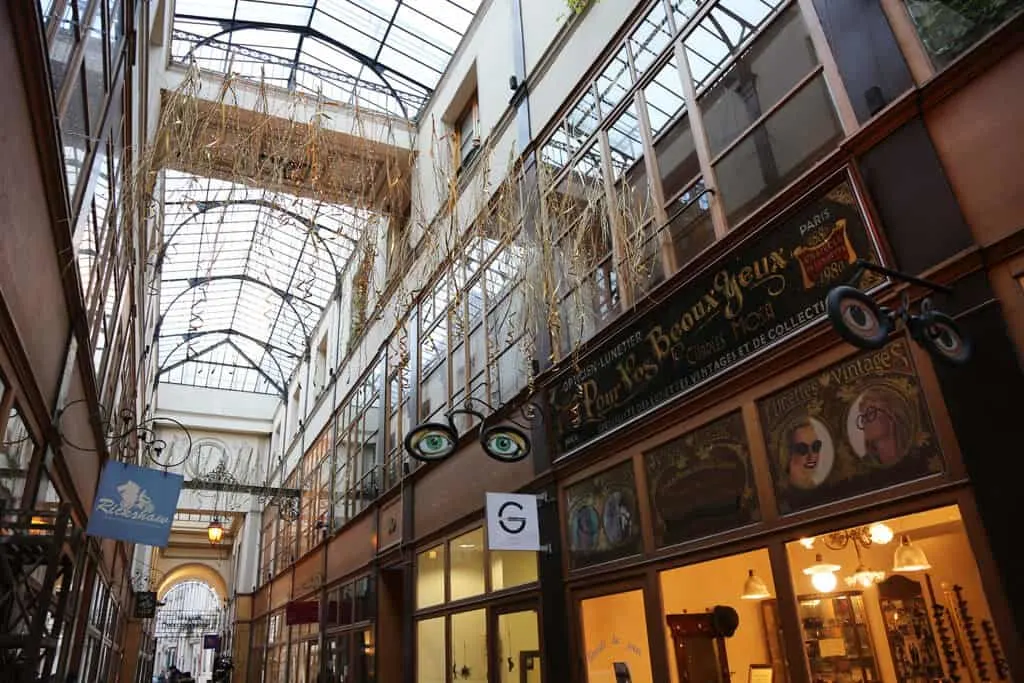 One of the most enchanting and lesser-known attractions of Paris are the covered passageways that criss-cross the city. These pedestrian walkways date back to the 19th century and offer a glimpse into a bygone era of Parisian life. Featuring stunning glass ceilings, intricate ironwork, and charming shops, these passageways provide a unique shopping and dining experience away from the hustle and bustle of the city streets.
Visiting the covered passageways is not only a great way to step back in time, but also an opportunity to experience Parisian culture and architecture at its finest. The Galerie Vivienne, for example, is a stunning passageway with mosaic floors, painted ceilings, and high-end boutiques. The Passage des Panoramas, on the other hand, is the oldest covered passage in Paris, and is filled with vintage bookstores, stamp shops, and traditional bistros.
What's more, visiting the covered passageways is one of the top free things to do when visiting Paris. Strolling through the passageways is completely free, and you can spend as little or as much time as you want exploring the various shops and cafes. It's the perfect activity for a rainy day, as you can stay dry while still enjoying the charm and elegance of Parisian architecture.
In short, visiting the covered passageways in Paris is a must-do activity for anyone looking to experience the city beyond the usual tourist hotspots. Whether you're a history buff, a shopaholic, or just looking for a unique Parisian experience, the covered passageways are not to be missed.
Luxembourg Gardens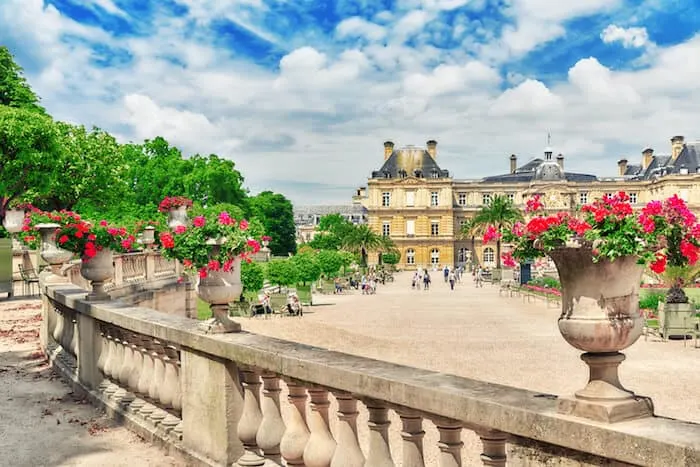 Inspired by the Boboli Gardens in Florence and located on the border between Saint-Germain-des-Prés and the Latin Quarter, the Jardin du Luxembourg was created upon the initiative of Queen Marie de Medici in 1612 and is a combination of French and English styles.
Within the grounds, there is also an orchard with a variety of old and forgotten apples, an apiary for you to learn about beekeeping and greenhouses with a collection of breathtaking orchids, and a rose garden.
Entrance is free and the gardens are open between 7.30am and 8.15am and close between 4.30pm and 9.30pm dependent on the season.
.
Window Shopping along the Champs Élysées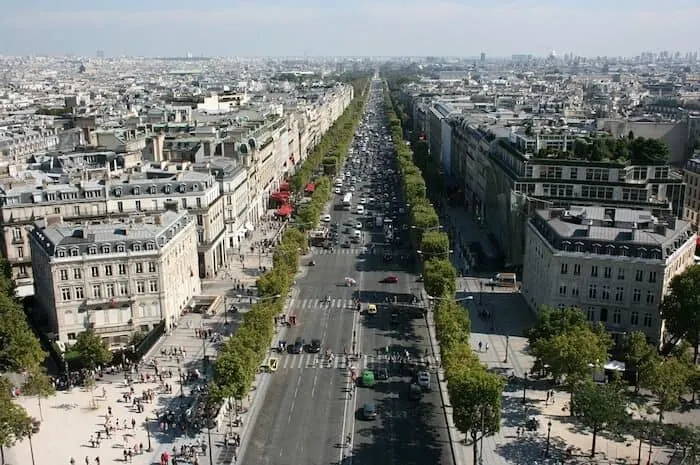 1.9km long and 70m wide, the Champs Elysées stretches between the Place de la Concorde and the Arc de Triomphe. Popular with tourists and locals alike, the most famous street in Paris is lined with restaurants and luxury boutiques and is where the celebrities shop and dine on their visits.
It is also the setting each year for major events such as the Bastille Day military parade, the arrival of the Tour de France and the Christmas lights. Taking a walk here is definitely one of the top free things to do in Paris.
.
Arc de Triomphe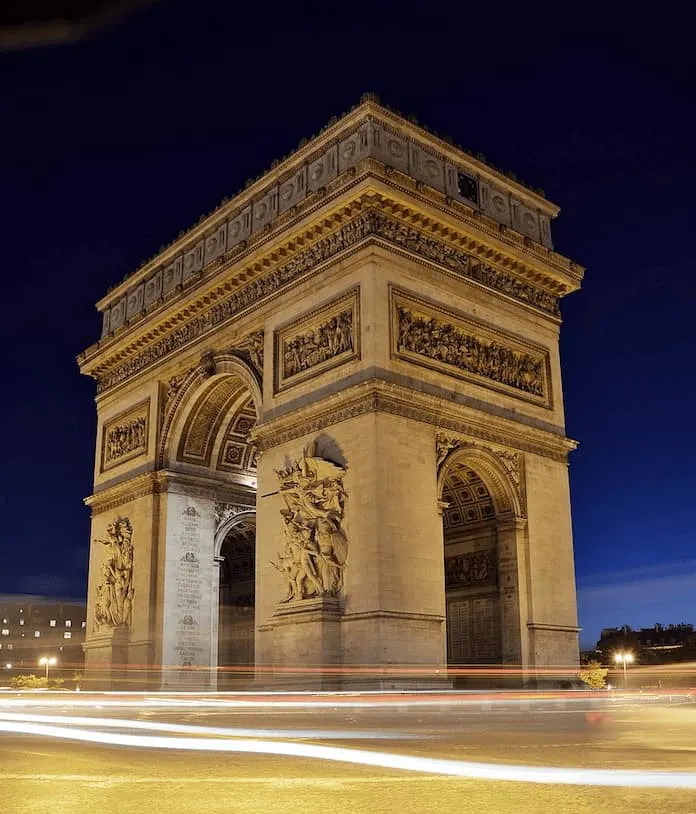 Located in the center of a roundabout at the top of the Champs-Élysées, the Arc de Triomphe honours those who fought and died for France in the French Revolutionary and Napoleonic Wars, with the names of all French victories and generals inscribed on its inner and outer surfaces. Below the structure lies the tomb of the unknown soldier from WW1.
To look at the outside is free, but if you would like to enter, the cost is a nominal €12, and it is free for those who are under 26 and from the EEC (European Economic Community)
.
Parc des Buttes Chaumont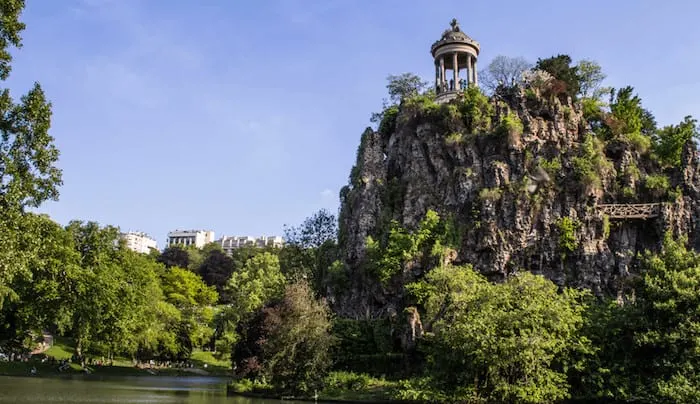 On the outskirts of Paris in the 19th arrondissement, the Parc des Buttes-Chaumont is a 24.7 hectare park – which is the 5th largest green space in Paris. Its most facours feature is the Temple de la Sibylle, inspired by the Temple of Vesta in Tivoli, Italy, and is perched at the top of a cliff fifty meters above the waters of the artificial lake.
If you're looking for a leafy escape from the hustle and bustle, Parc de Buttes-Chaumont is well worth a visit.
MORE BEAUTIFUL PARKS:
Another fantastic park and the third largest green space in Paris is the Parc de la villette and is located at the northeastern edge of the city in the 19th arrondissemen;
The Parc de Belleville is located in the 20th arrondissement and offers a unique view of the Eiffel Tower from afar; and
Parc Monceau, located in the 8th arrondissement of Paris, is known as the most romantic park in Paris with great walks around the lake, a small snack bar, and a vintage merry-go-round.
.
Street Art around Canal St Martin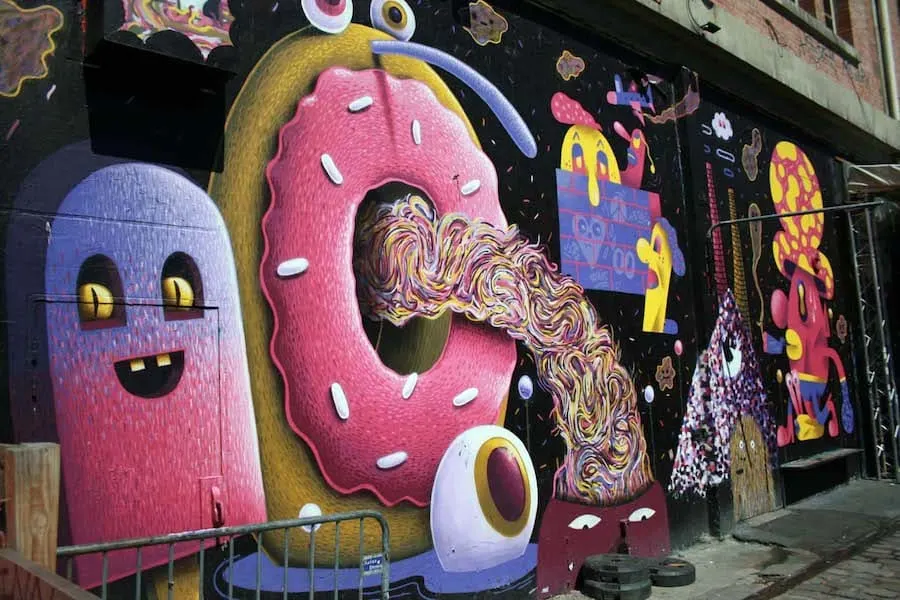 Originally built as a water supply, Canal StMartin in Paris' 11th arrondissement is now where all the cool kids hang out. Literally.
Following the gentrification of the area, the hipsters moved in – it's where the creatives went when Montmartre became too expensive. You'll find walls adorned with street art, a perfect accompaniment to the funky restaurants and bars that are now scattered all over the area.
.
Gallery Lafayette + Observation Deck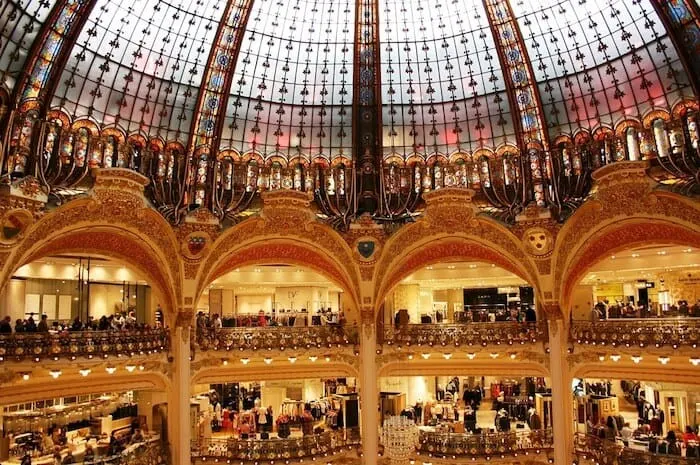 The Galleries Lafayette are one of the most impressive buildings in Paris – and even if you are on a budget with no intention of doing any shopping, the architecture alone is worth a visit.
The Galeries Lafayette also offer FREE 30 minute fashion show every Friday (by reservation) and they also boast a rooftop terrace – La Terrace – accessible from 9.30am -7.30pm every day. Another great spot for panoramic views over Paris.
RELATED: If you feel like you have thoroughly explored the city, why not check out all the day trips that you can take from Paris?
.
Walk the Banks of the Seine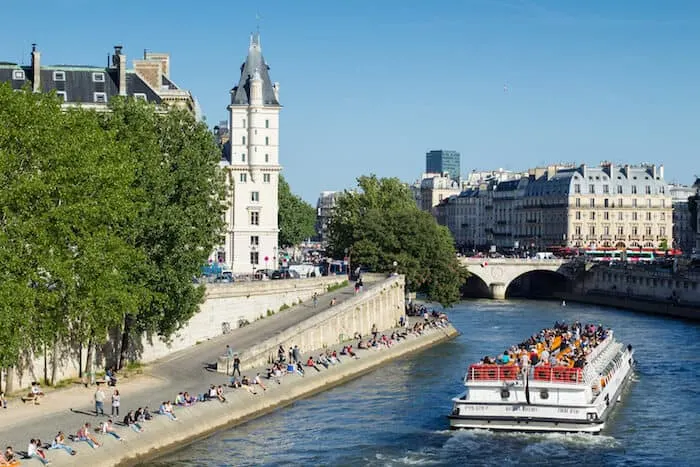 Designated a UNESCO heritage site – and for good reason – the banks of the River Seine are popular with tourists and locals alike. Perfect for long romantic walks, or a place to sit to watch the world go by.
This free attraction remains a crowd favorite and a Parisian staple. And if you take a wander along the banks at night, you also get to see 33 of the 37 bridges that cross the Seine, illuminated. The lights highlight and emphasize their beauty against the night sky – and are the perfect subject for budding low light and nighttime photographers.
The bridges across the Seine, such as the Pont de l'Alma (Alma Bridge) and Pont de l'archevêché (Archbishops Bridge) are also tourist attractions themselves and although the most famous – the Pont des arts – which used to hold thousands of 'love locks' has recently been resorted to it's original state, the bridges are still beautiful examples of period architecture.
.
Free Walking Tours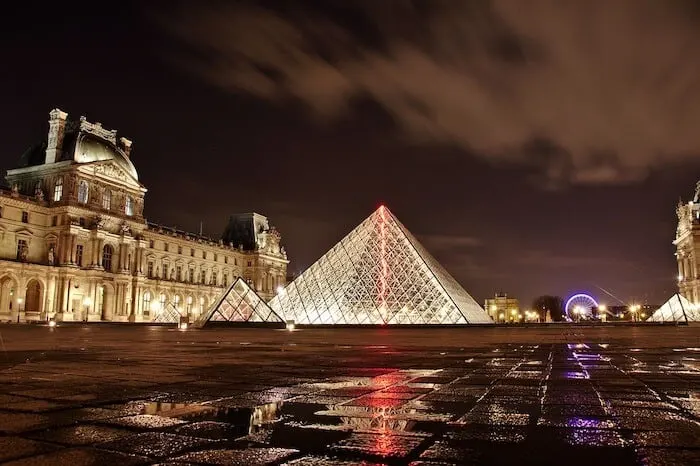 Like most capital cities in Europe, Paris has a variety of Free Walking Tours available. The expert guides are often volunteers with a passion for their city and only ask for donations/tips at the end of tour instead of you paying a fee.
You can choose to focus on one area, take a highlights tour, or even a nighttime tour, depending on your interests. Whatever tour you are looking for, please check if you need to book in advance or if it is possible to arrive at a meeting point and join in – these free walks can get super busy during peak tourist times!
.
Climitiere du Montparnasse and/or Climitiere du Pere Lachaise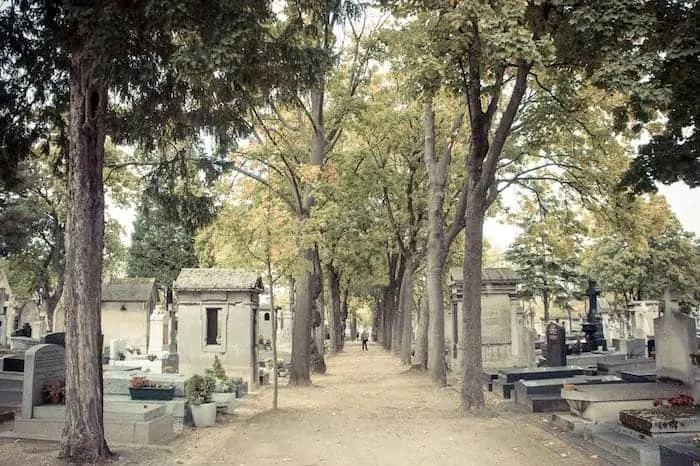 The 2nd largest cemetery in Paris is a very peaceful spot adorned with over 750 trees and is the final resting place for more than 40,000 people. Many Parisian scholars and intellectuals are buried here alongside a wealth of funeral art objects and adornments.
The largest cemetery in Paris – Pere Lachaise Cemetery (Cimetière du Père Lachaise) – is a slightly darker and less whimsical place of rest, with many more full-sized crypts which block some of the light. Also free to enter, it counts Édith Piaf, Jim Morrison and Oscar Wilde amongst its famous residents.
RELATED: Thinking of a Day Trip from London on your trip to Paris? Click to find out all about taking the Eurostar!
.
Rue Mouffetard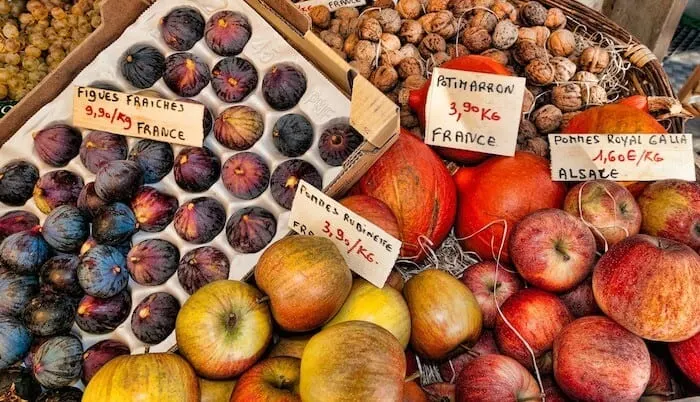 Rue Mouffetard is THE Parisian 'shopping street'. A combination of produce, fish, cheese, pastries, wine and meat shops alongside trendy boutiques makes it a street where you can buy just about anything! Add in street artists and performers (particularly on the weekends) and the lively locals dancing in the street and you become part of a Paris institution.
And if you're lucky, the vendors will be feeling generous during your visit and have been known to offer free samples of the incredible goods.
What could be better that having some freshly melted raclette on rustic bread handed to you as you peruse the stalls and shops?! It's the perfect destination for a spot of homegrown eating and drinking.
RELATED: If you love a good market, don't miss the Marché aux puces de Saint-Ouen (sometimes referred to as Clignancourt, which is the closest metro stop). It's Paris' oldest flea market dating back to 1870 and located on the outskirts of the city in the 18th Arrondissement. Open Saturday and Sunday (with limited openings/traders on Monday), visitors can enjoy shopping in a network of warehouses, stands, and alleyways.
.
Jardin des Tuileries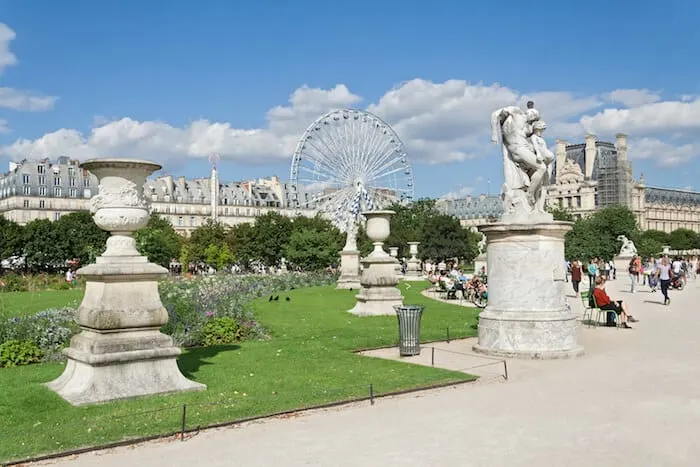 Located between the Louvre and Place de la Concorde, Jardindes Tuileries was originally the palace garden before being opened to the public in 1667. Stretching over 22.4 hectares and boasting over 200 sculptures, it is a place where Parisians meet, walk and relax.
And if you're looking for more green areas in Paris, check out the Promenade Plantée (aka. Coulée verte René-Dumont) in the 12th arrondissement. This 'garden' sits on old disused railway tracks raised high above street level (and was the original High Line way before New York City got in on the act!)
.
Le Marais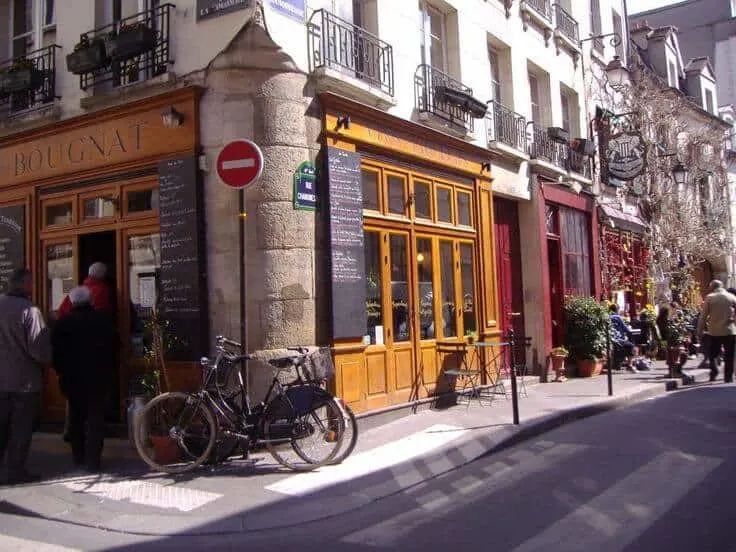 The Marais is now one of Paris' main localities for art galleries and has become a fashionable district, home to many trendy restaurants, fashion houses, and hip galleries.
Its diversity is a testament to the aristocracy who originally claimed the area and the different communities (Jewish, Chinese and most recently, the LGBTQ community) it has embraced since the French Revolution and can be reached via the Hotel de Ville, Rambuteau, Art et Metiers or Republic métro stations.
Colonnes de Buren/Les Deux Plateaux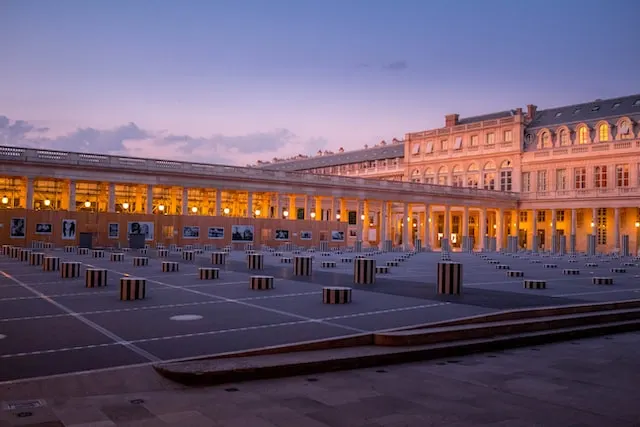 Les Deux Plateaux, more commonly known as the Colonnes de Buren, is an art installation created by the French artist Daniel Buren between 1985–1986. These black and white columns at different heights with the backdrop of the stunning Domaine National du Palais-Royal (located at Galerie de la Cour d'Honneur, 2 Rue de Montpensier) make for some great photography and are totally free to visit.
Arènes de Lutèce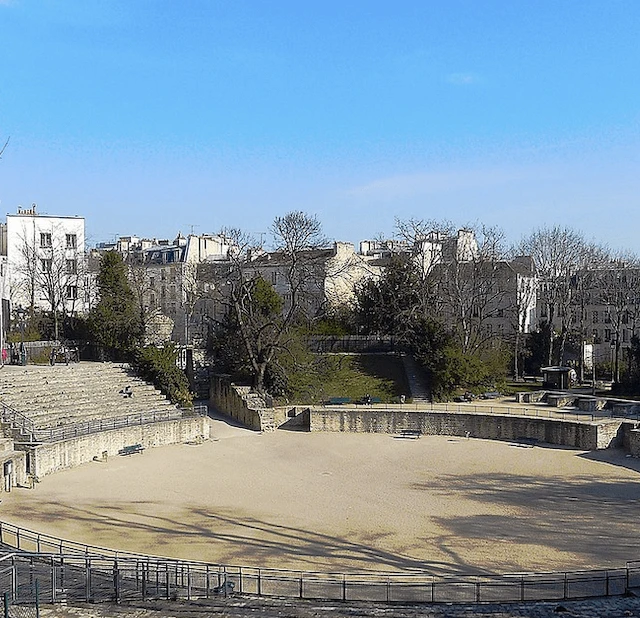 Did you know there was a 1st century AD Roman amphitheater hidden in the Latin Quarter in Paris? Well, now you do!
The Arènes de Lutèce is the oldest historic monument in Paris one of the city's two visible remaining structures from when Rome ruled this part of Europe and Paris. It's free to visit and you can stand in the center of the area where Roman gladiators once fought wild animals, surrounded by crowds of up to 17,000 people(!) – although today, you're more likely to see teenagers kicking a football around.
It's a true hidden gem, and one most Parisiens have never seen. Although you won't be able to find it just wandering around – seeking it out is well worth it, and may also provide you with some quiet time in a very busy city. Hint: head to Place Mong Metro on Rue de Navarre, or Jussieu Metro on Rue Linné for two easy access points.
.
Free Museums
There are around 130 museums in Paris – and you'll be pleased to know that quite a few of them are free to enter! The Paris Museum of Modern Art (Musée d'Art moderne de la Ville de Paris) is one of those – open from 10am-6pm Tuesday to Sunday (although they do charge entry to some visiting collections – but the main body of the museum and permanent collections are still free).
Another museum in Paris that is free is the Galerie Lumière des Roses – and as the opposite of a traditional museum – the photos lining its walls are credited to nobody: nobody knows who took them, when, or where and the big name artists are completely ignored there.
Other free museums include Maison de Victor Hugo, Musée Carnavalet and the permanent collections at the Musée de la Vie Romantique.
Related: Click to find out about more Free Museums in Paris
*Extra* Museums That Are Sometimes Free
Louvre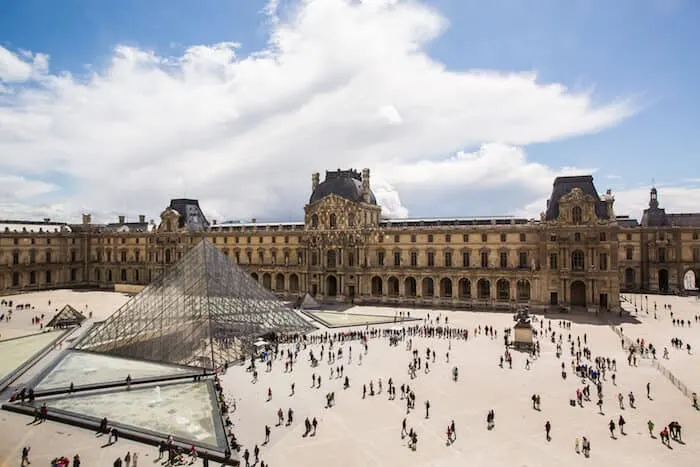 That's right, you can visit one of the most famous museums in the world completely for free – IF you are in the city on the first Sunday of the month between October and March.
You can also get in free (year round) if you are under 18 years of age, or are a resident of the European Economic Community (EEC) aged between the ages of 19-25. And Every Friday from 6 p.m. admission to the museum is free for under-26s of all nationalities on presentation of valid ID.
Musee d'Orsay
Anyone who uses Instagram will have seen one of the most photographed clocks in Europe located at the Musee D'Orsay (above, if you haven't guessed) – and if you haven't seen it, which rock have you been hiding under?!
Similar to the Louvre, the Musee D'Orsay is FREE to enter on the first Sunday of each month (year round); It is also free to enter for Under 18s and those aged 19-25 who are members of the EEC.
If these 20 Free things to do in Paris are not enough for you – check out these other Fun Things To Do in Paris – I can guarantee you'll never have thought of some of them! And if you're headed South check out these Things To Do in Nice in summer – or the best ski resorts in France in winter!

.
And there you have it – 20 Free Things To Do in Paris! I hope this travel guide can help you plan a budget friendly trip to the City of Light – and if you find other FREE things to see or do in Paris that you think should be included – just let me know and I can add them to this list!
Oh, and if you liked this article and travel tips, please share, tweet or pin! Share the love – I'd really appreciate it, and if you like pretty pins, click the P in the share bar for a few extra designs that are hidden within this post!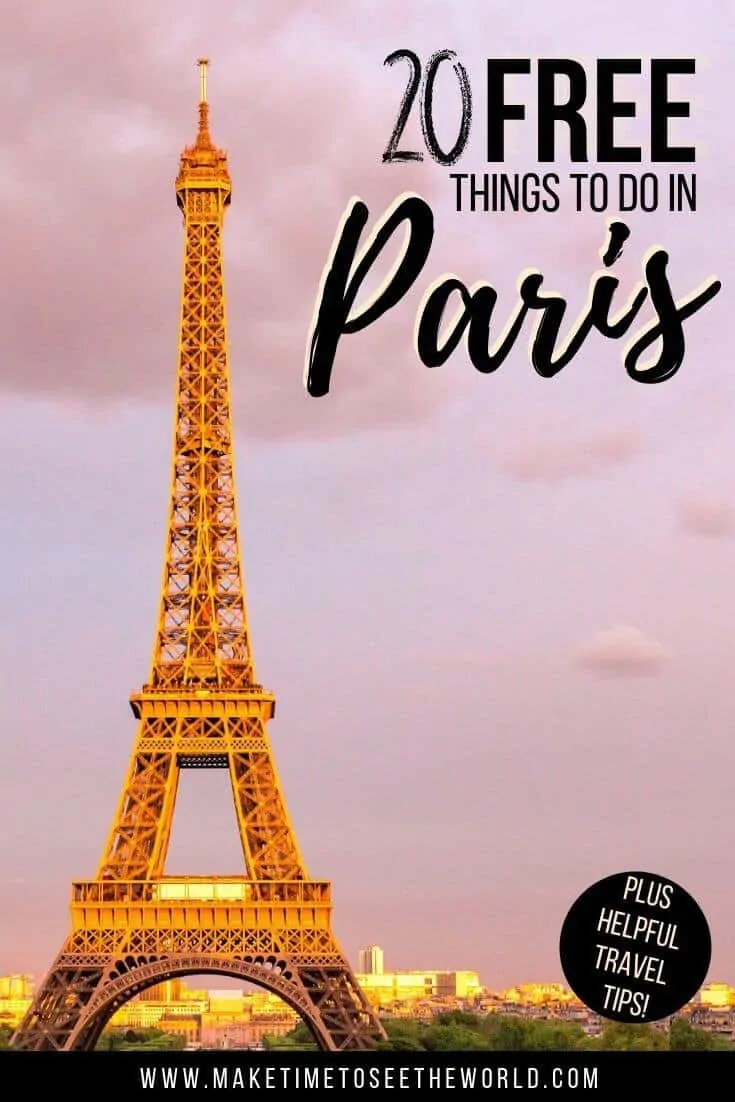 READY TO EXPLORE MORE OF EUROPE? YOU MIGHT BE INTERESTED IN THESE ARTICLES
Hi There! Thanks for reading our guide to The Top 20 FREE Things to Do in Paris! I just wanted to let you know that this post contains affiliate links, which help support this site at absolutely no cost to you. If you enjoyed this article and are going to be searching for some of the things I mention anyway, I would love it if you could click through from the links above. These links help me keep this site online and updated – so thank you in advance! Read my full Disclosure here.