The Prettiest Streets in Paris will provide the perfect backdrop for some epic holiday pics or simply some great locations for photographing the stunning Parisian architecture.
Paris, the city of love and fashion, is on many travelers' bucket list. From the majestic Eiffel Tower to the famous Louvre Museum, its beauty knows no bounds. But perhaps one of Paris' most overlooked features lies beneath your feet: its breathtaking cityscape!
Paris definitely has some of the prettiest streets in the world. From Haussmannian architecture to marvelous street art, typical coffees, and nature inviting itself into the city, there are so many beautiful streets.
However, foreigners often visit the main landmarks and miss out on the coolest streets and non touristy things to do in Paris. Worry not, we are ready to share those unique places for you to have the best trip to the city of lights. Here are the 10 absolute prettiest streets in Paris.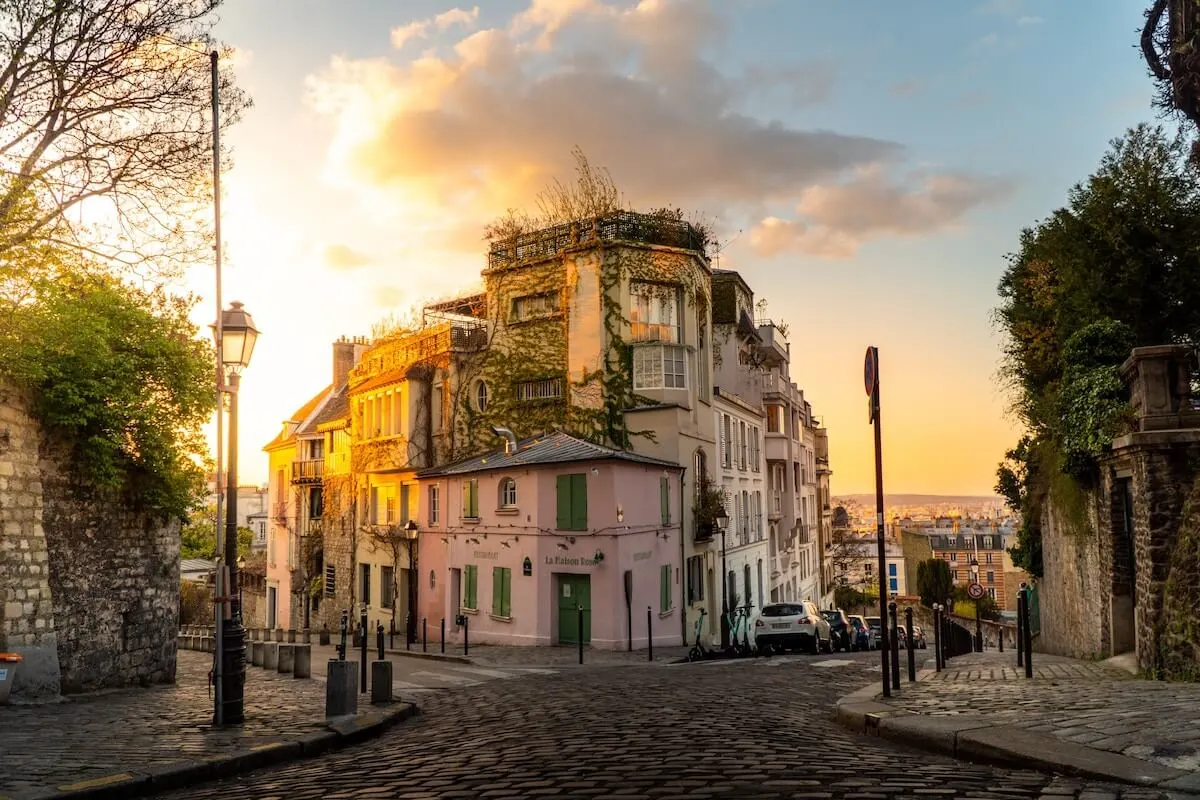 Disclaimer: Almost all posts on this site contain affiliate links, and this one featuring the Prettiest Streets in Paris is no different. This means that if you click on any of the links in this post (and make a purchase) I may receive a small commission at absolutely no cost to you. Each post is carefully crafted to (hopefully!) answer all your questions and recommendations are made where we believe they will improve your trip and help with your planning. As such we thank you in advance should you decide to click & buy. Read my full Disclosure here.
Map of the Prettiest Streets in Paris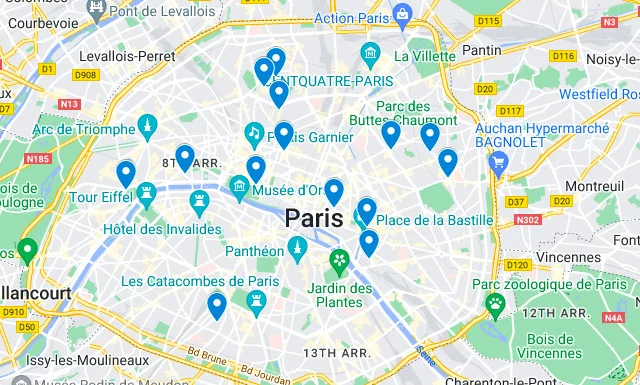 Click the map above or here to go to the Google map and get A to B directions to each of the prettiest streets in Paris.
Top 15 Prettiest Streets in Paris
Rue Denoyez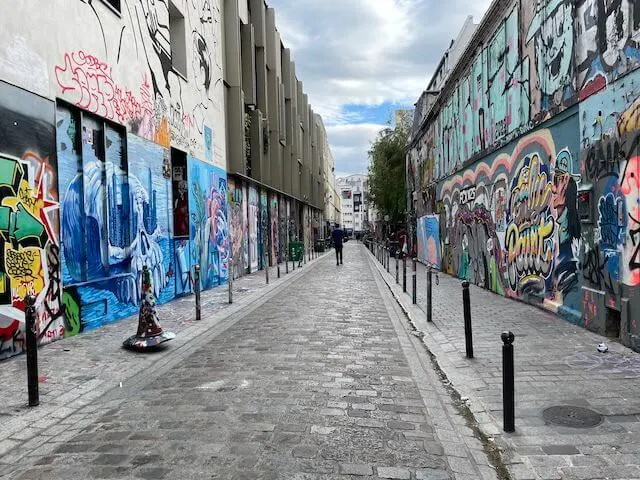 Rue Denoyez is one of the most instagrammable spots in Paris, and for good reason. Located in Belleville in the north of Paris, this colorful street is one of the best places to capture the vibrant and artistic side of the city.
It is filled with street art and graffiti that constantly changes as new artists come in to create new paintings. Walking down this street is like walking through an ever-evolving outdoor gallery.
But it's not just the art that makes Rue Denoyez worth visiting. It's also the lively atmosphere and sense of community that can be felt here.
It may be one of the most beautiful streets of Paris, but it is also home to a variety of small businesses, from art studios to restaurants and bars, giving it a unique charm and character.
Villa de l'Ermitage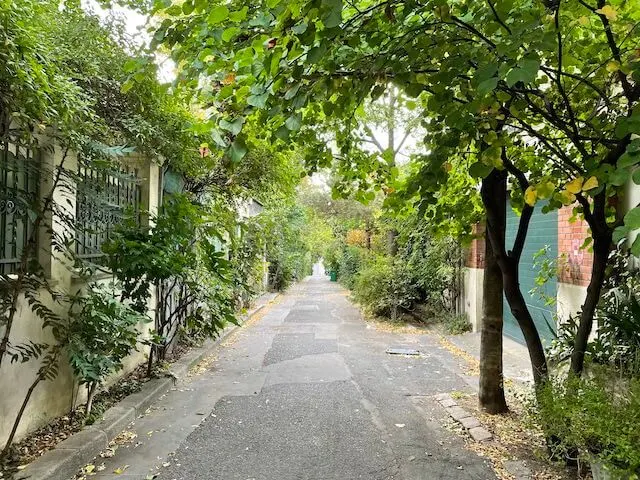 When visiting the 20th district, make sure to add Villa de l'Ermitage to your list of must-visit streets in Paris. This charming street is located in the 20th arrondissement and offers a unique blend of history, culture, and local charm.
With its 3-meter-high houses lining a quiet, leafy street, it's almost impossible to believe that this street is in Paris Intramuros. It looks like a Provencal village from another era, which isn't too far from the truth.
Villa de l'Ermitage was built in the 19th century as a residential district for workers. Back then, Belleville resembled a country village. Over time, the city replaced the village streets with apartment buildings, but a few village streets still remain in this Paris neighborhood.
After strolling through the peaceful Village de l'Ermitage, you can visit its neighbor, Cité Leroy.
Place du Trocadéro
Located in the 16th arrondissement of Paris, Place du Trocadéro is an iconic square that offers a stunning view of the Eiffel Tower. The square's elevated position offers a panoramic view that captures the beauty of Paris and its most famous landmark.
It has become a popular spot for photographers, artists, and tourists alike, who flock to capture the perfect shot of the Eiffel Tower from this vantage point. Its grand architecture, including the Palais de Chaillot and the two identical fountains on either side, adds to its grandeur and charm.
Throughout history, Place du Trocadéro has been a witness to many important events. It hosted festivals, political demonstrations during the French Revolution, and major sports events.
In 2024, it will be an important hub for the Olympic Games. If you are planning on visiting for this unique event, here is a guide on where to stay for the Paris Olympic Games.
Cour Damoye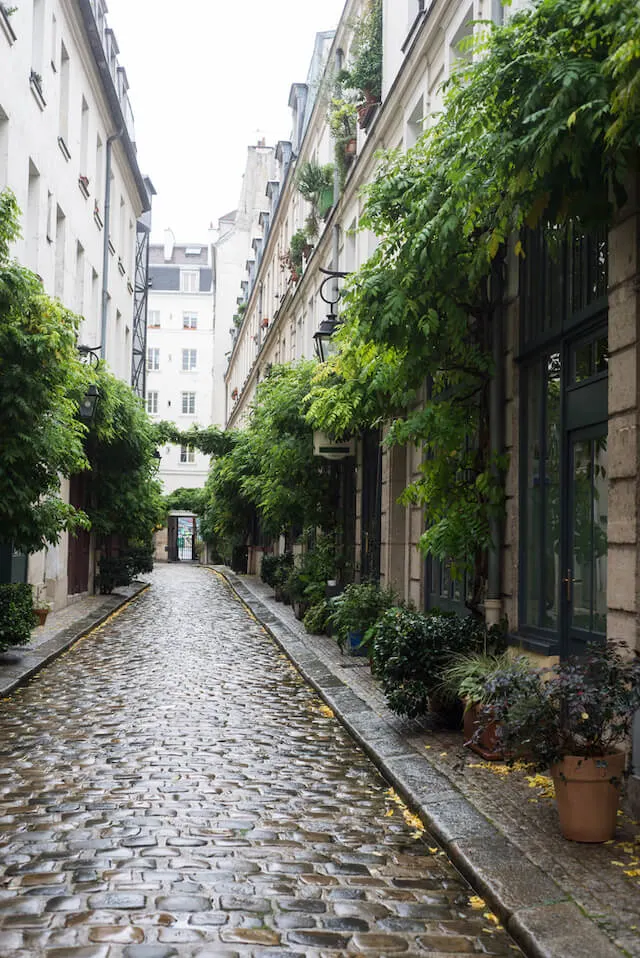 This is typically the kind of place we were thinking of when we said that you might miss out on the coolest streets. You need to know about those hidden gems to actually visit them!
Located in the 11th district, in the neighborhood of Bastille, the Cour Damoye is a charming courtyard. Walking through it feels like stepping back in time.
Its cobbled alleyway, old artisans' stores and art galleries give this street its absolutely unique character.
Cour Damoye is also a historical street in Paris. Property developers wanted to destroy it in the 90s to build more profitable buildings but were not allowed to. Instead, this street was restored while keeping its original architecture.
It's incredible that locals manage to keep it almost unchanged when all the surrounding streets are Hausmannian buildings and modern shops.
Passage des Panoramas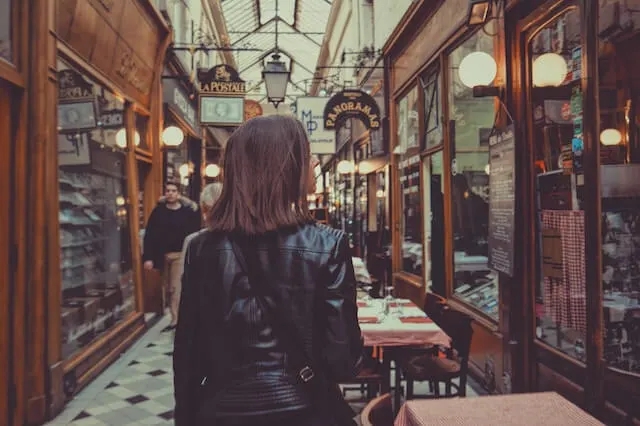 Passage des Panoramas is one of the oldest covered passages in Paris, and one of the most unique streets in Paris.
While Passage des Panoramas may be well-known among locals, it often remains undiscovered by tourists. It was originally built to house cafés, shops, and entertainment venues. Today, it remains a hub of activity with a charming mix of old-world charm, modern amenities and cool vintage restaurants.
With its beautiful glass ceilings, intricate ironwork, and ornate decorations, Passage des Panoramas is a sight to behold. It has been designated as a historical monument and its architecture is a testament to the elegance and grandeur of the old Paris.
It is home to a variety of stores ranging from traditional antique shops to trendy boutiques. Visitors can find unique items such as vintage postcards, rare books, and handmade crafts.
Rue de l'Abreuvoir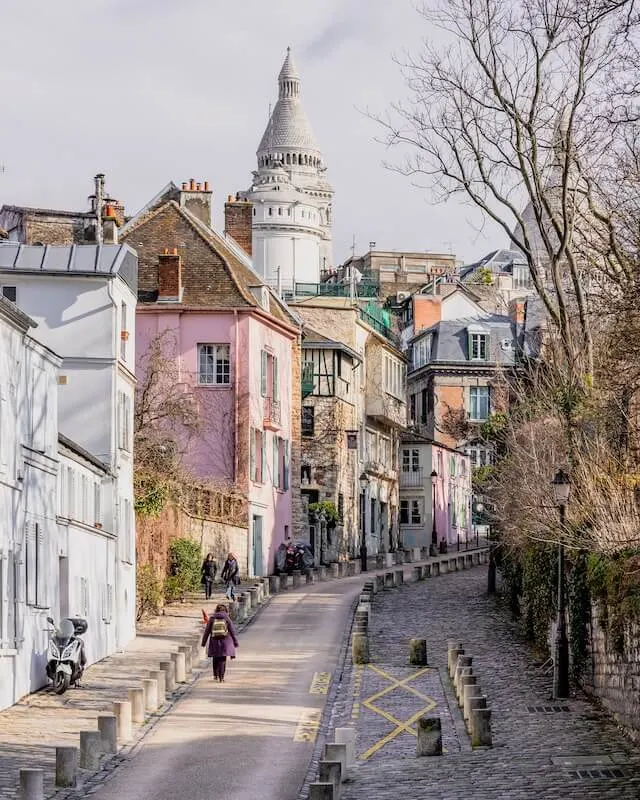 3 days in Paris would not even be enough to see all of the prettiest streets of Paris, but this one is a must-see. Rue de l'Abreuvoir is nestled in the heart of Montmartre, one of Paris' most iconic neighborhoods. The street may be small, but it's big on charm and history.
With its cobblestone streets, picturesque buildings and cafes, Rue de l'Abreuvoir exudes a unique charm that transports you back in time.
As you stroll down the street, you'll feel like you're walking through a postcard-perfect Parisian village. It was once home to artists like Van Gogh and Picasso, who sought inspiration from the street's idyllic setting. Today, you can still see remnants of its artistic past in the form of galleries and studios.
At the end of Rue de l'Abreuvoir, you'll find one of the most breathtaking views in Paris. The street opens up to a panoramic viewpoint that overlooks the entire city; and at the other end is the famous Maison Rose restaurant.
Rue Crémieux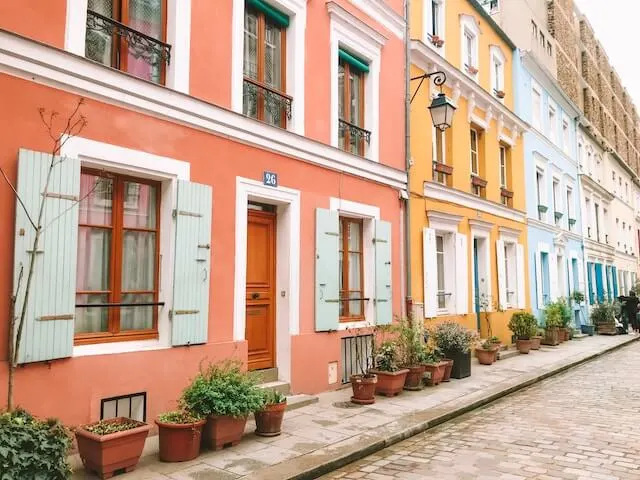 Have you ever been to Notting Hill in London? Well, Paris has a similar street called Rue Crémieux. It's located in the 12th district, right next to Gare de Lyon, the railway to head to the south of France.
Rue Crémieux is one of the most picturesque streets in Paris with beautiful pastel-colored houses. It is a feast for the eyes of tourists, but also for photographs.
The pastel houses are adorned with colorful shutters, potted plants, and charming details that make for the perfect photo opportunity.
The street is worth visiting but has become really popular in the last 10 years. If you don't want other people in your pictures, make sure to head there early. However, don't talk loud and be super respectful when visiting it so as not to disturb locals.
Rue Lepic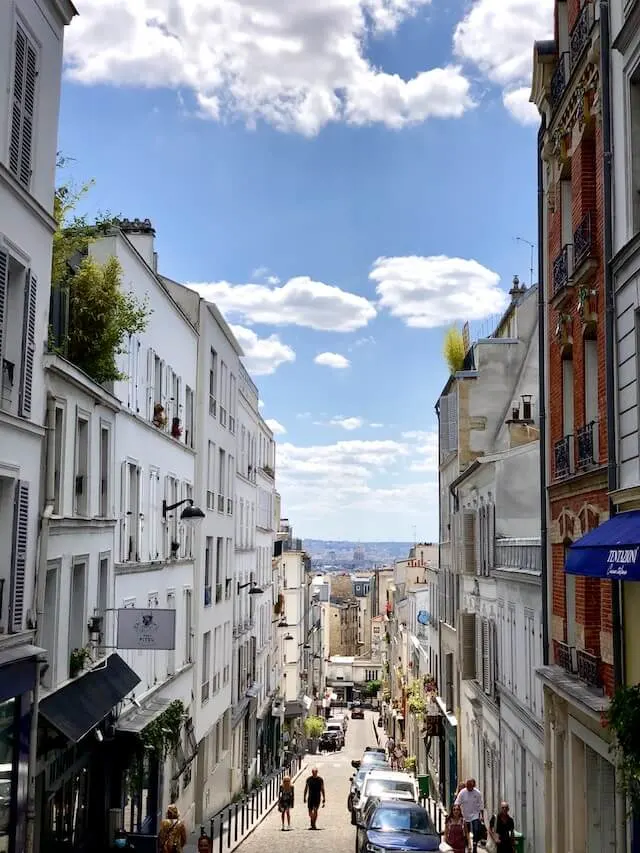 Rue Lepic is one of the famous streets in Montmartre. It is a bustling street with many restaurants and bars. Many traditional storefronts remain and you can still feel the historical bohemian days of Montmartre, making this street very nice to visit.
It also has many historical and artistic references. For instance, Les Deux Moulins is the iconic cafe featured in the film "Amélie Poulain"
As Montmartre is a hill, there used to be a lot of windmills a few hundred years back. The world-famous Moulin Rouge pays tribute to the history of Montmartre's windmills. Nowadays, only a few traditional windmills remain and one of them is located in Rue Lepic!
Last but not least, Rue Lepic is lined with charming boutiques selling unique and local items. From handmade jewelry to vintage clothing to artisanal goods, you can find the perfect souvenir or gift to take home with you.
Rue des Martyrs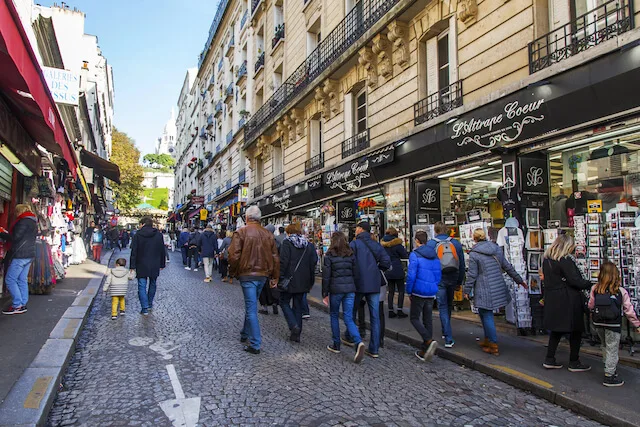 Rue des Martyrs is not only one of the prettiest streets in Paris, but it will also give you a true taste of Parisian life. Rue des Martyrs is a beloved destination for locals.
Unlike some of the more touristy areas in Paris, this street maintains its authentic charm. This dynamic street has been around since ancient times and has gone through many changes over the centuries. It connects the Place de la Trinité and Rue de Rochechouart.
One of the most appealing aspects of Rue des Martyrs is its unique blend of old and new. As you walk down the street, you'll notice traditional Parisian buildings with their iconic balconies alongside modern boutiques, cafes, and restaurants.
Rue des Thermopyles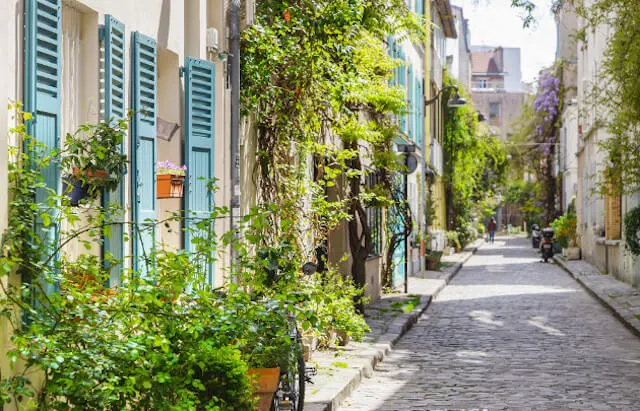 You can now head to the 14th district for a charming country walk! Rue des Thermopyles may be small in size, it is nonetheless a true hidden gem.
It is one of those village-vibe streets, but imagine that with vegetation everywhere. Plants are climbing everywhere in this street and it's a delight for the eyes to see this much green in the middle of the city.
Locals have plants on their window boxes, but also on the walls and doors of their accommodation. If you are visiting during spring or summer, lucky you! Rue des Thermopyles gets covered in wisteria at this time of the year.
La Campagne à Paris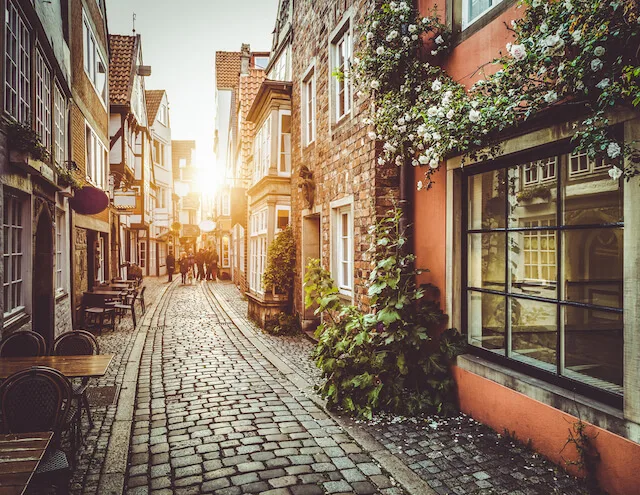 La Campagne à Paris (The Countryside in Paris), often hailed as one of the prettiest areas in the city, captivates visitors with its enchanting beauty and unique charm.
Nestled in the 20th arrondissement, not far from the busy boulevard Périphérique, this housing development built in 1907 is a real hidden gem that resembles a picturesque village with its cobblestone pathways, vibrant gardens, and charming cottages adorned with colorful flowers.
Champs Elysees (from above!)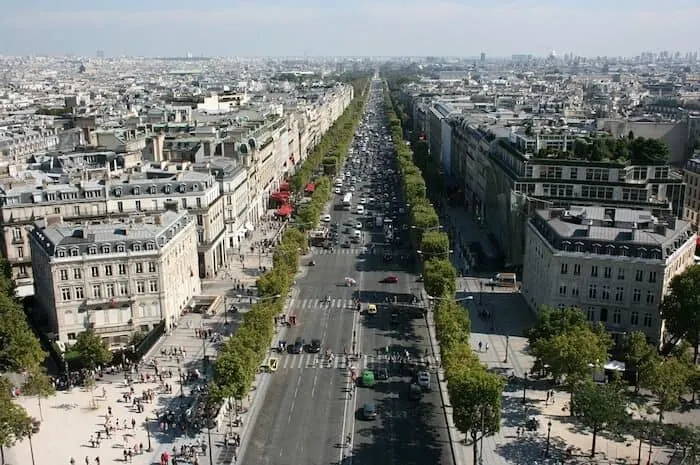 The most famous shopping streets in Paris, if not in Europe as a whole, you'll find the tree-lined Champs Elysee home to luxury brands, souvenir shops and the fanciest McDonalds in the world!
To take this iconic shot, you'll need to climb the Arc de Triomphe – all 284 steps to the viewing platform at the top – but I'm sure you can agree, it is totally worth it!
Rue du Rivoli
Rue de Rivoli stands as a testament to Parisian elegance and architectural grandeur, securing its place among the city's most beautiful streets.
This iconic thoroughfare, stretching along the right bank of the Seine, is renowned for its harmonious blend of history and style.
Flanked by distinguished buildings, including the Louvre Museum, and beautiful gardens, the street exudes a regal ambiance that transports visitors to a time of opulence and sophistication.
Wander through Le Marais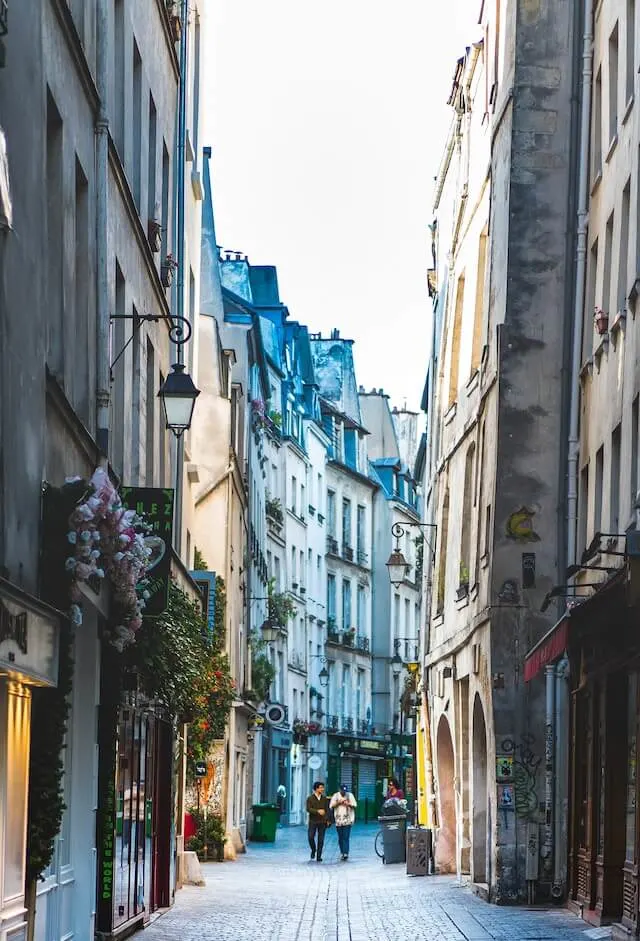 Le Marais is one of Paris's trendiest neighborhoods, with a mix of historic architecture, trendy boutiques, and trendy restaurants. The area is home to some of the city's best museums, including the Musée Picasso and the Musée Carnavalet, as well as the Place des Vosges, a beautiful square surrounded by elegant townhouses.
Be sure to take some time to explore the beautiful winding streets and discover hidden gems, such as artisanal chocolatiers and vintage clothing stores.
Main Street, Disneyland Paris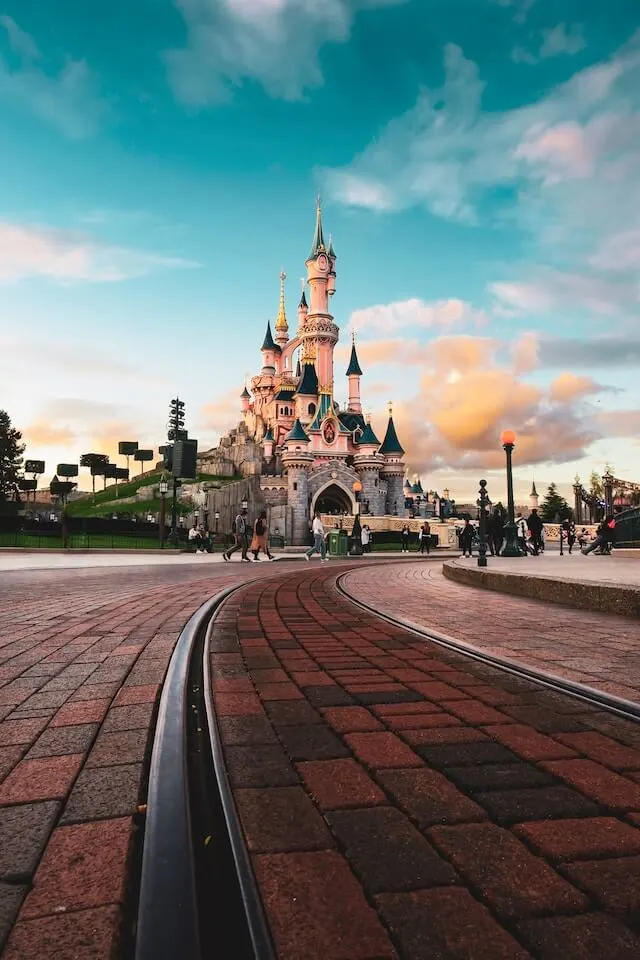 While this one may seem a little 'niche' there is no denying that Main Street in Disneyland Paris is a sight to behold.
Located just outside the city, easily accessible by train from Gare du Lyon and perfect for a day trip, with its thrilling rides, colorful parades, and beloved Disney characters, the park is sure to delight visitors of all ages, and provide the perfect backdrop for those Disney inspired holiday snaps!
Prettiest streets in Paris: final thoughts
Paris has many famous landmarks, but also aesthetic and unique streets to explore. If you could visit only two of the prettiest streets in Paris, we would recommend Passage des Panoramas, to get a taste of 19th century life and Villa de l'Ermitage, to understand that Paris was once a village!
After your trip to Paris, if you'd like to recommend any other beautiful streets in Paris that you think should be added to our list, please let us know in the comments and we'll go and check them out!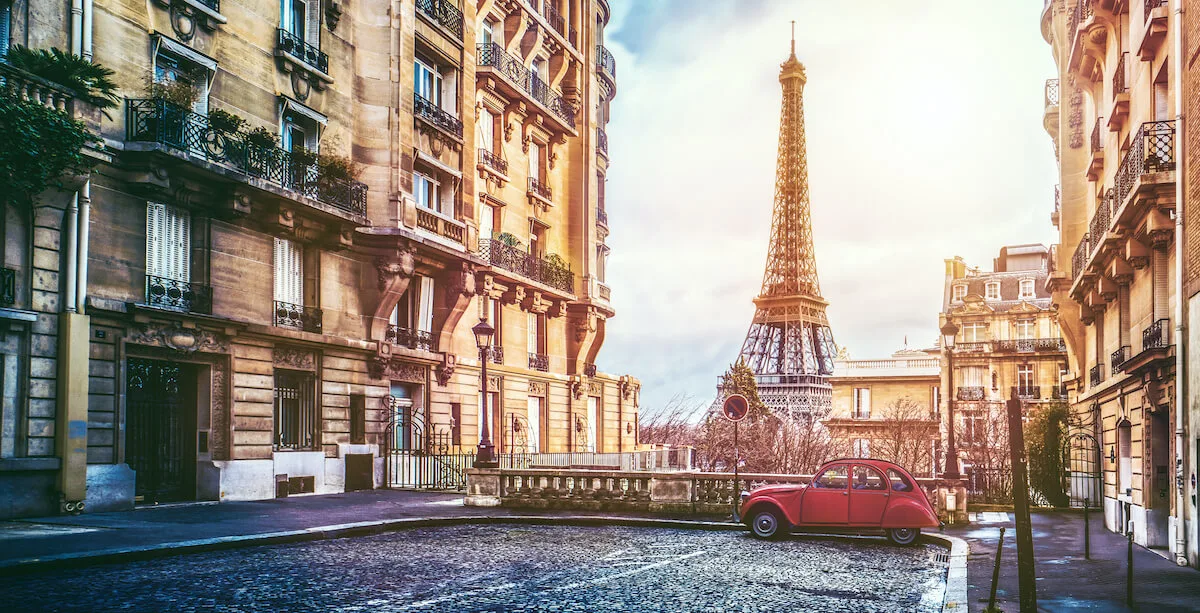 READY FOR MORE EUROPE TRAVEL INSPIRATION? YOU MIGHT BE INTERESTED IN THESE TRAVEL TIPS, TRAVEL HACKS, TRAVEL ARTICLES, TRAVEL DESTINATIONS GUIDES, SOLO TRAVEL GUIDES, TRAVELER RESOURCES AND RELATED POSTS ABOUT OTHER BEAUTIFUL CITIES IN EUROPE TO HELP YOU EXPLORE EUROPE AND TRAVEL THE WORLD:
Hi There! Thanks for reading my travel tips for the Prettiest Streets in Paris (inc. Map)! I just wanted to let you know that this post may contain affiliate links, which means if you purchase something after clicking a link, I may get a small commission – which is at absolutely no cost to you. If you enjoyed this article and are going to be searching for some of the things I mention anyway, I would love it if you could click through from the links above & thank you in advance! Read my full disclosure here. And thank you for reading the MakeTimeToSeeTheWorld travel blog.