With 3 EPIC 3 days in Iceland Itineraries to choose from (plus travel tips + more!) – let us help you plan the perfect Iceland stopover or mini-break!
Let me tell you straight away that it would be a shame if you only had 3 days in Iceland. This ruggedly beautiful, wild country has so much to see and do that 2 weeks are not enough to traverse through Iceland. But if 3 days are what you have, whether it be a planned weekend in Iceland or stopover trips, here are 3 alternate options to make the best of your time in Iceland.
These itinerary suggestions would work well during the spring or summer months with longer hours of daylight in Iceland.
The good part is whichever itinerary option you choose, Iceland will not fail to impress. And if you can make more time in Iceland, at least 10 days or more, then I highly recommend the self-drive ring road itinerary for Iceland.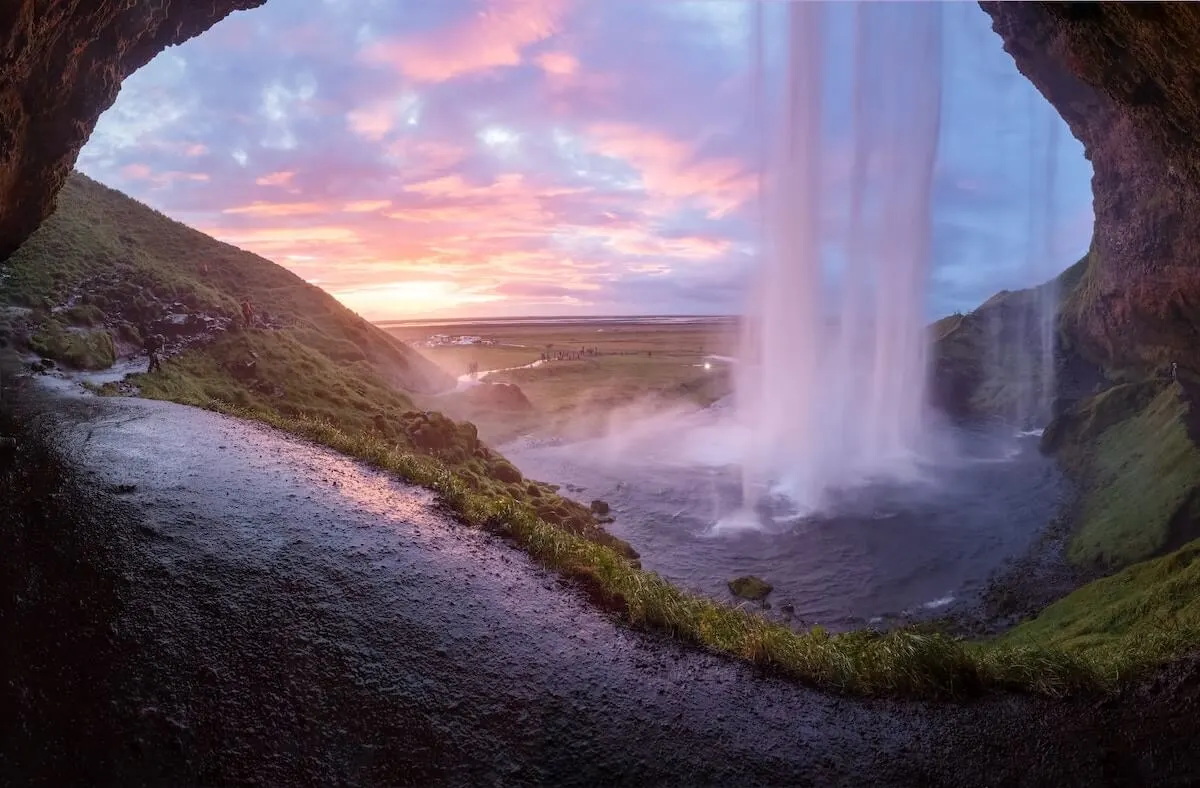 Disclaimer: Almost all posts on this site contain Affiliate links, and this one containing Itineraries for 3 Days in Iceland is no different. This means that if you click on any of the links in this post (and make a purchase) I may receive a small commission at absolutely no cost to you. Each post is carefully crafted to (hopefully!) answer all your questions and recommendations are made where we believe they will improve your trip and help with your planning. As such we thank you in advance should you decide to click & buy. Read my full Disclosure here.

Top Iceland Tips to Know Before You Go
– Iceland is subject to extreme weather swings. Use our
Iceland Packing List
for all seasons!
– You can drink the tap water (even if it sometimes smells bad).
– Eating out is super expensive – but there are several Happy Hours in Reykjavik! and
– Park your car facing into the wind.
And if you want to know more, read our
30+ ESSENTIAL Iceland Travel Tips
here.
3 Day Iceland Itinerary (Route 1) Explore Reykjavik and the popular Golden Circle
This itinerary combines the popular Golden Circle with Reykjavik and would be the first choice for a first-time visit to Iceland.
It would also work in any season, even if you visit Iceland in winter due to the proximity of the Golden Circle route to Reykjavik.
Day 1: Get into Reykjavik, overnight stay at Reykjavik.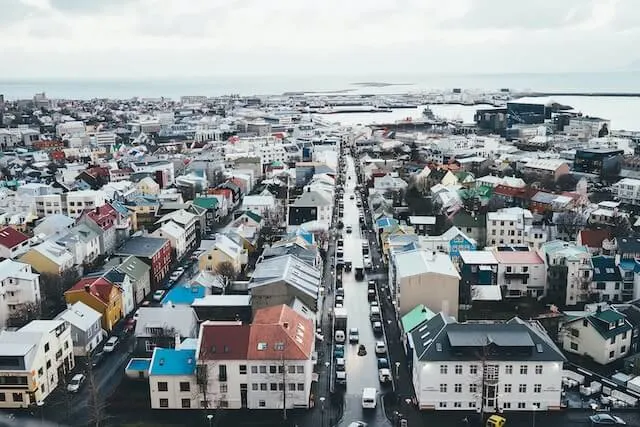 Reykjavik feels different from other European capital cities. It is compact in size and you can walk around easily. You can cover most attractions in Reykjavik in a day. It is modern yet not full of boxy buildings.
Once you get into Reykjavik and check into your hotel, step out to explore the popular Hallgrimskirkja. This is the iconic church in Reykjavik that looms over most other buildings. This is the tallest church in Iceland, standing at 74.5 metres in height. You can climb up and get wonderful views of the city all around.
There are other attractions to be explored in Reykjavik like the Harpa concert hall and the Sun Voyager statue. You would come upon both these sights while strolling over the promenade on Saebraut Road.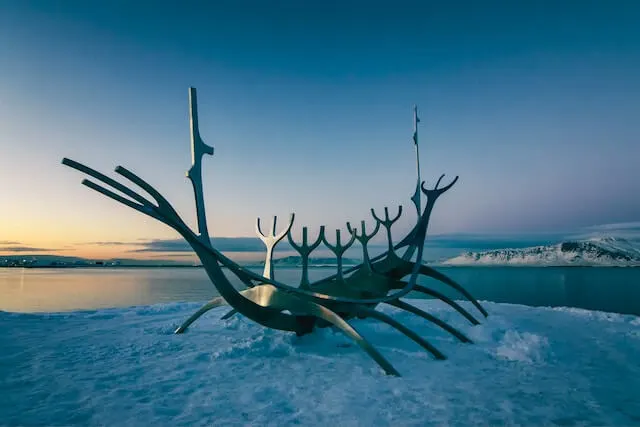 If you are travelling to Iceland with kids, they would immensely enjoy a stop at the Perlan Museum. The Aurora show, the short film on volcanoes, and the ice tunnel are informative and enjoyable for adults too. The observation deck gives you panoramic views of the city beneath you.
Reykjavik being home to more than 60% of the population in Iceland has many high-end restaurants and casual cafes, so do explore the Icelandic cuisine here. It has a vibrant nightlife and music scene as well.
Day 2: Drive to Thingvellir National Park, Geysir Hot Springs area and Gullfoss Waterfall, stay near Golden Circle
Most tourists visiting Iceland for a short vacation take a small group tour to visit the Golden Circle from Reykjavik. You can rent a car (near Keflavik International Airport) and do the self-drive option for the next 2 days.
Thingvellir National Park, Geysir Hot Springs area and Gulfoss Waterfall make the trio in the popular Golden Circle.
It is best to get up early and head to Thingvellir National Park on Day 2 of your Iceland itinerary. Being popular and close to the capital, this national park gets quite crowded. But where else would do you get to see the American and Eurasian tectonic plates drifting apart from each other?! There is also a lovely waterfall, Oxarafoss, that you can walk up to.
After Thingvellir, head to the Geysir geothermal area for a quick stop. The famous Geysir itself is no longer active, but you can see Strokkur nearby. The eruption of the Strokkur geyser occurs every 6 to 10 minutes.
Make sure you stick to the walking paths in this area. The water is extremely hot and there is a sulphur smell that you would get used to (eventually!). There are bubbling mud pools and steam emanating in the surrounding area.
The last stop on the Golden Circle route is the famous Gullfoss waterfall. Gullfoss is the most visited waterfall in Iceland, partly due to its proximity to Reykjavik and partly because of its dramatic display. It comprises 2 waterfalls, a shorter cascade of 11 metres and then a drop of about 21 metres.
The 3 stops plus the drive from Reykjavik would make this a long day, very doable in spring or summer months. But Iceland in winter is a different matter. Driving is challenging and the short daylight hours would make it difficult to visit all the 3 stops in a day. They have to be spread over 2 days. You should consider staying overnight near Golden Circle.
Day 3: Visit the Blue Lagoon and back to Reykjavik, stay at Reykjavik or head to the airport depending on your flight timing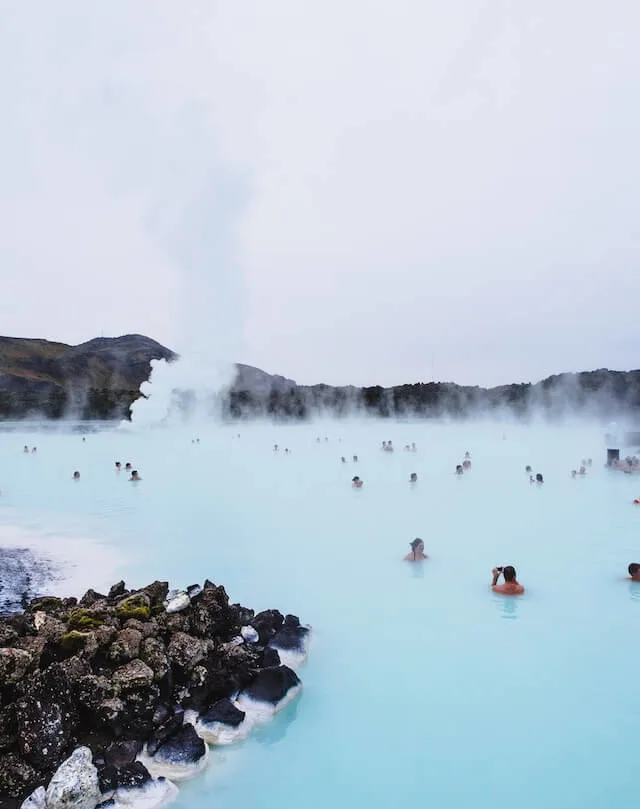 After a day exploring the Golden Circle, it is time to relax and rejuvenate. You could drive to Grindavik to the famous Blue Lagoon for that. Being popular, it gets very crowded during the day. If you can get here early in the morning, nothing like it. Soak in the geothermal water brought over by a nearby spring.
You will need to pre-book your day pass for Blue Lagoon. Also, consider adding lunch at the restaurant here. After spending 2-3 hours relaxing at Blue Lagoon, it is time to drive back to Reykjavik.
If your flight back home is that evening, you need to give back your rental car and take the taxi drop organised by your car rental company to Keflavik International Airport.
If your flight back home is the next morning, you should head back to Reykjavik, and check again into a hotel for an overnight stay. Reykjavik has a vibrant nightlife. You could hit some of the pubs at Laugavegur Street for drinks and dinner.
Iceland 3-day Itinerary (Route 2) Reykjavik and the Snaefellsnes Peninsula
Snaefellsnes Peninsula lies in the western part of Iceland and is often referred to as the miniature version of Iceland. Driving through the scenic coastal areas of this peninsula combined with the last day in Reykjavik would make for a lovely 3 day Iceland itinerary.
This itinerary would work best in the spring, summer and autumn months.
Day 1: Get into Reykjavik and head to Snaefellsnes Peninsula, overnight stay at Hellnar or Budir
After you get to Reykjavik, you could consider taking a 2-day small group tour to Snaefellsnes Peninsula. Or just rent a car, there are plenty of options available near Keflavik airport and head towards Hellnar. There are many attractions in West Iceland to be covered over 2 days.
If you are into hiking, consider a moderate-level hike to Glymur Waterfall, the second-highest waterfall in Iceland. You can view the Glymur Waterfall only via a hike. Else head to Budir, which lies north of Reykjavik at a distance of about 180 km.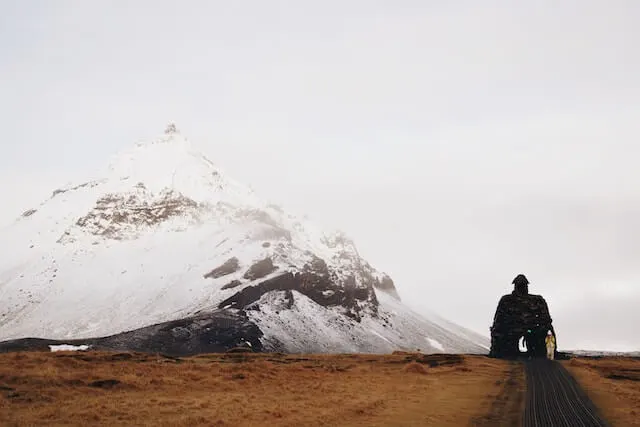 You could stay overnight in the coastal town of Budir or Hellnar. Some of the attractions that can be covered on Day 1 include Ytri Tunga seal beach, Budir black church, Bjarnarfoss (a waterfall located behind Budir), and Arnarstapi Cliffs.
As a plus, you get views of the Snaefellsjokull Glacier (a glacier-topped volcano!) from many parts of your road trip.
Even more than these sights in West Iceland, the best part about this area is the lovely panorama you come upon. Shoot
and click at any point in Snaefellsnes Peninsula and it is postcard-worthy!
Day 2: Explore more of Snaefellsnes Peninsula, stay at Grindavik
One of Iceland's oldest lava caves is part of Snaefellsnes National Park. You need to pre-book a tour to visit Vatnashellir Lava Cave. After this tour, drive further to explore the Saxholar volcano crater, Londrangar basalt cliffs, and the lava fields of Djupalonssandur. And finally, drive to the most photographed mountain in Iceland – Kirkjufell (pictured above) and the nearby Kirkjufellfoss.
You could stay the second night in your hotel in Budir or Hellnar and have a relaxed evening. Or if time permits, and this is quite possible in summer months with long hours of daylight, you could head to Grindavik and stay close to Blue Lagoon.
Soaking your fatigue in the geothermal water of Blue Lagoon after a long day of sightseeing is a wonderful idea. It is open until midnight in the summer months and you get less crowded in the late hours.
Day 3: Head back to Reykjavik, stay at Reykjavik or head to the airport depending on your flight timing
The last day of your Iceland 3-day itinerary is for you to drive back to Reykjavik. Enjoy the capital of Iceland on foot on Day 3 exploring the different sights and neighbourhoods here (see the things to do in Reykjavik from Itinerary option 1).
Iceland in 3 Days (Route 3) Reykjavik and the South Coast of Iceland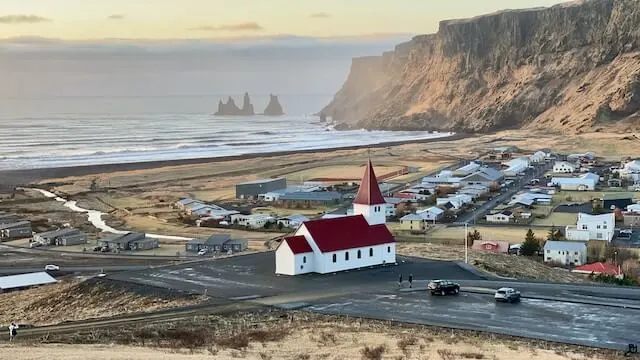 The south coast of Iceland is immensely popular for a reason. There are a number of South Coast highlights to visit plus many activities that you get to do here. So combining the south coast attractions with a day in Reykjavik makes for a good itinerary for 3 Days in Iceland.
This itinerary would work best in the spring, summer and autumn months.
Day 1: Get into Reykjavik and head towards Vik, stay in Vik
Once you get into Reykjavik, you could consider a 2-day tour to the South Coast of Iceland.
This is a popular spot and there are many tour options available. I feel that a one day tour is quite wasted for the picturesque south coast. Better yet, you could rent a car in Iceland near to the international airport and head in the direction of Vik.
Vik is on the ring road of Iceland, about 190 km south-east of Reykjavik. It makes for a good overnight base to explore the South coast attractions. You could consider checking into your hotel or apartment in Vik first and then seeing these sights, or see some of them on your way to Vik.
Seljalandsfoss waterfall and Skogafoss waterfall are 2 of the most famous Iceland waterfalls that are right on Route 1 or the Ring Road. You would reach them before you get into Vik.
Seljalandsfoss is one of the few waterfalls in Iceland where you have a clear path to get behind the waterfall. Make sure you are carrying rain gear to avoid getting drenched.
Skogafoss is beautiful and visible even from the main road. But wait till you get closer to this waterfall. The mist is unbelievable.
Also worth exploring on Day 1 of your Iceland itinerary is the famous black sand beach, Reynisfjara with its tall basalt columns and the rock formations nearby in the ocean. Beware of the strong current in the ocean, it is best not to get into the water.
You can drive up to Dyrholaey Peninsula to get stunning views of this beach and also of the Atlantic Ocean, where there is a lovely lighthouse on top of the peninsula.
Day 2: Explore more of the South coast of Iceland, stay overnight in Vik
There are too many things to do in 2 days on the south coast of Iceland, so you would have to choose. But I highly recommend a glacier hike to the largest glacier in Iceland, the Vatnajokull. This glacier hike, or a hike on the nearby Solheimajokull glacier, cannot be done without a tour guide and some gear like crampons and ice picks. So it is best to pre-book
your glacier hike.
You can also book a kayaking tour, or a boat tour to Jokulsarlon glacier lagoon. Large iceberg chunks that have broken off from the glacier float in this lagoon before getting into the Atlantic Ocean.
And if you have some time left on the second day, make sure to head to Diamond Beach. Ice chunks glinting against the black sands of a beach is not something that you get to see everywhere!
Day 3: Drive back to Reykjavik, stay at Reykjavik or head to the airport depending on your flight timing
Drive back to Reykjavik via the same route from Vik. Spend the last day of your Iceland 3-day itinerary walking around the city (see the things to do in Reykjavik from Itinerary option 1).
And that's a wrap folks – our 3 Epic Itineraries for 3 Days in Iceland. We hope we have helped you plan your Iceland trip. And if you liked this Iceland travel guide – or have friends that need help with their travel planning – be sure to share this post with them!
READY FOR MORE EUROPE TRAVEL INSPIRATION? YOU MIGHT BE INTERESTED IN THESE TRAVEL TIPS, TRAVEL HACKS, TRAVEL ARTICLES, TRAVEL DESTINATIONS GUIDES, SOLO TRAVEL GUIDES, TRAVELER RESOURCES, AND RELATED POSTS ABOUT OTHER BEAUTIFUL CITIES IN EUROPE TO HELP YOU EXPLORE EUROPE AND TRAVEL THE WORLD:
Hi There! Thanks for reading our travel guide to the perfect 3 Days in Iceland Itinerary and Travel Tips. I just wanted to let you know that this post contains affiliate links, which means if you purchase something after clicking a link, I may get a small commission – which is at absolutely no cost to you. If you enjoyed this article and are going to be searching for some of the things I mention anyway, I would love it if you could click through from the links above & thank you in advance! Read my full Disclosure here.
And a huge Thank You for reading the MakeTimeToSeeTheWorld travel blog.