Hitting the open road, feeling the wind in your hair and singing your heart out to some of the world's best songs are everything that road trip dreams are made of! And with so many scenic roads in life packed with incredible sights and experiences, we can't wait to get started!
Whether you are in the process of planning your next adventure and looking for some inspiring road trip quotes to get your fired up, or are reliving your last epic road trip and are in need of the perfect Instagram caption, we've rounded up over 100 Incredible Road Trip Quotes (including funny quotes, quotes about road trips with friends, short road trip quotes and family road trip quotes!) – We're sure to have the perfect road trip quote to match your situation!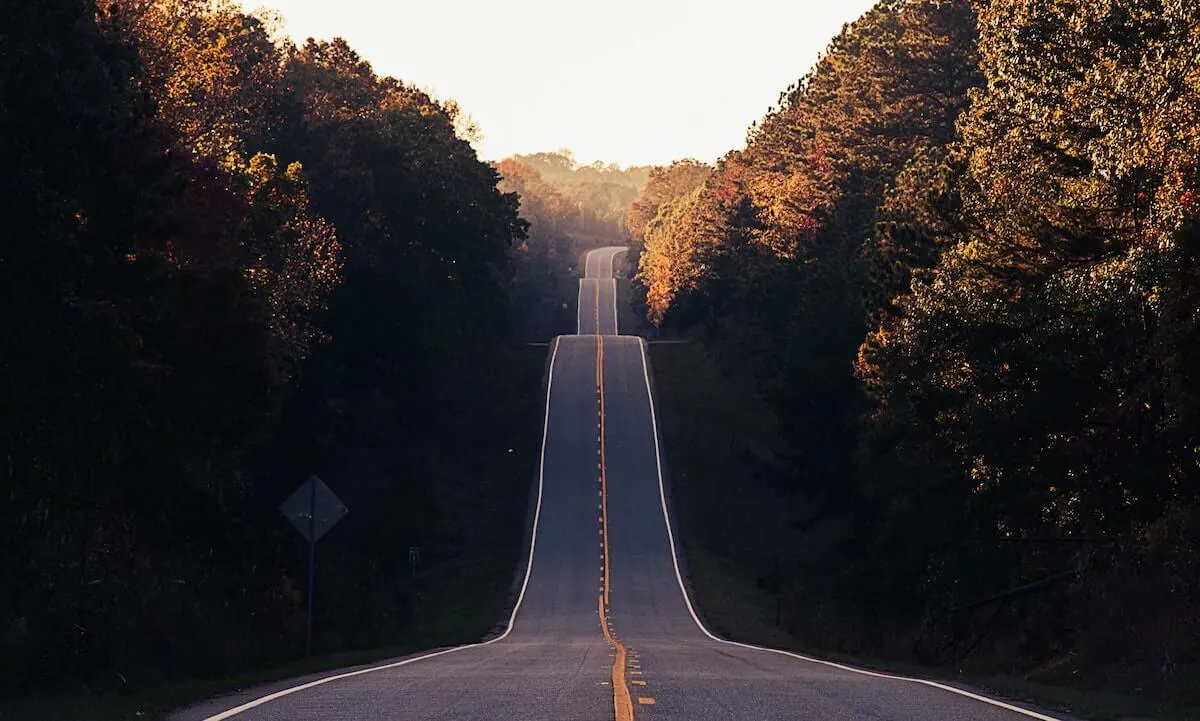 Disclaimer: Almost all posts on this site contain affiliate links, and this one featuring the 50+ BEST Road Trip Quotes and Road Quotes to Inspire Your Next Adventure is no different. This means that if you click on any of the links in this post (and make a purchase) I may receive a small commission at absolutely no cost to you. Each post is carefully crafted to (hopefully!) answer all your questions and recommendations are made where we believe they will improve your trip and help with your planning. As such we thank you in advance should you decide to click & buy. Read my full Disclosure here.
Road Trip Quotes to Inspire Your Trip
1. "I may not have gone where I intended to go, but I think I have ended up where I intended to be." – Douglas Adams
2. "Sometimes the most scenic roads in life are the detours you didn't mean to take." – Angela N. Blount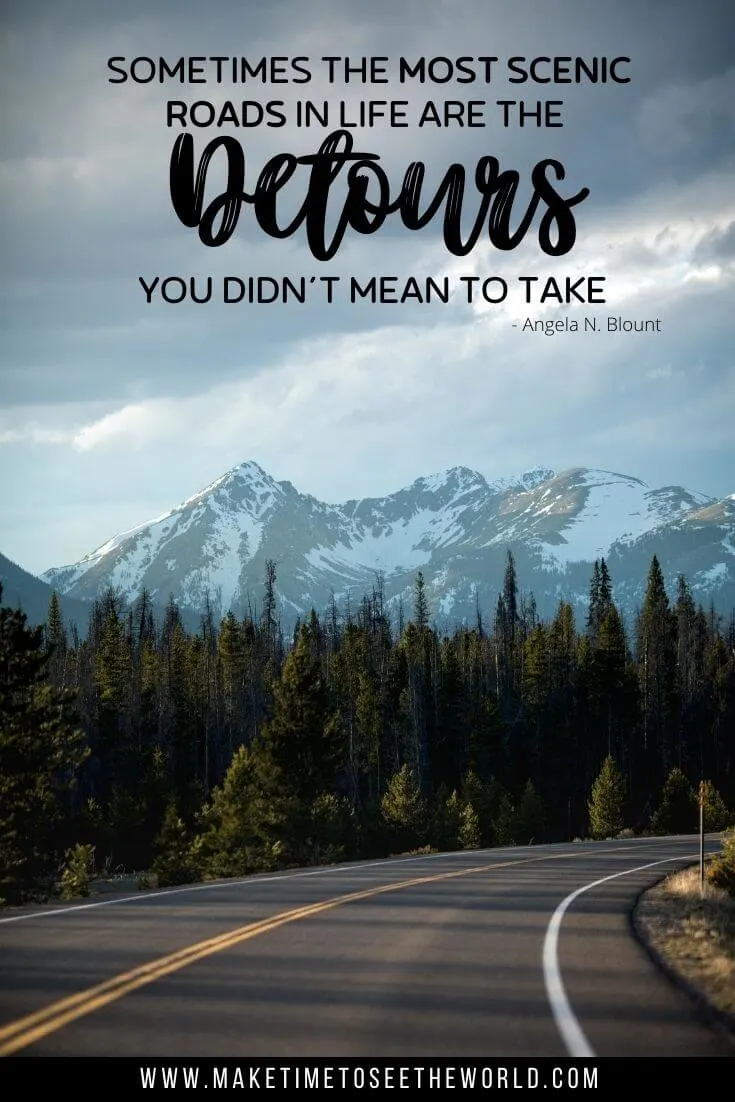 3. "She wasn't where she had been. She wasn't where she was going, but she was on her way." – Jodi Hills
4. "I travel not to go anywhere but to go. I travel for travel's sake. The great affair is to move." – Robert Louis Stevenson
5. "To awaken alone in a strange town is one of the pleasantest sensations in the world. You are surrounded by adventure. You have no idea of what is in store for you, but you will, if you are wise and know the art of travel, let yourself go on the stream of the unknown." – Freya Stark
6. "I just go with the flow, I follow the yellow brick road. I don't know where it's going to lead me, but I follow it." – Grace Jones
7. "Two roads diverged in a wood, and I – I took the road less travelled by, and that has made all the difference." – Robert Frost
8. "The struggles we endure today will be the 'good old days' we laugh about tomorrow." – Aaron Lauritsen (because not all road trips go as planned!)
Short Road Trip Quotes
9. "Travel far enough, you meet yourself." – David Mitchell (I think this is just begging to be one of those captions for Instagram, don't you agree?!)
10. "If you don't know where you are going, any road will get you there." – Lewis Carroll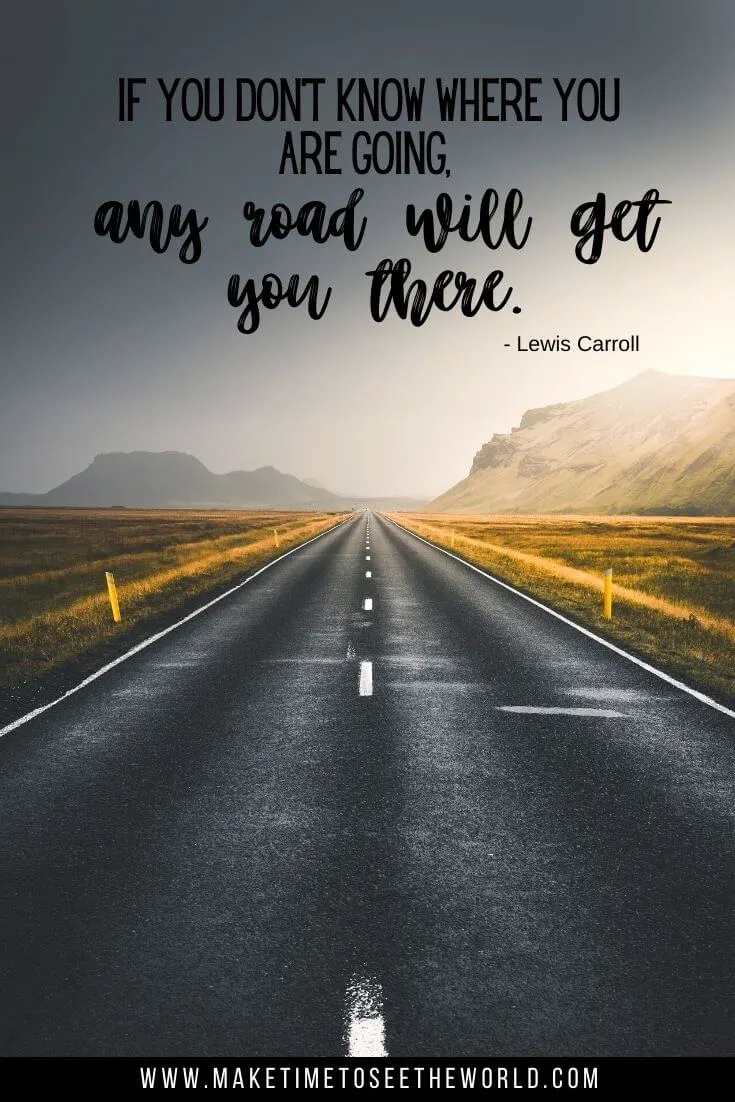 11. "God made the world round so we would never be able to see too far down the road." – Isak Dinesen
12. "You may not find a path, but you will find a way" – Tom Wolfe
13. "Look for chances to take the less-traveled roads. There are no wrong turns." – Susan Magsamen
14. "Roads were made for journeys, not destinations." – Confucius (could this be the original road trip quote?!)

15. "If you're on a road trip, you need driving music." – Edgar Wright
16. "Because the greatest part of a road trip isn't arriving at your destination. It's all the wild stuff that happens along the way." – Emma Chase
17. "Map out your future, but do it in pencil. The road ahead is as long as you make it. Make it worth the trip." – Jon Bon Jovi (and for more epic road trip tunes, be sure to have a read of our ultimate road trip playlist or 100 Best Travel Songs!)

18. "I love road trips. You get into this Zen rhythm; throw the sense of time out the window." – Miriam Toews
19. "Stop worrying about the potholes in the road and enjoy the journey" – Babs Hoffman (these are both figurative potholes in the road for little problems, and the genuine 'hole in the road' type potholes that may be more common on your road trip depending on where you travel!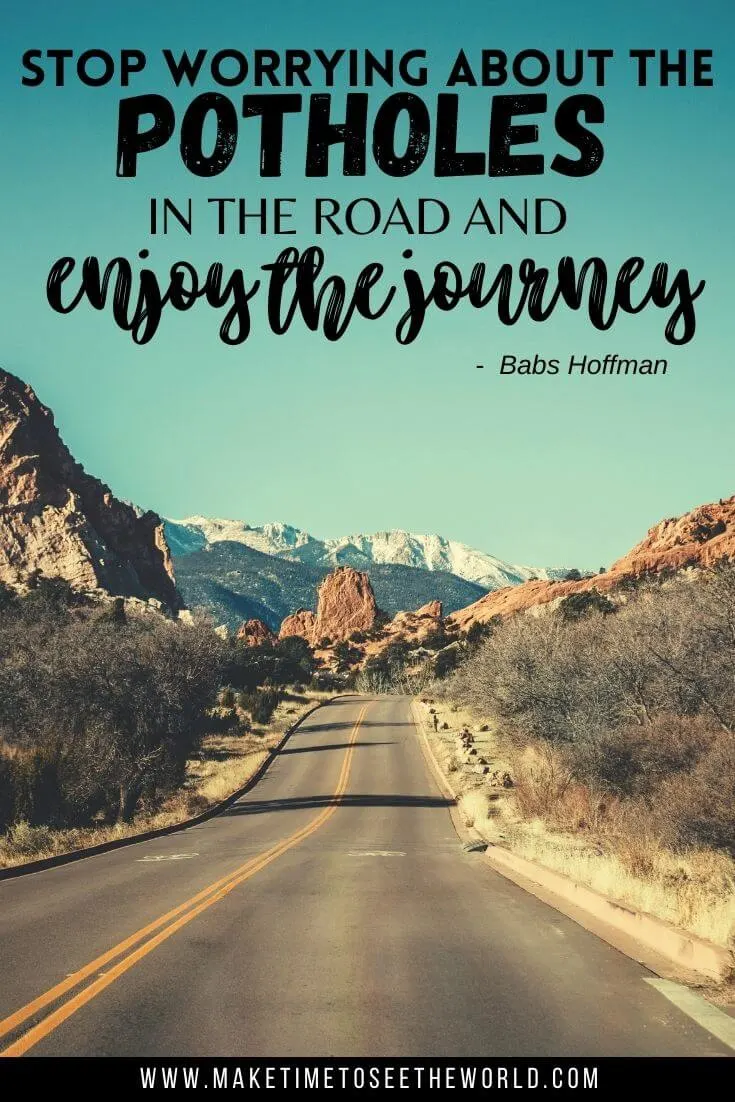 20. "Still, round the corner, there may wait, A new road or a secret gate" – J. R. R. Tolkien
Funny Road Trip Quotes
21. "Look at life through the windshield, not the rearview mirror." – Byrd Baggett
22. "If you think adventure is dangerous, try routine, it's lethal." – Paulo Coelho
23. "Road trips require a couple of things: A well-balanced diet of caffeine, salt and sugar and excellent selection of tunes—oh, and directions." – Jenn McKinlay (This is one of my favorite funny travel quotes!)

24. "Have you noticed that anyone going slower than you is an idiot and anyone going faster than you is a maniac?!" – George Carlin
25. "That's why I love road trips, dude. It's like doing something without actually doing anything." – John Green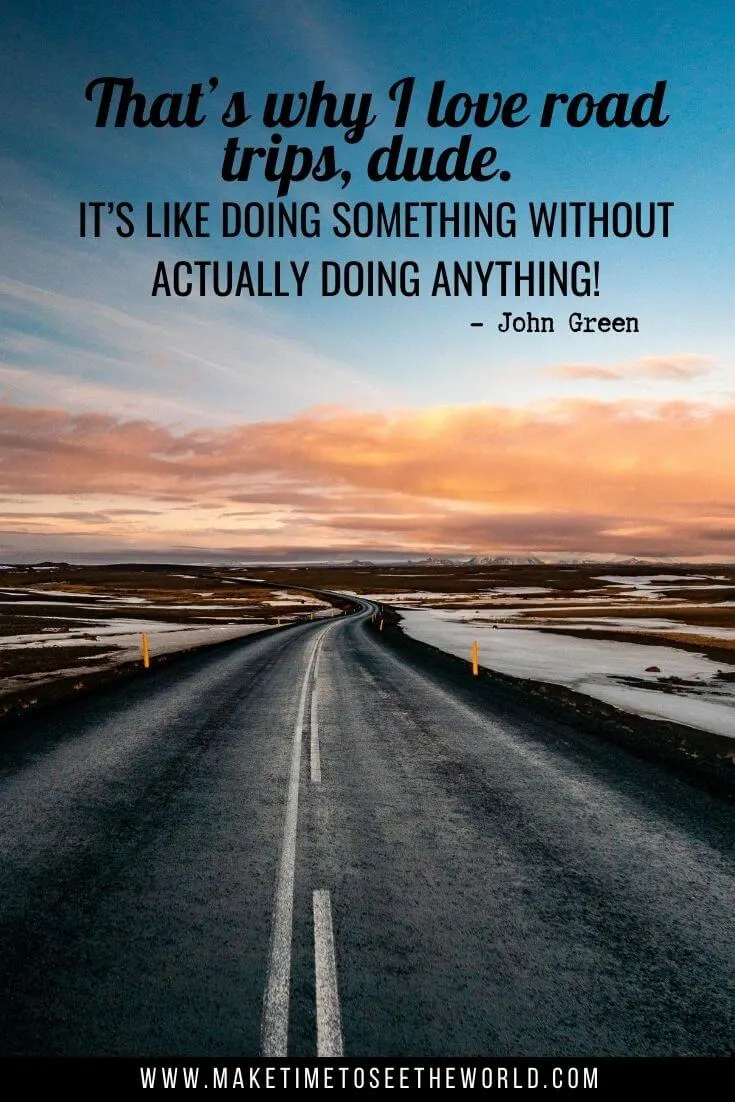 26. "Our battered suitcases were piled on the sidewalk again; we had longer ways to go. But no matter, the road is life." – Jack Kerouac
27. "We all have that one friend who is either on a road trip or planning a road-trip or thinking about a road-trip or talking to people who are on road-trip or posting quotes about road-trip." – Crestless Wave
28. "People don't take trips. . . trips take people." – John Steinbeck
29. "Worst thing about being a tourist is having other tourists recognize you as a tourist!" – Russell Baker
30. "Kilometers are shorter than miles. Save gas, take your next trip in kilometers." – George Carlin
31. "If you are going through hell, keep going." – Winston Churchill (for when you are a few days drive from your destination and just want to get there already!)
32. "A bend in the road is not the end of the road… Unless you fail to make the turn." – Helen Keller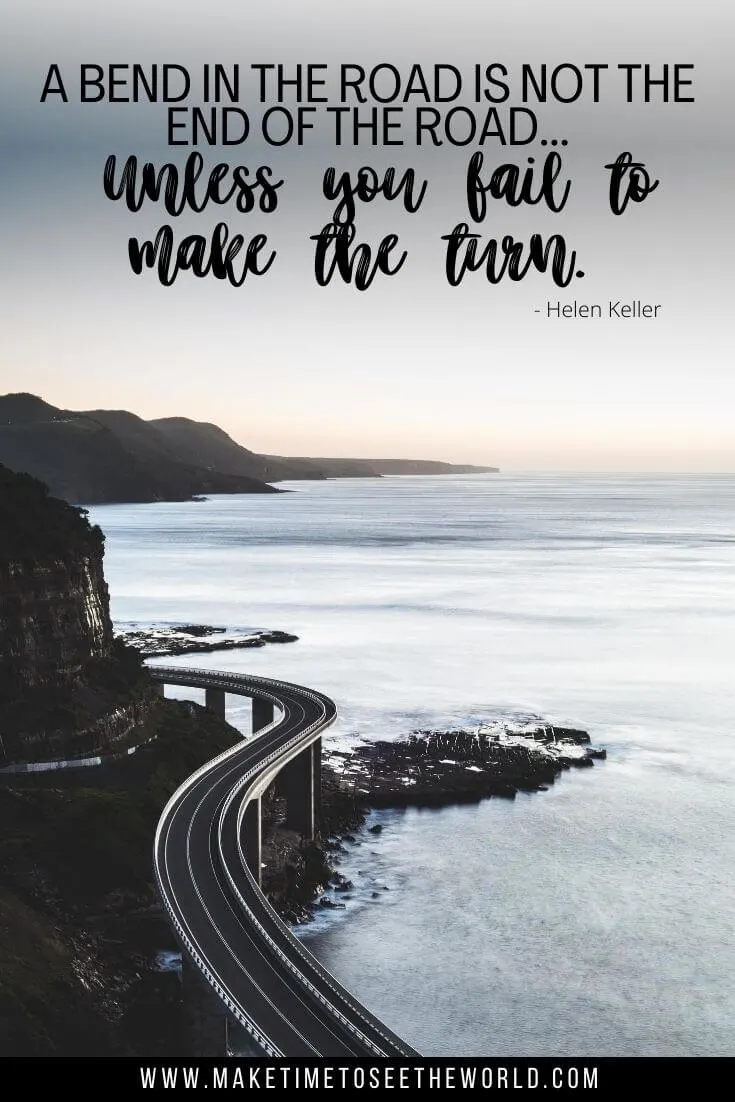 Inspiring Road Trip Quotes
33. "I take to the open road. Healthy, free, the world before me." – Walt Whitman

34. "Road trips are the equivalent of human wings. Ask me to go on one, anywhere. We'll stop in every small town and learn the history and stories, feel the ground and capture the spirit. Then we'll turn it into our own story that will live inside our history to carry with us, always. Because stories are more important than things." – Victoria Erickson
35. "Travel sparks our imagination, feeds our curiosity, and reminds us how much we all have in common." – Deborah Lloyd
36. "Life is too short to not go on that spontaneous road trip" – Unknown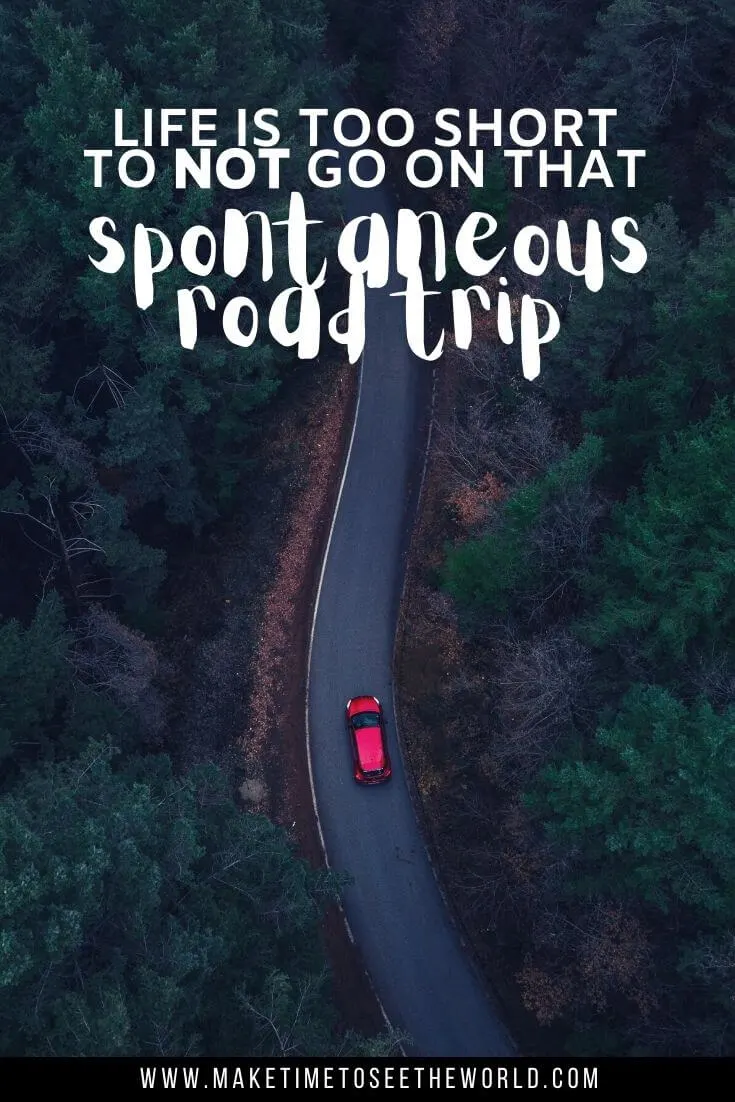 37. "Do not follow where the path may lead. Go instead where there is no path and leave a trail." – Ralph Waldo Emerson
38. "Sometimes the best therapy is a long drive and good music" – Unknown (There is also another version: "sometimes the best therapy is a long drive, good music and good company" – which do you prefer?!)
39. "When you go on a road trip, the trip itself becomes part of the story" – Steve Rushin
40. "Take Vacations: Go as many places as you can, you can always make money, you can't always make memories" – Unknown
41. "One's destination is never a place but rather a new way of looking at things" – Henry Miller
42. "If you don't know where you are going, any road can take you there." – Lewis Carroll
43. "Roads are a record of those who have gone before." – Rebecca Solnit
44. "Please understand, I have been waiting to leave ever since I figured out that there were roads willing to take me anywhere I wanted to go." – Unknown
45. "The freedom of the open road is seductive, serendipitous and absolutely liberating." – Aaron Lauritsen
Quotes about Road Trips with Friends
46. "No road is long with good company." – Turkish Proverb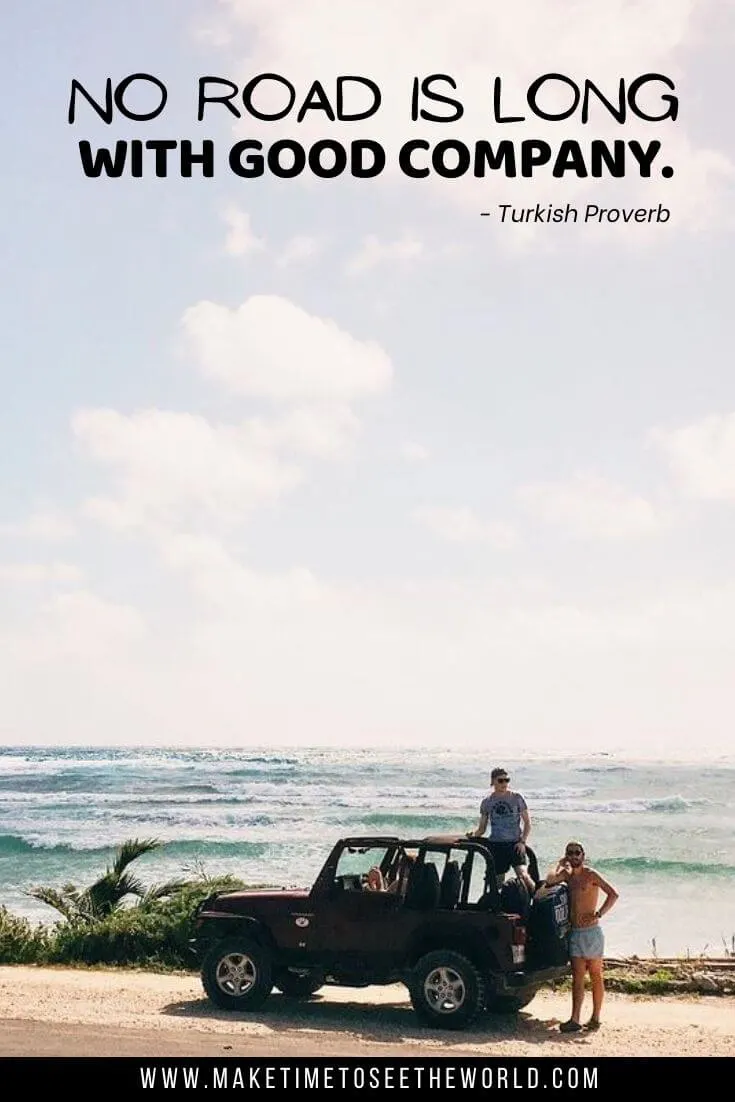 47. "I can speak to my soul only when the two of us are off exploring deserts or cities or mountains or roads." – Paulo Coelho
48. "Good company in a journey makes the way seem shorter." – Izaak Walton
49. "I have found out that there ain't no surer way to find out whether you like people or hate them than to travel with them." – Mark Twain
50. "If you want to go fast go alone. If you want to go far, go together." – African Proverb
51. "There is an unspoken bond you create with the friends you travel with." – Kristen Sarah
52. "We are all travelers in the wilderness of the world & the best we can find in our travels is an honest friend." – Robert Louis Stevenson
53. "I get a friend to travel with me… I need somebody to bring me back to who I am. It's hard to be alone." – Leonardo DiCaprio
54. "A journey is best measured in friends, rather than miles." – Tim Cahill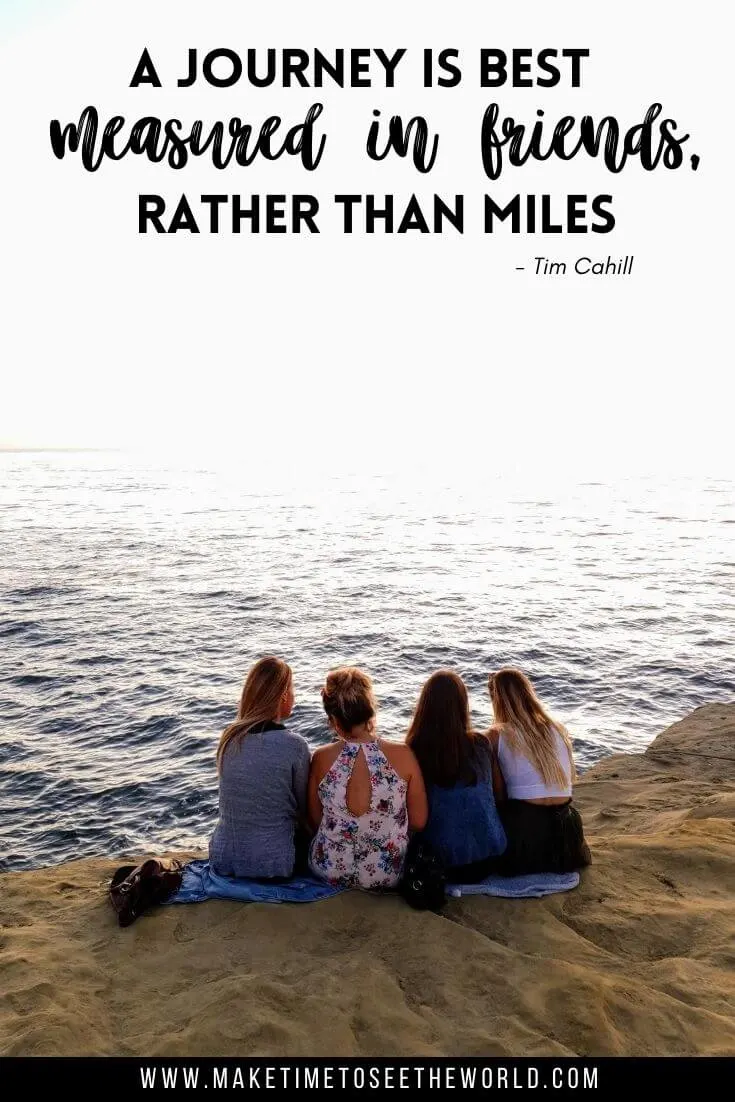 Family Road Trip Quotes
55. "A road trip is a way for the whole family to spend time together and annoy each other in interesting new places." – Tom Lichtenheld (this is one of my favorite quotes about family road trips – mostly because it is so true!)
56. "Travel sparks our imagination, feeds our curiosity and reminds us how much we all have in common." – Deborah Lloyd
57. "The greatest legacy we can leave our children is happy memories." – Og Mandino
58. "Kids don't remember their best day of television"
59. "There are no perfect parents and there are no perfect children, but there are plenty of perfect moments along the way." – Dave Willis
60. "Actually, the best gift you could have given her was a lifetime of adventures." – Lewis Carroll
61. "Two of the greatest gifts we can give our children are roots and wings." – Hodding Carter
62. "Traveling in the company of those we love is home in motion." – Leigh Hunt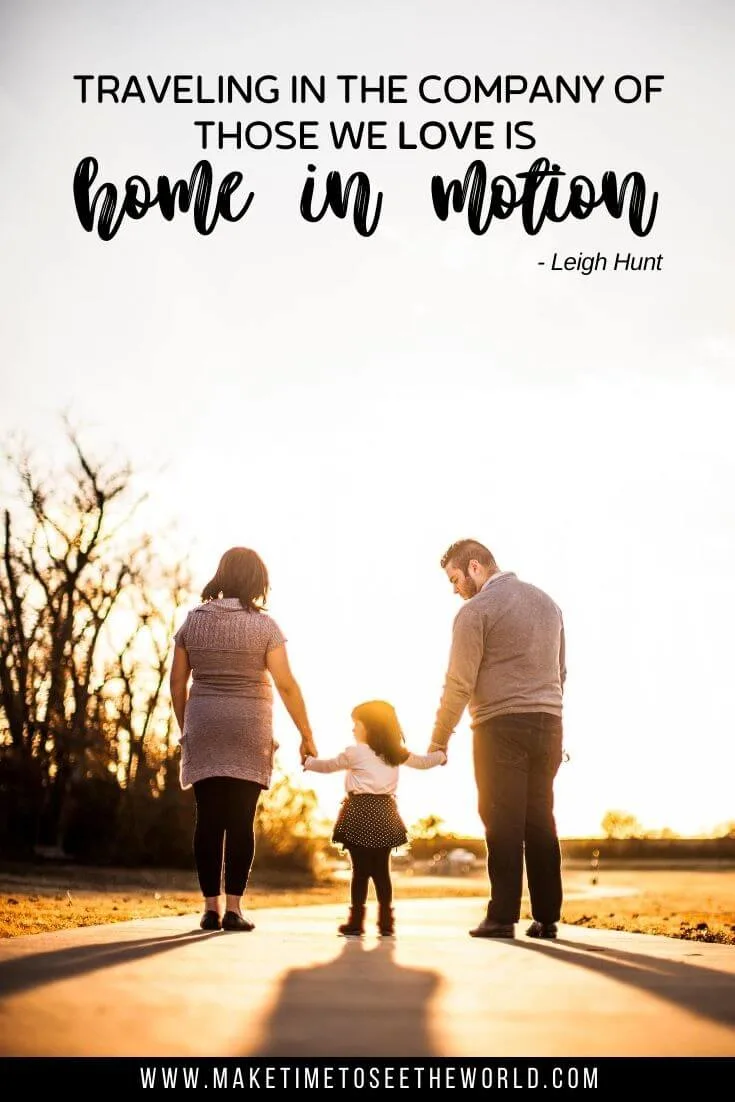 63. "Never get so busy making a living that you forget to make a life." – Dolly Parton
64. "Every day we make deposits in the memory banks of our children." – Charles R Swindoll
Long Drive Quotes
65. "Afoot and light-hearted I take to the open road, Healthy, free, the world before me, The long brown path before me leading wherever I choose." – Walt Whitman
66. "There is nowhere to go but everywhere, so just keep on rolling under the stars." – Jack Kerouac
67. "There is something about the momentum of travel that makes you want to just keep moving, to never stop." – Bill Bryson
68. "Sometimes you find yourself in the middle of nowhere, and sometimes in the middle of nowhere, you find yourself." – Unknown
69. "The road goes on forever and the party never ends." – Robert Earl Keen
70. "The road must eventually lead to the whole world." – Jack Kerouac
Road Trip Captions
71. "Map out your future – but do it in pencil. The road ahead is as long as you make it. Make it worth the trip." – Jon Bon Jovi
72. "Always take the scenic route." – Unknown
73. "There are no mistakes. Only new paths to explore." – Gregory David Roberts
74. "The world is too big to stay in one place, and life is too short to do just one thing." – Unknown
75. "I guess the lesson is you can't go everywhere. You should still go everywhere you can." – Charles Finch
76. "A good traveler has no fixed plans, and is not intent on arriving." – Lao Tzu
77. "Road trips aren't measured by mile markers, but by moments." – Unknown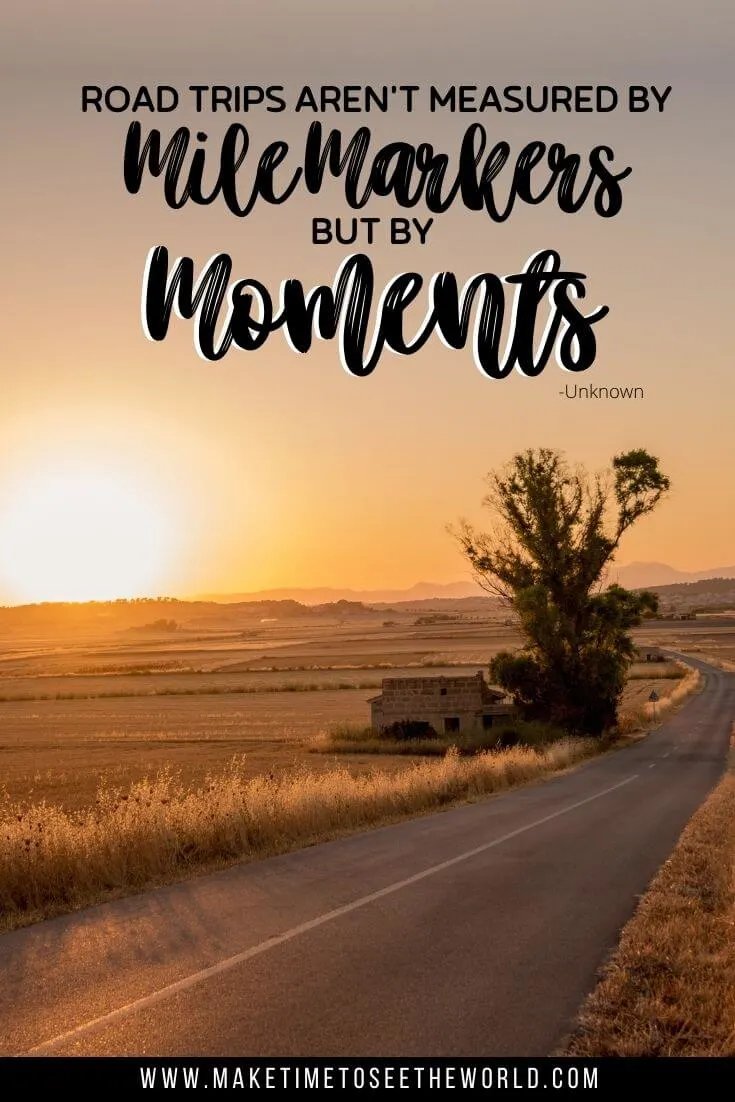 Quotes About Roads and Journeys
78. "A journey is a person in itself; no two are alike. And all plans, safeguards, policing, and coercion are fruitless. We find after years of struggle that we do not take a trip; a trip takes us." – John Steinbeck
79. "I see my path, but I don't know where it leads. Not knowing where I'm going is what inspires me to travel it." – Rosalía de Castro
80. "Once you have traveled, the voyage never ends but is played out over and over again in the quietest chambers. The mind can never break off from the journey." – Pat Conroy
81. "I love being on the road. I love that lifestyle, traveling city to city, rocking out and moving on to the next place." – Caleb Johnson
82. "The journey is part of the experience – an expression of the seriousness of one's intent. One doesn't take the A train to Mecca." – Anthony Bourdain in A Cook's Tour: Global Adventures in Extreme Cuisines
83. "I don't know where I'm going from here but I promise it won't be boring." – David Bowie
Quotes on Road Trips & Adventure
84. "All he needed was a wheel in his hand and four on the road." – Jack Kerouac
85. "It's a road trip! It's about adventure! . . . It's not like we have somewhere to go." – John Green
86. "And just like that, we're on our way to everywhere." – Emery Lord
87. "If we wait until we are ready, we will be waiting for the rest of our life!" – Lemony Snicket
88. "Look on every exit as being an entrance somewhere else." – Tom Stoppard
89. "If you make the mistake of looking back too much, you aren't focused enough on the road in front of you." – Brad Paisley
90. "The potential for adventure makes life worth living" – Vicki Garside, MakeTimeToSeeTheWorld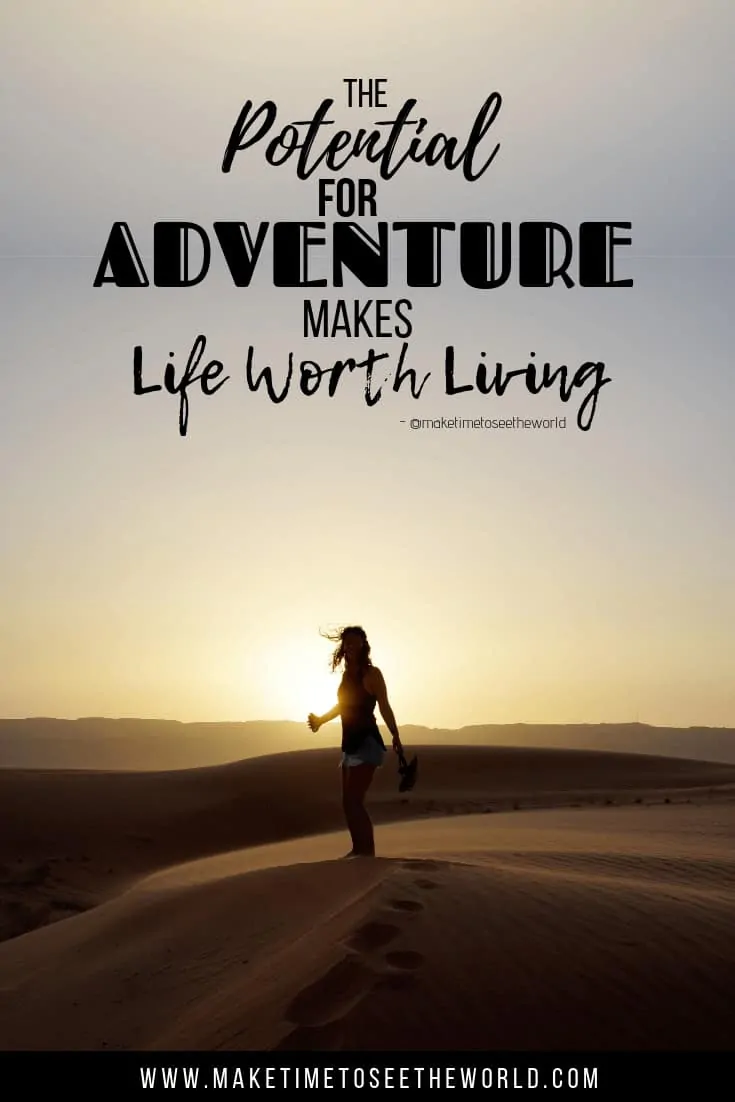 Road Tripping Quotes from Song Lyrics
91. "So remember when we were driving, driving in your car. Speed so fast I felt like I was drunk. City lights lay out before us. And your arm felt nice wrapped 'round my shoulder. And I had a feeling that I belonged. I had a feeling I could be someone. (be someone, be someone)" – Tracy Chapman, Fast Car
92. "On the road again, Goin' places that I've never been, Seein' things that I may never see again, And I can't wait to get on the road again" – Willie Nelson, On The Road Again
93. "Road trippin' with my two favorite allies – fully loaded we got snacks and supplies. It's time to leave this town it's time to steal away. Let's go get lost anywhere in the U.S.A." – Red Hot Chilli Peppers, Road Trippin'
94. "Get your motor runnin', Head out on the highway, Lookin' for adventure…" – Steppenwolf, Born to be Wild
95. "Baby lay on back and relax, kick your pretty feet up on my dash. We don't need to go nowhere fast, let's enjoy right here where we at. Who knows where this road is supposed to lead, we got nothing but time. As long as you're right here next to me, everything gonna be alright." – Bebe Rexha & Florida Georgia Line, Meant To Be
96. "No one you have been and no place you have gone ever leaves you. The new parts of you simply jump in the car and go along for the rest of the ride. The success of your journey and your destination all depends on who's driving." – Bruce Springsteen, Born to Run
Road Trip Quotes from the Movies
97. "Fifty years from now, when you're looking back at your life, don't you want to be able to say you had the guts to get in the car?" – Sam Witwicky in Transformers
98. "I want adventure in the great wide somewhere." – Belle in Beauty and the Beast
99. "Adventure is out there." – Charles Muntz in Up
100. "It's a dangerous business, Frodo, going out your door. You step onto the road, and if you don't keep your feet, there's no knowing where you might be swept off to." – Bilbo Baggins in Lord of the Rings: The Fellowship of the Ring
101. "What's the rush? We're here in a yellow truck, a road ahead of us, and nothing but opportunities." – Keith in Keith
102. "Well, we're not in the middle of nowhere, but we can see it from here." – Thelma and Louise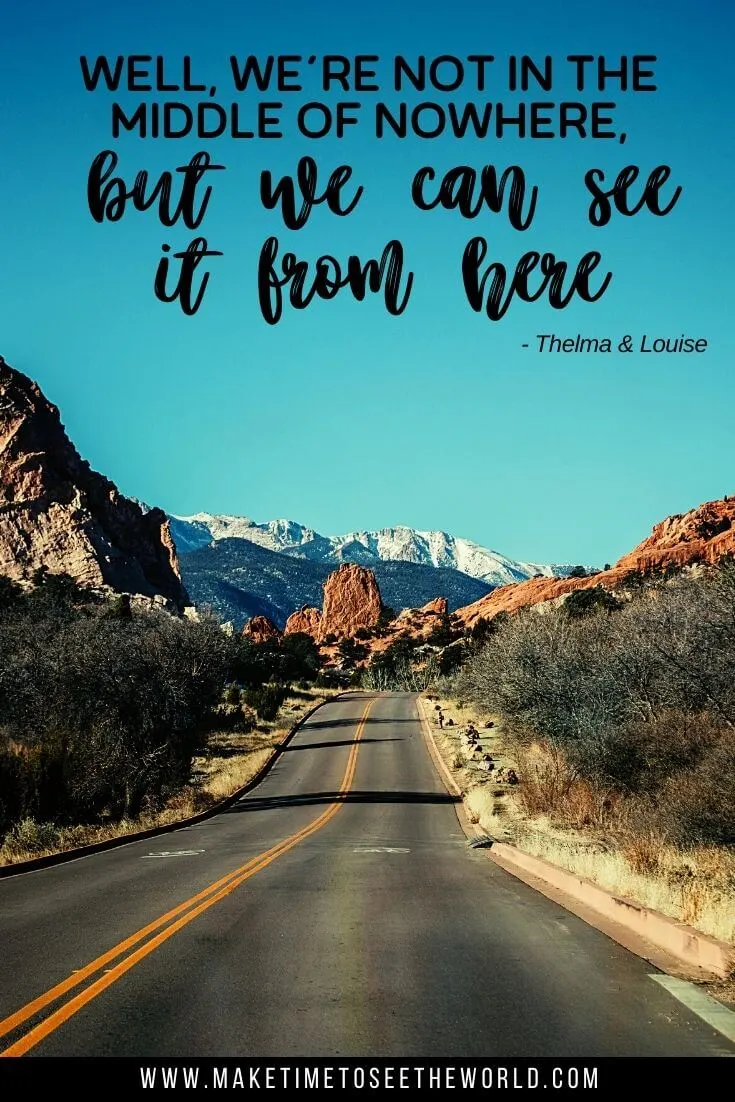 103. "Good luck exploring the infinite abyss." – Andrew Largeman in Garden State
104. "Keep moving forward." – Wilbur in Meet the Robinsons
105. "According to the map, we've only gone four inches." – Dumb & Dumber
106. "I hope you see things that startle you. I hope you feel things you never felt before. I hope you meet people with a different point of view. I hope you live a life you're proud of. If you find that you're not, I hope you have the strength to start all over again." – Eric Roth in The Curious Case of Benjamin Button
107. "Some journeys take us far from home. Some adventures lead us to our destiny." – The Lion in The Chronicles of Narnia: The Lion, the Witch and the Wardrobe
108. "We're almost there, but nowhere near it. All that matters is that we're going." – Gilmore Girls
109. "Sometimes the road less traveled is less traveled for a reason" – Jerry Seinfeld in Seinfield (OK, so it's a TV show rather than a movie, but true none the less!)
110. "Just grab a friend and take a ride, together upon the open road." – The Goofy Movie
Final Thoughts On The Best Road Trip Quotes & Road Trip Captions in the World
If you can't wait to get out there on a road trip along one of the many scenic roads in our wonderful world – or wanted road trips quotes to recreate your last epic adventure, we hope our collection of hit the road quotes and captions about roadtrip quotes has given you everything you need.

Be sure to let us know in the comments below where you are hoping to hit the road on your next travel adventure, what your favorite quote of the day from our list is – and remember – as Emma Chase said: "the greatest part of a road trip isn't arriving at your destination. It's all the wild stuff that happens along the way!"

Oh and if you liked this post featuring 100+ fantastic quotes on road trips, please share on social media: tweet, pin, Flipboard or Facebook – I'd really appreciate it! (and remember – all of the images are ready-made pins!)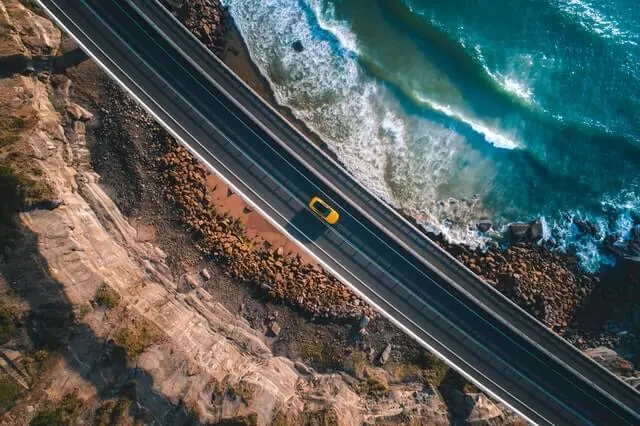 And if you liked the travel quotes and friends quotes featured on our road trip quotes list, take a look at the other recent posts, packing tips, travel accessories, travel resources, travel guides, ultimate guides and packing lists in this series:
Hi There! Thanks for reading my travel tips for the Best Road Trip Quotes about travel to Inspire you to get out, enjoy and explore our Amazing Planet! I just wanted to let you know that this post may contain affiliate links, which means if you purchase something after clicking a link, I may get a small commission – which is at absolutely no cost to you. If you enjoyed this article and are going to be searching for some of the things I mention anyway, I would love it if you could click through from the links above & thank you in advance! Read my full disclosure here. And thank you for reading the MakeTimeToSeeTheWorld travel blog.