Istanbul is one of those destinations where any type and length of visit is bound to leave an impression for the rest of your life. It is the only city in the world located both in Europe and in Asia and one that became the capital of the Roman, Byzantine, Latin and Ottoman empires at different points in history. Today, it is one of the largest and most attractive cities in the world.
If you want to know what the Best things to do in Istanbul, what to eat, how expensive Istanbul is, and how not to get lost in the metropolis with 16 million people, read our guide to one of the most beautiful cities in Turkey.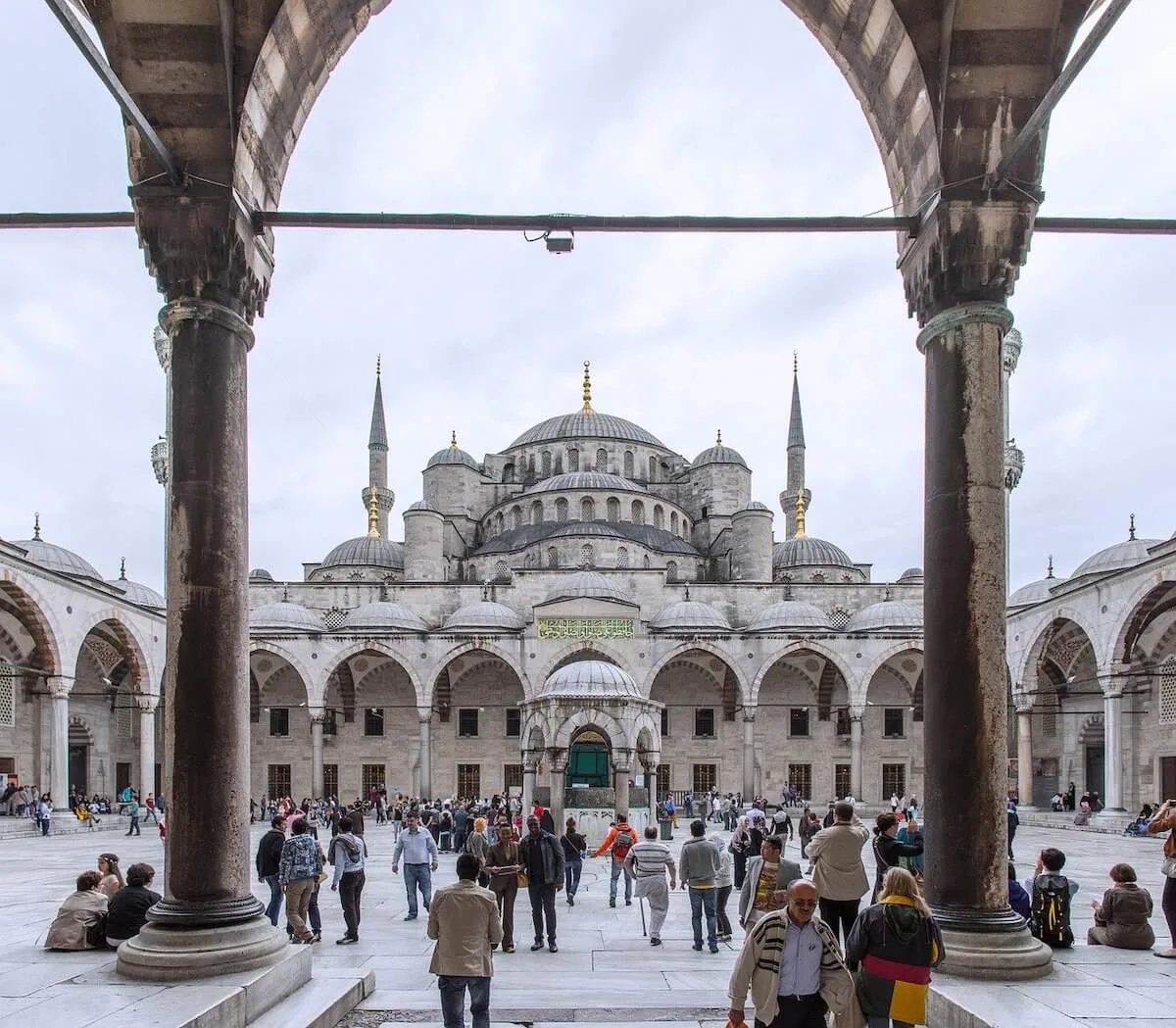 Disclaimer: Almost all posts on this site contain Affiliate links, and this one about 15+ BEST Things to do in Istanbul (inc Handy Istanbul Travel Guide featuring where to visit in Istanbul) is no different. This means that if you click on any of the links in this post (and make a purchase) I may receive a small commission at absolutely no cost to you. Each post is carefully crafted to (hopefully!) answer all your questions and recommendations are made where we believe they will improve your trip and help with your planning. As such we thank you in advance should you decide to click & buy. Read my full Disclosure here.
Essential Istanbul Travel Tips to help get the most out of your visit!
How To Get Around Istanbul
The first thing to do when you land at Istanbuls airport is to exchange some money and purchase an Istanbulkart Public Transport Card. Even if you are in the city for a few days only, the card will definitely come in handy and save you money. It provides you an opportunity to use any type of public transportation at a discounted price. The card covers buses, metro, Marmaray, trams, numerous ferries, and even some public toilets.
The transportation system in Istanbul can appear quite complicated but easy to understand. In order not to get lost, you can download the Trafi Türkiye app if you wish. Enter the point of departure and point of arrival and you'll get tips on the route and how much your trip costs. And if you don't know where you are, the application will tell you the nearest public transport stops using GPS.
What to Eat in Istanbul
Turkish cuisine is increasingly popular outside of Turkey, and we can guarantee that you have either heard of or tried dishes such as kebab, Turkish Delight, Turkish baklava and Turkish coffee before now. But there are many more Turkish foods to sample when visiting Istanbul and the city has an incredibly high number of cafes, restaurants, fine dining establishments, diners, and street food carts to help you find and try them all.
Some of the must-try foods in Istanbul are:
Doner – shredded meat wrapped in pita bread. It comes in different variations and some of them are with yogurt, tomato sauce, and hot butter.
Icli Kofte. Kofte means meatballs. But Ichli köfte is a meatball covered with crispy bulgur mixed with minced meat, onions, parsley, and pine nuts.
Lahmacun – thin and crispy round dough, covered with minced meat with parsley. You sprinkle it with lemon and then wrapped in a roll and eat.
Meze – small plates with bean puree, fried eggplant with tomato sauce, yogurt dip, hummus.
Manty – tiny meat dumplings. Served with yogurt and red pepper sauce, olive oil, and dried mint.
Karniyarik – the most common dish in Istanbul restaurants. It consists of grilled eggplant, stuffed with minced meat and parsley, and covered with tomato sauce. Garnished with rice with tomato.
Izgara Balyk – a visit to Istanbul will be incomplete unless you try fresh grilled fish. Anchovy, sea bass, dorado, horse mackerel, mackerel or bluefish, depending on the season, is offered in many restaurants around the city.
Top Things to Do in Istanbul
Visit Sultanahmet Square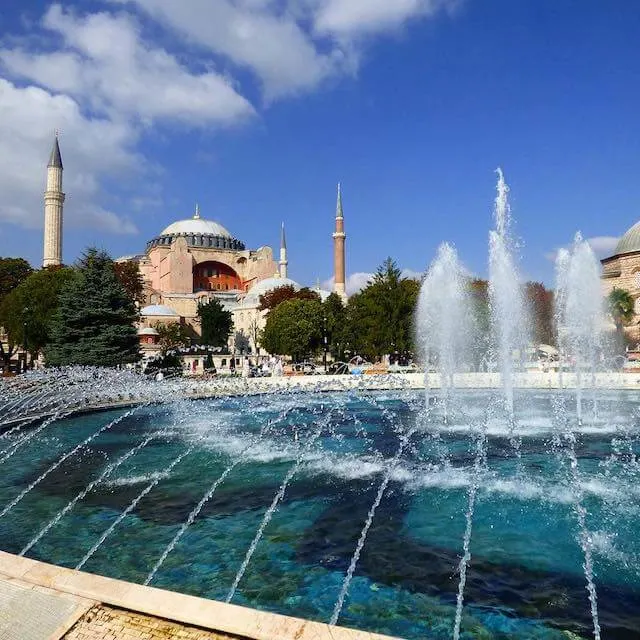 Sultanahmet Square in the Sultanahmet District is without a doubt the key place in Istanbul. Being home to multiple historic sights, it is mainly known for two magnificent mosques – the Hagia Sophia and the Blue Mosque. Besides these two landmarks, not far from Sultanahmet Square you'll also find Topkapi Palace Museum, the Museum of Turkish and Islamic Arts, Archaeology Museum, the Egyptian Obelisk and the Basilica Cistern.
Plan to visit Sultanahmet Square in the morning, otherwise, there is a high possibility you will find it packed with crowds of tourists. It is also a great place to grab a little bit of the internet, as there is free city wi-fi around the square.
The Blue Mosque (

Sultan Ahmed Mosque

)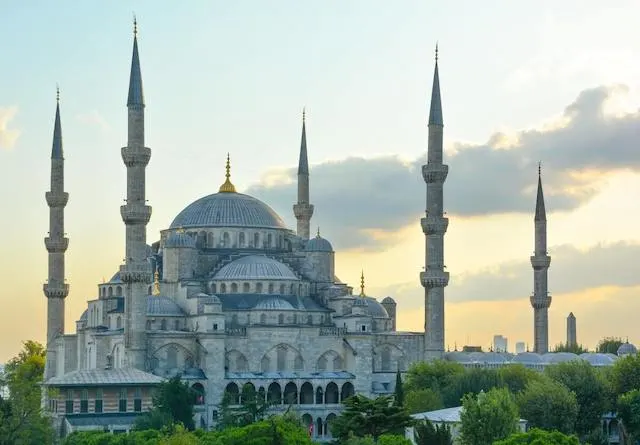 The Sultan Ahmed Mosque (Turkish: Sultan Ahmet Camii), more commonly known as The Blue Mosque and is considered the most beautiful Mosque in Istanbul. Constructed between 1609-1616 and so-called because of blue tiles that its walls are built with. It is one of the most impressive Mosques in the world and is stunning both inside and out.
The Mosque is a working mosque and as such is closed to tourists during prayer times, however (suitably dressed) visitors are welcome inside the Mosque between 8.30am -11am, 1.00pm – 2.30pm and 3.30pm – 4.45pm with the exception of Friday where the Mosque opens to visitors at 1.30pm to accommodate Friday Prayers.
For those who wish to pray, the mosque is open to Muslims from all over the world is open daily from 5.30am. Entrance is free whether you are visiting for Prayer or as a tourist.
Hagia Sophia (Aya Sofya)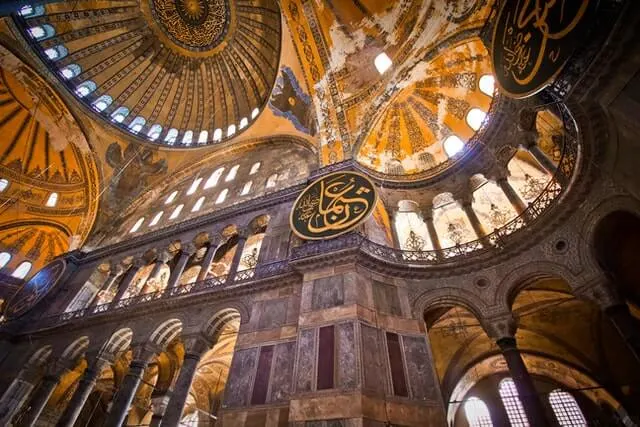 The Hagia Sophia – a UNESCO World Heritage Site and (until July 2020) a museum, has been a house of worship for multiple denominations since it opened in 537AD:
Between 537-1204 and 1261-1403 it was a Greek Orthodox Cathedral;
In 1204-1261 it was a Roman Catholic Cathedral;
Between 1453–1931 and from July 2020 it was redesignated as a Mosque
Between 1931 – 2020 it was one of the most popular, and historically significant museums in the world.
It holds so much history that none of us can even imagine. In July 2020 the Turkish government made a decision to redesignate the Hagia Sophia museum as a mosque (amid both controversy and outcry from UNESCO and world leaders) Yet, they have committed to preserving the cultural heritage leaving the interior as their predecessors built it.
As one of the premier tourist attractions in Istanbul, visitors are still welcome inside the Hagia Sophia, but with similar restrictions to those imposed at the Blue Mosque (modest clothing and not during prayer times).
Topkapi Palace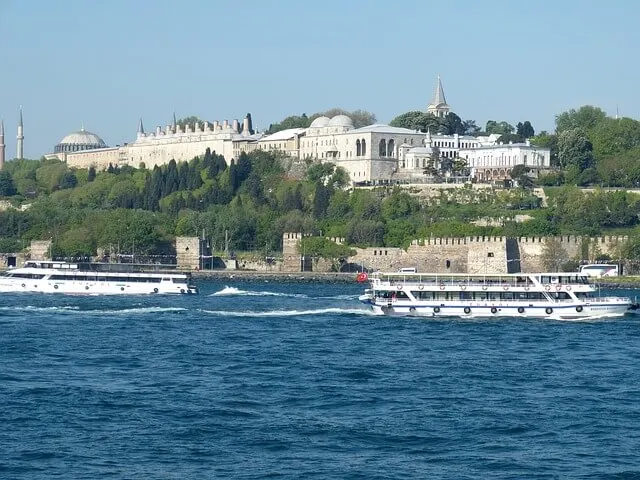 The Topkapi Palace (Topkapı Sarayı) is also known as the Cannon Gate Palace or the Seraglio is a large museum that lies in the east of the Fatih district, overlooking the Golden Horn (the primary inlet for the Bosphorus), not far from the Hagia Sophia and the Blue Mosque.
In the 16th and 15th century it served as the main residence and administrative headquarters of the Ottoman sultans, but lost importance as other palaces were constructed along the banks of the river. It is filled with beautiful tiled mosaics and stunning gardens. Grab your skip the line tickets here.
Basilica Cistern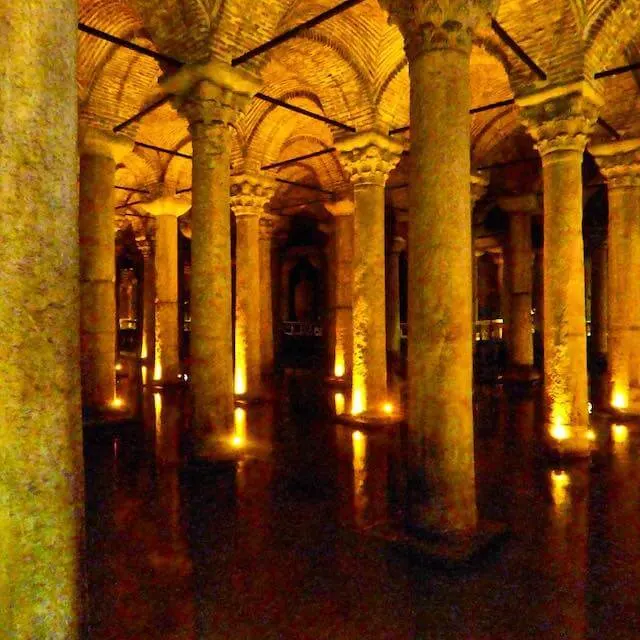 The Basilica Cistern/Cisterna Basilica (Yerebatan Sarniçi) is the largest of several hundred ancient cisterns that lie beneath the city of Istanbul. Built by Byzantine Emperor Justinian I, it remains a marvel of engineering to this day – and a welcome respite from the heat of the city in the summer.
Built underneath the Great Palace of Constantinople, this sunken palace was created for the sole purpose of water storage as well as water filtration for the buildings above. Today it is a popular tourist attraction and a favorite spot with keen photographers. On your visit, you will be taken on a guided tour of the facility and hear stories of days gone by.
Try Traditional Turkish Tea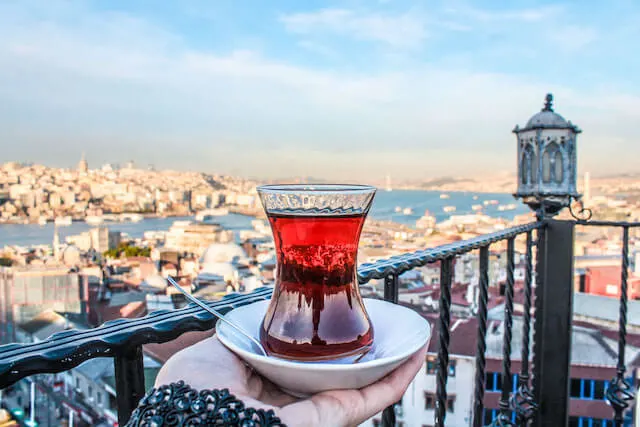 Trying traditional Turkish tea – which is literally sold around each corner – is another must-do thing to do in Istanbul.
The most popular drink of Istanbul is served in glass cups in the shape of a national flower tulip. Turkish people drink tea every day multiple times a day. They drink it for breakfast, lunch, and dinner. They also quench their thirst with this drink between meals. If local people treat you to tea, for example in a restaurant, cafe or even outside, do not refuse. This is considered impolite in Istanbul.
Tea in Turkey is not just a drink, but a tool for networking and meetups. It will be offered to you everywhere – in shops and bazaars, while you are bargaining with the seller, in banks and offices, and certainly at the end of the meal in cafes and restaurants.
But the most pleasant thing is to have a cup of this rich, astringent, and extremely tasty drink sitting somewhere on the promenade in one of the lovely cafes by the Bosphorus. It compliments any meal and sweets.
Take a Ride On the Old Tram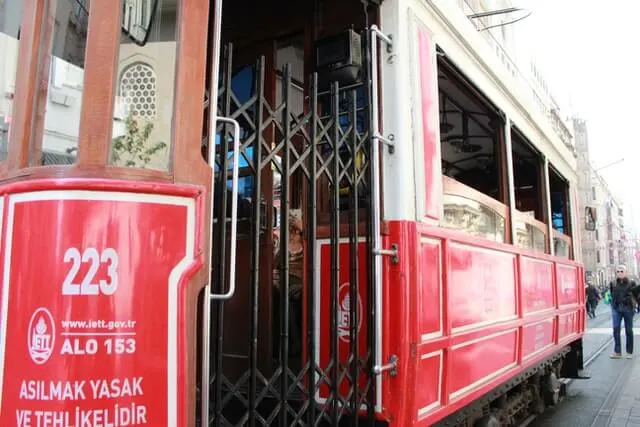 There are two places in Istanbul where you can hop on the old historic tram and ride around. The first such place is a famous Istiklal Street (Istiklal Caddesi). The tram line starts on Tunel Square, at the exit of the underground funicular station Beyoglu. From there, you can reach Taksim Square by walking or taking a tram. The total length of the tram route is just over one and a half kilometers with most of it along Istiklal Avenue – one of the busiest shopping streets in the world.
Another place with an old historic tram is across the Bosphorus in a very charming neighborhood Moda. In fact, you may like it much more than the one on Istiklal street.
Moda is a less touristy hipster part of Kadikoy district, full of a huge number of romantic shops, cafes, and Ottoman-style architecture. Riding in a tram that makes a loop around the neighborhood introduces you to a totally different side of Istanbul. The total length of this route is 2.6 km and ride time from the beginning to end takes around 20 minutes.
Try Famous Fish Sandwich 'Balik Ekmek'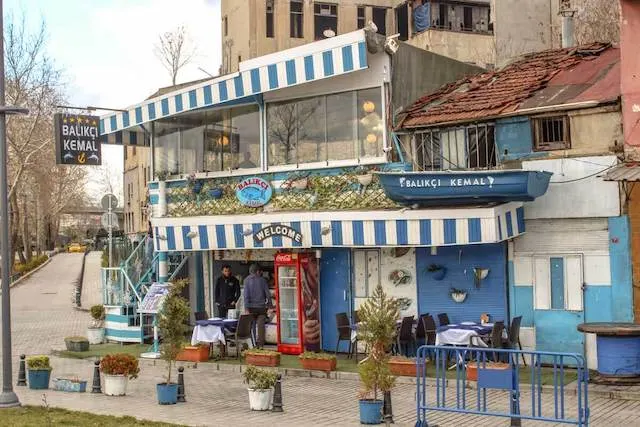 Even if you don't like fish, you still have to try the famous Istanbul-style fish sandwich "Balik-Ekmek" which you can find on the lower tier of the Galata bridge or near it. These sandwiches can also be found at the berths of ships and ferries.
I tried many Balik-Ekmek sandwiches in Istanbul and one of my favorite places to have it is at the Eminonu Usta restaurant.
There are many stands and restaurants in the area that sell this sandwich (or wrap). But the one in Eminonu Usta restaurant is especially delish. Some people say that Emin, the owner of this place, makes a secret sauce, fries the fish in his own way, and somehow grills tomatoes and peppers using his own technology. Perhaps, I am not sure. But fish wraps he makes are so good.
If you try it once, you'll want to return and have this meal again.
Visit the Suleymaniye Mosque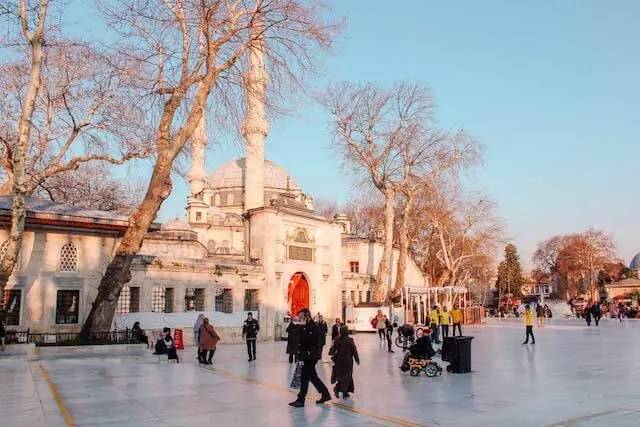 The incredibly beautiful Suleymaniye Mosque is one of the most magnificent mosques in Turkey should definitely be on every traveler bucket list of things to do in Istanbul. This mosque has a great religious significance and is one of the most important structures from the times of the Ottoman era.
It was designed to glorify the Sultan the Magnificent (Suleyman the Magnificent) who along with his beloved wife Roksolana Hurem and their children is buried there.
The mosque is located in the Fatih district on the European side on the hill. The road to the top is not easy but the grandeur of its architecture and beautiful view of the Bosphorus and the city fully justify the effort spent on the walk there.
Buy Some Goodies at the Grand Bazaar and the Egyptian Market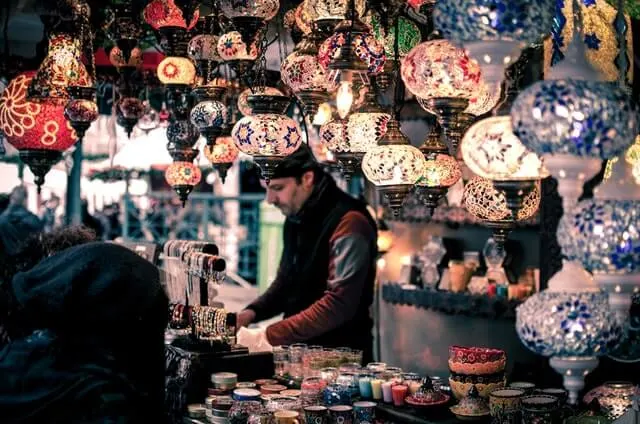 Istanbul has several huge markets but the most famous ones are the Grand Bazaar, Spice Market / Spice Bazaar (Misir Carsisi) and the Egyptian market in Fatih district.
The Grand Bazaar was built in 1461 and consists of more than 5,000 stores. It is actually the largest indoor market in the world. Being centrally located, this place is like a "red zone" of Istanbul where every visitor loses a sense of time and space.
You can easily get lost in the labyrinths of the market, buying anything that you may think of. If you know how to bargain, you can get any product literally for the price you want.
The Egyptian market was built a little later, in 1660. It is a real gastronomic paradise for foodies. Here you can find and try dried fruits, nuts, olives, refined oils and essences, all kinds of teas, Turkish delicacies, and oriental sweets. Walking among the great variety of aromas of spices and herbs, among thousands of faces with dozens of languages helps you understand how diverse and colorful this wonderful city is.
So definitely make sure to add these two bazaars to the list of the best things to do in Istanbul Turkey!
Walk the Streets of the Fashionable Karakoy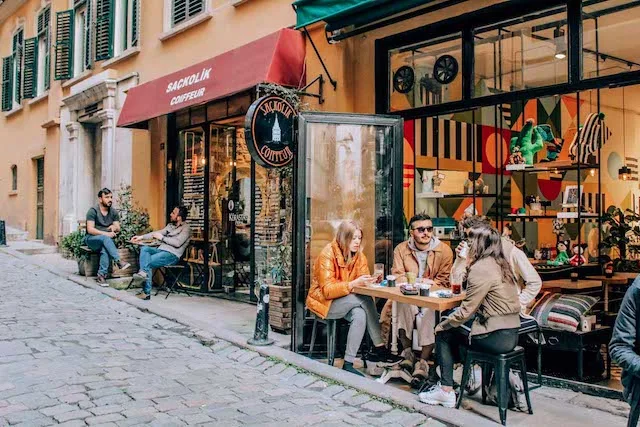 Karakoy is a small area in Beyoglu between the Galata Bridge and the Museum of Modern Art. It is considered one of the most fashionable areas in Istanbul. In just a few years, this neighborhood was transformed from a forgotten industrial quarter to the focal point of Istanbul's nightlife scene. And In the daytime, creative youth and freelancers gather here at cozy cafe tables.
The area is certainly insta-friendly with stylish cafes and quirky shops that used to be abandoned production facilities in the past. Sounds of live music are everywhere and lively conversations can be heard at the packed outdoor tables. Walls of many buildings are full of bright graffiti and street art.
You can visit this part of the city at any time of the day. However, at night, life here is especially vibrant.
Pay a Visit to the Dolmabahce Palace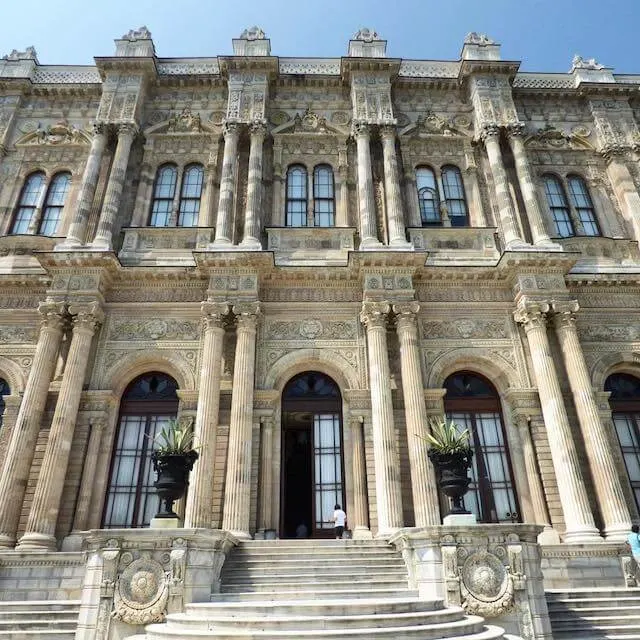 Dolmabahce Palace is one of the hallmarks of Istanbul. The openwork building with rich interiors and a well-kept garden in its architectural design resembles the magnificent palaces of European monarchs.
In addition to the gorgeous interior of the palace, there is a beautiful view of the Bosphorus through the openwork gate, which, like a cherry on a cake, complements the overall picture of the place. Not far from the crystal pavilion there is a house with well-fed royal peacocks and in the palace park on the very shore, there is an excellent cafe, where you'll enjoy a cup of coffee with dessert.
If you are planning to visit Topkapi Palace, it is better to visit Dolmabahce Palace afterward. Because Dolmabahce impresses much more – just remember to get your Admission & Guided Tour Ticket before you arrive to get the most from your visit!
Take a Ferry to Another Continent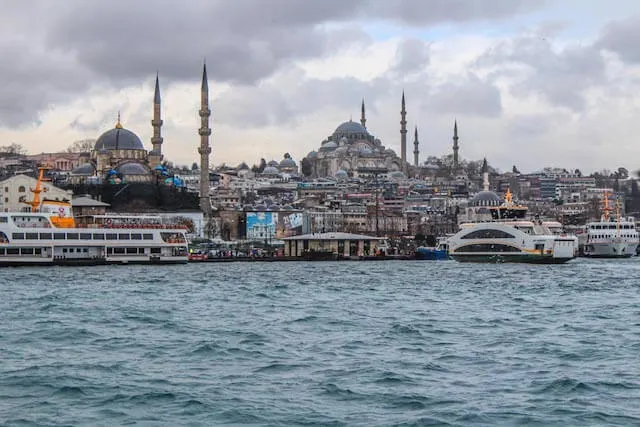 The Bosphorus Strait is the soul of Istanbul. This narrow isthmus connecting the Black Sea with the Marmara and dividing Istanbul into Asia and Europe is an attraction itself. There are multiple parks by the Bosphorus River as well as lovely cafes and boardwalks where you can walk, enjoy a meal by the water, take in the views, and hundreds of Instagrammable photos.
But the best part is to take a ferry and sail to the opposite side of the city. Since Istanbul is situated on two continents, it is quick enough to get from Europe to Asia and back. If you are a budget traveler, you can hop on one of the public ferries that cruise multiple times a day between the European and Asian sides or hop on a boat tour for a longer Bosphorus cruise which often run with a commentary or audio guide to help you understand what is significant on the banks around you.
If budget allows, why not to take a cruise the Bosphorus and spend a couple of hours on the water. Bosphorus dinner cruises are particularly popular so be sure to book in advance if you wish to include one in your Istanbul itinerary.
On such a trip, the beauty of Istanbul appears from a completely different perspective. A mixture of architectural styles of houses, palaces, mosques, accompanied by gulls and a cup of fragrant tea with oriental sweets turns into an adventure.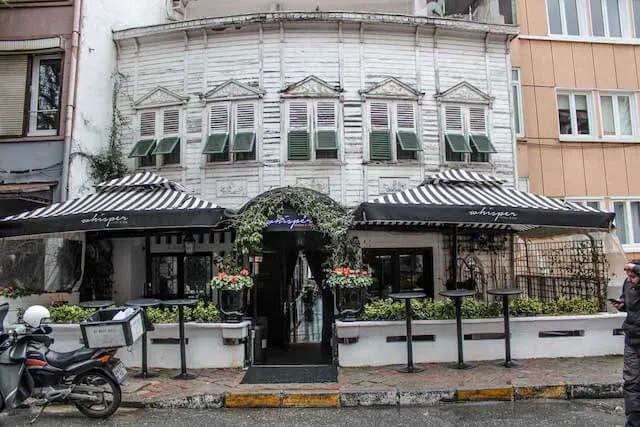 A lovely historic neighborhood Arnavutkoy, full of flowers and bright houses, is one of the most beautiful places in Istanbul. Many people call it "Turkish San Francisco" due to the number of colorful Ottoman-style houses that actually look very similar in design to Victorian-era homes found in San Francisco.
This neighborhood is very popular among Instagram users who flock here from all over the world to take some bright photos against the background of the wooden mansions.
In Arnavutkoy you will not find historical sights but you will fully enjoy the sea breeze, a leisurely walk along the promenade overlooking the yachts and the Bosphorus. Among other things, there are nice fish restaurants where you eat the most delicious seafood. I can recommend Sur Balik and Arnavutkoy Sosyal Tesisleri.
Another note, Arnavutkoy is not included in the main tourist guides, so to this day it doesn't see crowds of tourists which makes it very comfortable and calm.
Take in the Galata Tower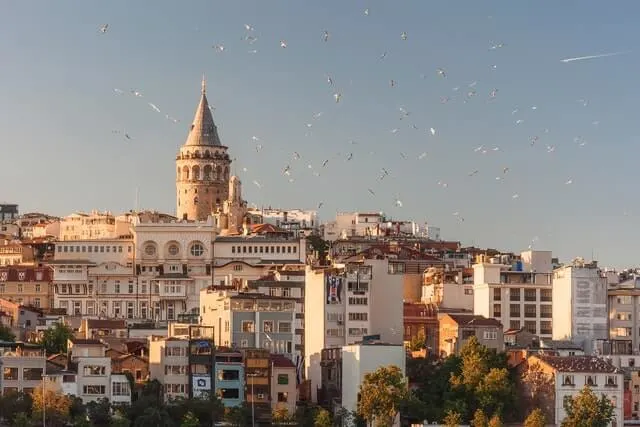 Whether you decide to climb it for the views of the Bosphorous or simply take in its splendor from ground level as it rises majestically above the city, visiting the medieval stone tower of Galata (Galata Kulesi in Turkish) – also known as the Maidens Tower – is one of the best things to do in Istanbul.
Providing incredible views of the city below and across the water to the Blue Mosque and Hagia Sophia, it's no wonder it's one of the cities favorite sunset spots and the most perfect way to end a day in Istanbul.
See The Incredible Whirling Dervishes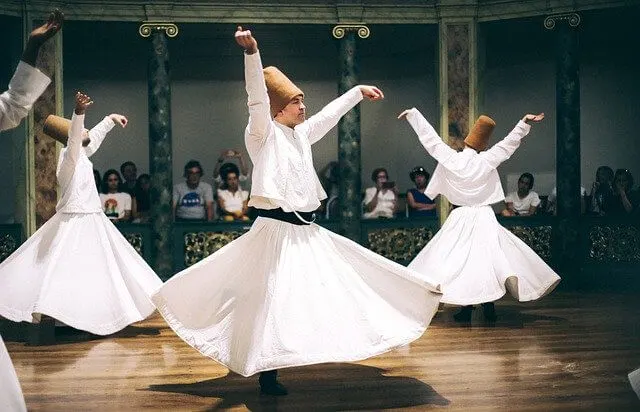 Originally performed as an act of mediation created by Jalaluddin Rumi (a 13th century Sufi Muslim mystic and poet); the Merlevi ceremony (Merlevi sema) blurs the lines between dance, prayer, meditation and trance – and watching the Whirling Dervishes certainly makes for one of the most unique experiences in Istanbul (And a must-see on any trip to Turkey). Be sure to pre-book your tickets so you don't miss out on your visit.
And that's a wrap folks, we hope this guide to 15+ BEST Things to do in Istanbul (Perfect for First Time Visitors) has been a huge help with your travel plans for Turkey's capital city.

If you know of anyone else that needs a little bit of inspiration for visiting Istanbul or assistance in planning their Turkey vacation (or even how to explore the capital city while they are there!), please be sure to share this post on social media: Facebook, Flipboard, Twitter or grab one of the images from below for Pinterest. And remember – sharing is charing (and we thank you in advance!)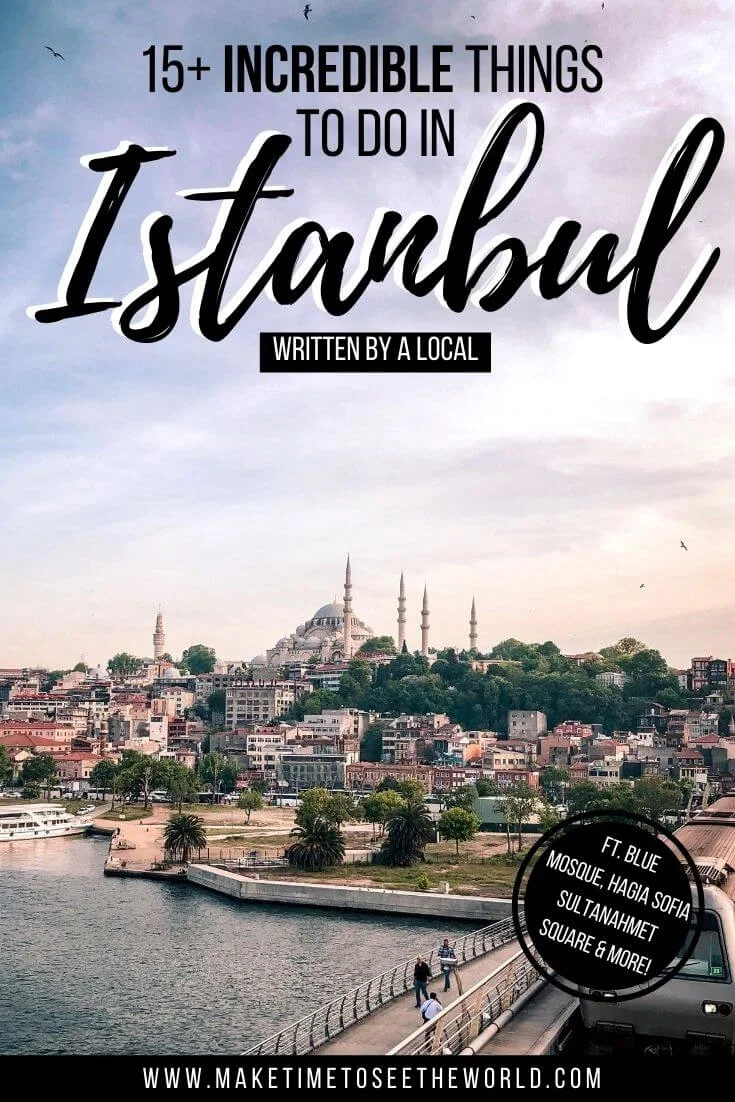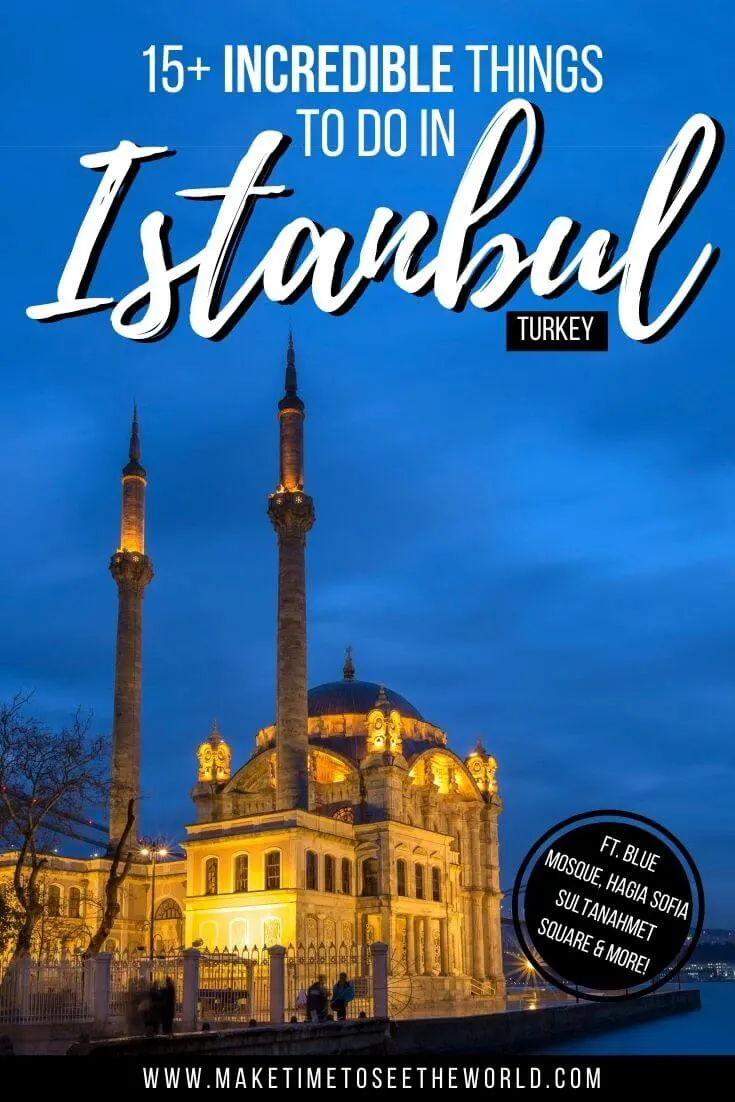 READY TO TRAVEL THE WORLD WITH MORE EUROPE TRAVEL INSPIRATION? YOU MIGHT BE INTERESTED IN THESE TRAVEL TIPS, TRAVEL HACKS, TRAVEL ARTICLES, RESPONSIBLE TRAVEL GUIDES, TRAVEL DESTINATIONS GUIDES, TRAVELER RESOURCES AND RELATED POSTS ABOUT OTHER AMAZING CITIES IN EUROPE:

Hi There! Thanks for reading our guide to the most 15+ BEST Things to do in Istanbul (inc Handy Istanbul Travel Guide) I just wanted to let you know that this post contains affiliate links, which means if you purchase something after clicking a link, I may get a small commission – which is at absolutely no cost to you. If you enjoyed this article and are going to be searching for some of the things I mention anyway, I would love it if you could click through from the links above & thank you in advance! Read my full Disclosure here.
And a huge Thank You for reading the MakeTimeToSeeTheWorld travel blog.