All you need to know to plan the perfect visit to the Italian Riviera inc. Our Top Cinque Terre Tips, the Cinque Terre Card, Hiking Info + an Ideal 3-Day Cinque Terre Itinerary!
If you're planning a trip to Cinque Terre, Italy we think you need at least 3 days to do it justice. But of course, you could easily spend longer exploring all the little streets, shops, and hikes available in the region. To help you plan the perfect visit we've put together 15 helpful Cinque Terre tips including:
how to get to Cinque Terre;
how to get around Cinque Terre;
information about the Cinque Terre Card (and if it's best for you);
our recommendation of where to stay in Cinque Terre;
several Cinque Terre hiking tips; PLUS
we've even put together a sample 3 Day Cinque Terre Itinerary to help you plan the perfect trip.
We like to think that this post is an 'everything you need to know before you go' Cinque Terre guide for the Italian Riviera and is essential reading for first-time visitors, but we'll let you scroll through it and see if you agree!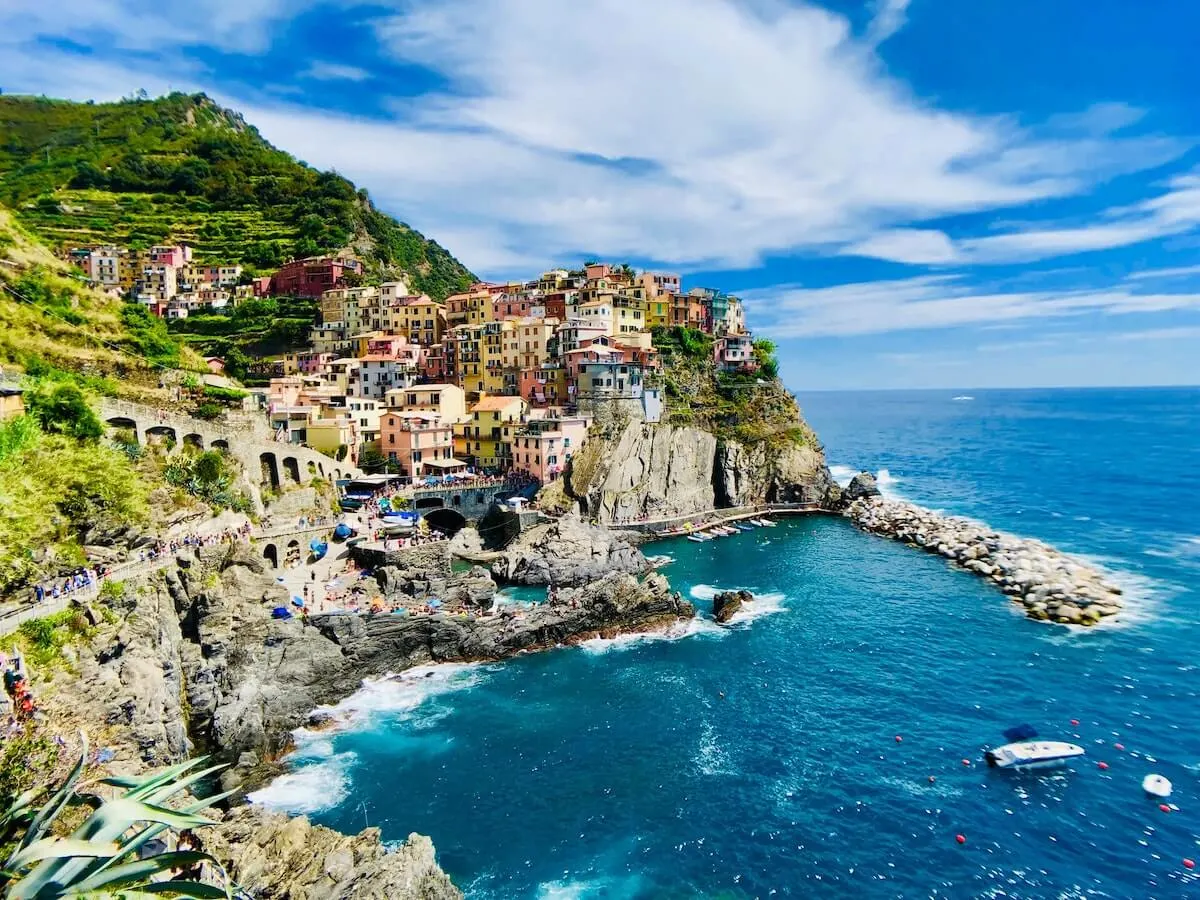 Disclaimer: Almost all posts on this site contain affiliate links, and this one about the TOP Cinque Terre Tips – Perfect for First Time Visitors + Helpful Cinque Terre Guide is no different. This means that if you click on any of the links in this post (and make a purchase) I may receive a small commission at absolutely no cost to you. Each post is carefully crafted to (hopefully!) answer all your questions and recommendations are made where we believe they will improve your trip and help with your planning. As such we thank you in advance should you decide to click & buy. Read my full Disclosure here.
Contributed by Kathryn from Wandering-Bird.com

Practical Cinque Terre Travel Tips to Know Before You Go
What is Cinque Terre?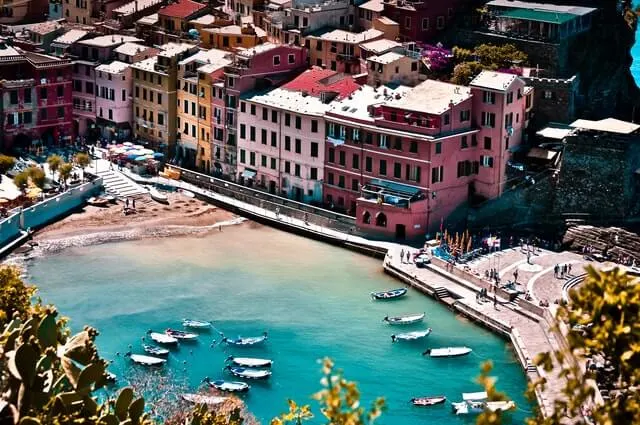 Cinque Terre is one of the most famous regions in Italy – and for good reason! It's a series of 5 beautiful villages, all carved into the incredible coastal cliffs of north-west Italy. Cinque Terre literally translates to "five lands", which are the 5 fishing villages: Monterosso al Mare, Vernazza, Corniglia, Manarola and Riomaggiore. It has been designated a national park and a UNESCO World Heritage Site.
Cinque Terre attracts roughly 2.5 million tourists every year all looking for cute villages, delicious food and breathtaking scenery. And, more often than not, Cinque Terre delivers. If you only have a few days, you can absolutely see the highlights of the region – and we hope our Cinque Terre tips and sample 3 Day Cinque Terre Itinerary (below)
How to Travel to Cinque Terre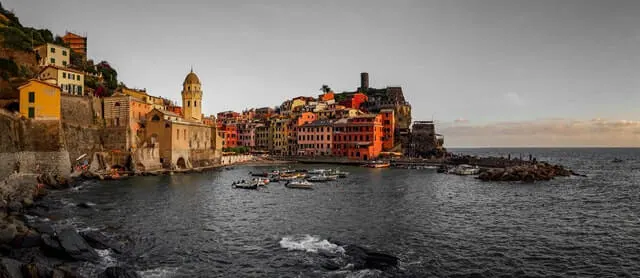 The closest cities with airports are Genoa and Pisa – each about 50 miles away. However, it's very difficult to drive into Cinque Terre in your own vehicle. The roads are very small, windy and there are sheer drops everywhere! Also, there are very few parking places and you can be fined €80-100 for entering restricted traffic zones without a permit(!)
Therefore, it's recommended to get a train (or a shuttle bus) into the area. If you are planning a larger Italian adventure, such as a Dolomites road trip or Rome, you can always pick up your car after your Cinque Terre visit. If you have your vehicle with you, choose a hotel outside the zone which has parking, or find a safe spot to leave your vehicle and enjoy a stay inside one of the pretty villages of Cinque Terre itself!
The Best Time to Visit Cinque Terre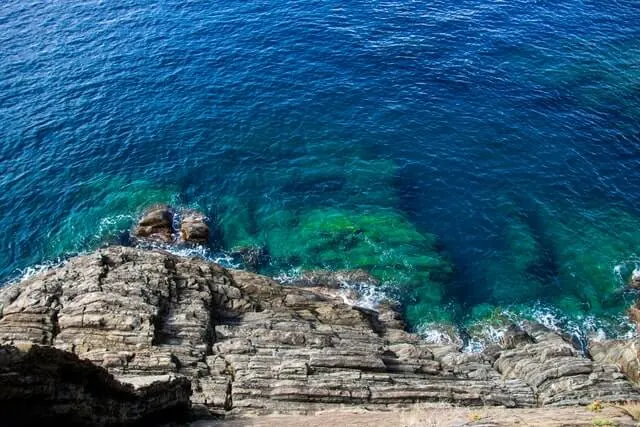 Cinque Terre is gorgeous all year, but try to avoid the height of the summer months – it can get VERY hot and there are SO. MANY. PEOPLE.
The ideal time to visit Cinque Terre would definitely be the shoulder seasons of Spring and Autumn due to the more moderate (but still glorious) temperatures and the smaller numbers of crowds. Cinque Terre is also one of the best places to experience Autumn in Europe, and you'll love the colors of the autumn leaves against the sea- especially if you go hiking.
RELATED –
Can't decide whether to visit Cinque Terre or the Amalfi Coast? It's the ultimate North Italy v South Italy discussion – take a peek at our
Amalfi Coast Itinerary
to help you decide.
Where to Stay in Cinque Terre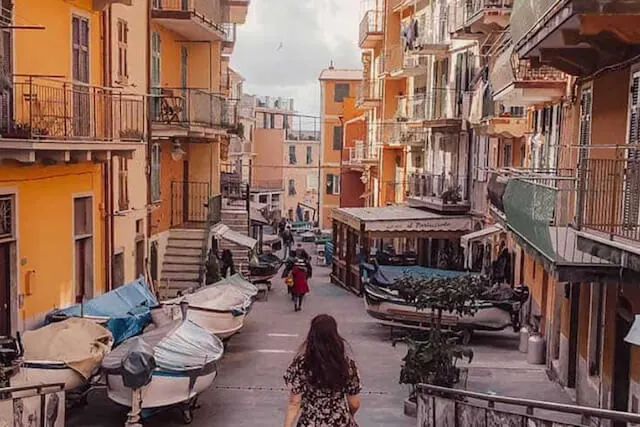 When it comes to Cinque Terre accommodation, there really is something for everyone with hotels, hostels and B & Bs in every village. Personally, I would suggest selecting one of the hotels in Cinque Terre which are located in either Monterosso or Vernazza – both are beautiful and were our personal favorites.
If you're staying in Monterosso, here are some accommodation options for you – but if you see something else you like the look of be sure to book it as soon as possible as the villages are all quite small and – particularly in peak Summer – places get booked up quickly.
Luxury: Hotel Porto Roca:

Located on a hillside overlooking the stunning Ligurian Sea, this luxury hotel is known for its great staff and attention to detail. Additionally, it is a 4-minute walk from the nearest beach and 13 minutes on foot from Monterosso train station.

Mid-Range: Hotel Marina: If right by the beach is where you want to be, Hotel Marina is where you want to stay. Just remember that Monterosso (like all 5 Cinque Terre villages) is hilly. Be prepared to walk uphill to get anywhere!
Budget: Albergo Al Carugio: Known for its comfy beds, fantastic staff, rooftop terrace and great location, Albergo Al Carugio is a great place to stay on a budget.
If you are traveling on a budget or looking to keep travel costs down when visiting Cinque Terre, consider basing yourself in La Spezia or Levanto. These two towns are close to the famous villages, and have excellent train links, but are priced more conservatively. Just remember if staying outside of the village, you will need to factor in daily train fares and other transport costs for getting around (see the Cinque Terre Card below).
The Cinque Terre Card
If you're staying in Cinque Terre for a couple of days, and want to use the Cinque Terre trains and go hiking, be sure to grab a Cinque Terre card. You can buy these tickets at the train station booth, not the machine, and remember to write your name on the card and validate it before use – you'll be fined if you don't!
Current prices (2023) are as follows and include unlimited train travel:
Two-day tickets cost €33
3-day card €47
Cinque Terre Hiking Tips & Info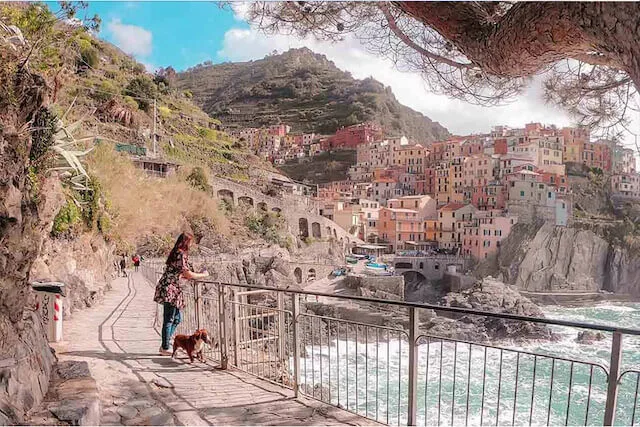 If you plan on hiking Cinque Terre (and we think you should!) you need a ticket for hiking on any of the trails. You can buy these at the train station, or in the tourist information (who are also very helpful to talk to in order to work out the best trail if you or any member of your party have mobility issues.)
You can normally hike between all five villages and along the coastal trails but it pays to check with tourist information in case any have been closed to due landslides or are otherwise inaccessible.
For example, The Blue Trail is the easiest, the most famous, and the most popular path in Cinque Terre National Park. It is divided into four sections of hiking trails and connects all five villages over 12 km / 7.5 miles. However, not all sections are open (due to landslides or falling walls, etc) and as such to visit the other Cinque Terre Villages you'll need to take the train.
You can just buy your train ticket and then a separate ticket for hiking if you prefer, in which case, the tickets to access the two chargeable hiking paths (from Monterosso to Vernazza and from Vernazza to Corniglia) are as follows:
Adult (hiking only) €7.50 for 1 day; €14.50 for 2 days.
Child (hiking only) €4.50 for 1 day; €7.20 for 2 days.
Family (Hiking only) €19.60 for 1 day; €31.50 for 2 days.
Please note that only these two trails are chargeable, all other trails are free and you do not need the Trekking Card. Also, between November 6 and March 24, all hiking paths are free of charge and you do not need to buy the trekking card.
Our Top 6 Cinque Terre Hiking Tips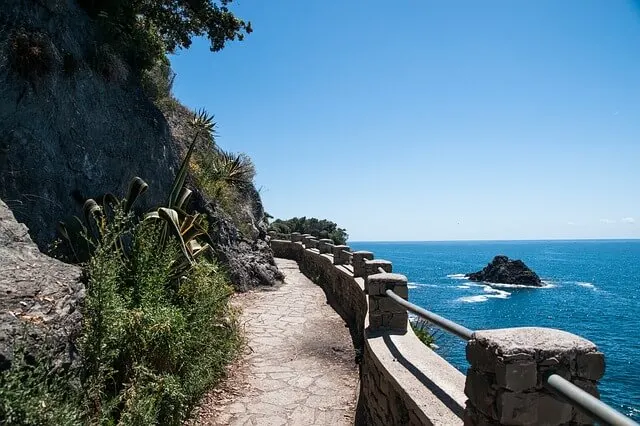 Try to go hiking early morning or in the evening. This is when it's less busy, less warm and you'll get gorgeous views of either sunrise or sunset.
Our top packing tip would be to ensure you bring and wear decent footwear; sturdy but not too heavy
Bring water – lots of it. You can fill up at all villages from the water fountains; just keep an eye out for signs which show you where (or ask!)
Wear sun protection. This is the Mediterranean and the sun gets HOT. You will want sunscreen, hats and sunglasses.
If you have children younger than 5, be careful which hike you choose. Almost all of them involve climbing and in the heat it can be difficult for the kids.
If you're hiking with a dog, make sure you pay attention to their health and comfort too.
If you only have time for one hike, make it the Monterosso al Mare to Vernazza hike. Taking around 2 hours it is a small time commitment but packs a punch in the natural beauty stakes. Just wait until you see the views as you approach Vernazza – you can thank us later.
Train Travel in Cinque Terre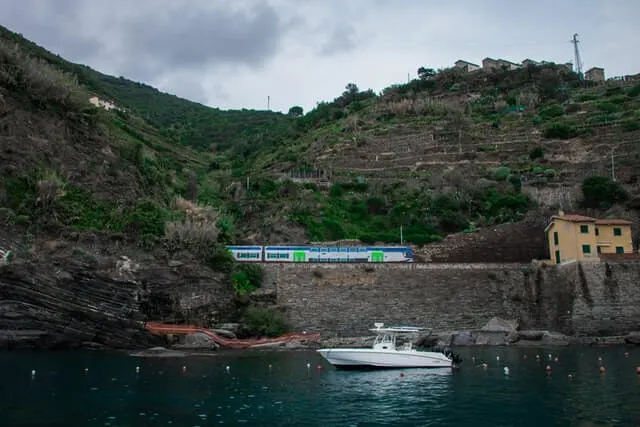 Trains are frequent and easy to navigate between the 5 towns (Check the train schedule here). Just be aware that while train strikes are common, they are always planned, so be sure to check the day before travel to make sure your trip is not impacted.
You can purchase a Cinque Terre Train Card or buy individual tickets from the machines but you MUST validate your ticket EVERY SINGLE TRIP. Failure to do this will result in a fine of 100€- each (ask me how I know…!)
Don't Trespass or Hop the Fences
There are plenty of epic viewpoints throughout Cinque Terre's five Instagram-worthy fishing villages. Some of which require little to no hiking. Please don't be an (insert derogatory term) and ignore the signs which advise if somewhere is private property or ignore the safety signs which have been erected to stop you from getting too close to the cliff edge.
Manarola is the most famous Viewpoint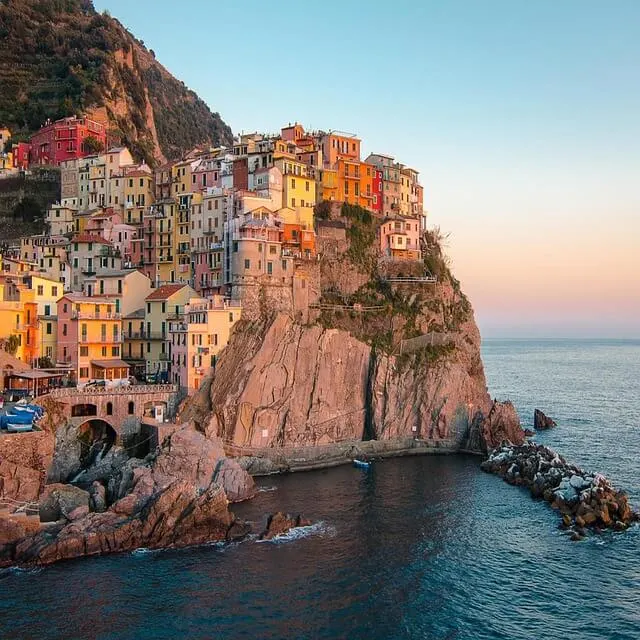 And on the subject of viewpoints and the best travel photography spots – the most famous viewpoint in the whole of Cinque Terre National Park is the one looking towards Manarola. This viewpoint is free to visit and is a short – and flat – 5-minute walk from the village center. It's well worth visiting, but be aware due to its location and beauty, there is always a crowd here.
What to Eat in Cinque Terre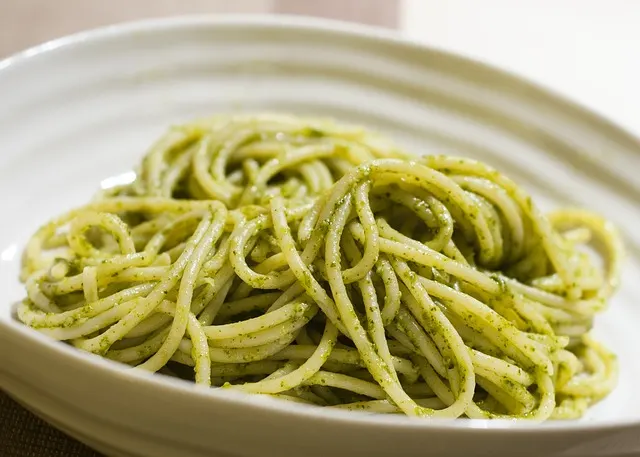 Cinque Terre is known for it's Pesto and – quite unsurprisingly due to their history as fishing villages – it's seafood.
To try to Pesto look for a dish called 'trofie al pesto' – a pasta dish that looks similar to chopped up bits of slightly twisted spaghetti (regular spaghetti is also sometimes used, but trofie is considered more traditional); and as for the seafood – be sure to order whatever is fresh!
If you only have 1 day…
If you only have time to spend one day in Cinque Terre, we recommend joining a day tour to get the most from your time. If this sounds like you, it is likely you'll be based in Florence or Pisa, where there are some fabulous tour options available:
A Perfect 3 Day Cinque Terre Itinerary
If your feeling inspired with our Cinque Terre tips and are looking for a done-for-you itinerary to make sure you make the most of your time, we've put together a brilliant suggested itinerary for 3 days in Cinque Terre (which presumes you arrive the night before it starts!)
Day One: Riomaggiore, Manarola and Corniglia.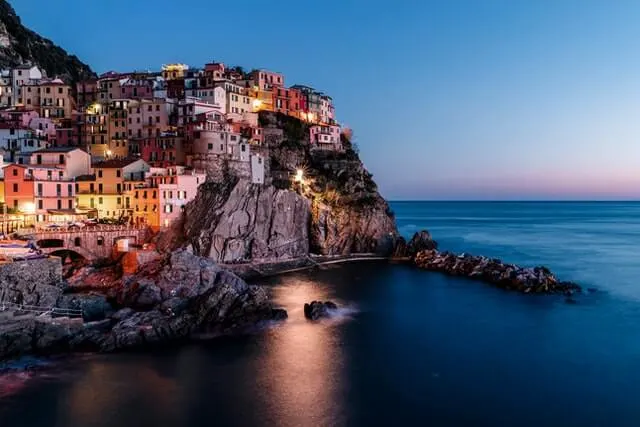 Enjoy breakfast at your hotel, then head to Riomaggiore for lunch (or breakfast, if it's not included at your hotel.) Riomaggiore is pretty and there are plenty of places near the small harbour to enjoy a coffee and something to eat. Having said that, we preferred other villages more, so don't spend too long here.
Grab the train to Manarola – this is the one you see most often on Instagram as it's easy to get great shots of the village (as mentioned above). Make sure you walk around the headland to get the best view (just follow the crowds!) If you happen to be here at sunset, this headland is the best place to be and one fo the best photo spots. You can get a great view and watch the village glow orange as the light fades.
There are plenty of little shops in Manarola to explore- it's a great place to get some souvenirs for your trip. By now, you're probably ready for another coffee (or an ice cream) so head to Gelateria Enrica and indulge!
The last stop of the day is Corniglia. Of all the villages, this is the quietest and most over-looked. It's up a steep hill and many people choose to omit it. Honestly, if you're tired, you're not missing a lot if you want to skip it, but there are some spectacular views if you make the effort.
Head back to your hotel for dinner and a soak in the pool if you're lucky, or head back to Manarola for one of the best sunset views in the area. Just expect HUGE crowds!
Day Two: Monterosso and Vernazza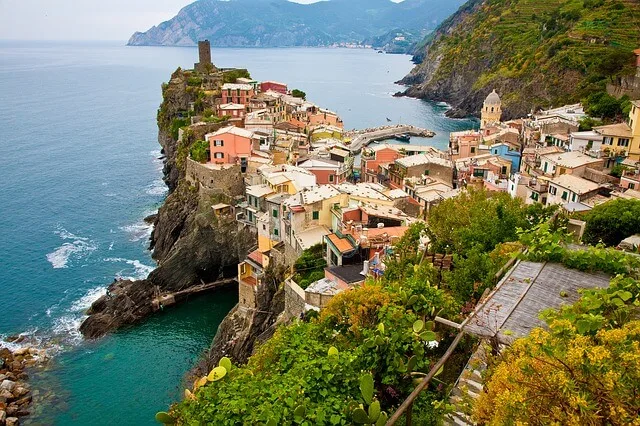 These are our two favorite villages in Cinque Terre! Start in Monterosso and grab breakfast or lunch from Il Fornaio di Monterosso. Use the morning to explore Monterosso and it's many beautiful streets and shops, before they get really busy after lunch.
Then, either hike to Vernazza Cinque Terre (it takes about 2 hours), or take a boat tour between the villages (the boats don't run in winter.) We highly recommend a boat trip – it's a wonderful way to see the area from the water. Of course, you can take a quick train ride, which costs a lot less and takes about 5 minutes- it's entirely up to you!
Once in Vernazza, you can enjoy one of the best beaches in the five towns of Cinque Terre. The harbor here is also more protected than in some of the villages, so it's fairly safe to swim whatever the weather and why it is considered one of the best beaches in Cinque Terre.
Make sure you visit Doria Castle, which is a medieval castle with a lot of history and you can also visit the Church of Santa Margherita d'Antiochia. This legendary church is built on the site of a treasure chest. Literally.
The story says that a chest containing the bones of Santa Margherita's hand washed up on Vernazza beach, prompting the people of Vernazza to build a church on that spot. The town celebrates her feast day on the 20th July each year with a festival and fireworks.
After all that history, you can relax and enjoy dinner with sunset views at Vernazza, return to your hotel or take part in an evening sunset cruise from Monterosso. This cruise takes a couple of hours and is a wonderfully romantic way to watch the sunset and is definitely one of the most memorable ways to spend the night in Cinque Terre. Departure times and availability varies, so do check in advance and book early to avoid disappointment.
Day Three: Monterosso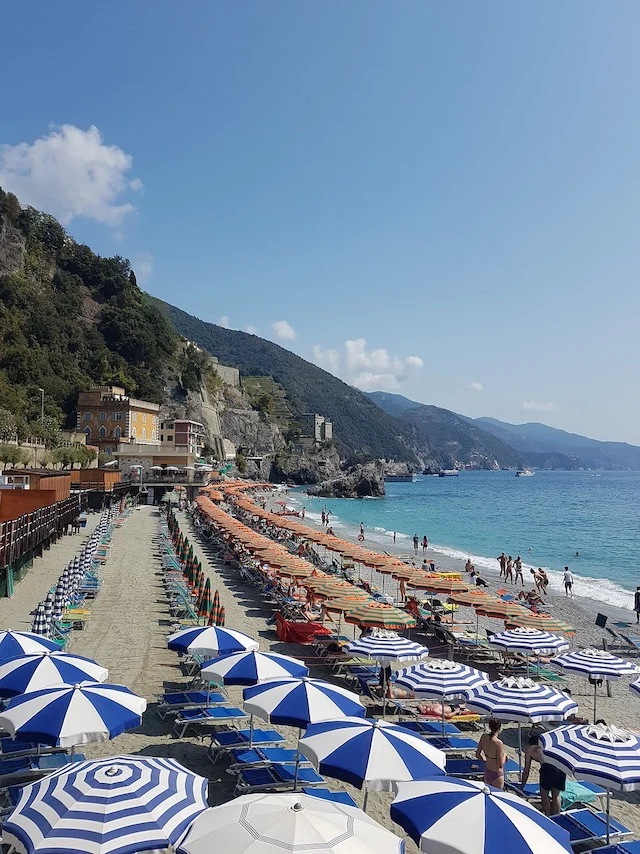 It's your last day in Cinque Terre – use it to do something fun. You can kayak, paddleboard, dive, fish, swim, snorkel, sail or even go paragliding! Most of these can be done from Monterosso – the tourist information there is incredibly helpful. You can also go wine tasting, attend a pesto making class or learn to make traditional Italian bread.
If that all sounds too much work, Monterosso is one of the only villages with a sandy beach and you can hire a sun lounger and umbrella and relax (and people watch!) to your heart's content.
If you have extra time, consider a trip to La Spezia or Portovenere. Whilst not technically a part of Cinque Terre, the latter is also a UNESCO World Heritage Site. These towns are gorgeous and well worth a visit. If you can go to Portovenere on Mondays, they hold a fantastic market in the town centre, where all sorts of stalls are displayed.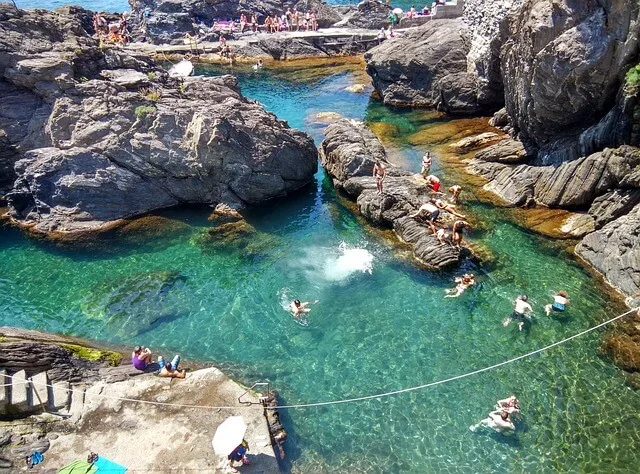 Back in Monterosso, each August, there is a festival called the Madonna Bianca Festival where hundreds of Roman torches are lit up- creating one of the most breath-taking sights at night. The whole town seems lit by torchlight.
For your final evening, enjoy dinner at Cantine Lunae, an amazing winery with a vast selection of sparkling wine, grappa and Passito wine before watching your last Cinque Terre sunset.
We hope this guide to 15 Top Cinque Terre Travel Tips (perfect for first-timers) & Helpful Suggested Itinerary for 3 days in Cinque Terre has been a huge help planning your trip to Cinque Terre, and has shown you all the best things to see in Cinque Terre while you are there!

If you know of anyone else that needs a little bit of inspiration or assistance in planning on visiting the Cinque Terre villages (or how to explore Cinque Terre while they are there!), please be sure to share this Cinque Terre Travel Guide on social media: Facebook, Flipboard, Twitter or grab one of the images from below for Pinterest. And remember – sharing is charing (and we thank you in advance!)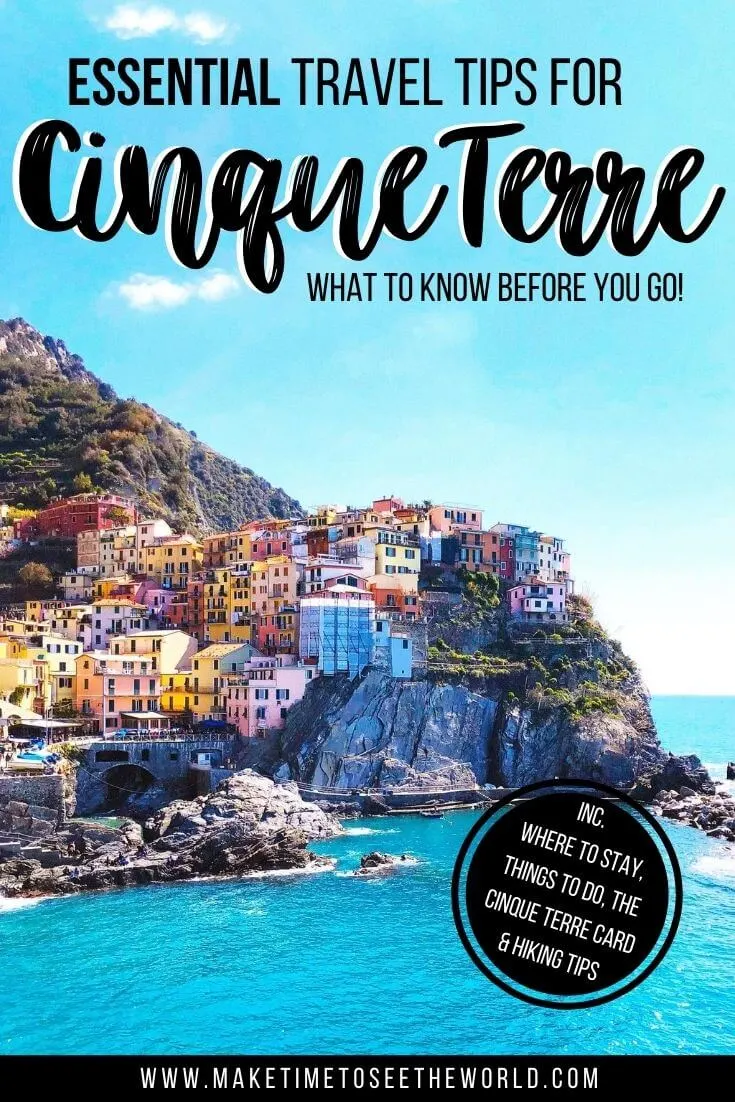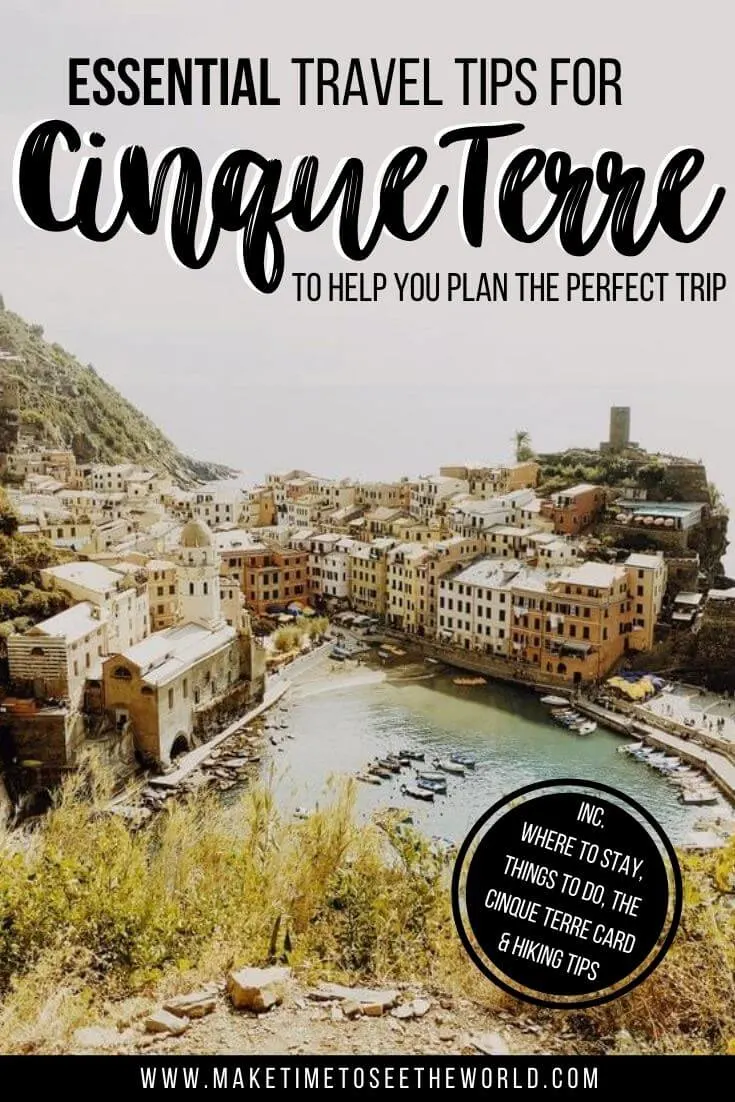 READY FOR MORE EUROPE TRAVEL INSPIRATION? YOU MIGHT BE INTERESTED IN THESE CINQUE TERRA TOP TIPS, TRAVEL HACKS, TRAVEL ARTICLES, DESTINATION GUIDES, TRAVELER RESOURCES, TRAVEL THE WORLD GUIDES, AND RELATED POSTS ABOUT OTHER AMAZING CITIES IN EUROPE:

Hi There! Thanks for reading our guide to 15 Helpful Cinque Terre Tips, Handy 3 Day Cinque Terre Itinerary + Cinque Terre Guide (Perfect for first-time visitors) I just wanted to let you know that this post contains amazon associate and other affiliate links, which means if you purchase something after clicking a link, I may get a small commission – which is at absolutely no cost to you. If you enjoyed this article and are going to be searching for some of the things I mention anyway, I would love it if you could click through from the links above & thank you in advance! Read my full Disclosure here.
And a huge Thank You for reading the MakeTimeToSeeTheWorld travel blog.