Discover more than 30 incredible movies set in Paris that are sure to ignite your wanderlust and encourage you to visit the City of Light!
Paris, the City of Light, has long been a muse for filmmakers. The city's timeless beauty and enchanting atmosphere have captured the imaginations of directors, producers, and audiences alike. As a result, numerous movies set in Paris showcase the city's iconic landmarks, romantic streets, and vibrant culture, serving as a visual treat for those who have walked through the city's arrondissements or dream of someday doing so.
Movie buffs and Francophiles are likely familiar with some of the most iconic Parisian films, such as "La Vie En Rose," which portrays the heartbreaking but inspiring life of the legendary French singer Édith Piaf, or the 1960s French New Wave classic "Breathless" by Jean-Luc Godard. These movies not only highlight the captivating cityscape but also delve into the French way of life and the nuanced complexities of human emotions against the backdrop of Paris.
In recent years, new films set in Paris continue to draw audiences in with their enthralling narratives and magical depictions of the city. From lighthearted comedies to intense dramas and family adventures, the diverse array of movies set in Paris proves the city's enduring allure and its power to transport viewers into a world of romance, intrigue, and adventure.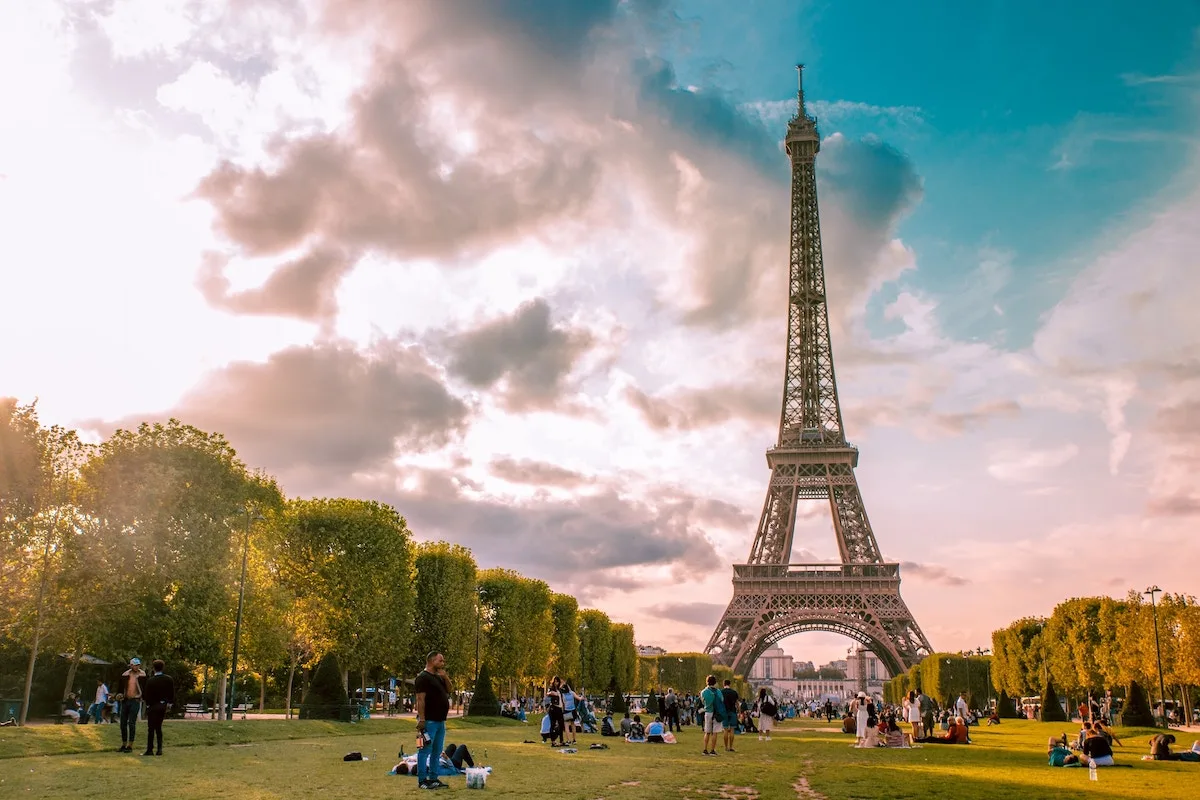 Disclaimer: Almost all posts on this site contain affiliate links, and this one featuring Best Movies about Paris is no different. This means that if you click on any of the links in this post (and make a purchase) I may receive a small commission at absolutely no cost to you. Each post is carefully crafted to (hopefully!) answer all your questions and recommendations are made where we believe they will improve your trip and help with your planning. As such we thank you in advance should you decide to click & buy. Read my full Disclosure here.
Iconic Films Set in Paris
Amélie

Amélie (also known as Le Fabuleux Destin D'Amelie Poulain), a whimsical romantic comedy released in 2001, stars Audrey Tautou as the quirky and charming titular character. Set in the picturesque neighborhood of Montmartre, Amélie's story revolves around her attempts to spread happiness and joy in the lives of those around her. The film beautifully captures the essence of Parisian life and showcases iconic landmarks such as the Basilique du Sacré-Cœur and the Canal Saint-Martin.
RELATED:
Don't want to limit yourself to just films set in Paris, take a look at our ultimate list of the
Best Travel Movies
.
Moulin Rouge

Moulin Rouge, a 2001 musical film directed by Baz Luhrmann, stars Nicole Kidman and Ewan McGregor. Set in the bohemian underworld in Paris during the Belle Époque period, the film tells the story of a doomed romance between a writer and an entertainer. Moulin Rouge accentuates Paris' artistic and creative spirit, with center stage given to the historic cabaret venue.
Before Sunset

Before Sunset, released in 2004, is the second installment in Richard Linklater's Before trilogy. Starring Ethan Hawke and Julie Delpy, the film follows the characters of Jesse and Celine as they reconnect in Paris after a chance meeting nine years earlier in Vienna. As the pair walks through the city, the film showcases the charming streets, parks, and iconic locales, including the Seine River and the Eiffel Tower.
La Vie en Rose

La Vie en Rose (French: La Môme), is a 2007 biographical film about legendary French singer Edith Piaf, which stars Marion Cotillard who won an Academy Award for her portrayal of Piaf. The movie takes viewers through Piaf's life, highlighting her humble beginnings and rise to fame. La Vie en Rose offers a touching glimpse into Paris of the early 20th century, featuring its vibrant music scene.
Les Misérables

Les Misérables, a 2012 film adaptation of Victor Hugo's classic novel and the long-running Broadway musical, features an ensemble cast that includes Hugh Jackman, Russell Crowe, and Anne Hathaway. Set in 19th-century Paris, the film follows the story of ex-convict Jean Valjean and his journey towards redemption. The movie's set and costume design effectively transport the audience to the period, highlighting various aspects of Parisian history and culture.
Ratatouille

Finally, Ratatouille, a 2007 Pixar animated film, pays homage to Paris' world-renowned culinary scene. The movie tells the story of Remy, a rat who dreams of becoming a chef and tries to achieve his goal by forming an alliance with a young human cook. With its stunning visuals and portrayals of Parisian landmarks, including the Eiffel Tower and Notre-Dame Cathedral, Ratatouille appeals to audiences of all ages with its heartwarming message and enchanting atmosphere.
The Pink Panther

"The Pink Panther" is a comedy-mystery film released in 1963. Directed by Blake Edwards, it stars Peter Sellers as the bumbling French detective, Inspector Jacques Clouseau. The film follows Clouseau's pursuit of the infamous diamond thief known as the "Pink Panther." The prominent filming location in Paris is the glamorous Hotel George V, where much of the film takes place. The film's success led to a series of sequels featuring the iconic character of Inspector Clouseau and solidified Peter Sellers' status as a comedic legend.
Classic Cinema and the French New Wave
Breathless

Breathless (Original title: À bout de souffle) directed by Jean-Luc Godard is an iconic film of the French New Wave movement. Released in 1960, it has come to epitomize Parisian cool. The film is considered a game-changer in the cinematic world, showcasing a revolutionary style, breaking the basic rules of movie-making, and offering an homage to past films.
An American in Paris

An American in Paris, directed by Vincente Minnelli, is a romantic musical film released in 1951. It stars Gene Kelly as an American artist trying to make it in the City of Love alongside Leslie Carons. The film showcases some of France's most iconic landmarks, including the Eiffel Tower, throughout its beautiful, elaborate dance sequences.
Funny Face

Funny Face, released in 1957, is another romantic musical film that captures the essence of Paris. Stanley Donen directed the movie, and Gene Kelly starred alongside the inimitable Audrey Hepburn. As a fashion photographer-turned-dance partner, Kelly guides the enchanting Hepburn through the streets, making the movie a visual love letter to the city.
The Red Balloon

The Red Balloon (Original title: Le Ballon Rouge) is a 1956 short film directed by Albert Lamorisse. As a tale for both children and adults, it follows a young boy and his red balloon on a journey through the streets of Paris. The movie captures the beauty and charm of the city, emphasizing the dreamy quality of Europe's magical atmosphere.
Within the Classic Cinema and French New Wave period, these films contributed to making Paris a hallmark location in cinema. By intertwining the French New Wave's unconventionality with the City of Love's beauty, audiences were transported to an enchanting world and a new era of filmmaking.
Les Amants

Les Amants (The Lovers) is a French film directed by Louis Malle. The movie tells the story of a bourgeois woman named Jeanne who finds herself caught in a loveless marriage. While traveling to her in-laws, she meets a young archaeologist named Bernard and embarks on a passionate affair with him. Their relationship ignites a spark within Jeanne and challenges societal norms. Through exquisite cinematography and powerful performances, Les Amants explores themes of love, desire, and personal liberation. The film offers a provocative portrayal of a woman's journey to self-discovery and the consequences of following one's heart.
Le Cercle Rouge

Le Cercle Rouge (The Red Circle) is a crime film by famous French director, JeanPierre Melville. Released in 1970, the film follows the story of a recently released convict, a professional thief, and an alcoholic ex-cop who plan a daring heist. As they execute their meticulously planned robbery, they find themselves entangled in a web of fate, betrayal, and pursuit by relentless law enforcement. Starring Alain Delon, Gian Maria Volontè, and Yves Montand, "Le Cercle Rouge" is renowned for its stylish direction, atmospheric cinematography, and compelling performances, making it a classic of French cinema.
Jules and Jim

Jules et Jim is a French romantic drama film directed by François Truffaut. It was released in 1962 and is based on the semi-autobiographical novel by Henri-Pierre Roché. The film tells the story of a complex love triangle between two friends, Jules (played by Oskar Werner) and Jim (played by Henri Serre), and the free-spirited Catherine (played by Jeanne Moreau). Set in early 20th-century France, the film explores themes of love, friendship, and the changing dynamics of relationships over time. Truffaut's direction and the performances of the cast, particularly Jeanne Moreau, have made "Jules and Jim" a timeless classic in French cinema.
Paris as a Backdrop for International Films
Hugo

Hugo, directed by Martin Scorsese, is a captivating film set in the heart of and filmed in Paris. The story unfolds within the walls of a Parisian train station, where the young protagonist, Hugo, sets out on a magical adventure. Throughout the film, the enchanting streets of Paris provide scenic backdrops, capturing the essence of the City of Love.
Da Vinci Code

In the Da Vinci Code, directed by Ron Howard, the enchanting city of Paris plays a key role in the movie's mystery and intrigue. As the story unfolds, the audience is taken through some of the most iconic locations in Paris, such as the Louvre Museum and the Notre Dame Cathedral. These picturesque settings play a fundamental role in immersing the viewer into the heart of the film's thrilling plot.
Mission: Impossible

The Mission: Impossible series, known for their exhilarating action scenes and highly detailed international settings, showcases the breathtaking city of Paris in a thrilling light in the movie Fallout. Europe's City of Love is transformed into a fast-paced playground for chase scenes and high-stakes espionage. The film effectively utilizes the breathtaking architecture and romantic streets of Paris to heighten the excitement and intensity of the plot.
French Cinema Landmarks
When it comes to movies set in Paris, the City of Love and the City of Lights often serves as a character in its own right. Numerous films have used the exquisite backdrops and iconic locations of Paris to create unforgettable cinematic experiences. In this section, we will focus on three key landmarks in French cinema: Montmartre, Casablanca, and Last Tango in Paris.
Montmartre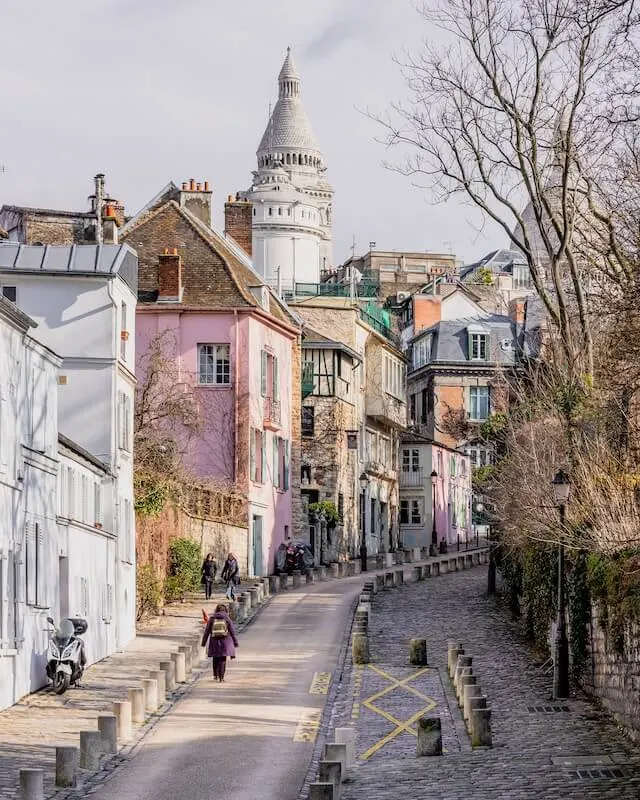 Montmartre is a charming hilltop neighborhood in Paris that has long been a favorite location for filmmakers. Known for its bohemian atmosphere, historic basilica, and picturesque views of the city, Montmartre has appeared in numerous iconic films, such as:
Amélie (2001): This whimsical romantic comedy, directed by Jean-Pierre Jeunet, follows the life of Amélie Poulain as she sets out to improve the lives of those around her while seeking her own happiness.
La Vie en Rose (2007): A biopic about renowned French singer Édith Piaf, played by Marion Cotillard, the film depicts Piaf's troubled life and illustrious career, with many scenes set in the Montmartre area.
Casablanca

Although primarily set in Morocco, the 1942 classic film Casablanca has ties to Paris. Known as one of the most celebrated films in cinema history, Casablanca stars Humphrey Bogart and Ingrid Bergman as star-crossed lovers who must navigate the turbulent backdrop of World War II. The movie features flashbacks to their romantic past in the French capital, showcasing iconic Parisian landmarks such as the Champs-Élysées and the Arc de Triomphe.
Last Tango in Paris

Last Tango in Paris (1972), directed by Bernardo Bertolucci and starring Marlon Brando and Maria Schneider, is a provocative drama set within the City of Lights. This film explores the dark and passionate relationship between the two leads, with notable scenes taking place along the banks of the Seine river and in various Parisian streets and apartments.
The city of Paris has also served as a backdrop for numerous adaptations of classic French literature, such as the Hunchback of Notre Dame and Les Misérables. These films have further cemented Paris as an important location for cinema, showcasing European culture, and the unique essence that the city has to offer.
Contemporary French Films
The Intouchables

The Intouchables is a contemporary French film released in 2011, starring François Cluzet and Omar Sy. This heartwarming and endearing movie tells the story of a wealthy quadriplegic, played by Cluzet, who hires an ex-convict, played by Sy, to be his caregiver. Their unlikely friendship blossoms as they learn from one another and navigate through life's challenges. The film captures the essence of Parisian culture and city life while addressing the themes of social disparity, prejudice, and the power of human connection.
Les Enfants du Paradis

Les Enfants du Paradis is a classic French film directed by Marcel Carné and released in 1945. The film is set in the 19th-century Parisian theatre world and follows the intertwined lives of several characters, including a mime, an actress, a criminal, and a count. Regarded as one of the greatest films in world cinema, "Les Enfants du Paradis" provides a captivating glimpse into the vibrant world of Parisian theatre and its captivating characters.
L'Atalante

L'Atalante is another timeless French film, released in 1934. The story follows a newlywed couple who embark on their new life together aboard a river barge. As they navigate the challenges of life and love, they encounter an assortment of intriguing and eccentric characters. The film captures the beauty and charm of Paris and its surrounding landscapes, offering a visual treat for audiences.
The Triplets of Belleville

Triplets of Belleville, known as "Les Triplettes de Belleville" in French, is a whimsical French animated film released in 2003. When her grandson is kidnapped by the French mafia, determined grandmother Madame Souza teams up with three jazz-singing triplets to rescue him.
The story takes viewers on a captivating journey through the bustling city of Belleville and beyond. With its unique animation style, clever storytelling, and a mix of comedy, drama, and music, the film is a delightful and unforgettable cinematic experience. It explores themes of love, determination, and the power of family bonds. Triplets of Belleville is praised for its originality, imaginative visuals, and heartfelt narrative.
Romantic Comedies Set in Paris
Paris, Je T'Aime

Paris, Je T'Aime is a collection of 18 short films, each set in a different Parisian neighborhood, showcasing the city's charm and romance. With a mix of established and emerging directors, this anthology film captures the essence of Paris as the City of Love. Within these brief cinematic moments, characters experience love, loss, and connection, making it a fitting representation of romantic comedies set in Paris.
Everyone Says I Love You

Everyone Says I Love You is a 1996 musical romantic comedy film written and directed by Woody Allen. It features an ensemble cast, including Julia Roberts, Goldie Hawn, and Alan Alda. Set in various locations, including Paris, this film weaves together multiple love stories, with charming musical numbers interspersed throughout. Its Parisian setting only enhances the film's romantic atmosphere.
French Kiss

French Kiss, released in 1995, is a romantic comedy directed by Lawrence Kasdan and starring Meg Ryan and Kevin Kline. The story follows an American woman who travels to Paris to win back her fiancé, only to find herself falling for a charming French thief. The film's picturesque Parisian backdrop elevates the movie's romantic appeal, with iconic landmarks such as the Eiffel Tower and the Louvre museum featured.
Forget Paris

Forget Paris, a 1995 romantic comedy directed by and starring Billy Crystal alongside Debra Winger, tells the story of an American NBA referee who falls in love with a Parisian woman while on vacation in the City of Love. Through a series of comical mishaps and cultural misunderstandings, their love story blossoms against the backdrop of Paris, showcasing the city's undeniable romantic charm.
Midnight in Paris

Midnight in Paris is a romantic comedy film directed by Woody Allen with an all-star cast including Owen Wilson, Rachel McAdams, Marion Cotillard, Lea Seydoux, and Tom Hiddleston. Released in 2011, It follows a nostalgic screenwriter, Gil, who is transported back in time each night at midnight to 1920s Paris.
As he explores the city's enchanting streets, he encounters iconic figures from art and literature and falls in love with the era. Through his time-traveling adventures, Gil learns valuable lessons about the allure of the past and the importance of embracing the present. The film celebrates the magic of Paris and captures the essence of nostalgia, creativity, and the pursuit of artistic inspiration.
Paris Can Wait

Paris Can Wait is a romantic comedy film released in 2016. Directed by Eleanor Coppola, it stars Diane Lane as Anne, a woman who embarks on a spontaneous road trip from Cannes to Paris with her husband's business associate, Jacques, played by Arnaud Viard. Along the picturesque French countryside, Anne indulges in delectable food, scenic landscapes, and unexpected adventures, ultimately discovering a new perspective on life and love. Paris Can Wait captures the essence of a delightful and transformative journey, offering a charming portrayal of self-discovery and the allure of the French lifestyle.
Passport To Paris

Passport to Paris is a family comedy film directed by Alan Metter. Released in 1999, the film revolves around two teenage girls, played by Mary-Kate and Ashley Olsen, who are sent to Paris to spend time with their grandfather, a U.S. ambassador. As they explore the city, they find themselves caught up in various adventures and romance, while also learning about French culture and customs. With its light-hearted humor and charming performances by the Olsen twins, "Passport to Paris" offers an entertaining glimpse into the magical city of Paris.
Le Divorce

Le Divorce is a romantic comedy-drama film directed by James Ivory. Released in 2003, the film follows Isabel Walker, played by Kate Hudson, who travels to Paris to help her pregnant sister during her divorce proceedings. As Isabel navigates the complexities of French culture and relationships, she becomes involved in her sister's marital drama and develops her own romantic entanglements. With a star-studded cast including Naomi Watts, Glenn Close, and Thierry Lhermitte, "Le Divorce" offers a witty and insightful exploration of love, cultural clashes, and the intricacies of family dynamics in the beautiful city of Paris.
Final Thoughts on 30+ Incredible Movies Set in Paris (or Filmed in Paris!)
Explore the magic of Paris through the lens of cinema! We're sure these 30 incredible movies set in Paris will ignite your wanderlust and inspire you to visit. From romance to adventure, these films capture the essence of Paris like no other. And we hope they have helped you to fall in love with the City of Light all over again!
And that's a wrap! If you know of anyone else that needs a little bit of inspiration or assistance in planning their Parisien getaway, please be sure to share on social media: Facebook, Flipboard, Twitter or grab the image from below for Pinterest. And remember – sharing is caring (and we thank you in advance!)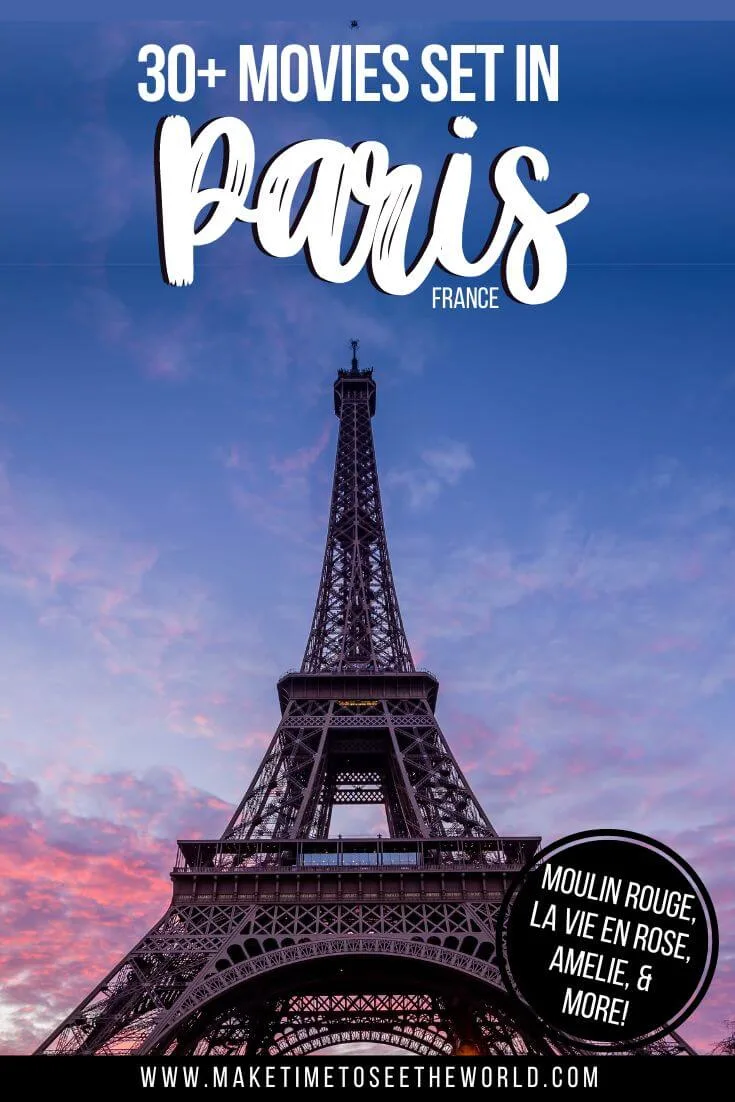 READY FOR MORE EUROPE TRAVEL INSPIRATION? YOU MIGHT BE INTERESTED IN THESE TRAVEL TIPS, TRAVEL HACKS, TRAVEL ARTICLES, TRAVEL DESTINATIONS GUIDES, SOLO TRAVEL GUIDES, TRAVELER RESOURCES, AND RELATED POSTS ABOUT OTHER BEAUTIFUL CITIES IN EUROPE TO HELP YOU EXPLORE EUROPE AND TRAVEL THE WORLD:
Hi There! Thanks for reading my Paris travel guide which features the 30+ Incredible Movies Set in Paris! I just wanted to let you know that this post may contain affiliate links, which means if you purchase something after clicking a link, I may get a small commission – which is at absolutely no cost to you. If you enjoyed this article and are going to be searching for some of the things I mention anyway, I would love it if you could click through from the links above & thank you in advance! Read my full disclosure here. And thank you for reading the MakeTimeToSeeTheWorld travel blog.