In today's world, it's pretty easy to become gadget crazy. With so many fun and easy to use gadgets available on the market, most of us probably own at least one kind of gadget for almost every area of our lives. They help us make day to day life easier and get boring tasks out the way in sometimes a matter of minutes (like spiralising vegetables, for example – which I know is totally not related to travel, but it is one of my favorite day to day life gadgets!).
The world of travel is also no exception when it comes to gadgets. We are seeing more and more new and innovative travel gadgets becoming available that help make traveling a whole lot easier and manageable. From smart suitcases, saving us bags of space to solar powered chargers, there is a gadget out there to suit all your travel requirements.
To introduce you to the world of travel gadgets we have picked out our top 30 travel gadgets 2020 available to purchase online that we guarantee will make your adventures easier and more efficient than ever before. And will be the envy of all your friends. Practical and covetable – it'll be tough to decide which one to add to your kit first!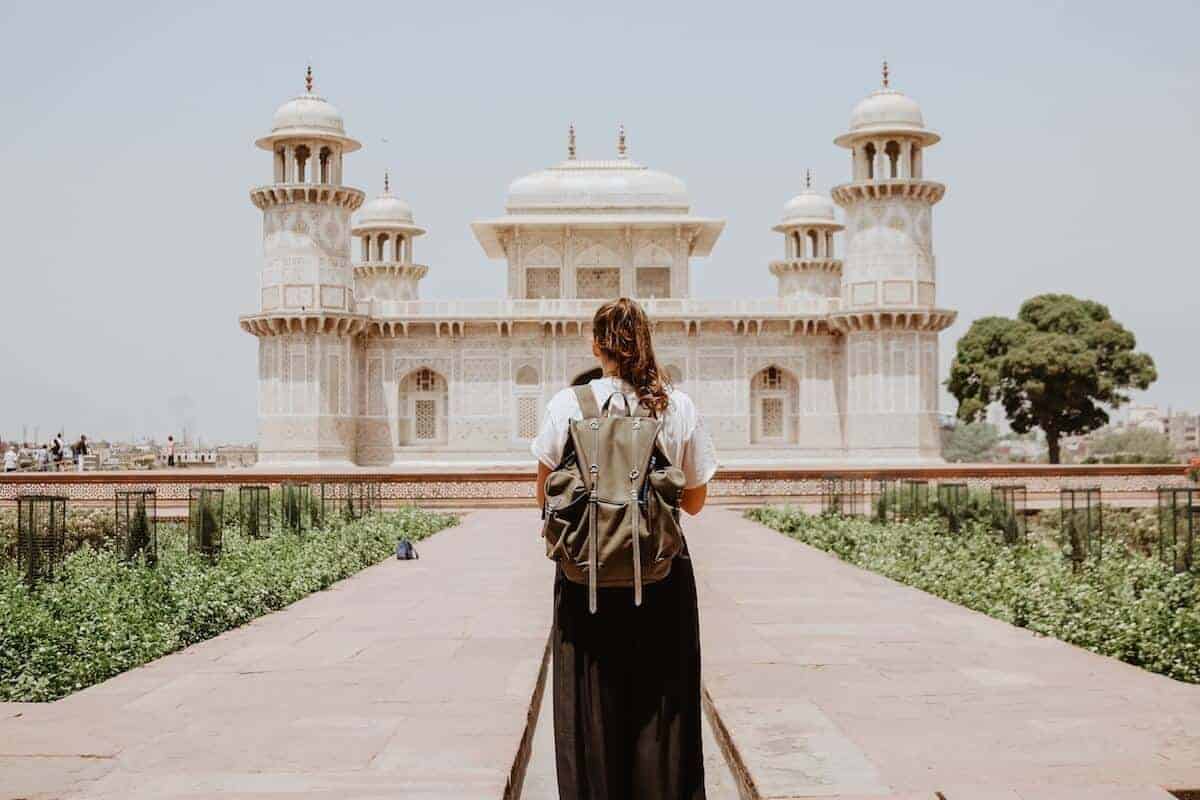 Disclaimer: This very helpful post about the best travel gadgets contains affiliate links, which means that should you click any of the links and make a purchase I may get a small commission at absolutely no cost to you. If you are thinking about buying any of these travel toys gadgets (for yourself or anyone else) – please consider using the links below. And you can read the legal stuff about it all in my Disclosure.
30+ of the Best Travel Gadgets you can't (and shouldn't!) live without
Clip-On Cell Phone Lens Kit
To help you achieve the perfect shot with your phone, this 3-in-1 clip-on lens set features three lens options, including a Fisheye, Super-Wide and Macro Lens, along with a Bluetooth remote. Take your photography game up a notch for less than it costs to have a couple drinks at the bar! Check the best price here.
.
USB rechargeable batteries
In an ideal world, we would be able to charge everything via USB/mains electricity, and whilst we are getting closer to that as a society, unfortunately some items still require actual batteries. You can reduce your impact on the environment by picking up some of these fast charging, eco-friendly USB rechargeable batteries and do your bit for the planet. Grab your kit here.
GoPro HERO8
This new beaut 4K sports camera from GoPro is waterproof, features a voice activated control and a shake free, touch screen display along with built in time-lapse, hyperlapse and timewarp functions; it's so steady that you don't even need a gimbal! Seriously, if you have ever been on the fence about buying an action camera or a GoPro, now is the time to jump in! Check prices in your country here.
.
Gopro Dome, Waterproof Case for GoPro Hero 8
For your GoPro HERO8, a hardened optical acrylic transparent dome, offering high visibility with an anti-slip and extended dive handle grip. Suitable for swimming, snorkelling, diving and water sports this waterproof dome will allow you take your GoPro absolutely anywhere – making it one of the best travel accessories for travel photographers (although it is a bit bulky!) Check Prices here.
.
Antler Atom Spinner Hand Luggage Case
This isn't just an ordinary hardside spinner, it is super light, sturdy and stylish. What more could a frequent traveler want?! Check Current Prices Here.
NEED MORE OPTIONS? –
The Antler Atom is one of our top rated hand luggage cases, but if you would like to see our other top picks or are looking fr a bag with specific features, read our full
CarryOn Suitcase Guide here.
And if you are looking for checked luggage – read about the
best Hardside Luggage
on the market.
DJI Mavic Pro Drone

Create jaw dropping footage with the DJI Mavic pro drone. Featuring a 4K camera, this drone can fly up to 40mph for as long as 27 minutes and it folds down to the size of a water bottle when you're finished filming. Grab your FlyMore Combo Kit here. [psst. We LOVE the Mavic Pro, but you can read our full comparison post about the best drones for travelers here to make your own mind up! and once you have decided our guide to best Drone Accessories is a great place to start!]
.
goTenna Mesh SMS & GPS Device
Stay connected even when you're off-grid with the goTenna Mesh. Allowing you to send texts without cell service, this handy gadget is also weatherproof and has up to 24hrs of battery power. Buy a set here.
.
Scrubba Washing Bag
If you know you will away from a washing machine for quite a long time (ie. when you are on an overland African Safari!) having a mini washing machine in your bag can make staying relatively clean a whole lot easier. Grab a Scrubba washing Bag here – they're available in 2 sizes too depending on your needs, and are ideal travel gadgets for any trip where you are going 'off the grid'.
.
Portable Wifi Hotspot
If staying connected to the world wide web is essential for you when you travel, investing in your own personal wifi hotspot device is a no-brainer. There are two different types to choose from: the ones that require a local data sim to be inserted from the country you are visiting; and the ones that come with pre-paid data (as selected by country). Click over to our guide to the Best Mobile Hotspots for Travel and find your perfect companion (from Skyroam Solis to TravelWifi!)
.
Flip Flops
Ok, so these may not be a cool or unusual travel gadget, or even a travel gadget all (more of a travel accessory!) but they are an essential item for any travel kit. Great for shared showers in hostels or campsites, or for chucking on to wander around in hot countries.
.
Travel Iron
One of the smallest travel steam irons available on the market. At only 13.2cm long the soleplate is non-stick and the 1.4 oz water tank provides heat and steam in 15 seconds, making it ideal to whip out of your bag if your favorite dress/shirt got horribly creased on the way to your next adventure. It also comes with a handy travel bag too and weighing in at 430g, you'll hardly even know it is there! Grab yours here.
.
UE Bluetooth Speaker

Enjoy your favorite tunes wherever you are with these compact, portable bluetooth speaker from Ultimate Ears. With a 66ft connection range and up the 15hrs of playtime, this speaker charges via USB, making it the ideal companion whilst traveling. Add in that it is waterproof and plays music whilst floating, making it one of the best vacation gadgets for pool parties, or floating out in the ocean! Buy this essential piece of travel kit here.
.
Passport Holder
Again, more of a travel accessory than a travel gadget, these nifty little covers can help protect your most valuable possession (your passport) when on the road. Compare all the latest, greatest and most stylish passport holders on the market here.
.
Sony A600 Compact System Camera
Snap the most stunning photos that will make all your Instagram fans go WOW with this Sony A600 compact mirrorless camera. Featuring a hybrid autofocus system and a 16-50 mm power zoom lens and 55-210mm lens, this camera is one of the easiest to use on the market, and is Wifi enabled so you can quickly send that perfect shot to your phone to share on social media without needing to plug the SD card into a computer. Click to up your camera game.
COMPARE TRAVEL CAMERAS –
Looking for a different kind of travel camera? (Full frame, action, 360 etc?) Take a gander at our post about the
best cameras for travel photography
and pick out your favorite.
.
Roku Express Streaming Player
Watch all your favorite TV shows and movies with the Roku streaming player. Offering HD streaming of over 150,000 movies/shows this streaming stick comes with no hidden monthly costs. You'll never miss an episode of the latest cult show while you are away, and is perfect for a bit of downtime after a hectic few days on the road. Check prices and availability here.
.
bonVIVO VitaliTEA insulated glass bottle
Not only is this glass infuser bottle from bonVIVO a fabulous eco-friendly water bottle option, it is also made from heat-resistant borosilicate glass making it suitable for both hot and cold drinks. It is also extra durable, protecting it against breakages. It is perfect for short, weekend-esque type getaways (buy one here), but for longer or more outdoorsy adventures, we recommend insulated stainless steel bottles as they are lighter. Click here to read our full travel water bottle comparison post and find your perfect travel partner.
.
ThermaCELL Heated Insoles
The perfect partner for your shoes if you are travelling to colder parts, available from ThermaCell. These heated insoles are rechargeable and can be trimmed to fit any shoe size. Keep your feet toasty with this smart travel gear here.
.
Samsung Galaxy Watch / Apple iWatch
When it comes to wearable tech, this choice boils down to whether you are in the Apple or Android camp. Both have similar features, inc. integration with other devices, heartrate monitors, GPS and electronic payment apps. They are also lightweight, with anti-glare lenses – but the main difference is the battery life: The Apple Watch has an 18 hour battery life and the Samsung Galaxy can last 4 days(!!)
Which camp are you in? Samsung Galaxy or Apple iWatch.
RELATED: Click here if you need a little more help in choosing which Smartwatch is the best for travel
.
Wacaco Minipresso
No longer will you have to go without your morning coffee whilst travelling with the Wacaco Minipresso. This compact, lightweight, powerful coffee make is manual, meaning you can get your coffee fix whenever, wherever you want. Get your coffee fix here.
.
Victorinox Swiss Card Lite
The Victorinox Swiss Card Lite features everything from a blade, scissors, pin, pen, ruler, tweezers, ruler and even a magnifying glass. Making this the perfect portable credit card sized multi-tool. McGyver-it-up here.
.
LuminAID PackLite Max Phone Charger
A revolutionary 2 in 1 gadget from LuminAID this lantern also doubles up as a phone charger. This super cool travel gadgets is also waterproof, floatable, offers up to 50hrs of light and can be recharged via main or solar energy. Perfect for back country adventures, camping and 'in the dead of night' astro photography shoots! It's one of the most unique travel gadgets on the list – Get Illuminated here.
.
TRLT Travel Pillow
It's one of the comfiest travel pillows available making it the perfect travel companion. (Another very comfortable and often recommended travel pillow option is the Ostrich Pillow, but I prefer the TRLT because it is much more compact).
The TRLT Travel pillow offers unique neck support and comfort to help you power-nap wherever you are. And if you like complete darkness to sleep, you may want to invest in an eye mask too! It's a great travel gadget – Order this lifechanging sleep maker here.
.
Flexible Luggage Locks
Keep your bag locked at all times whilst out and about with this flexible luggage locks – the perfect travel accessory for keeping your stuff safe.
PacSafe Stylesafe Anti-Theft Backpack
Keep your belongings safe with this anti-theft backpack from PacSafe. Featuring an anti-slash material and lockable zippers you can rest easy when travelling with this bag. And it looks cute too. Check prices & availability here.
Soluser Portable Solar Charger
This external battery powered charger pack from Soluser features two waterproof USB ports and a solar phone charger power bank which is good for up to 500 charges. This portable charger is one of the best travel gadgets for any trip. Get yours here. And for a more 'traditional' power bank for charging your phone on the go, we recommend the Anker Powercore Portable Charger.
.
LifeStraw Personal Water Filter
The award-winning LifeStraw water filter utilises an advanced membrane technology, filtering up to 1,000 litres of contaminated water, allowing you to drink water safely, wherever you are. The water purifying Lifestraw is really is one of the most innovative travel accessories on the market and perfect for travelers heading to places without running water. Click here to stay hydrated all over the world.
.
JYDMIX All In One Universal Travel Adaptor
The all in one universal power adapter from JYDMIX is your must-have travel charging accessory. With a universal adapter and three USB ports (most travel adapters are limited to dual USB charging ports) this charger is compatible in over 200 countries and fits practically every international outlet. It's one of the coolest travel gadgets available – and extremely useful. Click here to stay plugged in all over the world.
Senneheiser PCX550
These state of the art noise cancelling, wireless headphones from Sennheiser allow you to adjust the level of noise cancellation, depending on your environment so you can listen to some soothing music or just relax in peace, no matter how much noise is going on around you. Jump straight in an buy a pair here – or if you're not fully convinced, read our complete review of the Sennheiser PCX550 Noise Cancelling Headphones here.
WD 2TB Portable Hard Drive
With all the photos you are snapping on your travels, you never know when some extra storage might come in handy. This portable storage drive from Western Digital offers you up to 2TB of extra storage and features a USB 3 port making it compatible with most devices. Back up your stuff here.
Amazon Kindle Fire 7 with Alexa
This bestseller will allow you to enjoy millions of eBooks, movies TV shows, music and much more, wherever your travels take you. Now thinner, lighter and featuring better battery power this is the kindle everyone needs in their suitcase and is one of the best road trip gadgets for keeping passengers entertained. Grab one for yourself or as a gift here.
Car Seat Tablet Holder
One of the top road trip gadgets has to be a Headrest Tablet Holder. Perfect for keeping the kids entertained in the backseat on a long drive, this particular model can be used with phones, tablets and even game consoles such as the Nintendo Switch. Keep the children occupied and save yourself from too many 'are we nearly there yet' questions!
In-Car Phone Mount
On the subject of road trip gadgets, if you plan on having your mobile in the car with you to use for navigation, be sure it is secure and easily viewable to avoid any unnecessary distractions (or accidents!) – and help you avoid costly fines for using your phone while driving. A Phone mount is a perfect travel gadget for all types of adventures – even if it's only the commute to work!
Luggage Scale
Whilst not one of the most cool travel accessories – a handheld luggage scale can make or break your trip (and your budget if you get to the check-in counter and you bag is overweight!) Weighing very little themselves, it is worth packing one to be able to check the weight of your bag along the way. Because everyone buys something on the travels (clothes, souvenirs, etc)
Compression Packing Cubes
These are absolutely one of my most favorite travel gadgets on the planet. They're like regular packing cubes, except they have built in compression zips to make your packing that much smaller! Travel packing organization AND space saving? Yes please. They are easily some of the most innovative travel products to hit the shelves in recent years! Invest in a set for as little as $20.. you won't be disappointed!
.
Did you find the travel gadget you were looking for in our guide? Maybe you found some you didn't even know you needed… until now!
We hope you have found our guide to the best gadgets for travel helpful and remember, if you think we've missed any top travel toys, erm I mean, gadgets/useful travel accessories, be sure to mention them in the comments below and tell us what you think of any of these items, if you decide to get one to try for yourself!
And if you liked this post, please tweet, pin or share on Facebook, I'd really appreciate it!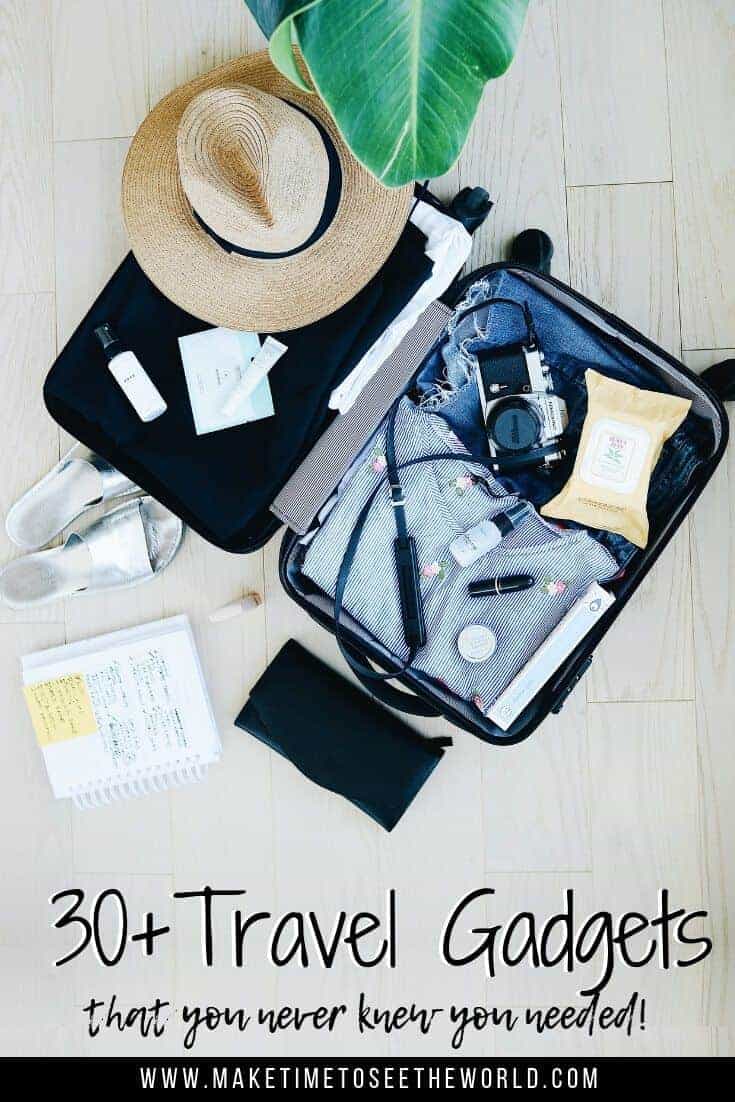 And if you liked this guide to the top travel gadgets and accessories and travel essentials, take a look at the other gift guides, travel hacks, packing tips & travel gear posts in this series:
Hi There! Thanks for reading my buying guide to The Best Travel Gadgets, Must Have Travel Gadgets & Essential Travel Gadgets (that you never knew you needed!) I just wanted to let you know that this post contains affiliate links, which means if you purchase something after clicking a link, I may get a small commission – which is at absolutely no cost to you. If you enjoyed this article and are going to be searching for some of the things I mention anyway, I would love it if you could click through from the links above & thank you in advance! Read my full Disclosure here. Thank you for reading the MakeTimeToSeeTheWorld travel blog posts.
30+ AMAZING Must-Have Travel Gadgets for 2020!
was last modified:
September 12th, 2020
by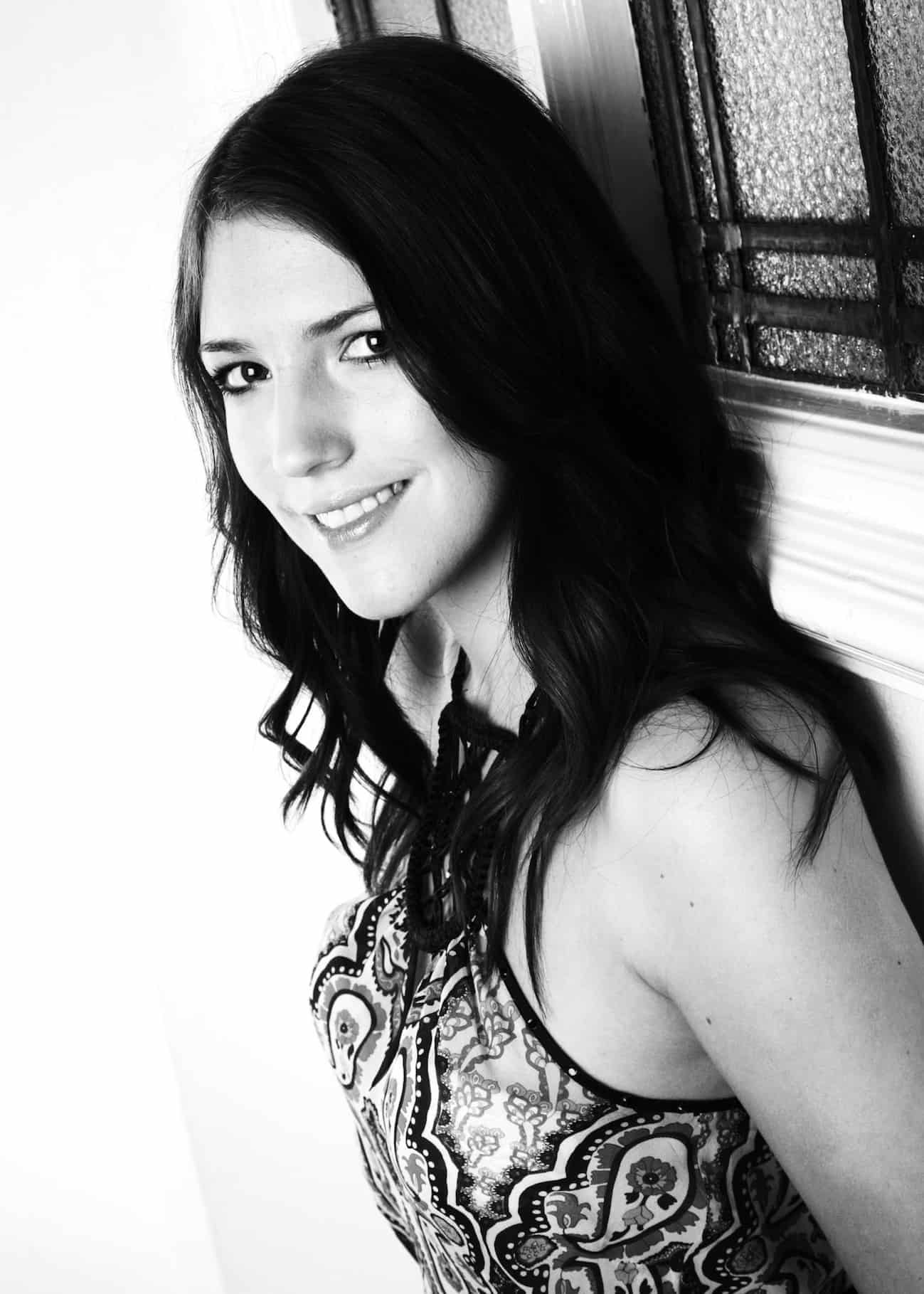 Vicki is the Lawyer turned Content Creator, Editor-in-Chief and all round Boss Lady at MakeTimeToSeeTheWorld.
She has lived and worked in 7 different countries and started the site to show everyone that it is possible to travel whilst holding down a full time job (because not everyone can – or wants to – quit and walk away from it all).
Her style of travel has always been to get the best out of a destination as a time poor traveler making the most of limited vacation days and all without breaking the bank; BUT she does know where to save and where to splurge to have the most incredible travel experiences – such as luxury hotels and over-water bungalows, safaris, spas and more(!) – where the situation calls for it.
If you want to join the work to travel revolution, follow MakeTimeToSeeTheWorld on Facebook, Twitter, Pinterest or Instagram – and if you are a travel brand who would like to find out how to work with Vicki, contact her here.