From art to food, history to romance, discover why the City of Light is always a good idea with our top 10 reasons to visit Paris!
Paris is often called the City of Light, and for good reason. It's a city that has inspired countless artists, writers, and musicians throughout history and has become a symbol of romance, elegance, and sophistication. Whether you're a first-time visitor or a seasoned traveler, there's always something new to discover in Paris. From its world-class museums and iconic landmarks to its charming cafés and quaint cobblestone streets, Paris has something for everyone.
In this post, we'll explore the top 10 reasons to visit Paris and why it's always a good idea to plan a trip to the city. Whether you're looking to indulge in some of the world's best cuisine, take in breathtaking views of the Seine River, or immerse yourself in the city's rich history and culture, Paris has it all.
With so much to see and do, it's no wonder that Paris is one of the most popular tourist destinations in the world. So, whether you're planning a romantic getaway, a family vacation, or a solo adventure, read on to discover why Paris should be at the top of your travel bucket list.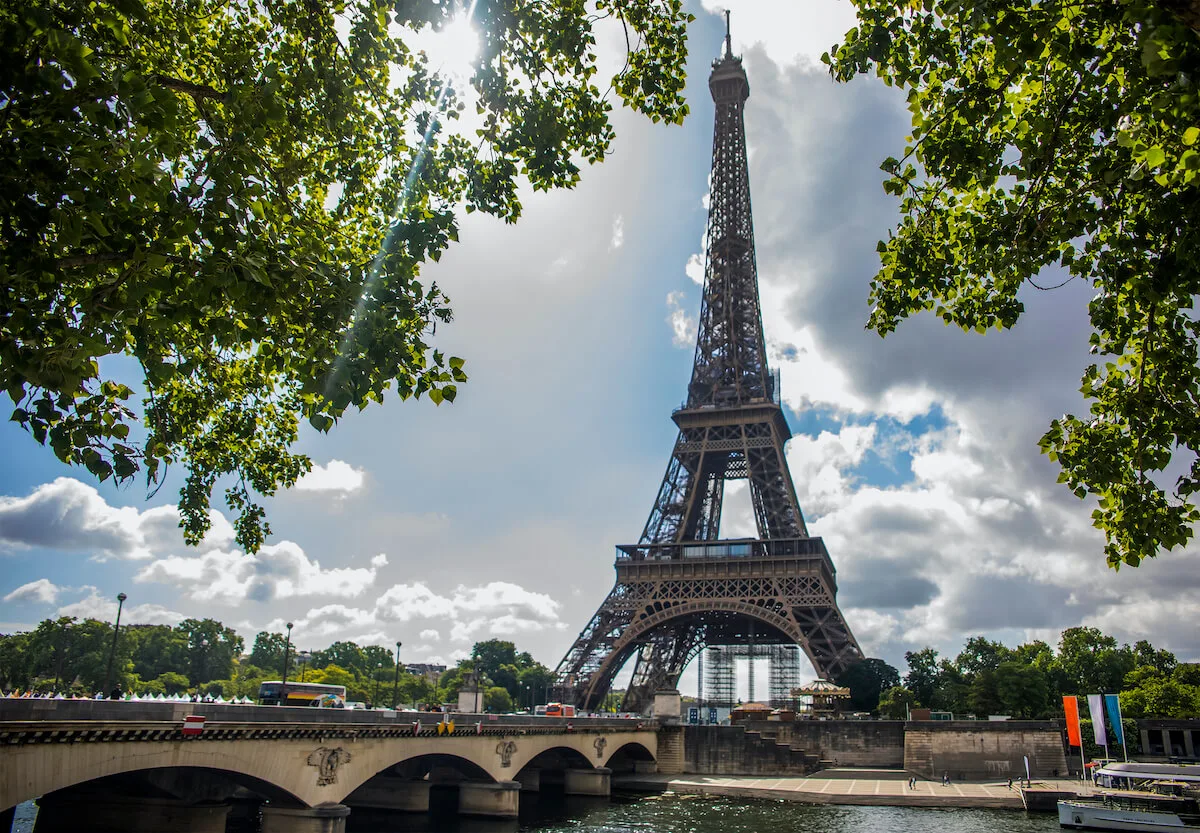 Disclaimer: Almost all posts on this site contain affiliate links, and this one featuring the Top 10 Reasons to Visit Paris is no different. This means that if you click on any of the links in this post (and make a purchase) I may receive a small commission at absolutely no cost to you. Each post is carefully crafted to (hopefully!) answer all your questions and recommendations are made where we believe they will improve your trip and help with your planning. As such we thank you in advance should you decide to click & buy. Read my full Disclosure here.
Top 10 Reasons to Visit Paris At Least Once in Your Life
Landmarks (Eiffel Tower, Sacre Coeur, Notre Dame, Louvre, Arc de Triomphe, etc!)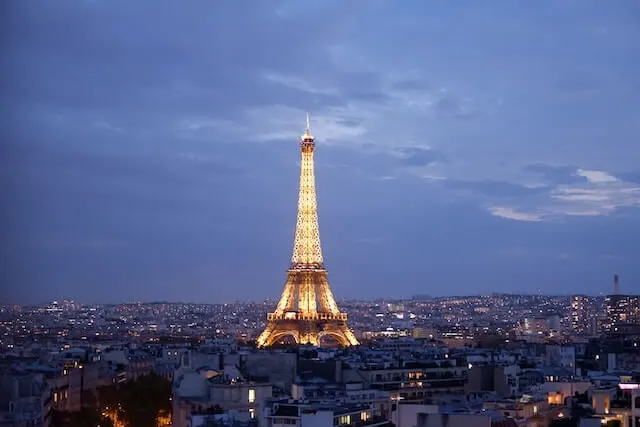 Paris is an architectural gem with a rich history and culture. It is home to some of the most famous landmarks in the world that attract millions of visitors every year.
The Eiffel Tower is an iconic symbol of France and one of the most recognized landmarks in the world. The tower offers panoramic views of the city, making it an excellent spot for photographers and sightseers alike.
The Louvre Museum is one of the largest and most visited museums in the world, housing some of the world's most valuable works of art, including the Mona Lisa.
The Notre-Dame Cathedral is an iconic Gothic masterpiece that has stood the test of time for over 800 years, surviving wars and revolutions.
Other notable landmarks include the Arc de Triomphe, the Champs-Élysées, and the Palace of Versailles.
Paris is also home to many unique and hidden gems that offer a glimpse into the city's history and culture. These include the Catacombs of Paris, the Père Lachaise Cemetery, and the Sainte Chapelle.
The Catacombs are a vast underground network of tunnels that house the remains of over six million Parisians.
The Père Lachaise Cemetery is the final resting place of many famous personalities, including Jim Morrison, Oscar Wilde, and Edith Piaf. And
The Sainte Chapelle is a stunning gothic chapel that features magnificent stained glass windows that depict scenes from the Bible.
In summary, the landmarks in Paris are not just famous for their beauty but also hold significant historical and cultural value.
Art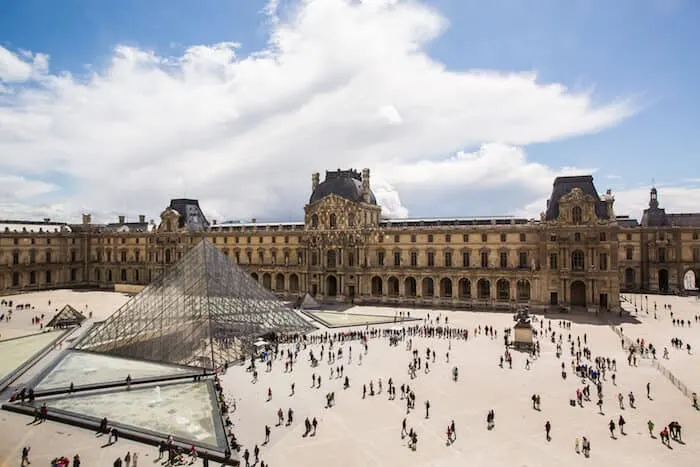 Paris is a haven for art lovers, with a rich history of artistic creativity spanning centuries. The Louvre Museum is the largest museum in the world and houses an extensive art collection, including the famous painting, Mona Lisa by Leonardo da Vinci. The Musée d'Orsay is home to a vast collection of Impressionist and Post-Impressionist art, featuring works by famous artists such as Claude Monet, Degas, and Van Gogh.
The city is also known for its vibrant contemporary art scene, with numerous galleries and exhibitions showcasing the works of emerging and established artists. Art is not just confined to museums and galleries in Paris, but can also be seen throughout the city in the form of street art and murals adorning the walls of buildings. From classic masterpieces to contemporary works, Paris is truly a city where art is celebrated and revered
Food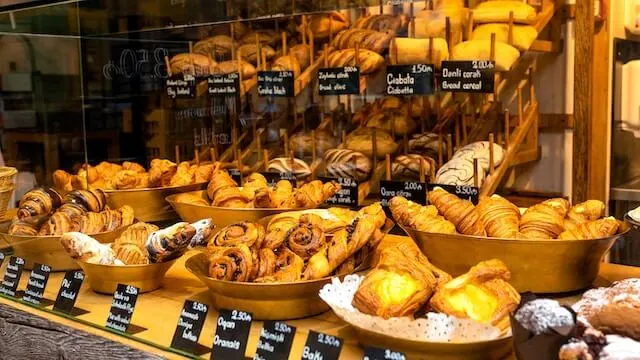 Paris is a food lover's paradise with a rich culinary history and a diverse range of cuisine. From traditional French dishes like coq au vin and boeuf bourguignon to savory crepes and buttery croissants, there is something to please every palate.
Parisian cafes and bistros offer charming settings to enjoy a leisurely meal, while the city's Michelin-starred restaurants showcase some of the world's best culinary talent. Visitors can also explore food markets such as the famous Rue Cler market, where they can sample fresh produce, cheese, and wine. Paris is also renowned for its patisseries, offering mouth-watering treats like macarons, eclairs, and tarts.
For those looking to learn more about French cuisine, there are many cooking classes and French food tours available to give visitors a hands-on experience. Whether you are a foodie or just looking for a delicious meal, Paris is sure to delight your taste buds.
Wine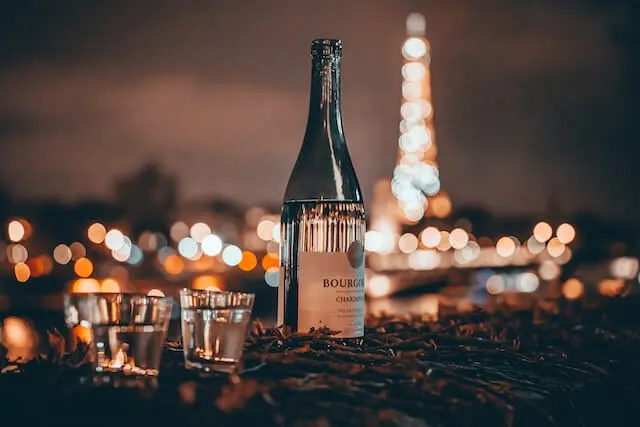 When it comes to wine, Paris is an ideal destination for wine lovers. The city has a long history of wine production, and the wine culture in Paris is deeply ingrained in the daily life of its residents.
Paris is home to a vast array of wine bars, wine shops, and restaurants where you can sample some of the best wines in the world. Whether you prefer a full-bodied red or a crisp white, you're sure to find a wine that suits your taste in Paris.
Some of the most popular wine regions in France, such as Bordeaux and Burgundy, are easily accessible from Paris, and many wine shops and bars offer tastings and classes to help you learn more about the world of French wine. The city also hosts several wine events throughout the year, including the famous Salon des Vins de Loire, where you can sample hundreds of different wines from the Loire Valley.
Whether you're a wine connoisseur or just enjoy a good glass of vino, Paris is the perfect place to indulge your passion for wine.
Fashion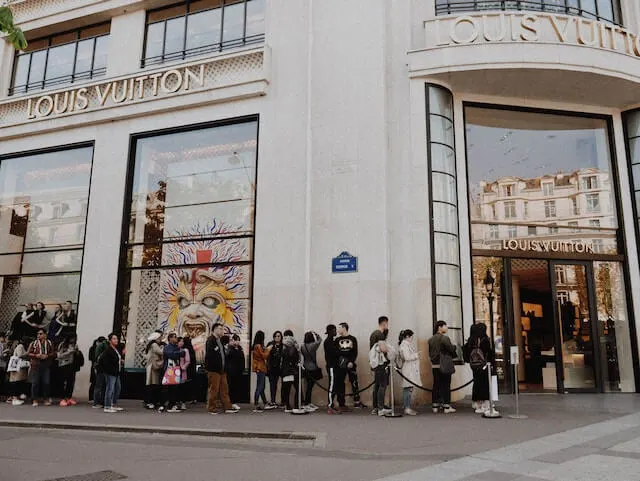 Paris has been a center of haute couture fashion for centuries, with many of the world's top fashion designers and brands hailing from the city. The city's fashion scene is renowned for its elegance, sophistication, and creativity, and fashion lovers from around the world flock to Paris to experience it for themselves.
Visitors can explore the city's many fashion districts, such as the trendy Le Marais neighborhood, home to numerous independent designers and boutiques. The city also hosts two annual fashion weeks, one in January and one in July, during which the latest collections from the world's top designers are showcased.
The shopping in Paris is also not to be missed, with visitors having the opportunity to 'shop til you drop' on one of the most famous shopping streets in the world – the Champs Elysee, home to multiple high-end fashion and designer stores. (Or window shopping can be just as fun!) You can see how popular the Louis Vuitton shop is above!
In addition to its fashion shows and boutiques, Paris is also home to several famous fashion museums, including the Musée de la Mode et du Textile and the Musée Yves Saint Laurent Paris. Visitors can learn about the history of fashion and see iconic garments and accessories up close.
History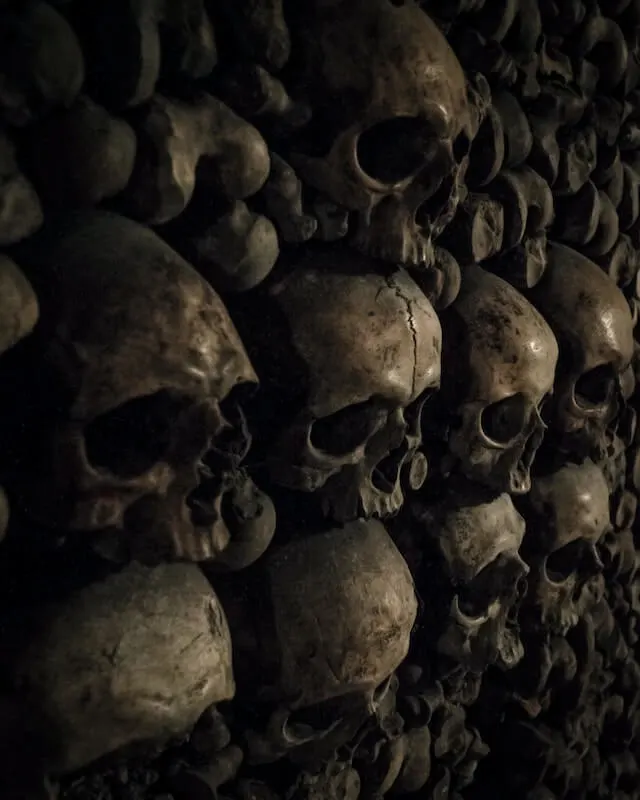 Paris has been the center of many significant historical events, making it a perfect destination for history buffs. The city's architecture, museums, and monuments all offer a glimpse into its rich and complex past.
The Palace of Versailles, located just outside the city, is a stunning example of French baroque architecture and was the seat of power during the reigns of Louis XIV, XV, and XVI.
The Conciergerie, the former palace turned prison, was where many prominent figures, including Marie Antoinette, were held during the French Revolution.
The Musée de l'Armée, located within the Hôtel des Invalides, is dedicated to military history and contains a vast collection of weapons, armor, and artifacts from ancient times to the present day.
The Paris Catacombs, a vast network of tunnels that served as a burial ground in the late 18th century, offer a macabre but fascinating look at the city's past.
Additionally, many famous writers and artists, such as Ernest Hemingway and Vincent van Gogh, called Paris home and left their mark on the city.
From the grandeur of the past to the creativity of the present, Paris has a rich history that continues to draw visitors from around the world.
Gardens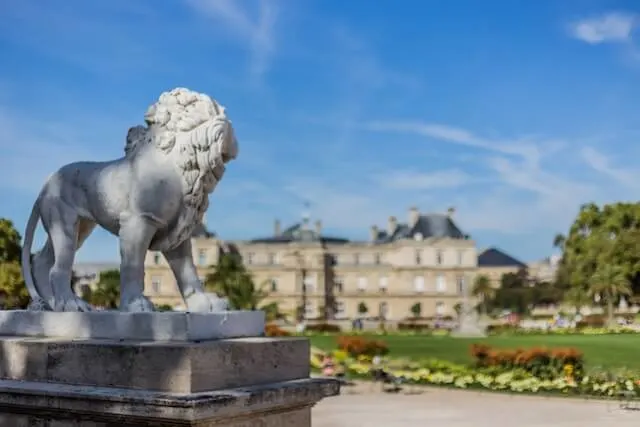 Paris is famous for its enchanting public gardens, which offer a peaceful haven away from the hustle and bustle of the city.
The Tuileries Garden is one of the most famous gardens in Paris and is located in the heart of the city, between the Louvre Museum and Place de la Concorde. It was designed in the 17th century for the royal family and has since become a public park, featuring beautiful fountains, sculptures, and tree-lined walkways.
The Luxembourg Garden, located in the 6th arrondissement of Paris, is another popular public park and green space. It was created in the 17th century for Marie de' Medici, and it features an impressive palace, beautiful fountains, and well-manicured lawns and flower beds. Visitors can take a stroll, relax on the grass, or rent a small sailboat to navigate the pond.
Another popular garden is the Parc des Buttes-Chaumont, which is located in the 19th arrondissement. It is a large park that features a man-made lake, waterfalls, and even a suspended bridge. The park also offers breathtaking views of the city from its elevated hilltop location.
Other notable parks and gardens in Paris include the Jardin des Plantes, the Bois de Boulogne, and the Parc Monceau, each with their unique features and history. Whether visitors want to take a romantic stroll or have a picnic, Parisian gardens offer a serene escape from the city and are a must-visit for anyone traveling to Paris.
Nightlife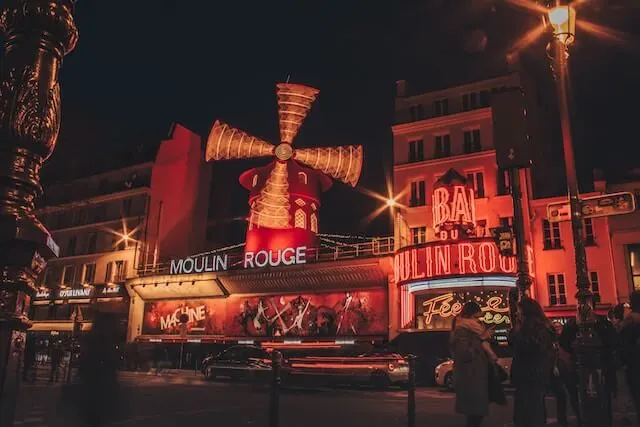 Paris is known for its vibrant nightlife scene, with plenty of options for night owls to choose from. Whether you prefer a cozy bar with a jazz band or a high-energy dance club, Paris has something to offer everyone.
One of the most popular nightlife districts is Pigalle, located in the 9th arrondissement, which is known for its red-light district and iconic Moulin Rouge cabaret. The trendy Marais district in the 3rd and 4th arrondissements also offers a lively nightlife scene with a mix of bars, clubs, and LGBTQ+ venues. The city is also home to several music venues that attract big-name performers, such as the Olympia and the Zenith.
In the summer months, Parisians and visitors alike enjoy outdoor events, such as the Fête de la Musique, which takes place every June and features free music performances throughout the city. The River Seine is also a popular spot for nightlife, with boat cruises that offer dinner, drinks, and live music.
Whatever your preference, Paris has a diverse and exciting nightlife scene that is sure to satisfy any partygoer.
Romance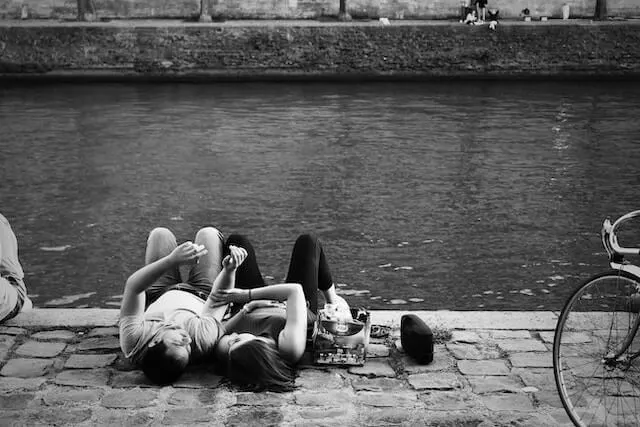 Paris is famous as one of the most romantic cities in the world, making it a popular destination for couples. The city's beautiful architecture, charming streets, and scenic bridges provide the perfect backdrop for a romantic getaway.
Taking a stroll along the Seine River or having a picnic in one of the city's picturesque parks, such as the Luxembourg Gardens or the Parc des Buttes-Chaumont, are just a few of the romantic activities that Paris has to offer. The city's cafes and restaurants are also known for their cozy and intimate settings, making them perfect for a romantic dinner or brunch.
Visitors can also experience the city's romantic side by taking a boat ride down the River Seine or visiting the Eiffel Tower at night, when it sparkles with thousands of lights.
Paris is also a popular destination for weddings and honeymoons, with many venues offering stunning backdrops for memorable ceremonies and celebrations.
Culture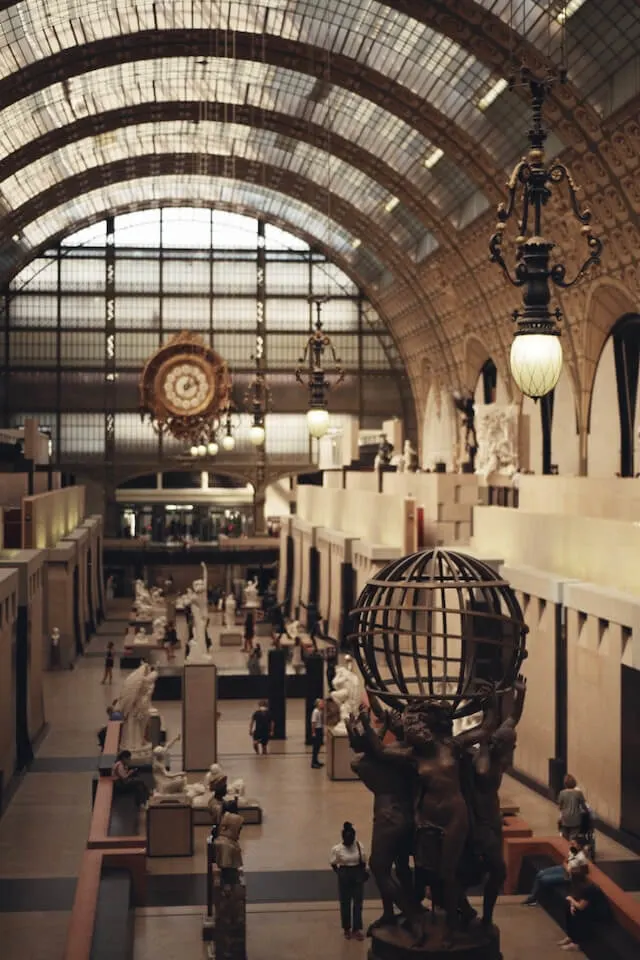 Paris is a hub for culture, with countless opportunities to immerse yourself in the arts. The city boasts a diverse range of theatrical performances, from classic French theater to experimental contemporary shows. There are also numerous cinemas showing the latest releases as well as classic and independent films. The legendary Parisian music scene is also worth experiencing, with many iconic venues like the Olympia and the Bataclan. You can find everything from classical concerts to jazz and pop performances, with many famous musicians and up-and-coming artists taking the stage.
The city is also home to several museums and galleries, showcasing a wide range of art forms, from traditional to modern and contemporary. The Musée d'Orsay and the Centre Pompidou are two of the most famous cultural institutions in the city, but there are countless other galleries and exhibitions to discover. In addition, the city is host to many festivals and events throughout the year, celebrating everything from cinema and music to food and wine.
FAQs about Why You Should Visit Paris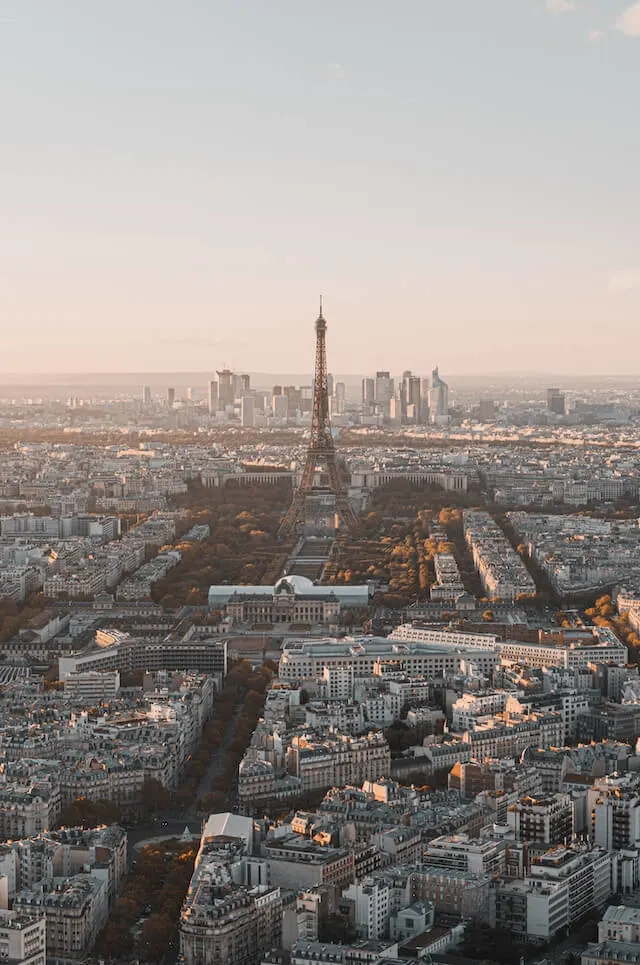 Why would I want to visit Paris?
There are several reasons why someone would want to visit Paris. Most of them we have covered above in our top 10 reasons to visit Paris (above) which includes famous sights, Paris attractions, landmarks, food, cafe culture, art, culture, wine, fashion, history, gardens, nightlife, movie filming locations and romance.
What are the Top 10 Things to Do in Paris?
We've actually got a much bigger post that features 35+ Unmissable Things to do in Paris, and a perfect 3-Day Paris Itinerary – but as a quick highlight list, here are our (and most of the tourists that visit!) Top 10.
See the Eiffel Tower (from Champs du Mar, Trocadéro Gardens, the Montparnasse Tower, etc)
Take a River Cruise on the Seine
Visit the Louvre (and not just to see the Mona Lisa or the Glass Pyramid!)
Watch Sunset from the Steps of the Scare Coeur for spectacular views over the French capital.
Window Shop or Wander along the Champs Elysee (or actually go shopping!)
See a Cabaret Show (Moulin Rouge, Crazy Horse or Paradis Latin)
Take a Paris Food Tour & Have a picnic in the Jardin du Luxembourg
Visit the Paris Catacombes
Visit Notre Dame Cathedral
See Paris from above (rooftop at Galeries Lafayette (one of our top free things to do in Paris), Arc de Triomphe, Montparnasse Tower (paid) etc.)
EXTRA
Take a Day Trip from Paris to the Palace of Versailles or Disneyland Paris (depending on which castle or palace you prefer!)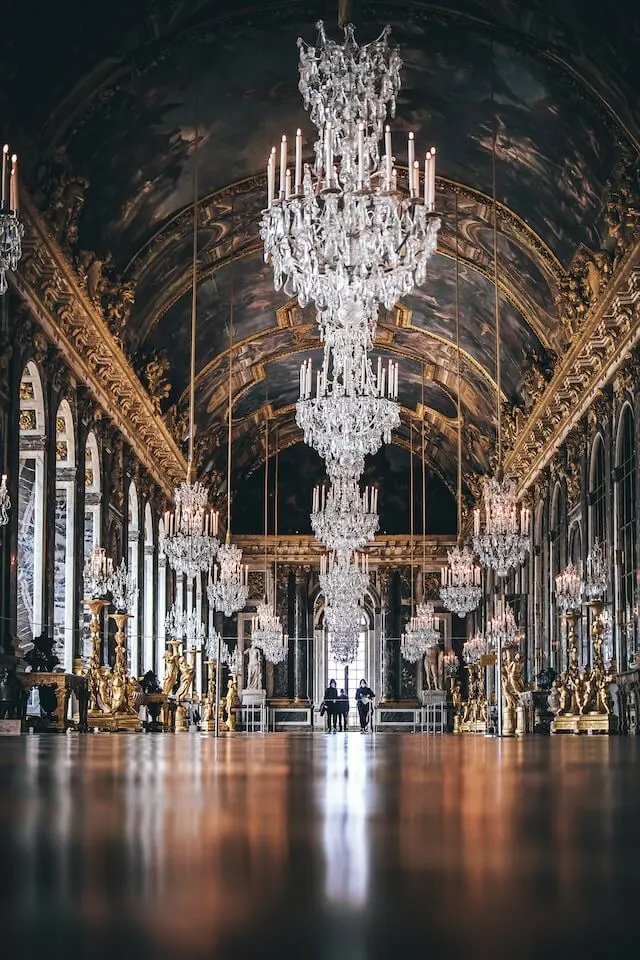 What is special about Paris?
Paris is truly a special place that captures the heart and imagination of all who visit. There are lots of reasons why Paris is special (most of which have been covered in this post!) – But there's just something about the city that makes it feel like no other place in the world. The architecture, the history, the food, and the art all come together to create a unique and unforgettable experience.
Whether you're strolling along the banks of the Seine, admiring the Eiffel Tower, or enjoying a croissant in a charming café, Paris has a magic that is hard to put into words. It's a place that stays with you long after you've left and one that you'll want to return to again and again.
Why do people love going to Paris?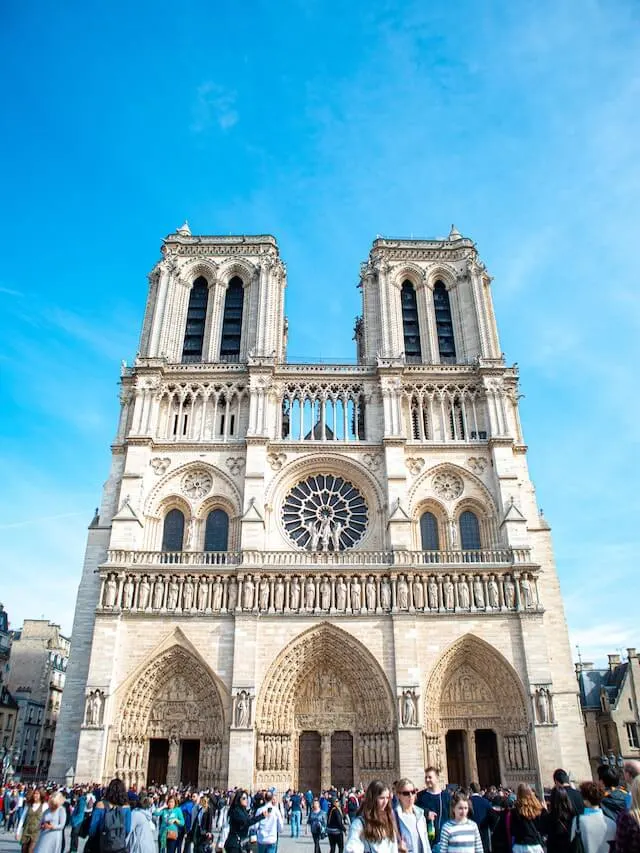 People love going to Paris for so many reasons! Whether it's the stunning architecture, world-famous art museums, amazing food, or romantic ambiance, Paris has something to offer everyone. It's a city that's full of history and culture, with charming cafes on every corner and cobblestone streets that lead to hidden gems.
Paris is a place where you can experience the beauty of art and architecture, indulge in delicious food and wine, and immerse yourself in the vibrant local culture. There's also a certain magic to the city that makes it hard not to fall in love with – the lights of the Eiffel Tower at night, the sound of street musicians playing in the background, the smell of freshly baked croissants in the morning.
There's truly nothing like a trip to Paris, and it's easy to see why so many people make it their dream destination. Whether you're exploring the city's iconic landmarks or getting lost in the charming streets of Montmartre, there's always something new and exciting to discover in Paris. So if you haven't been yet, add it to your travel bucket list – you won't regret it!
What are the top things to know when visiting Paris?
We have a full article featuring over 35 Essential Paris Travel Tips to know before you go, but here are a few highlights:
Learn some basic French words and phrases
Always greet shopkeepers (in French!)
If you're planning on visiting more than 3 museums, the Paris Museum Pass will save you money; for all other attractions, be sure to purchase skip-the-line entry tickets to avoid wasting time in queues.
Learn about Parisian customs (la bise, dressing appropriately, not being loud/obnoxious in public etc)
Tipping isn't necessary, or expected – but appreciated for good service.
Public transport – with multiple metro lines and buses – are the best way to get aroud.
Read our full list of tips for first-time visitors for more including the best time to visit, where to stay, how to get around and so much more!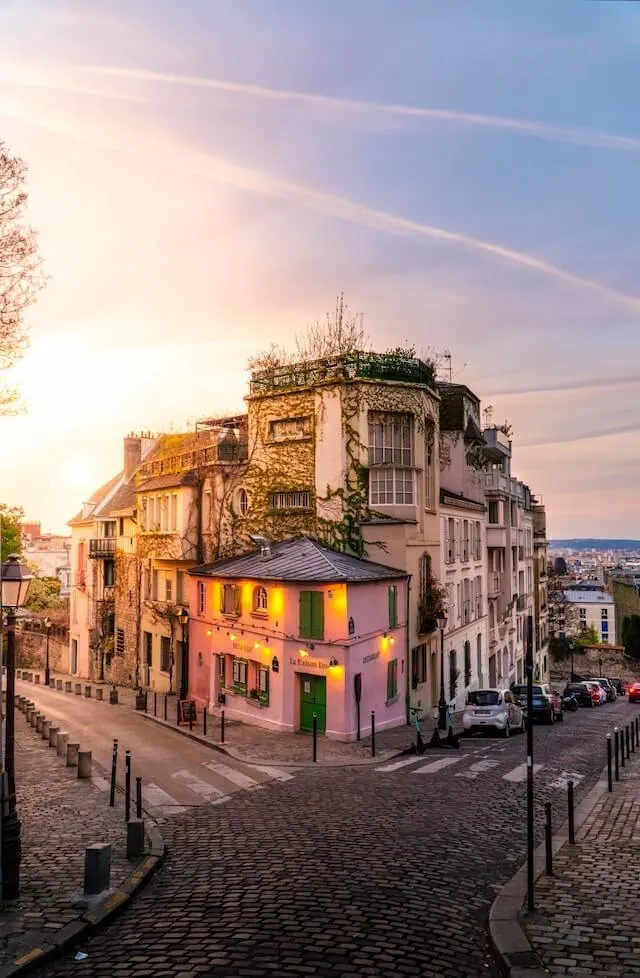 What are some famous quotes about Paris?
"Paris is always a good idea." – Audrey Hepburn
"If you are lucky enough to have lived in Paris as a young man, then wherever you go for the rest of your life, it stays with you, for Paris is a moveable feast." – Ernest Hemmingway
"Paris is the city in which one loves to live. Sometimes I think this is because it is the only city in the world where you can step out of a railway station—the Gare D'Orsay—and see, simultaneously, the chief enchantments: the Seine with its bridges and bookstalls, the Louvre, Notre Dame, the Tuileries Gardens, the Place de la Concorde, the beginning of the Champs Elysees—nearly everything except the Luxembourg Gardens and the Palais Royal." – Margaret Anderson
"A walk about Paris will provide lessons in history, beauty, and in the point of Life." – Thomas Jefferson
"When spring comes to Paris, the humblest mortal alive must feel that he dwells in paradise." – Henry Miller
"We'll always have Paris" – Casablanca
"There is but one Paris and however hard living may be here…the French air clears up the brain and does one good." – Vincent Van Gough
"The chief danger about Paris is that it is such a strong stimulant." – T.S. Elliot
"Secrets travel fast in Paris" – Napoleon Bonaparte
Is Paris the most beautiful city?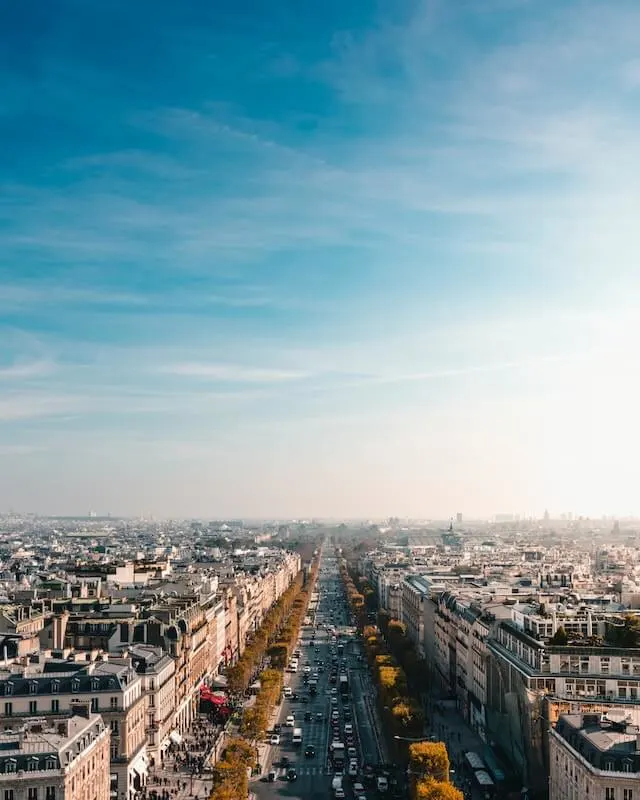 Paris is undoubtedly one of the most beautiful cities in the world, known for its stunning architecture, world-class museums, charming cafes, and romantic ambiance. It is a city that has captured the hearts and imaginations of people around the world for centuries. Whether it's the grand boulevards, the charming side streets, the Seine River, or the Eiffel Tower, there's something about Paris that makes it undeniably beautiful to many.
Is Paris tourist friendly?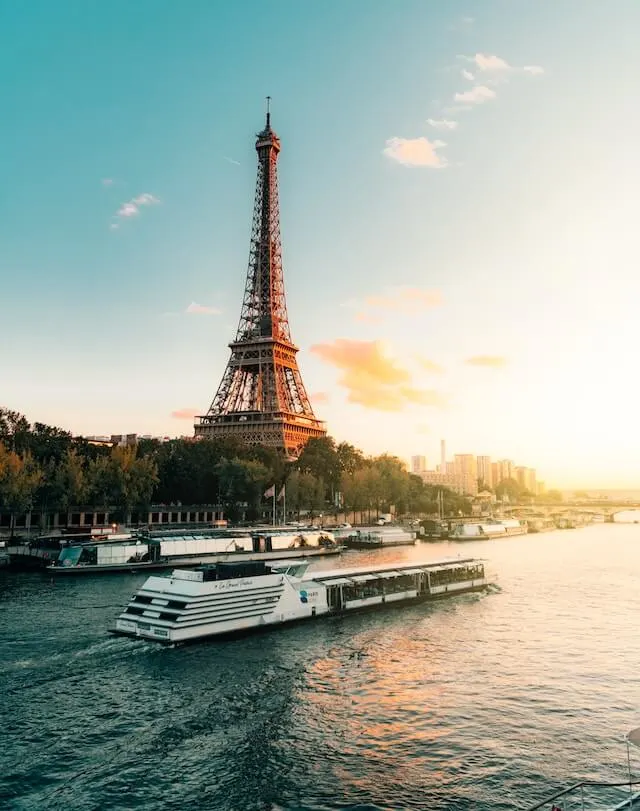 Yes, Paris is considered to be very tourist-friendly (despite the long-running stereotype that Parisians are rude). The city is a major tourist destination and has a well-established tourism industry, with a variety of accommodations, restaurants, and attractions catering to visitors from all over the world.
The city has a reputation for being welcoming to tourists and many Parisians speak English, making it easier for international travelers to navigate the city. Additionally, there are many resources available to help visitors plan their trip and make the most of their time in the city, including tourist information centers, maps, and guidebooks.
However, like any major city, it is important to be aware of safety concerns and take precautions to protect yourself and your belongings while traveling.
Is Paris Worth Visiting?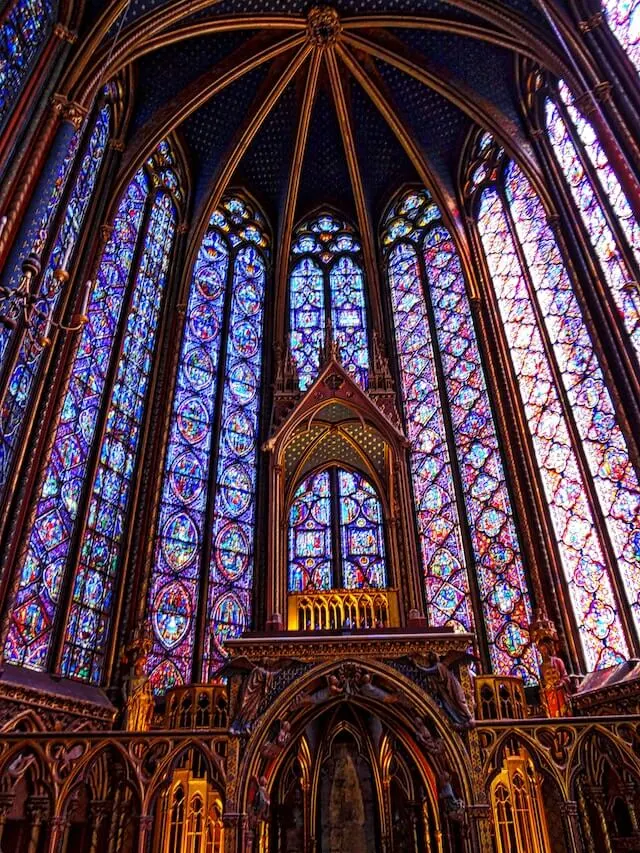 Paris is a city with rich history, culture, art, and architecture, which attracts millions of visitors every year. It offers world-class museums, iconic landmarks, romantic streets, famous cuisine, and excellent shopping. Whether you're interested in history, art, food, or just looking for a romantic getaway, Paris has something for everyone. The city is also well connected with an efficient transportation system, making it easy to navigate and explore.
While Paris can be an expensive city to visit, there are also plenty of affordable options for accommodations, food, and attractions. Ultimately, whether visiting Paris is worth it depends on your personal interests, budget, and travel goals. However, for many people, Paris is a dream destination that offers a unique and unforgettable experience.
Is Visiting Paris safe?
As with any major city, there are certain precautions that travelers should take when visiting Paris to ensure their safety. It is generally considered a safe city for tourists, but like any destination, there are areas that are more prone to crime than others. It is important to be aware of your surroundings and keep an eye on your belongings, especially in crowded areas like tourist attractions and on public transportation.
It is also recommended to use registered taxis or ride-sharing services, rather than unmarked cars, especially late at night. Paris also has a robust police presence, and visitors can contact the police tourist service for assistance if needed. Overall, if travelers take basic precautions and stay aware of their surroundings, they can have a safe and enjoyable visit to Paris.
Where are the Best Views of Paris?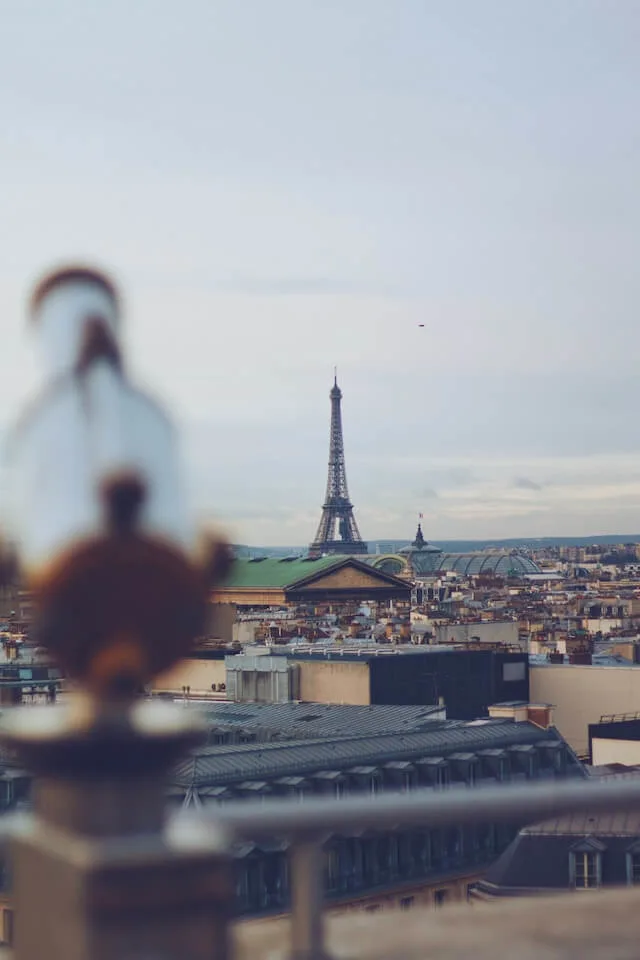 With a city as beautiful as Paris, you're going to want to see if from the best viewpoints possible. Here are just a few of our favorites:
The Eiffel Tower: Head to the top of the tower for a panoramic view of the city.
Montparnasse Tower: Offers an incredible 360-degree view of Paris.
Sacré-Cœur Basilica: Located on the highest point in the city, the dome offers stunning views.
Notre Dame Cathedral: Climb the towers to enjoy a view of the city and the Seine river. (currently closed for renovation)
Arc de Triomphe: Climb to the top for an incredible view of the Champs-Élysées and the Eiffel Tower.
Centre Pompidou: Rooftop terrace offering an incredible view of the Parisian rooftops.
Tour Saint-Jacques: Offers a 360-degree view of the city from a lesser-known viewpoint.
Galeries Lafayette Rooftop: A free viewpoint that offers a view of the Parisian skyline and the Eiffel Tower.
Parc des Buttes-Chaumont: Offers a unique view of the city with its sprawling greenery.
From a cruise on the River Seine: See a different side of the city when viewed from the water.
And
Terrass" Hotel: A rooftop bar that offers visitors a stunning view of Paris while enjoying a cocktail (or two!)
When is the Best Time To Visit Paris?
The best time to visit Paris is during the spring (April-June) or fall (September-November) – also known as shoulder season – when the weather is mild and the crowds are thinner. The summer months (July-August) can be very crowded and hot, while the winter months (December-February) can be chilly and damp, although the holiday season in Paris can be a magical experience.
And that's a wrap! We hope our guide to the Top 10 reasons to Visit Paris has encouraged you to visit the French Capital at least once in your life. And if you know of anyone else that needs a little bit of inspiration or assistance in planning their Parisien getaway, please be sure to share on social media: Facebook, Flipboard, Twitter or grab the image from below for Pinterest. And remember – sharing is caring (and we thank you in advance!)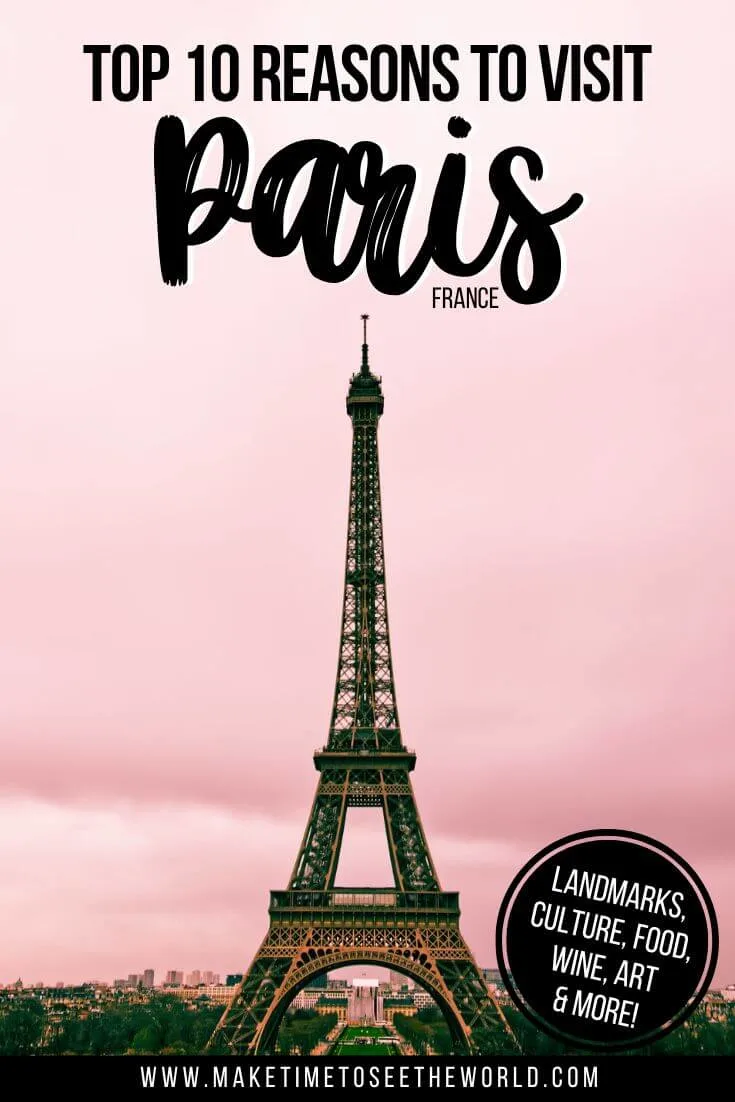 READY FOR MORE EUROPE TRAVEL INSPIRATION? YOU MIGHT BE INTERESTED IN THESE TRAVEL TIPS, TRAVEL HACKS, TRAVEL ARTICLES, TRAVEL DESTINATIONS GUIDES, SOLO TRAVEL GUIDES, TRAVELER RESOURCES AND RELATED POSTS ABOUT OTHER BEAUTIFUL CITIES IN EUROPE TO HELP YOU EXPLORE EUROPE AND TRAVEL THE WORLD:
Hi There! Thanks for reading my travel guide which features the Top 10 Reasons to Visit Paris at Least Once in Your Life! I just wanted to let you know that this post may contain affiliate links, which means if you purchase something after clicking a link, I may get a small commission – which is at absolutely no cost to you. If you enjoyed this article and are going to be searching for some of the things I mention anyway, I would love it if you could click through from the links above & thank you in advance! Read my full disclosure here. And thank you for reading the MakeTimeToSeeTheWorld travel blog.