Oaxaca, located in Southwest Mexico is overflowing with things to do for travelers of all ages, regardless of what their interests are. Exuding colonial charm throughout the town and boasting several archeological sites within a short drive, the surrounding villages are home to indigenous tribes, whose creativity shines through at bustling weekly markets. If you love Mexican food you are also in for a treat, with Oaxaca serving up its own unique version of Mexican cuisine. As more and more travelers discover the
charms of Oaxaca
, we've put together this handy
Oaxaca Travel Guide
(
Oaxaca Turismo
) and share our recommendations for
Incredible Things To Do in Oaxaca
including
where to eat and where to stay!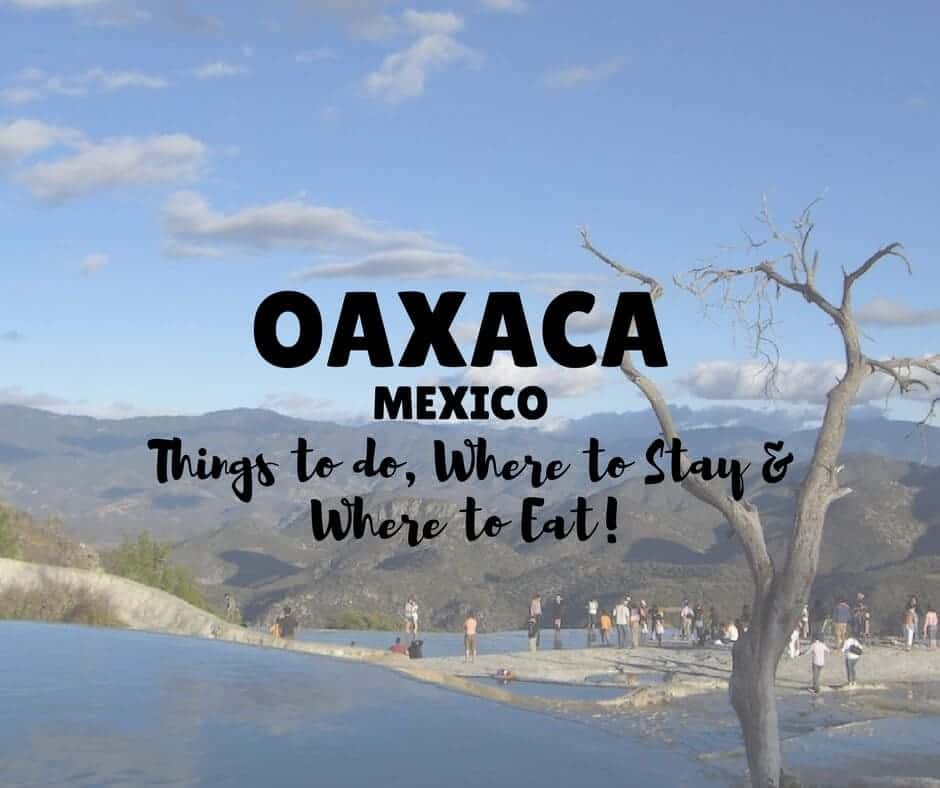 Incredible Things To Do in Oaxaca City, Mexico
– Plus Where To Stay & Where To Eat!
A Guest Post by Dean & Pauline of La Vida Global
Incredible Things To Do in Oaxaca
People watch in the Zocalo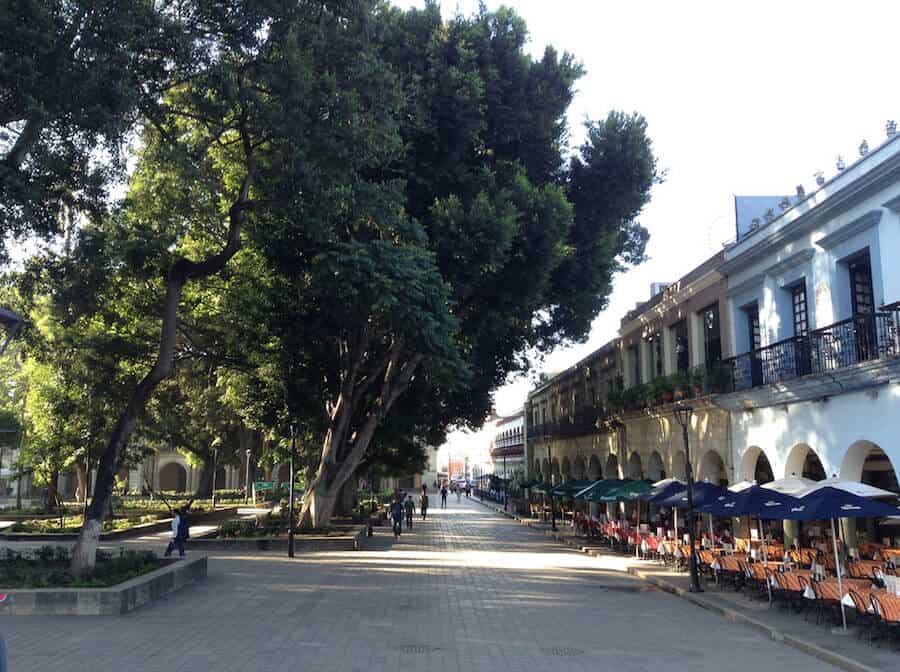 Photo used under Creative Commons from Flickr
One of our top Things To Do in Oaxaca is to do a spot of people watching. Having a chance to watch the locals go about their daily lives (but not in a creepy way) is something that gives you a connection to a new place and a sense of belonging. The Zocalo, or Town Square, in Oaxaca is a tree studded area surrounded by restaurants,
beautiful buildings
and street food vendors. It is also a meeting place for families and like most Mexican Town Squares, comes alive with a family friendly, party vibe on Sunday evenings.
Wander through the artisan and food markets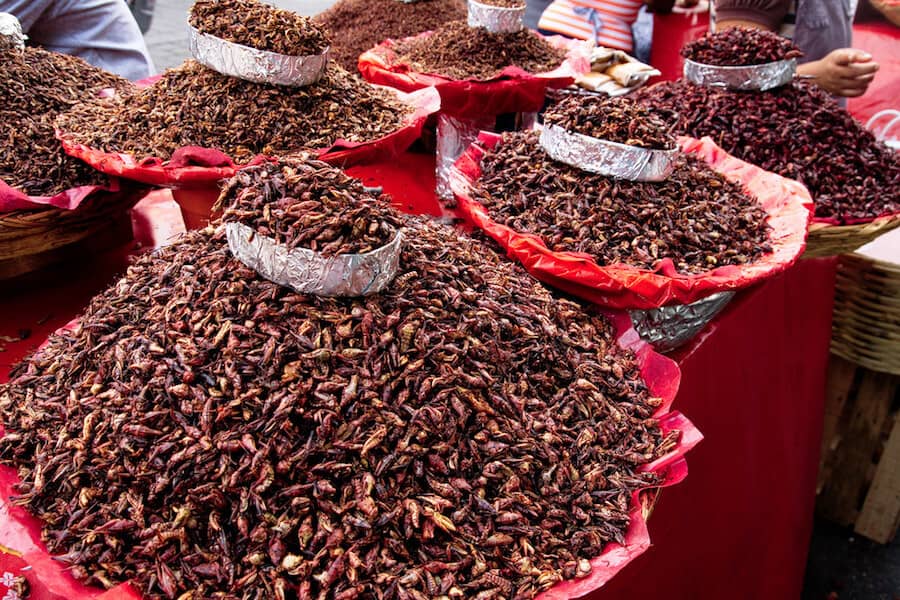 Photo used under
Creative Commons from Flickr
Most of the markets centre around the Zocalo and are all within easy walking distance of most accommodation. Typically colourful and bustling with activity, the markets are far more than a tourist trap, they are the heart of local commerce, a place to buy fresh and delicious food, see chocolate being made from scratch and then sampling the wares, as well as the best quality souvenirs in Mexico.
RELATED: Looking to explore more off the beaten path parts of Mexico, take a peek at this guide to Guanajuato City.
Take a cooking class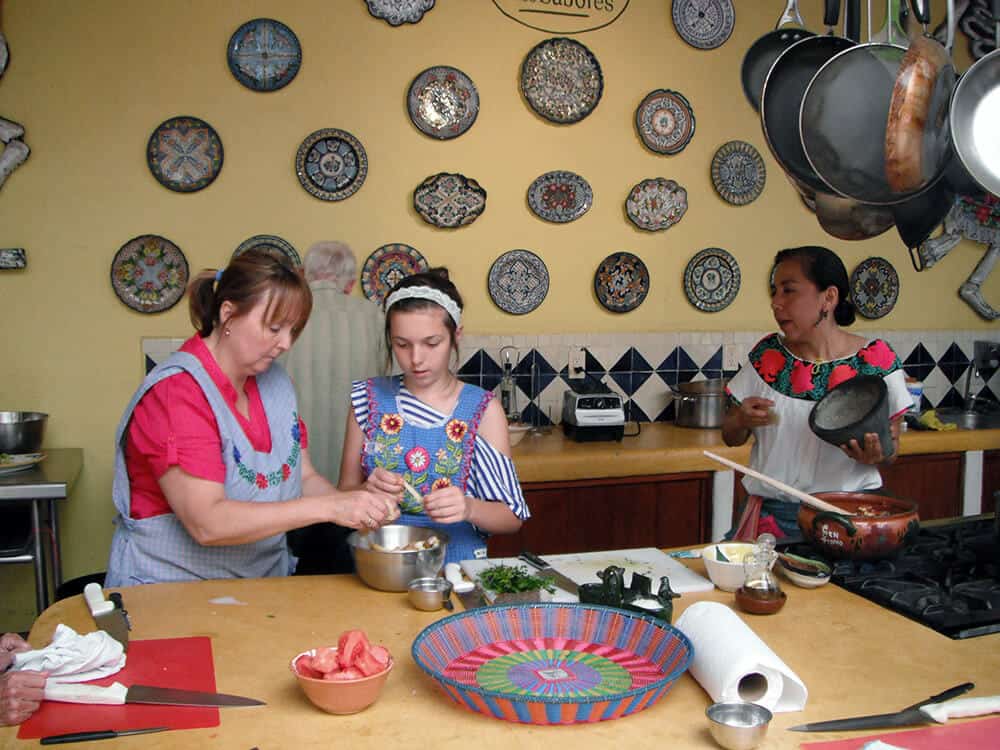 Oaxacan cuisine is world renowned and the ideal place to learn some techniques from top quality chefs. Internationally recognized chef Pilar Cabrera offers one of the best classes. At her school, La Casa de los Sabores, you will join her from shopping for ingredients at a local market, through preparing a number of locally inspired dishes and then joining her in a wonderful meal including tastings of the local favourite beverage, Mezcal.
Hire a local guide to visit nearby villages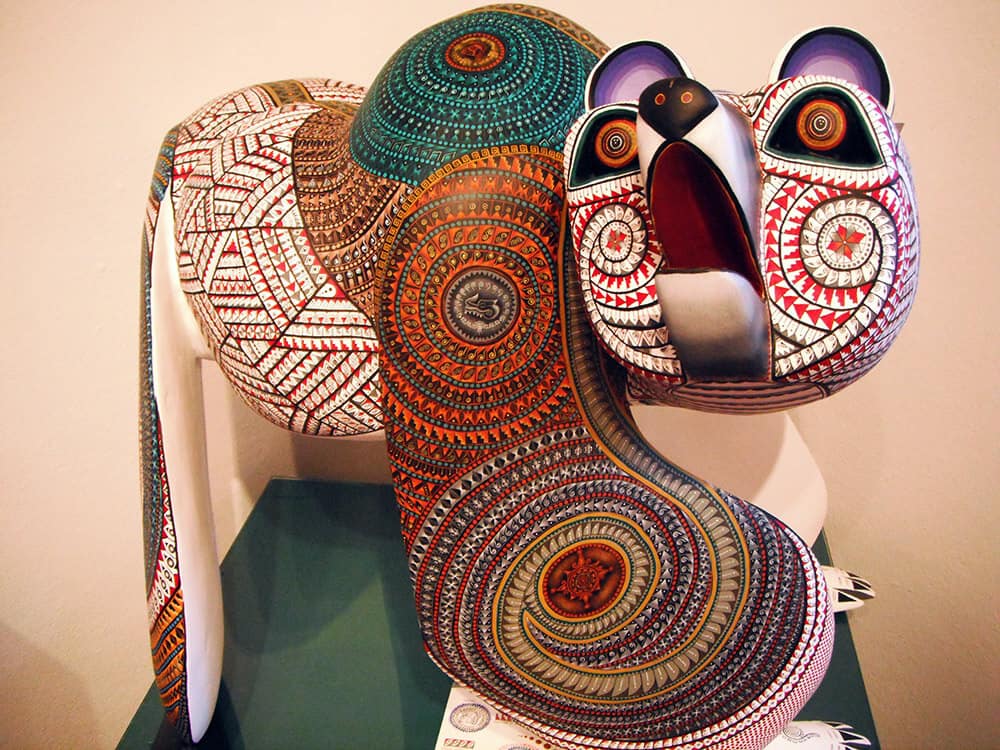 Almost all of the top quality souvenirs sold throughout Mexico are created in the villages around Oaxaca. It is an amazing experience to learn that entire villages focus on making a single type of product. There are pottery villages, some that do weaving only, others that focus on wood carving but none that seem to have a combination of industry. A real highlight, and the reason to have a local guide, is they usually have contacts in the village which allows you to try your hand at each of the tasks. Create your own ceramics, learn to weave, paint your own wooden animal, it's something you won't forget in a hurry.
Visit the pre-Columbian ruins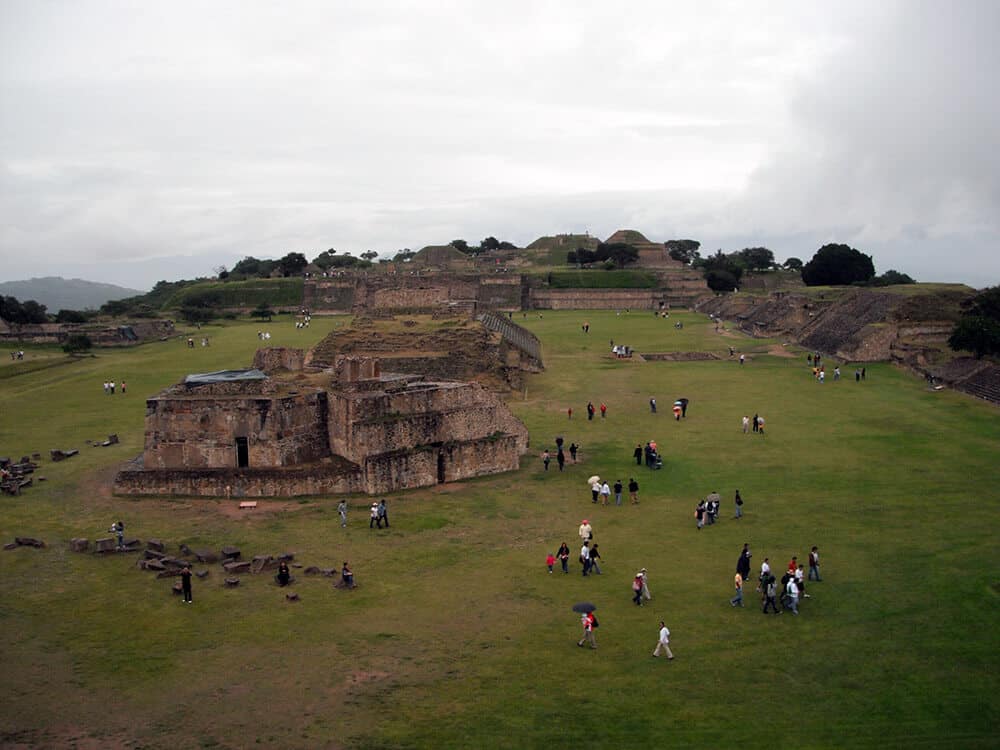 Perched on the top of a mountain overlooking Oaxaca is the remains of what was once an awe inspiring city. Monte Alban is a world heritage site and was the capital of the Zapotec empire and, incredibly, is build on an enormous level plain which was created by the removal of the mountain top. No small achievement today but considering it was cleared more than 2000 years ago it is astounding. There are many buildings to explore and the views on a clear day are worth the price of admission alone.
Hire a car
to get here or visit two sets of ruins in one day on this
Monte Alban and Mitla combo tour!
Go to church
Don't worry, you won't have to sit through hours of prayer services. But you should definitely visit some of the Spanish Colonial churches dotted around the city. The main one is the Templo de Santo Domingo which is over 400 years old and quite beautiful to see. However the real beauty is on the inside where you will find some of the most ornate decoration you will ever find, including a magnificent tree of life on the ceiling of the main area. It seems there is a beautiful old church on every corner.
Have some refreshments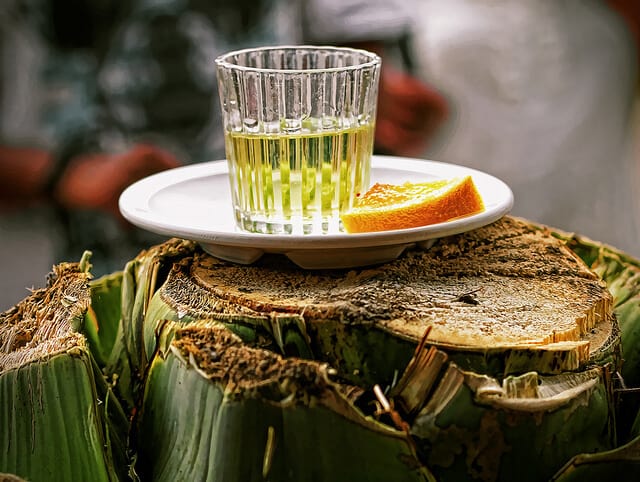 Photo Used under
Creative Commons from Flickr
Well maybe not refreshing, but the local spirit will certainly let you know you are alive. Mezcal is unfairly referred to as the poor cousin of Tequila but when in Rome… shops selling this fire water are in plentiful supply throughout the city and all the vendors are more than happy to let you sample as much as you like, or as much as you can before falling over. There are some shops that sell Mezcal blended with other flavours into a creamy liqueur which are both sweet and dangerous!
Soak in one of nature's best infinity pools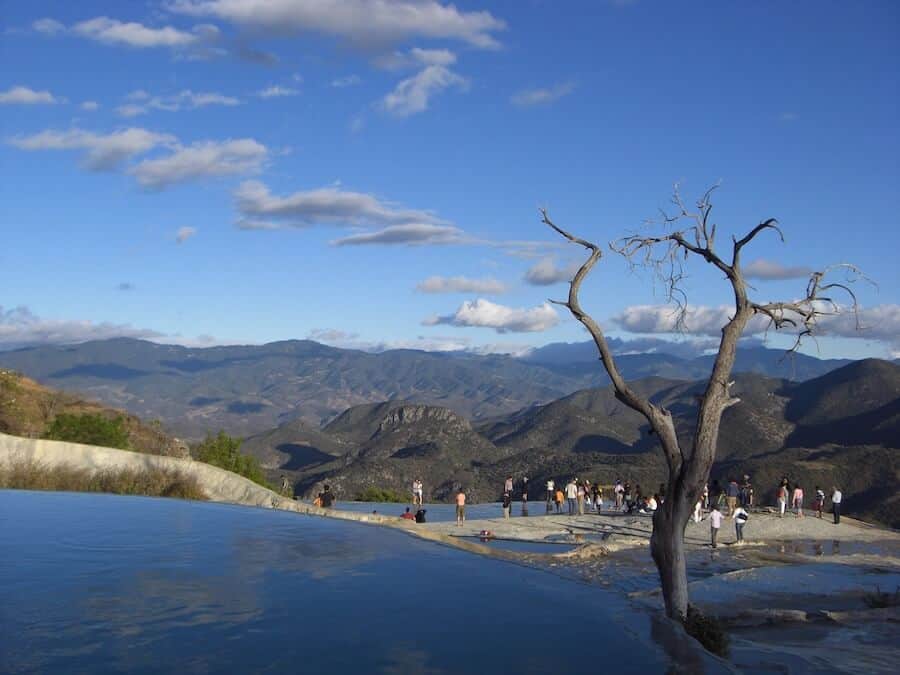 Take a swimsuit because you will want to get wet and experience everything on offer at the spectacular Hierve el Agua. About an hour from the city you will find this petrified waterfall and be able to spend some time soaking in one of the many mineral rich pools. This natural wonder is an extremely rare phenomenon and should not be missed. This is one of my favorite things to do in Oaxaca.
Experience the thrill of Lucha Libre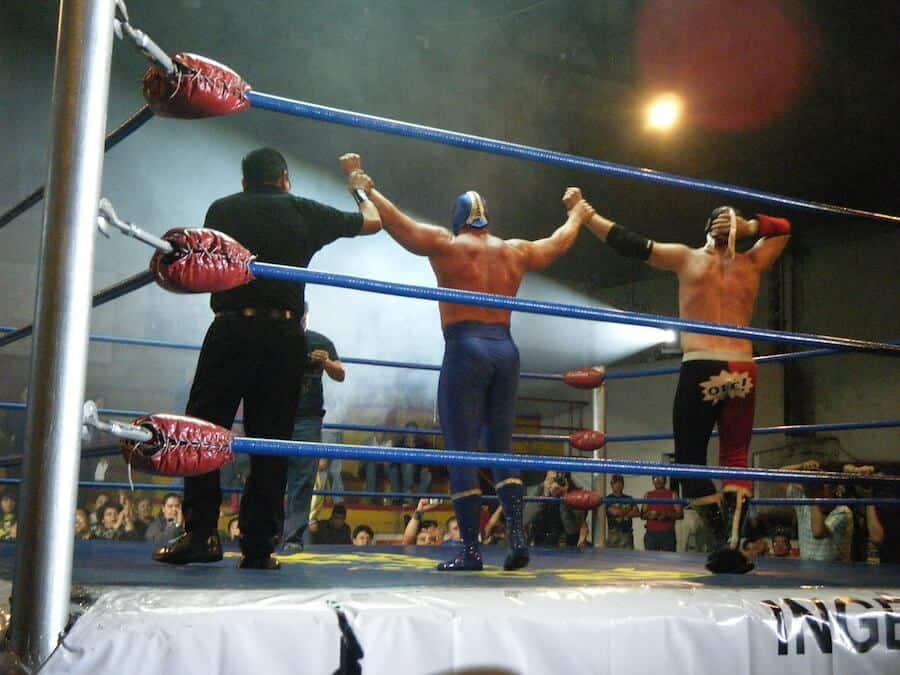 Oaxacans love their acrobatic wrestlers and you should take the opportunity to attend one of the action packed events. It's colourful, exciting and truly Mexican. So warm up with a few cheeky Mezcals, grab a cold Cerveza and cheer on the crown favourite. Now you are looking like a local.
Eat!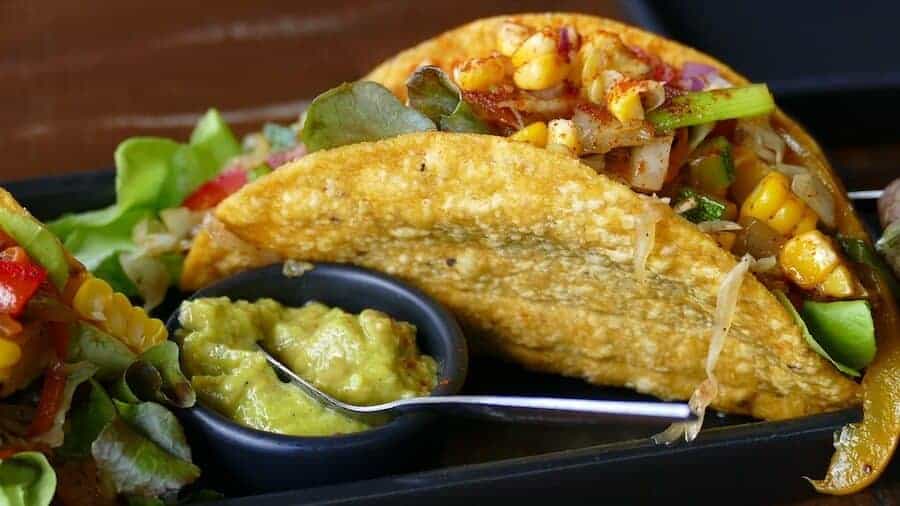 Food in Oaxaca is incredibly cheap, fresh and organic, varied and seasoned to perfection. For something strange but a local favourite by buying a bag of Chupalines from a street vendor and eat the like potato crisps. What are they you ask? Grasshoppers. Crunchy and actually quite tasty after being fried in chilli and lime juice. Want something more substantial? Set menu lunches are available almost everywhere are called Comida Corrida. Is it common to see 3 courses on offer for just a few dollars, and the food is amazing. Don't be scared to try some of the more upmarket restaurants where you have a chance to experience world class food for a small fraction of the price you would pay in other countries.
Where to eat in Oaxaca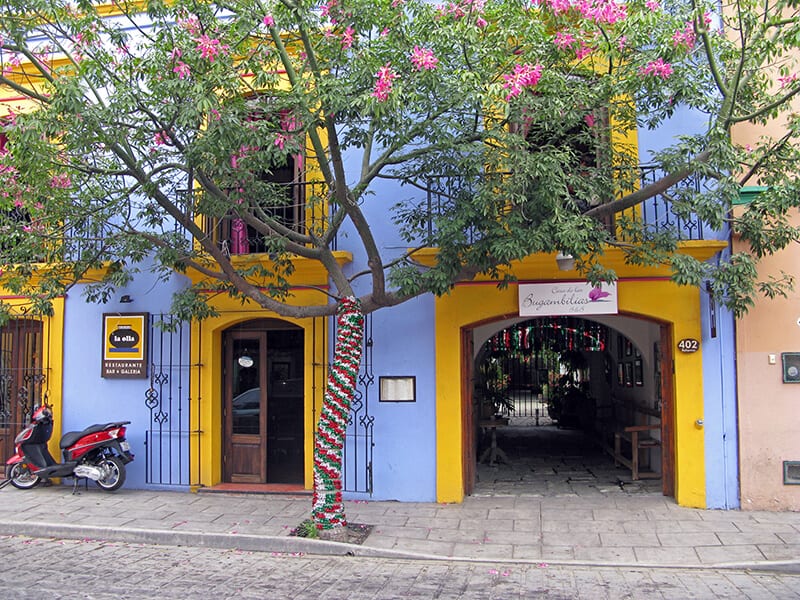 I don't know why you would but if you want more than the amazing options available at the many street vendors or juicy chicken from a local rosticeria then Oaxaca has plenty of restaurants. Pilar Cabrera, mentioned above as host of our cooking class, has her own highly rated eating house called La Olla. You will quickly discover that she wasn't even in second gear during the cooking class and the meals here at at a much higher level, but at a very reasonable price.
Where To Stay in Oaxaca

Strategically located in the middle of the city, this 4-star hotel makes for an excellent base in Oaxaca. It is steps from Centro Fotografico Alvarez Bravo and is close to the area's well-known attractions and dining spots.
Guests can unwind in Hotel Palacio Borghese's jacuzzi or schedule a massage treatment before dining in the on-site restaurant.
Like more info? Click to Read Trip Advisor Reviews
Set in the heart of the city, Hotel Boutique Parador San Miguel Oaxaca provides easy access to Oaxaca's main retail areas and tourist attractions. The hotel offers free Wi-Fi, a rooftop terrace and a Jacuzzi, as well as rooms with private terraces.
Like more info? Click to Read Trip Advisor Reviews
Strategically located in the middle of the city, this 3-star hotel makes for an excellent base in Oaxaca. It is ideally positioned for guests wishing to visit the area's popular attractions.
Like more info? Click to Read Trip Advisor Reviews
.
EXTRA Oaxaca ADVENTURES

IF YOU CAN'T GET ENOUGH OF OAXACA, TAKE A LOOK AT THESE GREAT TOURS TO EXPLORE THE SURROUNDING AREA:
Explore the surrounding area on this Overnight HorseBack Tour where you'll experience Oaxaca's authentic back country away from cars and pollution and only with nature, traditional village farming and historic sites. Enjoy delicious meals, deluxe lodging, top trekking horses and comfortable saddles.
Take a River Hike Adventure Tour! Not your typical hike, this guided trek in Oaxaca takes you to a beautiful canyon river located in the Sierra Madre del Sur mountains. Walk into the river, drift along on rapids and jump off cliffs. Arrive at a natural pool, relax and enjoy a refreshing snack.
Visit the San Isidro Flat & Tule Tree, located 67 kilometers from the city and 3,200 meters above sea level. If you like excitement, you will find it in the extreme zip line, 1,000 meters long and the last stop is the ancient tree of Tule, one of the widest tree in the world.
.
And that's a wrap folks! We hope we have given you some great ideas for things to do in Oaxaca, plus ideas of where to stay and what to eat.

And if you liked this post – please share the love: tweet, FB or pin – all shares are appreciated! Click the P in the sidebar for full size pins!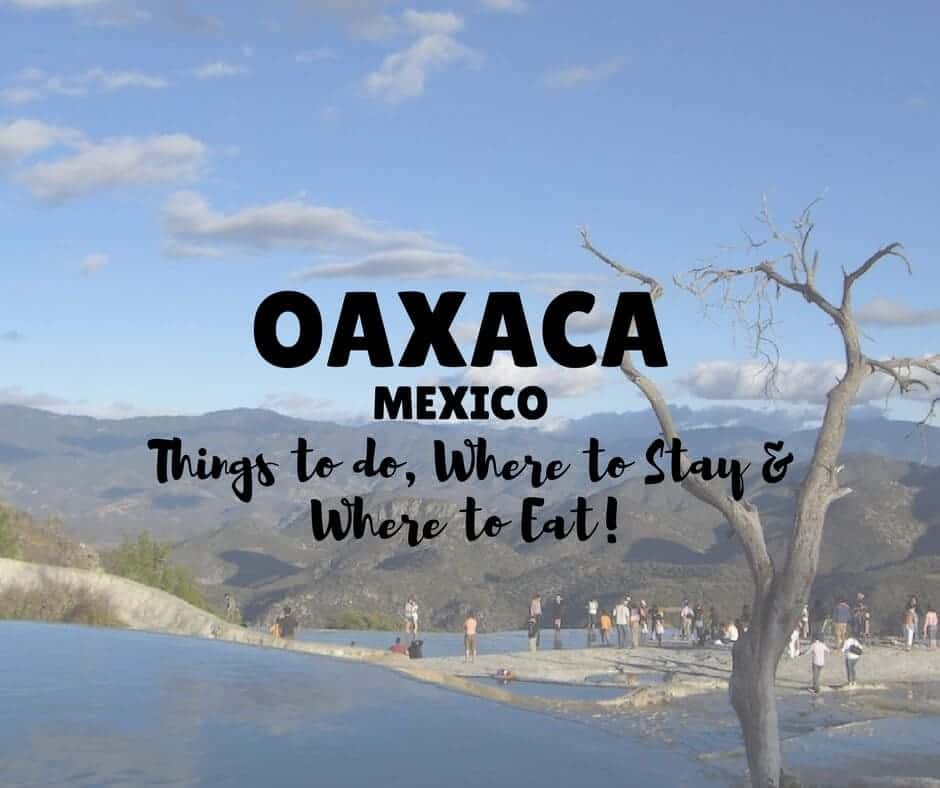 Hi There! Thanks for reading Incredible Things To Do In Oaxaca (Oaxaca Turismo). I just wanted to let you know that this post contains affiliate links, which help support this site at absolutely no cost to you. If you enjoyed this article and are going to be searching for some of the things I mention anyway, I would love it if you could click through from the links above. These links help me keep this site online and updated – so thank you in advance! Read my full Disclosure here.