Loen is a small village in the Nordfjord, a district of Norway. And although it is little, there are still so many great things to do! For several decades it has attracted many visitors, especially hikers. They come to see the glaciers and to hike the mountain trails that lead to spectacular views of the fjords. Whether you are staying long or for just a few days, it helps to know a little about the place to make the most of your trip. Keep reading for ten awesome Things To Do in Loen Norway which are just perfect for outdoor adventure lovers!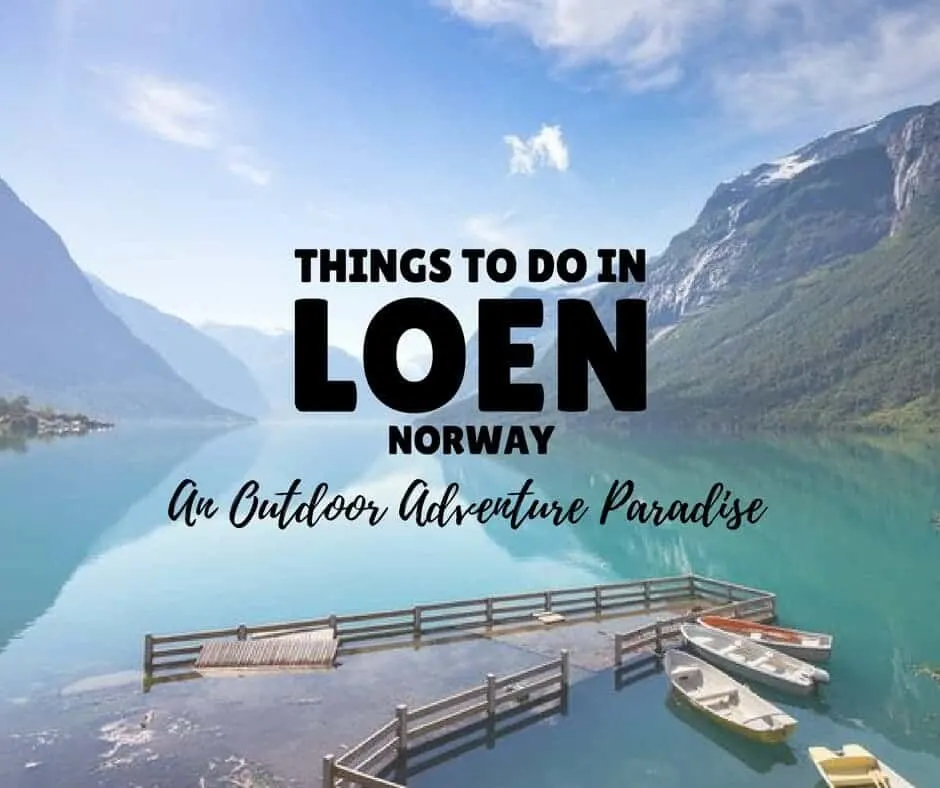 Top 10 Awesome Things To Do Do in Loen Norway – An outdoor Adventure Paradise!
A Guest Post by Louise Brown of The Adventure Land
.
#1 Reach The Top of Mt. Hoven via Ferrata Loen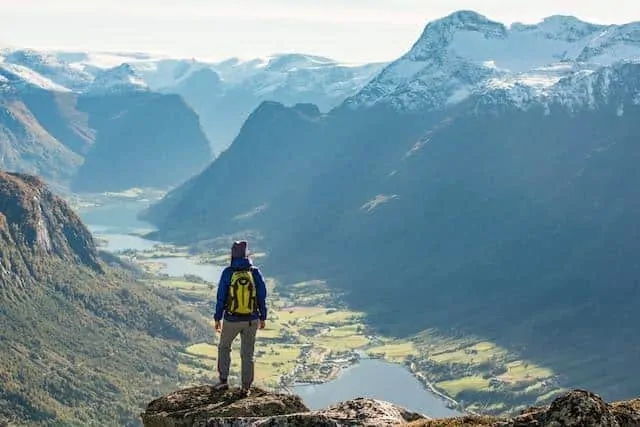 One of the main attractions of Loen is Mt. Hoven, a 1011 meter mountain. The Via Ferrata is a unique way of getting to the top, and it offers a spectacular view of the fjords.
It involves wearing a harness and securing yourself to a steel cable as you go along the climb.
One of the new challenges with the Via Ferrata route is the new suspension bridge. It's 120 meters long and goes over a 160-meter deep canyon. That said, it's not for the faint of hearts. It'll give you butterflies, but you will gain bragging rights in the end!
It's not every day that you have the chance to do such a thing. You can book a guided tour with Loen Active.
.
#2 Explore Lodalen Valley on a Bike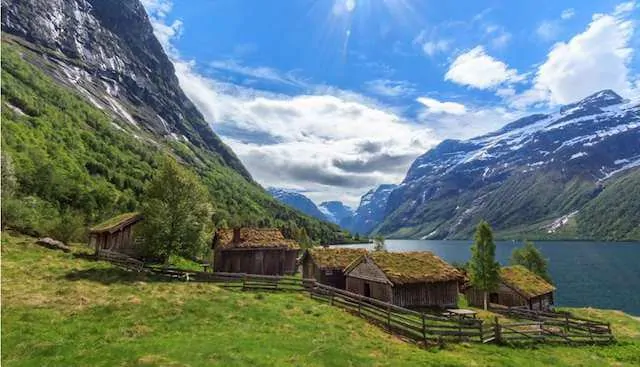 Norway as a whole is a paradise for bikers and biking around Lodalen Valley is another great experience in Loen. It offers a stunning view of the fjord scenery as well as Lovatnet Lake and Kjenndalsbreen Glacier.
You will also pass through some lush green farmland and classic houses. Some parts may require some physical effort, especially the uphills.
RELATED –
Loen is an adventure lovers paradise, but if you're not feeling as pumped as you could be, check out our
favorite Adventure Quotes
to get you in the mood for exploration!
.
#3 Kayak in Lovatnet Lake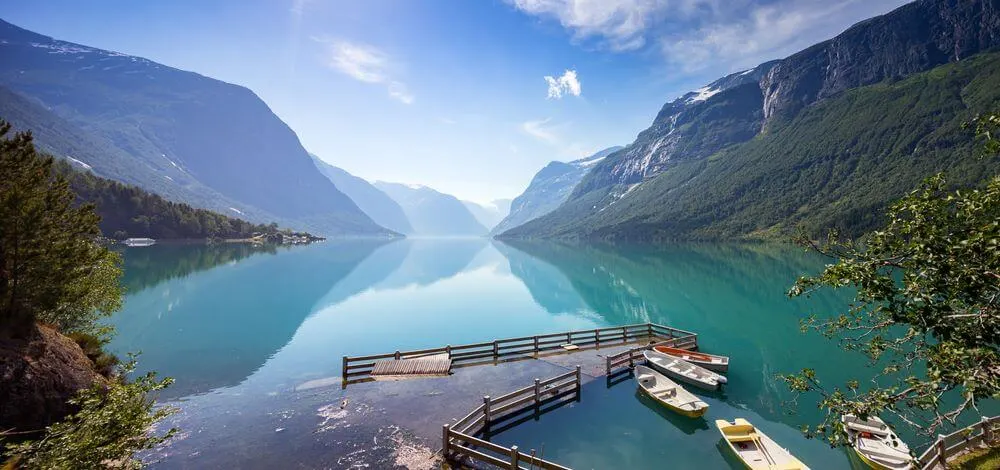 You shouldn't miss Lovatnet Lake when you're in Loen. Seeing it is one thing, but kayaking in it is an even more memorable experience. Paddling out gives you a fresh perspective of the fjord landscapes and allows you to enjoy some peace.
It's a great way to clear your mind and makes you appreciate nature even more, as well as being a real slice of authentic Scandinavia.
The turquoise lake carve by glaciers is also good for fishing and swimming. You can rent a boat and fishing gear somewhere in town.
There are also boat cruises on the lake. It takes you on a 7-mile cruise along the lake, while a guide explains how the lake was formed and it is one of the best things to do in Loen.
.
#4 Scale Mt. Skåla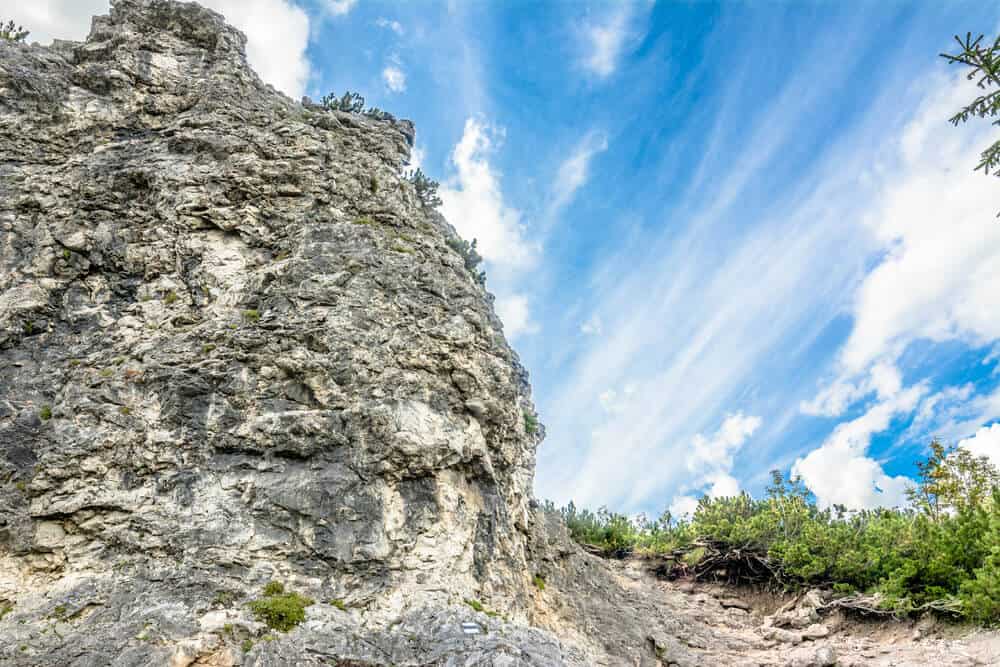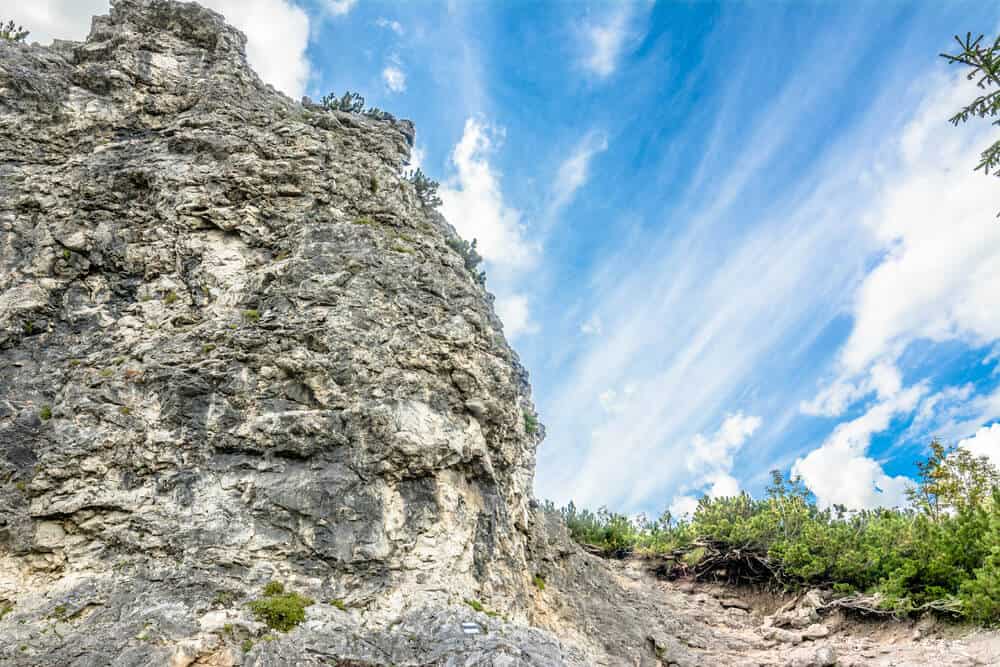 Scaling Mt. Scala includes spectacular views of glaciers and fjords, but also requires some physical effort. It takes about 6-8 hours to reach the summit, but the trail follows a man-mad track.
It's a steep climb, but the stone-paths and stone steps make the hike easier. When you reach the summit, you'll see a tower that is over a century old called, Kloumannstårnet or Skålatårnet.
Skålatårnet was built to accommodate climbers and has become an attraction in itself. It's a self-service cabin operated by the Norwegian Trekking Association and is perhaps one of unique tourist cabins ever.
Just last year, it gained a neighbor called Skålabu. It's a more modern building that can accommodate more climbers and visitors.
A few tips when climbing Mt. Skåla: wear decent waterproof hiking boots and keep warm. You should also pack lunch for the hike and some food for an overnight stay if you plan on spending the night. Book your hike here!
.
#5 Hike up to Kjenndalen Glacier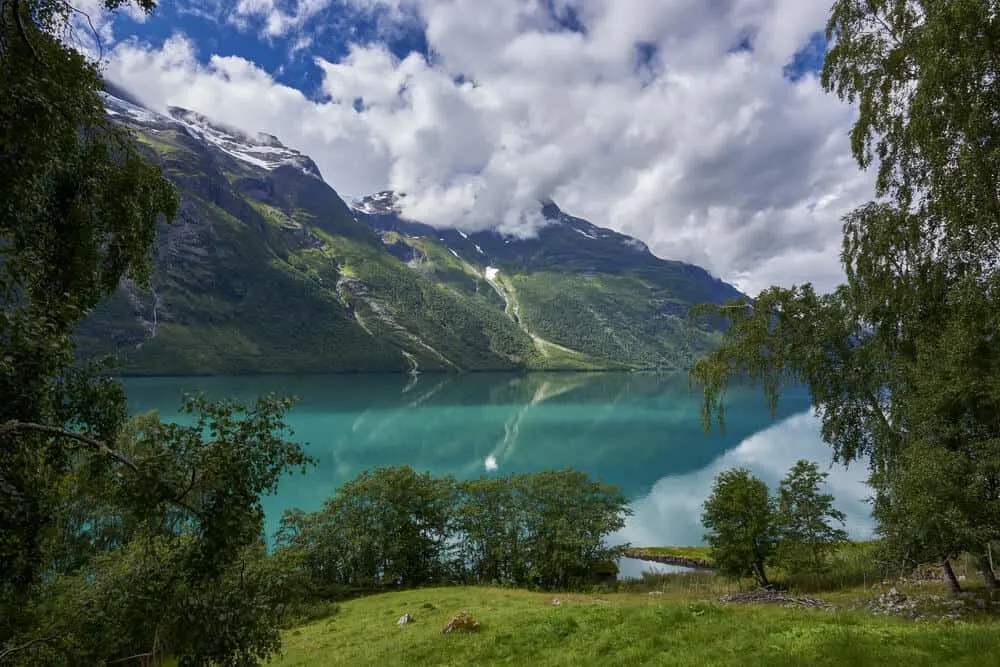 At the end of Lodalen Valley, you'll find Kjenndal Valley and the trailhead to Kjenndal Glacier. The hike is rugged but easy and offers beautiful landscapes that lead you face to face with the glacier.
After hiking to see Kjenndalen Glacier, enjoy a nice cup of coffee and some waffles at Kjenndalen Mountain Lodge.
.
#6 Reach the top of Mt. Hoven via skylift.
View this post on Instagram
On 20 May 2017, Loen's newest attraction – The Loen Skylift – will start welcoming visitors. It's a cable car that will take you 'from Fjord to Sky' and to the top of Mt. Hoven at 1011 meters high, in just 5-7 minutes.
You can also climb it via Ferrata (#1 on the list). When you reach the top, you can enjoy a spectacular view of Lovatnet Lake, Mt. Skala and the Jostedalsbreen Glacier.
There are also some trails which you can explore and hike, or in the winter, you can go skiing or snowshoeing.
.
#7 Take a Day Trip to See Briksdalsbreen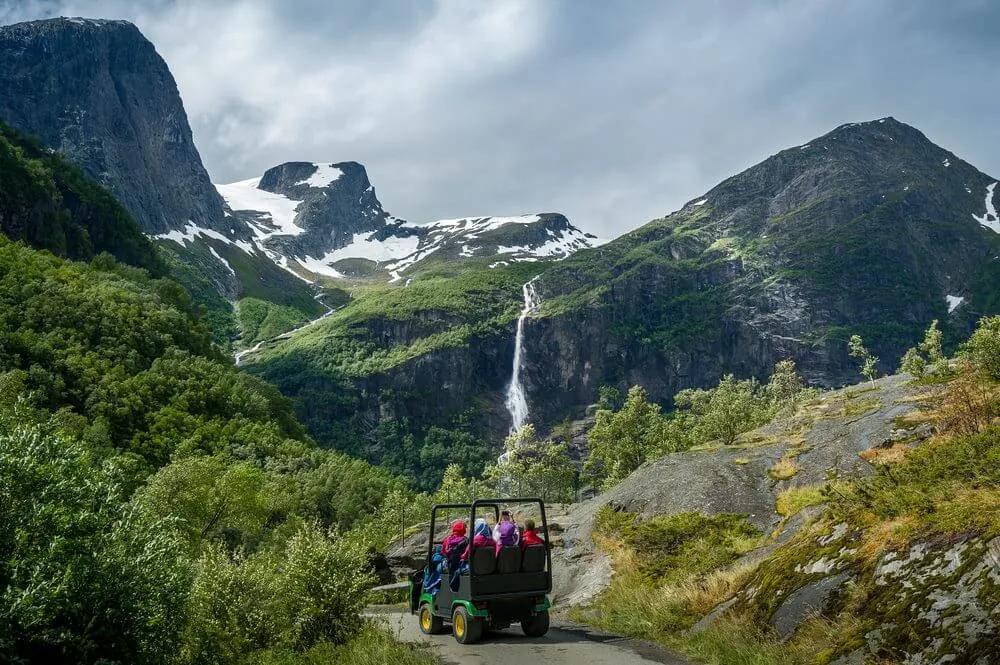 Briksdalsbreen Glacier is a famous part of the grand Jostedalsbreen Glacier. It's around 30 kilometers from Loen and inside the Jostedalsbreen National Park.
The glacier is around 1200 meters high and plunges down to the Briksdalen Valley. Then, you can explore Briksdalen Valley by foot or by catching a unique "Trollcar" up to the glacier.
Briksdal and the surrounding areas offer a lot of hiking opportunities. One of the most popular ones takes you from the Mountain Lodge to Briksdal Glacier.
If you want more, you can even do the 3 Glacier Hike and see Melkevoll and Brendall Glaciers along with Briksdal. For an even more challenging hike, you can take the trail to Mt. Kattanakken and Oldeskaret.
RELATED: Exploring more of Norway and want to go full viking? Don't miss the Viking Ship Museum in Oslo!
.
#8 Go on a Guided Hike to Mt. Lodalskåpa
Lodalskåpa is the highest point of Jostedalsglacier. Reaching the summit is a long trip, taking about 8-12 hours. It's about 18 kilometers in distance and will require you to be in good physical shape.
If you're a mountain lover, then this is something you'll want to do.
Briksdal Adventure operates the guided tours to the summit of Mt. Lodalskåpa. It starts from Bodal Mountain Farm in Lodalen Valley. Then, it will take you through Lake Kåpevatnet and up a steep hill called "Brattebakkanel."
Along the way, you will see some waterfalls and glaciers. You will need glacier equipment in many parts of the hike, which will be provided by your tour operator.
.
#9 Bødalsbreen Glacier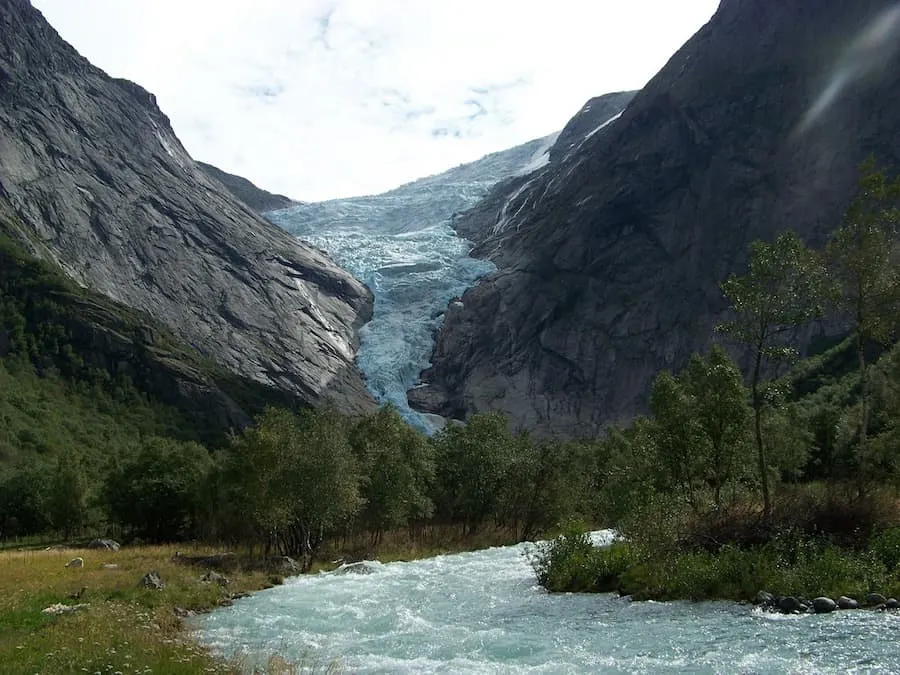 The Bodal Glacier is one of the arms of Jostedalsbreen Glacier. First, drive up to Lodalen Valley until you reach Bodal. Then, continue to drive up on a gravel road that leads to the parking lot.
Finally, walk along the hiking trails to Bodalssetra mountain farm, then on to the glacier. However, you will need a guide to move closer to the glacier for safety reasons.
.
#10 Have Some Coffee at Stryn Vertshus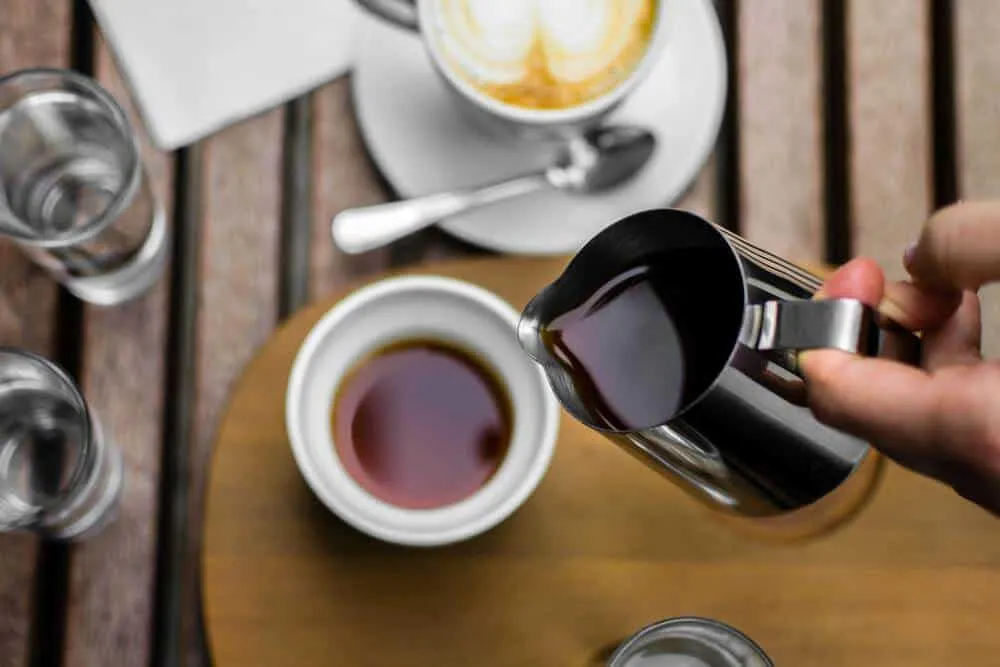 There aren't that many restaurants or cafes in Loen itself, but a lot of nearby towns do have. You can start or end your day with a nice cup of coffee at the Stryn Vertshus while enjoying a spectacular view from the flower-bedecked terrace.
They also serve burgers, salads, steaks, pasta, and tapas platters. It's a great place just to unwind.
There you have it – Top 10 awesome things you can do in Loen Norway. We hope you have an amazing visit! If you've done these or have other recommendations, we'd love to hear what you have to say!
And if you liked this post – please share the love on social media: tweet, FB or pin – all shares are appreciated! Click the P in the sidebar for full size pins!
READY TO EXPLORE MORE OF EUROPE? YOU MIGHT BE INTERESTED IN THESE RECENT POSTS, RELATED ARTICLES, DESTINATION GUIDES & POPULAR POSTS:
Hi There! Thanks for reading our travel guide and travel tips post about The Best Things to do in Loen Norway – An Outdoor Adventure Paradise – I hope you are no longer wondering what to do in LoenNnorway! I just wanted to let you know that this post contains affiliate links, which means if you purchase something after clicking a link, I may get a small commission – which is at absolutely no cost to you. If you enjoyed this article and are going to be searching for some of the things I mention anyway, I would love it if you could click through from the links above & thank you in advance! Read my full Disclosure here.
And a huge Thank You for reading the MakeTimeToSeeTheWorld travel blog.