Not sure what to do in Japan? Because there are heaps of things to do in Japan, we are not surprised.
With five major islands and a total area of 377,975 kilometer-squared, planning your Japan trip is no easy task. The vastness of this country lends itself to many stunning attractions with many still waiting to do discovered. That is why we have written this Japan guide to alleviate the headaches of planning your Japan itinerary.
Without further ado, here is the ultimate Japan bucket list featuring the 27 of the best things to do in Japan – perfect for first-time visitors.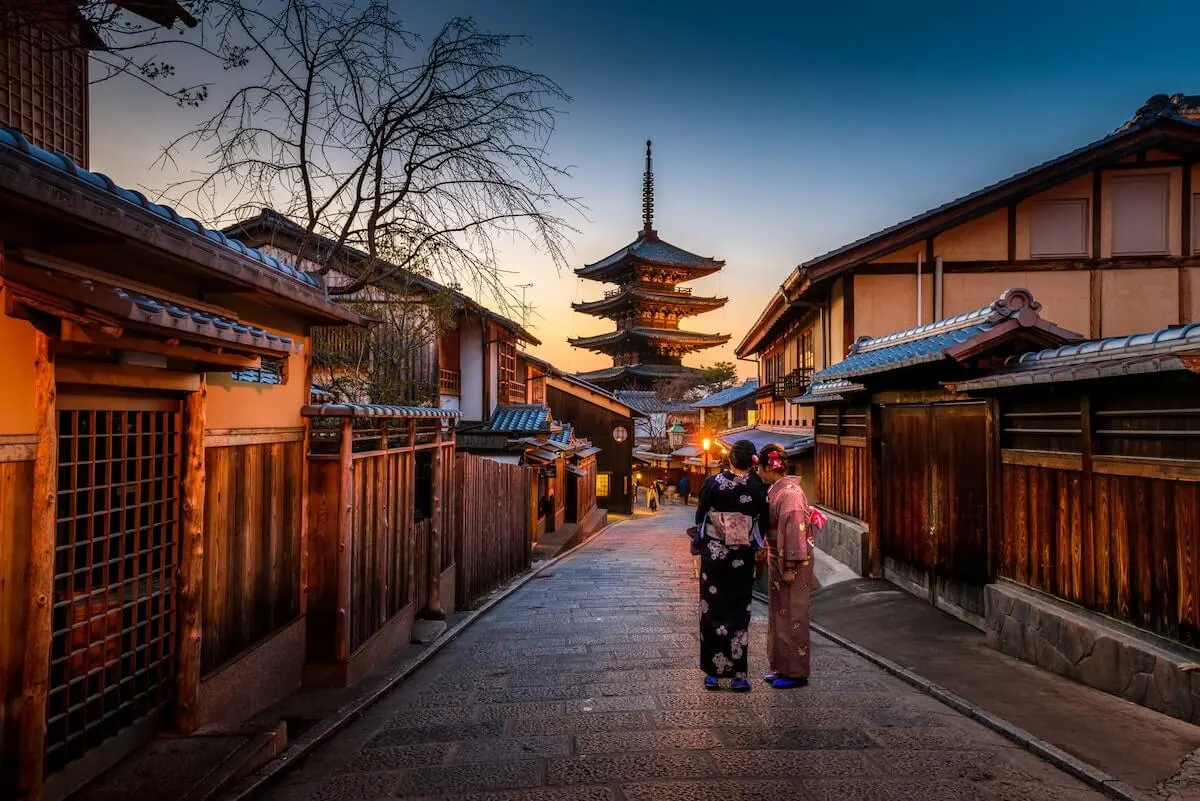 Disclaimer: Almost all posts on this site contain affiliate links, and this one about the Best Things to do in Japan (Perfect for First Time Visitors) is no different. This means that if you click on any of the links in this post (and make a purchase) I may receive a small commission at absolutely no cost to you. Each post is carefully crafted to (hopefully!) answer all your questions and recommendations are made where we believe they will improve your trip and help with your planning. As such we thank you in advance should you decide to click & buy. Read my full Disclosure here.
Contributed by Sean of Living Out Lau
25+ BEST Things to do in Japan: The Definitive Japan Bucket List
Visit The Free-Roaming Deer in Nara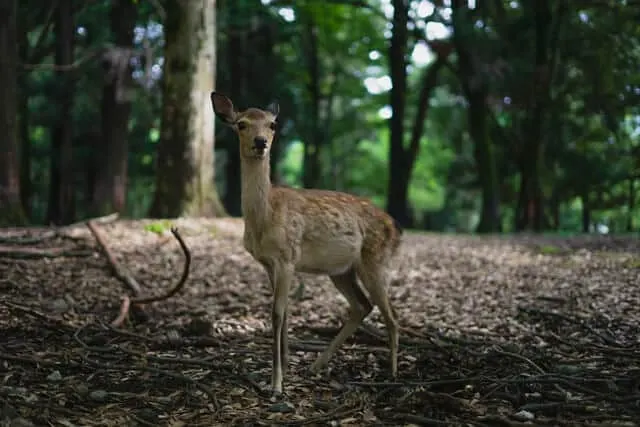 No trip to Japan is complete without seeing the so-called "bowing deers" in Nara. Earning its name from bowing to strangers (in an attempt to lure you into feeding them), these "bowing deers" freely roam the 502-hectare Nara Park. Visitors can easily see these mythical creatures on a weekend or day trip to Nara.
In Shinto traditions, deers were seen as messengers to God, and any mistreatment of them can be a federal offense. After World War II, their divine statue was stripped but they are still regarded as national treasures of Japan.
Nowadays, visitors can freely interact with the deers. As you enter Nara Park, you will find numerous vendors selling Shika-Senbei (special beer biscuits). With these, visitors can approach any "bowing deer" in the park, show them the biscuit and bow at them. The deer will reciprocate by bowing (usually). However, be careful when you buy these crackers because doing so essentially puts a target on your back (for the deers).
Visit the Atomic Bomb Dome & Hiroshima Peace Memorial Museum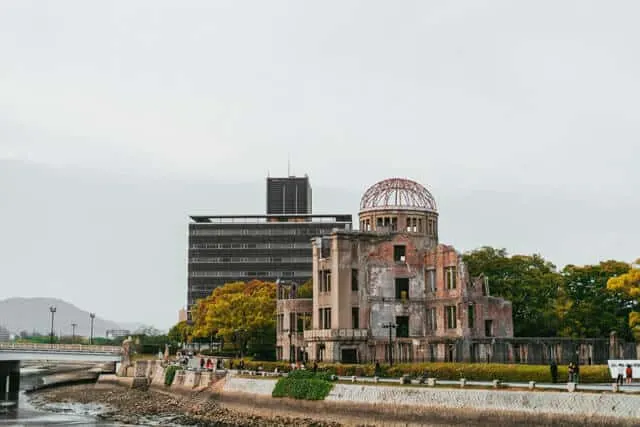 As many of you right already know, on August 6, 1945, the first atomic bomb was dropped on the city of Hiroshima, immediately killing 80,000 people and causing serious chronic health problems to many others. This led to the surrender of the Japanese and eventually led to the end of World War II. After years of tremendous efforts, Hiroshima is now again a thriving city in Japan, but not a day passes without anyone remembering the horrific event.
That is mainly due to the Hiroshima Peace Memorial Park, where the Atomic Bomb Dome and the Hiroshima Peace Memorial Museum are located. The Atomic Bomb Dome a UNESCO Heritage Site and one of the few buildings that survived the devastating blast of the atomic bomb. Here visitors can see the remains of the building that was left behind.
Deeper inside the part is the Hiroshima Peace Memorial Museum, where guests will find terrifying details of the atomic bomb and its effects. It solemnly shows you the destruction of war and its devastating outcome, and further remind us of the inhumane damages humans can do to one another.
To see the museum and Atomic Bomb Dome, visitors can take a day trip to Hiroshima from Osaka or Kyoto using the shinkansen (bullet train) services.
Visit An Traditional Japanese Onsen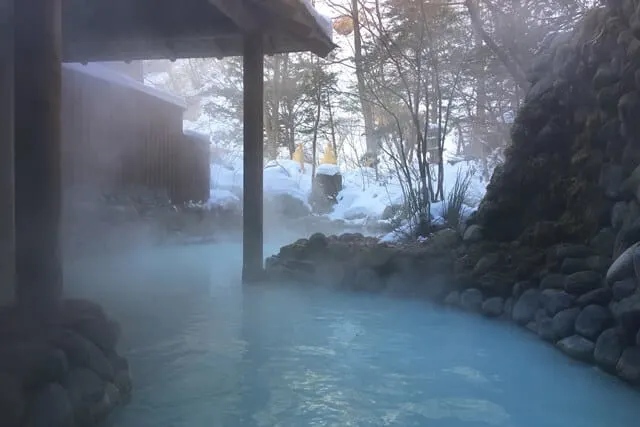 Japan is sitting on top of a highly-volcanic hotspot, resulting in thousands of onsens (Japanese for hot springs) scattered throughout the country. Not only are these onsens the perfect way to soothe your aching limbs after exploring the best things to do in Japan, but mineral-rich water is often good for you. While there might be a few onsens in the big cities, most people decide to visit an onsen town for the weekend. It is the perfect escape from the bustling cities such as Osaka, Kyoto, or Tokyo.
Because the onsens are gender-separated, it is expected for visitors to be completely nude. If you soak with clothes, it could also dirty the fresh onsen water. This might take some getting used to if it is your first time, but the Japanese are certainly not shy!
If you have tattoos, most of the onsens will not accept you because tattoos are recognized as affiliations with gangs.
RELATED –
Find out all about Onsen Culture in our complete guide to
'How To Onsen' in Japan
– it's the got everything you need to know before you go!
See The Snow Monkeys In Nagano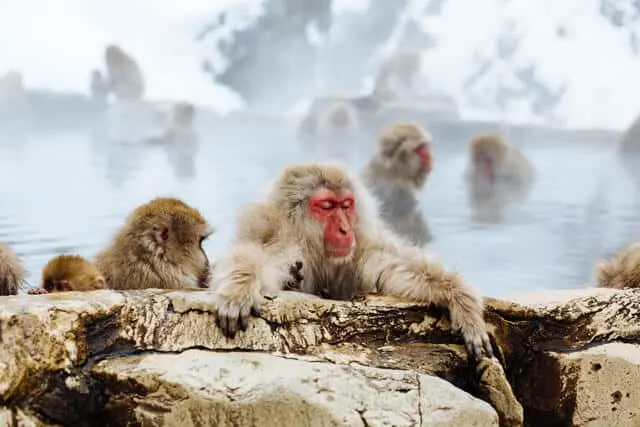 Soaking in an onsen isn't just one of the local's favorite things to do in Japan, they are also popular with the Snow Monkeys in the Nagano Prefecture. The snow monkeys, also known as Japanese Macaques, are truly a sight to behold in Japan, especially when they are soaking in the natural hot springs in the Jigokudani Monkey Park. Because of the harsh winters in Japan, hundreds of Snow Monkeys come from the mountains to warm up in the hot springs.
When visiting the Snow Monkeys, you must pick the right time to go. If you visit in any of the warmer seasons, you will encounter fewer monkeys in the onsen (but sometimes they take a quick dip because workers throw food into the onsen). Winter is
unquestionably the most popular time to go, as visitors will find monkeys everywhere in the Jigokudani Monkey Park!
Visitors are not allowed to soak in the onsen for obvious safety reasons.
Check out the Floating Torii Gate At Miyajima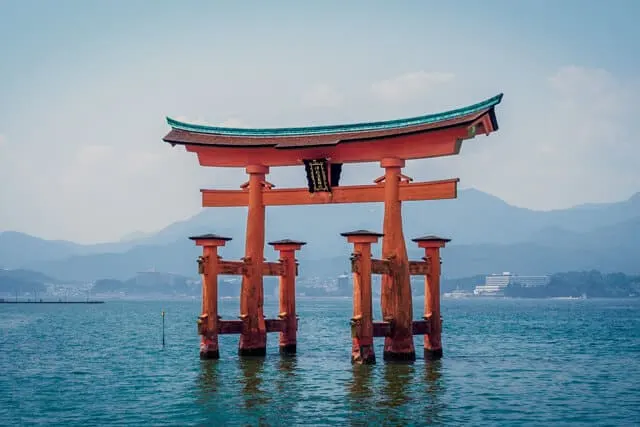 Located about an hour away from Hiroshima is the island of Miyajima, home of the UNESCO Heritage Site Itsukushima Shrine and its famous "floating" torii gate. In Shinto traditions, the torii gate is the entrance of a Shinto Shrine and marks the transition from common to sacred grounds.
Constructed over water, the Itsukushima torii gate appears to be floating during high tide. Visitors wanting to see this incredible phenomenon must make sure they check the tide table before visiting Miyajima, as the high tide will typically occur only twice a day.
If you can only visit during low tide, don't be discouraged. Because low tide exposes the sandbank, visitors will see various marine organisms such as crabs and small fishes. It is also the only time when you can walk under the torii gate and get a nice closeup photo!
Stroll Down The Arashiyama Bamboo Forest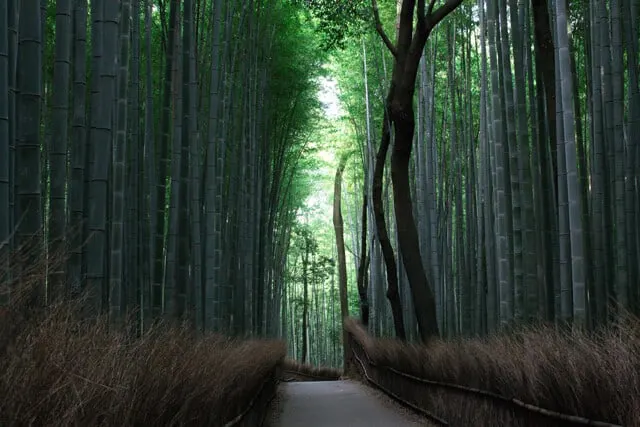 Arashiyama Bamboo Forest is one of the best places to visit in Kyoto. Known for its countless number of soaring bamboo trees, it boasts an unworldly atmosphere unlike any other place in Japan. Bamboo is one of the most versatile items in Japan and visitors will find the use of it in the making of buildings, chopsticks, traditional fans, and more.
It is best to visit Arashiymama Bamboo Grove in the early morning or late afternoons when there are fewer tourists. When you stand alone amongst the giants of mother nature's creation, there is surreal zen that sweeps along. These towering plants also make the bamboo forest one of the scenic spots in Japan, and it is much easier to capture the beauty of their essence when it is not crowded with tourists!
Watch Sumo Wrestling
Sumo wrestling isn't necessarily the first thing that comes to find when you think of Japan. However, when you see the pure power and strength of these ~400 pounds wrestlers, you will start to understand its appeal. For anyone unfamiliar with the sport, sumo wrestling is a competitive full-contact sport where the goal is to force your opponent out of a circular ring or touch the ground with any part of his body besides his feet.
Once a performance to entertain the Shinto deities, sumo wrestling is now the national sport of Japan. Only 6 sumo wrestling tournaments occur per year, so visitors must plan their Japan trip carefully if they want to watch one in person. Just remember, you aren't the only one that is planning to visit Japan for sumo wrestling, so book your accommodations and flights in advance.
Alternatively, if the schedule just doesn't fit and you can't see the action live, don't worry. Visitors can attend a morning sumo wrestling training session close to the sumo stables. Though the sessions won't do a sumo match justice, they will offer you a glimpse into such an interesting sport!
Fun Fact: Would it surprise you that Japanese Baseball is actually the country's most popular participatory and spectator sport – and was introduced back in 1872! Be sure to attend one of the Nippon League baseball games if you have time!
Indulge In Some Kobe Beef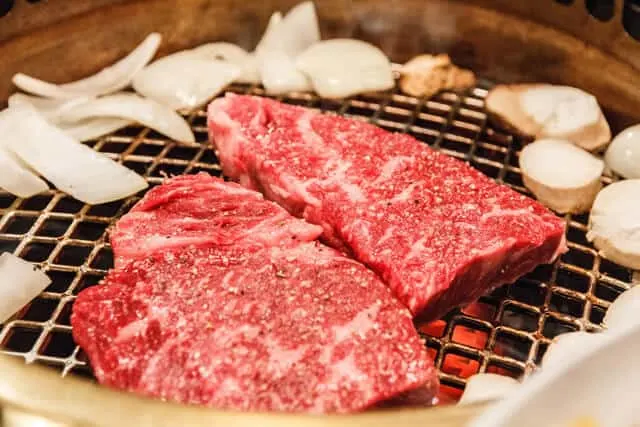 Trying some of the world-crazed Kobe beef is a must-do activity in Japan. Known for its superb flavor, tenderness, fatty content, and marbled texture, Kobe beef is a desired Japanese delicacy. Even in places like the Hyogo Prefecture where the cattle are raised will you find high prices for this type of meat. If you are abroad, the prices are even more ridiculous!
Kobe beef is Wagyu beef from the Tajima strain of Japanese black cattle and raised under strict regulations to ensure its superb quality. Raised in the Hyogo Prefecture, the best place to try Kobe Beef is certainly Kobe (duh!), the capital of the Hyogo Prefecture). Here you will find the best value-for-money or highest quality Kobe beef you can possibly get your hands on!
If you are a foodie, trying Kobe Beef must be on your Japan bucket list!
EAT: Sushi, Sahimi, Ramen, Tempura, Okonomiyaki (and more!)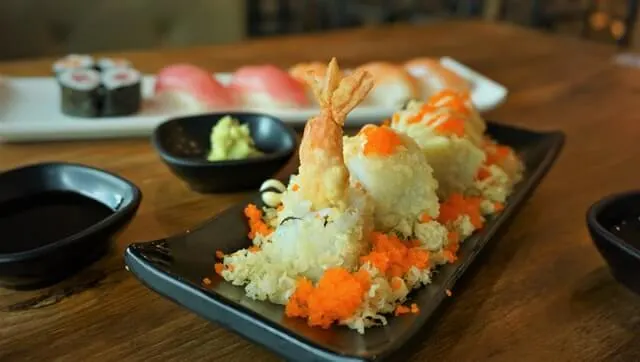 Japan is an absolute joy for food lovers. With multiple delicacies and tasty treats on every corner – and in every vending machine – all we can say is: you better come hungry!
Here's a quick guide to some of the most popular Japanese foods (which is essentially a list of some of the incredible things to eat in Japan!):
Sushi: Essentially rice and fish it can be presented as Nigiri, Maki, Oshi, Temaki etc. Read our Beginners Guide to Sushi for our guide to ordering sushi and eating sushi!
Sashimi: Raw fish served with wasabi (and it's my favorite!)
Ramen: wheat noodles served in a soy sauce or miso soup mixed with many kinds of ingredients.
Udon or Soba Noodles: Udon is a thick noodle made from wheat flour; Soba noodles are made with buckwheat flour.
Tempura: A Japanese fried dish made mostly from seafood and vegetables, seasoned with a sauce made with soy sauce, ginger and sugar.
Miso Soup: A soup made from a miso paste (fermented soybeans) and dashi (fish stock) – and is served with practically every meal.
Yakitori: Skewers, traditionally with chicken, but now often made with beef, pork and fish.
Gyoza: Fried Japanese dumplings which are either Fried (Yakigyoza), Boiled (Suigyoza) or Deep Fried (Agegyoza).
Okonomiyaki: A griddled pancake made of flour, yam, and egg – which most people add things like green onions, beef, shrimp, squid, vegetables, mochi, and cheese.
Kare-Raisu: Japanese rice with curry
Onigiri: these seasoned rice balls are the most popular snack in Japan.
Shabu-Shabu: A Japanese hotpot traditionally with many different types of meats, seafoods and vegetables.
Matcha: a finely ground powder of specially grown and processed green tea leaves, typically drank in tea but is a popular flavor in many sweets.
Bento Box: Whilst not a food, a Bento box (lunch box) is a Japanese staple and sees millions of lunchtime meals each year. Find them in most convenience stores – and while your there, grab something for the vending machines outside too!
Studio Ghibli Museum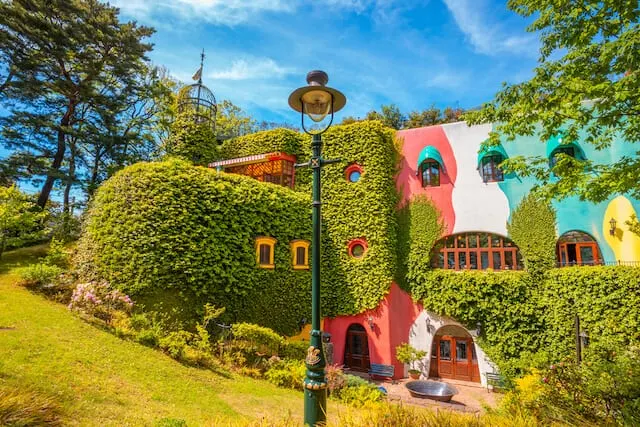 The Ghibli Museum is located in Mitaka (a western city of Tokyo Japan) and showcases the work of the Japanese animation studio Studio Ghibli.
The brainchild of Hayao Miyazaki aimed to create worlds that were intricate and lush, in the hope they would "blow a new wind through the anime industry." With bright colors and quirky characters – even if you have never seen a Studio Ghibli film, you will enjoy exploring the studio and see a little of what goes on behind the scenes when creating animation.
Hit the Highlights of Tokyo Japan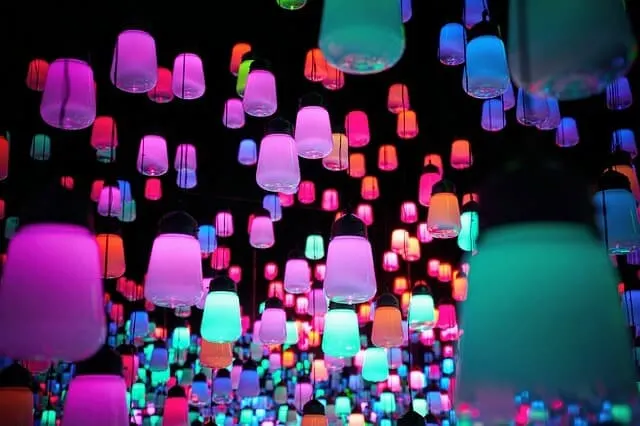 Tokyo has so many highlights, it deserves a section all to itself. In addition to the Shibuya Crossing (featured below), other spots not to be missed in Toykos vibrant capital include the Teamlab Borderless Exhibition, Tokyo Tower, Piss Alley (officially known as Omoide Yokocho/Memory Lane and a drinking & dining throwback to WWII days), Meiji Shrine, the Pokemon Center and cosplay Go-Karting!
Visit Mount Fuji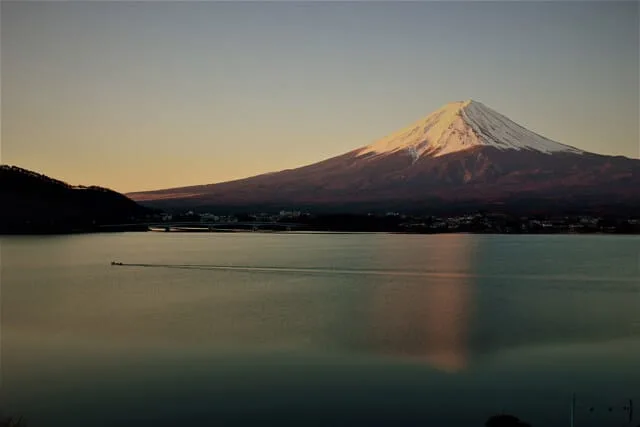 If there is one place you visit in Japan, make that Mount Fuji, the cultural symbol of Japan. You probably already knew that as depictions of Mount Fuji are common throughout the world, especially in art and photography. For example, the carmaking company Infiniti's logo is a representation of Mount Fuji.
Located on Honshu Island, Mount Fuji is the highest mountain in Japan at 3,776 meters high. On a clear cloudless day, visitors can see this soaring UNESCO World Heritage Site all the way from Tokyo. Its nearly-perfect symmetrical shape is a breathtaking sight to behold, especially when it is covered in snow (occurs about 5 months per year).
Adventurous visitors will decide to hike Mount Fuji, which usually takes about 5-10 hours spread out over 2 days. Alternatively, anyone looking for just a beautiful view of this Japanese symbol can visit the Fuji Five Lake Region, especially the northern shore of Lake Kawaguchiko.
Miyagi Zao Fox Village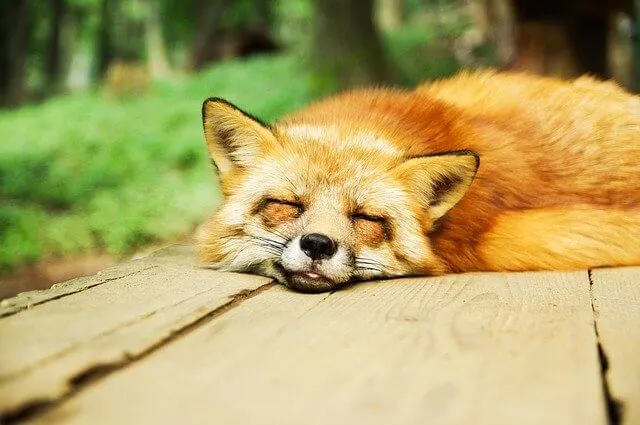 This one is a little off the beaten path as it is located in Tohoku, at the top of Honshu Island (the main island), and due to the nuclear disaster following the 2011 earthquake, is least visited region in Japan (although it is perfectly safe to visit now!).
The Miyagi Zao Fox Village is nicknamed the fluffiest place on earth and is usually visited by people on their way back from Cat Island. The sanctuary allows visitors to interact with the foxes, and it has been reported there are as many as 300 in the facility across 6 different species – making this one of the most unique things to do in Japan.
Discover Fushimi Inari Taisha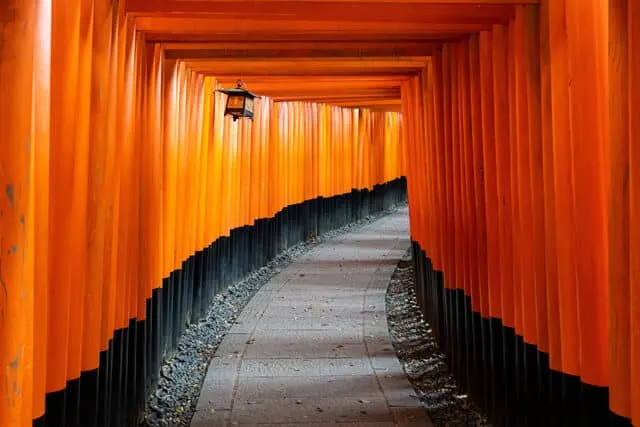 Similar to the Arashiymama Bamboo Forest, Fushimi Inari Taisha is one of Kyoto's top sights. Famous for its thousands of vibrant vermillion torii gates that reach the top of Mount Inari, Fushimi Inari Taisha is both stunning and culturally important. In fact, Fushimi Inari Taisha is actually a shrine dedicated to Inari, the goddess of rice.
When visiting Fushimi Inari Taisha, you probably want an iconic photo in between the vermillion torii gates. Our pro tip is to go as high up the mountain as needed, where there are fewer tourists to ruin your photograph!
If you want, the path leads you all the way up to the top of Inari Mountain, but the entire route (out-and-back) will take you about 2 hours to finish. There also isn't a view at the top of the path.
Drink Sake At An Izakaya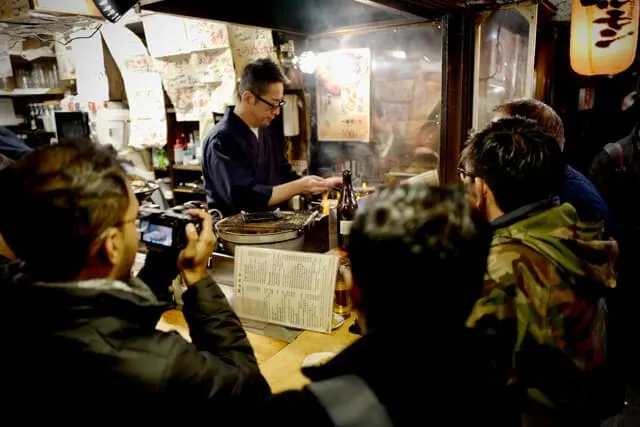 Eating and drinking at an Izakaya is a quintessential experience in Japan. Don't like the name intimidate you, Izakayas are just casual bars, similar to your average pubs where patrons can relax after work and munch on some bar food. Like pubs around the world, there isn't a shortage of Izakayas in Japan.
Some of the best ones are located in Golden Gai in the Shinjuku neighborhood of Tokyo. Here you will find an array of different Izakayas with some of them so tiny that they can only accommodate a few patrons. Make sure you try some local Japanese sake when you are at an Izakaya!
Toyosu Fish Market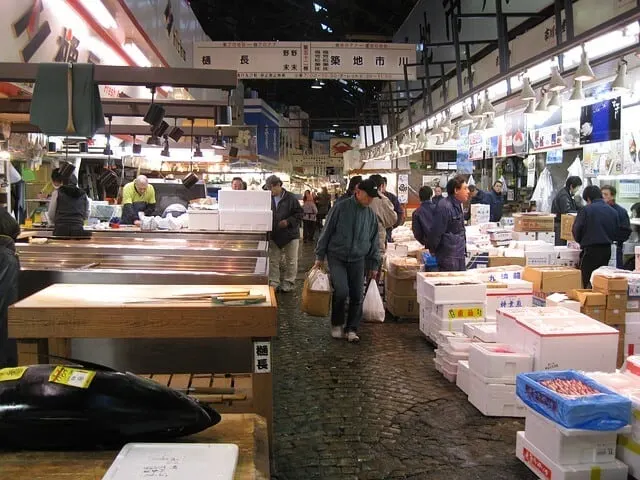 The Tsukiji Fish Market is a unique Japanese attraction but probably isn't for the vegans among us. Considered one of the top things to do in Japan for years, the wholesale fish market and tuna auction has now moved to the shiny new Toyosu Fish Market. BUT the Tsukiji Outer Market is still a great place to visit and gives tourists the opportunity to encounter all kinds of Japanese traditional foods in a clean but high-octane environment.
As visiting the Tsukiji Outer Fish Market can be quite an overwhelming experience, we highly recommend joining an organized tour to help you get the best of the market; and you can even combine it with a cooking class if you really want to get hands-on with the fish!
Dine at a Robot Restaurant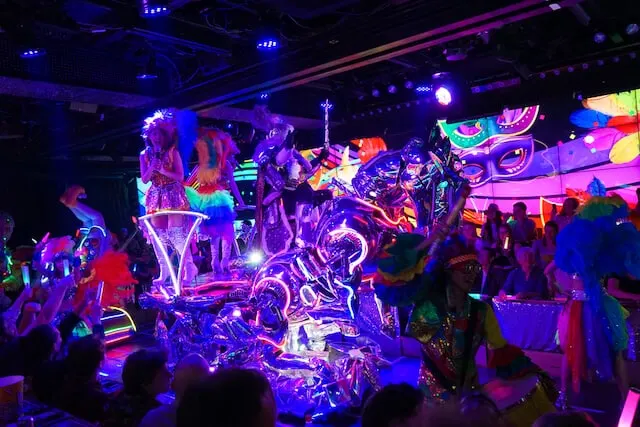 A very Japanese invention – it's practically a cult classic now. Part bar, part theme park and located in Shinjuku's Kabukicho district, Robot Restaurant can be described as many things – but most often is simply though of as 'insane'!
Quite simply, its sci-fi Japanese cabaret show starring giant robots is loud and proud, both visually and audibly. Taiko drums and techno music accompany flashing lights, multiple mirrors, and huge video screens. Book your ticket here and prepare for a night of crazy entertainment!
Go Castle, Palace, Shrine & Temple Hopping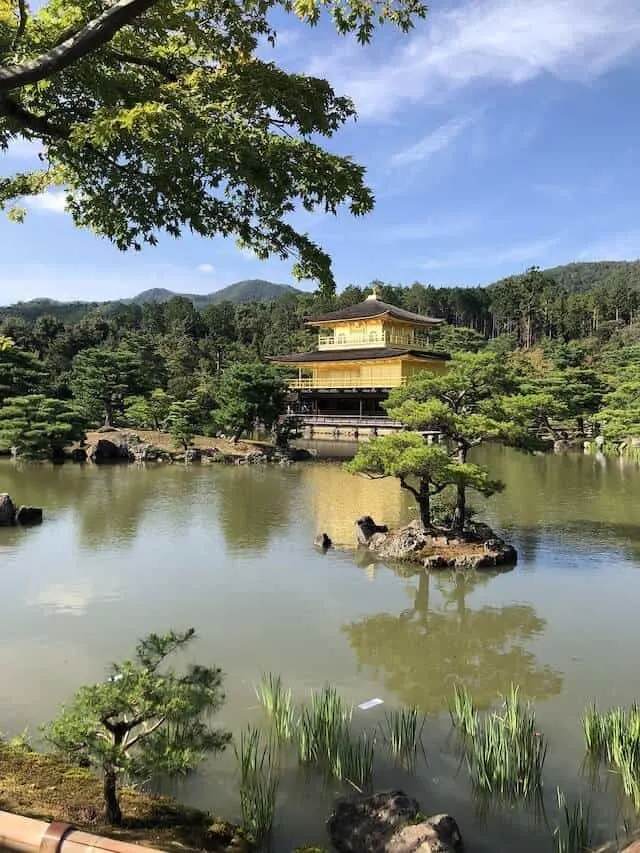 When it comes to castles, palaces, shrines and temples, Japan has them all. You could spend weeks exploring them all, but if you are short on time or want to concentrate your efforts, we recommend:
Himeji Castle (

hilltop castle complex in the Hyōgo Prefecture of Japan);

Osaka Castle (White and Green Castlewhich is one of the Japan's most famous landmarks);
Kyoto Imperial Palace (the

residence of Japan's Imperial Family until 1868); and

The Golden Temple (Kinkaku-ji) in Kyoto (stunning lakeside temple surrounded by Bonzai trees adorned with gold leaf).
Ride the Shinkansen (Bullet Train)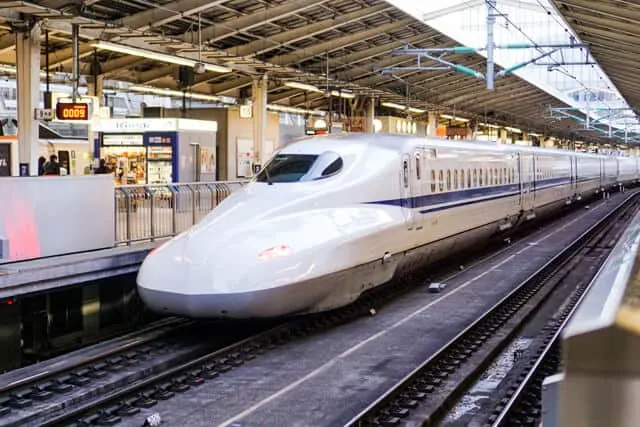 The shinkansen, or bullet train in English, is one of Japan's most impressive infrastructure. With the goals of connecting distant cities in mind, the shinkansen travels at a top speed of 320 kilometers per hour, or 199 mph (at the time of writing).
With absolutely no traffic on the shinkansen rail lines, their speed is matched with extreme precision and reliability. On average, a shinkansen is off schedule by no more than a minute daily. This allows visitors to take day trips to faraway places like Osaka or Kyoto from Tokyo, or even Hiroshima from Tokyo!
The only con about the shinkansen is their hefty prices. However, if you have the Japan Rail Pass (JR Pass), you might be able to waive some (or all) of those fees!
Attend a Traditional Japanese Tea Ceremony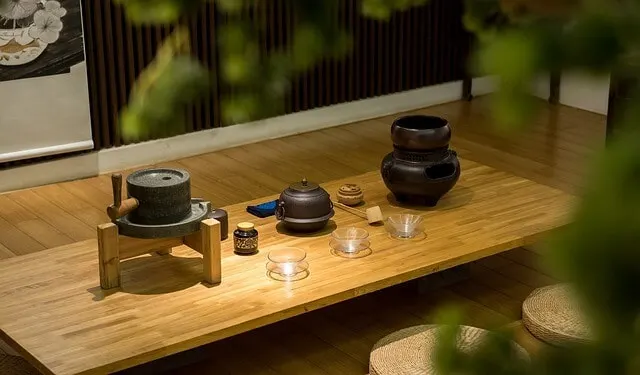 Tea ceremonies are a Japanese cultural icon and are steeped in history. Tea was brought to Japan in the 7th century, and by the 13th was being enjoyed at extravagent parties hosted by the countries elite. By the 16th century, it had become popular with the social classes and had tea ceremonies had begun to morph into the structured events we know today.
Tea in Japan is more than just a drink, and these ceremonies represent a spiritual process, in which the participants remove themselves from the day-to-day world, in search of harmony and inner peace.
Shibuya Crossing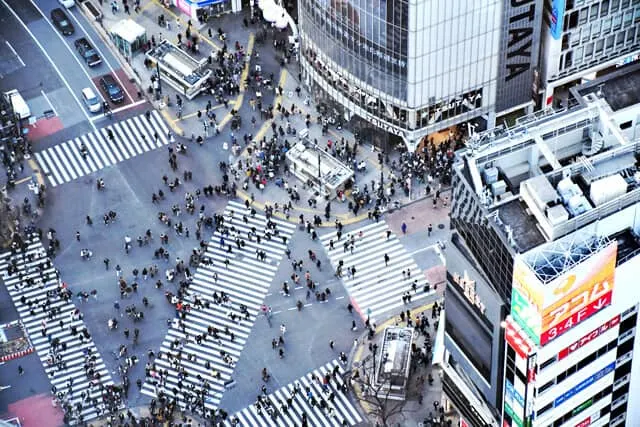 No visit to Tokyo is complete without seeing (or experiencing) the Shibuya Crossing, a.k.a. The Scramble. Regarded as the world's busiest crossing, this intersection outside the Hachiko exit of the Shibuya Station has up to 2,500 pedestrians crossing at once.
In theory, this would be a natural disaster, with people bumping and shoving into each other. However, this interaction happens so smoothly that everyone gets to where he or she needs to go without much agony. To understand how this happens, you must witness the magic in person!
Go to a Theme Park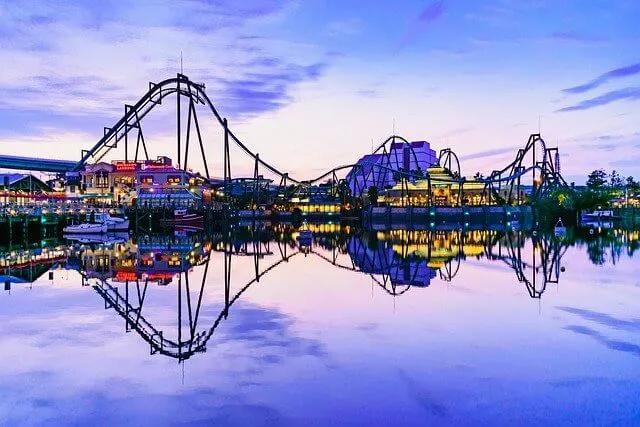 If you love theme parks, you'll be spoilt for choice in Japan. Visit Universal Studios Japan for your Harry Potter fix; Tokyo Disneyland or DisneySea to hang out with Mickey Mouse and grab some of those 'Happiest place on earth' vibes (I should know, I'm a Disney Geek!), hit up Fuji-Q Amusement Park some big coasters (with a smaller price tag compared to the big names).
Stay In A Capsule Hotel, A Ryokan, Or A Buddhist Temple
Japan is filled with many unique and quirky accommodations such as capsule hotels, traditional ryokans, or even Buddhist temples. While they aren't usually the most comfortable or luxurious, staying in one of these unique places is a must-have experience in Japan.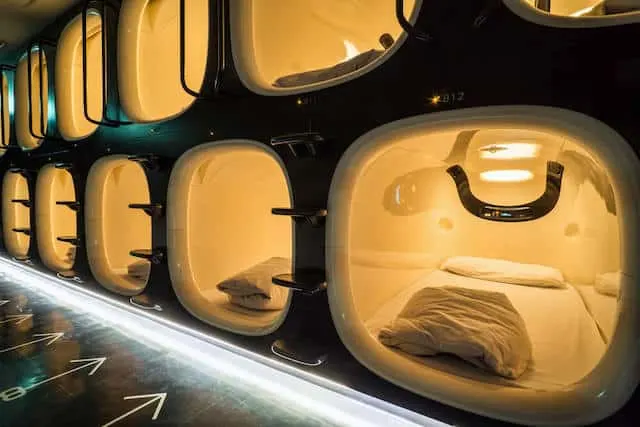 Capsule hotels (or hostels) are popular options for anyone traveling on a budget and want a little more privacy. Each person is giving his or her own little private pod with a comfortable bed, light, and electric sockets. The common areas such s showers and kitchens are shared by all the guests.
Ryokan is a type of traditional Japanese inn that usually features tatami-matted rooms and communal bathrooms. Sometimes guests will even have to wear a traditional yukata during their stay here. Ryokans are more common in the countryside but can still be found in the bigger cities.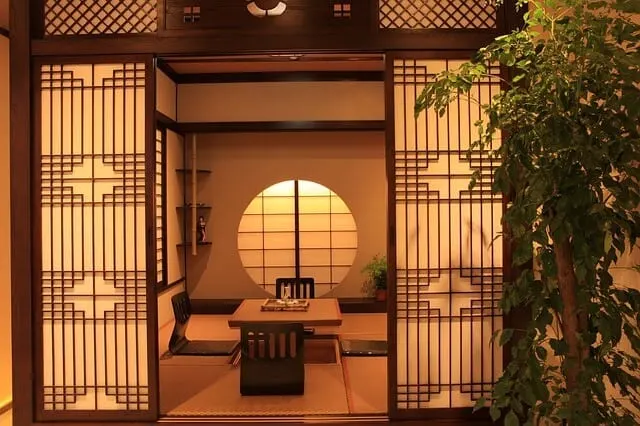 Last but not least, anyone looking for a cultural experience in Japan must spend the night in a Buddhist Temple. It is the best way to learn about the ways of the Buddhist life, as visitors can catch glimpses of monks going about their days. If you are lucky, you might even see the morning prayers and meditation sessions!
Visit The Cup Noodle Museum in Yokohama or Osaka Ikeda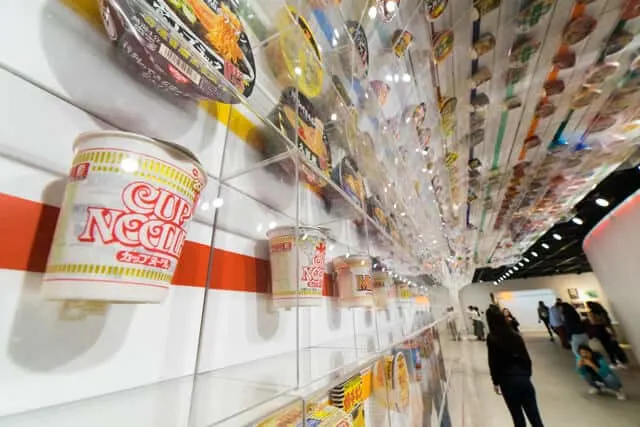 The Cup Noodle Museum is one of the most unique attractions in Japan. Visitors can learn about the invention of the Cup Noodle by Momofuko Ando, which is regarded as the most important invention of the 20th century by the Japanese. By just adding hot water, which is accessible in most parts of the world, people can have delicious, filling, and (somewhat) nutritious food. It is no wonder why it is still so popular today.
In the Cup Noodle Museum in Yokohama or Osaka Ikeda, visitors will find a collection of all the instant noodles and Cup Noodles produced in Japan, and you wouldn't believe how many there are!
However, the most exciting part of the Cup Noodle Museum has to be the Cup Noodle Factory, a place where visitors can design their own Cup Noodles. This part of the museum is a must with kids as they can draw the exterior design and decide which ingredients to put inside the Cup Noodle!
Attend a Seasonal Festival: See Sakura or Saporro Snow Festival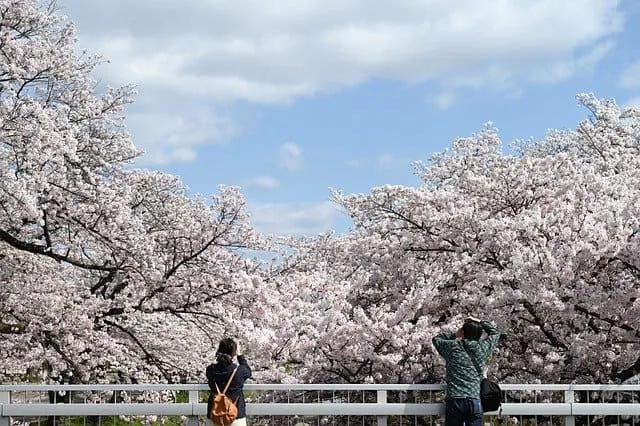 OK, this one may be a bit difficult for a first-time visit to Japan unless you are traveling specifically for it.
This is because the cherry blossom (Sakura) flower for only a short period of time (late March to early April) and the Sapporo Snow Festival only takes place at the start of February each year.
Explore Okunoshima (Rabbit Island)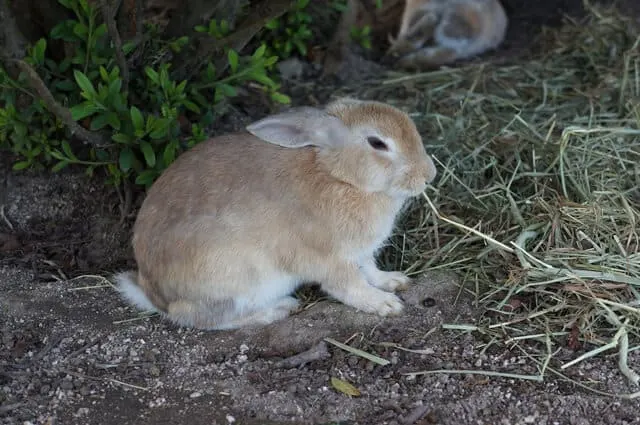 Okunoshima is a small island in the Inland Sea of Japan. A part of the Hiroshima Prefecture, this small island is located only 15 minutes away from the Tadanoumi Port in Takehara City.
Though only 4 kilometers in circumference, Okunoshima is the home to over 700 wild rabbits, all ready to mingle with visitors! On this island, visitors will also find an onsen (natural hot spring) and a poisoning gas museum, making it a well-rounded day trip for everyone in the family!
Visit a Themed Cafe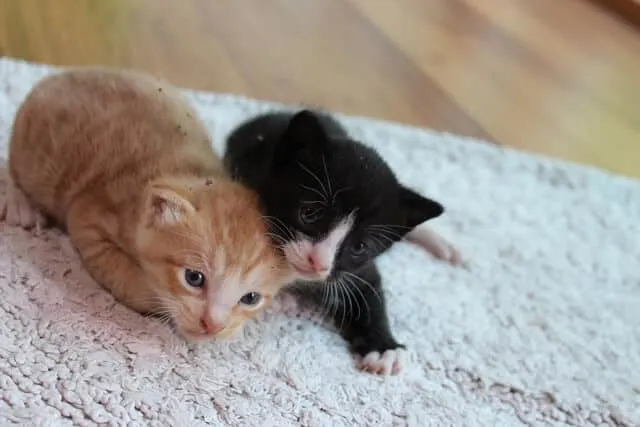 From the weird Japanese game shows to the all-purpose vending machines, Japan is in no shortage of quirky entertainment. As you walk down the streets of many many Japanese cities, you will undoubtedly stumble upon many themed cafes.
The most common themed cafes are dogs, cats, owls, and even hedgehog. Here you will be able to enjoy the company of your favorite furry friends without having to actually own one. However, do read the reviews online to make sure you are visiting an ethical one.
If you want to up the ante, there are even more strange themed cafes such as maids, ninjas and cuddle cafes (We told you it's strange). Before visiting one of these themed cafes in Japan, make sure you know what you are getting yourself into!
These are the 25 top things to do in Japan. We hope it has given you an idea of what to see in Japan and this japan travel guide has helped you a little with what to expect when you are there!
We hope you have enjoyed our Japan Bucket List inspiring and found our Best Things to Do in Japan invaluable in planning your trip to the land of the rising sun.
And if you enjoyed this Japan travel guide, or know someone planning their Japan vacation that could use our travel advice and top tips for visiting Japan, please be sure to share this article with them on social media: Facebook, Twitter, Flipboard or grab a pin below for Pinterest.
Sharing is caring and we thank you in advance!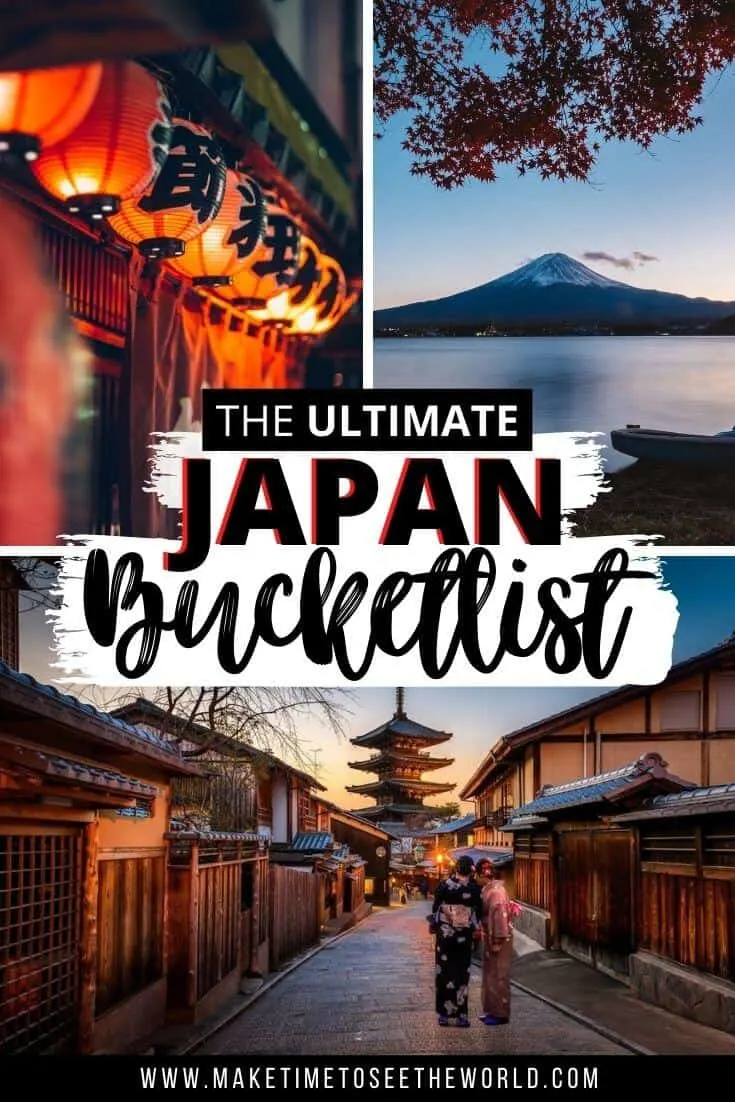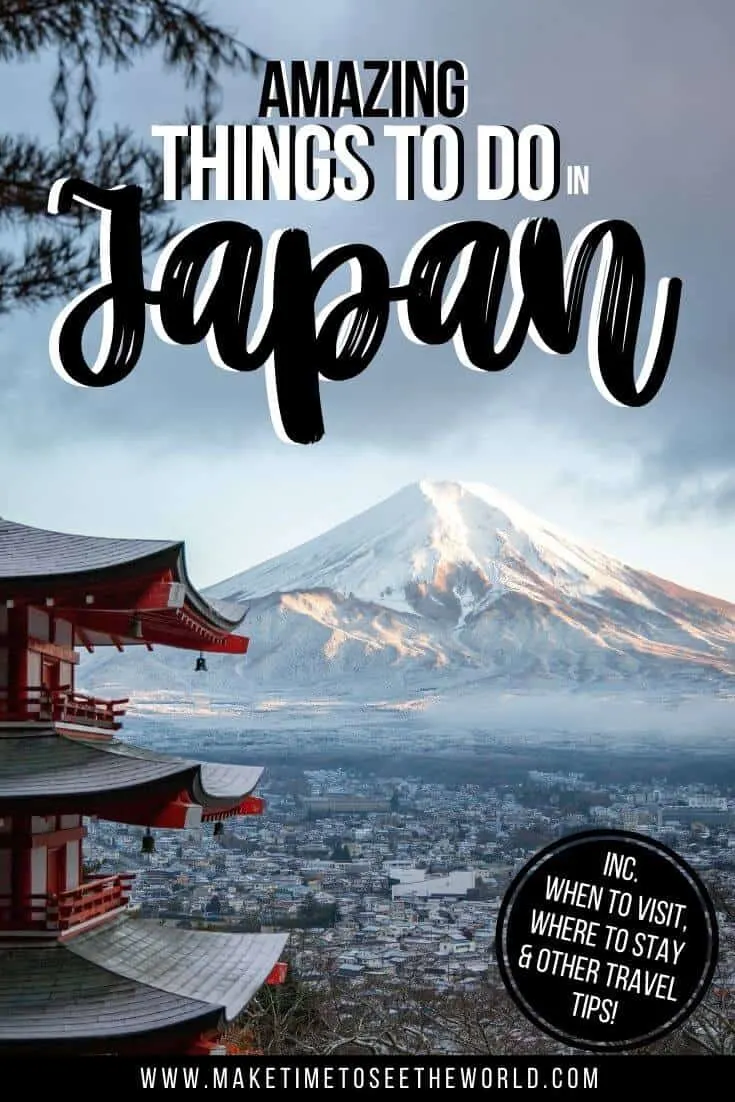 READY MORE TRAVEL INSPIRATION? YOU MIGHT BE INTERESTED IN THESE RECENT POSTS, TRAVEL ARTICLES, DESTINATION GUIDES, TRAVELER RESOURCES, TRAVEL GEAR GUIDES AND RELATED POSTS ABOUT OTHER AMAZING PLACES AROUND THE WORLD:
Hi There! Thanks for reading my travel tips for The Best Things to do in Japan (Perfect for First Time Visitors). I just wanted to let you know that this post contains affiliate links, which means if you purchase something after clicking a link, I may get a small commission – which is at absolutely no cost to you. If you enjoyed this article and are going to be searching for some of the things I mention anyway, I would love it if you could click through from the links above & thank you in advance! Read my full Disclosure here.
And Thank you for reading the MakeTimeToSeeTheWorld travel blog posts.