Visiting NYC for the first time? Here are 15+ ESSENTIAL New York Tips (written by a local) to teach you everything you need to know before you go!
New York City is a place where most dreams come true for many — and there's just no denying it. Hidden in this concrete jungle are some of the world's best restaurants, museums, and brand names that have made their mark on the United States and beyond.
There are more than 8 million New Yorkers living in its five boroughs and about ⅓ of the population is born outside the United States. The city's diversity and vibrancy mean that it is often regarded as the cultural capital of the world, and as such is a magnet for tourism, welcoming approximately 40 to 50 million tourists annually.

And if that doesn't sound equal parts overwhelming and exciting we don't know what does(!) – but to help you get prepared we've pulled together our top New York Tips. They're everything you need to know before you go to make sure you have the best time, in whatever time you have in the city. From where to eat to where to stay, the can't-be-missed-highlights and avoid-like-the-plague scams. So scroll down, and start getting excited about your trip to New York City. (You'll soon see why it is one of the best places to visit in the USA!)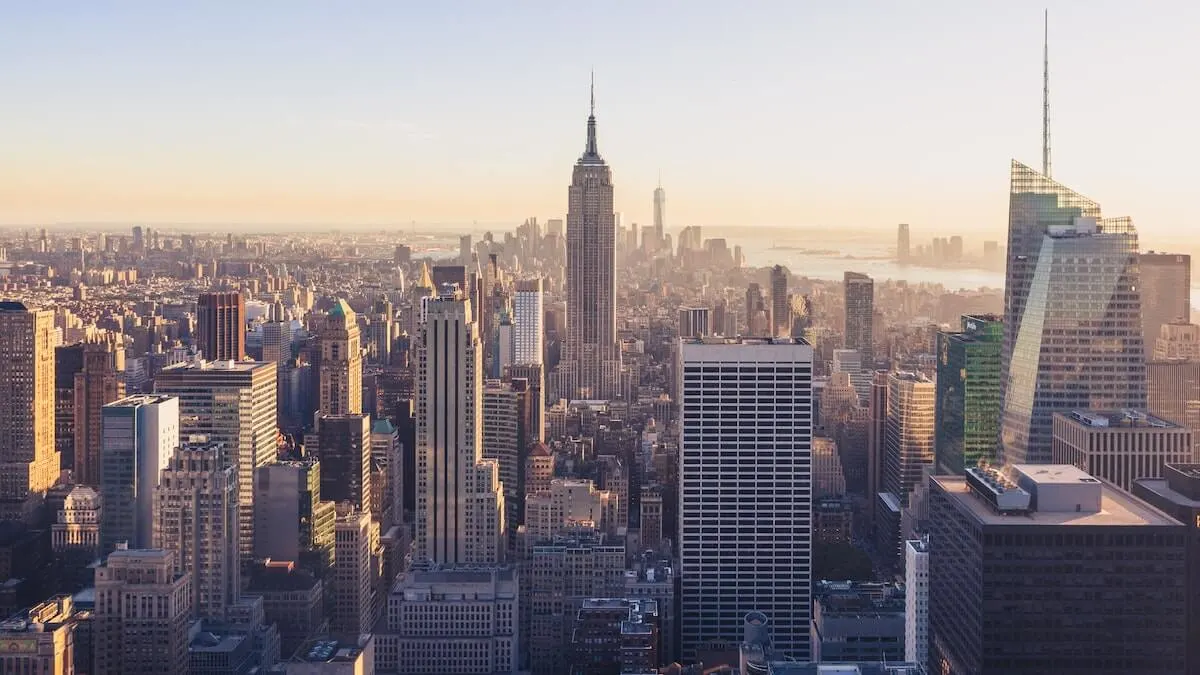 Disclaimer: Almost all posts on this site contain affiliate links, and this one with 15+ Essential New York Tips: What to Know Before You Go is no different. This means that if you click on any of the links in this post (and make a purchase) I may receive a small commission at absolutely no cost to you. Each post is carefully crafted to (hopefully!) answer all your questions and recommendations are made where we believe they will improve your trip and help with your planning. As such we thank you in advance should you decide to click & buy. Read my full disclosure here.
GENERAL TRAVEL INFO FOR VISITORS TO THE USA
Visa: Travelers from countries that are members of the Visa Waiver Program (ESTA) do not require a visa when visiting the USA. However, it is recommended to check up-to-date visa entry requirements before your visit regardless of what country you are coming from to avoid issues and concerns on the date of your travel.
Currency: The official currency in New York is the U.S. dollar or American dollar ($, USD, US$).
You can withdraw currency from ATMs using your local bank card or a designated travel card. If you are visiting from another country, be sure to check any fees and charges from your bank prior to using it and carry a second source of payment/cash in case your primary card gets 'eaten' by an ATM.
Language: English is the primary and most widely spoken language in the USA (although not the official one at the Federal level!). There are 350 other languages spoken, the main ones being Spanish, Chinese, French, and Vietnamese.
WiFi/Internet Access: Depending on your length of stay, you can either purchase a local sim card (in advance or on arrival) – to swap out with the one in your own phone to avoid roaming charges. OR, grab a pay as you go portable Wifi Devices which means you can keep your sim active and connect wirelessly. Just remember to turn off data roaming so you don't incur any hefty charges.
Essential New York Tips for First Time Visitors: The Practical Stuff
The Best Time To Visit New York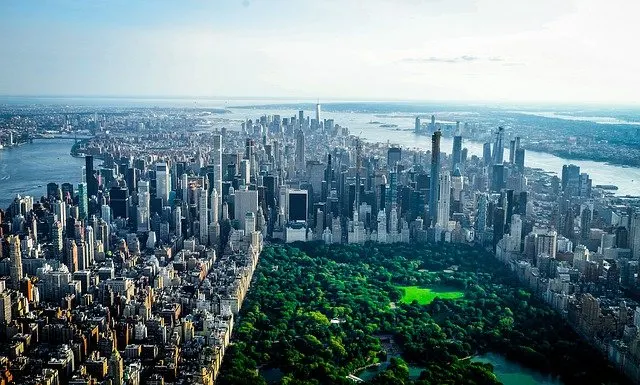 This city literally never sleeps! That said, there's truly no best or worst time to visit New York.
If you are on a budget, try to plan a trip between January and April as it's usually the period that prices tend to be (a little) cheaper. Visiting in winter can also be magical – I mean a snow-covered central park and ice-skating at Rockefeller Plaza, that's all the Home Alone 2 and Elf vibes right there. (And we've got a whole post about the best travel movies if that's your thing!)

If you're planning to travel in summer – or around holiday periods such as the 4th of July – making accommodation reservations 6 months ahead should be helpful for your pocket. And accept that if you are visiting in the summer months, it is likely to be very busy (as it is one of the most-visited places in the USA!)

How to Get To New York from JFK Airport
Generally, the fastest way to get to Manhattan from JFK Airport is by private transfer. Shared transfers via minivan are generally around $20 per person and take about 45-60 minutes. Bus and shuttle transfers cost around $15 per peson but can take anything from 60-120 minutes.
In case of heavy traffic or peak times, your best bet to get from the airport to Manhattan is to take the AirTrain Jamaica Line to Jamaica Station where you can connect to the LIRR (Long Island Rail Road). The LIRR will take you to New York Penn Station at 34th Street which is in midtown Manhattan, and from there you can take the subway into the city.
How To Get Around New York

In terms of transit and public transport, there's actually a lot of ways to get around New York. The main modes of transportation are taxi (known as the famous yellow cab), bus, rail, subway, ferry, bicycle… and walking is generally safe.
It's just a matter of doing your research when deciding which one's best while taking into account your transport budget, your time, your convenience, and most importantly how far off you are from point A to point B.
The subway can be really helpful in helping you get around NYC with subway stations throughout the city. And if you plan to use the subway a lot, be sure to get a subway pass – they're convenient and will help you save a little bit of cash.

For buses, be sure to have a loaded metro card or $2.75 in change for quick boarding; and for them and any other above-ground transportation method (yellow cab, lyft, uber etc) – be sure to factor in an extra 30 minutes onto your journey. New York traffic can be awful (and even worse at rush hour with all the commuters!)
Public WiFi Availability in New York
Free WiFi is actually quite common in NYC. From networks in parks and green spaces such as The High Line, Thompkins Square Park and various points in Central Park, to LinkNYC machines providing hotspots all over the city.
How to Walk on the Sidewalk (seriously)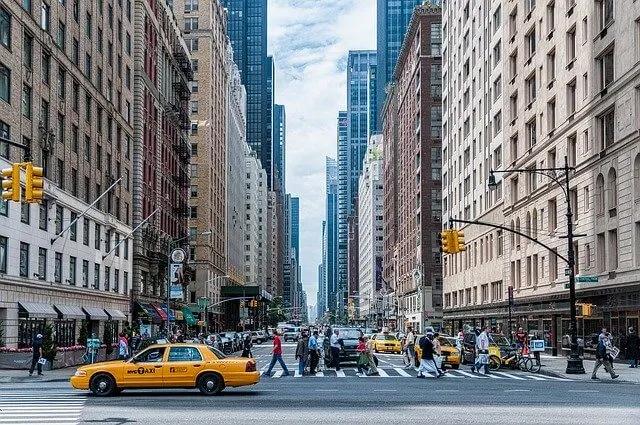 As the majority of New Yorkers make their way around the city on foot, understanding the city's 'sidewalk etiquette' is key to enjoying your first visit to New York.
Unless you too, are high-tailing it down the street like a local would, slow traffic stays to the right and allows space on the left for people to pass. If you want to stop to look at a map / admire the architecture / catch your breath, try to stand near the buildings and out of the way of regular foot traffic. And at all costs, do not stop in the middle of the sidewalk!
Oh, and don't block the cycle path. Cyclists are not your friend and you will experience the epitome of an 'angry New Yorker' if you get in their way!
You Need to Tip


As with most places in America, tipping culture is real and tips are expected in restaurants and bars. While this may sound ridiculous where you come from, in the USA it is legal to pay servers as little as $2 per hour, meaning that practically all of their income is generated from tips.
For restaurants please leave a minimum of 15% (even for terrible service) and at least 20%, and up to 30% where service was good. In bars, tip around $1 per beer or a glass of wine and $2+ for cocktails.
If tipping isn't something you are comfortable with, avoid dining in at restaurants and take advanatge of street food vendors. Ultimately, factoring food tips into your budget is just something you need to accept and make sure you do.
New York City scams to be aware of (and avoid!)
New York has a diverse range of attractions and shows, tours, sightseeing spots, as well as activities and experiences for every type of traveler there is.
There are just too many good things going on in New York that are loved by locals and foreigners alike which has unintentionally attracted scam artists and criminals to prey on unsuspecting tourists. Lucky for you, we're listing some of the most common New York scams below to give you a heads up: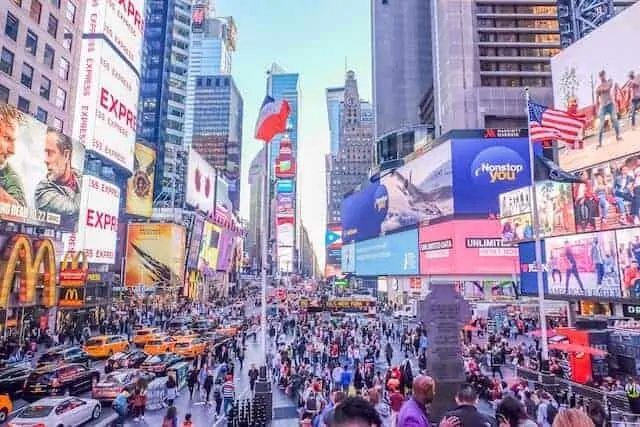 Photos with cartoon characters in Times Square
For several years now, there have been occurrences wherein costumed cartoon characters are found loitering in Times Square. These "superheroes" will often ask travelers to pose with them and take photos in expectation of a service tip. Those who do not get what they want can become confrontational and demanding in public.
Phony tickets for supposedly free attractions
NYC has a lot of museums and attractions. Many of which are free while some others have discounted rates on particular days of the week. Scam artists take advantage of tourists who have no clue of these and sell admission tickets for free attractions. Read our guide to 20+ FREE Things to do in New York so you don't get caught out and take note of the list below for free museum access if they fit into your schedule:
MOMA (The Museum of Modern Art) is free on Fridays from 4–8 PM.
The 9/11 Memorial Museum is free on Tuesdays from 5-8 PM.
Brooklyn Museum is free the first Saturday of every month from 5-11 PM.
The Jewish Museum is free on Saturdays.
Brooklyn Botanic Gardens are free on Tuesdays and Saturdays from 10 AM to noon.
Tourist area restaurant rip-offs
Scams don't just happen in the streets. They could, too, in dining establishments — especially if you don't double-check your receipt transactions. A few years ago, several chain restaurants in New York were discovered adding on mandatory tips and gratuities to their guests' dining bills. Before paying the bill, you should double-check and make sure that you are paying only for what you ordered and what you consumed, and not an extra tip.
Pickpockets
Similar to other countries, cases of pickpockets in subways and on busy sidewalks are not uncommon. The key to avoiding this is mostly common sense such as staying out of less crowded areas during the night, keeping your valuables close to you and in zipped/locked bags (and not an easy target such as a back pocket), and be cautious of people near you at all times.
Top New York Tips for Solo Female Travelers
New York is generally safe for solo female travelers with most safety tips coming down to common sense.
Most of the safety tips below are true for women traveling alone anywhere in the world and are good to keep in mind wherever and wherever you are exploring:
Keep an eye on your belongings (bag/camera/phone etc) and be aware of your surroundings (for example, don't have your head down glued to your phone)
Be cautious and vigilant in busy areas or in crowds.
Be wary of the 'overly helpful' local. The one who approaches you with stories and tips but seems to want nothing in exchange. And don't feel obliged to give them anything.
If a New York subway car is empty at a busy time, it is usually for a reason – and you should avoid it also.
Be mindful of your drinking – that's not to say not to drink, but alcohol lowers your inhibitions and reaction time. And NYC is known for its happy hours and bottomless brunches!
Walk with purpose – it will make you appear more confdent and especially in New York, will help you blend in with the locals.
Stay near the subway – it will allow you to get around the city with ease, and will help you to get your bearings without always having to refer to google maps!
And finally, take note of where the exits are – wherever you are. You know, like you do on a plane. If there is an emergency, or you need to get away quickly, knowing where the exit is can be invaluable.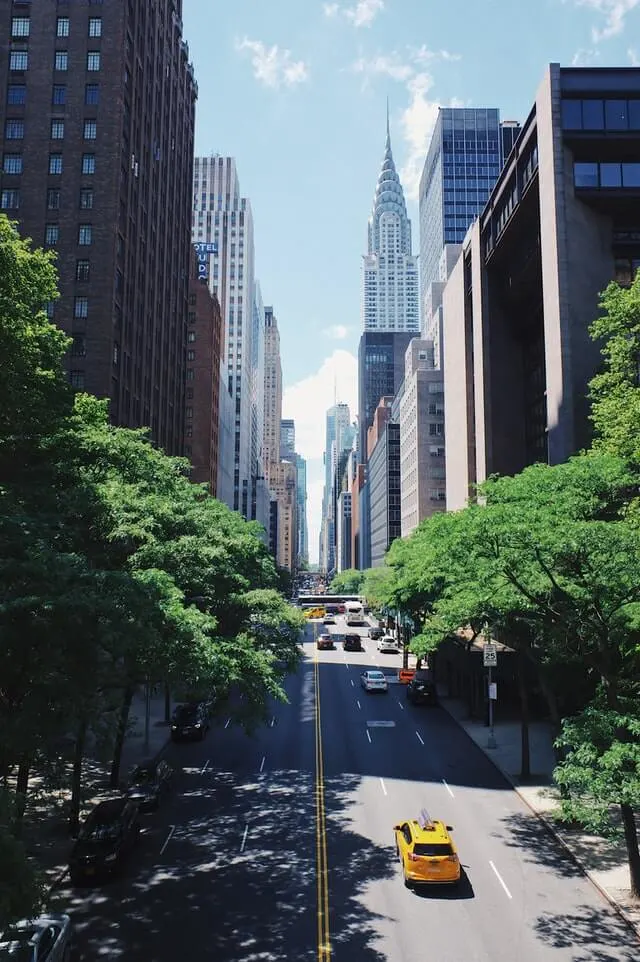 Top New York Tips for Your First Visit: The Fun Stuff
How many days to spend in New York?
With the city containing so much to do and to see, you will barely scratch the surface with a typical four-day or five-day visit, just like any other place you traveled (or will travel) to. We've got a perfect 1 Day in New York Itinerary if you are very short on time though.
The key to exploring the city as a local, regardless if you're in for just a short or a long while, is for you to do activities, check out places, and try food that interests you the most while incorporating things that locals find amazing or truly love. In that way, you're immersing yourself and experiencing New York as comfortably as can be.
Look for Broadway plays to see, districts and restaurants to explore, drinks to try, bookstores to browse, and botanical gardens to wander in. You can fit in an infinite amount of time in New York – it's up to you how long you want to – or can – stay!
Our Top New York Tip for Accommodation: Be Aware of 'Whole Apartment' Vacation Rentals
AirBnB has it's grip on New York, just like many busy cities throughout the world – and while apartment rentals may look like a great idea, they are actually illegal in New York.
The law says you can rent out a room in an apartment (for any amount of time) – but whole apartments are off-limits.
If you see one advertised, it is best to stay away or look at traditional hotels instead – there are plenty of wonderful places to stay in New York, just make sure you're not breaking the law when you pick one!
Where to eat in New York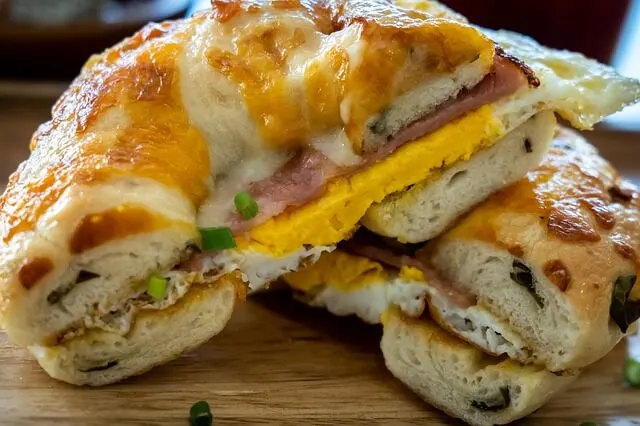 New York City is jam-packed full of out-of-this-world restaurants. So much so that it's almost impossible to eat at every single place in a year. Although we haven't tried everything ourselves, here are some of the bests places to get food in NYC (as recommended (and loved) by the locals themselves):
See The New York Highlights (Top Things to do in NYC)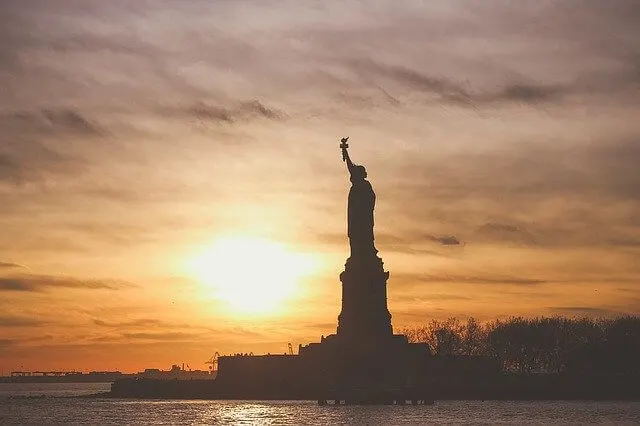 A bit of general advice: do not be intimidated by the big crowds and even bigger buildings. New York can be a friendly and manageable city for visitors where tons of activities, tours, and experiences await you!
The usual top attractions (some say tourist traps, but you are a tourist and there is a reason these are the most popular spots in the city!) are the Statue of Liberty, Top of the Rock (that's the Rockefeller Center for the uninitiated), the Empire State Building, Staten Island Ferry, Time Square, One World Trade Center, Brooklyn Bridge, Grand Central Station, Broadway, the High Line (and soo many more!) Our top things to do in NYC Guide (including some off the beaten path suggestions) is just what you need to help you decide what to include in your itinerary.

If you are traveling on a budget, free walking tours (where you pay what you like) and skip the line tickets are a great way of saving money, and are perfect if you are short on time and want to pack as many attractions in as possible.
Don't Pay Full Price for Broadway Tickets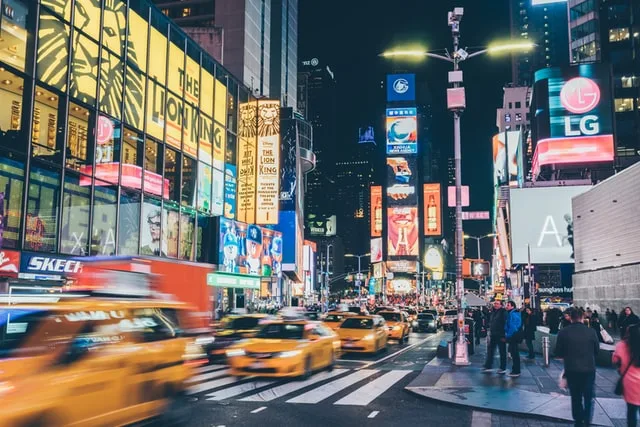 When in New York, make sure to grab your tickets to the most famous shows on Broadway and enjoy a world-renowned theatre experience.

Such amazing shows include The Phantom of the Opera, Wicked, To Kill a Mockingbird, Moulin Rouge! The Musical, The Lion King, Hamilton, and a lot more others! And while going to the theater has never been a 'cheap' activity, you can always get last-minute/discount broadway tickets from the TKTS booths in Time Square, South Street Seaport and the Lincoln Center.

Just be aware that last minute and discount tickets are not available for all shows, every day – and if there is something you really want to see, it's better to book in advance to make sure you get a seat!
Be Sure To Check Out at Least One Museum
NYC boasts of heritage and culture. There's no other special way to learn and discover a wealth of information and artistry from some of the city's most famous museums and exhibits such as The Metropolitan Museum of Art, The Museum of Modern Art, Solomon R. Guggenheim Museum, and 9/11 Memorial and Museum.
Explore an Outer Borough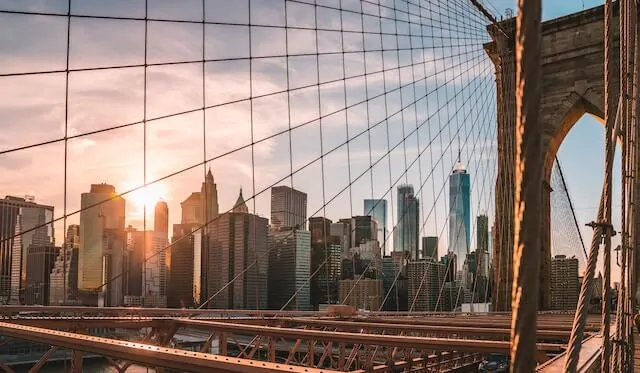 While Manhatten is what most people think of when they hear 'New York' there are actually 5 Boroughs that make up NYC. Manhattan, Queens, Brooklyn, The Bronx and Staten Island. Be sure to explore one of them during your trip to New York.
Queens: the largest of the boroughs, Queens is famous for it's eclectic food scene courtesy of the different ethnic pockets within the area.

New Yorkers regularly make the trek to Flushing for Chinese food, or Astoria for Greek dishes – and if you're a foodie, you should too!

Brooklyn: Famous for Coney Island, the Brooklyn Bridge and Prospect Park, plus some of the best New York pizza in the state.
The Bronx: The least visited of the boroughs thanks to it's poor reputation back in the 80s and 90s – the Bronx is now as safe as other boroughs but hasn't seen the same increase in tourists. Head here to visit the Bronx Zoo, New York Botanical Graden and Yankee Stadium.
Staten Island: If you're in the mood for a day at the beach, a heap of culture and some quirky attractions – look no further than Staten Island!
Where to shop in New York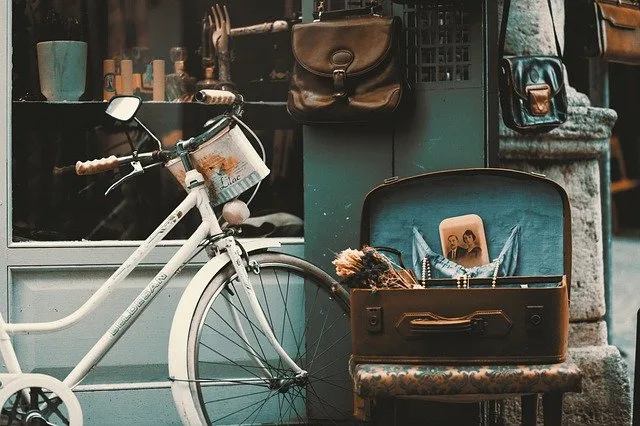 From local Soho boutiques to department stores, high fashion to flea markets, New York is a haven for shoppers – whatever their style.
5th Avenue: The most famous shopping street in New York. Home to luxury brands, high fashion, and some of the most expensive retail spaces in the world.
Department Stores: Macy's, Saks, and Bloomingdales
High Street Fashion: Victoria's Secret, H&M, Zara, Mango, Levis, Gap, and Forever 21.
Flea Markets: Brooklyn Flea! & The Market NYC
Second Hand & Vintage Stores: Vintage Thrift West (west of Greenwich Village), Le Grand Strip (Williamsburg)
That's a wrap, I hope our top ten tips for visiting NYC has got you all excited to explore NYC and this New York City travel guide has given you all you need to know to make it happen. We hope you have a wonderful time in NYC.

And if you know someone who could use these New York travel tips for planning their trip to NYC, be sure to share this article with them on Facebook, Twitter, Flipboard or Pinterest. Sharing is caring and we thank you in advance.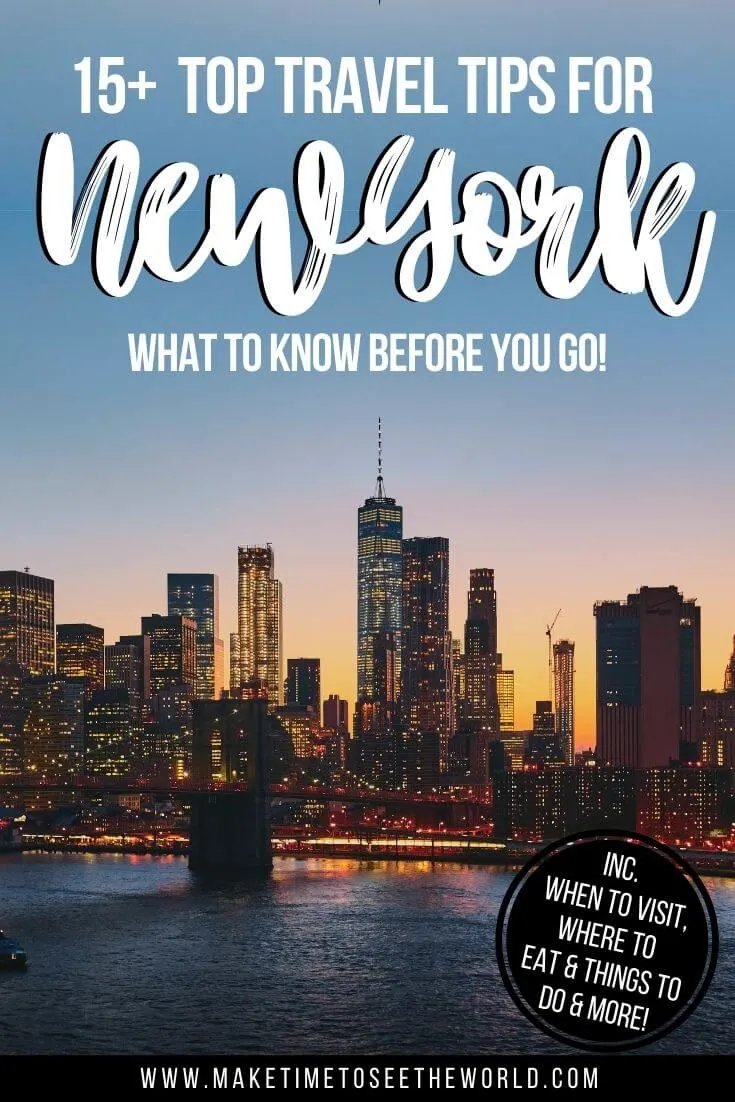 READY MORE USA TRAVEL INSPIRATION? YOU MIGHT BE INTERESTED IN THESE TRAVEL TIPS, TRAVEL ARTICLES, DESTINATION GUIDES, TRAVELER RESOURCES AND RELATED POSTS ABOUT OTHER AMAZING CITIES IN NORTH AMERICA:

Hi There! Thanks for reading our travel guide to the 15+ TOP New York Tips & NYC Tips (Perfect for First-Time Visitors!) I just wanted to let you know that this post contains affiliate links, which means if you purchase something after clicking a link, I may get a small commission – which is at absolutely no cost to you. If you enjoyed this article and are going to be searching for some of the things I mention anyway, I would love it if you could click through from the links above & thank you in advance! Read my full Disclosure here.
And a huge Thank You for reading the MakeTimeToSeeTheWorld travel blog.