Have you ever been to the Mile High City of Denver, Colorado? Colorado is known as a mecca of outdoor adventures and Denver sits right in the middle of it all! With 300+ days of sunshine a year (even in the winter when the snow is on the ground), it is a place that offers something for everyone and there are activities all year round. So whatever time you are visiting, scroll down for our guide to the top Fun Things to do in Denver today (which includes recommendations from a local for where to eat, how to get around & even day trip ideas too!) – and start planning your trip.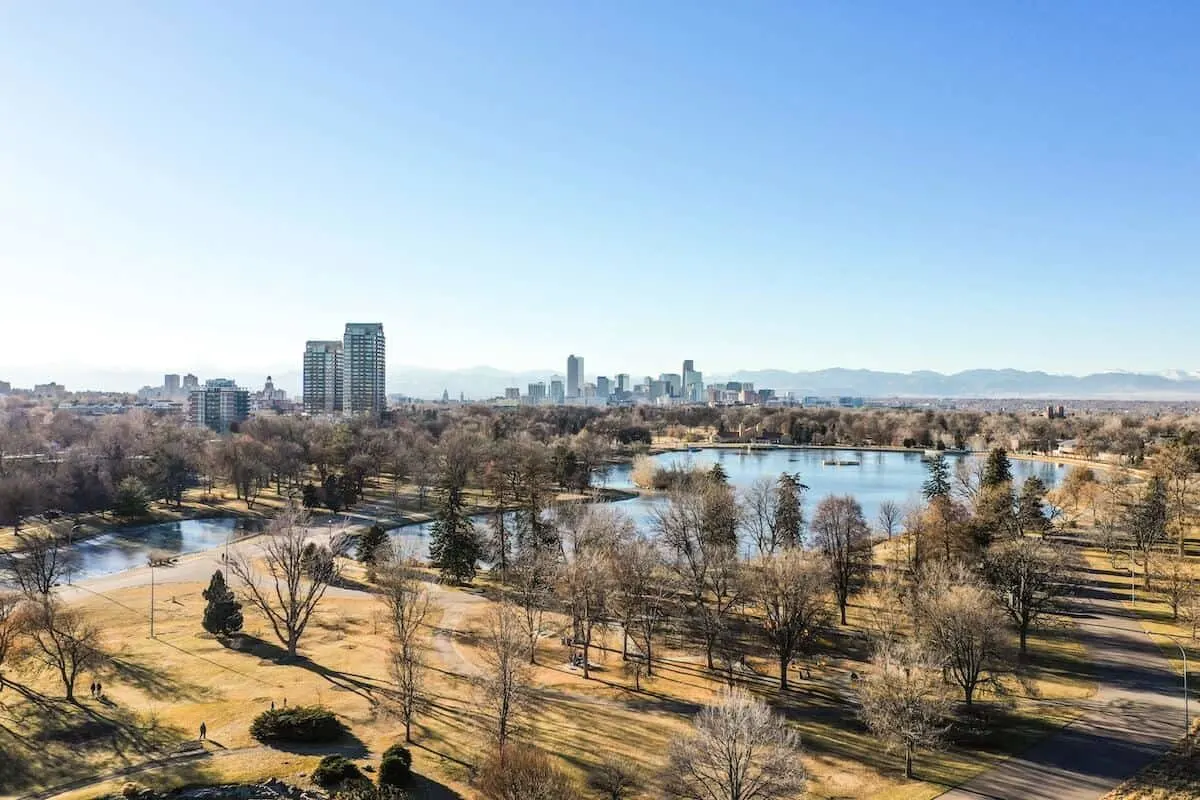 Disclaimer: Almost all posts on this site contain Affiliate links, and this one about the top Fun Things to do in Denver Today is no different. This means that if you click on any of the links in this post (and make a purchase) I may receive a small commission at absolutely no cost to you. Each post is carefully crafted to (hopefully!) answer all your questions and recommendations are made where we believe they will improve your trip and help with your planning. As such we thank you in advance should you decide to click & buy. Read my full Disclosure here.
A Guest Post by Pam Lorg of The Travel Hacking Mom
Essential Denver Travel Tips: What to Know Before you Go
Getting Around Denver
The best way to get around Denver is to rent a car at Denver airport, especially if you plan any excursions outside of the city. There are taxi's, Ubers, and Lyft available also, if you prefer not renting a car. Denver is home to a great light rail system that will take you to many destinations. Go to the Regional Mountain Transportation homepage to learn more about all the transportation opportunities available while you visit Denver.
Where to Eat in Denver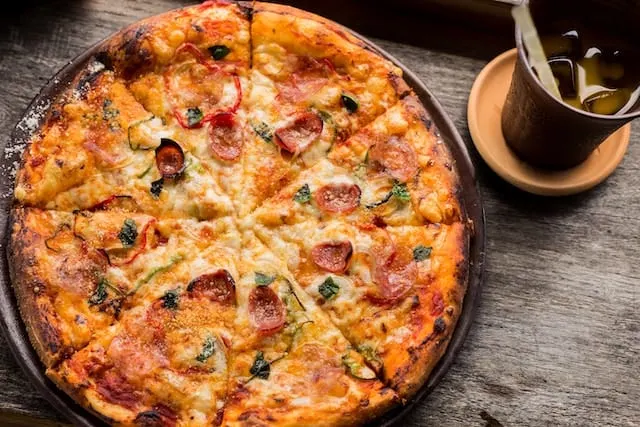 From farm to table restaurants to places that serve rocky mountain oysters (think bull's testicles covered in batter) a well-known Colorado item, you can find it all in Denver. If you're brave, head to Buckhorn Exchange and try some rocky mountain oysters. Don't worry though, it is also one of Denver's oldest steakhouses so you can find a lot of other options too!
Want pizza? Marco's Coal Fired on Larimer St. is the place to go. Neopolitan style pizza with fresh ingredients cooked to perfection in coal fired ovens is what you will find there along with wings, salads and sandwiches. But order the pizza – it's amazing!
Root Down is a farm to table restaurant that serves fresh vegetables from its gardens. It also serves vegan and gluten free food making it a delicious and healthy option for everyone.
Not sure where to go? Sample a little of everything on a Denver Gastronomy Food Tour! From food to beverages, you can eat and drink your way through the tastiest options that Denver has to offer and learn a little more about the city!
10+ Fun Things to do in Denver Today
Union Station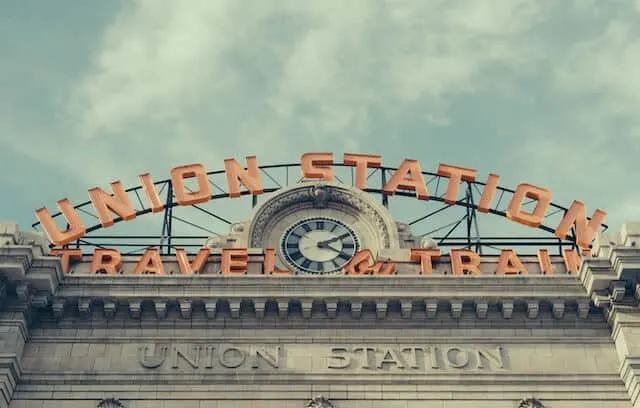 Located in the heart of downtown Denver is Union Station, a completely renovated old train station. It is now the hub of the light rail system that connects the city but also boasts trendy restaurants and boutique shops. It contains one of my favorite breakfasts spots, Snooze, which serves a twist on the traditional breakfast – I just love it!
If you are looking for a unique and luxurious place to stay while in Denver, then try out The Crawford Hotel, situated within Denvers Union Station itself! It is a 5 star luxury hotel, so, yes it is pricey, but it offers benefits like as the use of an e-bike for each guest and daily treats from some of Union Station's restaurants including, ice cream, coffee, and craft beer. You also get discounts at Denvers restaurants and stores in the station to offset the price of the hotel.
As one of the best hotels in Denver, and in keeping with tradition it offers Pullman guest rooms, reminiscent of old time train travel – how fun is that? Depending on your dates, there are some rooms in the low $200's for two people.
Denver Zoo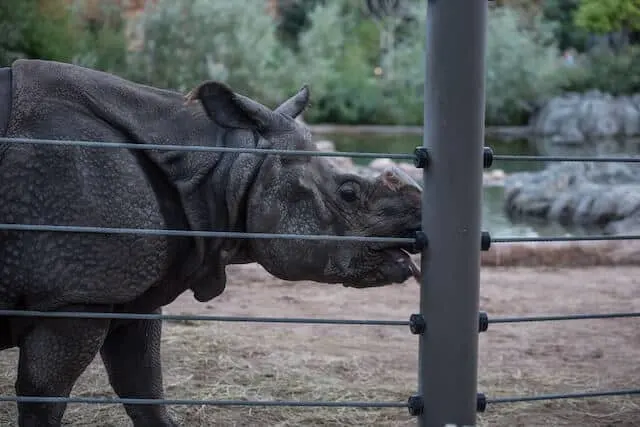 In my opinion, Denver is home to one of the best zoos in the nation. It covers 80 acres so there is plenty to see. Lions and tigers and bears, oh my! And so much more to see, including rhinos, giraffes, elephants. and sea lions. The natural enclosures make it feel like you are seeing them in a more natural setting.
There are daily shows available with different animals and you can check out the schedule for each day here. If you want to spend a little more, you can even book an animal encounter and get up close and personal with several animals. Plan to spend 2-4 hours to really see the zoo. In 2020 the cost is $20 for adults and $14 for children ages 3-11.
*Bonus* – if you simply love seeing the animals, or the rain decides to intrude on your vacation(!) – the Denver Downtown Aquarium is a great indoor activity for adults and kids alike.
Denver Botanic Gardens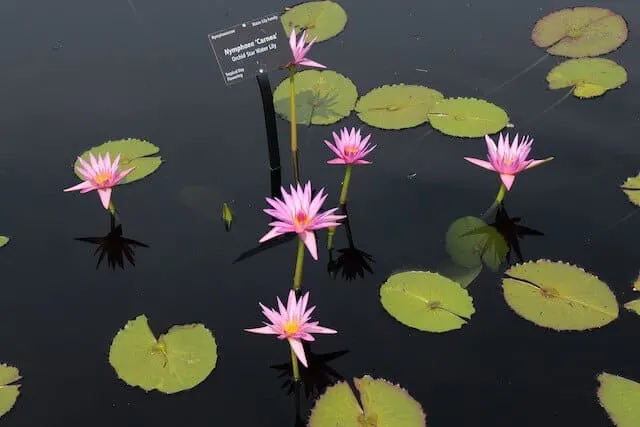 Plant lovers flock to the Denver Botanic Gardens where plants from all over the world are on display. Bonsai, ornamental gardens, water lilies and a world of flowers and trees are all here. They are illuminated differently for each season so it never gets boring. Spanning 24 acres, there is something new to see every time one visits.
Additionally, many activities are offered here including Glow in the Dark in the fall, concerts in summer and Blossoms of Light during the holiday season. You can even go to there for Sunrise Vinyasa Yoga if you want a unique experience. Take an Uber from central Denver and enjoy the beauty the Denver Botanic Gardens offers. Cost of admission is $12.50 for adults and $9.50 for children ages 3-15.
16th St Mall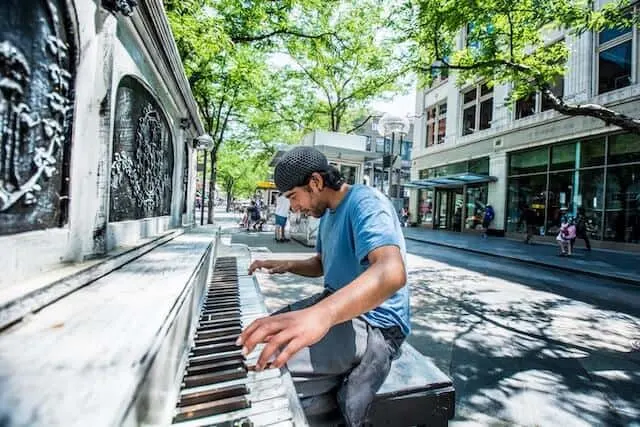 Love shopping? The 16th St. Mall of Denver is a perfect place to meet that urge. Closed to traffic, the pedestrian-only area is such a fun place to shop. It is located right in the heart of Denver and there are lots of restaurants and shopping. Fancy playing the piano? Sit down on one of the colorful pianos located in the center of the street.
A free hop on, hop off bus will get you around the area or you can grab an e-bike and pay for a quick ride through the downtown area. I think it one of the best places to people watch all the diverse people of Denver!
Red Rocks Park and Amphitheater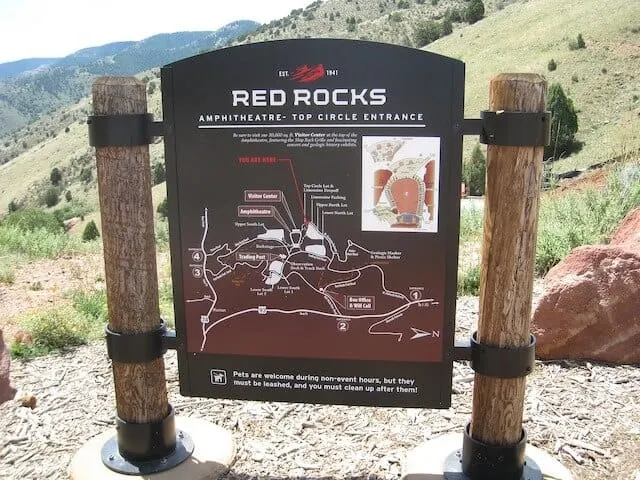 A naturally formed, open air amphitheater, the Red Rocks Park and Amphitheater is the place to watch a concert! At 6,450 ft. above sea level and with "walls" of the amphitheater being sandstone ledges made by Mother Earth, it is one of the most unique music venues in the world. No matter what your favorite genre of music is, you will be awestruck as you listen under the stars and among the red rocks. It is stunningly beautiful and worth a visit even if there is not a concert playing.
The Red Rock Amphitheater Acoustics are astounding from every area in the amphitheater and it will be a night to remember if you can go to a concert there. For a schedule of concerts go here. There is no cost to go, check it out if there is not a scheduled concert or before 2:00pm if there is a concert.
Take a Beer Tour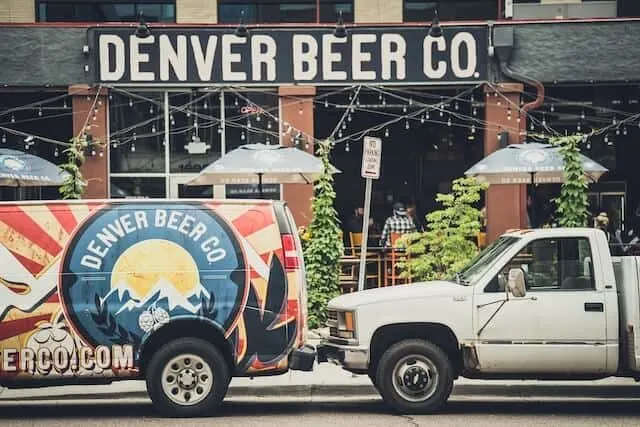 Home to more than 148+ breweries in Denver alone, the local brewery scene is a major draw in Denver. If you are a beer lover, you have to take a Denver beer tour – which – coincidentally – is also one of the most popular things to do in Denver! If you plan your trip right, you can also attend the Great American Beer Festival which is usually held in the fall. It is a three day event where one can sample thousands of beers.
*Editors Note* If you are more of a fan of wine than beer (like me!), never fear as The Infinite Monkey Theorem Urban Winery is operated out of the back alleys of Denver, delivers wine in a can and has refreshing philosophy that you won't find in traditional vineyard wineries around the country. Cheers!
Take in a Broadway Show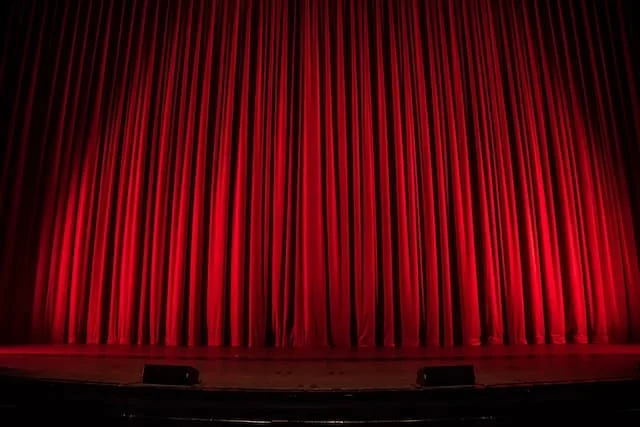 The Denver Center for Performing Arts has a well balanced schedule of shows shown on Broadway. National tours from the most popular shows play here and the talent Is phenomenal. Located in a convenient area of downtown Denver with a parking garage attached, it is easy to get to. The schedule of shows is extremely varied and includes musicals and dramas. Take a taxi or Uber from your hotel and hop on a pedicab for a fun ride back! You can find one waiting after the show to take you back to your hotel for a small fee.
Hang Out at a Ball Game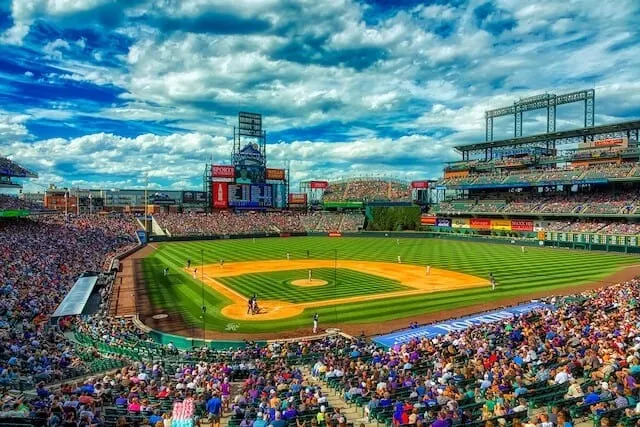 Denver is home to the Colorado Rockies baseball team, the Denver Broncos football team, the Colorado Nuggets basketball team, and the Colorado Avalanche hockey team. It is a mecca for sports lovers and you can usually find a game to go to when you visit Denver. Coors Field, the Pepsi Center and Mile High Stadium are fantastic venues and you will enjoy your seats, the food, and the excitement of whatever sport you attend.
And for the serious sports fans among you, you can't miss the Colorado Sports Hall of Fame at the home of the Denver Broncos, the Mile High Stadium. Discover Empower Field, The Museum and the Hall of Fame itself as you get to see a glimpse behind-the-scenes at one of America's favorite stadiums.
Head to Larimer Square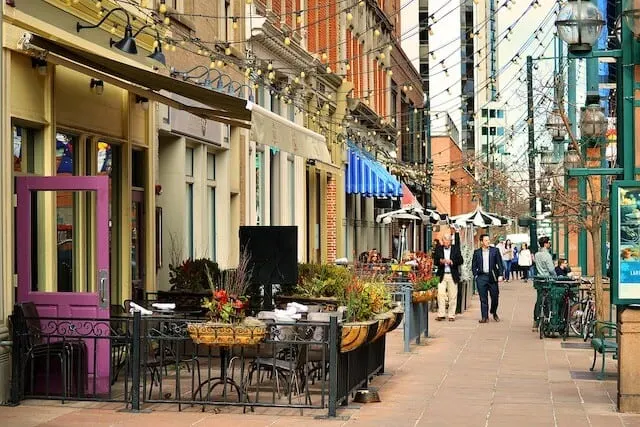 Larimer Square is the most historic part of Denver. It is home to many great restaurants and cute shops to wander through and buy. Check out the historic buildings in the area and look up to see some gargoyles.
Capitol Grill is a great place to grab a good dinner. It's a little pricey but amazing. Walk around after dinner and enjoy the lights. If you are looking for cheaper eats, head to Biker Jim's Gourmet Dogs, voted one of the top 10 places to get a hot dog. They aren't your usual Costco dog though, these are seriously doctored up and nothing like you've had before.
Denver Art Museum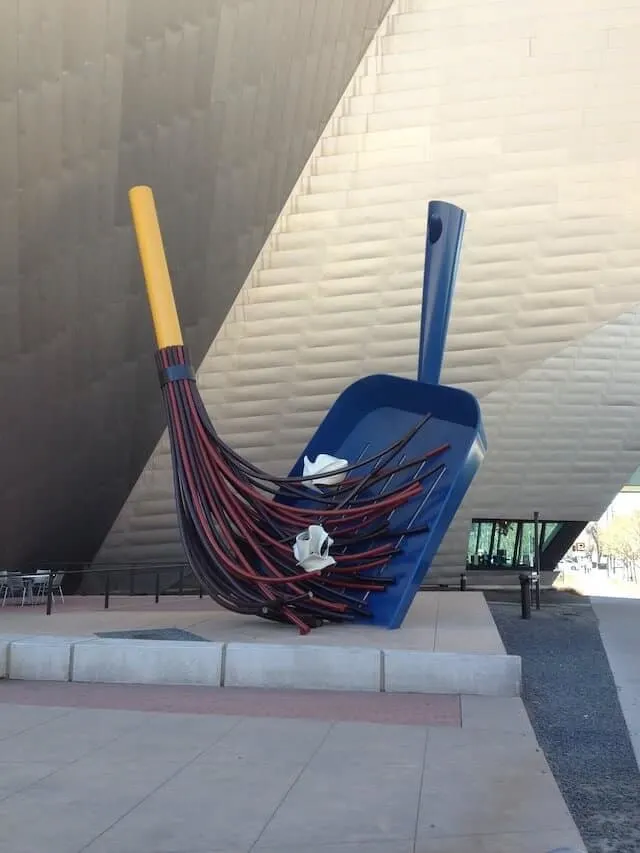 I think a visit to any major downtown city should include a museum visit. I love to wander around museums and spend some time educating myself. This Denver museum has a great variety of exhibits and also always has an activity for children. There is a lot of Native American art and they continually bring in other collections like a recent British collection and a Monet collection that is coming soon. The building itself is a work of art and admission is free on the first Saturday of the month. The cost is $10 for residents, $13 for nonresidents with children 16 and younger being free.
RELATED –
If you love museums and make a habit of visiting several whilst in a city, make sure you invest in the
Denver Mile High Culture Pass
. With access to 7 different Denver museums within a 72 hour period, you'll be cultured out in no time!
(
The Denver Mile High Culture
pass includes the Clyfford Still Museum, Denver Art Museum, Denver Botanic Gardens, Denver Museum of Nature & Science, History Colorado Center, Kirkland Museum of Fine & Decorative Art, and the Molly Brown House Museum)
Day Trips from Denver
Rocky Mountain National Park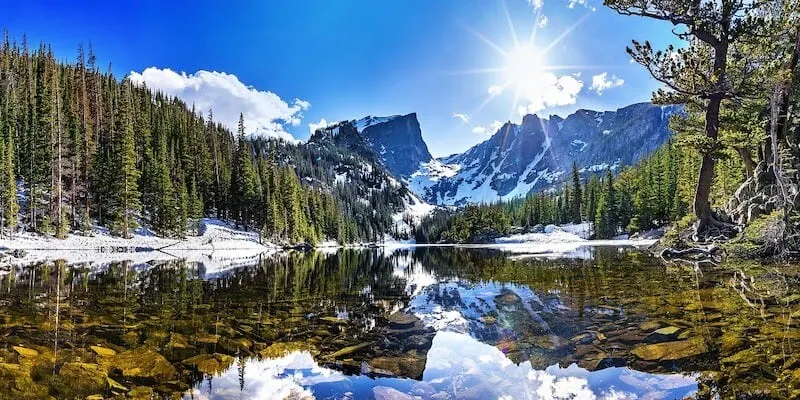 You can't come to Denver and not take time to drive up to majestic Rocky Mountain National Park and the cute town of Estes Park adjacent to it. My favorite thing to do is go grab a yummy sandwich at The Country Market and Deli and head up to the mountain parks for a hike and to take in the fresh rockies air!
A hike for all ages is the Glacier Gorge Trailhead hike that is about 2.8 miles long. There are many other hiking trails that take off from this area too. If you are here at the right time of year, you might spot an elk or hear them bugling. The cost of entry to the park is $35 per vehicle for a 7 day pass.
Ski Colorado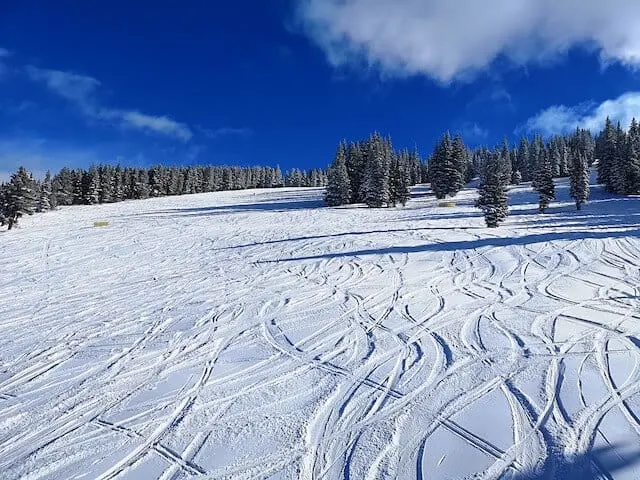 Colorado beckons skiers and snowboarders during the winter. Plan your trip to Denver at that time, bring your gear, and you can head to Keystone Resort, Winter Park Resort or Arapahoe Basin Resort.
Breckinridge and Vail are about two hours away but are also possible on a day trip from Denver. Nothing like blue skies and dry powder when you are out enjoying winter sports and Colorado often offers both.
Cheyenne Rodeo

Cheyenne, Wyoming is located only 2 hours from Denver. If you are visiting Denver in the summer, plan to come in in July and take a day trip to one of the biggest rodeos in the world. Cheyenne Frontier Days offers not only a great rodeo, but you can also go on midway rides, see outstanding musical performers at night and eat a ton of carnival food! Grab a cowboy hat and enjoy all the excitement that Frontier Days has to offer for 10 days each summer. It is worth planning your trip around!
There is so much more to do in and around Denver. Denver is a huge metropolitan area that offers something for everyone. Whatever you decide to do in the Denver area, enjoy the mountains, enjoy the sunshine and enjoy the laid back outdoor vibe that is Colorado!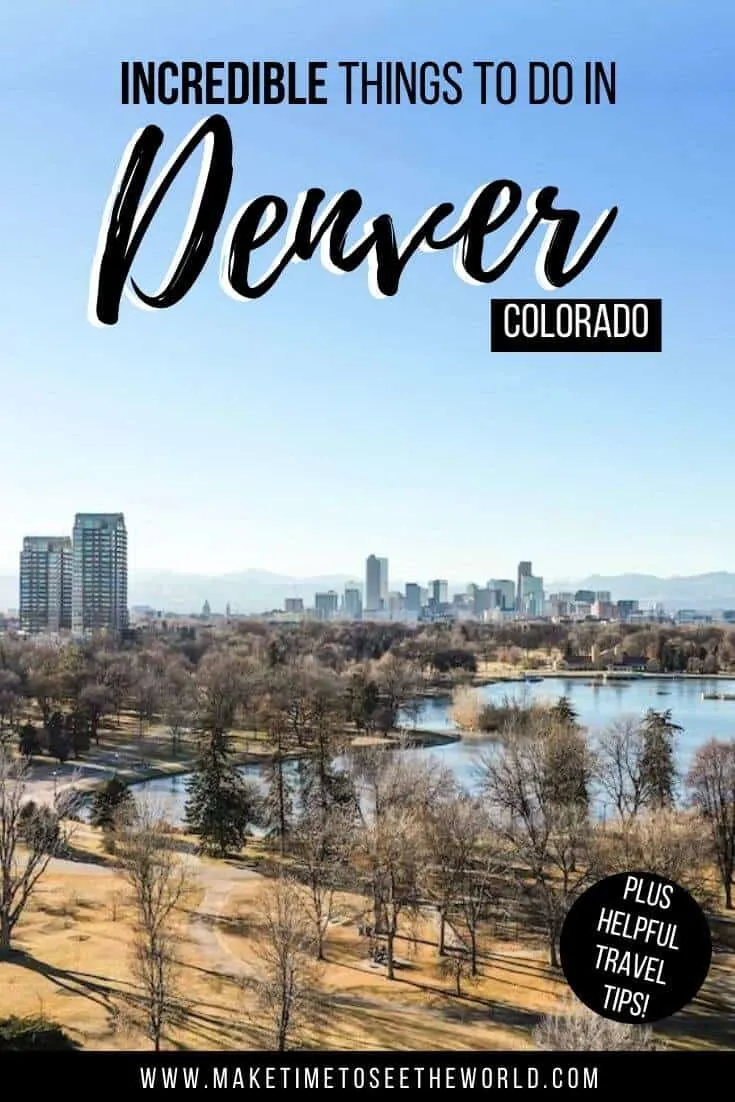 READY MORE USA TRAVEL INSPIRATION? YOU MIGHT BE INTERESTED IN THESE TRAVEL TIPS, TRAVEL ARTICLES, DESTINATION GUIDES, TRAVELER RESOURCES AND RELATED POSTS ABOUT OTHER AMAZING CITIES IN NORTH AMERICA:
Hi There! Thanks for reading our guide to the most FUN Things to do in Denver Today (inc. Handy Travel Guide!) I just wanted to let you know that this post contains affiliate links, which means if you purchase something after clicking a link, I may get a small commission – which is at absolutely no cost to you. If you enjoyed this article and are going to be searching for some of the things I mention anyway, I would love it if you could click through from the links above & thank you in advance! Read my full Disclosure here.
And a huge Thank You for reading the MakeTimeToSeeTheWorld travel blog.