Famous for its breathtaking natural landscapes and abundance of wildlife, Colorado is a popular camping location that boasts high plains, river canyons, and the iconic Rocky Mountains. The winter months offer a wonderful opportunity to see this mountain state when there are fewer crowds. If you're looking for the best winter camping Colorado spots, then this post is for you.
This article will give you some recommendations on the best campgrounds and backpacking spots in Colorado state, as well as some useful packing tips for winter camping. Just be sure to pack along a sleeping bag that will keep you warm as you discover these magical winter campsites.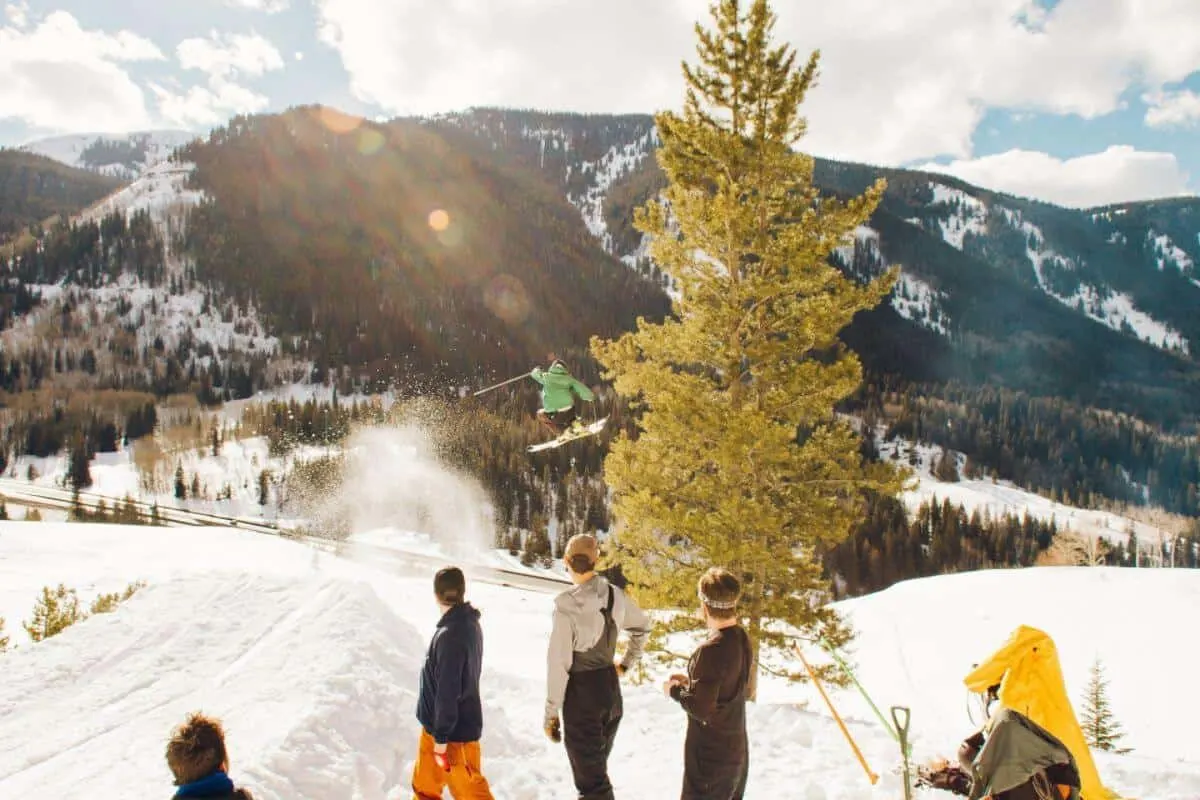 Disclaimer: Almost all posts on this site contain affiliate links, and this one about The Best Winter Camping Spots Colorado – Campground Sites & Tips is no different. This means that if you click on any of the links in this post (and make a purchase) I may receive a small commission at absolutely no cost to you. Each post is carefully crafted to (hopefully!) answer all your questions and recommendations are made where we believe they will improve your trip and help with your planning. As such we thank you in advance should you decide to click & buy. Read my full Disclosure here.

GENERAL TRAVEL INFO FOR VISITORS TO THE USA
Visa: Travelers from countries that are members of the Visa Waiver Program (ESTA) do not require a visa when visiting the USA. However, it is recommended to check up-to-date visa entry requirements before your visit regardless of what country you are coming from to avoid issues and concerns on the date of your travel.
Currency: The official currency in Colorado is the U.S. dollar or American dollar ($, USD, US$).
You can withdraw currency from ATMs using your local bank card or a designated travel card. If you are visiting from another country, be sure to check any fees and charges from your bank prior to using it and carry a second source of payment/cash in case your primary card gets 'eaten' by an ATM.
Language: English is the primary and most widely spoken language in the USA (although not the official one at the Federal level!) There are 350 other languages spoken, the main ones being Spanish, Chinese, French, and Vietnamese.
WiFi/Internet Access: Depending on your length of stay, you can either purchase a local sim card (in advance or on arrival) – to swap out with the one in your own phone to avoid roaming charges. OR, grab a pay as you go portable Wifi Devices which means you can keep your sim active and connect wirelessly. Just remember to turn off data roaming so you don't incur any hefty charges.
Winter Camping in Colorado | Packing Tips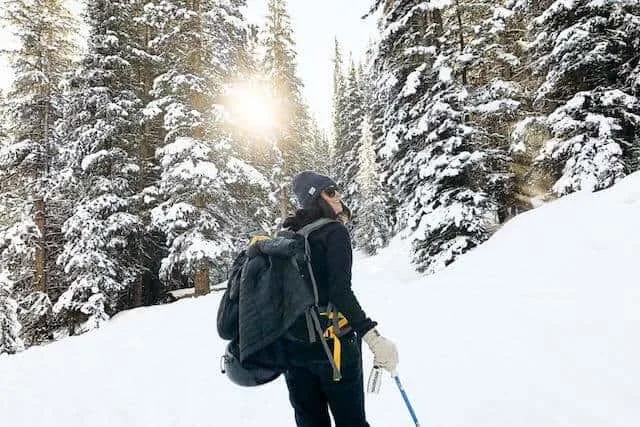 When it comes to Colorado winter camping, packing the right equipment is an essential part of the preparation for your trip. You'll want to make sure you're ready to brave the cold weather and potentially deal with snowfall in the evenings.
While the days can be sunny and bright, there's still going to be a chill in the air during winter. And, of course, the temperatures drop dramatically at night – when staying warm will be your number one priority. Read on for a list of some essential camping gear and outdoor gear to take with you to Colorado this winter.
Tent – a high-quality, durable camping tent is crucial for any winter camping trip
Snowshoes – walking in the snow is much easier with the right pair of snowshoes
Goggles – to help shield your eyes from wind (ski googles do the job too!)
Firestarter kit – this will save you time and energy when you prepare fires at night
Lanterns – to see in the dark when setting up your equipment
Reflective blanket – for extra warmth on cold nights
Vaseline – cold weather will do a number on your lips, so keeping them hydrated is critical
Sleeping bag liner – sleeping bags alone might not provide enough insulation and warmth, which is why you'll need a sleeping bag liner to keep you toasty at night
Extra food & snacks – hungry and cold is never a good combination
These are only a few of the essential items you'll need if you're planning to go winter backpacking in Colorado. Of course, you'll also need warm clothing (and an extra layer of clothes), socks (bring extra socks – wet socks are the worst!), thermal underwear, gloves, a down jacket, a beanie, and a windbreaker to brave the cold temperature.
Colorado Winter Camping Spots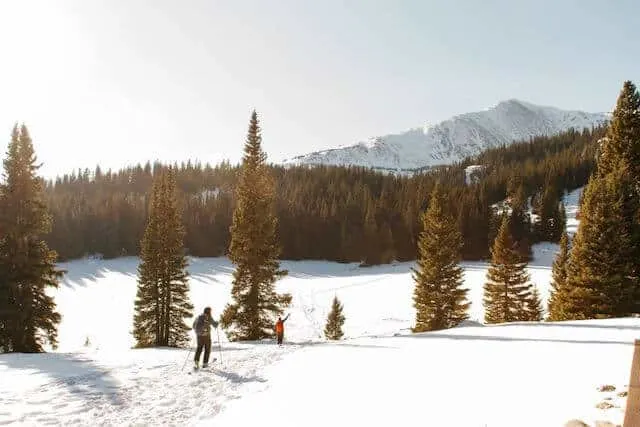 Now that you have an idea of what to pack, it's time to decide where in Colorado you want to go camping in the winter. There are plenty of incredible places for backpacking and camping, and we've outlined some of the best of them below.
These spots each have their own campgrounds and winter activities, and some of which offer year-round camping in Colorado.
Rocky Mountain National Park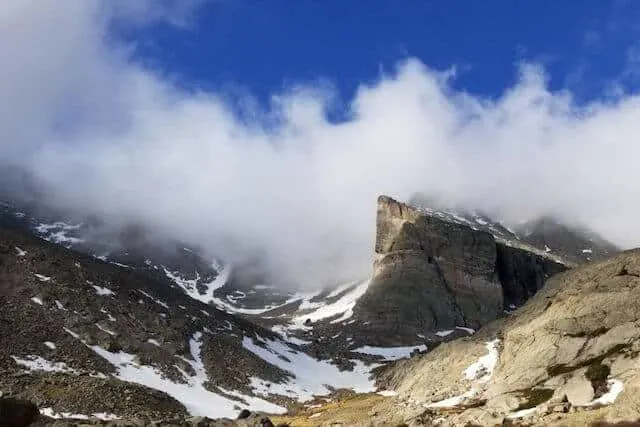 Rocky Mountain National Park is one of America's most well-known parks. Located in northern Colorado, the park boasts 415 square miles of spectacular mountains, rivers, and alpine forests just waiting to be explored.
You can set up camp at the Moraine Park Campground which is open year-round. You'll pay $20 per night and the campsites operate on a first come, first served basis. This campground offers stunning views of the surrounding mountains.
Rocky Mountain National Park has a range of fun winter recreational activities for you to enjoy, including snowshoeing, cross country skiing, sledding, and more. You can even spot incredible wildlife like elk, bobcats, deer, marmots, moose, and pika.
This state park is a great spot to visit for fall camping in Colorado. The autumnal colors of the forest look simply spectacular and the crowds are fewer around these months.
Steamboat Lake State Park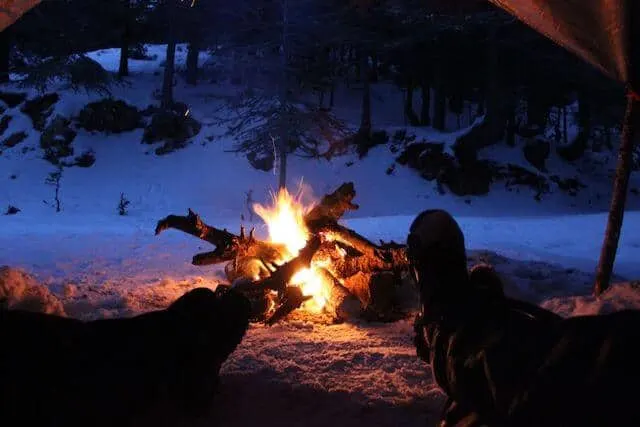 This magnificent 2820-acre park is one of the finest winter park gems in Colorado, where you can enjoy backcountry camping, cross-country skiing, ice fishing, snowshoeing, and more. There are campgrounds available for both recreational vehicles and tents, but keep in mind that you need to make reservations ahead of time.
A basic campsite in winter costs $16 per night, while an electrical hook-up campsite costs $24 a night. Steamboat Lake sees over 300 inches of snowfall every year, so you'll be greeted by an impressive winter wonderland on your camping trip to this vast state park, and is perfect for some backcountry skiing if that's your thing.
Colorado National Monument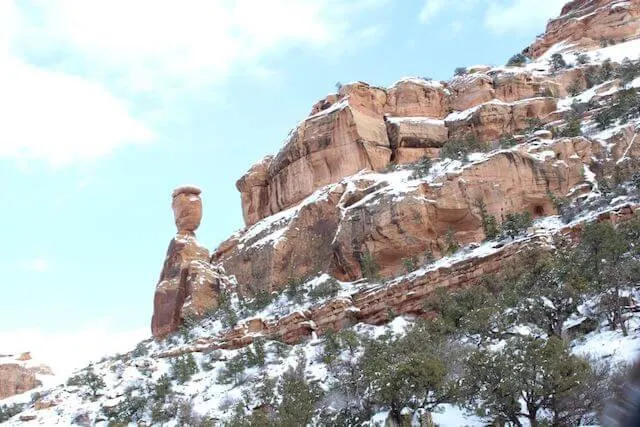 On the western edge of Colorado state, you'll find the Colorado National Monument, a national park service that preserves one of the greatest landscapes in America. Granite rock formations and sandstone canyons will take your breath away in the winter, not to mention the beautiful snow-capped hills in the distance.
You can stay at the Saddlehorn Campground for camping in winter, an 80-site area that is also open year-round. The cost per site is $22 but keep in mind that there is an entrance fee to visit the monument as well, which costs around $11 per person.
Dinosaur National Monument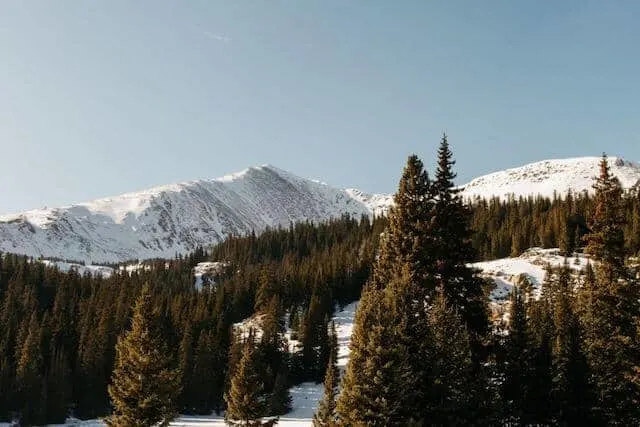 Situated on the border between Colorado and Utah, Dinosaur National Monument is the perfect spot for scenic winter camping. The canyon backcountry offers an abundance of opportunities for hiking and exploring, and stargazing here at night is simply breathtaking. You can also visit the Quarry Exhibit Hall to see fascinating displays of ancient dinosaur fossils.
There are three campgrounds at the Dinosaur National Monument for you to choose from. These are Echo Park, the Gates of Lodore, and Deerlodge Park. All three of these campgrounds are open year-round as long as the weather permits dirt-road access.
The camping sites also accommodate both trucks and tents, in case you're planning on winter car camping in Colorado.
Enjoy the Best of Colorado's Winter Campgrounds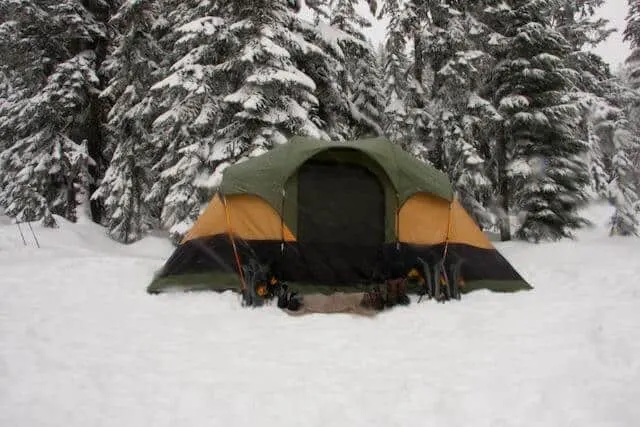 Colorado is filled with intriguing camping spots for you to try out in the winter months. Hopefully, you get the chance to see each one of the fantastic Colorado campgrounds on this list. Whether you're fly fishing or snowshoeing in Rocky Mountain National Park or ice fishing at Steamboat Lake, the state has so much to offer, even in the coldest months of the year.
Don't forget to pack all of your warmest travel gear for your winter camping trip to Colorado. Enjoy the vast, snow-covered landscapes and have an excellent winter adventure in the enticing mountain state!
We hope this guide to the best winter camping colorado – campgrounds, campsites & tips has been a huge help planning your trip, and if you know of anyone else that needs a little bit of inspiration or assistance in planning their Colorado winter getaway, please be sure to share on social media: Facebook, Flipboard, Twitter or grab one of the images from below for Pinterest. And remember – sharing is charing (and we thank you in advance!)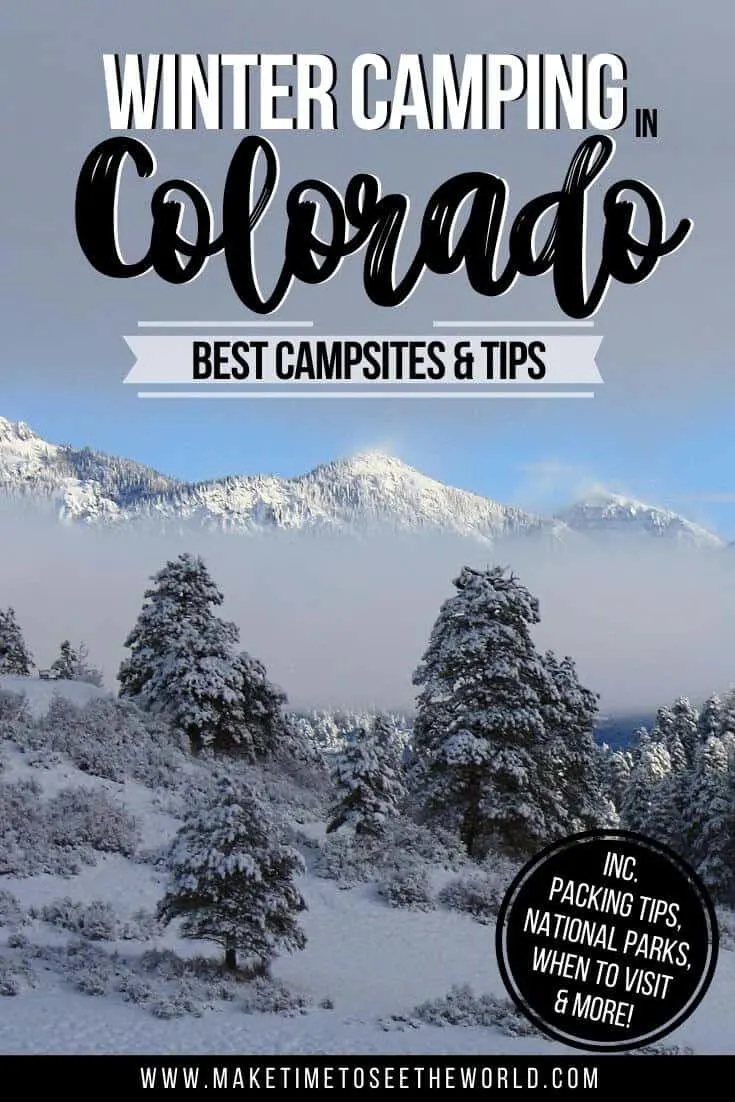 READY FOR MORE USA TRAVEL INSPIRATION? YOU MIGHT BE INTERESTED IN THESE TRAVEL TIPS, TRAVEL ARTICLES, DESTINATION GUIDES, TRAVELER RESOURCES AND RELATED POSTS ABOUT OTHER AMAZING CITIES IN NORTH AMERICA:

Hi There! Thanks for reading our travel guide to Best Winter Camping Colorado – Campsites, Campgrounds & Tips. I just wanted to let you know that this post contains affiliate links, which means if you purchase something after clicking a link, I may get a small commission – which is at absolutely no cost to you. If you enjoyed this article and are going to be searching for some of the things I mention anyway, I would love it if you could click through from the links above & thank you in advance! Read my full Disclosure here.
And a huge Thank You for reading the MakeTimeToSeeTheWorld travel blog.