Miami remains one of the trendiest and most-visited cities in the United States. With its diverse cultural influence and rich heritage, it is home to the largest Latin American population in the world outside of Latin America and has a rich Cuban history that dates back to the 1960s.
While you may think that the beaches in Miami are its main drawing point, there's actually so much more to do. And a fun fact for you: Miami is home to the very first Burger King!
Regardless of what kind of experience you want to have in Miami, it'll have something that is to your liking. To help you plan out your visit to this lively city, everything you need to know will be included in this Miami Travel Guide. We're talking about how to get around, where (and what) to eat, day trip ideas, and the most fun things to do in Miami for adults (perfect for first-timers!) Get started planning your next – or first – Miami adventure right here!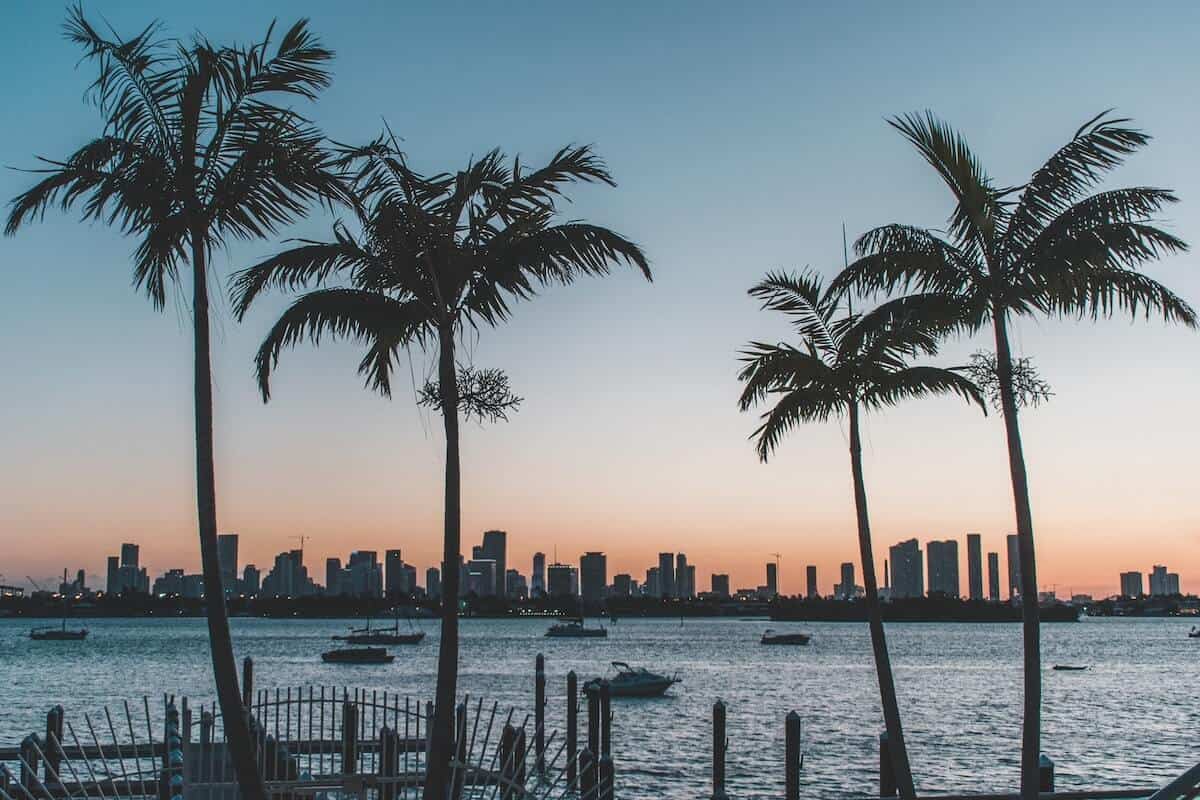 Disclaimer: Almost all posts on this site contain affiliate links, and this one about 20+ FUN Things to do in Miami Florida (Perfect for first-time visitors) is no different. This means that if you click on any of the links in this post (and make a purchase) I may receive a small commission at absolutely no cost to you. Each post is carefully crafted to (hopefully!) answer all your questions and recommendations are made where we believe they will improve your trip and help with your planning. As such we thank you in advance should you decide to click & buy. Read my full Disclosure here.
GENERAL TRAVEL INFO FOR VISITORS TO THE USA
Visa: Travelers from countries that are members of the Visa Waiver Program (ESTA) do not require a visa when visiting the USA. However, it is recommended to check up-to-date visa entry requirements before your visit regardless of what country you are coming from to avoid issues and concerns on the date of your travel.
Currency: The official currency in Miami Florida is the U.S. dollar or American dollar ($, USD, US$).
You can withdraw currency from ATMs using your local bank card or a designated travel card. If you are visiting from another country, be sure to check any fees and charges from your bank prior to using it and carry a second source of payment/cash in case your primary card gets 'eaten' by an ATM.
Language: English is the primary and most widely spoken language in the USA (although not the official one at the Federal level!) There are 350 other languages spoken, the main ones being Spanish, Chinese, French, and Vietnamese.
WiFi/Internet Access: Depending on your length of stay, you can either purchase a local sim card (in advance or on arrival) – to swap out with the one in your own phone to avoid roaming charges. OR, grab a pay as you go portable Wifi Devices which means you can keep your sim active and connect wirelessly. Just remember to turn off data roaming so you don't incur any hefty charges.
Essential Miami Travel Tips: What to Know Before you Go
Getting Around Miami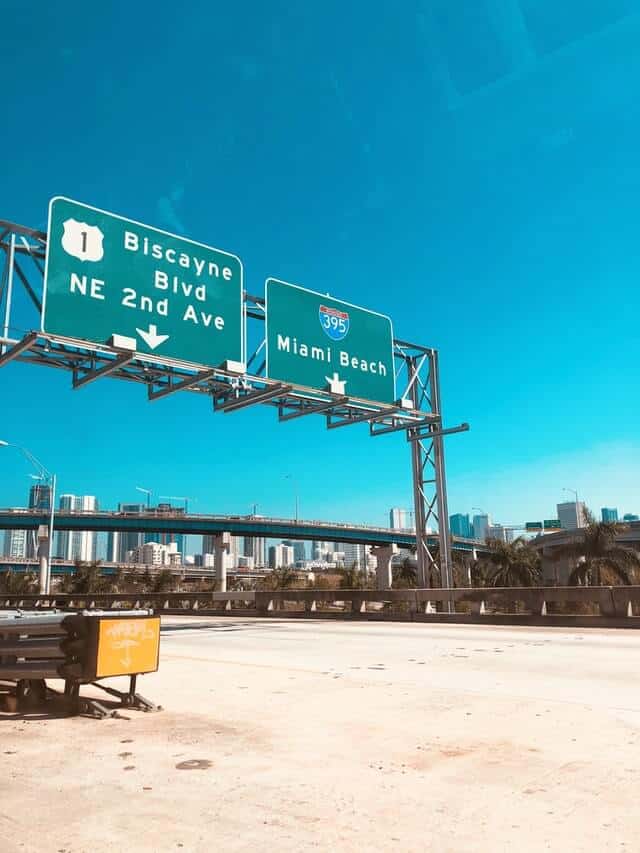 It's known that the traffic in Miami is one of the worst in the United States — so it could be worth skipping the car rental, particularly if you'll be staying in the downtown area or around Miami Beach. The great thing is, public transport is easily accessible and convenient in Miami, so you won't have to worry about getting lost. The popular tourist destinations like South Beach are also pedestrian-friendly, and you can also rent bicycles and segways to get around.
You can get anywhere you need to on Miami's Metrobus, which covers 95 routes throughout the county. That, or the above-ground Metrorail which covers the more populated areas, and the Metromover, a free service that covers in and around the downtown area. There are also free trolley services between popular areas that connect with the Metrobus and Metrorail, which can be a great option for traveling to events where parking is harder to find.
Uber and Lyft are also great options for ride-sharing, especially if you'll be heading somewhere where parking will be difficult (and expensive).
RELATED: See our 15 Top Tips for Visiting Miami on a Budget.
Where to Eat in Miami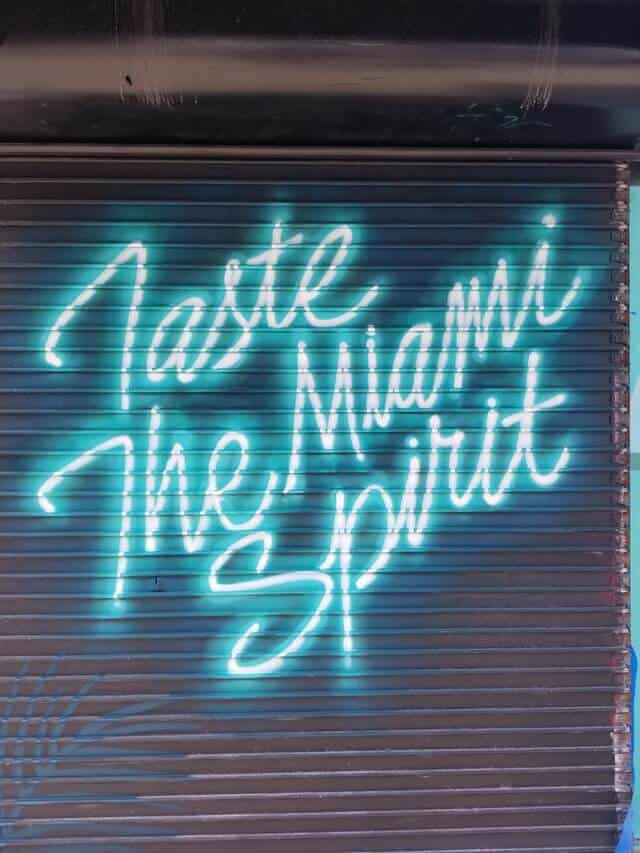 Miami's culinary scene is a combination of tourist-approved eateries, local favorites, and chef-run establishments. And whether you're looking for something with an expensive tasting menu or looking for some delicious Cuban food in Little Havana, or even looking for a family-run spot, you can find it in Miami. Here are some of our favorites:
Where to Stay in Miami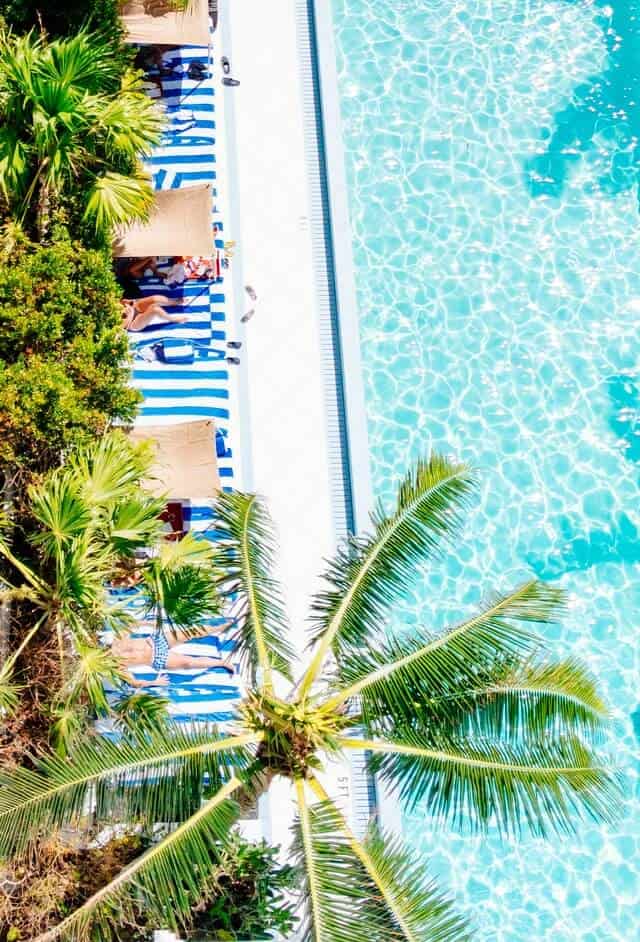 Miami is so large that you've got plenty of options. If you want the metropolitan vibe, stay in downtown Miami. Interested in being immersed in the Cuban culture? Stay in Little Havana. Or if you want to be in the heart of the action and right on the beach, South Beach is your go-to. Whatever you choose, there's no wrong choice, really.
Luxury ($$$) – The Setai Miami Beach: the award-winning luxury hotel will place you right in the heart of Miami Beach (that is if you ever end up leaving the beautiful resort).
Mid-Range ($$) — Shore Club South Beach: a fresh, modern hotel located on South Beach with plenty of amenities, including an infinity pool.
Budget ($) – Hampton Inn & Suites Miami (Brickell/Downtown): located near the airport and the beach, this is a great affordable (and safe) place to stay.
20+ Fun Things to do in Miami Florida
South Beach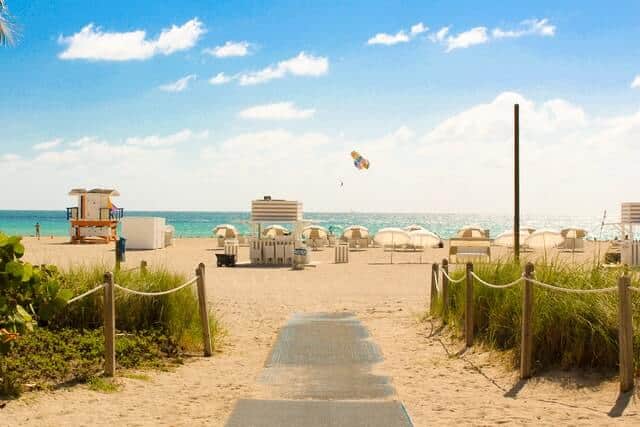 No trip to Miami is complete without going to the beach to relax — and the best part is, there's something for every preference. If you want to be right in the middle of the action, South Beach is perfect and would be our recommendation for first-time visitors to Miami. Be sure to also explore the Art Deco District, where you can stop for a streetside lunch or evening meal (it comes alive after dark) – with all this it's no wonder it's one of the top Miami attractions.
Bayside Marketplace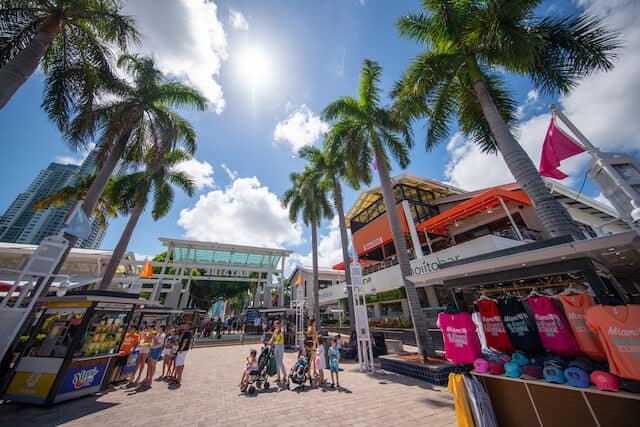 The Bayside Marketplace located along Miami's waterfront is home to over 150 specialty and tourist shops, cafes, and restaurants, as well as many chain stores visitors will recognize. Be sure to head here for your retail fix! The outdoor style mall has a fun and lively vibe, with daily live music – so you can find all sorts of entertainment by the bay.
Enjoy the Ocean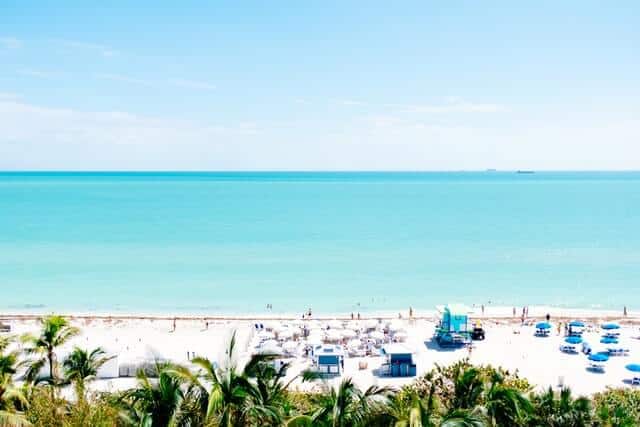 It's no surprise that some of the best things to do in Miami revolve around being on, in or near to the water. And besides enjoying the beautiful beaches, there are also heaps of fun water-based activities to enjoy in Miami.
Whether you want to cruise the waters looking at the homes of the rich and famous on Millionaires Row or enjoy a sunset on the water; go underwater on a snorkeling tour or deep sea fishing trip; blast around on a jet-ski, speedboat or a banana boat; or soar above the water as you parasail above Biscayne Bay or give FlyBoarding a go! Take your pick from some of Miami's top outdoor activities below:
Miami Design District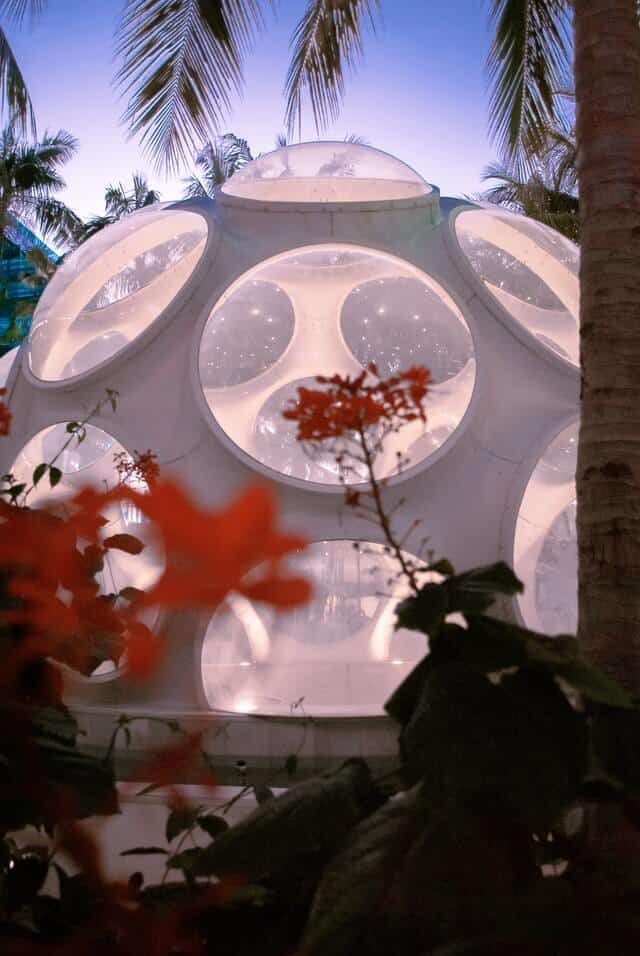 The Miami Design District is known for luxury fashion, boutique shops & cafes, sleek modern architecture, upscale interior design stores, and art galleries. Not to mention is home to it's share of restaurants with celebrity chefs at the helm.
Public art dots the area with the Institute of Contemporary Art (also known as the Museum of Contemporary Arts), housed in an ultra-modern building, at its center. Be sure to have your camera. There are lines, shapes, and features just begging to be photographed.
Vizcaya Museum and Gardens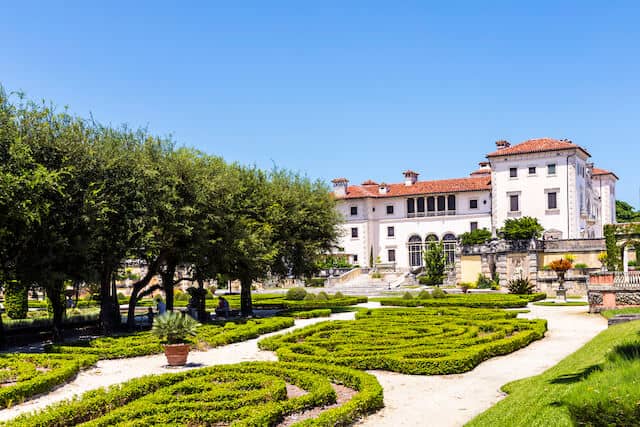 The museum and gardens (formerly the Deering Estate) are arguably Miami's number one tourist attraction. With its Italian Renaissance-style villa in the middle of a lush Coconut Grove that spans 43 acres, it's one of the best backdrops of the city (you'll often find it being used in photoshoots), and the venue is also packed with free events. Head over for some waterfront yoga, jazz-age parties, and even some family-friendly activities for kids.
Frost Museum of Science (formerly the Miami Science Museum)

Established in 1950, The Phillip and Patricia Frost Museum of Science (formerly the Miami Science Museum) has a wide range of exhibits on display, including physics, biology, and chemistry. Many of them are interactive and hands-on, so it's bound to be a truly immersive experience. They regularly change their exhibits, offering new themes and displays, so don't be surprised if you want to make multiple trips there!
RELATED: If you love science and nature, be sure to include the Miami Seaquarium and Zoological Wildlife Foundation on your visit to Miami.
Fairchild Tropical Botanical Garden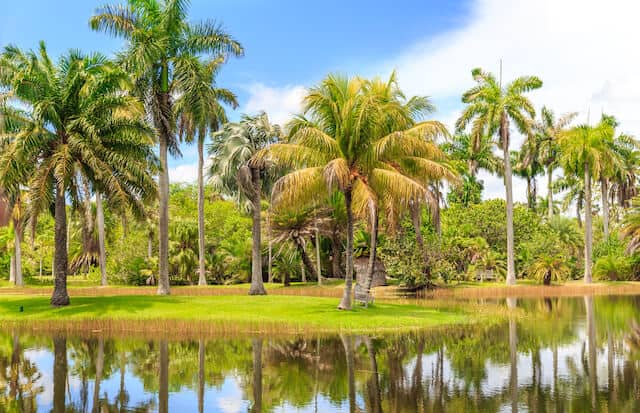 Get in touch with nature at Fairchild Tropical Botanical Garden, which is home to a collection of rare tropical plants. You can go there anytime, too, because the gardens are open every day of the year, except for Christmas Day. See if you can recognize the different vines and flowering trees while you're there, and be sure to take a look at the special Richard H Simons Rainforest.
Ancient Spanish Monastery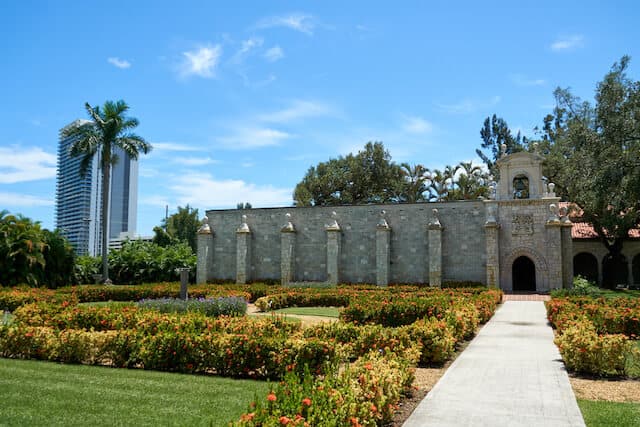 If you are looking to escape the hustle and bustle of Miami, head to North Miami and explore the peaceful grounds of the Ancient Spanish Monastary that you can find there.
Shipped from Spain in the 12th Century and reconstructed where it stands today, it's lanterns on the garden paths, statues and fountains, stained glass, carved ceilings, columns and arches takes visitors back in time to medieval Europe.
See Miami from Above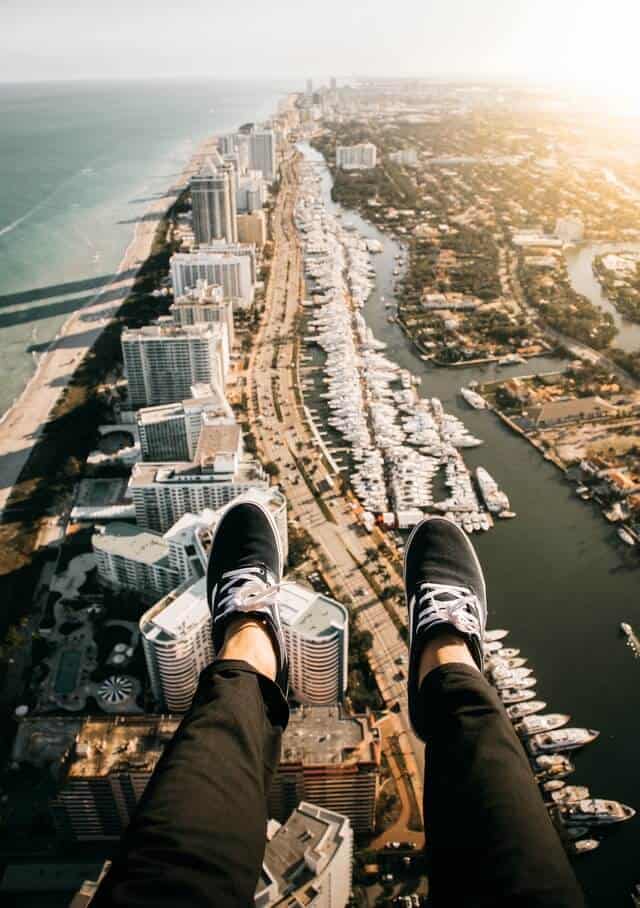 If you're visiting Miami for a special occasion, or just want to do something really unique, you can head to the skies for an incredible view of the Magic City. See all of Miami's main attractions from above with commentary from your pilot on either a luxury 30-minute helicopter flight, a 30 minute light aircraft flight above downtown Miami & South Beach, or 60 minutes small aircraft scenic flight across the entire city. Or step it up again with a Sea Plane Tour. The choice is yours!
Olympia Theater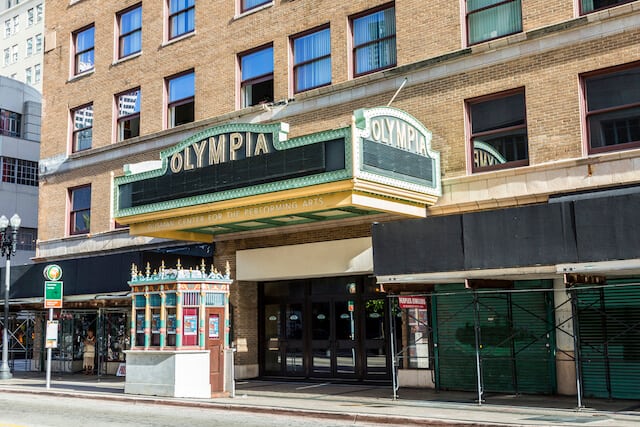 No theater is as iconic as the Olympia Theater on Flagler Street in Miami, which shows a range of performances and events throughout the year ranging from concerts to comedy. The theater has a distinct look, with breathtaking balconies and columns in its interior.
Venetian Pool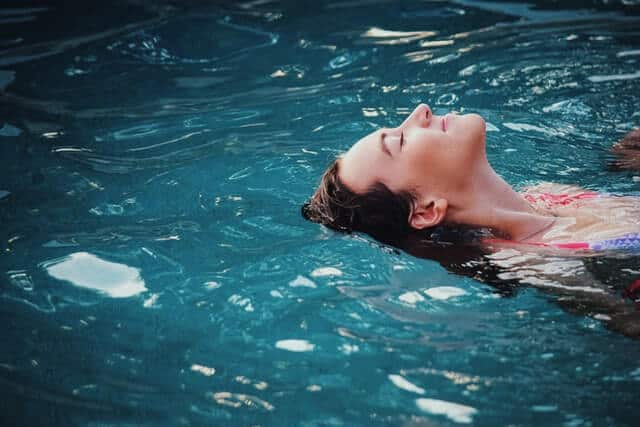 Yes, the Venetian Pool may get crowded on a hot day. However, located just outside of Miami, it's a little taste of Venice and is a must-visit if you've never been before! The pool was built in 1923 out of a coral rock quarry and attracts thousands of visitors every year, holding 820,000 gallons of underground spring water.
Wynwood Walls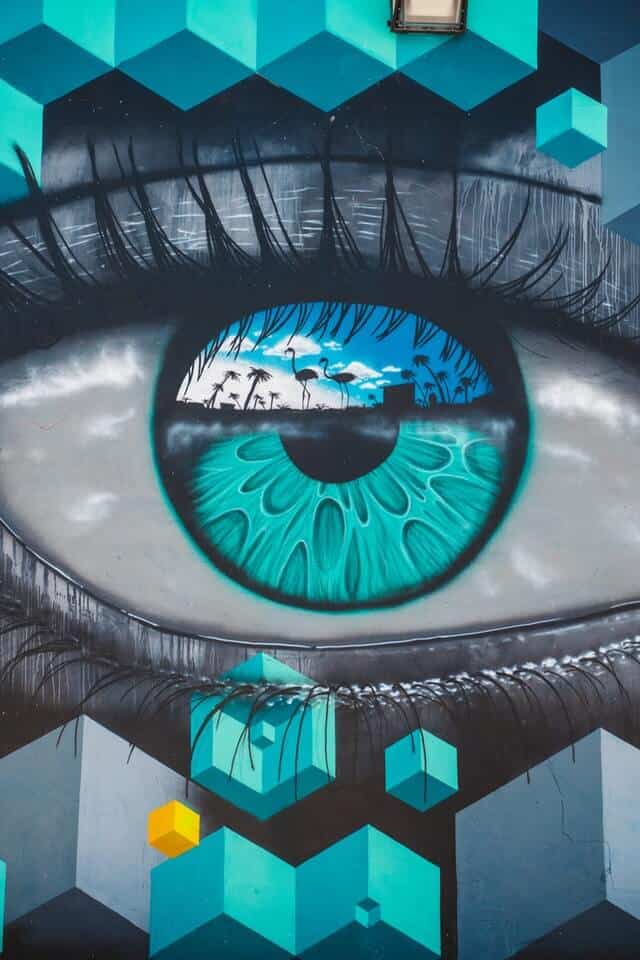 The collection of street art at Wynwood Walls is one of the most impressive out there, with rows and rows of colorful murals. It's completely free to look at too, but a guided tour in a golf buggy is a great way to enjoy the Wynwood art district with a bit of local commentary! So grab your camera and get ready to take some awesome snaps.
And if you can't get enough of art, be sure to add the Pérez Art Museum Miami (also known as PAMM) to your list of fun things to do in Miami for adults.
RELATED: If you're interested in Street Art, take a peek at our guide to the Best Street Art Cities in the world!
Little Havana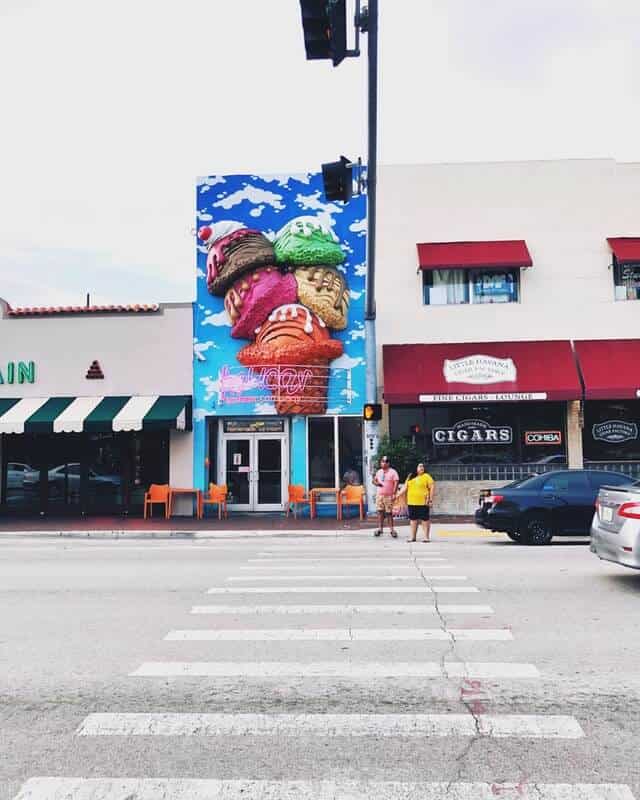 Take a trip over to Little Havana for some Latin music, open-air social areas, street art, and restaurants with a touch of cultural flavor. Once you're in the midst, you'll feel completely immersed in the distinctive atmosphere.
While Calle Ocho is known as the heart of Little Havana and setting for most of the action, you'll find that the district is slowly spreading out into the surrounding streets. We highly recommend joining a Little Havana Food, Culture, Mojito & Street Art Tour to get the best of what the area has to offer with the help of a local!
Miami Nightlife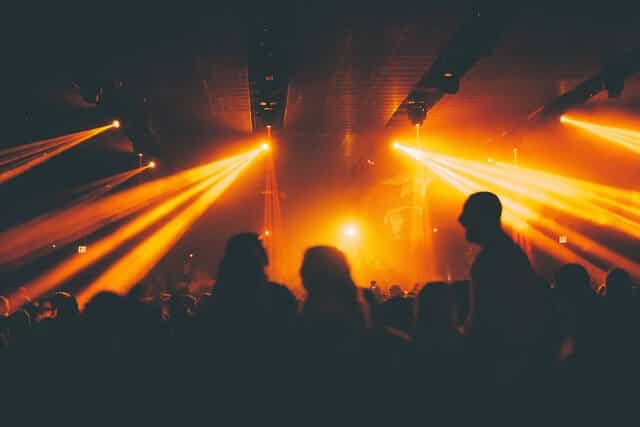 No trip to Miami is complete without checking out the nightlife — it's talked about for a reason. When the sun goes down, Miami comes to life. Sip on some fancy cocktails at Sugar, a rooftop bar with panoramic views of the city, and then head to one of the popular spots such as E11EVEN or LIV.
3 Day Trips from Miami
Bimini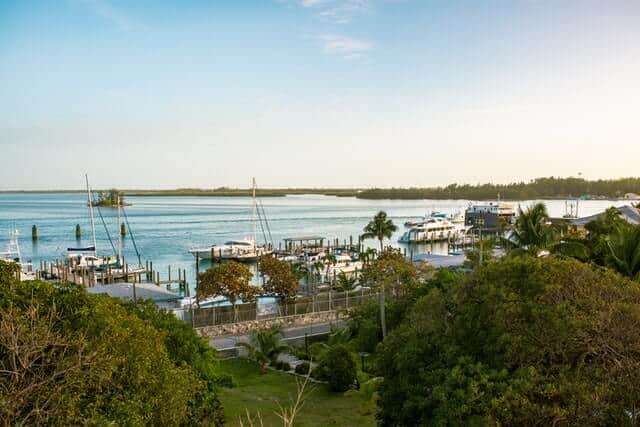 Did you know that you can take a day trip to the Bahamas from Miami? All you need to do is jump aboard the high-speed ferry early in the morning, and you'll be on the coast of the Bahamas and docked in at Bimini by lunch.
Spend the day taking a stroll along the white sand beaches and swimming in the crystal clear ocean, or hire snorkels, jet skis, and paddleboards from vendors along the beach.
Everglades National Park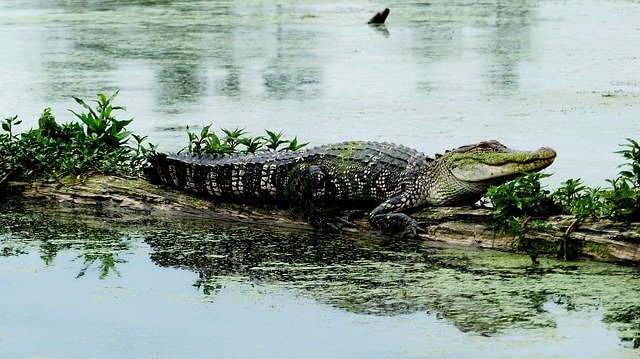 The Everglades are home to dozens of endangered species including the Florida panther, the West Indian manatee, and the leatherback turtle (and over 20,000+ alligators, obviously!), and spans 1.5 million acres. It's a wetland preserve that lies just south-west of Miami city.
It's truly an incredible experience witnessing the mangrove tunnels by airboat on an Everglades tour, and you can take guided airboat ride that will provide you insight into the ecosystems.
Key West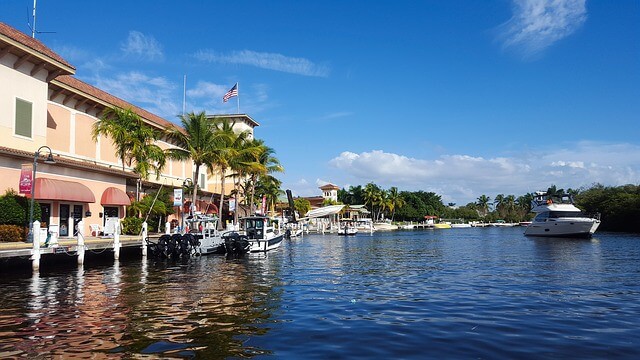 The journey to Key West from Miami will take you over 43 bridges and across 31 islands, and takes around four hours (but perhaps longer if you stop to marvel at the scenery). Once you're in Key West, enjoy the Caribbean vibes, luxury dining, and high-end retail stores. (And if you don't have a car, there are some great tours to Key West that can take all the hassle out of organizing your day trip)
The city is home to several museums including the Mel Fisher Museum, the Light House Museum, Ripley's Believe It Or Not, and even Ernest Hemingway's former home, which has been turned into a museum.
Final Thoughts on the Best Things to do in Miami for Adults
Miami is one of the most vibrant and liveliest cities in North America, it may feel like you will never have enough time there! We guarantee that you will be back for more, so keep this guide in mind when you want to come back for more.
We hope this guide to 20+ Fun Things to do in Miami for Adults (which are perfect for First-Time Visitors) has been a huge help planning your trip, and if you know of anyone else that needs a little bit of inspiration or assistance in planning their Miami city getaway, please be sure to share on social media: Facebook, Flipboard, Twitter or grab one of the images from below for Pinterest. And remember – sharing is charing (and we thank you in advance!)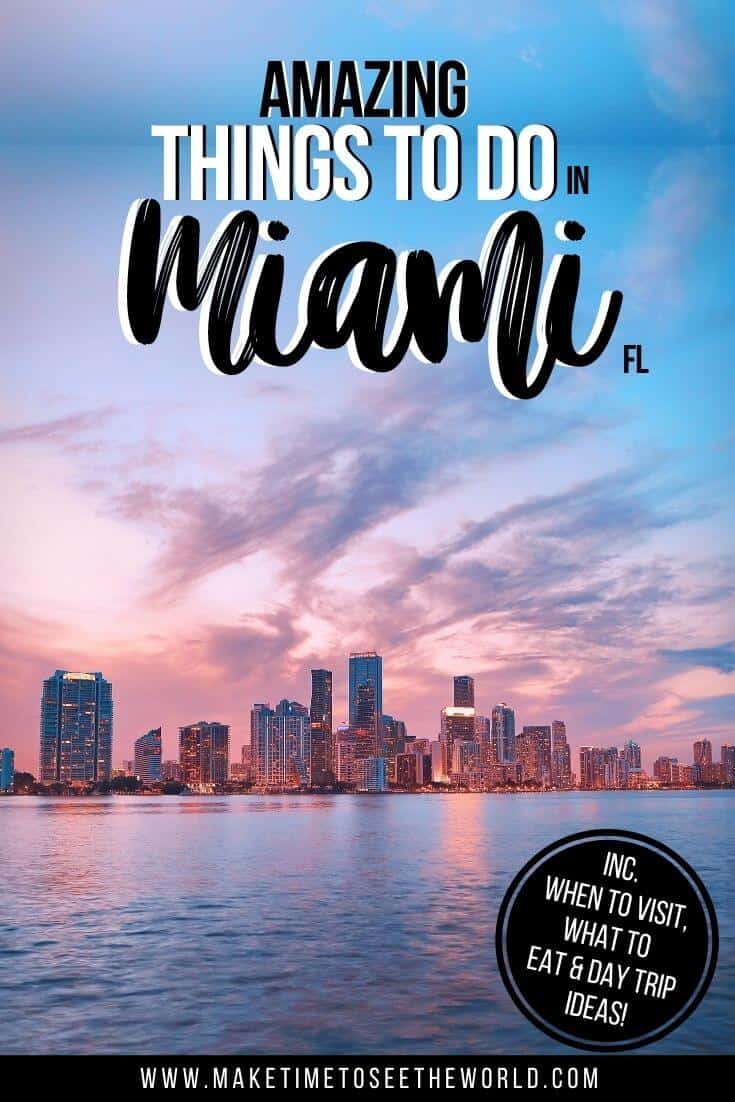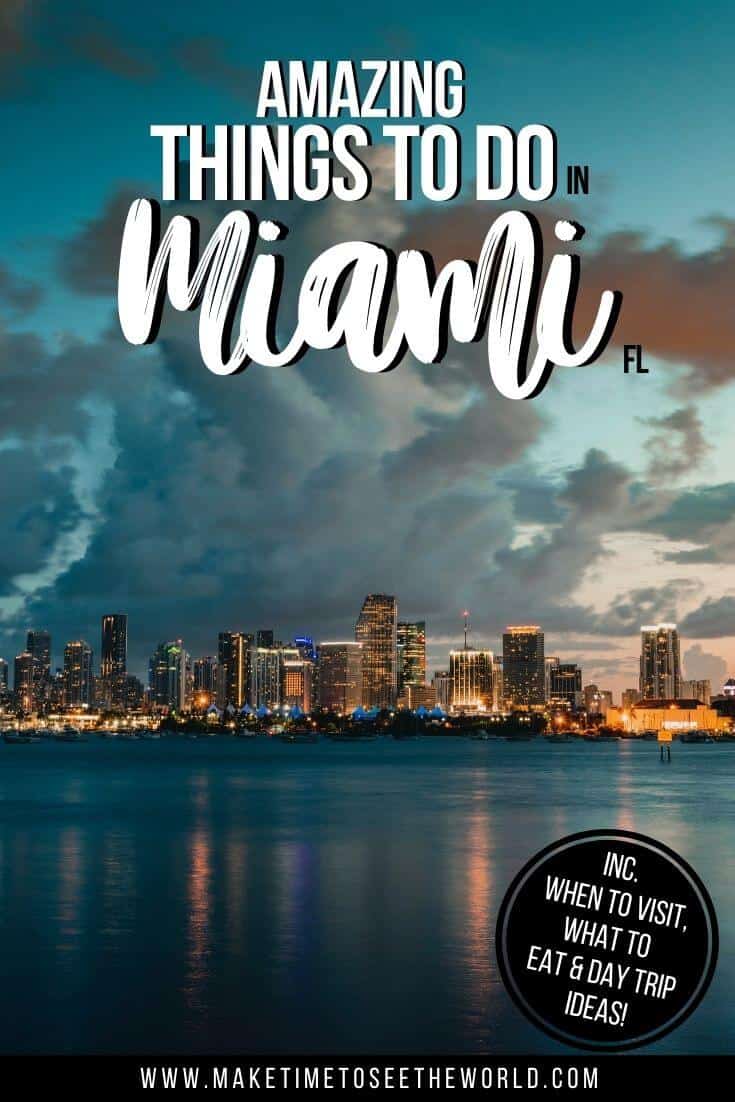 READY FOR MORE USA TRAVEL INSPIRATION? YOU MIGHT BE INTERESTED IN THESE TRAVEL TIPS, TRAVEL ARTICLES, DESTINATION GUIDES, TRAVELER RESOURCES AND RELATED POSTS ABOUT OTHER AMAZING CITIES IN NORTH AMERICA:

Hi There! Thanks for reading our travel guide to 20+ FUN Things to do in Miami Florida – Perfect for First Time Visitors! I just wanted to let you know that this post contains affiliate links, which means if you purchase something after clicking a link, I may get a small commission – which is at absolutely no cost to you. If you enjoyed this article and are going to be searching for some of the things I mention anyway, I would love it if you could click through from the links above & thank you in advance! Read my full Disclosure here.
And a huge Thank You for reading the MakeTimeToSeeTheWorld travel blog.