A complete guide for planning a perfect day Brighton Day Trip inc. how to get there by car, bus + train, where to eat/drink & best things to do during one day in Brighton.
Every year, Brighton attracts thousands of visitors from all over the United Kingdom for its beautiful beaches, great shopping district, gorgeous pavilion and bohemian spirit. In order to help you plan your perfect day trip to Brighton, we have put together a small guide that includes how to get to Brighton, where to eat in Brighton (lunch and dinner options) and the best things to do in Brighton, plus some options of what to do in Brighton if traveling with kids, to help you put together a great itinerary for a perfect day in Brighton!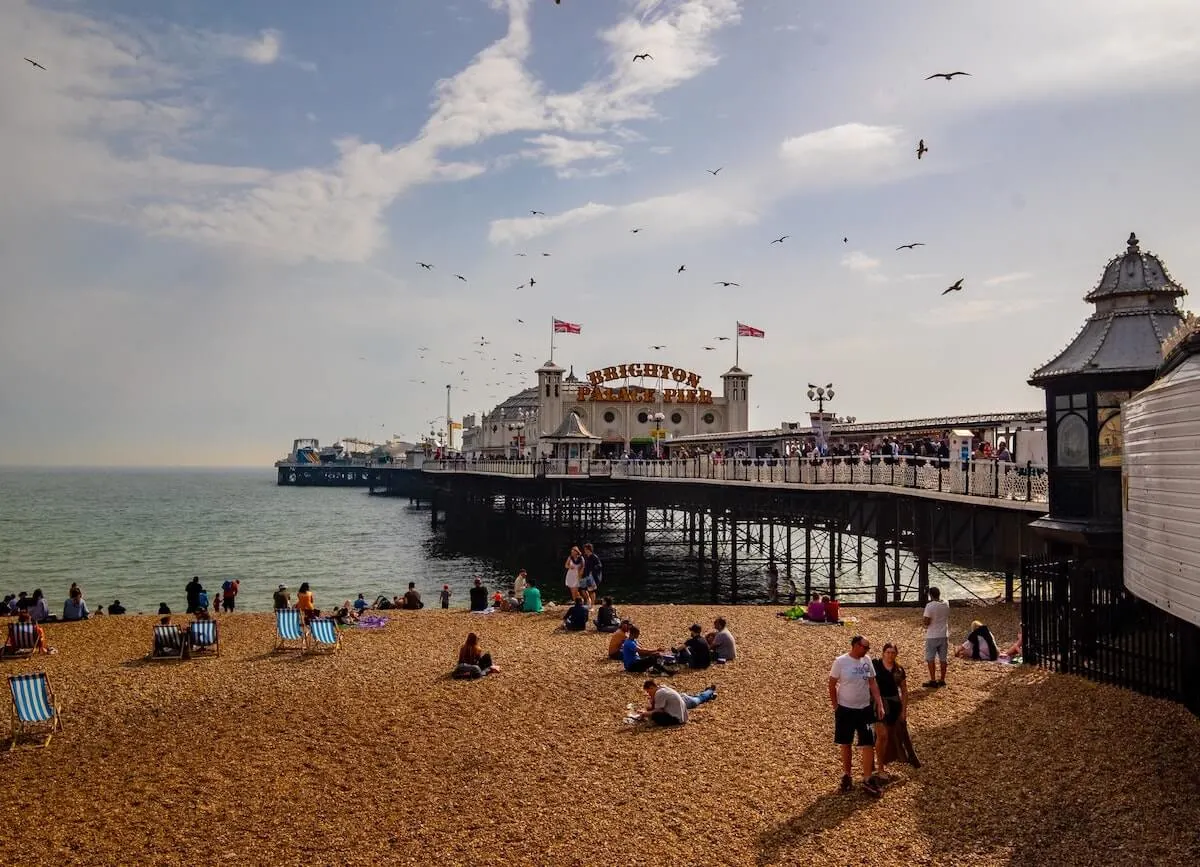 Disclaimer: Almost all posts on this site contain Affiliate links, and this one about How to Spend One Day in Brighton (A Local's Guide) is no different. This means that if you click on any of the links in this post (and make a purchase) I may receive a small commission at absolutely no cost to you. Each post is carefully crafted to (hopefully!) answer all your questions and recommendations are made where we believe they will improve your trip and help with your planning. As such we thank you in advance should you decide to click & buy.
Read my full Disclosure here.
This post was written by Lieze of Glitter Rebel

Start You Brighton Day Trip: How To Get to Brighton
When you are travelling from London (as most international visitors do), you can either drive, take the train or even take the bus to Brighton. Although driving or taking the train are the quickest, taking the bus from London to Brighton can be quite cheap.
Driving to Brighton
Driving from London to Brighton is fairly easy. You can either take the A23 down to the M23 from the Southern Circular. This route originates in Vauxhall and is better known as Brixton Road before turning into the A23 and later the M23 all the way down to Brighton. If you live outside of London, head to the M25 and then take the M23 to Brighton. This motorway will take you straight into the centre of the city.
Where to Park in Brighton
When heading to Brighton by car, the question of where to park will arise sooner or later. As anyone in the UK knows: parking can be a bit of a problem in seaside towns. To spare you the agony of looking for street parking or planning out a needlessly long route to find public parking spots, here are three great parking garages you can park your car at when in Brighton.
The Lanes Car Park (Address: Black Lion St, Brighton BN1 1ND, United Kingdom)
The Lanes Car Park is located near Sea Life in Brighton and is probably one of the most convenient car parks when for people wanting to spend a day on the beach. Although it is definitely worth trying to see whether there are spaces free in Lanes Car Park, this parking garage is known to be full early on in the day due to its amazing location. In other words: if it's busy, the sun is out in full force, or if it is a weekend or bank holiday – you might not be lucky enough to get a space here.

NCP Car Park Brighton Centre Russell Rd (Address: Russell Rd, Brighton BN1 2DX, United Kingdom)
A bit further down the road you will find the NCP Car Park on Russel Road. This is quite a big car park, and if The Lanes is full, this will be your next best bet. If there is no space at Russel Road, drive around the corner to head towards the Churchill Square Green Car Park. This car park is connected to the Russel Square shopping center and between these two you will probably find a nice and central parking spot.

Trafalgar Street Car Park
If all car parks are full, head back up to Brighton central station and Trafalgar Street. Brighton central station might have some parking spaces available, but if not, the Trafalgar Street Car Park will most likely have some availability. It is true that this car park is quite a walk from the coast and beach, but if it is busy, this car park will most likely have free parking spaces.
London to Brighton by Train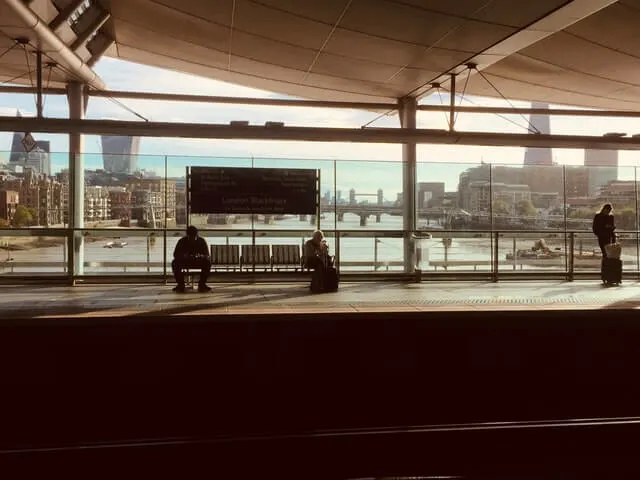 Many day trips from London to Brighton are done by train. There are daily trains from London to Brighton leaving from London Victoria and Blackfriars train station with several trains an hour from London Blackfriars. The trip will take just over an hour and is direct. A train ticket from London to Brighton single will set you back about $29 or £20.
And getting back to London by train, is just as straightforward, with trains running up to midnight. You've really got no excuse not to visit Brighton for the day while you are in London.
Getting to Brighton by Bus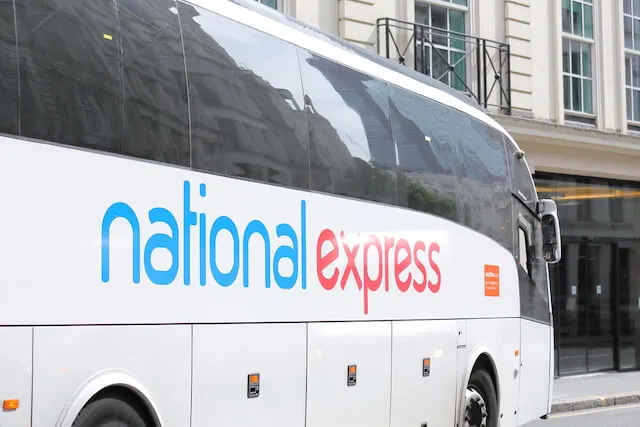 Last but not least you can also opt to get to Brighton by bus. National Express busses leave from the Victoria Coach Station and will take about 2h40 minutes to get you from London to Brighton. The busses will stop at either Pacham London Road, Withdean Park or Preston Park Hotel and tickets will cost $8 or £5.50 for a single trip.
Where to Eat in Brighton (Lunch & Dinner Options)
Brighton offers tourists and travelers quite a nice selection of restaurants, bars and pubs. Whether you are looking for some café food, or are on a romantic little trip craving a sit-down meal, here are three of the best restaurants in Brighton!
Marine Tavern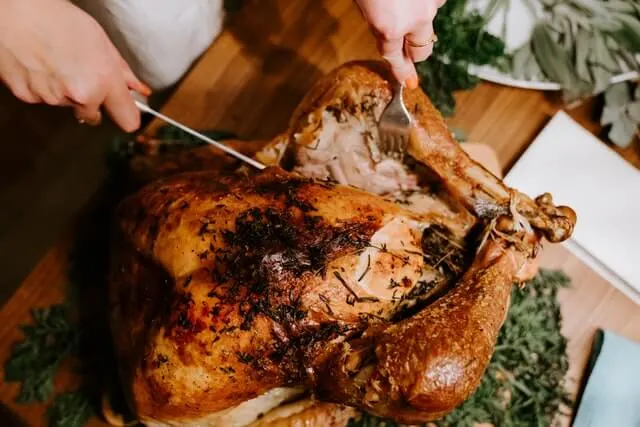 Marine Tavern is a British Pub serving great pub grub in the centre of Brighton. You can expect to pay anything from £3 to £10 for a meal. This beautiful little tavern offers traditional Sunday roast meals at 2 for £10 and serves yummy burgers with crispy fries. Marine tavern is a great place to go to when looking for honest and delicious pub food.
Sunbirds Deli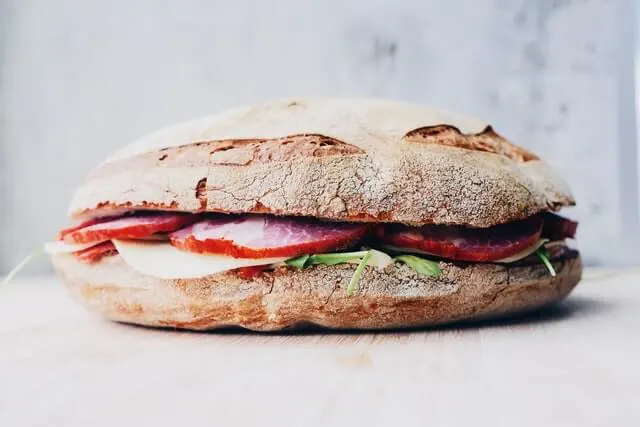 Looking for a great lunch? Head to Sunbirds Deli on London Road. This Mediterranean deli is a local's favourite and serves amazing breakfasts, delicious mezze plates and sandwiches to die for. Their prices are incredibly reasonable, and the food is home-made and made to order.
Manju's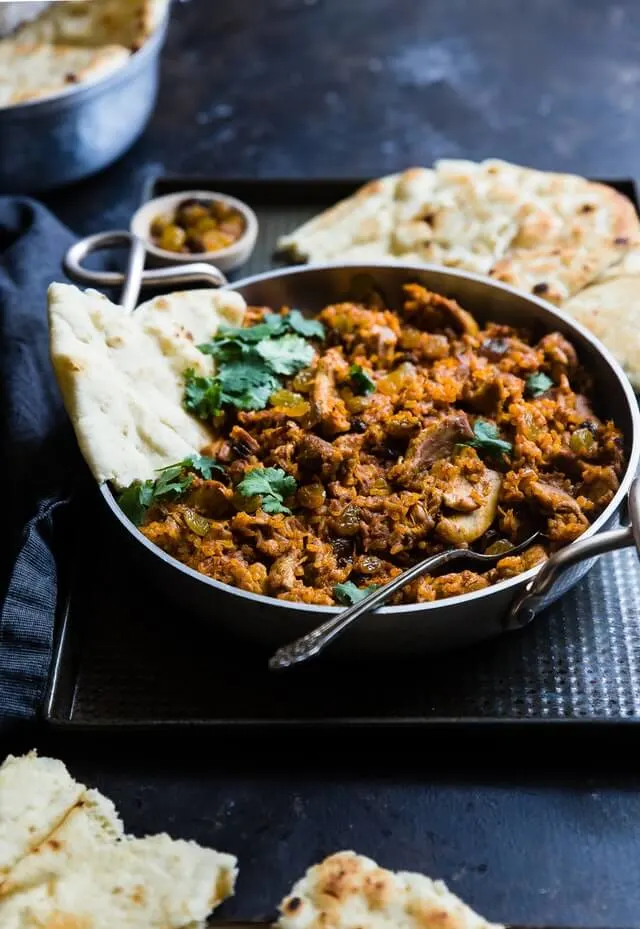 If you are craving curry, you can't go wrong with Manju's. This famous Brighton Indian restaurant offers the best tastes of India with a great selection of curries, thalis and chaat. As someone who lives in South-Asia herself, I always found it so disappointing the nicest and most tasty dishes never made it to the United Kingdom.
I am happy to see that Manju's is offering Asian favourites such as Pani Puri and traditional thalis. Apart from amazing food, you should also try Manju's for the perfectly mixed cocktails!
Where to Grab a Drink in Brighton
Brighton Rocks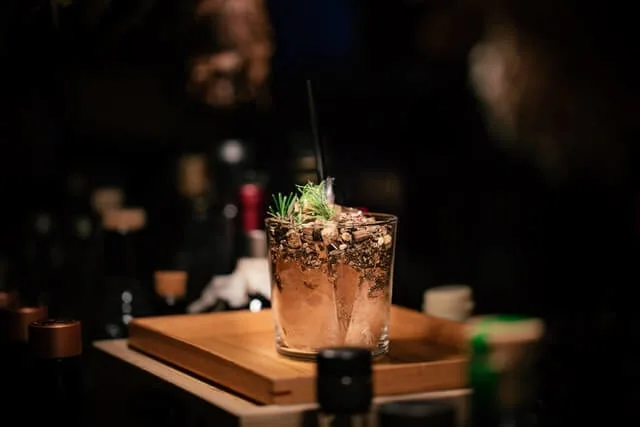 This quirky bar is a favourite with locals and visitors alike. With a dark, intimate interior and a lovely outdoor heated seating area, Brighton Rocks is known for its incredible cocktails, pub grub (complete with vegan options), friendly staff, and selection of board games to play while you enjoy the chilled out atmosphere.
The Prince Albert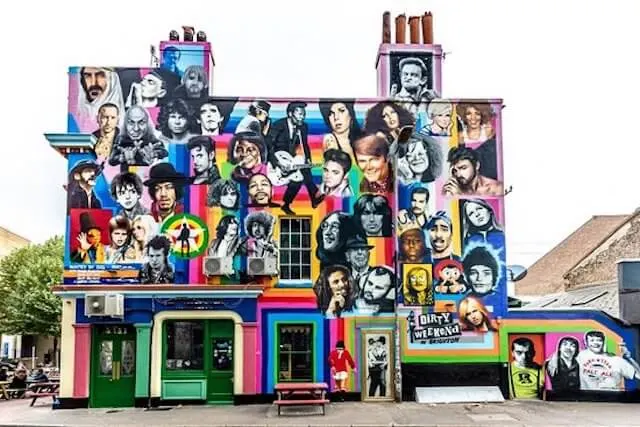 Very close to Brighton train station (and so the perfect place to grab a drink before getting the train back to London), The Prince Albert is the venue if you're looking for good music, craft beer and a bohemian vibe (this is Brighton after all!). If you stop here for a drink, be sure to check out the giant mural on the side of the building too – it's incredible!
*Top Tip* The Prince Albert pub is a meeting point for Brighton and Hove football fans on game day – maybe give it a miss at this time if you're not a fan of poised to be rowdy crowds!
Things To Do During One Day in Brighton
When planning a trip to Brighton you should also have a think about what you want to do in this beautiful seaside town. Brighton has a lot to offer, both for people who are looking to spend a day on the beach, families with children, or tourists who want to do some shopping and see the sights. To help you plan out your day more efficiently: here are the best things to do in Brighton.
Go to the Brighton Royal Pavilion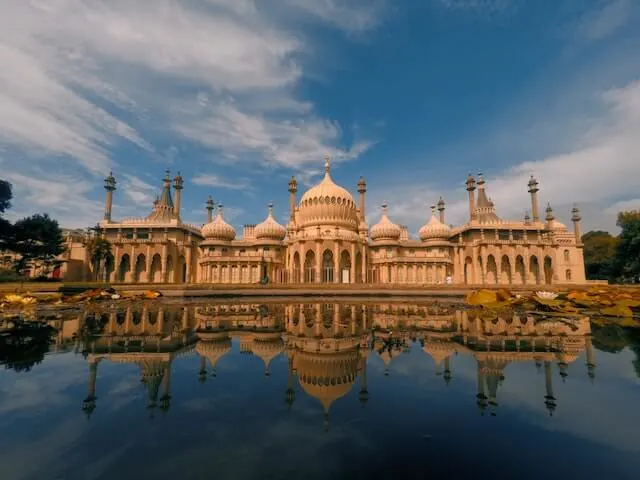 Brightons Royal Pavilion is probably one of the most recognisable sights in Brighton. This gorgeous little palace in the centre of the city was built as a palace for King George the fourth. The palace's architecture is inspired by exotic places such as China and India, and is now open to the public.
It can be quite busy at this gorgeous Brighton museum & art gallery, especially since it houses beautiful decorative works that were originally commissioned by the Prince-Regent to be on display here at the Royal Pavilion.
As visiting the Royal Pavilion is one of the most important attractions in Brighton, it is a good idea to get tickets beforehand. If you would rather not head in, you can also enjoy the beautiful gardens of this palace for free.
Take a spin on the British Airways i360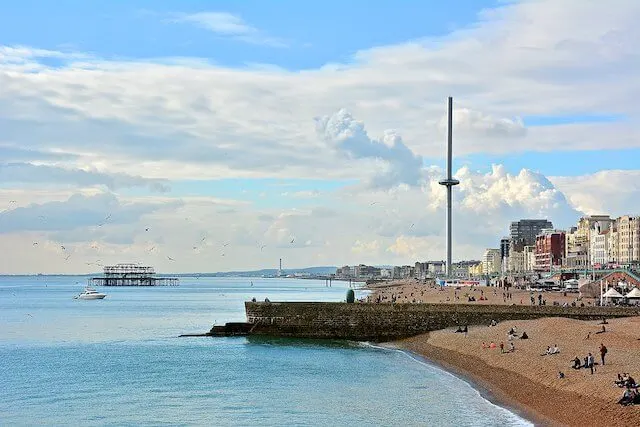 The British Airways i360 is a slow-spinning observation deck that will take you 162 metres up in the air. As the i360 is located right on the beach, you will not only have a panoramic view over Brighton and The South Downs, you will also be able to see far and wide over the ocean.
The i360 opened up in August 2016 and has been one of the most popular attractions in the south of England. As such, we recommend pre-booking your entry ticket if you plan on taking in the view; and especially if you want to take on the i360 idrop – where you glide 450ft to the ground on a wire surrounded by nothing but fresh air and epic views!
Wander Along Brighton Beach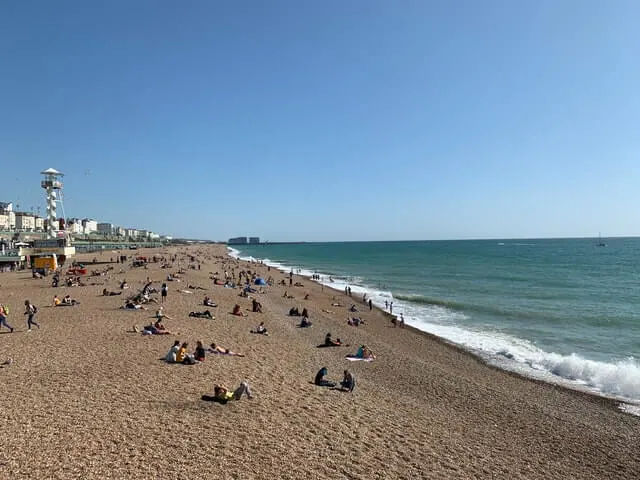 You can't come to the British seaside and not spend some time on the beach. The 4 mile pebbly Brighton beach is also known as London's Beach (despite it being 47 miles from the capital) and the buzzing Brighton Promenade is full of life 365 days a year.
Grab an ice-cream, find a quiet spot to relax on Brighton beach, pull up a deckchair, and just enjoy watching the waves. Or if you're lucky, the windsurfers (or other watersports enthusiasts) will be out on the water to provide you with some entertainment.
If you're feeling brave you could dip your toes in the ocean – or feel invigorated with a cold water swim, just be warned the water in the English channels is on the chilly side all year round.
The far eastern end of Brighton Beach is also an official naturist beach, which when it opened in 1980, was the first of it's kind in the UK. And in December, Brighton Beach hosts the Winter Solstace and annual New Year Eve swim.
Take Photos Outside Hove Beach Huts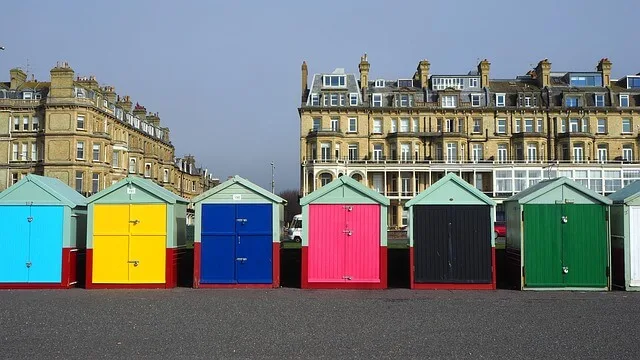 Facing Brighton Pier, turn left and walk along the Brighton promenade towards to ruins of Brighton's West Pier (pictured near the top of the article and destroyed through neglect and finally fire in 2003) and just keep going until you get to the famous Beach Huts, and just behind them, the stunning green space and beautiful Grade I listed building at Brunswick Square.
Shop Local at Independent Shops & Stores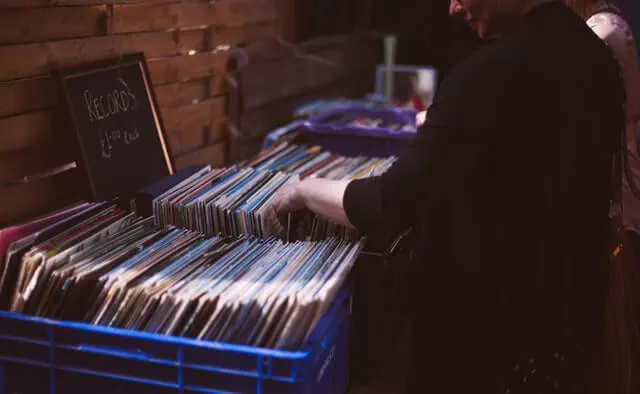 The Lanes in Brighton are a fantastic place to shop local and to shop independent with a range of quirky stores and creators. From book stores to vintage record shops, boutique jewellery to funky homewares not to mention clothes shops, kids toy stores, upscale lingerie stores and even a store that just sells plastic ducks.
Even if you don't buy anything, wandering around The Lanes and North Laine areas, soaking up the atmosphere, watching the street performers and sampling the cafe culture is a great way to spend some of your time during your day in Brighton.
Take a Tour Around Brighton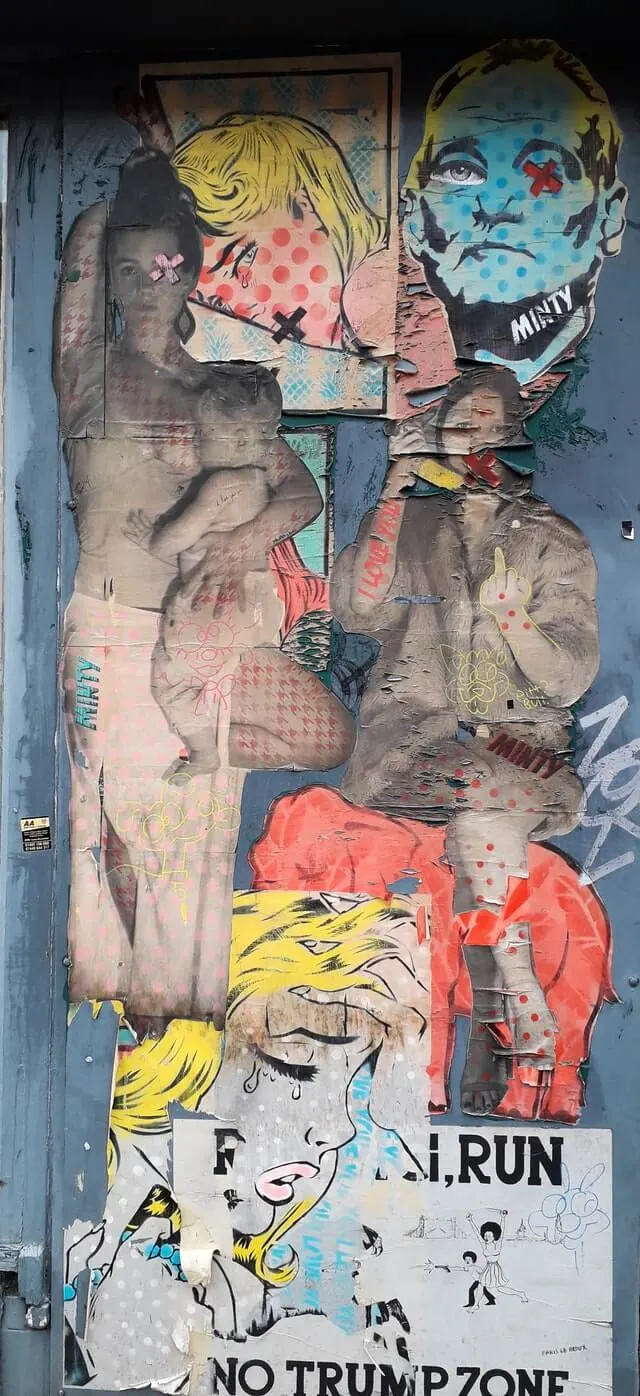 When you are short on time in a destination – like if you only have one day in Brighton – joining a guided tour led by an expert is a fantastic idea and will help you get more of a feel for the town than you could probably do on your own. Just pick the tour that is right for you and piques your interest.
Bike Tour: tour important parts of the city by bike, learning from your guide and keeping an eye out for epic displays from the street arts scene as you bike around on your cycling tour.
Walking Tours (general food or chocolate): If the way to your heart is through your stomach, these guided food tours (with samples) are just for you. All you need to decide is if you are a savory or sweet person!
Brighton Story Walking Tour: Visit some of Brighton's top attractions with a local guide to help you learn about the town.
Brighton Rocks Audio Tour: From the music room of the Prince Regent through to the mods and rockers and onto modern-day beach parties, this 90 minute tour helps you understand the sounds that have shaped the seaside for over 200 years.
Head to Brighton Palace Pier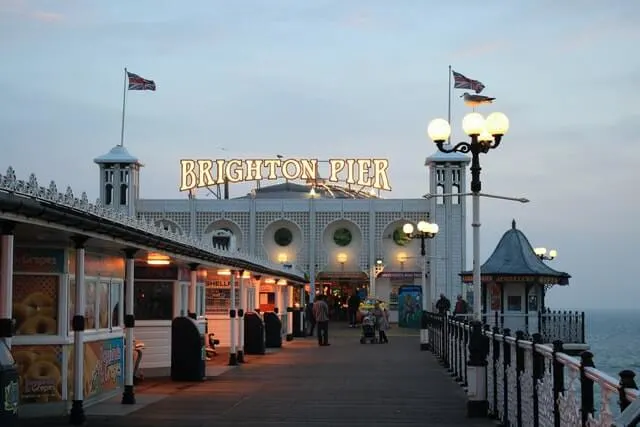 You haven't been to a British seaside town if you have not eaten fish and chips on the pier or played on the arcade games and coin pushers in the local arcade. Brighton Palace Pier is a famous arcade that offers games for the young and old and a selection of thrilling fairground rides. From slots and coin pushers to racing games or even throwing balls through hoops.
I have to say that Brighton Palace Pier can be quite busy, is very loud and can be a bit overwhelming or overstimulating for the little ones – especially with all the flickering lights. Nevertheless, Brighton Palace Pier is a great place to head when fleeing the beating sun or the pouring rain.
And once you've enjoyed your classic English specialty of fish and chips on Brighton Pier (or beach), be sure to grab some Brighton Rock to take home!
What to do in Brighton with Kids
If you are traveling with kids or looking for rainy day activities, these things to do in Brighton with kids are just for you.
Take the Kids to the Sea Life Centre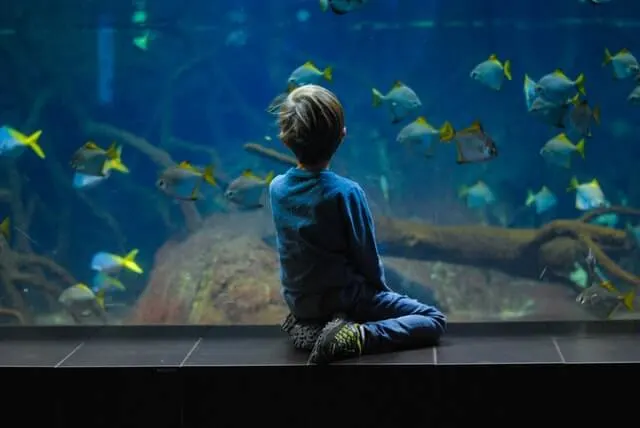 This beautiful aquarium in the center of Brighton is the perfect little break from the beach when it is too warm, it is raining, or the kids are getting bored.
Sea Life Brighton houses more than 5500 sea creatures and is one of the oldest aquariums in the world dating back to 1872(!) Your kids will learn more about sharks and make friends with the gorgeous sea stars in their shallow tanks. Book your tickets in advance and save time queuing up to get in.
Visit Oliver's Brighton
If your kids love all things magic and Harry Potter, they'll be mesmerised when you book a visit to Oliver's Brighton – a secret wizarding shop that is well worth visiting!
One of Brighton's hidden gems, Oliver's is the top-rated store in Brighton, and due to its insane popularity and all round great host, Oliver, visits are by appointment only.
So if this is an absolute must for your Potterheads (of any age!), be sure to book in advance.
Ride the Volk's Electric Railway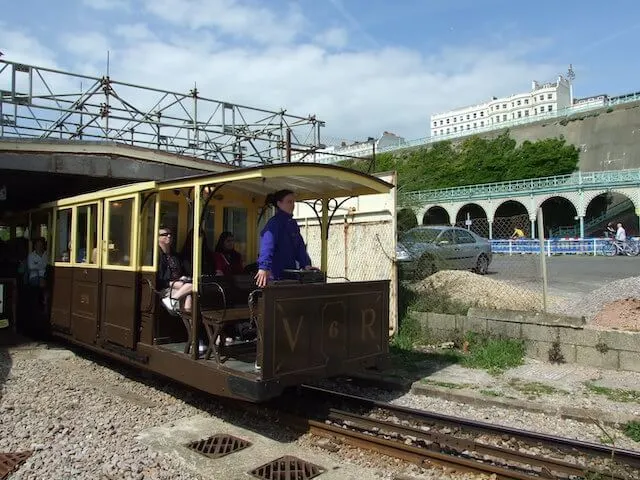 Do you or your kids like railways and trains? Then you need to take a ride on the Volk's Electric Railway. This little railway next to the beach was built by Magnus Volk in 1883 and is to date the oldest stull operating electric railway in the world. At the moment the Volk's Electric Railway is nothing more than a tourist attraction, but it is pretty cool that Volk's railway, more almost 140 years old, is still running to this day.
A single ticket will set you back £3.95 single or £5.05 return for an adult. Kids tickets £2.45 and £3.15 respectively. You can also choose a family ticket which is £9.70 one way and £13.25 return.
Brighton Toy and Model Museum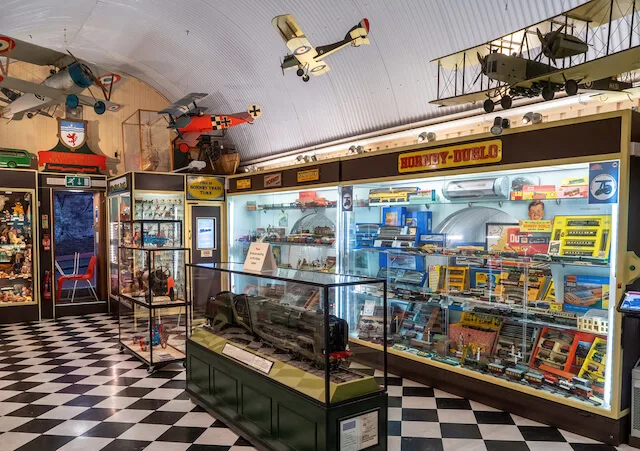 Located in 4 cellars underneath Brighton's main train station, and housing over 10,000 toys, games and models across over four thousand square feet – it's a walk down memory lane for adults and shows kids the toys their parents, grandparents and great-grandparents(!) used to play with.
It is fun for all the family, and looking at these wonders from Britain's golden age of toymaking might even make your little ones' a bit more appreciative of their own toys!
Final Thoughts for a Perfect Day Trip to Brighton
This seaside town is a much-loved destination in the UK, has been the site of many a happy family holiday for decades, and is celebrated for it's LGBTQI friendly culture. If you are short on time in England but are still hoping to spend a little time in Brighton, we hope our complete guide to how to spend a day in Brighton has given you all the information you need to plan your Brighton itinerary to explore Brighton to the fullest.
And if you enjoyed this Brighton travel guide, or know someone planning their London day trip to Brighton that could use our travel advice and top tips for visiting Brighton, please be sure to share this Brighton day trip itinerary with them on social media: Facebook, Twitter, Flipboard or grab a pin below for Pinterest.
Sharing is caring and we thank you in advance!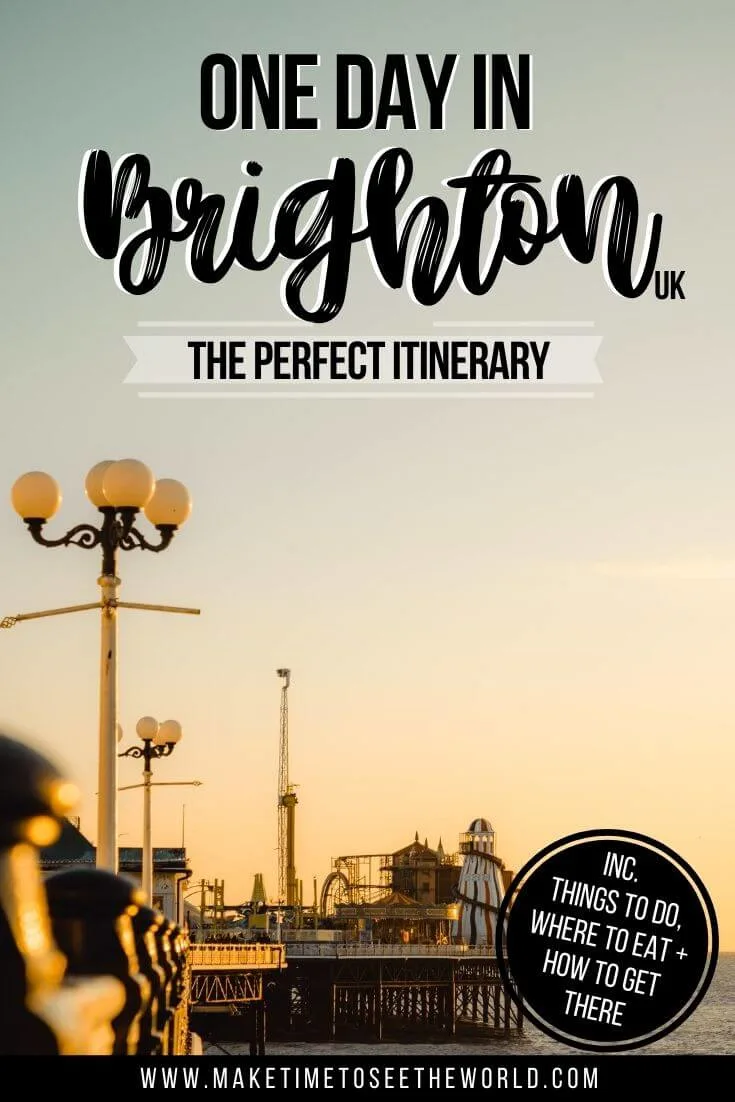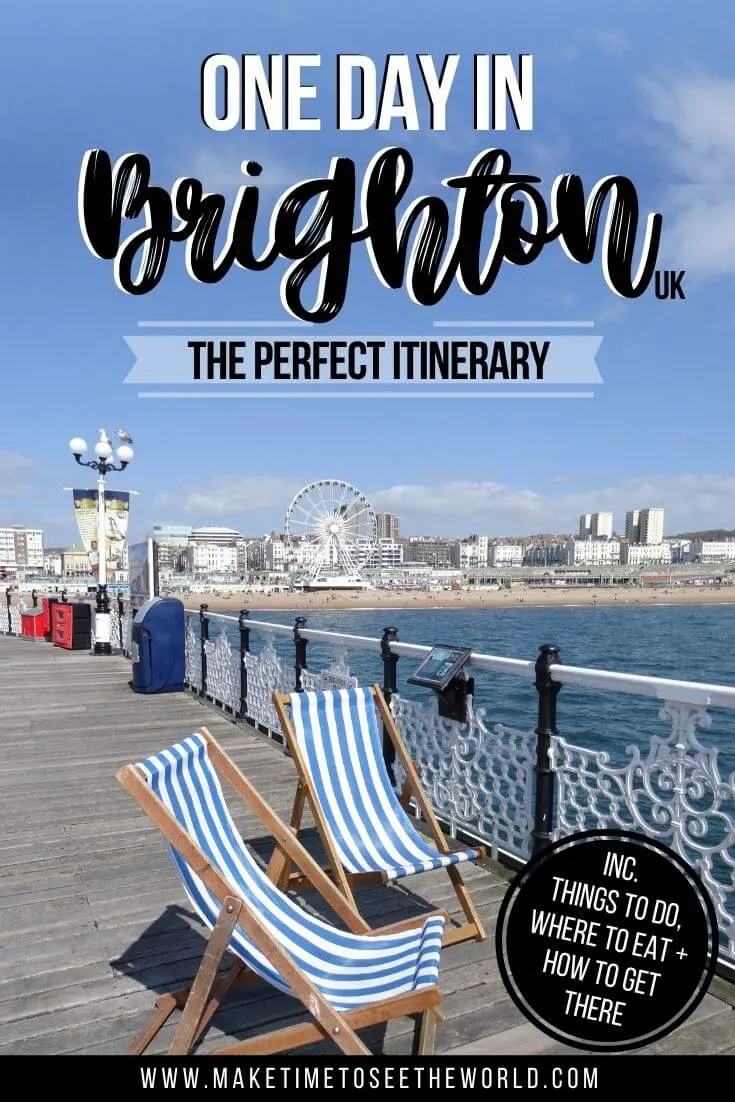 READY FOR MORE EUROPE AND NORTH AMERICA TRAVEL INSPIRATION? YOU MIGHT BE INTERESTED IN THESE TRAVEL TIPS, TRAVEL HACKS, TRAVEL ARTICLES, TRAVEL DESTINATIONS GUIDES, TRAVELER RESOURCES AND RELATED POSTS ABOUT OTHER BEAUTIFUL CITIES IN EUROPE TO HELP YOU EXPLORE EUROPE AND TRAVEL THE WORLD:
Hi There! Thanks for reading our guide to the How to Spend One Day in Brighton (A Local's Guide) I just wanted to let you know that this post contains affiliate links, which means if you purchase something after clicking a link, I may get a small commission – which is at absolutely no cost to you. If you enjoyed this article and are going to be searching for some of the things I mention anyway, I would love it if you could click through from the links above & thank you in advance! Read my full Disclosure here.
And a huge Thank You for reading the MakeTimeToSeeTheWorld travel blog.