If you're in search of a Canadian summer adventure like no other, then Banff National Park is for you. Banff National Park is one of the premier tourist destinations in Alberta Canada, and for good reason.
Despite being a brilliant place to visit all year around, it's in the summer when Banff truly earns its world-renowned reputation. Waterfalls, Grizzly Bears and glacial lakes all call the national park home – leaving you with a complete sense of awe every time you visit.
In this article, you shall be introduced to some of the best things to do in Banff in summer – you will discover the best places to visit in Banff National Park as well as some of the incredible activities you shouldn't miss out on during your stay. Not to mention including a few perfect hotels in Banff to base yourself and Banff travel tips to help you make the most of your trip!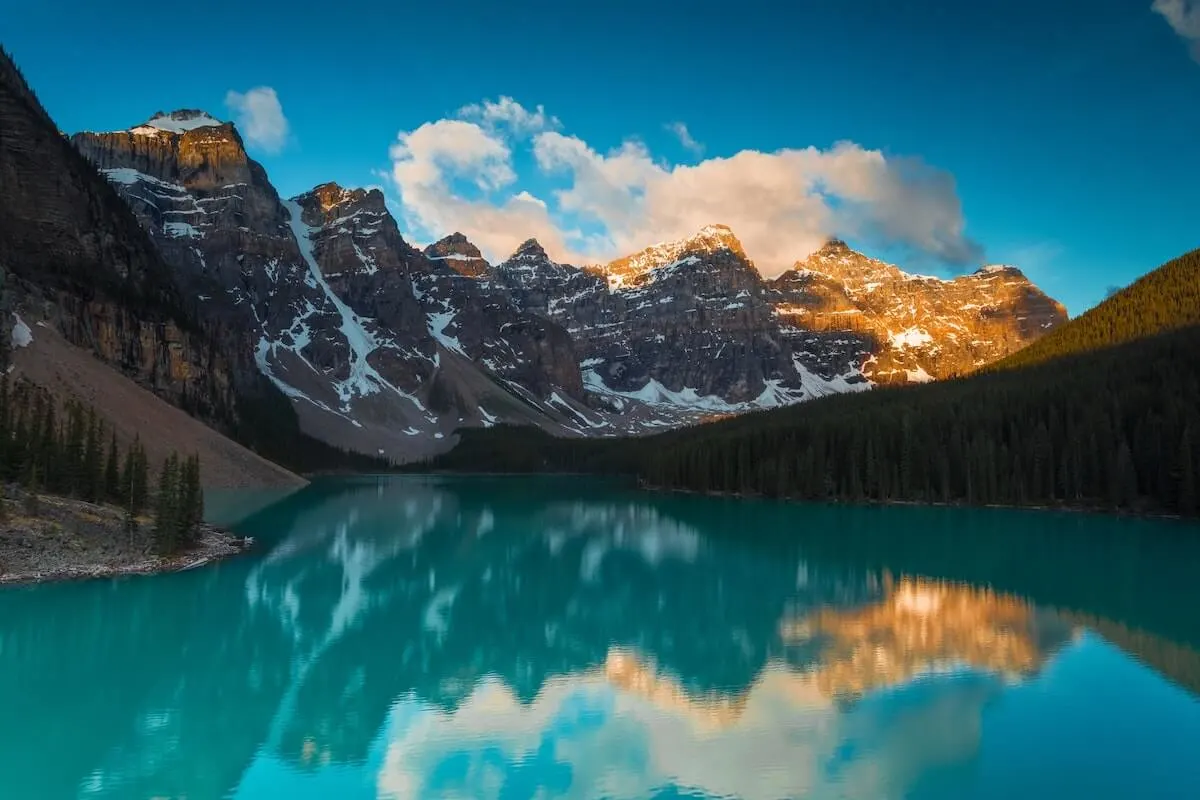 Disclaimer: Almost all posts on this site contain Affiliate links, and this one about the Best Things to do in Banff in Summer is no different. This means that if you click on any of the links in this post (and make a purchase) I may receive a small commission at absolutely no cost to you. Each post is carefully crafted to (hopefully!) answer all your questions and recommendations are made where we believe they will improve your trip and help with your planning. As such we thank you in advance should you decide to click & buy. Read my full Disclosure here.

Why Visit Banff In The Summer?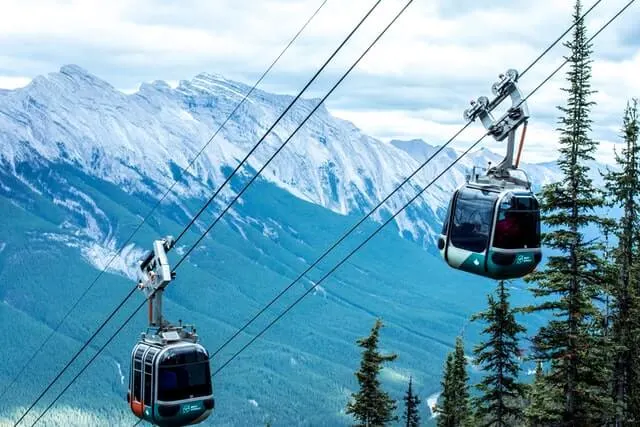 Back in 1883, when workers on the Canadian Pacific Railway discovered a natural, thermal spring bubbling out of the ground just outside of the township of Banff, they couldn't have known how much of an impact it would have on Banff, and Canada more widely.
The fallout from the discovery led the Canadian government to declare Banff as the country's first ever national park. Ever since that day, people have flocked in their millions to soak in the incredible wildlife and serene landscapes on offer throughout the national park.
In winter, the entire region is covered in a thick layer of impenetrable Albertan snow. So it is only in the summertime, when the activities in Banff National Park truly come alive.
From hiking to canoeing, cheese fondues to gondola rides, horseback riding in Banff, lakes hikes and a sightseeing tour (or two!), summer in Banff National Park has something for everybody
15 Best Things to do in Banff in Summer
Visit the Banff Upper Hot Springs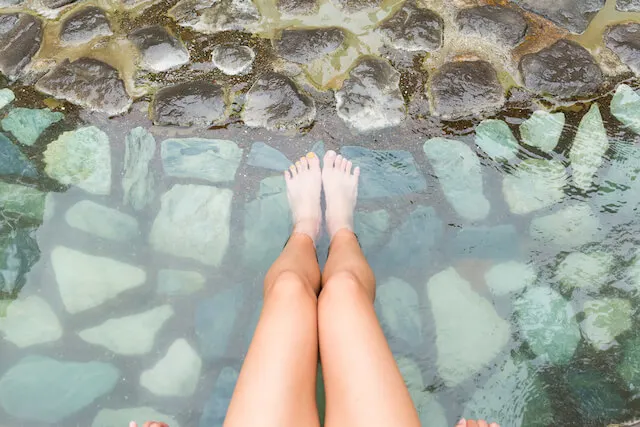 Why not begin your Banff summer adventure in the place that started it all?
The natural hot spring that the Canadian Pacific Railway workers discovered all those years ago remains in situ, as one of the most important places to visit in Banff National Park.
While the original hot springs can be found at the historical site of Cave & Basin, the main commercial hot springs can be found at the very end of Mountain avenue, 2 miles outside of the town of Banff.
While soaking in the healing water, look out across the valley to Mount Rundle – the imposing peak in the distance.
Natural hot springs around the world are renowned for their healing, cathartic effects, but there can't be many that are set in a place as beautiful as Banff National Park.
Canoe on Lake Louise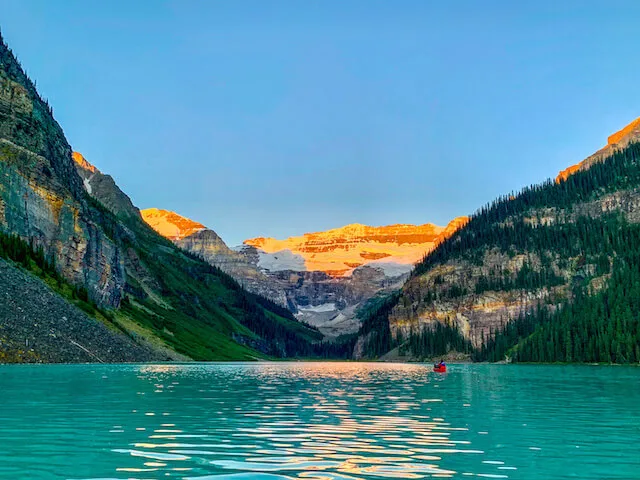 Lake Louise, a 40-minute drive from Banff along the Trans-Canada Highway (Highway 1A), has long been known as one of best places to visit in Banff National Park.
The combination of the serene, blue water with the mighty Victoria Glacier in the background, creates a world-class summer destination like no other.
Arguably, there is no better way to explore the famous destination than opting to paddle on one of the classic red canoes. Canoeing on Lake Louise has become one of the signature summer activities for visitors to the Canadian Rockies, and it is easy to see why.
While idly floating across the turquoise, glacial waters, surrounded by a forest of Alpine larches, you'd be forgiven for thinking you were in some sort of dream.
If you're wondering how to Canoe on Lake Louise, you are certainly not alone. It is one of the most iconic activities in the whole of Canada, and your summer visit to Banff National Park would not be complete without experiencing it.
Ride the Sulfur Mountain Gondola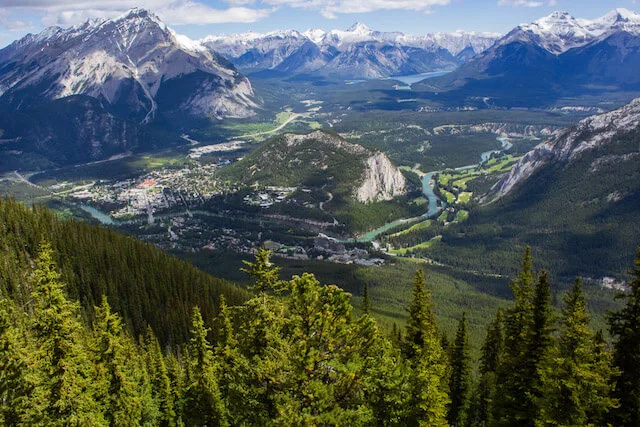 It is difficult to imagine a better view of the Canadian Rockies than from the top of Sulfur Mountain, towering over the town of Banff.
The Sulfur Mountain Gondola, better known as 'Banff Gondola', can be found at the base of Sulphur Mountain at the end of Mountain Avenue in Banff, Alberta in the heart of the Canadian Rockies.
On the 8-minute, 698m journey to the top, you are treated to wonderful panoramic views of the valley below. The once-in-a-lifetime views can be supplemented by a 3-course meal at the award-winning Sky Bistro.
The distinctly Canadian menu features a number of regionally-sourced meats, produce and ingredients to cater to everybody's palette.
Walk off your indulgent meal by taking the Sulfur Mountain boardwalk to Sanson's Peak – the true top of Sulfur Mountain – before heading back to the observation deck for one final 360 degree view of the valley below.
Sulfur Mountain Gondola provides timeless views of the Rocky Mountains, and you need to get a piece of the action.
Stay a night at the Fairmont Banff Springs Hotel

Located in the heart of Banff National Park, the world-renowned Fairmont Banff Springs Hotel is a quintessential luxurious hotel, acting as an extravagant accommodation option for your stay in Banff.
Aptly named 'the Castle in the Rockies', the Banff Springs Hotel has been providing legendary hospitality since the first guests walked through its doors in the late 1800s.
The many restaurants, bars and stores inside may have changed over time but one thing remains the same – the world-class service on offer cannot be rivaled.
The Willow Stream Spa offers an abundance of high-caliber massage, facial and body experiences to ensure you feel completely relaxed and restored for the remainder of your Banff National Park trip.
Finish off your stay at the Castle in the Rockies with an evening meal at the 1888 Chop House – a culinary experience befitting of any luxury hotel vacation. Choose from the wide selection of prime cuts and signature side dishes, before washing it down with a glass from the award-winning list of house wines. Or enjoy an al fresco feast at the newly opened 360º Dome Dining Experience, surrounded by views of the mountains.
The Banff Springs Hotel is an acclaimed mountain resort that will complement any visit to Banff National Park – even if you only visit for the 'eat the castle' experience.
RELATED: If you want to stay in another Banff icon, why not book a night (or 2!) in the insta-famous, luxurious, castle-esque Fairmont Chateau Lake Louise.
Discover Moraine Lake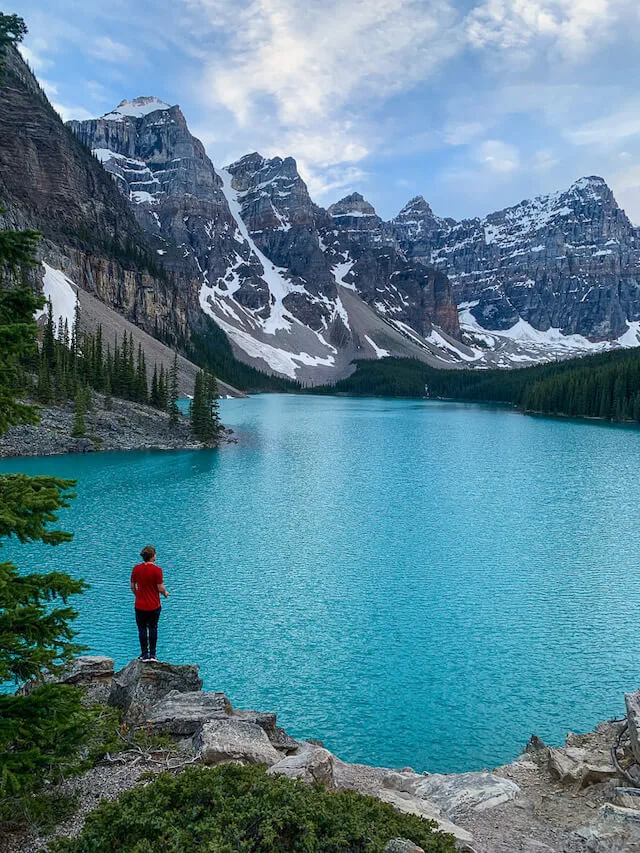 When a landscape appears on the back of the national 20 dollar notes, in world-renowned video games and as the login screen for Windows 10, you know it is worth paying a visit to in real life.
Moraine Lake is the equally stunning Banff Lake, if less well-known, counterpart of Lake Louise. A 10-minute drive from Lake Louise, through the winding Moraine Lake Road, you will stumble upon a modest car park with seemingly little going for it.
It isn't until you venture through the parting in the trees however, before you discover the true beauty that lies behind.
Choose to venture up the short Moraine Lake Rockpile hike, to get the quintessential view of the lake and the surrounding mountains. Or if you prefer, similar to Lake Louise, you can choose to explore the lake on a canoe – easily rented from the Moraine Lake dock.
The lake gets its unique colour from the nearby glaciers. Rock flour particles get into the lake from the glacial melt, and when the sun shines on them, they reflect a lovely vibrant blue. As with many of the lakes in the Rockies, Moraine is a shining example of the natural beauty that is found within Canada.
Moraine Lake, situated in the stunning Valley of 10 Peaks, is truly a sight to behold.
Hike through Johnston's Canyon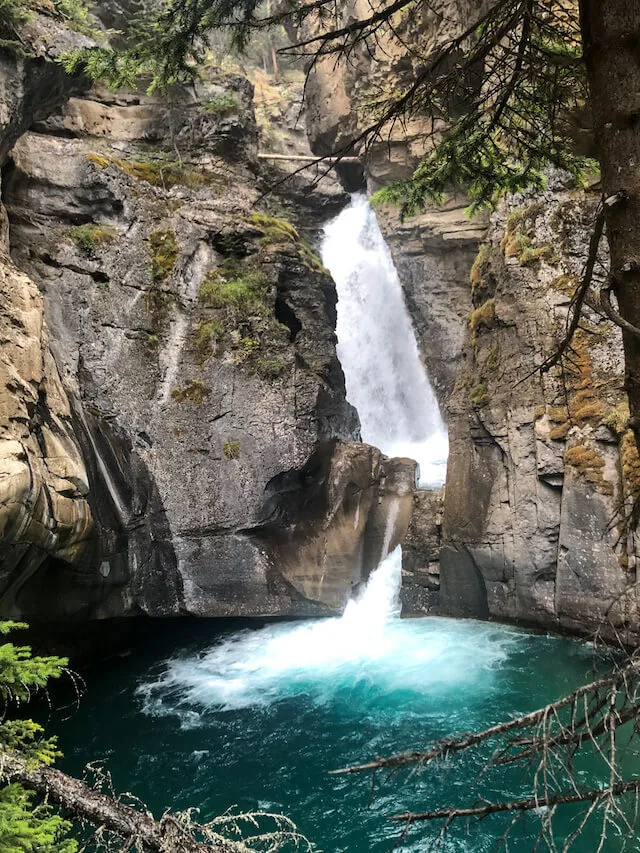 As one of the best places to visit in the Canadian Rockies, Johnston's Canyon is somewhere that all visitors to Banff National Park should try to explore.
Waterfalls, gorges and high canyon walls are all part of the framework that makes Johnston's Canyon such a unique place to discover.
A 40-minute drive from Lake Louise, along the scenic Bow Valley Parkway, Johnston's canyon is accessible by road (but only with an organised tour), and for those feeling a little more adventurous, the parkway delivers some of the best cycling views in Banff National Park.
Rent a bike from the towns of Banff or Lake Louise, and head along the cycleway. If you're lucky, you may even spot one of the resident Grizzly Bear Sows and her cubs – the Bow Valley Parkway is renowned for being one of the best places to be able to witness one of the famous animals in the wild.
Once you arrive at Johnston's Canyon, it is a short hike to the two main attractions – Lower Falls and Upper Falls.
Lower Falls, the smaller of the two waterfalls, can be found less than 1.5km into the simple out-and-back hiking trail, and is best viewed from inside a small cave, dug deep into the canyon walls.
Watch the Upper Falls descend over 40m into the river below, before heading back through the forest to the trailhead.
Johnston's Canyon, rather criminally, is not spoken about quite as much as some of the other signature attractions in Banff National Park – making it even more special to visit, before everybody else finds out about it.
Explore the town of Banff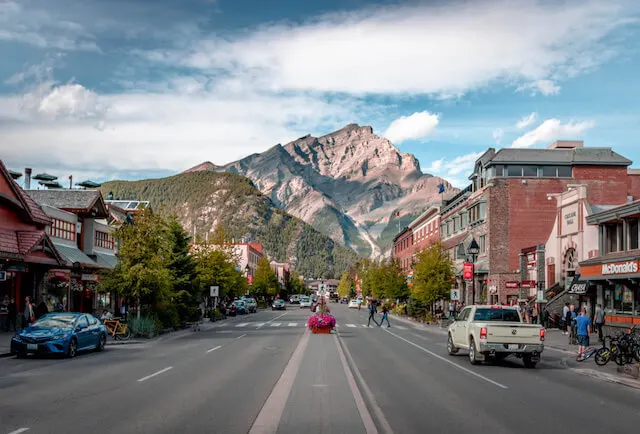 No Banff National Park itinerary would be complete without mentioning the Banff townsite that the national park was named after.
Exploring the streets of downtown Banff is an adventure in itself, and around every corner there are new and fascinating sites waiting to be discovered.
Banff Avenue, the main street that runs through the centre of the town, is awash with restaurants, bars, shops and stores. Spend your time wandering in and out of the little boutique stores in search of some of the finest Canadian goodies.
Banff Park Distillery is home to 100% local handmade spirits and a campfire inspired cuisine that is sure to get your taste buds racing. In the summer, the front wall of the distillery is retracted, using a giant pulley system, to reveal a wonderful open-air dining venue.
With your hunger satisfied, why not work your meal off with a walk to Bow Falls? Within walking distance of the town of Banff, the Bow Falls lie on the Bow River and are yet another example of the striking natural beauty found within Banff National Park.
And if you are ready for another adventure, there are plenty of ATV tours or horseback rides that leave and return to the town after trekking along the Bow River, or join the Banff Canoe Club to canoe or kayak to paddle down it!
Quite simply, it would be easy to walk up and down Banff Avenue all day long – exploring Banff centre is certainly one of those activities that cannot be underestimated when visiting Banff National Park.
Take a Spin on a Stand Up PaddleBoard

With so many lakes and rivers in the Banff and Lake Louise areas, a spot of Stand Up Paddleboarding should be at the top of your list of things to do in Banff in Summer!
Vermilion Lake is a local favorite, with its typically calm waters and wooden dock for easy access, or Johnson Lake and Two Jack Lake offer two more options for well-sheltered bodies of water (note: calm, flat water with little wind is perfect for SUP-ing); and while Lake Louise and Moraine Lake are typically frequented more by canoeists, they make for an unusual photo op and experience when you explore them on a SUP!
Cruise on Lake Minnewanka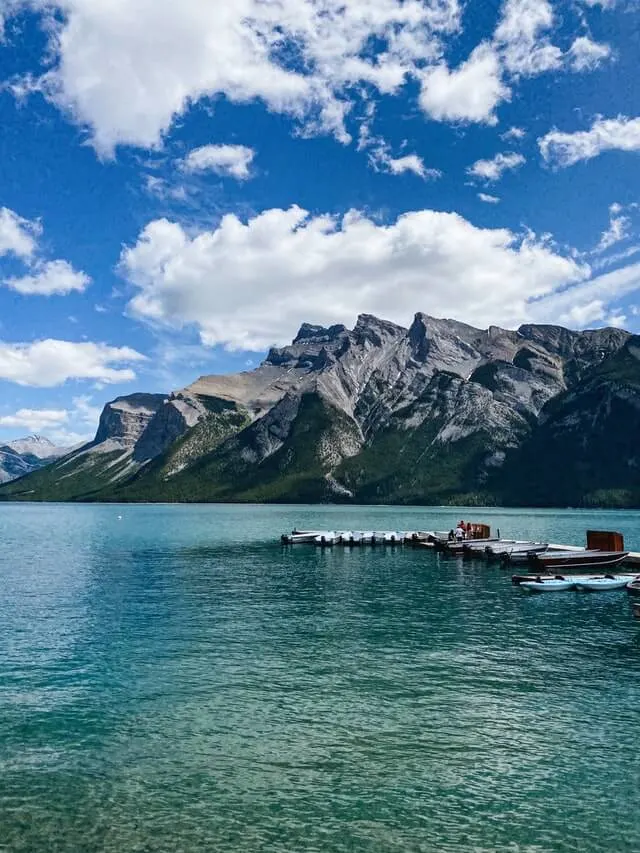 Just 3km from the town of Banff, this large glacial lake, surrounded by towering peaks, is famous for its boat tours and cruises that visitors have been enjoying for over 100 years.
Maintaining a deep connection with the land, cruise captains are knowledgeable about history, geology, animals, park policy and native involvement and provide informative and entertaining commentary throughout each and every journey.
There are also plenty of hiking opportunities in the area – although keep an eye out for bighorn sheep, American bald eagles, ospreys, and deer (and the occasional bear!) And if hiking isn't your thing, a panic by the shores of the lake is a wonderful way to soak in the scenery.
Hike the Tunnel Mountain Trail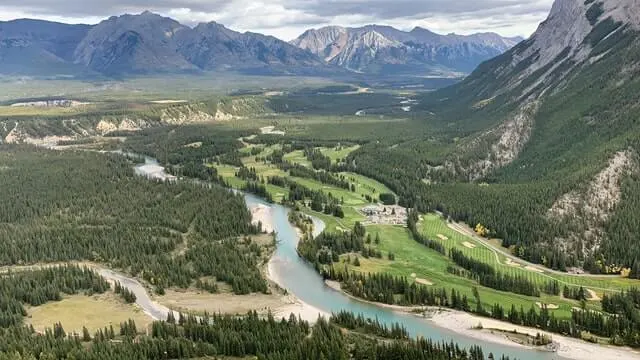 The Tunnel Mountain Trail is a short hike, the start of which can be easily accessed with a short 1km walk from downtown Banff.
This well-maintained trail is a favorite with locals and visitors alike and offers a respite from the busy streets of Banff Centre. It is just short of a 5km round trip, and with an elevation gain of just 260m, it is a fantastic day hike that can be enjoyed by even beginner hikers. The picture above is the one of the views you can expect on the trail – in case you need a little more convincing.
Drive the Icefields Parkway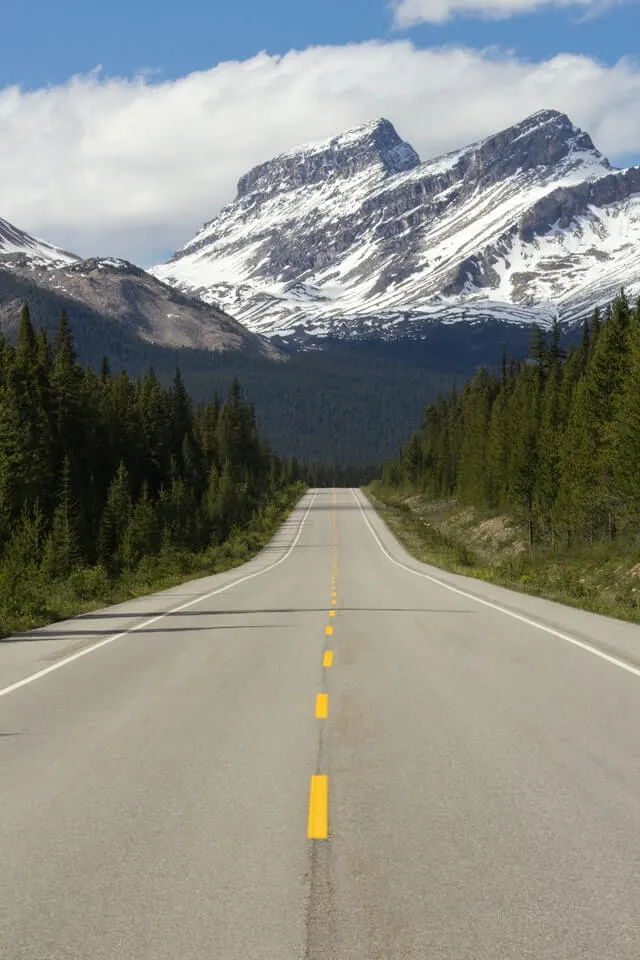 You can't visit Banff Canada without driving even a small distance on the Icefields Parkway. The route between Lake Louise and Jasper is one of the most beautiful road trips in the world.
Taking about 3 hours to drive, road-trippers are treated to some of the most incredible views in the Canadian Rockies. With over 100 ancient glaciers, cascading waterfalls, rock spires, and emerald lakes set in sweeping valleys of thick pine and larch forests that are filled with wildlife – it's no wonder Conde Naste Traveller named is as one of the best scenic drives in the world.
There are also plenty of Banff sightseeing and wildlife tours that you can join if you would rather not drive and just concentrate on taking in the view! And if you have the opportunity, be sure to stop by Peyto Lake in the Banff NP and the Columbia Glacier Skywalk in Jasper National Park – this curved bridge suspended high in the Rockies and gives visitors the most incredible views of the Athabasca Glacier.
Hike in Sunshine Meadows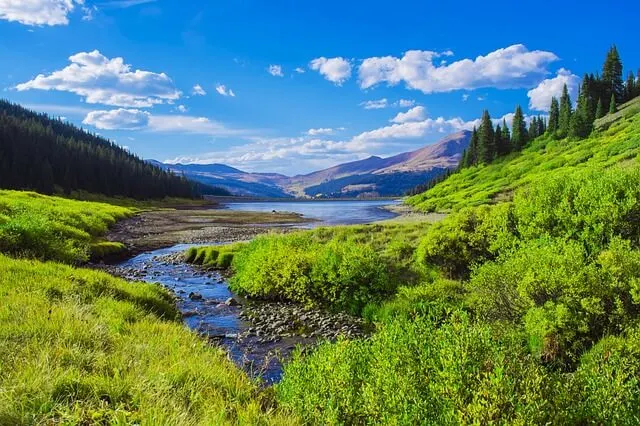 Banff Sunshine Village Ski Resort becomes a wonderland for hikers in the summer. Using the same gondola and Standish Chairlift as the winter sports enthusiasts, lovers of the outdoors are whisked to over 2,400m (8,000 ft) for incredible views over the 3 pristine Alpine lake areas of Laryx, Grizzly, and Rock Isle and the surrounding Sunshine Meadows area of the Canadian Rockies.
And to get back down to ground level, there are plenty of trails to explore. If you are not a confident hiker or just prefer a little expert company, you can join a guided hike/trail walk at the Interpretive Center, with options for 1, 2 and 5 hour hikes. These tickets are super reasonable price-wise and give you the benefit of a local's knowledge of the area and can be combined with your Gondola and Chairlift tickets to get the best of both the above and on-ground views.
Take on Mount Norquays Via Ferrata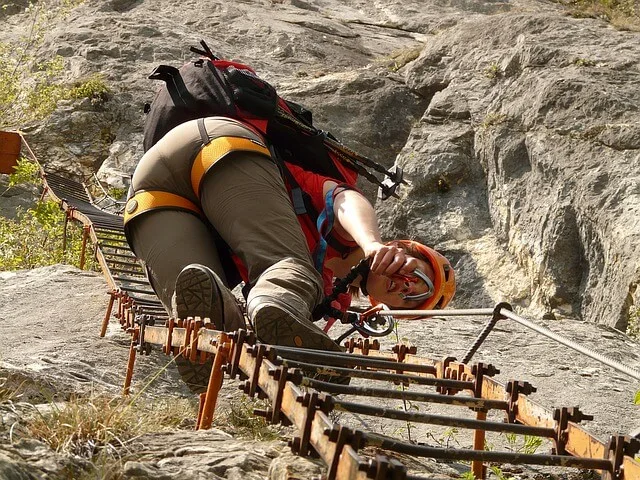 Taking a hike in Banff to the next level, the Mount Norquay Via Ferrata (Italian for "iron road") is an assisted climbing experience along four breathtaking routes on the cliffs above Mt Norquay using cables, ladders and bridges.
Mountaineers can spend up to 8 hours on the Via Ferrata covering over 3km's of distance and nearly 500m of vertical gain in a once-in-a-lifetime Banff hiking experience with some of the most incredible views you could ever hope to hike through! And once you've conquered that trail, two new ones opened in summer 2021!
Go Whitewater Rafting on Kicking Horse River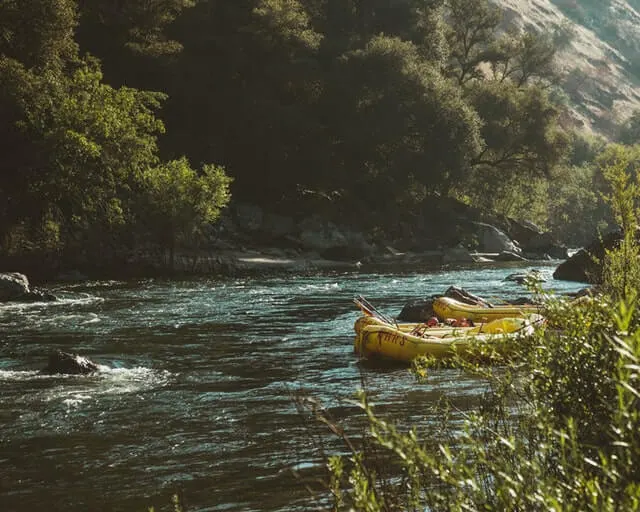 If the dizzying heights of the Via Ferrata are not your cup of tea, why not give whitewater rafting a go on the Kicking Horse River? About 1 Hour 45 minutes from Banff Centre, Kicking Horse River offers rapids across all disciplines from Grade 1 and the way through to Grade 4. Offering equal parts drenching and delight, push yourself to the little on this adrenaline-pumping activity in Banff.
If grade 4 rapids are a little bit too intense, family-friendly Grade II and III whitewater rafting options can be found near Banff at Kananaskis River and Horseshoe Canyon.
Visit The Cave and Basin National Historic Site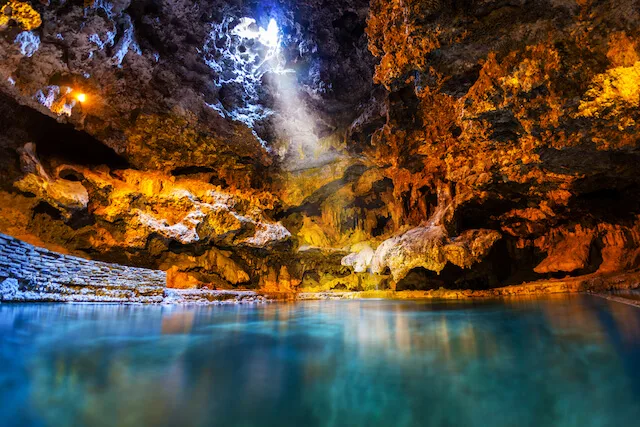 Visit the Cave and Basin National Historic Site and discover the birthplace of Canada's national parks.
Learn all about the natural and cultural history of the mountains; discover the hot water that seeps from the rocks, smell the minerals and explore the trails. All visits can be done on your own or visitors are welcome to take one of the many guided tours.
Our Top Tips for Visiting Banff in Summer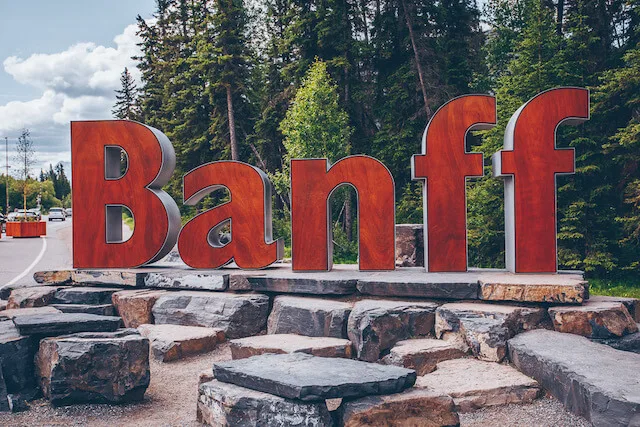 If you plan to visit most of the attractions in our list, we recommend you invest in the Banff Park Pass – which offers daily visits to all the mountain national parks (Banff, Jasper, Yoho National Park, Kootenay, Waterton, Elk Island, Mount Revelstoke, and Glacier National Park)
Book your preferred Banff Hotel early to avoid disappointment.
For beer, snacks and epic views, try and grab a patio table at the Rose & Crown, perched above Banff Ave.
Banff summer runs from June to September – but remember to pack layers. Although it is 'summer' – mountain weather can be unpredictable and you don't want to end up too hot or too cold.
Pack comfy hiking shoes – you're going to need them!
Final Thoughts on the Best Things to do in Banff in the Summer
Banff National Park is the birthplace of Canada's national park system and is home to over 1600km of maintained hiking trails. With the promise of glacial lakes, mountain peaks and Grizzly bears, it is easy to see why so many people flock to this destination year after year.
Hopefully this article has inspired you to visit Banff National Park in the summer, and has given you a good understanding of what to expect on your Canadian Rockies summer adventure.
We hope our guide to the best things to do in Banff in Summer has been a huge help planning your trip, and if you know of anyone else that needs a little bit of inspiration or assistance in planning their Banff break, please be sure to share on social media: Facebook, Flipboard, Twitter or grab one of the images from below for Pinterest. And remember – sharing is charing (and we thank you in advance!)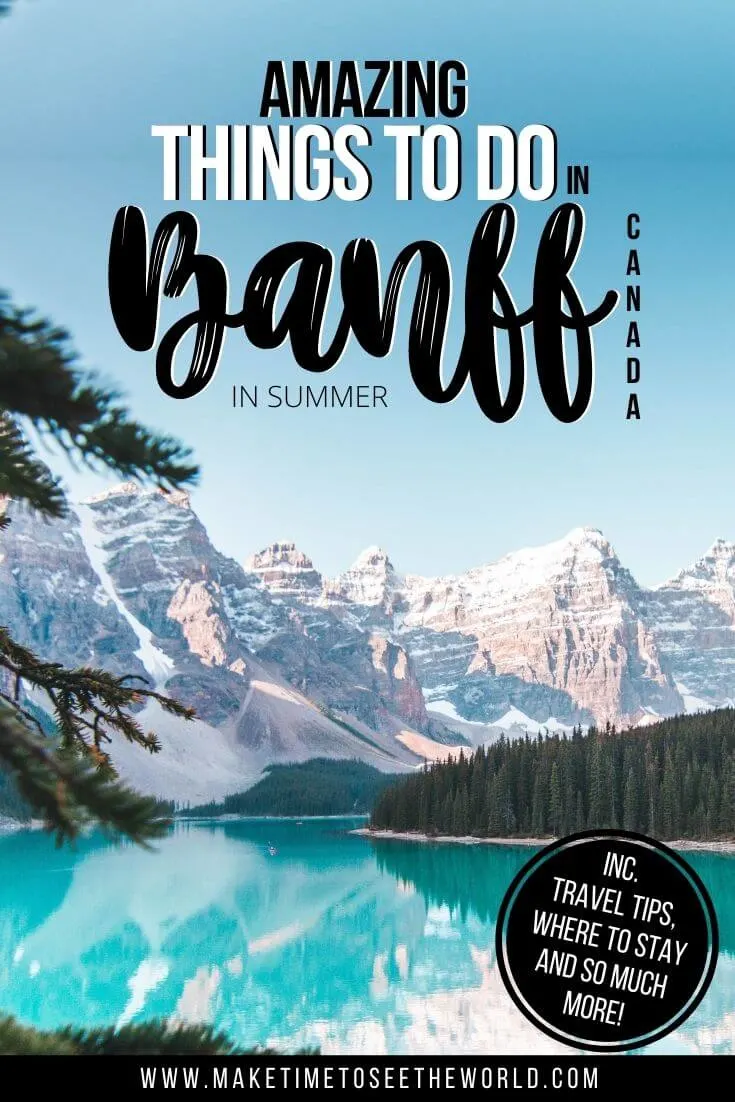 READY FOR MORE CANADA & USA TRAVEL INSPIRATION? YOU MIGHT BE INTERESTED IN THESE TOP TRAVEL TIPS, TRAVEL ARTICLES, DESTINATION GUIDES, PACKING LISTS, TRAVELER RESOURCES, BUDGET TRAVEL POSTS AND RELATED POSTS ABOUT OTHER AMAZING CITIES IN CENTRAL AMERICA & NORTH AMERICA:
Hi There! Thanks for reading our travel guide to the most UNMISSABLE Things to do in Banff in Summer. I just wanted to let you know that this post contains affiliate links, which means if you purchase something after clicking a link, I may get a small commission – which is at absolutely no cost to you. If you enjoyed this article and are going to be searching for some of the things I mention anyway, I would love it if you could click through from the links above & thank you in advance! Read my full Disclosure here.
And a huge Thank You for reading the MakeTimeToSeeTheWorld travel blog.