Discover some of Canada's breathtaking beauty with our 3-day Banff itinerary! Including unforgettable sights, activities, and tips for an incredible first-time visit.
Are you planning to spend 3 days in Banff? Then you've come to the right place. Picture a destination with jaw-dropping scenery and endless opportunities for adventure. Banff National Park provides all that and promises an unforgettable experience.
While you can visit the Canadian Rockies year-round, common sense tells you it's more accessible in summer. With longer hours of daylight, warmer temperatures, and no road closures, you'll have your choice of trails to conquer. And to visit Banff National Park, you must purchase a Discovery Pass from Parks Canada. They are available by the day or year and must be displayed in your vehicle.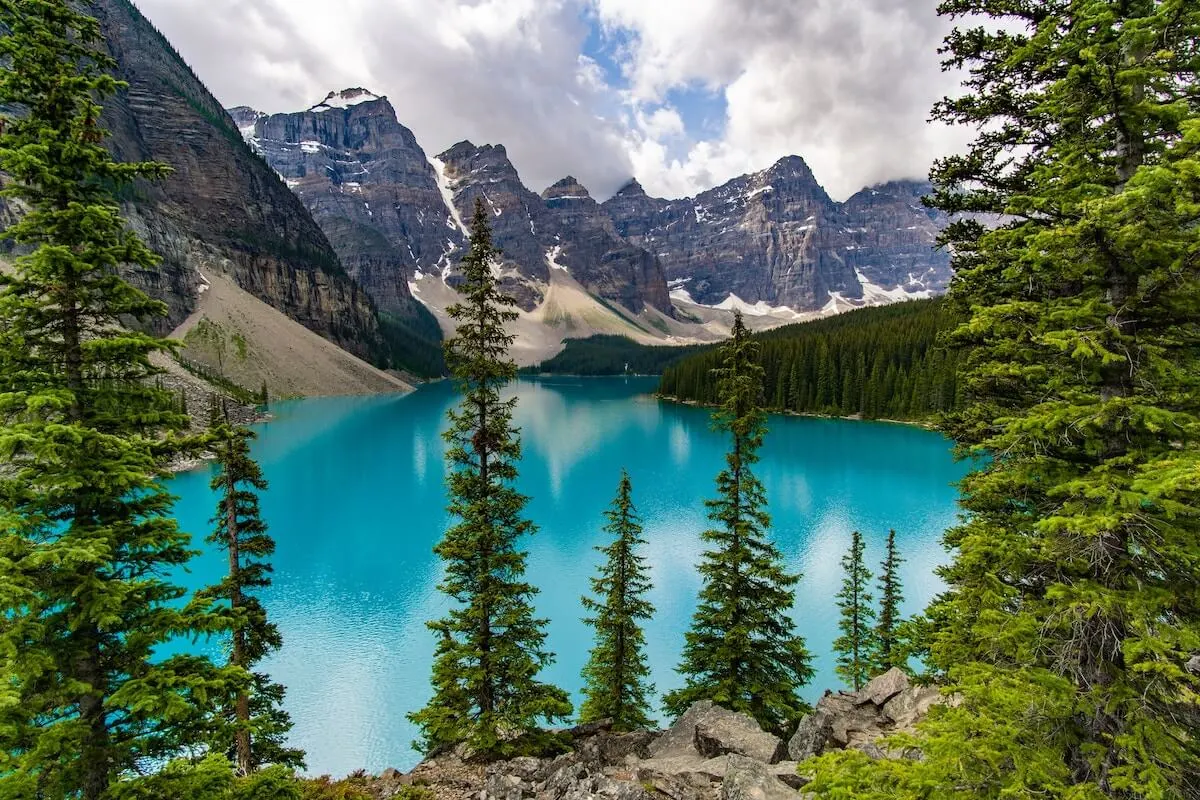 Disclaimer: Almost all posts on this site contain Affiliate links, and this one about a perfect 3 Day Banff Itinerary is no different. This means that if you click on any of the links in this post (and make a purchase) I may receive a small commission at absolutely no cost to you. Each post is carefully crafted to (hopefully!) answer all your questions and recommendations are made where we believe they will improve your trip and help with your planning. As such we thank you in advance should you decide to click & buy. Read my full disclosure here.

Where To Stay In Banff?
Summertime commands the highest prices when it comes to accommodation in downtown Banff. Booking a year in advance can save you money and give you better availability. However, if you're on a budget, staying at a hotel in Canmore, 20 minutes away, can save you up to 50% off your hotel stay.
The Banff Springs Hotel and Chateau at Lake Louise provide luxury accommodations if you want the very best. Located next to Lake Louise, you can't beat the idyllic location or the gorgeous views from the Chateau.
Alternatively, if you are looking for a hotel in Banff town, the Moose Hotel and Suites on Banff Avenue provides a chalet-style hotel with an amazing rooftop hot tub and swimming pool. Next door, the Ptarmigan Inn included a fantastic complimentary buffet breakfast. Both of the hotels are within walking distance of top restaurants and bars.
When is the Best Time To Visit Banff?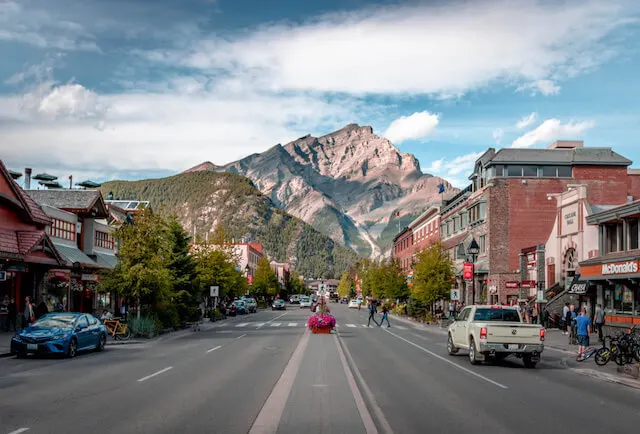 Visiting Banff from late June to October offers the ideal time to experience the Canadian Rockies. Many lakes, like Moraine Lake and Lake Louise, complete their winter thaw in mid-June. If you visit any earlier, you should expect muddy trails, snow, and area closures.
If you're adventurous and travel to Banff in winter, you'll experience fewer daylight hours and less accessible trails. With sub-zero temperatures and deep snow, it's slow hiking, especially with heavy layers.
While visiting in winter might be off your radar, you'll benefit from lower hotel prices, fewer people, and empty trails.
July and August are the peak months and the best time for visitation. You'll see glacial lakes at their prime and heavily flowing waterfalls. Take a peek at the Best Things to do in Banff in Summer if you're not convinced!
In summer, it's common to find crowded trails, no parking, and long waits for a restaurant seat. So, you'll need to exercise patience as you explore the Rocky Mountains during these times.
Ultimate Banff Itinerary: Day One
Johnston Canyon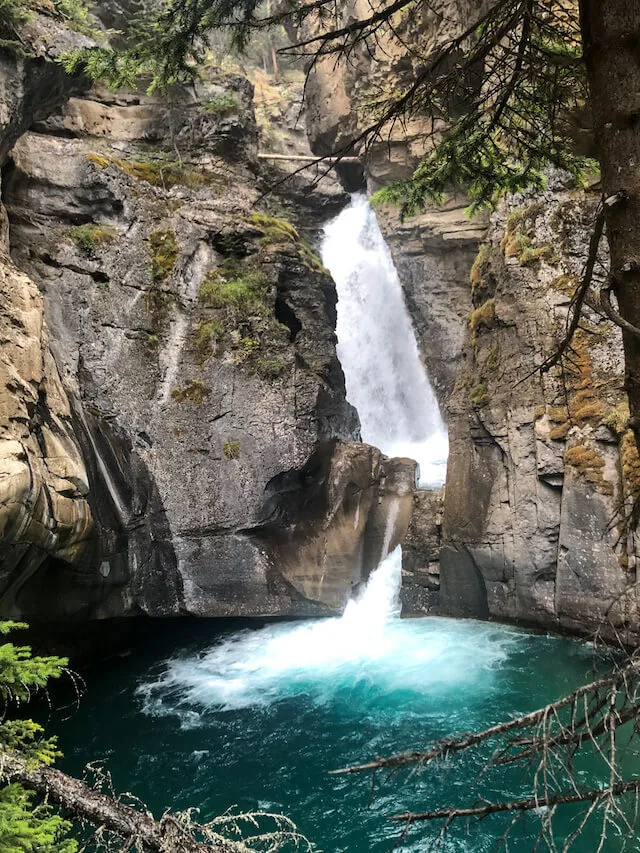 There's no better way to kickstart your Banff itinerary than an early morning hike. Johnston Canyon, located off the Bow Valley Parkway, might be one of Banff's most popular hiking trails, so getting to the trailhead before the crowds is recommended.
Its in-and-out trail is suitable for all hiking abilities, and you have the option to travel as far as you want. This makes it perfect for beginners that want to hike in Banff. Also, the Market Café and "the shack" are open during warm weather to accommodate hikers. They provide refreshments before or after the trek.
While the hike has minimal elevation gain, proper footwear with ankle support is recommended, especially for those who plan to trek past the lower falls.
While the trail marks two notable falls, the lower and upper, Johnston Canyon features a myriad of cascades. Most visitors use the lower falls as the turnaround point; however, they miss out on the more impressive upper falls. Roundtrip, it's 2.3 km to the lower falls and 5.1 km to the upper falls.
The beauty of this hiking trail is the narrow canyon and marvelous elevated platform which hangs over Johnston Creek. Once you reach the lower falls, a bridge provides access across the creek. Then, the trail enters a dark tunnel and emerges at the base of the falls.
Should you choose to go further, expect more of an incline to the upper cascade. These falls drop off a cliff and fall further into a small pool. In winter, both waterfalls freeze, with the upper providing a great ice wall for ice climbers.
Cave And Basin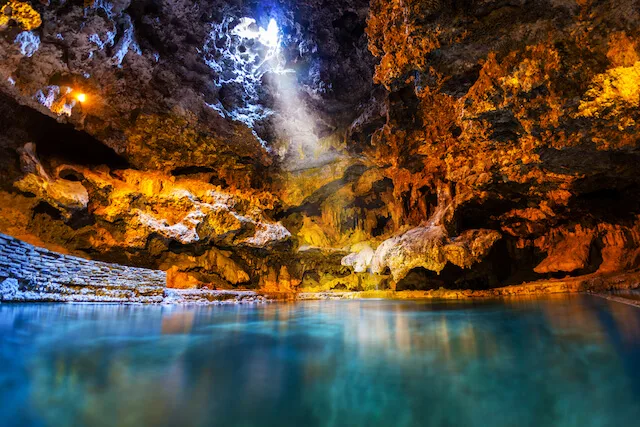 Built over a thermal spring, the Cave and Basin National Historical Site serves as an educational center. Your Discovery Pass gives you complimentary access.
Here, you'll learn about the retreat of the glaciers on the Icefields Parkway. A mineral-rich outdoor pool houses a rare creature, the Banff Springs Snail.
The highlight of a visit to the Cave and Basin is the cave itself if you can tolerate the sulfur odor. As you walk through a natural tunnel, the smell of rotten eggs becomes more pungent. Inside the cave, a small opening in the ceiling provides a glimmer of natural light to the thermal pool.
Outside the center, there are several trails to explore the area. The Marsh Trail travels below the center to the marsh area. The short walk provides insight into how the thermal springs encourage life forms.
Bow Falls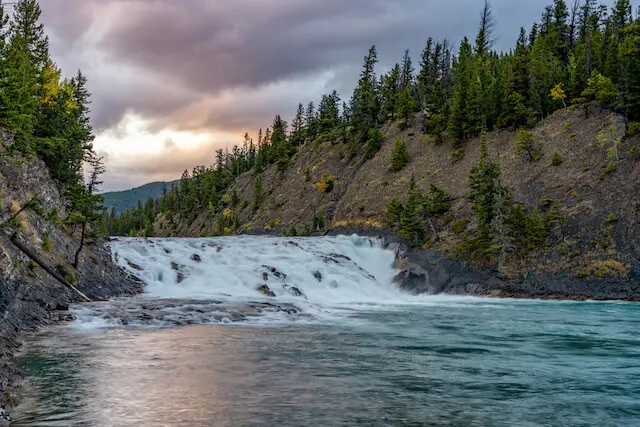 Bow Falls is the nearest waterfall to the town of Banff, located on the Bow River. It offers two viewpoints; one near the Fairmont Banff Springs Hotel and the other across the river at Surprise Corner.
The viewpoint near the hotel has a large paid parking lot, providing the easiest access to the falls. Unlike Johnston Canyon, these falls are wide and thunderous.
Surprise Corner offers no parking lot, but its viewpoint is more picturesque. Along with the falls, you can capture a photo with the Fairmont behind it.
Sulphur Mountain Gondola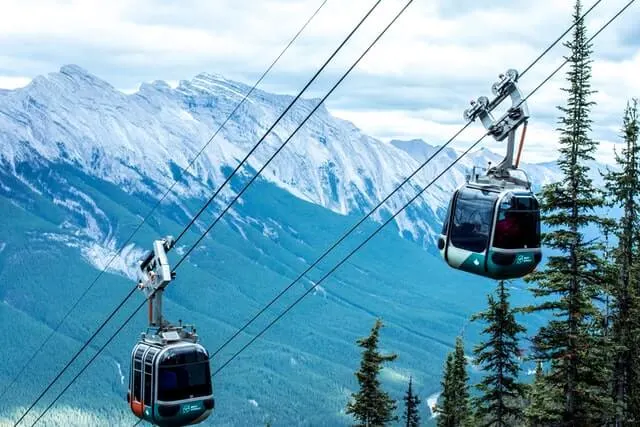 On a clear day, you can savor spectacular 360-degree views from the top of Sulphur Mountain. During peak times, you'll need to book a time slot, and ticket pricing varies according to the day of the week and customer demand.
After an exhilarating 8-minute Banff gondola ride to the top, a multi-story interpretation center welcomes you. At 8,041 feet, you'll notice the thinner air.
The center features indoor exhibits about the Canadian Rockies' flora and fauna. Outside, two observation decks allow you to take in the views of Mount Rundle, Tunnel Mountain, Banff townsite, and the surrounding vistas.
Take the 1 km walk along the wooden boardwalk to Sanson Peak. As the highest point on Sulphur Mountain, it once served as the area's weather station. On route, you may see some Bighorn Sheep who frequent the area.
For a romantic dinner, make a reservation at the Sky Bistro. Its restaurant has floor-to-ceiling windows, offering the ideal place to watch a sunset.
If the skies aren't clear, you can forego the trip to Sulphur Mountain and visit the Banff Upper Hot Springs instead. Located nearby, you can swim in a mineral pool, which is believed to have healing properties.
Ultimate Banff Itinerary: Day Two
Lake Louise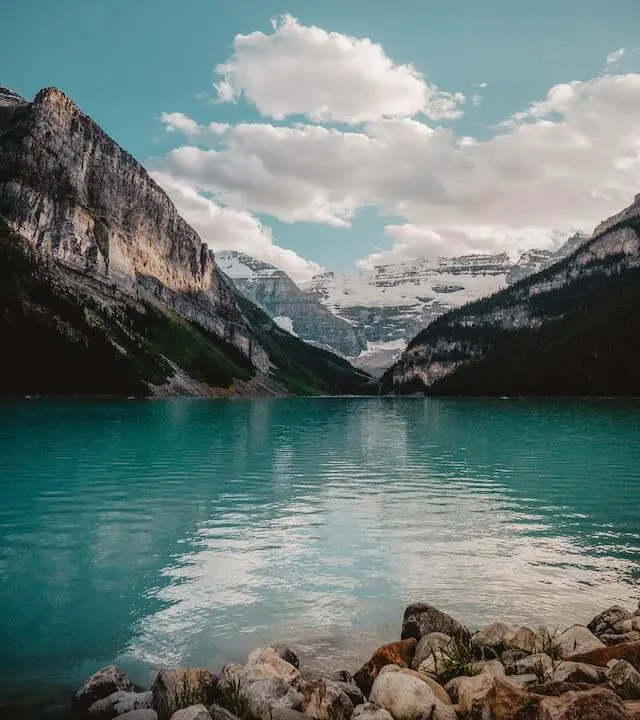 Images of Lake Louise across the web have launched the area into a must-visit destination. Watching the sunrise at either Lake Louise or Moraine Lake is a bucket list event for many and one worth the very early start.
If you want to witness the sunrise, you need to be at the lake 30 minutes before the 5:30 am event. If you're staying in Banff, the drive to Lake Louise adds another 40 minutes. However, staying at the Fairmont Chateau Lake Louise gives you easy access to the lake and no commute.
Watching the iconic sunrise over Victoria Glacier must be experienced at least once. As the sun rises, the mountain glows a golden color, as if painted by an artist.
After sunrise, you have the option to visit Bill Peyto's Cafe for a hearty, inexpensive breakfast. Alternatively, if you pack a travel mug and a snack, you can start a nearby hike.
Agnes Lake Teahouse
While the Lake Louise area offers some of the most popular hiking trails, there's none quite as spectacular as the one to Lake Agnes Tea house. As the name suggests, this trail leads to a remote mountain tea shop.
During the climb, you enjoy aerial views of Lake Louise and an option to climb to two beehives. Rated as moderate, this trail isn't for beginner hikers.
Do note that the teahouse can only take cash since it's in a remote area. Despite its locale, the quaint teahouse has over 100 different kinds of tea. You can also enjoy a freshly baked cookie and a sandwich of homemade bread.
After your strenuous trek, relax on the lake by renting a canoe from the boathouse. Another bucket list experience, you can enjoy the turquoise hues of the water on the lake.
Lake Minnewanka Boat Ride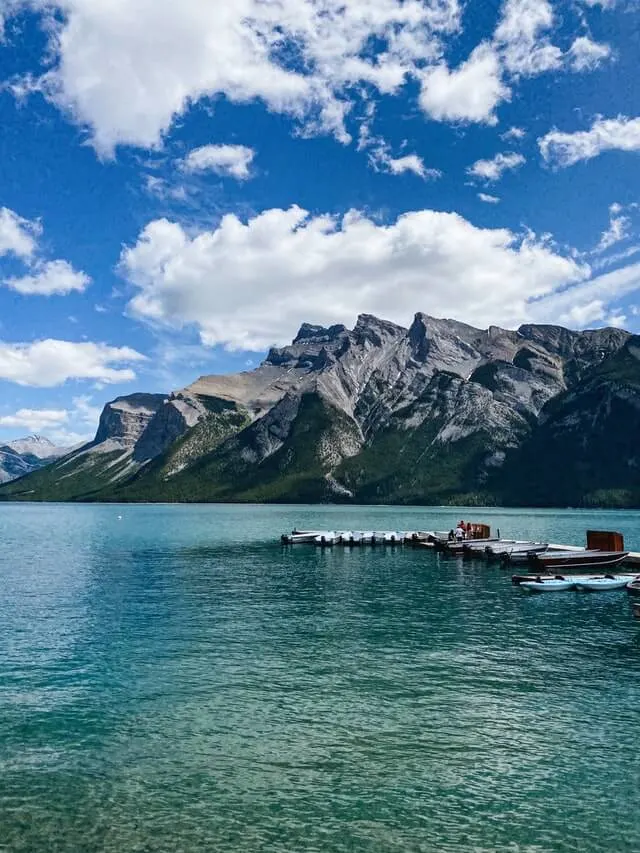 From Lake Louise, head to Lake Minnewanka, near Banff. At over 20 km long, it's the longest in Banff National Park and brings visitors for hiking, boating, and kayaking.
If you want to relax, book a boat ride on the lake. The Lake Minnewanka premium cruise takes you to the remote location of Devil's Gap.
On the 90-minute tour, keep your eyes peeled for a chance to see moose, bears, and deer.
Alternatively, you can don your hiking boots and trek to Moose Lake. As the name suggests, it's a popular place to see moose. The trail allows you to do an out-and-back or complete a circular route along the lake.
Should you opt for the latter, you'll need footwear with ankle support, as large tree roots create a tripping hazard.
Ultimate Banff Itinerary: Day Three
Moraine Lake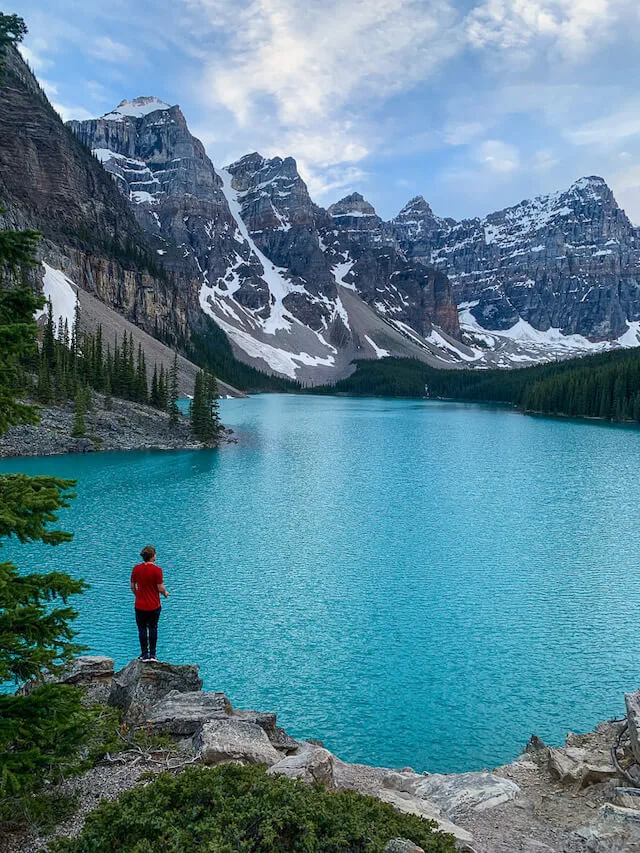 In 2023, Parks Canada closed Moraine Lake Road to private vehicles. So, to get to the lake, you'll need to book a shuttle bus. Shuttles are available from June 1, 6:30 am to 6 pm, and at 20-minute intervals.
Lake Moraine and the Valley of the Ten Peaks were pictured on the Canadian $20 bill from 1969 to 1979. Some may argue that its turquoise hues are more stunning than its neighbor, Lake Louise.
Like Lake Louise, it offers canoe rentals and superb hiking. Whether you prefer a stroll along the lake or enjoy a morning coffee from the rock pile, you'll be stunned by its natural beauty.
Consolation Lakes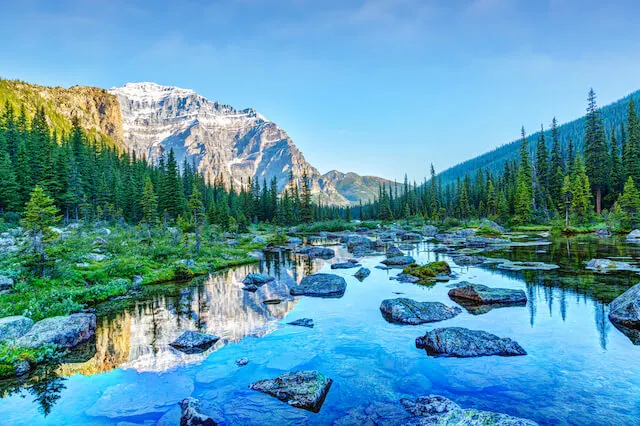 From the rock pile, there are numerous choices for hiking. Sentinel Pass, Paradise Valley, Eiffel Lake, and Larch Valley all have moderate elevation gains.
However, with a distance of 2.9 km and an elevation gain of 65 meters, the Consolation Lakes trail is much more manageable.
There are two lakes in the valley. You can easily reach the first with little effort, but the second requires some rock scrambling to access it.
Be aware that grizzly bears frequent the valley in the summer months, so check the signage at the trail's start for recommendations.
Sometimes groups of four are recommended; at other times, it's mandatory. If you aren't a group of four, you can wait for other hikers and travel together.
The first part of the trail travels around a rock moraine, with steep cliffs as a backdrop. Keep an eye on the rocks because you often spot hoary marmots and pika.
Once you hit the valley, you'll enjoy a sea of wildflowers from June to mid-August. Expect to take two hours to complete this hike.
Takakkaw Falls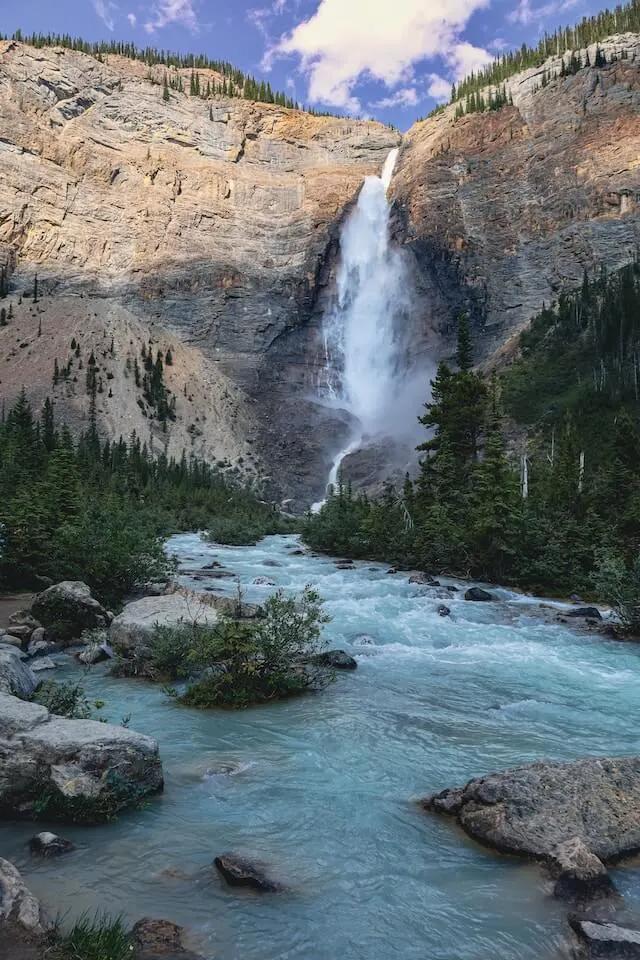 From the Moraine Lake/Lake Louise area, take the Trans Canada Hwy west to British Columbia. You'll enter Yoho National Park and have a chance to see Takakkaw Falls. As one of Yoho's popular hikes, Takakkaw Falls is a real crowd-pleaser.
Takakkaw Falls is the second-largest waterfall in Canada. The 1.3 km out-and-back trail is suitable for all, including children.
You can view the falls from the first viewpoint, where Parks Canada has left a pair of iconic red Adirondack chairs. However, if you continue to the cascade, you'll feel its refreshing spray.
The road to the parking area has sharp hairpin turns, making it unsuitable for inexperienced drivers and RVs. Due to heavy snow, access to the area opens from June to mid-October.
Peyto Lake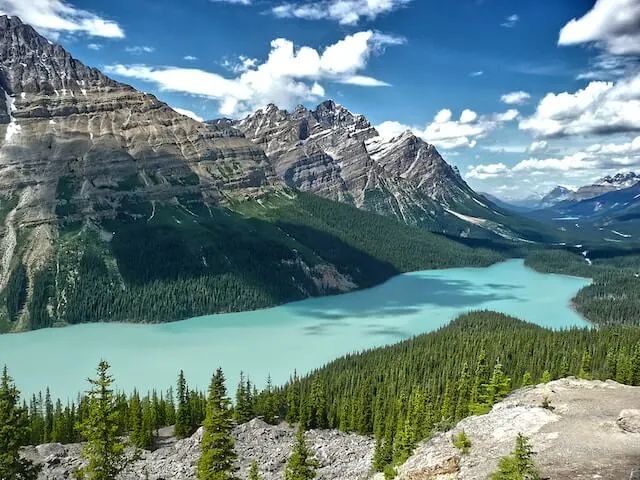 Consider the one-hour scenic drive north to Peyto Lake if you started your day early. Located off the Icefields Parkway, Bow Summit is the highest point along this stretch of highway.
You'll pass the picturesque Herbert Lake, Bow Lake, and Bow Glacier along the way. In summer, Peyto Lake attracts the crowds who arrive on buses.
Peyto Lakes' iconic shape (of a wolf's head) and gorgeous turquoise tones make it one of Banff's most beautiful lakes. From the parking area, it's a short walk to the viewpoint.
In winter, Peyto Lake looks equally spectacular. While snow blankets its turquoise hues, the sea of white provides a quiet serenity.
However, you'll need to walk through four feet of snow to reach the viewpoint. Visitors often stray off the path through the trees without a clear route.
To Wrap Up our 3-Day Banff Itinerary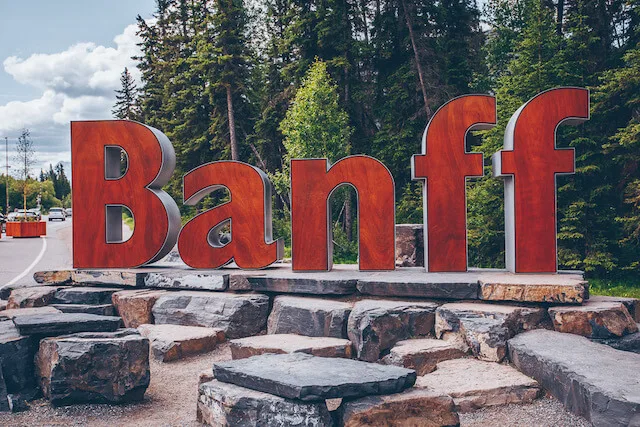 Three days in Banff will give you a teaser of what the national park offers. If you have a week, spend the first three days in Banff and the last three in Jasper National Park, further north.
To drive the icefields parkway from Banff to Jasper takes a day, with much to enjoy. You can take a bus tour of Athabasca Glacier at the Columbia Icefields. Further up the highway, the Skywalk allows you to walk on a glass floor 280 meters above the canyon.
While summer brings the crowds, consider different seasons if you plan to visit often. You'll witness the rutting season in the fall and the eerie call of elk. Early spring welcomes new life and a chance to see baby sheep, elk, and bears.
We hope our ultimate 3-Day Banff Itinerary has been a huge help in planning your trip to Banff and lets you explore as much of the Canadian Rockies as possible during your visit. If this post has been helpful or you know someone who needs help planning the Itinerary for 3 Days in Banff, be sure to share this post with them on social media.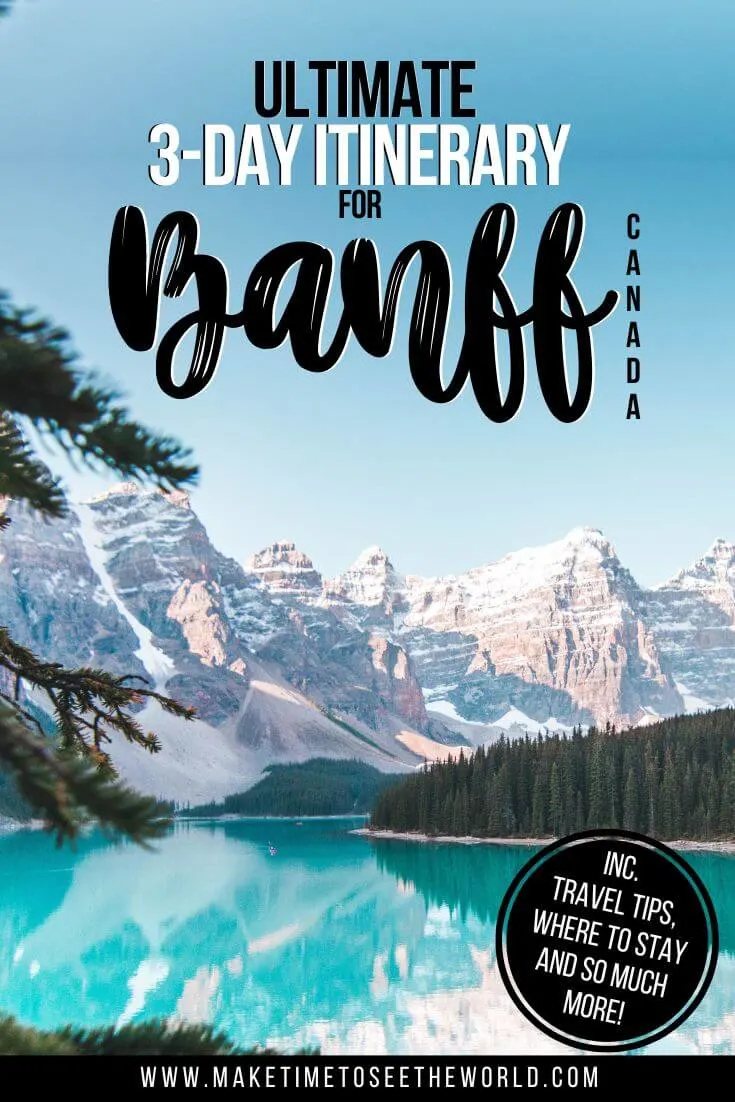 READY FOR MORE CANADA & USA TRAVEL INSPIRATION? YOU MIGHT BE INTERESTED IN THESE TOP TRAVEL TIPS, TRAVEL ARTICLES, DESTINATION GUIDES, PACKING LISTS, TRAVELER RESOURCES, BUDGET TRAVEL POSTS AND RELATED POSTS ABOUT OTHER AMAZING CITIES IN CENTRAL AMERICA & NORTH AMERICA:
Hi There! Thanks for reading our travel guide to the most INCREDIBLE 3 Day Banff Itinerary. I just wanted to let you know that this post contains affiliate links, which means if you purchase something after clicking a link, I may get a small commission – which is at absolutely no cost to you. If you enjoyed this article and are going to be searching for some of the things I mention anyway, I would love it if you could click through from the links above & thank you in advance! Read my full Disclosure here.
And a huge Thank You for reading the MakeTimeToSeeTheWorld travel blog.