Our Palm Springs travel guide includes the best things to do in Palm Springs PLUS where to stay, how to get around, day trip ideas & the best time to visit.
If you are planning a trip to Palm Springs, California, you are in good company. Palm Springs used to be a popular destination for Hollywood stars escaping the Los Angeles crowds. Nowadays, this desert resort city is a popular place for all southern Californians. Anyone looking for sunny relaxation, great hiking, or art and museums will find plenty to do.
This guide will cover all the things to do in Palm Springs CA as a first time visitor. Whether you have just one day in Palm Springs or a full week, you are guaranteed to have a good time. Our Palm Spring travel guide contains the best things to do, when to go, and how to get around. From the quintessential sights to lesser known spots, its all here!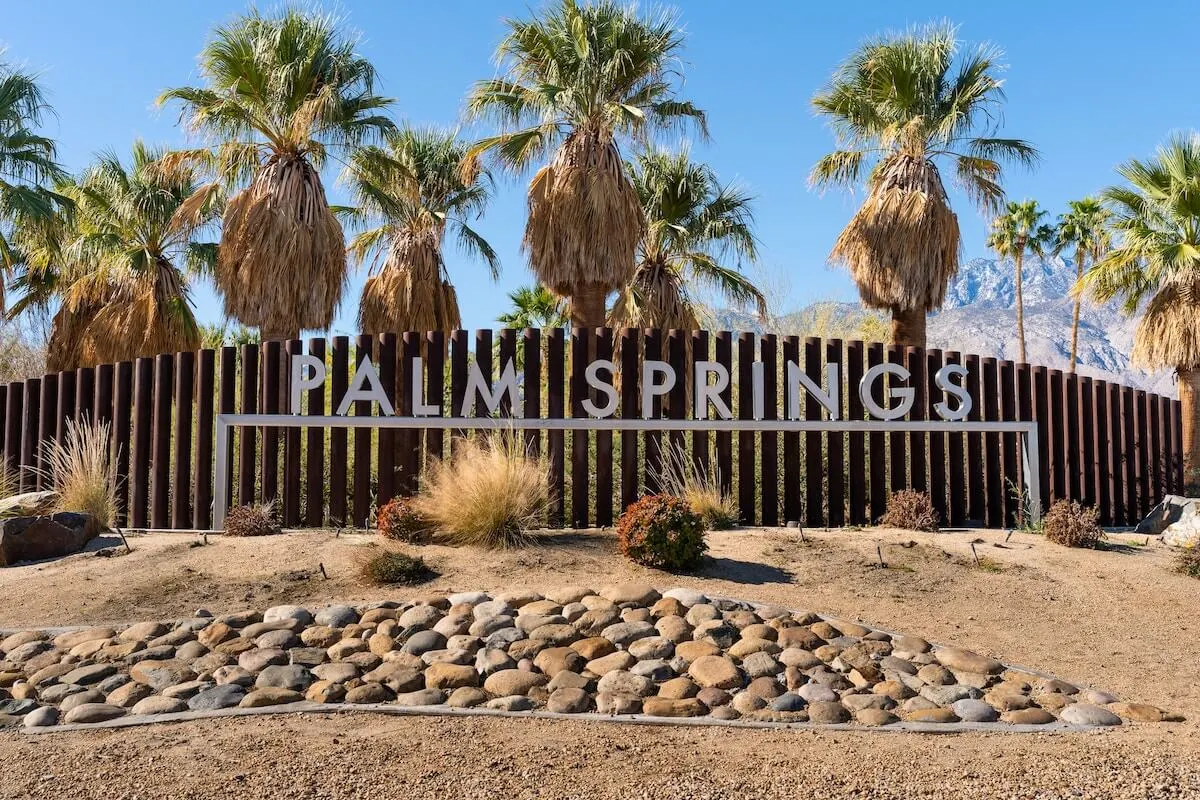 Disclaimer: Almost all posts on this site contain Affiliate links, and this one about all the best things to do in Palm Springs California is no different. This means that if you click on any of the links in this post (and make a purchase) I may receive a small commission at absolutely no cost to you. Each post is carefully crafted to (hopefully!) answer all your questions and recommendations are made where we believe they will improve your trip and help with your planning. As such we thank you in advance should you decide to click & buy. Read my full Disclosure here.

GENERAL TRAVEL INFO FOR VISITORS TO THE USA
Visa: Travelers from countries that are members of the Visa Waiver Program (ESTA) do not require a visa when visiting the USA. However, it is recommended to check up-to-date visa entry requirements before your visit regardless of what country you are coming from to avoid issues and concerns on the date of your travel.
Currency: The official currency in Washington DC is the U.S. dollar or American dollar ($, USD, US$).
You can withdraw currency from ATMs using your local bank card or a designated travel card. If you are visiting from another country, be sure to check any fees and charges from your bank prior to using it and carry a second source of payment/cash in case your primary card gets 'eaten' by an ATM.
Language: English is the primary and most widely spoken language in the USA (although not the official one at the Federal level!) There are 350 other languages spoken, the main ones being Spanish, Chinese, French, and Vietnamese.
WiFi/Internet Access: Depending on your length of stay, you can either purchase a local sim card (in advance or on arrival) – to swap out with the one in your own phone to avoid roaming charges. OR, grab a pay as you go portable Wifi Devices which means you can keep your sim active and connect wirelessly. Just remember to turn off data roaming so you don't incur any hefty charges.
Essential Palm Springs Travel Tips to Know Before You Go
Are you planning a trip to the desert paradise of Palm Springs, California? This guide is here to ensure that you make the most of your visit. From getting there and around to finding the perfect time to explore, we've got you covered with essential travel tips.
How to Get Around Palm Springs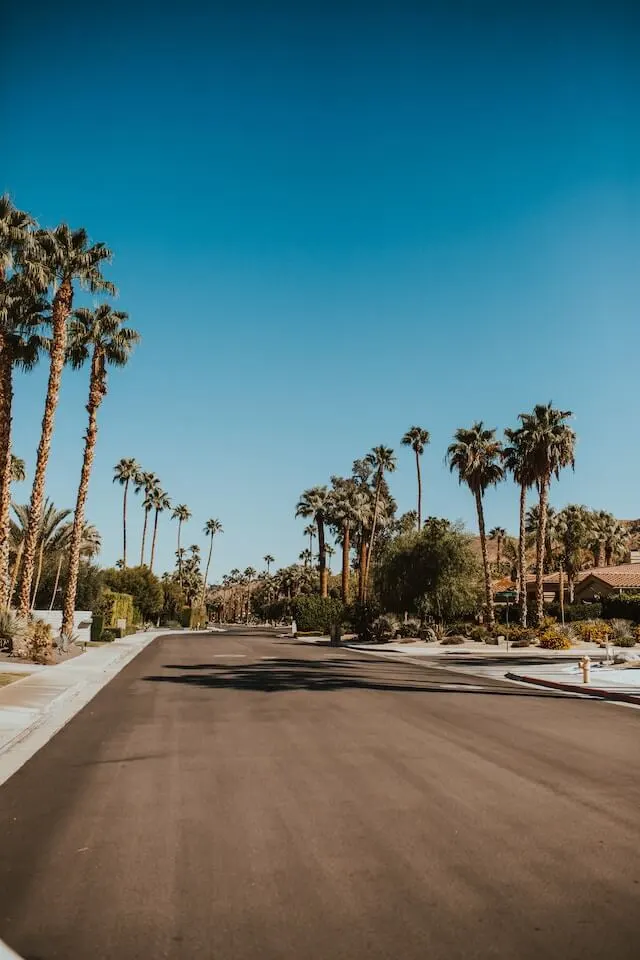 To get around greater Palm Springs you will need a car. Public transportation is not readily available and some of the sites are pretty spread out to walk to. I recommend either road-tripping here or renting a car.
Palm Springs is located about 2 hours from both Los Angeles and San Diego, though it does depend on where exactly you are driving from. Avoid rush hour travel in and out of the major cities for a more relaxing drive.
Once in town, the downtown area of Palm Springs is quite walkable. Don't forget to check out the iconic mid-century modern architecture of the houses and buildings around town – it's a sight you won't want to miss.
The Best Time to Visit Palm Springs: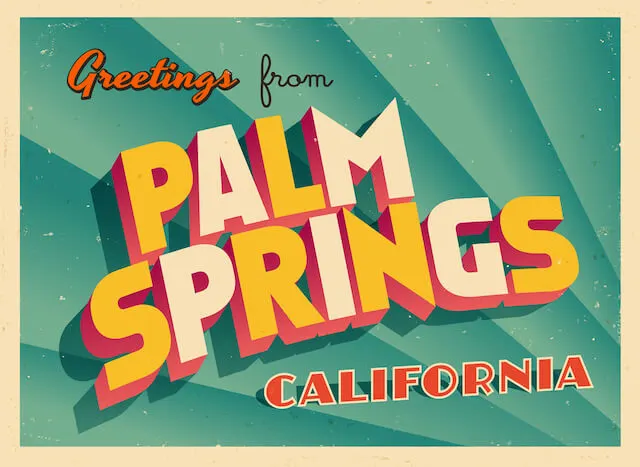 Palm Springs is a desert town. That means the summer months are hot. Temperatures sit in the triple digits most days and strenuous activities can be difficult at midday. On the bright side, crowds are a bit fewer in the summer, and every hotel around town seems to have a swimming pool to cool off in.
Holidays, however, including Memorial Day and Labor Day, are busy and loud. Crowds of people come out to enjoy the desert and shimmering pools. The days are filled with pool parties and excitement, but the environment can also be chaotic and overwhelming if you were looking to relax.
The fall and winter months are a popular time to visit Palm Springs. The weather is mild and perfect for outdoor activities. Try your hand at golfing, hiking, or biking around the desert. I recommend visiting during the fall or winter months if you're looking to escape the heat and enjoy the outdoors.
Where to Stay in Palm Springs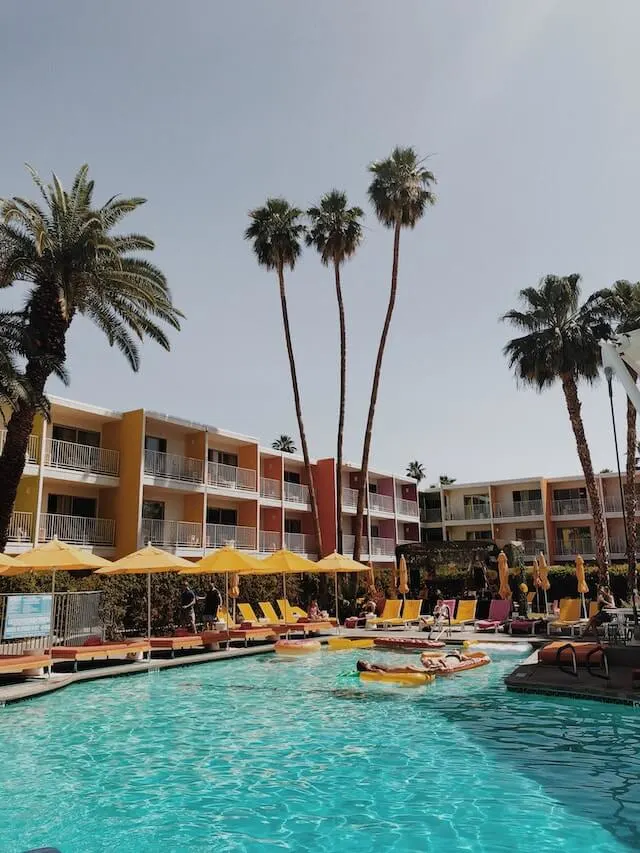 Palm Springs has tons of hotel options for every budget. Since it is such a popular tourist stop, you will surely be able to find what you're looking for, and in your budget.
Here are three recommendations for hotels in Palm Springs that provide a range of amenities across different price levels AND they are all near to everything on this Palm Springs things to do list!
Budget Option – Desert Riviera Hotel: Looking for an affordable stay while you explore everything Palm Springs has to offer? This hotel fits that bill. Nestled amidst a serene landscape adorned with olive trees, this exclusive adults-only hotel has a refreshing outdoor pool adorned with comfortable sun loungers and accompanied by fire pits.
Midrange Option – Del Marcos Hotel: Del Marcos Hotel – For those seeking an adults-only experience at one of these Palm Springs hotels, Del Marcos offers that and more. Take in the breathtaking mountain views while lounging next to the heated outdoor saltwater pool. Each room features a spacious king bed, a convenient kitchenette, and a stylishly furnished patio.
Luxury Option – The Westcott: This charming hotel features interesting Art Deco decor that makes guests feel like the Hollywood Stars that made Palm Springs famous. Situated just a 2-minute drive from Downtown Palm Springs, this boutique hotel offers more than just a place to sleep. Immerse yourself in the luxury rooms, complete with kitchenettes and California king beds. Whether you're savoring a refreshing cocktail poolside or enjoying the warmth of the fire pit, this hotel provides the perfect blend of relaxation and exploration for your getaway.
Where to Eat in Palm Springs:
Indulge in a culinary journey through Palm Springs' diverse dining scene, where flavors from around the world converge amidst the desert backdrop.
Start your day with a hearty breakfast at Cheeky's, renowned for its inventive menu and fresh, locally sourced ingredients. For lunch, venture to Workshop Kitchen + Bar, where modern American cuisine takes center stage in a stylish industrial setting.
As the sun sets, savor Mediterranean-inspired dishes at Birba, offering a charming garden atmosphere and delectable wood-fired pizzas. For an elegant dinner, head to The Pink Cabana at Sands Hotel & Spa, serving up a fusion of Californian and Moroccan flavors in a chic desert oasis.
And don't miss out on the Palm Springs classic, Melvyn's Restaurant, offering a taste of old Hollywood glamour alongside exquisite continental cuisine.
Top Things to Do in Palm Springs CA (Perfect for First Timers)
Ride the Palm Springs Aerial Tramway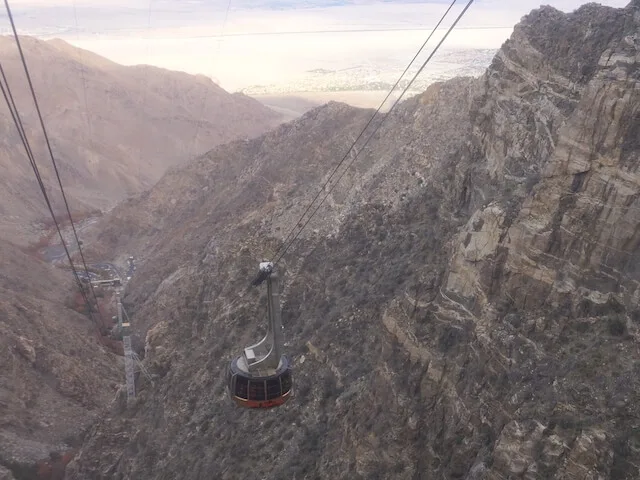 Hours: Mon-Fri: 10am-9:30pm, Sat-Sun: 8am-9:30pm
The Palm Springs Tramway is the perfect way to introduce yourself to the town. The tramway will transport you 2.5 miles up the mountain for panoramic views of Mount San Jacinto State Park and Chino Canyon. Take in the breathtaking surroundings from above as you start to understand the lay of the land.
This experience holds the distinction of being the world's largest rotating tramway. The summit sits at a whopping 8,516 feet! Here visitors will find two restaurants, observation decks, a natural history museum, and over 50 miles of hiking trails. Tickets can be purchased on site, or skip the queue and buy in advance.
Visit the Moorten Botanical Garden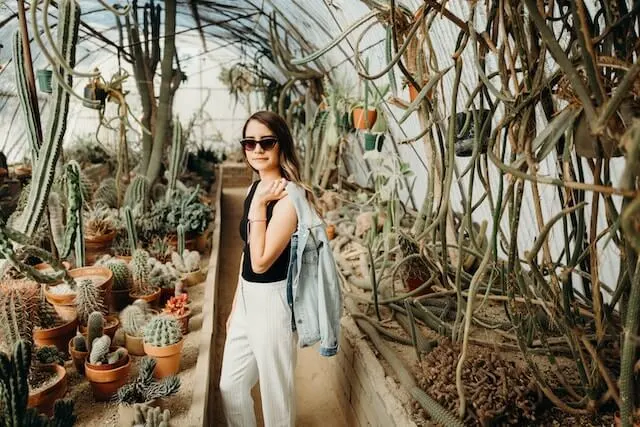 Hours: 10am-4pm, closed Wednesdays
The Moorten Botanical Garden is a family run business, and one of the best things to do in Palm Springs.
Here you'll see thousands of cactus and succulent specimens from all over the southwest and beyond. Plants are categorized geographically, with hand-written signs indicating where in the world they come from.
Plan to spend about an hour wandering the pathways and studying the plants. Visit as early as possible – most of the exhibits are outdoors in full sun.
Hike the Desert Trails at Indian Canyons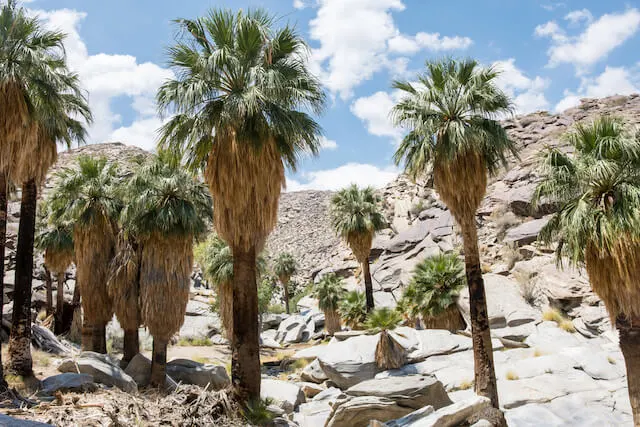 Hours: 8am-5pm
Palm Springs has some great hiking trails. While some are free on public land, several of the best ones are on the private grounds of Indian Canyons. This hidden oasis contains several different hikes but the best two are easily Andreas Canyon Trail and Palm Canyon Trail. Both of them wind you through giant California fan palms and lead to shockingly beautiful oases in the desert.
Plan to spend a couple of hours at Indian Canyons if you want to do both hikes. If you visit in the summer you may only have time for one of them before the heat rolls in.
Explore Thousand Palm Oasis Preserve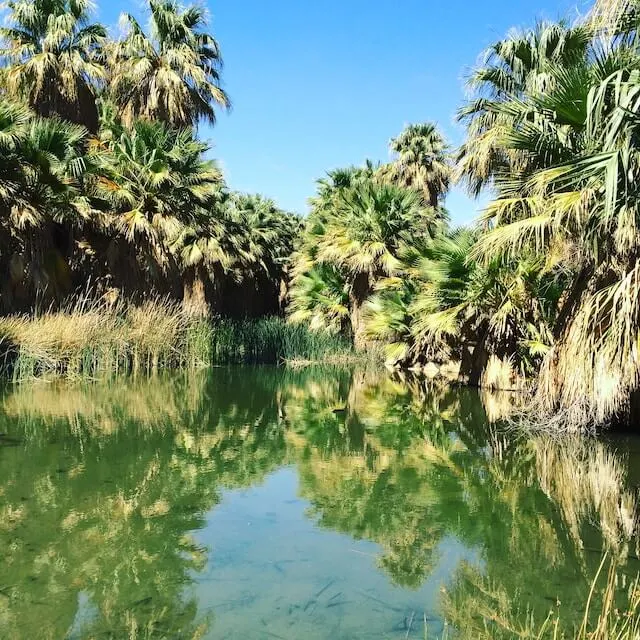 Discover the desert's lush sanctuaries at Thousand Palms Oases and Palm Canyon Drive in Palm Springs. Immerse yourself in serene hikes enveloped by native flora and fauna.
Traverse the pathways of Thousand Palms Oasis, where flourishing fan palms sway gently, revealing nature's endurance. Palm Canyon Drive unveils a verdant oasis, with babbling streams and vibrant life flourishing amid the arid terrain.
These hidden treasures not only offer tranquility but also showcase the delicate balance between life and desert landscapes. Wander these trails, savor the fragrant air, and witness nature's resilient beauty in the heart of the desert.
Embrace the Vibrancy of VillageFest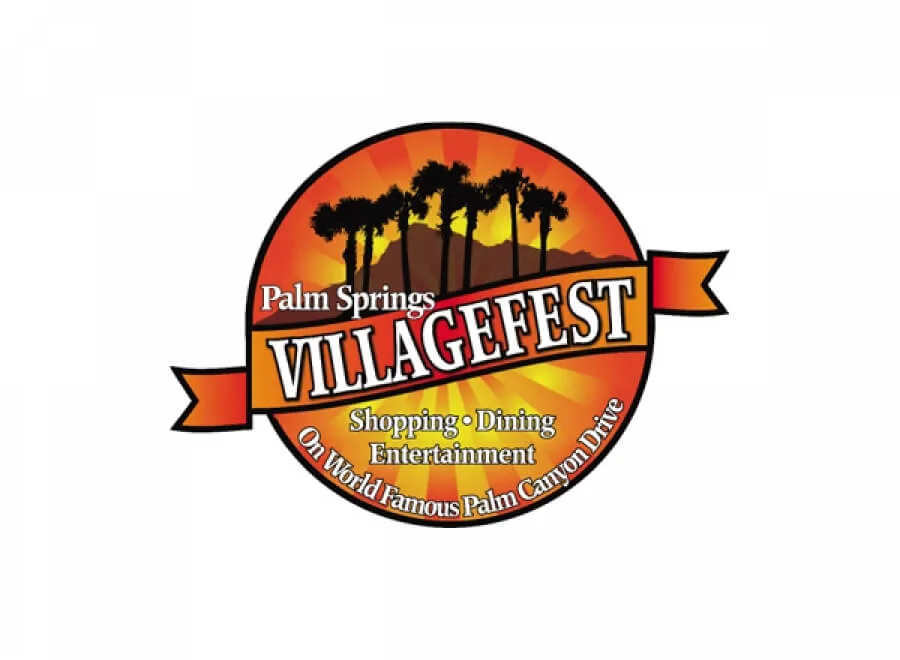 Dive into Palm Springs' vitality at VillageFest, a lively Thursday night street fair along Palm Canyon Drive. Immerse yourself in local artisans' creations, groove to live music, and relish a diverse culinary journey.
As daylight fades, the event comes alive with colors and melodies. Engage with artists displaying captivating artworks and crafts, while live music sets the tone for exploration. Culinary delights from food trucks to local vendors offer a spectrum of flavors.
VillageFest isn't just an event—it's an immersion into Palm Springs' cultural spirit, a weekly celebration where the city's heartbeat resonates through creativity, connection, and community.
Shields Date Farm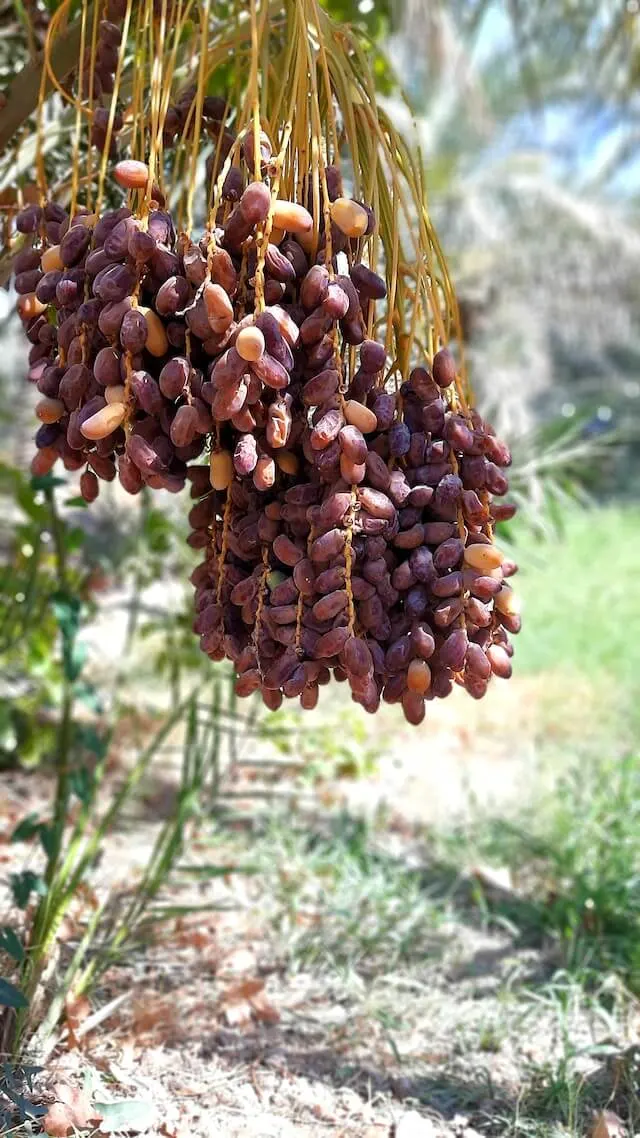 Hours: 9am to 5pm
Shields Date Farm is a classic Palm Springs experience that you just can't miss. Peruse the small shop, grab a date shake or other snacks, and buy a date shake on-site.
You can even watch a film on the life of a date, if you'd like to learn more about this desert fruit. This is the most famous date shake stop in Palm Springs, and a favorite pastime of those who frequent the area.
Shop the Quaint Downtown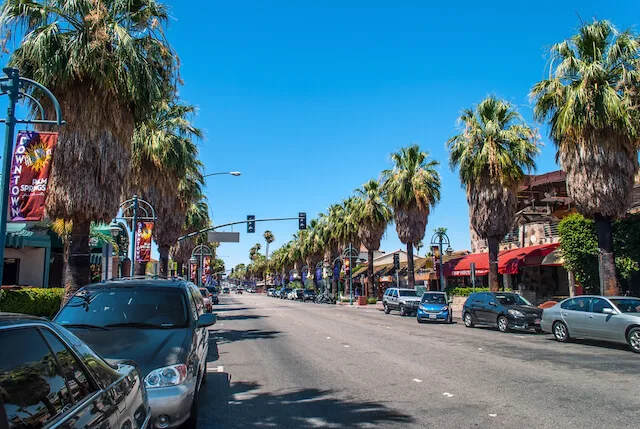 Downtown Palm Springs offers an array of shopping experiences, from small boutique stores to larger chain retailers. It spans just a few walkable blocks where you can find everything from handmade jewelry to popular fashion brands.
Every shop is unique and the quirky local businesses are the best. There are plenty of places to take a break in between shops, with cafes and restaurants lining the streets. Palm Springs Drive is a great place to explore on your visit.
Palm Springs Air Museum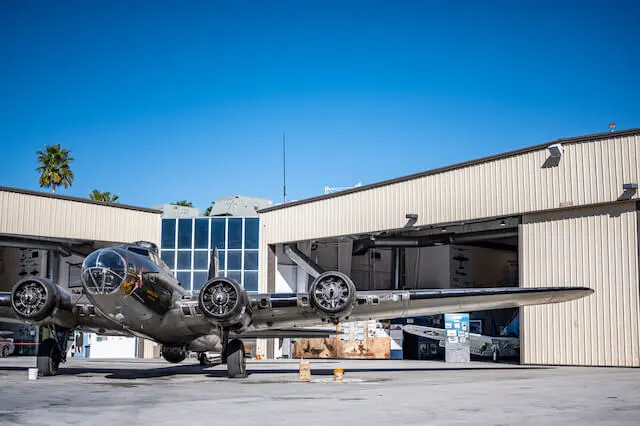 Hours: 10am-5pm
The Palm Springs Air Museum is another unique stop. The Palm Springs Air Museum is a museum dedicated to World War II but it's not just great for history lovers. The museum is home to an amazing collection of vintage aircraft and artifacts from the war.
There are many interactive displays throughout the museum that allows visitors to learn more about the history of the war and its items in depth. Several of the aircraft are open for tours each day as well.
Palm Springs Art Museum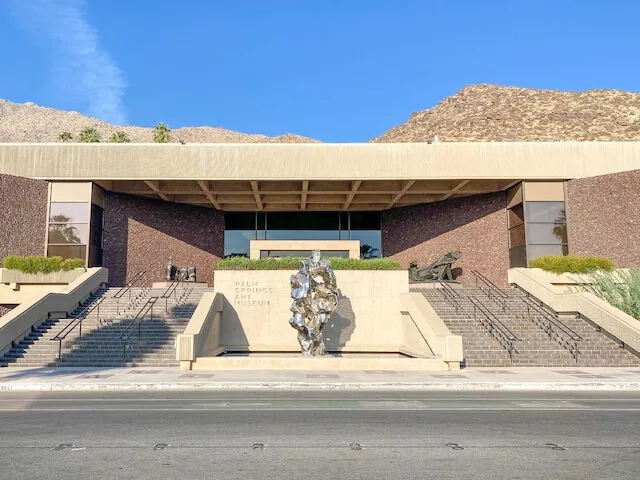 The Palm Springs Art Museum is a great stop any time of year, but especially in the summer months when indoor activities are ideal. The art museum showcases both contemporary pieces as well as a variety of traveling exhibitions year-round.
The museum also offers various workshops, lectures, and classes for visitors that are sure to enhance their understanding and appreciation of art. When in Palm Springs, definitely check out the art museum and local art galleries.
Go Rockclimbing in Coachella Valley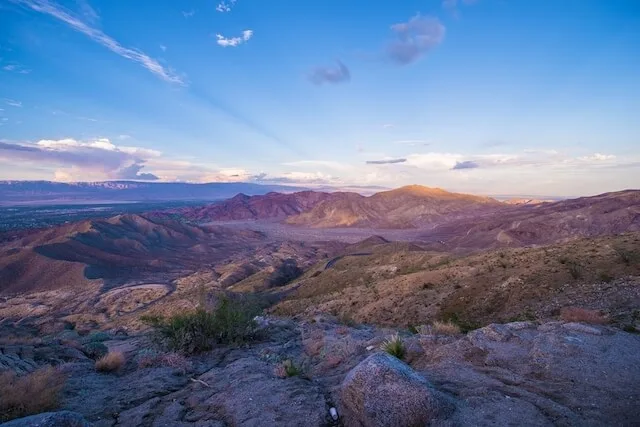 Attention thrill-seekers! Coachella Valley (yes, the same one known for its music festivals!) beckons with exhilarating rock climbing opportunities. Against the stunning San Jacinto Mountains backdrop, challenge yourself on rugged terrains, testing skills and enjoying breathtaking panoramas.
Conquer diverse routes suited for all levels, relishing the thrill and scenery from atop.
With professional guides available, this is your chance to combine physical accomplishment with the allure of California's captivating landscape.
Agua Caliente Cultural Museum
Discover the vibrant heritage of the Cahuilla Indians and the desert's Native American legacy at the Agua Caliente Cultural Museum. Engage with immersive exhibits and dynamic programs that illuminate the region's cultural origins. Serving as a time-traveling bridge, this museum captures the essence of bygone eras.
Through meticulously crafted displays, the museum reveals the Cahuilla Indians' traditions, beliefs, and daily life alongside those of other Native American communities in the desert. Ancient relics and contemporary artworks forge connections to the land's history and its inhabitants.
Day Trips from Palm Springs
Joshua Tree National Park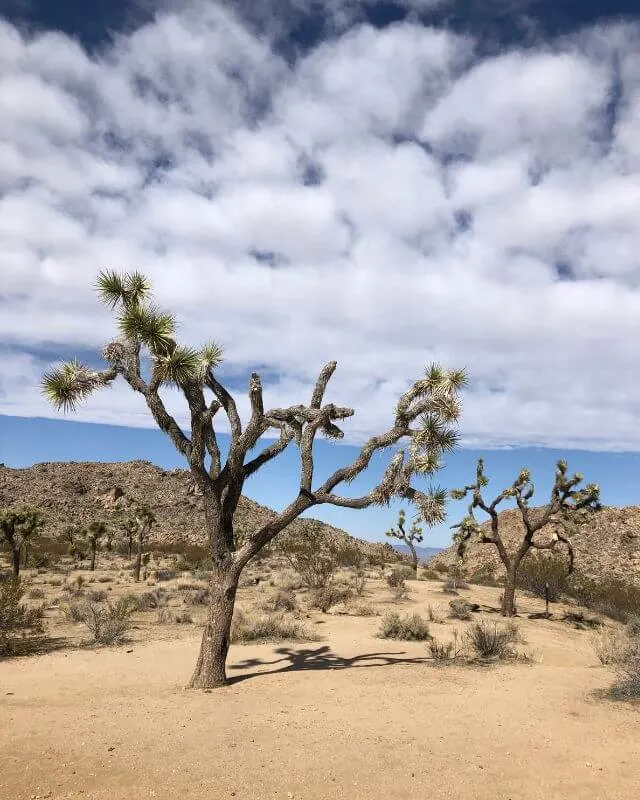 If you have more time, I highly recommend planning a day trip to Joshua Tree National Park.
This park is the perfect place for hiking, sightseeing, camping and climbing. Bring plenty of water, snacks and sunscreen, as the desert environment can be unforgiving. And make sure to bring your camera, because the rugged landscape is incredible.
It is also a perfect location for stargazing, as it is one of the most popular International Dark Sky communities. Being far enough away from both Los Angeles and San Diego, this park escapes all of the light pollution that these cities produce.
San Gorgonio Pass: A Geological Marvel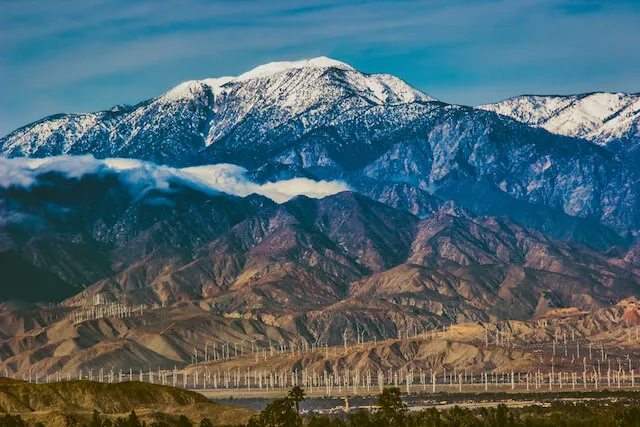 Extend your Palm Springs adventure by exploring the mesmerizing San Gorgonio Pass. Just beyond the Coachella Valley, this region unveils a breathtaking tapestry of rugged terrain and geological wonders.
Marvel at the awe-inspiring San Andreas Fault, a testament to Earth's transformative forces over millions of years. Traverse trails that wind through canyons, offering vistas of mountains and desert, and as night falls, bask in unparalleled stargazing.
Living Desert Zoo and Gardens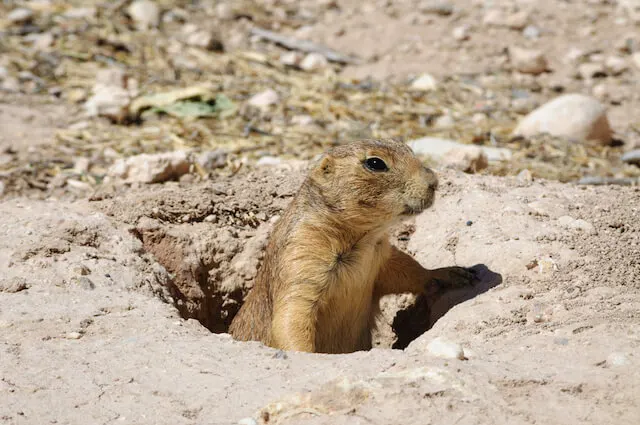 Hours: 7am – 1.30pm
Experience the diverse ecosystems of the California desert at the Living Desert Zoo and Gardens. With over 500 animals representing over 150 species, take the opportunity to get up close with desert plants, and native animals, and enjoy educational exhibits.
Hike the Ladder Canyon Trail & Painted Canyon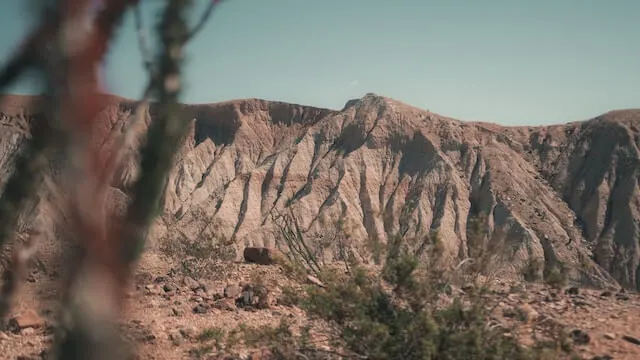 Discover the captivating beauty of Palm Springs by embarking on a combined journey through Ladder Canyon and Painted Canyon.
Begin with Ladder Canyon, an exhilarating hike that guides you through narrow canyons, over rocky paths, and up ladders, offering rewarding panoramic views. You'll traverse the ladder structures that give the canyon its name, infusing your trek with added excitement. As you ascend, the scenery transforms, revealing lush palms and vibrant foliage that stand out against the arid backdrop.
Extend your exploration to Painted Canyon, where stunning geological formations and multicolored rock layers create a mesmerizing tapestry of hues.
Explore the Greater Palm Springs Area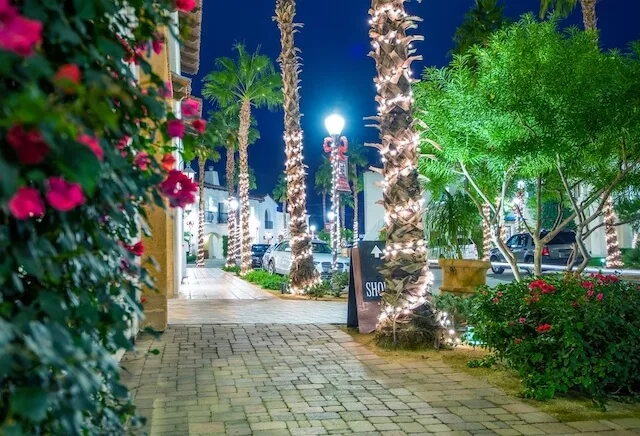 The Greater Palm Springs area comprises nine stunning desert cities: Palm Springs itself, plus, Cathedral City, Coachella, Desert Hot Springs, Indian Wells, Indio, La Quinta, Rancho Mirage, and Palm Desert.
Each city contributes to the vibrant tapestry of this desert oasis, offering a unique blend of attractions, experiences, and natural beauty that collectively make up the allure of the region. If you have time, wandering the main streets of each of the towns is a great way to spend a day exploring.
And that's a wrap. With these essential travel tips and top things to do, you're well-prepared to embark on a memorable journey through Palm Springs, California. Whether you're basking in panoramic views, exploring botanical gardens, or immersing yourself in history and culture, Palm Springs offers a diverse range of experiences for first-time visitors.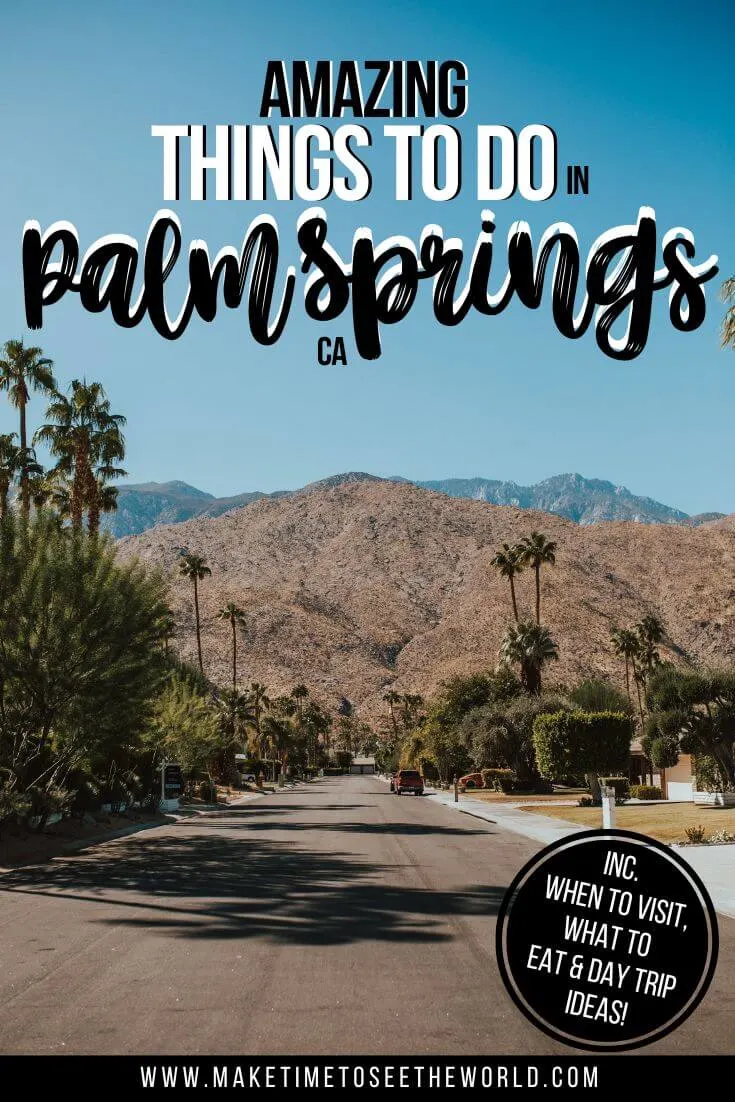 READY FOR MORE USA TRAVEL INSPIRATION? YOU MIGHT BE INTERESTED IN THESE TRAVEL TIPS, TRAVEL ARTICLES, DESTINATION GUIDES, TRAVELER RESOURCES AND RELATED POSTS ABOUT OTHER AMAZING CITIES IN NORTH AMERICA:
Hi There! Thanks for reading Complete Guide to the Top Things to do in Palm Springs Ca and Palm Springs Travel Guide. I just wanted to let you know that this post contains affiliate links, which means if you purchase something after clicking a link, I may get a small commission – which is at absolutely no cost to you. If you enjoyed this article and are going to be searching for some of the things I mention anyway, I would love it if you could click through from the links above & thank you in advance! Read my full Disclosure here.
And a huge Thank You for reading the MakeTimeToSeeTheWorld travel blog.
This post was written by Monica of This Rare Earth, a travel blog that focuses on outdoor adventures and solo travel. You can usually find Monica in lesser traveled corners of the globe.