Planning a perfect San Francisco Vacation? Read our 15+ top San Francisco tips to know before you go AND 14 Do's and Don'ts (from a SF local!)
Located in California on the West coast of the United States, the eclectic city of San Francisco is home to a million little things. You probably have watched your fair share of San Francisco based TV shows and/or films (Tales of the City, Monk, That's So Raven etc), that you might think you have a good grasp of the city – and while that might be true, it certainly won't hurt to read through our top tips for planning a San Francisco vacation before your first visit.

With diverse locals, food, music, celebrations, and technology, San Francisco is definitely the life of the party! The city houses mesmerizing views, historical sights, lively districts and epic food. Be sure to read 'til the end of this article to know more about the essential things you need to be aware of before packing your bags for the trip of your lifetime!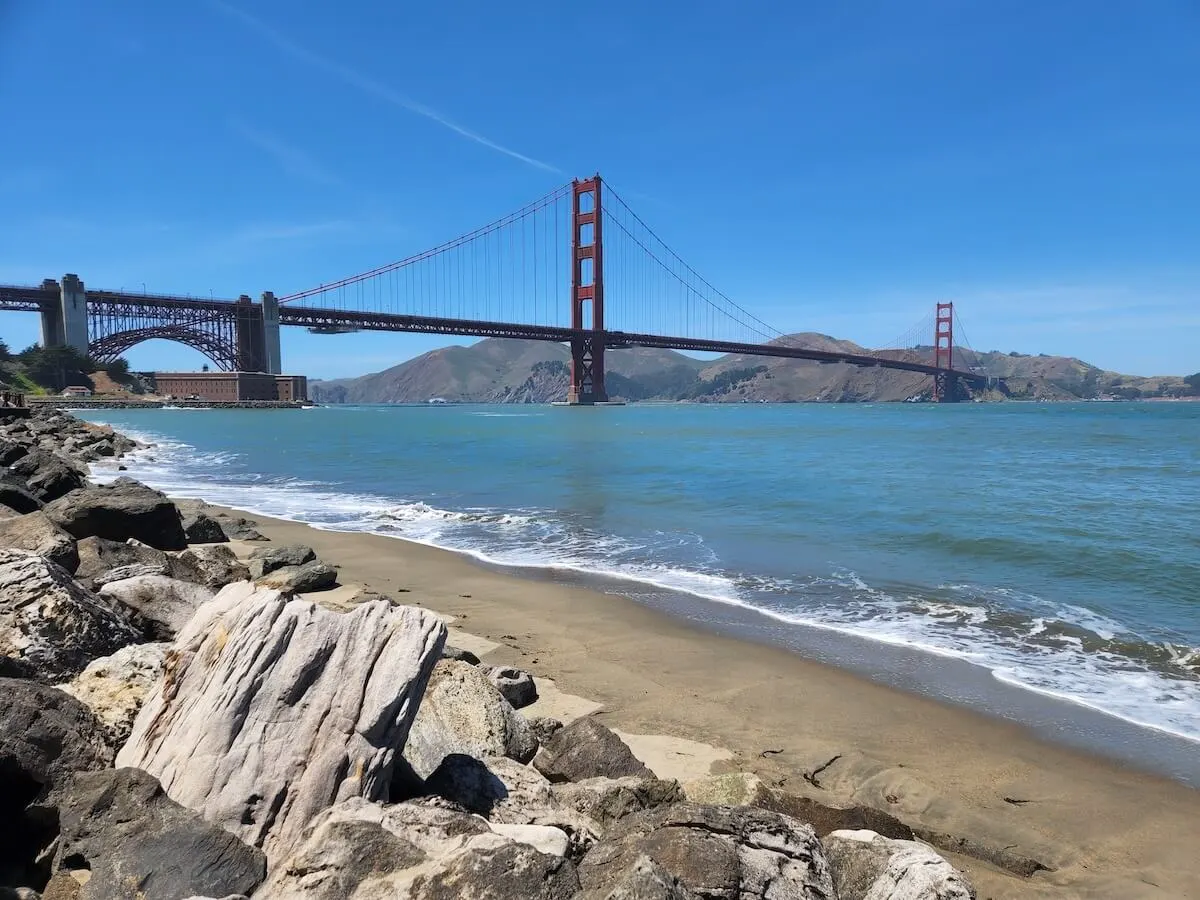 Disclaimer: Almost all posts on this site contain affiliate links, and this one about Our Top Tips for Planning a San Francisco Vacation (what to know before you go) is no different. This means that if you click on any of the links in this post (and make a purchase) I may receive a small commission at absolutely no cost to you. Each post is carefully crafted to (hopefully!) answer all your questions and recommendations are made where we believe they will improve your trip and help with your planning. As such we thank you in advance should you decide to click & buy. Read my full Disclosure here.

GENERAL TRAVEL INFO FOR VISITORS TO THE USA
Visa: Travelers from countries that are members of the Visa Waiver Program (ESTA) do not require a visa when visiting the USA. However, it is recommended to check up-to-date visa entry requirements before your visit regardless of what country you are coming from to avoid issues and concerns on the date of your travel.
Currency: The official currency in San Francisco is the U.S. dollar or American dollar ($, USD, US$).
You can withdraw currency from ATMs using your local bank card or a designated travel card. If you are visiting from another country, be sure to check any fees and charges from your bank prior to using it and carry a second source of payment/cash in case your primary card gets 'eaten' by an ATM.
Language: English is the primary and most widely spoken language in the USA (although not the official one at the Federal level!). There are 350 other languages spoken, the main ones being Spanish, Chinese, French, and Vietnamese.
WiFi/Internet Access: Depending on your length of stay, you can either purchase a local sim card (in advance or on arrival) – to swap out with the one in your own phone to avoid roaming charges. OR, grab a pay as you go portable Wifi Devices which means you can keep your sim active and connect wirelessly. Just remember to turn off data roaming so you don't incur any hefty charges.
Essential San Franciso Tips for First Time Visitors: The Practical Stuff
The Best Time To Visit San Franciso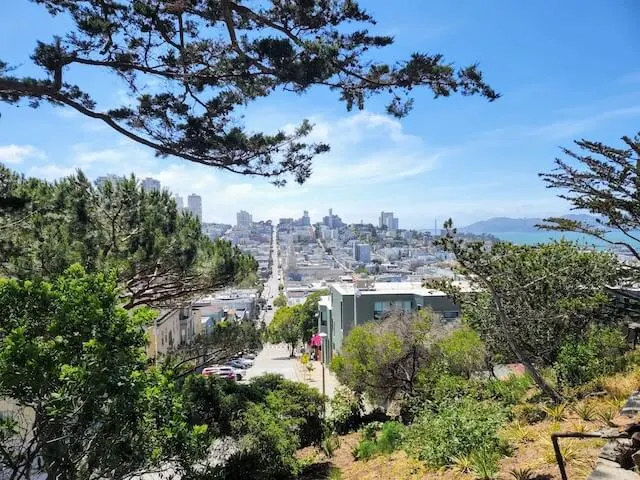 San Francisco's climate is (mostly) mild all year round – but the best time to go is during the fall season from September to November and spring season from March to May. These seasons are the best time for your visit because of the perfect climate and the foot traffic brought about by the "tourist season" is not yet at its peak.
Tourists tend to surge in number during summer. If you're hoping to visit the city with fewer crowds to compete for the place with, the best time to go is during fall. A trip to the beach and a walk across the Golden Gate Bridge would be perfect during this season as clear skies will welcome you. To complete your stay, you can also attend exciting events like the San Francisco Fringe Festival, Treasure Island Music Festival, Castro Street Fair, and Hardly Strictly Bluegrass.
The mild climate and the low chances of rain will allow you to walk through the magnificent structures the city boasts. Complete your stay by attending the famous festivals and events held during the season like Bay to Breakers, Carnaval San Francisco, St. Patrick's Day Parade and Festival, International Beer Festival, and San Francisco International Film Festival.
Also, be aware that Karl the Fog (yes, we gave him a name) can show up at any time. Now don't go thinking this is a terrible thing. Often he shows up in the morning and had burned off by midday(ish) – but he does bring with him various different microclimates to different parts of the city. And makes for some incredible photo opps if Karl is hanging out over the bridge under a clear blue sunny sky (like the one below!)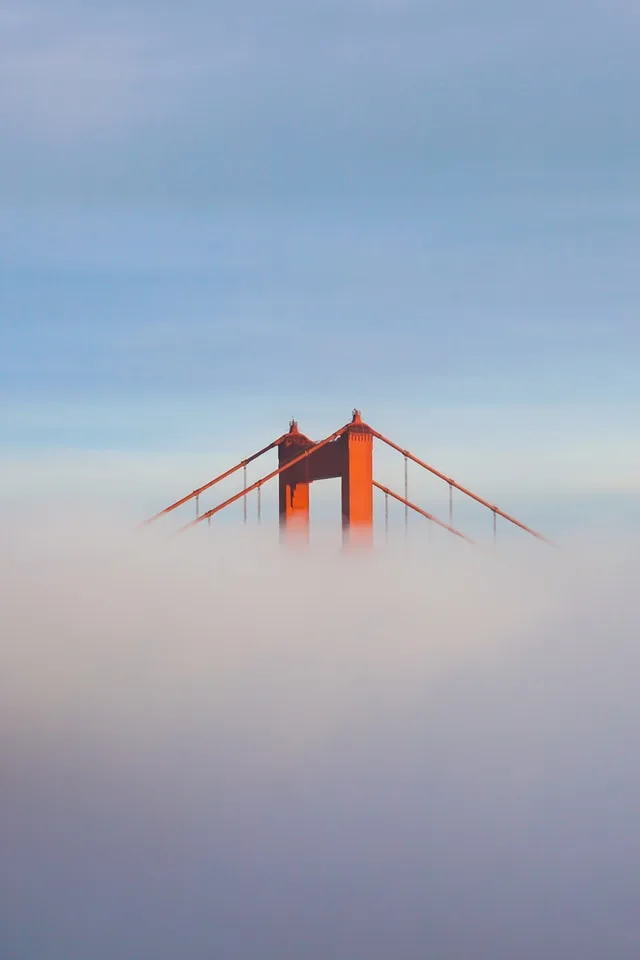 How To Get Around San Franciso

A square of 7 miles by 7 miles, the city is relatively easy to navigate! Be sure to prepare your best footwear as the most convenient way to explore the city is by foot. Don't be worried – most of the iconic structures are just walking distance from the city center, although as a hilly city, your calves could be in for a bit of a workout depending on which route you take!

If you're looking for a relaxing way to move around the city, you may avail yourself of organized bus tours (like the BigBus Hop On Hop Off System). Or take a self-guided GPS tour in the bright yellow, 3 wheel, lots-of-fun 'Go Cars' (below).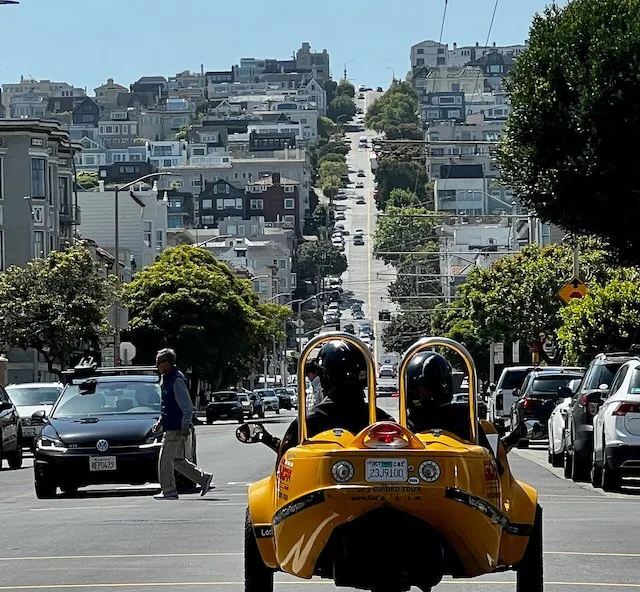 You may also opt to navigate around the city by using the Muni service (although be aware it is not the most reliable of public transport networks); and the BART is a good option for getting to and from the airports (San Francisco International Airport and San Jose Airport).

Alternatively, both Uber and Lyft operate efficiently (and relatively cheaply) if you can't, or don't want to walk and need a quick option to get you from A to B.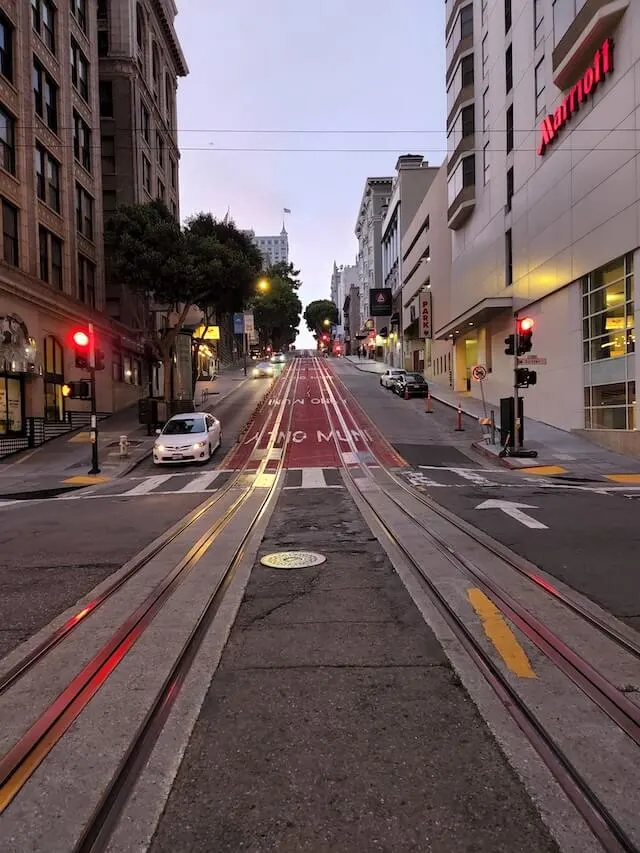 Public WiFi Availability in San Franciso

Share all your majestic moments in San Francisco with your friends using the free public WiFi available in 30+ city parks and squares! But if you're looking for connectivity all day long at your convenience, you may opt to avail yourself of pocket WiFi rental services or buy a Prepaid SIM card.
Bring Your Hiking Shoes to the Beach

There are quite a number of stunning beaches in this city but unfortunately, the water is often too cold for anyone to swim in. Although that doesn't mean you can't lounge on the sandy shores and climb up gigantic rocks to look for shells, tide pools, crabs, mussels, anemones, and small fishes. Your hiking shoes (preferably those that have a strong grip) will come in handy!
Avoid Riding The Cable Car in San Francisco (Unless it's your first visit!)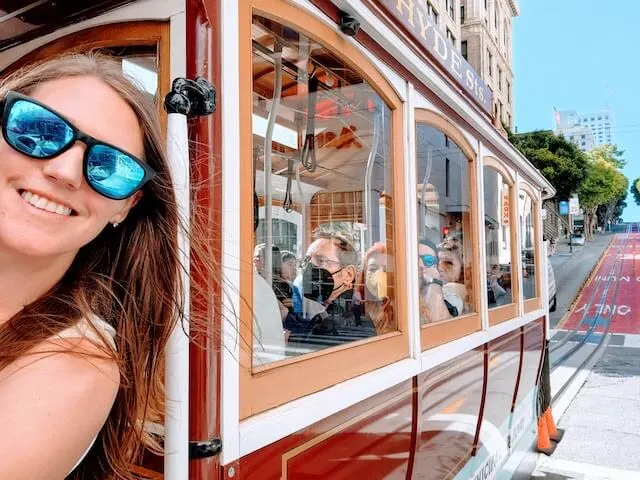 Cable cars are definitely the "most local" way to explore San Francisco but note, for the most part, that they're best avoided – especially if you have somewhere else you need to be!
Cable cars are so popular that at the height of summer you could find yourself waiting in line for hours. Once you're finally aboard, the route can be long and inefficient. (Although hopping on at the Powell & Hyde turnaround after exploring Ghirardelli Square and Fishermans Wharf areas and riding it all the way to Union Square is a great way to end a day sightseeing, and means you don't have to conquer walking up – and down – Nob Hill to get back to your hotel!)

Should you decide to take it for the sake of experience (which if it is your first time visiting, you definitely should!), make it a point that you have plenty of time on your hands.
The Pride Parade in San Francisco is WILD!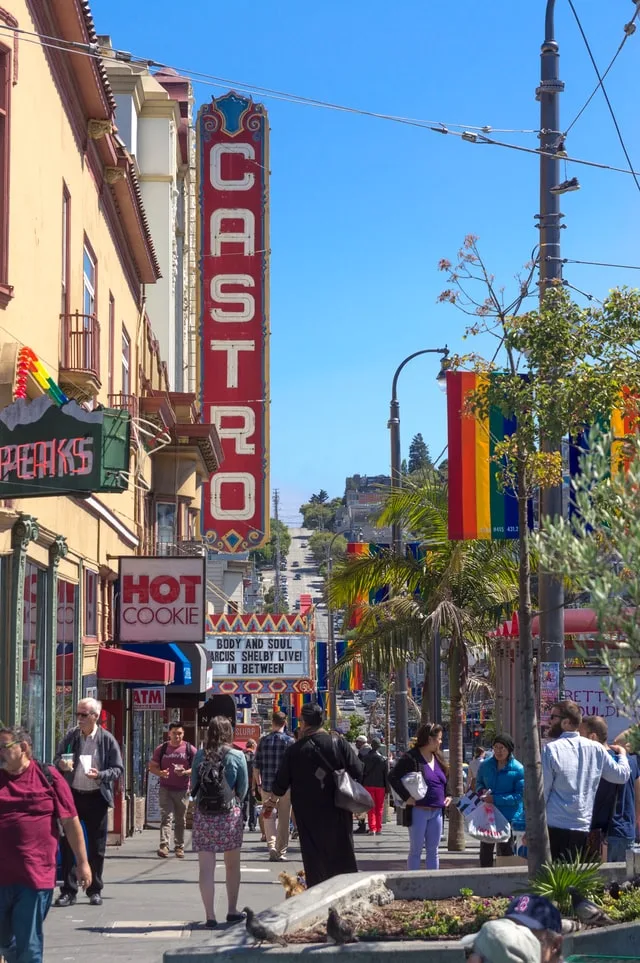 The annual gay pride parade in San Francisco (around 27 June each year) attracts more than 1 million people – tourists and locals alike – who celebrate love, acceptance, and support for the LGBTQ+ community in the brightest colors possible!
If you visit in Pride Month and particularly around the date of the parade, the city will be busy – but buzzing in a way you may never have experienced before!
Be Sure to Meet the Stars of Pier 39 in San Francisco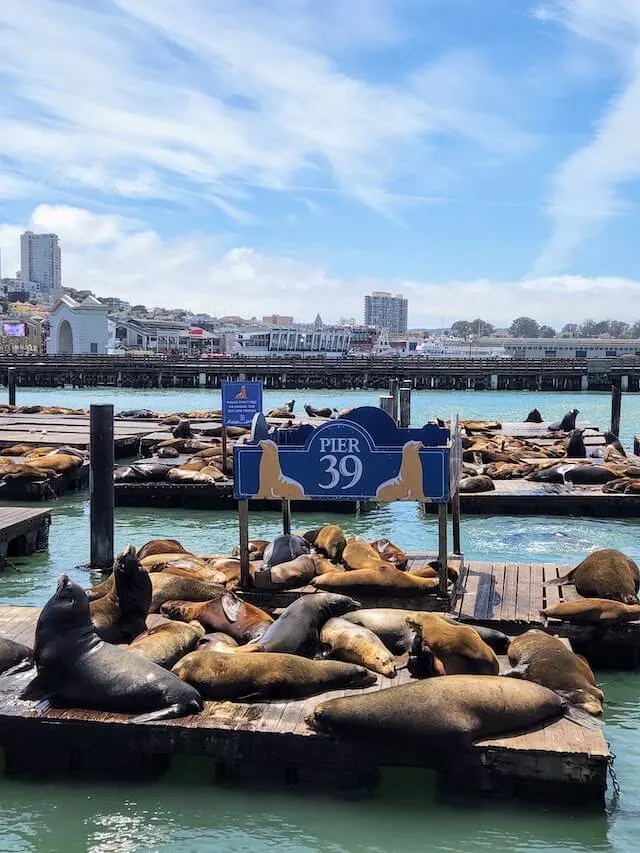 Nope, you're not about to meet local celebrities – you're about to meet someone (or something) even better. The sea lions of Pier 39!
Pier 39 is one of the most famous tourist spots in San Francisco and beyond the shops and (overpriced) restaurants, is home to some of the world's cutest, whiskered, vocal marine mammals that provide endless entertainment for both children and adults alike! Make sure to bring your camera and capture candid photos of the lovely residents of Pier 39.
They are loud and they smell, but I could watch them for hours. Just be sure to have a windbreaker or hoodie on hand to combat the wind.
Free Events in San Francisco
At least once a month, usually on the first Sunday or Tuesday, museums open their doors to the public for free – yes, you read it right. For free! Familiarize yourself with the museums that offer this deal to save some cash on your travel. A quick Google search should be able to help you with on-the-ground details at the time of your visit.
What to Wear in San Francisco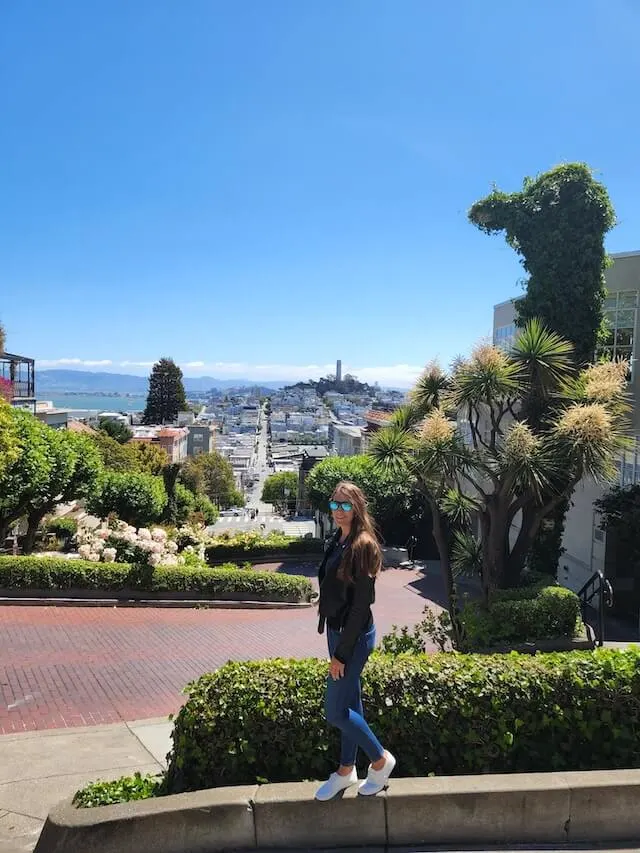 Wondering how people dress in San Francisco? Well, it's just like any other city. A mix of smart-casual and individualism; cute dresses when the sun shines, warm coats, jeans and boots when it doesn't – and always an extra hoodie or cardigan in your bag to combat those cold San Francisco winds (because my oh my when those winds howl, it is chil-ly.)

Top San Franciso Tips for Your First Visit: The Fun Stuff
How many days to spend in San Franciso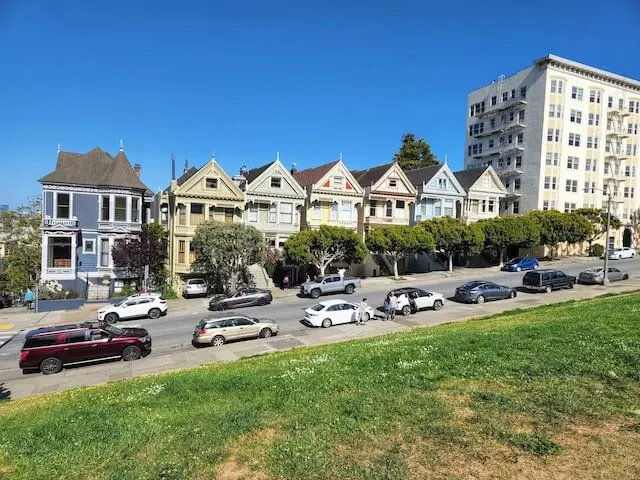 3 days' worth of walking and touring can be enough to explore the wonders of San Francisco. Though, if you want the ultimate San Francisco experience, consider extending your stay for 1-2 more days!
San Francisco is known for being the life of the party with its diverse celebrations, food, views, and destinations. 3 days is enough for you to hop on tours and drive around the city but If you're looking into experiencing and tasting every part of the diverse culture of the city, or exploring at a slower pace and adding a couple of day trips onto your stay – 4-5 days may be a better option for you.

How To Pick a Great Place to Stay in San Franciso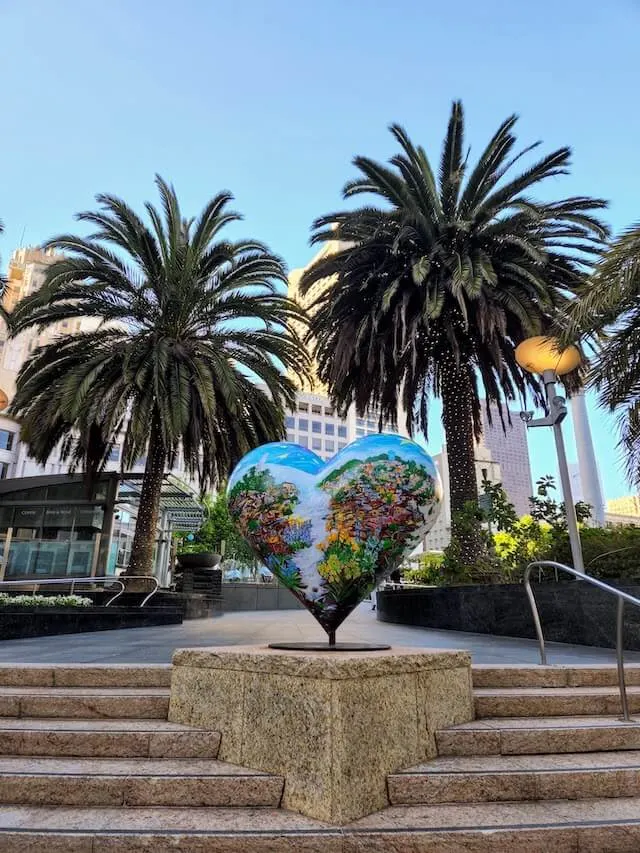 The word "cheap" is almost non-existent in San Francisco. So, choosing a place to stay in might be a struggle. No worries, though, as the city can easily be accessible by foot!
For first-timers in the city: The Union Square area is the most recommended place for you to stay as it will provide you with the best of San Francisco. A lot of exciting experiences await you as the area is considered the central shopping and hotel district of the city!
Our recommendations around Union Square are:
Luxury: Taj Compton Palace – European charm and luxury, steps from the heart of Union Square.
Mid-Range: Hotel32 One – a boutique hotel, featuring decent size rooms and comfortable beds with a coffee machine and mini-fridge along with large bathrooms with good shower pressure.
Budget: Hotel Ikon – Clean, budget hotel 350m from Union Square offering free wifi, cable TV and a mini-fridge in each room.
How To Plan Your Budget for your visit to San Franciso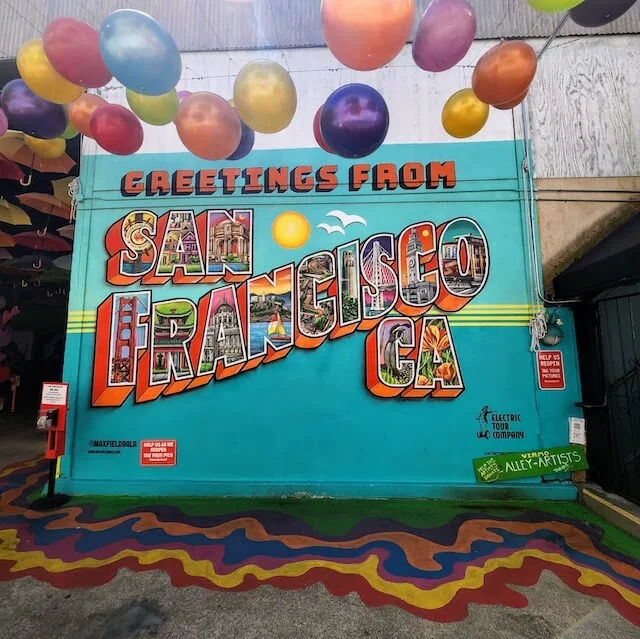 You can spend a lot of money on a visit to San Francisco if you stay in an upscale hotel, dine at pricey restaurants, and take in the very expensive nightlife.
But, hey, if you're on a limited budget, you can also get the most out of your stay! You just need to do your research thoroughly before your trip and figure out what you want to do, things you want to see, and areas or expenses you can cut for your ideal itinerary to fit in your budget.
There are plenty of Free Things to do in San Francisco that can be reached by walking – Union Square, Fisherman's Wharf, Ghirardelli Square, Embarcardo, Pier 39 (and the Sealions!) Ferry Building Marketplace, Coit Tower, Painted Ladies, Umbrella Alley, Chinatown, the many parks and green spaces, etc. Seeing the sights and exploring the city doesn't have to break the bank!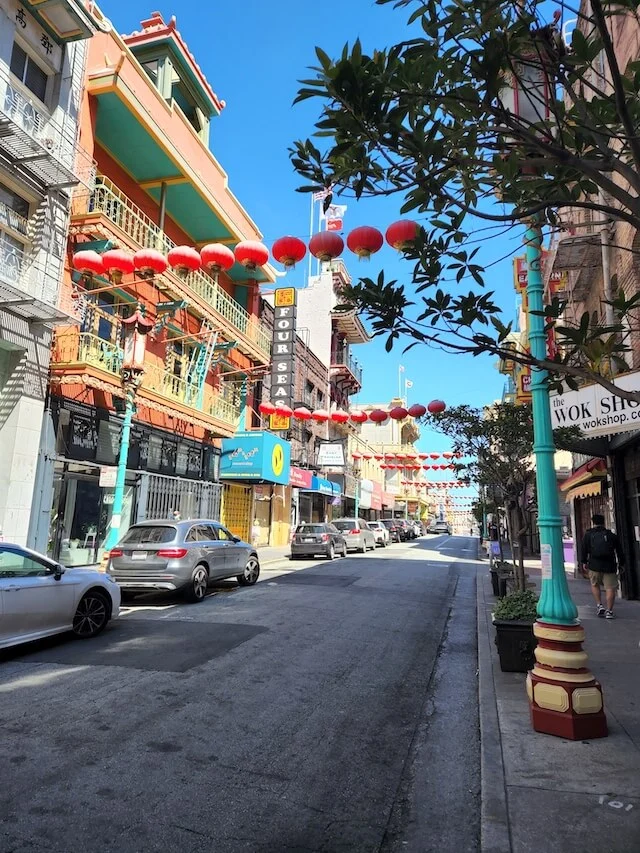 For those that like figures – accommodation can be as low as $70 a night for a super budget (hostel) option, and in excess of $300+ per night for a 5* hotel. For sightseeing, activities, meals, and travel we'd recommend between $80-$150 per person per day.
Where to eat in San Franciso
San Francisco has a constantly changing and diverse culture so make sure to complete your travel experience by tasting food from different cultures in just one place! Listed below are must-eats you can't miss as first-timers in the city!
Acme Bread Company

: Home to the breakfast must-try sourdough. Don't miss the chance to take a bite of San Francisco's favorite bread!

Zuni Cafe

: This cafe has been a San Francisco staple ever since it opened its doors to the public. If you're craving for classics, this is the perfect place to go to!

Swan Oyster Depot

: This restaurant will serve all the sea creatures you're craving for. It's always a good day for fresh seafood, isn't it?

Tony's Pizza Napoletana

: The restaurant is home to almost every pizza style on earth. There is indeed no better feeling than a box of pizza on your lap!

Bi-rite Creamery

: What's a food trip without some dessert, right? Enjoy your stroll in the area with the best ice cream flavors the place offers!
San Franciso Highlights You Can't-Miss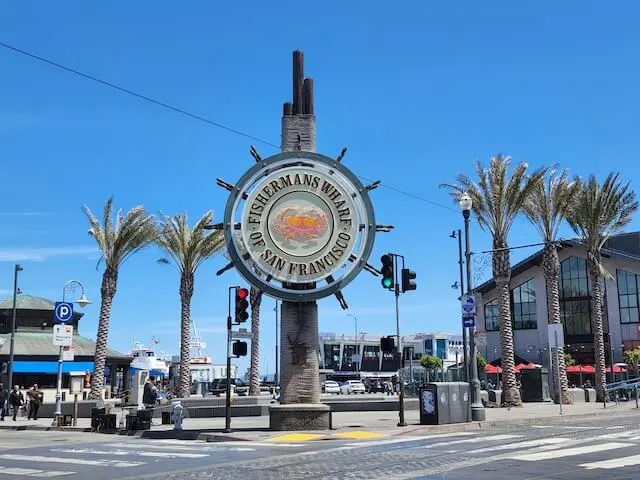 One of the iconic structures in San Francisco is the famous Golden Gate Bridge, modern engineering supported by hundreds of cables that enables it to sway with the wind. Feeling the vibrations yourself while standing on the bridge is definitely a must-try in your visit!
Another iconic structure in San Francisco's Museum of Modern Art, a place to satisfy your curiosity as it houses the most influential and controversial artworks; and the Painted Ladies – standing proudly next to Alamo Square with a view of the city skyline and the bay in the background.
San Francisco is also home to some historical places. One of these is Alcatraz Island which housed some of the most infamous prisoners in US history.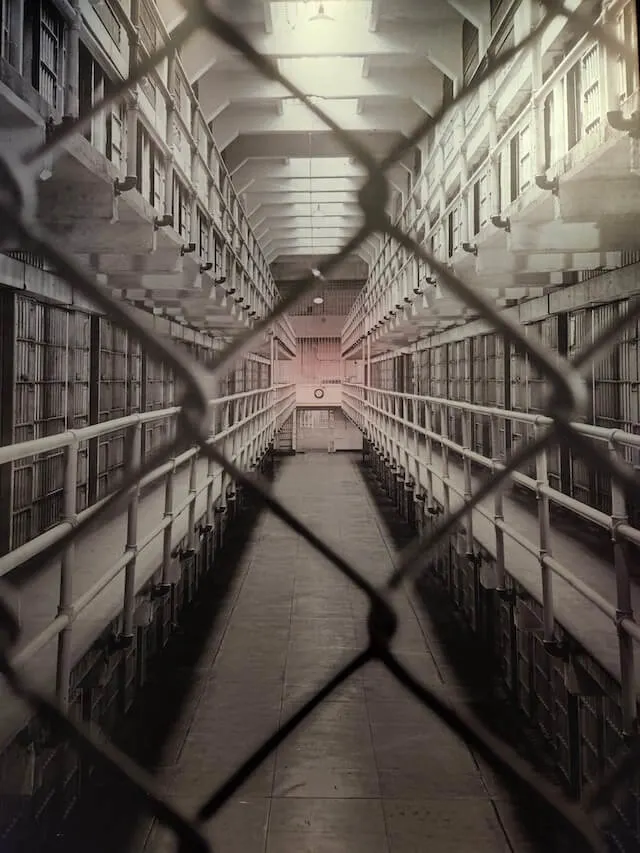 Make sure also to catch the sea lions' quirkiness at Pier 39, and wander down to Fisherman's Wharf and Ghirardelli Square for some shopping and dining; or along the Embarcadero to the old Ferry Building Marketplace for boutique shops and producers and views across to Treasure Island
Walk through historic districts such as Chinatown, Haight Ashbury, and the Mission District, where through the Mission Street Art Tour you can learn about Street Art culture through the murals, graffiti, and stories that molded the neighborhood.
If you are not sure where to start when it comes to planning your trip, be sure to check out our 3 Days in San Francisco Itinerary (written by a local).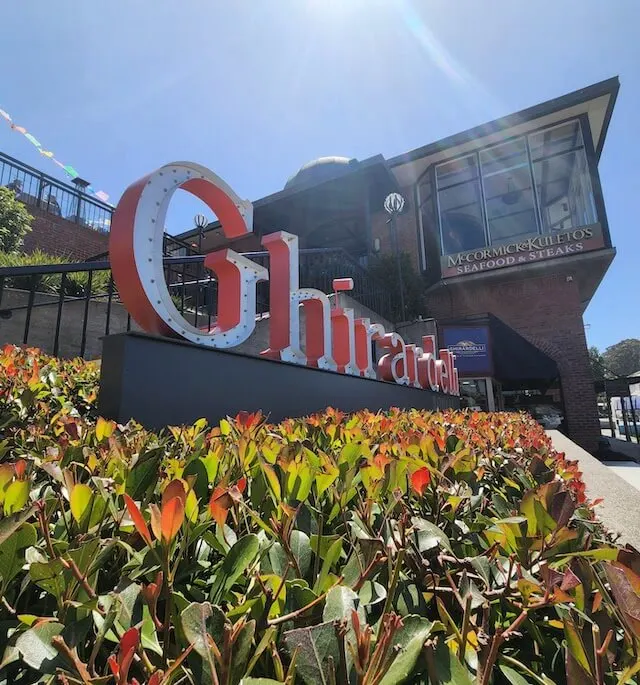 Day Trips from San Franciso
Go on a romantic getaway along the coastline of California, specifically in Monterey. From San Francisco, you'll travel to the Monterey Peninsula where you'll be given the opportunity to stroll around the paradise, shop, and dine as well. From there, you'll visit the Monterey Aquarium where the marine habitats of Monterey Bay are housed. Afterwhich, travel to the famous 17-mile scenic drive to Carmel for a stopover.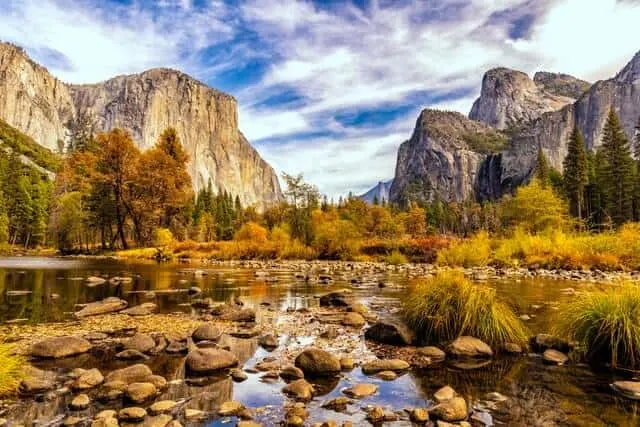 For nature lovers, Yosemite National Park is the perfect place to meditate while observing the wonders of nature! While you're at it, witness a view of North America's tallest waterfall, Yosemite Falls! Experience a drive through the Great Central Valley, a tour of the Yosemite Valley, sight viewing of the iconic El Capitan rock formation, and Bridalveil Fall.
If you have enough time, make sure to book an experience for the ultimate thrill seeker's wonderland at Six Flags Discovery Kingdom.
14 Dos & Don'ts for your San Francisco Vacation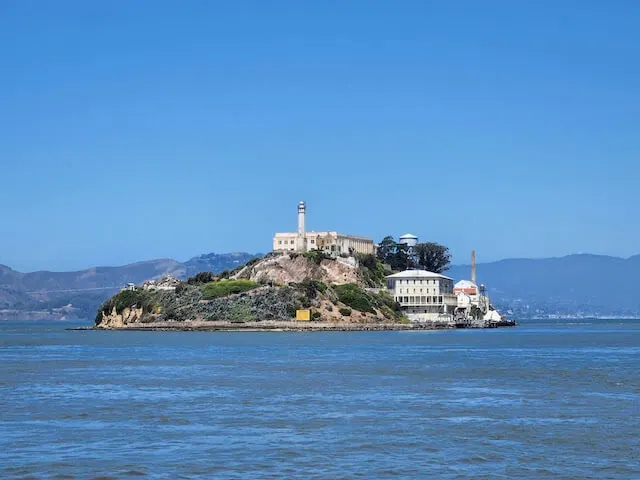 Don't call it "San Fran" or "'Frisco" – just don't.
Do call it "San Francisco", "SF" – if you want to shorten it, or just "the City".
(+ when it comes to shortening names, it's always California and never 'Cali'.)
Don't bring a full summer wardrobe. We warned you about the weather. The wind off the ocean can be bitterly cold.
Do bring layers and a warm jacket or hoodie.
Do visit Lombard Street – while it is touristy, it is pretty, offers a great view down to the bay from the top and is movie famous.
But Don't go believing it is actually the most crooked street in the world (or even the most crooked street in San Francsico!) That's actually Vermont Street between 20th and 22nd Street and boasts seven switchbacks – but is nowhere near as picturesque.
If you want to eat a local specialty – Don't eat Clam Chowder (even if it is served in a deliciously tempting bread bowl!) – which is originally from New England.
Do try Cioppino – created in San Francisco by Italian immigrants on the North Beaches, this tomato-based seafood stew uses up leftovers from the days catch and often includes crab, mussels, fish and shrimp along with garlic, onions, fresh herbs and wine – it's delicious!
Don't
limit your view of the Golden Gate Bridge to just one viewpoint!
Do
try and see the bridge from every different angle. During our trip, we got a Lyft to drop us off at Baker Beach and walked our way back through Presidio, walked the bridge itself, and continued round to Chrissy Field, stopped by the Palace of Fine Arts and finally up to Lyon Street Steps. There is also the option of taking a
seaplane tour
for some extra-special, unique views of the bridge and the bay.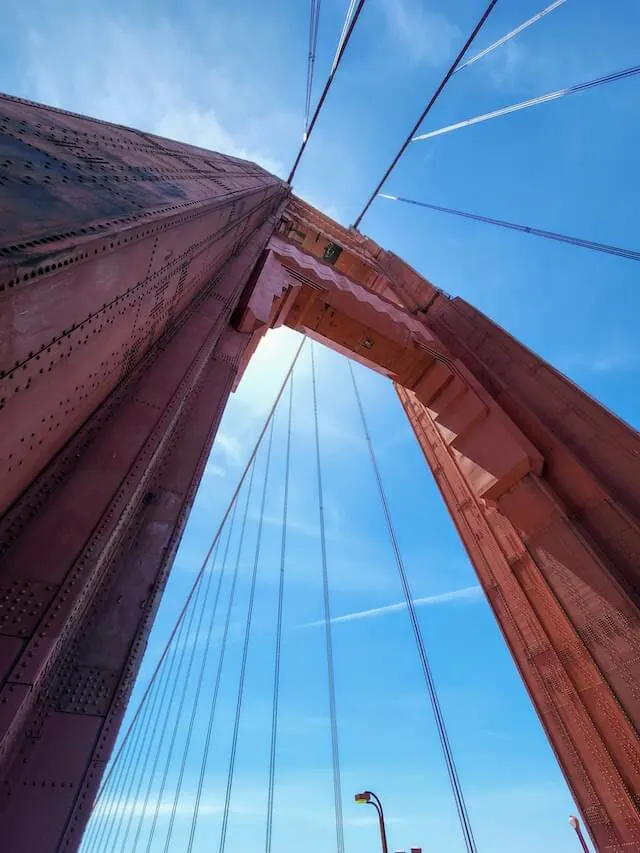 Do keep your eyes out for the hearts of San Francisco. Inspired by the Tony Bennett song 'I left my heart in San Francisco', these art installations around the city are each individually and beautifully decorated, BUT
Don't obsess over them. There are 131 in total and trying to find them all could mean you miss out on other great things to see and do in the city.
Don't limit yourself to just to the 7 square miles of San Francisco.
Do explore other towns and cities in the Bay area. Our top recommendations would be the beachside city of Sausalito (just across the Golden Gate Bridge or via a 30 minute ferry), Muir Woods, home to towering Redwoods in the Golden Gate National Recreation Area and Treasure Island (off the San Francisco-Oakland Bay Bridge).
There you have it — a complete, pre-travel pack of things you need to know in making sure you get the most from your visit to San Francisco! Let us know how your trip went when you get back. Wishing you safe travels ahead!
If you like this article, please pin, tweet, flip, or share. I'd really appreciate it!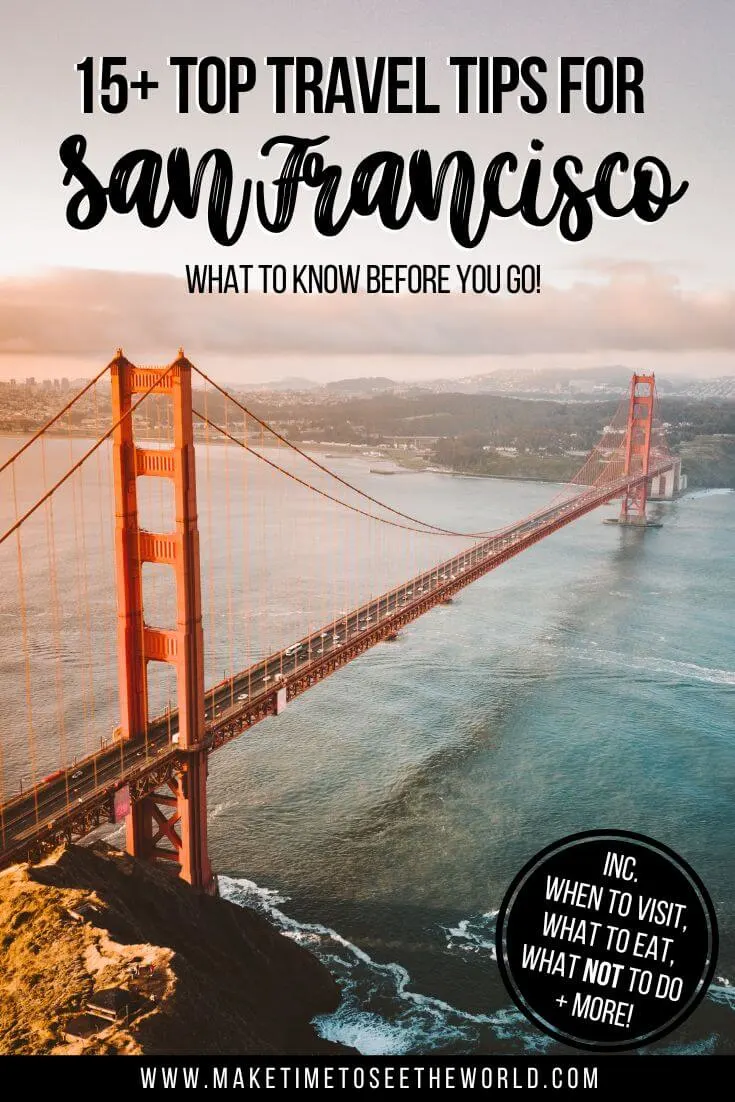 READY FOR MORE USA TRAVEL INSPIRATION? YOU MIGHT BE INTERESTED IN THESE TRAVEL TIPS, TRAVEL ARTICLES, DESTINATION GUIDES, TRAVELER RESOURCES AND RELATED POSTS ABOUT OTHER AMAZING CITIES IN NORTH AMERICA:
Hi There! Thanks for reading our guide to our top travel tips for your San Francisco Vacation. I just wanted to let you know that this post contains affiliate links, which means if you purchase something after clicking a link, I may get a small commission – which is at absolutely no cost to you. If you enjoyed this article and are going to be searching for some of the things I mention anyway, I would love it if you could click through from the links above & thank you in advance! Read my full Disclosure here.
And a huge Thank You for reading the MakeTimeToSeeTheWorld travel blog.