When it comes to the Most Beautiful Islands in the World the toughest question will be which one to add to your bucket list first! (And in this post-apocalyptic world, we know you have one!)
Discover the 30 most beautiful islands in the world for a travel experience like no other. From pristine beaches, untouched nature, secluded getaways, and lush jungles for an often remote, but unsurpassable, travel getaway.
Whatever type of island vacation you're looking for, we're sure there is something on our list. From the largest islands in the world packed with rich history, like Sri Lanka; to the famous islands home to some of the world's top attractions, such as Santorini; the islands that are tourist attractions themselves, like the Maldives, and the tiny islands just offshore from the mainland that make for the perfect day trip.
And while our beautiful islands to visit list may focus on the tropical side (because let's be fair, beautiful islands, tropical beaches, and lush rainforests go hand in hand!) we have also included some non-tropical islands for balance – and because they are beautiful in their own ways – and may be exactly what you are looking for.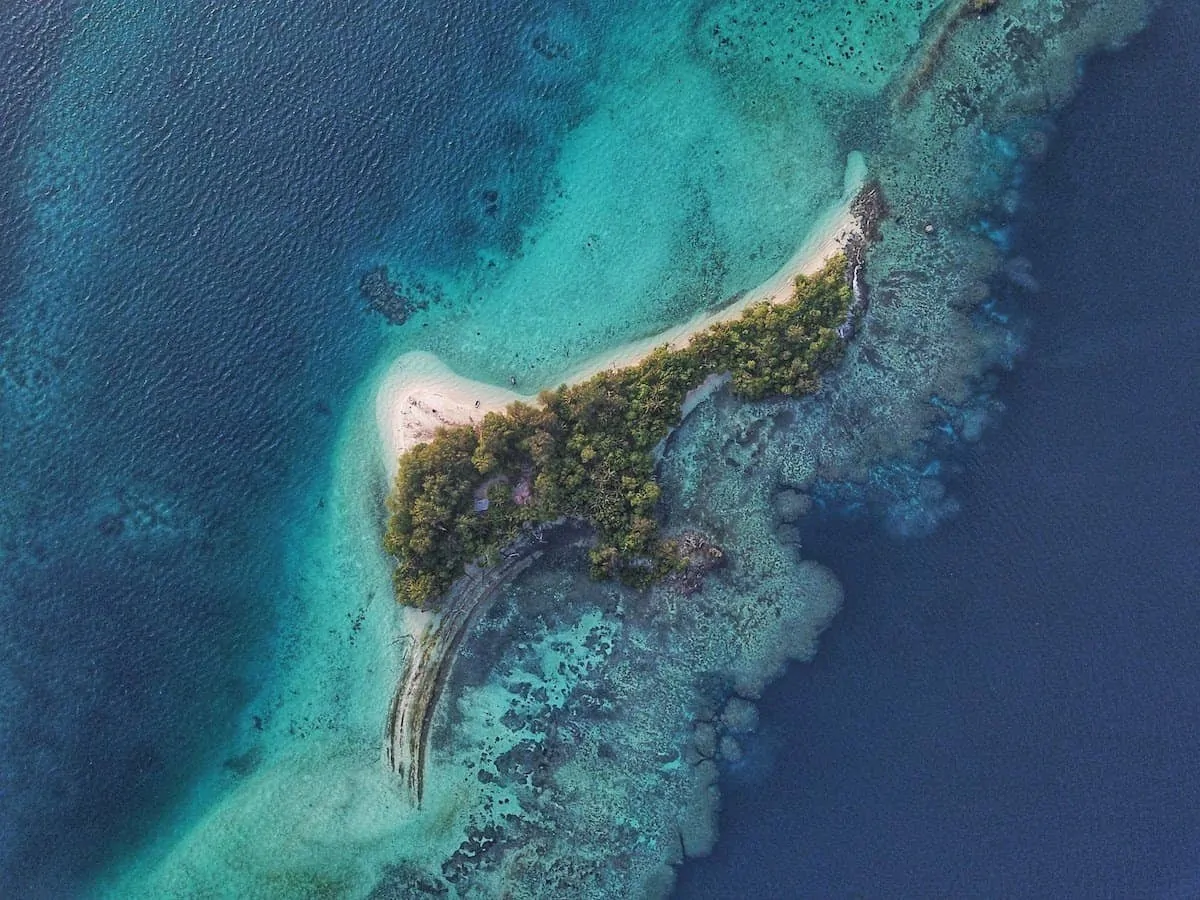 Disclaimer: Almost all posts on this site contain affiliate links, and this one about The Most Beautiful Islands in the World is no different. This means that if you click on any of the links in this post (and make a purchase) I may receive a small commission at absolutely no cost to you. Each post is carefully crafted to (hopefully!) answer all your questions and recommendations are made where we believe they will improve your trip and help with your planning. As such we thank you in advance should you decide to click & buy. Read my full Disclosure here.

Map of the Most Beautiful Islands in the World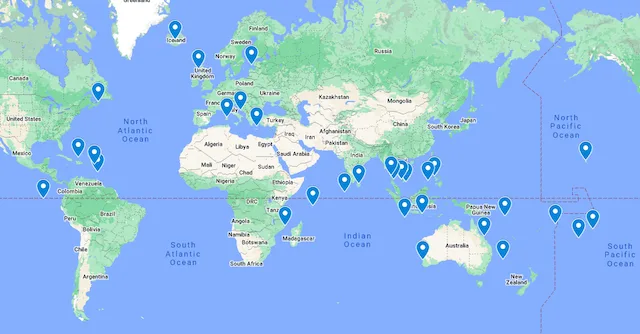 Ever wondered where the most beautiful islands in the world are? And how close one is to where you live?! Well, this map is for you. Click the map itself or this link for a closer look at each of the points and work out how quickly you could get there, and which ones you need to add to your bucket list for later!
La Digue, Seychelles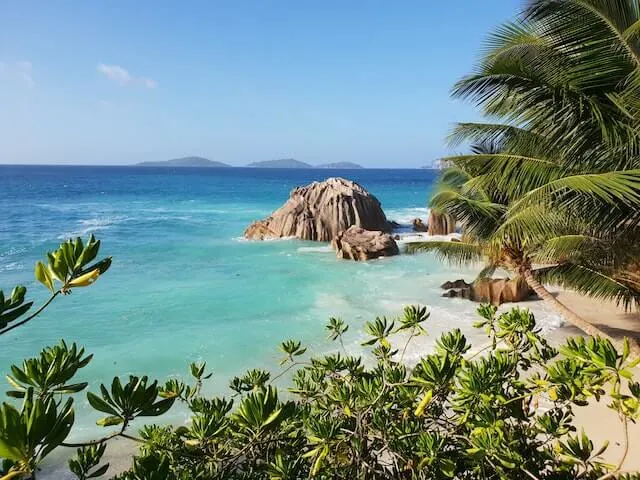 La Digue is a stunning island in Seychelles and is easily one of the most beautiful islands in the world. It is home to world-renowned beaches, lush jungles, bright blue waters and an unmatched authentic charm. The most special thing about La Digue is the granite rocks that are dotted along the island and on the shores. They are super-specific to Seychelles are look as if a God dropped them there perfectly.
Although there are many things to do in La Digue the most popular is visiting Anse Source D'Argent, the most beautiful beach in Seychelles and often ranked as one of the most beautiful beaches in the world. Spending time on this island soaking in the mesmerizing beauty is a once-in-a-lifetime experience.
Con Dao, Vietnam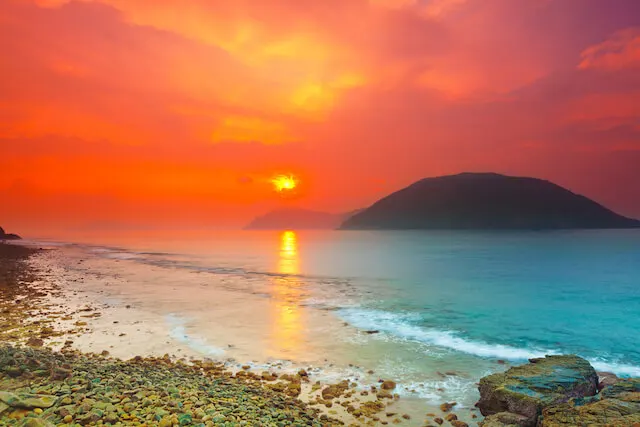 This isolated archipelago is a chain of islands that stand out for their natural beauty and diversity. Once a place of political exile for undesirables, it has become one of the world's least-known tourist destinations.
Here you can walk on undiscovered paths along the ocean, sunbathe on its pristine beaches, explore the primeval jungle and marvel at the great variety of its wildlife. Thanks to cheap boat transport from Vung Tau (3h15m) or Tran De (2h30m), the island has seen hotels and restaurants cropping up around the island, with its nature still untarnished.
The best eateries include Gia Minh Hand-Made Noodle Bistro, and Infinity Cafe and Restaurant, among others.
The best budget hotels and resorts are Hote Condor, Hotel Duc Thanh 2, Garden House Con Dakota, Litte Home, Con Son Green Island, and Hai Truong Hote. With an average price ranging from 15€ to 30€ per night.
Don't forget that Con Dao is great for scuba diving and snorkeling. You can book your diving trip at Du Lich Con Dao or Con Dao Dive Center.
The Maldives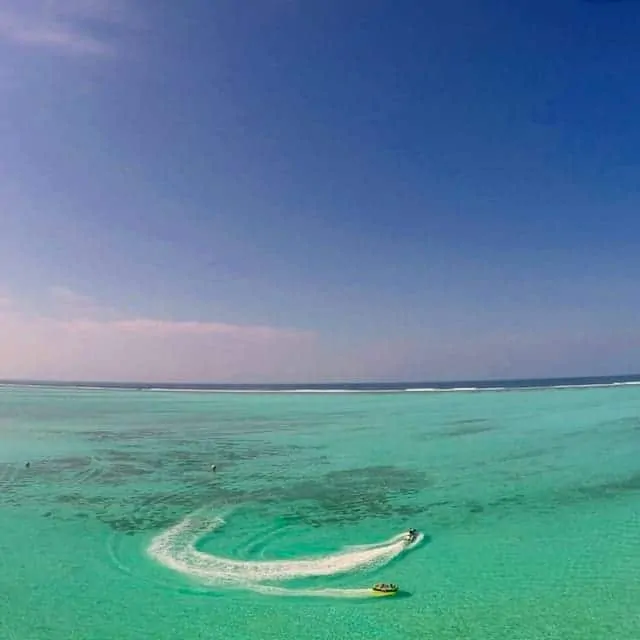 With over 1200 islands throughout the archipelago, only around 200 of which are inhabited, it is easy to see why it is the Islands themselves are the tourist attraction in The Maldives. And once you have flown in (or out) of the country, you'll understand exactly why.
There are over 100 luxurious resorts to choose from, most with those dreamy overwater bungalows surrounded by turquoise waters bordered by coral reefs and endless marine life.
It's the ultimate in luxury travel and is home to several resorts which are consistently voted the best resort in the world.
Ko Rong, Cambodia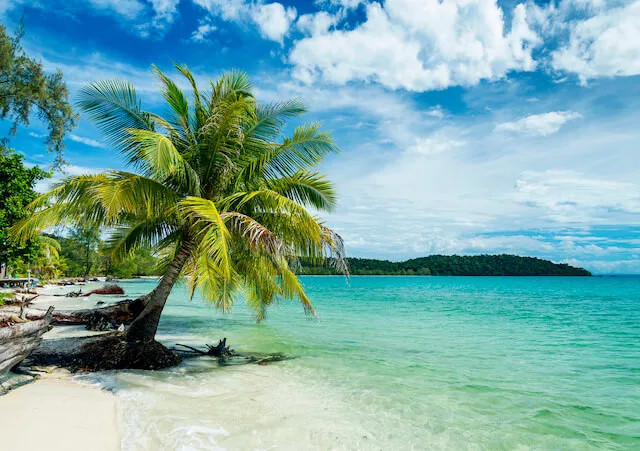 One of the most beautiful and charming islands in the world is Ko Rong, a small uninhabited island off the Cambodian shore.
It is relatively undiscovered and there are a number of great pristine beaches, unspoilt flora and fauna and great resorts. It is perfect for a romantic getaway such as White Beach Bungalows and Sweet Jungle Bungalows.
Budget properties include Coconut Beach Bungalows at just 8€ per night, Firefly Guest House, a floating inn, costing just 10€, and Lonely Beach guesthouse with a real islander's chilled vibe.
Keep in mind that to get to Ko Rong, you need to take a ferry from Sihanoukville, a somewhat seedy coastal town, known for its casinos and nightlife.
Phu Quoc, Vietnam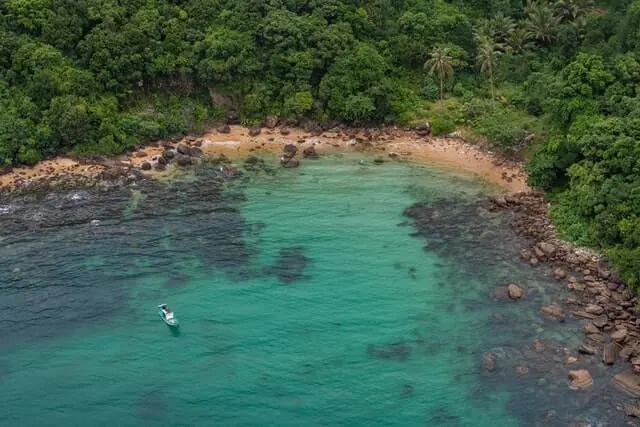 Known for its music festivals and pristine beaches, Phu Quoc is the Indo-Pacific's most promising beach-holiday destination.
Here you can find coconut-milk white beaches like Sao Beach, a stunning wildlife safari park, a unique Cao Dao church, Hu Quoc Temple, and more. It is also the perfect place to munch on great food and meet locals.
Phu Quoc is not just pristine and little known among travellers, it also boasts great value lodgings like Lien Thon Hotel for 12€ or Ninila Fruitfarm at 10€ or the most luxurious Naomi or Palm Hill Resorts.
Don't miss out on Phu Quoc biking tours and cycle your way around Phu Quoc.
You can get here by ferry by Ha Tien or Rach Gia (a cheaper option) or on a plane from Ho Chi Minh City (more hassle-free).
Lord Howe Island, Australia
One of the most beautiful (and expensive!) islands to visit in Australia, Lord Howe Island is a tiny outcrop in the Pacific Ocean covered in lush greenery and surrounded by aquamarine waters that are home to a pristine coral reef teeming with marine life.
Take a hike up Mount Gower and be rewarded with sweeping views or lounge on Ned's Beach in the north – and at all times keep an eye out for seabird colonies that call the island home.
It is only a 2-hour flight from both Sydney and Brisbane, but you'll feel like you've landed in another world. And with visitor numbers capped to no more than 400 at any given time, to protect and preserve the natural environment, you'll want to make sure you save up and book in advance to experience this incredible place.
Ko Tao, Thailand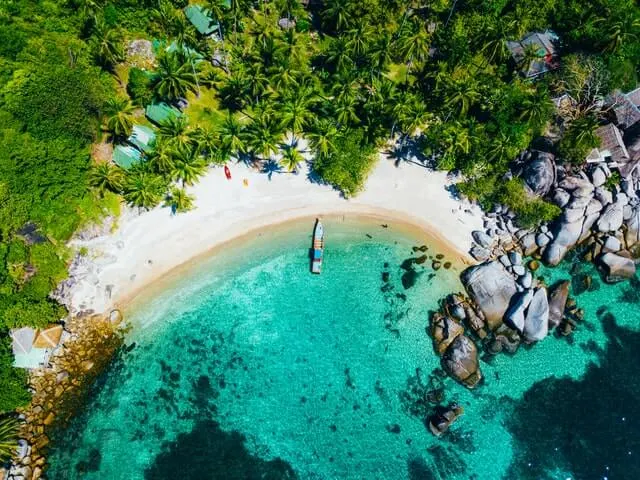 Have you dreamed of a tranquil spot to connect with nature? Or are you looking for a great place to do remote work and live on a budget? Then Ko Tao is for you!
This is one of the best off-the-beaten-track islands in Thailand that is also great for digital nomads. It is situated in the Gulf of Siam, it's smaller than Ko Phangan and Koh Samui but offers unique rural charm. It feels truly serene and is actually Thailand's best place to go scuba diving.
What is more, it offers a great choice of accommodation and dining options, all the while boasting a convivial community of really cool islanders.
To get here fly to Surat Thani and get a combo bus and ferry ticket to Koh Tao (the cheapest option) or fly to Koh Samui and hop on a ferry to Koh Tao (the quickest option). Keep in mind that Ko Tao has no immigration Center of its own so to extend your stay you will have to make it to Koh Phangan or Koh Samui Thailand.
RELATED: On the other side of the mainland you'll find Ko Phi Phi Don and Koh Phi Phi Ley and if you're looking for somewhere off the beaten path, be sure to add Trat to your itinerary where you can visit Koh Chang and Koh Mak.
Mergui Islands, Myanmar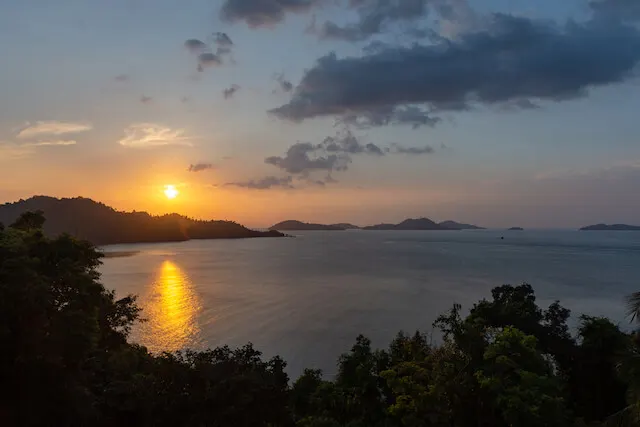 The Mergui Islands are a beautiful archipelago in the Indian Ocean. It is a veritable place that seems to have been caught in a time warp and is often referred to as the last truly unspoiled island utopia. Here you will find pristine lush vegetation, stretches of impeccably white sand, underwater clusters of pearls and nomad fishermen.
Go on an organized tour and see for yourself what savage nature is like. Keep in mind that Burma has just started reopening so double-check with a licensed provider of touristic packages to travel to the Mergui.
Solomon Islands, South Pacific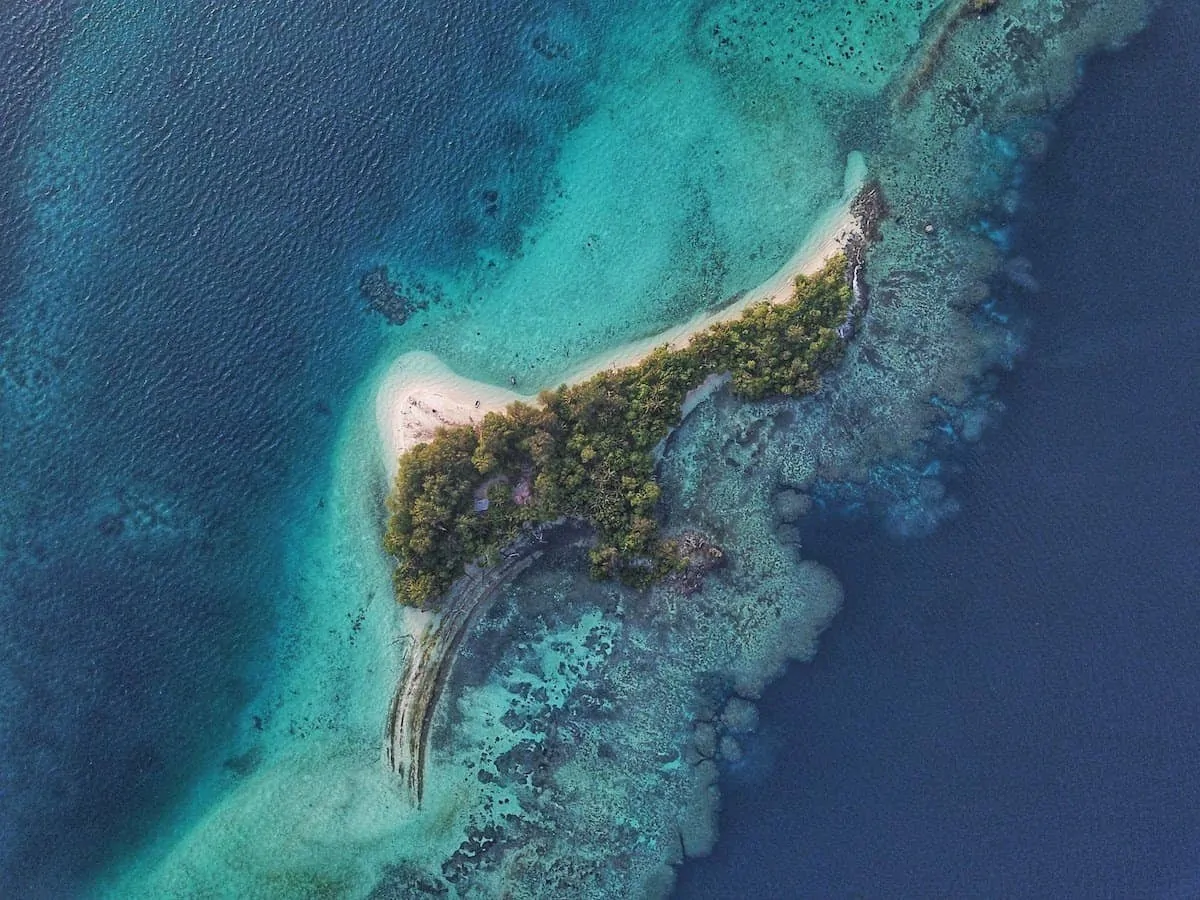 The Solomon Islands are the South Pacifics best kept secret and one of the most incredible, unspoiled places I have ever visited.
From the remote communities with their kastom cultures to the clear blue waters, home to pristine coral and amazing marine life, not to mention the world war II history that projected these islands onto the world's stage in the first place.
There are 6 major islands and over 900 smaller islands (although only a small proportion of those are inhabited) in the Solomon Islands archipelago, and as such, there are plenty of places to escape to where you can be practically alone if you are seeking seclusion, and almost certainly on a digital detox, with limited connectivity throughout the region.
To get here there are international flights from Fiji, Papua New Guinea, Vanuatu and Brisbane, Australia; and domestic flights and boats between the islands.
Boracay, Philippines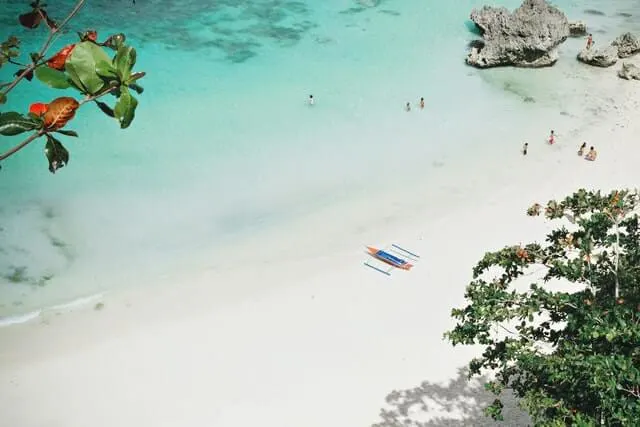 Home to some of the world's best beaches, Boracay is a great place to visit for couples and singles. As one of the most beautiful islands in the world, it is home to not just pristine sand and azure pellucid waters, but also lush jungles and more.
Boracay Island is also a great place for water sports, delicious food, nightlife and infrastructure.
To get here fly to Caticlan or Kalibo, take a ride to Caticlan Jetty Port and then sail to Boracay on a ferry, one of the most pleasant ways of travelling in the Philippines to uncover its authenticity, somewhat briny, maritime charm and scenic sea cape.
Whitsunday Island, Australia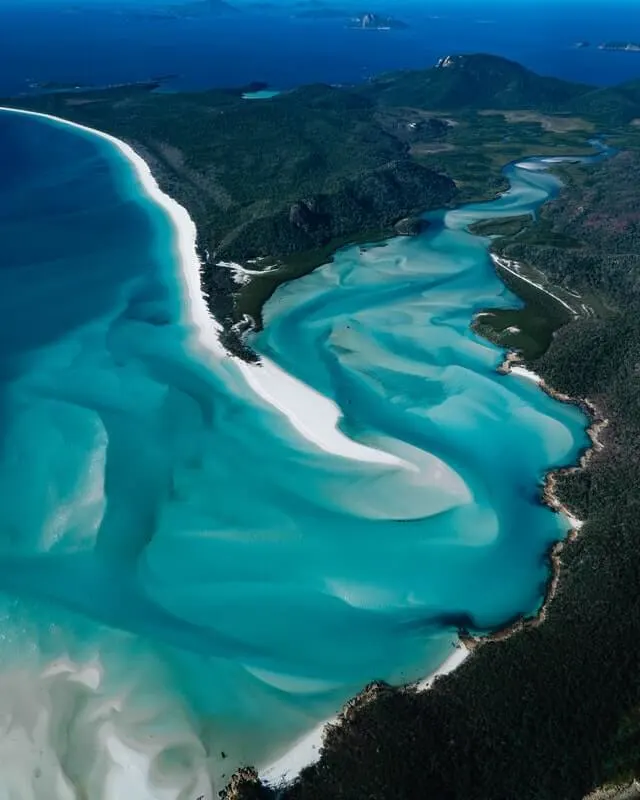 Famous for its pristine whitesand beaches at the heart of the Great Barrier Reef, Whitsunday Island is the crown jewel of Whitsunday archipelago which is made up of 74 tropical islands and located only 55 miles off the Queensland coast.
Like the majority of the islands, Whitsunday Island itself is uninhabited and so best visited by boat (or seaplane, or helicopter!) and explored on foot – either by spending time on the famous Whitehaven Beach or walking the hiking trails through the lush jungle at the island's center.
And don't forget your snorkel gear – you don't want to miss the miles of coral and colourful sea life on the Great Barrier Reef.
Palawan, Philippines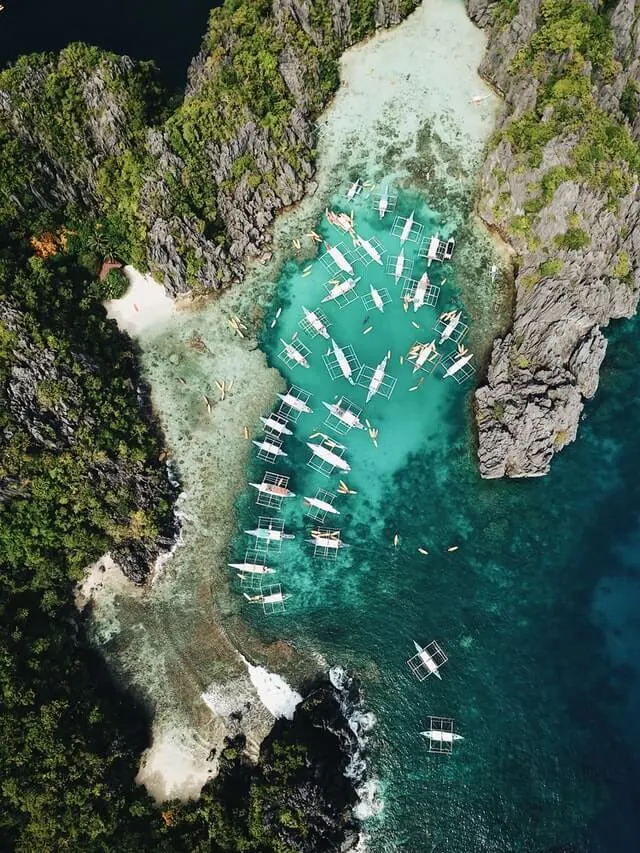 Palawan is one of the most popular destinations in the Philippines, and we have no trouble seeing why. Visitors get to experience UNESCO world heritage sites, breath-taking rainforests, beaches, secluded bays, and other natural scenery that will make you fall in love with the island.
Palawan Island is the largest island in an archipelago of over 1700 including the areas of El Nido and Coron, making the region that stuff that island-hopping dreams are made of (you can even zip-line between 2 of them!); but be sure not to miss the underground river and caves in the capital, Puerto Princesa or take a paddle down the Iwahig River and see the fireflies come out after dark.
To get here, fly directly in from the Philippines capital, Manila, or from domestic airports in Cebu and Borocay. (There are also boats available from Manila but the crossing can be a bit hectic, so if you are prone to seasickness, we'd suggest giving it a miss!)
Cape Breton, Canada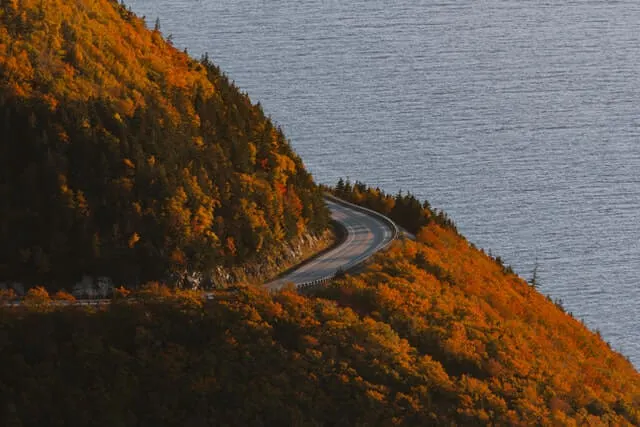 While Canada is certainly not known for its tropical climate – quite the opposite in fact – Cape Breton's forest-lined cape-hugging roads are enough to make anyone go weak at the knees.
Located on the Atlantic Coast in Nova Scotia, Cape Breton (Mi'kmaq, Unama'ki) is famous for dramatic coast views, highland scenery and Celtic heritage, Bras d'Or Lake, and the world-renowned Cabot Trail.
As an island surrounded by water, it should be no surprise the seafood is incredible – and if you want a uniquely Canadian dish with an island twist, be sure to try the Lobster Poutine at the Rusty Anchor in Pleasant Bay. You won't regret it!
If you're ready to start planning your Cape Breton adventure, there are 3 ways to get here: you can drive on the Canso Causeway from mainland Nova Scotia; take a Marine Atlantic ferry from Newfoundland; or hop on a flight into Sydney's J.A. Douglas McCurdy Airport.
Island of Mozambique (Ilha de Mocambique), Mozambique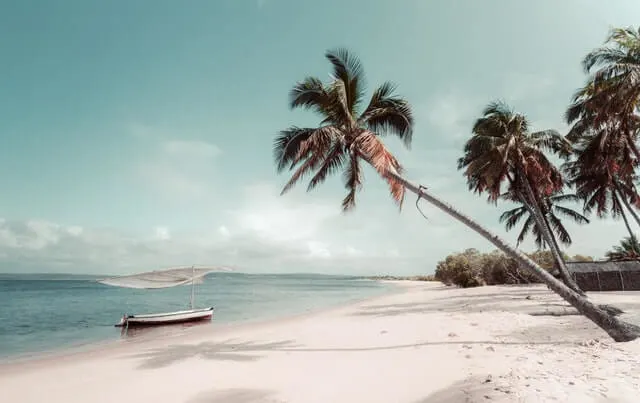 One of Africa's least known and beautiful islands, Mozambique Island (Ilha de Mocambique) is not just great beaches, lush foliage and fragrant bloom. It is also home to vibrant locals that love to party, mouth-watering food, its ancient fortress, San Sebastian's Fortress and another piece of colonial architecture, San Antonio's church.
While one of the poorest parts of the world, the island is home to some incredible properties including the five-star Coral Lodge, the exquisite Terraco de Quitandas, and really en vogue Jardim dos Ales – but this destination is not the Maldives.
As far as beautiful islands go, this one is quite off the beaten path. And being here is almost like stepping back in time – raw and unpolished, there is very little tourism infrastructure to speak of. But in our opinion, is part of its charm.
To get here be prepared to travel overland on bumpy roads – whether by bus or by private transfer. And pack your patience, this is rural Africa.
Christmas Island, Australia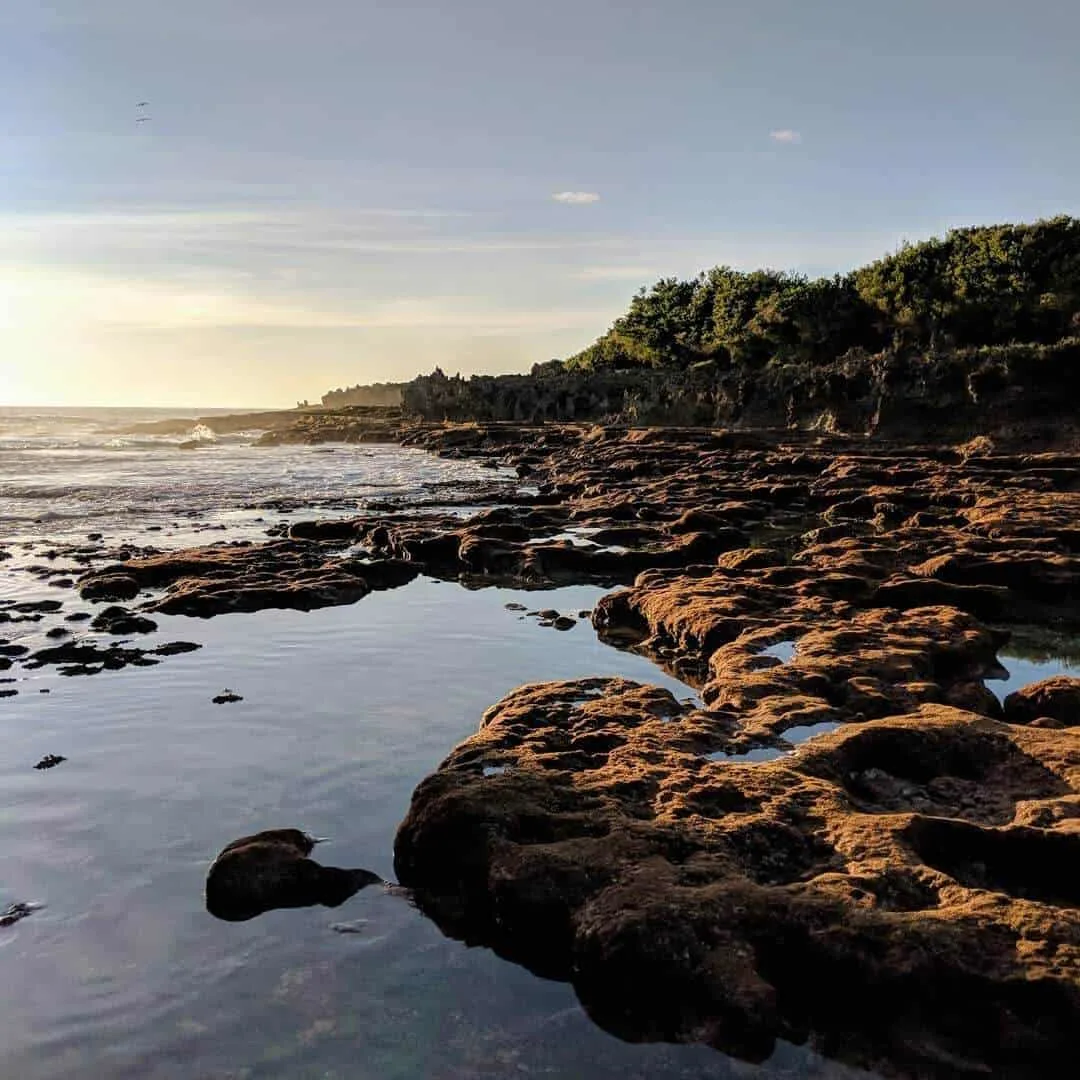 Christmas Island, also known as Australia's 'Galapagos', is a remote, dog-shaped island territory in the Indian Ocean. Boasting several endemic species of birdlife & host to the annual red crab migration – an event that does not occur anywhere else in the world, it's an Eco-paradise just waiting to be explored.
Add in the beautiful landscapes, amazing coral & marine life, lush rainforest & the friendliest locals that just want you to enjoy and love the island as much as they do – and you've got the ingredients for an unforgettable adventure.
As a very remote island, there are only a few ways to get to it. (Domestic) flights from Perth in Western Australia are the most popular, with limited international flights available from Jakarta (Indonesia) and Kuala Lumpur (Malaysia) – however, both are suspended at the time of writing.
And accommodation is limited – with only around 200 guest beds on the whole island – be sure to book in advance, especially if visiting during the crab migration.
Saaremaa, Estonia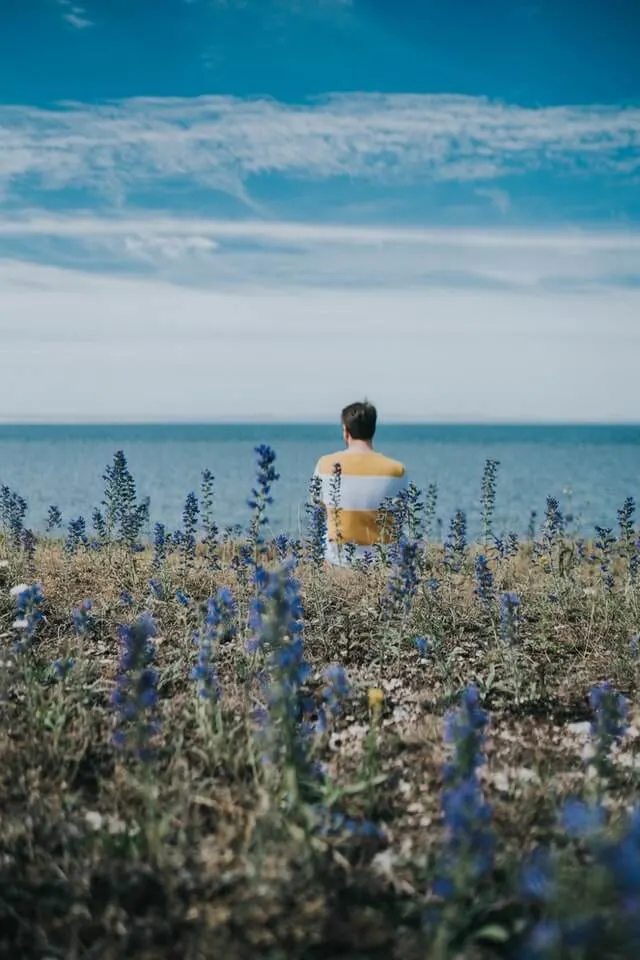 One of Europe's most interesting island destinations is Saaremaa. Here you can find its pretty capital Kuressaare complete with a splendid castle and townscape, beautiful beaches, cool summer weather, great bars and properties. The unique culture is part of what makes this part of Estonia so much different from the mainland.
It is best to head to Saaremaa in summer when the sea is warm but the air sufficiently cooler than in the heat-parched south of Europe. It is also much cheaper than tourist-heavy islands like Sardinia, Mallorca or Corfu.
Bora Bora, French Polynesia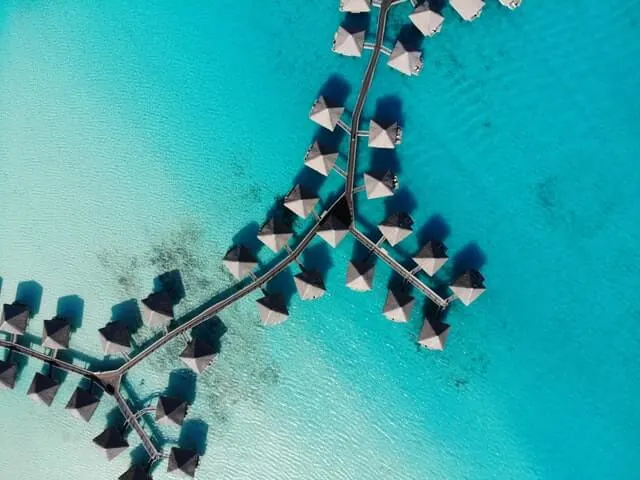 When it comes to beautiful islands, I'm sure French Polynesia's Bora Bora is one of the first that springs to mind.
A small tropical island, dotted with luxury hotels – many of which have an array of picture-perfect overwater bungalows, with the iconic view of the extinct volcano Mount Otemanu, rising from the water behind them making for the dreamiest sunset snaps… It's easy to understand why Bora Bora is one of the top islands when you think of luxury travel.
Getting here requires an international flight to Faa'a International Airport in Tahiti followed by a 45-minute flight to Bora Bora. And while that may seem arduous – and an expense before you even get to your luxurious overwater bungalow – visiting this little slice of paradise is a once-in-a-lifetime experience (for most, anyway!)
Santorini, Greece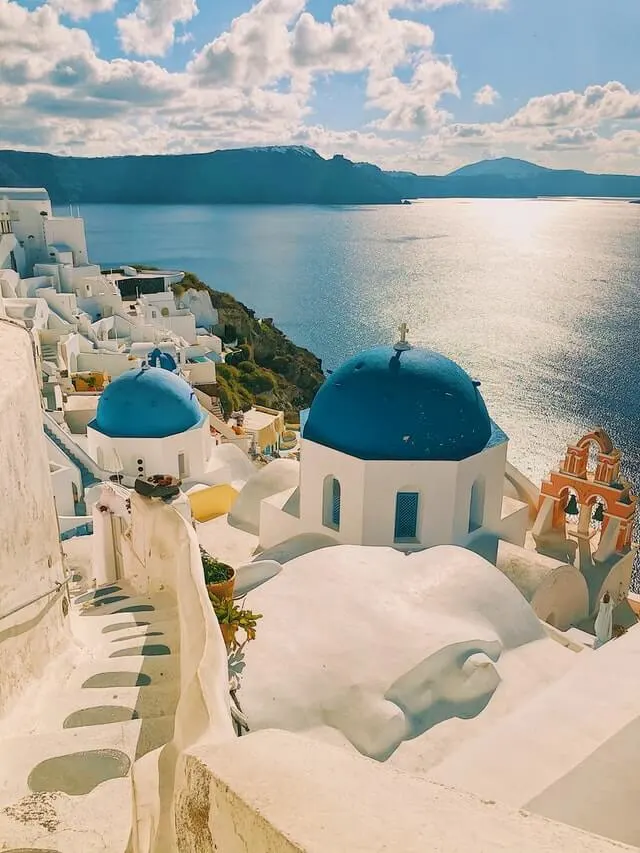 Santorini Island is one of the most magical places in the Aegean Sea, if not the entire world and possibly the jewel in the crown of the popular islands of the Cyclades.
From the stunning Santorini caldera to the beautiful sunset views in Oia Santorini, there is plenty to see here, especially if you're looking for a romantic getaway.
Famous blue-domed roof-tops, Santorini is very popular year-round and can get crowded especially when the cruise ships are in and at sunset, but it is still one of the prettiest islands and somewhere everyone needs to see at least once (not to mention its one of the best Greek Islands for Couples!)
Most people visit Santorini and the other Greek Islands of the Cyclades (Mykonos, Milos, Naxos etc) on a Greek Island Hopping adventure, with the trip from Naxos to Santorini taking 1 and a half to 2 hours via ferry. But if you don't want to arrive by sea, there is an international airport on the island as well.
Saint Lucia, Caribbean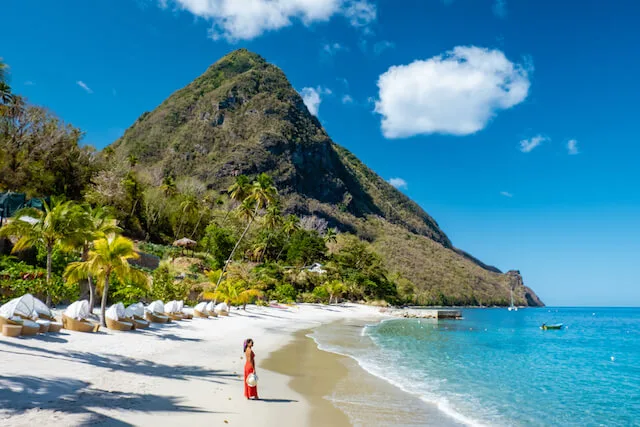 St Lucia Caribbean Island, and its capital, Castries, has been a popular cruise port for decades, with the remainder of the island a much-loved romantic destination for couples and honeymooners.
Located in the Eastern Caribbean, Saint Lucia is the second largest of the Windward group in the Lesser Antilles, and is framed by a pair of dramatically tapered mountains, the Pitons, on its west coast. The coastline on the exterior of the island is home to volcanic beaches, reef-diving sites, luxury resorts, and fishing villages.
On the interior, trails through the lush rainforest lead to stunning waterfalls – like the 15m-high Toraille, which pours over a cliff into a pool that makes for a great way to cool off from the year-round tropical temperatures.
Galapagos Islands, Ecuador
The Galápagos Islands is a volcanic archipelago comprising of 19 islands in the Pacific Ocean, roughly 600 miles (1000km) off the coast of Ecuador.
The islands and surrounding waters are home to nearly 9,000 different species of plants and animals – the majority of which are endemic and found nowhere else on the planet. This makes it easy to see why it's considered one of the world's foremost destinations for wildlife viewing and explains how Charles Darwin's observations on his visit back in 1835, later inspired his theory of evolution.
Beautiful islands, with beautiful animals, surrounded by beautiful water. It's a photographer's dream.
Turks and Caicos, Caribbean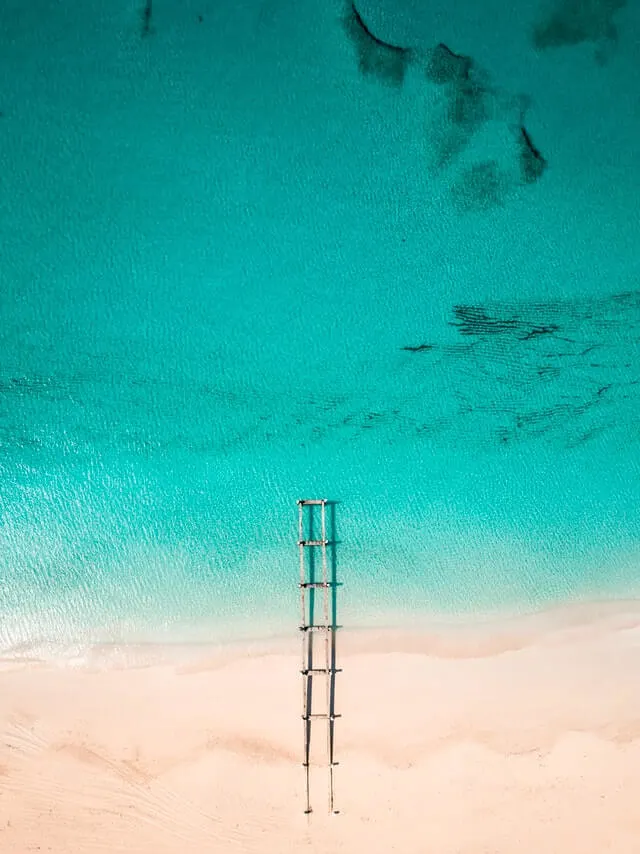 The turquoise waters and white sand beaches across over forty low-lying coral islands and cays are just a couple of the reasons Turks and Caicos are considered the Caribbean's best-kept secret.
Found halfway between the Bahamas and the Dominican Republic, Turks and Caicos is a British Overseas Territory, and thanks to its climate and location, is home to multiple luxury resorts, boutique shops, and fine dining restaurants – particularly around Grace Bay.
It also boasts some impressive Scuba-diving sites including a 14-mile barrier reef on the north shore of Provo and a dramatic 2,134m underwater wall off Grand Turk island, as just two examples.
Dalmatian Islands Croatia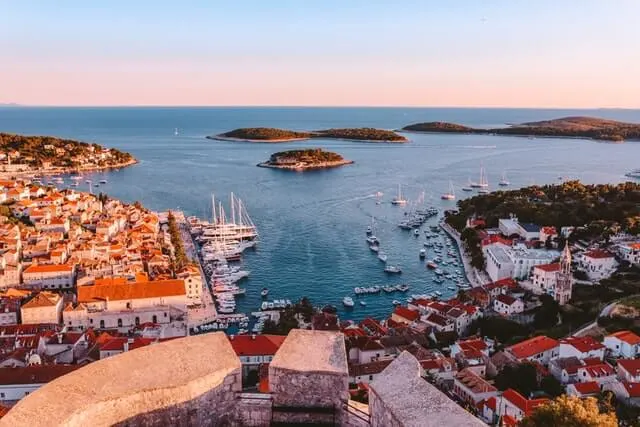 One of Croatia's most popular tourist destinations, the island of Hvar and the Dalmatian coast is known for its picturesque beaches, scenic coves, and vineyards.
Whitestone Vancian houses are the backdrop of the island and offer fantastic landscape views of the island's natural beauty. Though extremely popular, Hvar Croatia has lost none of its paradise island vibes, and it is this that draws in people year after year.
Located on the southern Dalmatian coast, Dubrovnik is also one of the nation's premier tourist destinations and is seen as one of Croatia's cultural heartlands for centuries and has the art, culture, and architecture to back it up. In recent years it has become a popular place for fans of the TV show Game of Thrones, in which the city features a lot.
Together, the Dalmatian Islands of Croatia provide the perfect mix of culture and beaches.
Bali, Indonesia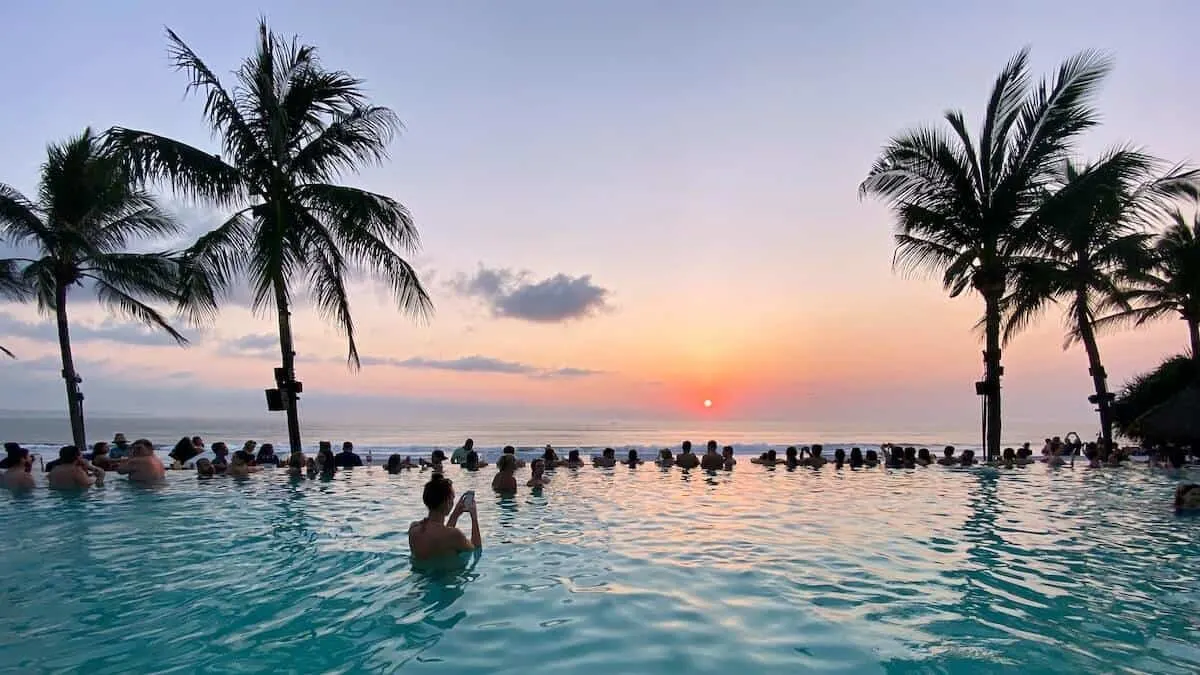 Probably the most well-known tropical island in all of Indonesia, Bali has been welcoming tourists in the millions for many years now.
A lush island paradise, it is famous for its beaches, and picturesque rice terraces; is a favorite with surfers, not to mention the home of hundreds of yoga retreats/wellness retreats and day spas. And if that's not enough, Bali, and particularly the area around Seminyak, offers some of the top restaurants in the whole of the country!
Sardinia, Italy (Or Capri Italy, Or Santorini Italy, or Sicily Italy!)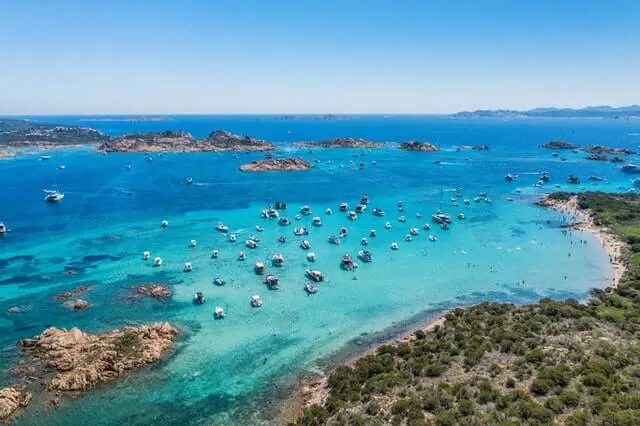 The second-largest island in the Meditteranean (after Sicily), Sardinia is known for its beautiful beaches and stunning clear blue water along its 2,000km of coastline, and mountainous interior which is perfect for hiking. Often overlooked for more traditional Italian destinations (such as Capri or Santorini!), Sardina is an underappreciated hidden gem and well worth visiting.
If you can't decide which of these beautiful Italian islands to visit (like we couldn't!), take a peek at our guide to 20+ Incredible Places to Visit in Italy PLUS 15 Top Italy Tips to Know Before You Go.
Sri Lanka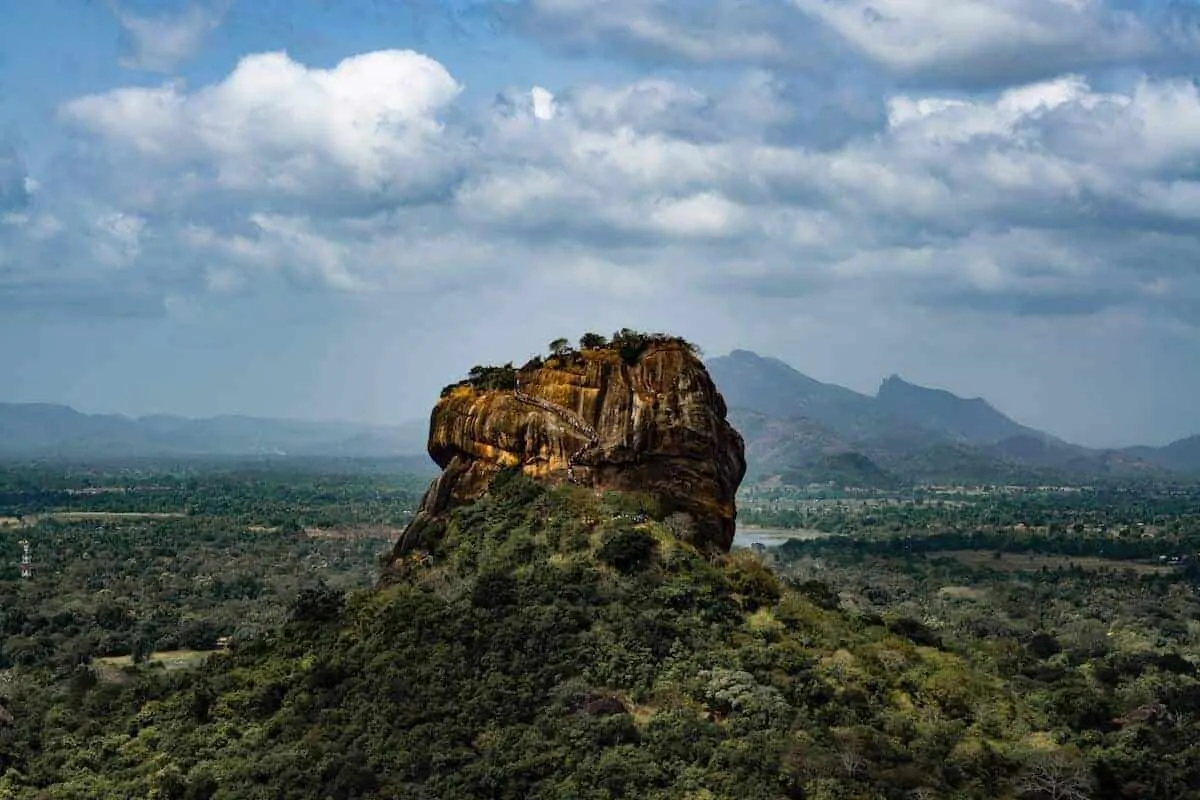 Sri Lanka is a beautiful, teardrop-shaped island off the Southern tip of India.
It has long been a favorite country on the backpacker trail and has more recently been rediscovered by tourists and travelers alike.
Sri Lanka is home to some of the most stunning beaches in the world – with a beach for every occasion. From relaxing to surfing to fishing and whale watching – there are even a few sea turtle sanctuaries along the coast. Plus lots of culture, history, wildlife, lush rainforest (perfect for nature lovers), and 8 UNESCO world heritage sites!
Hikers will love the challenge of climbing Adam's Peak, and explorers can enjoy one of the most scenic train journeys in the world on the picturesque blue train through the tea fields and over the famous 9 arch bridge on the journey between Kandy and Ella.
St Barts, Caribbean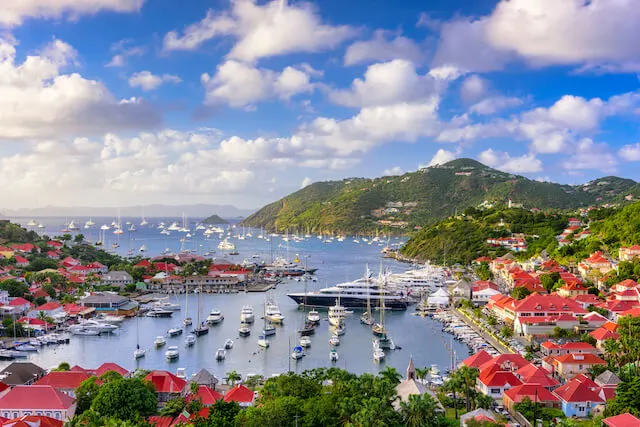 Whether you know it by St-Barths (in French), St Barts/St Barths (in English), or its full name Saint Barthélemy, this French collective is a destination of choice for the vacations of the world's most influential individuals. Yacht owners, we're looking at you. And for those that get to live there, offers a lifestyle beyond compare.
A volcanic island almost entirely circled by shallow coral reefs, visitors are enthralled by endless pristine beaches; entranced by the tri-cultured capital of Gustavia which effortlessly blends French, Nordic, and Caribbean flair; and given the thrill of their lives when landing on one of the shortest runways in the world when arriving by air.
To get here, most arrive by yacht, but small prop planes fly from nearby St Martin – just be prepared to hold your breath as you whoosh over the sunbathers on St Jeans beach seconds before you land!
Hawaiian Islands, USA
The Hawaiian archipelago is home to eight major islands, several atolls, 5 volcanoes, endless hiking trails, incredible history and culture, and beautiful white sand beaches – and a green sand and a black sand beach too(!) thanks to the main volcanic island.
And as the 50th State of the USA, it is not only really easy to get to but fast became one of the most visited destinations in the whole country, with Maui Hawaii, Kauai Hawaii, and The Big Island being the biggest draws.
However, while we have included the islands of Hawaii on our list of the most beautiful islands in the world – because, let's face it, how could you not – there have been calls, in 2022, requesting tourists to 'pause' their visits as it is putting a considerable amount of strain on the island's resources and, for example, where water is being limited for residents, is making them second class citizens to the incoming tourists.
Samoa, South Pacific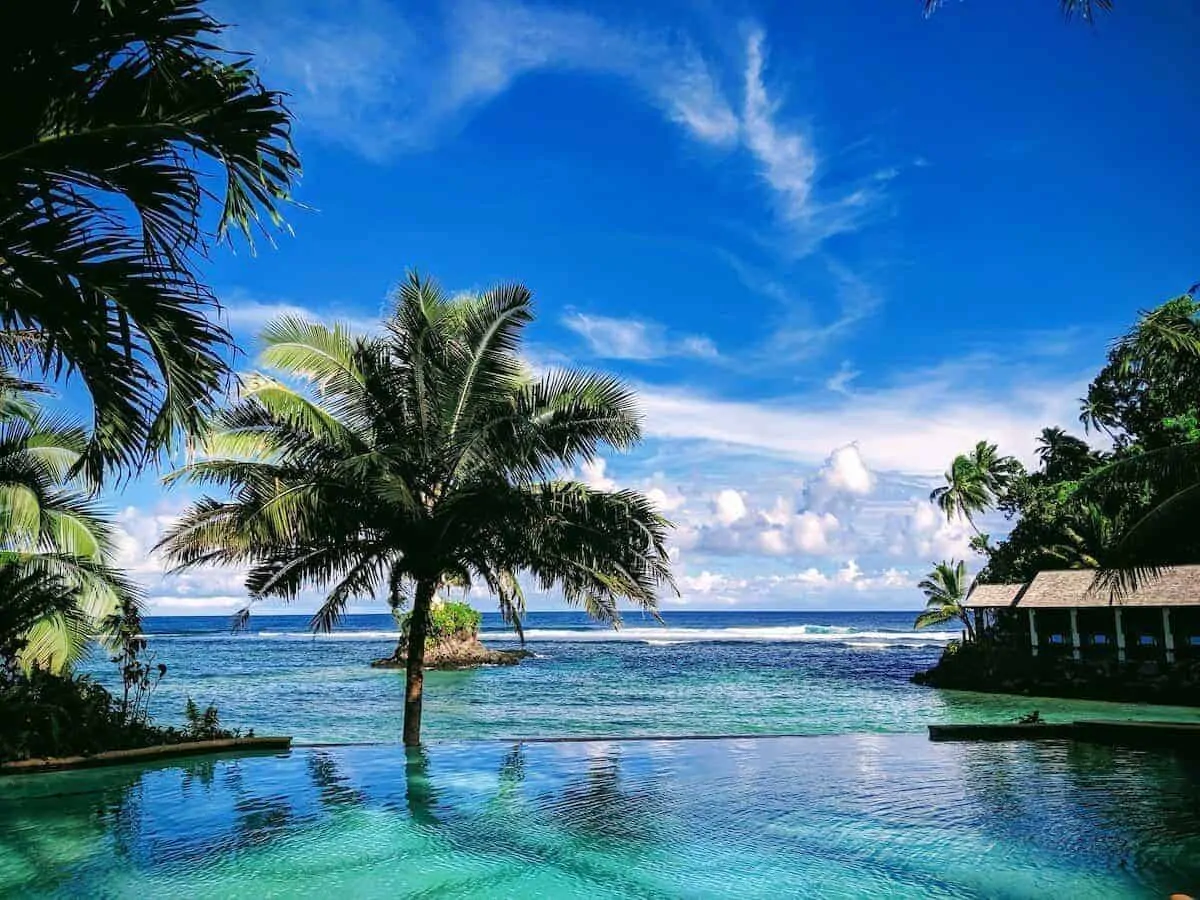 When you are planning a trip to Samoa, the great thing about these South Pacific islands is that they are tiny, which means you should have no problem exploring the entire collection of islands and will be able to tick off most of the incredible things to do in Samoa while you are there.
There are rock formations you can slide down at the Papase'ea Sliding Rocks, you can feel the power of the waves at the Alofa'aga Blowholes, visit the Sale'aula Lava Fields, step into Treasure Island history at the Robert Louis Stevenson Museum, swim in the naturally stunning Tao Sua Ocean Trench, chase waterfalls, laze on the beaches, learn at Samoan culture at the Heritage Centre and so, so much more.
Rottnest Island, Australia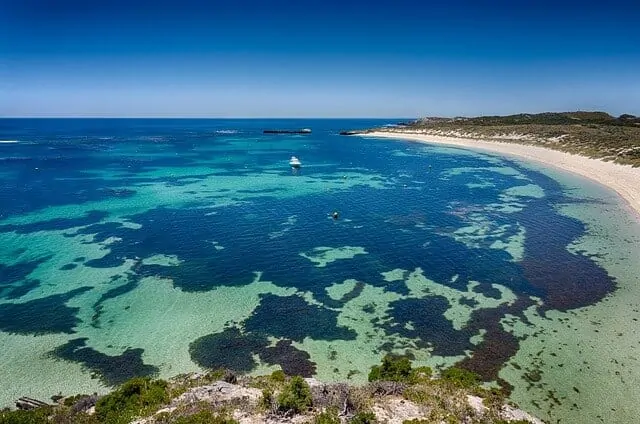 A short 30-minute ferry ride from Fremantle in Western Australia is Rottnest Island, most famous for its population of resident Quokkas, also known as the happiest animals on the planet.
The island allows no private motorized vehicles, so the best way to explore the island is definitely via bicycle, which can be rented on arrival. Spending the day riding around the island and exploring the hidden coves, lighthouses, and beaches is the perfect day trip that you cannot miss.
Iceland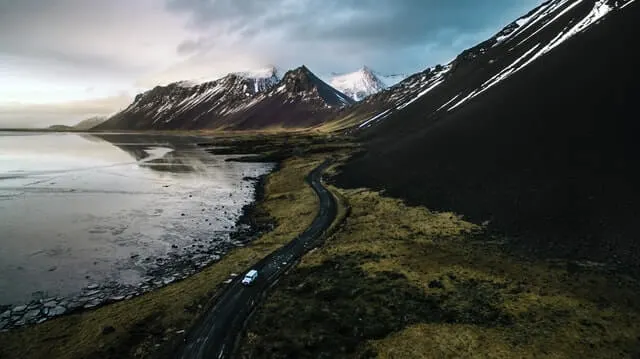 Iceland has resided firmly at the top of many traveler's to do list since it burst onto the scene as Lonely Planet's Top Country to Visit in 2012. And 10 years on, the land of fire and ice is still on practically everyone's travel list.
Boasting amazing landscapes, geothermal pools, black sand beaches and glacier lagoons (to just name a few!), it is the country that has something for everyone and with all the cheap flights through Wow Air and other short-haul European carriers, who can blame people for flocking to this incredible part of the planet?!
Cook Islands, South Pacific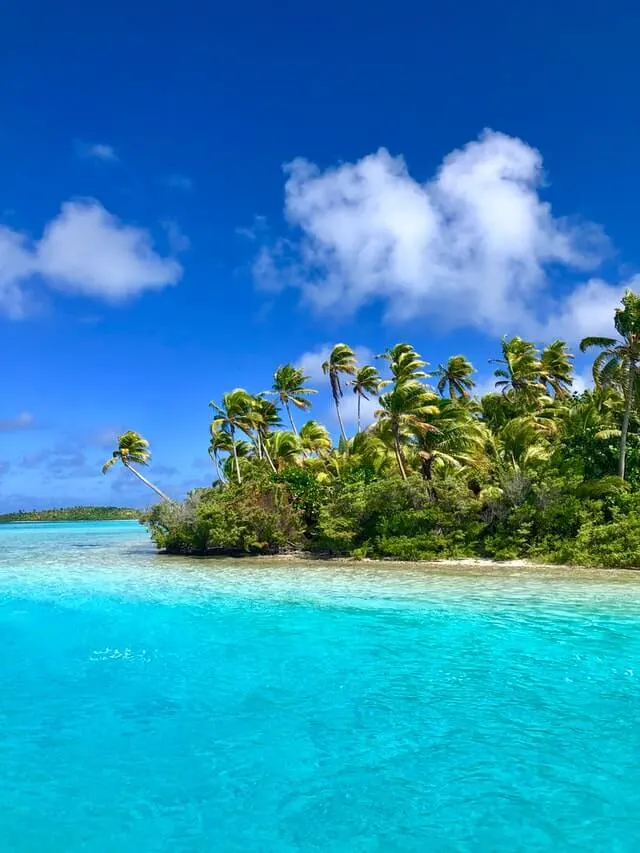 The 15 islands of the Cook Islands are located in the South Pacific, in the same time zone as Hawai'i and close to Tahiti. Being an island nation, the country is renowned for its many snorkeling and scuba-diving sites, along with blue lagoons, and lush green mountains.
An unspoiled paradise, it oozes understated luxury, complete with white sand beaches. The largest island, Rarotonga, is home to rugged mountains and Avarua, the national capital. To the north, Aitutaki Island has a vast lagoon encircled by coral reefs and small, sandy islets.
Isle of Sky, Scotland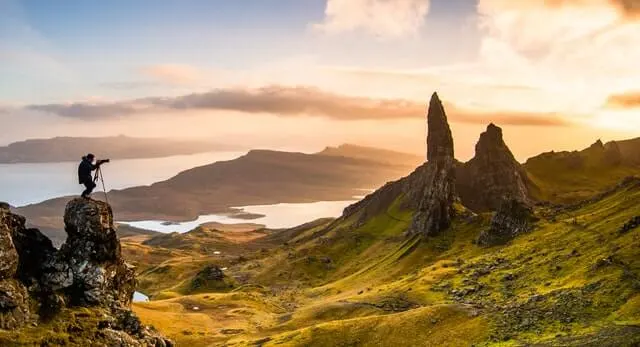 The Island of Skye is situated off the West Coast of mainland Scotland and is a world-class destination for walkers and hikers, for lovers of fairy pools, perfect for seal and whale watching, and a spot of castle hopping!
Skye is the second largest island in Scotland, with epic rugged landscapes that look like they come straight from a movie screen. (And have in quite a few cases!)
There you have it — a complete list of the most beautiful islands in the world! Let us know which one is at the top of your bucket list and which one (or two, or three, or four!) you want to visit first!

If you like this article, please pin, tweet, flip, or share. I'd really appreciate it!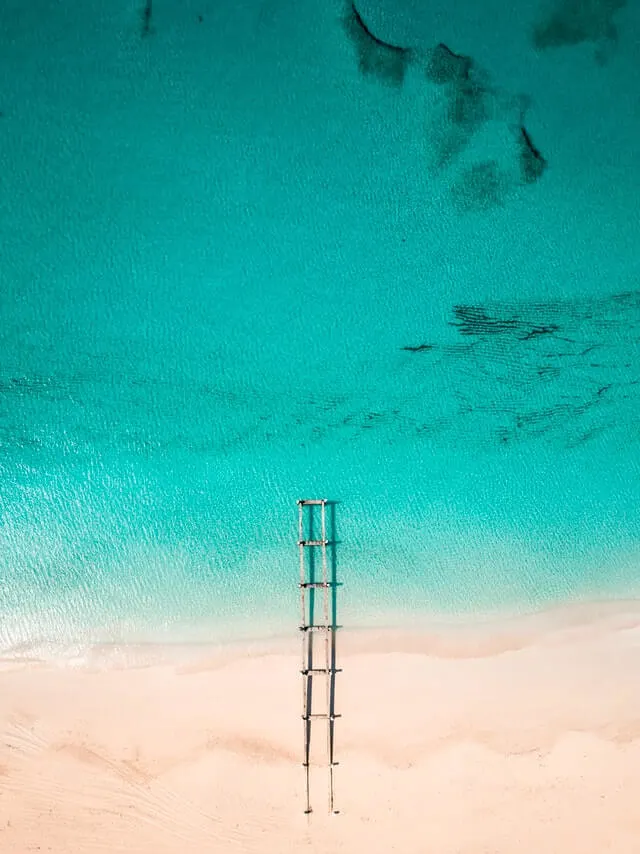 READY FOR MORE TRAVEL INSPIRATION? YOU MIGHT BE INTERESTED IN THESE TRAVEL TIPS, TRAVEL ARTICLES, DESTINATION GUIDES, BUDGET TRAVEL RESOURCES, PACKING GUIDES, AND RELATED POSTS ABOUT OTHER PLACES TO EXPLORE:
Hi There! Thanks for reading our ultimate guide to the 30+ Most Beautiful Islands in the World. I just wanted to let you know that this post contains affiliate links, which means if you purchase something after clicking a link, I may get a small commission – which is at absolutely no cost to you. If you enjoyed this article and are going to be searching for some of the things I mention anyway, I would love it if you could click through from the links above & thank you in advance! Read my full Disclosure here.
And a huge Thank You for reading the MakeTimeToSeeTheWorld travel blog.