If you are wondering what to do in Sri Lanka, what to see in Sri Lanka or simply what are the top Sri Lanka tourist places, then this is the post for you! From temples to beaches, national parks to epic hikes, wildlife to relaxation, we have listed 20 of the Best Places to Visit in Sri Lanka (plus what to see and so there!) to help you plan the trip of a lifetime to this amazing country!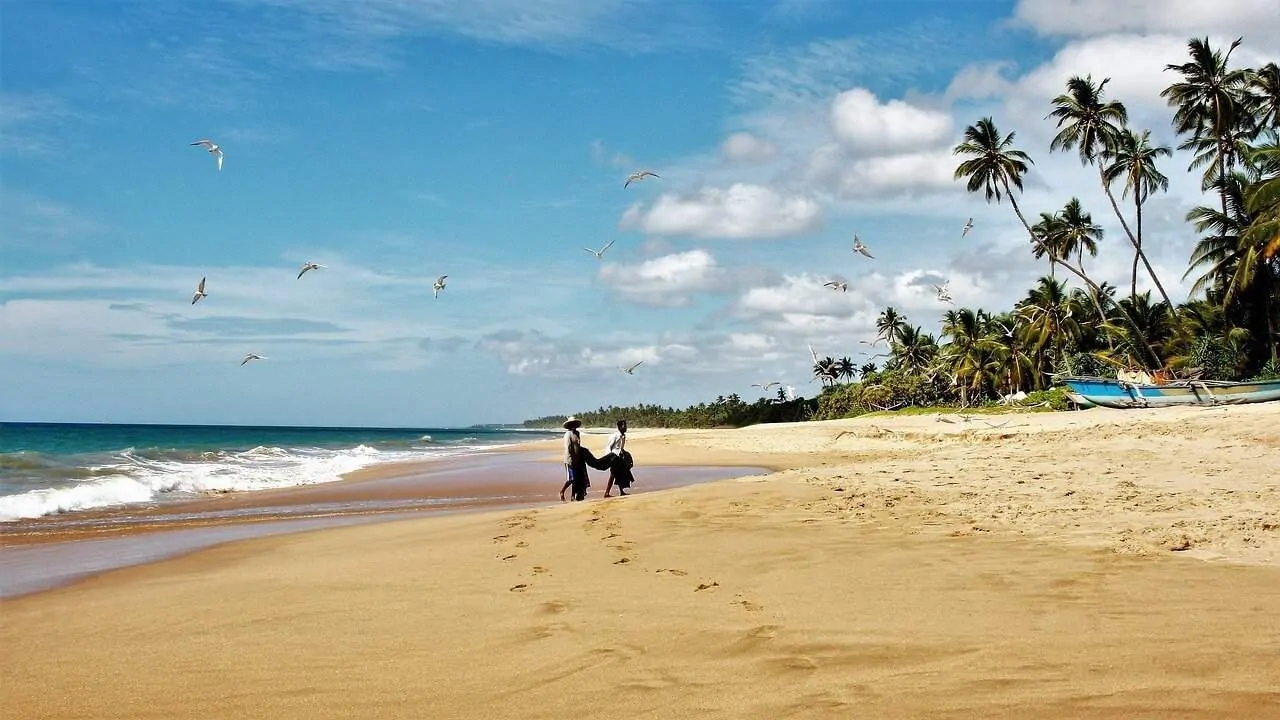 Disclaimer: This post was produced as part of the #TBCAsia Campaign sponsored by Cinnamon Hotels & Sri Lanka Airlines, however all experiences had, incredible sights seen and thousands of steps taken (see hikes below!) were entirely my own.
Sri Lanka Quick Tips & Info
– How to Get There:
Sri Lankan Airlines
is the countries national carrier servicing 114 destinations in 48 countries, and includes daily direct flights from both London and Melbourne to the capital, Colombo.Featuring great in-flight service, personal screens with fantastic movies (and TV shows) and one of the comfiest blankets I've ever had on a plane, flying Sri Lankan is a no-brainer!

– Best Time To Visit:
Sitting squarely on the equator, temperatures remain consistent at around 26-30°C (78 -86°F) for the majority of the year.
It is generally hot and humid by the coast, getting cooler as the altitude increases. In general the best time to visit is December to April, as this is dry season in the popular west and south coastal areas and Hill Country. April and September are the best to see the whole country, while the inter-monsoon season in October and November sees fine weather for most of the island interspersed with sudden thunderstorms.
But be aware, global warming is real, and these 'good,' 'bad' and 'better' months are just that on paper, the reality may be slightly different.

– Where to Stay:
Cinnamon Hotels
have 10 hotels in various spots throughout the country allowing for easy access to all of the best places to visit in Sri Lanka – and to some beautiful off the beaten path spots too!

– Essential Things to Bring:
Sunglasses
,
Sunscreen
,
Mosquito Repellent/Bug Spray
,
cute bamboo crossbody bag
and
a sun hat
The 20 BEST Places To Visit in Sri Lanka
Sigiriya
View this post on Instagram
You can't come to Sri Lanka and not visit the incredible rock fortress at Sigiriya (also known as Lion Rock by the Sinhalese people due to the fact a huge lion was once carved into the entrance to the stairway, although all the remains now is the paws).
Set in the heart of the North Central Province Sigiriya Rock stands at nearly 200m high and with just over 1200 steps to the top, it is one of the most impressive and significant archeological sites in the country and one of the best places to visit in Sri Lanka.
Pidurangala Rock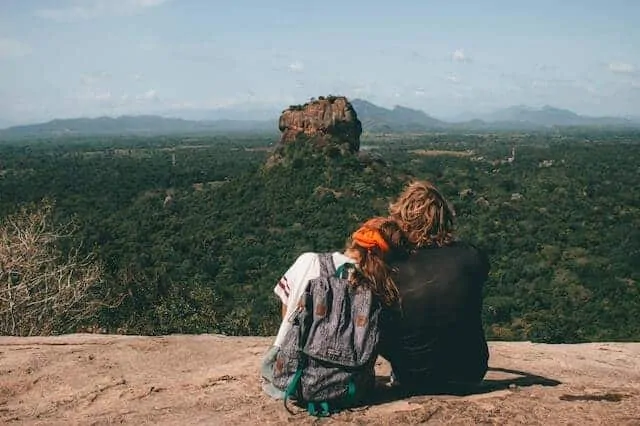 Pidurangala Rock is located adjacent to Sigiriya and is the perfect place to watch the sunrise (or set) over the imposing Lion Rock. It's also a slightly easier climb, and is not as high up, but can still be very warm during the middle of the day, and so we highly recommend claiming in the morning or early evening. (It is one of the top Sri Lanka Tourist Places to visit too!)
Galle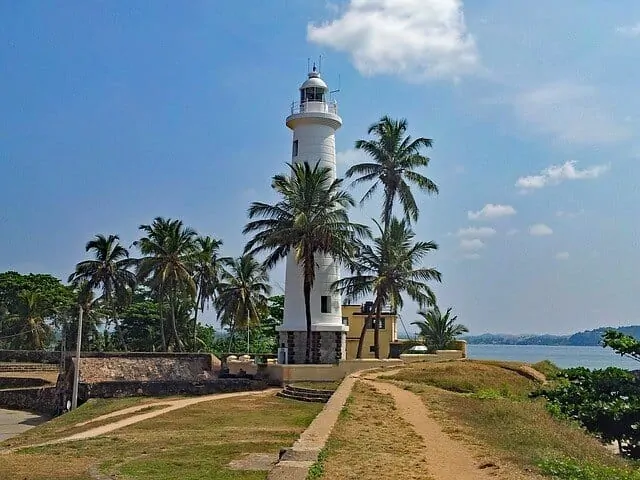 Galle is one of the most important towns in Sri Lankan history – and one of the most well preserved. Located on the South West coast of the Island, the town was built by the Portuguese in 1588 and extensively fortified by the Dutch in the 17th Century.
It was inscribed into the UNESCO World Heritage register for its unique exposition of "an urban ensemble which illustrates the interaction of European architecture and South Asian traditions from the 16th to the 19th centuries;" and the hope of the town is that it is named as one of the seven modern wonders of the world in the not too distant future.
Wandering it's ramparts (fort walls), dining in Galle's many restaurants and watching sunset under its famous lighthouse is definitely one of the top things to do in Sri Lanka!
.
Kandy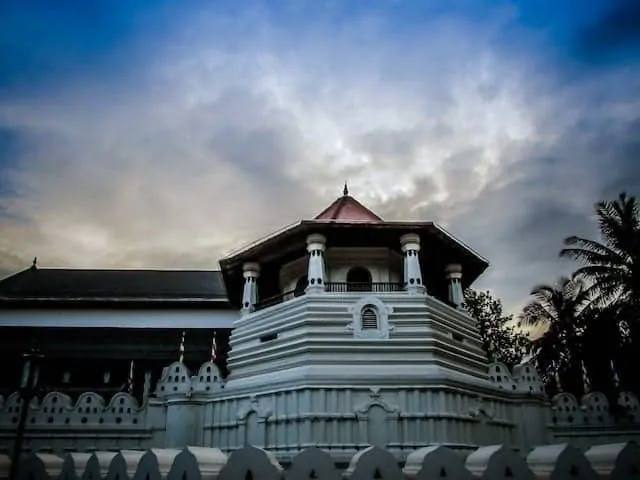 Kandy is another city of great significance in Sri Lanka (and a UNESCO World Heritage Site). Located in the Central region, it was the last capital of the Sinhala Kings who enabled the Dinahala culture to flourish for more than 2,500 years (until the occupation of Sri Lanka by the British in 1815.) It is also the site of pilgrimage for Buddhists as it is also home to the beautiful Temple of the Tooth Relic in the grounds of the Royal Palace, and where thousands of people worship daily.
The City of Kandy is easily one of the best places to visit in Sri Lanka and should definitely not be missed.
Knuckles Mountain Range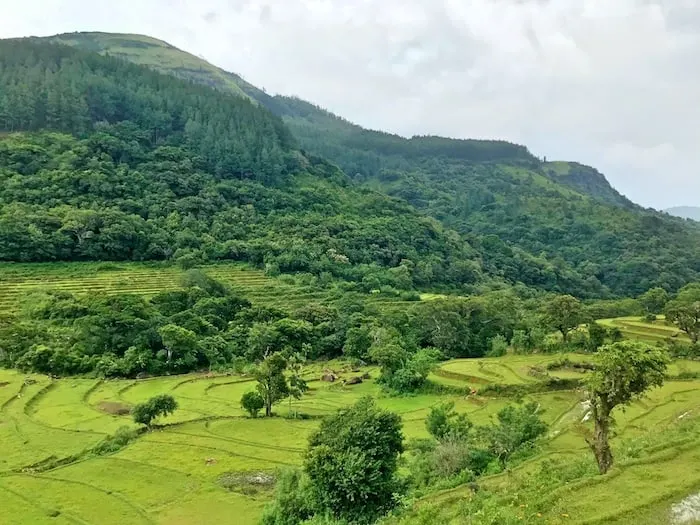 Knuckles Mountain Range (also known as the Dumbara Mountain Range) is one of the best places in Sri Lanka for hiking and is approximately 3 hours drive South of Kandy City.
With multiple trails of varying lengths it is a great way to get back to nature, although be warned: you will be required to wear leech socks, and your guide will carry a spray containing a mixture of salt and water, should one of the little bleeders (which is actually what they do, and is not said as a profanity) latch onto your warm body.
The 'trick' is to keep moving and so constantly transfer your body weight and heat, although they are determined little suckers and I can't guarantee you'll be able to avoid them altogether. Also note, they are typically only small, and do not pose a threat to your life – they're just a bit icky (if you ask me anyway).
Ritigalla
View this post on Instagram
Ritigala Mountain sits at 766m above sea level and is littered with over 70 natural rock caves which were believed to have been inhabited since the first century BC.
Once the site of a Buddhist monastery, the trek up through the lush jungle is punctuated with several resting places among the ancient ruins of bathing pools, chambers for worship and places of meditation – because despite its jungle surrounds, the peak of Ritigala is actually the highest point between Sri Lanka and India and is higher than nearby Sirigiya and Anuradhapura. (Although you don't get anywhere near the peak when exploring the monastery ruins.)
Arugam Bay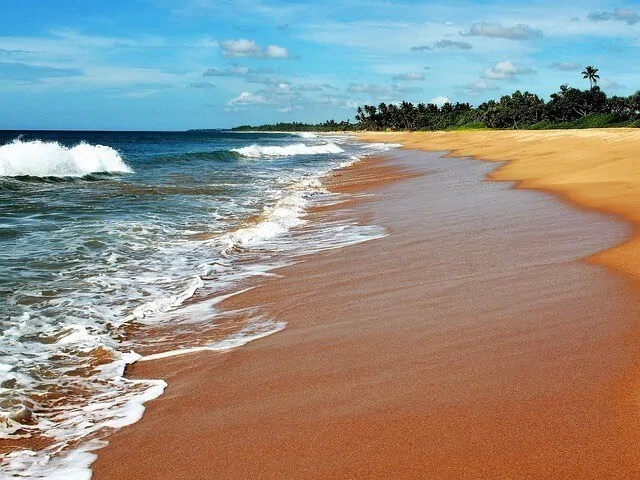 Arugam Bay is one of the most popular surf beaches in Sri Lanka and is a great place to relax and enjoy the simple life for a few days. The surf is present all year round, but the big draw comes between April and October when swells can reach 1.5-2m.
For the non-surfers among you there are also an array of wildlife spotting opportunities in the area around the Lahugala elephant corridor where sunset is a great time to see elephants, wild boar, deer and crocodiles!
Anuradhapura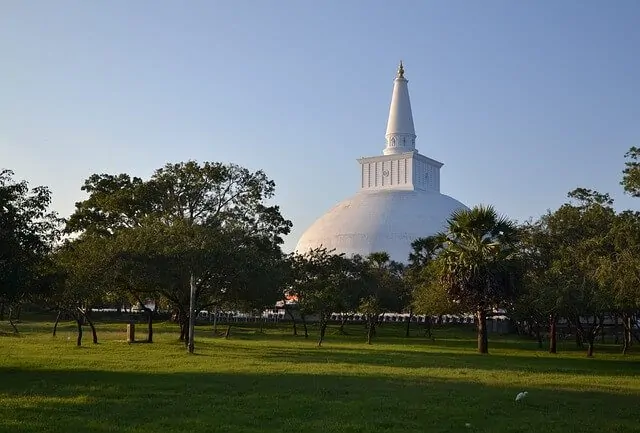 Anuradhapura is the capital of the North Central Province in Sri Lanka and is home to several monasteries, palaces and monuments which are one of the best preserved examples of ancient Sri Lankan civilization.
It's a sprawling complex built around a cutting from the 'tree of enlightenment', the Buddha's fig tree (Bhodi Tree), brought there in the 3rd century B.C (making it the oldest living tree in the world). Anuradhapura was also the ancient city that ruled Sri Lanka for over 1300 years before being abandoned following the invasion in 993.
Today is is reopened to the public, and is the site of pilgrimage for Buddhists throughout the world and is recommended that you hire the services of a guide on your day trip /day tour to get the most from this huge archeological and cultural site.
Unawatuna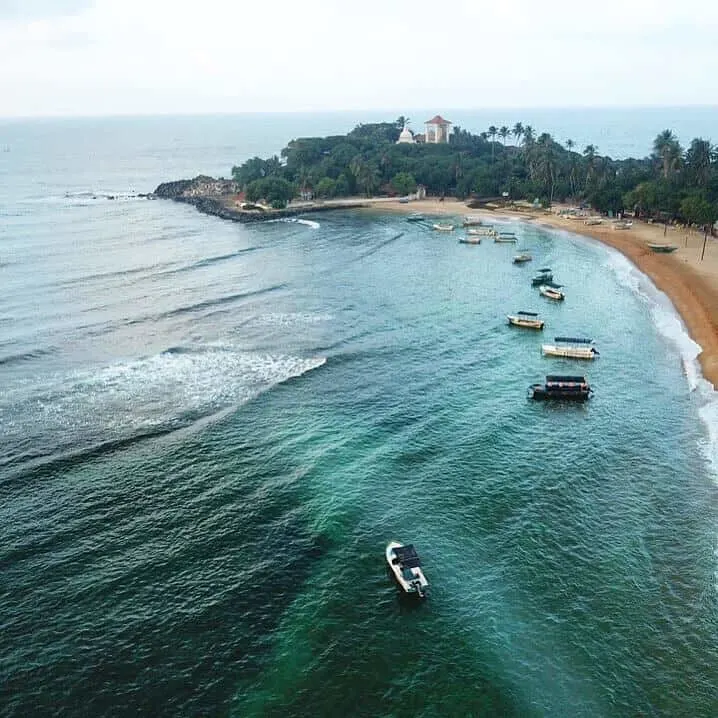 Unawatuna is a delightfully lazy beach side town, that is known for its beautiful beach and as an eco-tourism destination for it's incredible bio-diversity. The region is home to several endemic species of birds and just off he coast are impressive corals and accompanying marine life, perfect for snorkeling.
And just around the corner from the main beach is the 'loved by locals and tourists alike' Jungle Beach. From the road where you'll be dropped off you can take a short walk to the top to reach the Japanese Peace Pagoda, or take a walk down (and back up) to Jungle Beach.
RELATED –
Sri Lanka is perfect for beach lovers! Don't believe me? Hop on over to our guide to the
15 Best Beaches in Sri Lanka
which includes a map + photos to inspire you!
Polonnaruwa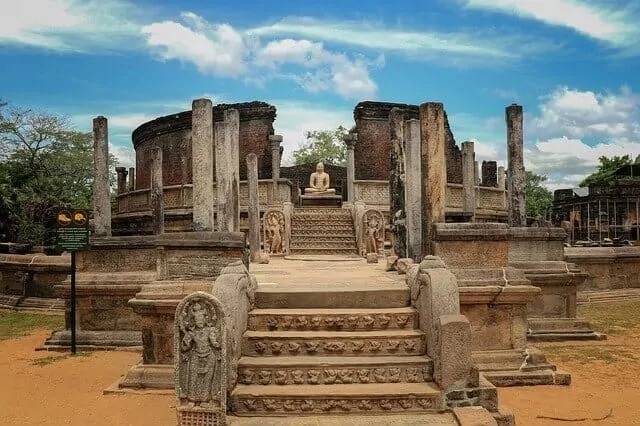 The city of Polonnaruwa is the second most ancient of Sri Lanka's kingdoms, and is recognized as such after the first capital of Anuradhapura.
A combination of art, medieval architecture and great irrigation facilities which make for a very green environment, it is much more of a museum than a living city when compared to Anuradhapura, but is one of the main attractions in Sri Lanka. It is also smaller in size than Anuradhapura, but routes around still cover 6-10km and as such it is recommended that visitors cycle around the facility.
Yapahuwa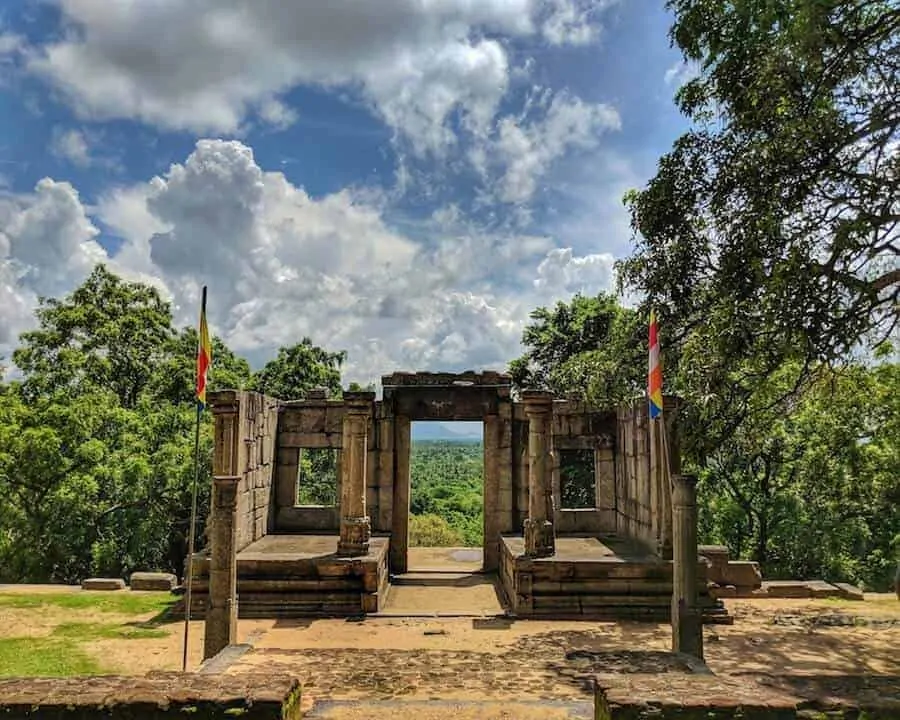 The Rock Fortress at Yapahuwa was once a royal residence and a site of the Temple of the Tooth Relic. The 90m practically vertical climb up 3 sets of ancient stone staircases brings you to the former gated entrance-way and visitors can see the outline of the residence and temple that once stood there.
The view over the surrounding plains from this height is stunning, but for those looking for a higher vantage point, a rocky pathway to the left takes you another 40+ meters to the top of the rock. The steps are quite steep, with limited hand holds the closer you get to the summit and Sri Lanka's stereotypical humidity means you will be hot and sweaty at the top.
BUT I think the view is worth it and can safely say that even though it is a lesser known Sri Lanka tourist spot, it is easily one of the most beautiful places in Sri Lanka.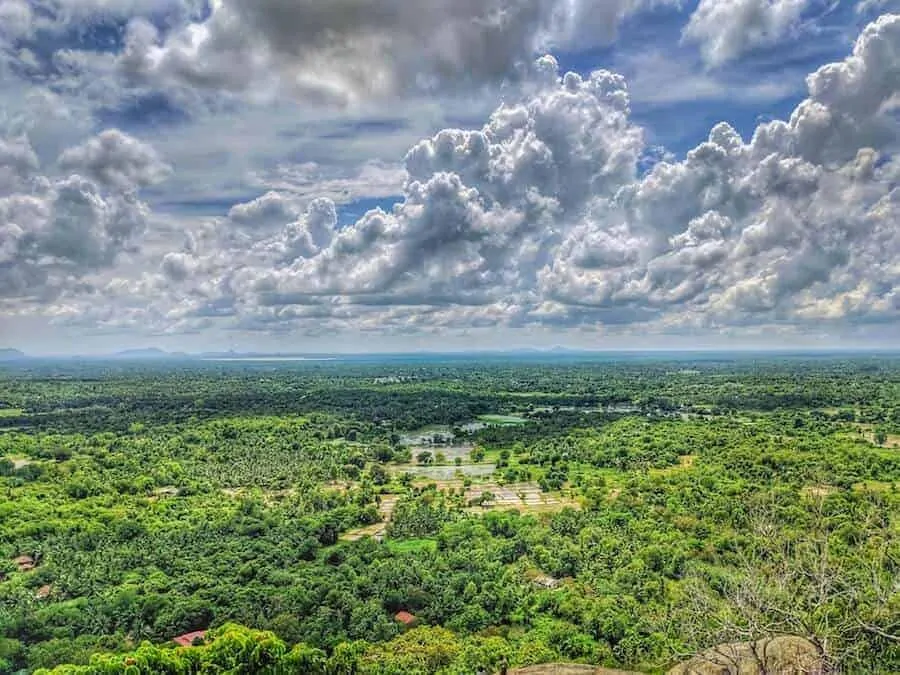 Udawalawe National Park, Yala National Park & Kaudualla National Park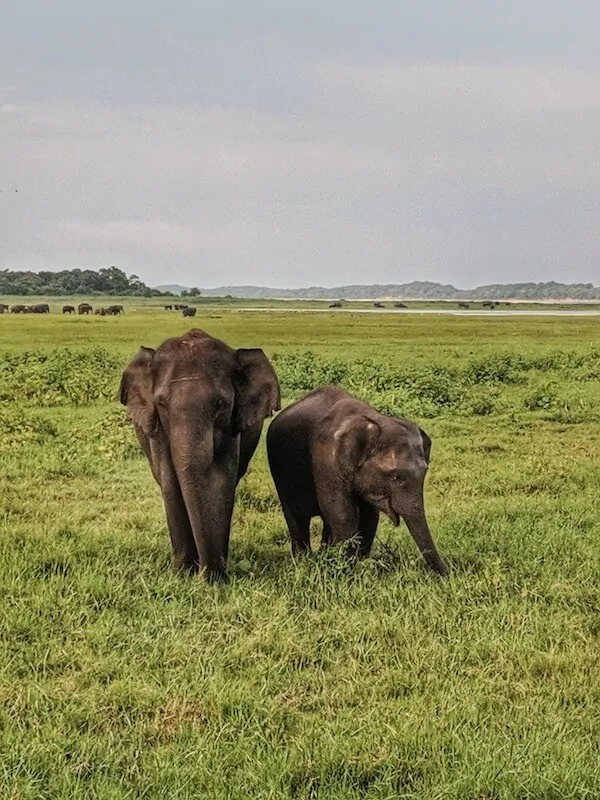 So many National Parks, so little time – and if you can visit any of them (or all!) you'll be in for a treat! Elephants, deer, buffalo, crocodile and monkeys are standard in all parks, alongside hundreds of bird species.
If you're looking to see a particular animal, Udawalawe National Park is known for its huge elephant population and in Yala National Park you also have the opportunity to see leopards – although there is no guarantee!
Going on Safari in any of the national parks is one of best things to do in Sri Lanka.

Dambulla Cave Temple
View this post on Instagram
The Royal Cave temple at Dambulla (also known as the Golden Temple of Dambulla) is the largest and best-preserved cave temple complex in Sri Lanka and dates back to the 1st century BC. It has five caves which house over 150 statues of Buddha, three statues of Sri Lankan kings and four statues of gods and goddesses; plus, one cave has over 1,500 paintings of Buddha on the ceiling.
It's a very peaceful place, visitors are required to remove their footwear before entering, and if you can time your visit with sunset you may be treated to a sky like the one I saw (just be sure to have some battery left on your phone to provide torch light if you find yourself walking back to the car after dark!)
Colombo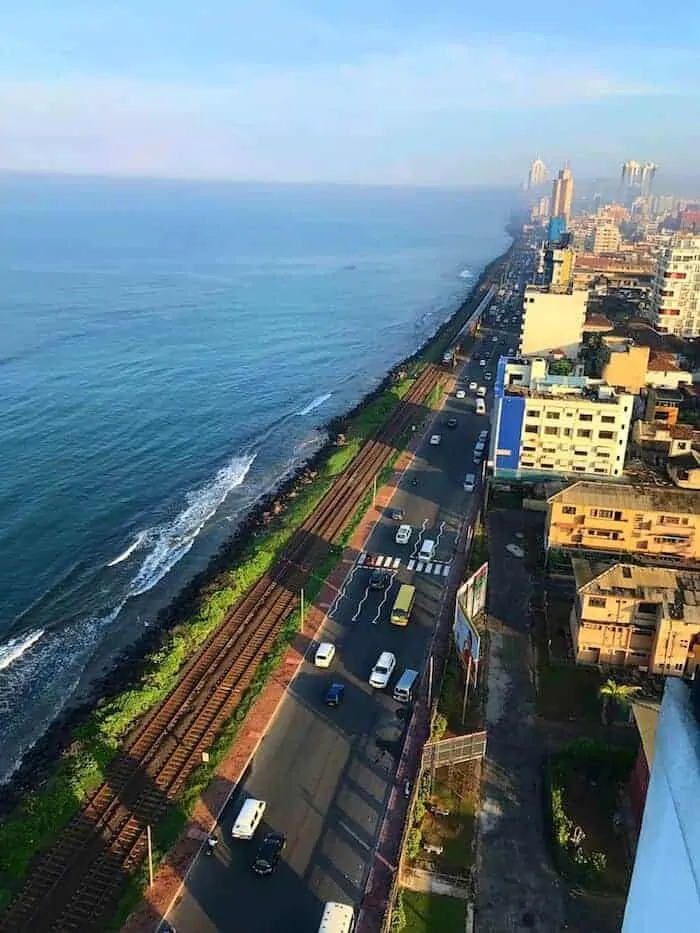 The hustling bustling capital of Sri Lanka, you are likely to spend at least a night here at the start or end of your journey (as it is super close to the airport). And that is probably all you need.
It's never been a favorite with travelers, but there is a huge shopping district at Pettah along with the National Museum and a beautiful contrast between city and green space at Galle Face Green in case you have some spare time there and want to explore a little bit.
There are also a huge number of hotels being built along the shoreline and with so much competition you can find great deals for hotels with epic rooftop pools and bars to watch the city from above!
Weligama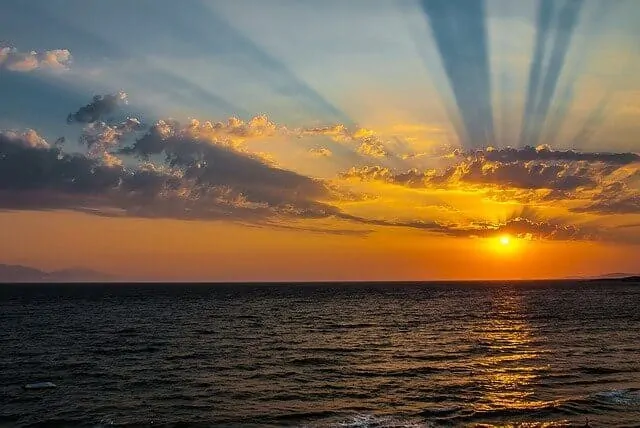 Weligama (meaning 'Sandy Village') is located on the South Coast of Sri Lanka is an interesting blend of lively fishing town and beach resort. It hasn't gained much by way of mass tourism on the island, and apart from swimming, a bit of surfing (it's good for beginners-intermediates) and a lot of staring at the sea, there is not much to do here. Which is you are looking for rest and relaxation may be exactly what you are looking for.
Mirissa
View this post on Instagram
Mirissa Beach is one of Sri Lanka's most beautiful beach towns in the southern provinces and an one of the best places to visit in Sri Lanka. Spend a morning on a boat trip spotting dolphins in the wild before an afternoon relaxing and sipping cocktails or taking a dip in the Indian ocean – and don't miss the opportunity to dine on the beach under the stars at one of the the many beachfront restaurants. (Just be sure to pick a table closer to the buildings than the shoreline, else you will more than likely end up with the waves lapping around your feet as you eat!).
PSA: Mirissa is one of the premier beach resorts in Sri Lanka and also the place where a lot of Blue Whale Watching boats depart from each day, although we urge you to check that any operator offering tours does so in an ethical manner.
BE MINDFUL OF THE TOURS YOU TAKE –
We have listed the top
Ethical Wildlife Experiences
throughout the world to help you narrow down your options.
.
Adam's Peak
View this post on Instagram
For the avid climbers among you, no visit to Sri Lanka is complete without the challenging hike to the top of Adam's Peak – or as it is known to the locals, Sri Pada (Sacred Footprint). Located at 2243m above sea level, the site of what is believed to be where Adam took his first footstep on earth (after being expelled from Eden) is a site of pilgrimage for Buddhists around the world, and rewards those who can reach the end of the 7km hike with amazing views of the surrounding countryside and tea plantations.
Most will stay in the tiny town of Delhousie at the bottom of the trail and will rise in the early hours to start the 4-5 hour climb to see sunrise. If you are in this region, it is also a good chance to take a tour of the nearby Hatton Tea Plantations and Tea Factory and see where your cup of tea probably starts it's life!
Hikkaduwa
View this post on Instagram
Hikkaduwa is a seaside resort town in south west Sri Lanka, known for its strong surf and beaches, including palm-dotted Hikkaduwa Beach which is lined with restaurants and bars.
Nearby, Hikkaduwa National Park is a coral sanctuary and home to marine turtles, exotic fish and turtle hatchery's, and if you happen to stay at Hikka Tranz by Cinnamon you'll not only find yourself right on the beach front, but also have a high possibility of seeing huge wild green sea turtles, who have used the beach at the front of the hotel for nesting for centuries.
They casually play in the surf and get quite close to the hotel each morning and they don't mind you being close to them, but please make sure you don't touch them.
Nuwara Eliya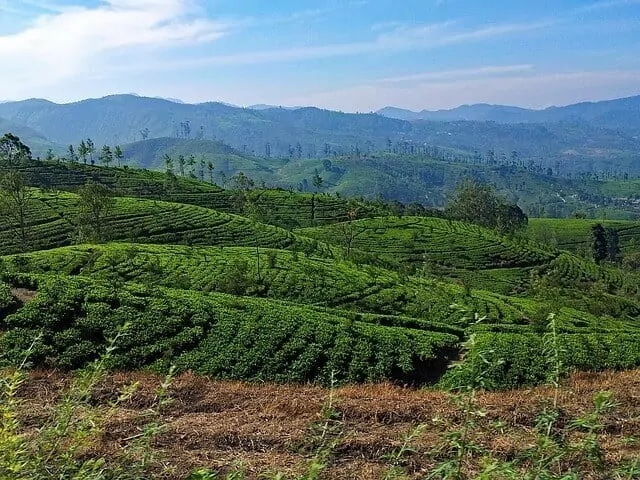 If you decide to give Adam's Peak a miss but still want to explore the Hill Country, look no further than Nuwara Eliya. Often referred to as 'Little England' due to it's British Countryside feel to it alongside colonial era buildings. It was once the favored vacation destination for hard working and so it stands to reason that tudor style architecture and well-tended gardens dominate the township.
Negombo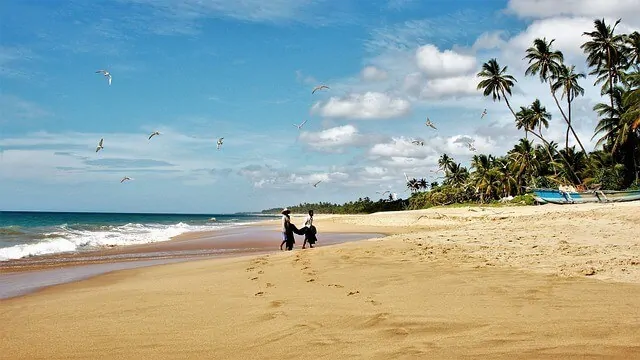 A sleepy fishing town just north of Colombo, it is a world away for the hustle and bustle of the capital city. Head here before or after your trip, wander the beach, watch the fisherman, go to a spa and soak up a bit of traditional Sri Lankan quite life.
RESET YOUR BODY – Ayurveda has been practiced in Sri Lanka for centuries and an Ayurveda Retreat is a great way to detoxify your body and give it a little TLC.
.
Ella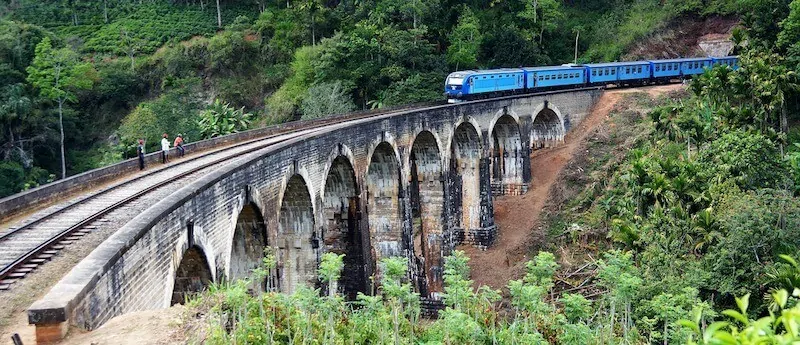 If you are wanting to hit all the famous Instagram hot spots in Sri Lanka, look no further than the town of Ella, which is the closest town to the famous Demadora Nine Arch Bridge. And if you are going to take any train journey in Sri Lanka, the Kandy to Ella train journey serviced by the oh so photogenic blue train is bar far one of the most scenic.
That's a warp folks! I hope you are no longer wondering what are the best places to see in Sri Lanka or where to go in Sri Lanka – but have already started to plan your Sri Lanka trip by picking out your favorite Sri Lanka destinations from our list of the 20 BEST Places to Visit in Sri Lanka! (Phew, that was a sentence and a half!) BUT, if you have a hidden gem perfect for some Sri Lanka sightseeing that I haven't included on the list, please let me know!
And if you liked this post, please flip, tweet, pin or share – I would very much appreciate it!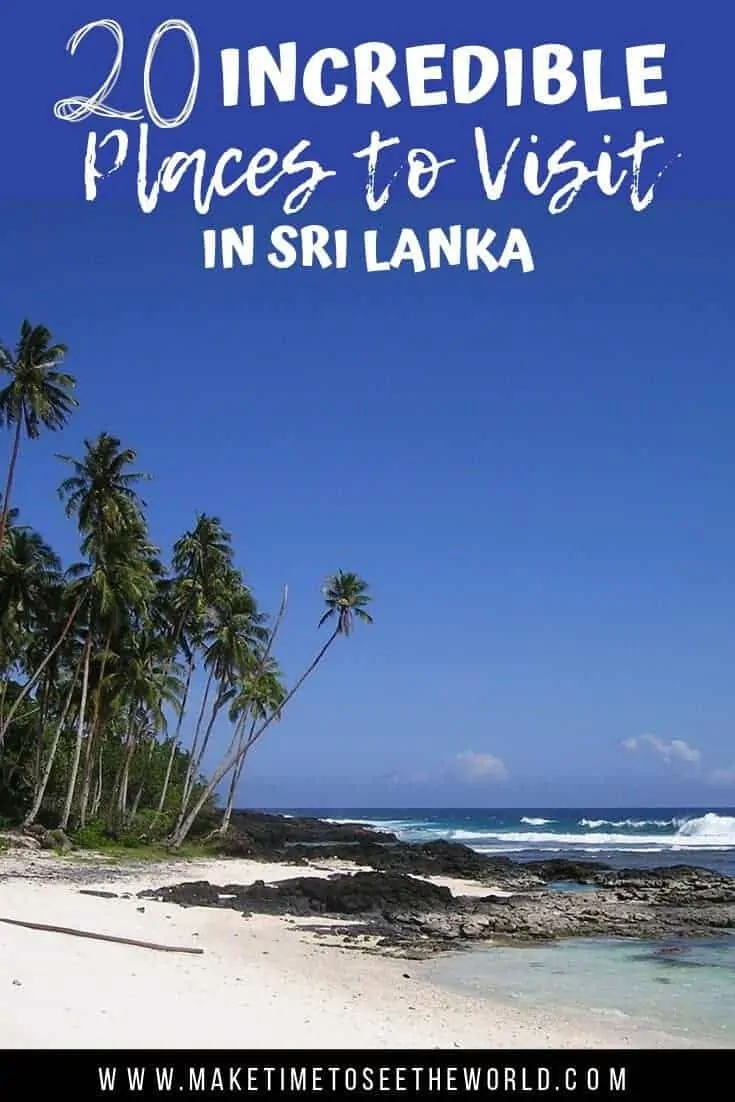 READY MORE TRAVEL TIPS & INSPIRATION? YOU MIGHT BE INTERESTED IN THESE ARTICLES:
Hi There! Thanks for reading our travel guide to all the amazing Sri Lanka attractions and Sri Lanka points of interest including the 20 BEST Places to Visit in Sri Lanka! I just wanted to let you know that this post may contain affiliate links, which means if you purchase something after clicking a link, I may get a small commission – which is at absolutely no cost to you. If you enjoyed this article and are going to be searching for some of the things I mention anyway, I would love it if you could click through from the links above & thank you in advance! Read my full Disclosure here.

Thank you for reading the MakeTimeToSeeTheWorld Travel Blog.