There's more the Vegas than just the Casinos! Win big with over 60 incredible experiences and things to do in Las Vegas BESIDES Gamble (In case your lucky streak runs out!)
Las Vegas, often referred to as the entertainment capital of the world (and a Disneyland for adults!), is a vibrant city located in the heart of the Nevada desert. While it is well-known for its glamorous casinos, luxurious resorts, lively nightlife – and the ability to make a lot of people a lot poorer with the promise of winning millions(!) there are plenty of other exciting things to do in Las Vegas that don't involve gambling.
Whether you're visiting for the first time or you're a regular visitor, there are plenty of fun and incredible experiences to be had in this city that will leave you wanting more. From adrenaline-pumping thrill rides to scenic natural wonders, there's something for everyone in Las Vegas.
For those seeking adventure, there are several outdoor activities to choose from, such as hiking in Red Rock Canyon or ziplining over the Fremont Street Experience. Foodies can indulge in a diverse range of culinary delights from around the world, including Michelin-starred restaurants and food trucks. Art enthusiasts can visit the numerous galleries and museums in the city, including the Neon Museum, which showcases iconic neon signs from the city's past.
The city is also home to several world-class performing arts venues, where you can catch a show ranging from comedy acts to Broadway musicals. For those interested in history and culture, there are plenty of museums and landmarks to explore, such as the Mob Museum and the historic Old Las Vegas Mormon Fort.
You can also take a day trip to the Hoover Dam or explore the stunning desert landscape of the Valley of Fire State Park.
Families traveling with kids will have no shortage of things to do either, with attractions such as the Shark Reef Aquarium, the High Roller Observation Wheel, and the Adventuredome Theme Park. And if you're looking for a more relaxed experience, you can pamper yourself at one of the many luxurious spas or enjoy a delicious high tea at a 5-star hotel.
In this article, we'll be highlighting more than 60 fun and incredible things to do in Las Vegas besides gambling, so whether you're a thrill-seeker, a foodie, an art lover, or just looking to unwind, there's something for everyone in this city that never sleeps.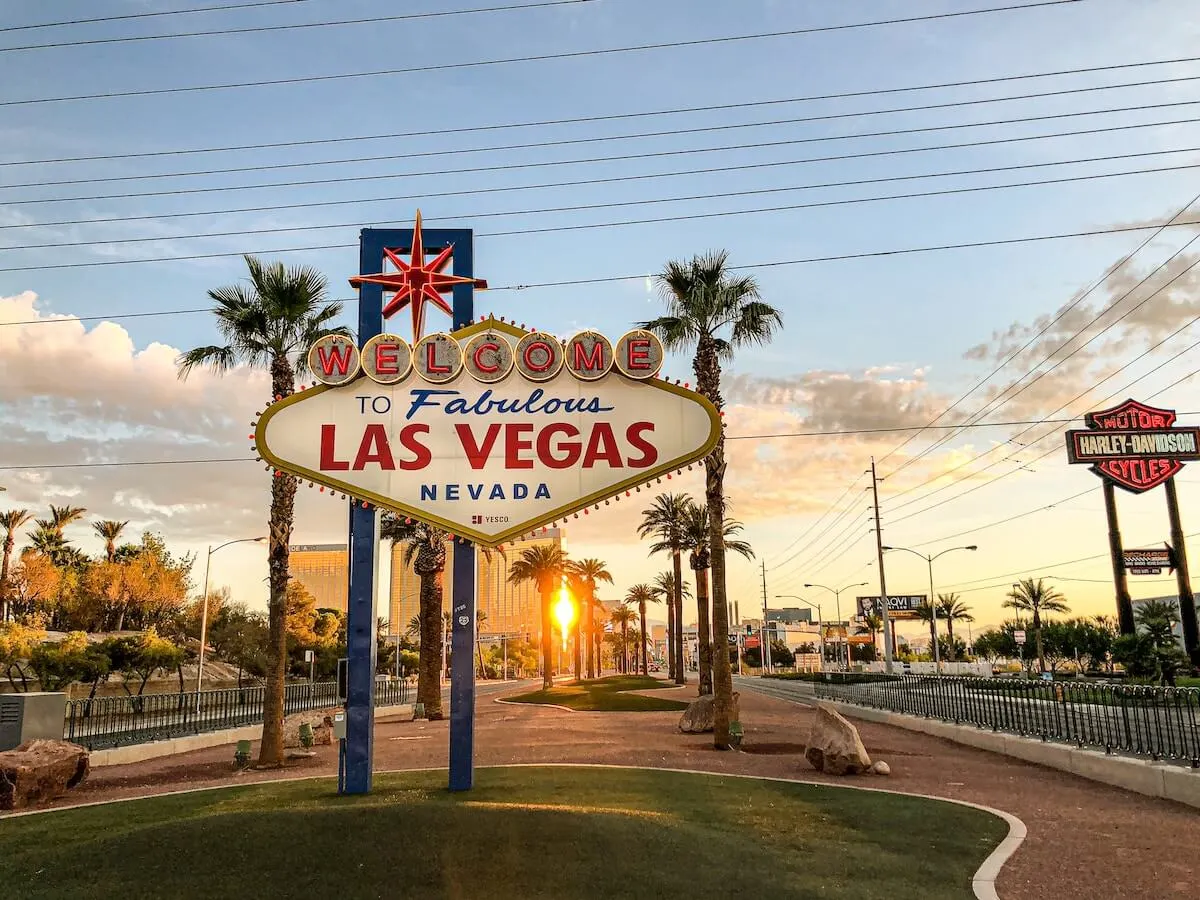 Disclaimer: Almost all posts on this site contain Affiliate links, and this one about all the things to do in Vegas BESIDES gamble is no different. This means that if you click on any of the links in this post (and make a purchase) I may receive a small commission at absolutely no cost to you. Each post is carefully crafted to (hopefully!) answer all your questions and recommendations are made where we believe they will improve your trip and help with your planning. As such we thank you in advance should you decide to click & buy. Read my full Disclosure here.
60+ FUN Things to do in Las Vegas BESIDES Gamble
Welcome To Fabulous Las Vegas Sign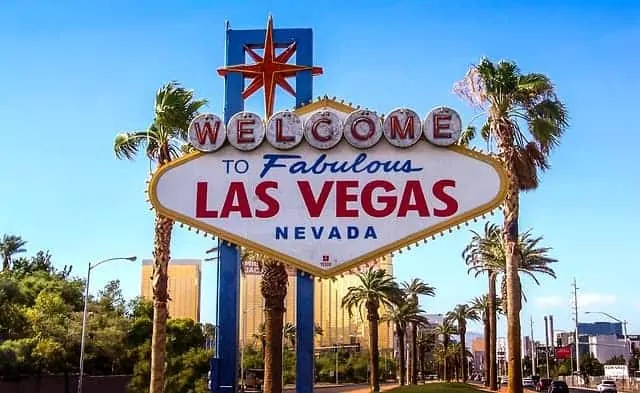 The famous sign that sits just south of 'The Strip' on Las Vegas Boulevard, welcoming visitors to this fabulous city is the best place to head to if you want the perfect selfie just to prove you were really partying in Vegas! Just be aware, it can be popular any time of the day and night – so be prepared to queue for your shot!
The Las Vegas Strip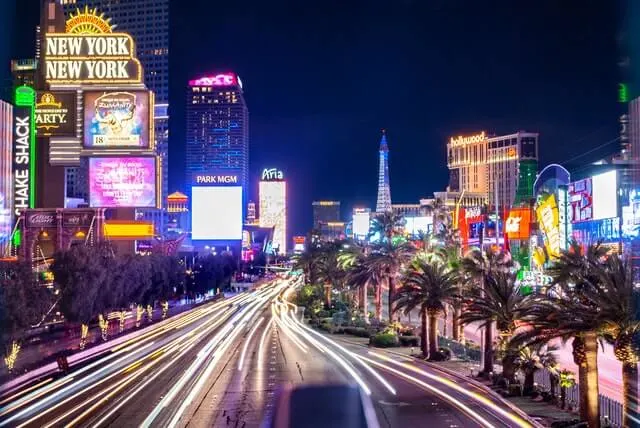 If you want to make sure you don't miss a thing and have the energy for it, you could walk the entirety of the Las Vegas Strip! (also known as Las Vegas Blvd)
It's 4 miles long and is home to all of the city's major hotels and sites – but don't forget you are in the desert so be sure to plan ahead and take a bottle of water or two. And we recommend hopping from casino to casino to explore their stunning interiors while taking advantage of their air conditioning (and sometimes, free wifi!).
Also, as you're walking, keep checking the sidewalks beneath you as you may be walking along sections of the 'Walk of Stars' – similar to the Walk of Fame in Hollywood – these stars are dedicated to those who helped make Vegas the town it is today.
Wander the Fremont Street Experience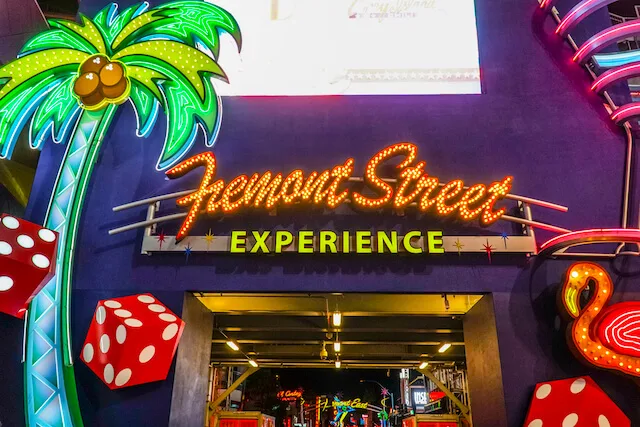 Fremont St Las Vegas, and it's pedestrian mall – the Fremont Street Experience – is the heart of downtown Las Vegas, known for its vibrant nightlife, live music, and iconic casinos.
It was the first paved street in the city and was once home to some of the most famous casinos in the world, including the Golden Nugget and the Four Queens. These and other original casinos still stand to this day allowing visitors to experience a piece of Las Vegas history while enjoying the vibrant lights and sounds of modern Vegas.
In addition to its casinos, the Fremont Street Experience is also home to the Viva Vision Canopy – a nightly light and sound show More on that below), street performers, a variety of dining and shopping options, and even free concerts.
Watch the Viva Vision Canopy
The Viva Vision Light Show is a must-see attraction on Fremont Street Las Vegas. This breathtaking light and sound show is displayed on the world's largest video screen, which spans the length of the Fremont Street Experience.
The show features a variety of music and stunning visual effects that are sure to captivate and amaze. Visitors can enjoy the show for free every night, making it an affordable and enjoyable activity for all. Whether you are a local or a tourist, the Viva Vision Light Show is an unforgettable experience that you won't want to miss.
It runs on the hour from 6pm through to 2am each night, and if we're honest the absolute best place to watch the show is lying flat on your back on the floor in the middle of the pedestrian mall. No neck pain, wide view of the video screens.. grab your mates and lie down – you won't regret it!
See a Show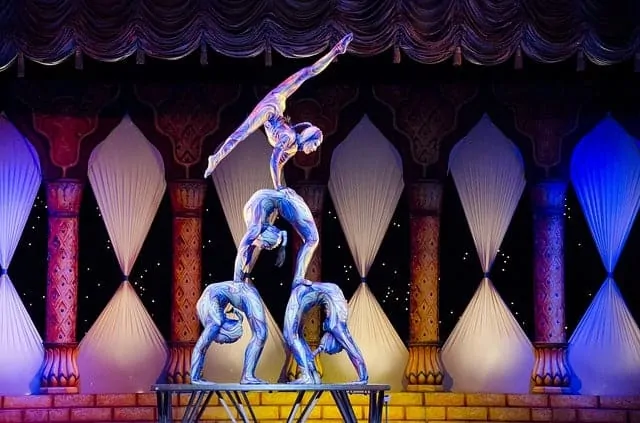 Vegas is packed full of shows with endless variety. At last count, there were 12 different Cirque du Soleil shows(!). But if incredible acrobatics and circus stunts are not your thing, try the illusions of David Copperfield. I can vouch for both. Click to find out What Shows Are On in Vegas when you're in town.
Or maybe you're into music, and if so, there are a wide range of visiting artists who have included Las Vegas on their sell-out tour, or have even taken up a residency! Click to grab your Las Vegas concert & fight night tickets
Watch the Musical Fountains at the Bellagio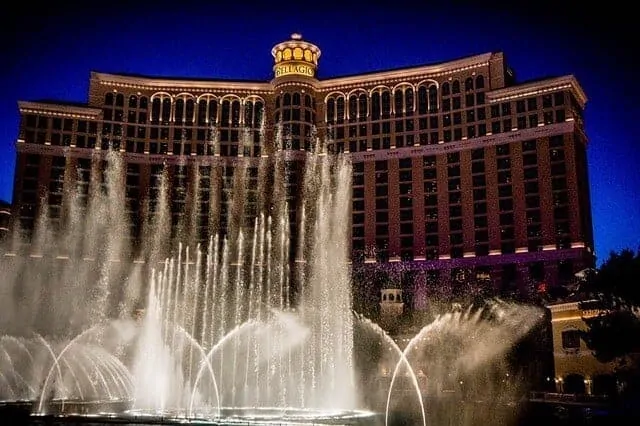 You haven't experienced Vegas until you've seen the spectacular Bellagio fountain display, set to music ranging from Pavarotti to Sinatra to Lady Gaga and Beyonce – and taking place every day.
Monday to Friday shows are every half an hour between 3pm-8pm then every 15 minutes to midnight. And on the weekend 12pm-8pm every half an hour and 8pm-midnight every 15 minutes. Grab a spot at the side of the lake or at the terrace at Planet Hollywood across the road for an elevated view.
The fountains of Bellagio are simply stunning and one of the best free things to do in Las Vegas.
Yearn for the olden days at the Las Vegas Neon Museum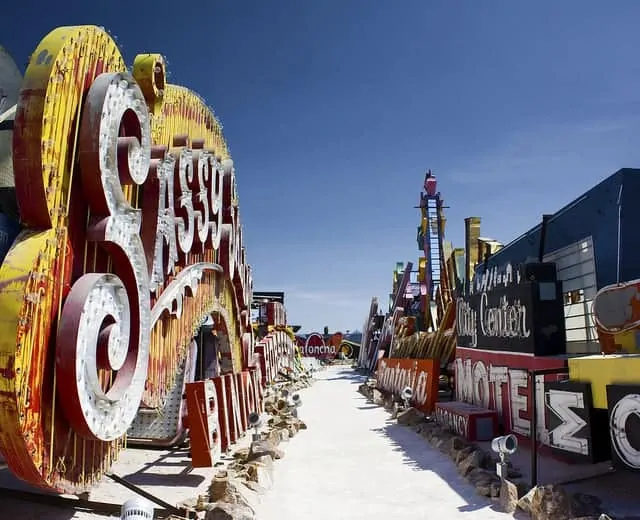 The Las Vegas Neon Museum is a time capsule of Las Vegas history. It's an outdoor museum jam-packed full of vintage, retired, mostly dilapidated signs from historic motels and casinos that have since either been demolished or significantly upgraded.
Most are from the golden age of the 1950's and 1960's, but some are even older. They are in the process of restoring a few of them to their former glory – but most are stored as a reminder of days gone by. A very interesting afternoon for anyone interested in Vegas history. Make sure to book ahead!
Visit Linq Promenade and Ride the Highest Observation Wheel in the World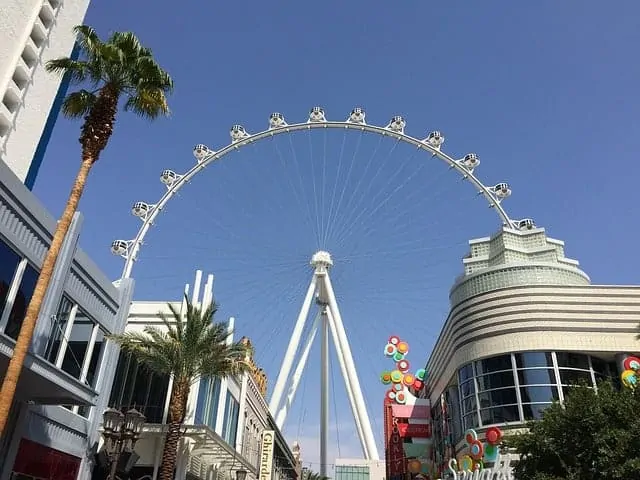 Linq is the open air entertainment complex by Caesars Palace Entertainment Complex, the centerpiece of which is the Linq High Roller – the tallest observation wheel in the world.
One 30 minute revolution will give you a fantastic panoramic view over the Las Vegas Skyline and can be timed to your choice – although Sunset usually has the best light for incredible photographs. Add in a Happy Hour option and you will score yourself an in-pod bartender to serve you drinks throughout your revolution.
Take a gondola ride at the Venetian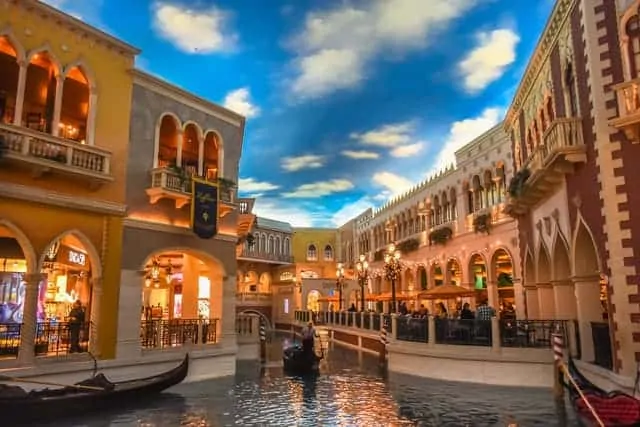 The Venetian is one of the best-designed Casinos on the Strip. You'll want to take your time in here because the interior is seriously stunning. It's unbelievable how realistic the sky-painted roof looks. Combine this with the intricate detail given to the "streets" through the mall and the canals through the complex and you actually start to wonder if you are actually in Venice. Poke your head in some shops then be serenaded in a gondola as you float around the Casino.
Make Friends with the Flamingos at The Flamingo Wildlife Habitat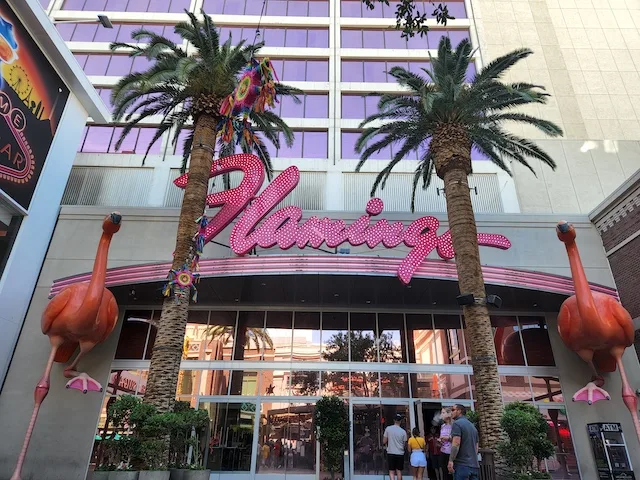 Located at the Flamingo Hotel, see these beautiful birds, along with koi carp, turtles and swans can be found in a secluded lush habitat tucked away on the Las Vegas Strip.
Fly Over Fremont Street on the SlotZilla ZipLine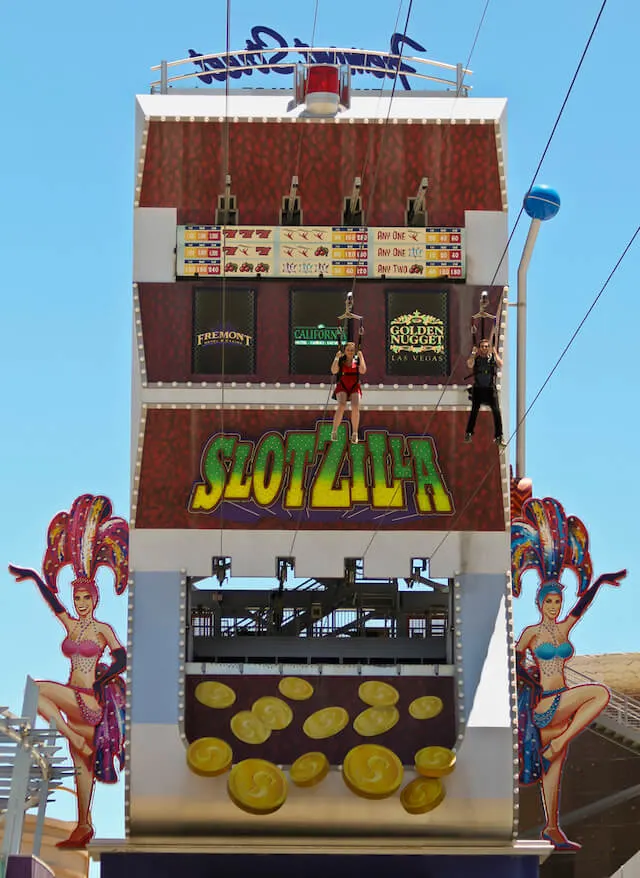 The SlotZilla zip line is an exciting and thrilling attraction that offers a unique perspective of Fremont Street, as you soar above the crowds below with the Viva Vision Canopy above you.
There are two levels to choose from: the lower Zipline and the upper Zoomline. The lower zip line is great for those who want a leisurely ride, while the upper Zoomline offers a more exhilarating experience with a steep descent and high speeds. No matter which level you choose, SlotZilla is a fun, one-of-a-kind experience.
Brush Up on your Organised Crime History at the Mob Museum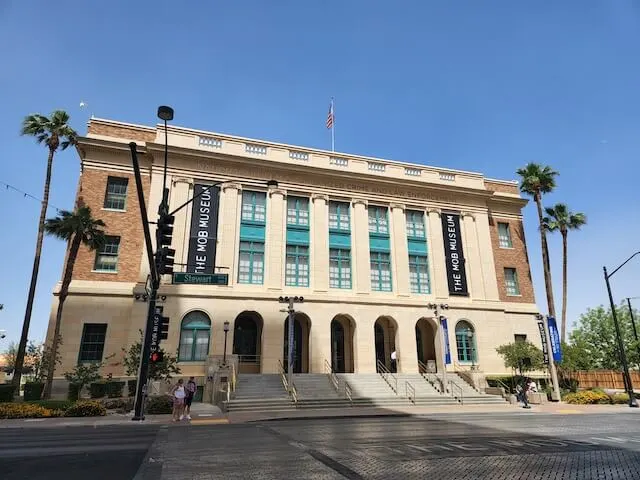 The Mob Museum in Las Vegas – also known as the National Museum of Organized Crime and Law Enforcement – is a unique and educational attraction that tells the true story of America's most notorious gangsters, mobsters and mafia and law enforcement's efforts to combat them.
Located a short stroll from Fremont Street the museum features interactive exhibits, artifacts, and engaging displays that cover the history of organized crime in the United States.
Visitors can learn about the rise and fall of infamous mobsters, the impact of organized crime on society, and the efforts of law enforcement to bring down the Mafia. They even have their own Speakeasy in the basement where visitors can get a prohibition-style drink!
The Mob Museum is a must-see attraction for anyone interested in the history of organized crime and its lasting impact on American culture – be sure to grab your skip the line tickets before you go. A
nd if you'd like to continue learning about Las Vegas' Mob Past, including visiting murder sites(!) and mob hangouts, the Vegas Mob Tour is sure to hit the spot and put you in the middle of the action, so to speak.
Catch a Free Concert at The Downtown Rocks Concert Series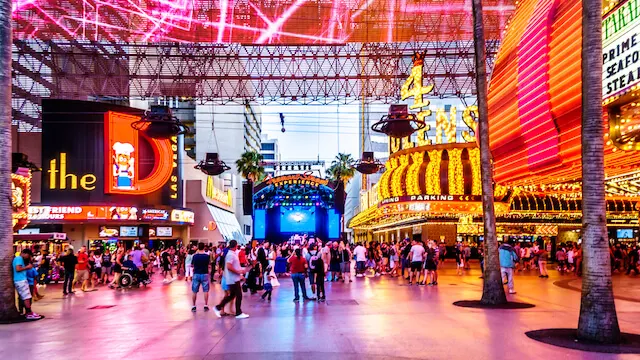 The Downtown Rocks concert series on Fremont Street is a popular event in Las Vegas featuring live music from a variety of genres and runs throughout the year – making it really easy for locals and visitors alike to catch a performance during their visit. (Check the 2023 schedule here)
The concerts are free to the public and feature both local and national acts, providing something for everyone to enjoy. Whether you're a fan of rock, country, or any other genre, the Downtown Rocks concert series is a great way to experience live music in the heart of the city.
Visit Shark Reef at Mandalay Bay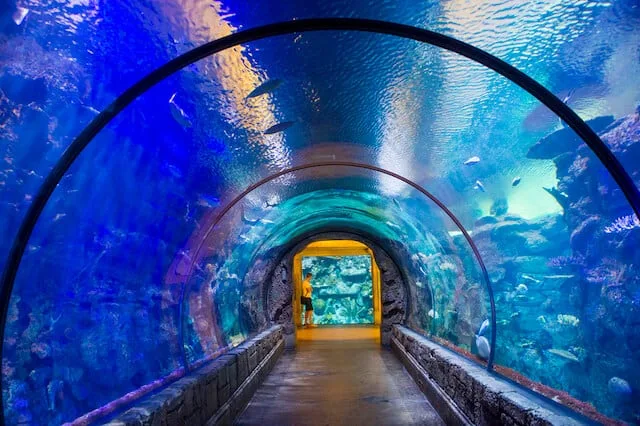 Spend some time under the sea where you could catch a glimpse of sharks, turtles, crocodiles and piranhas as you walk through the aquarium's underwater tunnels, home to over 2000 sea creatures.
Gaze Into the Grand Canyon (Day Trip)
Whether you go by bus, Helicopter or on a private tour, if there is only one day trip from Las Vegas on your list, it HAS to be a visit to the incredible Grand Canyon National Park. One of the world's most incredible Natural Wonders.
There are countless tours available from small groups to private helicopter rides, Grand Canyon south rim bus tours, some include the Skywalk at Grand Canyon West Rim, and others include extra stops along the way there or back. Just make sure visiting the Grand Canyon and the impressive Colorado River is on your Las Vegas itinerary – you won't regret it.
View the Erupting Volcano at The Mirage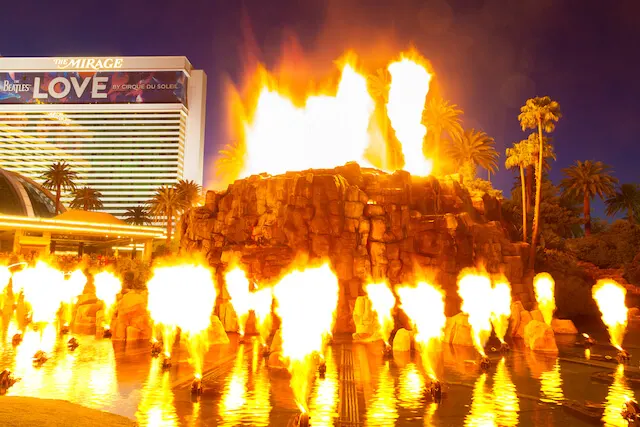 The Mirages volcano erupts 60ft into the air every evening – although not for much longer following the Mirage's sale to Hard Rock International, who have advised it will be removed after 30 years of lighting up the Strip (but recently said not until the end of 2023 or mid-2024!)
Be sure to try and see it before it's gone for good and while you're there, take a wander inside the hotel and see the atrium in the Mirage – the leafy green space under the botanical-esque glass domes roof is simply beautiful. Be quick before they are both gone!
Take a Swing at Top Golf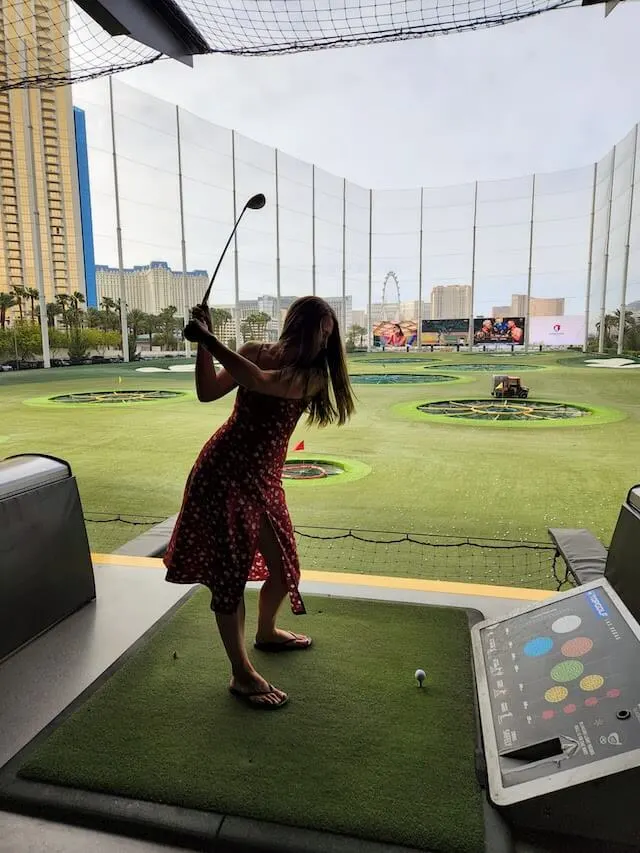 Grab your golf buddies (or complete novices!) and head to Top Golf for a couple of hours of whacking balls as far as you can, without the need to follow them to pick them up!
Located just off the Strip, behind MGM Grand, Topgolf has almost 100 climate-controlled hitting bays with electronically linked balls and clubs – so you'll never have to wonder where your ball went (or ended up!) again. Open from around 10am to midnight most days, and with a range of different golf-related games to play, it's a lot of fun for golf enthusiasts and first-timers alike.
Topgolf also offers a variety of food and drink options, including a full bar with a great cocktail list, as well as games and activities for non-golfers. And at night, all the bays glow up in different colors – in true flashy Vegas style!

Seek out a Speakeasy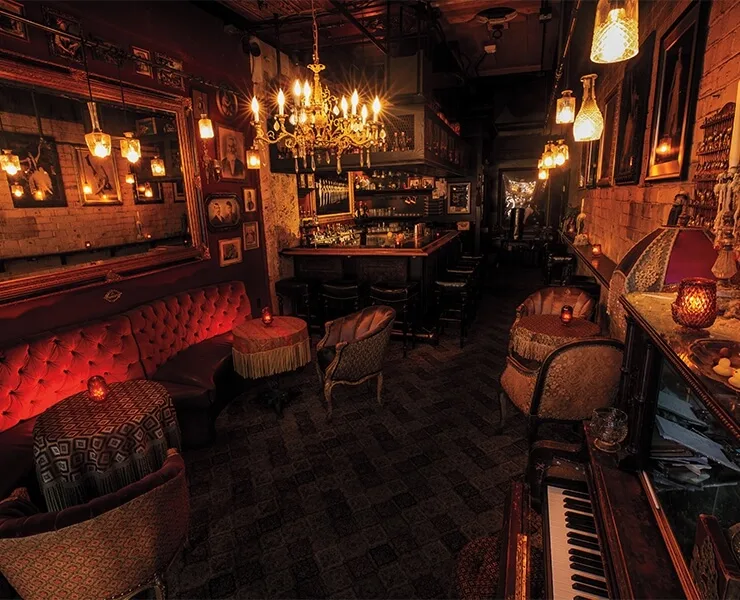 There are a few speakeasy bars dotted around Las Vegas that offer a unique and immersive experience, often featuring a 1920s prohibition-style aura.
These hidden bars are often disguised as ordinary storefronts or located behind secret doors, adding to the speakeasy atmosphere. Once inside, visitors can enjoy a variety of classic cocktails and appetizers in a cozy and intimate setting, often with live music or other entertainment.
Now, with the nature of a Speakeasy and their secrecy, we're not really supposed to tell you exactly where to find them but we'll give you a hint for the one pictured above: In The Laundry Room – which is a two-minute walk from El Cortez – red light means go!
Explore Death Valley National Park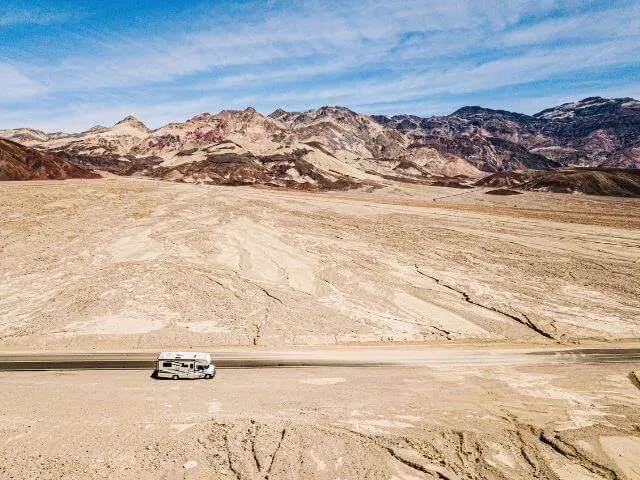 Death Valley National Park, located just a few hours outside of Las Vegas, is a must-see destination for nature lovers and outdoor enthusiasts. Visitors can explore the park's stunning desert landscapes, including the famous Badwater Basin, the lowest point in North America, and the colorful Artist's Palette formation.
The park also features a variety of hiking trails, including the challenging but rewarding hike up to Telescope Peak, the highest point in Death Valley. Visitors can also explore historic sites such as the ghost town of Rhyolite and the Harmony Borax Works.
With its unique geological features, stunning vistas, and rich history, Death Valley National Park is an unforgettable day trip from Las Vegas. Visitors should bring plenty of water, sunscreen, and appropriate clothing, as temperatures in the park can be extreme.
See The Bellagio Conservatory and Botanical Gardens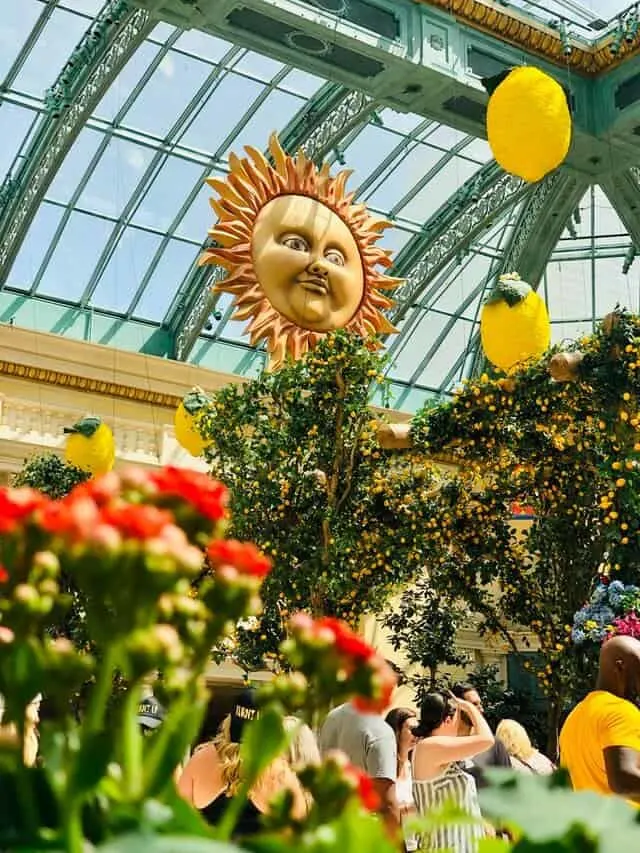 It's no surprise that one of the most luxurious Vegas hotels located on the strip has its very own indoor garden display. Located in The Bellagio Hotel, the conservatory, the displays change seasonally, featuring a botanical cactus garden, swathes of spring tulips and enormous Christmas trees.
Visit the Springs Preserve: Learn about the history and culture of Las Vegas at this nature preserve and cultural center.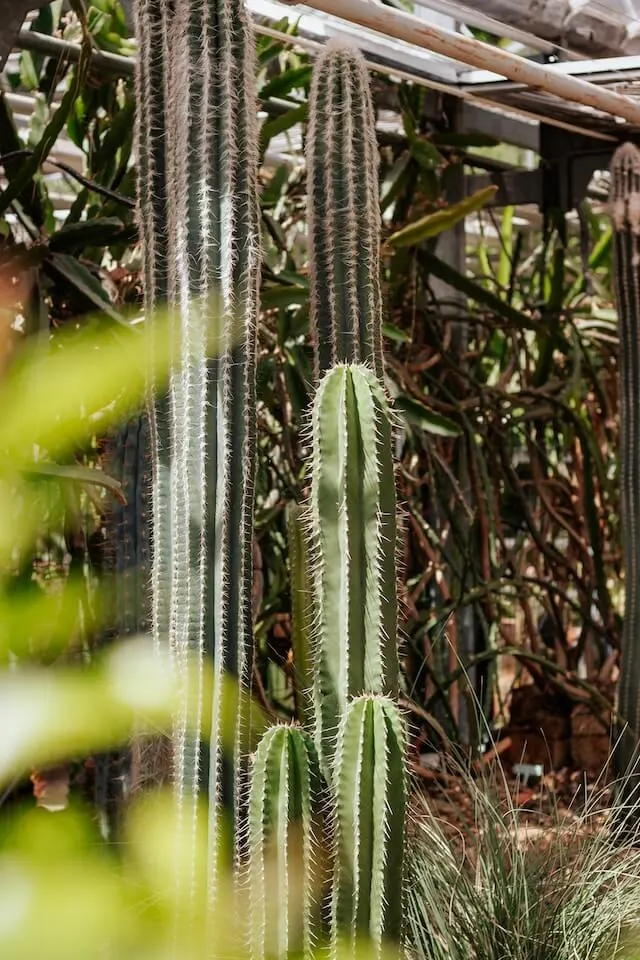 Springs Preserve in Las Vegas is a unique attraction that offers visitors a chance to learn about the city's rich history and culture. The preserve spans over 180 acres and features interactive exhibits, museums, botanical gardens, and walking trails that showcase the region's diverse ecosystem and cultural heritage.
Visitors can explore the historic buildings, such as the Origen Museum, which houses exhibits on the area's geology, ecology, and history. The preserve also hosts several cultural events and festivals throughout the year, celebrating the city's diverse community and heritage.
Overall, Springs Preserve is a fascinating destination that provides visitors with a deeper understanding of the city's past, present, and future.
Visit the Eiffel Tower at Paris Las Vegas: See a replica of the famous Paris landmark and enjoy the view (or brunch!) from the top.
The Eiffel Tower in Las Vegas is a must-see attraction for tourists visiting the city. Located almost at the center of the iconic Las Vegas Strip, it stands at 540 feet tall and offers stunning views of the city from its observation deck.
The tower is a replica of the original Eiffel Tower in Paris, and just like the Champagne Room in the original, visitors can also enjoy a fine dining experience at the restaurant located at the top of the Las Vegas Eiffel tower.
Enjoy delicious French cuisine while taking in the breathtaking panoramic views of the Las Vegas skyline at an unforgettable brunch or an amazing dinner.
Old Las Vegas Mormon Fort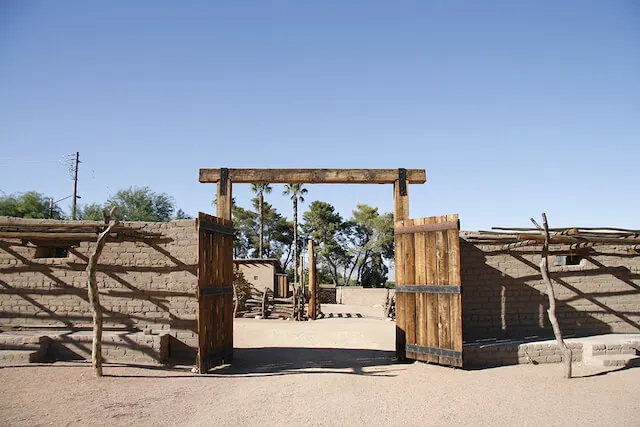 The Old Mormon Fort Museum is a historic site located in downtown Las Vegas that is dedicated to preserving the history of the early Mormon settlers in the region. The museum is housed in a replica of the original fort that was built in the 1850s by the Mormon pioneers and features a variety of exhibits and displays that tell their story and their role in the development of Las Vegas.
The Old Mormon Fort Museum is a great destination for history buffs and anyone interested in learning about the early history of the city.
Sail Across the Sky in a Hot Air Balloon Ride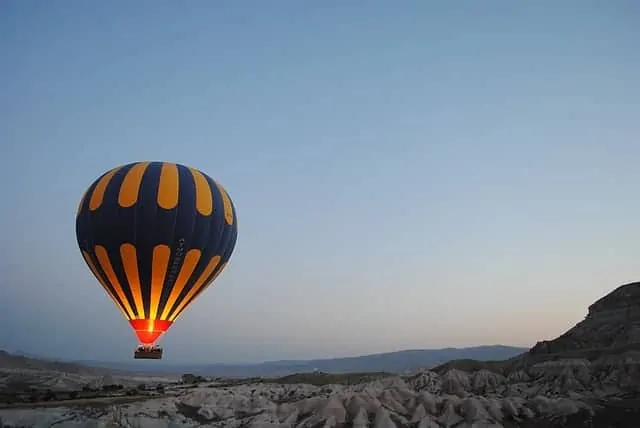 For a seriously romantic trip, head up, up and away on a Las Vegas hot air balloon ride.
Spend 3-hours blissfully soaring over Las Vegas, the Red Rock Canyon and beyond, along with your hot-air balloon pilot and enjoy unobstructed views whilst sipping champagne. To complete your trip, enjoy a picnic and champagne toast when you touch down back to earth.
Located just a short drive from the Strip, complimentary pick-up and drop-off is available from selected hotels in Las Vegas.
Enjoy a touch of high society with an upscale Afternoon Tea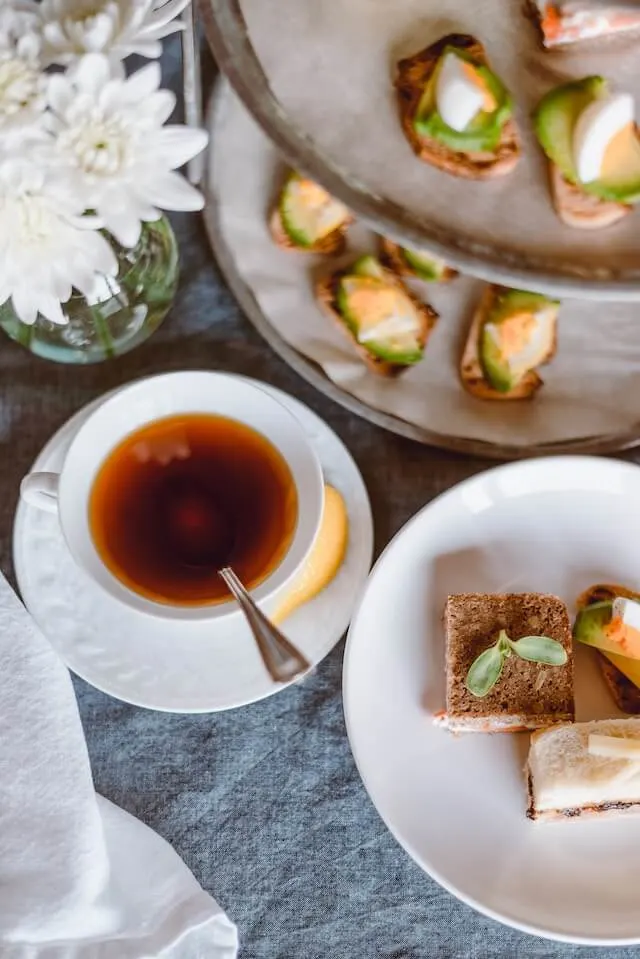 Afternoon tea is a beloved tradition in many parts of the world, and Las Vegas is no exception. There are several establishments in the city that offer a delightful afternoon tea experience.
One of the most popular spots is the Tea Lounge at the Waldorf Astoria, which serves a traditional British afternoon tea complete with finger sandwiches, scones, and sweet treats. Another great option is Veranda at the Four Seasons, where visitors can enjoy a variety of teas and gourmet bites while taking in stunning views of the Las Vegas Strip.
For a more whimsical experience, head to the Queen of Hearts Tea Room in Henderson, which offers a playful take on afternoon tea inspired by Alice in Wonderland. Whether you're looking for a classic tea experience or something more unique, Las Vegas has plenty of options to satisfy your craving.
Visit the Las Vegas Natural History Museum
The Las Vegas Natural History Museum is a fascinating destination for visitors of all ages. Located in the heart of downtown Las Vegas, the museum features interactive exhibits and displays that showcase the natural history of the region and the world.
Visitors can explore exhibits on prehistoric life, marine life, dinosaurs, and much more. One of the highlights of the museum is the Treasures of Egypt exhibit, which features artifacts from ancient Egyptian civilization, including the medical imaging from a real mummy.
The museum also hosts special events and programs throughout the year, such as summer camps, lectures, and workshops. Whether you're a history buff, a science enthusiast, or just looking for a fun and educational experience, the Las Vegas Natural History Museum is definitely worth a visit.
Go to a Comedy Club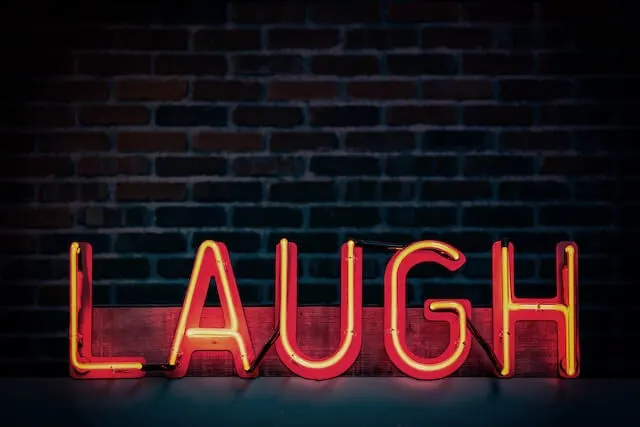 The city boasts a wide range of comedy clubs that offer shows featuring both up-and-coming and well-established comedians.
The Comedy Cellar at the Rio is a popular spot that features nightly performances by some of the funniest comics in the industry. The Laugh Factory at the Tropicana is another great option that has hosted some of the biggest names in comedy over the years. For a more intimate experience, head to the L.A. Comedy Club at the Stratosphere, which offers shows by both local and national acts in a small, cozy venue.
Whether you're looking for stand-up comedy, improv, or something in between, Las Vegas comedy clubs offer a great night out filled with laughter and entertainment.
Hit Up The Gun Store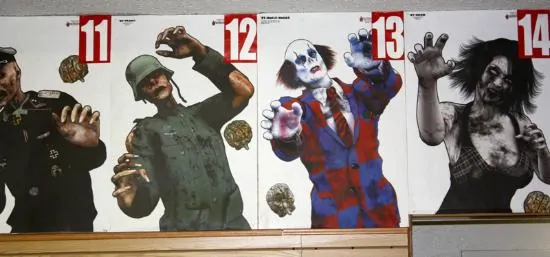 As a Brit, I find the whole gun culture in the USA both baffling and intriguing. Here in Las Vegas – and I'm sure this exists in other parts of the country too, but you can go to Gun Store, pick out any number/type of gun (inc. machine guns!), purchase a certain number of rounds and head off into the firing area and shoot it. This may seem perfectly normal to some, but it was a whole new world to me!
As you can see from to image too – you also get to pick your target, with difficulty going up with hostage scenario images for those who want to improve their accuracy! If you are curious about guns, this is the place to go. It's safe, and supervised and they completely understand if you're new/terrified!
Join a Bar Crawl and/or Party Bus
Bar crawl tours are a popular way to experience Las Vegas nightlife, with options available both on the Strip and on Fremont Street. These tours typically include visits to several bars or clubs, with transportation provided between locations.
Some tours also offer a party bus option, which allows guests to keep the party going in between stops. The party bus typically includes a sound system, party lights, and comfortable seating, creating a fun and lively atmosphere for guests.
Bar crawl tours are a great way to explore the many bars and nightclubs that Las Vegas has to offer, and are a popular option for bachelor and bachelorette parties, birthday celebrations, or just a night out with friends.
Visit the Las Vegas Museum of Art
Located in the heart of downtown Las Vegas, the museum features a diverse collection of artwork from around the world.
Visitors can explore exhibits featuring contemporary art, photography, sculpture, and more. The museum also hosts special events and programs, such as lectures, artist talks, and workshops, which provide a deeper understanding of the art on display.
One of the highlights of the museum is the outdoor sculpture garden, which features a beautiful collection of sculptures set amidst lush greenery. Whether you're a seasoned art aficionado or simply appreciate beautiful artwork, the Las Vegas Museum of Art is definitely worth a visit.
Explore the Hoover Dam: Take a day tour of the engineering marvel and learn about its history.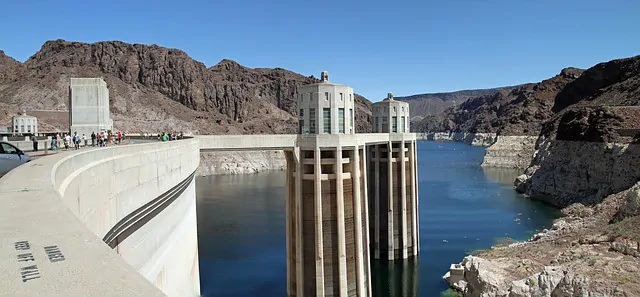 On this half-day tour, enjoy the opportunity to experience the almighty Hoover Dam! It's not possible to take in the sheer size of the Hoover Dam without exploring this man-made engineering masterpiece up-close.
As part of the Hoover Dam tour from Las Vegas, a pick-up and drop-off service is included from a selection of hotels on the strip. Accompanied by your driver/guide you will enjoy an informative commentary throughout your tour, along with two-hours on the Hoover Dam discovery tour. As part of your trip you will also have the opportunity to enjoy a visit to Ethel M's Chocolate Factory, a firm favorite in the area.
Learn about the History of Las Vegas on a Guided Tour
There are a variety of guided tours available in Las Vegas that offer unique experiences for visitors.
For those interested in learning about the city's history, there are walking tours available that take guests through the downtown area, including the historic Fremont Street. These tours provide insight into the city's colorful past, including stories of mobsters, celebrities, and the rise of the casino industry.
Foodie walking tours are also popular, allowing guests to explore the city's culinary scene and sample some of the best local dishes. These tours often include stops at multiple restaurants and food stands, providing a variety of tastings throughout the tour.
Eat until you explode…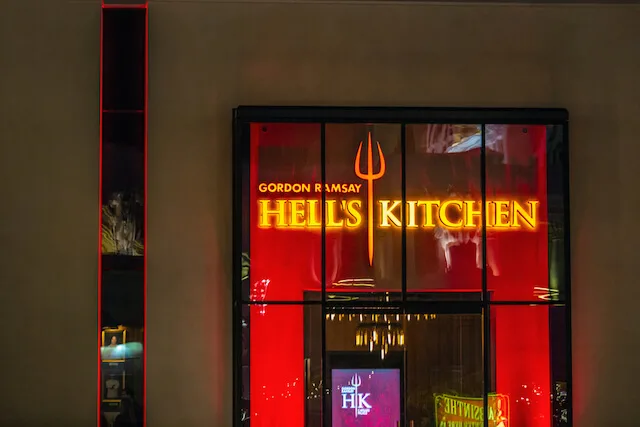 There are so many places to eat in Las Vegas; you might not know that many famous chefs setup shop in Vegas like Julian Serrano in the Bellagio, or Gordon Ramsey in Planet Hollywood. BurGR is a gourmet burger restaurant created by Gordon Ramsay (and one of my favorite places to eat!). The burgers are simple but unbelievably delicious and to make things even better, they have an extensive craft beer range on tap too.
Other favorites include Holsteins Shakes and buns in the Cosmopolitan, Mon Ami Gabi in The Paris, Pizza Rock near Downtown Las Vegas, and Lago by Julian Serrano.
No city tries to keep up with the Joneses as much as Las Vegas casinos try and outdo their competition. You just have to look at the skyline to see the replicas of the pyramids, the New York City skyline and a one-third scale model of the Eiffel Tower to understand that. But that's all part of its charm. It's a place like nowhere else on earth and it is impossible to be sucked into the magic.
Dine on one of the most Delicious Donuts in Vegas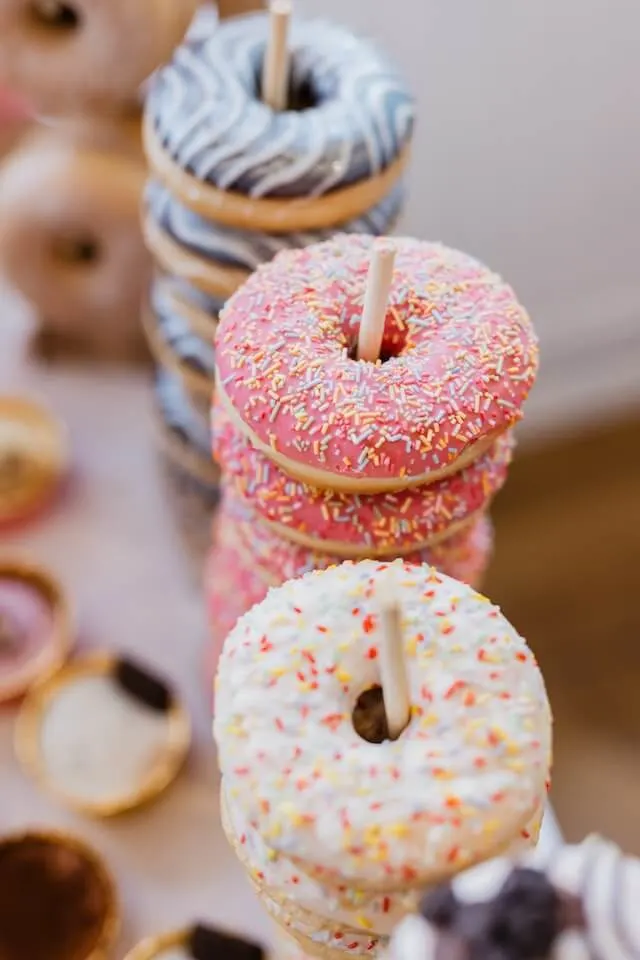 The Donut Bar is known for its delicious and creative donuts. The store offers a variety of unique flavors, including Cereal Killer, Maple Bacon, and S'mores, as well as classic favorites like glazed and powdered sugar. It's a must-stop for anyone with a sweet tooth or who considers themselves a Donut aficionado.
And for those who can't get enough of these delicious delicacies, Las Vegas even has its own Underground Donut Tour!
…Or Get Spanked at the Heart Attack Grill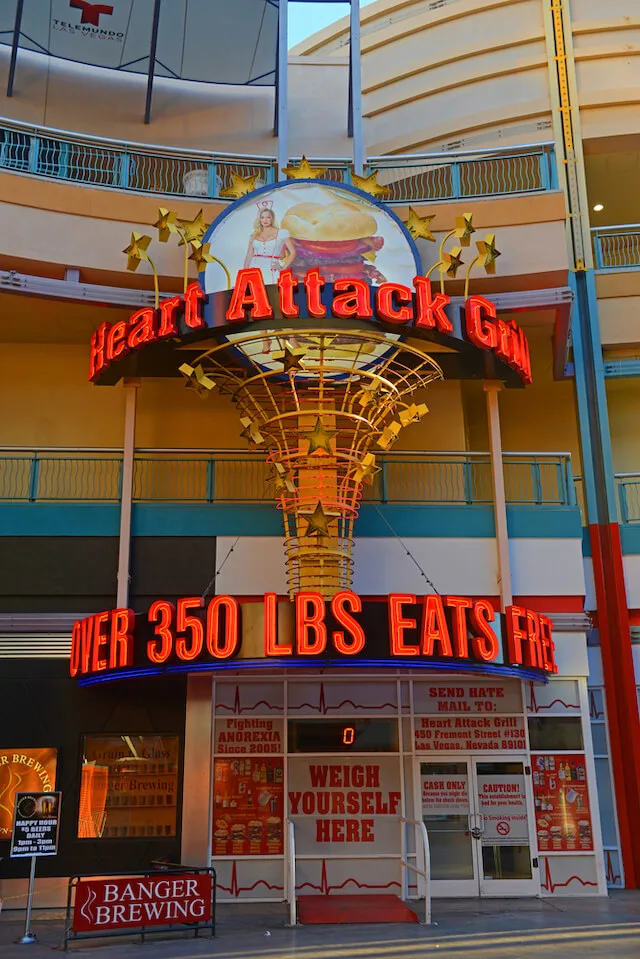 ..But only if you don't finish your meal. If you're feeling brave, you can also weigh yourself outside the restaurant and if you clock in at over 350 pounds, you'll eat free!
The Heart Attack Grill, located on Fremont Street is a restaurant known for its unhealthy menu and over-the-top theme. The restaurant's slogan is a "taste worth dying for," and its menu features items such as burgers topped with lard, cheese fries, and milkshakes made with real ice cream and whole milk.
The Heart Attack Grill has a unique tradition in which customers who cannot finish their meals are spanked by a member of the waitstaff. The restaurant also offers a "Bypass Burger Challenge," in which customers who finish a triple bypass burger, fries, and a shake within an hour eat for free.
The Heart Attack Grill is a controversial and extreme dining experience that is not for the faint of heart.
Get Your Groove on at a Pool Party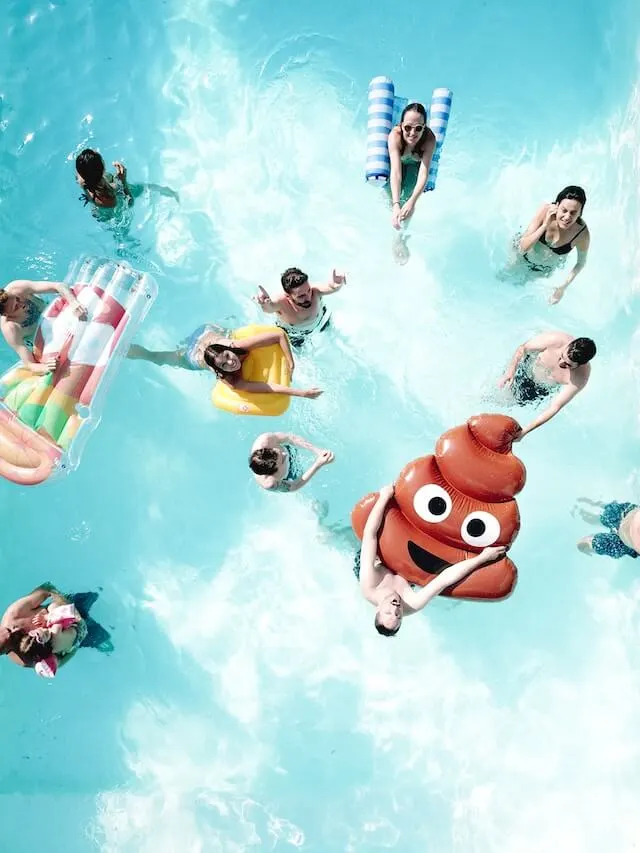 Can you say that you have truly experienced Las Vegas if you haven't been to one of the city's infamous summer pool parties?!
Las Vegas is known for its hot weather and luxurious pool parties, which typically run from March through September. Some of the most popular pool party venues include Encore Beach Club, Wet Republic, and Marquee Dayclub, all of which offer VIP cabanas, luxury loungers, and plenty of opportunities to cool off in the water.
Many of these venues also feature live DJs, special events, and celebrity appearances, making them a popular destination for both locals and visitors alike.
For a more laid-back experience, guests can also enjoy pool parties at the Golden Nugget or the Mandalay Bay Beach, both of which offer a more relaxed atmosphere with plenty of space to soak up the sun. Or join a pool party crawl and test out some of the best parties the cities have to offer.
Take your Pick of Las Vegas' 'Roadside Attractions'
See The Berlin Wall (Yes, That Berlin Wall)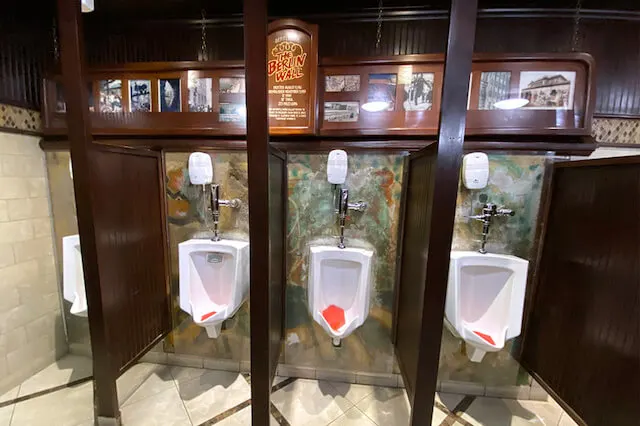 A piece of the Berlin Wall is on display at the Main Street Station Casino, Brewery, and Hotel in downtown Las Vegas.
The piece of the wall was acquired by the hotel's owner in 1991 and has been on display as the wall behind the men's urinals since that time. (And as it is in the men's bathroom, if you are a woman, you'll have to ask security to give you access/check the coast is clear!)
The piece of the wall is a small but significant piece of history and serves as a reminder of the events that took place in Berlin during the Cold War.
See a 61 pound (27.6kg!) nugget of gold worth over $5 million dollars!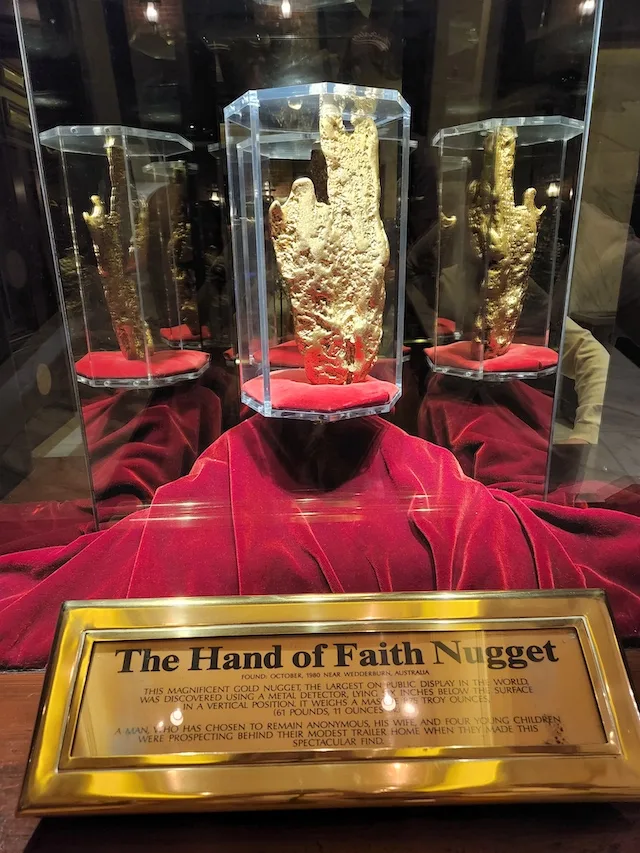 The 'Hand of Faith' is the biggest golden nugget in existence was discovered in 1980 near the Golden Triangle in Australia (more specifically, Kingower, Victoria) and is on display near the lobby at Golden Nugget Las Vegas.
If you're struggling to find it: stand at the front doors of the lobby, with the reception on your left. Head down the corridor to your right (opposite reception, if you get to the pool area/ shark tank you've gone too far) and then take the first left. The Hand of Faith should be recessed into the wall in front of you.
Touch a Piece of the Blarney Stone For Good Luck
On display at The D Casino and Hotel in downtown Las Vegas, those looking for a bit of luck in sin city can touch a piece of the real Blarney stone all the way from Ireland.
Now, we all know that the Irish tradition is to kiss the Blarney Stone, however, with all the foot traffic in Las Vegas, we'd not really recommend it. And whatever you do, it's probably best to sanitize your hands after!
Other 'Road Side' Attractions in Las Vegas
See The World's Largest Functioning Fire Hydrant

..Or Rub Happy Buddhas Belly at The California (you can never have enough rubbing or luck in Vegas!)

See the World's Largest Pint Glass at Hennessey's Tavern

Rub Arm with Legendary Craps Players at the Golden Arm Wall of Fame (on the bridge between The Cal & Main Street)

See a Poker Table signed by the Greats at Binions
Hit up a Dive Bar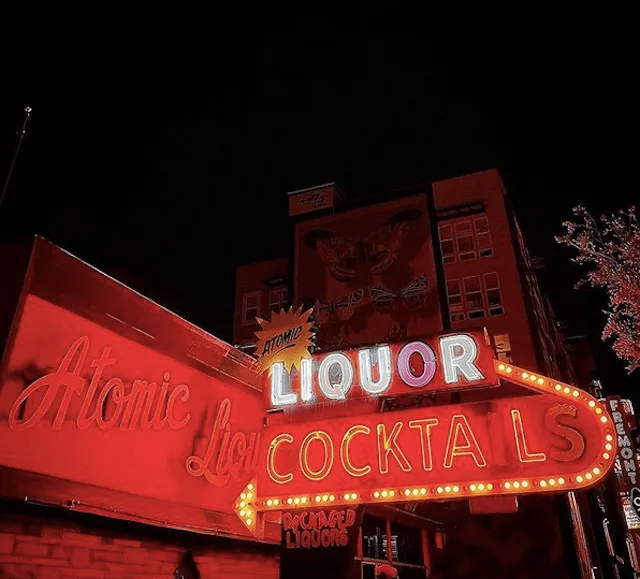 Downtown Las Vegas is home to a number of dive bars that offer a laid-back and unpretentious atmosphere for locals and visitors alike. Atomic Liquor (the oldest freestanding bar in Vegas) and Dino's Lounge are two popular dive bars located in the heart of the city.
Atomic Liquor, which was established in 1952, is known for its historic building and its extensive selection of craft beers and spirits. Dino's Lounge, which has been in operation since 1964, is known for its casual atmosphere and its live music and karaoke nights.
Both bars are popular destinations for those looking to relax and enjoy a drink without the crowds and fuss of a more upscale venue. Whether you're a local or just looking to experience a more authentic side of Las Vegas, Atomic Liquor and Dino's Lounge are worth checking out.
Say Hi To 'Vegas Vic' (and 'Vegas Vickie'!)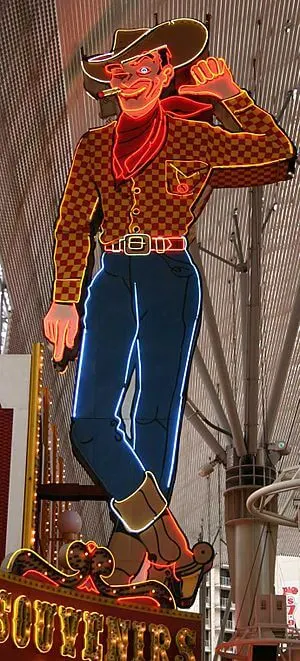 Vegas Vic is a tall, animated neon sign featuring a cowboy character that was installed in 1951 above the Pioneer Club, and Vegas Vickie, a cowgirl character later to be his wife (yes, they were legally married in 1994 to celebrate the establishment of the Fremont Street Experience) was added in 1959.
Both signs were designed by the Young Electric Sign Company and became well-known landmarks in the city.
Today, Vegas Vic and Vegas Vickie can still be seen on Fremont Street, with a restored Vic standing above what is now the Pioneer Gift Shop (minus a small bit of his hat because it didn't fit under the Viva Vision Canopy), while Vegas Vickie has a new home in ner namesake cocktail bar in Circa.
Race around the Las Vegas Mini Grand Prix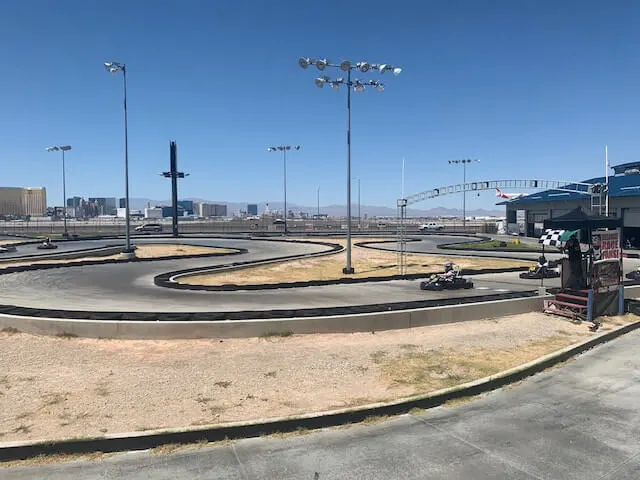 The Las Vegas Mini Grand Prix is a fun-filled destination for families and friends looking for some high-speed entertainment. Located just minutes from the Las Vegas Strip, the Mini Grand Prix offers a range of activities, including go-kart racing on several tracks, a thrilling roller coaster, and arcade games.
The venue caters to all ages and skill levels, with options for both kids and adults. One of the most popular attractions is the Kiddie Karts track, which is designed specifically for children between the ages of 4 and 7.
The Mini Grand Prix also offers party packages, making it a great destination for birthdays or other special events.
Go Ice-Skating in the desert at the Las Vegas Ice Center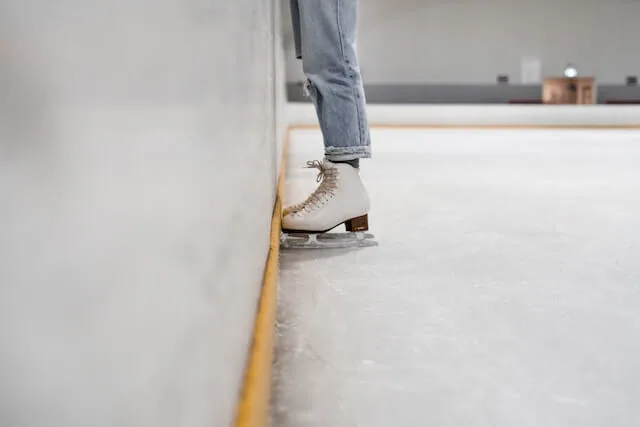 The ice rink is located in the southwest part of Las Vegas and offers a range of activities, including public skating sessions, skating lessons, and hockey games. The facility features a regulation-sized ice rink, making it a great spot for both recreational and competitive skaters.
The Las Vegas Ice Centre also hosts special events and competitions throughout the year, providing a great opportunity to watch some of the best skaters in the region.
Whether you're a seasoned skater or just looking to try something new, the Las Vegas Ice Centre offers a fun and unique experience that the whole family can enjoy.
Helicopter Flight at Night Above the Strip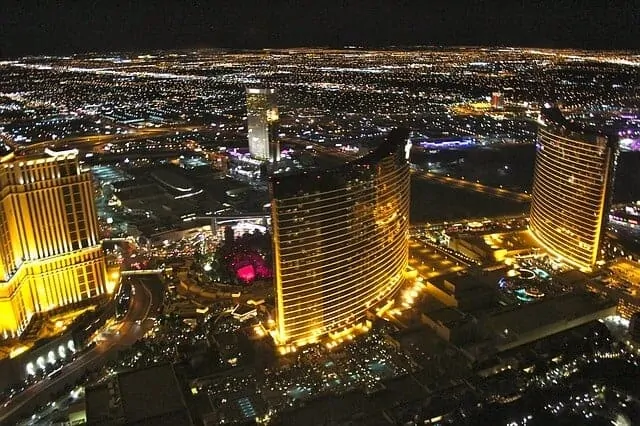 Enjoy a once in a lifetime opportunity to enjoy panoramic views of Las Vegas from your very own private helicopter tour of the Strip.
On this nighttime flight, you can sit back and relax with a glass of champagne whilst taking in the sparkling Vegas skyline, and enjoy listening to the live narration from your professional tour-guide pilot.
Travel to and from this whirlwind 15-minute helicopter tour in style in a limousine coach transfer from your Las Vegas Strip hotel and travel to new heights, from which you can take some breathtaking photos.
See Where Pawn Stars is Filmed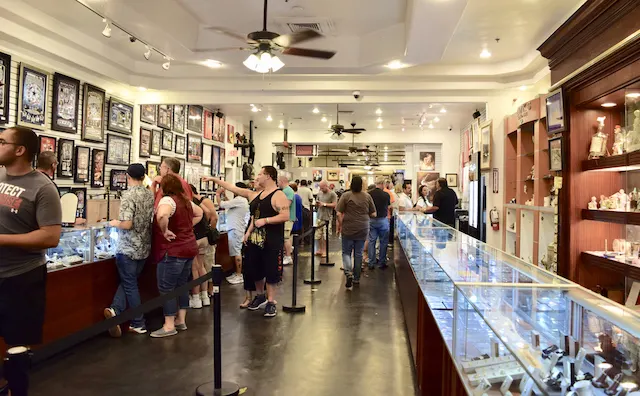 One of the biggest exports from Las Vegas, Pawn Stars is the TV show that has introduced us to some iconic characters over the years and given us an insight into the goings-on of a Pawn Shop in a city where everyone wants to make money out of (seemingly) nothing.
You may have to queue to get into the Gold and Silver Pawn Shop and you may not see anyone you recognise from the telly, but browsing the interesting items for sale in a real-life featured on TV store adds a certain something to your Las Vegas experience.
Have Your Say at CBS Television City
Inside the MGM Grand, you'll find CBS Television City. A place where you can watch an unaired pilot of a show that CBS have yet to decide the future on! Take part in focus groups and research, praise the shows or complain all you want. You never know, you could be part of the start of the next big thing!
Sing Along with Big Elvis or the Dueling Pianos at Harrah's Las Vegas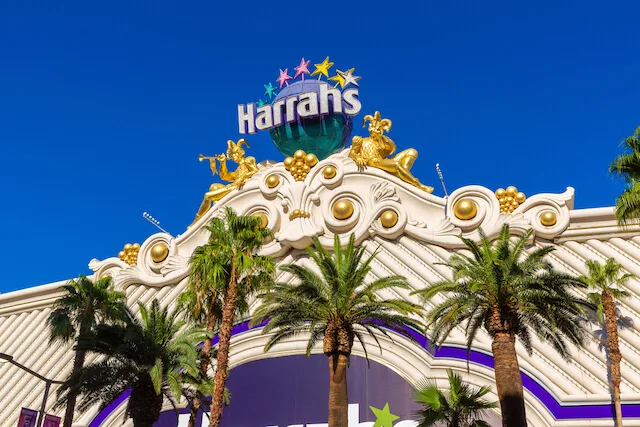 Pete "Big Elvis" Vallee is a Las Vegas institution and his spot-on renditions have been wowing crowds for years. With several shows on Monday, Wednesday and Friday (2 pm, 3.30 pm and 5 pm) make sure you get there half an hour early to get a seat!
And while dueling pianos may not be a traditional 'show', visitors can enjoy pianists battling it out on the pianos, each one striving to play well-known songs better than the other (often with a lot of audience singing and dancing!) with the audience choosing a winner by applause, and requesting songs on dollar notes! It's a whole heap of fun!
(There are also dueling piano bars at Bar at Times Square in New York New York and Don't Tell Mama at Fremont Street.)
Ride the Thrill Rides at the Top of The Strat (formerly The Stratosphere)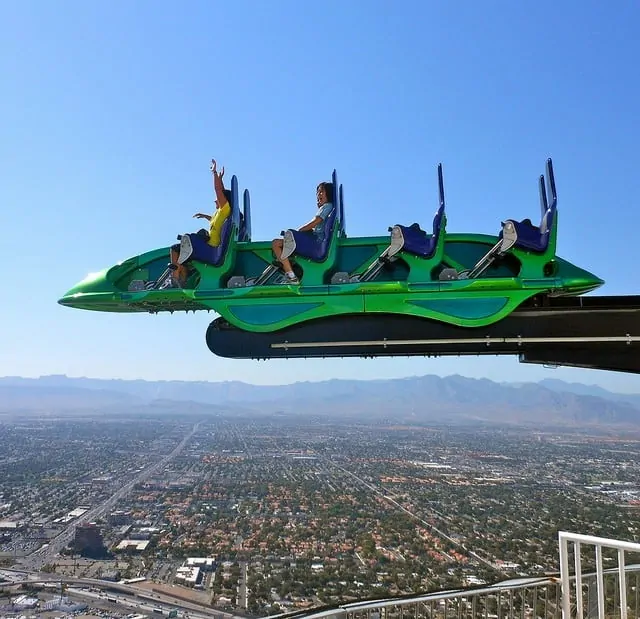 (c) Sarah_Ackerman c/o Flickr Creative Commons
Get your scream on with these Thrill Rides located 350m (1149ft) in the air at the top of the Stratosphere Observation Deck. There are 2 rides at the top: X Scream and The Big Shot, and the opportunity to jump off the side – if being shot into the sky and dropped off the edge of the building doesn't float your boat!
Pick one, or do them all – it all depends how brave you are! And whilst you're up there – take in a 360º view across Vegas, and see where Vegas ends and the desert begins. (This looks very cool lit up at night!)
Ride the Big Apple Coaster at New York New York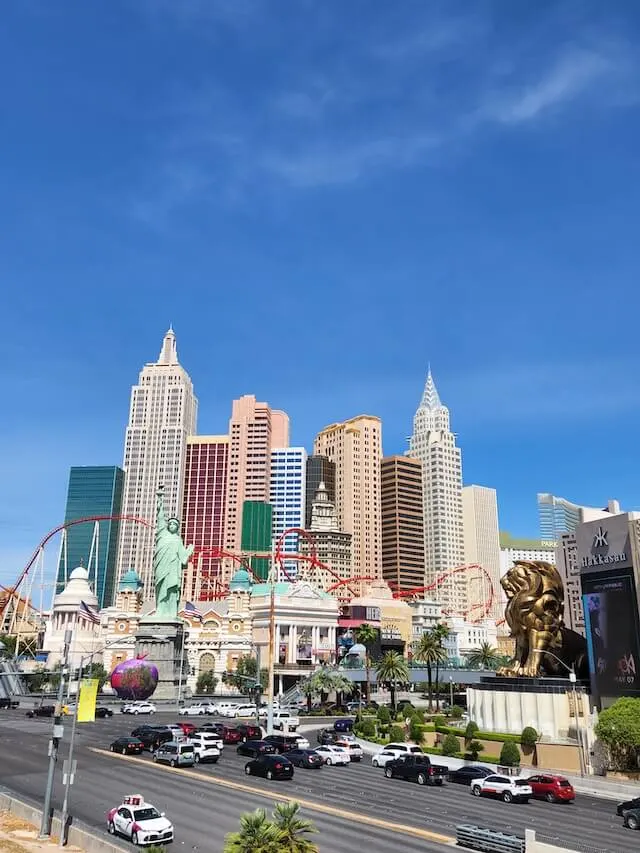 The Big Apple Coaster at NYNY Casino is a thrilling roller coaster ride that takes visitors on a high-speed journey through the heart of the Las Vegas Strip.
The coaster features multiple drops and twists, including a 144-foot drop that reaches speeds of up to 67 mph. The ride also takes passengers through a replica of the New York skyline, including replicas of the Statue of Liberty, the Brooklyn Bridge, and the Empire State Building.
The coaster is open year-round (although we recommend pre-booking your ticket to secure a good time slot!), providing visitors with an adrenaline-packed experience. The Big Apple Coaster is a must-ride attraction for thrill-seekers visiting Las Vegas, and is a great way to get a unique view of the city's famous landmarks.
Or Head to the Cities Indoor Theme Parks: AdventureDome and Area 15
Adventuredome is a popular indoor theme park located at Circus Circus in Las Vegas. The park boasts over 25 rides and attractions, including roller coasters, thrill rides, and family-friendly options.
One of the park's most popular attractions is the Canyon Blaster, which features a double-loop corkscrew and a 90-foot drop. The park also offers a variety of arcade games, 4D theater experiences, and miniature golf.
In contrast, Area 15 is a unique entertainment complex located just off the Las Vegas Strip. The complex features a variety of interactive experiences and attractions, including a virtual reality arcade, an art gallery, and a performance venue.
One of the most popular attractions is Meow Wolf's Omega Mart, an immersive art exhibit that takes visitors on a journey through a surreal and fantastical supermarket.
The complex also features a variety of dining options, including a food hall with a diverse selection of cuisine, and a bar that serves up unique cocktails and craft beer. With its eclectic mix of art, technology, and entertainment, Area 15 is a must-visit destination for anyone looking for a one-of-a-kind experience in Las Vegas.
Get Creative at The Arts Factory in the Las Vegas Arts District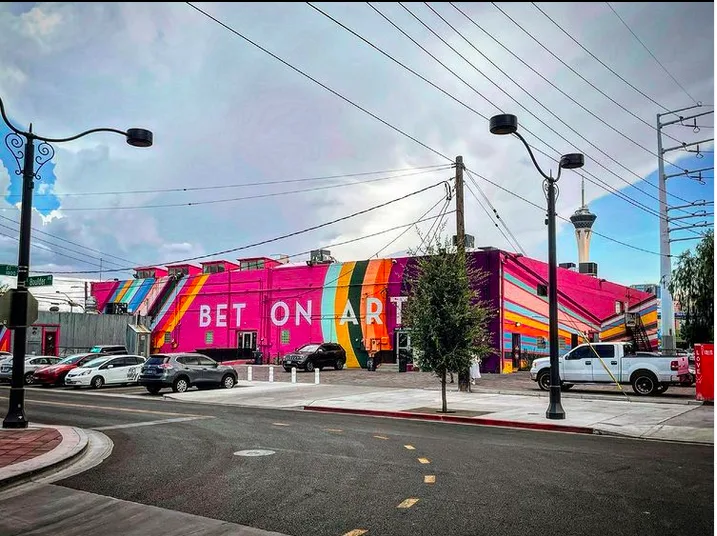 At the center of the Las Vegas Arts Districts, you'll find exhibitions and art galleries representing over 30 artists, offering a safe space to nurture the city's creative minds.
There's also the funky 18Bin bar & restaurant, a Gallery 2 Go art vending machine and even a yoga studio in case you want an hour of zen away from the frenetic energy of sin city.
Go Mural Spotting in the Arts District in Las Vegas Nevada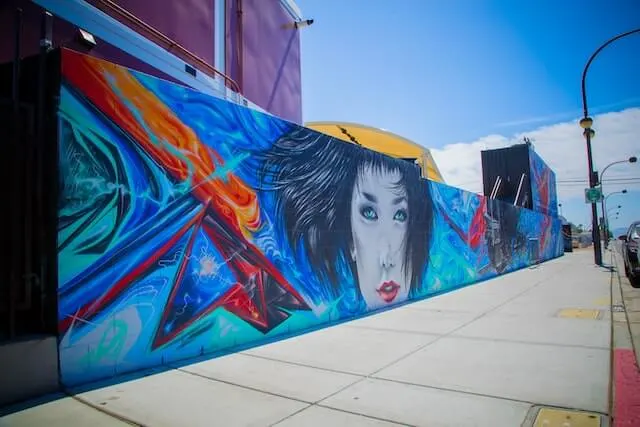 The Arts District is also home to a vibrant and colorful collection of murals created by local and international artists.
The murals are located throughout the district and depict a wide range of themes and styles, from abstract patterns and graphics to realistic portraiture and cityscapes. The murals are an important part of the cultural and artistic identity of the Arts District and are a popular destination for photographers and art enthusiasts. Many of the murals are also accompanied by information about the artist and the inspiration behind the work, making them an educational as well as a visual experience.
If you find yourself in Las Vegas at the start of the month, be sure to check out the monthly First Friday event which showcases local artists, musicians, makers, and more. It's loved by locals and if you can attend, you definitely should!
Visit Zak Bagan's Haunted Museum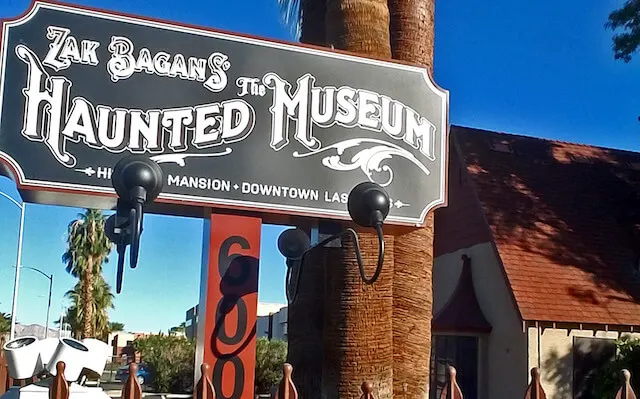 Zak Bagans Haunted Museum is a popular attraction located in downtown LV that features a collection of haunted artifacts and other creepy exhibits. The museum is owned by Zak Bagans, host of the TV show Ghost Adventures, and features items from his personal collection as well as items on loan from other collectors.
Visitors to the museum can expect to see a variety of spooky and unsettling items, including dolls, puppets, and other objects that are believed to be possessed by spirits. The Haunted Museum is a must-see destination for anyone interested in the paranormal and the supernatural.
Find the 'Rocker' Sign at the Golden Gate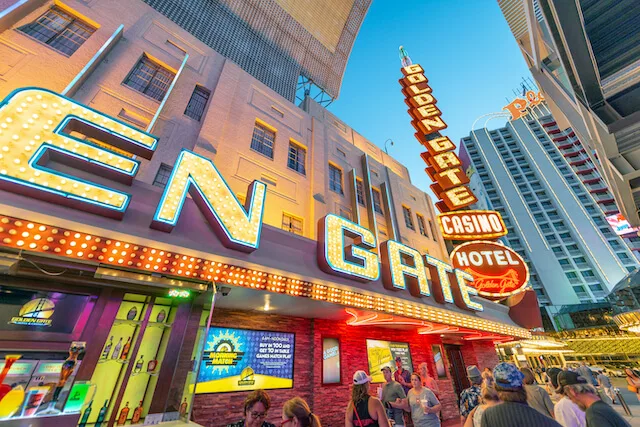 See where it all began. Back in 1906, The Golden Gate Casino opened it's doors and started a movement that saw Vegas become what it is today. And it is still as cool now as it was then! Outside you'll find a unique rocking sign, and just inside the lobby, a set of vintage slot machines that give you a touch of nostalgia barely found elsewhere in the city.
See The Saltwater Aquarium at The Mirage
Just behind the front desk and measuring 53 feet long, 8 feet from top to bottom and 6 feet from front to back, this huge aquarium is home to approximately 450 fish from 85 different species from around the world.
Visit the Seven Magic Mountains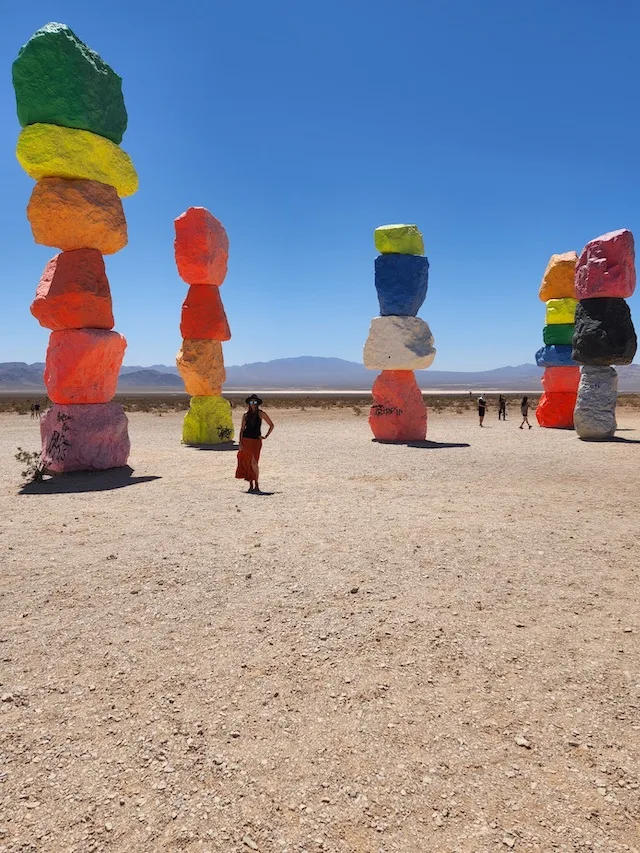 This free, public art installation located 10 miles outside Las Vegas center was originally commissioned for 2 years, was extended for 3 years until the end of 2021, and has now been extended indefinitely.
It's stunning how they just appear off the highway in the vastness of the desert, however, during my last visit (in May 2022) there was quite a bit of graffiti on the lower rocks, so hopefully, that gets cleaned up soon. It's such a shame people have no respect for the artist and feel compelled to scrawl their names on it.
Get Up Close to Celebrities (in Wax, anyway)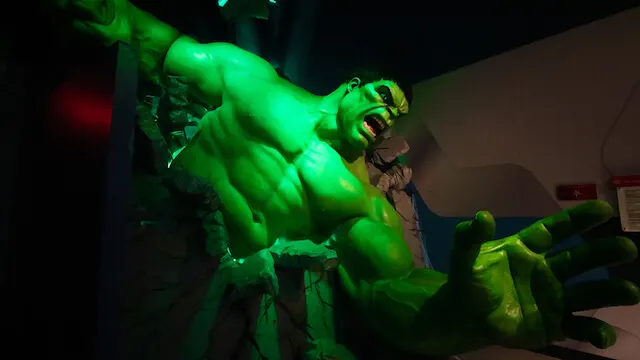 Located in the Grand Canal Shoppes at the Venetian Resort and open daily, Madame Tussauds lets visitors can get up close and personal with lifelike wax figures of celebrities, musicians, and historical figures, and even snap a selfie with their favorite stars.
The attraction also features interactive exhibits, including a Marvel Super Heroes 4D experience and a virtual reality adventure, and is a great place to escape the Las Vegas heat for an hour or two.
Go Shopping at The Premium Outlets
If you're looking for somewhere to spend your Las Vegas winnings, the Premium Outlets (North and South) are a great option. With over 150+ stores in each (including luxury brands such as Armani, Michael Kors, Burberry, Calvin Klein, and Jimmy Choo, etc) all at discount prices, you could go home with a whole new wardrobe or a new favorite statement piece! (Or simply enjoy some good air-conditioning for a couple of hours to escape the desert heat!)
See the Fire Spitting Praying Mantis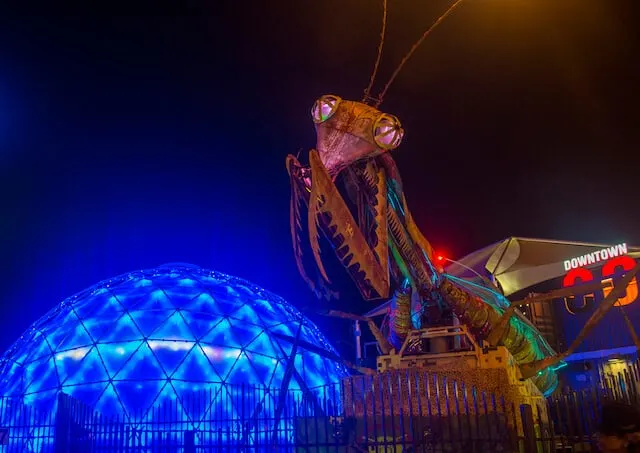 When the sun goes down at the Downtown Container Park, that's when the giant Praying Mantis which adorns the entrance comes to life. Wander the outdoor shopping plaza as the 40-foot-long motorized insect shoots fireballs from its antennae, often in sync to the music.
Visit Red Rock Canyon Recreation Area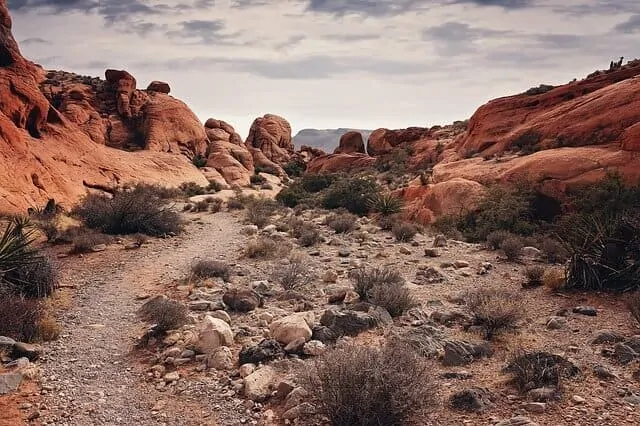 Only a short journey outside of Las Vegas, the Red Rock Canyon National Conservation Park is one of the best day trips from Las Vegas NV. It's one of nature's marvels, with its seasonal waterfalls, rock formations, rock art and desert wildlife, this is a unique landmark that is not to be missed.
With pick up and drop off from a selection of Las Vegas Strip hotels, you can choose from either a 6 or 4-hour tour of Red Rock Canyon, during which you will learn about the Canyon's history, once home to the area's Native Americans and its unique geography, unlike anywhere you will have seen before.
Get Your Chocolate On at Hershey's Chocolate World and M&M's World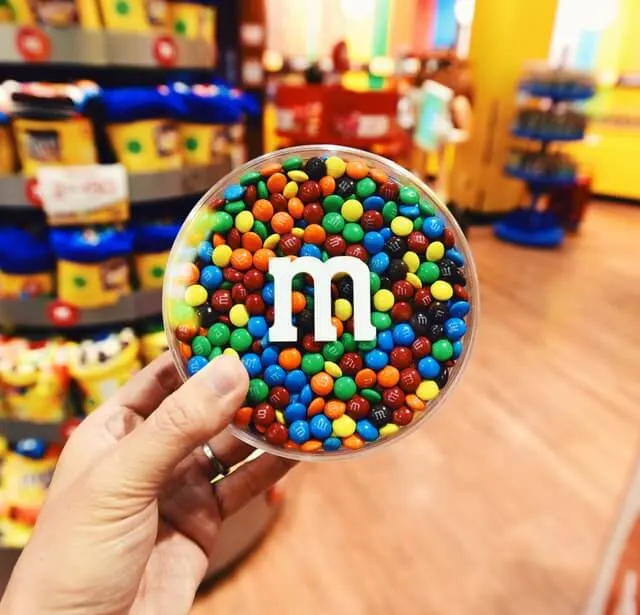 If your currency of choice is chocolate, you'll be in heaven at these two huge chocolate superstores. Every possible piece of memorabilia is available at M&Ms world (I know because my Aunt has a Peanut M&M Golf Club topper from here!) – which is on the strip; or you can tour the chocolate factory at Hershey's in New YorkNew York. Best of all, there are usually free samples on offer at both too!
*EXTRA* For another great theme store, a couple of doors down from M&M's World you'll find the largest Coke bottle in the world outside the CocaCola Store and endless branded memorabilia and clothing inside.
Fulfill your need for speed at the Las Vegas Motor Speedway
The Las Vegas Motor Speedway is a premier destination for racing enthusiasts visiting the city. Located just minutes from the Las Vegas Strip, the speedway hosts a variety of events throughout the year, including NASCAR races, drag racing competitions, and more.
Visitors can also take part in racing experiences themselves, such as the NASCAR Experience or the Mario Andretti Racing Experience, where they can get behind the wheel of a high-performance vehicle and test their skills on the track.
The Las Vegas Motor Speedway also features an impressive Neon Garage, where visitors can get up close and personal with the race cars and teams, as well as enjoy live entertainment and food and beverage options.
Think like a pinball wizard at the Pinball Hall of Fame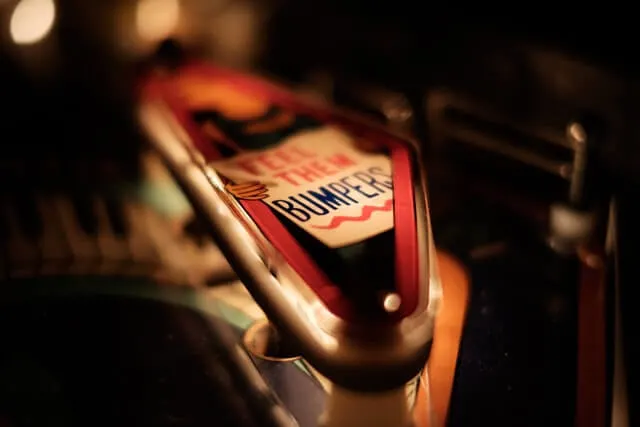 A standalone dedicated museum with pinball machines and nothing but pinball machines for 25,000 square feet. Mind blowing! Located in a purpose-built building next to the 'Welcome to Las Vegas' sign, entry is free and the machines are all set to 0.25c 0r 0.50c per play.
Get Some Fresh Air at Symphony Park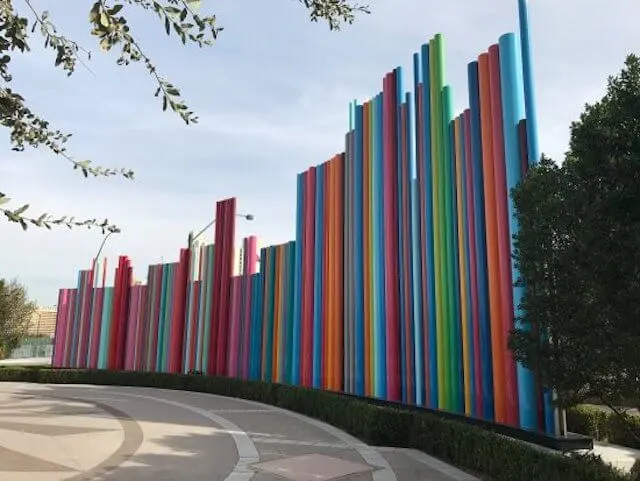 Symphony Park is a popular public park located in downtown Las Vegas. The park is home to a variety of amenities and features, including a playground, a dog park, a walking trail, and a large grassy area. It's a great destination for families, dog owners, and anyone looking to enjoy the outdoors in the heart of DTLV. It is also a popular spot for events and festivals – not to mention providing a colorful background for photos – making it a vibrant and exciting place to visit.
Burlesque Hall of Fame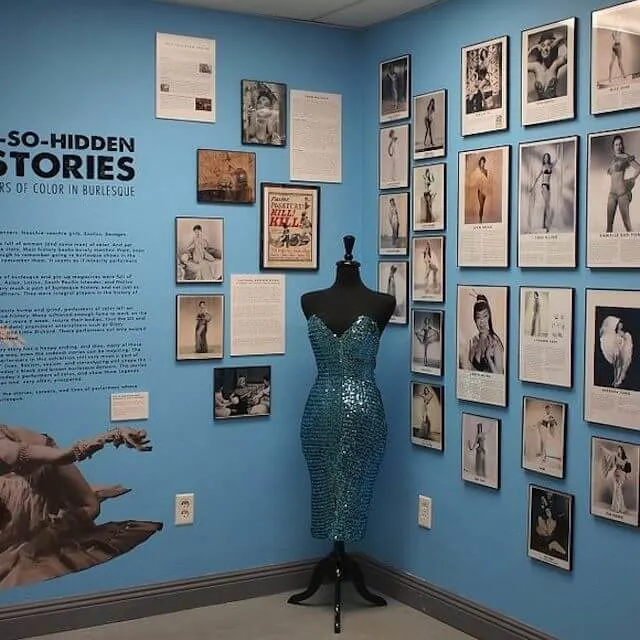 The Burlesque Hall of Fame is a museum and cultural center that celebrates the art of burlesque. The museum features a collection of artifacts, costumes, and other memorabilia related to the history of burlesque and its performers.
The museum also hosts a variety of events and educational programs throughout the year, including lectures, workshops, and performances. Whether you're a fan of burlesque or just interested in learning more about this unique art form, the Burlesque Hall of Fame is a fascinating educational destination in Las Vegas.
Go Vintage at the Shelby Heritage Center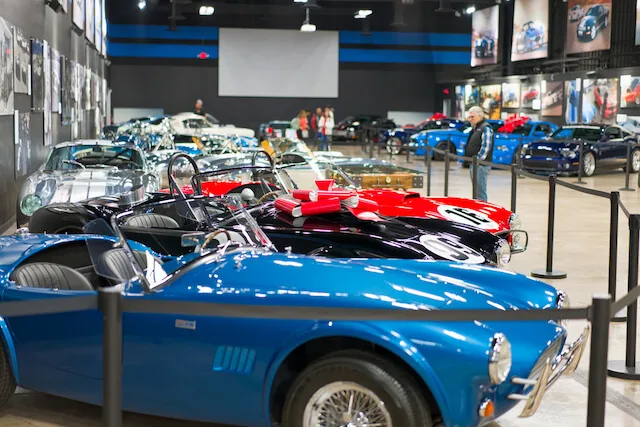 Showcasing a range of classic cars including Mustangs and Cobras, tours of the facility are free and do not require reservations. You may even get to see some cars being restored in the workshop while you are there.
Las Vegas Harley-Davidson: Window shop, Rent or Ride!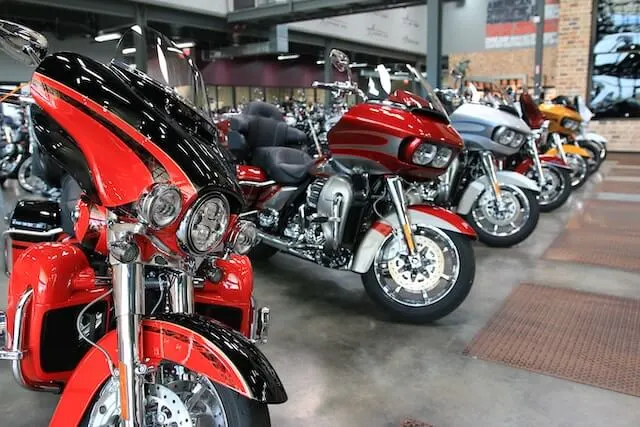 If motorbikes are more your thing, you can't miss popping into Las Vegas Harley-Davidson. With their vast open floor plan you can see a range of bikes, trikes, merchandise, and accessories. They have monthly offers for Harley owners, and second Thursday bike nights where Harley owners are invited to ride from the store to a local Burger Joint.
Visit the National Atomic Testing Museum (Day Tour)
The National Atomic Testing Museum in Henderson offers a fascinating look into the history and impact of nuclear testing in Las Vegas and beyond. Visitors can explore exhibits on the science behind nuclear energy and the history of nuclear testing in Nevada, as well as the cultural impact of atomic weapons on popular culture.
The museum also offers tours that delve deeper into the effects of nuclear testing on local communities and the environment.
Go Antique Hunting at Main Street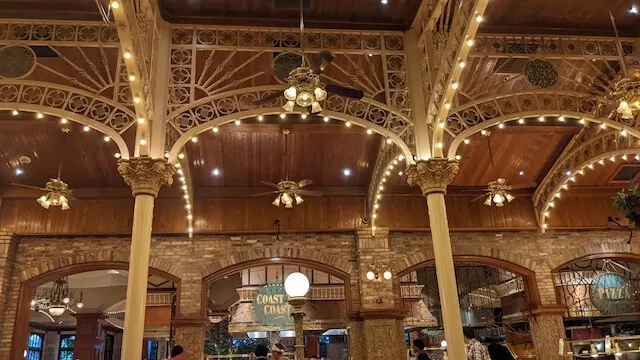 The Main Street Station Casino in downtown Las Vegas is home to a collection of art and antiques on display throughout the property. The casino features a variety of artworks, including paintings, sculptures, and other decorative items, as well as antique furnishings and objects, some notable, such as Winston Churchill's snooker table which is on the 2nd floor!
Many of the items on display at the Main Street Station are from the personal collection of the hotel's owner, making them unique and one-of-a-kind pieces. The art and antiques at the Main Street Station provide an interesting and eclectic backdrop to the casino and add to the character of the property. Be sure to stop by Main Street's hotel registration desk and pick up a "Guide to Artifacts, Antiques and Artworks." to make sure you don't miss anything.
And that's a wrap on our complete list of the best things to do in Vegas BESIDES Gamble, which is full of things you need to know in making sure you get the most from your Vegas vacation! We hope they were helpful in planning your Vegas trip but if we have missed anything, please let us know in the comments.

And if you loved this Las Vegas travel guide, please pin, tweet, flip, or share. I'd really appreciate it!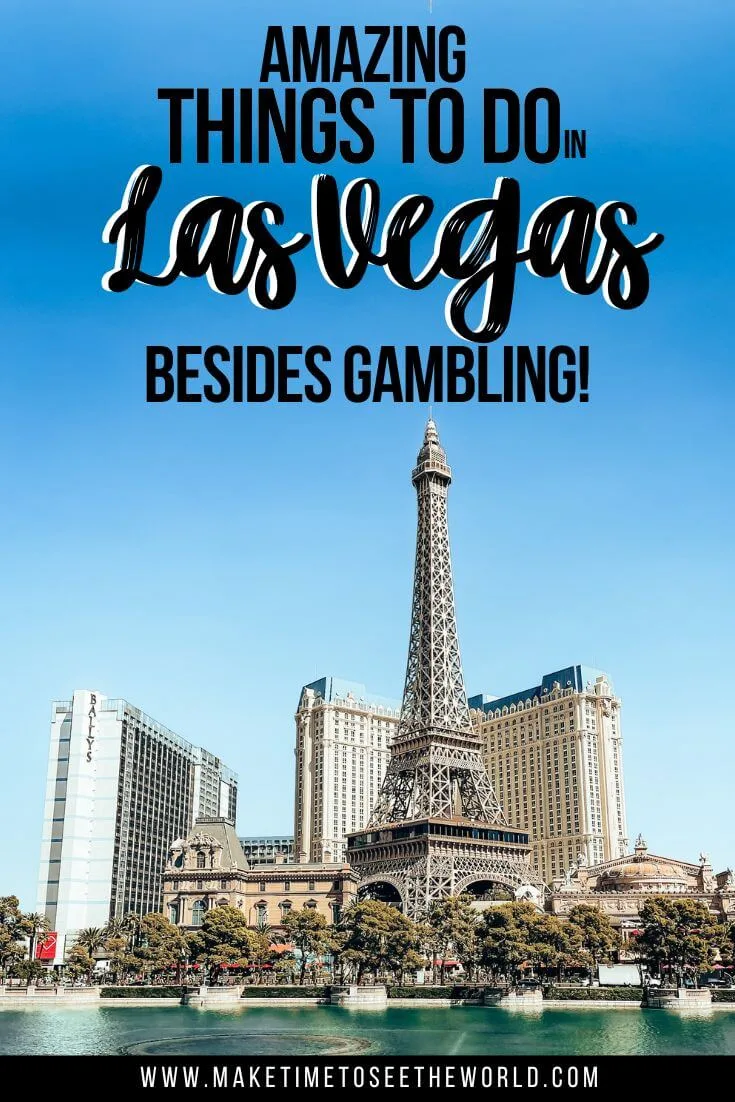 READY FOR MORE USA TRAVEL INSPIRATION? YOU MIGHT BE INTERESTED IN THESE TRAVEL TIPS, TRAVEL ARTICLES, DESTINATION GUIDES, TRAVELER RESOURCES AND RELATED POSTS ABOUT OTHER AMAZING CITIES IN NORTH AMERICA:
Hi There! Thanks for reading 60+ Incredible Things to do in Las Vegas BESIDES Gamble. I just wanted to let you know that this post contains affiliate links, which means if you purchase something after clicking a link, I may get a small commission – which is at absolutely no cost to you. If you enjoyed this article and are going to be searching for some of the things I mention anyway, I would love it if you could click through from the links above & thank you in advance! Read my full Disclosure here.
And a huge Thank You for reading the MakeTimeToSeeTheWorld travel blog.