From popular tourist attractions to hidden gems, live entertainment and fine dining to unique experiences and cultural events, these are the 38 Top Things to do in Downtown Las Vegas – including a map!
Downtown Las Vegas (DTLV) is a vibrant and exciting destination that offers a wide variety of things to see and do. From world-class entertainment and dining to unique attractions and cultural experiences, there is something for everyone.
In this article, we will highlight 35 of the best things to do in downtown Las Vegas (and include a map to help you find them!), from popular tourist attractions to hidden gems that only locals know about. Whether you're a first-time visitor or a seasoned local, these activities are sure to make your trip to sin city and downtown Vegas memorable and enjoyable – and probably want to come back for more. Because who doesn't love Vegas, right?!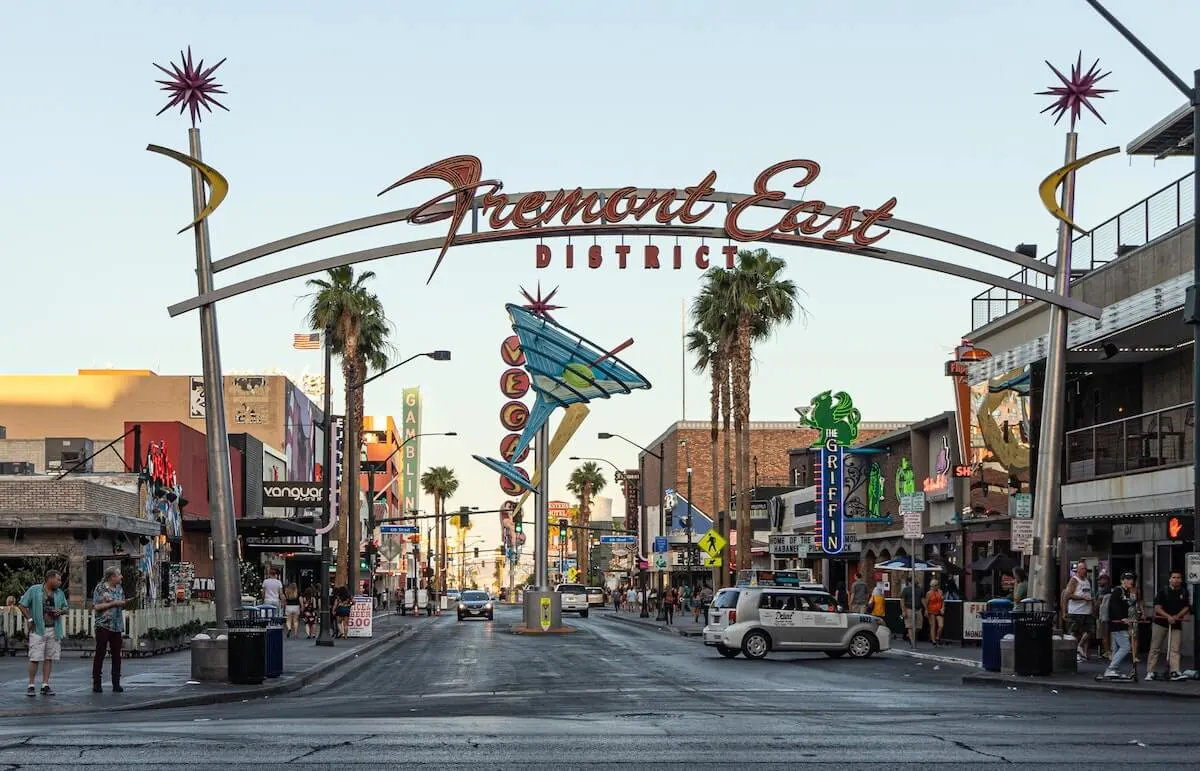 Disclaimer: Almost all posts on this site contain Affiliate links, and this one about the top things to do in Downtown Las Vegas is no different. This means that if you click on any of the links in this post (and make a purchase) I may receive a small commission at absolutely no cost to you. Each post is carefully crafted to (hopefully!) answer all your questions and recommendations are made where we believe they will improve your trip and help with your planning. As such we thank you in advance should you decide to click & buy. Read my full Disclosure here.

Downtown Las Vegas Map (Attractions & Things to Do)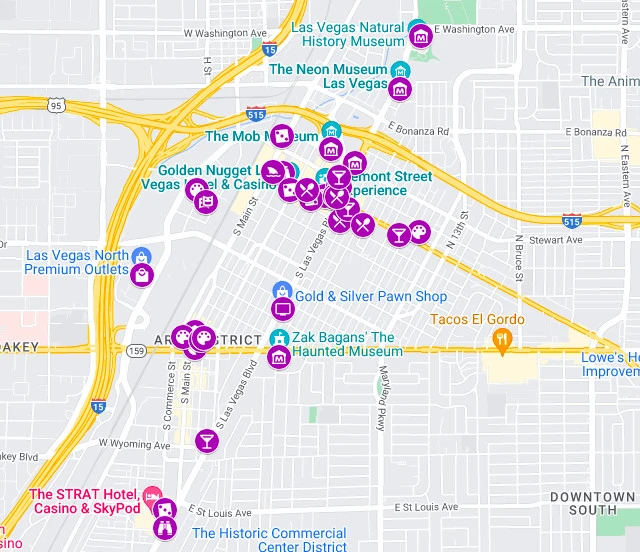 As you can see from our map of the best things to do in Downtown Las Vegas, it is quite a compact area, with the majority of attractions centered around Fremont Street. You can click the map itself or this link to open it another window, which will also allow you to use it for directions from one attraction to another.
35+ Fun Things to do in Downtown Las Vegas NV
Fremont Street Experience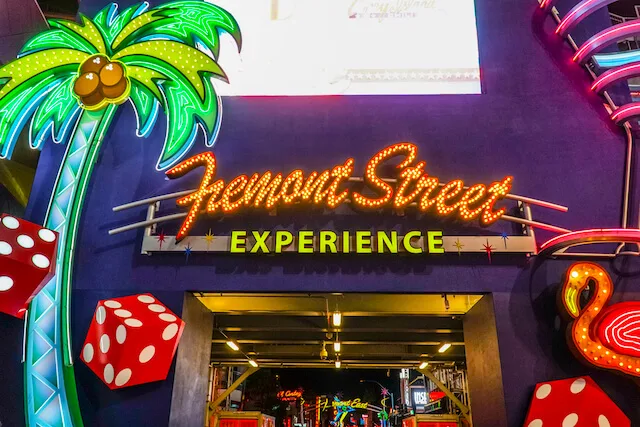 Fremont St Las Vegas, and it's pedestrian mall – the Fremont Street Experience – is the heart of downtown Las Vegas, known for its vibrant nightlife, live music, and iconic casinos.
It was the first paved street in the city and was once home to some of the most famous casinos in the world, including the Golden Nugget and the Four Queens. These and other original casinos still stand to this day allowing visitors to experience a piece of Las Vegas history while enjoying the vibrant lights and sounds of modern Vegas.
In addition to its casinos, the Fremont Street Experience is also home to the Viva Vision Canopy – a nightly light and sound show More on that below), street performers, a variety of dining and shopping options, and even free concerts.
Downtown Rocks Concert Series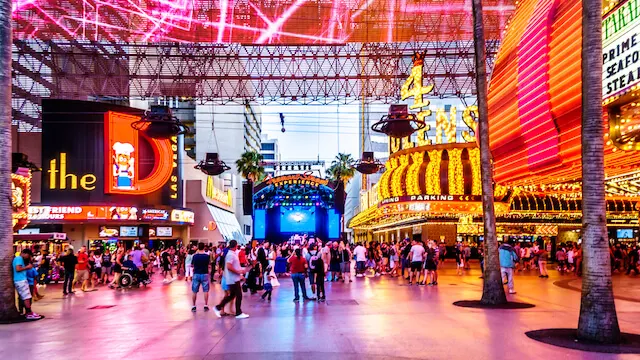 The Downtown Rocks concert series on Fremont Street is a popular event in Las Vegas featuring live music from a variety of genres and runs throughout the year – making it really easy for locals and visitors alike to catch a performance during their visit. (Check the 2023 schedule here)
The concerts are free to the public and feature both local and national acts, providing something for everyone to enjoy. Whether you're a fan of rock, country, or any other genre, the Downtown Rocks concert series is a great way to experience live music in the heart of the city.
SlotZilla ZipLine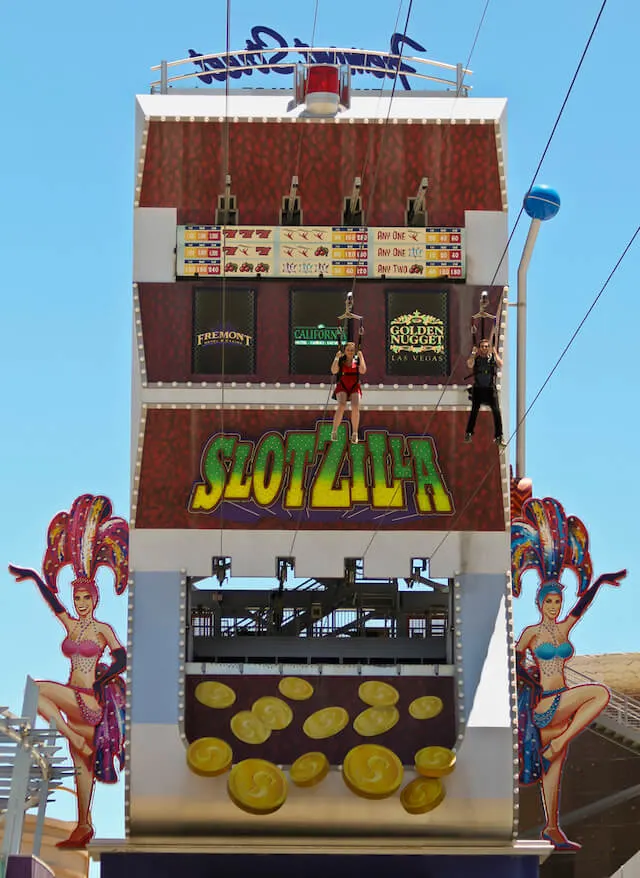 The SlotZilla zip line is an exciting and thrilling attraction that offers a unique perspective of Fremont Street, as you soar above the crowds below with the Viva Vision Canopy above you.
There are two levels to choose from: the lower Zipline and the upper Zoomline. The lower zip line is great for those who want a leisurely ride, while the upper Zoomline offers a more exhilarating experience with a steep descent and high speeds. No matter which level you choose, SlotZilla is a fun, one-of-a-kind experience.
Viva Vision Canopy
The Viva Vision Light Show is a must-see attraction on Fremont Street Las Vegas. This breathtaking light and sound show is displayed on the world's largest video screen, which spans the length of the Fremont Street Experience.
The show features a variety of music and stunning visual effects that are sure to captivate and amaze. Visitors can enjoy the show for free every night, making it an affordable and enjoyable activity for all. Whether you are a local or a tourist, the Viva Vision Light Show is an unforgettable experience that you won't want to miss.
It runs on the hour from 6pm through to 2am each night, and if we're honest the absolute best place to watch the show is lying flat on your back on the floor in the middle of the pedestrian mall. No neck pain, wide view of the video screens.. grab your mates and lie down – you won't regret it!
Mob Museum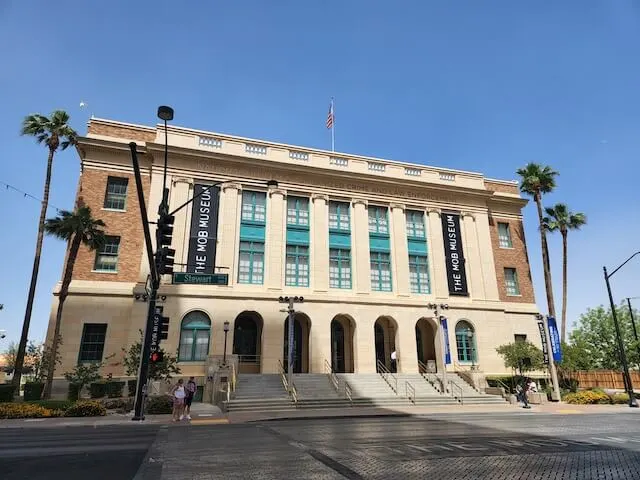 The Mob Museum in Las Vegas – also known as the National Museum of Organized Crime and Law Enforcement – is a unique and educational attraction that tells the true story of America's most notorious gangsters, mobsters and mafia and law enforcement's efforts to combat them.
Located a short stroll from Fremont Street the museum features interactive exhibits, artifacts, and engaging displays that cover the history of organized crime in the United States.
Visitors can learn about the rise and fall of infamous mobsters, the impact of organized crime on society, and the efforts of law enforcement to bring down the Mafia. They even have their own Speakeasy in the basement where visitors can get a prohibition-style drink!
The Mob Museum is a must-see attraction for anyone interested in the history of organized crime and its lasting impact on American culture.
Dine on one of the most Delicious Donuts in Vegas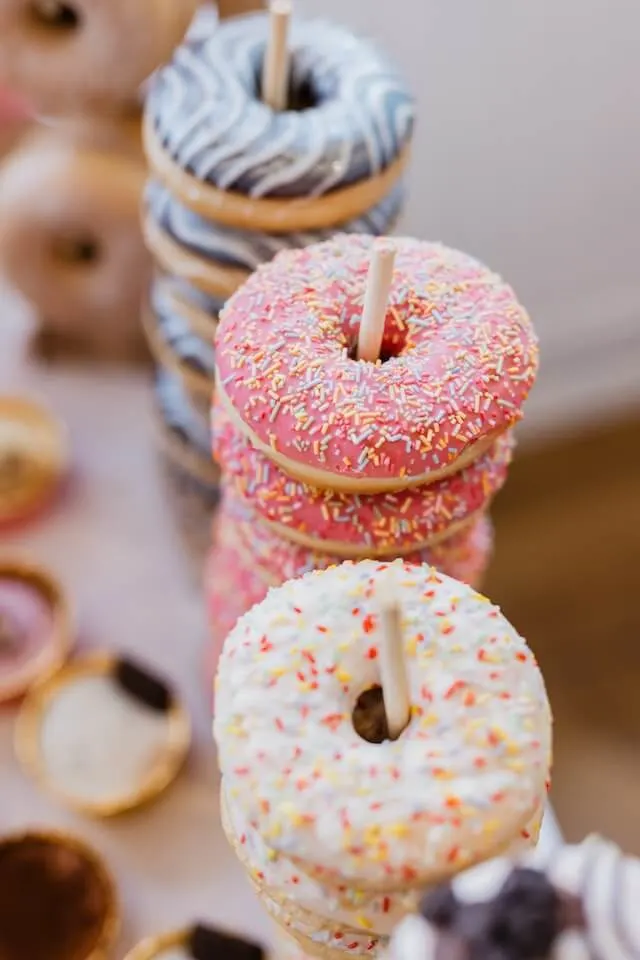 The Donut Bar is known for its delicious and creative donuts. The store offers a variety of unique flavors, including Cereal Killer, Maple Bacon, and S'mores, as well as classic favorites like glazed and powdered sugar. It's a must-stop for anyone with a sweet tooth or who considers themselves a Donut aficionado.
Seek out a Speakeasy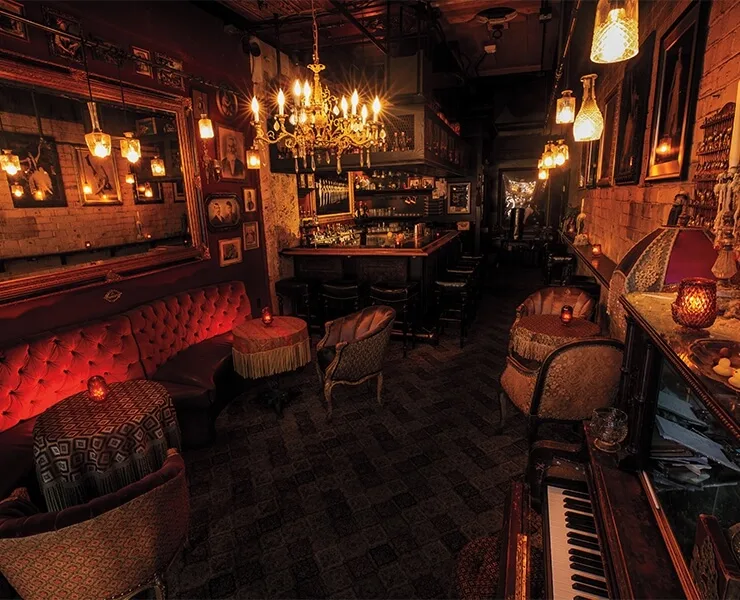 There are a few speakeasy bars in downtown Las Vegas which offer a unique and immersive experience, often featuring a 1920s prohibition-style aura.
These hidden bars are often disguised as ordinary storefronts or located behind secret doors, adding to the speakeasy atmosphere. Once inside, visitors can enjoy a variety of classic cocktails and appetizers in a cozy and intimate setting, often with live music or other entertainment.
Now, with the nature of a Speakeasy and their secrecy, we're not really supposed to tell you exactly where to find them (although we did already tell you where 'The Underground' is!) but we'll give you a hint for another: In The Laundry Room (above) – which is a two-minute walk from El Cortez – red light means go!
Neon Museum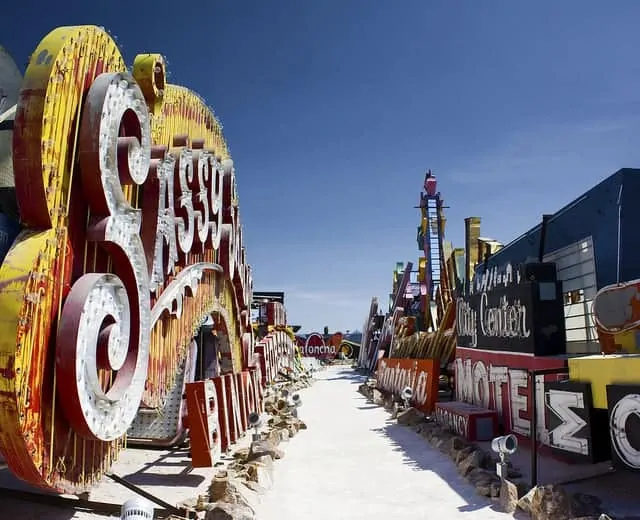 The Neon Museum in Las Vegas is a non-profit organization and museum dedicated to preserving and displaying the city's rich history of neon signs.
The museum features a collection of over 200 historic neon signs, many of which were once used to advertise casinos and other iconic Las Vegas businesses. Visitors can take a self-guided tour of the museum's "Neon Boneyard," where the signs are displayed, or opt for a guided tour with a knowledgeable docent.
The museum also offers a variety of educational programs and events throughout the year, making it a great destination for history buffs and anyone interested in the unique cultural and artistic history of Las Vegas.
Downtown Container Park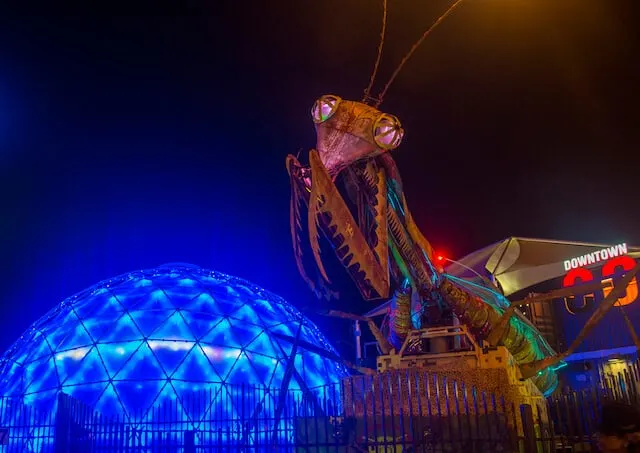 The Downtown Container Park near Fremont Street is a unique shopping and dining destination that features a variety of retail stores, restaurants, and entertainment options housed in repurposed shipping containers, watched over by a giant (fire-breathing!) praying mantis.
On the second Sunday of every month, and therefore called 'Second Sundays' the Downtown Container Park runs a popular event that features live music, food and drink specials, and other family friendly activities. It is a great opportunity for visitors and locals alike to enjoy the park's offerings and experience a sense of community in the heart of DTLV.
Say Hi To 'Vegas Vic' (and 'Vegas Vickie'!)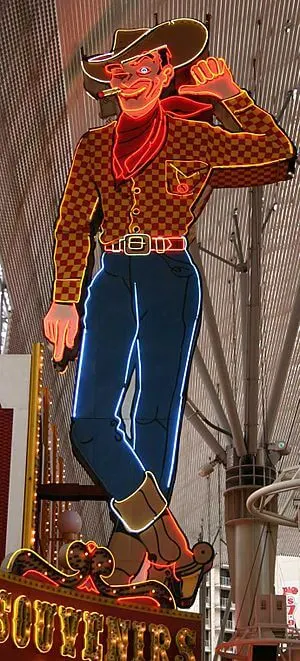 Vegas Vic is a tall, animated neon sign featuring a cowboy character that was installed in 1951 above the Pioneer Club, and Vegas Vickie, a cowgirl character later to be his wife (yes, they were legally married in 1994 to celebrate the establishment of the Fremont Street Experience) was added in 1959.
Both signs were designed by the Young Electric Sign Company and became well-known landmarks in the city.
Today, Vegas Vic and Vegas Vickie can still be seen on Fremont Street, with a restored Vic standing above what is now the Pioneer Gift Shop (minus a small bit of his hat because it didn't fit under the Viva Vision Canopy), while Vegas Vickie has a new home in ner namesake cocktail bar in Circa.
Swim with Sharks (Seriously!)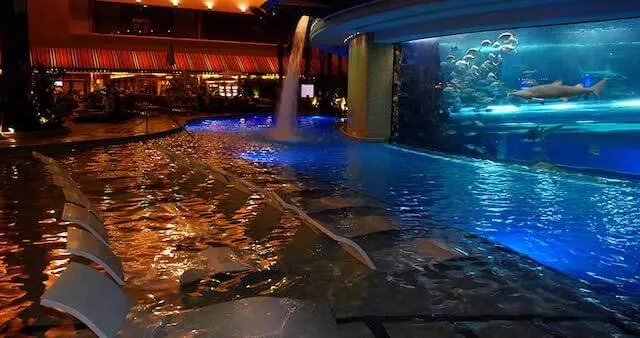 'The Shark Tank' swimming pool at the Golden Nugget Casino in downtown Las Vegas is a popular attraction for thrill-seekers and animal lovers.
Located on the hotel's third floor, the pool is home to several species of sharks, including sand tigers, sandbars, and blacktips. (Note they are not actually in the swimming pool with you, which you may think this is obvious, but this is Vegas and anything goes!)
Visitors can observe the sharks from a clear acrylic tunnel that runs through the middle of the pool, giving them an up-close and personal view of the creatures. The pool also features a submerged viewing area where visitors can watch the sharks swim overhead.
In addition to the sharks, the pool also includes a water slide and a lazy river, making it a fun and unique destination for both adults and children.
Sigma Derby at The D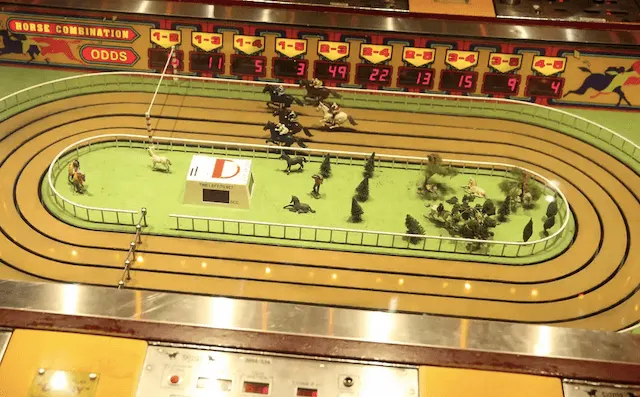 The D Casino is home to a piece of Old Vegas Nostalgia, the only surviving Sigma Derby in the city, and a gambling record with the Largest Keno Board in existence.
The Sigma Derby is a popular mechanical horse racing game that features small mechanical horses that race around a miniature track, allowing players to place bets on the outcome of the race, with bets that can only be made with quarters and odds vary wildly from 2-1 to 200-1!
And for those wanting to really 'go big' on the gambling front – and I mean in the literal, rather than the monetary sense – play a game on the world's largest Keno Board which is the size of a tennis court!
Once you're done, head to The Vue Bar where not only are there expertly crafted cocktails and a friendly atmosphere but you'll also be entertained by some of the best flair bartending in town.
Fergusons Downtown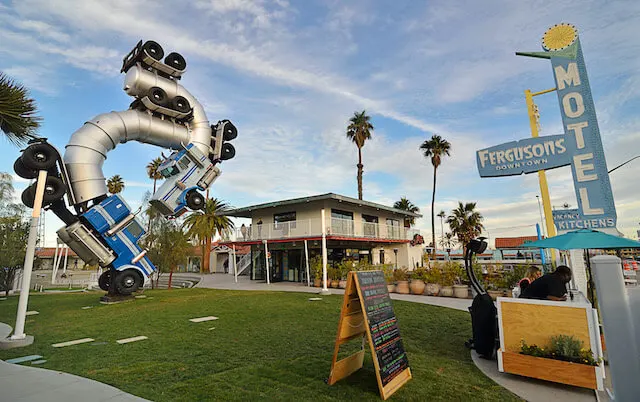 Fergusons Downtown is a popular bar and music venue located in the heart of downtown Las Vegas. The venue features live music and entertainment on a regular basis, ranging from local and up-and-coming bands to well-known national acts.
In addition to music, Fergusons Downtown also offers a variety of craft beers, cocktails, and other beverages, as well as a menu of pub-style food. The venue has a laid-back and welcoming atmosphere, making it a great place to relax and enjoy a night out in the city.
Go Axe Throwing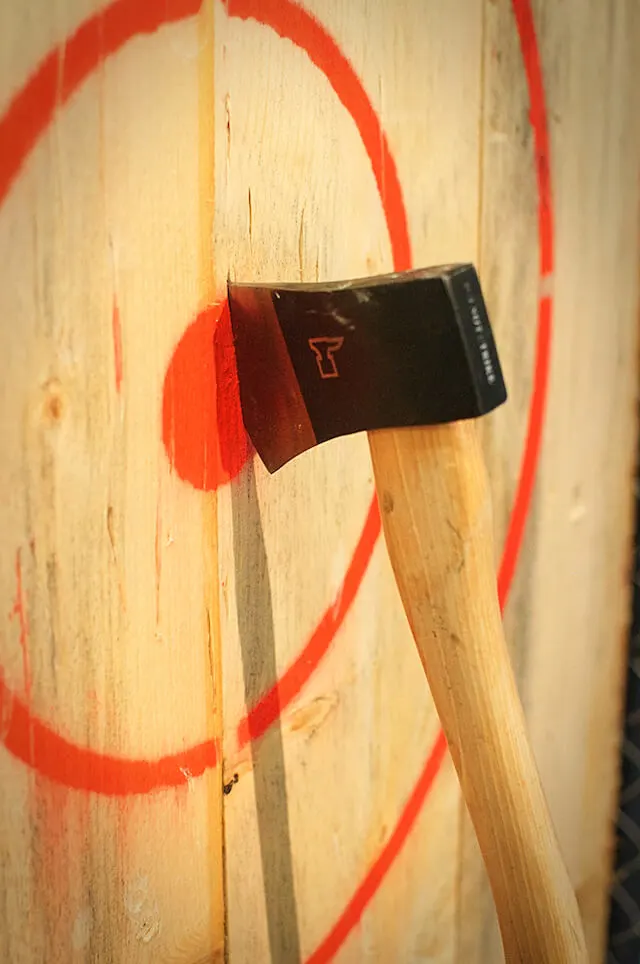 Axehole is a unique attraction in DTLV that offers a safe and fun environment for visitors to try their hand at throwing axes. The venue features lanes for axe throwing, as well as trained staff to provide instruction and supervision.
Axehole is suitable for people of all skill levels, from beginners to experienced throwers. In addition to axe throwing, the venue also offers a variety of games and activities, including cornhole, ping pong, darts, and even a smash room (below!)
Lost Money Gambling? Vent Your Frustration in a Smash Room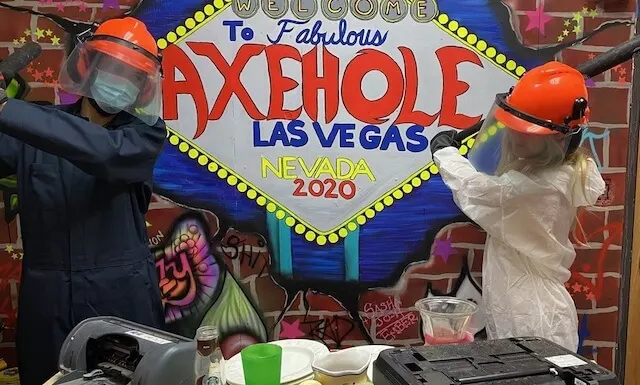 The Smash Room at Axehole Las Vegas is a unique and therapeutic activity that allows visitors to release their stress and aggression by smashing a variety of objects with a variety of tools. The Smash Room is equipped with safety gear and staffed by trained professionals to ensure a safe and enjoyable experience.
Participants can choose from a variety of packages that include different objects and tools to smash, such as TVs, printers, and dishes. The Smash Room is a fun and unusual activity that is great for individuals or groups looking to blow off some steam in a controlled and safe environment.
Symphony Park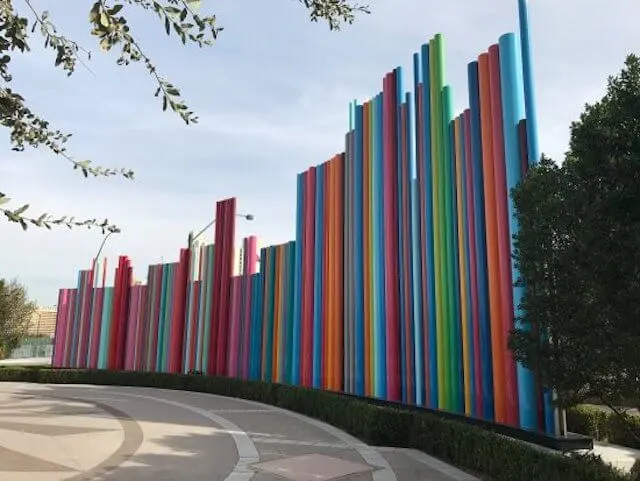 Symphony Park is a popular public park located in downtown Las Vegas. The park is home to a variety of amenities and features, including a playground, a dog park, a walking trail, and a large grassy area. It's a great destination for families, dog owners, and anyone looking to enjoy the outdoors in the heart of DTLV. It is also a popular spot for events and festivals – not to mention providing a colorful background for photos – making it a vibrant and exciting place to visit.
Burlesque Hall of Fame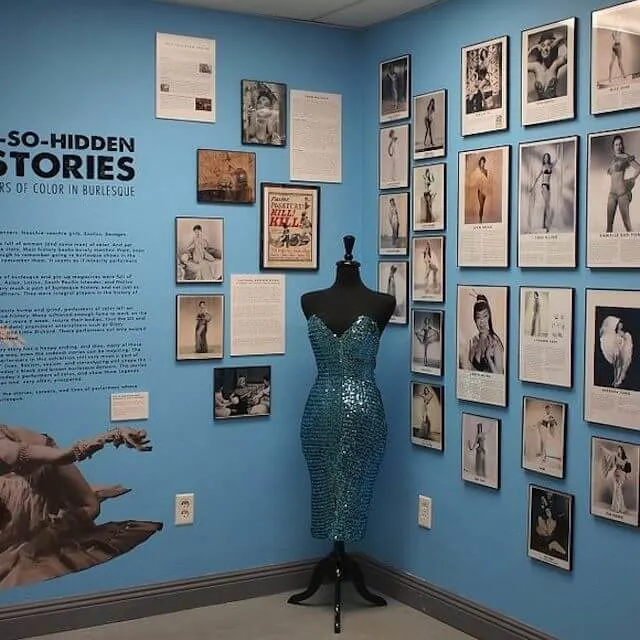 The Burlesque Hall of Fame is a museum and cultural center that celebrates the art of burlesque. The museum features a collection of artifacts, costumes, and other memorabilia related to the history of burlesque and its performers.
The museum also hosts a variety of events and educational programs throughout the year, including lectures, workshops, and performances. Whether you're a fan of burlesque or just interested in learning more about this unique art form, the Burlesque Hall of Fame is a fascinating and educational destination in Las Vegas.
See The Berlin Wall (Yes, That Berlin Wall)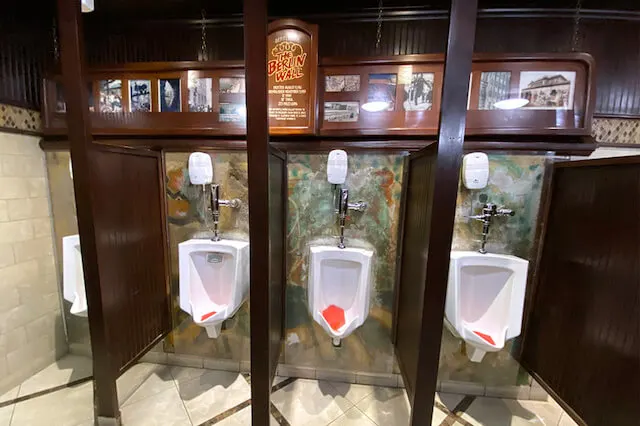 A piece of the Berlin Wall is on display at the Main Street Station Casino, Brewery, and Hotel in downtown Las Vegas.
The piece of the wall was acquired by the hotel's owner in 1991 and has been on display as the wall behind the men's urinals since that time. (And as it is in the men's bathroom, if you are a woman, you'll have to ask security to give you access/check the coast is clear!)
The piece of the wall is a small but significant piece of history and serves as a reminder of the events that took place in Berlin during the Cold War.
Go Mural Spotting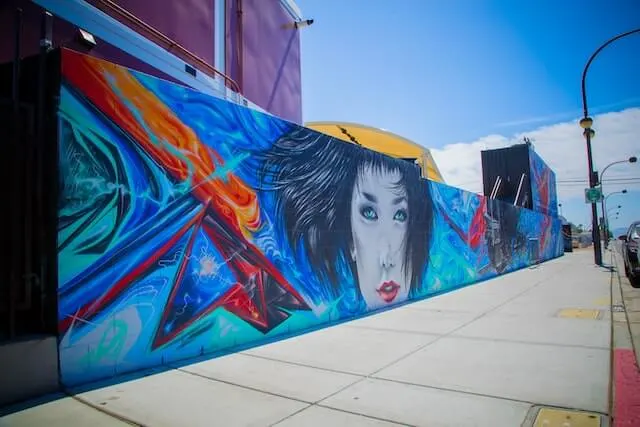 The Arts District in downtown Las Vegas is home to a vibrant and colorful collection of murals created by local and international artists.
The murals are located throughout the district and depict a wide range of themes and styles, from abstract patterns and graphics to realistic portraiture and cityscapes. The murals are an important part of the cultural and artistic identity of the Arts District and are a popular destination for photographers and art enthusiasts. Many of the murals are also accompanied by information about the artist and the inspiration behind the work, making them an educational as well as a visual experience.
If you find yourself in Las Vegas at the start of the month, be sure to check out the monthly First Friday event which showcases local artists, musicians, makers, and more. It's loved by locals and if you can attend, you definitely should!
Dine at Hugo's Cellar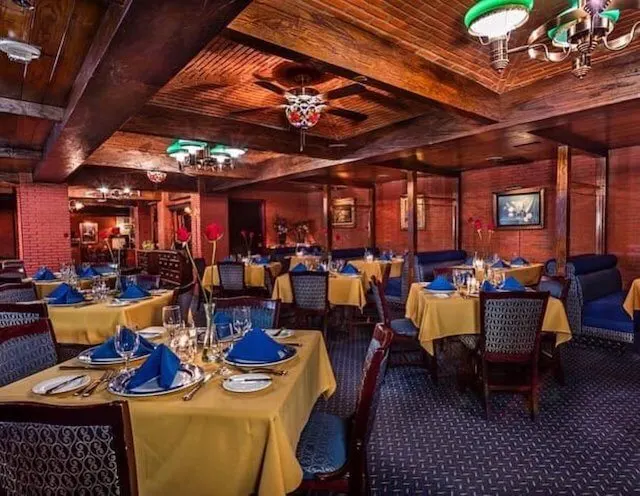 Hugo's Cellar is a fine dining restaurant located at the Four Queens Casino in downtown Las Vegas. The restaurant has a long history in the city, having been established in 1959 and is known for its romantic and intimate atmosphere, with white tablecloths, candlelight, and live piano music adding to the ambiance.
The menu features a variety of classic dishes, including prime rib, lobster, and filet mignon, as well as an extensive wine list. In addition to its delicious food and elegant setting, Hugo's Cellar is also known for its traditional "Cellar Show," in which servers present a dessert cart with a variety of sweets for guests to choose from. Dining at Hugo's Cellar is a truly special and memorable experience in Las Vegas.
Go Antique Hunting at Main Street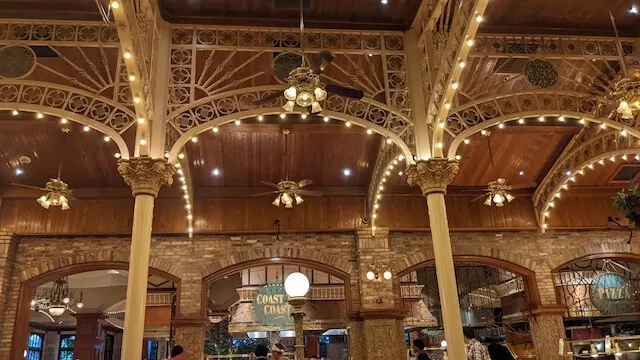 The Main Street Station Casino in downtown Las Vegas is home to a collection of art and antiques on display throughout the property. The casino features a variety of artworks, including paintings, sculptures, and other decorative items, as well as antique furnishings and objects, some notable, such as Winston Churchill's snooker table which is on the 2nd floor!
Many of the items on display at the Main Street Station are from the personal collection of the hotel's owner, making them unique and one-of-a-kind pieces. The art and antiques at the Main Street Station provide an interesting and eclectic backdrop to the casino and add to the character of the property. Be sure to stop by Main Street's hotel registration desk and pick up a "Guide to Artifacts, Antiques and Artworks." to make sure you don't miss anything.
Release your Inner Child at Goldspike's Backyard Playground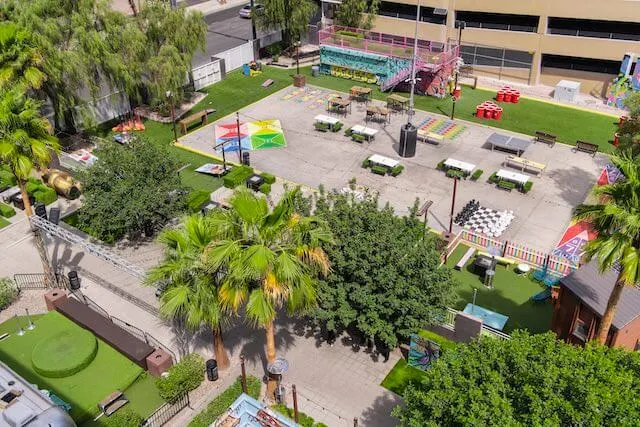 Goldspike's Backyard Playground is a fun and interactive attraction located in downtown Las Vegas that allows visitors to release their inner child and enjoy a variety of games and activities. The playground is suitable for all ages and is a great destination for families, groups of friends, and anyone looking to have some fun with giant Jenga, corn hole, ping pong, and more.
In addition to the games and activities, Gold Spike's Backyard Playground also offers a variety of food and beverage options, making it a great place to relax and unwind after a day of sightseeing or work. Whether you're a kid at heart or just looking for a fun and unique activity, Goldspike's Backyard Playground is well worth a visit while you're in DTLV.
Get Spanked at the Heart Attack Grill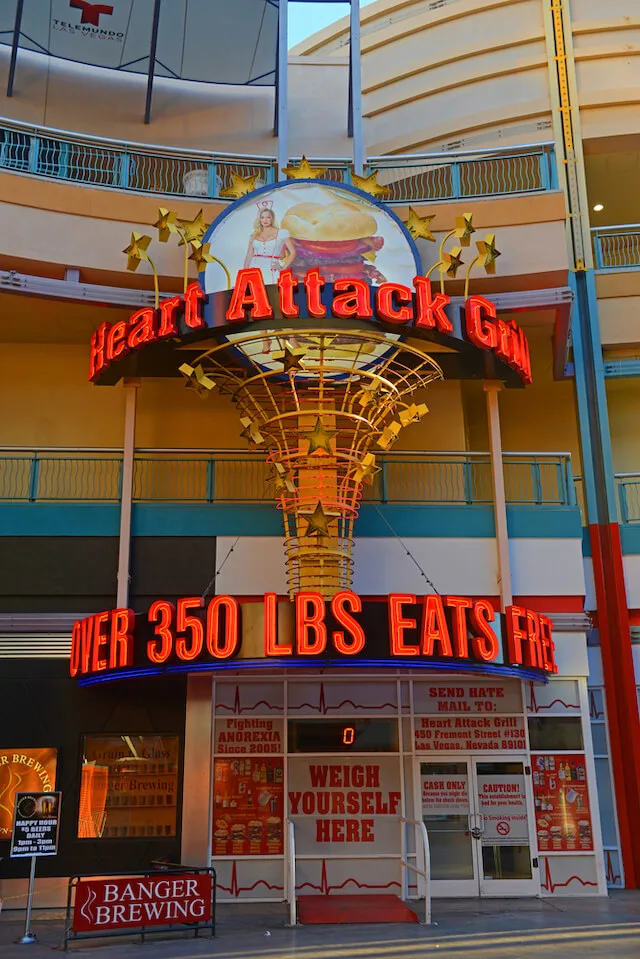 ..But only if you don't finish your meal. If you're feeling brave, you can also weigh yourself outside the restaurant and if you clock in at over 300 pounds, you'll eat free!
The Heart Attack Grill, located on Fremont Street is a restaurant known for its unhealthy menu and over-the-top theme. The restaurant's slogan is a "taste worth dying for," and its menu features items such as burgers topped with lard, cheese fries, and milkshakes made with real ice cream and whole milk.
The Heart Attack Grill has a unique tradition in which customers who cannot finish their meals are spanked by a member of the waitstaff. The restaurant also offers a "Bypass Burger Challenge," in which customers who finish a triple bypass burger, fries, and a shake within an hour eat for free.
The Heart Attack Grill is a controversial and extreme dining experience that is not for the faint of heart.
Hit up a Dive Bar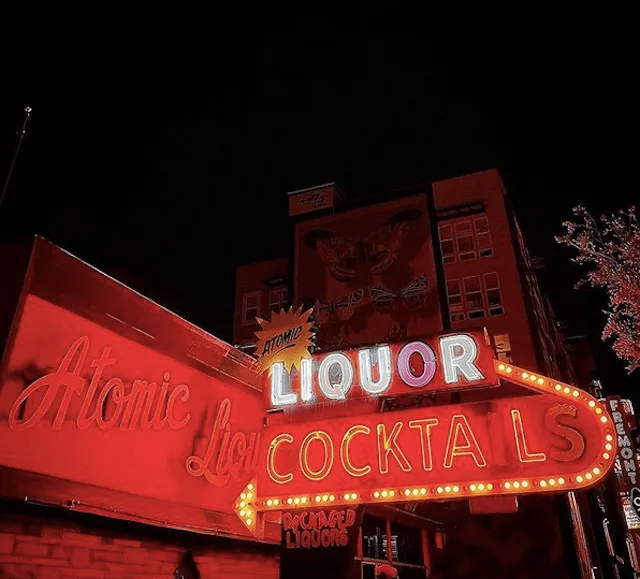 Downtown Las Vegas is home to a number of dive bars that offer a laid-back and unpretentious atmosphere for locals and visitors alike. Atomic Liquor (the oldest freestanding bar in Vegas) and Dino's Lounge are two popular dive bars located in the heart of the city.
Atomic Liquor, which was established in 1952, is known for its historic building and its extensive selection of craft beers and spirits. Dino's Lounge, which has been in operation since 1964, is known for its casual atmosphere and its live music and karaoke nights.
Both bars are popular destinations for those looking to relax and enjoy a drink without the crowds and fuss of a more upscale venue. Whether you're a local or just looking to experience a more authentic side of Las Vegas, Atomic Liquor and Dino's Lounge are worth checking out.
Catch a show at the Smith Center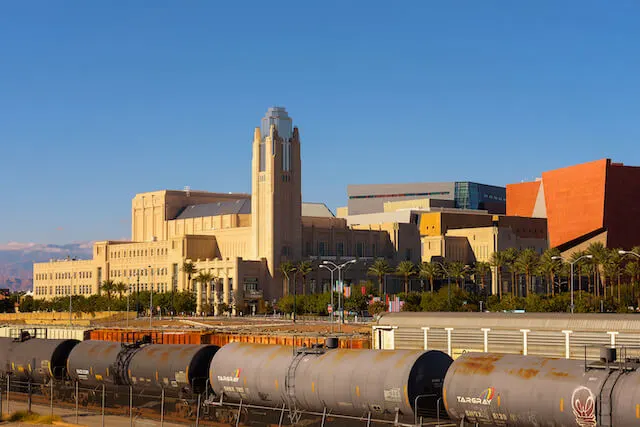 The Smith Center for the Performing Arts is a world-class venue located in Symphony Park that hosts a variety of concerts, plays, and other performances.
The center features a variety of performance spaces, including the Reynolds Hall, which has a capacity of over 2,000 and is suitable for large-scale productions, and the Troesh Studio Theater, which is a more intimate space that is suitable for smaller productions.
The Smith Center is also home to the Las Vegas Philharmonic and the Nevada Ballet Theater, as well as a variety of touring shows and productions.
Visit the Pawn Stars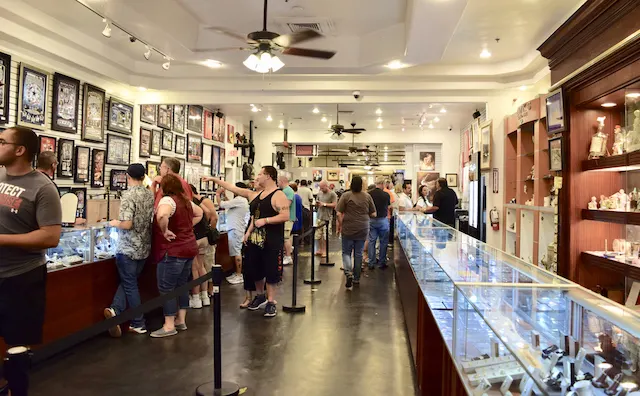 One of the biggest exports from Las Vegas, Pawn Stars is the TV show that has introduced us to some iconic characters over the years and given us an insight into the goings-on of a Pawn Shop in a city where everyone wants to make money out of (seemingly) nothing.
You may have to queue to get into the Gold and Silver Pawn Shop and you may not see anyone you recognize from the telly, but browsing the interesting items for sale in a real-life featured on TV store adds a certain something to your Las Vegas experience.
Time Travel on Fremont East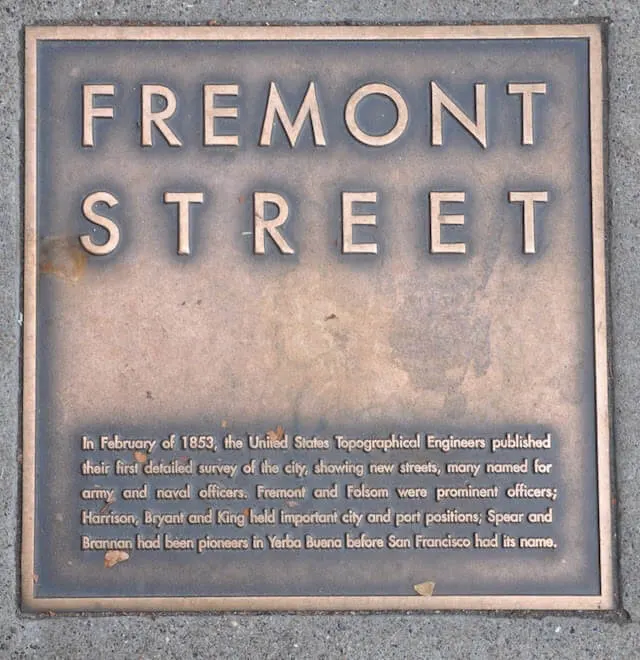 These brass historic markers on Fremont Street are a series of plaques that commemorate the history of the city and its landmarks.
The markers can be found on the sidewalks of Fremont Street and are inscribed with information about the people, places, and events that have shaped the city's history and give a snapshot of Old Vegas.
There are a total of 20 brass markers on Fremont Street, each featuring a unique design and color to distinguish it from the others. The markers are a great way for visitors to learn about the rich and colorful history of Las Vegas while exploring the city.
Zak Bagan's Haunted Museum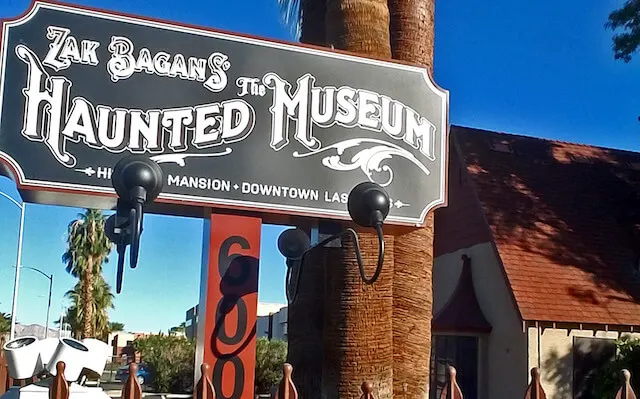 Zak Bagans Haunted Museum is a popular attraction located in downtown LV that features a collection of haunted artifacts and other creepy exhibits. The museum is owned by Zak Bagans, host of the TV show Ghost Adventures, and features items from his personal collection as well as items on loan from other collectors.
Visitors to the museum can expect to see a variety of spooky and unsettling items, including dolls, puppets, and other objects that are believed to be possessed by spirits. The Haunted Museum is a must-see destination for anyone interested in the paranormal and the supernatural.
Old Las Vegas Mormon Fort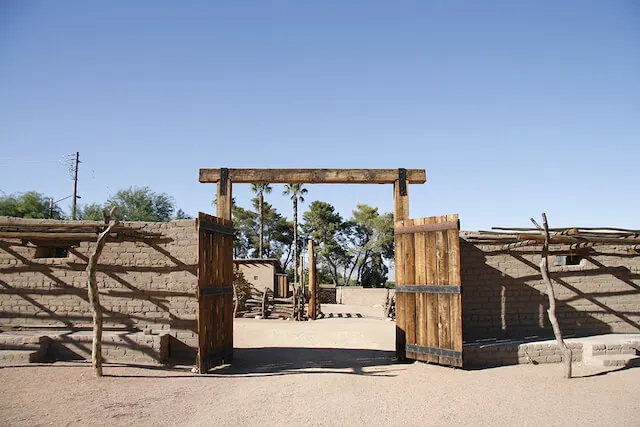 The Old Mormon Fort Museum is a historic site located in downtown Las Vegas that is dedicated to preserving the history of the early Mormon settlers in the region. The museum is housed in a replica of the original fort that was built in the 1850s by the Mormon pioneers and features a variety of exhibits and displays that tell their story and their role in the development of Las Vegas.
The Old Mormon Fort Museum is a great destination for history buffs and anyone interested in learning about the early history of the city.
See The City's First Movie Theater
The first movie theater in Las Vegas was built in 1906 and as the 'State Theater,' was the first building in the city to have air-conditioning (for those that like their history!)
The theater was located on Fremont Street, and while it is technically still there, it is now a gift shop (opposite The D Casino), but the history of the theater is still remembered and celebrated. The gift shop features a variety of souvenirs and other items related to the history of the theater and the city of Las Vegas.
Try Your Luck on a Free Slot Machine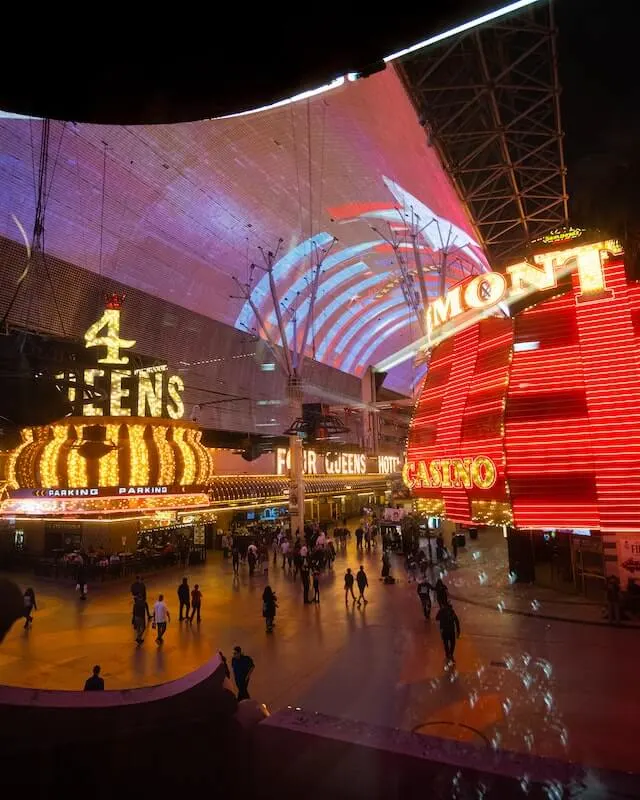 Did you know that there are free slot machines located outside of the Binions and Four Queens casinos in DTLV?!
The slot machines, which are known as "locals machines," are located on the sidewalks in front of the casinos and are available for anyone to play. The machines are a popular attraction for tourists and locals alike and are a fun and easy way to experience the excitement of the casino without risking any money.
Just be aware of other 'free spin' machines along Fremont Street and outside other Vegas Casinos as these are often not free, or worse, a front for timeshare scams!
Take your Pick of Las Vegas' 'Roadside Attractions'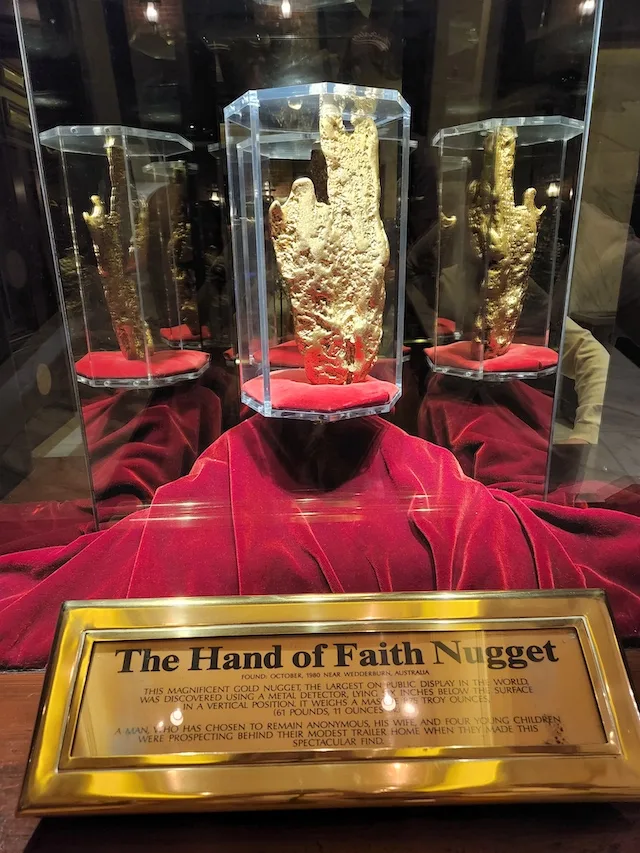 Hand of Faith in The Golden Nugget Casino
See The World's Largest Functioning Fire Hydrant
Rub a piece of the Blarney Stone at The D for good luck..
..Or Rub Happy Buddhas Belly at The California (you can never have enough rubbing or luck in Vegas!)
See the World's Largest Pint Glass at Hennessey's Tavern
Rub Arm with Legendary Craps Players at the Golden Arm Wall of Fame (on the bridge between The Cal & Main Street)
See a Poker Table signed by the Greats at Binions
Find the 'Rocker' Sign at the Golden Gate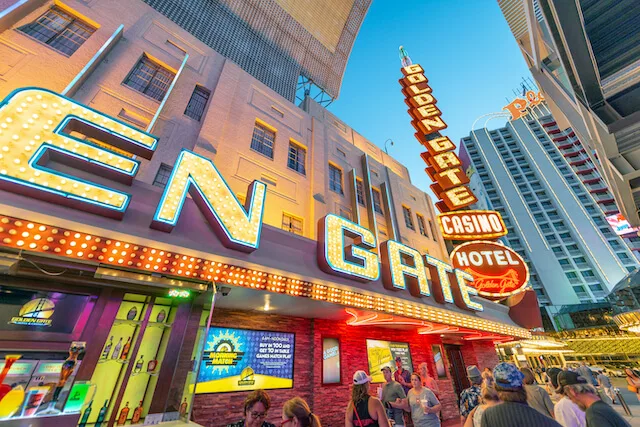 See where it all began. Back in 1906, The Golden Gate Casino opened it's doors and started a movement that saw Vegas become what it is today. And it is still as cool now as it was then! Outside you'll find a unique rocking sign, and just inside the lobby, a set of vintage slot machines that give you a touch of nostalgia barely found elsewhere in the city.
Las Vegas North Premium Outlets
If you're looking for somewhere to spend your Las Vegas winnings, the Las Vegas North Premium Outlets are a great option. With over 150+ stores (including luxury brands such as Armani, Michael Kors, Burberry, Calvin Klein, and Jimmy Choo, etc) all at discount prices, you could go home with a whole new wardrobe or a new favorite statement piece! (Or simply enjoy some good air-conditioning for a couple of hours to escape the desert heat!)
Thrill Rides at The Strat (+ See Vegas From Above)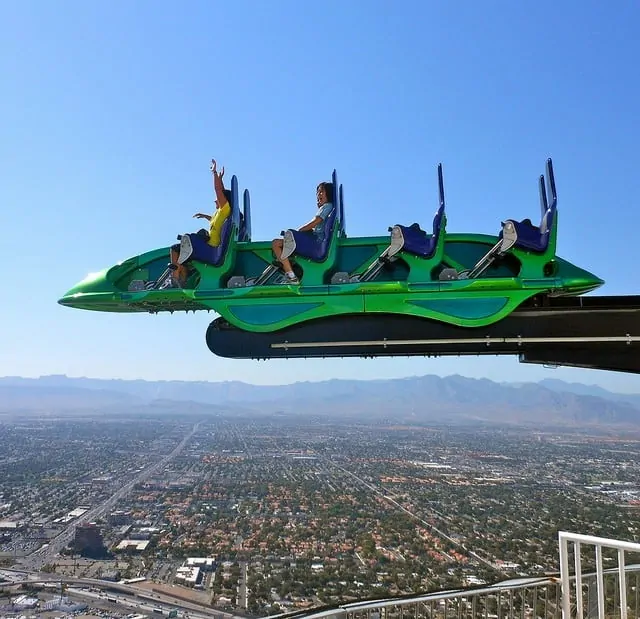 OK, so The Strat isn't quite considered to be Downtown, but at the very north end of the Las Vegas Strip, it's often not considered 'On The Strip' either. As such, we think it would be unfair to exclude it and when it offers indoor and outdoor observation decks with 360-degree views over Las Vegas – and thrill rides to boot – we don't think you should skip it either.
(Currently Suspended) Zappos Tour
A tour of the Zappos Factory in Las Vegas is a unique and interesting experience that offers a behind-the-scenes look at the inner workings of the popular company.
The factory tour is led by a Zappos employee and includes a visit to the warehouse, where visitors can see the company's inventory and distribution process. The tour also includes a visit to the customer service department, where visitors can learn about the company's commitment to excellent customer service.
The Zappos Factory tour is a great way to learn about the company's culture and business model and is a fun and educational experience for both individuals and groups.
Banger Brewing Tour (Rumoured to be closing in January 2023)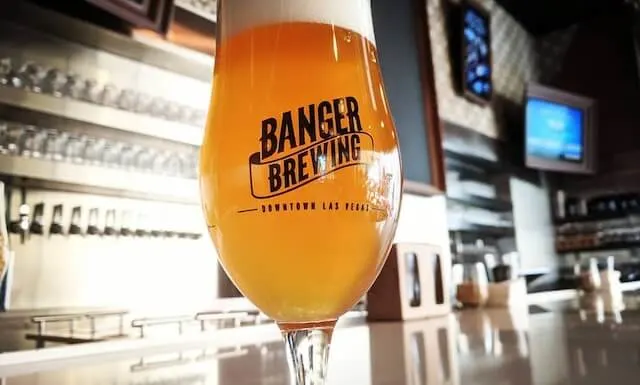 Banger Brewing is a microbrewery located in downtown Las Vegas that offers tours of its facility, and it's a great way for visitors to learn about the brewing process and taste a variety of beers.
The brewery tour includes a visit to the brewery's production area, where visitors can see the tanks and equipment used to make the beer. The tour also includes a tasting of several of the brewery's beers, which are made using traditional brewing methods and high-quality ingredients.
The Banger Brewing Tour is a fun and educational experience for craft beer enthusiasts and anyone interested in the art of brewing, and while we are aware the Brewery is being sold, we are hoping the new owners keep the Brewery and Brewery tour alive.
(Now removed) Take a Photo with 1 Million Dollars Cash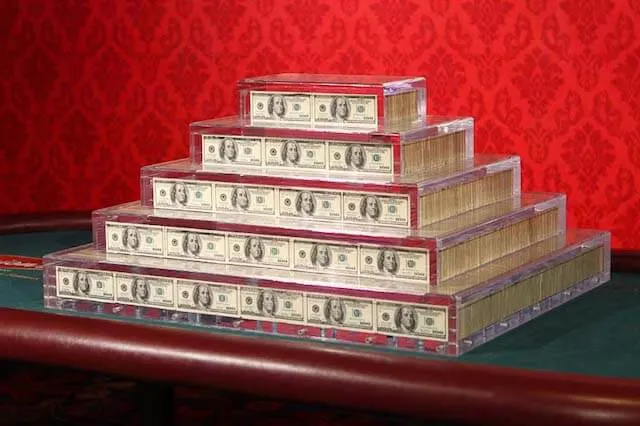 Las Vegas has long been about the gambling and many a man and woman have dreamed of winning the jackpot here and changing their fortunes.
Now I'm not saying anyone should let go of that dream, but if one wanted to see what $1,000,000 dollars in cash actually looks like, Binion's Gambling Hall & Hotel used to display a cool million bucks in a tamper-proof plexiglass pyramid.
Unfortunately, this unique roadside attraction was removed during the shutdown and there is no word on if it will ever return. (Staff at the casino said it was gone for good, although no official statement has been made)
And that's a wrap on our complete list of the best things to do in Downtown Las Vegas (inc. map!) full of things you need to know in making sure you get the most from your Vegas vacation! We hope they were helpful in planning your Vegas trip but if we have missed anything, please let us know in the comments.

And if you loved this Las Vegas travel guide, please pin, tweet, flip, or share. I'd really appreciate it!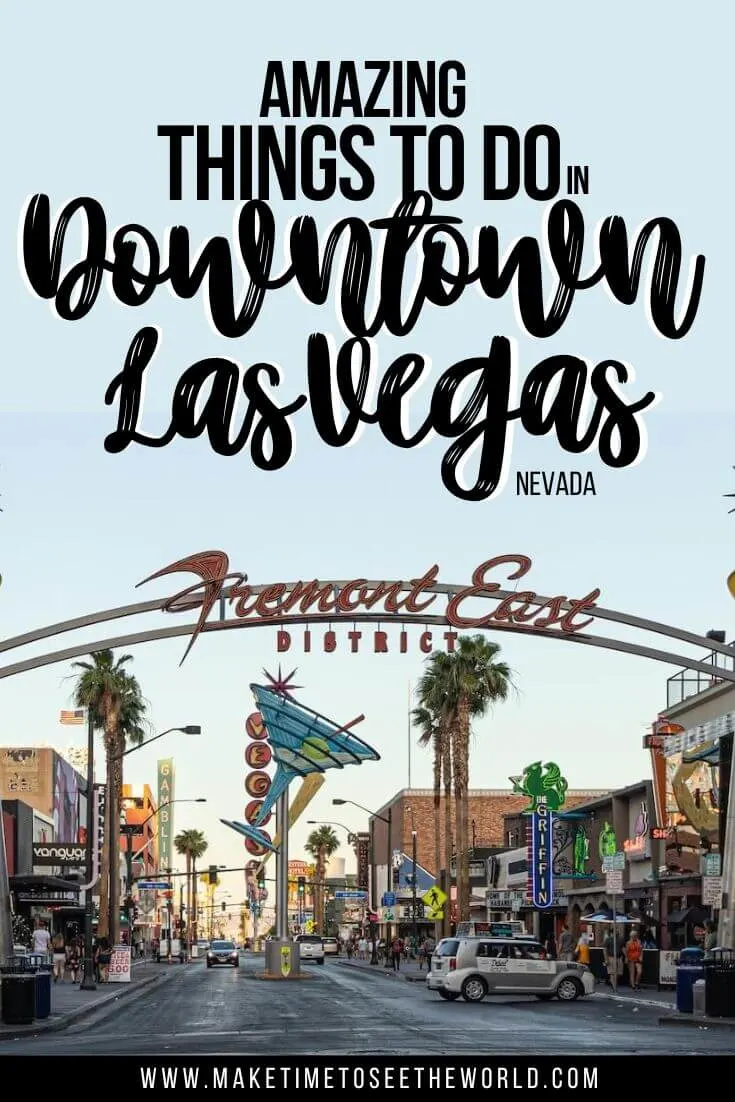 READY FOR MORE USA TRAVEL INSPIRATION? YOU MIGHT BE INTERESTED IN THESE TRAVEL TIPS, TRAVEL ARTICLES, DESTINATION GUIDES, TRAVELER RESOURCES AND RELATED POSTS ABOUT OTHER AMAZING CITIES IN NORTH AMERICA:
Hi There! Thanks for reading 35+ TOP Things To Do In Downtown Las Vegas. I just wanted to let you know that this post contains affiliate links, which means if you purchase something after clicking a link, I may get a small commission – which is at absolutely no cost to you. If you enjoyed this article and are going to be searching for some of the things I mention anyway, I would love it if you could click through from the links above & thank you in advance! Read my full Disclosure here.
And a huge Thank You for reading the MakeTimeToSeeTheWorld travel blog.