As much of Europe continues to bathe in the kind of smouldering summer heat more typically associated with the tropics, there's never been a better time to consider taking a road trip to France. Particularly given the speed and convenience with which Northern France can be reached from the UK – especially by ferry with Brittany ferries now serving five major ferry ports with relaxing regular crossings.
But assuming you've only limited time to spare, which must-see destinations are within easiest reach? If heading over to Road Trip France by car, the following 10 must-visit places around Normandy & Brittany are perfect for adding to your Northern France road trip itinerary.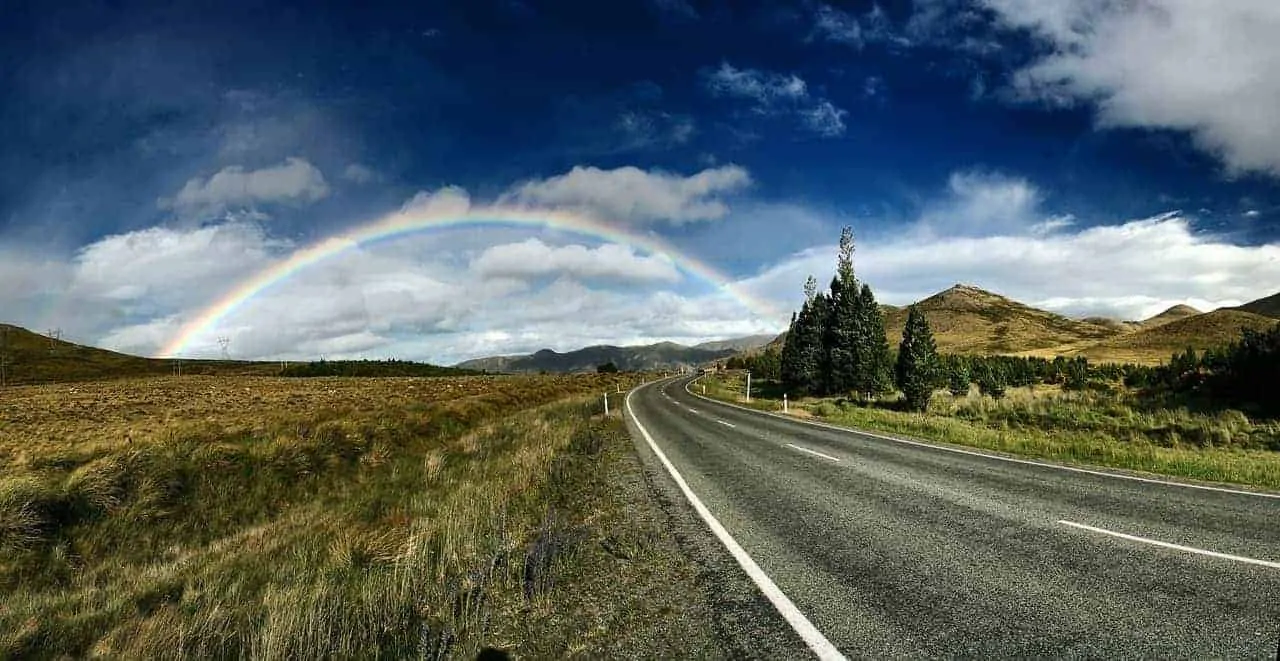 .
A Perfect Northern France Road Trip: 10 Must-Visit Places Around Normandy & Brittany
Auray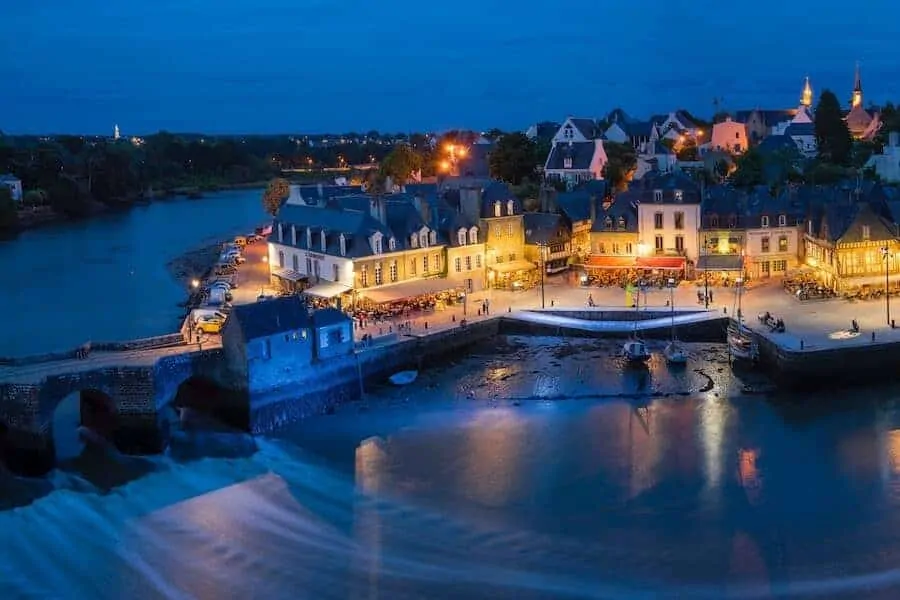 Famous for its historic half-timbered houses and enchanting cobbled streets, Auray is a beautiful town that appears to have been frozen in time at some point. Its yachting harbour in particular makes for wonderful afternoons and evenings, soaking up the sunshine and enjoying the day's catch at one of its endless restaurants or cafes.
.
Carnac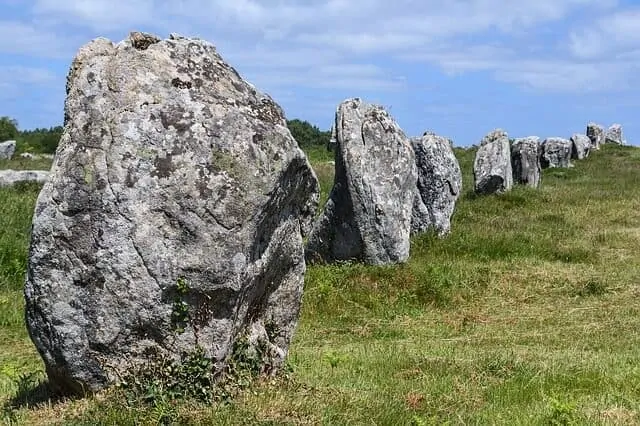 One of the most historic and downright curious locations anywhere in France, Carnac is home to several sites that date back around 5,000 years. Carnac is such a remarkable and unique place that you don't have to be an everyday history-buff to get a real kick out of its Neolithic treasures. And of course, the gorgeous seaside resort on Quiberon Bay has more than its fair share of charms! It is a must visit on your road trips in France.
.
Dinan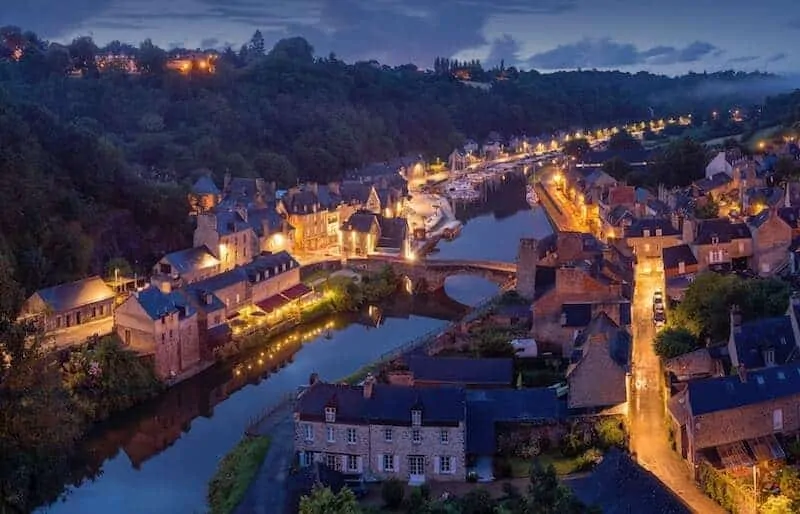 The fact that Dinan doesn't always make it onto the maps of mass-tourist groups is one of the reasons why it's definitely worth a visit. Take the time to get lost for an hour or two in the winding streets of the historic town centre, before climbing St. Catherine Tower for a beautiful view of the valley below. It is a beautiful place to add to your tour of France – even if it is not as well known as Southern France, it is still one of the most beautiful Medieval towns.
Locronan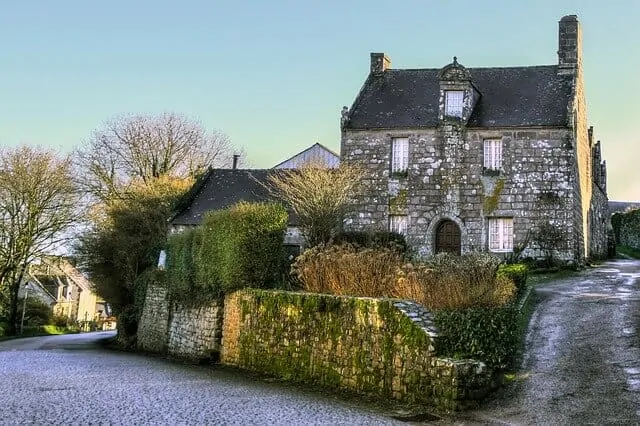 Likewise, Locronan somehow slips under the radar for most visitors to the region, yet is considered to be one of the most stunning villages in the country by a considerable margin. You really get the sense you have stepped back in time as you wander around the streets of Locronan, which are completely unspoiled on a level you will find anywhere else in the region.
.
Paimpont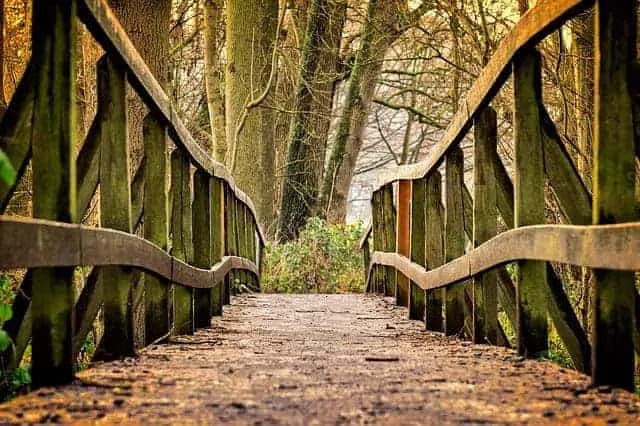 The forest of Brocéliande – which provides the most stunning backdrop for the town of Paimpont – is the fabled home of King Arthur and the wizard Merlin. The town itself boasts a whole bunch of walking trails, which lead out from its own historic confines deep into one of the most enchanting forests in the world. And after a day out hiking the trails in the French countryside, the town is the perfect place to sample some delicious French foods.
.
Ploumanac'h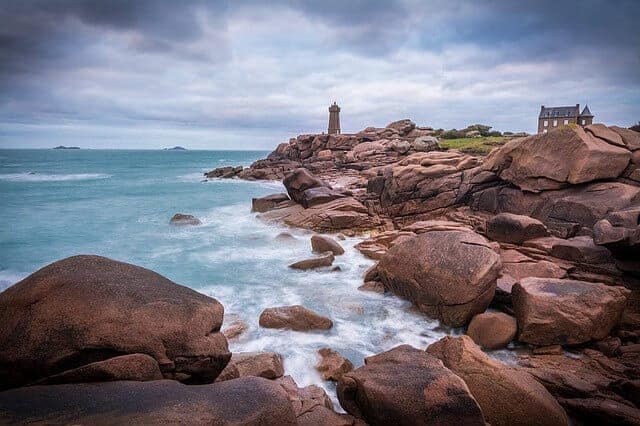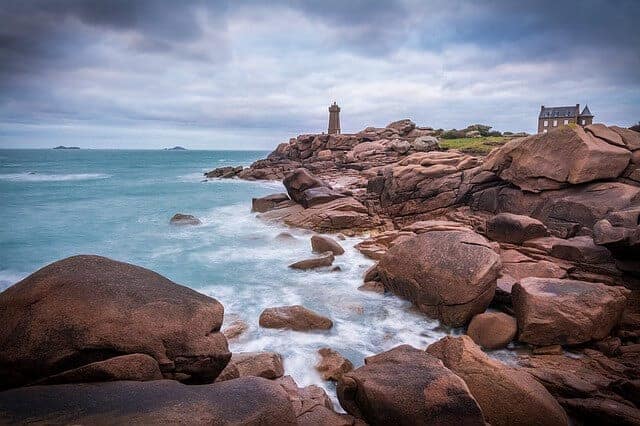 Always interesting for newcomers to attempt to pronounce, Ploumanac'h is the perfect place to take in the quite mesmerising Pink Granite Coast of Brittany and is one of the most scenic drives on the list. Viewed at the perfect time of day when the sun is really doing its business, the pink granite rock formations appear beautiful and surreal in equal measures.
.
Pont-Aven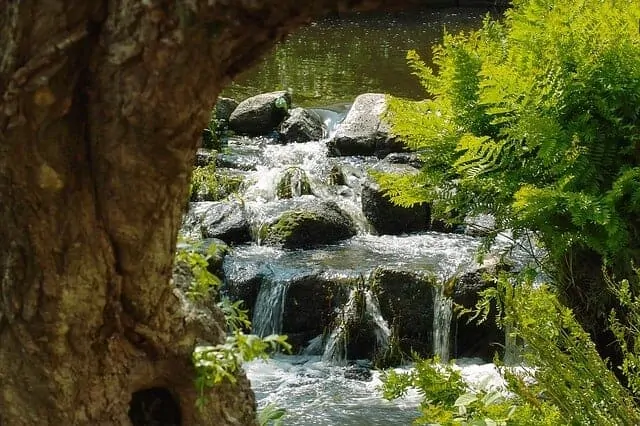 Perhaps the very best time of year to head to Pont-Aven is during August for the annual flower festival. That said, the charming windmills dotted around the town and the sprawling countryside surrounding Pont-Aven make it a firm favourite among discerning travellers throughout the year. It's a great spot to add to your French road trip and an opportunity to see beautiful French countryside.
Rochefort-en-Terre
Head out a little further west and spend a day exploring one of the most beautiful villages in Europe. You simply have to soak up the local charms and treasures of Rochefort-en-Terre personally to understand its appeal. The American painter Alfred Klotz encouraged the residents of Rochefort-en-Terre to proudly display flowers throughout the year over 100 years ago – a tradition the locals still hold dear to this day.
.
Roscoff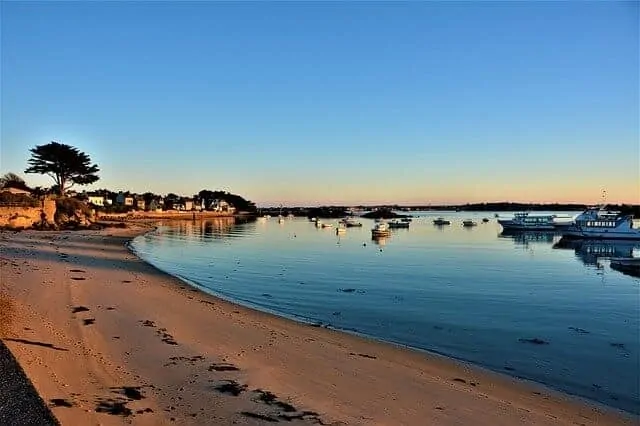 Along with fantastically easy access, the gorgeous beaches and beautiful harbour of Roscoff make it a must for anyone visiting the region. If time permits, hop on the short and enjoyable boat ride to the small island of Île de Batz, where a complete ban on all vehicles is enforced and visitors enjoy an idyllic escape from the chaos of everyday life.
.
Saint-Malo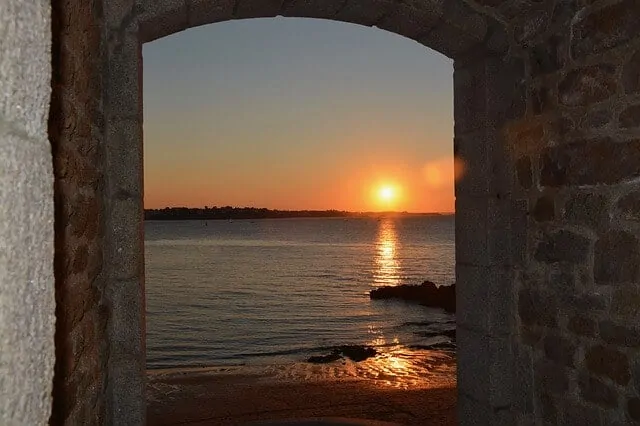 Last but not least, Saint-Malo is one of the most popular destinations among discerning visitors to France. Along with its rich seafaring history and heritage, Saint-Malo is also known worldwide for serving up perhaps the best seafood in the whole of France. The combination of beautiful scenery and sublime local cuisine making for memorable day-trips and extended stays alike.
So there you have it – hopefully we've given you enough travel inspiration & travel tips to help you plan the perfect Northern France Road Trip, and shown you the best places to visit in Normandy and Brittany whilst you are there! Don't forget to let me know your own highlights once you're back!

Oh, and if you enjoyed reading this Road Trip France travel guide please share on Facebook, Flipboard, Tweet or Pin – I'd really appreciate it! Click the P in the share bar for a full size image!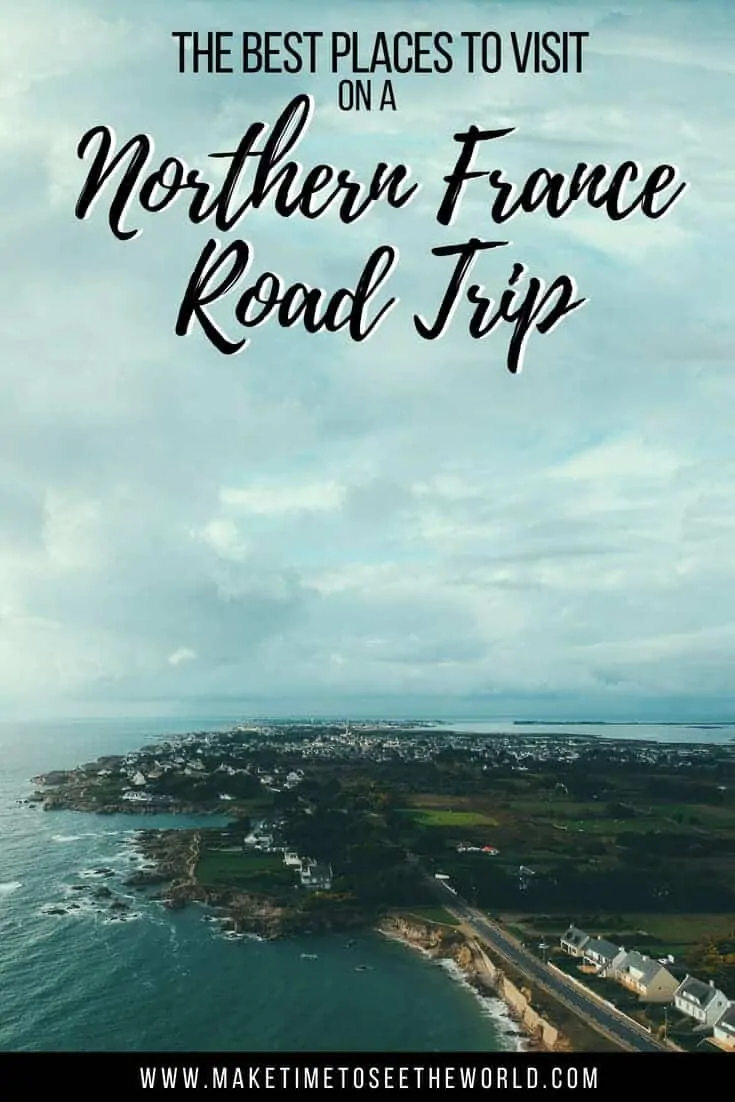 READY TO EXPLORE MORE OF EUROPE? YOU MIGHT BE INTERESTED IN THESE ARTICLES & RECENT POSTS:

Hi There! Thanks for reading my ultimate guide to Road Trip France: 10 Must Visit Places in Normandy and Brittany! I just wanted to let you know that this travel guide may contain affiliate links to affiliate programs, which means if you purchase something after clicking a link, I may get a small commission – which is at absolutely no cost to you. If you enjoyed this article and are going to be searching for some of the things I mention anyway, I would love it if you could click through from the links above & thank you in advance! Read my full Disclosure here.
And thank you for reading the MakeTimeToSeeTheWorld Travel Blog, written by a travel blogger.