Southeast Asia has been a wildly popular tourist destination for decades, and one of the countries at the forefront of this region is definitely Vietnam.
The combination of the mountainous landscapes, turquoise water, subtropical climate, friendly people, and affordable prices are great reasons to put Vietnam on your bucket list and Da nang city is a spot not to be missed!
In central Vietnam, nestled between mountains, it has a mix of traditional and French colonial architecture alongside beautiful beaches and we've put together this handy travel guide to the Top Things To Do In Da Nang, along with where to stay, how to get around and great ideas for Day Trips from Da Nang to help you fully explore the area.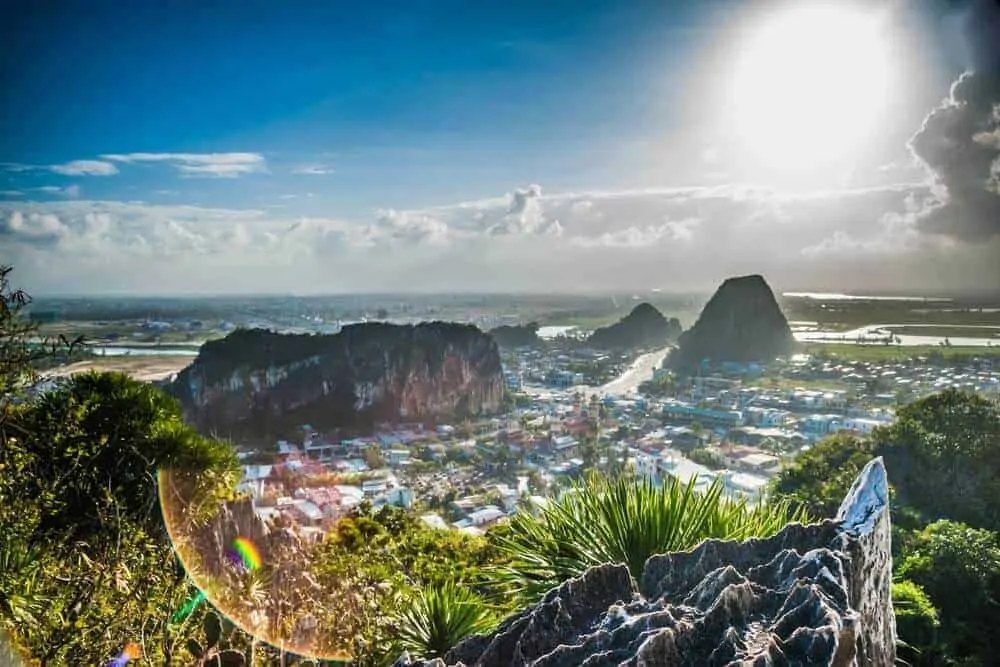 Disclaimer: Almost all posts on this site contain Affiliate links, and this one about the Top Things to Do in Da Nang Vietnam + Da nang Day Tip Ideas is no different. This means that if you click on any of the links in this post (and make a purchase) I may receive a small commission at absolutely no cost to you. Each post is carefully crafted to (hopefully!) answer all your questions and recommendations are made where we believe they will improve your trip and help with your planning. As such we thank you in advance should you decide to click & buy. Read my full Disclosure here.
A Guest Post by Melanie from Ardent Footsteps
.
Essential Info to Help You Plan Your Visit
How To Get There & Get Around
Train, Plane or Automobile! Vietnam has good transport links throughout the country. Visitors who fly into Da nang International airport land right in the heart of the city, and you can get to most hotels and attractions for as little as 100VND
Getting around is really easy both on foot, bicycle which can be hired from most hotels or shops or via xeom (motorcycle taxi) or tuk tuk.
Where To Stay in Da Nang

Zen Diamond Suites Hotel (5*) – Luxury Stay ($65+ per night)
5* comfort in the heart of the city for less than $70 a night. What more could you ask for? One of the top luxury hotels in Da Nang Offers an on-site restaurant, an in-door swimming pool, and a fitness room.
Guests can also enjoy free WiFi access in all areas of the property.
Book Now | Compare Prices for Later | Read Trip Advisor Reviews
Nam Hotel & Spa (4*) – Mid-Range Stay ($30-$45 per night)
Combine your stay with a spa visit and you won't be disappointed. The Nam Hotel & Spa offers large bright new rooms; a great buffet breakfast and is just a short stroll from the beach.
Each room has a smart, flat screen TV, free wifi and private bathroom – some rooms even have a sea view! And is one of the only Da nang hotels with an on-site spa.
Book Now or Compare Prices for Later | Read Trip Advisor Reviews
Mari Gold Hotel & Apartment (3*) – Budget Stay (<$30 per night)
A best-seller for it's clean, large rooms, free wifi and terrace in a great location. The hotel is 2 minutes walk from the beach (a perfect beach resort), 1.5 km from Love Lock Bridge and 1.7 km from Song Han River Bridge.
Book Now or Compare Prices for Later | Read Trip Advisor Reviews
Little Flower – Homestay (<$30 per night)
Only 20 minutes walk from the beach and 700m form the Song Han Bridge, Little Flower Homestay is clean, personable and offers free wifi with a garden and a terrace. They also have bikes on site to rent for very reasonable prices.
Book Now | Compare Prices for Later | Read Trip Advisor Reviews
.
The Best Time To Visit Da Nang
The temperature in Danang is the highest from May to September, usually around 25 degrees Celsius, so this makes a quite comfortable summer climate.
However, June, July, and August are the busiest months of the tourist season, so expect a crowd of people if you go there during this time.
The most rainfall is seen from September to February, so unless you like umbrellas and raincoats, you may not want to go there in this period.
This leaves February to May as the ideal months to experience the wonders of Danang.
.
Top 10 Things to do in Da Nang
Take a stroll across dragon bridge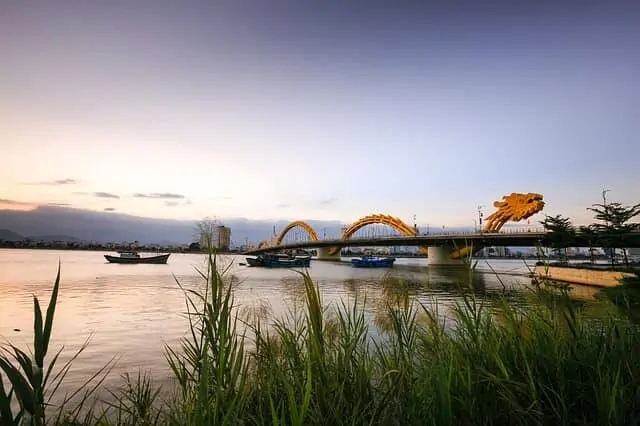 Can it get more Asian than this?! The dragon bridge is a marvel of modern architecture designed by Ammann & Whitney, an American architecture company.
The bridge was opened for traffic in 2013 and now stands as the 7th bridge in Da nang over the River Han.
It is more than 2000 feet long and 128 feet wide. If this isn't impressive enough, know that the bridge also lights up at night! The lightning was designed by a Vietnamese engineer who has won a prestigious IALD award for this piece of work.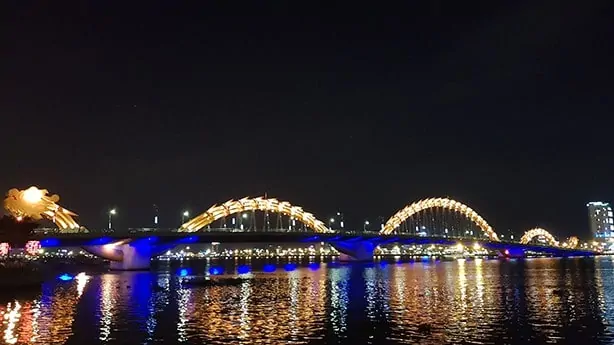 .
Party at 36 Sky Bar is One of the Things to do in Da nang
Sky 36 is a nightclub located on a rooftop of a skyscraper in downtown Danang. Its clientele usually consists of affluent locals and party-hungry tourists which creates a wild and unforgettable atmosphere.
If the fantastic view from the rooftop isn't enough, the bar also boasts a modern and elegant design. It is lit up with neon lights, equipped with top of the line audio/video systems, and furnished with luxurious sofas.
For those looking for some "privacy," VIP lounges are also available. 36 Sky bar is a 15-minute cab ride away from the airport.
.
Visit Phap Lam Pagoda
This ancient pagoda is located in the middle of the city and is one of the top things to do in Da Nang. Situated on Ong Ich Kiem street, it is placed on top of a two-story structure and is a sight to behold.
You walk up a flight of stairs, go through a beautiful blue gate, and you're there. The temple itself is marvelous, a classic Buddhist style temple filled with sculptures and incredible paintings.
In the yard surrounding the pagoda, you'll be able to see plenty of greenery. The trees and plants are placed in big, square pots and maintained very well.
.
Things to See in Da Nang – Danang Cathedral
The French colonial era is not known as the happiest time in Vietnamese history, but it sure left the country with some pretty buildings.
The Danang Cathedral was built in 1923, and it is called the Rooster (Con Ga) church by the locals because of the weathercock on top of the bell tower.
The pink facade is something you don't often see on Catholic churches in Europe, and it makes this cathedral somewhat unique.
The church still serves the local Catholic community so those who are interested can attend a mass held at regular times.
.
Admire the sculptures in Cham Museum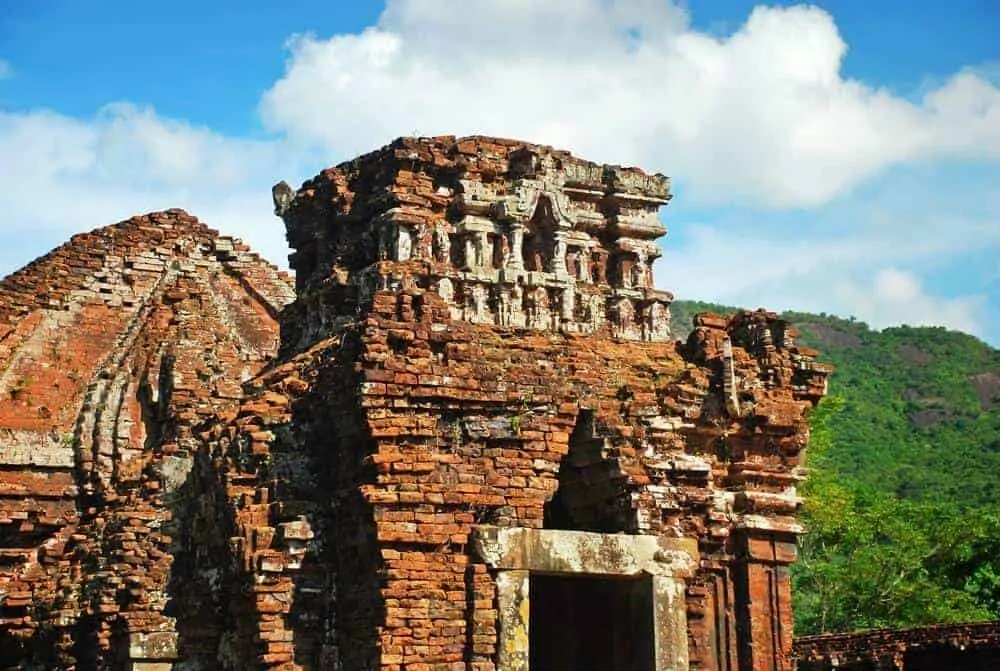 This museum is dedicated to the culture and lifestyle of an indigenous Vietnamese tribe called Cham which dates back to as far as 129 AD. The museum of Cham sculpture was founded in the year 1915, during the French colonial era and it is one of a kind in the entire world.
It consists of about ten different rooms filled with more than 300 stone sculptures, ancient ruins, and buddha statues.
The sculptures were created in the period from the 7th to 15th-century and were collected from different areas of Vietnam. The Cham museum offers daily guided tours.
RELATED –
Head to the mountains and add Dalat to your Vietnam Itinerary.
Click here
to read about how to get there, where to stay and all the amazing things to do there.
.
Don't Know What to do in Da Nang? Visit the Fifth Division Military Museum
In case you happen to be interested in the turbulent and often unfortunate past of Vietnam, then the Fifth Division Military Museum of Danang might be a place for you.
The museum is very big, and it has both indoor and outdoor sections.
It displays weapons and armored vehicles such as tanks, aircraft, canons, and so on, which were used in wars with the French as well as Americans.
Besides this, you can also find a lot of news articles and photographs taken by the members of the Fifth Division, which showcase the horrors of war.
RELATED: If you are even remotely interested in Vietnam's history, be sure to visit the History of War Remnants in HCMC.
.
Day Trips from Da Nang City
Hike on Son Tra Mountain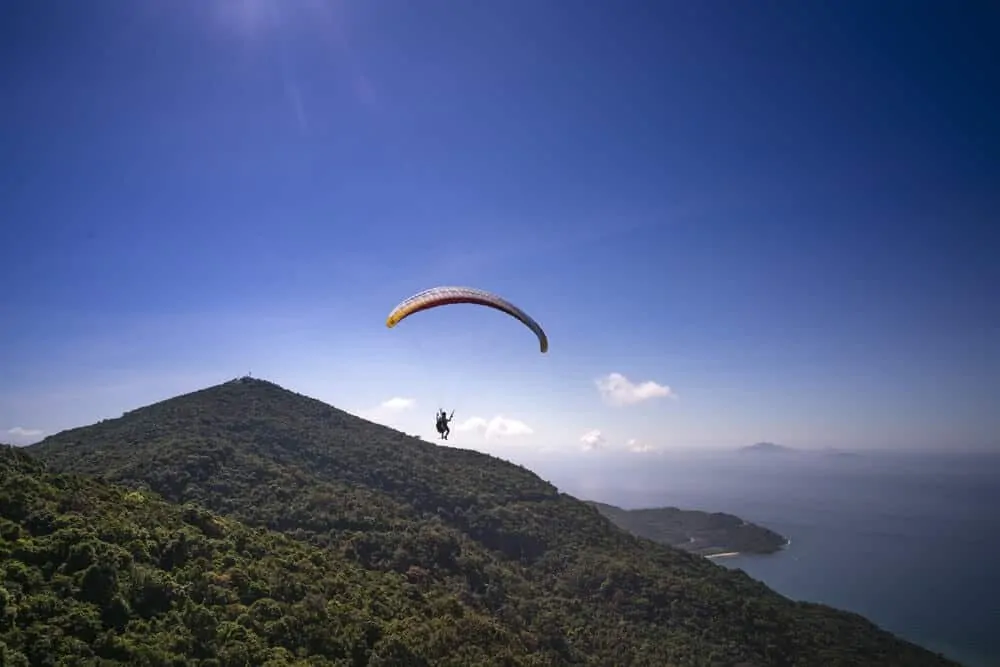 Son Tra mountain (also known as Monkey mountain) is a stunning national park located about 12 kilometers north of Danang city.
The mountain is 690 meters high, and it is a popular place for hiking as it is covered with lush, green jungle. Day Trips to son tra peninsula and Marble Mountain can cost as little as $35 when you pre-book.
Many motorcyclists enjoy coming there too since Son Tra is full of winding roads and riding on them, while enjoying the gorgeous natural backdrop, can be a delightful experience.
If you want to try something new, paragliding services can also be found there; just be careful – it's not for the faint-hearted!
.
Swim and relax at My Khe beach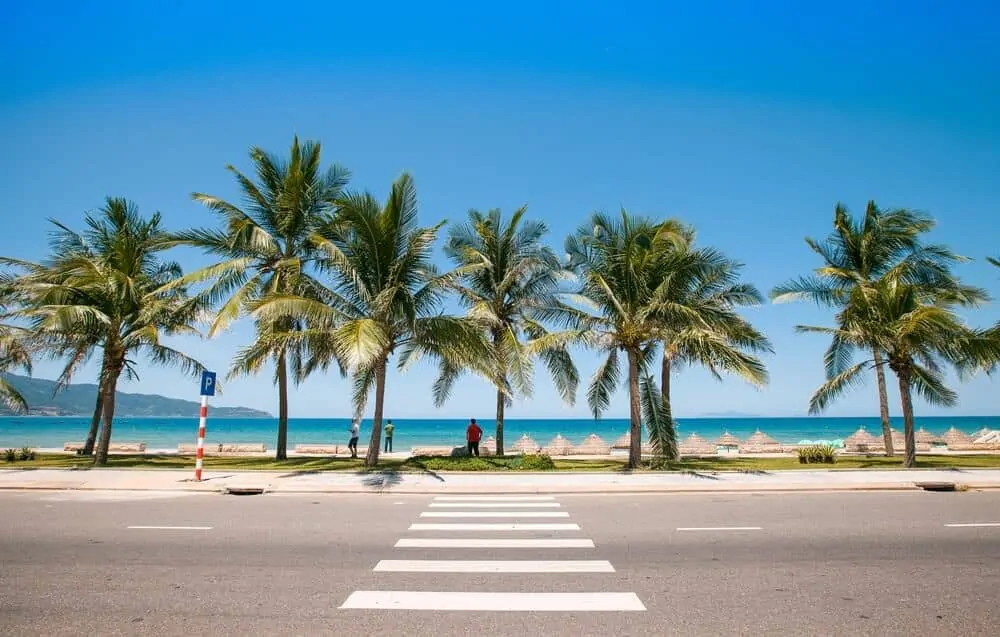 People who are all about swimming and water sports must not skip on My Khê beach – it is one of the best beaches in Da Nang.
It is located about 6 kilometers east of the city, and it is 20 kilometers long. The beach is filled with high-end tourist resorts, restaurants, and bars, which places it among Vietnam's top locations of this sort.
The long stretch of white sand that meets clear, blue water, with mountains on both sides makes My Khe a very picturesque place. Jet skiers, surfers, and other water lovers will not be disappointed by this place.
.
Explore My Son Sanctuary
Visit the ancient Champa kingdom of Mỹ Sơn, a UNESCO World Heritage Site nestled between lush valleys and mountains that was the spiritual and political capital of the Champa kingdom from the 4th to 13th-century on a My Son Sanctuary Tour.
.
Camp at Hai Van pass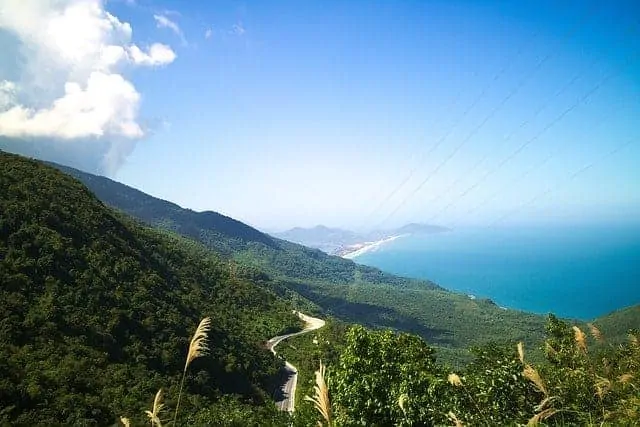 Hải Vân pass is the highest pass in Vietnam, set at an altitude of 500 meters.
It boasts breathtaking views and is popular with hikers and adventurers alike. Also, it isn't strange to encounter some campers spending the night there, and I would highly recommend you to try it too.
Before you do it, make sure to buy a good tent since you'll need it, so take a look at this list of the best instant tents to help you with your choice.
You will wake up to a view incomparable to anything you've ever seen before!
.
Enjoy the spectacular French village on Ba Na Hills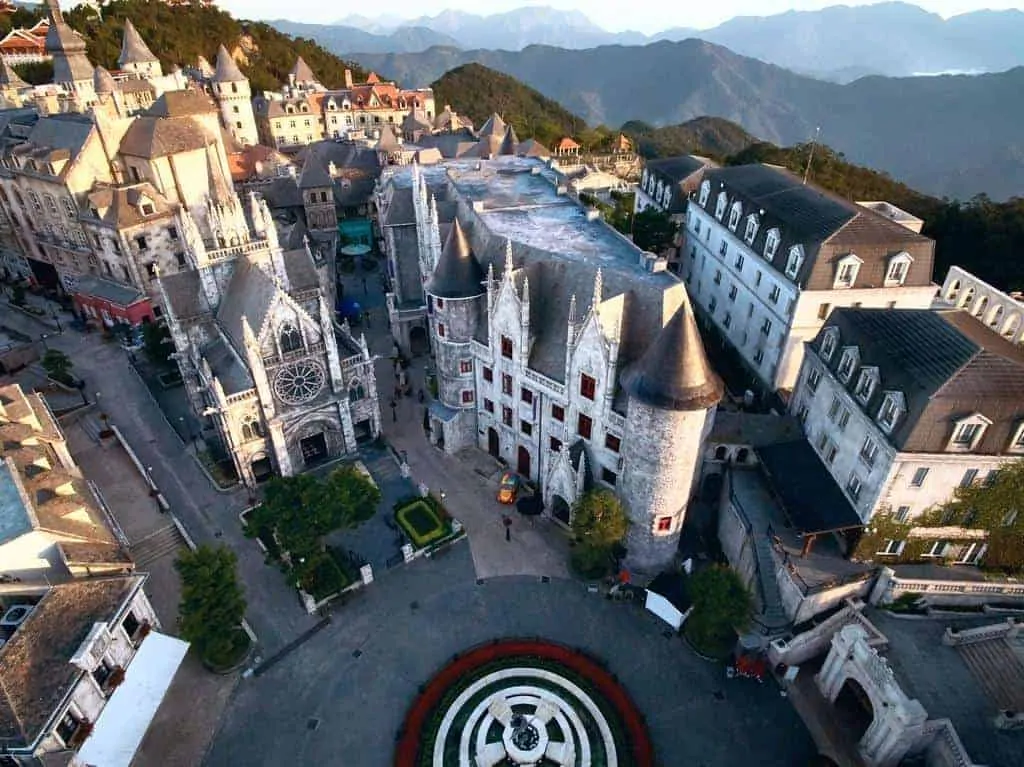 This location looks like something you would never expect to find in Southeast Asia – a European, medieval-style, fairytale town built by the French. Located about 35 kilometers away from Da nang city center, Bà Nà village is situated on top of the hill and is reachable by cable car.
It is composed of charming stone buildings, spiked towers, and colorful gardens – a perfect place for hopeless romantics. If you are wondering how to get there, you can easily find organized tours from the city to the hills.
PS, whilst you're there, don't miss out on walking across the Golden Bridge. Located 1,400m above sea level and held aloft by two giant hands and offers incredible views across the valley.
Explore Historic Hue
Hue is a fascinating city. Located right at the heart of the former North/South divide and the home to ancient imperial dynasty's, Hue is a history lesson you don't want to miss.
On this Hue Day Tour from Da Nang you'll enjoy the ancient architecture including the Citadel, the Imperial City and the Forbidden Purple City along with the peaceful Perfume River and enjoy a tasty Vietnamese lunch.
So there you have it – hopefully, this Da nang travel guide has given you lots of travel tips to help plan your trip – and given you a great list of things to do in Da Nang once you get there! Don't forget to let me know your own highlights once you're back – and if I have any suggestions of things we've missed, feel free to let us know in the comments below.

Oh, and if you liked this post please tweet, pin and share – I'd really appreciate it! Click the P in the share bar for full-size images!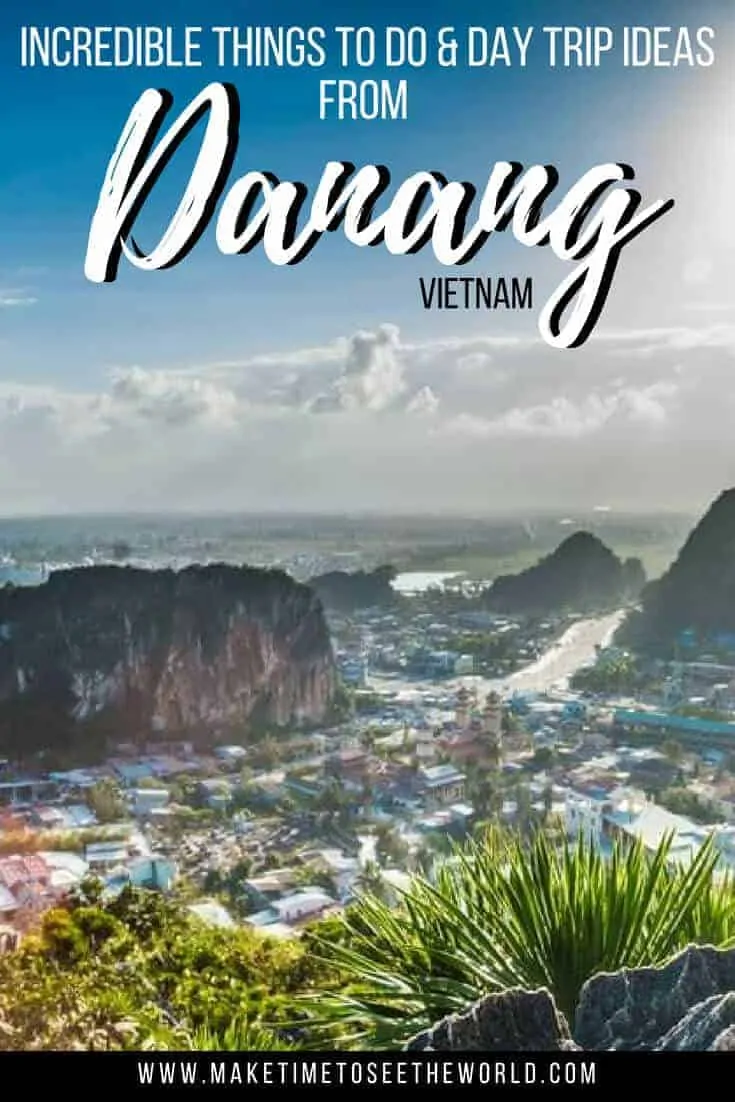 READY TO EXPLORE MORE OF ASIA? YOU MIGHT BE INTERESTED IN THESE ARTICLES
Hi There! Thanks for reading our guide to Top Things To Do in Da Nang Vietnam + Travel Guide. I just wanted to let you know that this post contains affiliate links, which means if you purchase something after clicking a link, I may get a small commission – which is at absolutely no cost to you. If you enjoyed this article and are going to be searching for some of the things I mention anyway, I would love it if you could click through from the links above & thank you in advance! Read my full Disclosure here. Thank you for reading the MakeTimeToSeeTheWorld Travel Blog.