Looking for the perfect gift for a travel loving lady? It may not always be the easiest task, particularly if traveling is not your thing. But that's why were are here. Because travel is totally our thing and gifts that relate to travel are the best kind of gifts a wanderlust loving lady could ask for.
I know because I have either have most of the best travel gifts for her listed below – or have given these as gifts to my fellow lady-travelers. So without further ado – here are 30 of the best gifts for travel that women will love (and will actually want!)
psst. think you're in the wrong place? We've got a travel gift guide for everyone (not just the ladies) over here!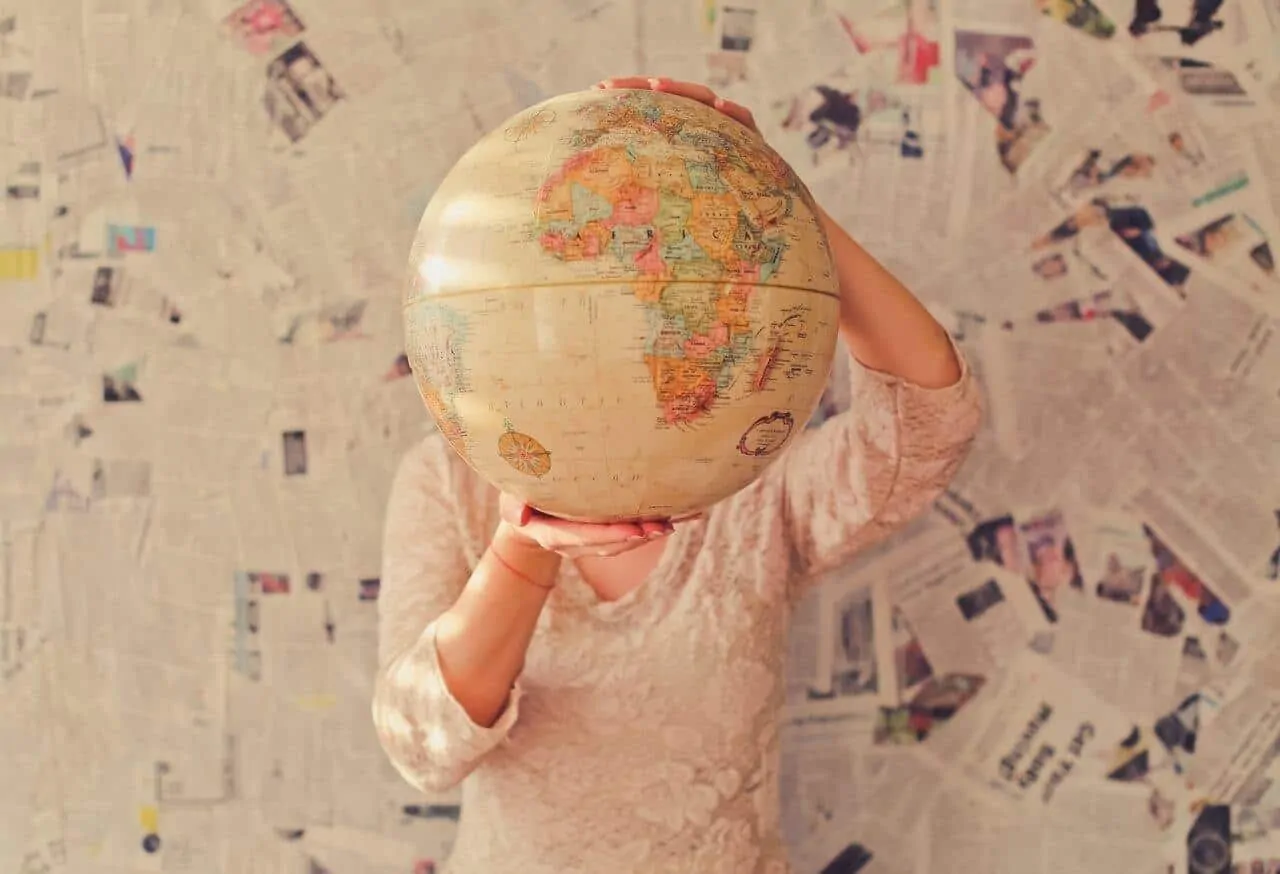 Disclaimer: This very helpful post about the best travel gifts for the woman in your life contains affiliate links, which means that should you click any of the links and make a purchase I may get a small commission at absolutely no cost to you. If you are thinking about buying the perfect travel gift for her – which if you are here I presume you are – please consider using the links below. And you can read the legal stuff about it all in my Disclosure.
The Best Travel Gifts for Her / The Best Travel Gifts for Women
To select the perfect travel gift for her, it needs to be practical, stylish, lightweight, compact, something they are going to use all the time and fall in love with (wow, that's a lot of checkboxes).
To help you get started on your hunt to find this elusive gift or get some inspiration, we have compiled a guide to some of the top travel gifts for women available online, from comfortable backpacks to amazing gadgets, we have covered all bases, one of which we know your no.1 gal is going to be delighted with for her travel adventures to come.
Travel Scarf
The Travel Scarf with Hidden Pockets is absolutely my favorite travel accessory ever! This infinity scarf can be worn as a scarf, as a wrap and as a head covering for religious sites or simply protection from the sun. Add in the fact you can hide your passport and other valuable inside it (great for people like me who don't like pockets!) and you've got a serious piece of travel kit!
Powerbank
Carrying a couple of spare power banks is never a bad idea when traveling as you never know when you'll need that emergency bit of juice! Buy an Anker Powercore Powerbank here.
Filtered Water Bottle
There are plenty of travel water bottles out there on the market these days. From insulated ones, BPA-free, metal, the list is practically endless – but I am big fan of a filtered water bottle. Wherever you plan to adventure, this Lifestraw bottle is the perfect travel companion.
Leather Travel Journal

First on our list of gifts for female travelers is a leather travel journal. Every explorer needs a journal to note down their adventures and with this leather bound retro style notebook, she will be able keep a record of every little detail. Available in a selection of colours this journal comes with blank refillable pages so she can keep on writing wherever. Check Availability + Current Prices Here.
Daniel Wellington women's watch
If you are stuck for travel gift ideas but don't want anything 'too travel-y' consider buying a sleek watch which can complement her when she is both at home or away. Daniel Wellington is known for their stylish watches but did you know they are also practical too? With their nylon straps for durability and water resistance up to 30m this is the perfect feminine watch to travel the world in. Check Availability + Current Prices Here.
Carry On Cocktail Kit
A carry-on cocktail kit can spice up any flight – especially a long haul – but the key thing to know is that most don't include alcohol among the travel size inclusions (which isn't immediately obvious!) If planning to give this as a gift, be sure to buy the booze to go with it – in case the recipient decides not to wait for the plane ride!
Zoppen travel document organiser
If there is one thing we all stress about when travelling, it's losing those all-important travel documents but never again with this document organiser. Available in every colour of the rainbow this organiser has a space for all her essential documents, from tickets to passports. There is even a pouch to keep keys and money safe too. Check Prices + Availability Here.
UE Wonderboom Bluetooth speaker

With these compact portable Bluetooth speakers from Ultimate Ears she can take her music wherever she goes. With up to 15 hours' playtime and a cable for easy charging it will help get the party started in no time. Check Current Prices Here.
A New Camera
OK, so this one might be a bit more than you want to spend, but the Sony A6000 is a compact, mirrorless camera which takes amazing photos with just the basic lenses. If your lady is wanting to up her travel photography game, grab a full starter kit here; or if she wants something even more lightweight and mobile – check out the Google Pixel4 (for the lady who wants the best portrait mode for selfies!) or the Samsung S21.
S'well water bottle
Could this be the most stylish water bottle ever made? Available in a range of colours and gorgeous patterns, this bottle is practical, made from stainless steel insulated to keep cold drinks refreshingly cool and hot drinks toasty warm. And because it is refillable it saves you money as it reduces the need to keep buying bottled water. Win win. Get the best deal here.
.
Foldable Travel Backpack
Sometimes every girl just wants a compact backpack for day use during your travels and this foldable packable backpack fits the bill. Made from lightweight, durable polyester it's waterproof and folds up into a handy travel pocket for compact travelling. (Or just need to carry home some impromptu souvenirs – ladies, we've all been there!) Pick your favorite duffel bags colour here.
Give the Gift of an Incredible Experience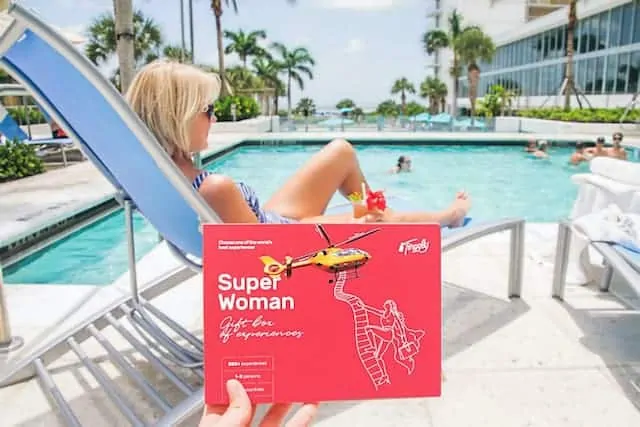 For the woman who wants to have the very best travel experiences – but can never decide on which one to have first, Tinggly's Superwoman Gift Set allows your lady to choose from over 560 experiences in 100+ countries – and for some she can even take a friend (hint, that could be you!). And with a 5 year expiry date, she'll have plenty of time to make up her mind!
.
Hiking socks
Feet are pretty important, especially when travelling and these hiking socks from Teko will help keep her feet in tip top condition. Made from merino wool they regulate temperature, whilst helping to combat sweating and foot odour. They are also cushioned for maximum comfort. Grab a pair for the lady the loves to hike here.
Compression Socks
On the sock front, for the lady that spends a lot of time flying, a pair of compression socks could be a life saver! Grab a set here.
Lonely Planet travel guides
The must-have resource for many travellers, written about every location in the world. The gift of a Lonely Planet travel guide is perfect to help your wanderlust loving lady discover some truly special places they would have otherwise possibly never come across. It's the perfect coffee table book between trips – and you never know which of your friends you will inspire! Grab the perfect travel guide here.
Travel security belt
The best practical gift available. This travel security belt is durable, adjustable and will keep money safe on her travels when she needs it most with its hidden pockets/ money pouch. This belt is so plain, it is actually unisex making it the perfect travel gift for men too! Grab one for you and your partner here (it's always better to split your cash stash too)
Compression Packing Cubes
Absolutely one of the best travel accessory inventions in recent years. Packing cubes were always a winner, but now several brands have come out with compression packing cubes which are a cross between packing cubes and compression/vacuum bags. Ladies CAN fit everything they want into any travel bag with these beauties! Grab the above packing cube set here or click to read our full guide to the best packing cubes on the market here.
Waterproof Packable Jacket
This waterproof jacket will keep her warm and dry at times of need with its durable, breathable fabric and neatly packs away into a stuff sack when the sun is shining. It's a really cute colour too – and the perfect travel fashion item for making photos pop on a rainy day! Check Prices & Availability Here.
Door Stop
While this may seem like a boring travel gift – it's an incredible bit of kit that can make anyone feel more secure in whatever room they are staying in, just by adding an extra security layer to an already locked door. This one even has an alarm too. It's perfect for travel – especially for women traveling alone.
L'Occitane Travel Collection
Who doesn't love L'Occitane with is fabulous scents of the Provence and now she can take their wonderful products everywhere with one of the best travel sets on the market. Complete with a variety of scents this set comes with hand cream, cleansing foam, foot cream, Almond Milk Concentrate and Oil. Grab this perfect travel gift for the lady in your life here. (Because a lady needs to look after her skin when globetrotting).
Dogeared Jewellery
Be it a compass necklace or a travel-inspired bracelet, Dogeared have some beautiful inspirational travel jewelry pieces, which are timeless, elegant and better still – won't look out of place or make anyone a target when worn when traveling! Take a look at the full range here. (Or click the pic for the 'Balance' bracelet above)
How to swear around the world
It might not be your standard phrase book but available as a paperback or Kindle digital edition, who knows, maybe it will come in handy more than you think? It definitely one of the most unique travel gifts and one that is bound to make her emails – or keep you entertained(!). I absolutely love this unique gifts!
Tangle Teezer
With the original detangling hairbrush, nightmare hair needn't be a concern whilst travelling. Its enhanced design makes it glide through even the most tangled hair and its compact too! If you have read any of my other packing lists or gift guides you'll know that a Tangle Teezer is my ultimate cheap stocking stuffer & travel essentials and goes with me on every adventure. I am a firm believer that every female traveler should own one to quickly tame that travel hair! Grab yours here.
Travel Yoga Mat
For the dedicated yogi in your life, a travel yoga mat will mean she can practice wherever she finds herself. Hotel room or beach, mountain side or pool side. And if you want to see the pros and cons of the best travel yoga mats – our travel yoga mat review post compares over 10 different brands and is just what you need.
Travel Pillow
It's a little different from your standard travel pillow but with a unique design, it's scientifically proven to provide neck support whilst travelling. It's one of the best neck pillows on the market and very easy to pack as it folds down to practically nothing (and is machine washable too)! Pick one up here.
(And if this looks all too complicated, we'd recommend one of the more typical neck pillows with memory foam – like this one!)
Eye mask & ear plug set
An absolute essential for any traveller, particularly if you are going to be staying in hostels or shared accommodation – or simply want to be comfy on the plane! The sleep mask, made from natural silk fabric with an adjustable strap is the comfiest she will have ever tried and the ear plugs are guaranteed to reduce any noise. Order a set here.
Instant Camera
For something a little different (and especially now they are a lot smaller than they used to be!) – carrying an instant camera can create some special memories when you travel. Whether it is taking photos of the people you meed for your memory boards or scrapbooks; or photographic rural communities and being able to give them a copy to keep. Grab a Fujifilm Instax Mini here.
Electronics travel organiser
There is no need for her to struggle with tangled cables whilst traveling, with this electronic travel organiser. With universal pouches to fit all cables, battery, portable chargers and device sizes, it's every tech-geeks must-have organiser. Grab one for her here.
Mermaid Travel Cosmetic Bag & Toiletry Bag
The mermaid travel cosmetics storage pouch is pretty much 'Mary Poppins' makeup bag. She will be surprised at how much you can fit in it. With a drawstring design making it easy to pack, it's also waterproof and foldable. It's also an absolute bargain – buy one here.
Worldwide travel adapter + Power Cube
For the best universal travel adapter look no further than this super compact travel adapter. It also has dual USB charging ports making it the ultimate adapter plug. And when paired with a PowerCube means you can charge practically everything off one socket – and no need for multiple adapters. Grab yours here.
Scratch off the world map
Perhaps one for the returning wanderer- the scratch map makes for an eye-catching piece of wall art and allows her to mark the countries she's travelled, keeping the memories alive and temptation rife. Buy one here (they come with a black or white background to match her decor and make a great travel themed gift).
Dedicated Travel Wallet
While it's true that many a woman loves a beautiful purse, carrying one while traveling is not really ideal. That's why it's a good idea to have a dedicated 'travel wallet' while you're on the road. Something small and relatively simple that can help keep your funds secure. Especially if it has RFID blocking and a zippered pocket built-in (like the one above)
Kate Aspen Luggage Tag and Passport Cover Set
This luggage tag and passport holder set adds a feminine flash of style for any avid traveller. With its eye-catching colour, she won't have any problems spotting her suitcase on that pesky luggage conveyor belt. Buy a set here. Or if you want to match with your beloved check out this Mr&Mrs Set here!
For more designs take a peek at our guide to the Best Passport Wallets for Travel.
Luggage Scale
Nobody wants to pay for overweight luggage – and this handy little portable travel luggage scale will help you decide if you really need that extra (dress/jumper/pair of shoes etc) AND let you check if you have overdone it on the souvenirs before you come home! It's a VERY handy bit of travel kit!
Silk Pillowcase
It might not be quite the same as traveling with your own pillow, but sometimes having your own silk pillowcase is all you need for a little slice of home. And could be considered a key travel essential if you know she will be staying in less than perfect hotel rooms (or traveling overland through Africa for example – in which case I wouldn't choose white)!
BAGSMART Travel Jewellery Organiser
One for the style conscious traveller- this BAGSMART travel jewelry organizer is compact, stylish and has dedicated compartments for rings, earrings, bracelets and necklaces – making sure she can take her beloved finery with her and nothing gets tangled or lost on her adventures. Order one here.
Kindle Oasis E-reader
The ideal gift for a bookworm on the move- the brand-new Kindle Oasis E-reader offers the highest resolution display, boasting zero-glare even in bright sunshine- ideal for the sun worshipping adventurer. It also gives her access to over 200,000 audio titles to so she can listen as well as read easily on the move. Splash out on the ultimate of travel gifts here. Or consider the Kindle Paperwhite or other early editions if you're not sure about the expense!
Sennheiser Bluetooth Headphones
No more pesky wires – these Sennheiser Bluetooth Headphones are foldable, lightweight and noise cancelling – ideal for long train journeys and those on the move; keeping her calm with her favorite Spotify playlist while negotiating travel logistics. Read my full review of these noisecanceling headphones and grab your own set here.
Hammam Turkish Beach Towel
These hammam Turkish towels are the ideal practical gift for her. With a number of fun and vibrant colours to choose from these hand-woven towel sheets have so many uses including picnic blanket, stylish sarong and beach towel. Check Prices & Colour availability here.
Selfie Stick
A gift for all budding travel photographers, this professional selfie stick from Fugetek extends up to 49 inches and comes with a wireless Bluetooth remote, two interchangeable phone mounts and converts to a tripod. Order Yours here. And if you are looking for something a bit more substantial – take a peek at out Top 10 Tripods for Travel Photographers.
FitFlop Orthotic flip-flops
At the end of a long day travelling, she can treat her feet with FitFlops orthotic flip-flops – which now come with skinny straps! With cushioning and a supportive arch these are the comfiest sandals ever, providing relief from foot complaints and tired feet. Invest in a pair here.
Atlas map coasters
A great gift for returning travellers. These cork backed atlas map coasters are a wonderful addition to any home, practical and a fond reminder of travel adventures past. Buy a set here.
Topelek book lamp
Whether she prefers reading on her kindle or from books (I really like the feel of an actual book in my hands every now and again), this LED book lamp will allow her to read all night long. USB rechargeable, meaning no batteries required, this book lamp clips onto books for secure grip and features multiple brightness settings and an adjustable neck. Snap one up here.
.
Mission complete! We hope that this guide to the best travel gifts for her has been useful to help lead you to the travel gift you have been searching for.(Be it as a Christmas Gift, Holiday Gift, Birthday Gift – or just a travel gift for her because you can!) We always love to hear from our readers about what they think of our guides, so please comment below and don't forget to send us some great photos of your gift in action once you've picked out the best travel gift for the lady in your life!
And if you liked this article – or just know one someone who needs to buy a gift for their girl – please share this post on Flipboard, Twitter or Facebook – we'd really appreciate it!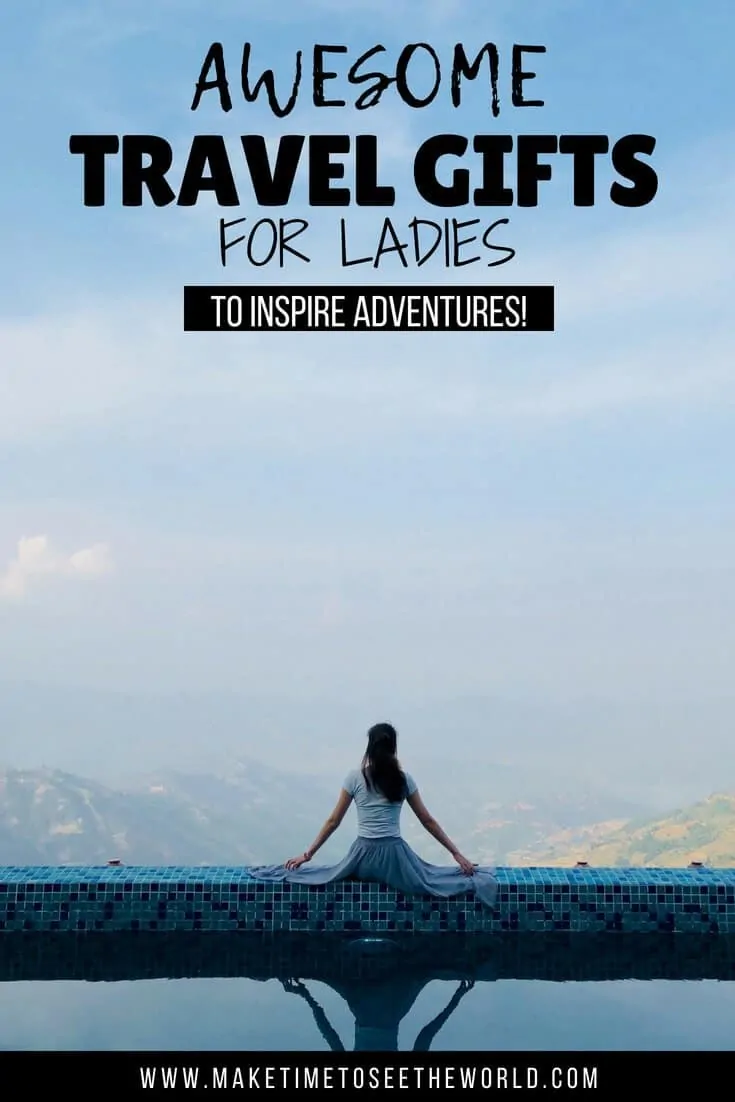 And if you liked this guide to the best gift for travelers list, take a look at the other gift guides, packing guides & travel gear posts in this series:
Hi There! Thanks for reading my buying guide to The Best Travel Gifts for Her & The Best Travel Gifts for Women! I just wanted to let you know that this post contains affiliate links, which means if you purchase something after clicking a link, I may get a small commission – which is at absolutely no cost to you. If you enjoyed this article and are going to be searching for some of the things I mention anyway, I would love it if you could click through from the links above & thank you in advance! Read my full Disclosure here.
Thank you for reading the MakeTimeToSeeTheWorld travel blog posts.