Looking for the perfect gift for the traveler in your life? Stuck for an awesome gift idea for your frequent flyer friend? Or just needing a gift to satisfy the wanderlust? (of yourself or others!) Well you are in the right place! With years of travel under my belt and an enduring love for material possessions (I know I should travel light, but I do love stuff) I've put together my favorite gifts for travel lovers featuring some of the Best Travel Gifts and Travel Essentials.
I've picked out travel gifts for women, travel gifts for men, holiday gift ideas – and travel trinkets and accessories for anyone with a serious case of wanderlust. Perfect for any occasion – from Birthdays, Valentines Day or Christmas – or just a little pick-me-up gift for your own wander-lusting soul. I've got travel gift ideas for every situation. You could practically call this the ultimate gift guides for travelers!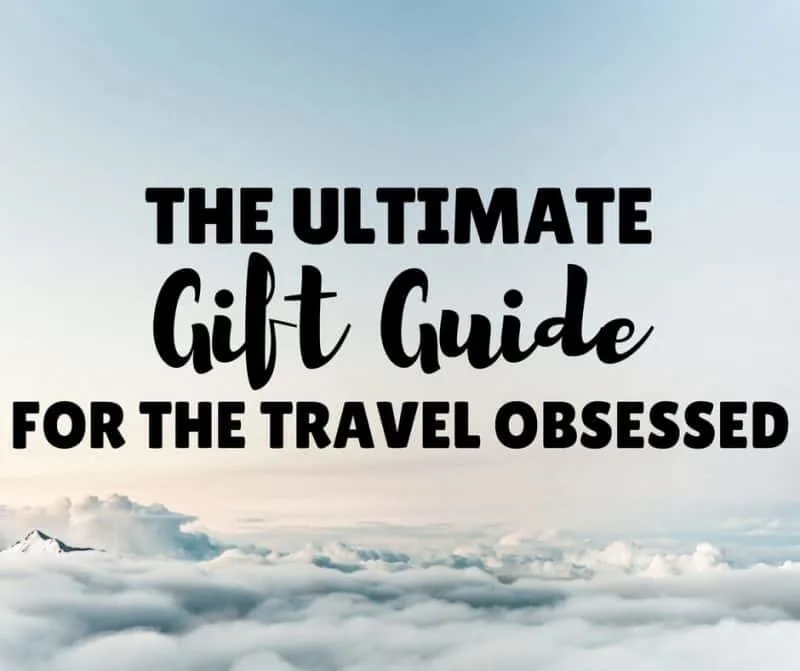 Disclaimer: Almost all posts on this site contain Affiliate links, and this one about the Best Travel Gifts for everyone is no different. This means that if you click on any of the links in this post (and make a purchase) I may receive a small commission at absolutely no cost to you. Each post is carefully crafted to (hopefully!) answer all your questions and recommendations are made where we believe they will improve your trip and help with your planning. As such we thank you in advance should you decide to click & buy. Read my full Disclosure here.
The Best Travel Gifts (for everyone!)
This is my collection of some of the best travel related gifts on the market today. Separated into sections there are travel gifts for women; travel gifts for men; practical travel gifts and whimsical travel gifts to soothe a wanderlust-ing soul while bragging about past adventures! Perfect as presents for yourself or your travel loving friends! And these are perfect gifts for world travelers!
.
.
.
.
.
.
.
.
READY MORE TRAVEL INSPIRATION? YOU MIGHT BE INTERESTED IN THESE TRAVEL TIPS, TRAVEL ARTICLES, TRAVEL RESOURCES, DESTINATION GUIDES AND RELATED POSTS:
Hi There! Thanks for reading our travel gear guide about The Best Travel Gifts for Everyone! I just wanted to let you know that this post contains affiliate links, which means if you purchase something after clicking a link, I may get a small commission – which is at absolutely no cost to you. If you enjoyed this article and are going to be searching for some of the things I mention anyway, I would love it if you could click through from the links above & thank you in advance! Read my full Disclosure here.
And a huge Thank You for reading the MakeTimeToSeeTheWorld travel blog.