Looking for the perfect gift for the traveler in your life? Stuck for an awesome gift idea for your frequent flyer friend? Or just needing a gift to satisfy the wanderlust? (of yourself or others!) Well you are in the right place! With years of travel under my belt and an enduring love for material possessions  (I know I should travel light, but I do love stuff) I've put together my favorite travel gifts for the traveler of today. Best Travel Gifts Travel Essentials
I've picked out travel gifts for women, travel gifts for men – and travel trinkets and accessories for anyone with a serious case of wanderlust. Perfect for any occasion – from Birthdays, Valentines Day or Christmas – or just a little pick-me-up gift for your own wander-lusting soul. I've got travel gift ideas for every situation.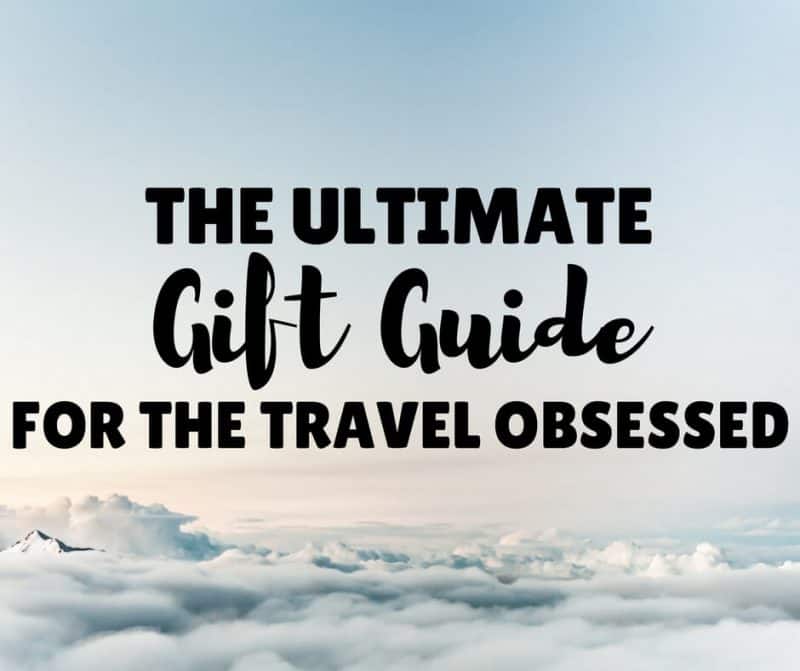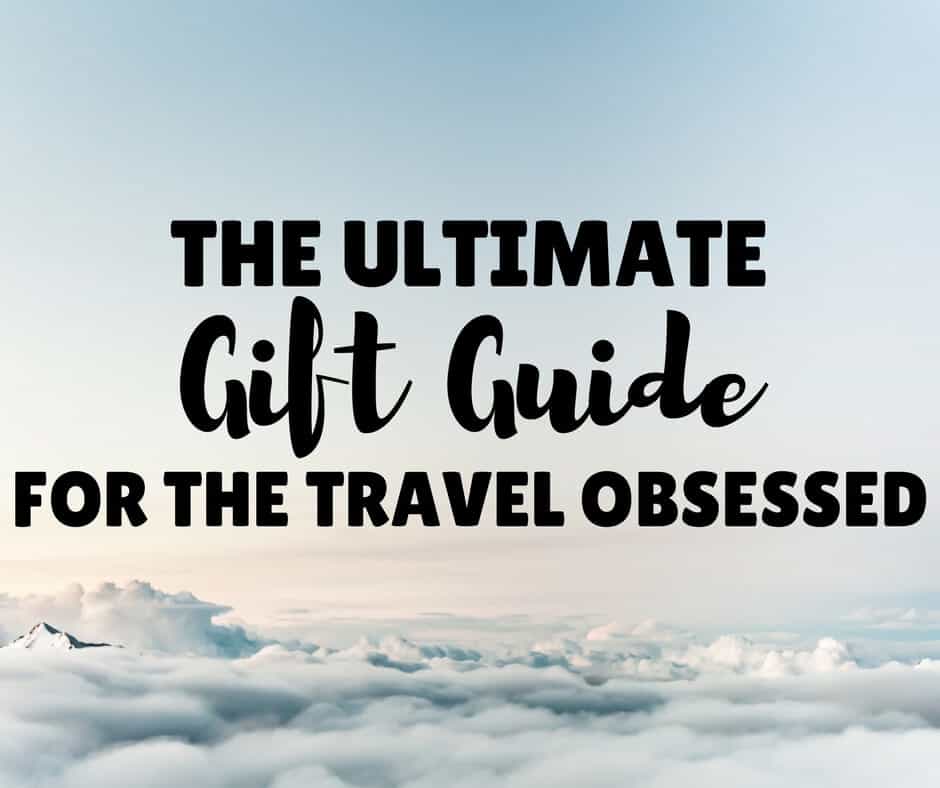 The Best Travel Gifts for The Travel Obsessed
This is my collection of some of the best travel related gifts on the market today. Separated into sections there are travel gifts for women; travel gifts for men; practical travel gifts and whimsical travel gifts to soothe a wanderlust-ing soul while bragging about past adventures! Perfect as presents for yourself or your travel loving friends!
Note: This post contains affiliate links. This means that if you decide to purchase any of the products I recommend I get a small commission at absolutely no cost to you. This commission helps keep the site online – so thank you in advance for clicking through!
Travel Gifts for Women
Longchamp Travel Bag
The Longchamp Le Pilage long handle tote is a travel staple. Stylish in any city, the are beautifully built bags that will take to a life of daily use around the world without any questions or concerns and will last for years to come. (Mine is going strong 6 years down the track!)
.
Travel Scarf with Hidden Pocket
The Travel Scarf with a Hidden Pocket is absolutely my favorite travel accessory ever! This infinity scarf can be worn as a scarf, as a wrap and as a head covering for religious sites or simply protection from the sun. Add in the fact you can hide your passport and other valuable inside it (great for people like me who don't like pockets!) and you've got an absolute winner!
.
Dyson Supersonic Hairdryer
For the women that simply can't travel without a hairdryer, the Dyson Supersonic has reinvented the wheel. Weighing in at only 2 pounds (that's less than 1kg!) and with lightening fast drying speeds, if there ever was a hairdryer perfect for travel – this is it!
.
Cosmetics Bag
This Cosmetic Bag is the perfect size for travel, and is sturdy enough to keep your make up and moisturizers protected whilst you're out and about on adventures.
.
Wheelie Case
A nice solid hand luggage case. 4 wheels are the new 2 wheels – and are much better for your body. The 4 wheels allow the case the glide seamlessly and put less pressure on your wrists and joints.
.
Underwear Travel Organsier
Keep your smalls together in this cute Underwear Organizer. With pockets for bras and undies, you can keep everything together – you never know when you're going to want to wear a matching set!
.
Fitbit Flex 2 Bangle & Pendant Necklace
A great way to combine fitness tech and jewellery, the Fitbit Flex Bangle and Pendant Necklace are a beautiful addition to anyone jewellery collection. Elegant and refined, you can keep tracking your goals whilst looking super stylish and with designs available in gold, silver and rose, you'll be able to coordinate with any outfit!
.
Travel Jewellery Case
If you travel with jewellery, you'll want to keep it safe. This Travel Jewellery Case has a soft quilted outer case and boasts lots of pockets and sections to protect all your favorite pieces.
.
.If .
Travel Gifts for men
Leatherman
Every man likes to have a set of tools, and whilst a carrying a full set around on your travels is a bit impractical, the Leatherman Sidekick is the next best alternative. You might not think you'll use one – but I guarantee that it will come in handy way more time than you anticipate!
.
Toiletry Bag
Handy for carrying shower and shave stuff to communal bathrooms, the Iblue Thick Leather Handle Toiletry Bag is sturdy and stylish. Perfect for the modern day traveler man.
.
Personalized Monogram Flask
Got booze? Get your name stamped on it so you know it's yours! This personalized monogram flask can be branded with a variety of designs. Click the link for the full range!
.
GoPro Hero 5
Capturing 4K Ultra HD video and liquid-smooth slow motion at up to 240 frames/second, the HERO5 Black Waterproof Camera delivers the highest performance in it's compact, sturdy package. Perfect for adventure travelers, divers and hikers – it's one of the best toys on the market, and one that the blokes can't get enough of.
.
Wallet with RFID Protection
The Adorner RFID Blocking Wallet stops remote scanning of cards and keep your information safe as you travel round the globe. Super slim and made of leather, this is the perfect accessory for the frequent flyer in your life.
.
.
practical Travel Gifts for everyone
Foldable Duffel Bag
Available in a variety of colours, the Trip Inspra Foldable Duffel Bag is the perfect 'emergency bag.' Packing down to practically nothing, it gives you an extra 40L of space- whenever you need it. As an extra bag on the plane, as a day-pack, a grocery bag, or a storage bag if leaving stuff in a locker or a hostel whilst you take a trip for which you have limited space.
.
Tech Tacos / Cord Keeper
If you travel with lots of tech, these Cord Keepers will be an absolute lifesaver. Forget digging round in your bag for charging cables that have wrapped themselves around your dirty undies, keep each wire wrapped together in these rustic leather tech tacos.
.
UE Bluetooth Speaker
Take your outdoor adventures to another acoustical level with the powerful, pint-sized Ultimate Ears UE Roll Wireless Bluetooth speaker.
.
Portable PowerBank
The Anker Portable Powerbank will ensure you never run out of power whilst on the road. Ultra-High Capacity it weighs as little as a can of soup (12.5 oz) yet charges the iPhone 7 almost seven times, the Galaxy S6 five times or the iPad mini 4 twice.
.
Lifeproof Case for Iphone
The Lifeproof Case is the best investment you could make in terms of protecting your phone and lets you pack your tech on all your adventures, keeping you connected every soggy, snowy, muddy, dusty step of the way.
.
Packing Cubes
Packing Cubes are the best thing since sliced bread and they make packing so much easier! This set even comes with a laundry pouch to keep you organsied even after you've used things out of the cubes!
.
Travel Insurance
I highly recommend that every traveler has travel insurance. If you can afford to travel – you can afford insurance. Insure&Go and my go to provider for those in the UK & Australia and World Nomads offers great cover for everywhere else in the world.
.
UV Toothbrush Sanitizer
If your traveling through hostels, camping in the outback – or are likely to be in other shared bathroom facility – you never know the germs you're going to come across. Keep your toothbrush a germ-free zone by using a UV Sanitizer which kills 99.9% of Bacteria and Viruses. Not the most glamorous of gifts – this one is definately practical!
.
Related: If you like these suggestions, check out the Things I Love page for more travel essentials.
Travel Gifts to soothe the wanderlust
Scratch Off Map
A fun way to record your travels – you can scratch off the countries and their flags one by one with this Scratch Off Map
.
Wanderlust Inspired Art
If you can't be off exploring the world, looking at pretty artwork of the world can sometime be just as good!
.
Cork Globe
A more subtle way of bragging where you have been, this Cork Globe is small enough to be discrete but big enough for people to spot and ask questions – giving you the perfect platform to talk about your adventures! There is not better wanderlust inspiration that reliving past travels!
.
Dogeared Jewellery
Simple and elegant, Dogeared Jewellery offers messages of hope, karma and faith in oneself. My favorite piece is this one called Balance and reminds the wearer that: "a happy life is not built upon the goal of perfection, but Balance"
.
Find Your Adventure Canvas Tote
A cute little canvas tote – perfect for grocery and retail shopping and a great alternative to plastic bags.
And that completes my selection of the Best Travel Gifts for the Travel Obsessed! I hope you've found the perfect gift for whatever occasion you wanted to buy for!
And if you liked this post, don't forget to click the P in the floating sidebar and share
The Best Travel Gifts for The Travel Obsessed
was last modified:
March 28th, 2017
by