If you are looking for a city with an unmistakable charm and magic, then Haarlem is the city for you! Haarlem is a small city in the Netherlands located just a short distance from Amsterdam, making it the perfect easy day trip from the capital. Haarlem's close proximity to Amsterdam and a plethora of things to do in Haarlem (not to mention some great food and drink!) make it a must-visit place while visiting the Netherlands.
Haarlem is a city full of rich history, culture, and authenticity. It is often called a mini Amsterdam because it looks very similar, however, the selling point is that it attracts half the tourists. This means you can explore the streets and all the amazing things to do in Haarlem without being bombarded by groups of tourists.
Haarlem is a great place to visit year-round to explore a city with a beautiful Medieval charm and historic beauty. It is the perfect place in the Netherlands after visiting Amsterdam for a day, or for a visit on its own. However, Haarlem is quite small so only one or two days is needed to see most of it.
Keep reading to find out all the best things to do in Haarlem plus some handy tips for how to get there and how to get around!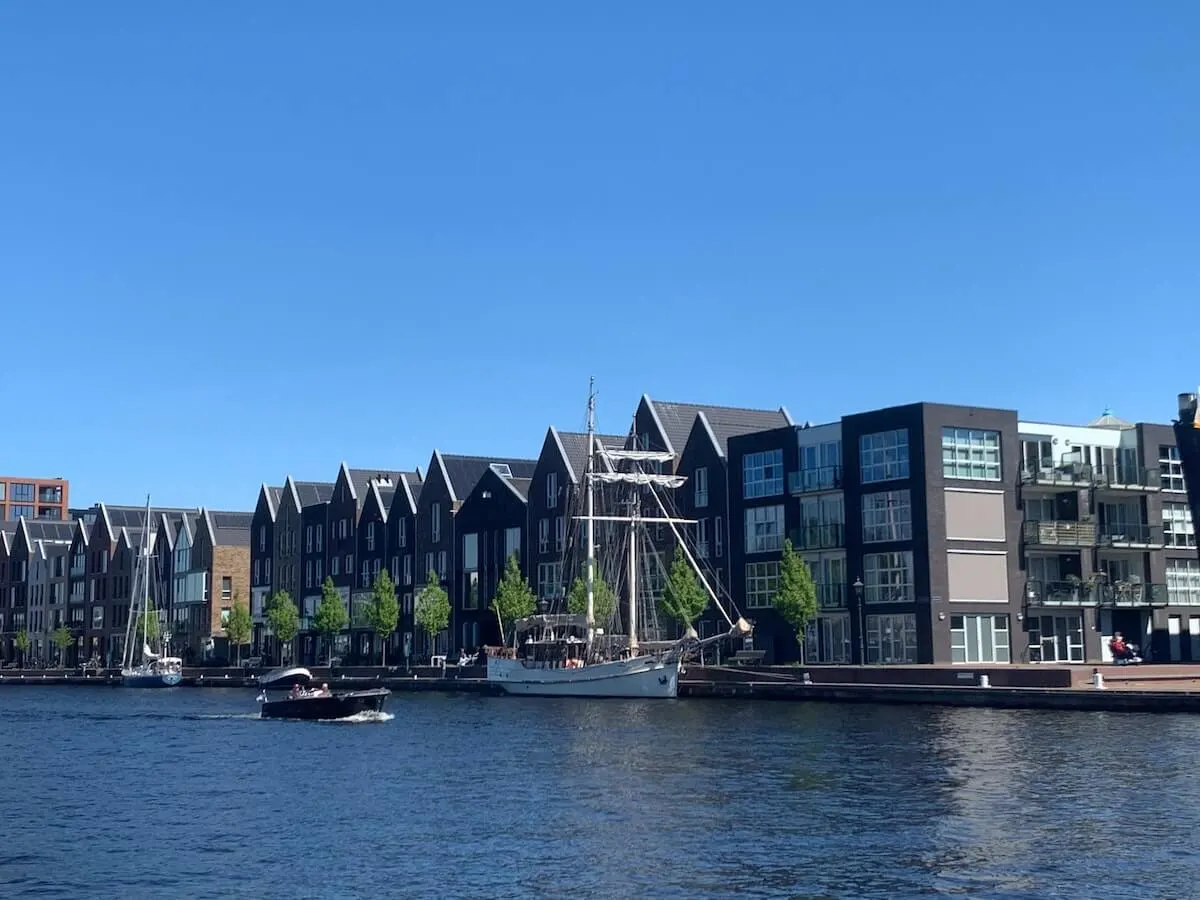 Disclaimer: Almost all posts on this site contain Affiliate links, and this one about 10 BEST Things to do in Haarlem Netherlands (Perfect for first-time visitors) is no different. This means that if you click on any of the links in this post (and make a purchase) I may receive a small commission at absolutely no cost to you. Each post is carefully crafted to (hopefully!) answer all your questions and recommendations are made where we believe they will improve your trip and help with your planning. As such we thank you in advance should you decide to click & buy. Read my full Disclosure here.
Contributed by Samantha from Sam Sees World
Practical Information for Visiting Haarlem
How to get to Haarlem
Getting to Haarlem is very easy. If you are arriving into the Netherlands and heading straight to Haarlem the closest airport is Amsterdam Schiphol. From here you can take a train from the airport to Haarlem.
If you are staying in Amsterdam and heading to Haarlem on a day trip or for the night you will take a train from Amsterdam Central Station to Haarlem Central Railway Station. The train system in the Netherlands is very easy to follow and clearly marked. A ride from a nearby stop will cost around 5 to 10 euros.
How to get around Haarlem
The best way to get around Haarlem is by foot. This way you can take in all the beauty of the city in a more relaxed fashion. Plus, Haarlem is quite small and is a very walkable city.
You can also rent a bike in Haarlem to get around. Biking is a very popular mode of transportation in the Netherlands and is a nice way to get around quickly. There are plenty of bike rental shops in Haarlem where you can rent a bike for a few hours or a few days! This is a low-cost option that is much better than public transportation.
Top 10 Things to do in Haarlem
Visit Molen de Adriaan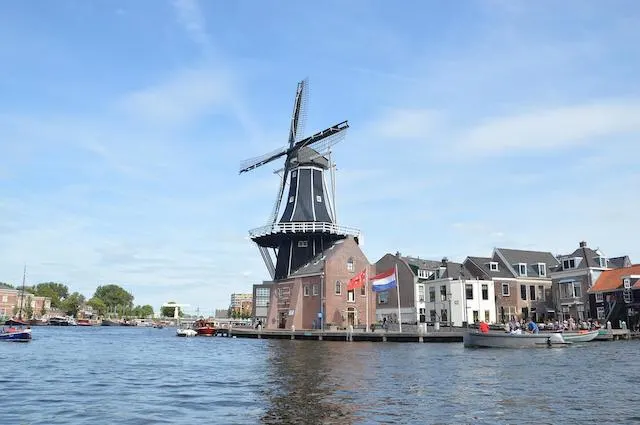 Molen de Adriaan is a huge, iconic windmill that sits right in the city center of Haarlem on the Spaarne River. This is one of Haarlem's most famous landmarks that has been around since the 18th century. A visit to the De Adriaan Windmill is one of the top things to do in Haarlem tand a great way to experience a Dutch staple.
There are a few things that the Netherlands is famous for; tulips, cheese and windmills. This means you cannot have a visit to the Netherlands without seeing at least one windmill.
Most other windmills are located in little villages, so you have to take a day trip to get to them. What's nice about Molen de Adriaan is that it is located right in the city of Haarlem. With this you can enjoy the stunning interior and exterior of the windmill without traveling a far distance.
Enjoy Teylers Museum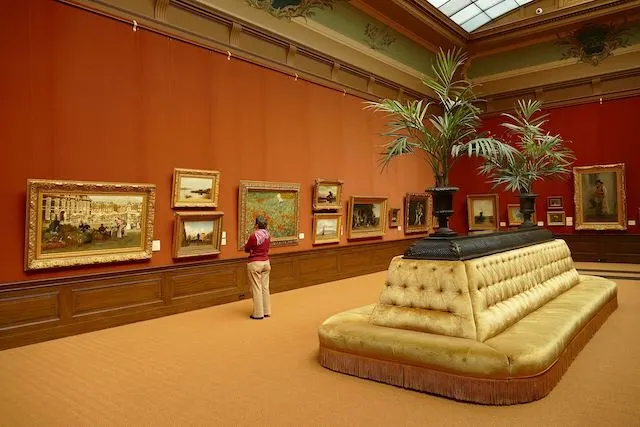 Teylers Museum is the oldest museum in the Netherlands, and the first museum to ever be constructed in the Netherlands. Visiting Teylers Museum is one of the best things to do in Haarlem that should be on everyone's itinerary. This museum was built in 1778 and is full of excitement and wonder.
Prepare to be amazed by the exhibits of art, history, and science. The exhibits are incredibly eclectic and diverse and with such an assortment there is something for everyone. Find here exhibits of paintings, fossils, gemstones and more.
And if you're looking to add a little more art and culture to your trip, The Frans Hals Museums and Hotels are a few great spots to check out. Find his artwork at the Frans Hals Museum, De Hallen Haarlem and the 4* Amrâth Grand Hotel Frans Hals, which is housed in one of the most striking buildings in Haarlem.
Go to a beach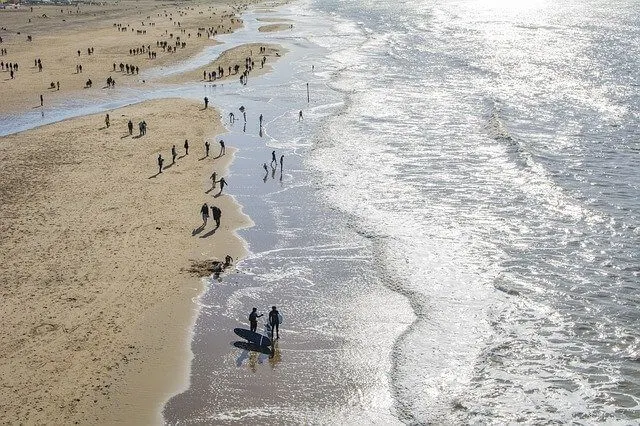 One of the best things about Haarlem is that it is located in close proximity to various other major attractions in the Netherlands. Some of which are Zaandam and Zaanse Schans but the best is the nearby beach; Zandvoort Beach.
The Netherlands is not known for its beaches, but surprising to most, it has various stunning beach options! Zandvoort is located a short 15-minute train ride from the city and offers the perfect coastal getaway. A day trip to the beach is ideal for travelers looking to unwind and enjoy a vacation that feels like you've transported to Spain! Zandvoort beach is a huge sandy beach lined with restaurants. It is a great place for sunbathing, swimming, or relaxing at a restaurant for food and drinks.
Explore Grote Markt
Right in the center of the city is the famous Grote Markt. This market is located in the lively center square right in the beating heart of Haarlem right next to the stunning gothic cathedral (below). The square is a very touristy spot in Haarlem that is full of great restaurants, quaint cafes, and stunning landmarks.
The best time to visit the markets in Haarlem is on a Saturday morning. Every Saturday the square comes alive with an outdoor market selling fresh foods, flowers, clothing and more! It is the perfect place to explore and walk around to get a feel for the buzzing atmosphere within Haarlem.
If you are not able to make it to on a Saturday, fear not. There is still a lot to do in Grote Market, like eating at the cafes, strolling around, and viewing the beautiful architecture all around.
Go to De Grote of St. Bavokerk Te Haarlem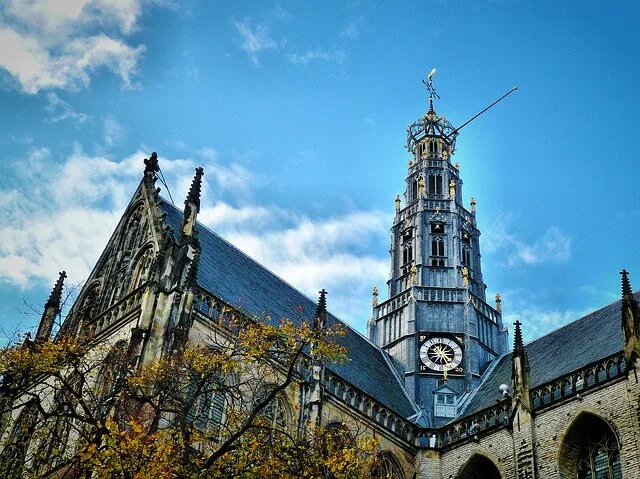 A structure you can't miss in the center square is the St. Bavo Church (De Grote of St. Bavokerk Te Haarlem / Cathedral of St Bavo). This church towers over the square and stands tall above all other buildings.
Saint Bavo is the main Catholic Church for the Roman Catholics in Haarlem and was built in the 14th century. You can choose to admire the church from the outside or go inside. The exterior of the gothic church is beautiful and well worth some admiration. While the interior is a beautiful sight to see!
Walk around Haarlem's city center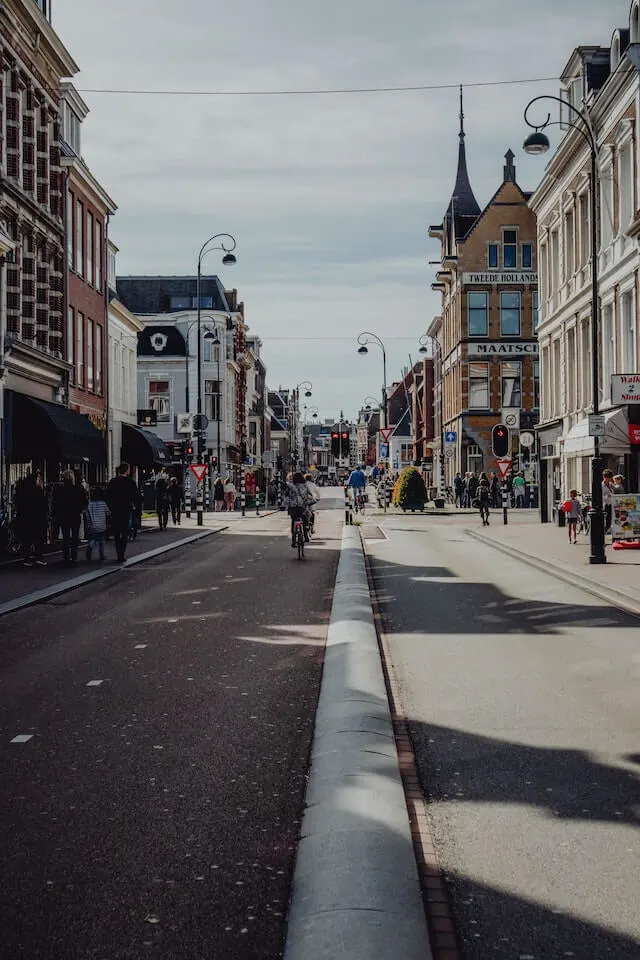 Haarlem's city center is a charming area to explore and discover. There are so many small streets and little alleys to discover full of things to see and do. Exploring the city center is one of the best things to do in Haarlem because you truly get to see the city this way.
Prepare to get lost in the small streets, and fall in love with the quaint, quirky buildings. You will find Haarlem is a lot more local than Amsterdam and the streets feel less touristy and commercial.
Drink beer at De Jopenkerk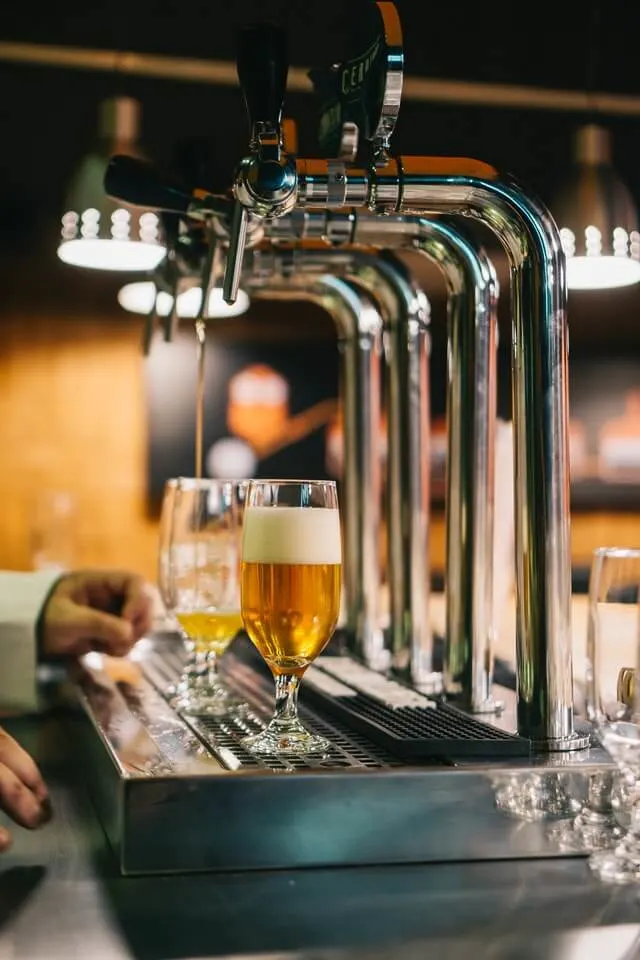 De Jopenkerk is a famous brewery in Haarlem that is located inside a former church. Haarlem has had a rich beer history for centuries and experiencing the prominent beer culture (and getting close to the actual beer brewing!) from here is a must.
De Jopenkerk is the best place to visit to taste locally brewed beers in a very unique environment. As one of the cities top tourist attractions, a stop here is an essential thing to do in Haarlem to taste the local flavors of the city.
Take a Canal Cruise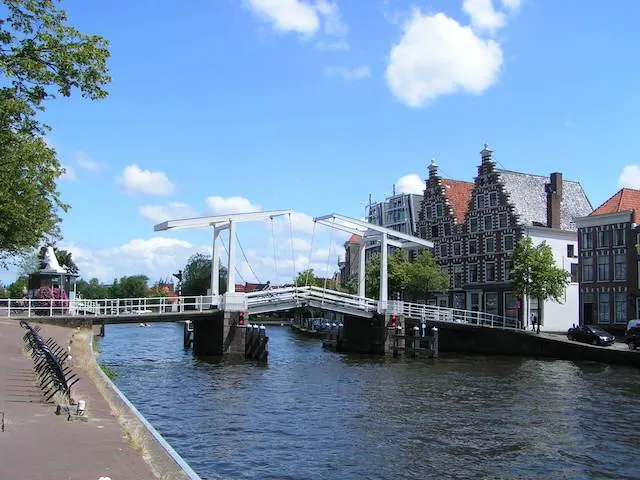 Much like Amsterdam, Haarlem is a city full of canals. This means there is ample opportunity for boat tours and canal cruises around the city. A canal cruise is a great way to see Haarlem from a different angle and a perfect way to rest your feet.
Most canal cruises last one or two hours and show you the top sights of the city and give you some great information on them. This is a great thing to do for learning about Haarlem quickly and accurately.
Canal cruises run throughout the day and in the evening. A daytime cruise is best for seeing all the sights and attractions in clear daylight. While an evening canal cruise is much more romantic and a great way to sail around Haarlem after hours to see the city lit up in magical lights.
Tour at Corrie Ten Boomhuis
The Corrie Ten Boomhuis (Corrie Ten Boom House) tells a similar story to the Anne Frank House in Amsterdam. It was a house owned by the Ten Boom Family during World War Two. This family helped hide and smuggle Jewish people out of the country while it was under Nazi occupation. Today, visitors are permitted to enter the house and learn about the family and what they did to resist during such a horrible time in history.
The Ten Boomhuis is not nearly as famous as the Anne Frank House but tells a compelling story. It is important to visit and delve deeper into the history of places when you visit them, and this is the best way to learn about Haarlem's past during WW2.
Go Shopping
Haarlem is full of great shopping streets to explore. If you like to shop at both commercial and unique stores this is a great place to splurge! There are various streets in the Haarlem city center lined with different stores to explore. If you want to pick up a unique Dutch souvenir some explorations in Haarlem's city center are a must.
We hope this guide to 10 Best Things to do in Haarlem Netherlands (perfect for first-timers) had been a huge help planning your Haarlem trip, and has shown you all the best things to see in Haarlem while you are there!

If you know of anyone else that needs a little bit of inspiration or assistance in planning their Haarlem vacation (or how to explore Haarlem while they are there!), please be sure to share this Haarlem Travel Guide on social media: Facebook, Flipboard, Twitter or grab one of the images from below for Pinterest. And remember – sharing is charing (and we thank you in advance!)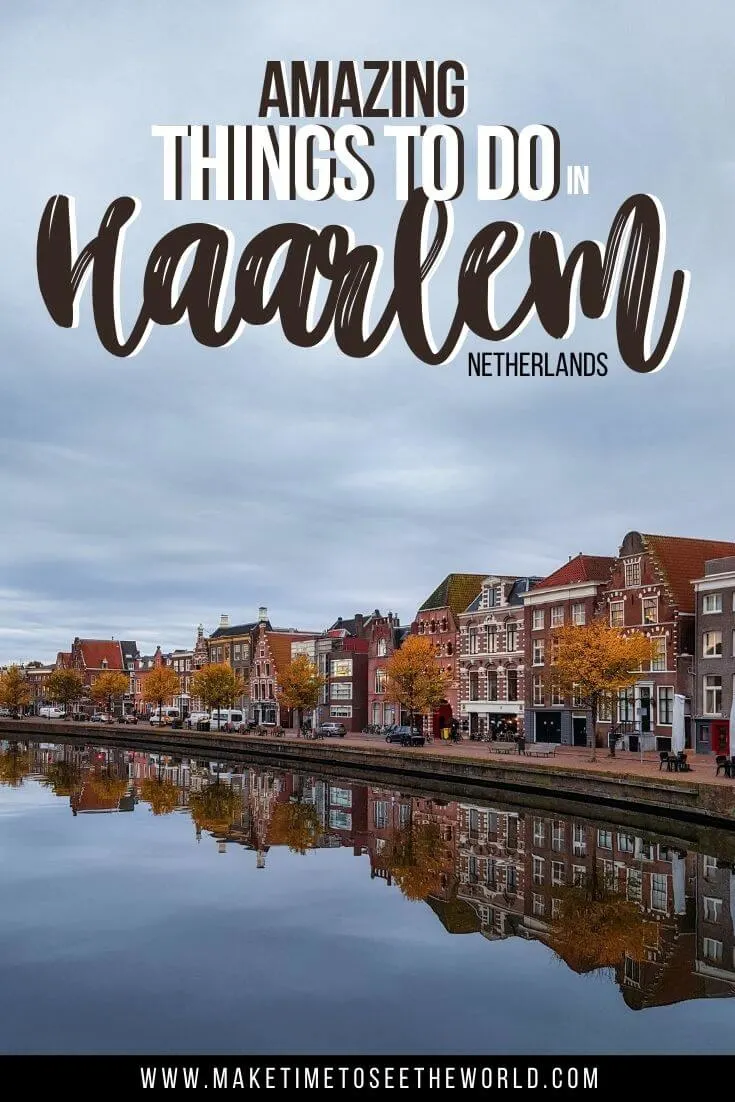 READY MORE EUROPE TRAVEL INSPIRATION? YOU MIGHT BE INTERESTED IN THESE TRAVEL TIPS, TRAVEL HACKS, TRAVEL ARTICLES, DESTINATION GUIDES, TRAVELER RESOURCES AND RELATED POSTS ABOUT OTHER AMAZING CITIES IN EUROPE:

Hi There! Thanks for reading our travel guide to the most Top 10 Things to do in Haarlem Netherlands (Perfect for first-time visitors) I just wanted to let you know that this post contains affiliate links, which means if you purchase something after clicking a link, I may get a small commission – which is at absolutely no cost to you. If you enjoyed this article and are going to be searching for some of the things I mention anyway, I would love it if you could click through from the links above & thank you in advance! Read my full Disclosure here.
And a huge Thank You for reading the MakeTimeToSeeTheWorld travel blog.