While there are many places in the world that can be described as "over touristed", Guadalajara is not one of them. In fact this place is a diamond in the rough. Guadalajara isn't perfect and, if we're completely honest lacks the ideal tourist infrastructure. However, the number of Incredible things to do in Guadalajara, fantastic things to see and the amazing food all combined with great prices should move Guadalajara to the top of your travel list.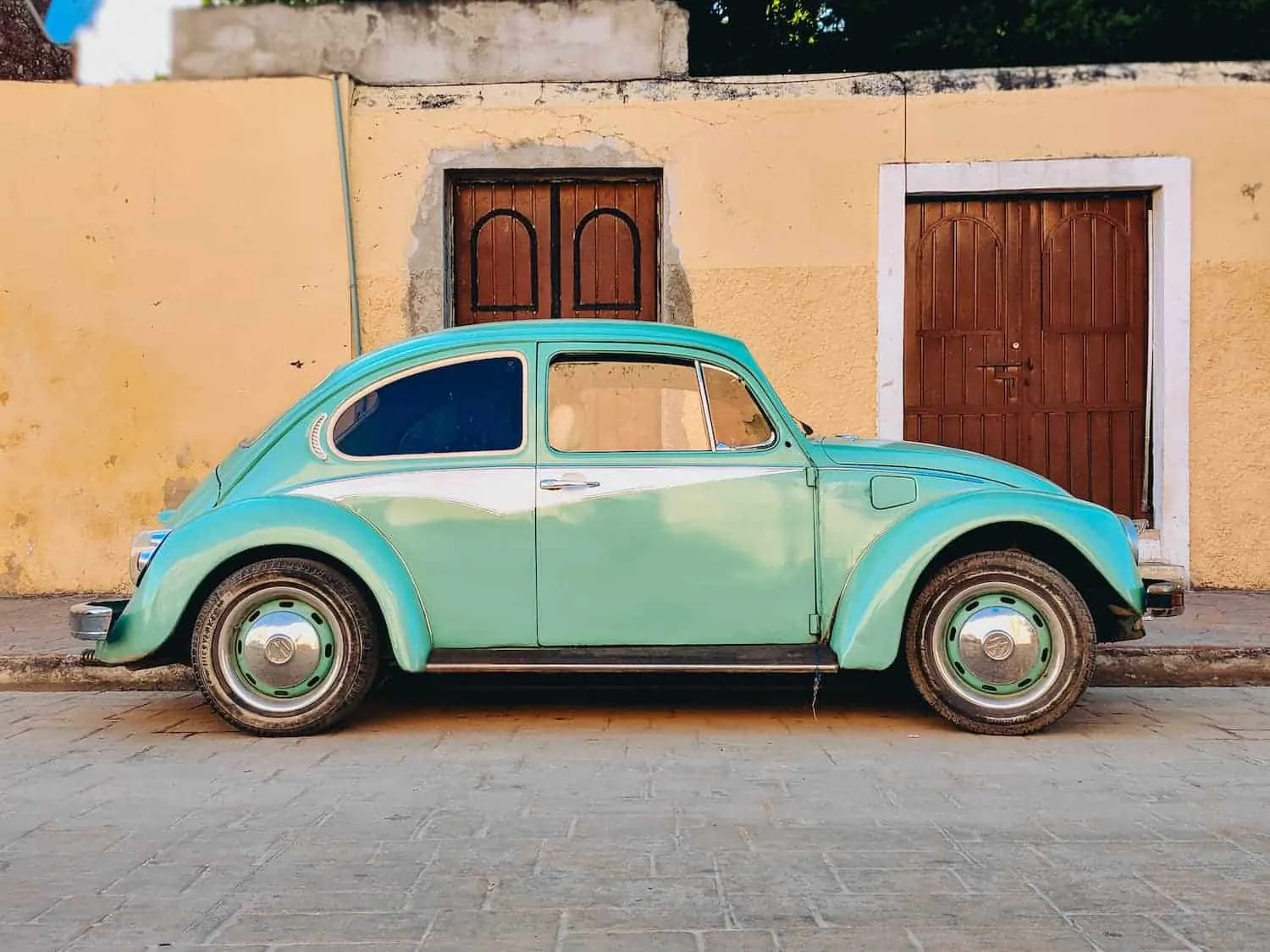 Disclaimer: Almost all posts on this site contain Affiliate links, and this one about the Incredible Things to do in Guadalajara is no different. This means that if you click on any of the links in this post (and make a purchase) I may receive a small commission at absolutely no cost to you. Each post is carefully crafted to (hopefully!) answer all your questions and recommendations are made where we believe they will improve your trip and help with your planning. As such we thank you in advance should you decide to click & buy. Read my full Disclosure here.
Guest Post contributed by Wendy & Jason from EmptyNestersHitTheRoad.com
Essential Guadalajara: What You Need To Know Before You Go
Where to Stay in Guadalajara: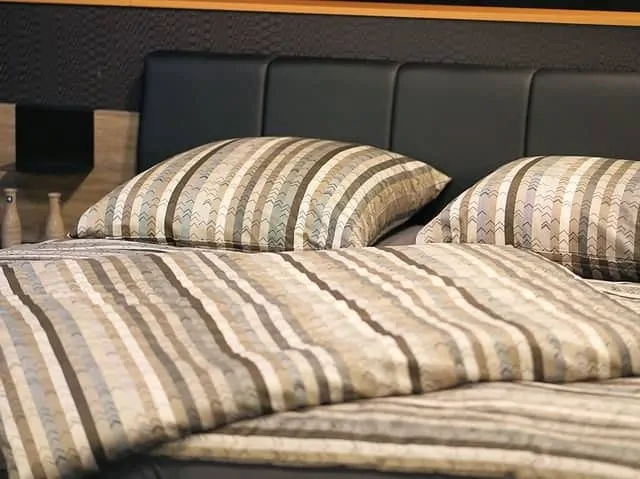 Luxury Stay: NH Collection Guadalajara – 4* Luxury in the centro histórico for less than $80 a night. It's one of the best hotels in Guadalajara.
Mid-Range Stay: Hotel Dali Plaza Ejecutivo: 3* Hotel with great reviews and a fab location in the historic center.
Budget Stay: Hostel Hospedarte Chapultepec – great little hostel in the historic center with beds for as little as $16 a night located just off Avenida Chapultepec.
.
How to Get Around
Guadalajara is not known for its public transportation. There is no subway or train system and buses are extremely crowded. We found Uber to be great a great alternative though (and if you use code vickig402ue you'll get a discount on your first ride)! The Uber vehicles are clean and well cared, the drivers usually spoke English, and the rates are very reasonable.
.
How to Get to Guadalajara from the Airport
There are several ways to get from Guadalajara Centro Historico (or to) the Guadalajara International Airport (Aeropuerto Internacional de Guadalajara), otherwise known as Don Miguel Hidalgo y Costilla International Airport (Aeropuerto Internacional Miguel Hidalgo y Costilla). The easiest is Uber – as we mentioned above, they are clean, well cared for and reasonably priced. There are also taxi's available, and booked at the kiosks in the main terminal building. A typical fare from the airport to the city is $330 MXN and It is advisable to know the district and major streets near to your hotel, and take a quick glance at a map before hopping in and have a vague idea of where you're going to ensure you don't end up taking the 'long' route.
There is also a shuttle service which costs $80 MXN per person, tickets can be purchased from terminal 1 and you are dropped off in the city at Avenida López Mateos Norte at the corner with Avenida México. Read more about airport transfer options here.
TRAVEL TIP –
Download the
FREE SkyScanner App
and have cheap flights at your fingertips whenever you want to take to the skies!
.
The Best Time To Visit Guadalajara
There are two optimal times to visit Guadalajara. The first is between October and December when the weather is dry and temperatures skim the lower 80°F/26-27°C. The second best time to visit Guadalajara is between January and May when hotel prices are discounted. Whilst the months between June through September are considered low season, this corresponds to when the city experiences heavy rainfall and high temperatures.
.
Incredible Things to do in Guadalajara
Guadalajara is the second largest city in Mexico, home to 1.5 million people, so there is plenty to see and do here. This won't be an exhaustive list, but hopefully it will help start your planning process.
Instituto de Cabanas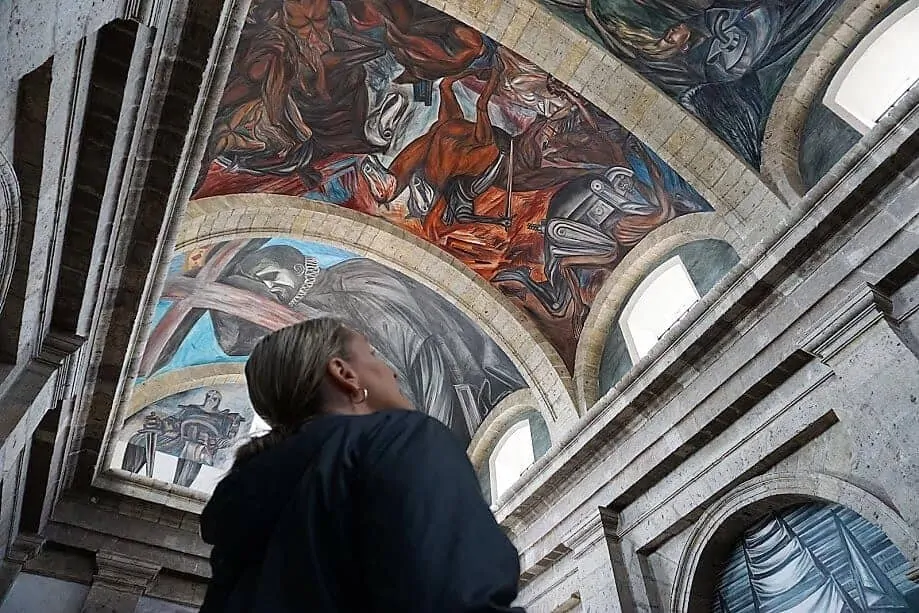 The purpose of visiting Instituto de Cabanas is to see the Orozco murals. A UNESCO World Heritage Sites, these fascinating murals are dark and a bit frightening, but they are an important part of the Mexican muralist movement. José Clemente Orozco had much to say about the Spanish colonial period as well as post-Independence. There is no signage in the mural exhibit so be sure to ask at the front desk about the times for English and Spanish tours.
There are many other art exhibits in the Instituto Cultural Cabanas museum, but there is no English signage. For this reason we focused on the murals and made this a short visit. That doesn't mean I would skip this place. The history of this building and the murals provide a valuable backdrop for the understanding this city.
.
Visit Mercado San Juan de Dios
A short walk from the Instituto is Mercado San Juan de Dios, a large, indoor, two story market. Most of the stalls on the first level sell merchandise like leather goods and clothing. The second level is chock full of small food counters and restaurants. The day we visited it was obvious that we were the only tourists and we thoroughly enjoyed this local experience. After strolling the first level for a while we ventured upstairs for lunch. Eventually we selected a small food counter advertising huaraches. These begin with a thick, oval shaped piece of masa dough fried and then covered with smashed pinto beans, a meat of your choice, a generous portion of cotija cheese, cilantro and green salsa. Delicious! This market would be worth several visits if we had more time.
.
Guadalajara Cathedral and surrounding plazas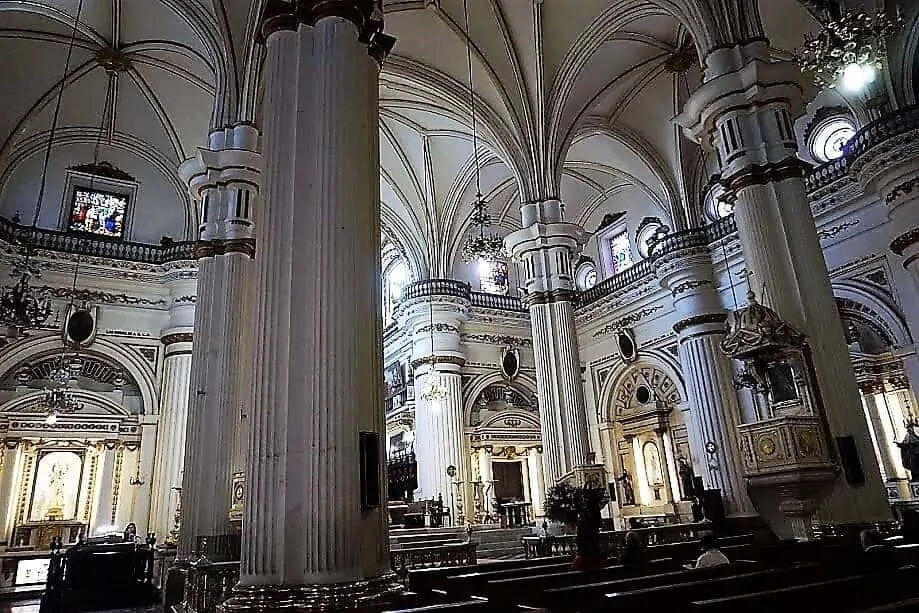 The Guadalajara Cathedral is beautiful outside, but absolutely stunning inside. The central altar is surrounded by nine additional altars each dedicated to a different saint. This is not a church that primarily serves as a tourist destination. Instead, this is an active place of worship with services taking place several times a day. Over the course of our stay we popped in here three times and it was always filled with parishioners.
Surrounding the cathedral are four plazas; de la Constitucion, Guadalajara, Rotonda de los Jalisciences Ilustres, and de la Liberacion. The Rotonda de los Jalisciences was the quietest of these since a large section of it is fenced off. But the other three plazas are clearly bustling with locals enjoying live entertainment and the wares of local shops and street vendors. There is signage (in English and Spanish) throughout the plazas providing some history of the area. Unfortunately some of the signs have been damaged with graffiti, but most of it is still legible.
.
Spend time in Plaza de la Liberacion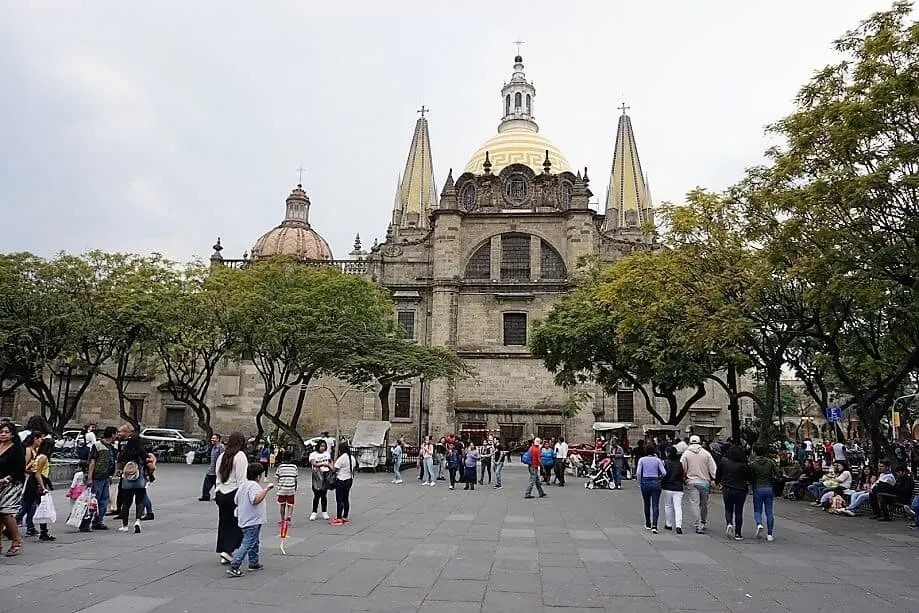 Plaza de la Liberacion is the largest of the four plazas and was the most interesting to us. The cathedral bookends one side and Teatro Degollado the other. The space is quite large and one evening we found it filled with hundreds of locals enjoying the sounds of a Mexican hip-hop D.J. There are several Jalisco state buildings in the area so the government employees frequently use the plaza as a short-cut to work or a place to rest during breaks.
We made it a point to walk through this plaza several times to experience the ebb and flow of local life at different times of day. We also found the only Starbucks in this area located at the corner of the plaza.
.
Stroll Independencia Ave. in Tlaquepaque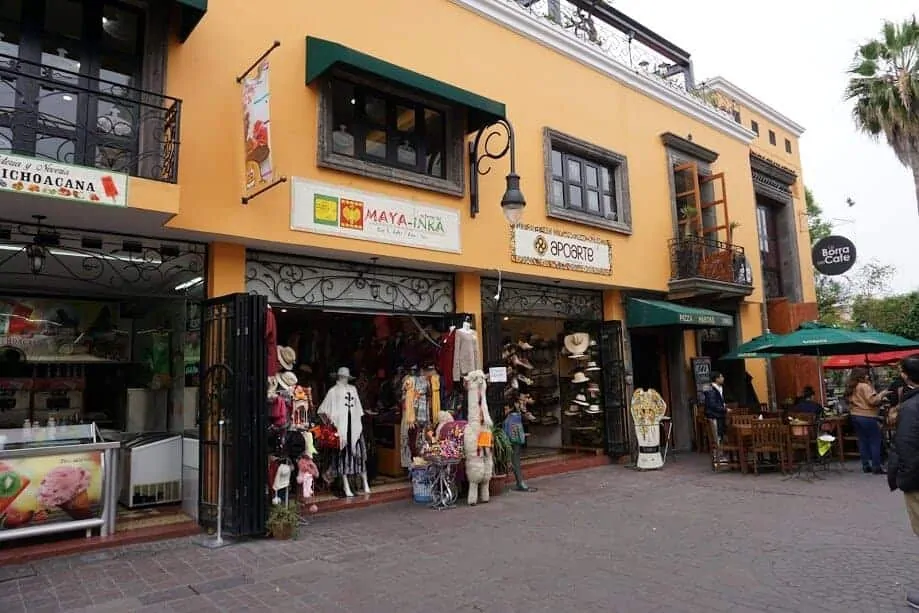 Tlaquepaque City is about six miles southeast of the city center and it's typical to take a combined day trip to Tlaquepaque and Tonala (nearby) to help get the most of your day. Originally this was a neighborhood built for the rich Spaniards to escape the summer heat and many of the original colonial houses remain along Independencia Ave. But now instead of families, they house art galleries, lovely home decor shops and upscale restaurants. This street is also home to Museo Regional de la Ceramica.
We had the opportunity to have dinner twice along this avenue. While these restaurants didn't necessarily offer my favorite food experiences during the trip, the decor and settings were stunning. Casa de Luna offered tasty food in a setting that felt like an art museum while El Patio offered a lovely indoor/outdoor setting.
RELATED: Reward the foodie in you with a Tlaquepaque Food Tour and Tequila Tasting
.
Hang out in Jardin de Hidalgo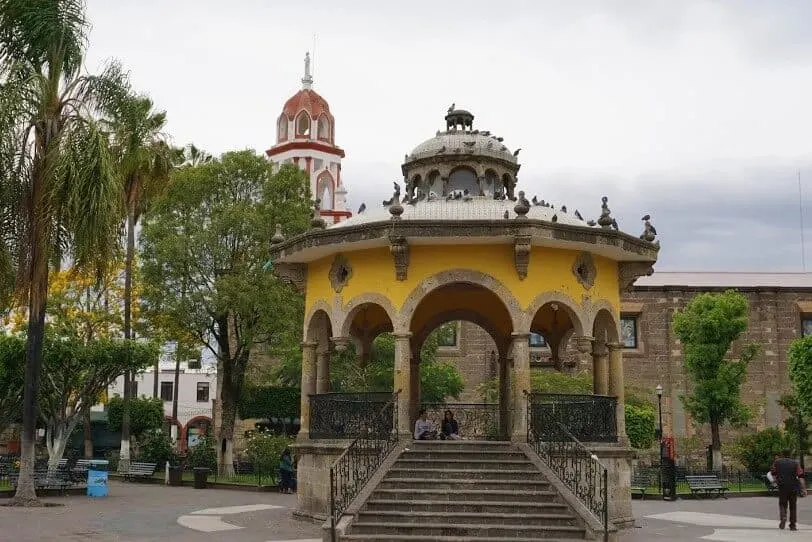 Indepencia Ave. ends at Jardin de Hidalgo, the heart of Tlaquepaque. When we arrived here on our first night eight couples were tango dancing in front of the gazebo. Surrounding the gazebo are several small gardens, dozens of benches, and a myriad of street food vendors. Two churches nearby provide a scenic backdrop to the plaza. This area is usually packed with couples and families enjoying the entertainment, traditional food and each other. Independencia Ave. is quite lovely but appears designed to appeal to tourists. The Jardin de Hidalgo was made for locals but tourists are welcome to enjoy as well. This tiny section of Guadalajara might be one of the best balances I've witnessed between appealing to the needs and desires of both local and tourists.
.
Pop Into a Church, Any Church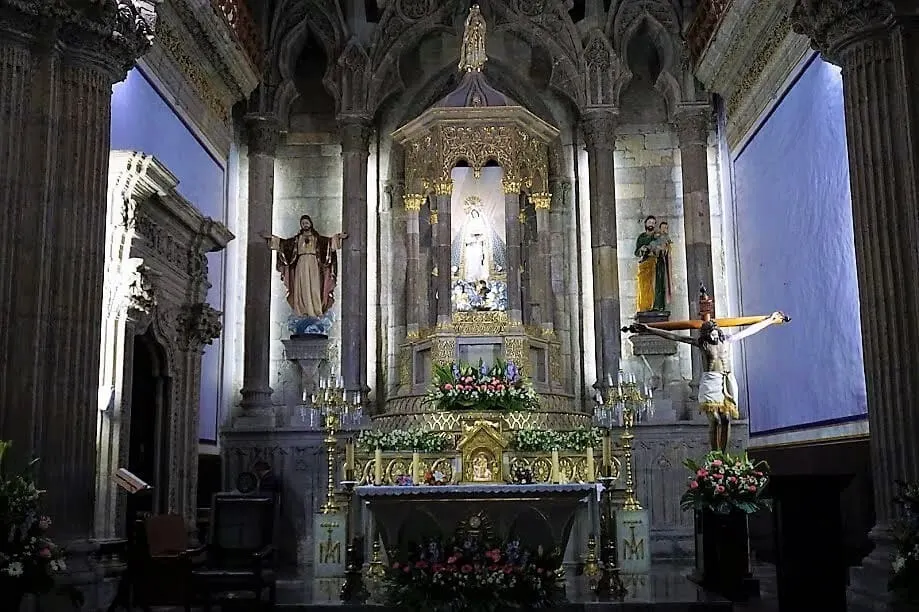 I was amazed at the number of churches in this city, usually built during the Spanish colonial period. Most of the churches are open all day for parishioners to pray and attend services. This means that the churches are usually available for tourists to visit. The architecture and artwork in many of these houses of worship is really beautiful. The Catholic faith is central to the Mexican culture and that is readily apparent in Guadalajara.
.
Visit the Guachimontones Museum
While there is plenty to do in Guadalajara, there are a few day trips that are not to be missed. Our first day trip was to visit the Guachimontones pyramids, about an hour drive outside the city. These pyramids were constructed by the Teuchitlan people who occupied the area approximately 1800 years ago. They are believed to be the only stepped, circular pyramids in the world. The purpose of the pyramids was for religious ceremonies.
It would be hard to understand the pyramids without a visit first to the Museo Interpretativo Guachimontones, though it's not required. Unfortunately all of the signage here is in Spanish, but the introductory video is available with English subtitles. We found the video quite helpful as a way to frame all the sites we were about to see. Outside the museum offers a model of a Teuchitlan family home and cooking site. Join a tour from Guadalajara with a local guide, and they will be able to translate the museum's exhibits which covered topics like the discovery of the pyramids as well as the life of the Teuchitlan peopl for you and help you get the most out of your day.
.
Climb a pyramid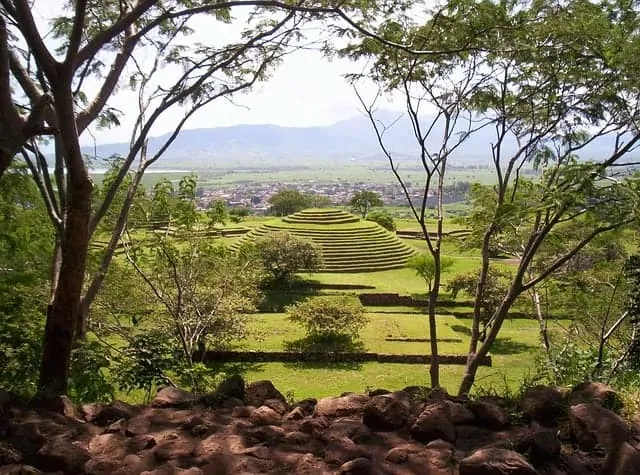 After spending about an hour in the museum we climbed the hill to see the actual pyramids. The pyramids that are in good shape are roped off and cannot be climbed. However, nearby is a large pyramid that has mostly been destroyed and therefore visitors can climb it. The result is a great view of the surrounding smaller pyramids as well as the local town and countryside.
In addition to the pyramids we enjoyed seeing the excavated ball courts. A game of ball was a serious matter in ancient times. This was a way to settle disputes. Its believed the Teuchitlan people played ball on their hands and knees "crab style" and hit the ball with their hips.
.
Learn how to harvest agave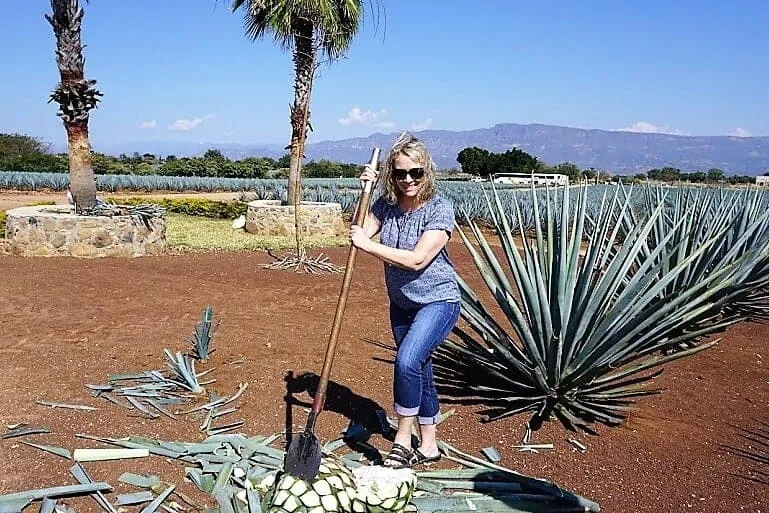 Our next day trip was all about tequila. On our drive to the town of Tequila we visited an agave field to learn how jimadors (traditional agave farmers) harvest the plant. The goal of the jimador is to get to the 'pineapple' of the plant and from this the liquor, tequila, is distilled. We had the opportunity to help in the process and thus appreciate the intense physical labor involved.
While I enjoyed the demonstration I also appreciated the beauty of this area. Row upon row of blue/green agave stretch for miles while in the distance is the Tequila volcano (now inactive). A sunny day and blue skies completed this lovely picture. A day trip to Tequila does not have to include a stop to the agave fields, but I highly recommend including this.
RELATED: Another great day trip is to Mexico's largest natural lake and it's surrounding villages. Book your Romantic Lake Chapala and Ajijic halfday tour here.
.
Drink tequila in Tequila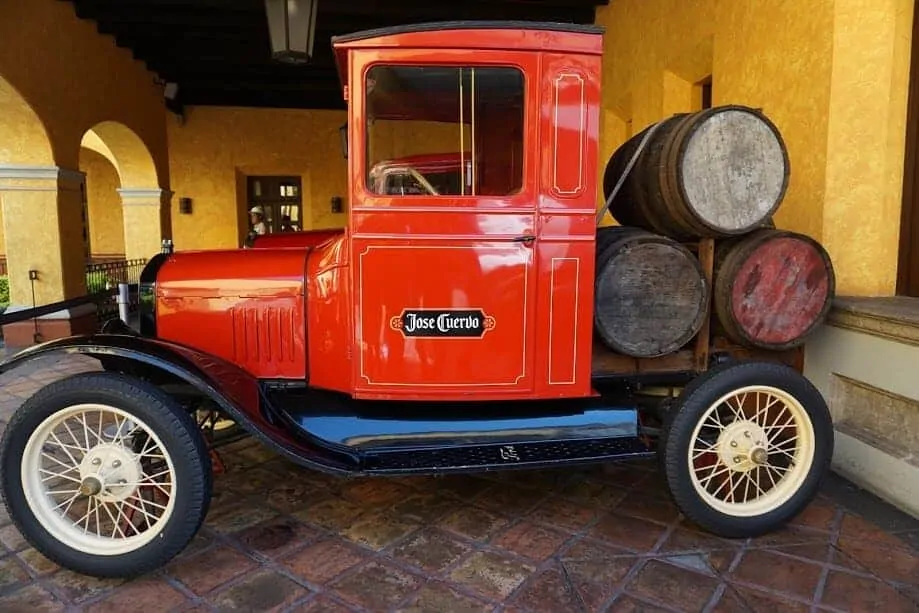 After learning how to harvest agave it was time to see how its distilled and a distillery tour was a great idea! We visited the Jose Cuervo Distillery which is located in the center of the the town of Tequila. The distillery building itself is charming and colorful and the tour was very informative. Book your Jose Cuervo Tequila Tours Here.
Finally we explored the main plaza of Tequila. This town is scenic and bustling. There are plenty of restaurants and shops to visit along with some live entertainment to enjoy. What we enjoyed the most were the small street vendors selling tequila cocktails – and where everyday is a tequila day! We opted for a cantarito which is made with tequila, grapefruit and lime juice, squirt and chili powder. Traditionally these are served in a clay cup which can be kept as a souvenir.
.
What to Eat in Guadalajara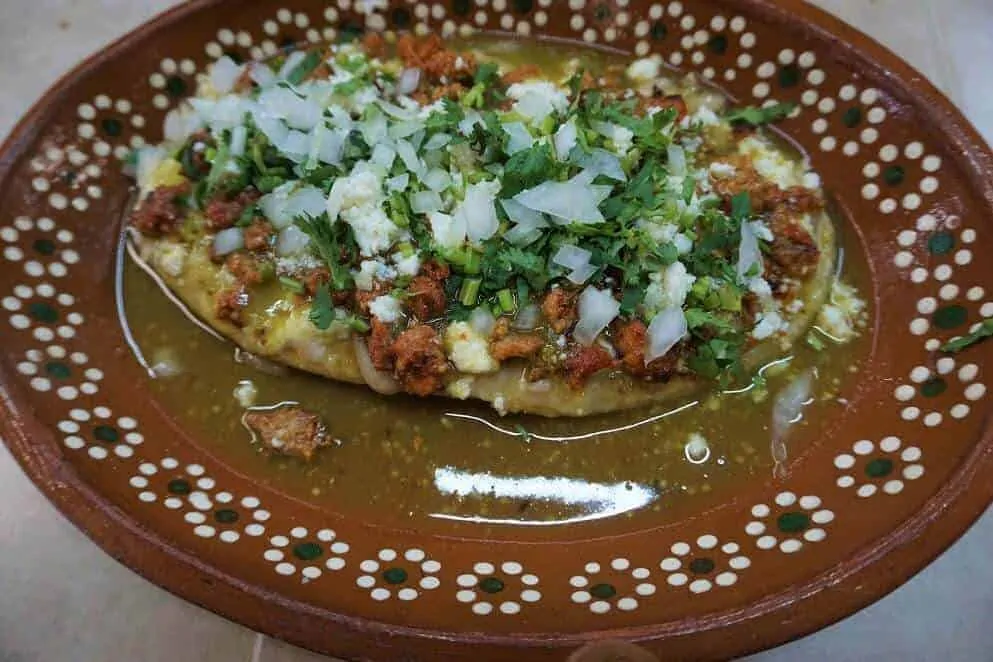 I have been back from Guadalajara for almost a month and I still miss the food. So what should you eat when you come here? Everything! The two dishes that are frequently mentioned as local specialties are birria (a goat stew) and tortas ahogadas (pork sandwich covered in a tomato/chili sauce). Jason and I tried both. He loved the birria and I did not. We both weren't thrilled with the tortas. Instead we found some other amazing food.
First, go to the Mercado San Juan de Dios. Explore the food section, find a food counter packed with locals and go there. Next, eat at La Chata, a family style restaurant in the historic core that always has a line. We ordered enchiladas mole and chile relleno. Both were good, but the mole was amazing. Finally, sample food from street food vendors–street corn, fresh fruit, tacos, etc. If you are worried about the safety of street food, look for the vendors that are busy and popular with locals.
.
And there you have it folks. A fantastic guide to Guadalajara Mexico including Where to Stay, What to Eat, Various Travel Tips and some great things to do in Guadalajara to keep you busy!

Oh, and if you enjoyed reading this Guadalajara travel guide and suggested itinerary please share on Facebook, flip, tweet or pin – I'd really appreciate it!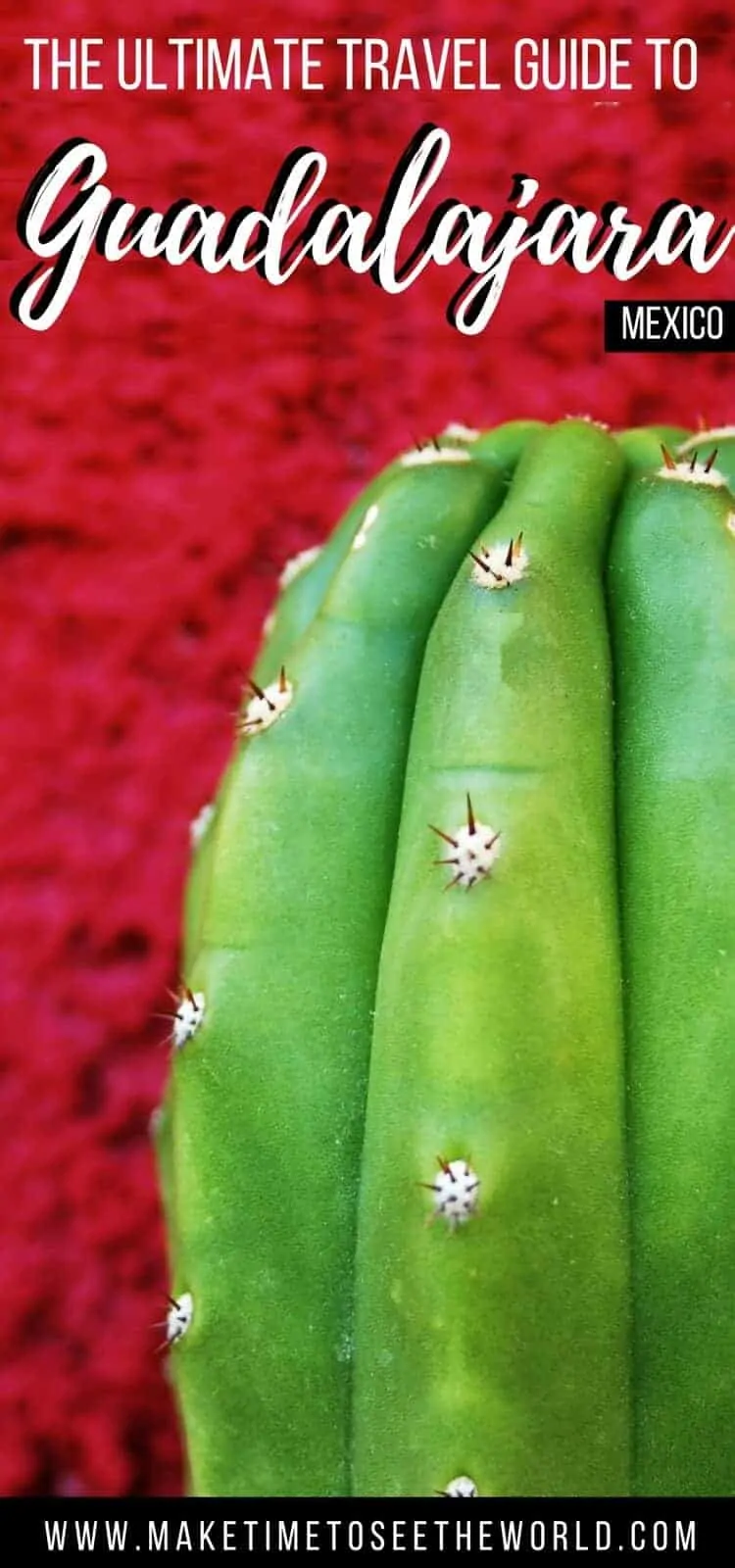 READY TO EXPLORE MORE OF MEXICO OR WANT TO HEAD FURTHER AWAY? THESE POSTS ARE FOR YOU:
Hi There! Thanks for reading our travel guide to The Incredible Things To Do in Guadalajara (+ Where to Stay & What t Eat!). I just wanted to let you know that this post contains affiliate links, which means if you purchase something after clicking a link, I may get a small commission – which is at absolutely no cost to you. If you enjoyed this article and are going to be searching for some of the things I mention anyway, I would love it if you could click through from the links above & thank you in advance! Read my full Disclosure here.
And Thank you for reading the MakeTimeToSeeTheWorld Travel Blog.